Chania Crete tours are far more than walking tours. Not attending one is like not visiting that very city of Crete. Sounds too cocky? Well, it is not.
Only a local who really knows the history of the city in and out, can take you through the narrow alleys and streets of Chania Crete, while explaining what you see & "connecting the dots".
We had the joy to do this with Urban Adventures, in Greece. Their Chania Crete tour is highly recommended as you really learn about Chania.
Let Chania Crete adventures begin!
Here are all the places we went through. It is a 4 hour tour and during that we had 2 breaks for coffee/refreshments and snacks, exactly when we needed that, plus a number of treats from local shops who offered us samples of their local products to taste.
Along with us was a couple from Australia, with which we had some really great laughs!
Our guide was Gabi Ancarola. She is an Italian lady who repeatedly visited Crete for many times and eventually fell in love with the island. She knows Chania Crete in and out.
Here is just a fraction from this tour.
Chania Tours: The Central Market
Our meeting was at the Chania Central Market. We were not staying in Chania Crete. We traveled from Rethymno just to experience this tour. The Market is also known as "Agora" and was built between 1909 and 1913. It was based on the model of the covered market of Marseilles.
Well, when you start your morning with all such beautiful and tasty food in front of you, the day is promising enough.
We recommend that you take some local products back home.
Specifically: Oil (Crete is famous about it), Honey, Carob (in its various applications as sweet, rusks, salad dressings, etc), Cheese (with different stuffing's) and herbs.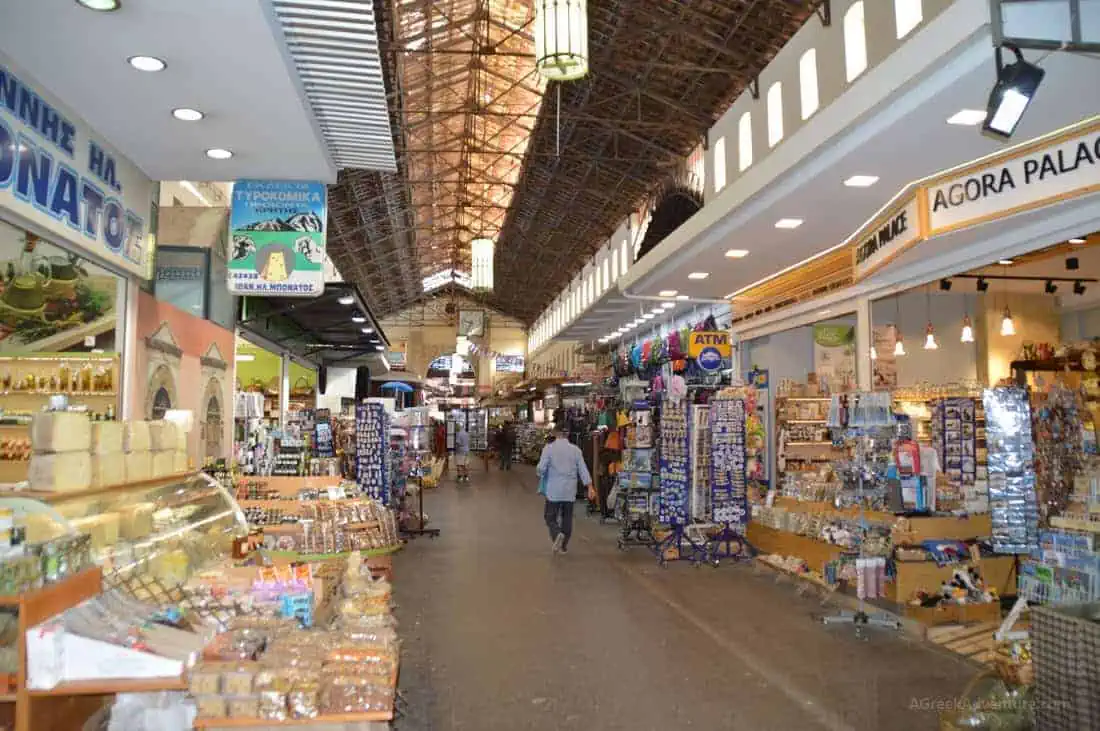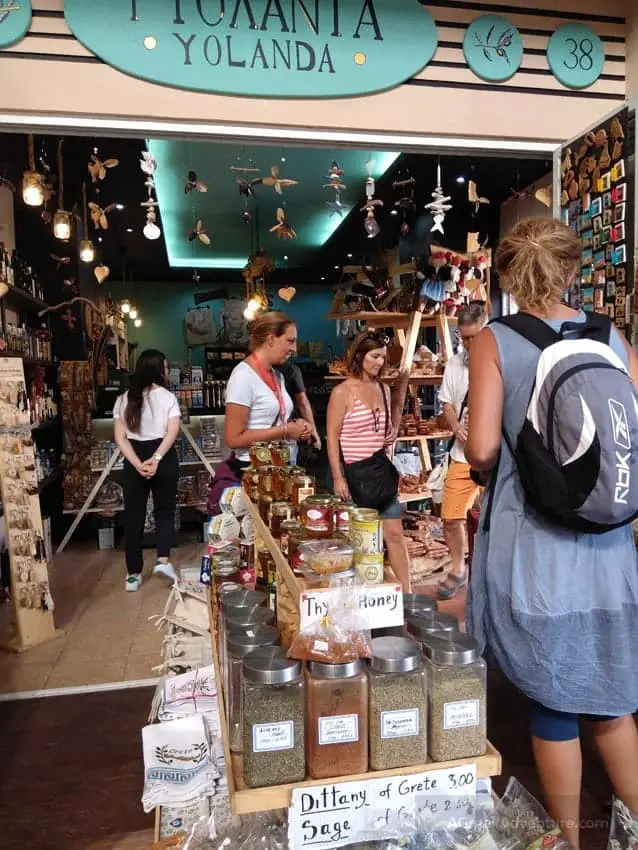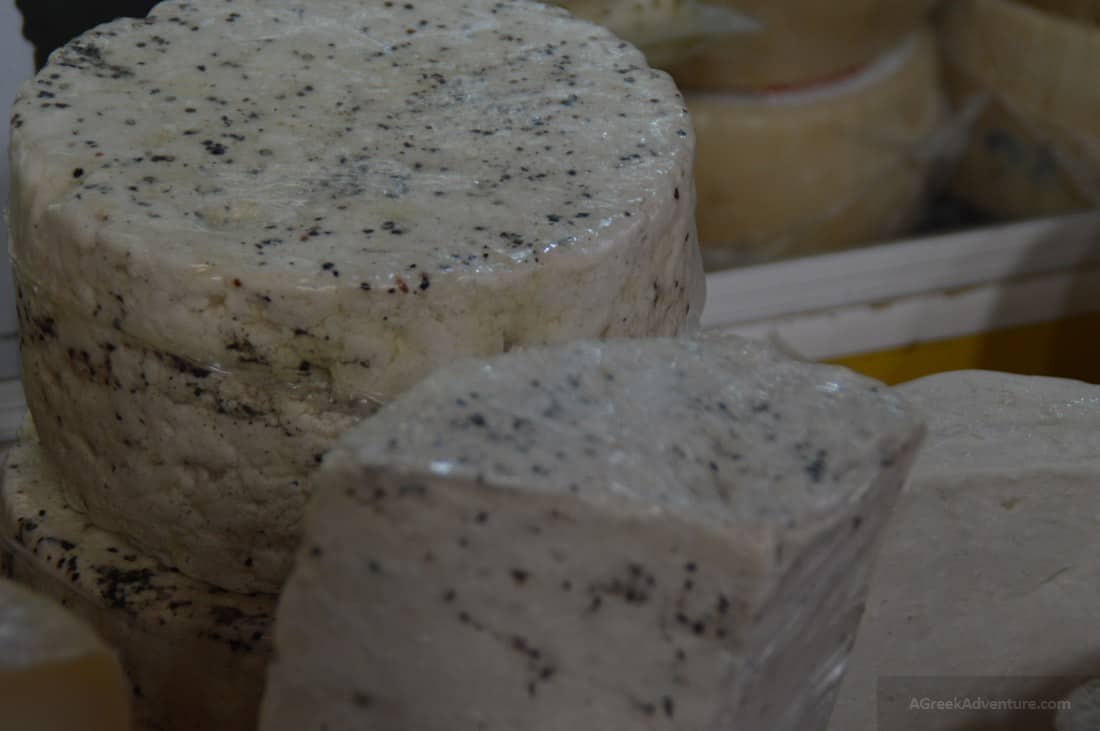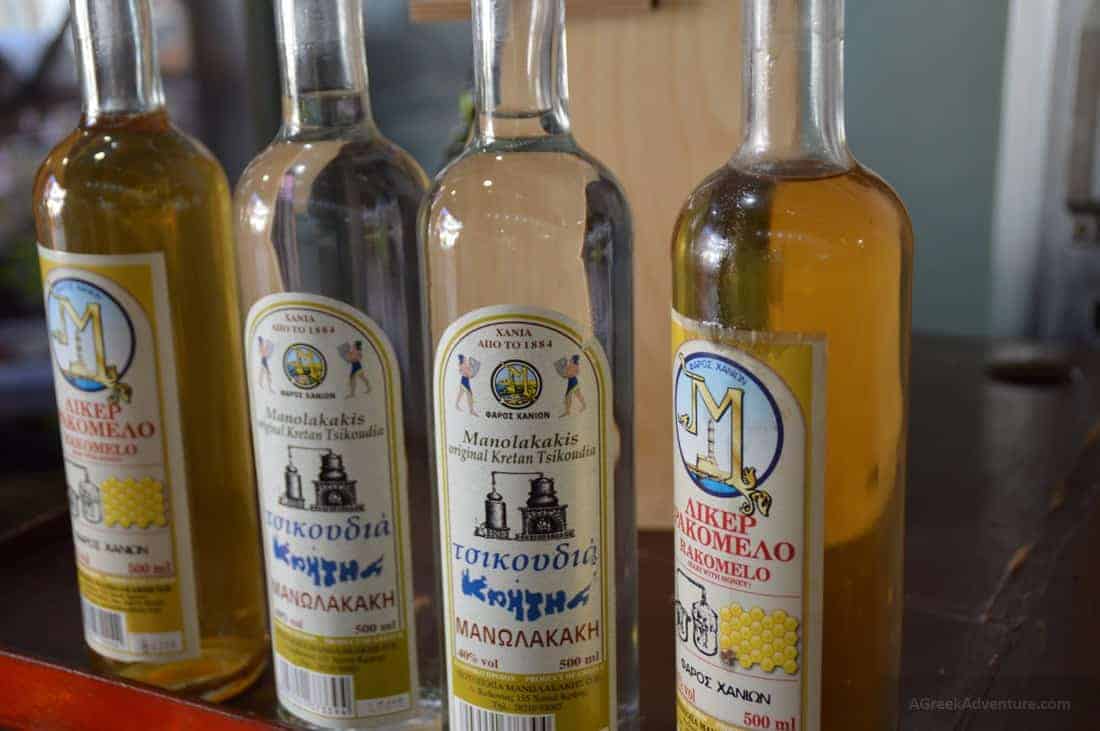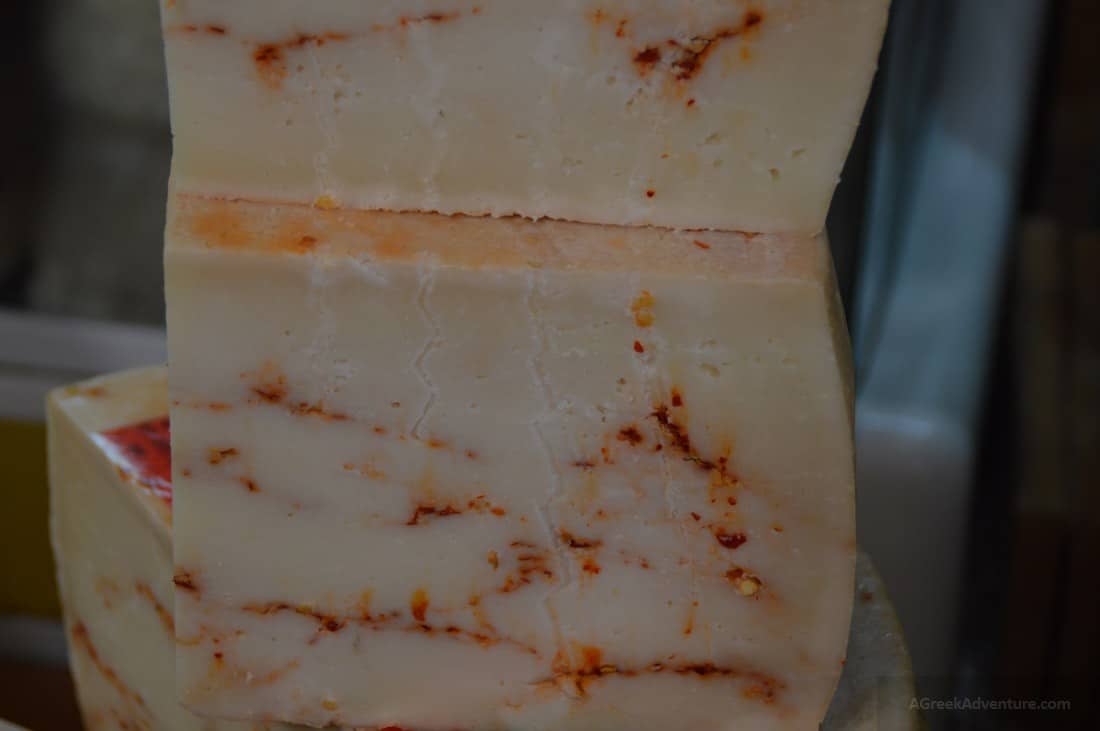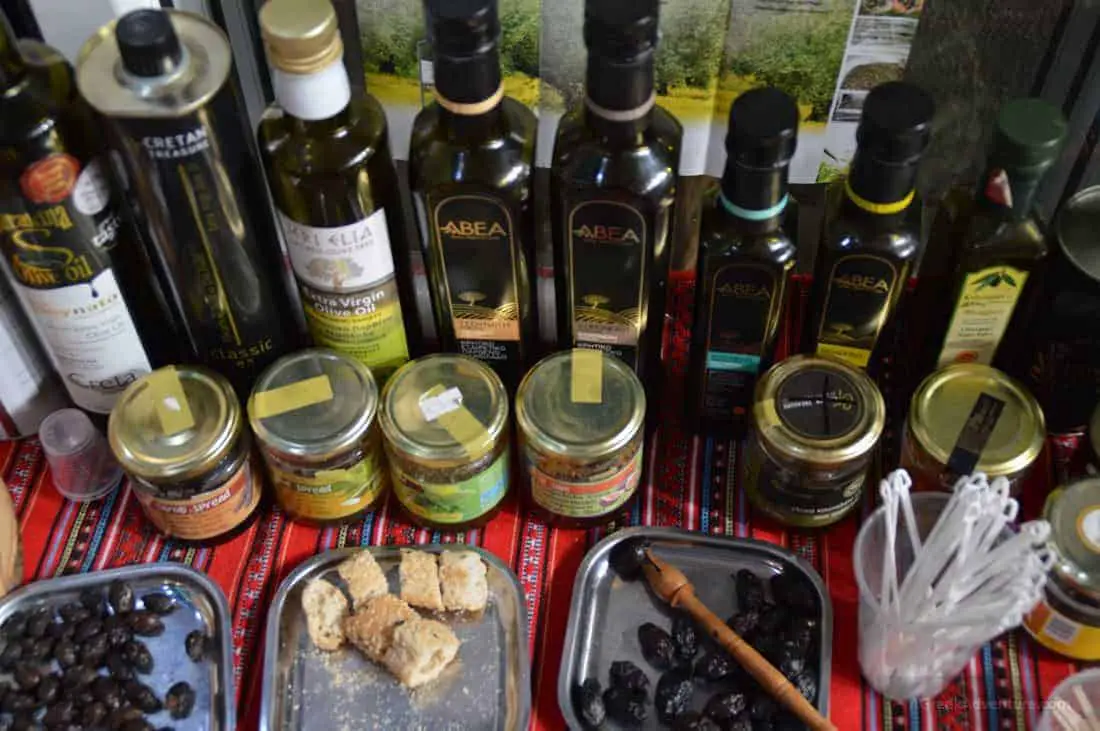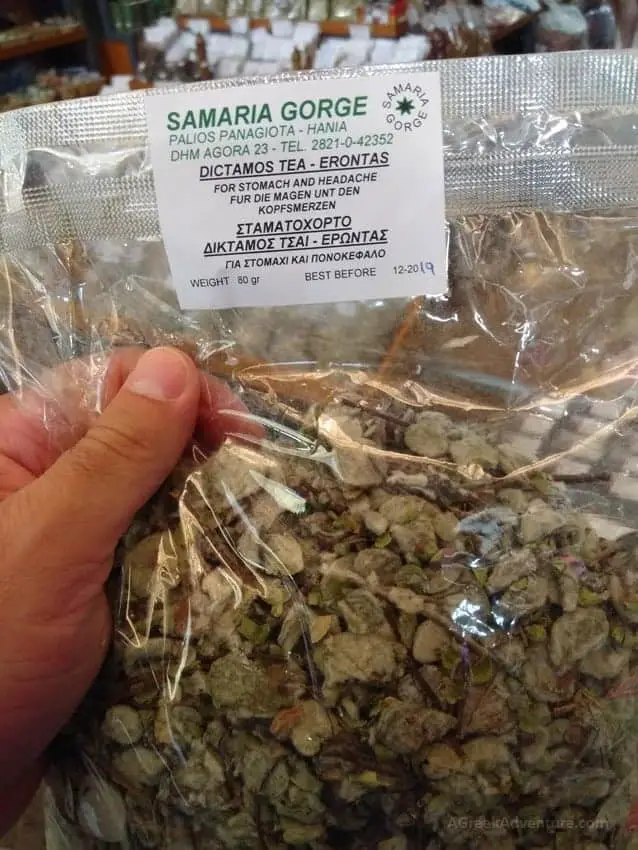 Many shops sell what is known as super-foods. Crete produces literally everything that relate to food. It's climate is ideal for a huge variety of foods.
Chania Crete Tours: The Ceramics Lab
Before moving to the ceramics lab, we advise you to ask Urban Adventures to show you a church, with a "special" mural. We won't reveal what it is…
So, we walked through beautifully decorated streets with small shops, coffee houses & hotel yards, when next to a corner Gabi suggested that we visit a well-known -and huge- ceramics lab.
The open exhibition are of the lab was rather impressive with all its colors as sun was bathing it.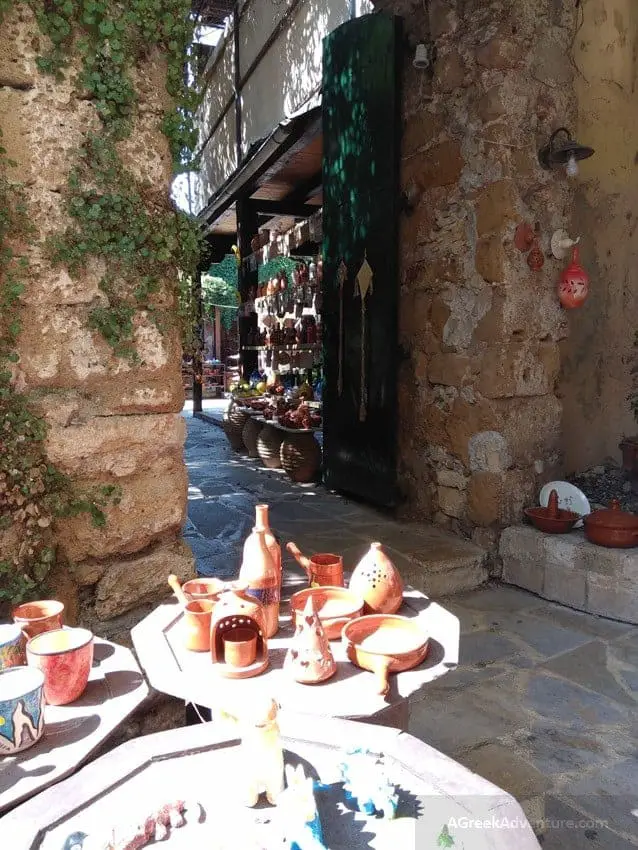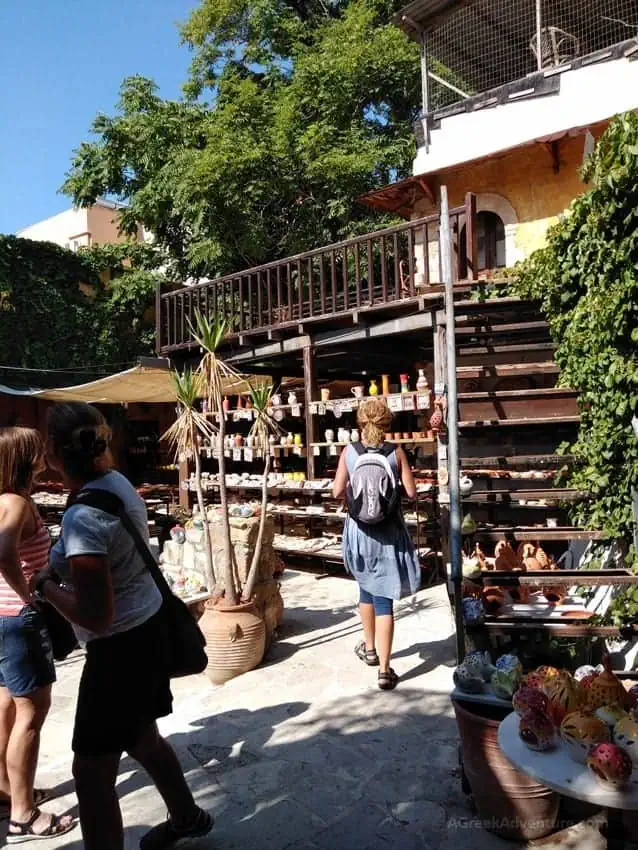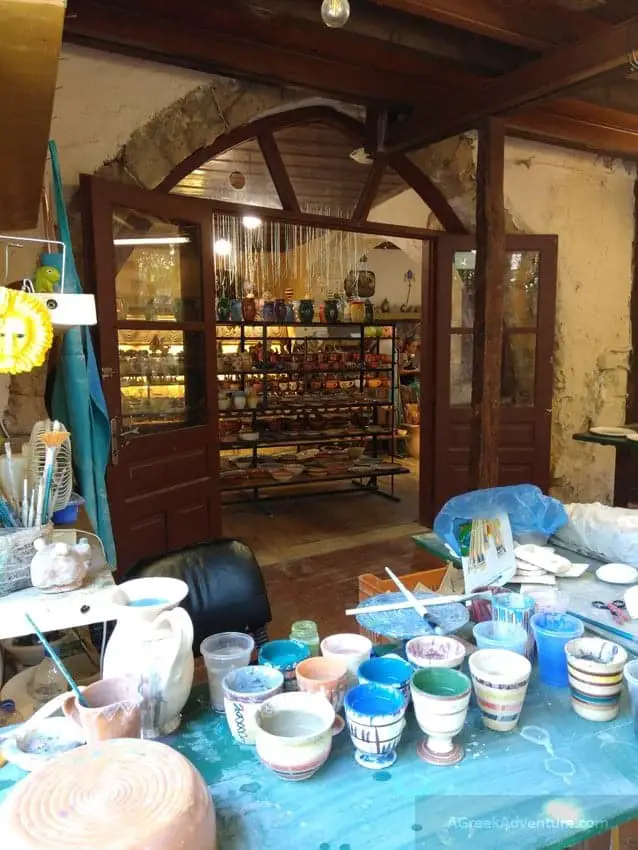 There is an open workshop for kids, if they like to dive into the secrets of ceramics and pottery.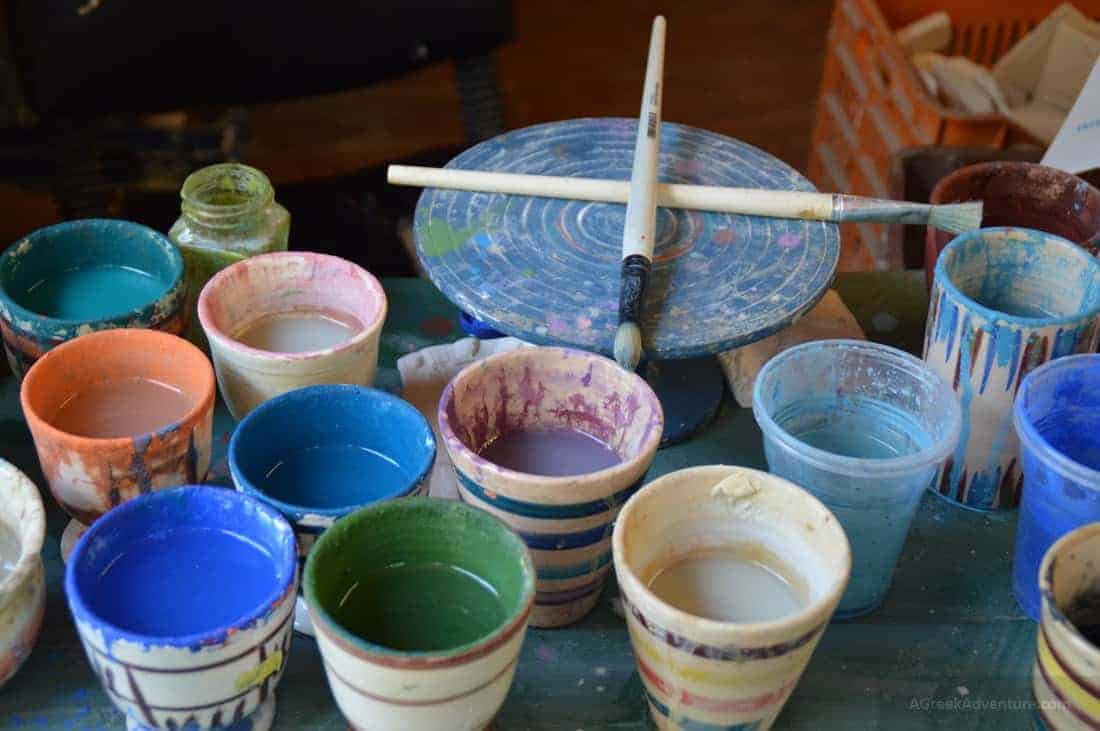 The owner was asked on if we would visit the lab upstairs so to learn more on how they make all these little nice things.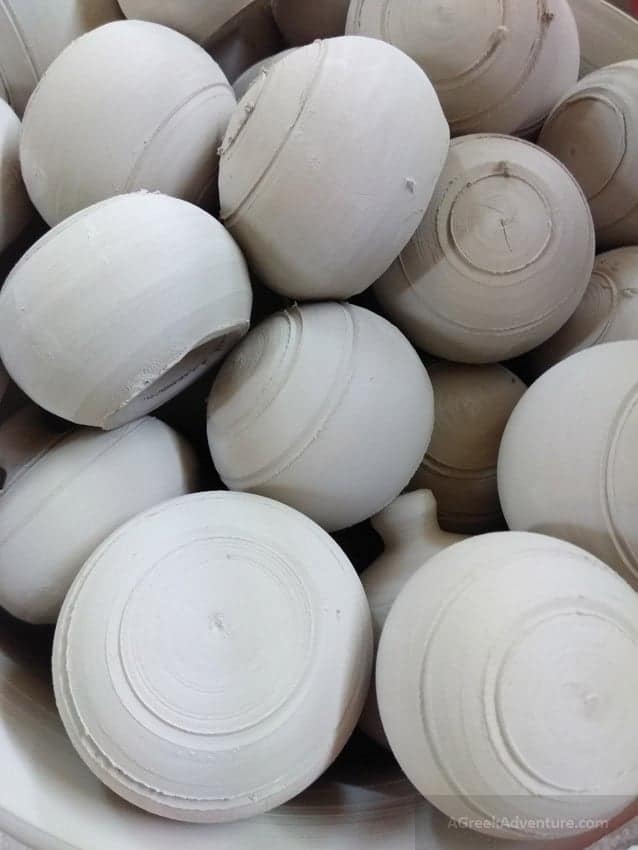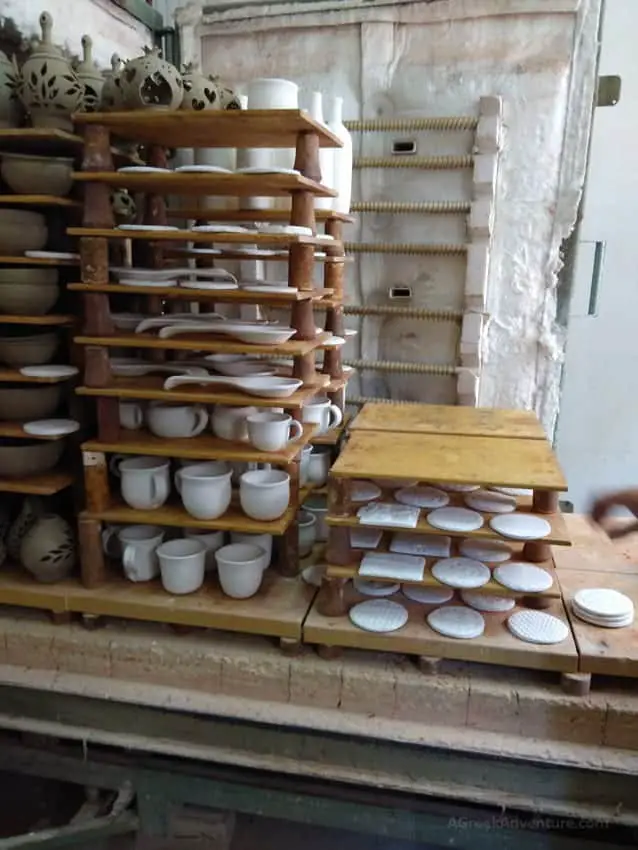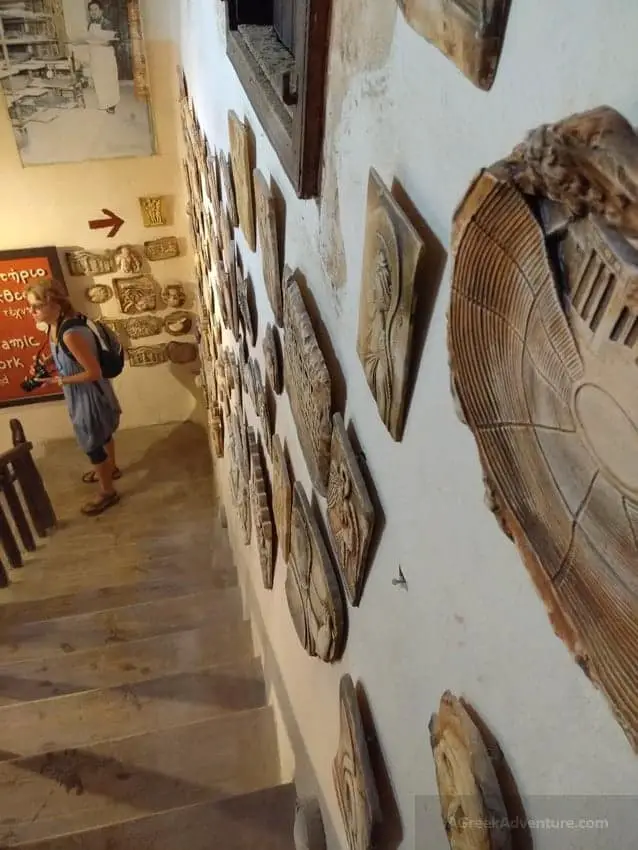 Not a surprise that this was a family business which goes from father to son. This is the custom in many Greek families.
Chania Crete: The Old City
Like entering in a different world, the aesthetics and building shapes changed.
As Chania Cret was occupied by Ottomans for a period of time and from Venetians on another, we saw buildings that combined the best of both periods.
We moved deeper into the old city admiring the Venetian and Ottoman buildings.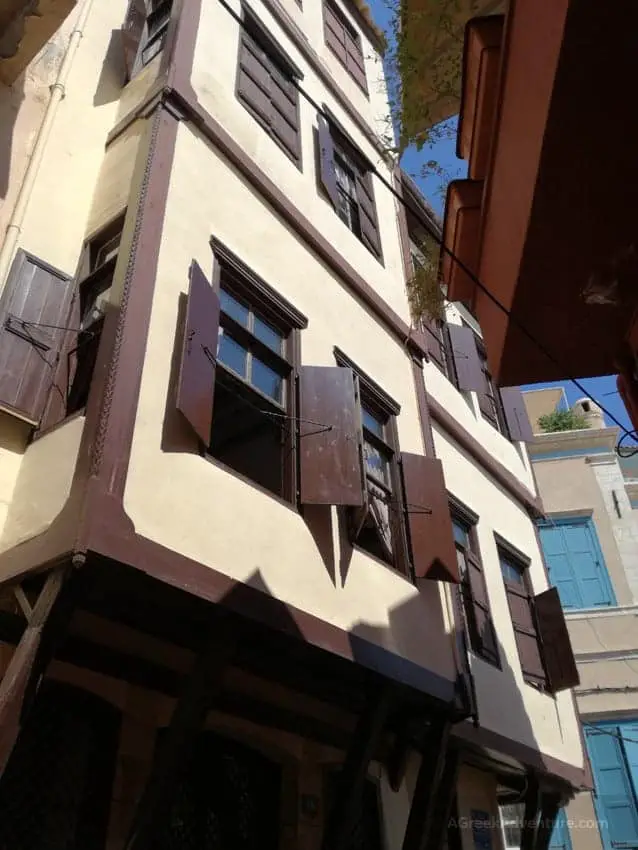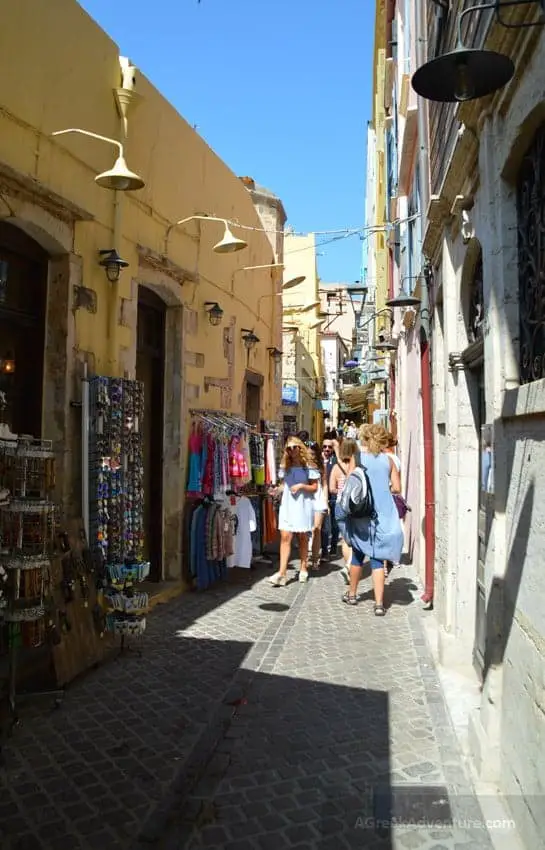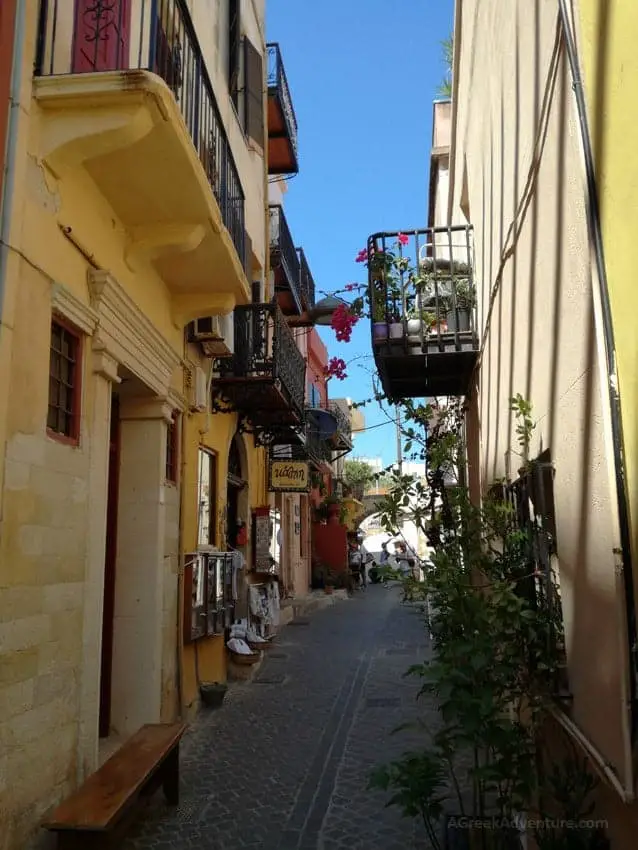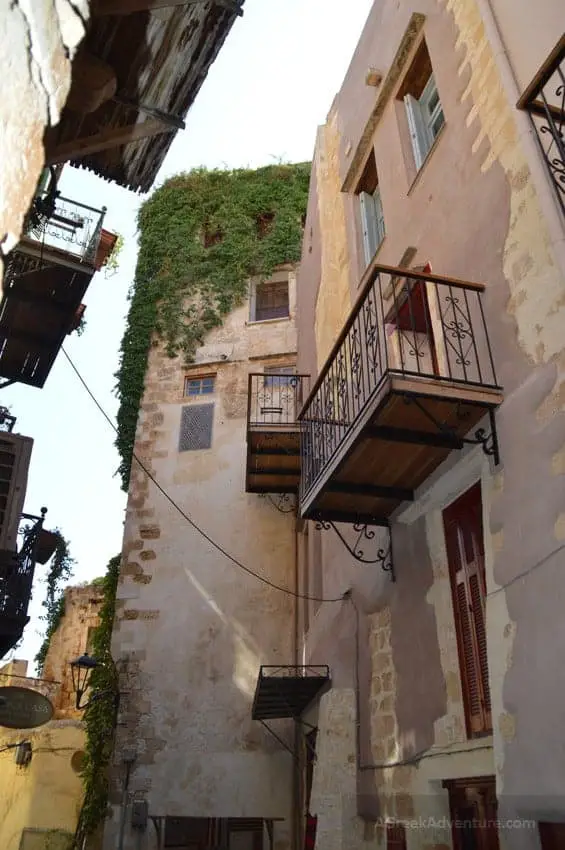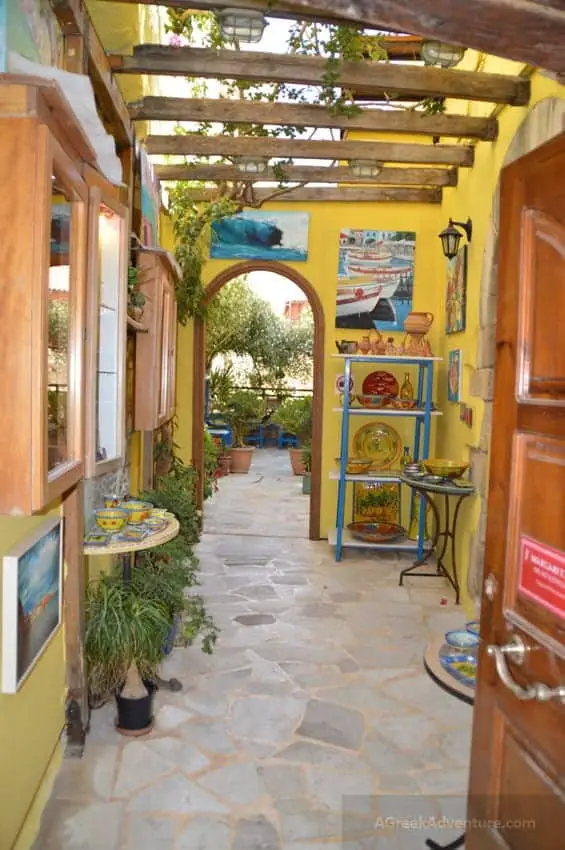 Photographically speaking, the old city has numerous different "pockets" and corners along with some great colors.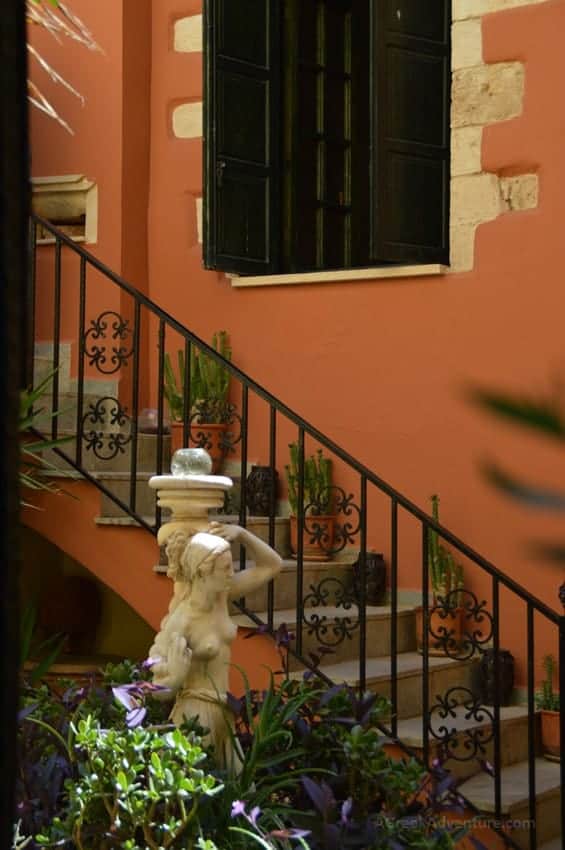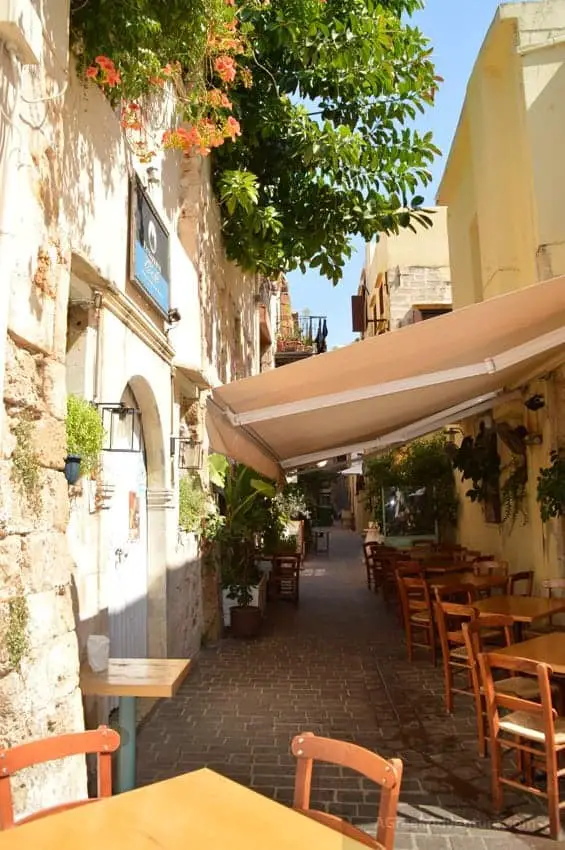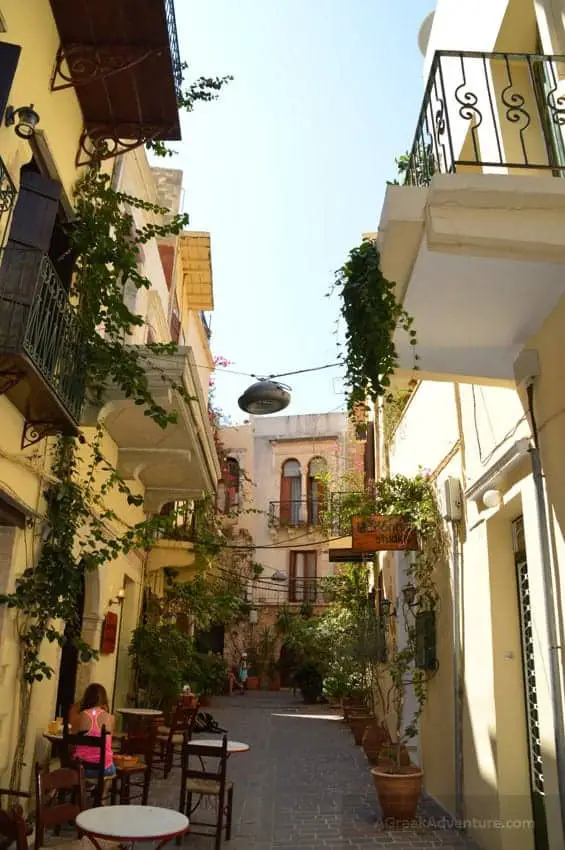 In one of the narrow streets you can also see and visit the Etz Hayyim Synagogue.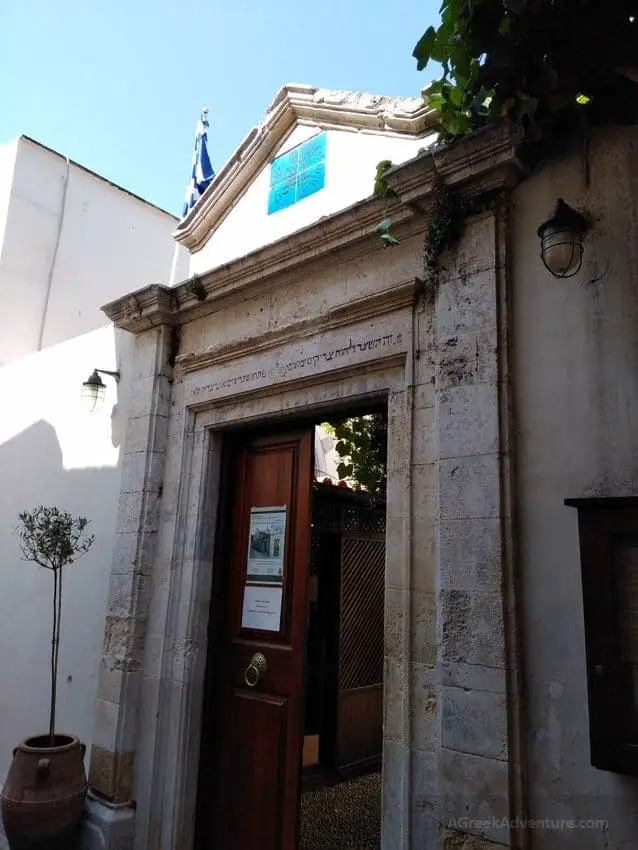 Exiting that area we made a stop at a very nice cafe that overlooked the old harbor. I (Chris) had a really super food drink with yogurt, seeds, banana, wild mint and I think some "secret ingredient". Here is the view from our table.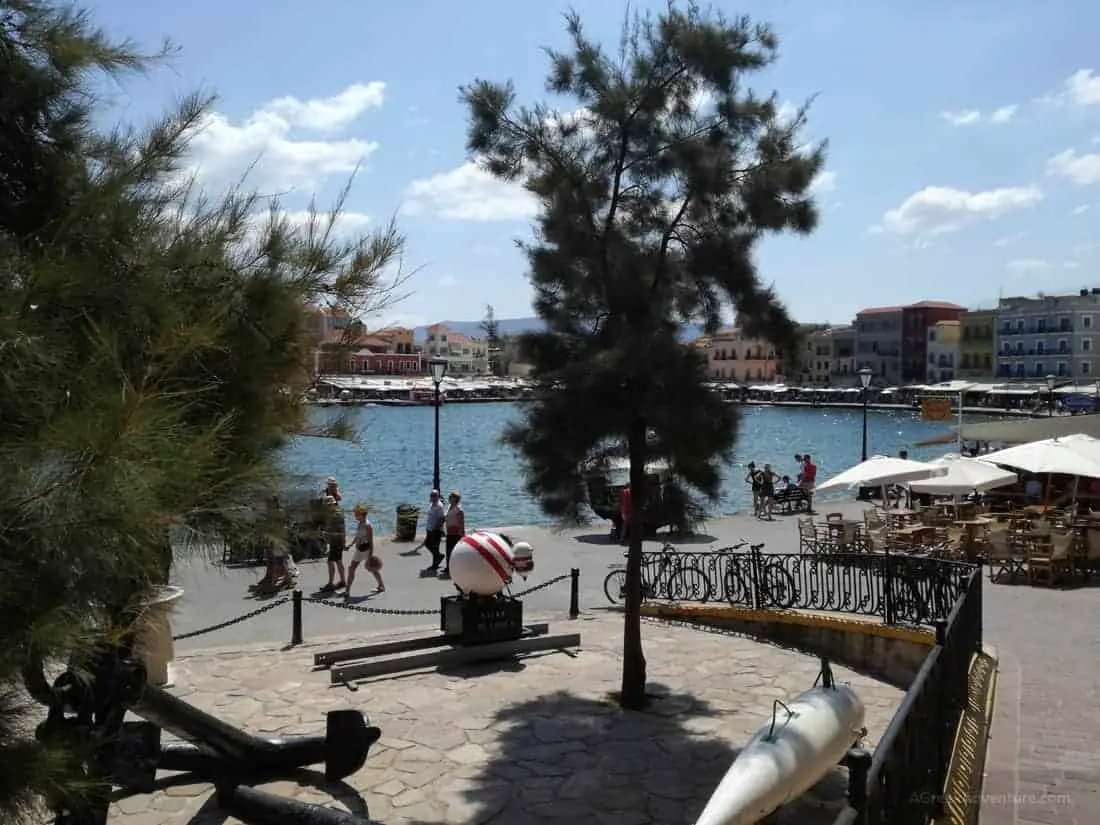 During all the different locations Gabi was constantly feeding us with lots of interesting information, so to understand better what we were really seeing around us. That alone gave a completely different "angle" to the whole "walking" tour.
Chania: The "Firka" fortress
We moved to the fort named "Firka" one sees at one side of the harbor. The name means "barracks" in Turkish. A chain was raised from "Firka" to the lighthouse, thus blocking the entrance and protecting the city.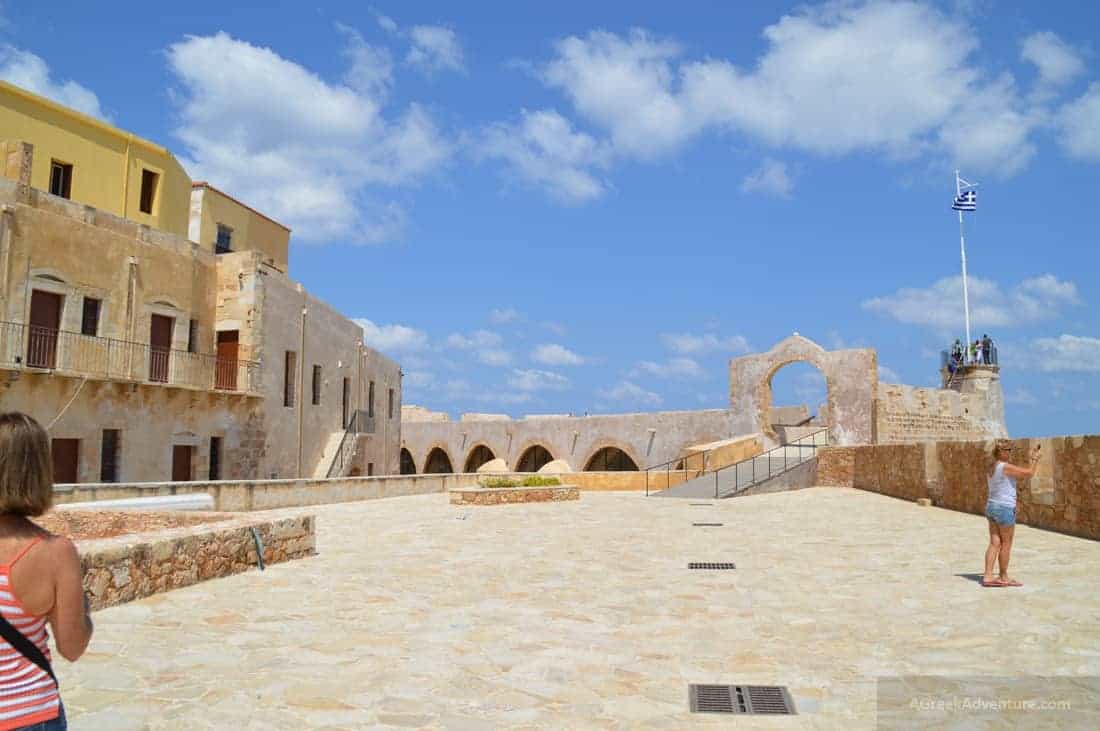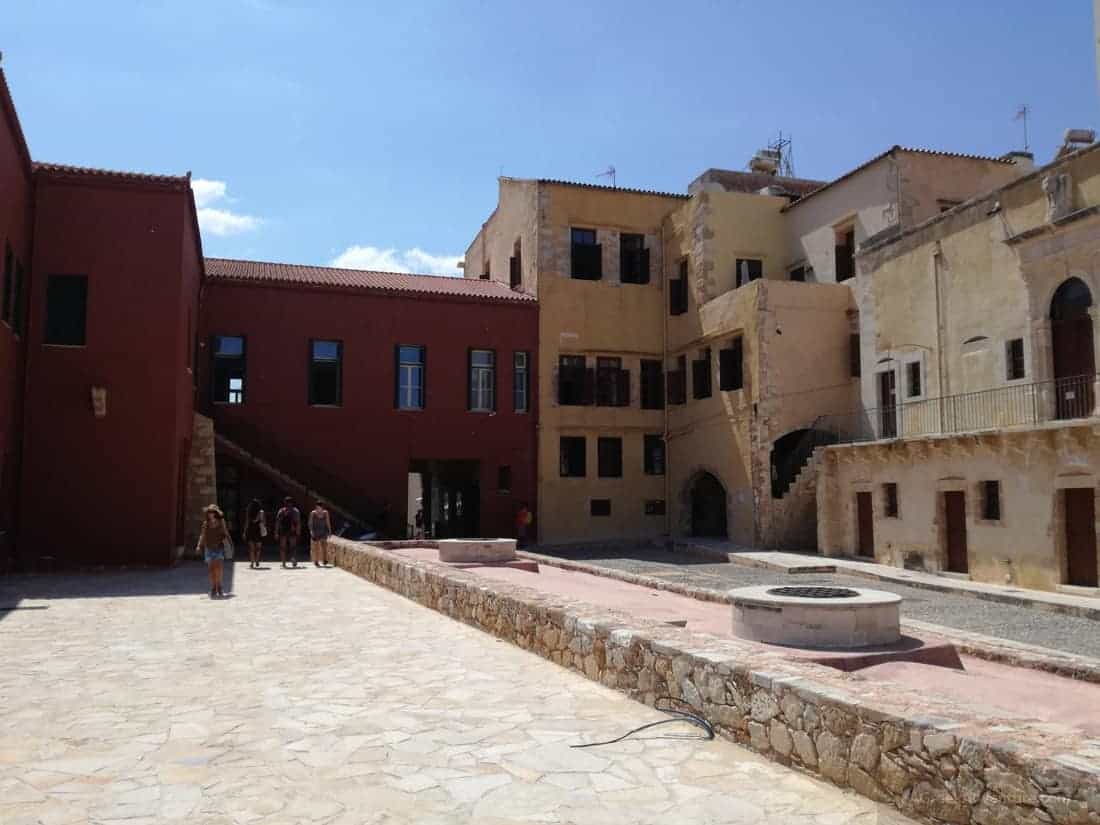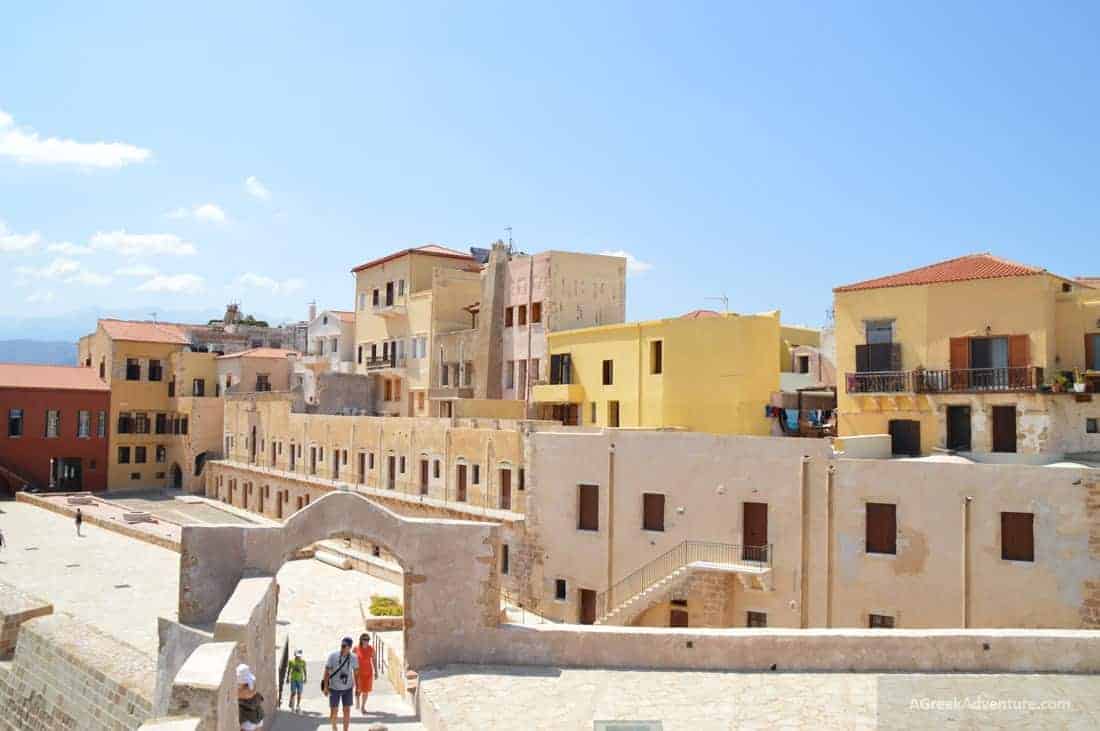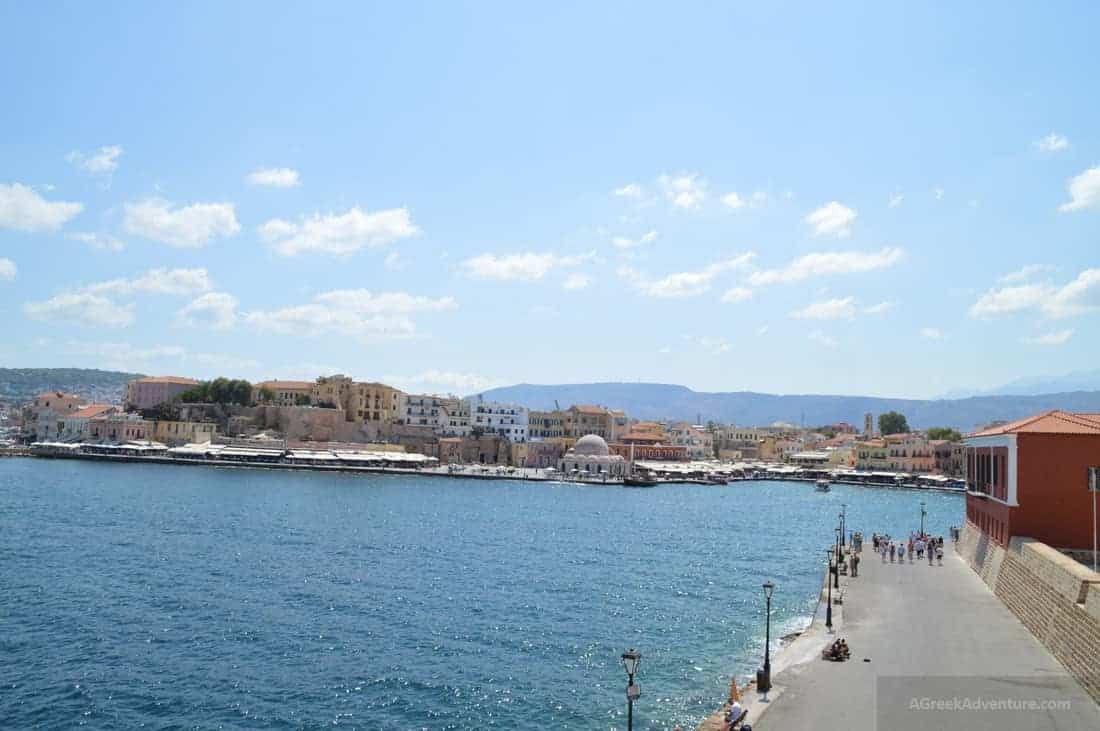 That is one famous location that anyone needs to visit. You can walk up the stairs on the big yard of that castle, having an excellent view to the rest of the harbor.
Chania Crete: The Powerful Harbor
We walked all the way from the castle towards the harbor.
The location is a bit "touristic" but that is fine. Gabi took us around the harbor through the streets at the back so we can see another part of the city less known to travelers.
This is from the main harbor where you can find a -really- big numbers of places to eat.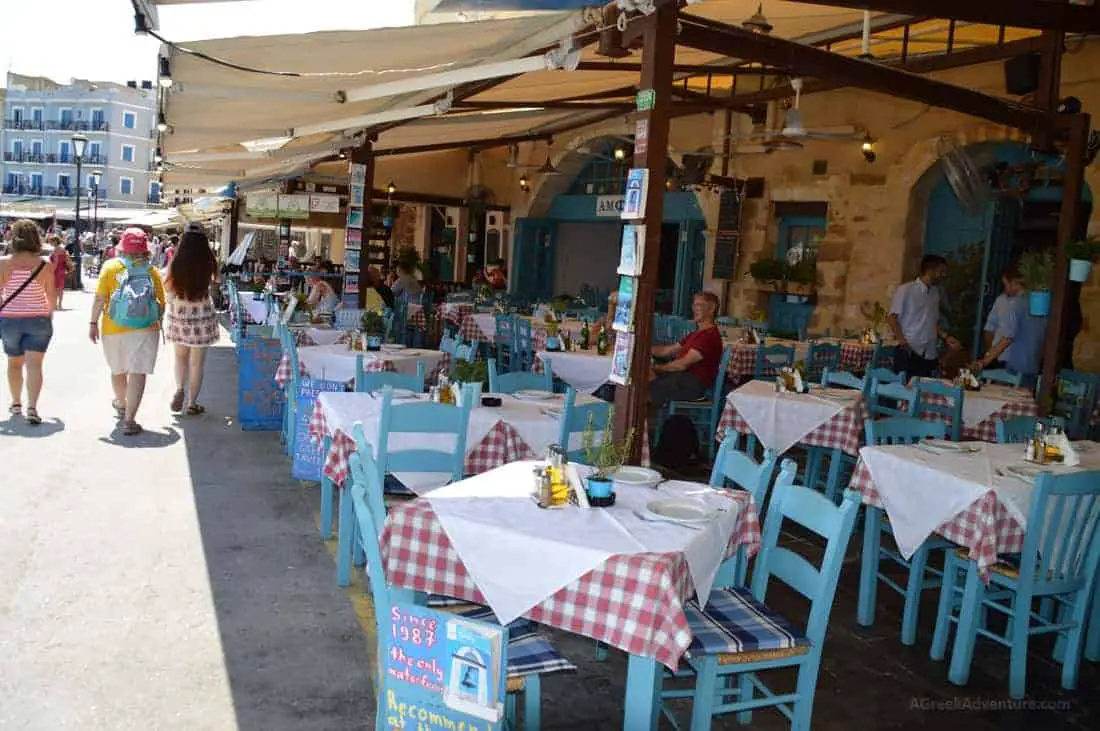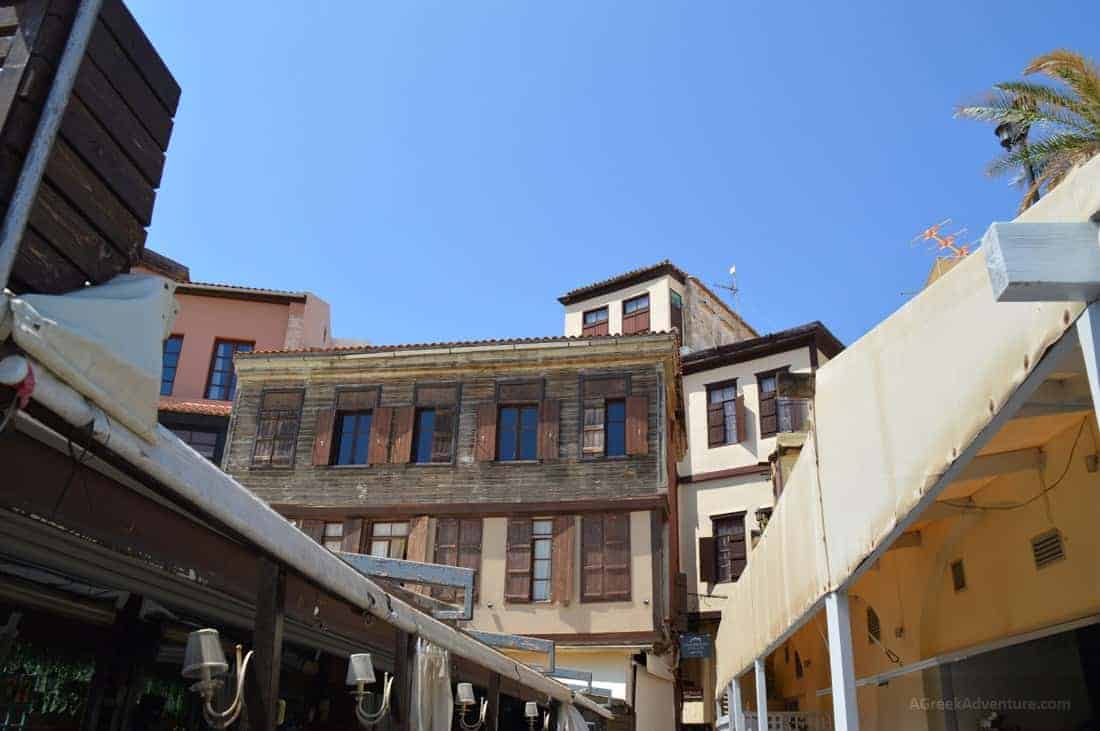 The main square of Chania Crete below. A meeting point for anyone.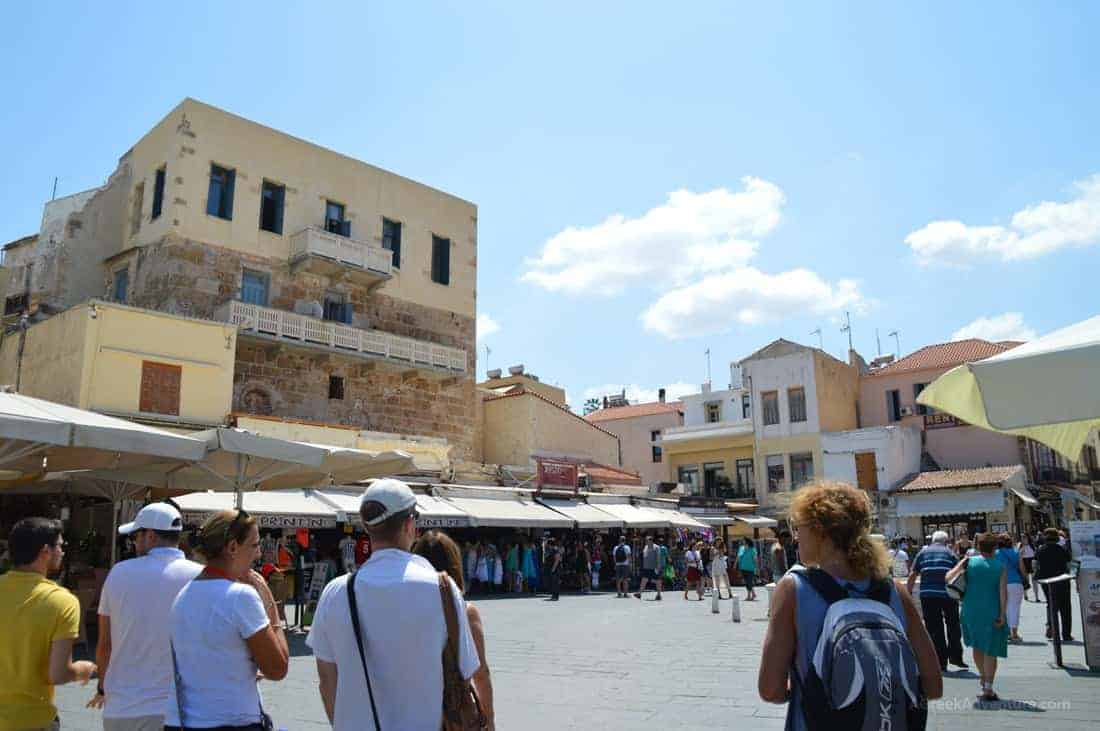 From their we reached a point where we could overlook the whole harbor having a pretty large surround view.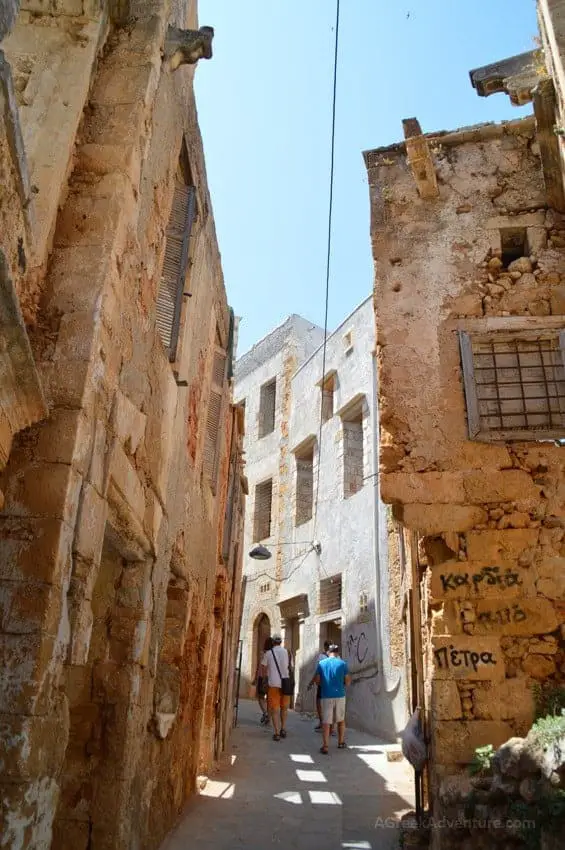 That location is really famous to photographers who want to take wide frame pictures from things happening at the harbor and squares.
Here is a church that has both a bell tower and a minaret. During the Ottoman occupation, Ottomans build minarets next to Christian churches, trying to make them taller than the bell tower.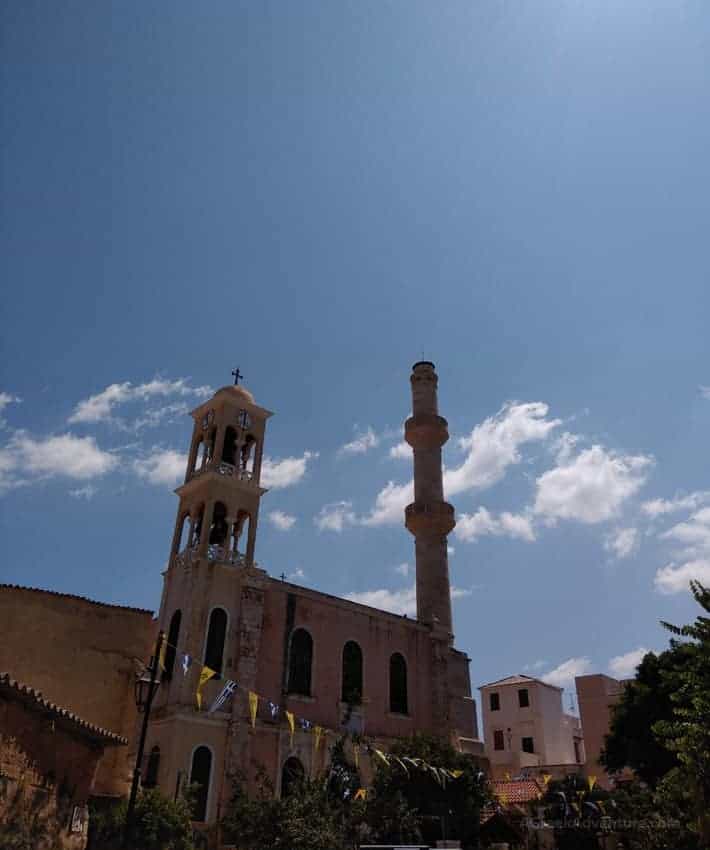 Chania Crete: Machairadika District
After spending time there we moved towards the Machairadika (Maheradika or Mahairadika) road. This one took it name from Maheri (translates to: Knife, in Greek). So, in this street were all the small labs where people were bringing their knives for sharpening.
The whole road -at the left side- is filled with nice coffee houses.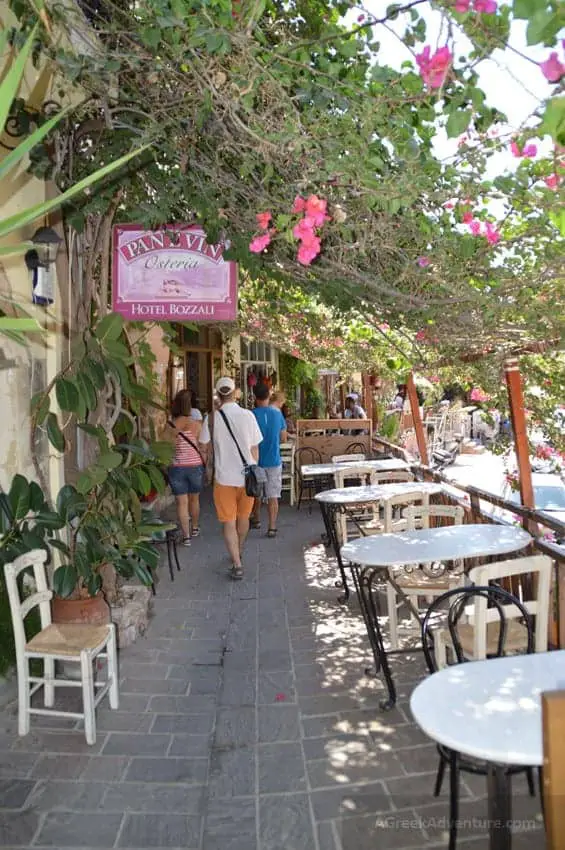 We entered in the workshop of one of the old craftsmen where he had a huge collection of photos to show.
A knife was really important to a Cretan. That was his means to defend himself and to use it for food. Cretans used to carry 2 knifes around their belts; a small one and a larger one. Like a Japanese samurai more or less, only that the big one was not that long as in Japan.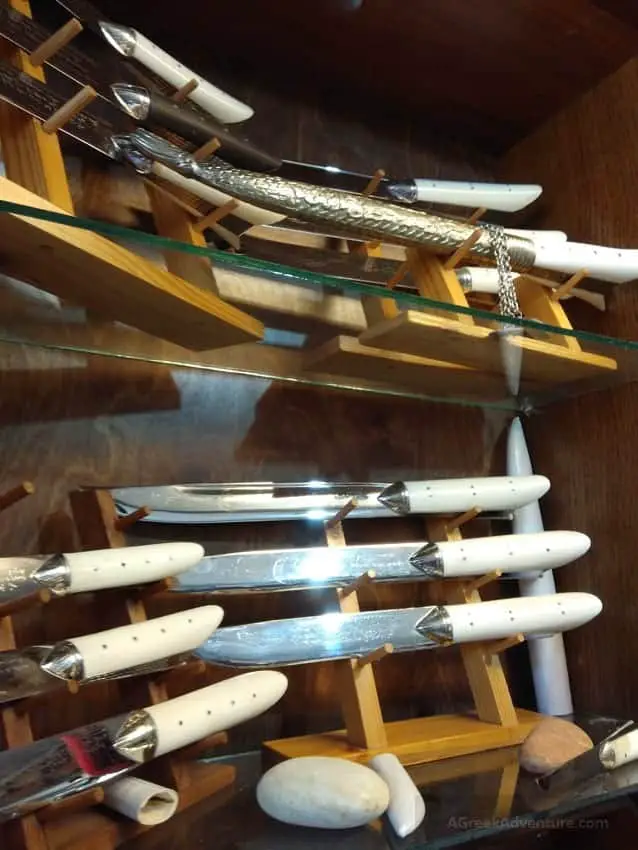 In Crete the long one had a different handle so to be used as an assault/defense weapon, while the short one was used for -mostly- daily works.
The Mosque of Kioutsouk Hassan
This is the oldest Ottoman building in Crete. It was erected in 1645. Nowadays is used as an exhibition hall, but it has been many things during the years.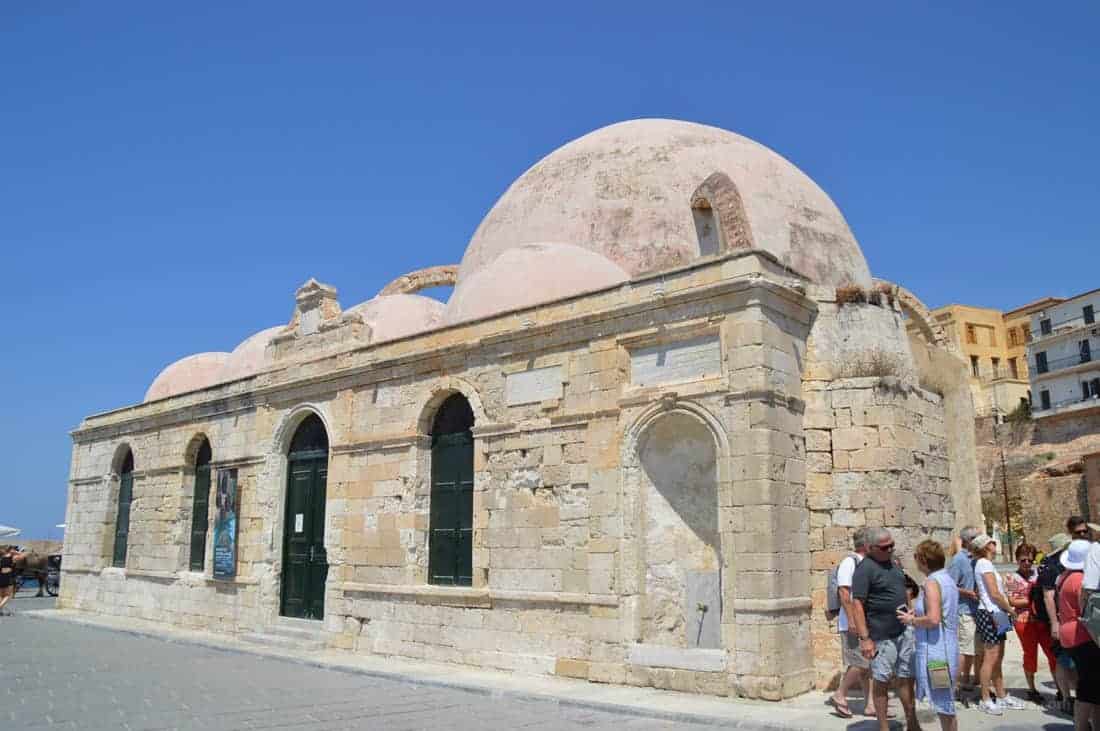 Ending the Chania Crete tour with snacks
Sun was strong and it was a bit after lunch time. Gabi took us to a traditional Greek coffee house. By looking at it, it seemed to be another traditional coffee house (Kafeneio).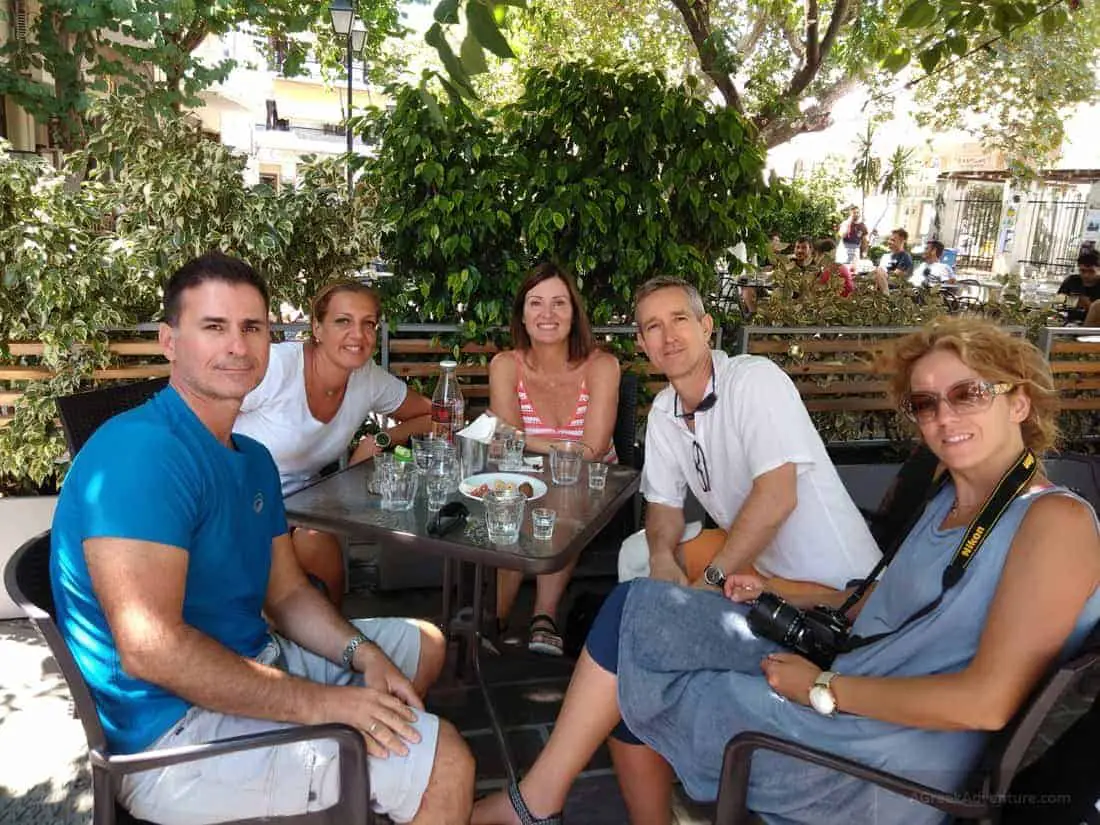 However, this one was really famous where at afternoon and night time you wouldn't be able to find a spot to sit. The name of the place is "To Kafeneio". It is located in the area of Splantzia (inside Chania) near the main square.
We had some snacks and raki. Just to let you know, the actual Greek name of the strong drink called as "raki" is "tsikoudia". Raki is the Turkish word for the same thing. Since Crete had their own time under Ottoman oppression in the past, it is normal that some words passed in the language spoken.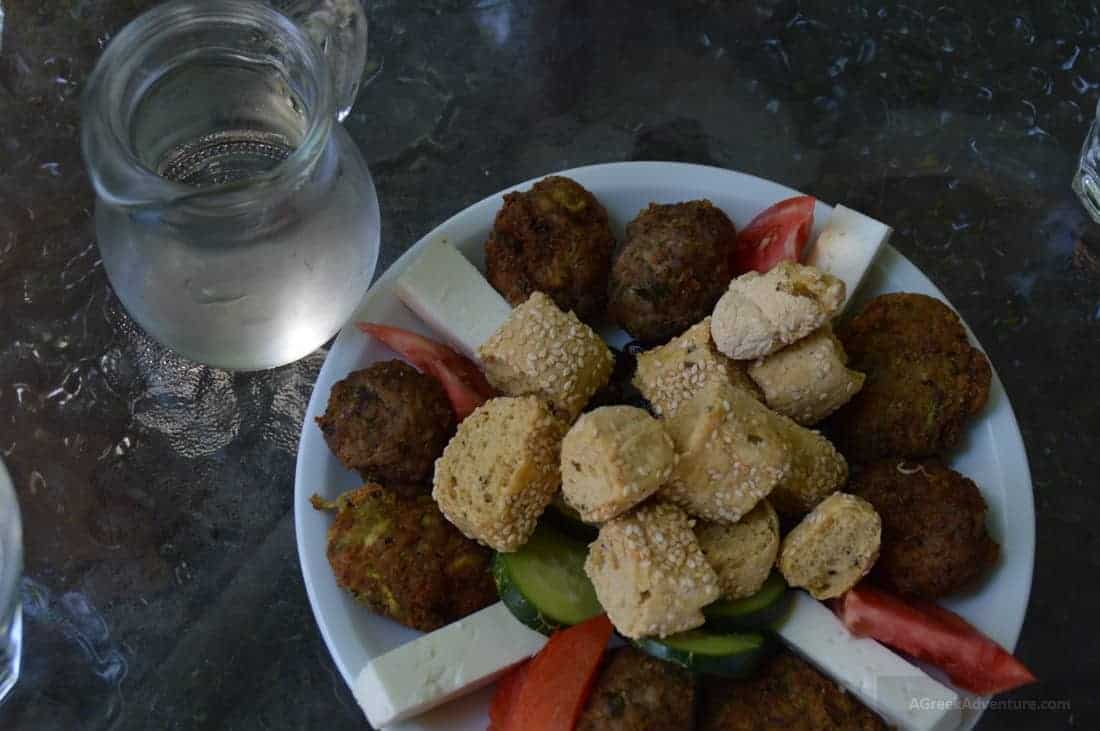 At that point our Chania Crete tour ended.
During that we really learned a lot from our Australian tour buddies, exchanging information on customs and things done differently in Greece and Australia.
That is another thing we liked in that tour. How a team of people who neither knew each before, eventually became a smiling happy party.
Recommended Chania Crete hotels
We asked friends an dlocals where is best to stay in Chania Crete and they replied with these suggestions for hotels they have indeed stayed in. Do check them in Booking.com:
These five are very good, with special decoration retaining the Venetian traditions, all of them used to be Venetian palazzi. They have been restored taking into account the original structure of the buildings and have great reviews.
Additional suggestions we heard good things about them but haven't stayed in them are:
Do take that tour in Chania Crete. You will learn a lot. Pin this below if you like.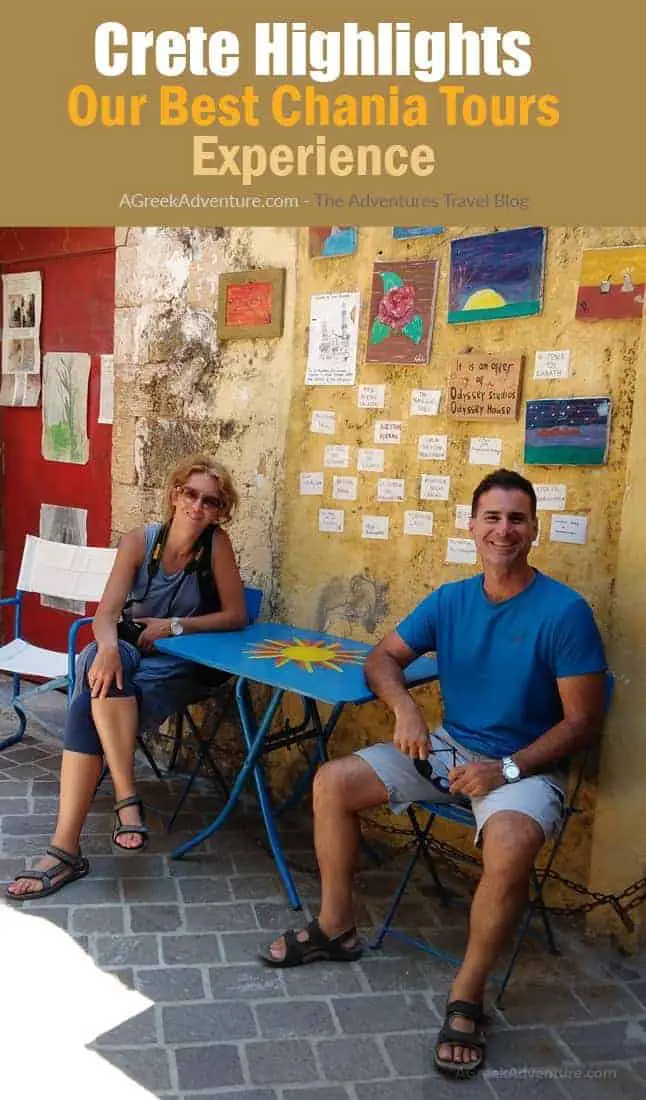 Disclosure: Visiting Chania Crete was made possible with the support of Urban Adventures, Ellinair Airlines, Arodamos Traditional Guesthouses, Enagron Ecotourism Village. However, the entire content and opinions are always our own.
(Disclosure: There is an affiliate link in this page. If you click it and choose to book one of the tours, a small commission -not in your expense- will be allocated to us. We use such means to explore locations and activities so to give back valuable information).