Syros has "that special thing" to add when it comes to Greek island vacations. Greek islands are usually about sun and fun, perhaps some wining and dining and a little sightseeing. That is unless you are going to Syros Greece! Sightseeing becomes a much larger part of your plan, and there are many, many things to do. Hot sweet tooth tip: Seek for the famous Syros delights and nougats.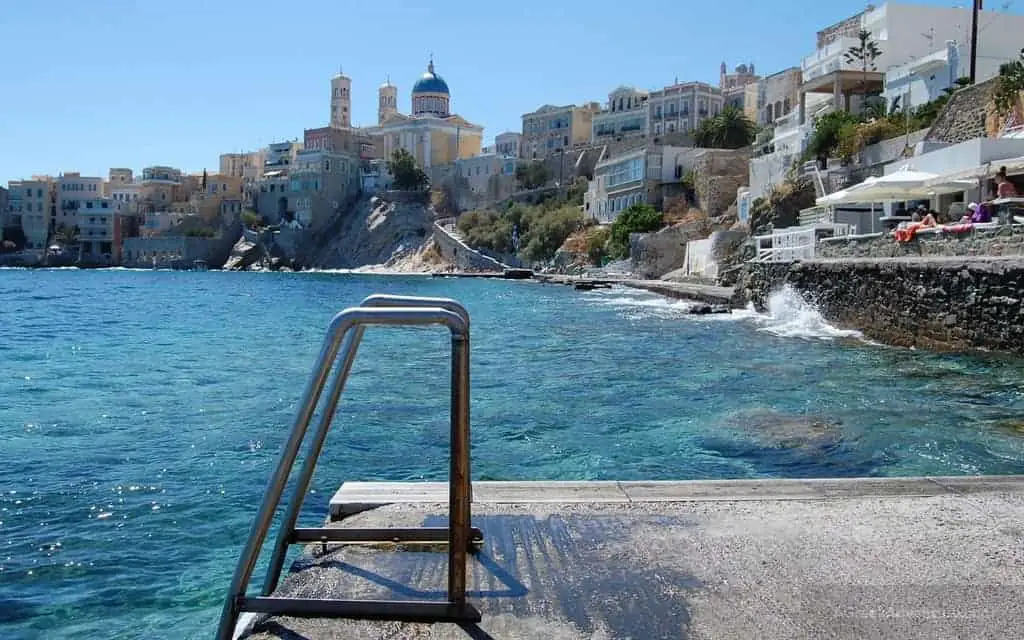 If you are heading to Syros, Greece, the capital of the Cyclades, there are numerous beaches, museums, galleries, sailing and a host of restaurants to enjoy along the Mediterranean.
Plateia Miaouli, Syros
This is perhaps one of the best places in which to people watch in Syros. Numerous people come here to do just that. It is often referred to as one of the finest urban areas in the Cyclades.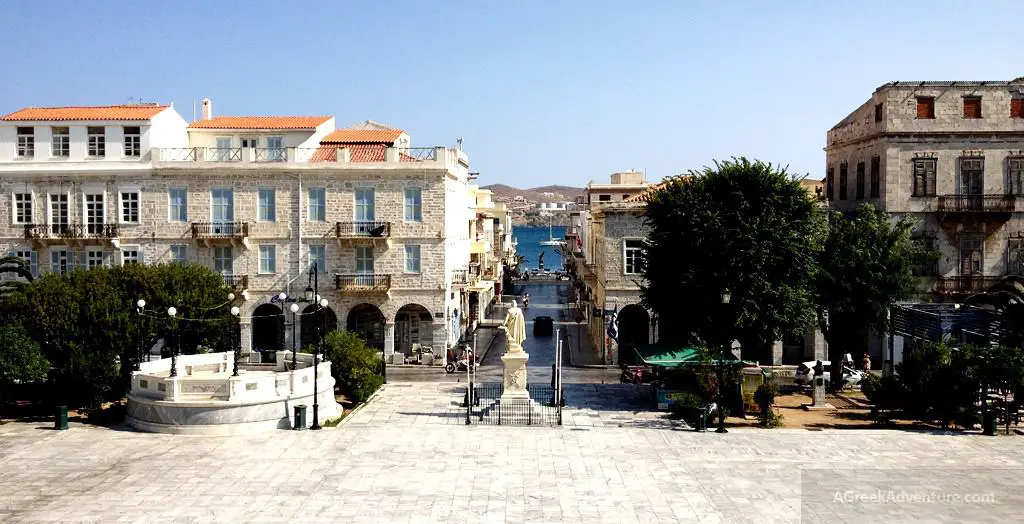 This plaza was once shore-front, but is now inland and in its center is a famous neoclassical town hall. There are palm trees flanking all sides, and this is where the bars, cafes, and restaurants in this area can be found.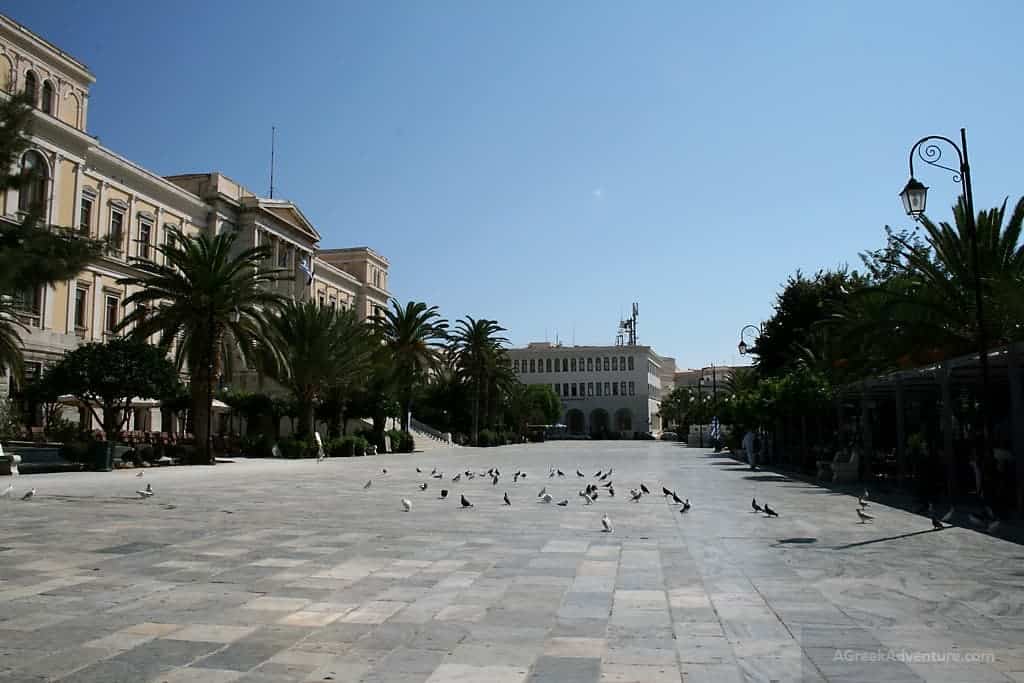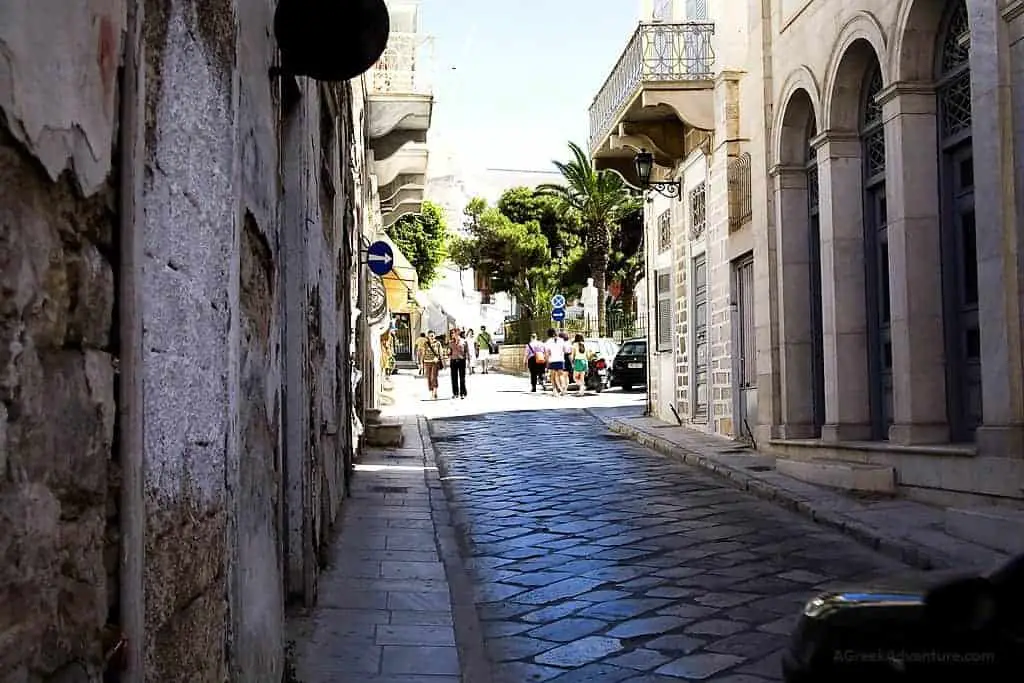 There is a statue in the square that honors the great naval hero, Andreas Miaoulis, for whom this great plaza was named. There is also a small museum in the rear of town hall, and there are also a few great cafes in the town hall building, which also happen to be great places from which one can people watch all day!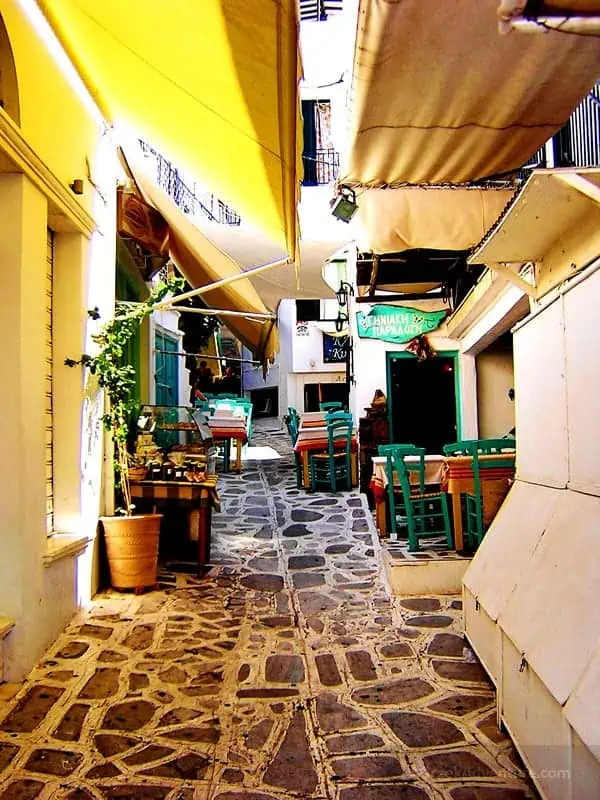 Upper Syros Island
One of the most interesting parts of Hermoupolis town is its upper part, named Ano Syros (upper Syros). That part of the city is build like a fortress where you can enter through specific gates(!).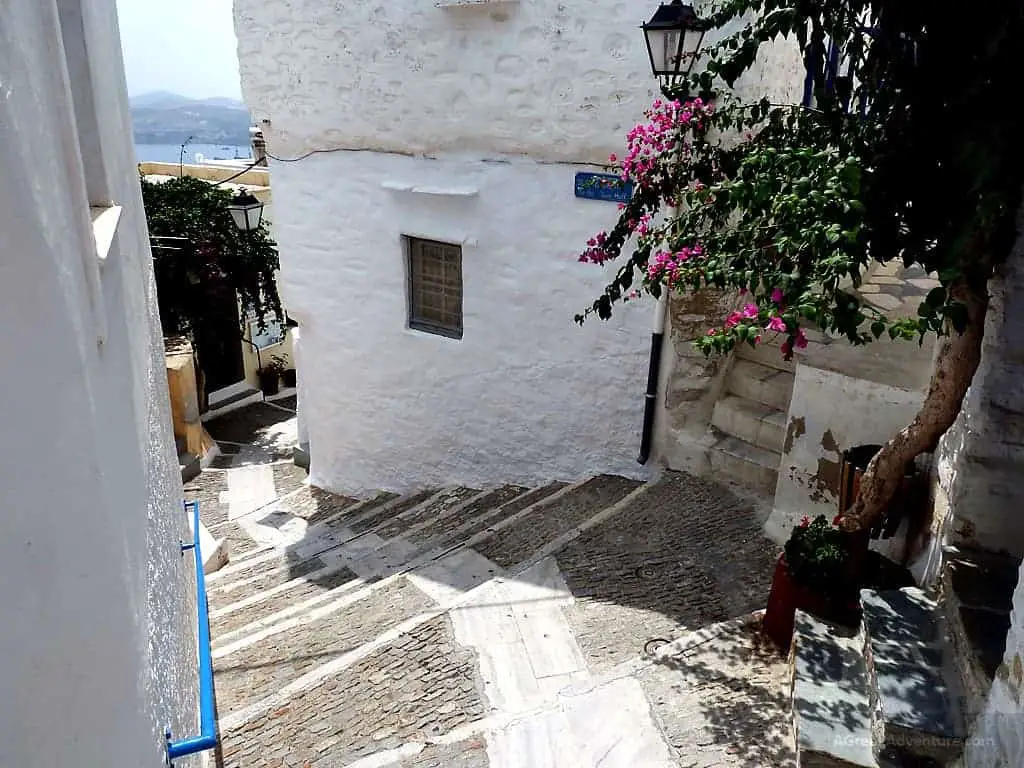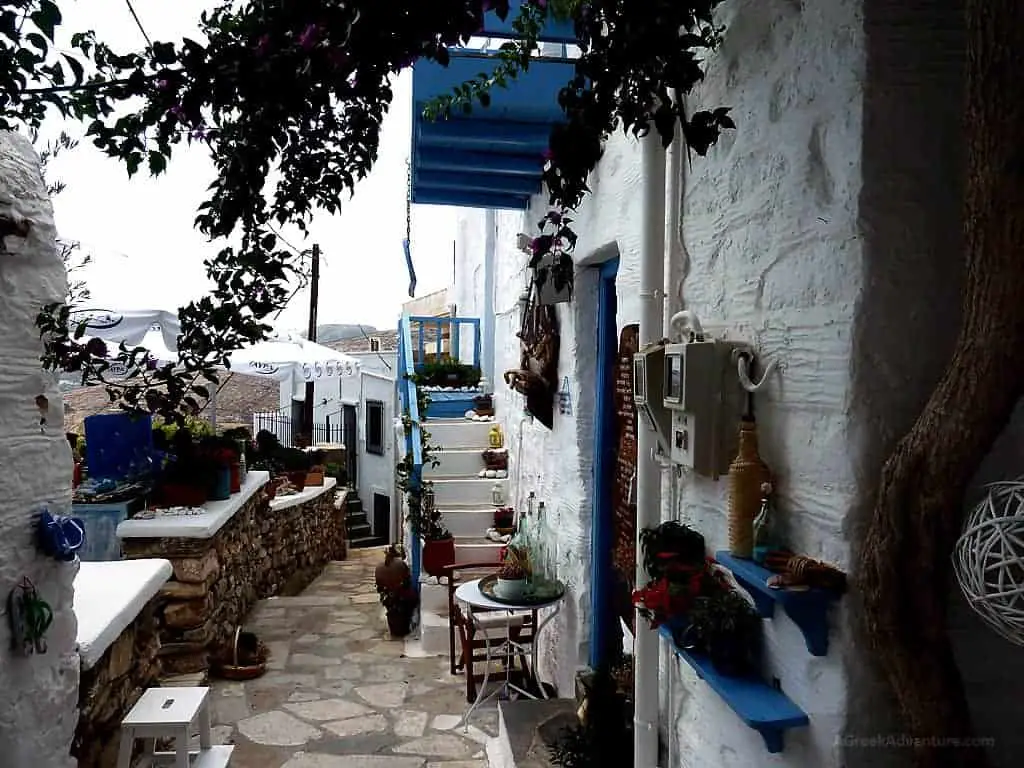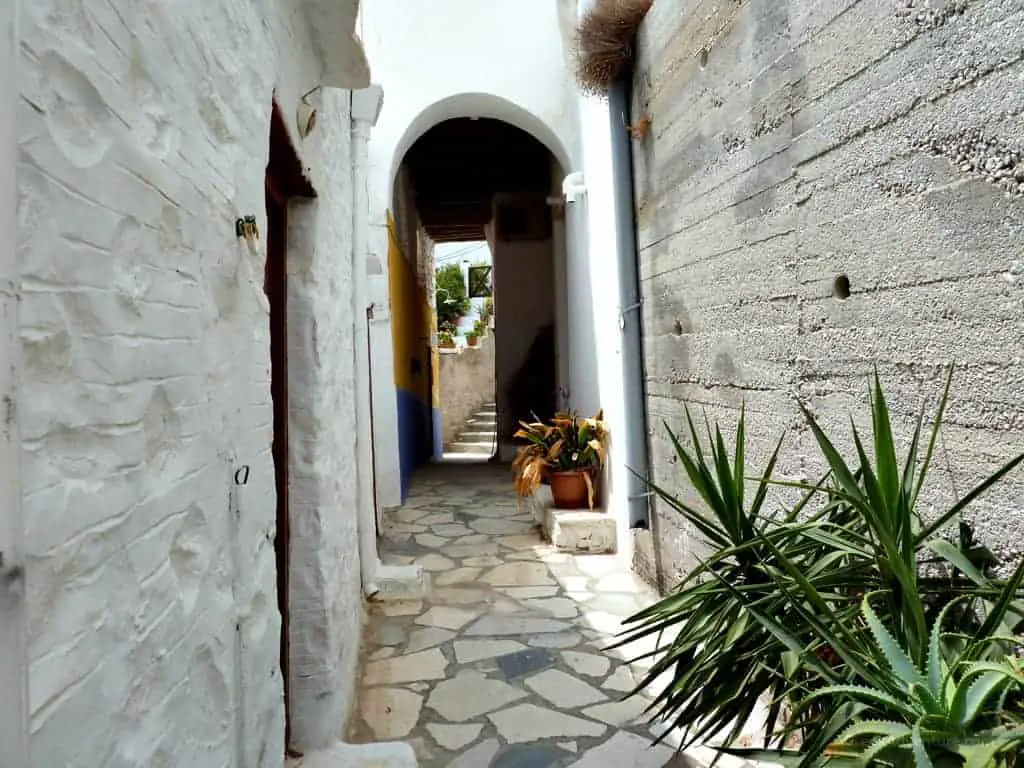 Its narrow roads make a network similar to a labyrinth (which is part of the fun to actually wonder around there).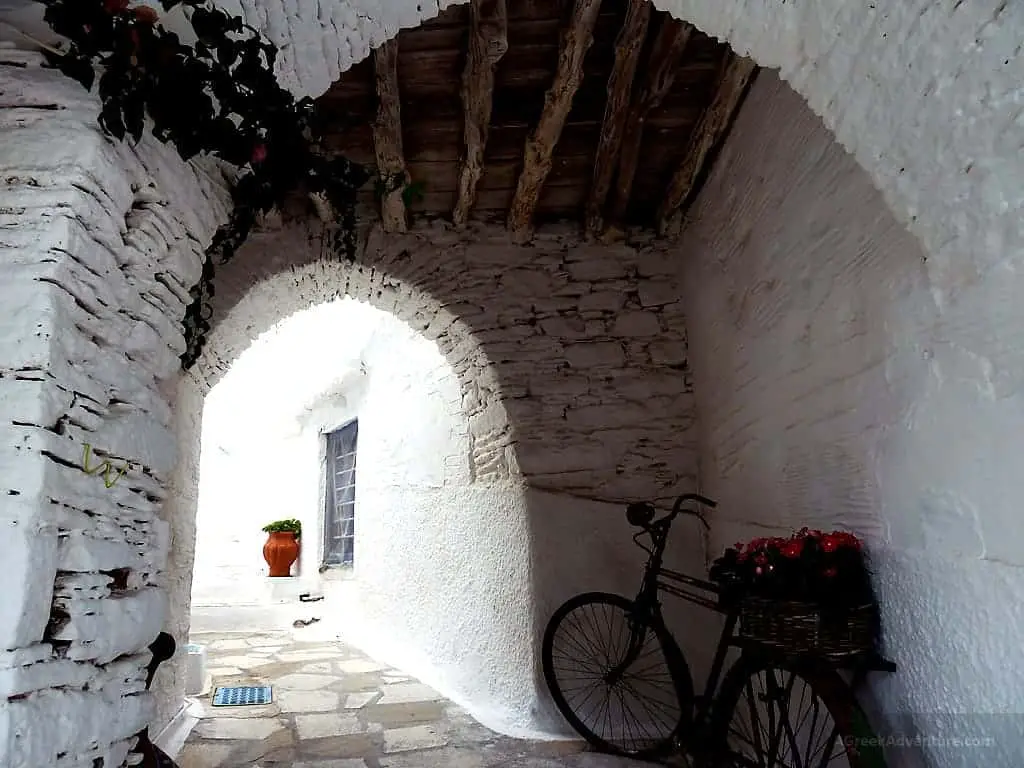 People of Syros build it like that in order to protect themselves from hostile attacks, pirates and all sorts of enemies.
This area provided (still does) almost 360 degrees surround view and you are able to oversee "enemies" as they approached from far. Cannons ready…?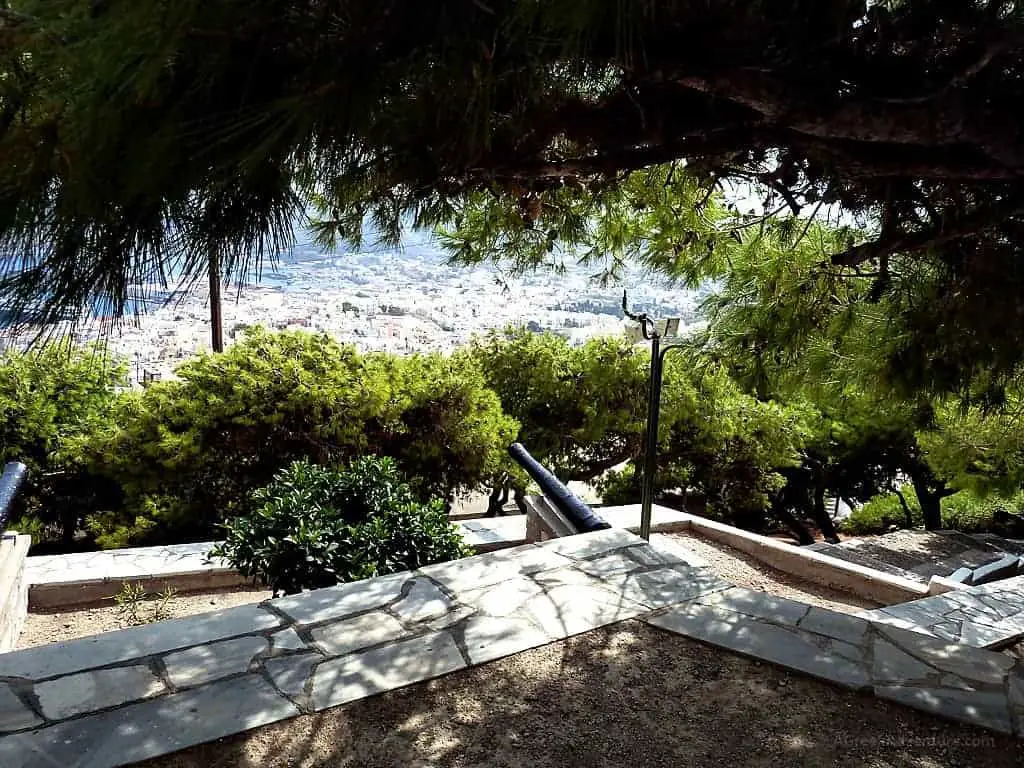 Vaporia, Syros Greece
This area is home to some of the best boutique hotels in Syros.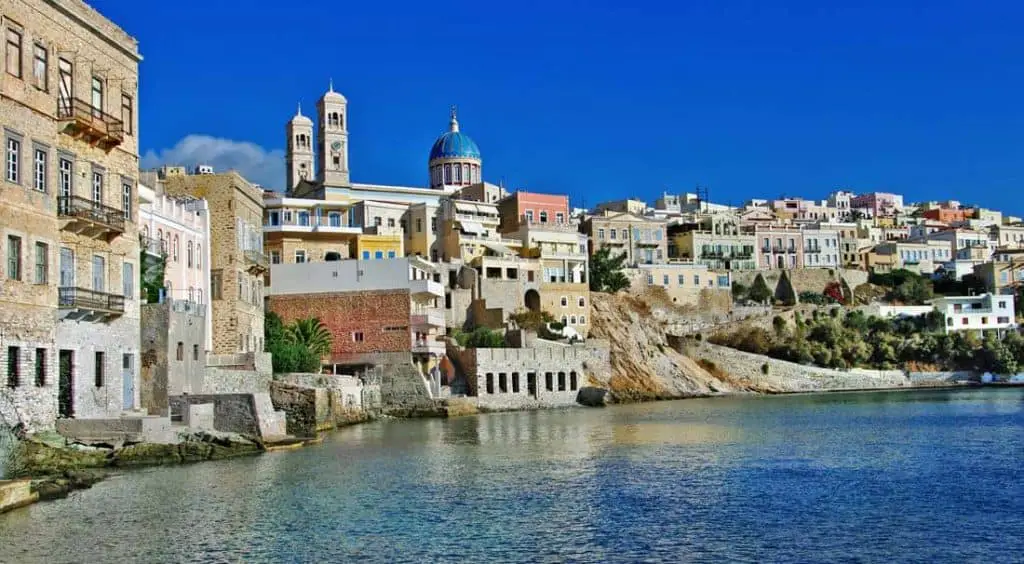 There is an enormous amount of shopping to do in this area, as well as restaurants and bars to go to. You can also tour some of the shipbuilding owners' homes.
Congruent with those who have achieved massive wealth during an economic surge in a country, these homes are filled with ornate murals, chandeliers and other accouterments.
Town Hall od Syros Greece
Plateia Miaouli is built around an architectural masterpiece of a town hall.
It is a nice place to have lunch in one of the cafes, and it is also a treat to tour this building designed by Ernst Ziller.
Agios Nikolaos, Syros Greece
Religion in Syros is interesting through the spans of time, and this Greek Orthodox church is representative of the wealth that was flowing through Greece at the time it was established. Opulence and decadence can be seen everywhere in this famed church visited by thousands of tourists every year.
Agios Georgios Cathedral in Syros
The white washed houses and alleyways in this ancient settlement draws in many fascinated tourists. Aside from the architecture, there are several places where one can take in views of neighboring islands as well as capture great photos.
The alleyways rise up, meandering upwards eventually delivering visitors to this 13th-century cathedral, a must-see when in Syros.
Apollo Theater of Syros
This acclaimed theater, built in1864, is located on Miaouli Square in Ermoupoulis. Built to resemble La Scala di Milan, this miniature version of the Milan was built from limestone and marble.
This building, the original of which was destroyed by the Germans, today has been restored and hosts a number of municipal events. The 2-story structure is adorned with beautiful paintings and architectural features that make it a must-see.
At this theater the annual International Classical Music Festival of Cyclades, is held every single year, attracting lovers of classical music from all over the world.
Beaches of Syros Greece
The south side of the island is home to some of the most popular beaches. Galissas is one of the most popular beaches, and most all of the beaches in this part of Syros are lined with hotels, bars and restaurants.
Check this video from Galissas beach.
Getting around Syros Island
If you are a couple, we strongly suggest to rent a hog bike (like we usually do). Despite the beautiful tan you will get, you will enjoy the summer breeze far better.
Taxis are the most popular way for tourists to get around the islands. There is also private car service for those wanting a more personal experience. There are bus services in and around the city, and these are popular amongst tourists as they stop at all of the major attractions. There is a main ferry that carries passengers between the islands. Syros, unlike some of the other islands, has its own small airport making travel easier to this vacation destination.
How to get to Syros