Do you wish to attend a holiday abroad? Look no further than the best beaches of Milos Island Greece.
This volcanic Greek island lies in the Aegean Sea just north of the Sea of Crete.
It is in these islands that the statues of Aphrodite (Venus de Milo), Apollo (the Greek god of medicine), and Poseidon once stood.
The island experience warm weather has clear blue skies and clean waters. We are here to let you know what you might do on the island in a typical 7-day visit.
What are the Best Milos Beaches? 
As has already been hinted above, the island shows perfect weather and clear blue skies. It has some of the beaches in Greece and a few of the top out worldly ones.
The beaches are the part of Milos that many come here for.
For this reason, it is an excellent destination for anyone who fancies sunbathing and other coastal related pastimes. You should, therefore, spare some time to sunbathe in any of the seaside facilities.
One of the best things to do on the island is boat tours. Just rent one and see every side of Milos. Most of the beaches are accessible by car.
Also read: Ferry From Crete To Santorini Travel Guide
Keep in mind that most beaches of Milos island lack of trees for shade. In most of the popular ones, the rocky terrain makes it difficult -if not impossible- to poke an umbrella. 
However, there are plenty of sandy or pebbled beaches with beach bars that lay on the sand with magnificent crystal clear waters. There you set your umbrella and stay all day long.
Sampled and briefly explained below are some of the top facilities you may wish to visit and spend some time in:
Sarakiniko Beach
Start with the Sarakiniko beach. That is on the north side of the island. Strong waves continuously bombard the area.
These subsequently form unusual shapes after prolonged exposure. That, in turn, results in breathtaking land-forms that are almost nowhere else, with white rocks and turquoise waters.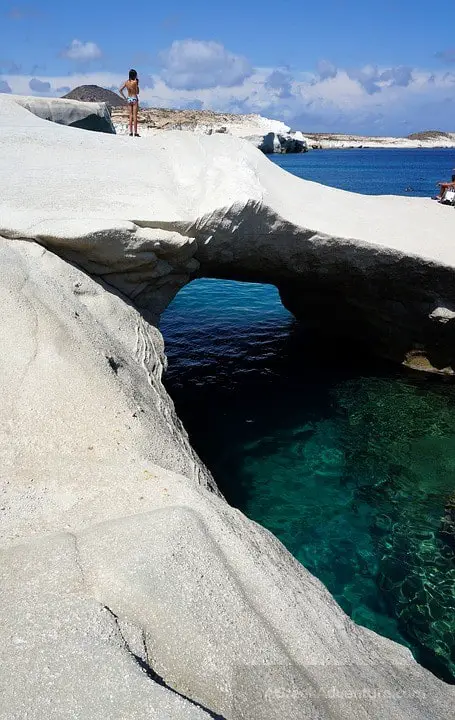 These land-forms confer great sightseeing opportunities as they are very breathtaking to behold. The blue sea that comes into contact with it all the more enhances its appeal.
This one is considered one of the Milos beaches and thus is the most photographed one.
Firiplaka Beach
Located at the southern side of the island, Firiplaka Beach is excellent for sunbathing, outdoor relaxation, and just about any other outdoor related rest and reaction activity.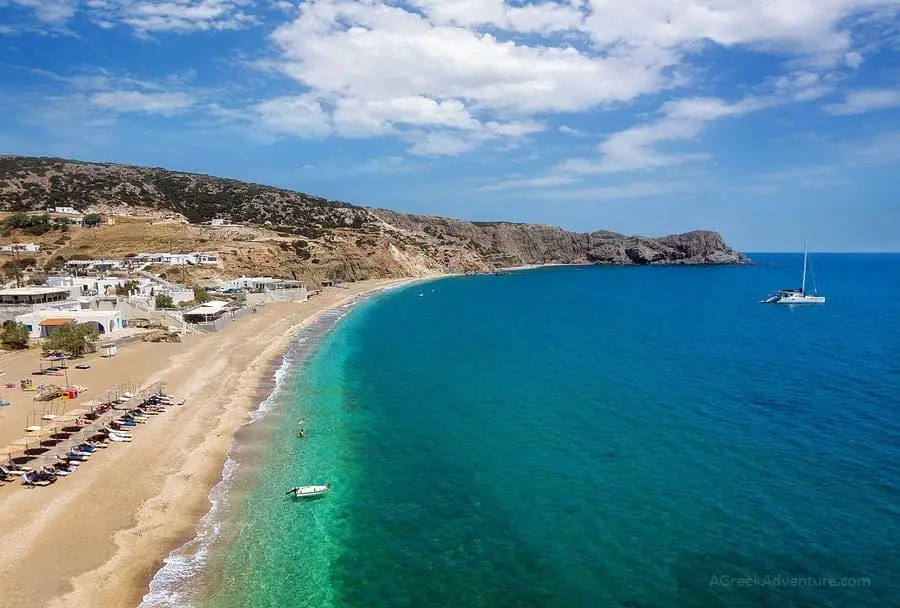 You want to spend some time at the beach.
The resources mentioned above come with the existence of resorts, hotels, and other excellent accommodation facilities. That is not to say their safe and secure nature.
Tsigrado Beach
Tsigrado is a small beach and is hidden, largely detached from the island mainland, and very secure indeed. It is between many cliffs that overlook the adjacent ocean.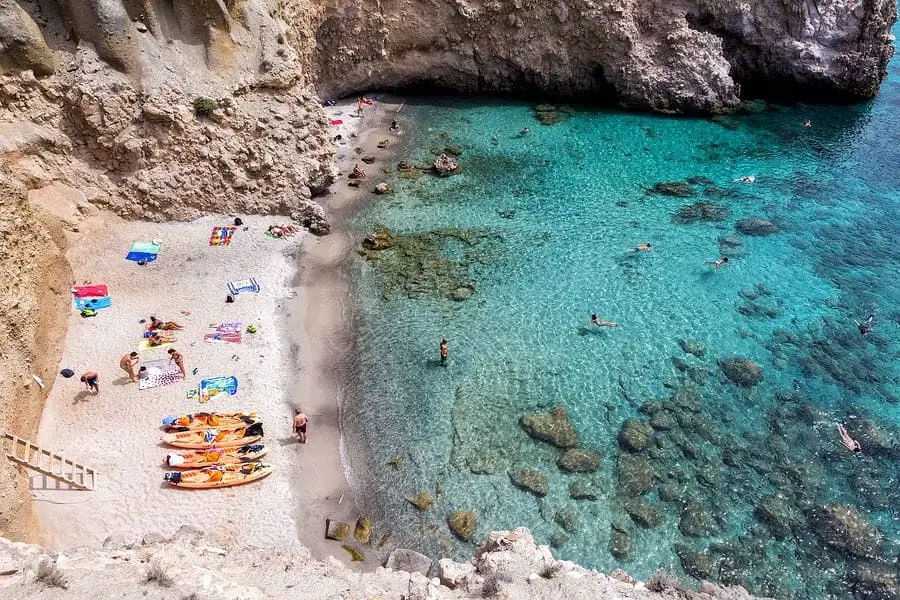 As such, it is a perfect getaway for those who value peace and security. Give the excellent ideal weather; you will find the area very high for sunbathing year-round, regardless of the prevailing environmental conditions.
Its secure ambiance is, by all means, irresistible.
Paleochori Beach
Perhaps no other location provides a great getaway than the Paleochori Beach. The area is spotless, safe, secure, less congested, and breathtaking.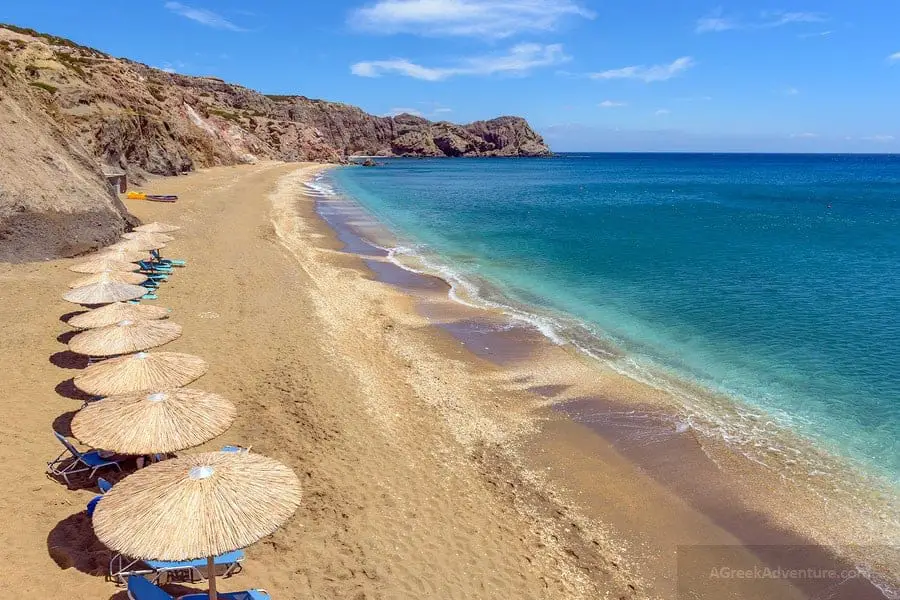 It comes with clear waters, clean sandy beaches, and excellent weather conditions. The fresh ocean waters make the area ideal for swimming, whereas the nearby cafes are there to minister to your stomach.
Do save a bit of time at the location to leverage these and, indeed, many more benefits.
Gerontas Beach
Unlike most other beaches, Gerontas has no facilities or roads leading to or away from it. As such, it is difficult to access and reach.
However, the area is still a great tourist site. It does have an arch that you may see and behold.
It is also cleaner and safer. For this reason, this is the perfect place to sunbathe and enjoy your time outdoors.
Triades Beach
Triades is by far the quietest, undisturbed, and clean beach that is on the northwestern portion of the island.
The beach is three in one. In all, the three islands that form part of the Triades archipelago jointly confer peaceful abode for the adventure enthusiast.
That stems from the calm adjacent waters, forgiving weather, calm winds, and favorable environmental conditions. Do take time to sunbathe on its shores.
Apart from sunbathing, you may also dive or swim in the waters that surround the island. That is because the adjacent waters are deep, cleaner, sheltered from strong waves and tides, and are generally safer from the infestations of sharks and other hostile marine creatures.
Even though you may dive and swim just about anywhere, the following locations have particularly proved to be more outstanding and satisfying:
Pollonia Beach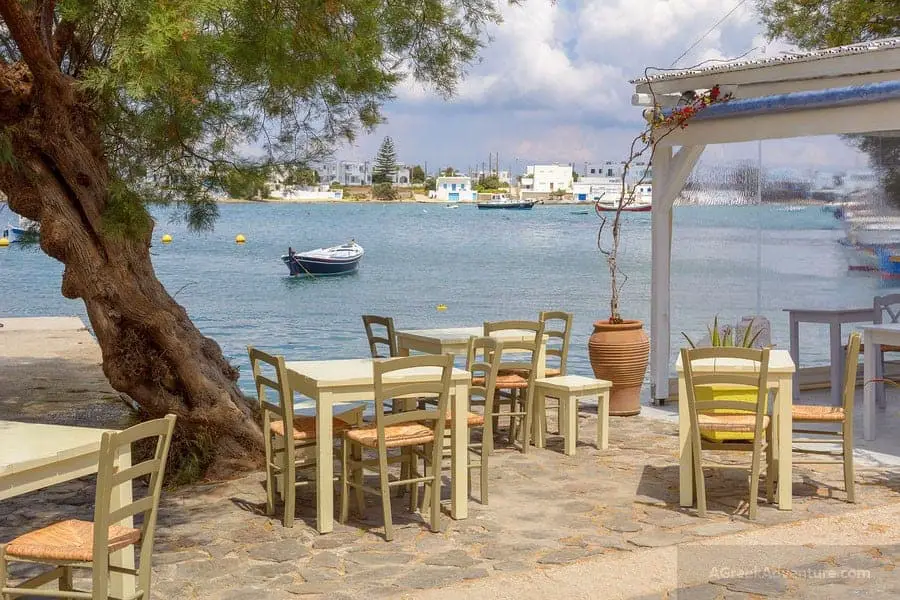 Pollonia is a friendly and quiet sandy beach. It is enamored with shade trees that overlook Kimilos islands.
The area is also served by numerous excellent restaurants that serve great refreshments to visitors and locals alike.
These conditions make the area great for snorkeling and sea diving.
Its sheltered harbor is also excellent for other forms of sea activities. You are less likely to be attacked by sharks and other ferocious sea beasts.
Achivadolimni Beach
Achivadolimni differs from other beaches on the island in that it is mainly a camping site. The area contains numerous tents and other camping facilities.
It accords fantastic views f the entire island because of the existence of some terraces uphill.
The area is particularly great for swimming due to shallow waters, gentle breezes, and adequate shelter from the harsh waves and ferocious marine creatures.
Find prices for accommodation for your things to do in Milos Island Greece from here. For an additional set of tours, check here.
The Labyrinth of Kleftiko Beach
The labyrinth of Kleftiko took its name from being a network of caves and underground tunnels. They are off the coast of Milos island.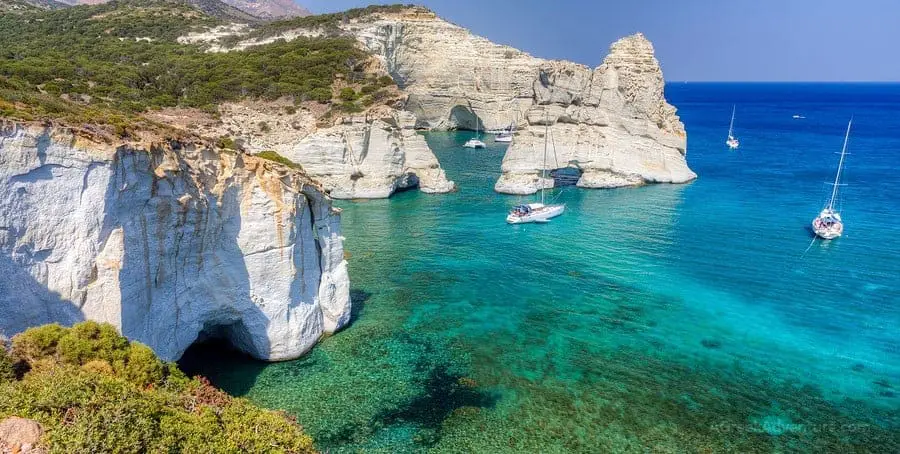 These caves are picturesque, breathtaking to behold, and spectacular.
You may wish to spare some time to dive in the area. That will give you the rare privilege of experiencing these resources first hand besides being able to photograph them as well.
The Kleftiko Caves do have some historical significance too.
For a start, they are natural rock formations that have arisen mainly as the result of the constant bombardment of the shorelines with strong and powerful ocean waves.
Pirates long used them as hideouts and bases from which to launch to attacks on sea vessels that ply the said routes.
Caves of Papafrangas Beach
You may consider touring the caves of Papafrangas as your last port of call in the area. These caves constitute part of a narrow beach along the coast of Milos islands.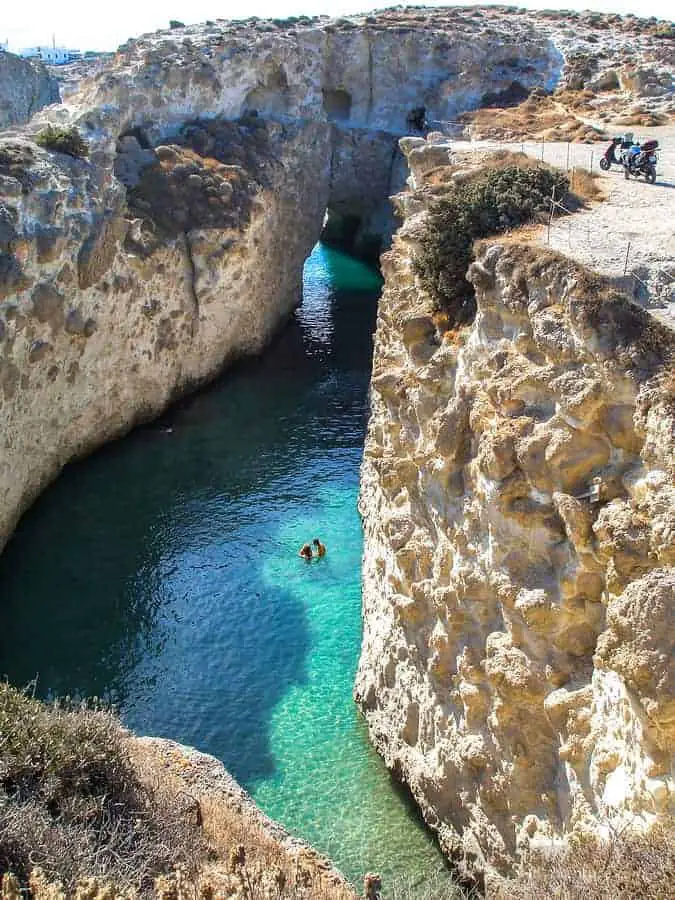 They exemplify a stunning rock formation, which is generally fair to behold. Dive in the waters nearby to get the opportunity to witness these beauty first hand.
You will forever live to cherish this moment.
Agia Kyriaki Beach
Lastly, you may want to stop over at the Agia Kyriaki.
That is a beach that is around 12 km from the capital, Plaka, and about 8 km from Adamas Milos Greece.
Being detached from the rest of the island, the beach is great to relax in. The fresh air, clear blue waters, abundant sunshine, and breathtaking flora and fauna are but a few of the resources that await you.
Ammoudaraki Beach
Remotely located at the western part of the island of Milos, this beach is a great getaway. Its most outstanding niche is its remoteness.
It is also accessible by being not so far from Plaka.
Summing up on Milos beaches
The Milos islands, is ideally located within the easy reach of the European mainland, are one perfect Greek destination.
Did you know that you can get the Milos to Santorini ferry and visit this other popular Greek island?
Why would you even waste your time trying to think twice about it? Explore more things to do in Milos from here and here and here.
Go ahead and make appropriate arrangements to visit this island.