Do you want to go hiking in Andros Greece? Excellent idea. Read why.
Discover Hiking in Andros Greece
The best way to explore Andros island in the Cyclades is on foot!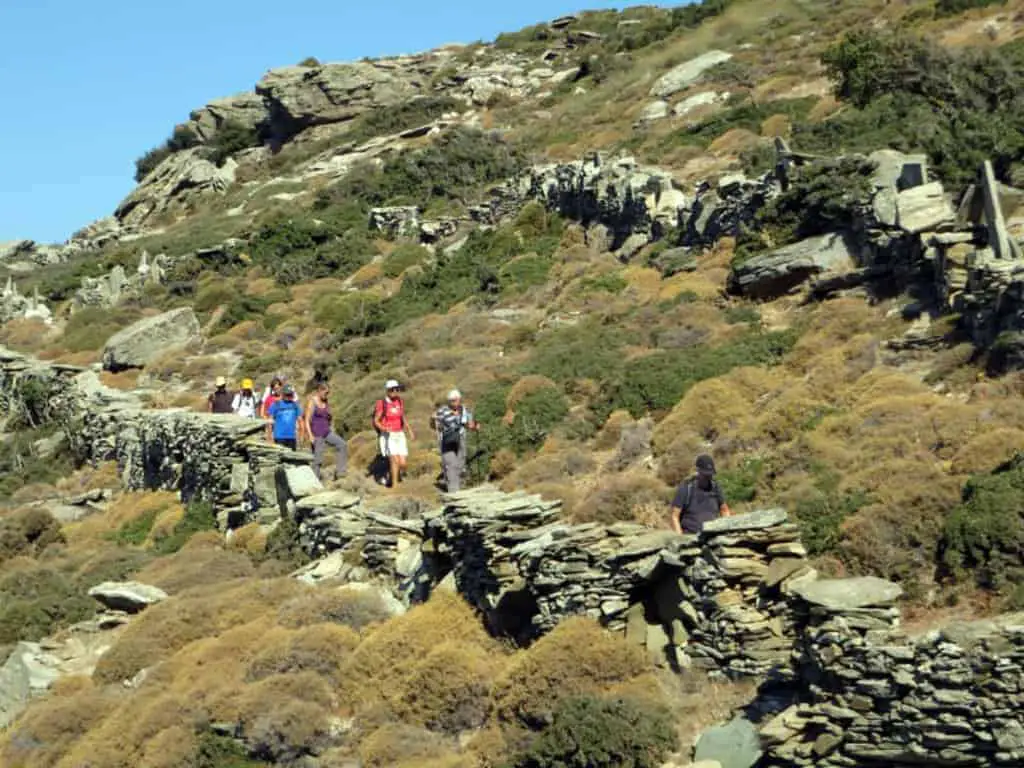 Only in this way can you discover the beauty hidden in every little corner, hear the birds singing, breathe fresh air, and go on a small journey between past & present.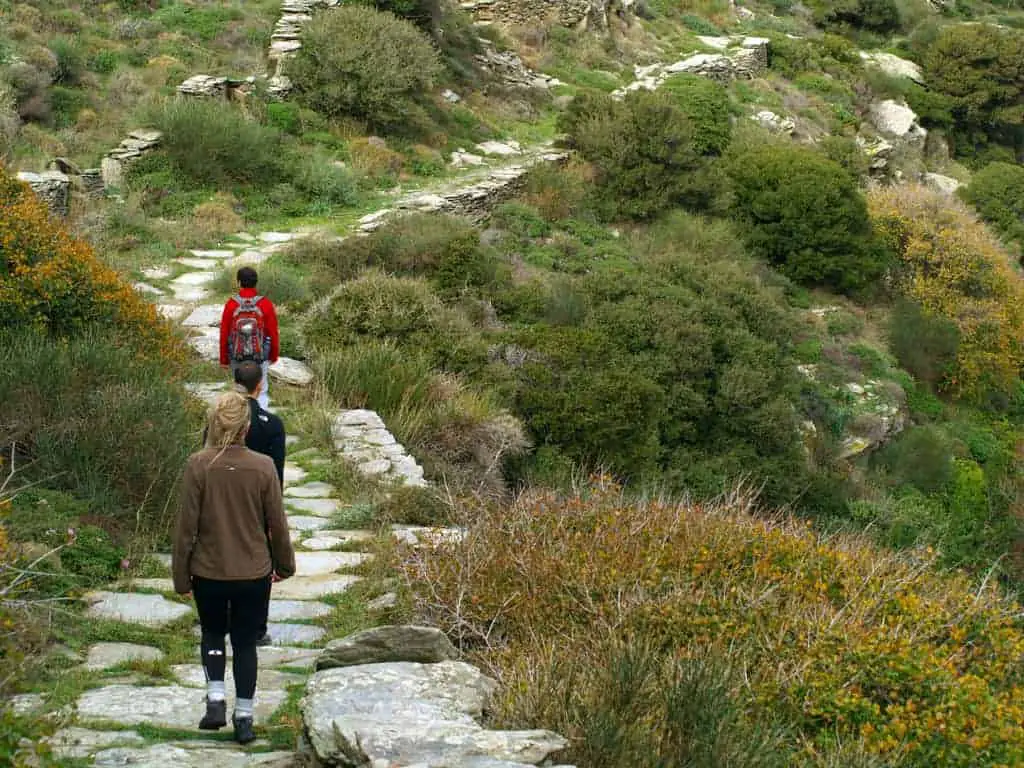 So put on your hiking boots and let's hike!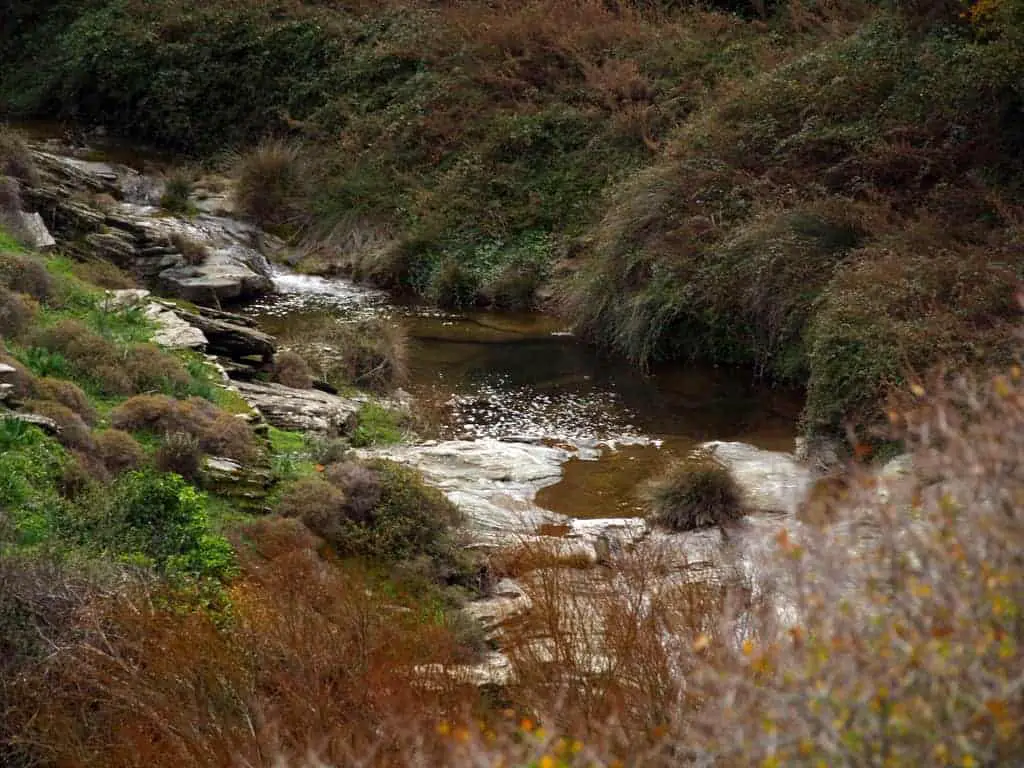 Discover paths of ecological interest and meet the unique nature of the island, visit old watermills, windmills, traditional olive presses, monasteries, archeological sites, beautiful beaches, and other interesting destinations, and of course get familiar with the gastronomy, music and kind inhabitants of the island!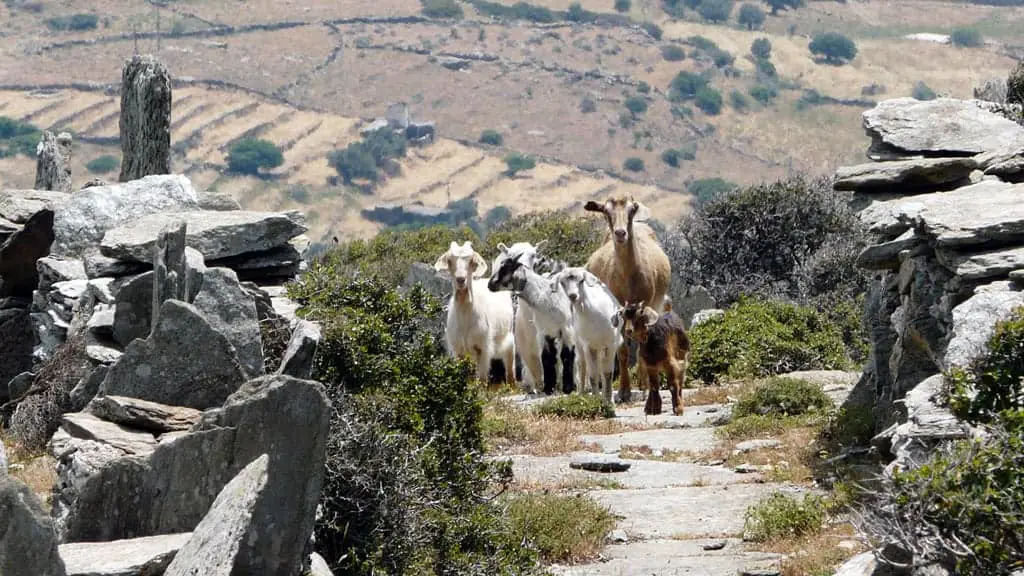 There is a 100km single path called Andros Route.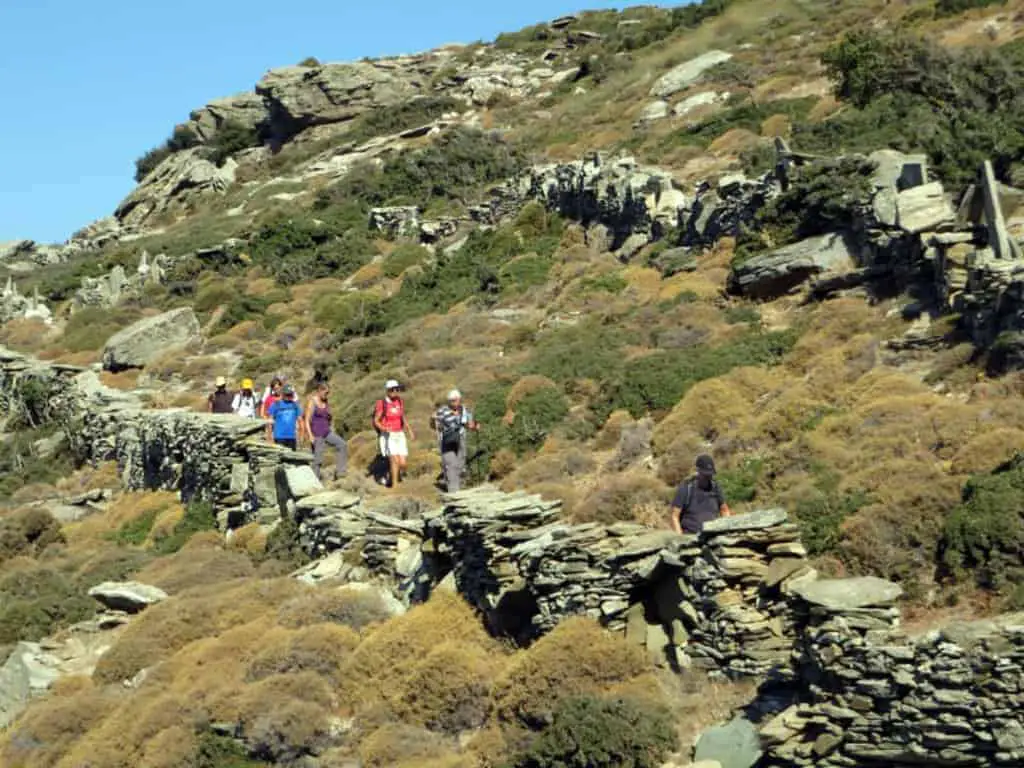 Andros is beyond doubt the perfect island for nature and hiking lovers.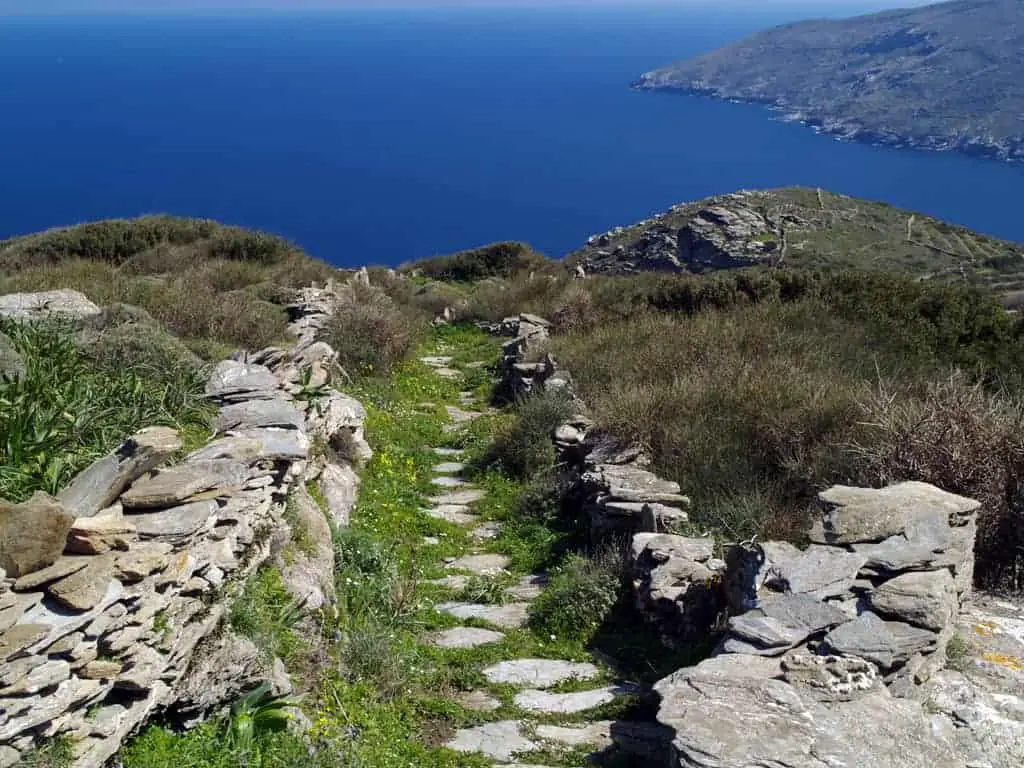 A plethora of springs creates amazing scenery of green valleys and waterfalls and its mountainous nature makes Andros hiking to stand out compared to the other Cycladic Islands.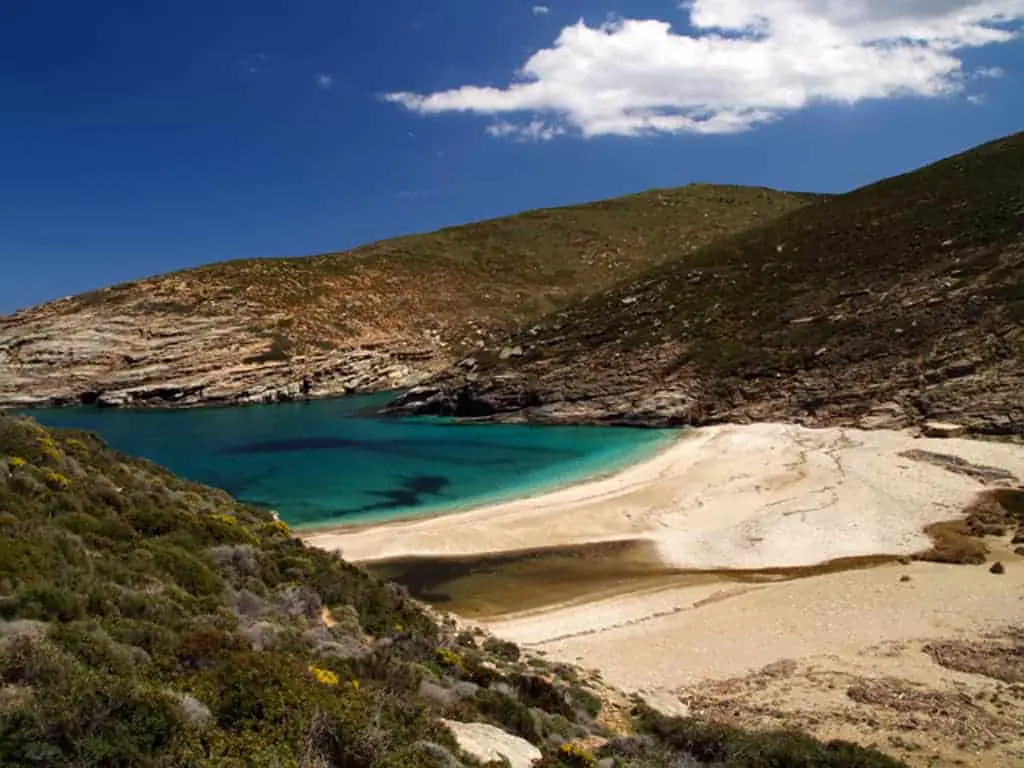 Spring is particularly beautiful here with many travelers taking guided walking tours, enjoying the scenery and discovering rare species of flowers.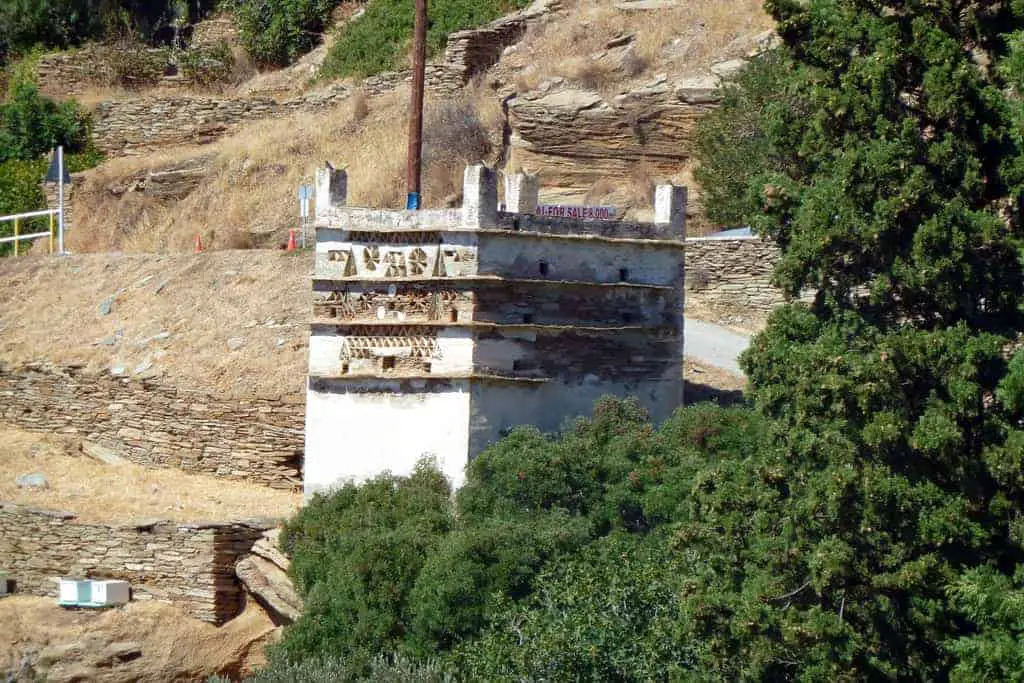 The flora of the island is indeed impressive in its variety: Chestnut trees, walnut trees, sycamore, oak trees, weeping willows, poplar, mulberry, osier and olive trees, fields of thyme, crocus and sage.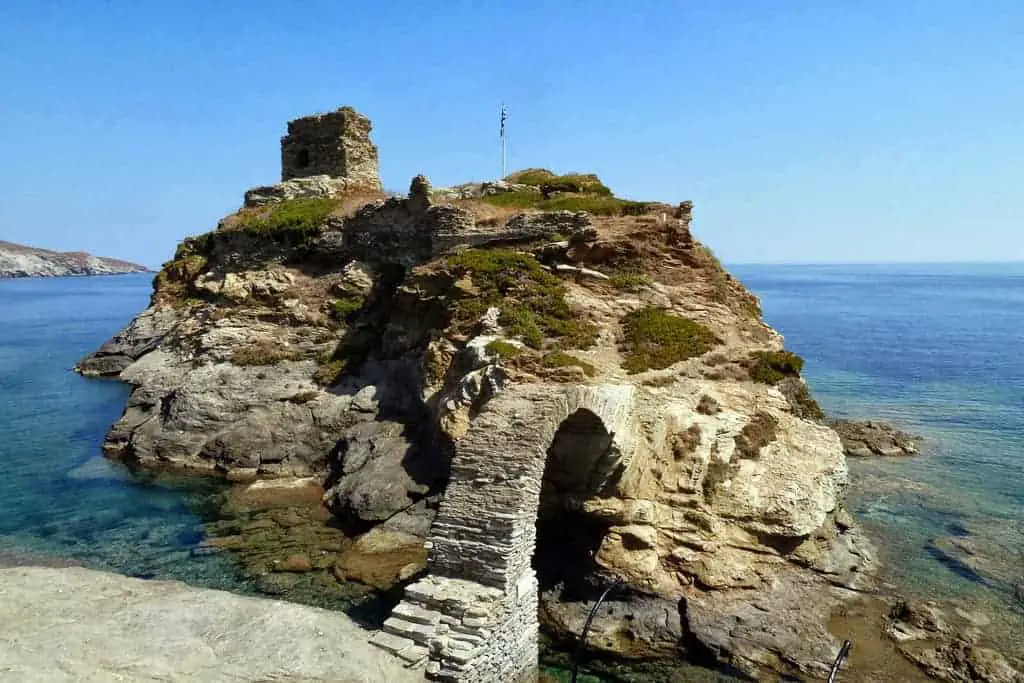 All can all be seen along the paved paths that lead you to the picturesque villages of the island, they travel over stone bridges, meet old watermills, lead to traditional villages, picturesque monasteries, small churches typical of the Greek countryside and secluded beaches.
This island is covered by a 100 kilometer signposted network of old walking paths, which traverse the whole island, literally becoming its "backbone".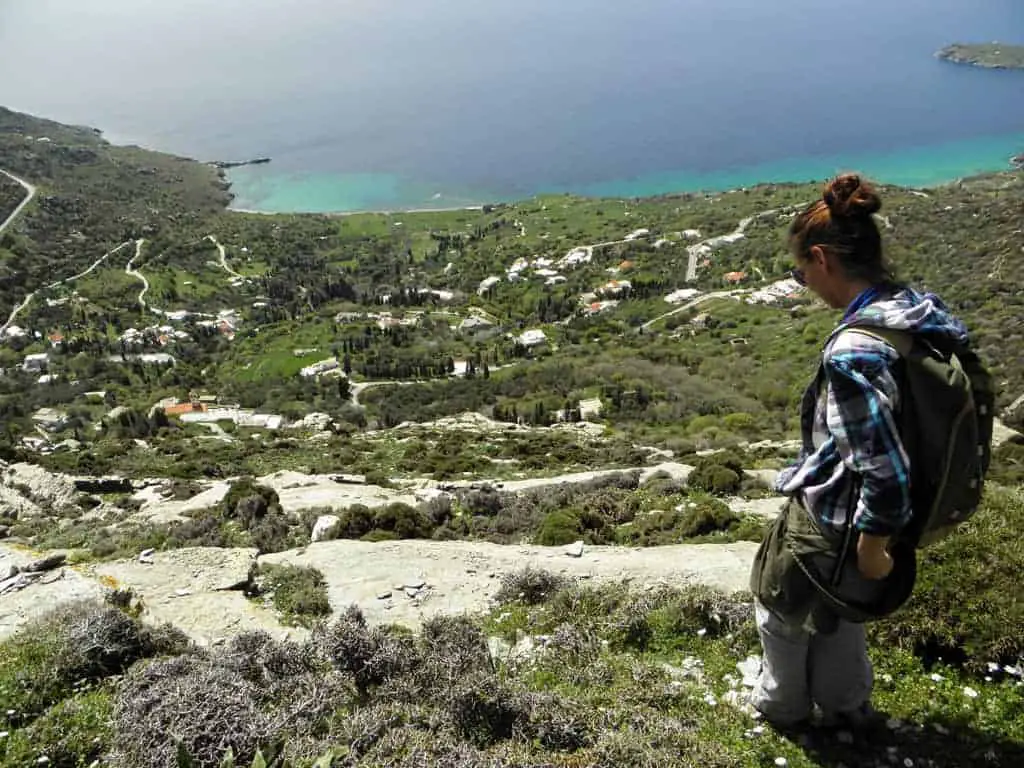 Choose between a number of signposted paths from the "Network of Footpaths of Historical and Cultural Interest" (Cyclades Prefecture) or ask for a tailor-made walking tour.
These guys are offering hiking tours on Andros Greece.
Map of Trails for Hiking in Andros
Click on this link and see the actual interactive hiking map of Andros (with the 100 km hiking trails) in Google.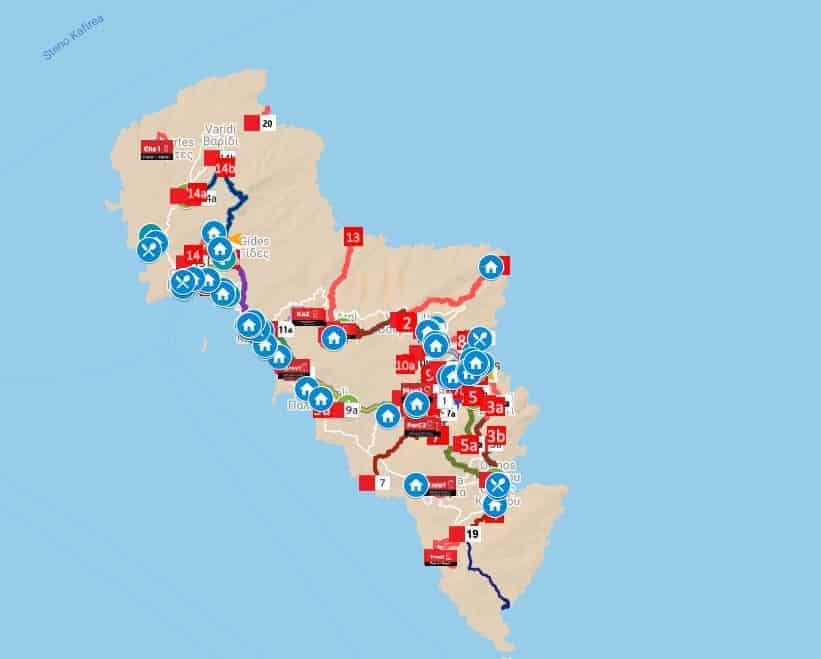 The walks include narrow stoned paths, coastal, gorge and mountain terrains and range from easy, moderate or difficult and last 2 – 5 hours, so there are walks to suit all tastes.
Routes for Hiking in Andros Greece
You do not need previous experience for these tours, but you do need to be in reasonably good health.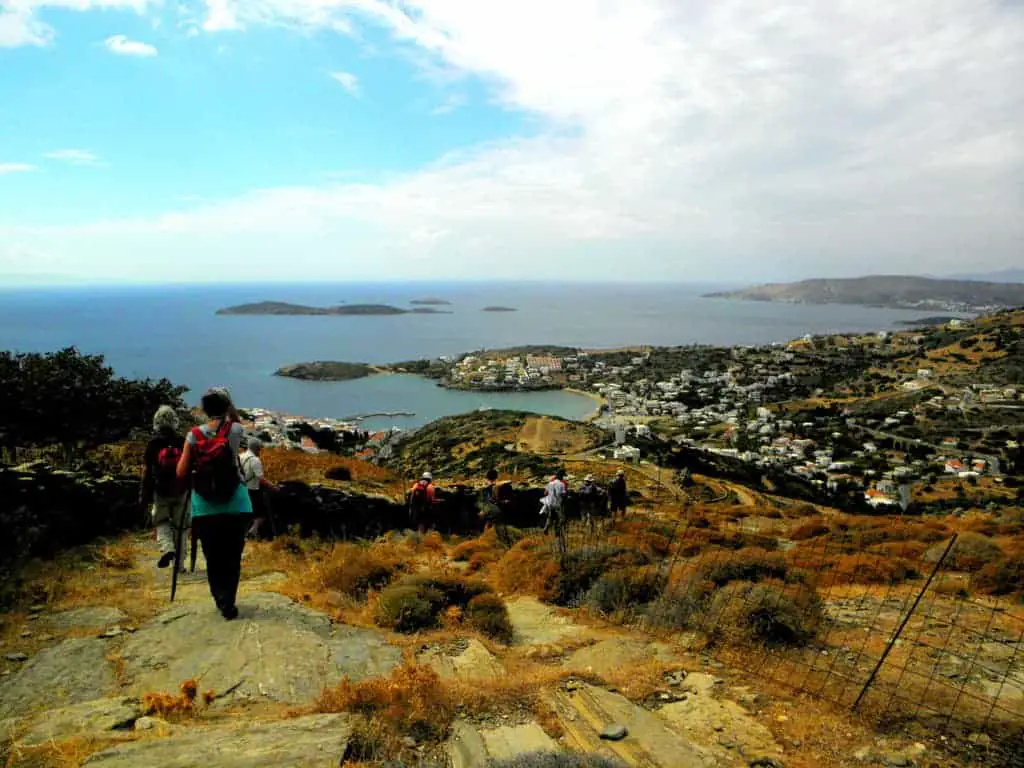 If you enjoy walking and will be able to walk for 4-5 hours per day then these trips will be for you.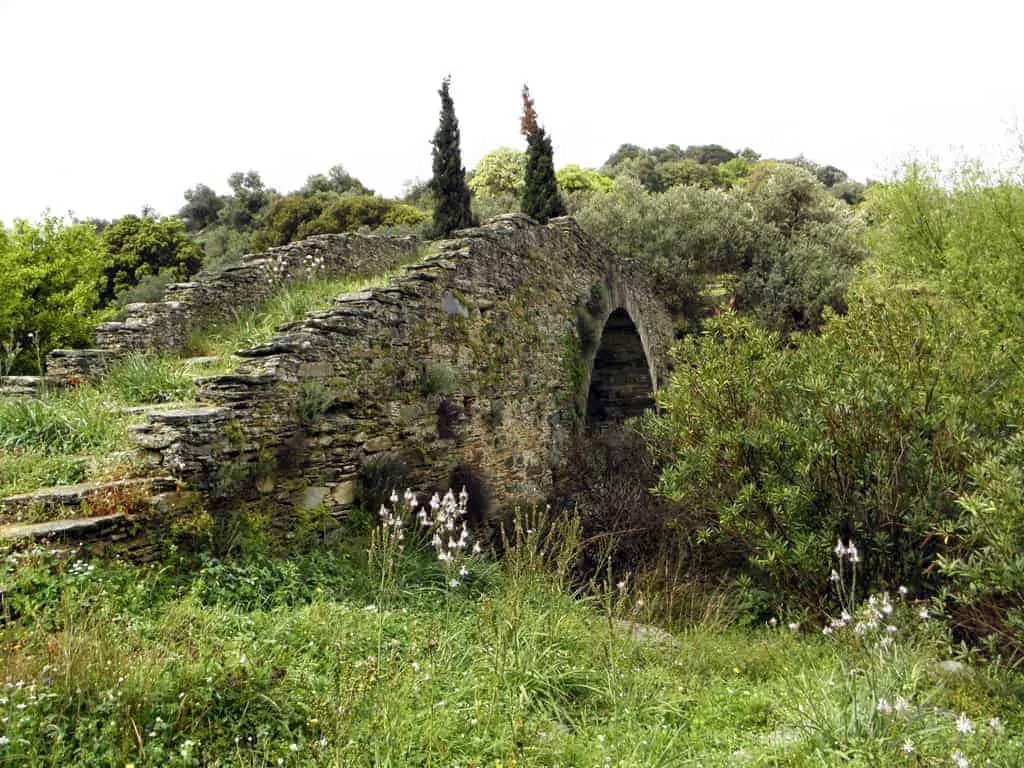 Although tours are not at higher altitudes and will have time for rest, remember that the walks will not be flat and that you'll enjoy them even more if you've built up a little stamina!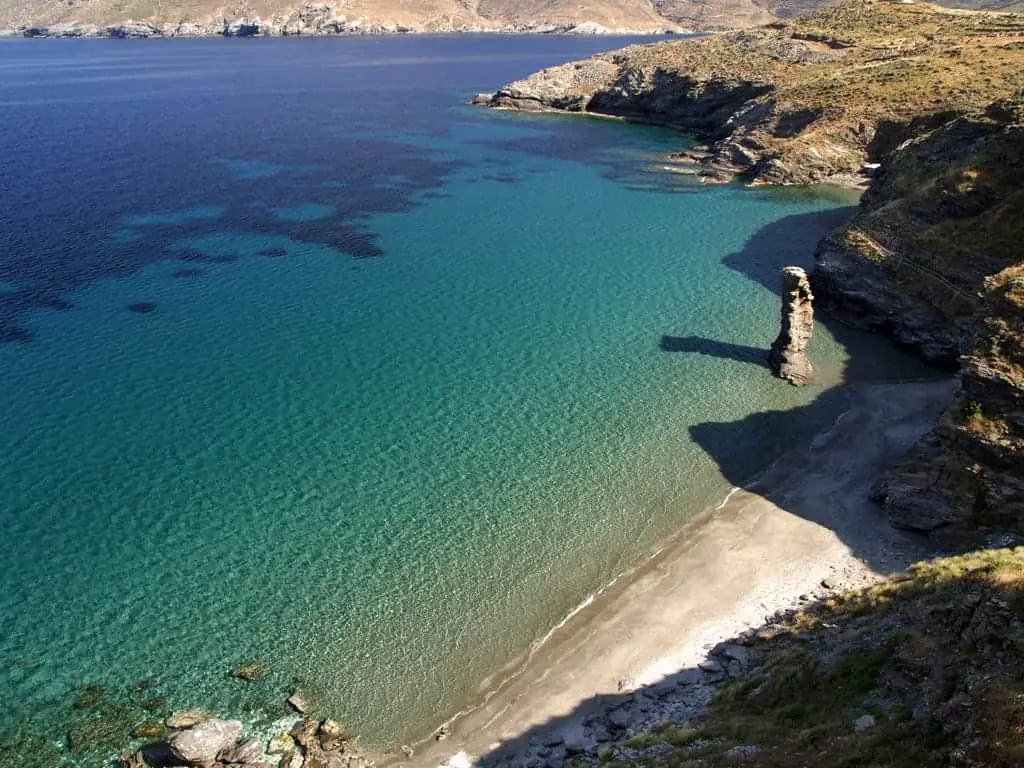 Here are the popular routes for hiking in Andros island:
Chora – Dipotamata- Korthi (or the opposite way) (Footpath No3) -Walking time 4,5 hs Distance  12 km
Vourkoti –St.Nikolaos Monastery – Acla beach (Footpath No 6)-Walking time 4,5hr Distance 9,5km
Ano Aprovato- Ano Pitrofos- Strabourgies- (Footpath No9 )-Walking time 4,5hrs Distance 11 km
Arni – Profitis Ilias – Vourkoti (Footpath No 12)-Walking time 3hrs Distance: 6,5 km
Remata – Lefka Beach – Ateni  -Walking time 5hrs Distance: 10 km
Batsi– Katakoilos –Arni (or the opposite way) (Footpath No11)-Walking time 4hrs Distance: 9 km
Panachrantou Monastery – Ag.Triada- Zagora  (Footpath No7)-Walking time: 3hrs Distance: 8km
Menites – Messaria – Panachrantou Monastery – Fallika- Cave "Foros" -Walking time: 4hrs Distance 8km
Aidonia – Korthi- Tromarchia Monastery (Footpath No4)-Walking time 4,5hrs Distance: 9km
 Apikia – Stenies- Gialia Beach (Footpath No 8)-Walking time: 2hrs  Distance: 5km
Chora – Menites (Footpath No1)-Walking time approx 2hrs Distance 5km
Froussaioi Ravines-Walking time: 1hr Distance 2,5km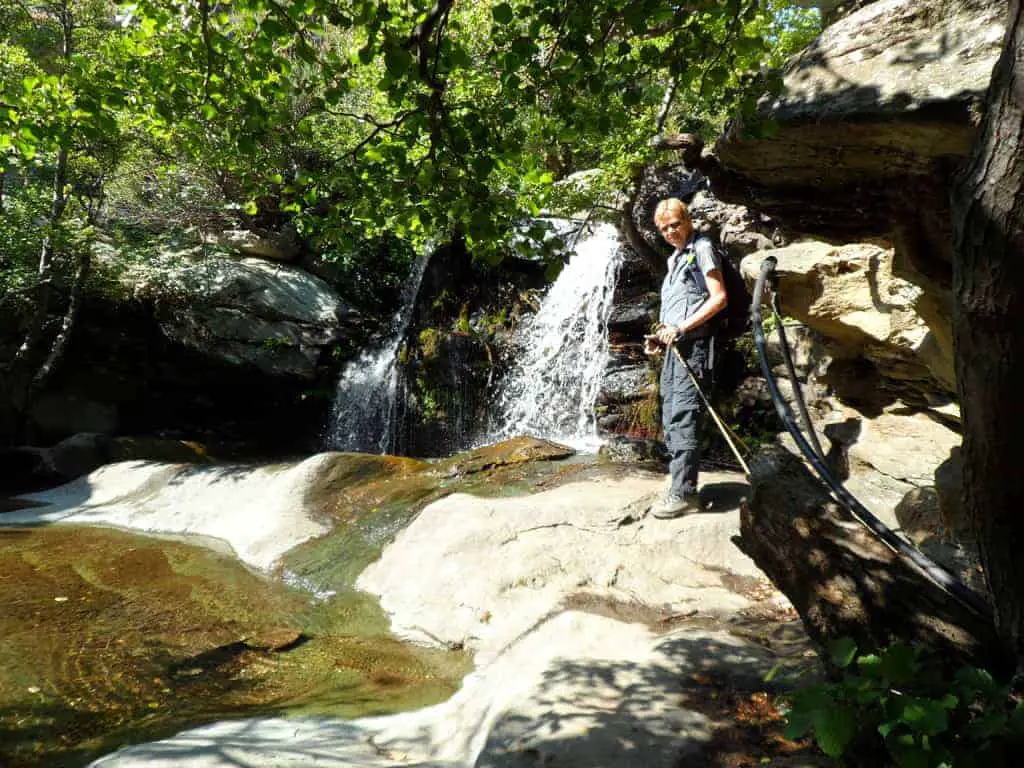 Choose one of the sign-posted hiking trails in Andros that suits you best.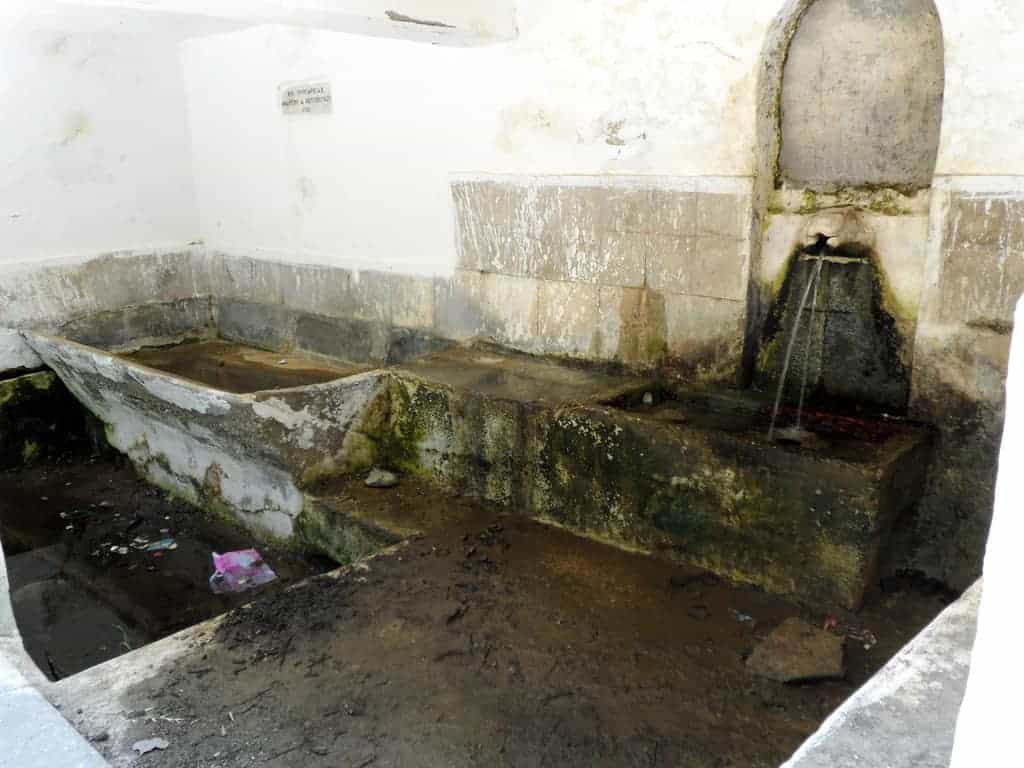 Have you ever gone hiking in Andros Greece?