It was Maria's birthday, and we decided to spend two days in Andros Greece.
Andros is one of those islands in the Cyclades that are close to Athens and the northernmost island of the Greek Cyclades archipelago, at about 10km southeast of Evoia island (Euboea).
Sightseeing in Andros Greece includes (but is not limited to) monasteries and ancient sites. Most of them are accessible through well-marked hiking trails or organized jeep safari trips.
On Ormos beach, you will find lots of people engaging in another popular activity: Windsurfing, along with the best views of the Aegean.
How to Get to Andros Greece?
You can take a public bus up to Rafina port. Hop on a ferry, and with just 15 euro per person, you arrive on Andros in under 2 hours trip.
It is best to plan before arriving there, as there are many places you can visit. If you are an avid hiker, then this island is for you.
You can book your ferry tickets from here.
What Things to Do in Andros Greece?
There is 300 Km of footpaths, with 160km of them well marked.
One is called the Andros Greece Routes and is a continuous 100km footpath.
All paths are from easy to moderate levels. You will need to stay around 30 days on the island to walk them all, but the main one (100km) can take ten days.
Make sure to get the map mentioned above with all routes.
That is a unique map with all info, made with laminated paper that won't get wet and is hard to tear apart.
Andros Greece has lots of different options for accommodation, depending on your preferences. Check your options via Booking.com.
If you plan it correctly, you can do lots of things in 2 days. The island is not under mass tourism so you can have lots of fun without the crowds.
Most places are close to each other to visit. The only thing that can take up much time but is rewarding is hiking.
As said, there are numerous routes.
You want to read these extra posts about things to do in Andros island, Greece.
The Town (Chora) of Andros Greece
Maybe one of the most photographed places of Andros Greece.
White and blue colors dominate here.
Do allocate time to sit in the main square for a beverage or a snack under the shade.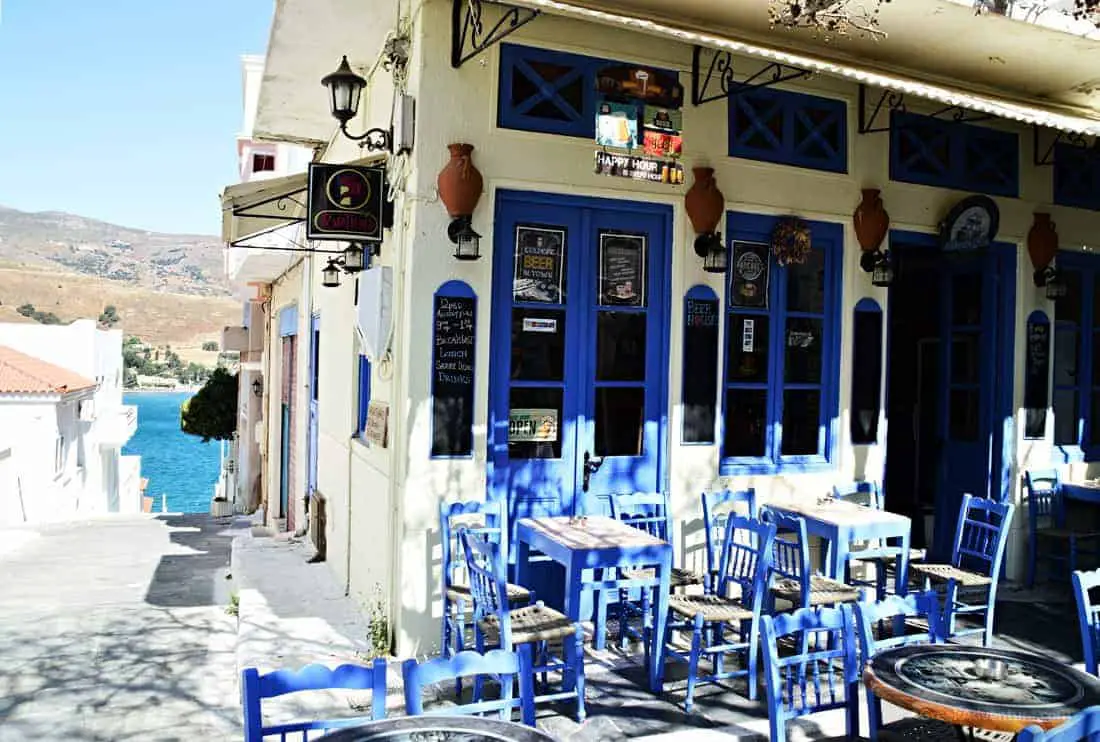 Do walk through the different alleys and narrow streets of Andros Greece town.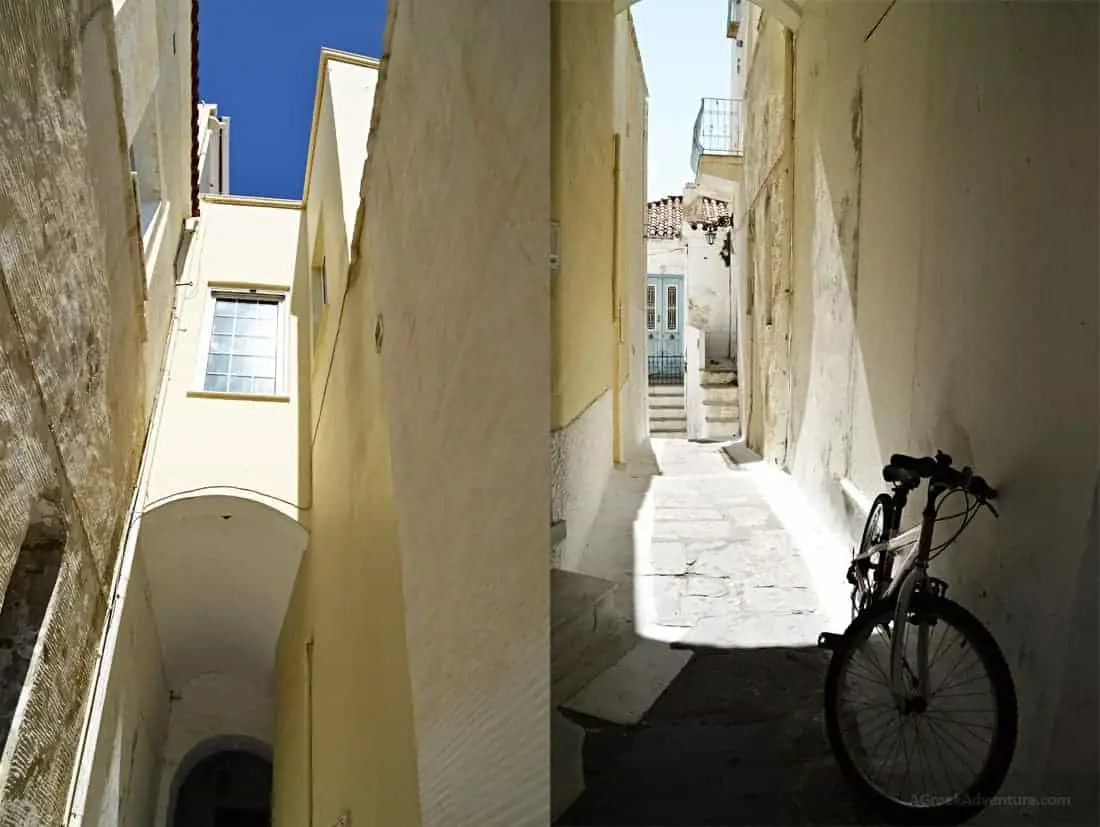 You will have lots and lots of photo opportunities.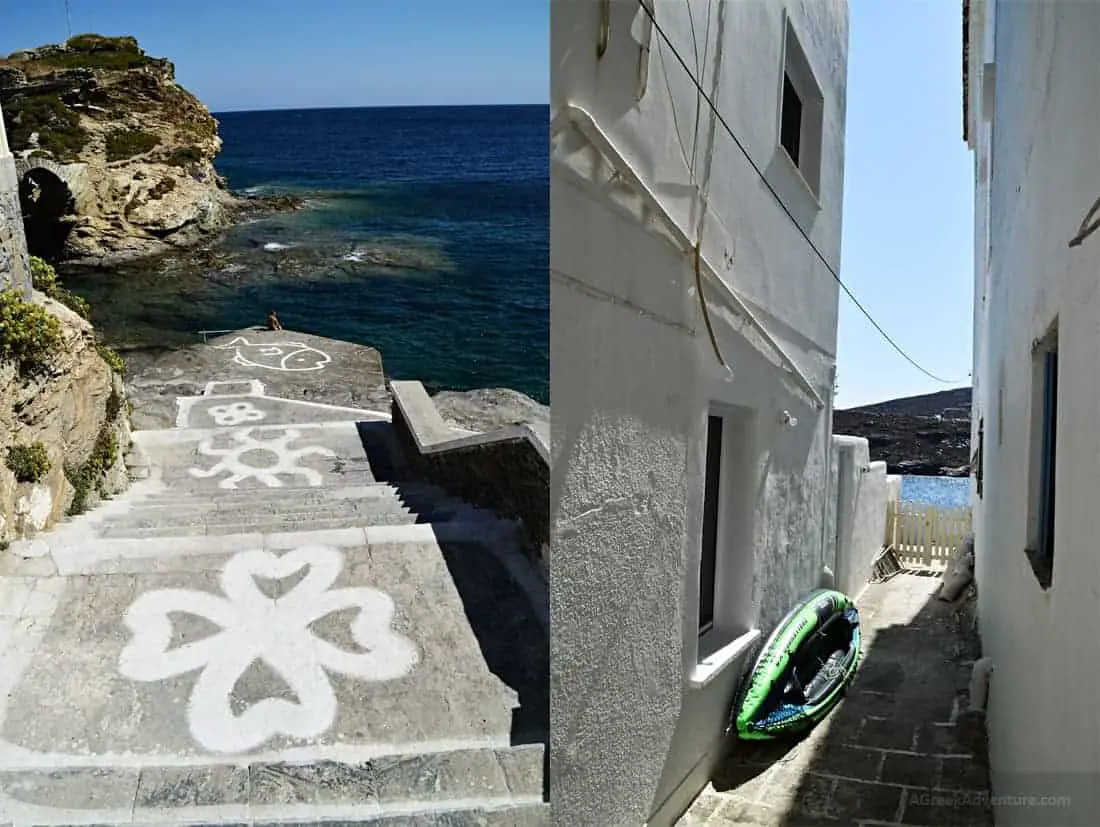 Andros island belongs to the Cyclades island complex, and this can be seen everywhere around.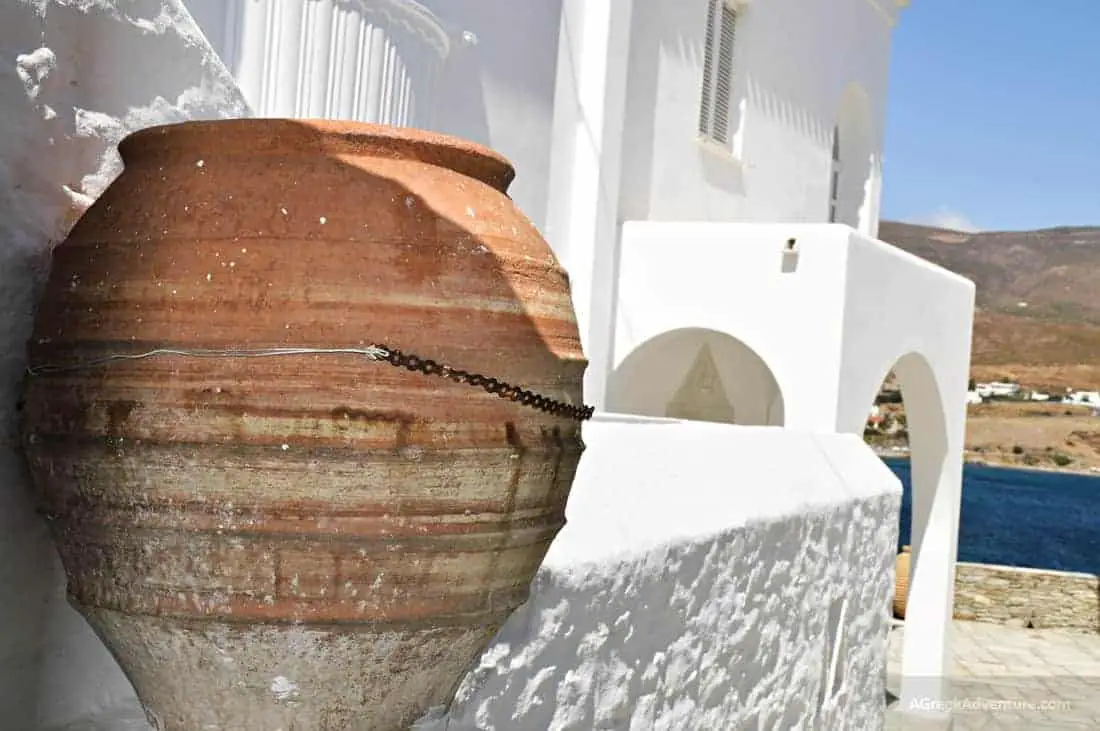 One of the best views towards Chora is from outside of it.
There is a castle on the small island. That is the Venetian Castle. You need to walk all the way through to end up in an alley with an arched stone bridge ahead.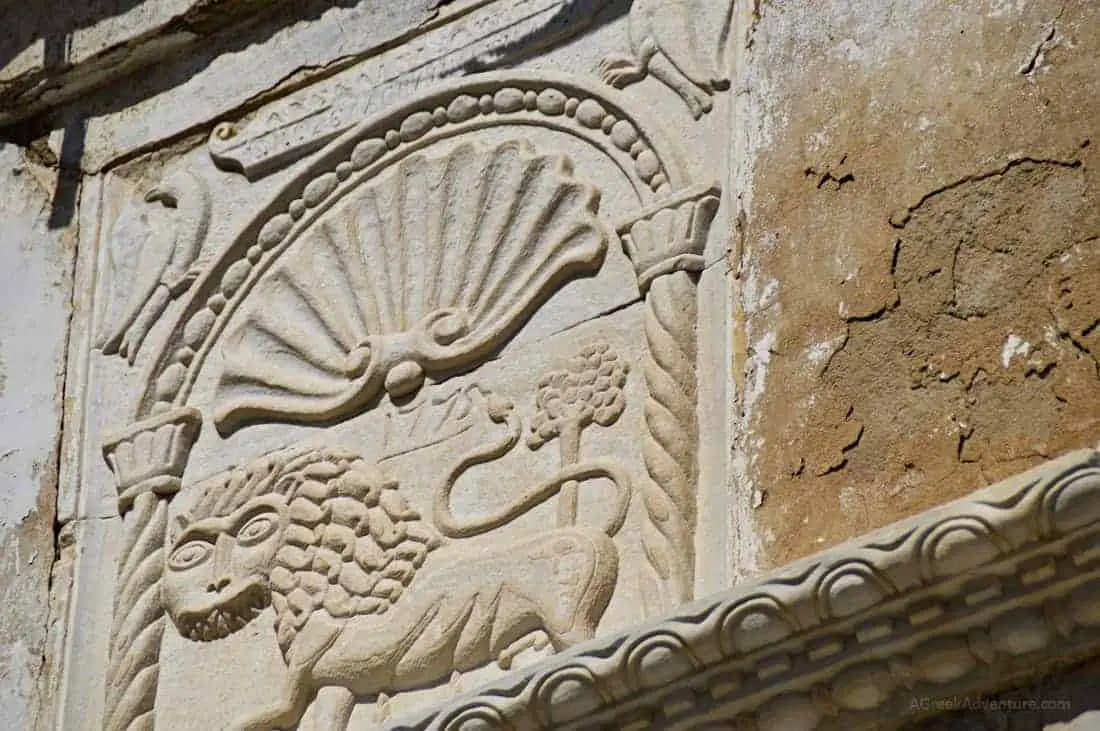 Dandalo built the main castle on the island's eastern side on this naturally fortified rock.
The rock was fortified with an additional wall all the way around. On the rock was a palace along with a large water storage area.
Later on, the rock has connected the mainland with this arch-shaped bridge. 
Be careful when you cross that bridge, as it is more an arch than a bridge.
Walk the short path, and you will end up in a small cave that looks directly towards Chora.
From there, you will be able to take one of the most popular photos that relate to Andros, Greece. There you are. The secret is out!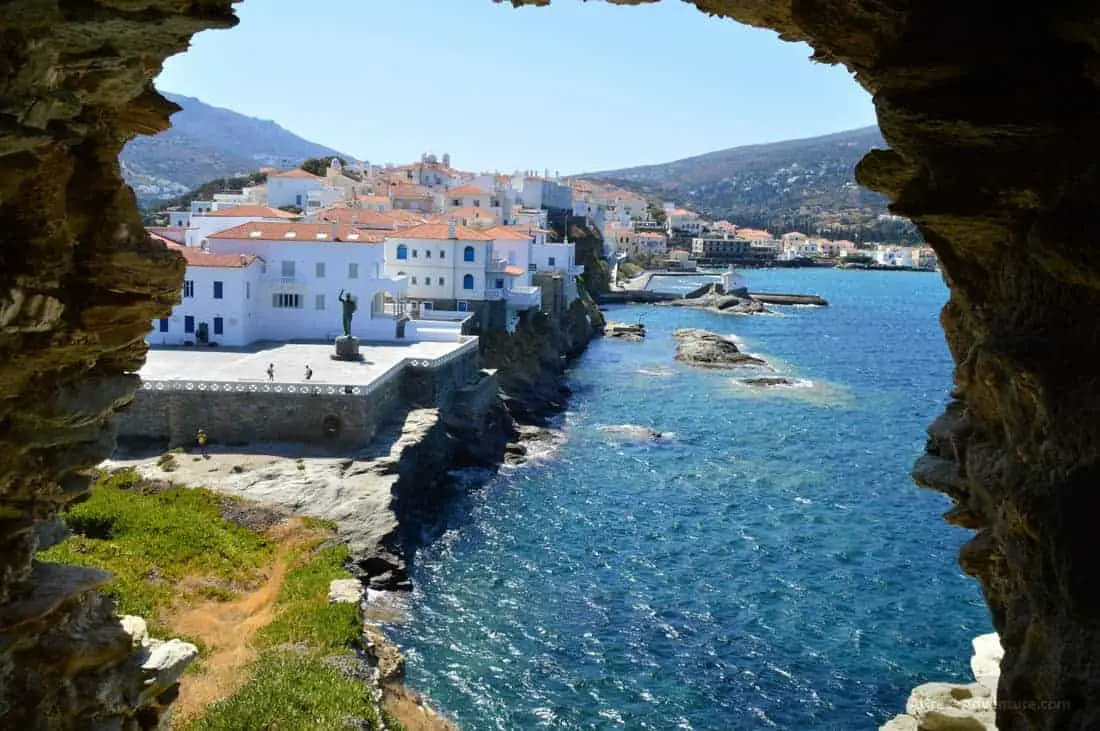 Archaeological Museum of Paleopolis, Andros Greece
Outside of Andros Chora is Paleopolis village.
If you prefer to learn more about the history of Greece, the Archaeological Museum of Andros includes finds from the ancient town of Paleopolis and the geometric era, among other things.
That is a relatively small village with few things to see, except the museum and charming small coffee house with shade.
Paleopolis is additionally a starting point for one beautiful hiking route (which we did).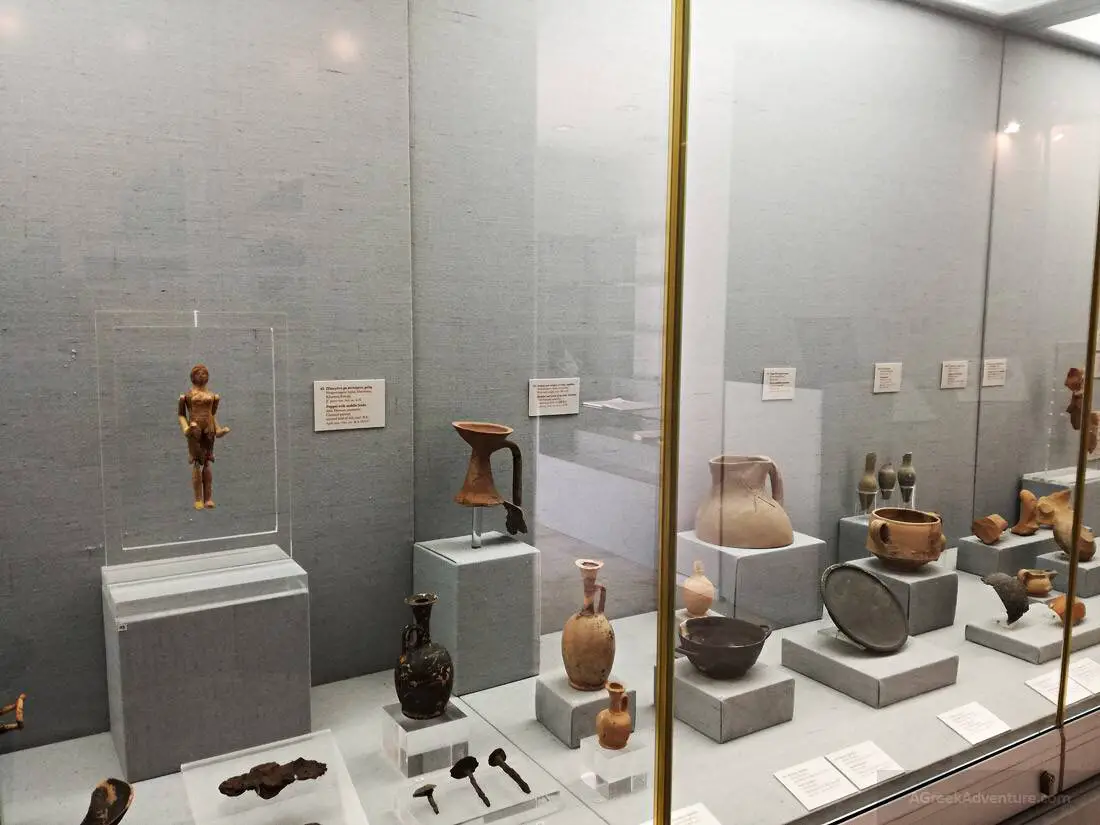 Check your accommodation options in Andros island via Booking.com.
If you are into museums (like we are), then you can also visit the famous Cyclades Olive Museum of Andros and -if you like modern art – then see the Goulandris Museum of Contemporary Art.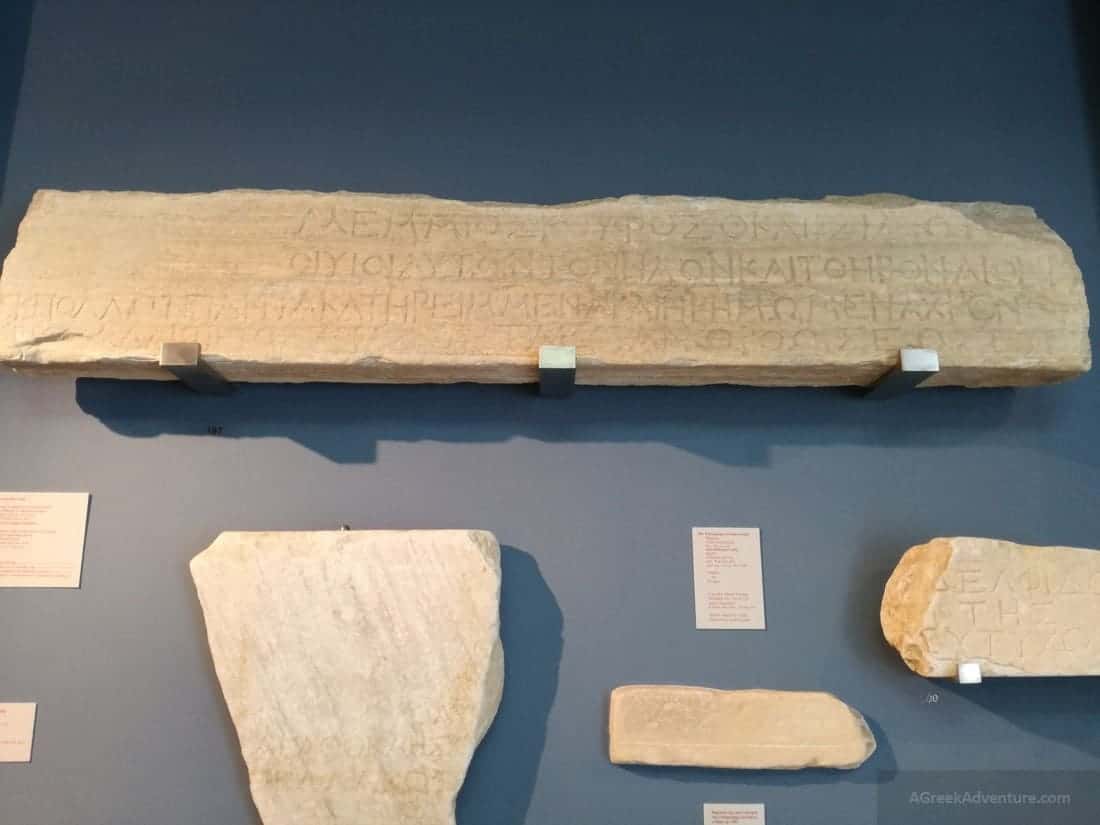 Cyclades Olive Museum offers an up-close look at pre-industrial olive oil production, as well as the extensive restoration effort it took to return the mill to its former glory.
If you love to look at art, the Museum of Contemporary Art is a five-story building filled with sculptures and jewelry to exquisite watercolor paintings. In contrast, the museum of Sculpture is home to Michalis Tombros' entire collection and sculptures dating back to the Archaic and Roman Era.
The Maritime Museum of Andros is home to everything nautical, including models of old vessels, shipping documents, and more.
The Kairis Library includes more than 3000 tombs, including works of art, rare publications, manuscripts, and historical records from the private collection of Theofiles Kairis.
Finally, the Kydonieos Institute at Chora is considered the center of cultural affairs, provides access to various forms of art and offers free ceramics workshops and music lessons multiple times throughout the year.
Historical Sites in Andros Greece
No trip to Andros is complete without a visit to the Monastery of Panachrantou.
Built in the 10th century by Emperor Fokas and hanging on the side of the Gerakones Mountains, the monastery has been well maintained while maintaining its original architecture and charm.
It contains the skull of St. Panteleimon and offers outstanding views of the sea below.
Our Hiking Experience on Andros Island
We decided to go after a single circular hiking route on Andros Island. You can find a post with all the 100km routes for hiking in Andros Greece from here.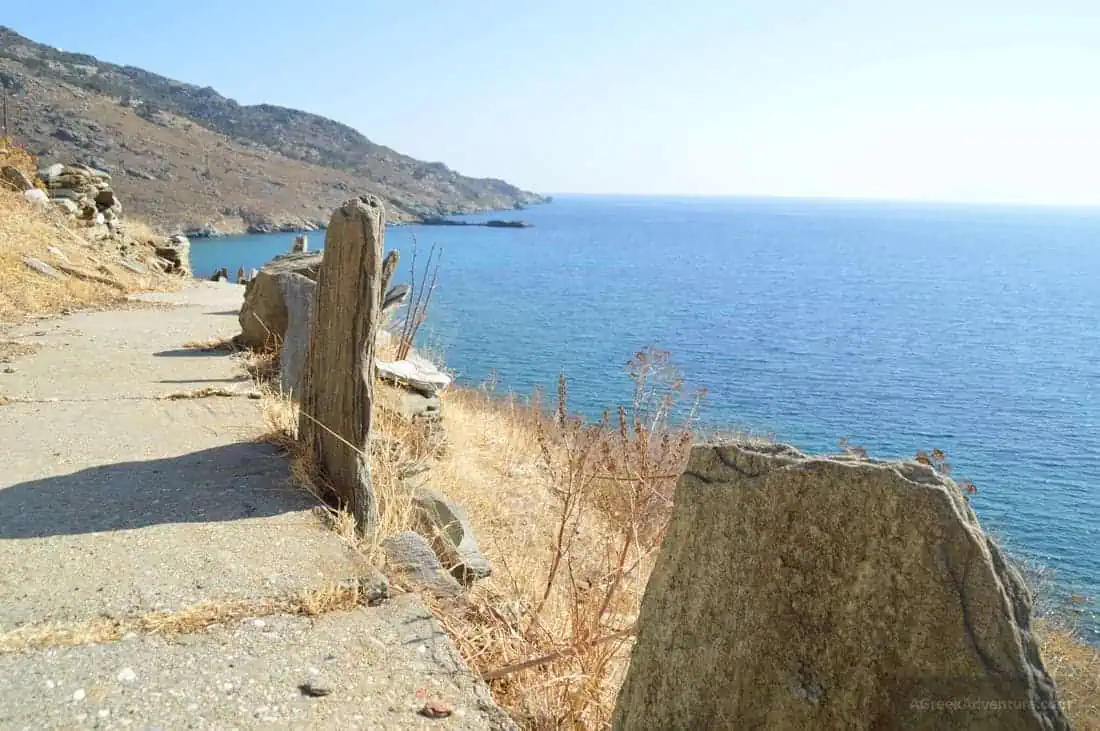 That started from Paleopolis and went through pastures and golden fields, ending up to the sea and then going up again from a different route.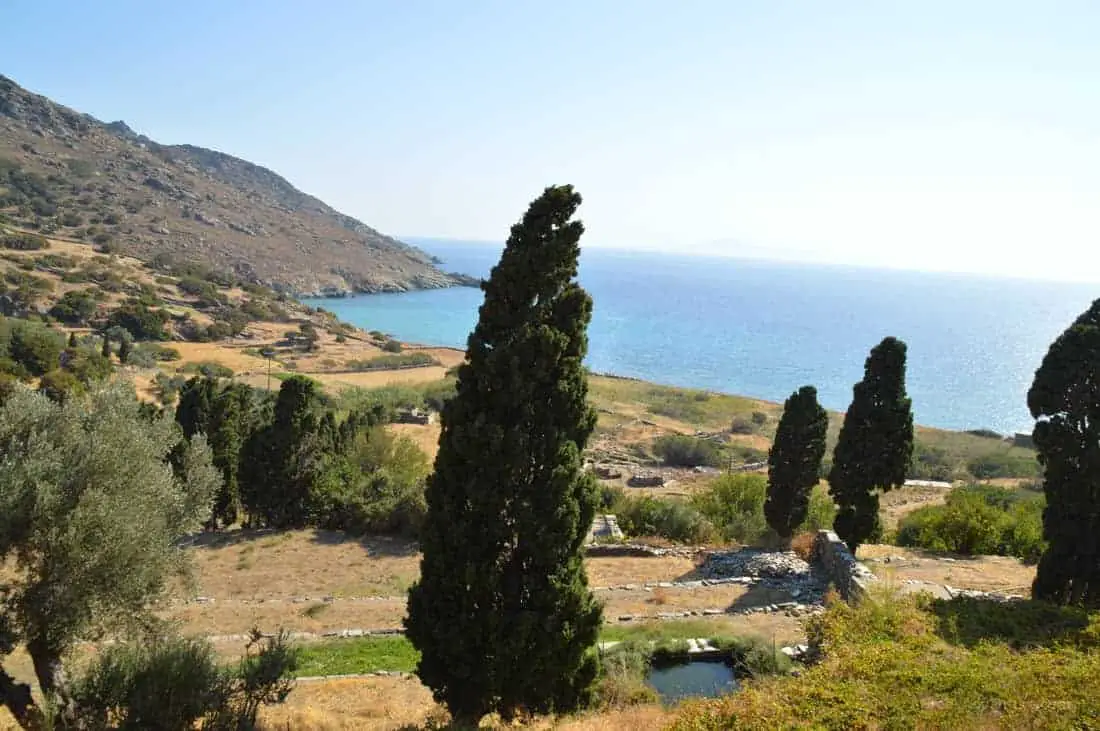 You don't get bored as you continuously have a panoramic view of the hill and the sea in front of you.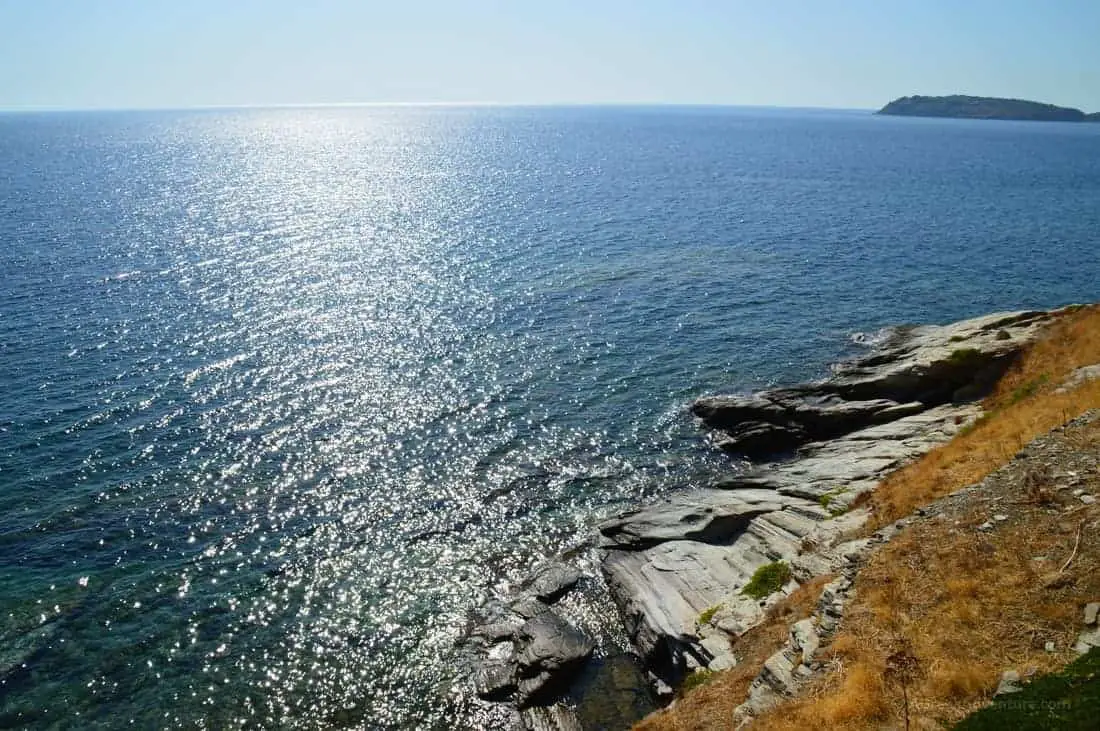 Just make sure you take some water with you. There are no springs along the route.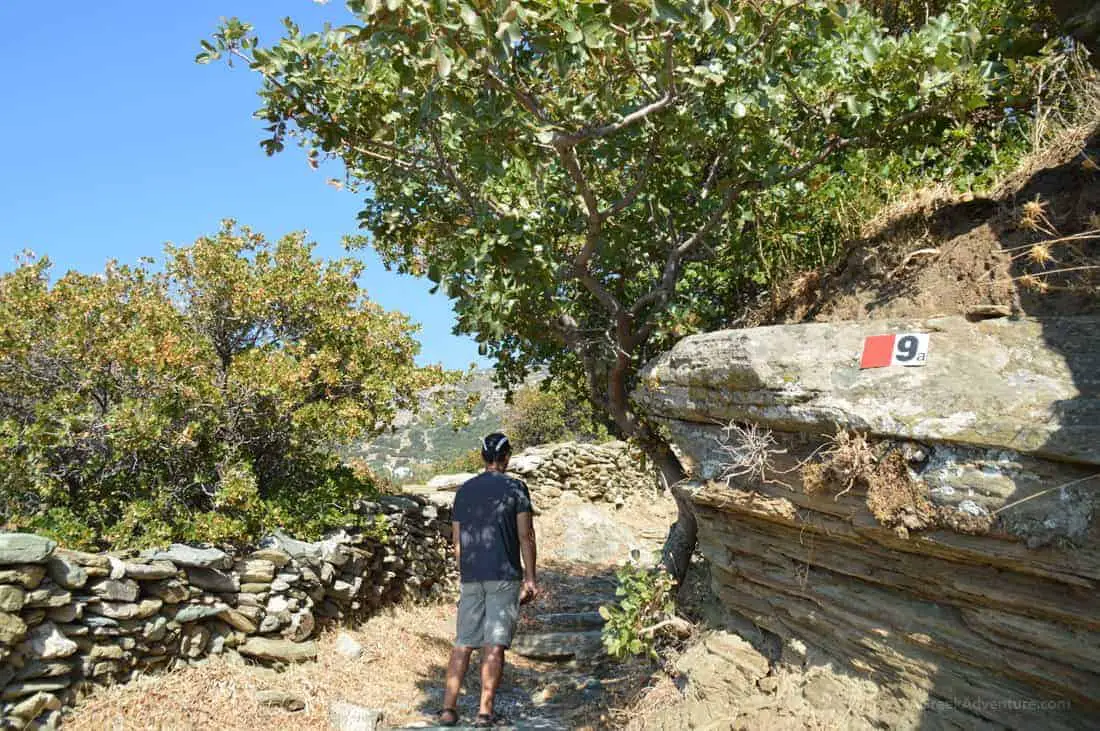 If you care for a guided tour, then these options are helpful:
Where to stay in Andros Greece
Where to stay on Andros island depends on if you have the means to move around and the kind of beaches you like.
We decided to stay at a relatively remote Aegea Blue Cycladic resort at Zorgos Bay. It was a birthday weekend, and some luxury was what we wanted.
Zorgos bay is very famous, even among locals.
It takes some time to go there from the harbor, and the last 40 minutes is through a dusty dirt road, but you will appreciate the place and its beauty when you get there.
You will see the resort, with different ways to access the isolated sandy beach and a tavern, and that's that.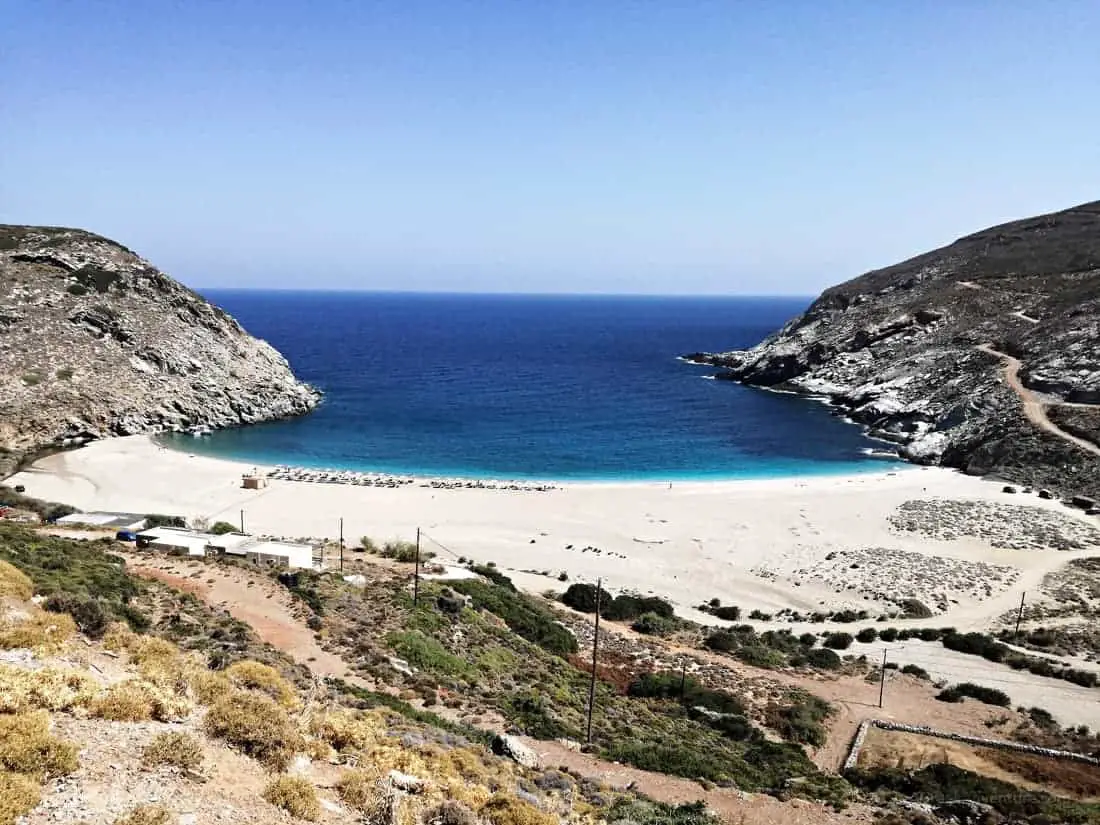 The whole bay is secluded, really peaceful, and stylish.
If you want to relax, this is the place for you, additionally spiced with some affordable luxury.
There is a pool, but most walk their way to the beach (5 minutes). Seeing the photos, you understand why.
Check more accommodation options in Andros island via Booking.com. One trendy and historic hotel is "Micra Anglia" (in Andros town, Greece).
Shopping and Dining in Andros Greece
Of course, you'll want plenty of souvenirs. Chora and Batsi are two villages that offer a great selection of your typical souvenirs, as well as handmade jewelry, ceramics, and textiles.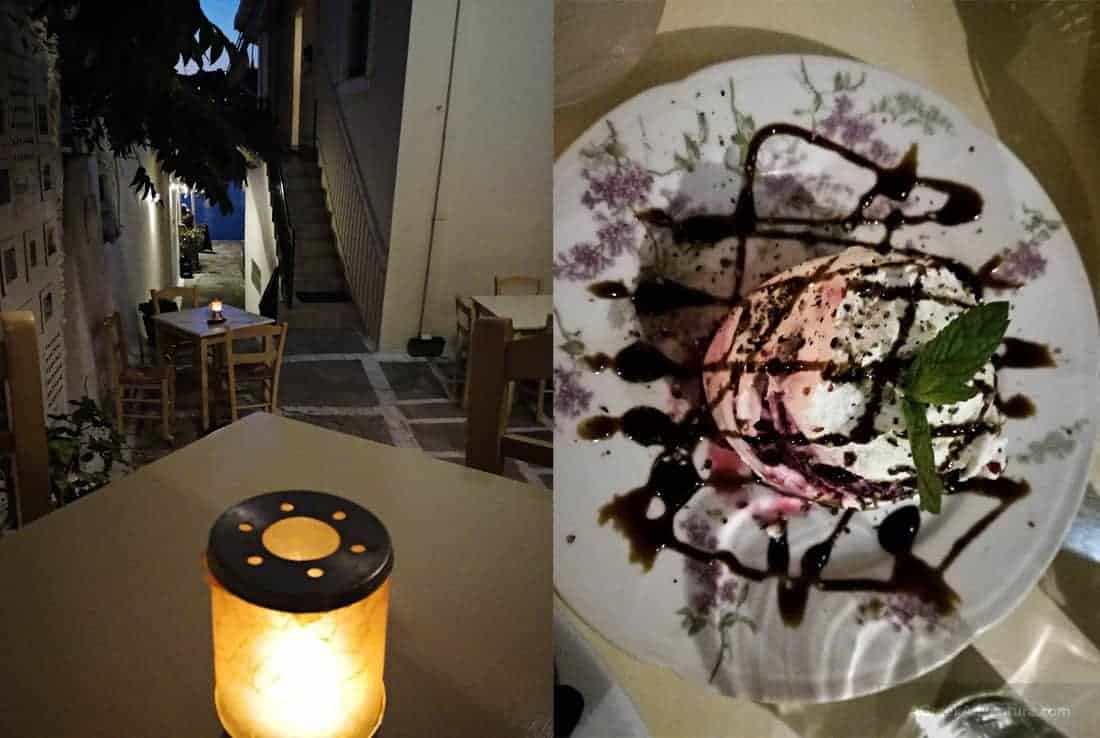 While you are in Andros, be sure to try the sundried wine, mezedakia (an indescribable Greek dish), and the local sausages. There are plenty of locally owned taverns and restaurants to choose from.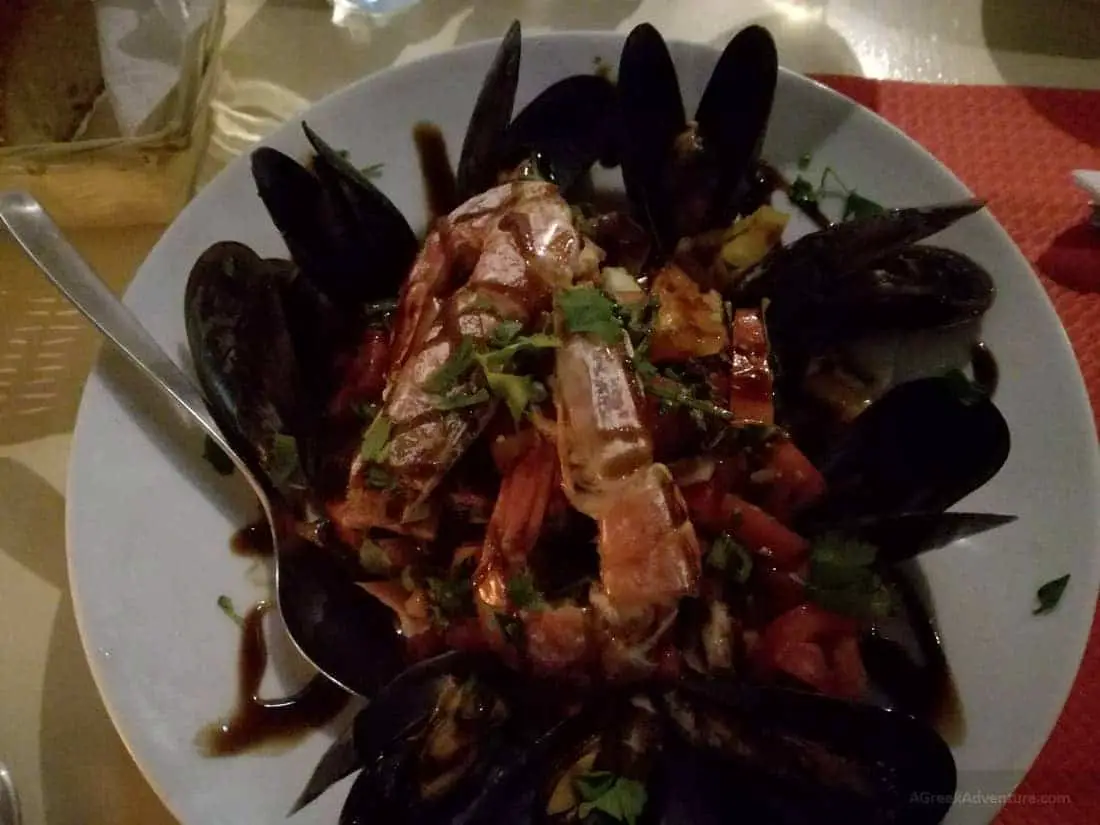 It's always good to look for places the locals frequent because they tend to know the hidden gems.
Best Andros Greece Beaches to Visit
There are more than 20 beaches in Andros, for you to swim in the Aegean sea. The ones suitable for families are Kypri, Batsi, and Neimporio.
For the overall popular ones, go to "Tis Grias to Pidima" beach, Achla beach, Zorkos, Ateni, Paraporti, and Fellos.
For fun and activities, go to Ormos, Agios Petros, Golden Sand (Chrisi Akti) or Piso Gialia.
There are more but not accessible by car; only with a boat.
Is Andros just for a two days trip? It is not.
Most Greek islands need at least five days to experience them and walk around fully, especially islands with an extensive hiking network.
That was the first taste of Andros Greece for us. Now we know that we have to go back and explore more.
Have fun with all the things to do on Andros island! Also, read