You may have read our previous article regarding our trip to Meteora Monasteries, about hiking Meteora Greece.
However, Meteora can't be reduced to just one post. Here is another one about the Meteora monasteries we visited.
Meteora is in the Kalambaka area, in Central Greece and they are a UNESCO World Heritage site. The word "Meteora" means "Suspended".
The area is considered of extreme religious importance, almost equal to the one of Mount Athos. They are Orthodox monasteries occupied by monks and nuns (mostly monks).
The monasteries are built on huge rock pillars that dominate the eye.
All Meteora monasteries and churches were equally beautiful, suspended in the air, and the road leading to them was through clear paths and fantastic enormous rocks.
Meteora Monastery of Agia Barbara Roussanou
You have to go down to go up to enter this monastery. The date the monastery took its current form was in the 16th century, yet it was founded in the 14th century.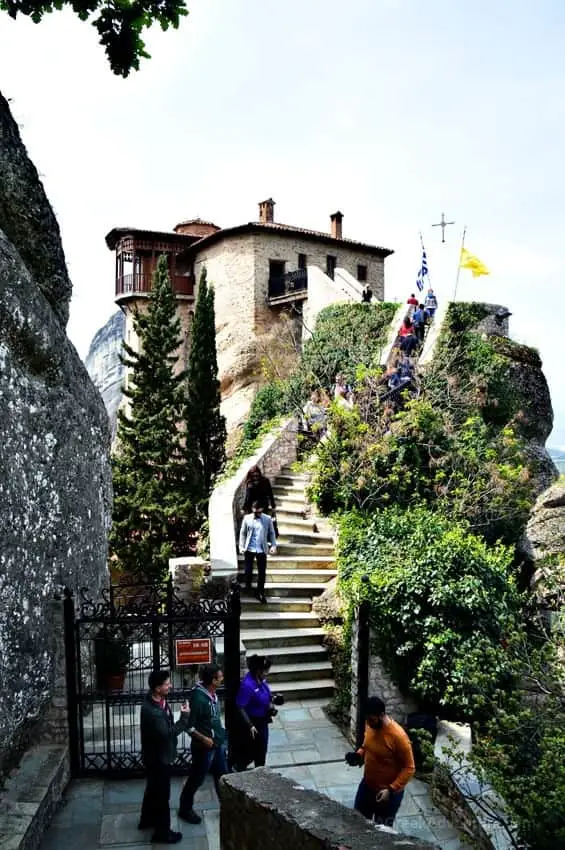 There is a path leading from the entrance, downhill through lots of shade and quietness.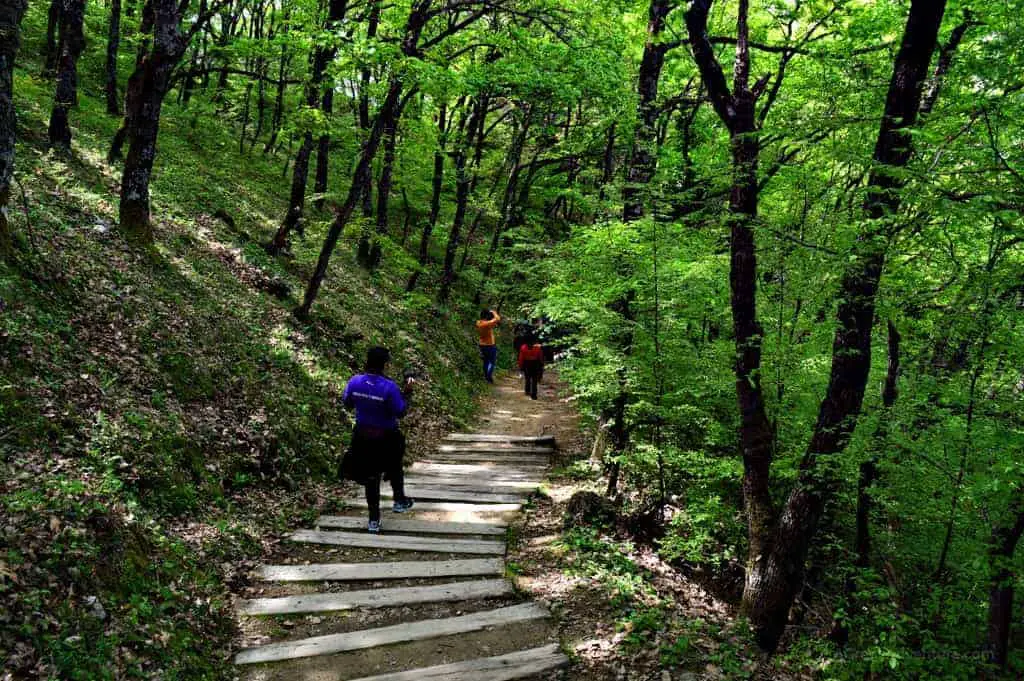 See the wooden ladder old monks used to enter this Meteora monastery before building all the stairs and such?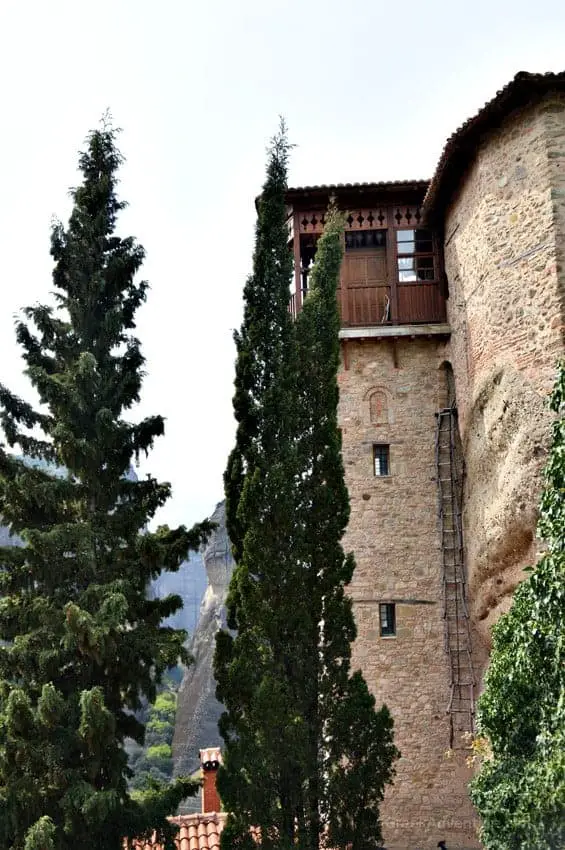 This Meteora monastery is not that big but is very well-tended.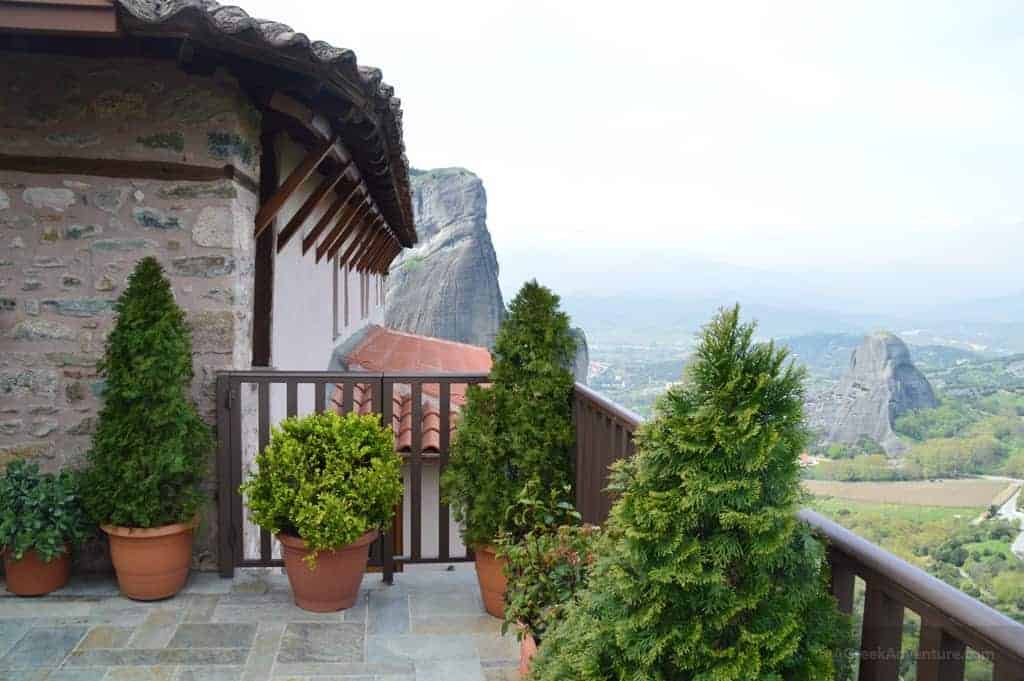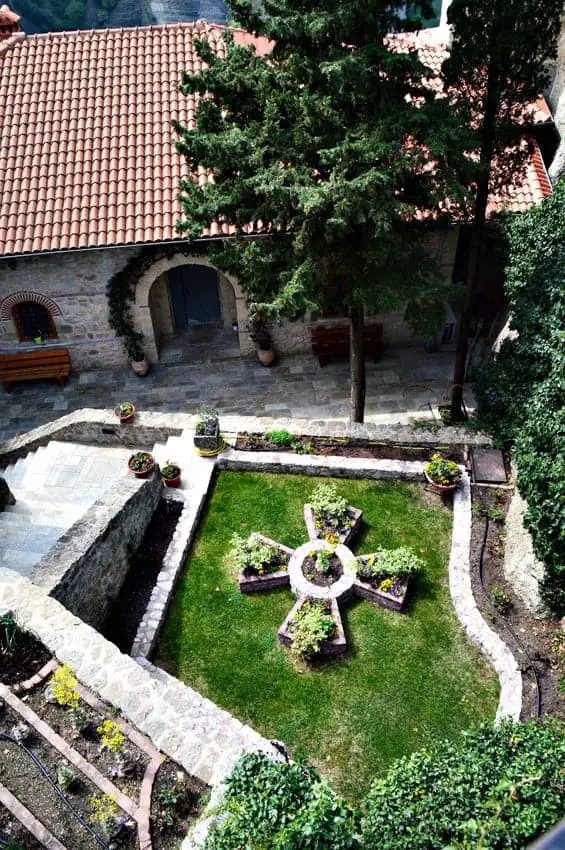 Breathtaking view, right?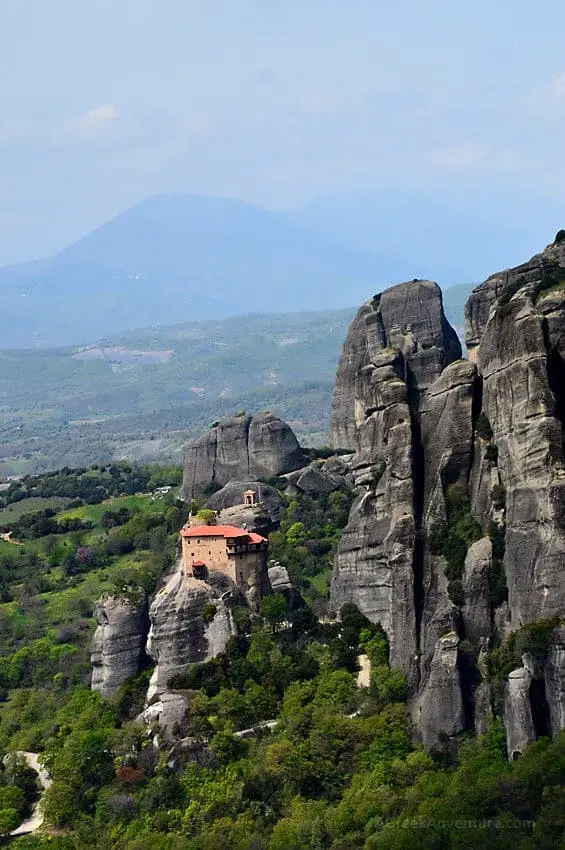 You can also reach and leave the monastery in another way.
Its entrance is closer to the main asphalt road, but we suggest that you take the one from the top since it is much more beautiful.
Meteora Monastery of Holy Trinity (Agia Triada))
We came back the next day to explore more. From the moment you leave the asphalt road, you need approximately 20 minutes to be able to enter the monastery.
The path is carved inside the rock, and the view from every turn/side is excellent as you can see more of Meteora monasteries.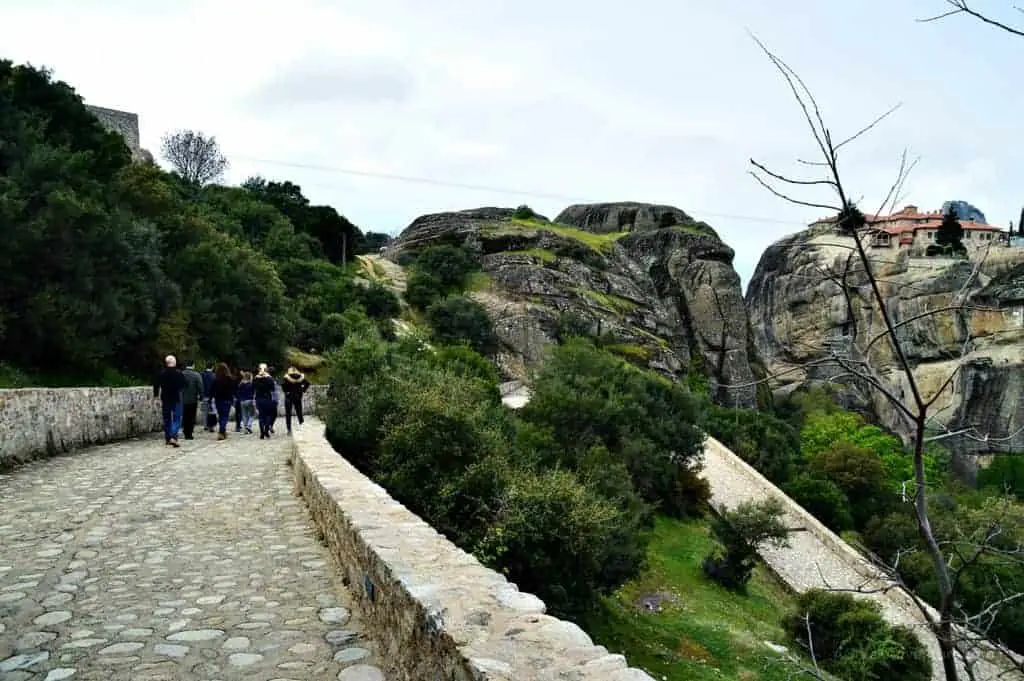 We are feeling great, going through the carved rock.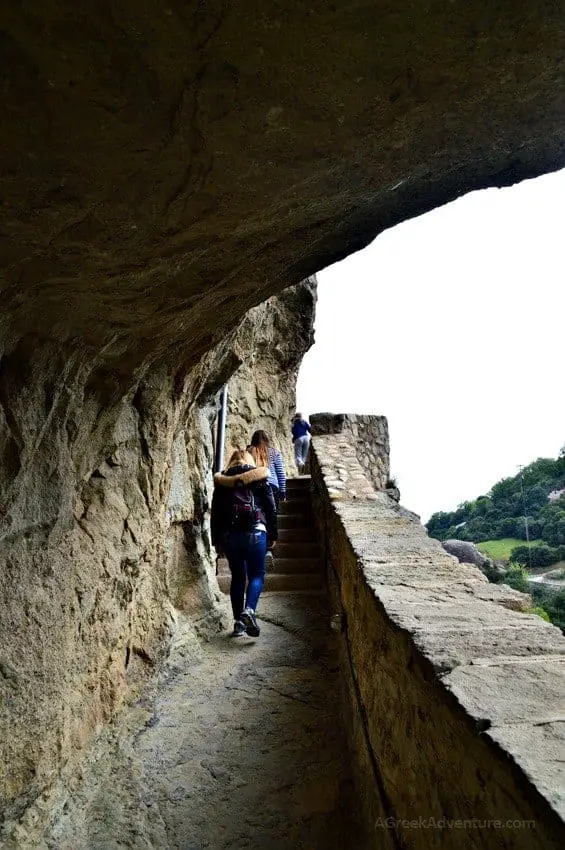 This is how monks were lifted from the rock base. With this winch!
One of the first things you see when you enter: The lie is the weapon of the weak!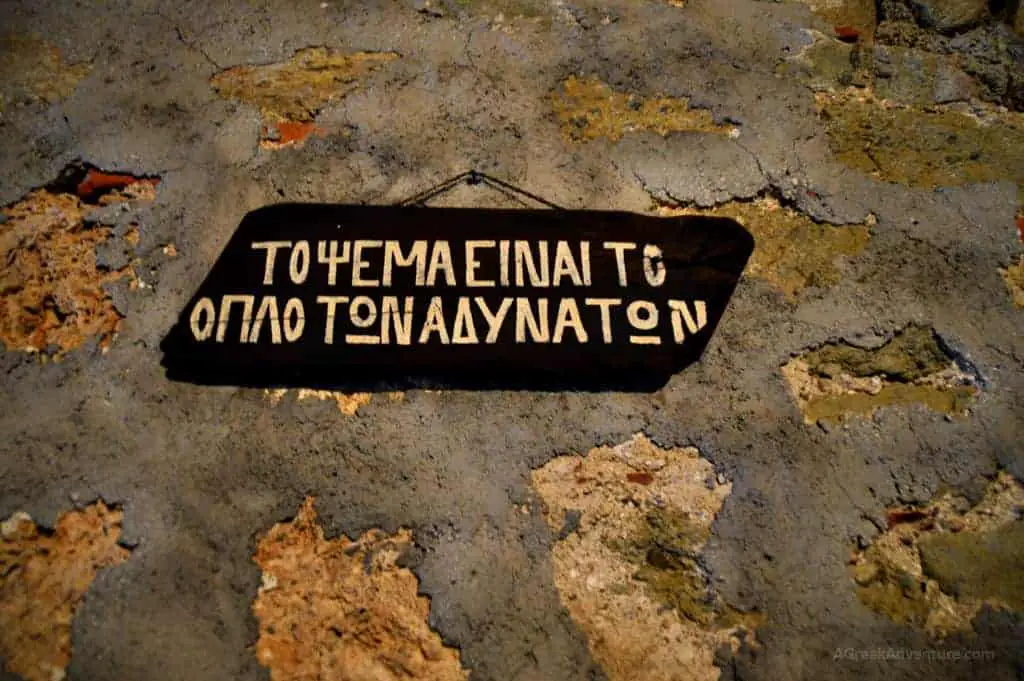 We are talking about heights!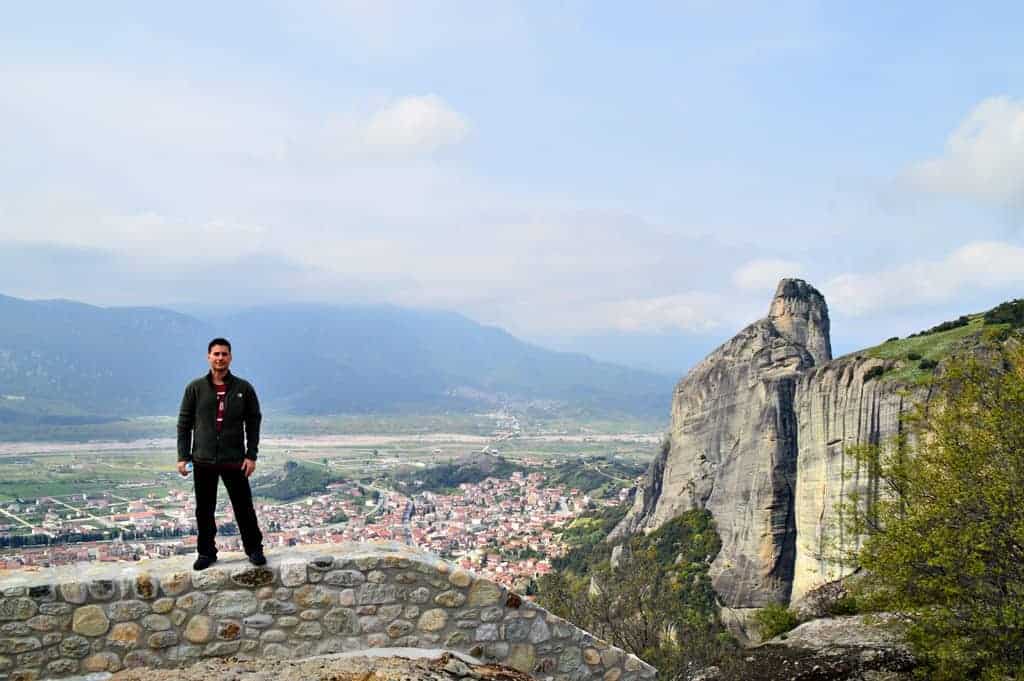 The monastery as it looks from the edge.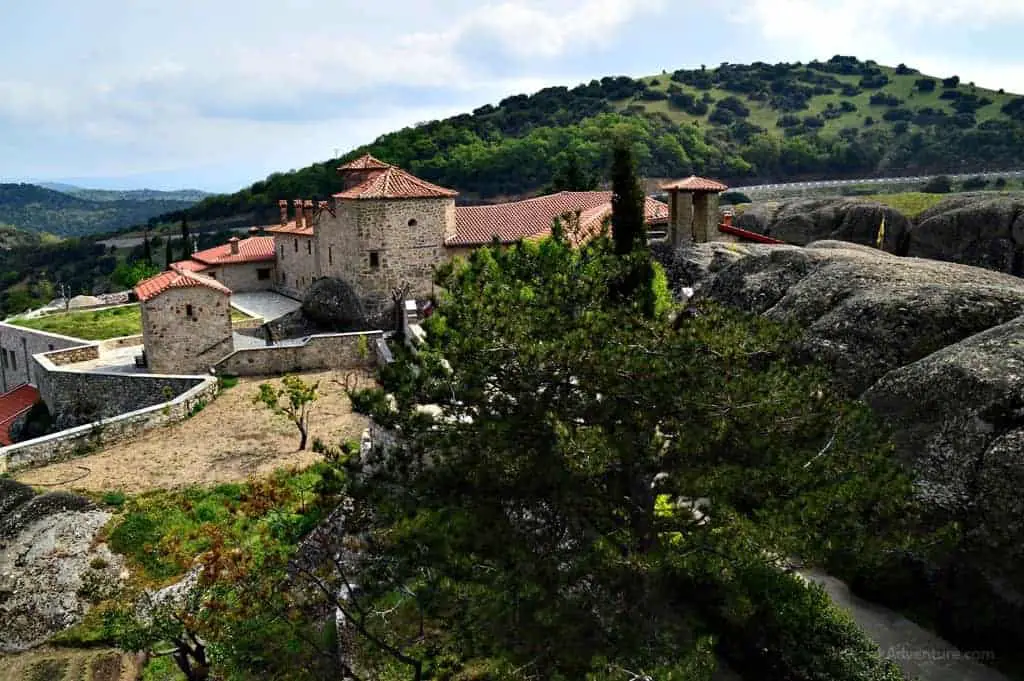 Well, hello there, Kalambaka!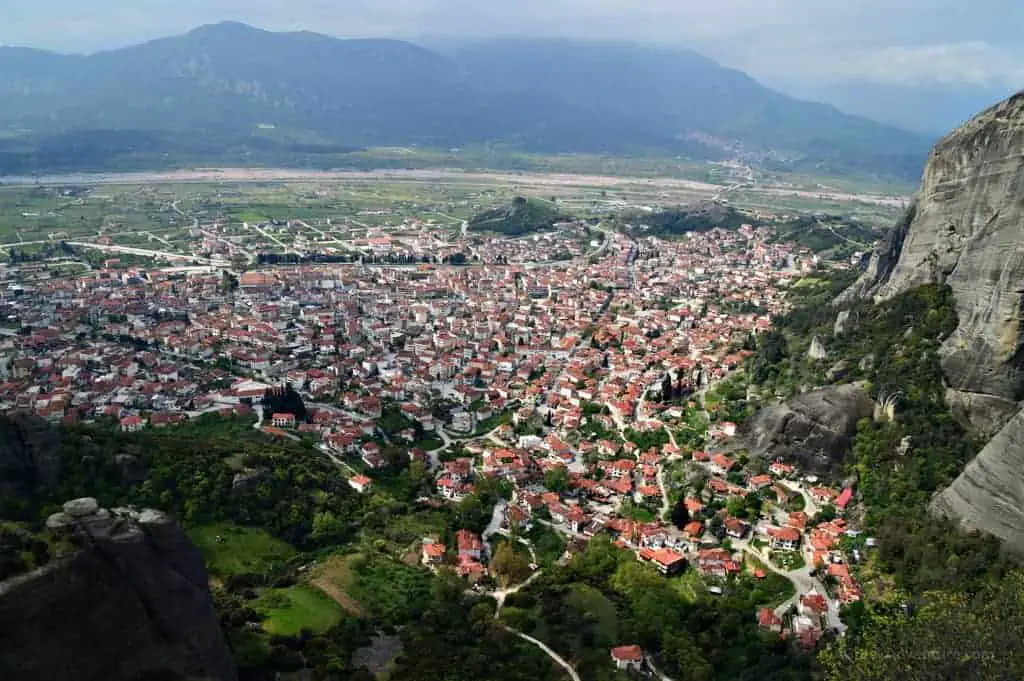 Meteora Monastery of Varlaam
It took its name from the first monk climber who went up the rock, the monk Varlaam. He builds three temples, a small cell, and a water tank.
For some reason, we liked this monastery a lot.
Here is the way up there.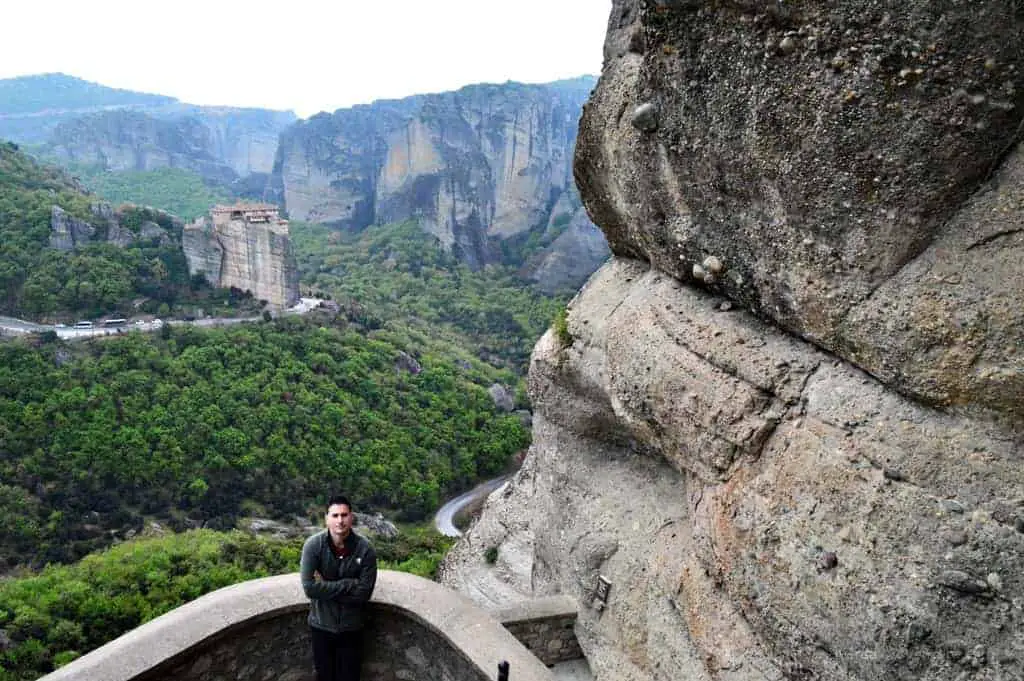 Isn't this a particular place, or what?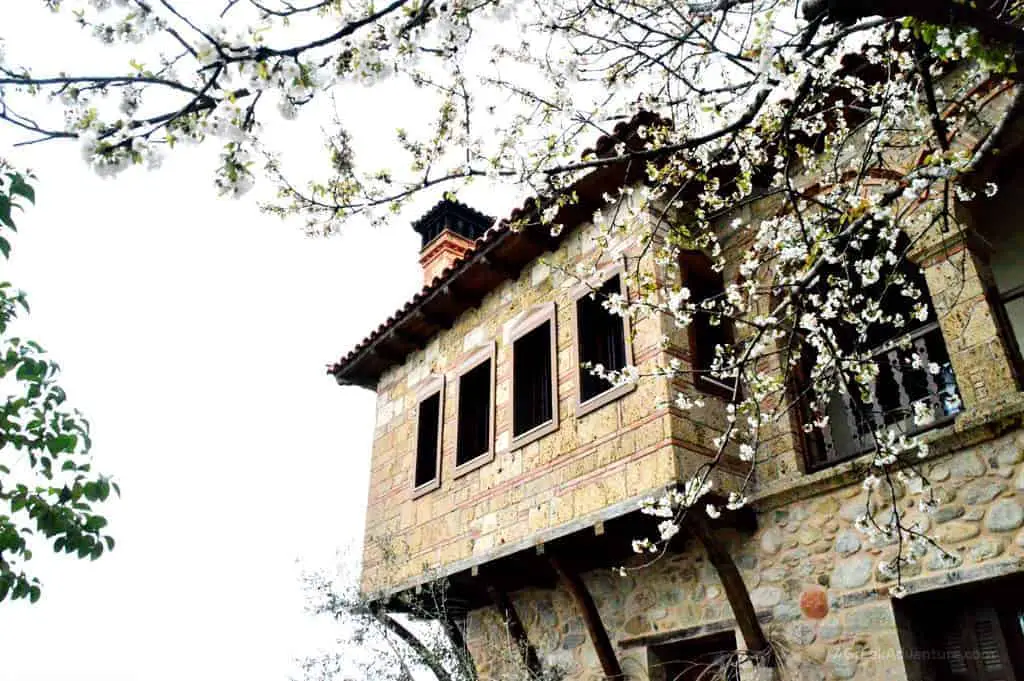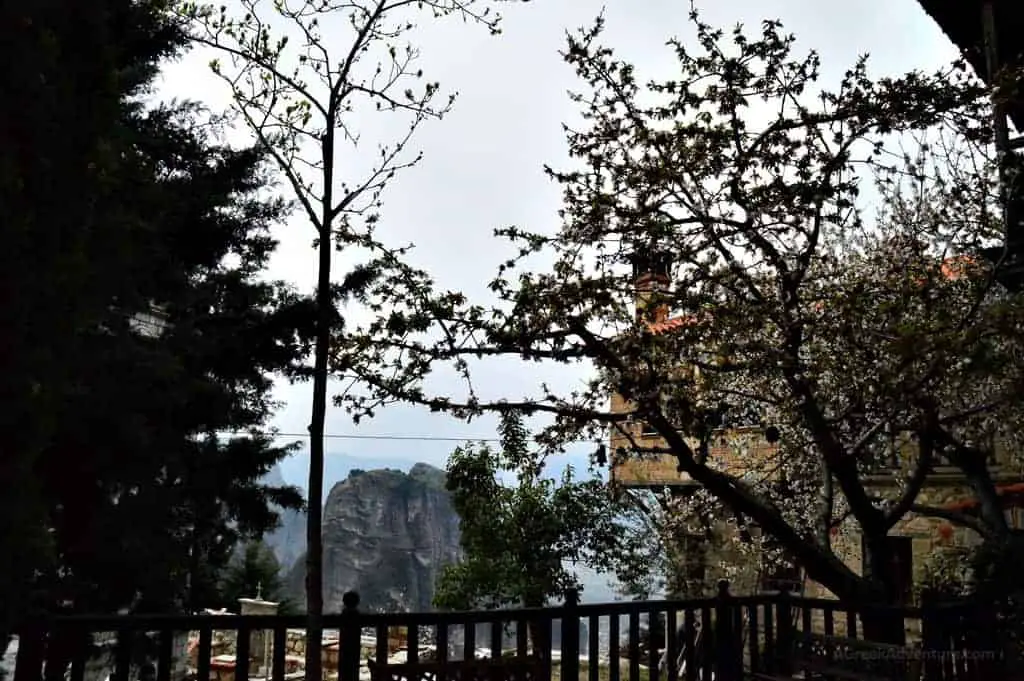 This is the barrel where they brew and keep their wine. It is big. Very big.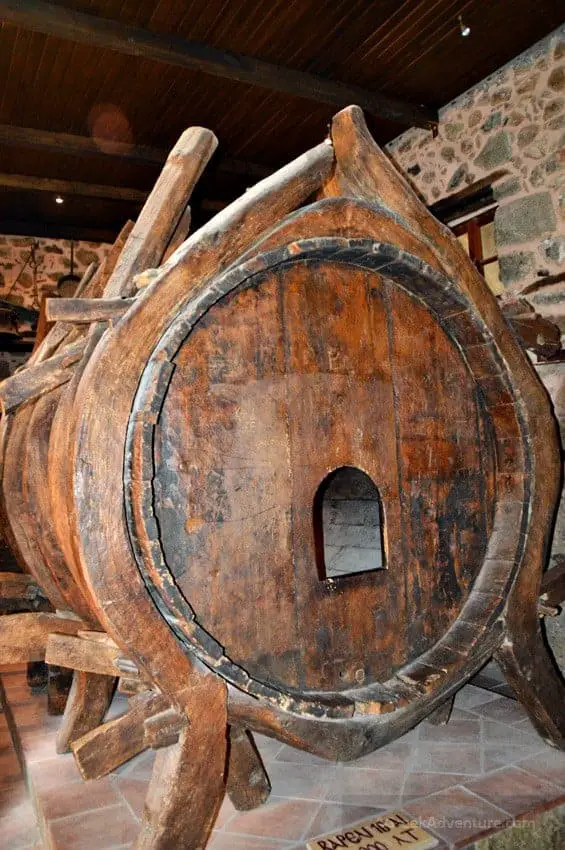 Imagine just sitting at this "balcony." During the days we were there, some construction works were taking place to expand this balcony.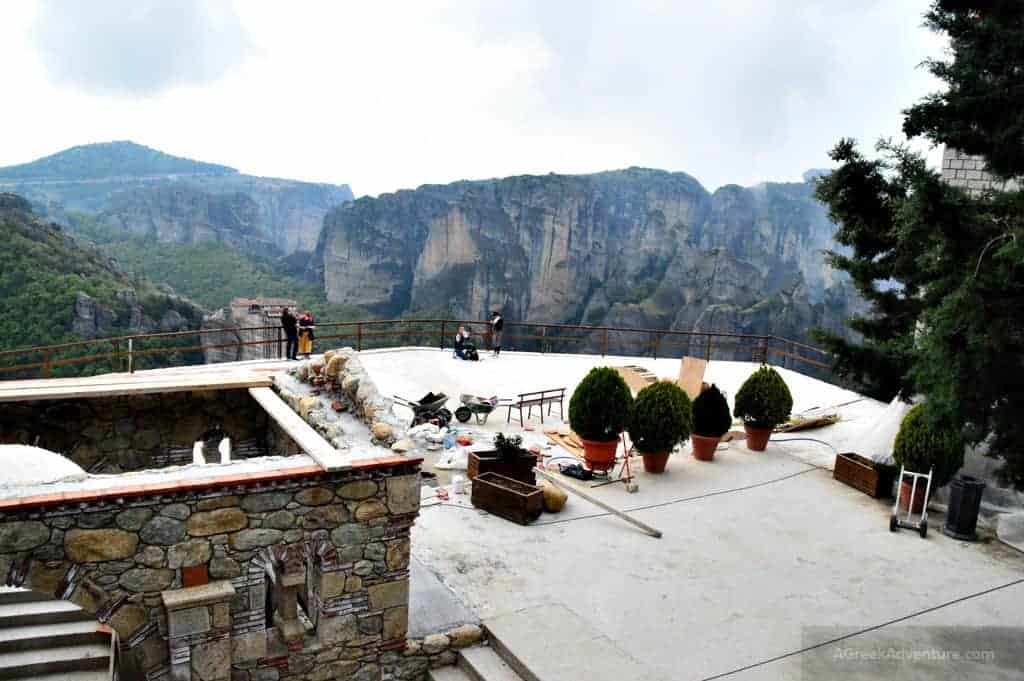 Maybe to make more room for more people to be able to admire this view.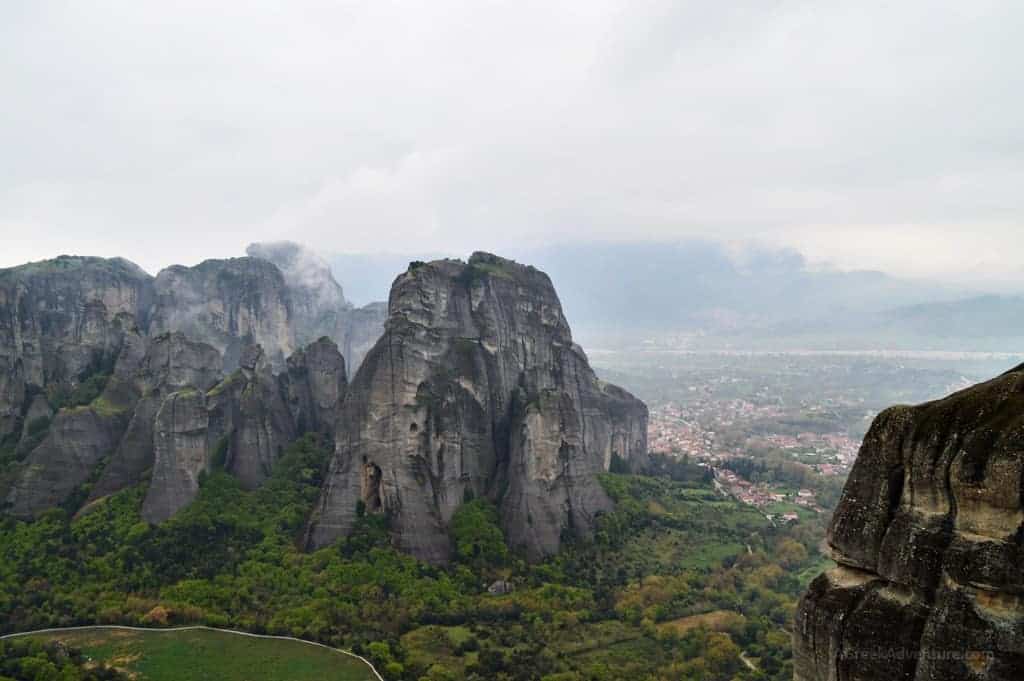 Well, it took us around 6 hours to visit these Meteora monasteries, but the memories are still following us.
Meteora Monastery of Agia Triada
Similar to the Monastery of St Stephen and with an unbiased and spectacular view of the surrounding environment.
We didn't enter this one, but we liked its location and the stories our guides told us.
A modern cable car is used to carry workers in and out. Only one monk stays in that monastery at full time. Yep, alone!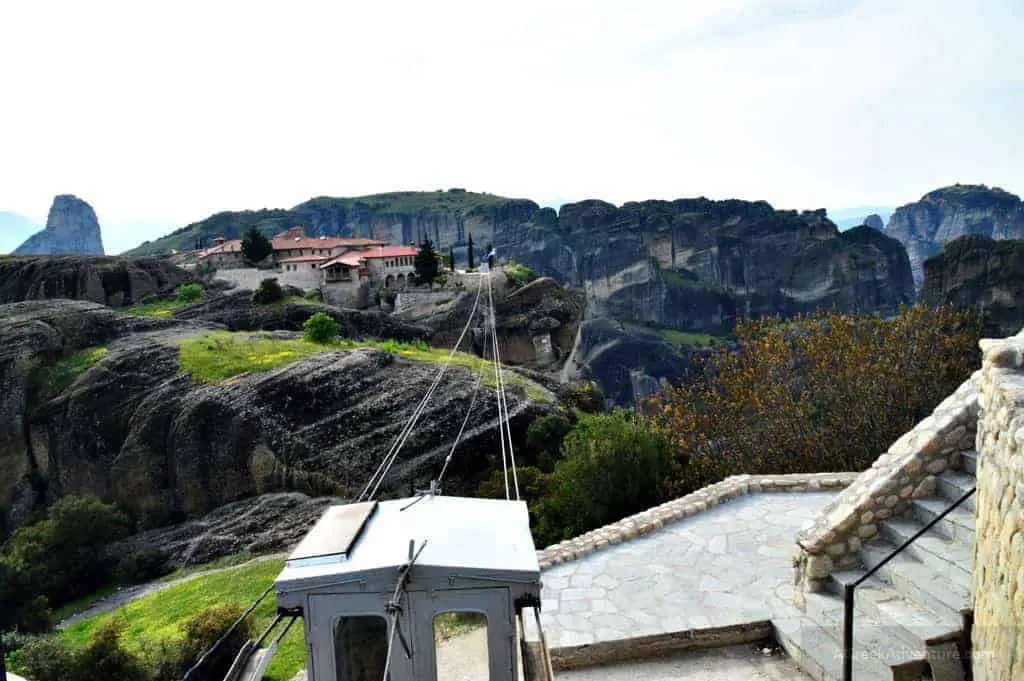 Holy Church of the Assumption of the Virgin Mary
This church (and not a monastery) is dated back to the 11th century.
The church itself has a very rare pulpit, utterly different from those you may encounter in Orthodox churches. We were not allowed to take a photo of it.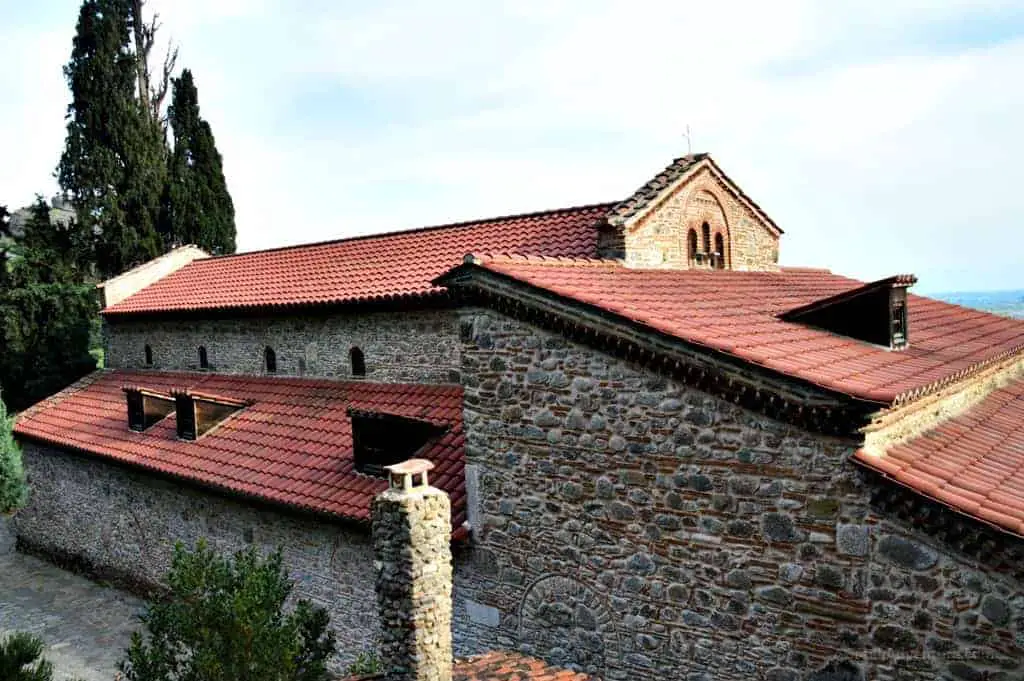 Also, its walls (revealing how it was constructed) consist of marbles and artifacts from ancient Greek temples.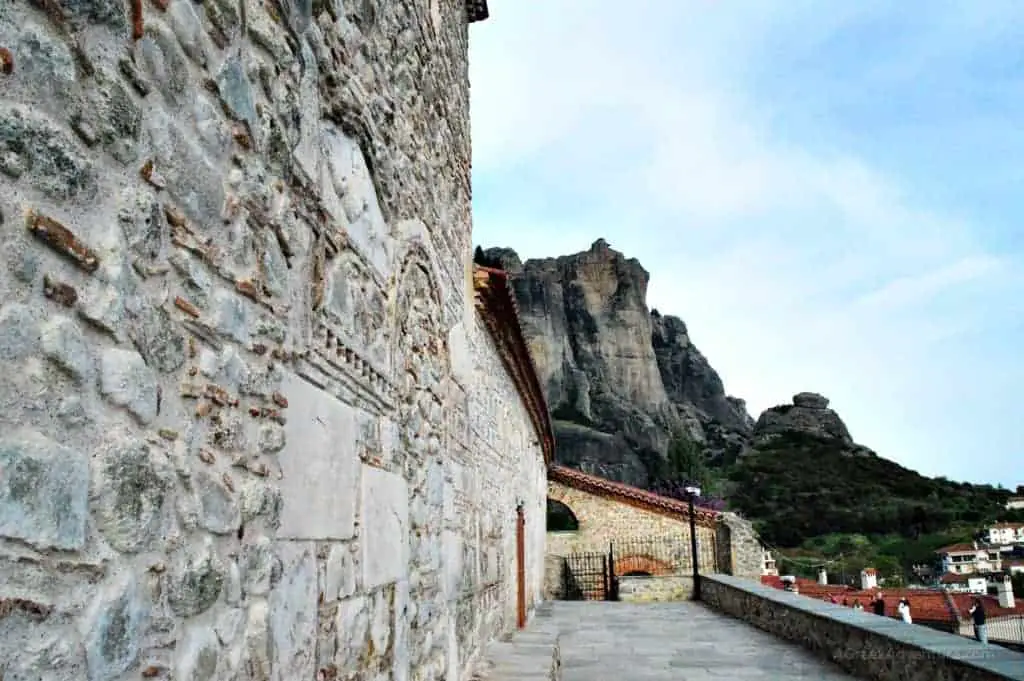 That is not a very rare phenomenon in Greece since many modern temples are built on top of ancient Greek ones (not related to Christianity but Olympian Gods).
Meteora Hermits Caves and a hideaway for monks
Too many tourists may not be what a monk wants. Thus at the feet of one of the gigantic rocks, a monk built a sanctuary as a hideaway.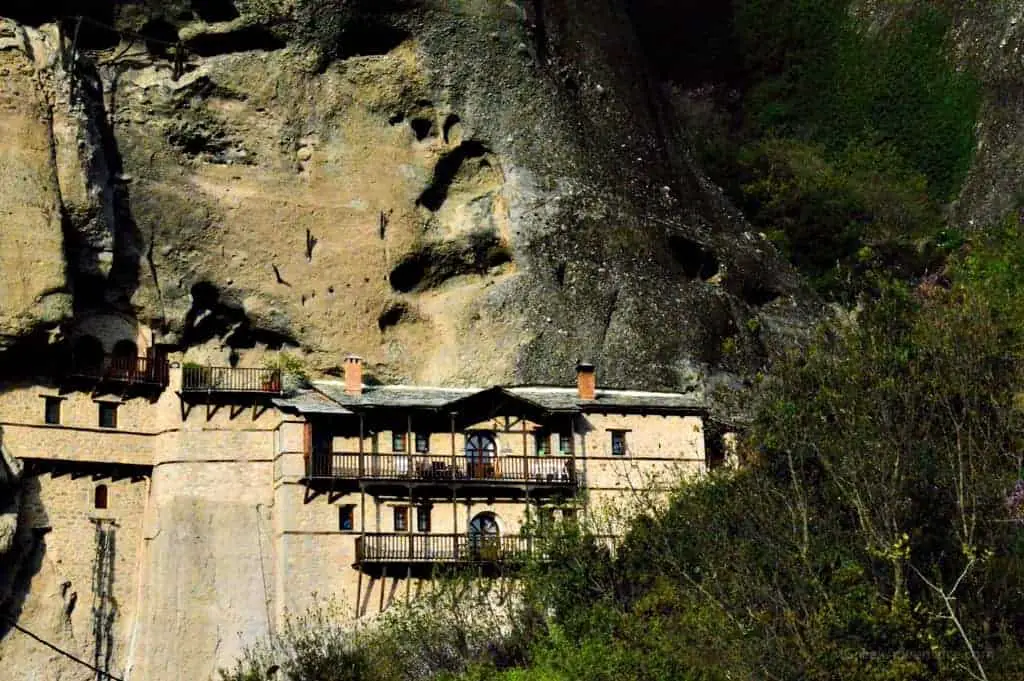 Very close to that, though, and at the walls of the rocks, one can see the old sanctuaries that were built from the first monks that inhabited Meteora rocks.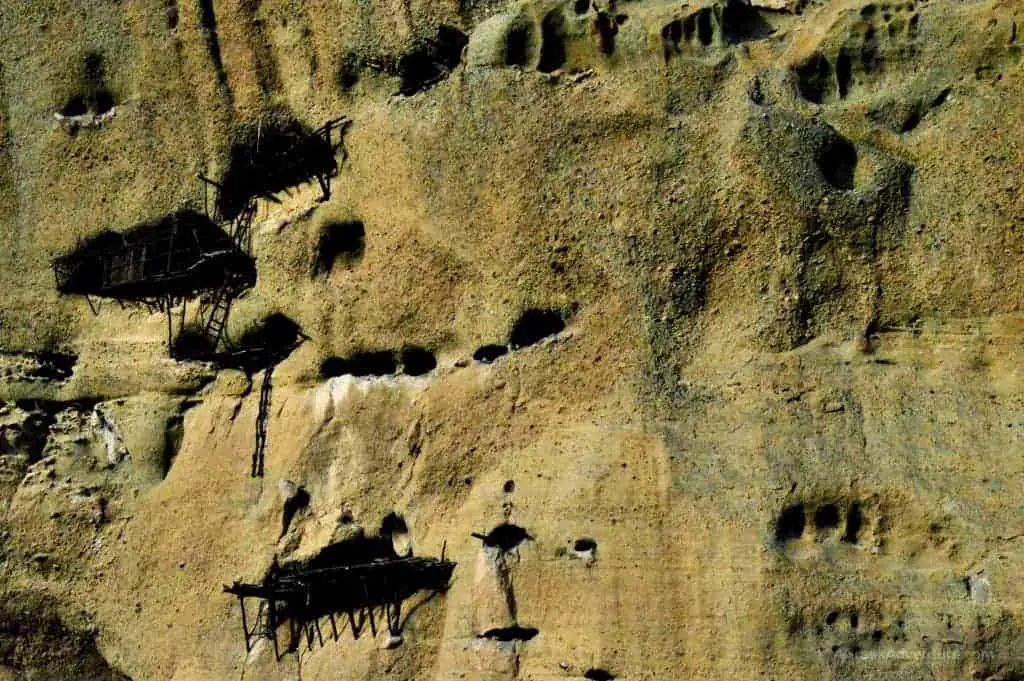 We learned that a monk opened one hole after another and placed a small pole in that, thus creating a "ladder."
Then he used that to bring up the basic things he needed to stay in the sanctuary.
Monks also created wooden ladders that could be brought up and thus block any access to their sanctuary.
Where to Enjoy the Famous Meteora Monasteries Sunset
Here is the one thing you need to know about Meteora Sunset: There have to be no clouds to see the sunset! Tada! That is the case.
Imagine being on top of those gigantic rock formations, while gazing at different monasteries and the horizon.
Below is the luscious green nature of Meteora, where we were hiking, just a few hours ago.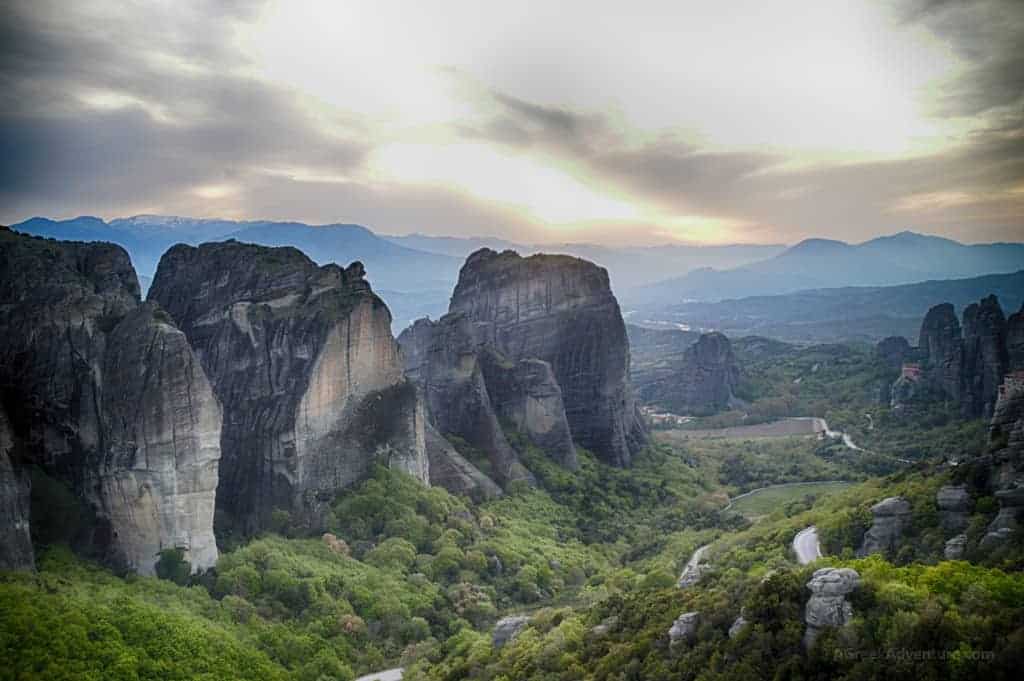 Take another look at the height of these rocks and feel the greatness. Feel both small and a giant at the same time.
The cloudy sky is ripped apart, while the light tries to penetrate through and bathe you with its mystical nature.
Leaving Meteora Monasteries
Time flies, and we had to get into our luxury VIP bus and get back to Athens.
Yet, our hosts wouldn't leave us without having a goodbye lunch first at the spacious Palazzo restaurant. Enjoy these plates, all made with local products.
This trip was performed along with other travel bloggers of Travel Bloggers Greece. It was sponsored by Meteora Thrones, who is located in Meteora, Greece.
These guys and girls know their thing.
The opinions and experiences shared are -as always- our own. Have you ever been to Meteora or Meteora monasteries in Greece?