Neda waterfall was a long-time dream. This gorge is one of the most popular ones in South Peloponnese.
We have been many times in Peloponnese. Did lots of gorges too!
Yet, for some weird reason, in all our trips, we didn't do the Neda Waterfalls hiking route until this summer.
It was an engaging and enjoyable experience.
Getting there was like the travels of Ulysses and the poem of Greek poet Kavafis. Both show the importance of enjoying the trip before the final destination.
What to know for Neda Waterfalls & Neda River?
It is a 3.30-4 hour trip by car from Athens, so you may want to do this a 2day trip or include it in your itinerary for South Peloponnese.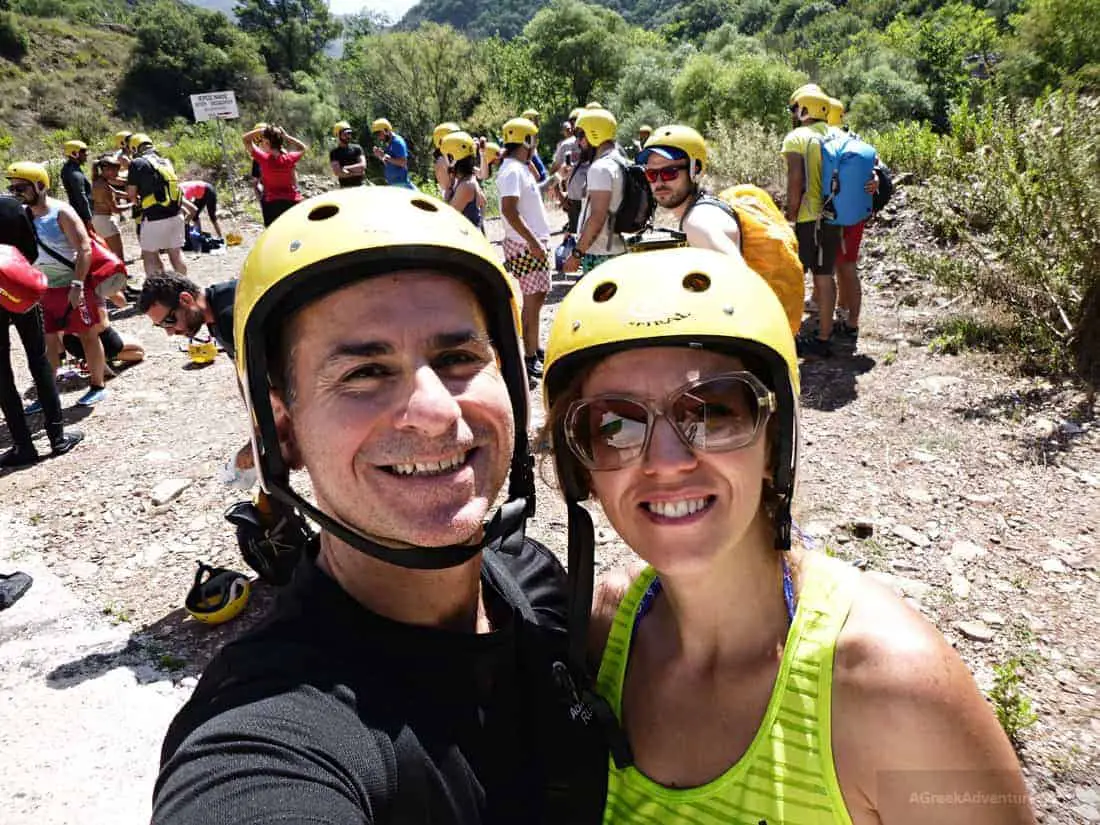 The gorge that hosts the river of Neda is located in Peloponnese at the borders of Ilia and Messinia Prefectures.
The river comes down from the Mountain Liceo and flows into the Ionian sea between Kyparissia and Zaharo.
Both these areas are famous for their beaches.
We made a different gorge walking and waterfalls route when we were in these areas. We hiked through the famous Nemouta Waterfalls, and on our way back, we visited Ancient Olympia.
Anyway, the length of the Neda river is 32km. We did 7 of them. It took 6 hours for the team to complete.
The river is booming with a luscious plantation, and significant parts of it are under shade due to the gorge walls.
The biggest of the waterfalls we visited (near Figaleia) is 50mt tall.
Many practice their canyoneering skills here too.
Neda Waterfalls and Gates of Hades?
The river was named after a nymph called Neda. Near this place, you can also visit the Temple of Epicure Apollo Vassae.
Neda was a water deity, a nymph entrusted to take care of Zeus by Rhea to save him from being devoured by Cronus.
Note: Neda is a female name in Greek. The river of Neda is one of the two streams of Greece with a female name. The other one is the river of Arapitsa near Naoussa (North Greece). Most rivers in Greece come with a male name.
Did you know that one of the Gates to Hell was in Neda? If you don't know who Hades was, read this.
Gorge Walking: Neda River and Neda Waterfalls
We got up early to meet the group from Active Sundays that would take us there.
It would be a single-day trip, and as such, we prefer not to drive ourselves back and forth, primarily when complex hiking/trekking occurs.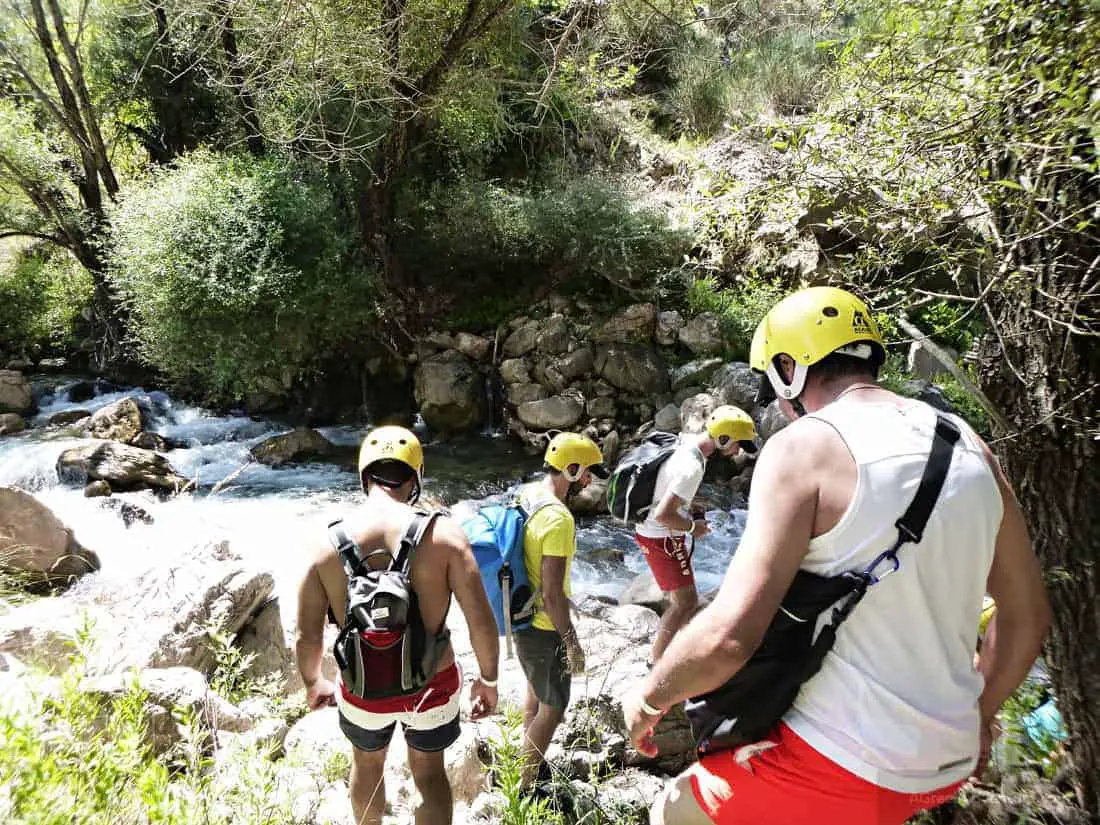 Our hiking took place in July, and the river was still with lots of water. It was tough to cross at some points, and you had to swim.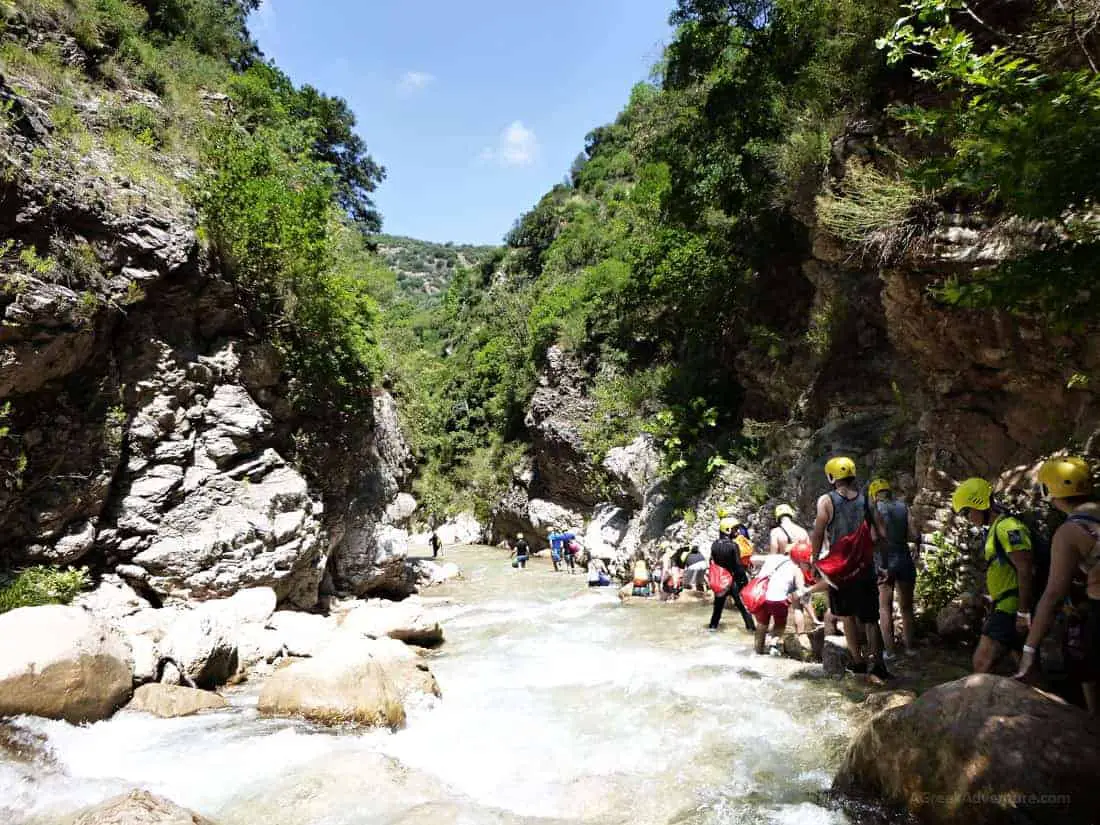 The current was strong at many points (and an excellent photo opportunity).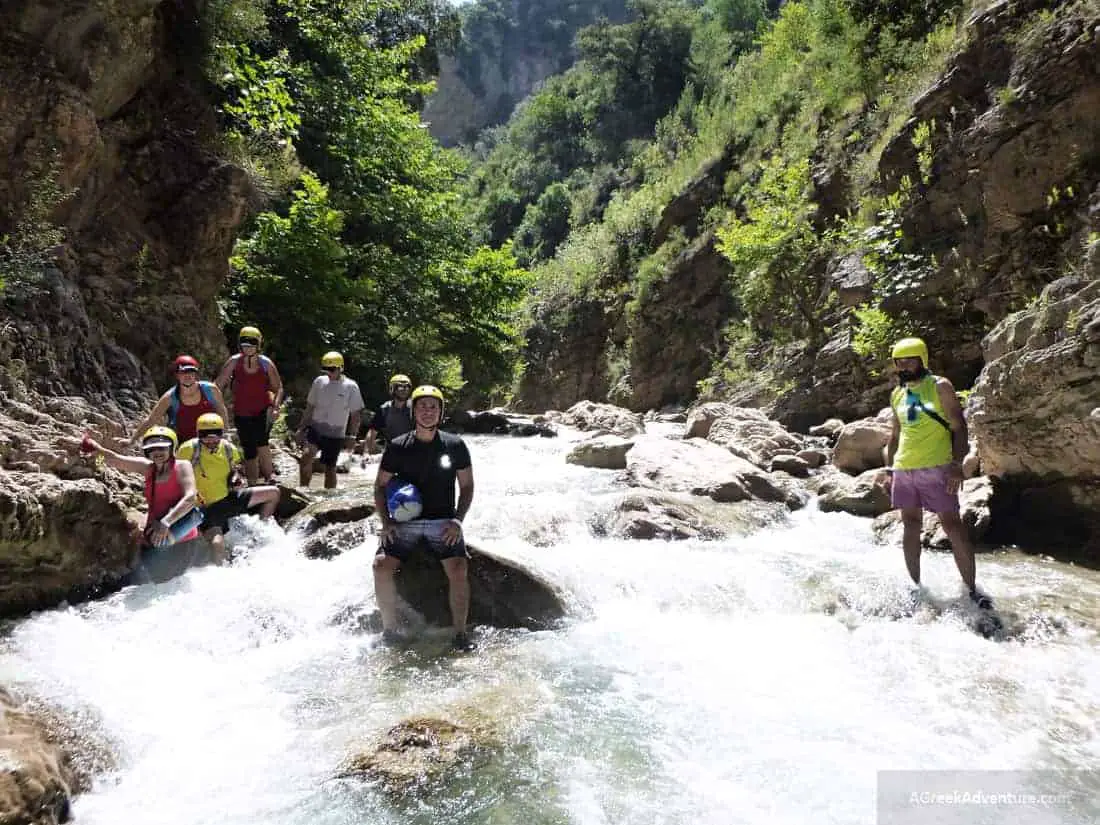 We had some excellent guides, and the whole adventure was hilarious.
Some points seemed impossible to cross, but the only thing we had to do was let go.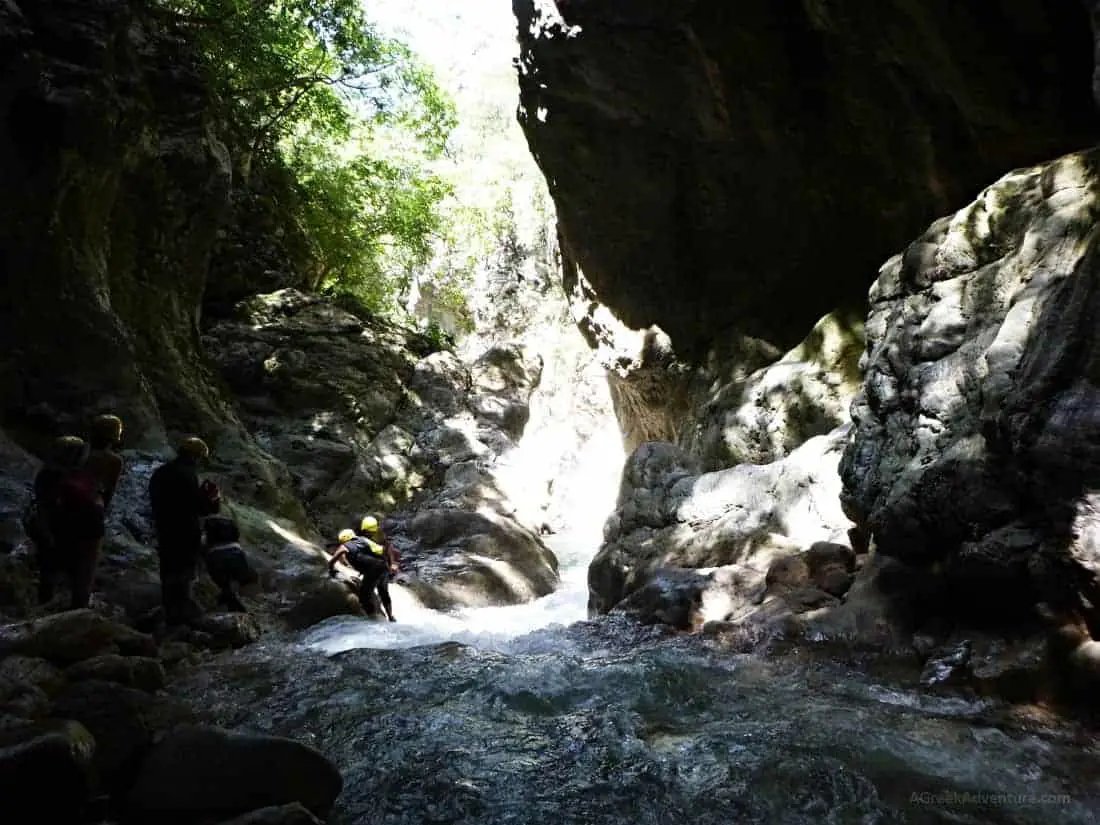 We have done canyoneering a few times in the past, so we had experiences from controlled sliding.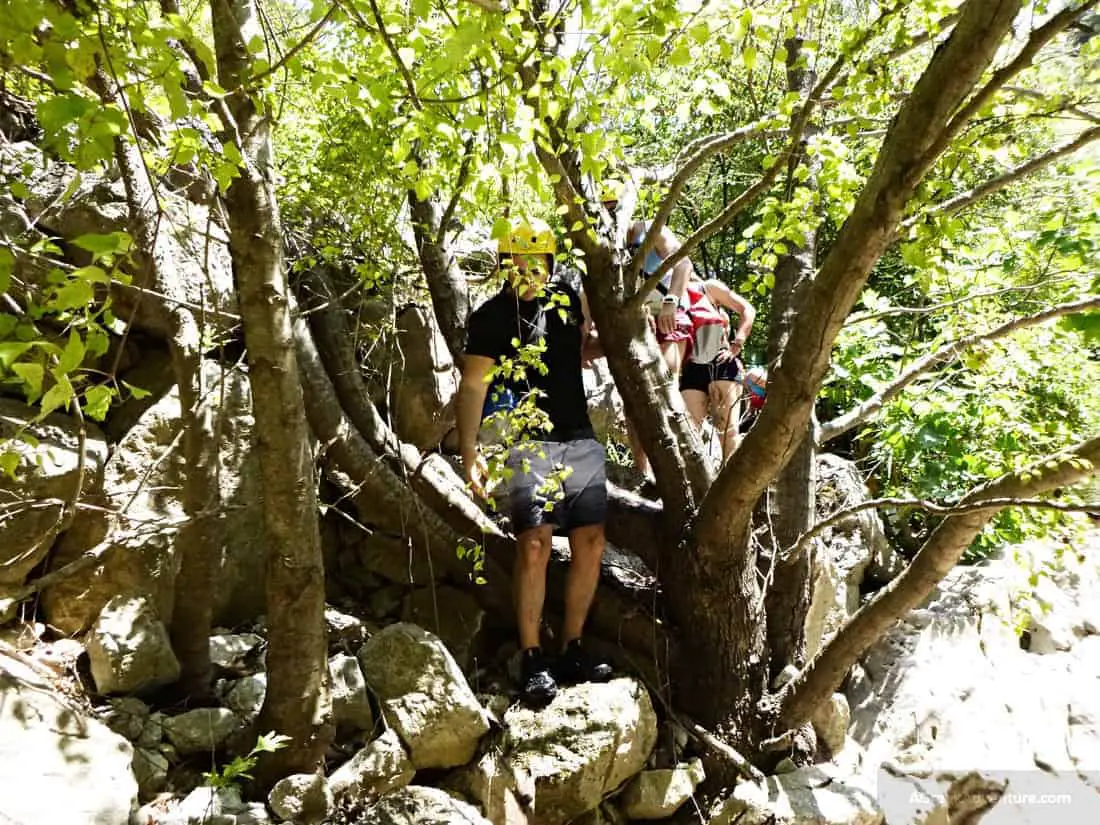 Many tricky points seemed easy, but the moment you tried to cross vertically, you felt the strong current despite the low water depth.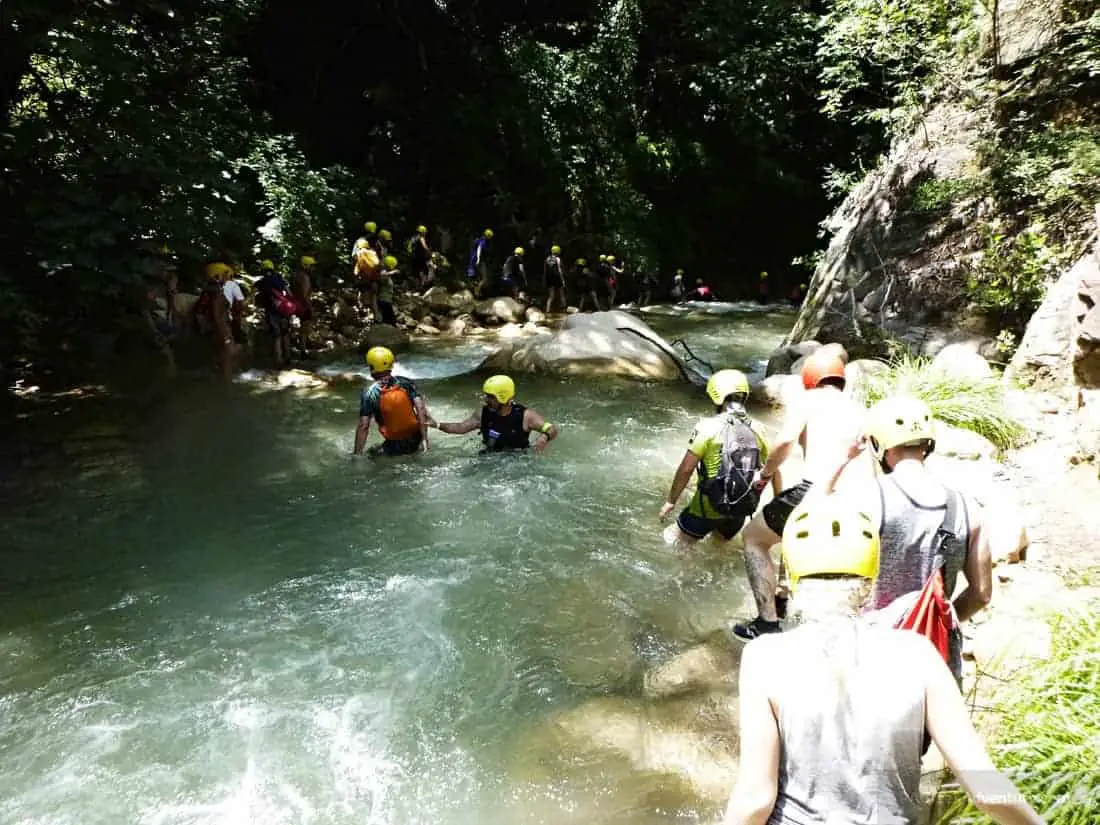 Good shoes (and balance) kept us from falling flat down and get carried away from the river.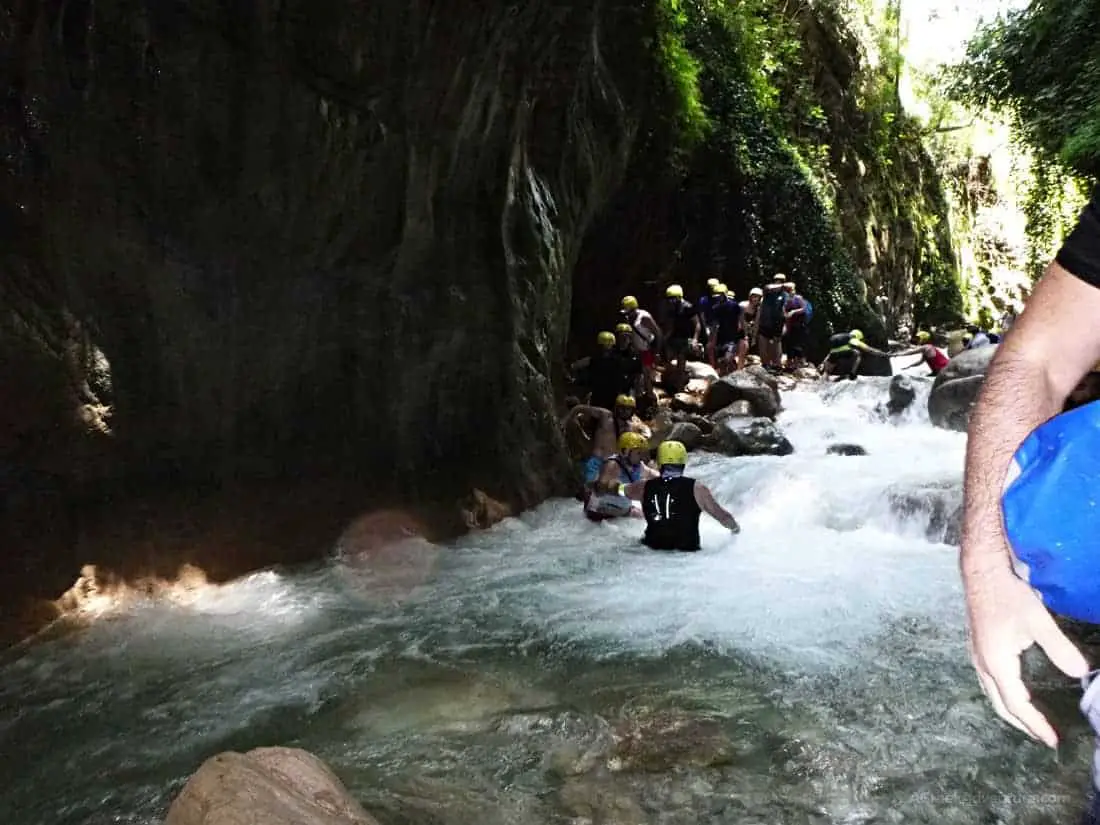 Is Neda river a simple gorge walking thing? Not at all.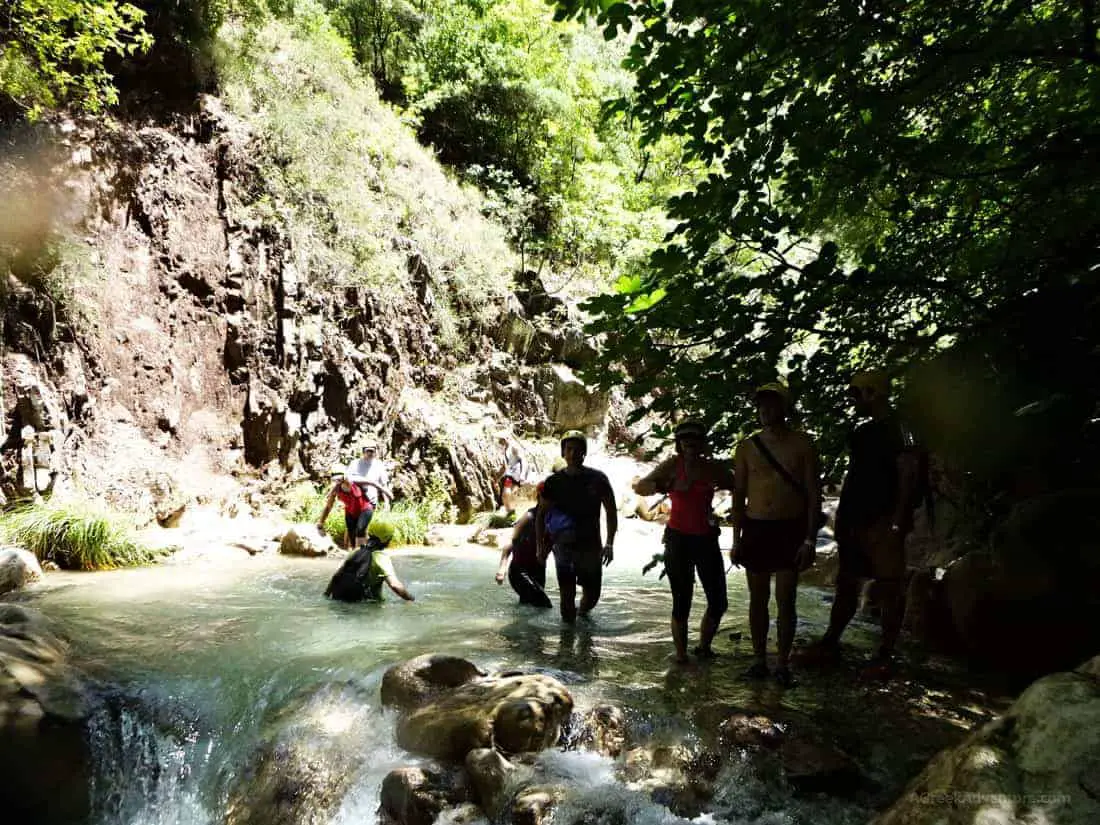 You need to have some experience with such treks and proper gear.
And after all that spectacular route, the 50mt high waterfall.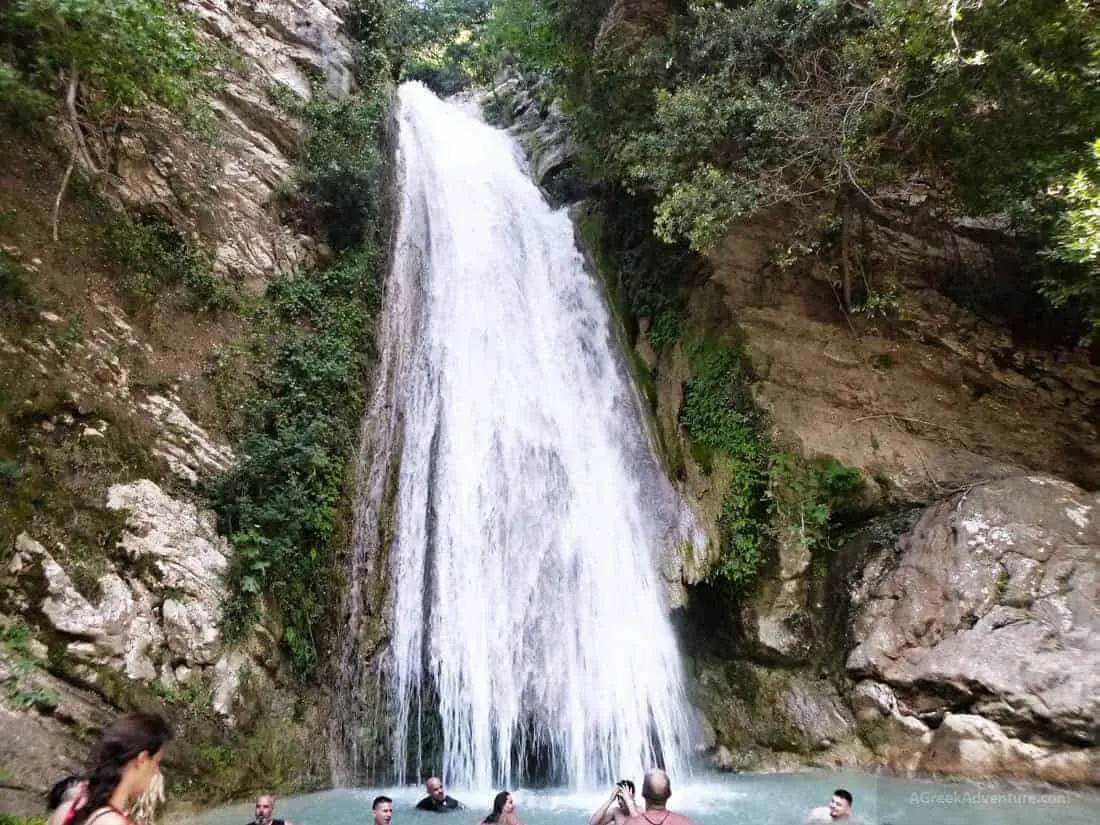 Necessary Gear for Neda Waterfalls Safety
Gorge walking is not canyoneering, but that doesn't mean you can go in your sports shoes or sandals.
Here is the gear we had with us. No ropes were needed since the first 7km didn't involve crossing points where climbing (up or down) was necessary.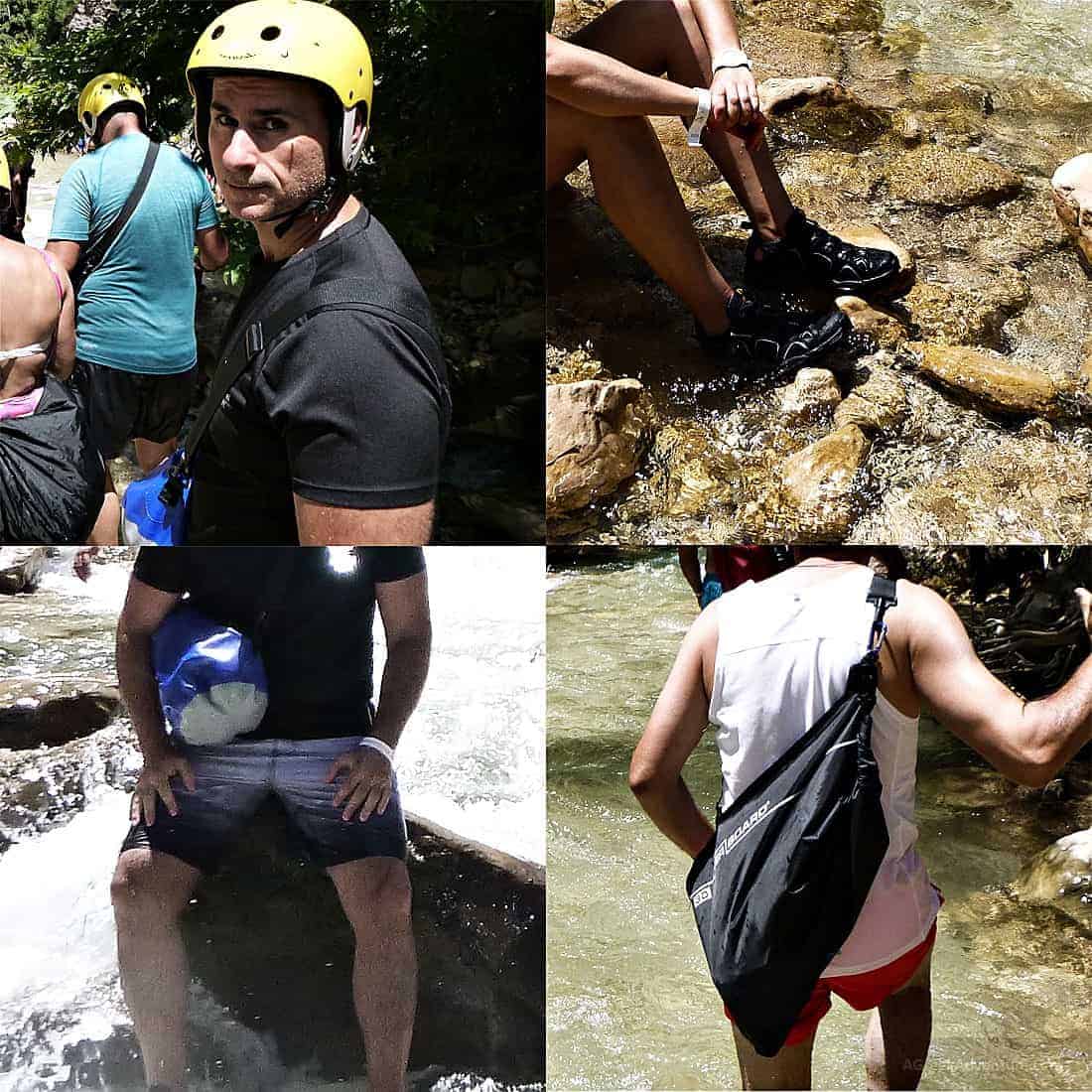 Blouse
Avoid cotton on such trips at all costs. It soaks and stays like that "forever."
Many think that going naked from the waist up is beautiful in summer in a gorge/canyon. They believe they will enjoy the warm sun on their skin, getting cold from the river waters.
That is far from the truth.
It would be best if you had an excellent technical blouse (not necessarily with long sleeves) to protect you from the sun, possibly insects, and water. You may need to wear half or full body wet-suits suitable for canyoning depending on the water temperature.
In our case, a short sleeves blouse was delicate. However, the water was cold and not warm. Not cold, but around 12-14 Celsius. In a roaring river, under the shade, that will get colder.
Yes, your blouse will get wet almost immediately, but it will keep you warmer than wearing nothing.
Any lightweight technical running or hiking blouse will do. I prefer one with UV protection.
Pants & Swimsuits
We hiked in our swim shorts. Some were wearing hiking shorts. We tend to avoid such as no matter how light they are; they remain heavier than a swim short.
Shoes & Socks
This is one of the significant must-have ingredients for safety, along with a helmet. You must not wear -at all costs- any regular hiking/trekking shoes/boots.
It would be best if you had either the special canyoning shoes or the amphibious water shoes that allow water to pass through.
These were our shoes (Salomon).
Any other sports shoe will put you at high risk for injuries to massive traumas.
Talking about water shoes, we don't mean beach shoes.
Beach shoes may be cheap, but they will get damaged in the 1st hour of your river walking as you walk inside the water and step on rocks.
You need good water shoes with excellent gripping. They are like trekking shoes but allow water to get through (means: less resistance to running river water) and grip fine on rocks.
Sports shoes will not be steady, and they may dissolve after 4-5 hours in the water, leaving you without shoes in a gorge. You don't want that.
Do not wear your water shoes without socks. After X hours in the water, your feet will get soft from all that as they get softer; any seams will scratch your feet and create wounds that will get bigger by getting soaked in water.
Helmet
A small pebble falling from a high altitude can seriously injure you or even kill you. A special helmet can prevent this as it protects your head.
Even if such rock lands on the rest of your body, you need to protect your head, getting beyond repair.
This range of helmets will do the job.
Dry Bag
Do not use a regular backpack or plastic bags to keep your wallet, keys, towel, or/and snacks dry. You need a unique dry bag made from durable PVC that is for that reason.
Such bags fold on top and secure accordingly.
They allow no water at all to come through. We got a 10lt one for 15 euros from Oztrail, and it was great. They come in different capacities.
Such bags become floating devices, too, as they can trap air inside them when you fold them.
This is handy when you need to swim at different points.
Waterproof Camera
Smartphones won't do the job unless you carry them in an actual waterproof pouch that is transparent enough to take photos.
We prefer to use a small waterproof camera (Panasonic Lumix) and have control over the outcome.
We left our smartphones in the car.
There was no signal in the gorge anyway, and team captains had high-quality communication radios to coordinate the team.
Make sure you have everything strapped on you as you will need your hands for many things. In case of emergency, you need to let your camera go & not lose it.
Sun-cream
No matter the shade and gorge plantation, the sun will be hot in the summertime.
Apply sun cream to all non-covered areas. In case you make a short break for snacks and get dry, apply again.
Overall feelings from Neda Waterfalls
The top list for travelers in Greece is also to visit Nemouta Waterfalls and Panta Vrehei canyon & waterfalls.
Neda has an entirely different beauty when compared to the above. Not better or worst, just different, with quite different "energy."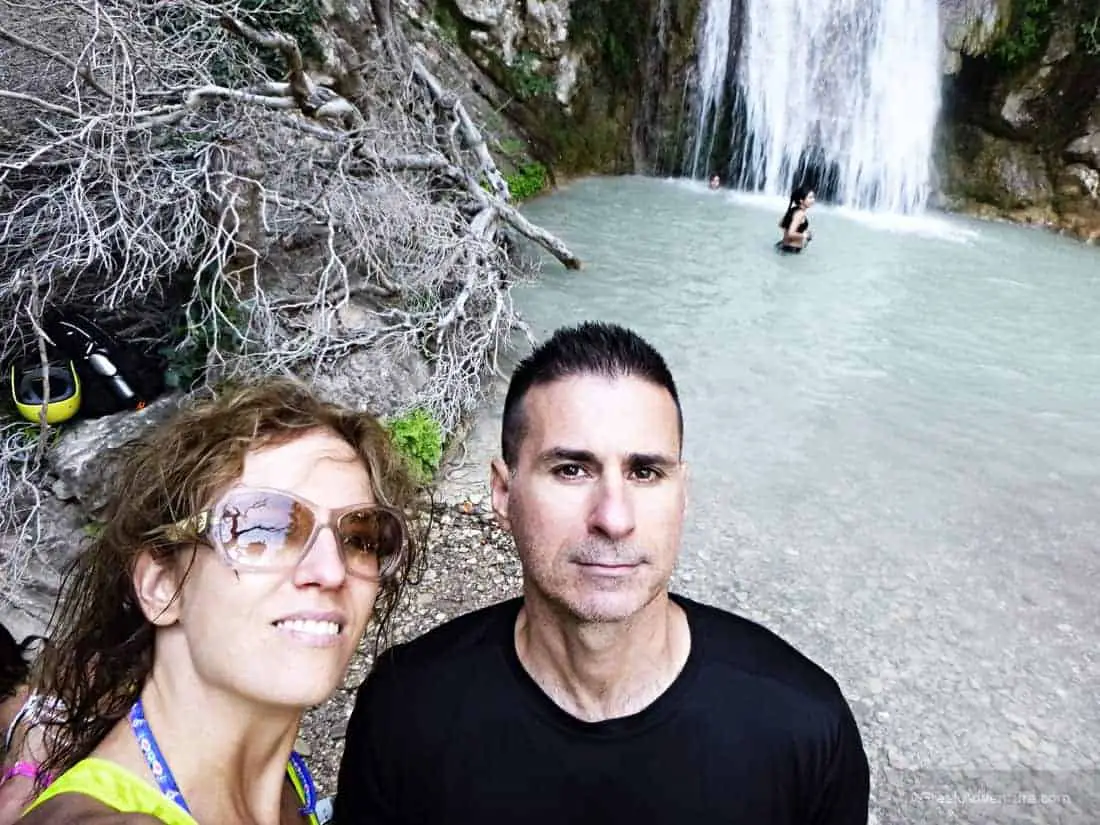 Who knows? Next time we may see Hades chasing up Persephone, running wild outside the Gates!
Enjoy.