Karpathos island is not a popular destination. At least that is what many people think. We spend three days in Karpathos, and we got blown away from the things you can do.
We came back, wondering why this Greek island is less known than other ones that also belong to the Dodecanese islands of Greece, of the Aegean sea.
It is an island not to underestimate. It has stunning and colorful beaches, fantastic food options, excellent prices (we went at the end of May), tons of Dutch people (yes, it is a popular destination for Dutch).
That is the second-largest island in the Dodecanese after Rhodes.
Karpathos is ideal for kite-surfers, windsurfers, and anyone seeking thrills using a sail and board.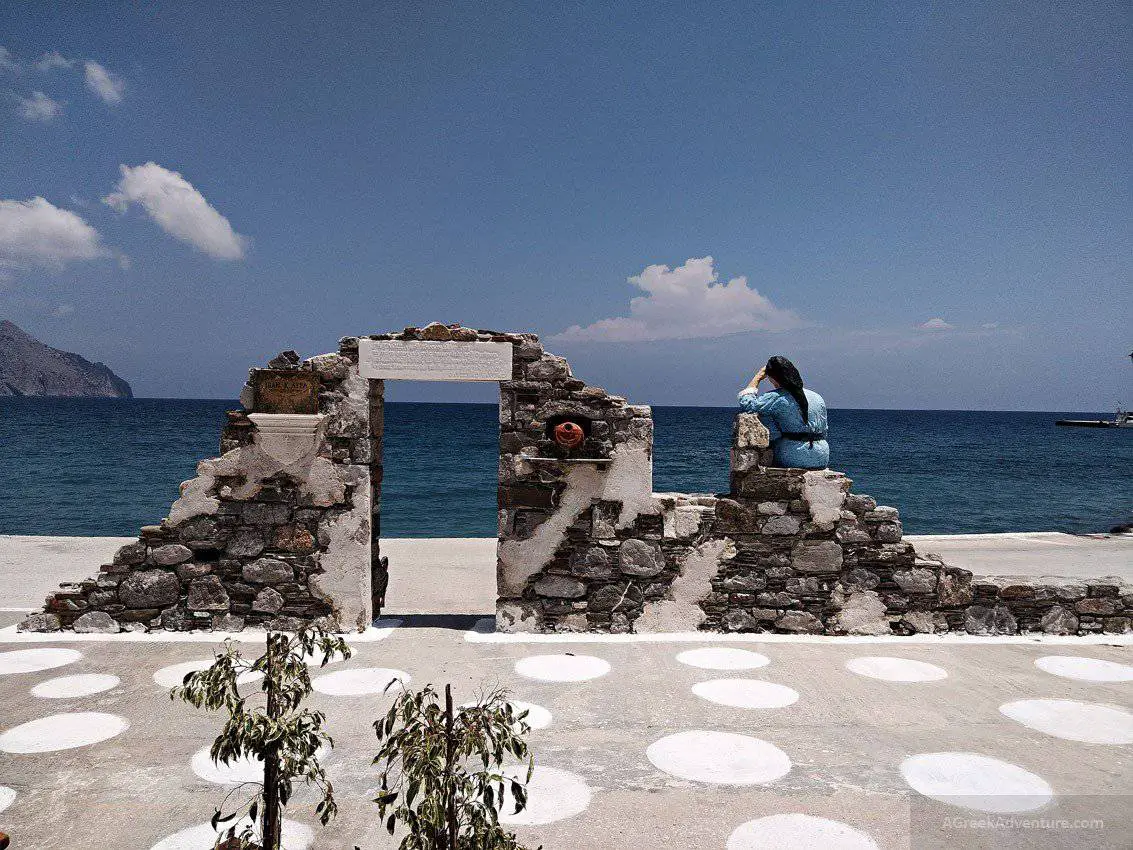 When you land at Karpathos island, pay a visit to the islet of Saria. Karpathos separates it by a narrow, long strait.
People believe that it was part of the mainland in the past, but became separated after an earthquake.
Another place of interest is the ancient Acropolis of Poseidion (or Potidaion). The Hellenistic acropolis of Potidaion was on the hill northeast of the modern port
Let's take things from the beginning, though.
How to get to Karpathos island?
We had three days to spare since a religious holiday was taking place on a Monday. We combined it with the weekend time and voila.
If you have little time, then it is best to go to Karpathos by airplane. We stayed in Pigadia (capital of Karpathos). That was just a 40 minutes drive from the airport.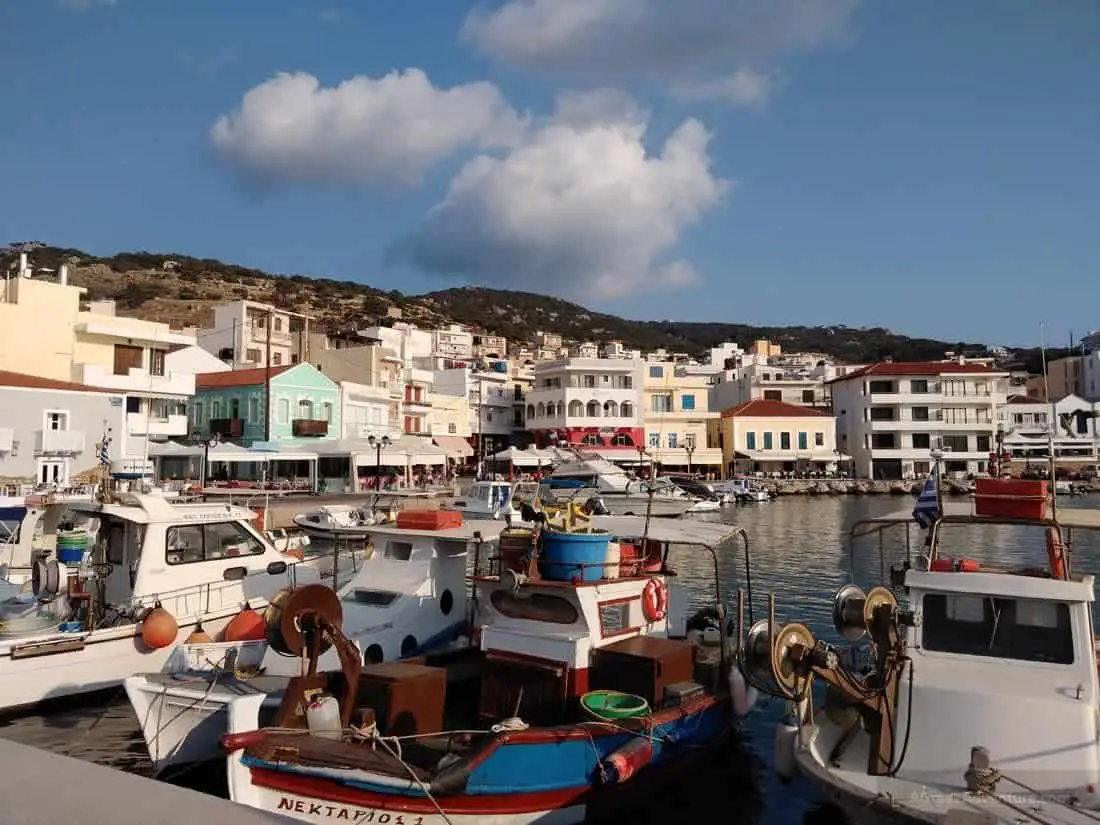 The ferry from Athens, Greece takes about 18 to 20 hours to get to Karpathos, and this is quite a long time, as you need the same amount of time to return to Athens.
With a ferry, you lose two days from Karpathos. Book ferry from and to Karpathos.
Booking your airplane tickets ahead will reduce the cost, and you can always rent a car on the spot. There are tons of options from international car rental services to local ones.
So, better get on a plane.
Accommodation options: Karpathos Greece hotels
In almost every single village you will find different options for accommodation. Check all of them in Hotels Combined.
Most hotels and rooms to let are in Pigadia (the capital). We never go to hotels that have a low score, and this time we wanted a bit more: Some luxury.
So we booked into the Alimounda Mare Hotel.
A fantastic 5star resort next to the sea, with a vast pool too. Excellent prices, even for mini-bar items or by the pool snacks and beverages.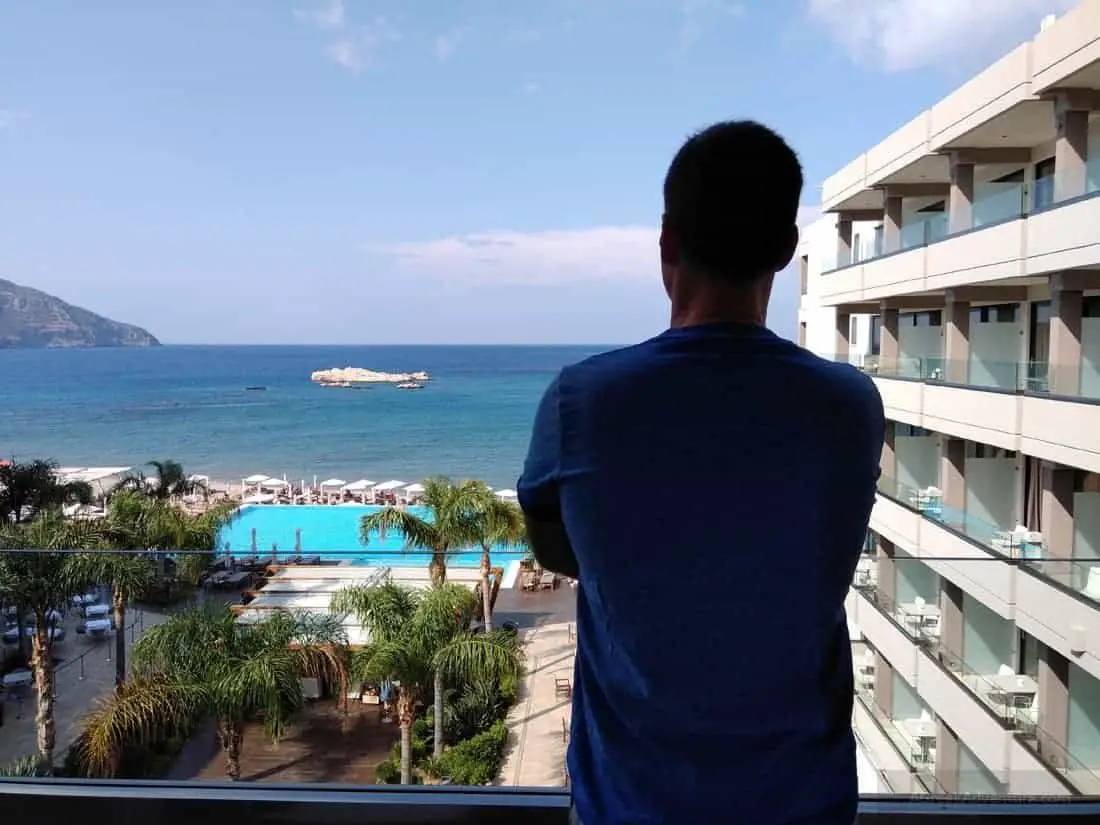 We couldn't recall seeing so low prices in other islands or cities around our trips in Greece and Europe, for 5star hotels.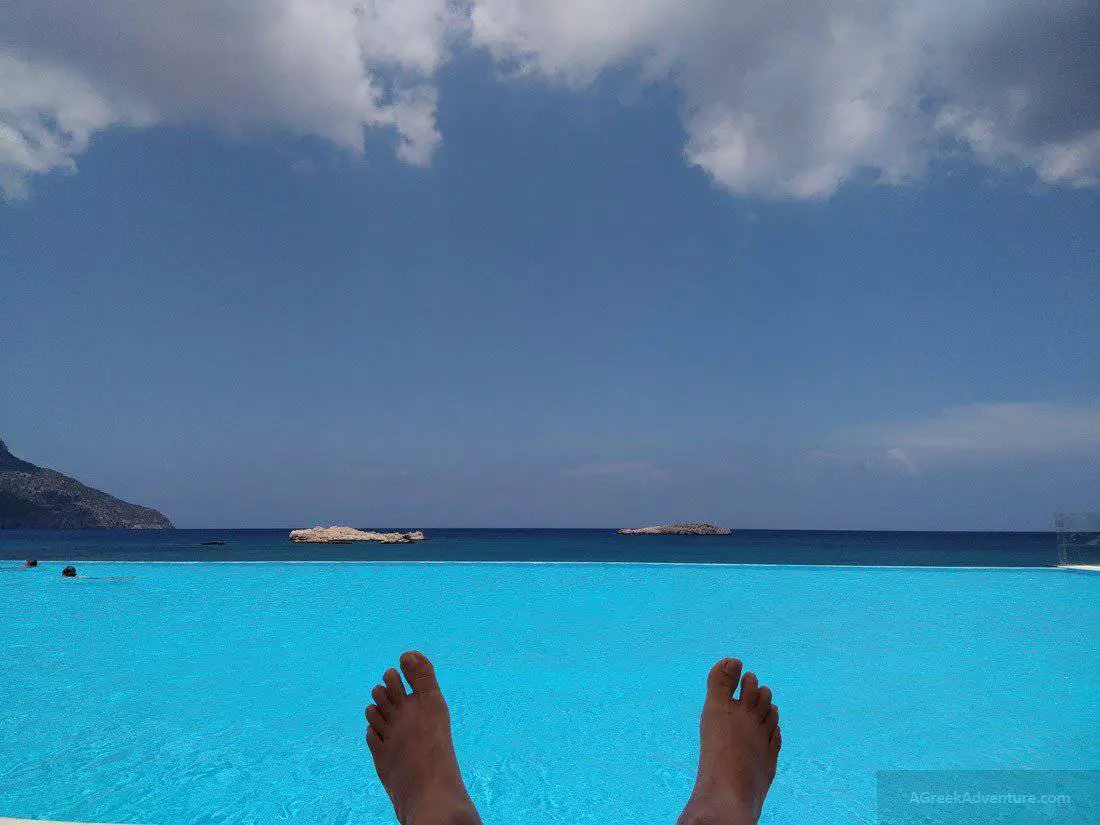 Most hotels in Karpathos are on the southern side. Pigadia, Achata, Amoopi, Arkassa, Finiki & Lefkos host most hotels and apartments. These are the most famous villages too.
Check the guided tours from here.
Where to eat in Karpathos island?
We never eat in a hotel, except for breakfast. It has nothing do to with prices but with our eagerness to taste the local culture and cuisine. Breakfast in our hotel was huge and fantastic, but that's breakfast.
We chose to eat in three different taverns. Two of them were in the capital and one of them in a remote village, famous for its fantastic beach.
The ones in the capital were: "To Perasma Family Restaurant" and "Pigadia Restaurant."
In "Perasma" go for the grilled squid, fava and the salad called "Perasma". Portions are enormous, so ask to see before you order.
In "Pigadia" go for the Mousaka and the swordfish, and choose the unanimous salad. Also big portions.
That was the first time we ate "Mousaka" in a Greek tavern. We usually eat it at home, cooked by my wife or mother-in-law, and is a fantastic dish. We were impressed with the quality of materials in that restaurant.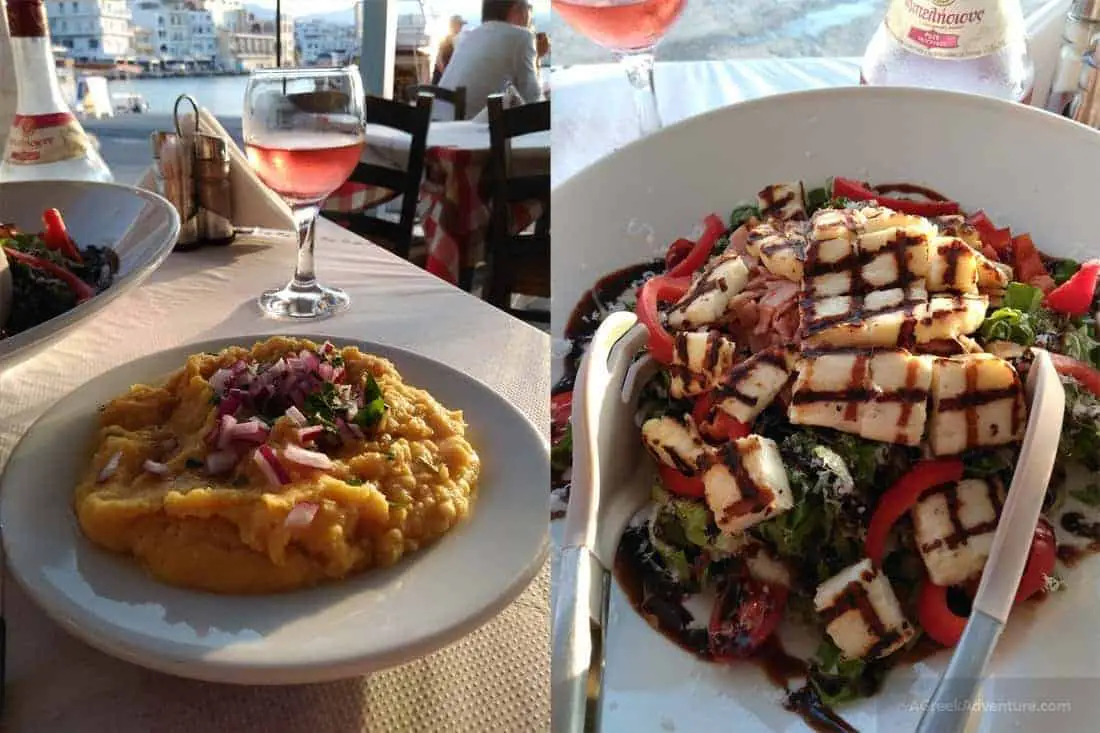 The other restaurant was in the village of "Kira Panagia" (the name relates to the Virgin Mary). The village is tiny but has that fantastic beach.
There is a famous tavern there, named Sofia's tavern (5 meters from the beach) but we didn't go to that one.
Instead, we went to the other one that was around 80meters from the beach. We think it had no actual "brand" name, but just a sign saying "tavern."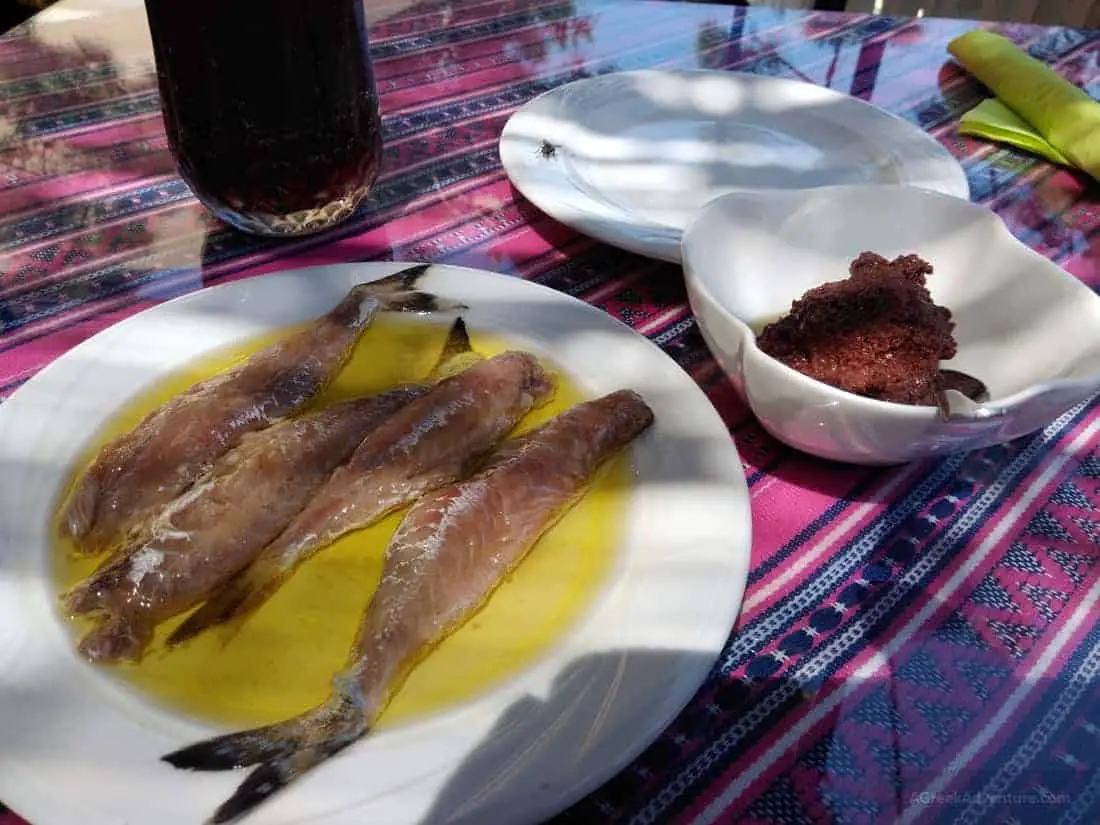 The food was fantastic. When you are there, go for the fried small shrimps, their salad and salted sardines.
All are homemade. In the end, they served us with Greek donuts with honey and almond.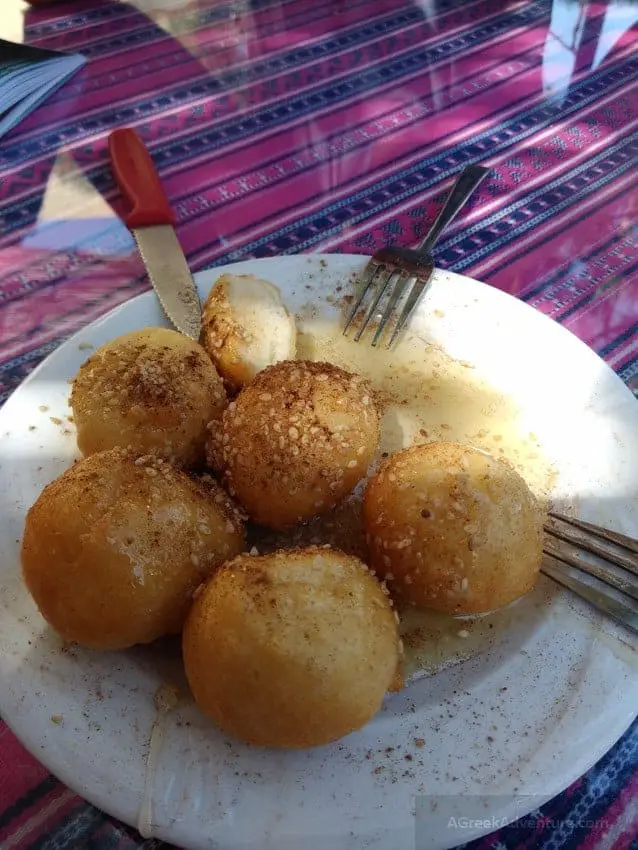 A Special Village: Olympos

Karpathos

This mountainous village has its weather! It does. When you get close to it, the weather is different from the rest of Karpathos.

The temperature dropped 10 degrees inside Olympos village in Karpathos.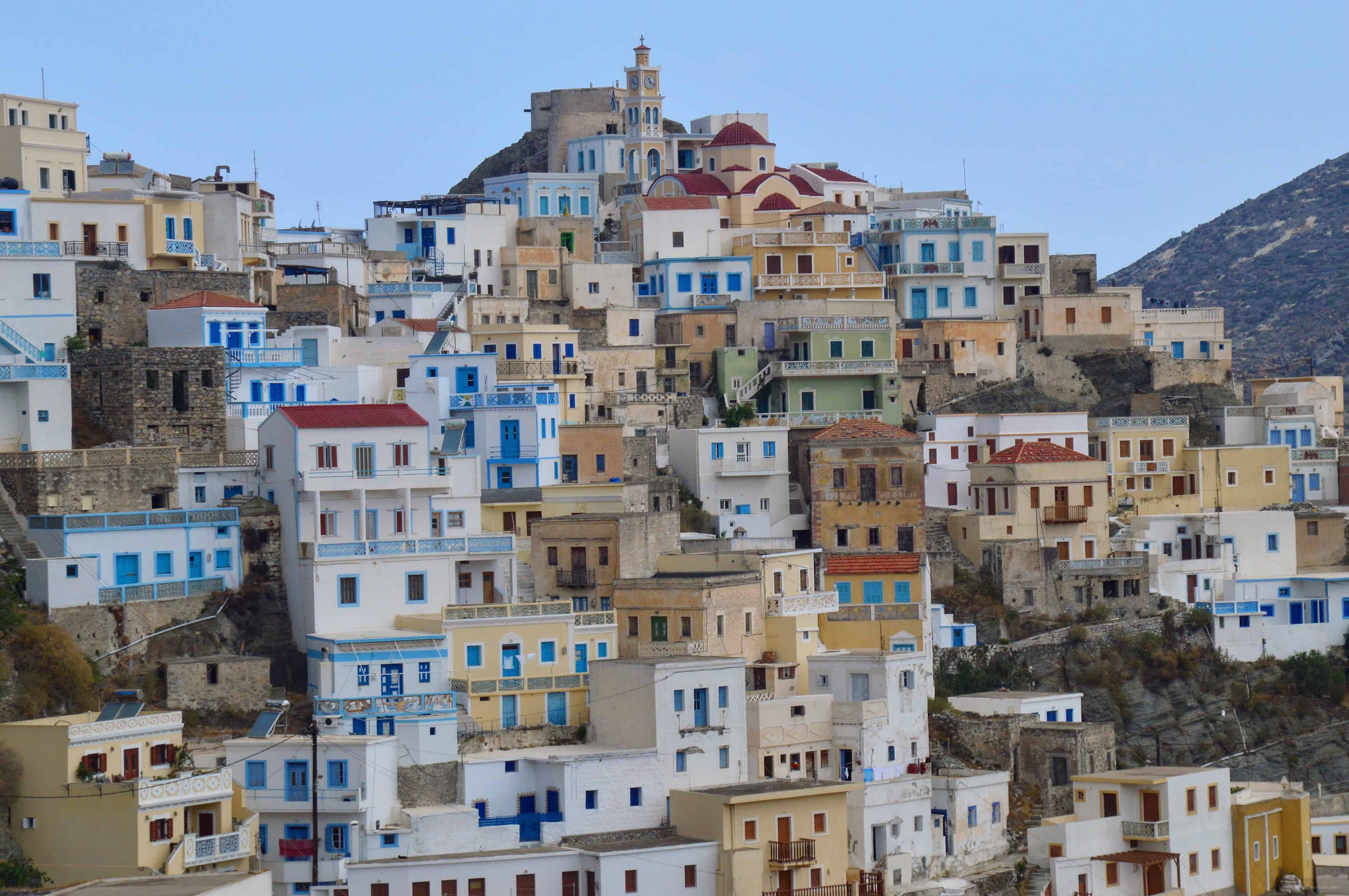 Olympos is one of the pretty picturesque villages that are in Aegean.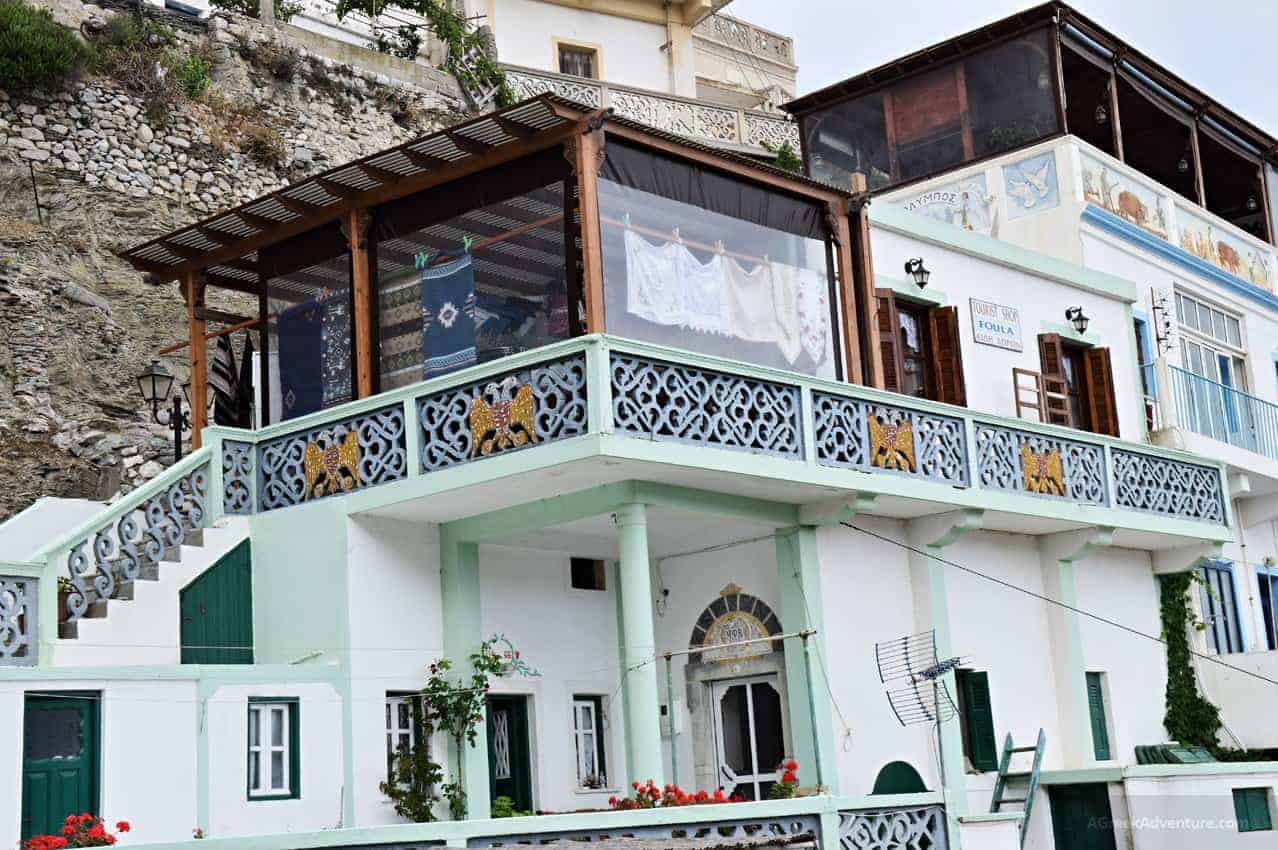 The whole place is colorful and looks like a postcard.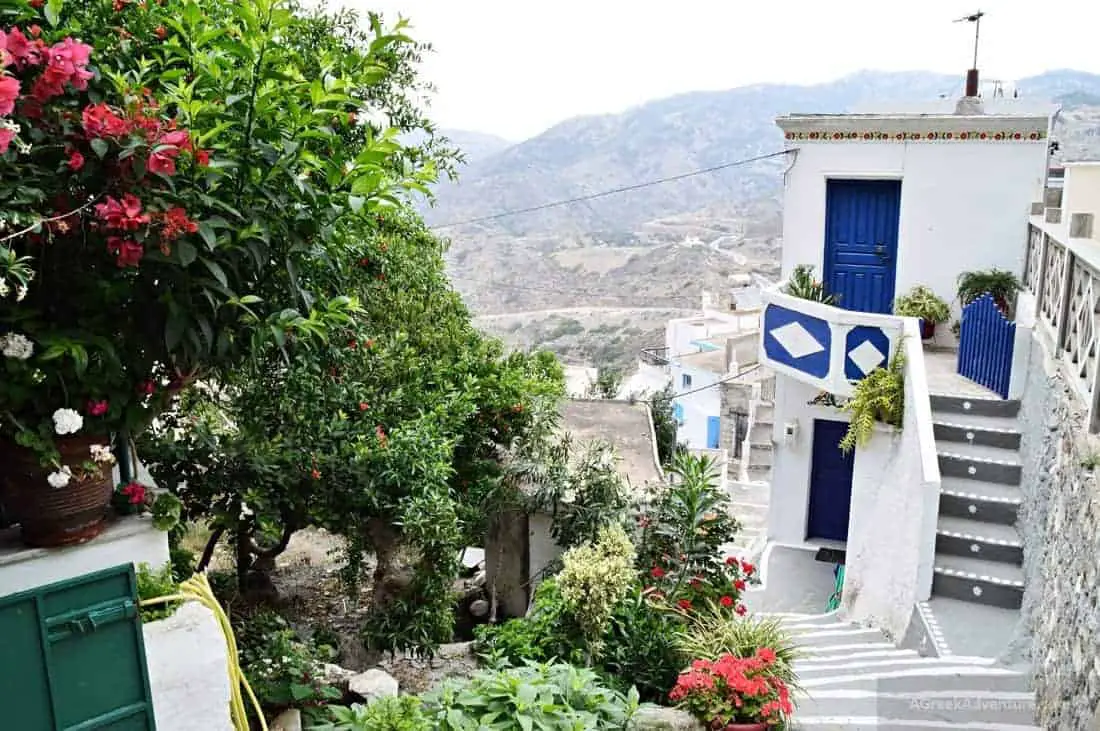 A very peculiar thing you will see is that all women wear their traditional clothes. That is not a "tourist" thing. They dress like that until today.
A friend of ours who comes to Karpathos confirmed that they wear them in big cities too.
Check your options for tours with a guide from here.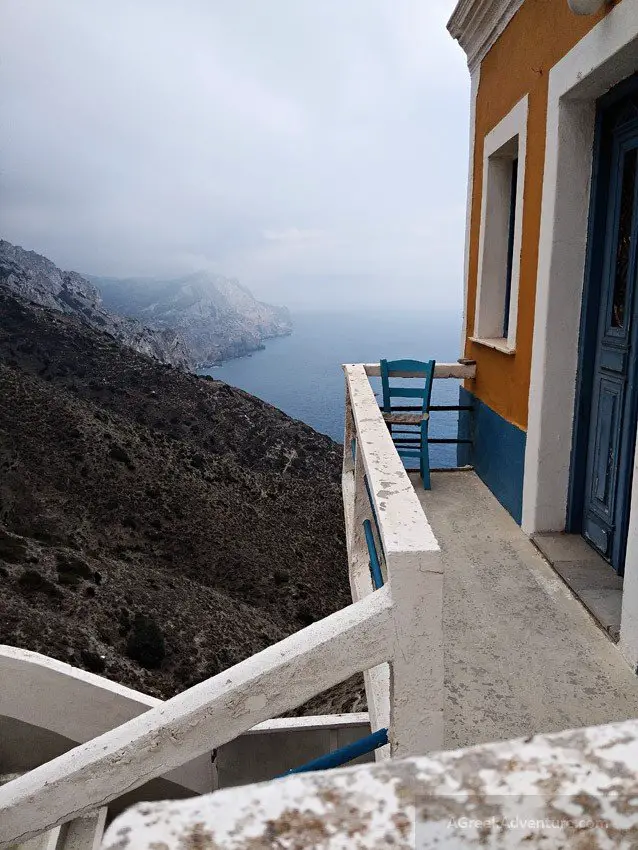 Their dresses are colorful too. Maria managed to take a picture with them.
Quick break: Ice cream time at Mesochori village.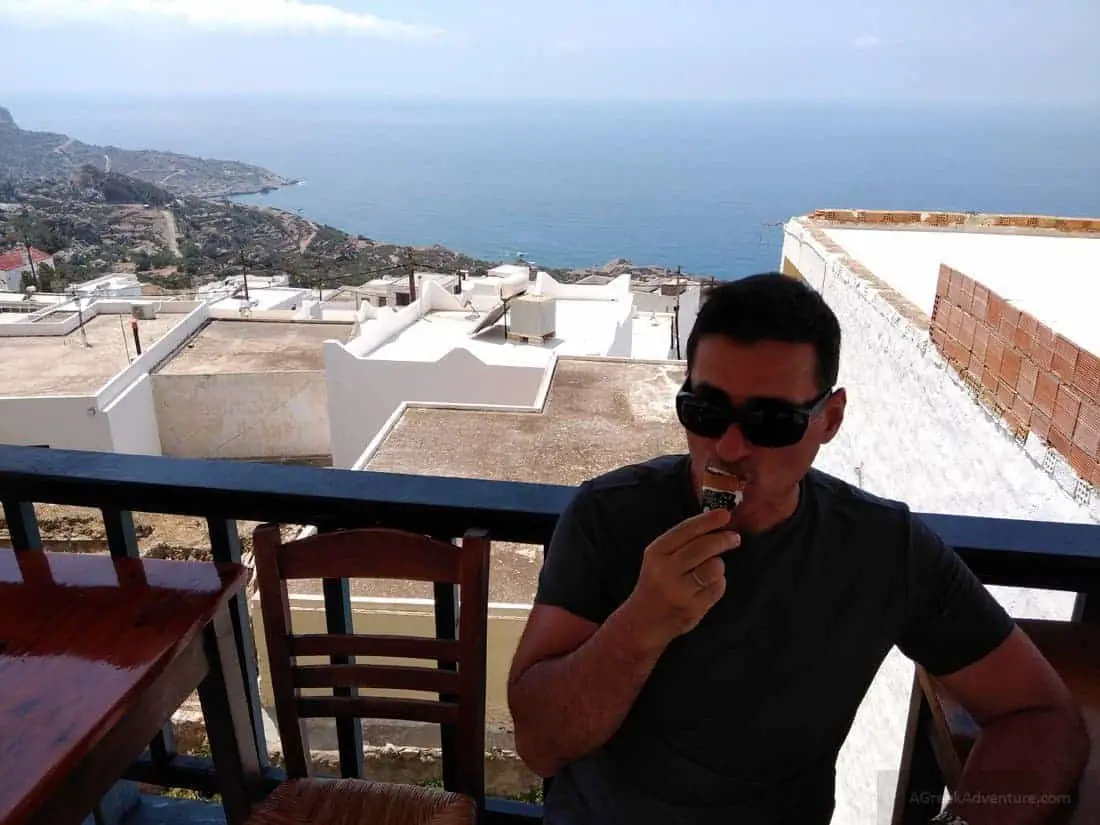 Popular Karpathos Beaches
There are around 80 beautiful beaches in Karpathos (accessible by boat only, included), so you have lots of options.
Some are popular though. Depending on the season some of the popular ones get crowded. With so many options (and a car) you can get anywhere.
Kyra Panagia: That sandy beach is spotless and well organized. Colors combine the blue of the sea along with white sand and smooth pebbles. It is also close to Apella beach.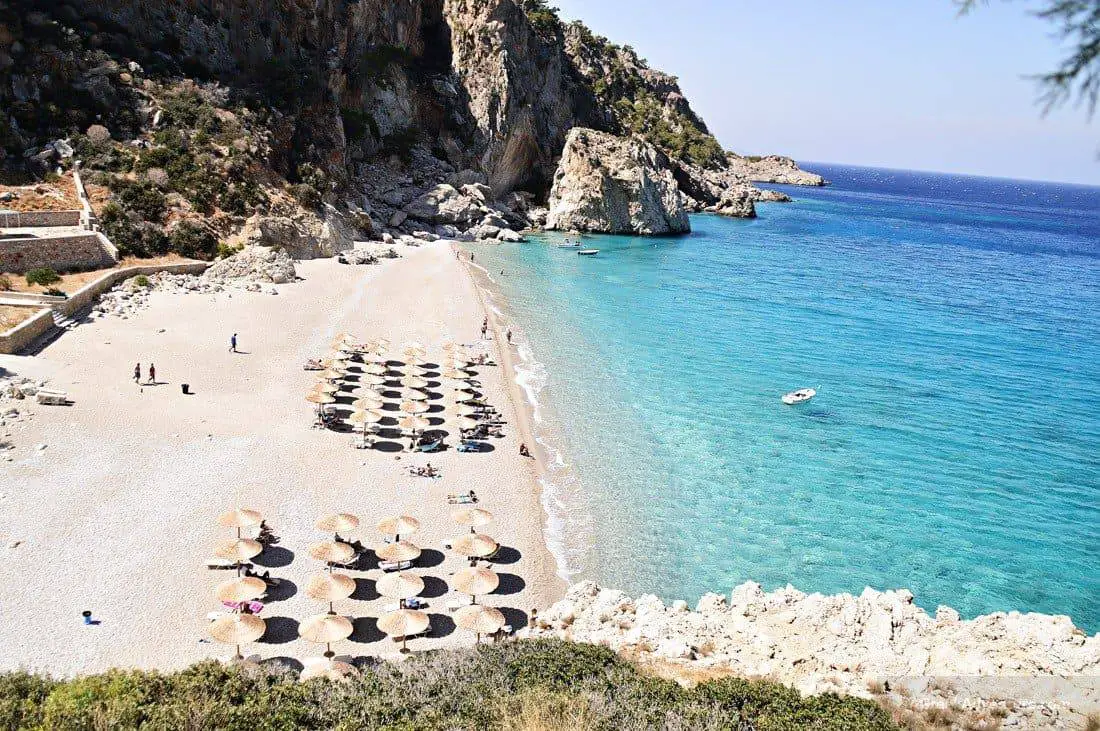 Argilopotamos: The beach is around 20km for Pigadia. There is a canteen and acts as a base for kite-surf sports.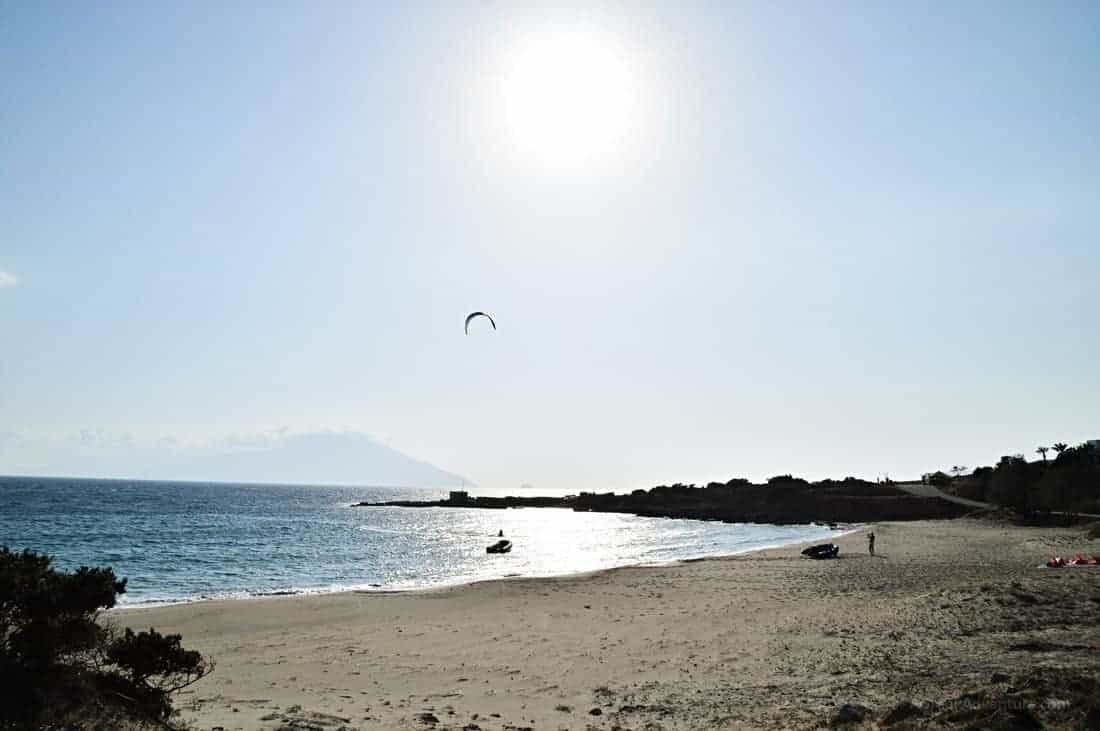 Finiki: Sandy beach with crystalline waters.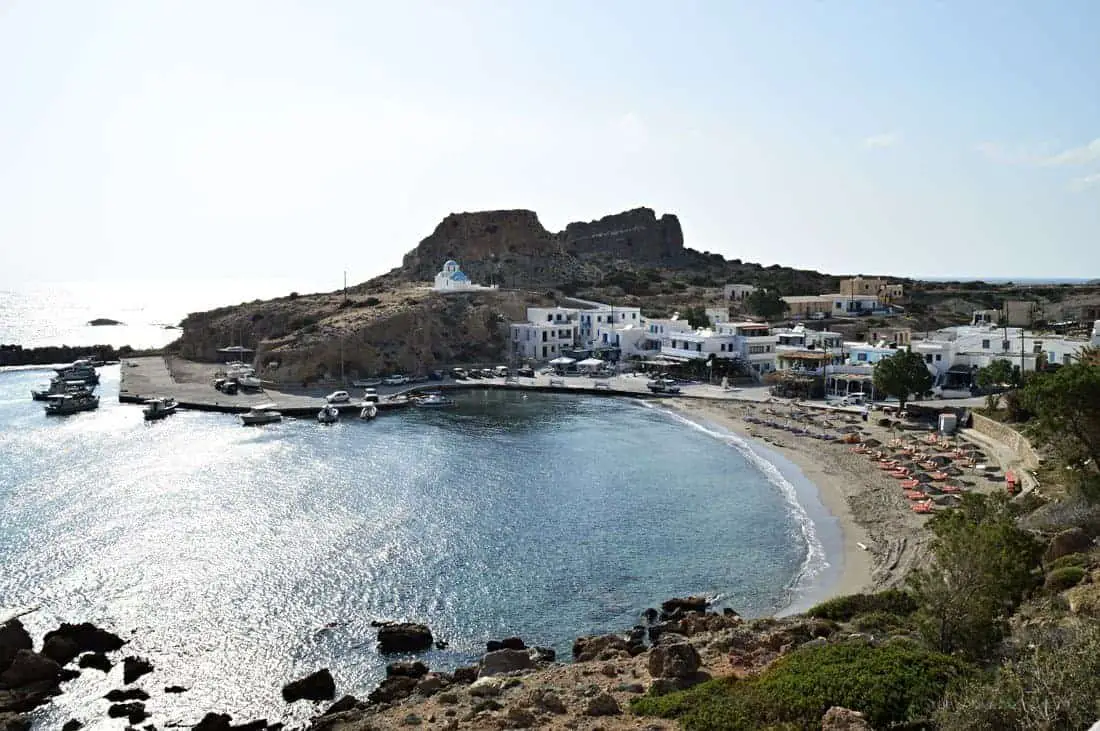 Lefkos: This is a combination of 3 different beaches with different names each, and close to another. The one called Gialou Chorafi has all the "bells and whistles" (better than the other 2).
The 2nd one is small and sandy and named Panagias Limani. The last one is Francolimnionas.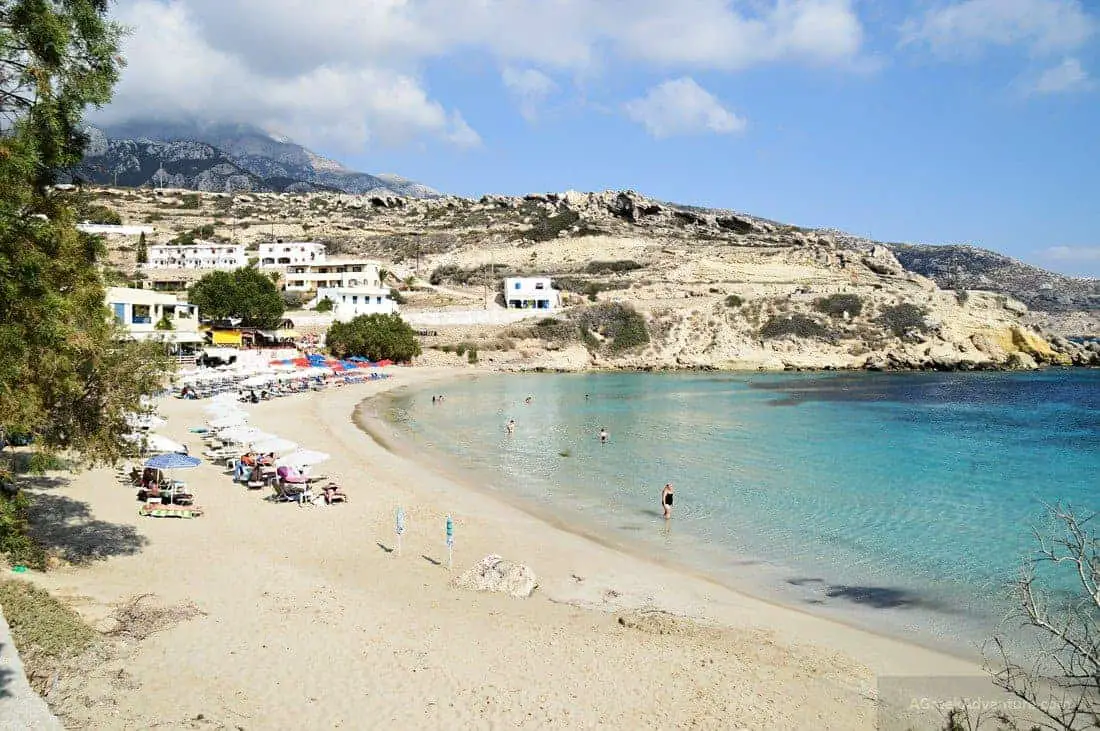 These are just a few of the beaches of Karpathos island.
More come under the names of Apella, Achata, Mikri & Megali Amopi, Arkassa, Diakoftis, Afoti, Agios Nikolaos, Amopi Pera Ammos, Christou Pigadi, Damatria, Psoraris, Valias, Vrontis.
Can you spend just three days in Karpathos island? Well, no.
We consider this trip a "reckon" trip, and we plan to go back for a week or more.
We were happy to find this special corner of Greece and share it with you. Also read Greece Bucket List: 40 Best Things To Do.