There's something very alluring about volcanoes in Greece. The real strength of nature in all it's splendid and terror!
If you are looking to seek some adventure and unforgettable memories, consider this guide.
On your visit to this beautiful paradise-like country, follow this guide for all the volcanoes in Greece.
The country of Greece has one of the most well-known volcanic arcs worldwide.
That arc formed when the African lithosphere (Oceania) sunk under the Eurasiatic plate (mainland).
The volcanic arc of Greece showed quite an intense activity in the past.
That activity formed some fantastic volcanic landscapes that are rather popular in the world. 
Read and find out where the best volcanoes in Greece are.
How Volcanoes In Greece Formed?
Most of us, whenever we hear the word volcano, picture a conical shaped mountain, spewing lava and very poisonous gases from the summit crater. Is that all? No, as that form is only one of the many types found in nature.
In ancient years, people believed that it was in such where the Greek god Hephaestus had his smithery. Hephaestus was the god of blacksmiths and the god of fire.
However, through science, we know the truth. 
A volcano manifests when molten rock, ash emissions, and gases (pyroclastic flows) escape through tectonic plates, rising through Earth's crust.
That molten rock and ash plume solidify as they cool, forming the volcano we usually see.
Where are the Volcanoes In Greece?
Greece is home to more than half-a-dozen great ones – some active, some dormant.
Despite the still-smoking active volcano of Santorini, there isn't a potential volcanic hazard in Greece.
Here are five volcanoes in Greece that you need to visit – if only once.
Santorini Volcano, Greece
That is a well-known and active volcano in Greece in Nea Kameni.
Santorini erupted in 1600 BC and buried the city of Akrotiri. It left only three islands behind – Thera, Therasia, and Aspronisi; also, possibly giving rise to the legend of Atlantis.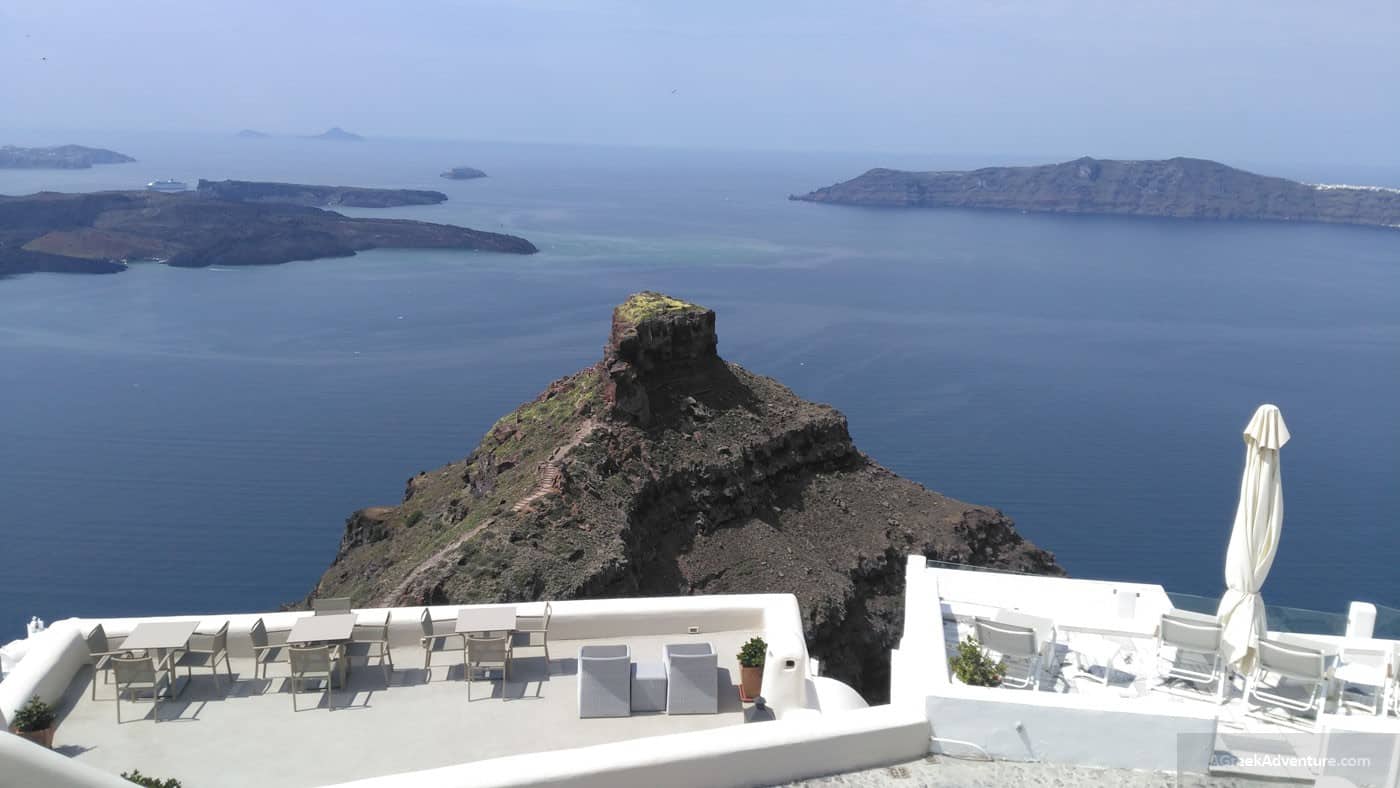 The awe-inspiring volcano has a diameter of 11km N-S and 7.5km E-W and has a depth of 390 m in the North.
This volcano erupted in 1950, producing a lava dome, lava flow, and even created explosive activity.
Though in January 2011, Santorini started to wake up from its 60 years of inactivity. That began with a seismic swarm and radial deformation of the volcano – there was no eruption of any sort.
Imagine being at the gorgeous Santorini island and experiencing volcanic activity at the time of an eruption. Experiencing such has to be beautiful if you would be alive after the explosion.
Nonetheless, even by paying a visit to this magnificent specimen of a volcano and enjoying the Santorini caldera, you fully appreciate its magnificence.
So worth a visit on your Greek vacation!
Methana Volcano
The Methana volcano is one of the 32 that are on the Methana peninsula. That is approximately 50 km southwest of Athens.
The height of the volcano in Methana is 417 mt, and its diameter is 150 mt.
It has a lava-dome complex that forms the peninsula.
The volcanic activity in the peninsula began 1 million years ago and continued sporadically until 300 years ago.
Its last eruptions took place in 1700 at a submarine volcano.
This volcano, in particular, is surrounded by lush greenery. Pitching a picnic here would prove very stimulating for you and your family – kids will love seeing a volcano!
Milos Volcano
Milos or Melos is a volcanic Greek island in the Aegean Sea. It is quite famous for its fantastic bounty of natural mineral deposits (silver, perlite, bentonite, etc.) and gorgeous clear beaches.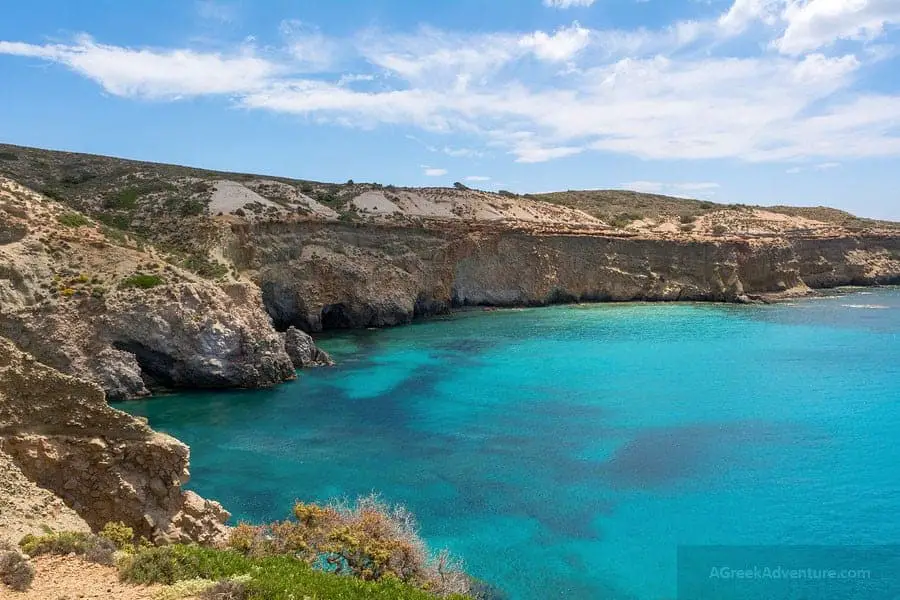 When the Milos volcano erupted, it created a lahar that ended up burying the walls of a Roman town.
Apart from the volcano, which in itself is a beautiful spectacle to behold, the island has about 70 scenic beaches.
The volcano at Fyriplakes is 220 m high and has a diameter of 1.700 m.
You can come to this lush island – where the last volcanic eruptions took place in 90.000 B.C. near the Tsingrado volcano. Explore the volcano and relax on any of the sandy beaches. Work on your tan and take in the breathtaking surroundings!
Volcano of Nisyros, Greece
The second most famous volcano in Greece is on the small island of Nisyros (near Kos island), Dodecanese.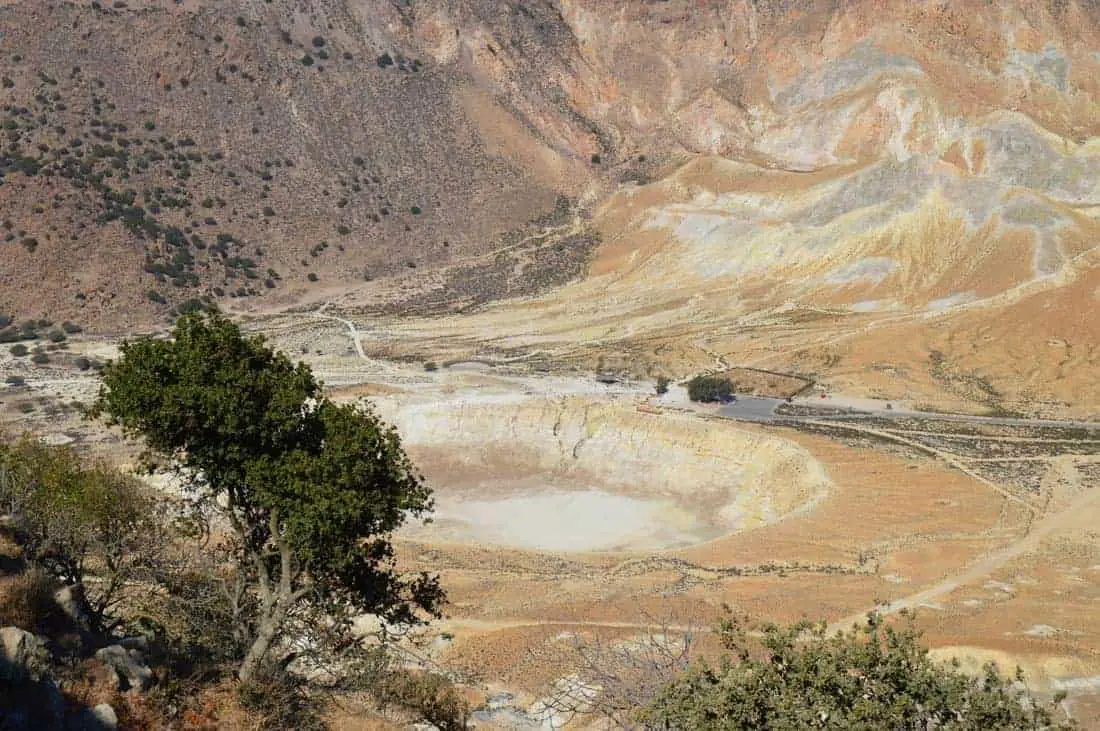 Only 160,000 years old, it is the youngest of the massive volcanic centers in Greece. Despite being more active than other Greek ones, it is not that popular as a tourist destination.
The eruption, which took place in 1872, created a crater of about 6-7 meters, and another outbreak in 1888 ended up forming a crater of 25 m in diameter.
That is one of the largest calderas in the world on Nisyros at a height of 650 mt with a diameter of 3.000 mt. 
The eruptions also ended up leaving behind a moon space – with gorgeous, multi-hued craters and some very active fumaroles.
Nowadays, the volcano of Nisyros is dormant.
The most massive crater there is the Agios Stefanos which has a diameter and depth of 30m and is one that you should visit.
Kos Island Volcano
That volcano is far smaller and not widely known. It is an extinct volcano. Maybe the reason is that it didn't alter the landscape dramatically. Yet, you can still observe it.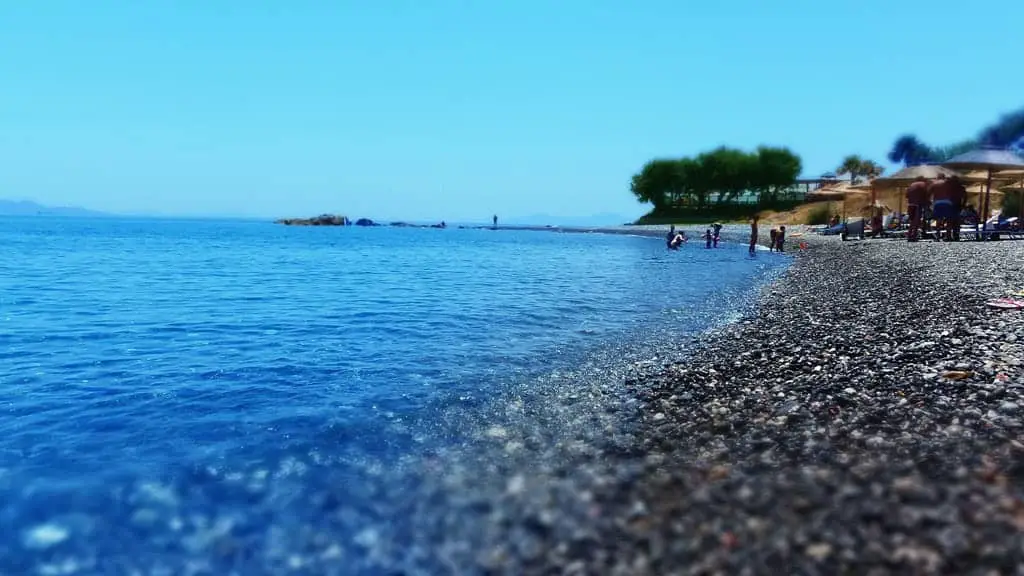 Take the ferry to Kos island and go near Psalidi beach. There is a beach under the name Therma (also called Bubble beach). You will find hot springs that get you relaxed.
Kids love this place, as the bubbles effect is entertaining. The water remains hot during wintertime.
So, our list of the five best volcanoes in Greece that deserve mention and a visit.
That is an essential guide anyone who is planning a trip to Greece and doesn't know where to go exploring such jaw-dropping marvels of nature.
Go ahead, guys – start packing and check out the volcanoes In Greece. They are in the most beautiful locations. 
If you want to find out where all the volcanoes in Europe are, see this website. Αlso, read Best Hot Springs in Greece.