Oh, the beautiful things to do in Santorini island in Greece!
Well, I think Santorini is one of the most famous islands all around the world, and one of the best places to be next to Mykonos, Crete, Rhodes, Corfu and more.
It is a must-stop destination for any cruise ship that crosses the Aegean sea.
What to Do in Santorini, Greece?
I visited this island twice so far. The exciting thing is that I visited the island of Santorini in two completely different periods of my life. One when I was around 17 and one around 40.
In both times, I found tons of things to do in Santorini island.
That repeated visit, with decades apart, allowed me to see the island again from a different perspective.
I wasn't seeking the wild nightlife of sweet seventeen, but I kinda missed it when I saw that the whole island was still vibrating with young people exploring life. I found it less noisy, though.
By the way, Imerovigli is a tranquil place with the best view in Santorini.
What I saw was that Santorini kept the same feeling and balance between traditional houses and "tourist" attractions as it was all these years before.
I got the same feeling more or less, which is a plus for the Mayor and habitants of the island to manage to keep this unique sensation and style, this island has.
We went through the different little pathways and narrow passages between houses, tasting some delightful snacks and plates during the days I spent there.
I also climbed to the top of the mountain above ancient Thira, where you can see everything around, and the vistas are spectacular.
Talking about ancient landmarks, do visit the famous Akrotiri Archaeological site.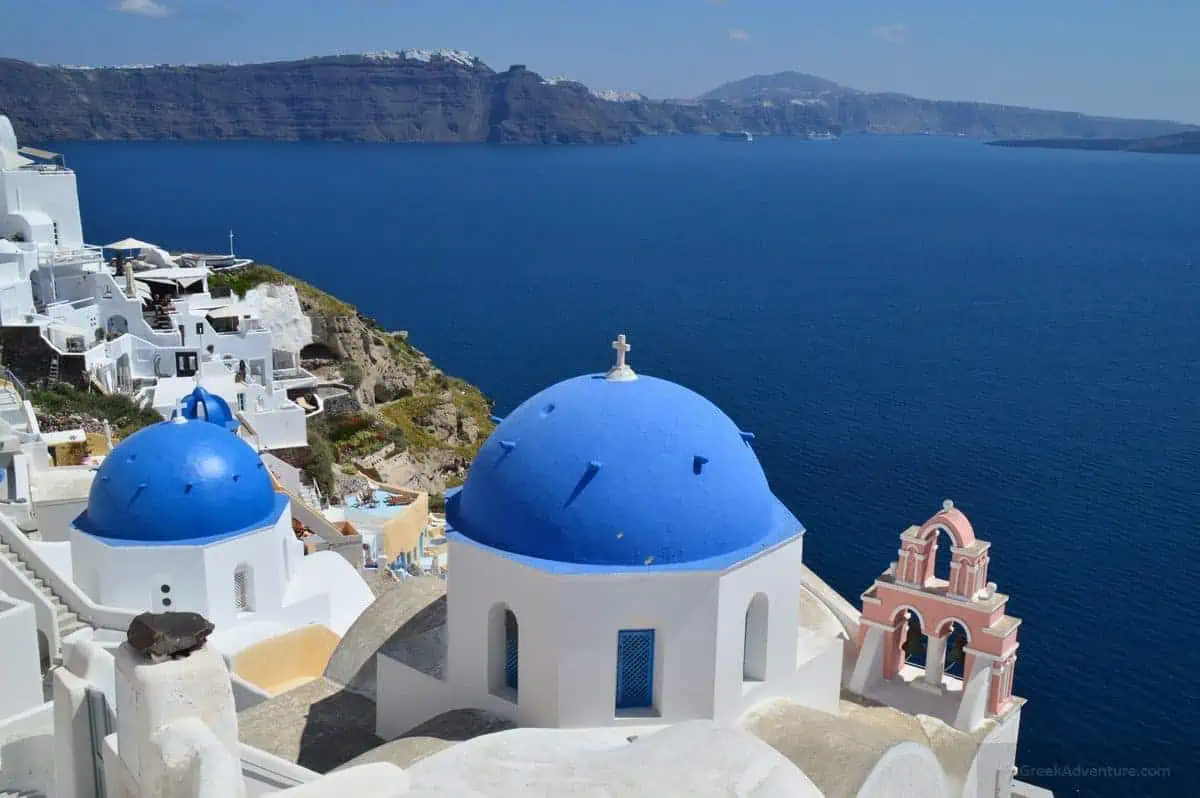 A Big List of Things to Do in Santorini
Here is an additional big list of suggested tours and posts to read. Read all the content in this post. There are tons of things to do in Santorini.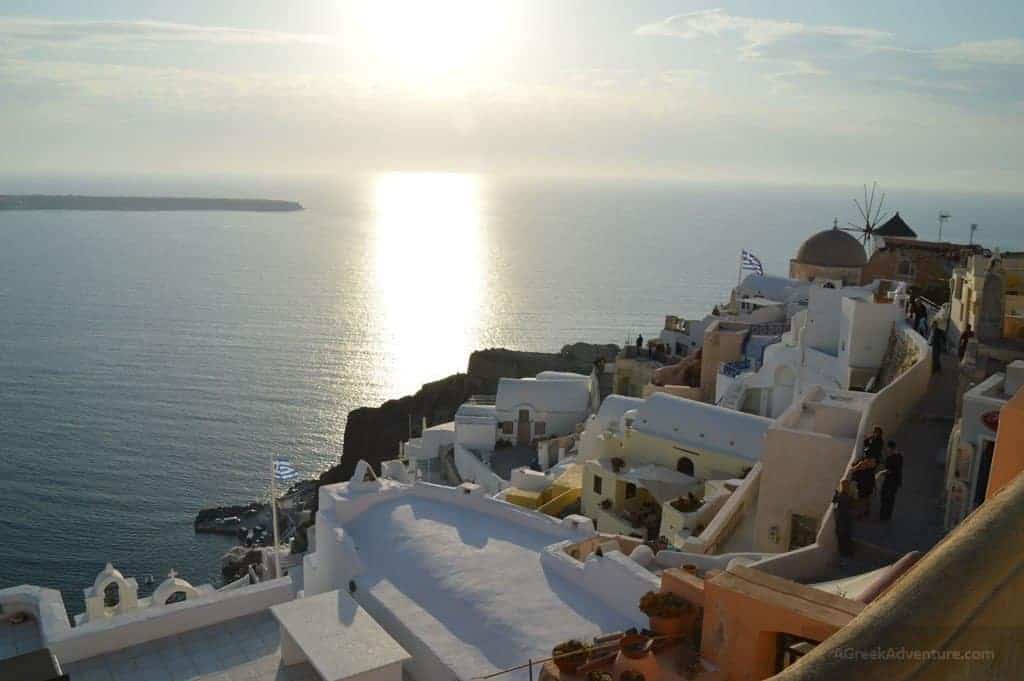 History First
The island, located at Cyclades complex of islands, was formed in its current shape after the enormous volcanic eruption of the famous Santorini volcano.
Before this, the island's name was Strogili (round).
The blast changed the shape of the island, and thus, the name (had to) change also. The back then habitats of the island are alleged to be linked with the Cretans/Minoans.
After the eruption, a Tsunami blasted measured around 70 feet high and with a 100km speed.
Imagine the Minoan's shock back then.
The magma was still pouring out slowly from the once above the sea level land.
The island Nea Kameni (which is a no-green ground) is like a cork on top of the underwater volcano and a result of magma spill from it.
Slowly during all these years, Nea Kameni was formed from spilled magma.
I also visited this place with a boat cruise and climbed to the top (not easy at all, and sulfur smells strongly at some points.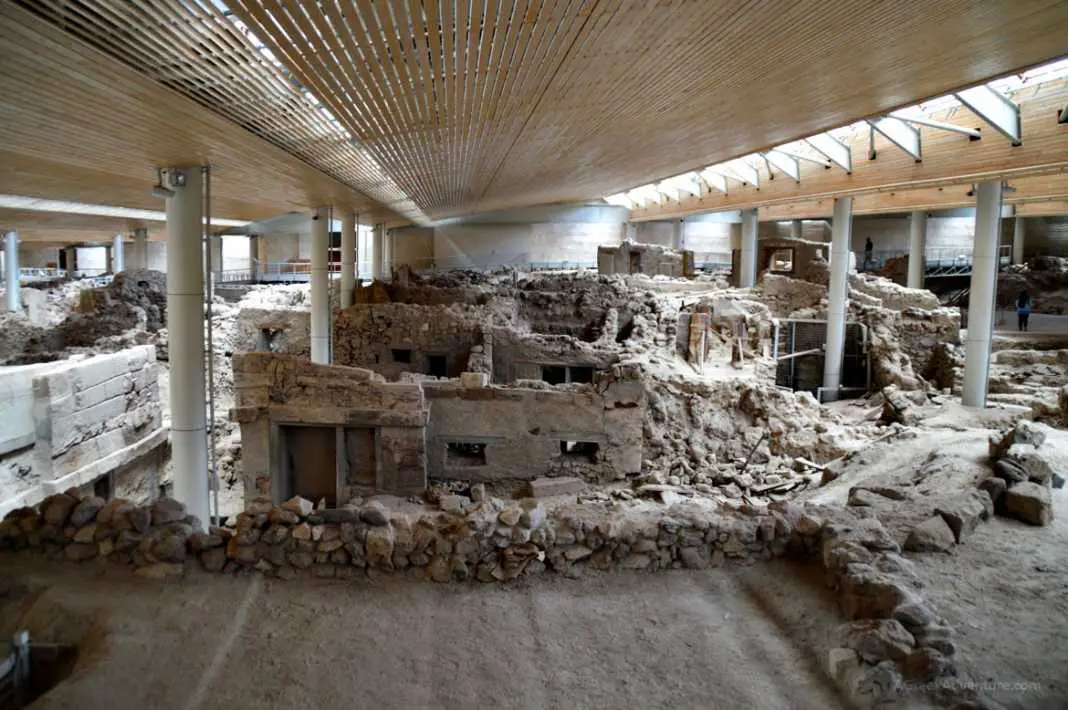 Activities
An abundance of events is available to all visitors to this island.
Like going longboat cruises on wooden boats where you dive in many different places around the island and enjoy sweet snacks aboard.
A towel and a swimsuit is the formal dress code for these.
Or do the traditional donkey ride where I felt sympathy for those four-legged fellows doing this up and down so many times per day.
I visited beaches with crystal waters and jet skied for the first time in my life.
If only I knew what I was missing all this time!!! To the surprise of many, I didn't watch the sunset view at Oia. But I tasted some excellent wines.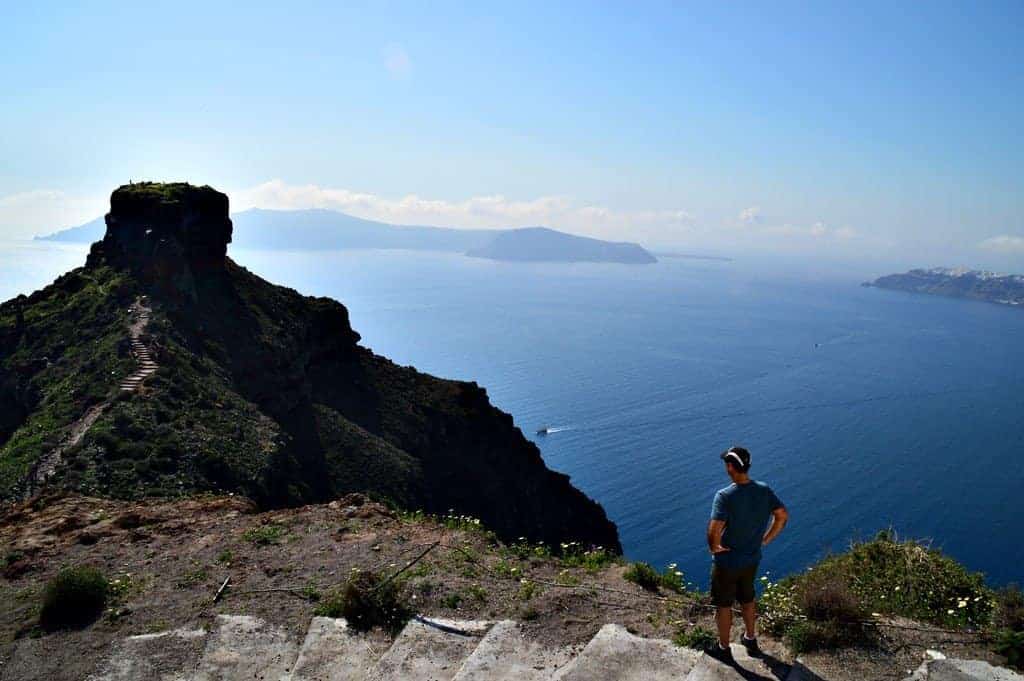 Wines & Wineries for Things to Do in Santorini
Well, Santorini is a lot about wines.
By talking with the people there, I learned many details for which wines are excellent and which are less enjoyable. Why the quality of the black Santorini wine is different from the white ones, and for what exact reasons. I am not going to tell you. You will have to either google it or taste it yourselves.
There are many wine tours and many wineries on the island.
Just ask the local restaurants or small shops which to visit, depending on the village you are staying in. Specific food and wine tours are organized all the time.
By all manners, you have to try Vinsanto. Not so much as a table wine than as a sweet dessert.
In someplace in Santorini, I heard that you could rent a seat in a small scuba boat, and you can explore the ruins at the bottom of the island sea. Well, don't do it.
They informed me that it was abandoned as a project.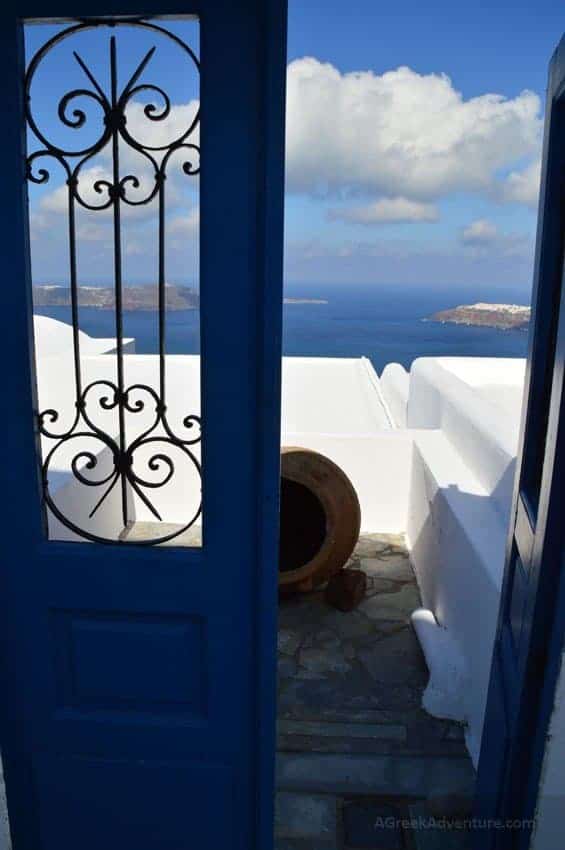 Things to Do in Santorini: Get Married on the Island
The island is famous for weddings and a splendid honeymoon location.
Many people, literally around the world, go the island to get married and spent their sweet first days as a couple there.
If you like photography, the whole island is a set for cart postal shooting. Everything gets into the frame and looks dreamy.
The caves in Caldera were built as houses at first, from the first settlers due to their fear for pirates. Slowly, the villages of Oia and Fira sprung out.
Until today, villagers do dig caves into storing nets and their fishing equipment. But the old caves I mentioned before transformed to high-value houses.
The climate in these caves (yet luxurious) houses is excellent.
Cool in summer and warm in winter.
Arched roofs of Santorini, have a specific and significant role in these Santorini buildings.
They help to keep temperatures at normal levels, and they are part of the island's scenery and particular characteristics.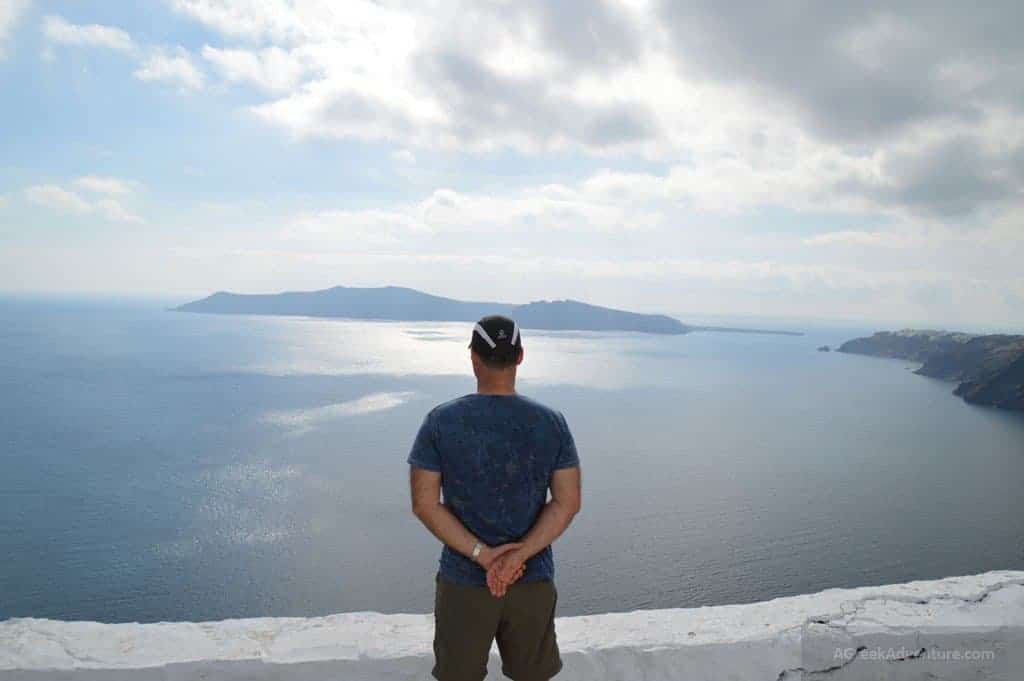 Santorini Beaches
One of the top things to do is swim to the volcanic formatted beaches.
Despite this magnificent beauty and views of Caldera, Santorini doesn't have too many beaches. Of course, the ones she has been impressive.
All are located around 10 to 12km from Thira (Fyra).
The famous beaches of Santorini are:
Red beach Santorini: Red and black volcanic pebbles. The water is warm.
Kamari beach Santorini: Next to Perissa.
Perissa beach Santorini: Black sand.
Perivolos beach Santorini: the Longest black sand beach of the island.
Vlychada: Regular, sandy beach well organized.
Agios Georgios beach Santorini: It is a well-organized beach, regular sand.
Monolithos beach Santorini: Mainly for families. It even has a playground.
White beach Santorini: It is a beach with black pebbles at the shore, with white-colored hills.
Ammoudi Bay beach: It is tiny but with excellent taverns.
There are no beaches on the road from Fira to Oia.
Red Beach and Kamari beach are a couple of the most popular ones.
Where is the Best Place to Stay in Santorini?
A wide variety of hotels exists in Santorini, along with a good range of apartments. Prices vary depending on the facilities and the location. Imerovigli and Oia are more expensive than, i.e. Pyrgos.
You can always take a walk from Fira to Oia so you can easily choose either to stay.
You can read this post for accommodations options on the island for all traveler types.
Visitors will find a ton of apartments and hotels and studios to stay on the island. It depends on the taste, likes, and what you want to do or where closer to being.
Distances on the island are very logical, and hog bikes are everywhere with controlled speed for those who don't drive cars nor bikes.
Just try to find the best price for a room with a view.
It is the first thing you will see in the morning, and it will pay all its money in feelings. Try to find more budget-friendly hotels near famous beaches, like the Red beach or the Kamari beach.
Santorini Hotels with Private Pools
Nea Kammeni – Hot springs of Santorini
Take one of the many half/day trip boats from Santorini and visit the Nea Kameni island. This is part of the volcano. There is still smoke coming up.
There is an ongoing volcanic activity under Santorini, so the temperature ranges between 86ºF and 95ºF (30°C and 35°C).
How to Get to Santorini?
Flights to Santorini
There are regular flights from many locations around Greece. Read the detailed posts mentioned in the ferries section to learn more.
Athens to Santorini ferry
Click and read the extended post with all instructions for Athens to Santorini ferries and flights.
Crete to Santorini ferry
Click and read the extended post with all instructions for Crete to Santorini ferries and flights.
Santorini Map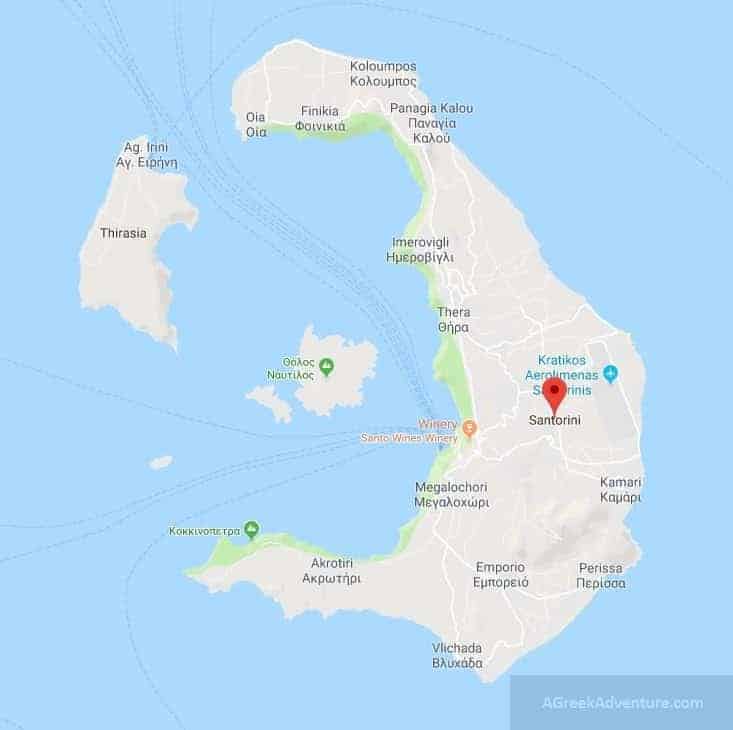 Covering an area of just 96 km2, Santorini is located in the southern Aegean Sea.
It is a circular group of volcanic islands. The island is easy to drive through, and no particular traffic problems are encountered even in high tourist season.
The next island -relatively close- to Santorini, is Crete, which is the biggest Greek island.
It takes about 45 minutes to drive from one end of Santorini to the other (for example, getting from Oia to Akrotiri).
Santorini weather
The weather pattern in Santorini follows the generic one of Greece. Hot summer with lots of wind during August (particular characteristic of Cyclades islands), mild spring and autumn, chilly winter.
What is the Best Time to Visit Santorini?
Easter is a charming time when it falls close to spring. In general May to October, the weather is beautiful and sunny.
In case you plan to get married in Santorini, then the popular months are June and September.
If you are on a tight budget, then prefer any month after winter: March, April, May, October, November, have reduced hotel prices.
Though not all hotels are open, you can find a luxury suite in Imerovigli in May for 100 euro (much more expensive in the hot season).
If you plan to go in summer, book 5 to 8 months ahead!
Things to do in Santorini: Fantastic Nightlife
Nightlife in Santorini is robust but happens in particular places. You won't find loud music and "wild clubbing" in Imerovigli and Oia. 
Fira (the capital), is usually the place all go for the bars and clubbing.
However, there are beautiful beach bars in Santorini. Most are in Perissa and Perivolos beaches.
Since Santorini is known to be The Romantic Island (for some reason), you will find bars with a relaxed and chill-out atmosphere in Oia and Fira (mostly in Firostefani).
Taste Everything in Santorini Greece
Yes, since you are there, do take your significant other and do watch the sunset. It's like a ritual for all visitors. But don't do only that.
There are numerous beaches, even with different sand colors (black, red), which are crystal clear Aegean water. Visit the museum of Prehistoric Thera and learn something unusual (which I will also not share) for the island and how back it goes in history.
But most of all, be aware. You will find that the island has a specific energy that seems to alter your energy to a higher level positively. You will indeed feel different from day one (or at least the day after unpacking).
Taste the white eggplants. Very delicious. And tomatoes, which are grown with almost no water (sounds like tomatoes from Malta actually), and cherry tomatoes.
If you want to launch your taste, ask for Fava, tomato-balls, codfish with garlic, and for sure, "chloro." It's goat cheese quite fresh. And finally, seek for "Melitinia" small pies.
Other than that, do explore. The island is not an adventure destination, and green is limited, but it covers all the rest as it is indeed an Aegean island.
As you read, there are quite a lot and fantastic things to do in Santorini, Greece.
In our opinion, it is a must destination for everyone in the world.
Also, read: