We really enjoyed the gorges of Crete. As you know, from our other stories, when there is a gorge (or an opportunity for hiking and trekking) we would grab it and we would definitely go to walk through its route.
During our stay in Crete (you can read about it here) we combined hiking just with gorges. We did 3 of them.
Pefki Gorge, Crete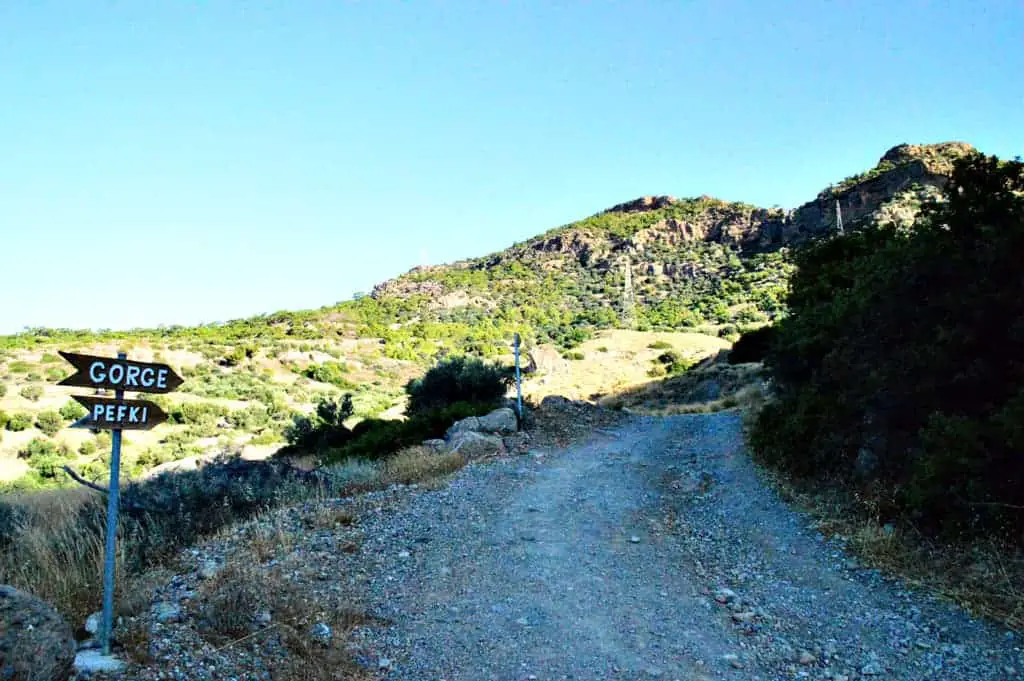 We suggest to do this route either early at morning and end up in the village of Pefki to get some breakfast along with a tasty Greek coffee or at the afternoon and combine it with dinner.
Where is Pefki gorge
Have you read about us staying at this 300 years old traditional house in Aspros Potamos and the yummy tavern of Piperia at Pefki? This is the Pefki village we are talking about.
The gorge entrance is at 5 minutes walking time from Aspros Potamos. You just walk that much and you will see the signs that point to the gorge entrance.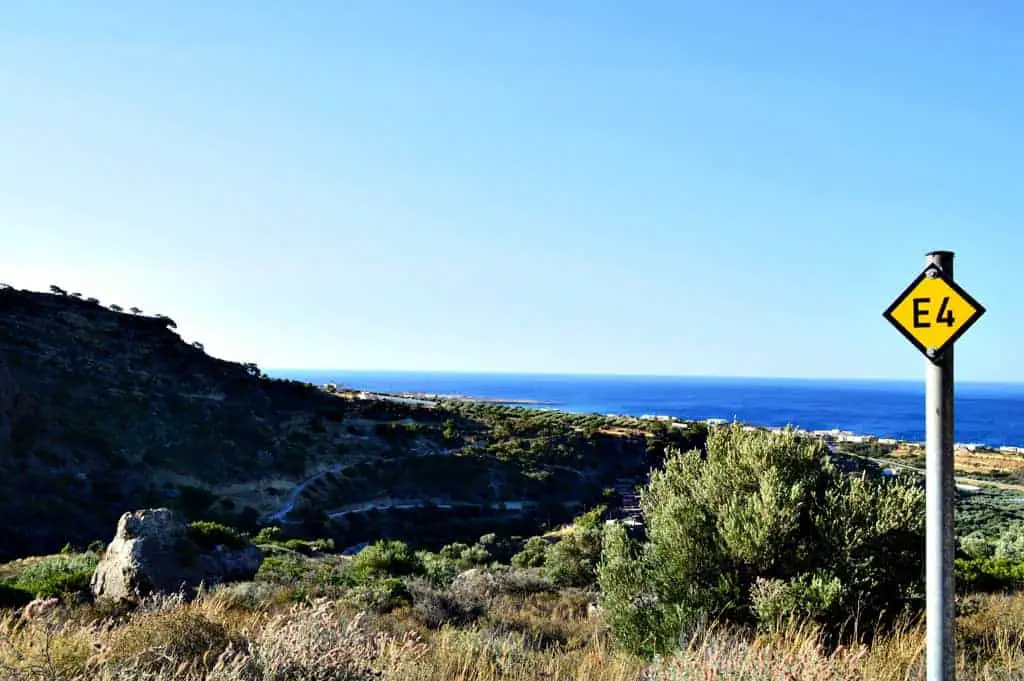 To be accurate, that is not the exact gorge entrance. This is a dirt road leading to the gorge entrance.

The route towards Pefki, and back
The route until the gorge entrance is smooth (bit of uphill, but easy). With a steady relaxed pace you will do it in around 1.30 hours (from dirt road starting point, up to the village of Pefki where the gorge ends).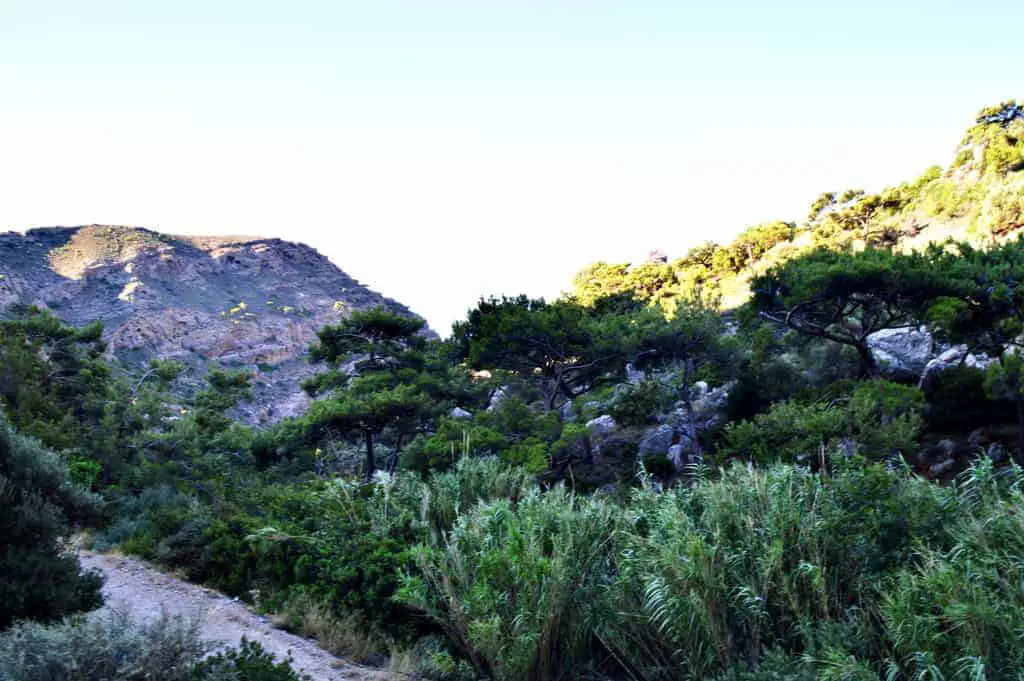 Add another 40-45 minutes to return.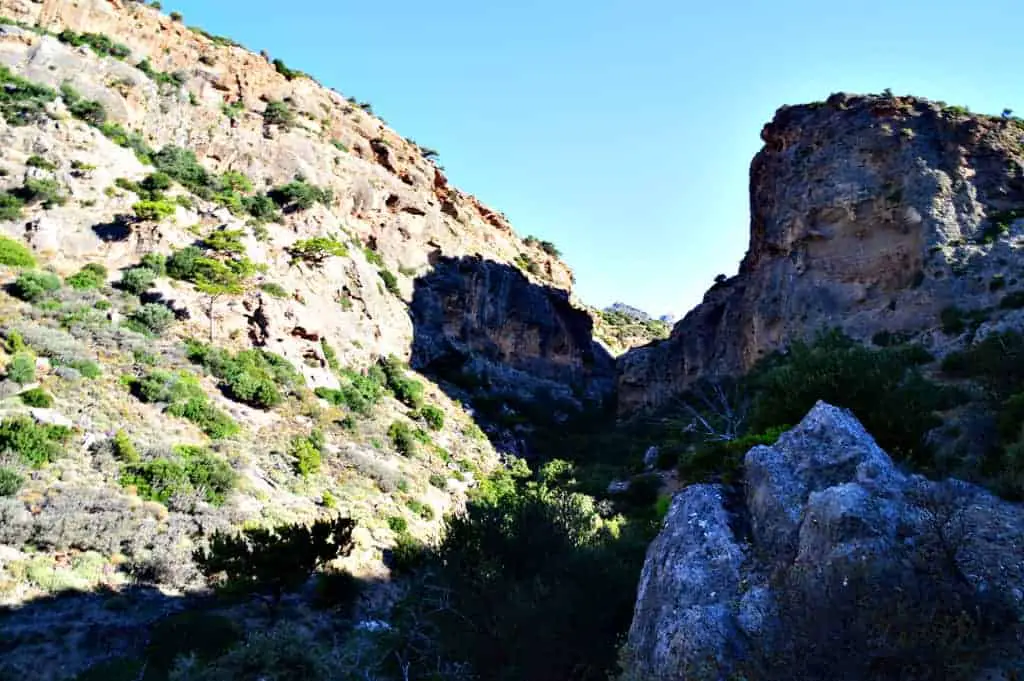 Along the route, things are very quiet.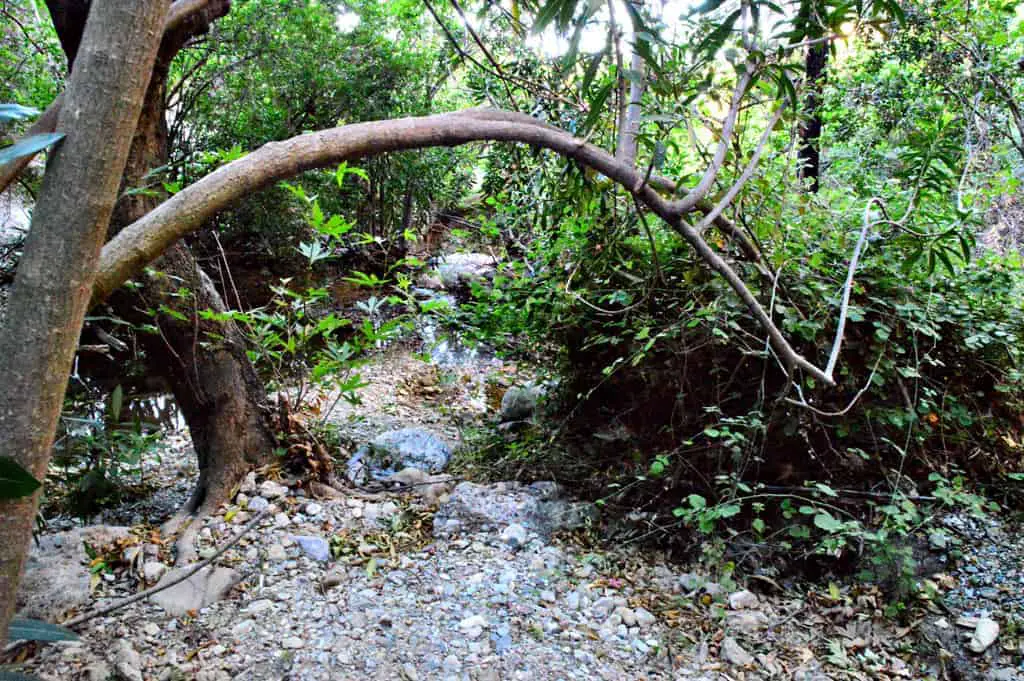 You will meet water streams and some waterfalls.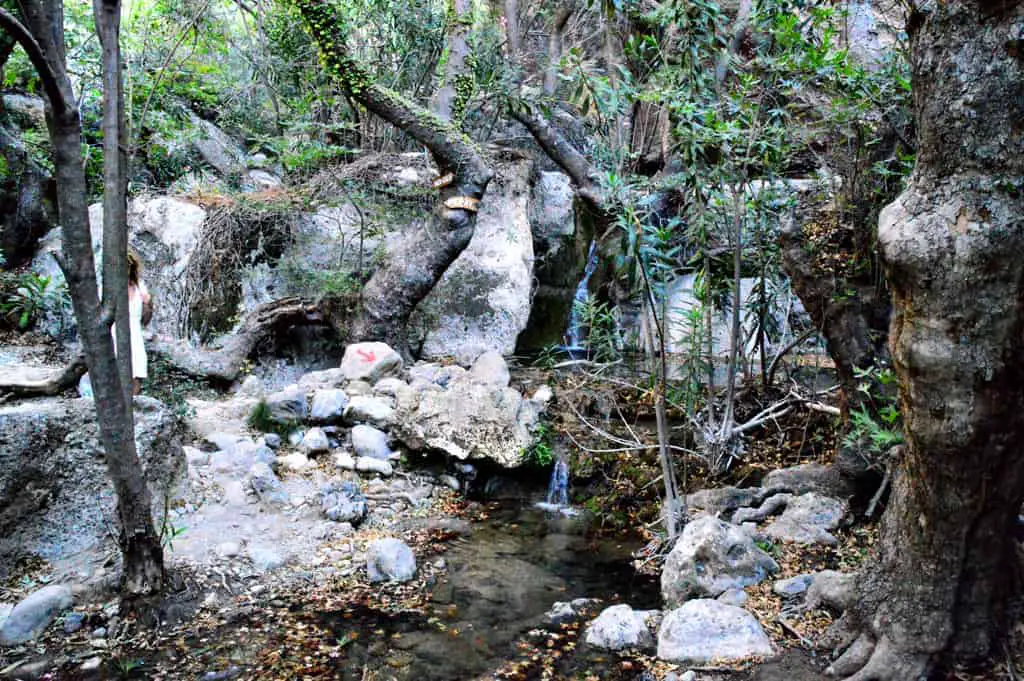 A big part of it is in the shade, which is needed since it is uphill and the weather in Crete (mid-July) is rather hot.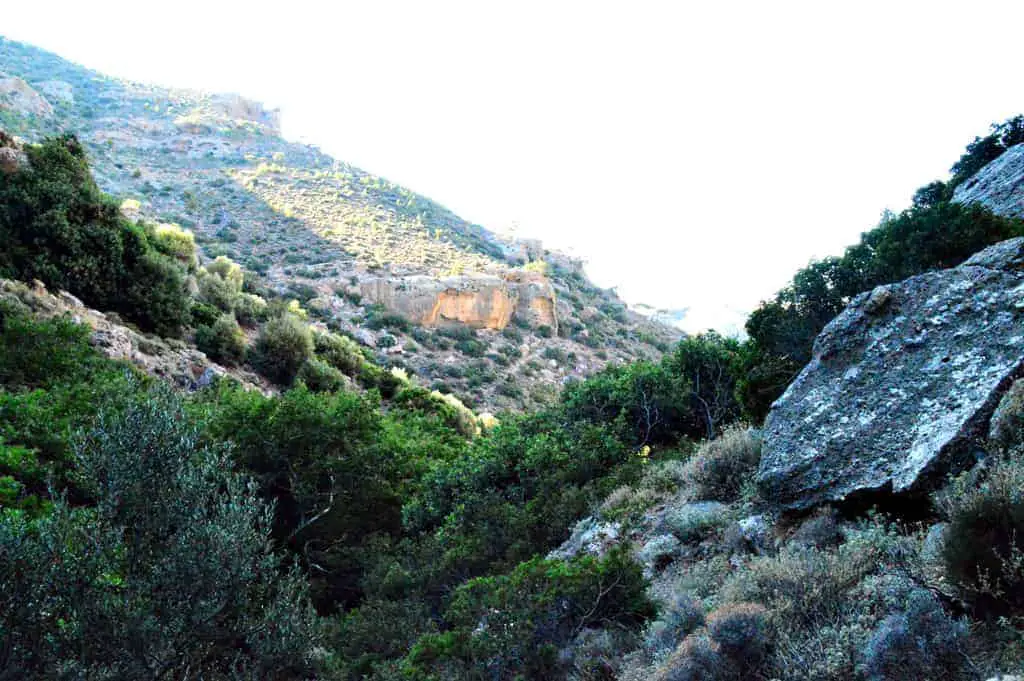 The signage is very good and you cannot get lost. Perhaps, you will get a bit puzzled at some points, but definitely not lost!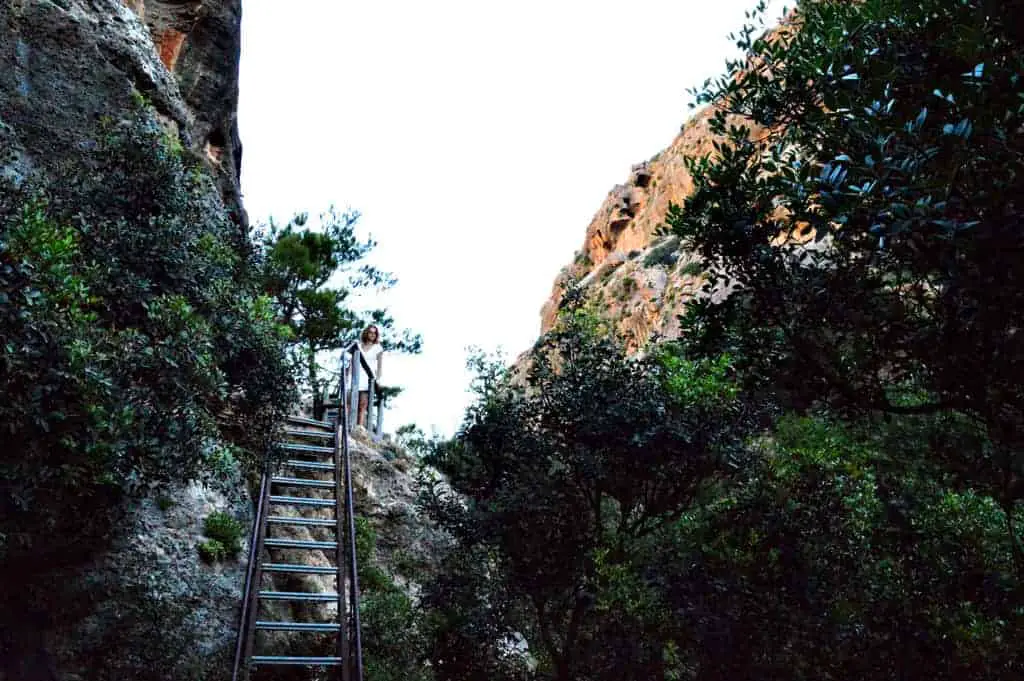 And after a few more minutes, here is the village of Pefki.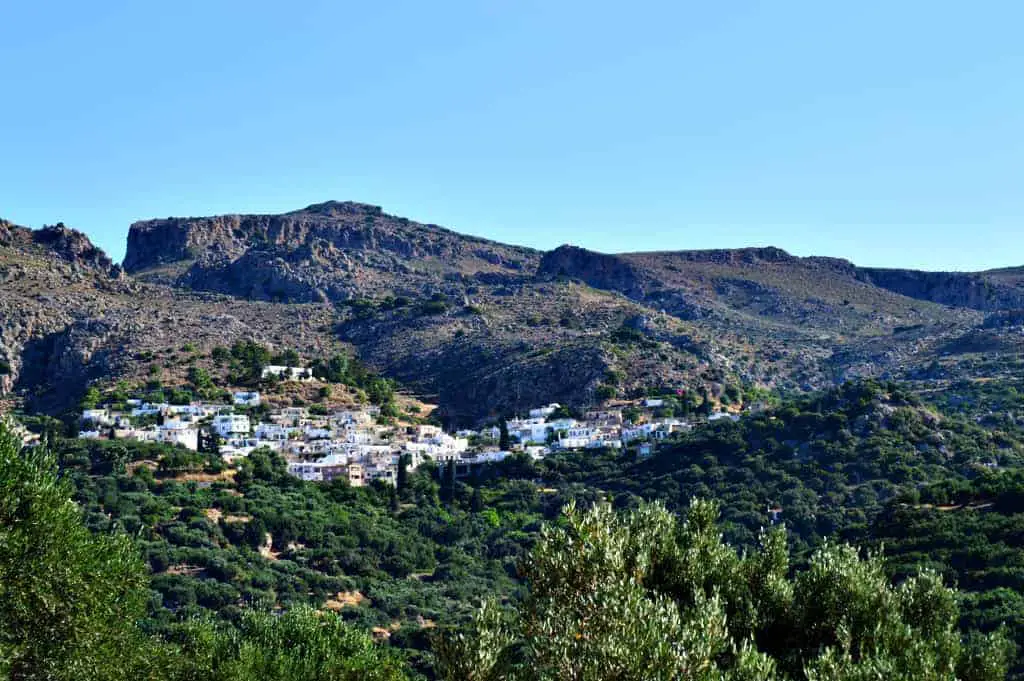 Many take the path in the opposite way.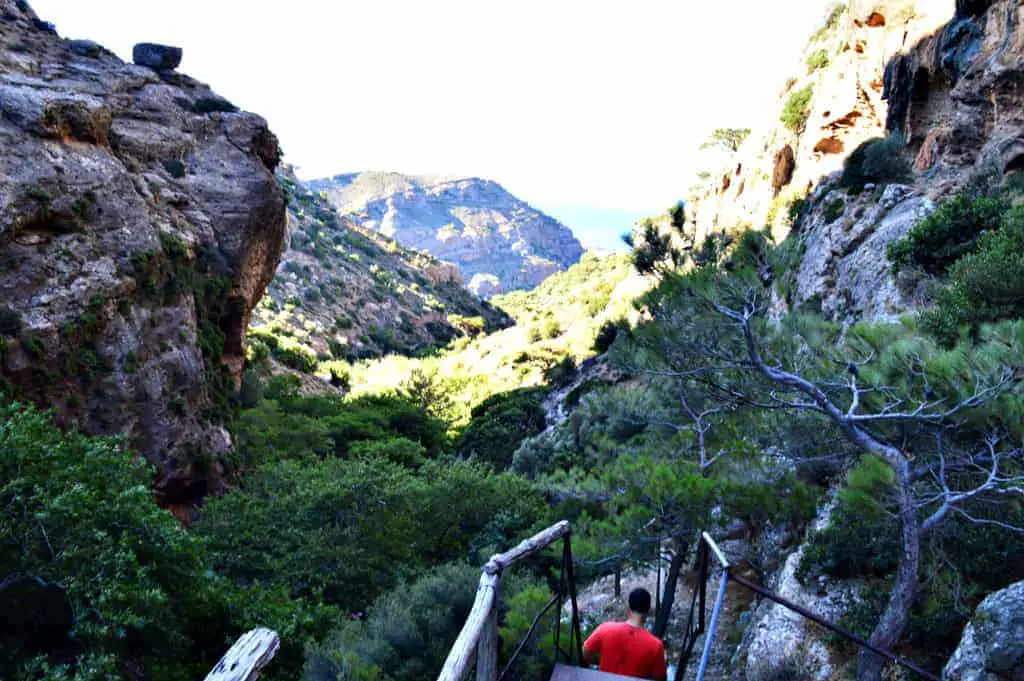 They start from Pefki and near the exit or midway, they take the signs towards Makris Gialos village and beach.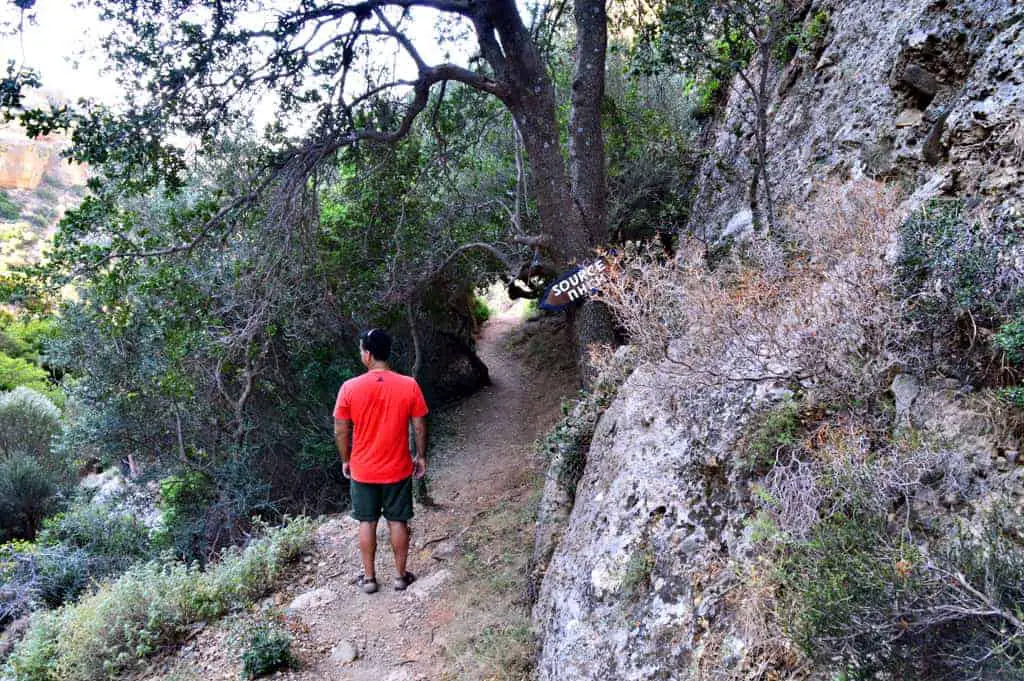 Along the route, you will see a sign that deviates from the main path and points to the spring.
The spring is where the water springs. To get to the actual point you need to climb down on a rock a little bit, and then return from the same path. The best point to climb down is from the left side.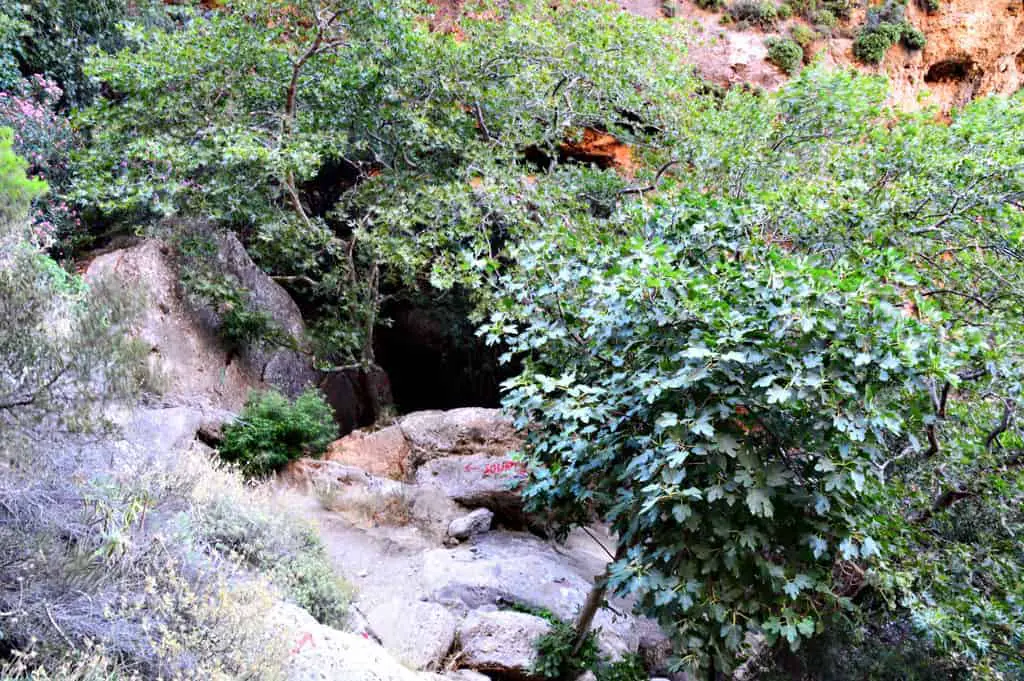 The spring itself!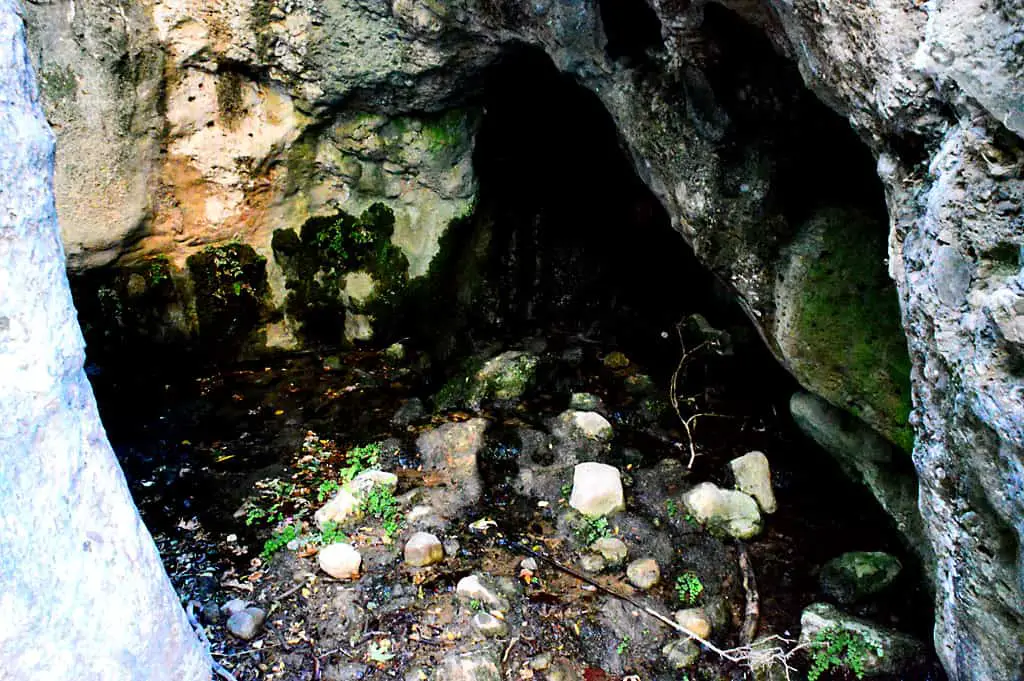 Here is also nice but you cannot move forward.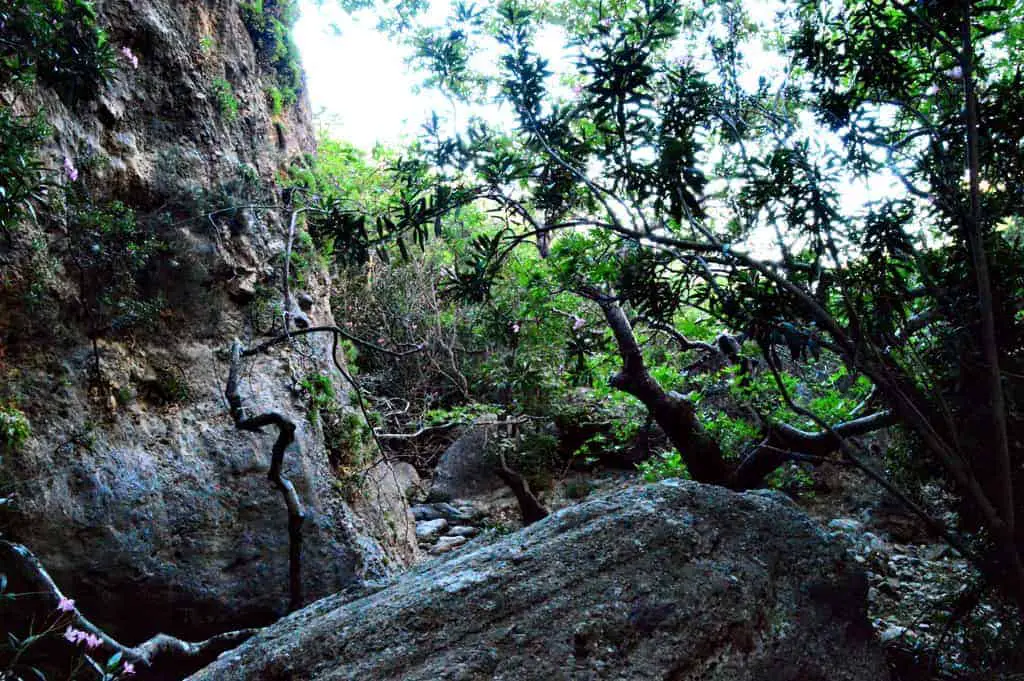 You need to get back on the main path. The view is rewarding.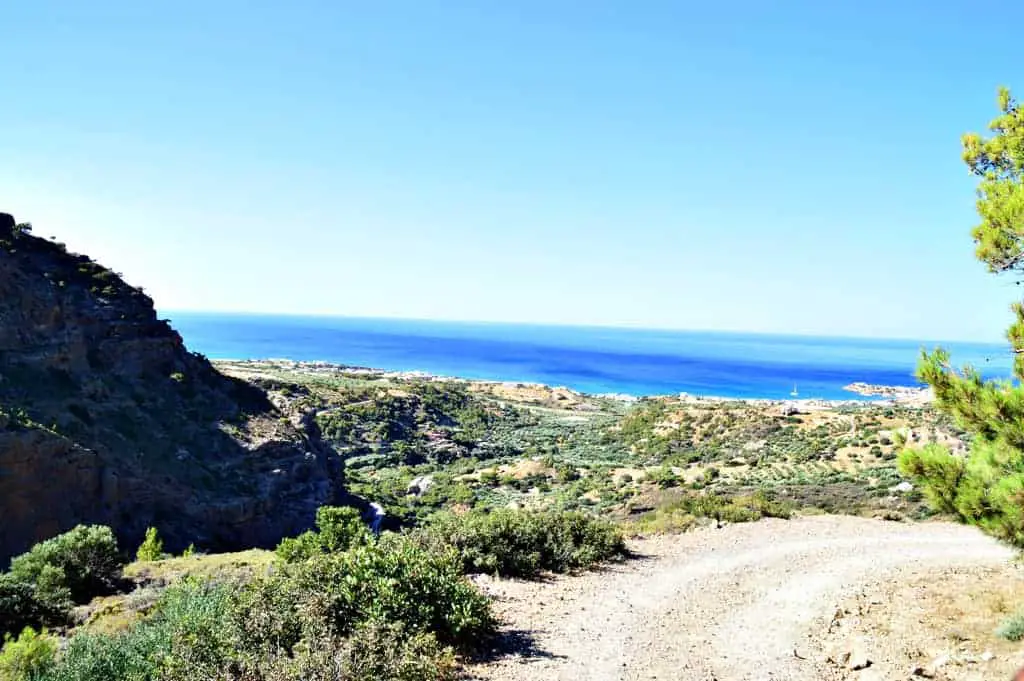 It is quite a walk but it is part of the fan and ends up in the sea!
Here is a view of Aspros Potamos houses. See…, it is that close. Also, there is a path that starts from inside of Aspros Potamos and ends up at the beach.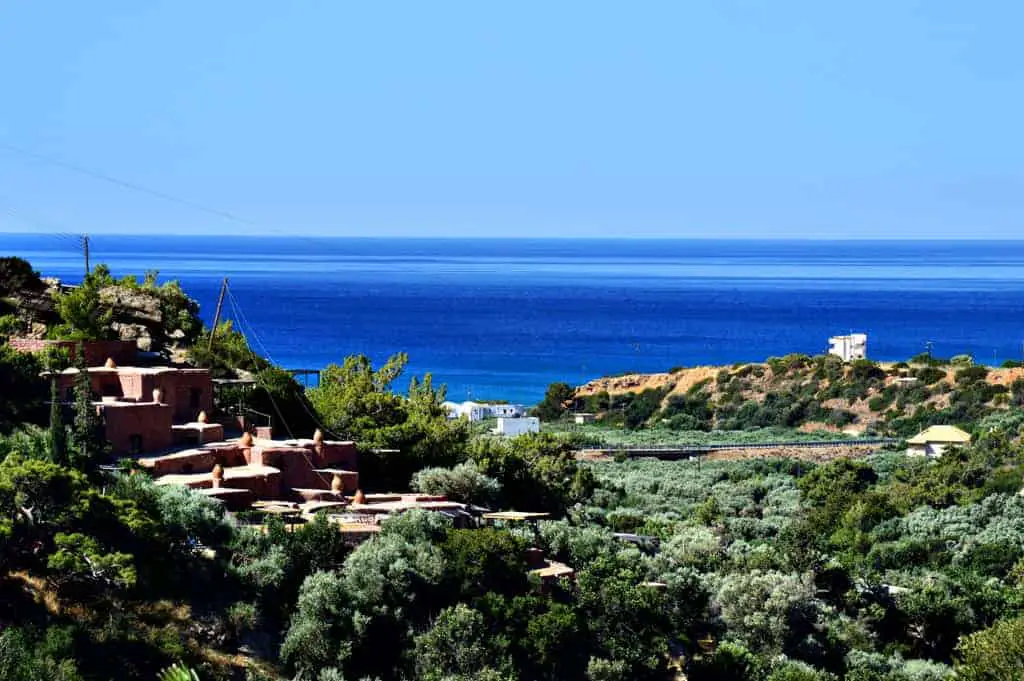 We think that this gorge promises mild nice exercise and great views. Don't you agree?
Pervolakia Gorge in Crete
Our experiences in Crete are escalating! This is the Pervolakia gorge in Crete, also known as Moni Kapsa gorge due to the monastery of Kapsa you meet at the entrance and exit of the gorge (you can exit the gorge from a different route if you like).
You can read more about our experiences from the same trip, here, here and here.
What is most promising for this route is the… exit. Since, the starting point is near a couple of beaches with amazing blue waters, where we had a very relaxing swim, after a 5 hour walking in and out the gorge.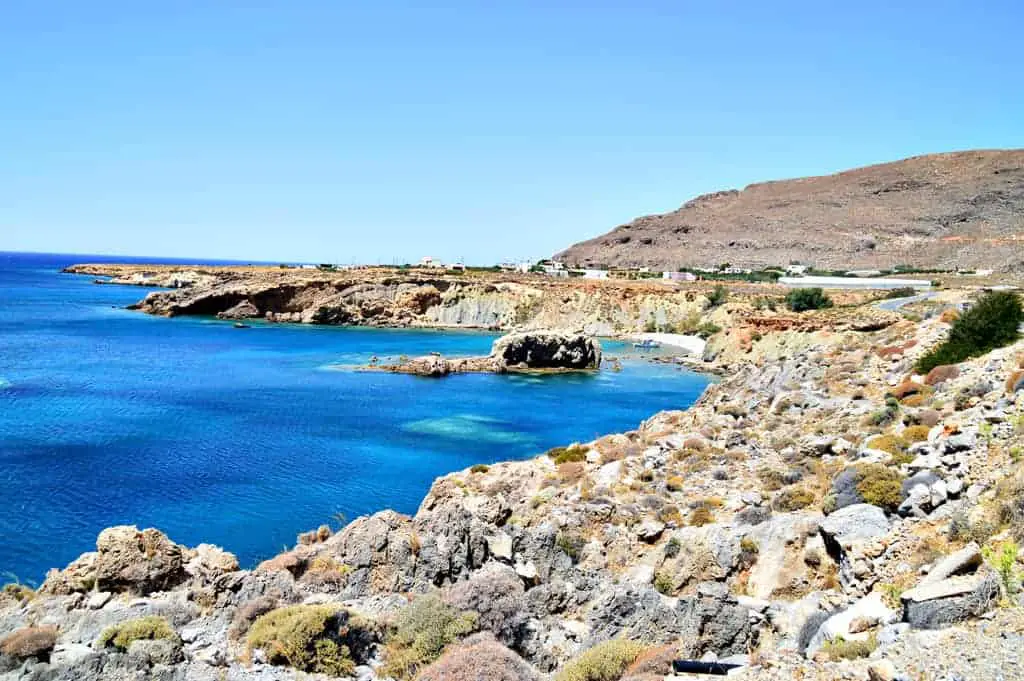 However, this is not the only one.
There is a "parking" place with lots of trees and you can leave the car there. This is also the starting point. This is the monastery seen at the entrance point.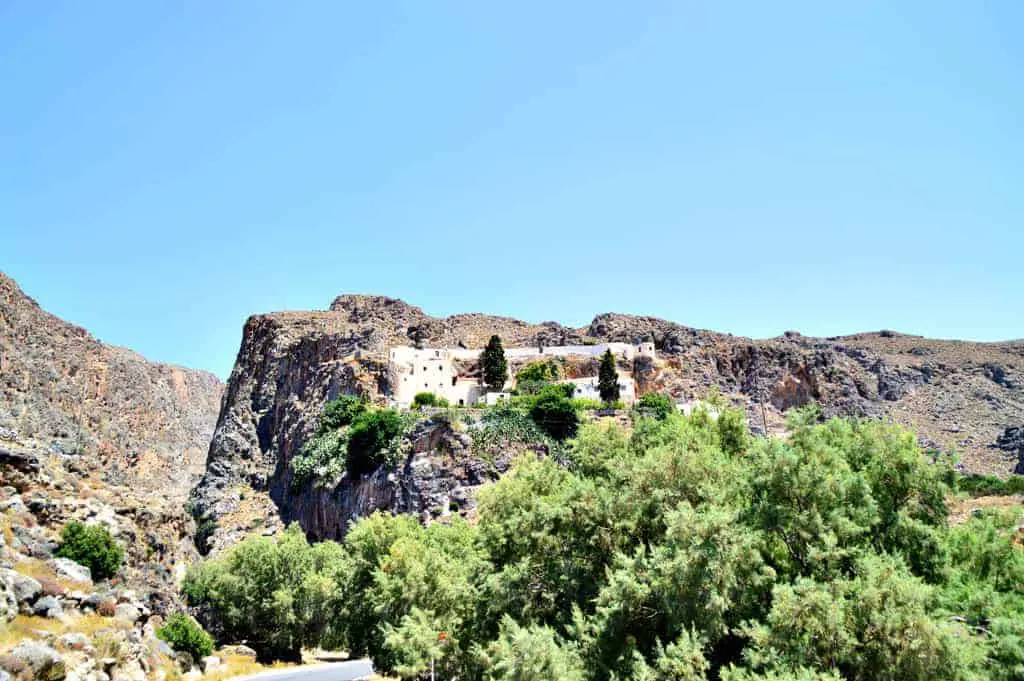 And here is where the Pervolakia Gorge in Crete starts.
The gorge is a bit dry with low plantation. In general many gorges of this area are more or less like that since Lasithi is in the "wildest" side of Greece. But with this kind of "wild" comes "wild beauty" too.
Maria is "framing" the gorge for some pictures.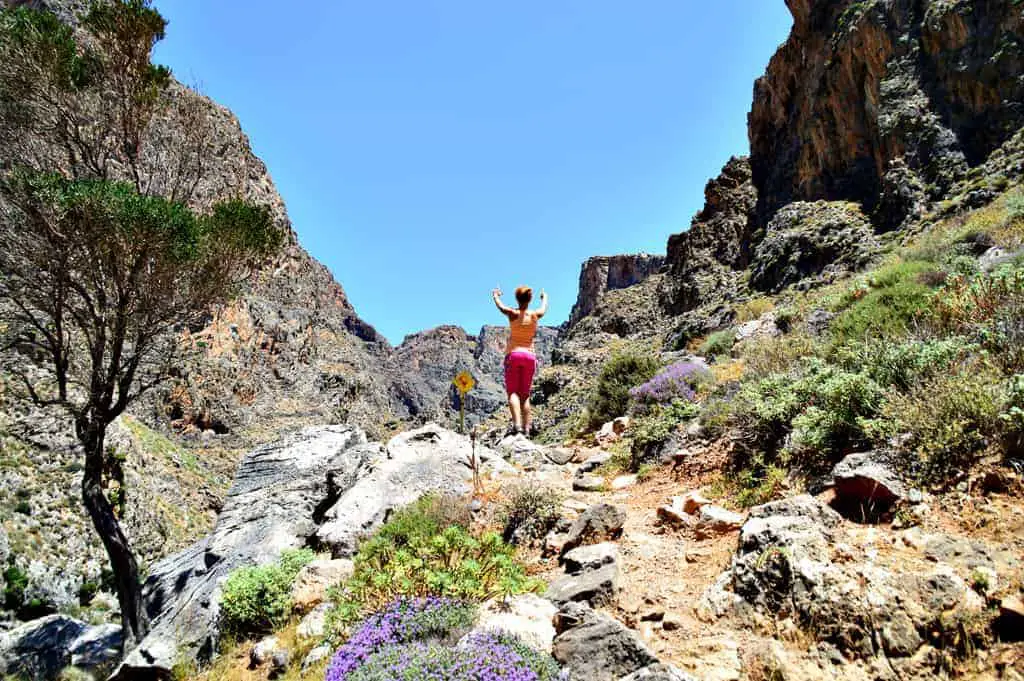 The gorge is very well marked and you can't get lost. However, the tricky part here is the wind. The day we went the wind was blowing like hell. At some points, it was a bit difficult to pass. We met some people from France who abandoned halfway, while a guy from Germany did it all.
This part here was rather difficult. I am not a light weight person and I was feeling I would fly.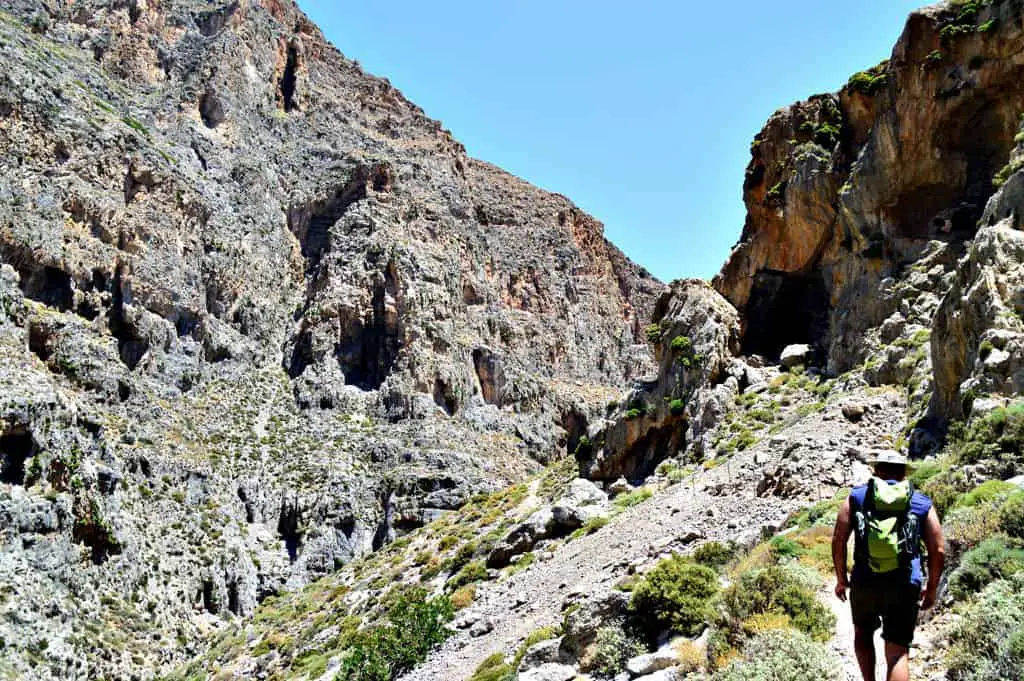 The wind was coming down from the mountain at an amazing speed. Even in points like this one below you needed to keep balance as the wind was pushing you back.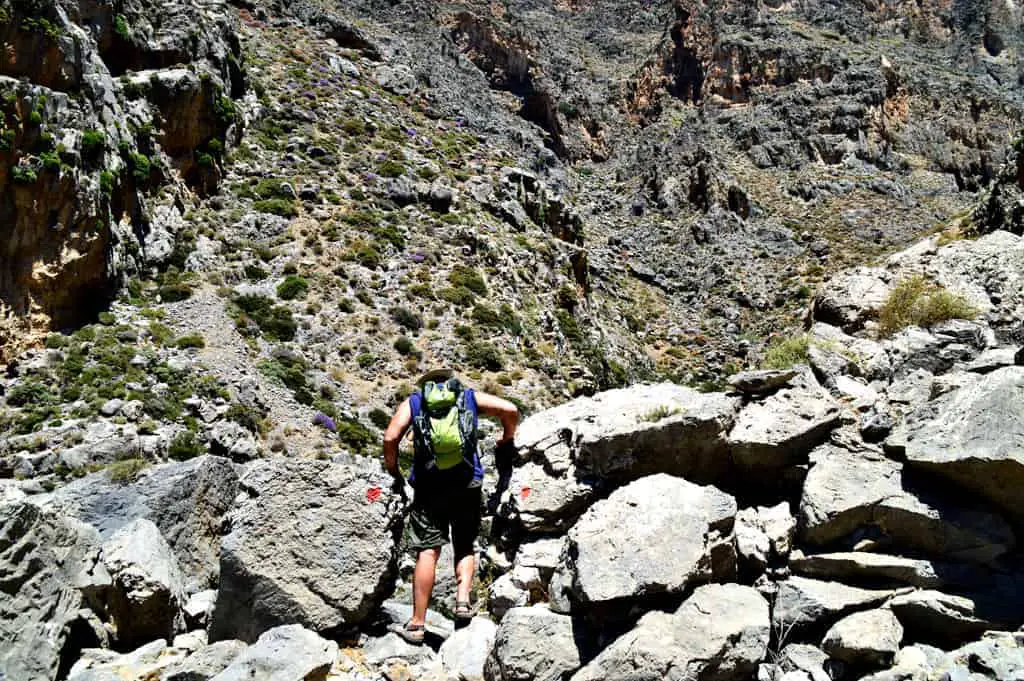 This was a nice encounter. A shady place. I think it was the only one. The letters in red (in Greek) mean "sitting room".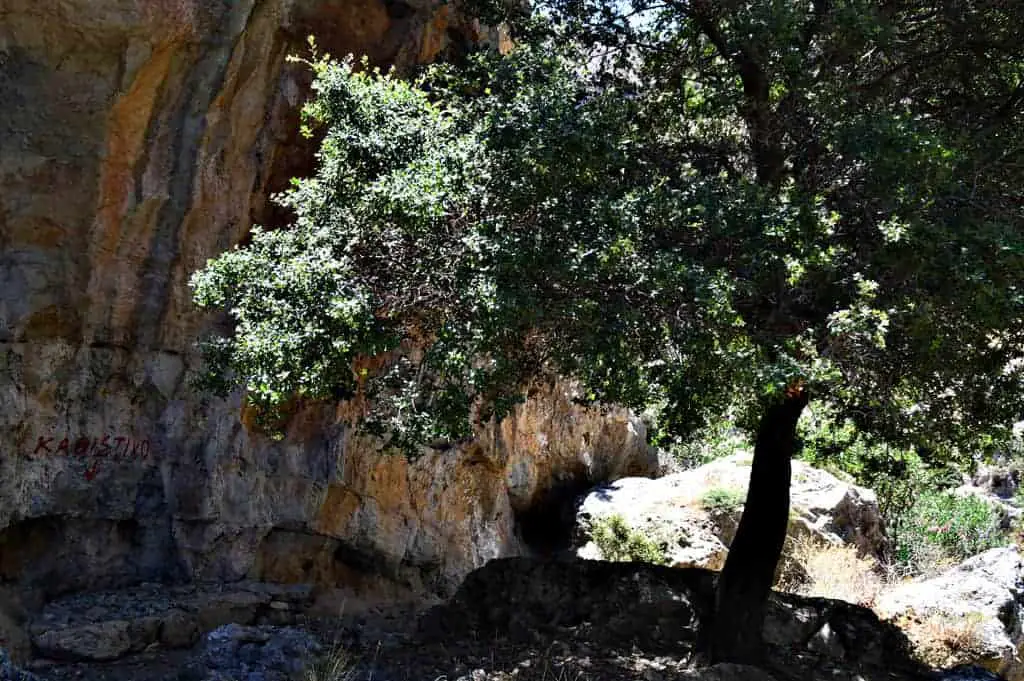 The truth is that some points we had to choose between different options for passing to the next level.
Almost 2.5 hours have passed. We reached the village of Pervolakia.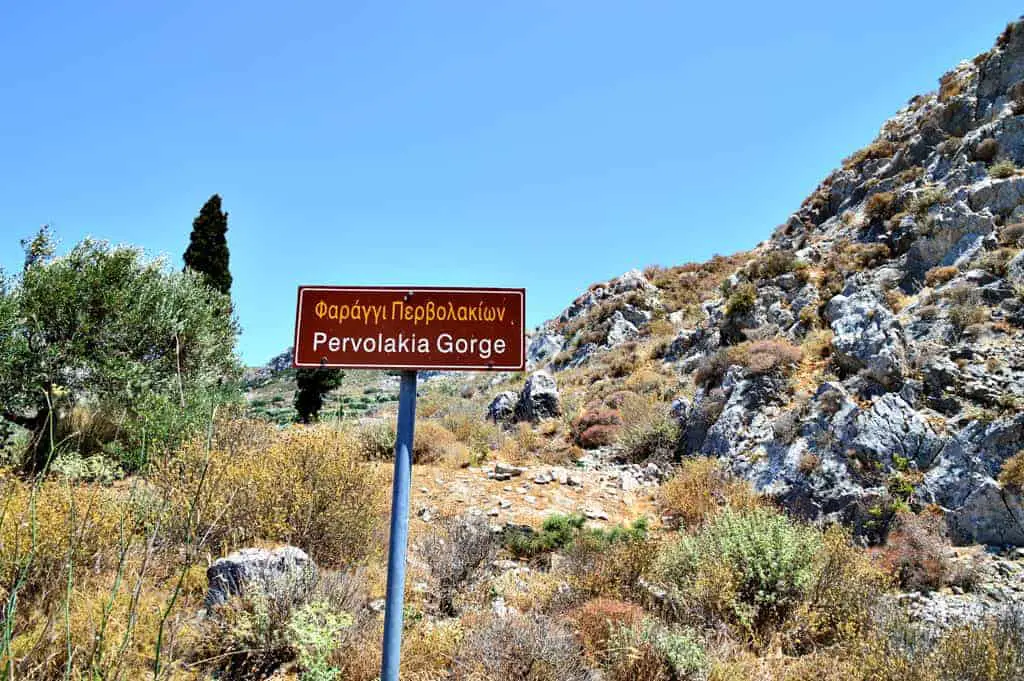 Our host at AsprosPotamos mentioned that there was one tavern in the village. We were eager to find it as we were very hungry and thirsty.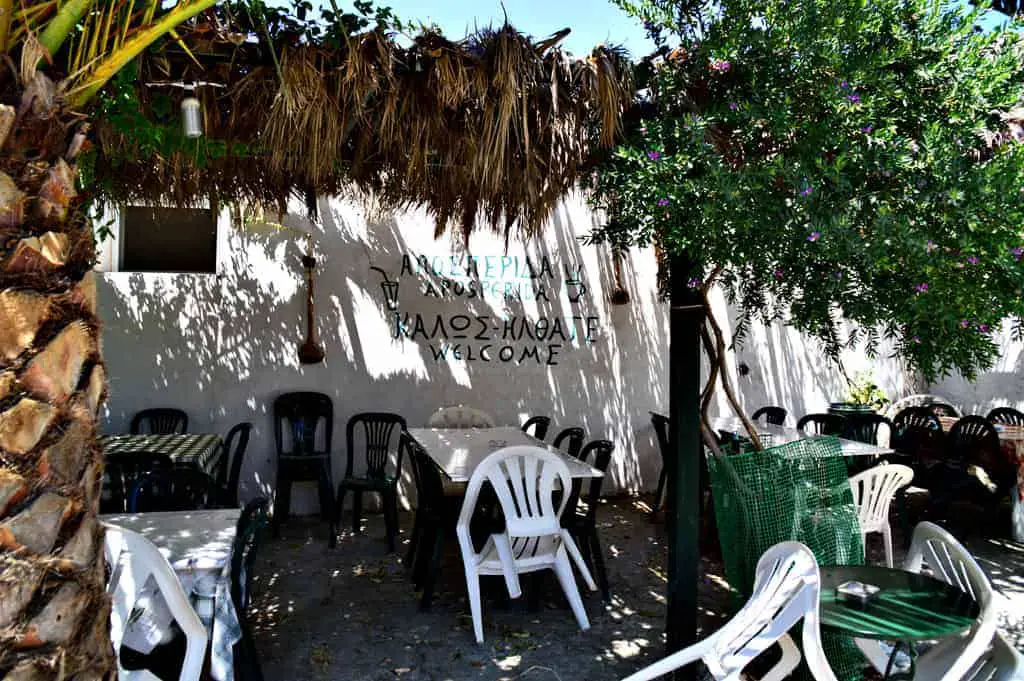 The owner was very friendly and he told us how to return from another route (also well marked) but completely stripped from tall plantation… This means: No Shade!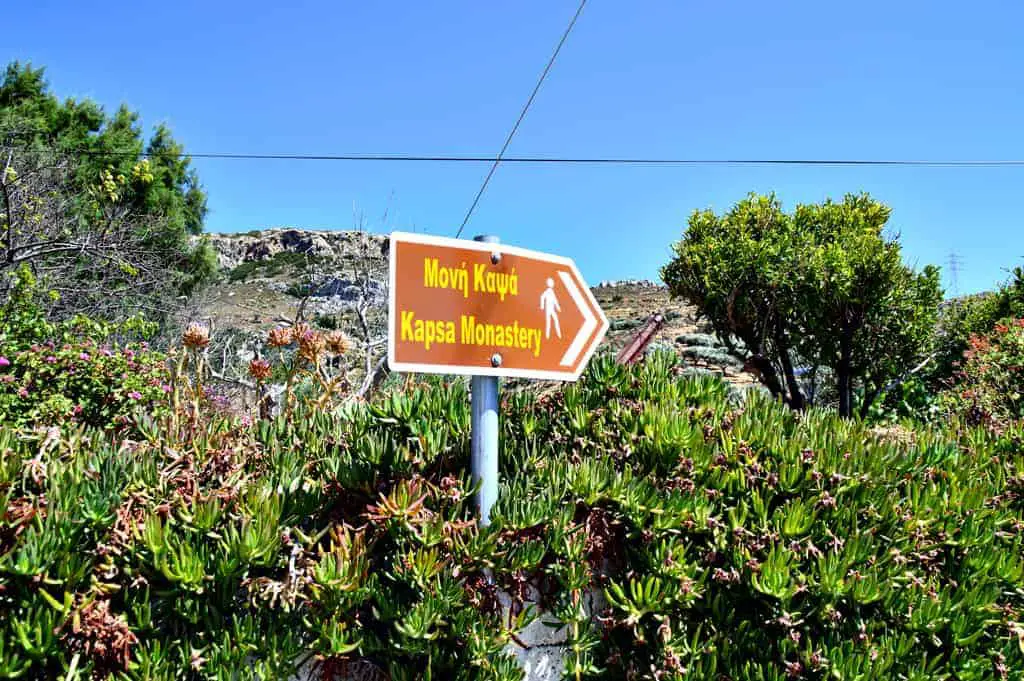 After having a snack and few beers we started again for another 2-2.5 hours of walking back.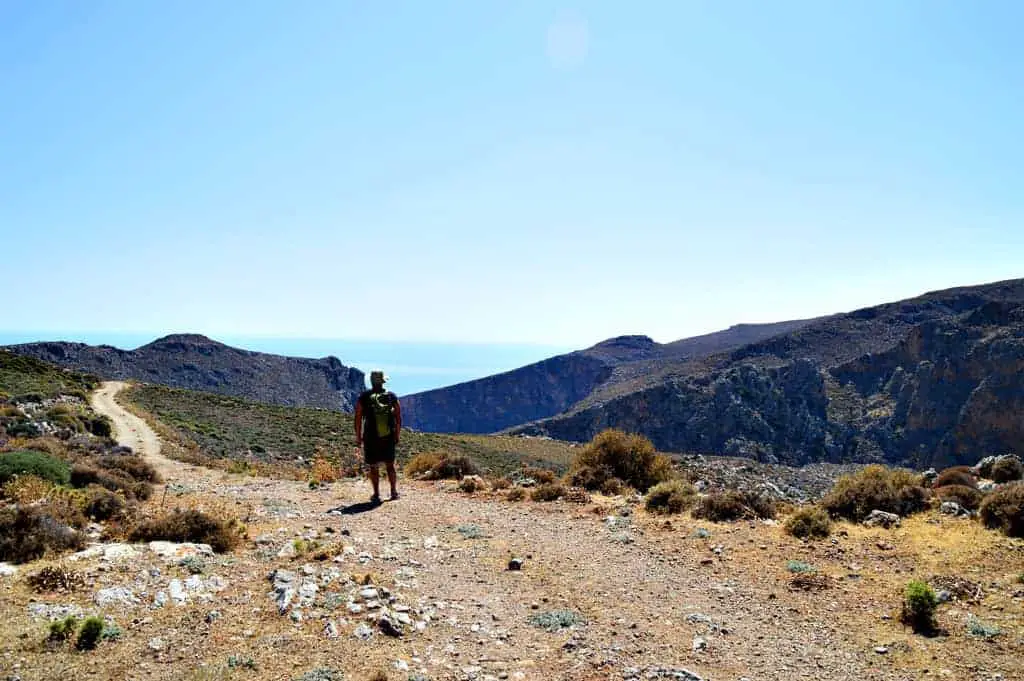 The view from that route was spectacular since now we were returning from the top of the mountain and not through a gorge.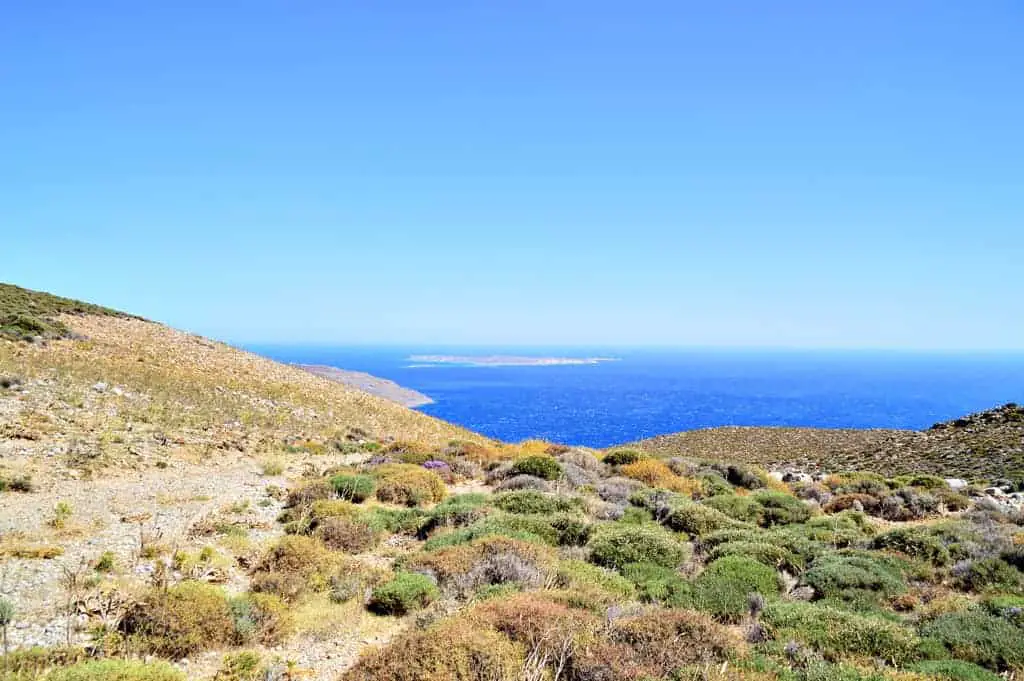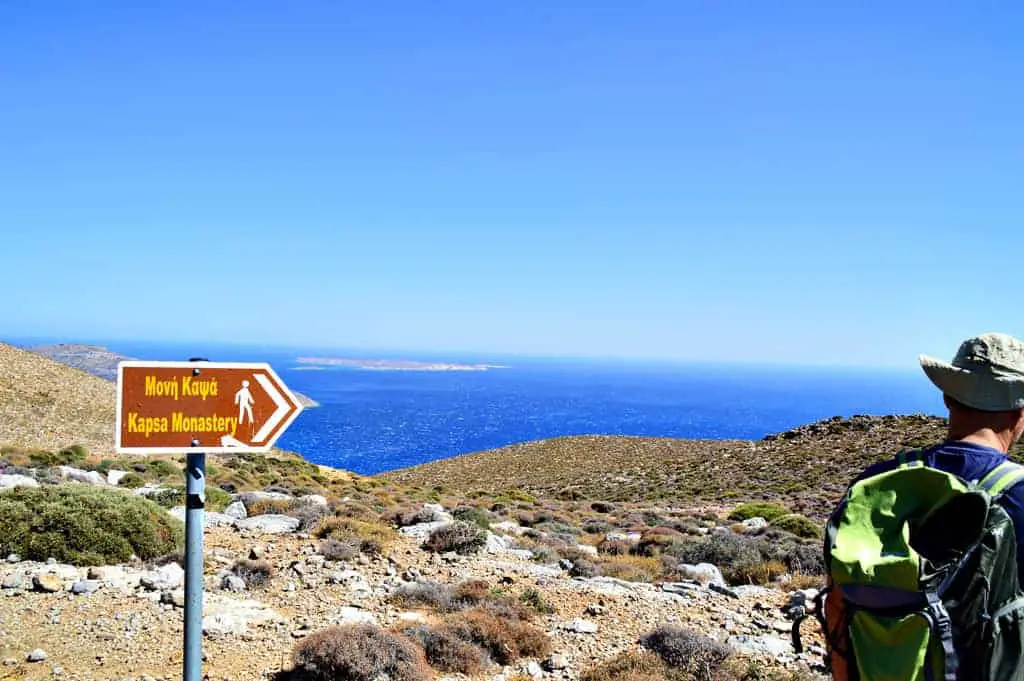 Along this route we also met a small cave. If you felt too hot this was a nice place to have a rest.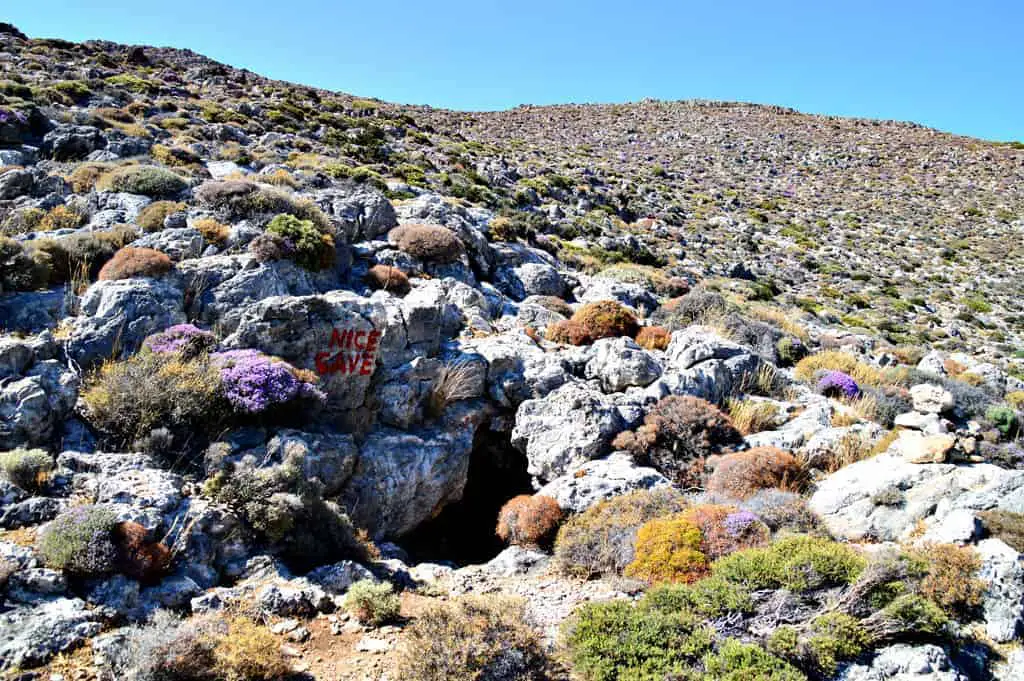 Wind was blowing heavily here too. This was a nice comfort as the sun was very hot. Looks like I am running? No I am not… The wind is pushing me in every step!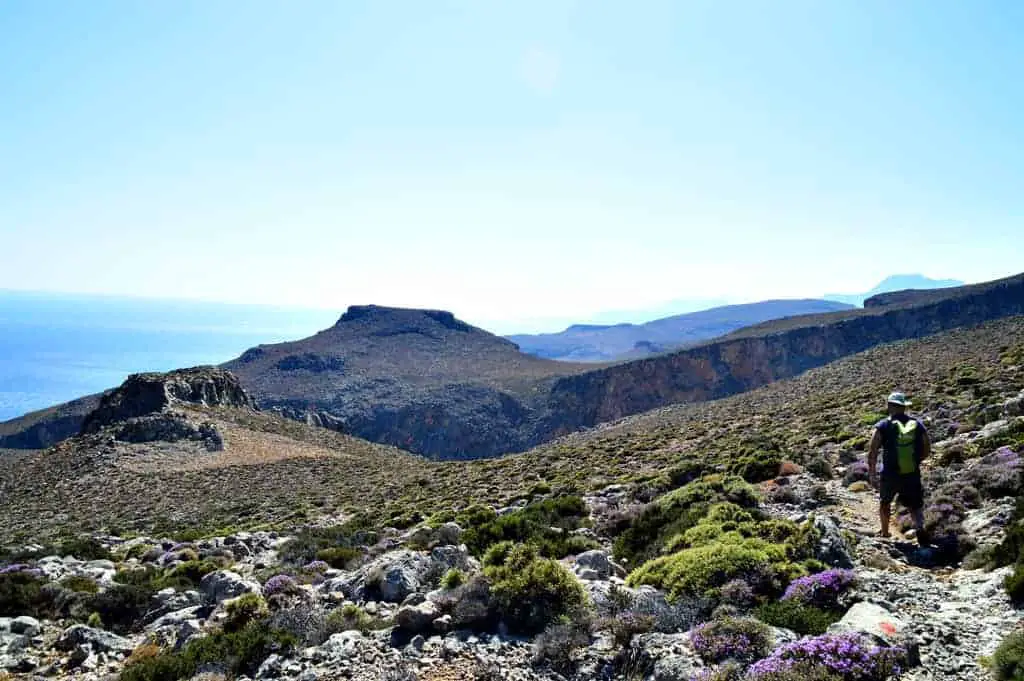 Terrific views. We were drooling seeing that sea and we were fantasizing being there!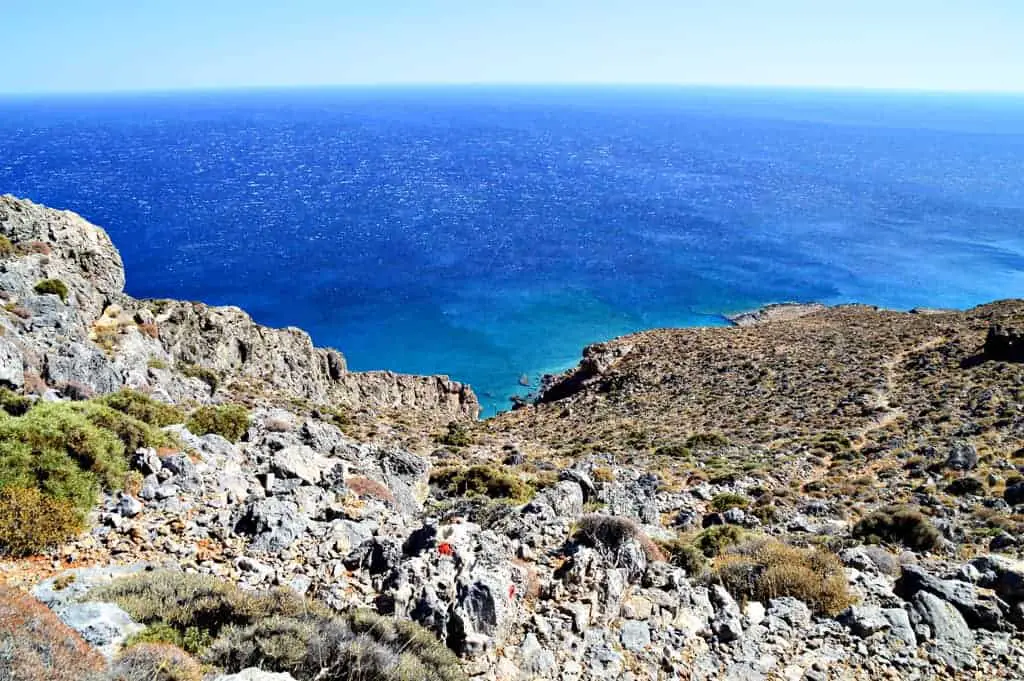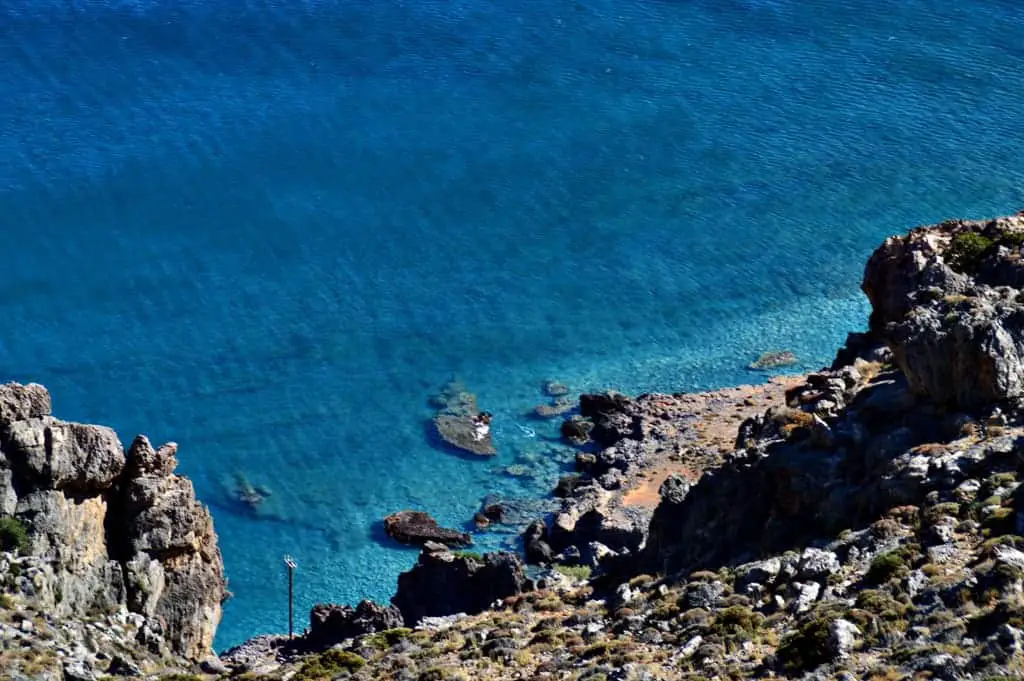 "See the road? We are getting closer"… Yes, right. It was another 30-45 minutes from that point as you can't just walk straight down.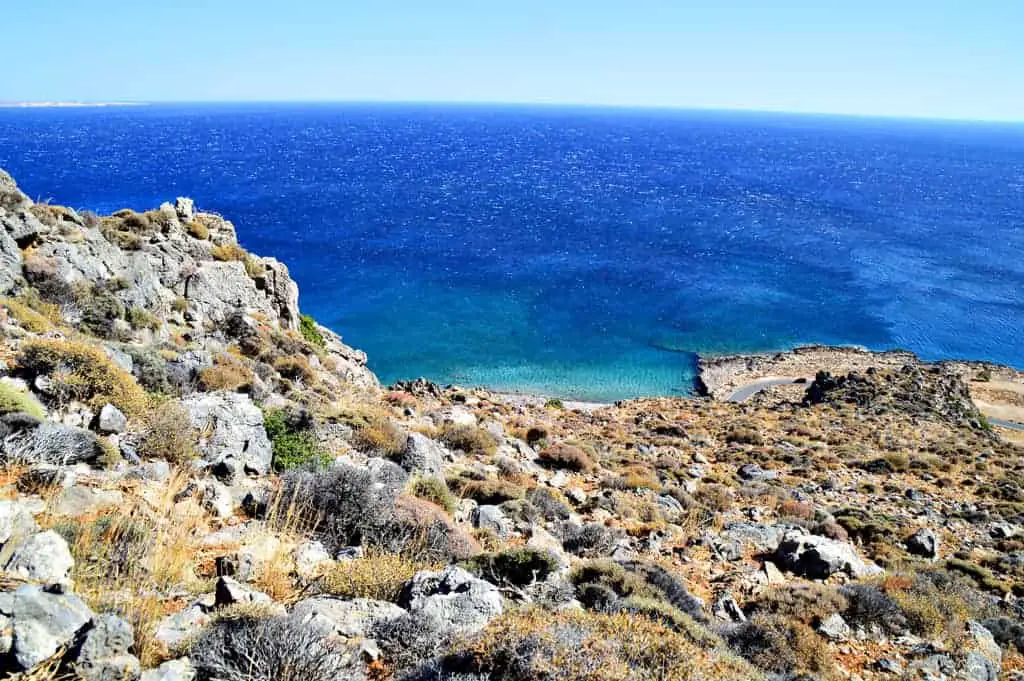 Now we are really getting closer!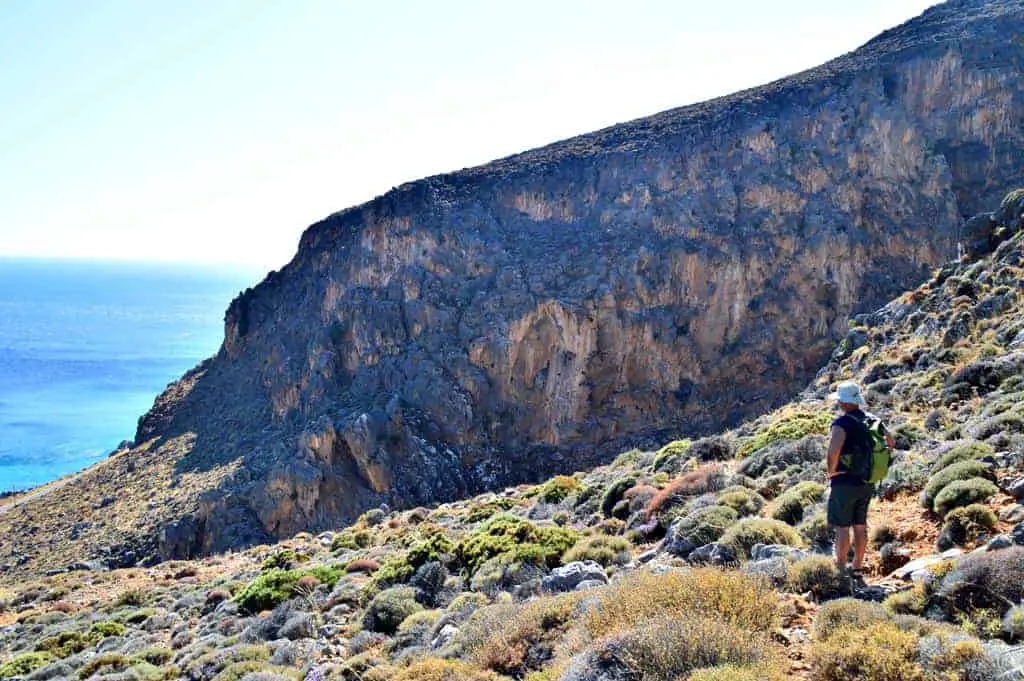 "Oh traveler, since you made it this far and think that you are at the right point, this is the sign you should see"… If not, you are somewhere else!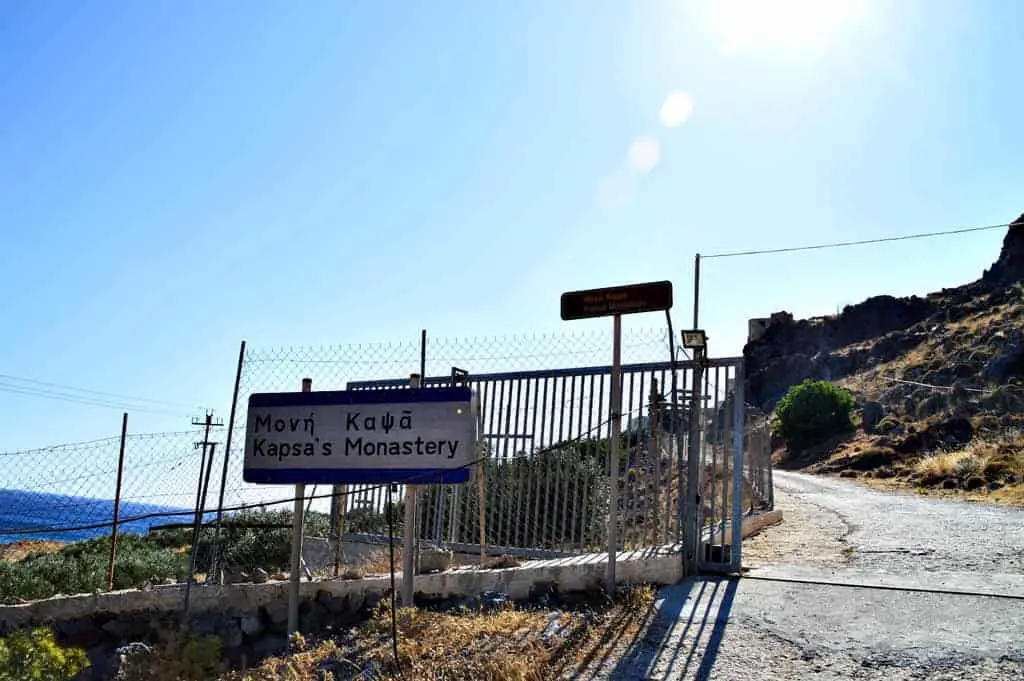 Here are some friendly goats cheering up seeing us!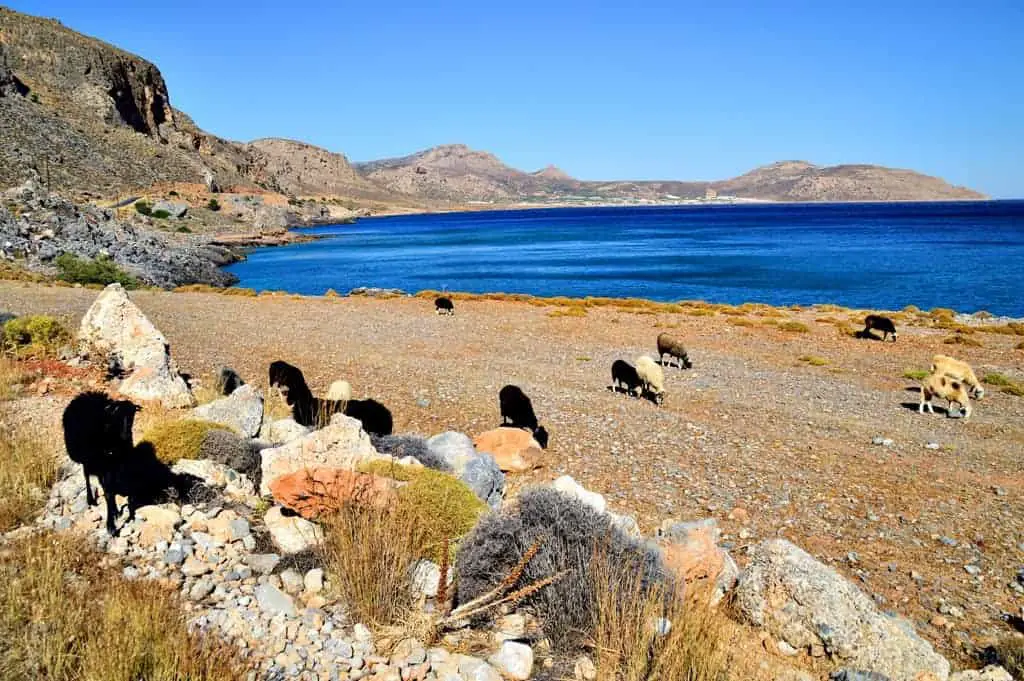 Now imagine being so hot from all this sun and eager for a swim. This is what we did!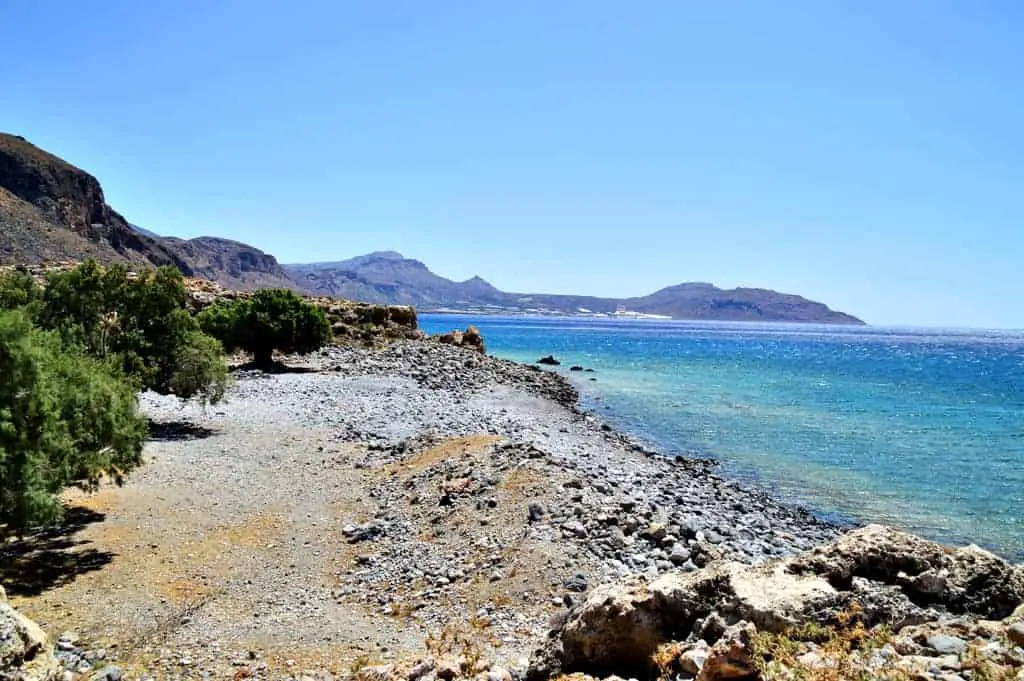 The beach was a bit rocky but the water was extremely clean and so refreshingly cool!
We stayed there for more than half an hour, just lowering our temperature, laughing at what we performed once more!
Plan to do this gorge in Crete. The route, the sea at the end, and the tavern midway are totally refreshing experiences.
Patsos Gorge, Crete
Patsos Gorge is a must explore one when hiking in Crete. It is near Rethymno, Crete. The gorge is almost all covered with trees, so there is plenty of shade.
This gorge is considered one of the top ten gorges to hike in Crete.
Shade makes it more convenient to hike it through since the summer Cretan sun can scorch your head and skin.
We went there as part of our trip to Crete. Visiting the canyon was part of an urban tour around the Rethymno area, provided by Urban Adventures.
These guys and girls know their ins and out's regarding urban/village and food tours.
Into the Patsos Gorge Mysteries
Patsos Gorge is located inland of Rethymno Prefecture, in the municipality of Amari (subscribe to receive our next posts about culinary Amari).
Before the entrance below, you can find a small tavern/cafe. It will be useful on your way back.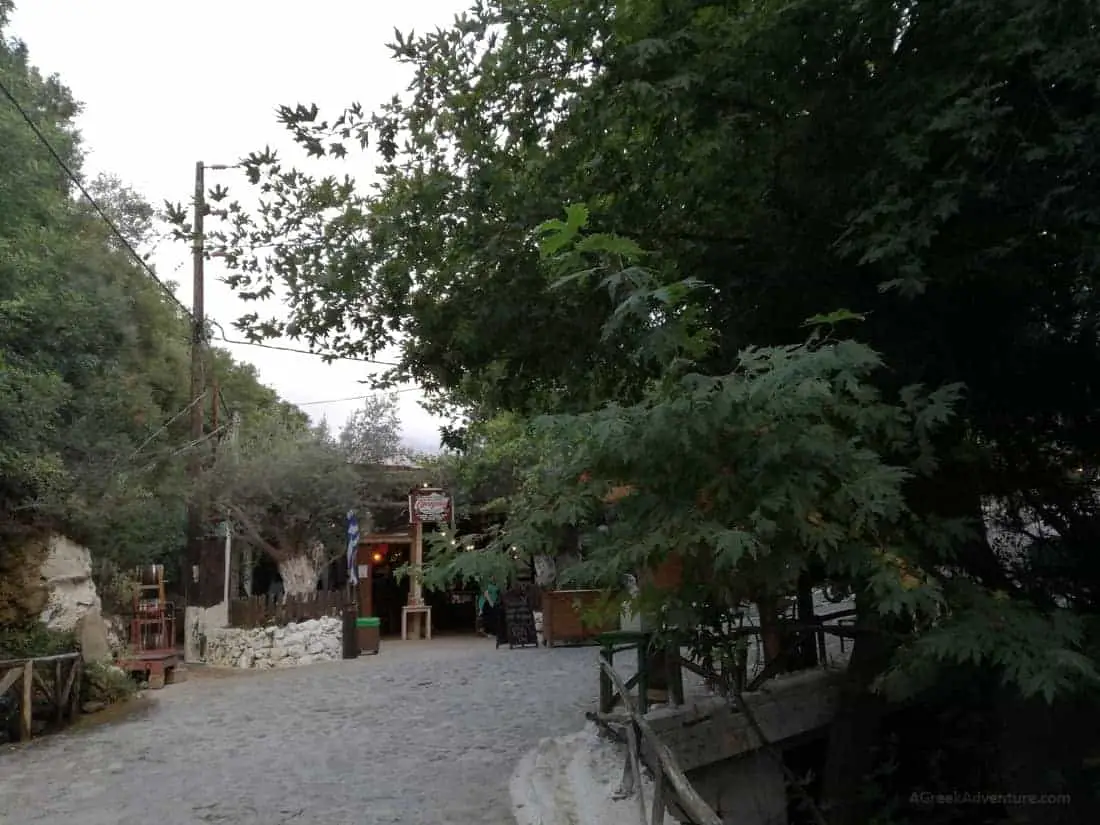 Visiting Patsos gorge would be a kind of resting/relaxing experience, so to end the day-long tour.
There was no hiking in the tour schedule (it was late anyway), but along with Maria, we decided to do it on our own, just for the experience.
The whole day tour was so amazing that it gave us the kind of energy we needed to decide to hike through the gorge.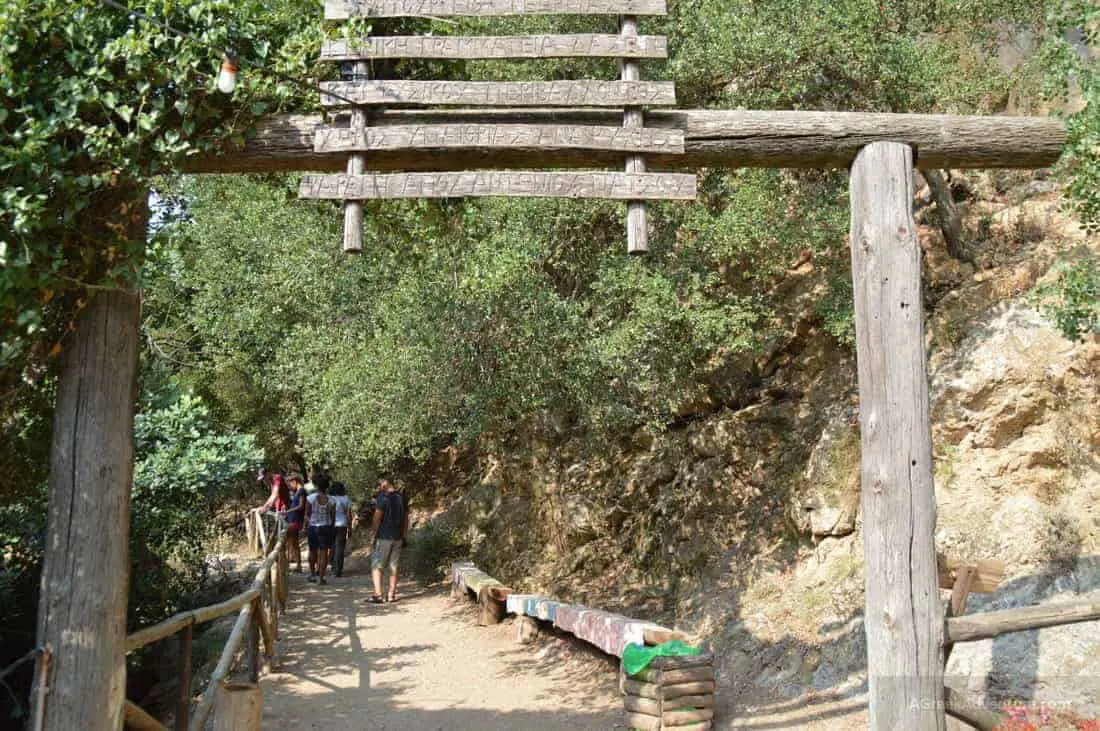 At the entrance of the gorge, there is the cave-chapel of Agios Antonios (Saint Anthony).
There is a spring there with cold fresh water, lots of shade, and outdoor tables to sit and relax.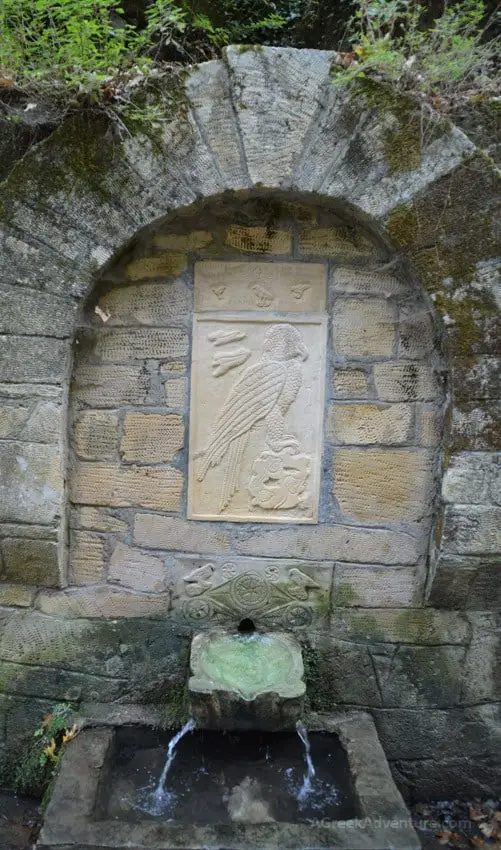 The gorge is not very well marked, but in specific places are red marks on the gorge walls.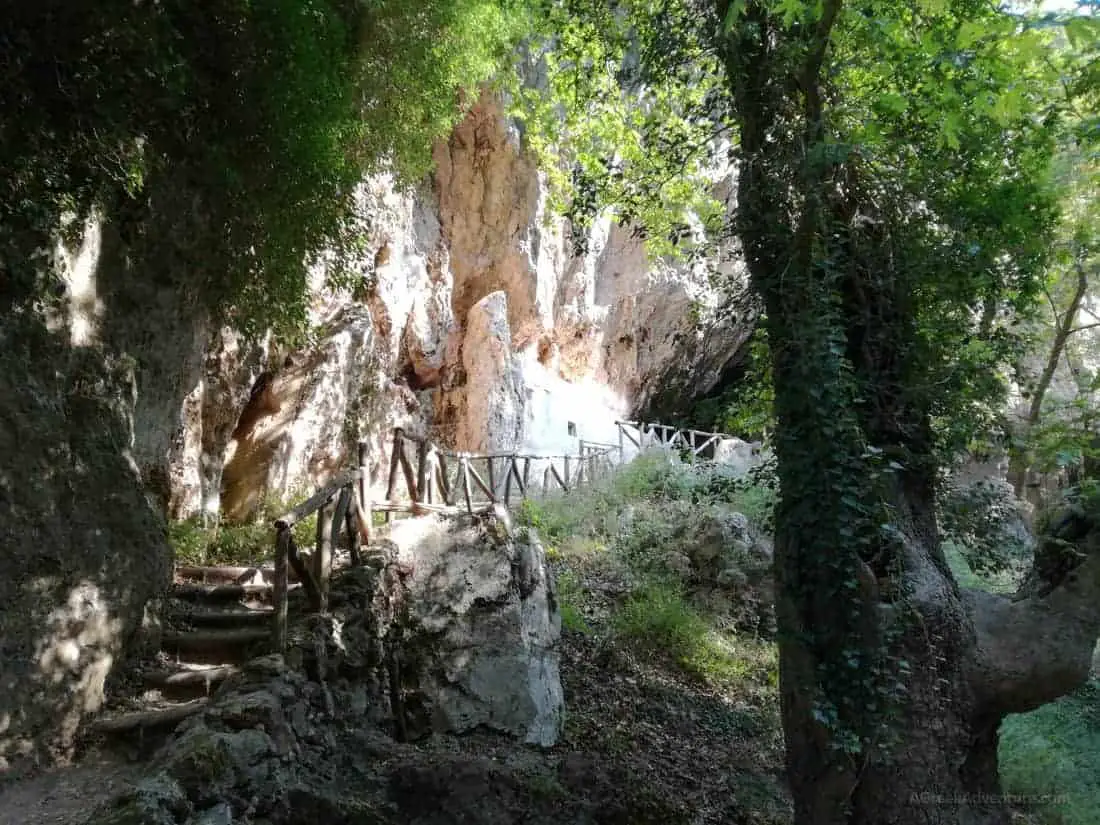 You can't get lost.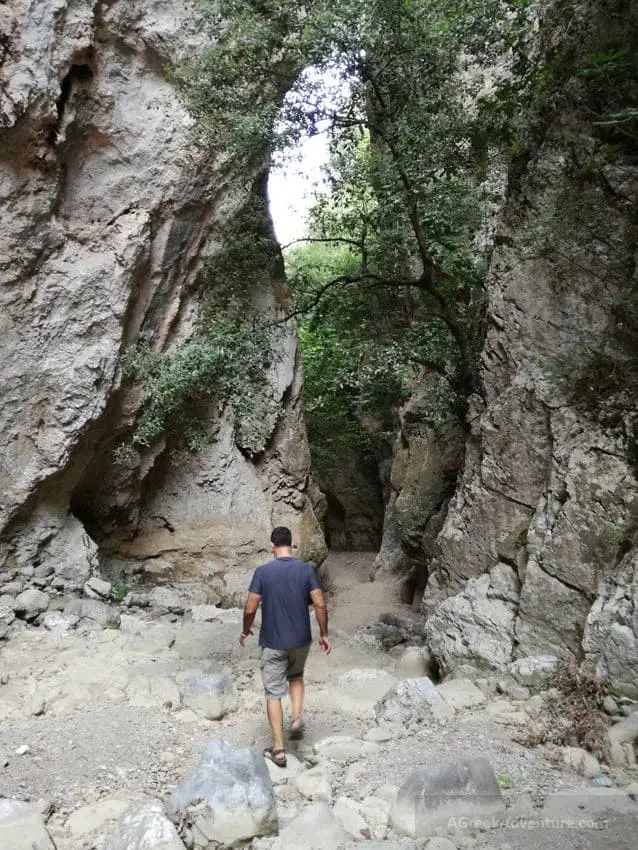 We have to say that at some points, we needed to think and find a way to proceed further. But there was a way through in all cases.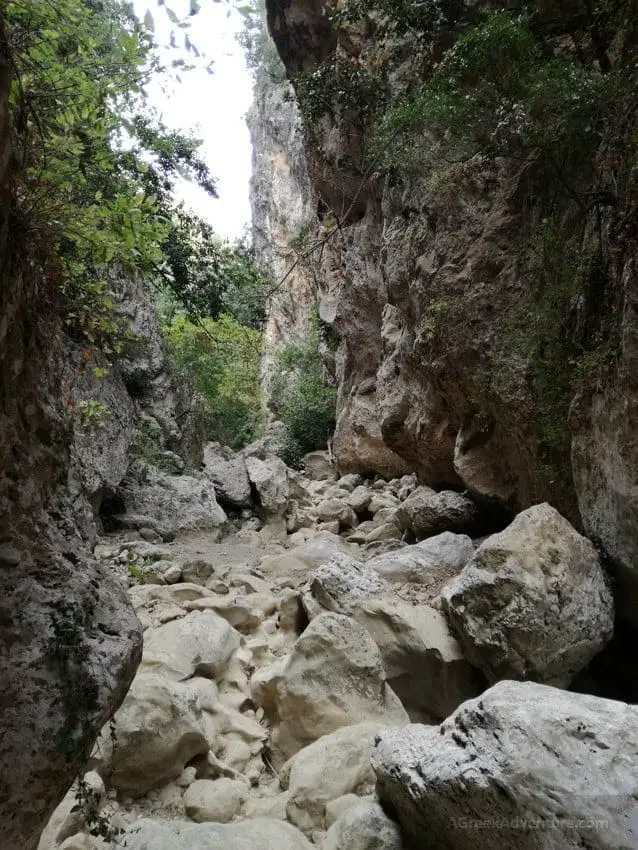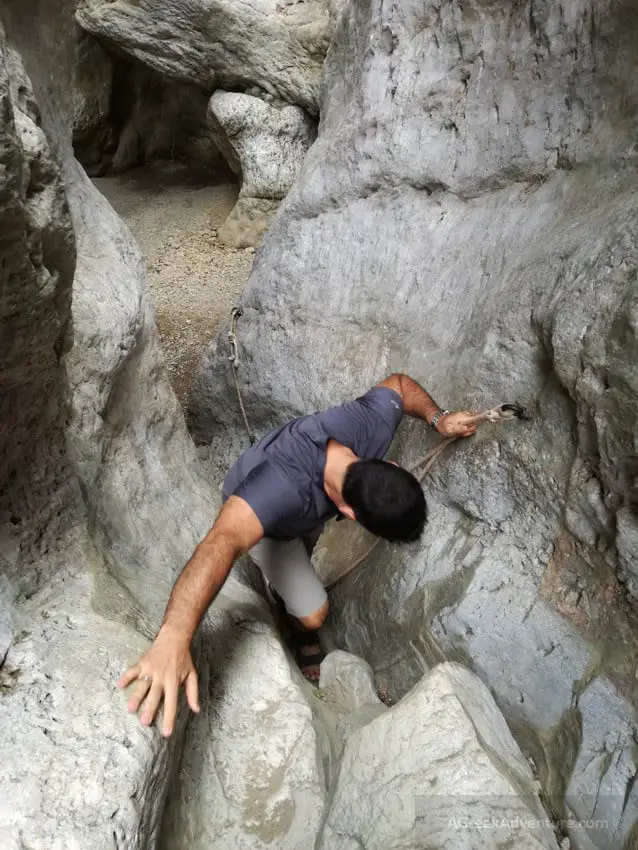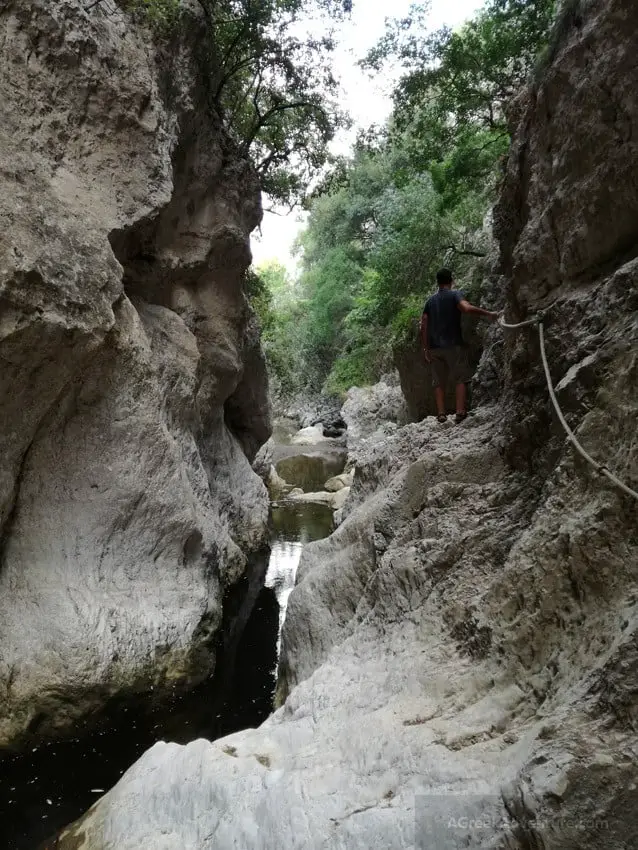 The total length is 3km (total, back and forth). That length is not too much in normal asphalt road walking conditions.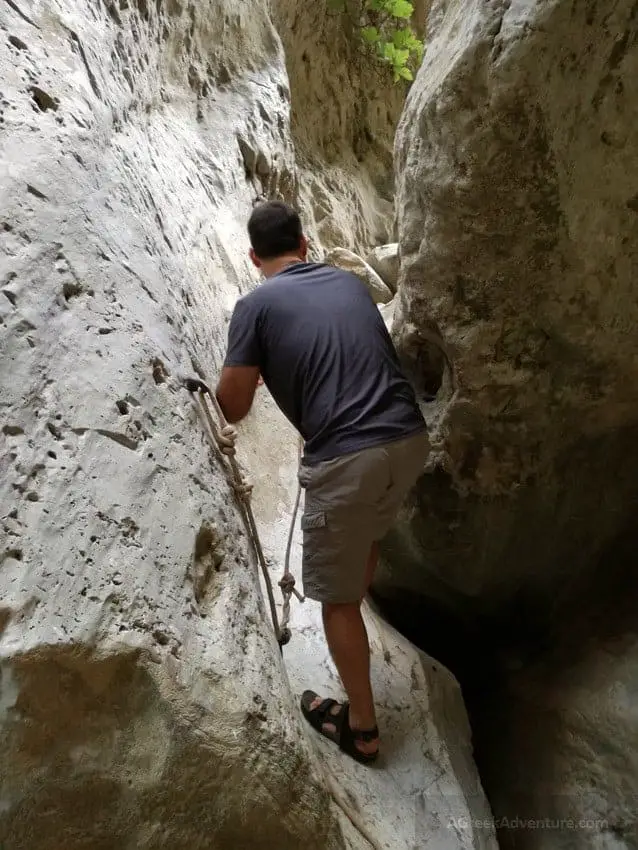 Yet, inside a gorge with huge rocks and obstacles, it can be long enough.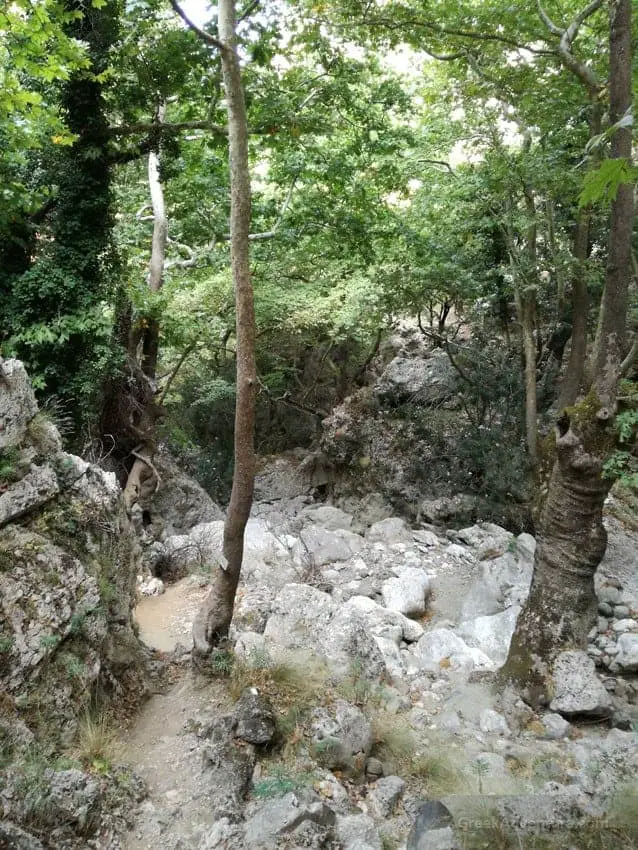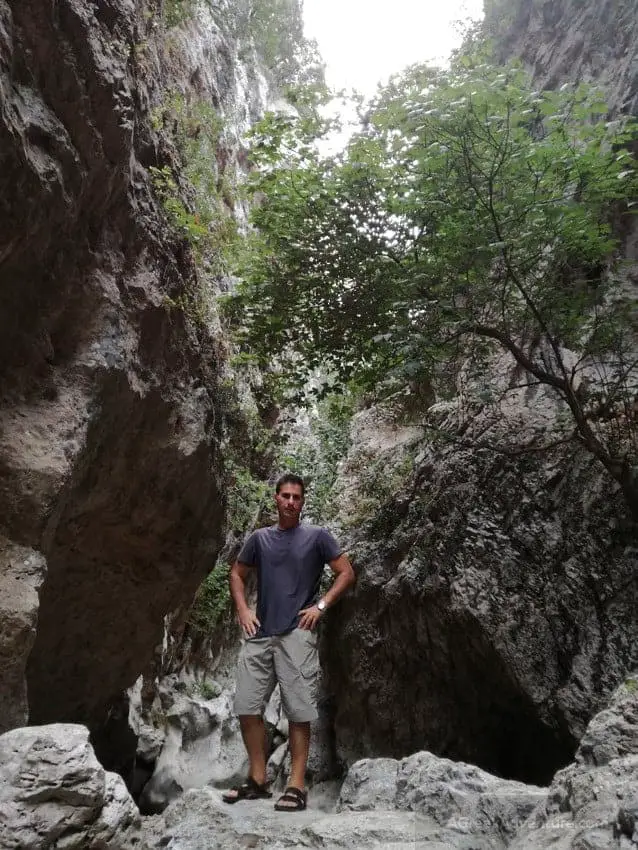 When there is still water (not so much in August), there exist small but shallow lagoons with impressive waterfalls.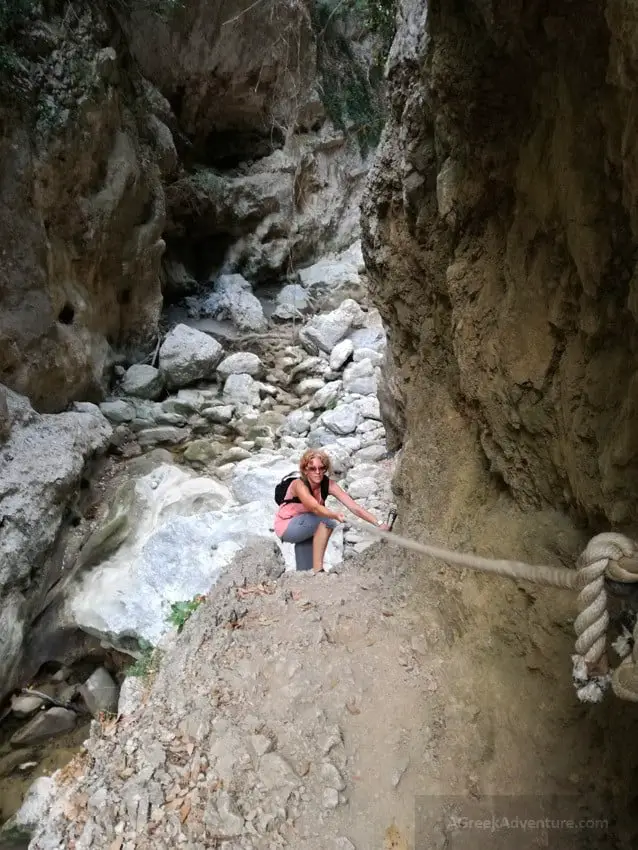 Some areas of the gorge route are crossed through wooden ladders, with additional ropes (already in place) to get a grip.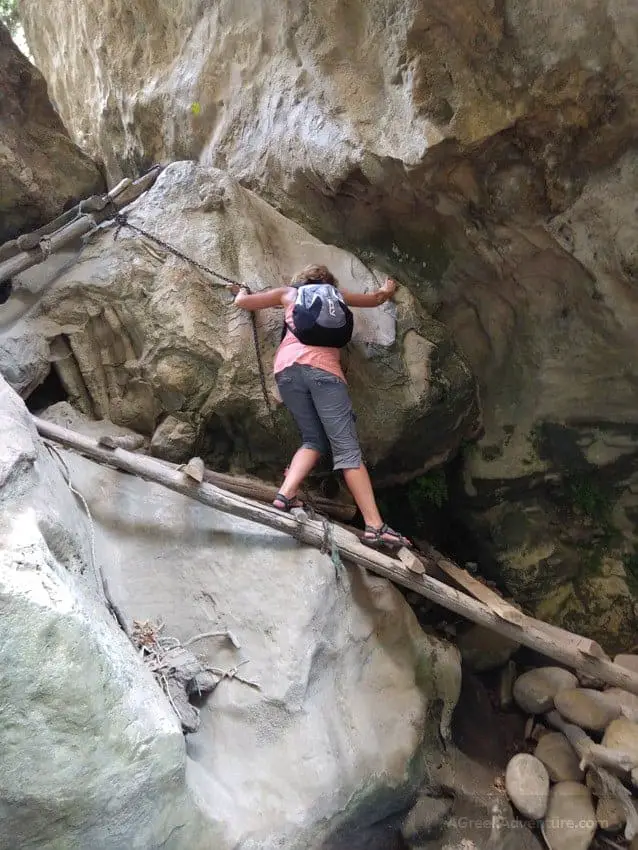 There is no actual "climbing" with ropes. They are there for safety. At various points, things seem easy, but you have to be very careful as even with mild moisture, it gets slippery.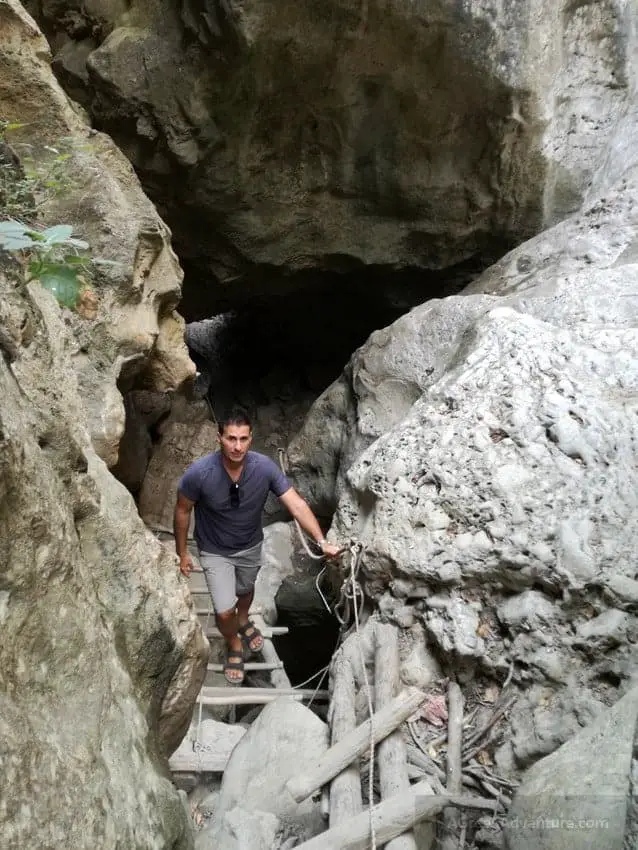 Make sure you wear proper hiking shoes or sandals.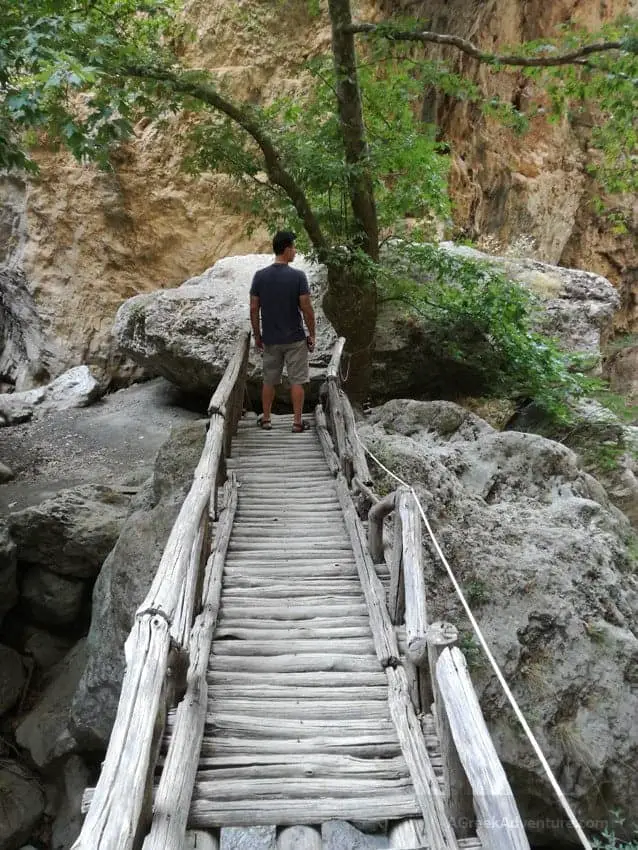 No flip-flops, as we saw some doing the gorge with such, and they -indeed- mentioned it was difficult.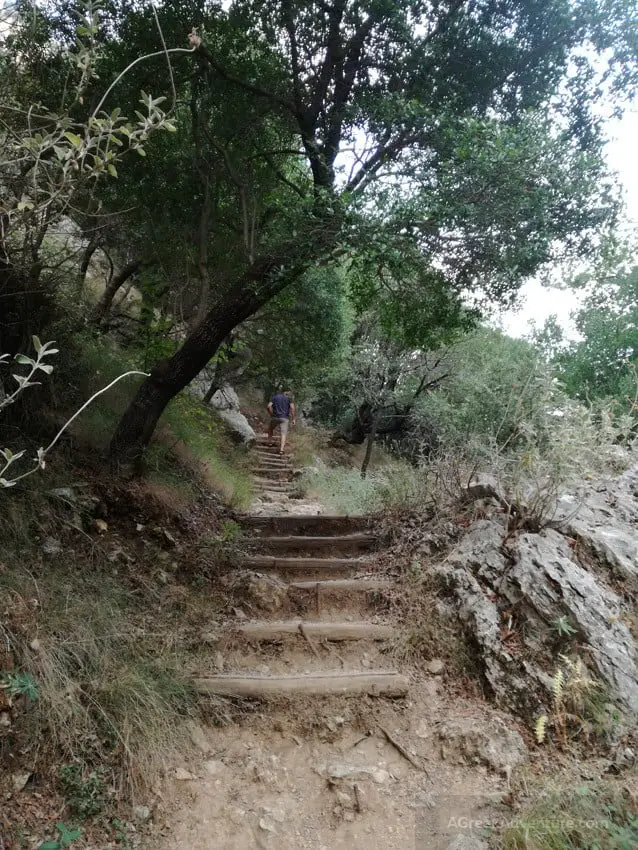 At the end of the gorge (exit), there is an artificial lake created by the Potamoi dam. A variety of ecosystems is hosted there.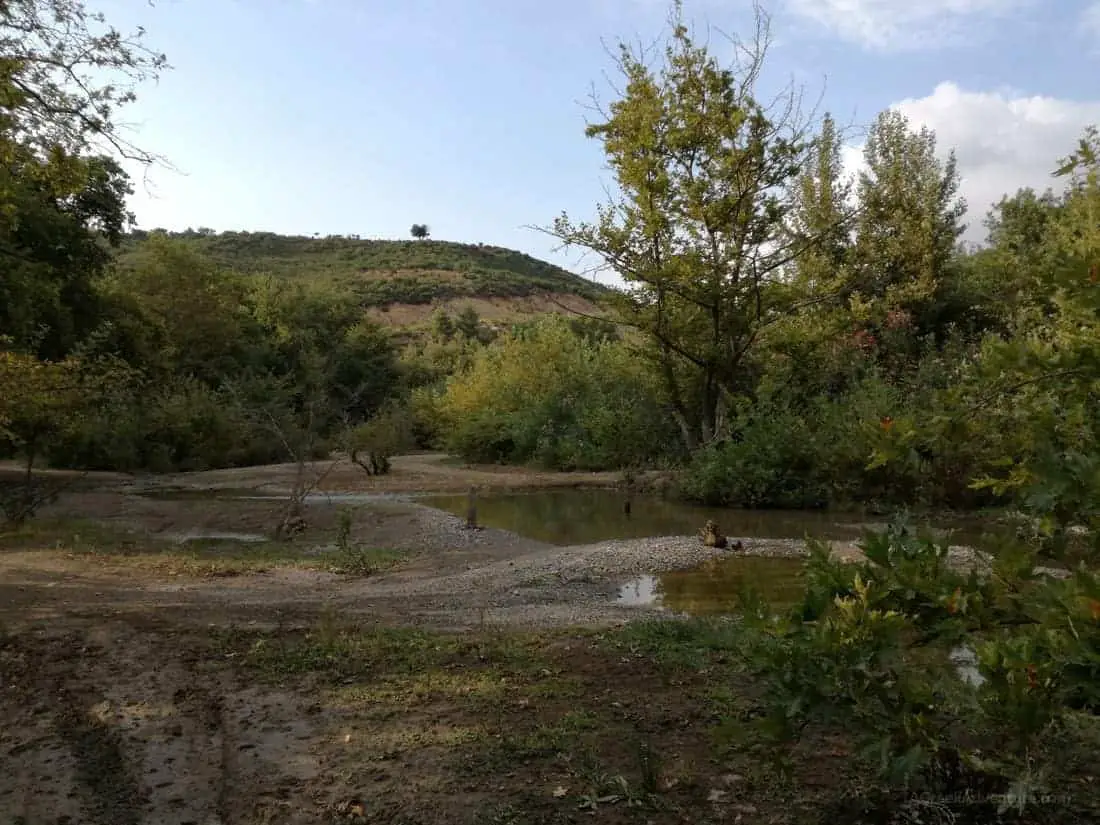 To get to the lake, walk under a cement bridge. You will quickly find that as the route stops there.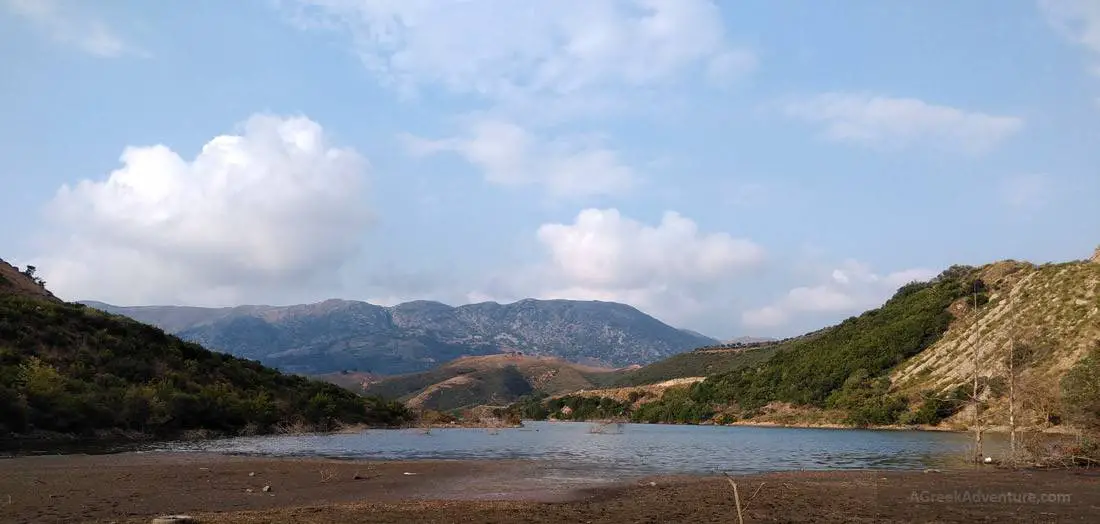 Just go under it. The lake is only 50-80 meters after that.
Precautions for Patsos Gorge, Crete
Make sure the weather is excellent without any chance for rain since the gorge doesn't have side exits, and it may become dangerous with rain.
Also, make sure to do it during day time (preferably during the morning) to avoid being in there in the late afternoon. Sunlight is reduced fast in such places due to high gorge walls and plantation.
Enjoy and also read our crossing of the famous Samaria Gorge in Crete.
Disclosure: Minoan Lines sponsored our transportation towards Crete and Aspros Potamos hosted us while we were staying there. This is an opportunity to thank them.
Also, read