One of the main reasons we went to the island was for hiking Naxos from Chalki Village (also known as Halki Village). Hiking Naxos seemed like a good experience before getting there. However, our trip included way more hiking routes in Naxos.
Reality exceeded our expectations since both hiking and accommodation were excellent.
We made some new friends on the island, and we learned a lot about nature and hiking routes and how all these bind together to weave different experiences for travelers.
One of the hiking routes we did was starting near ELaiolithos (our accommodation).
At the very beginning of the route is a famous church, Panagia Drossiani. The route would be about 4-5 hours (with frequent photos) with stops. ELaiolithos manager provided us with GPX files that had the track recorded.
Since it was our first time there and all the routes were through various landmarks, forests, springs, and hills, this was very helpful to have.
Here are two major routes that go through many villages and landmarks of Naxos, Greece.
The Route from Chalki Village (or Halki)
Chalki Village is one of the most popular villages in the mainland of Naxos. The village of Halki is a starting point for many different hiking routes.
The main sightseeings and landmarks are in the village square and along the different hiking routes.
In the village square, you will find two fantastic shops. One is ideal for getting local food produce (the owners produce it themselves), and the other is right next to it, where you will experience fantastic art(!).
The latter one is EL Gallery and is an Art oasis in the center of Chalki village that you don't expect to see. This shop is way far from the "common touristic art" shops.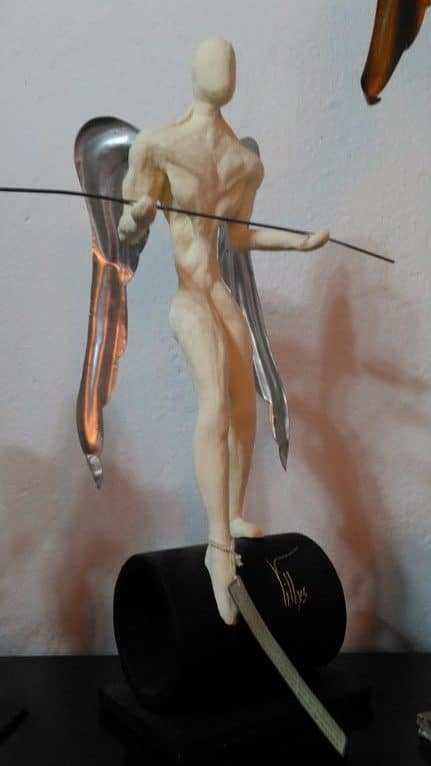 Another thing to see in Chalki village (and taste) is the Valindra Distillery. That is the most popular Kitron Distillery on the island. It serves as a shop and a museum, where you can see how they transform Citrus into that magnificent alcohol-based beverage.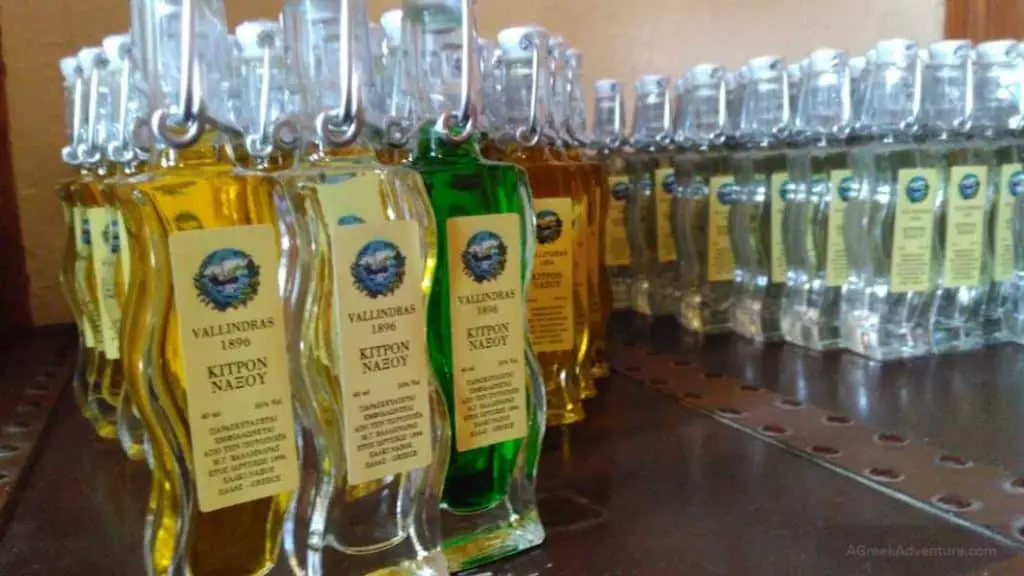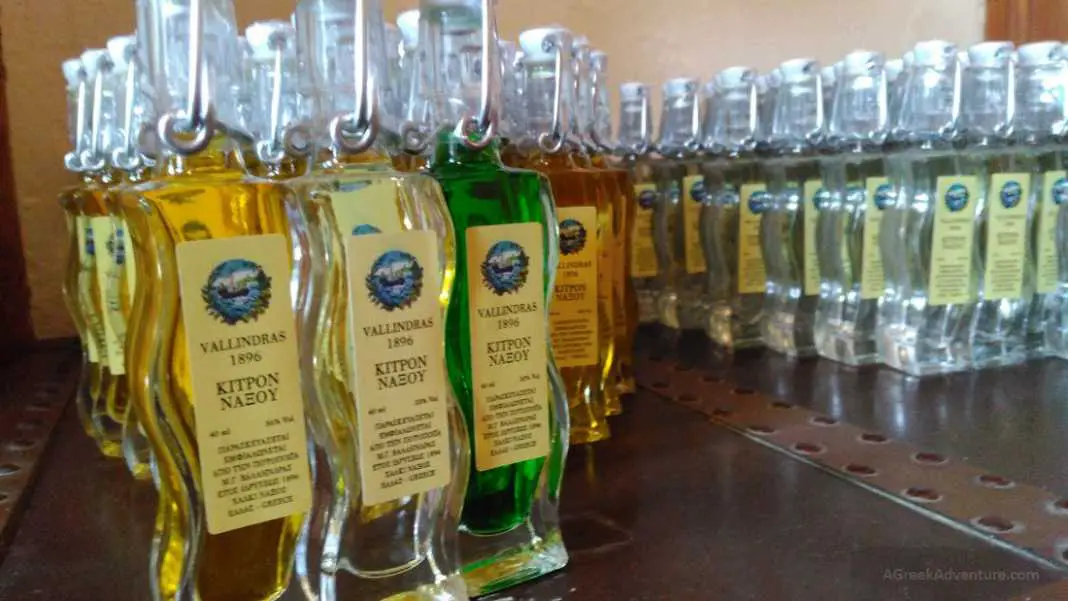 Do not neglect to visit the Maria Marakis; Loom shop. Creating different clothing with a Loom is a years-long tradition in Naxos and Greece. Chalki village and the village of Moni (close to Halki) are famous for their weaving products. They still produce many of such in the traditional way.
The Tragea Valley, where Halki resides, is one of the most fertile locations on the island. Therefore, it will be nice to walk through the narrow streets and admire the beautiful architecture of this village before or after your hiking.
Hiking From Drossiani to Chalki Village and ELaiolithos
You can read more about Chalki village from here.
The village is in the middle of the route and can act as a nice break before seeing the other landmarks of the area.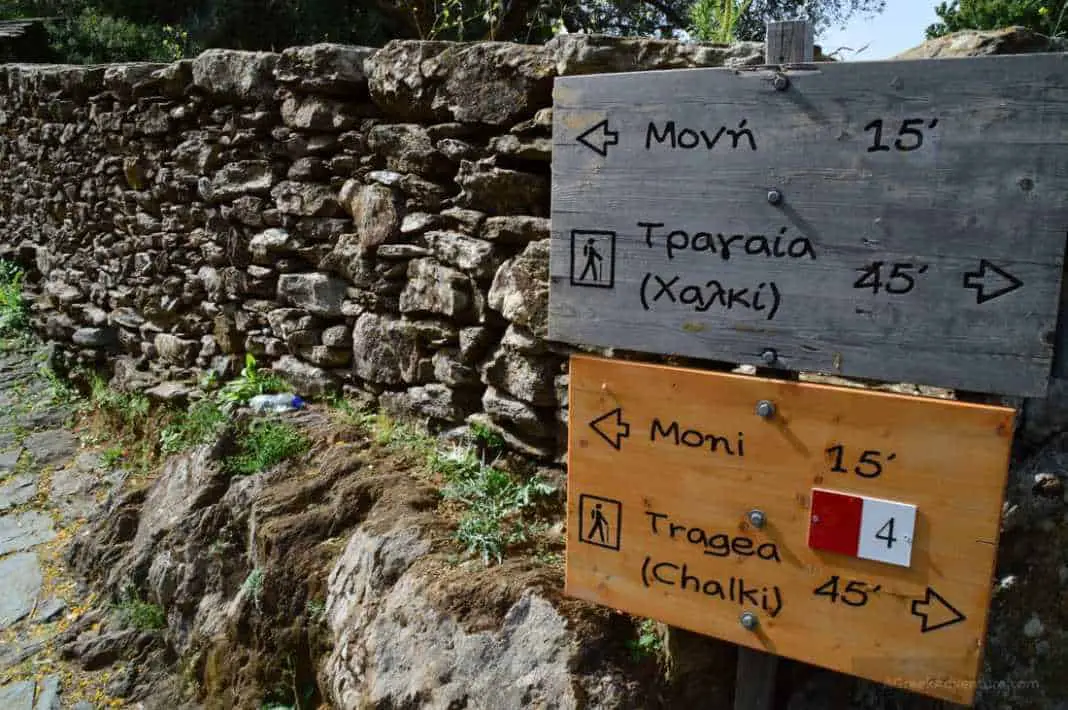 The route is a circular one (not returning from the same path), so you will end up at Panagia Drossiani or ELaiolithos (a 10 minutes walking distance from Drossiani).
Below is the path's entrance, which by the way, is very well marked. More minor routes start from here.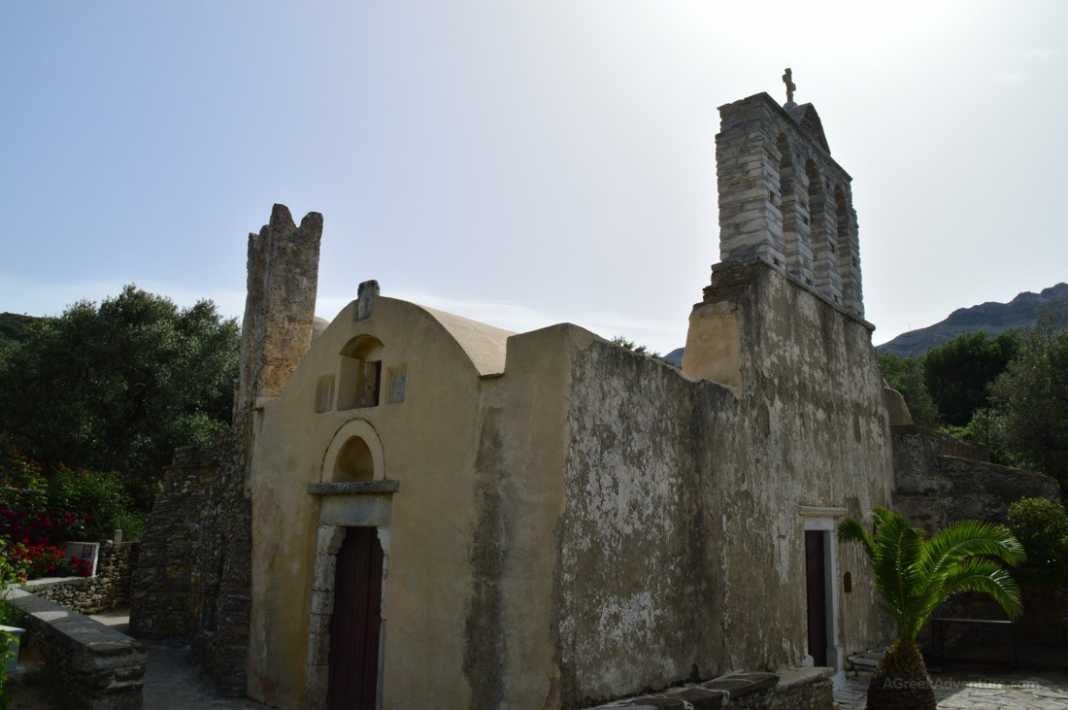 Panagia Drossiani church is a very famous church in the area.
Here we are with a Garmin GPS ready for "battle."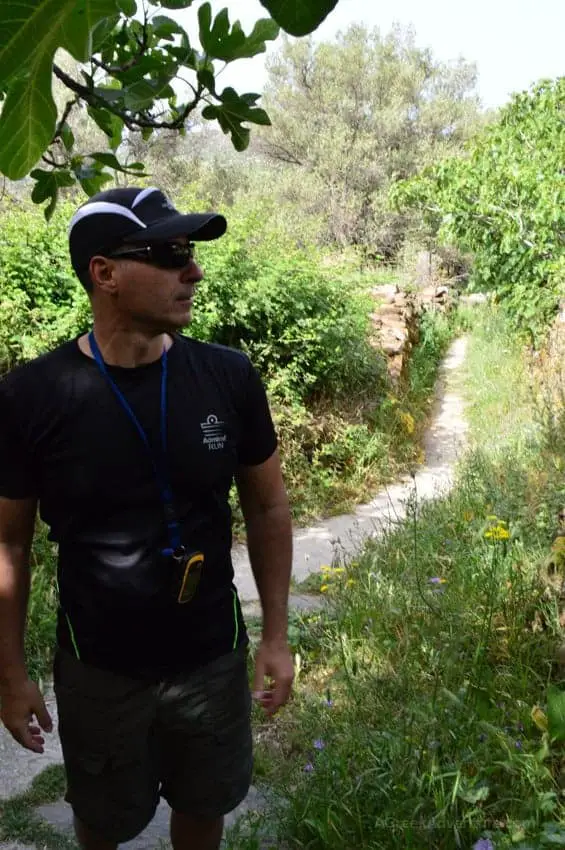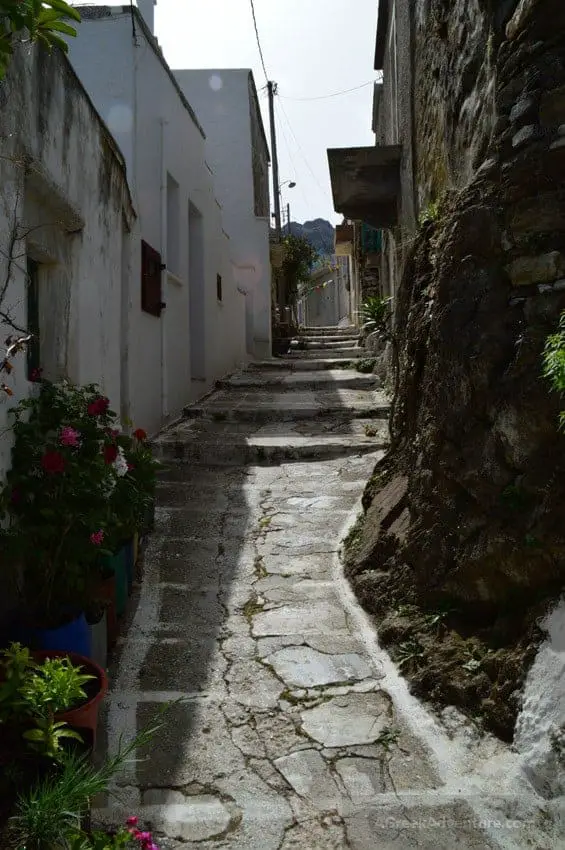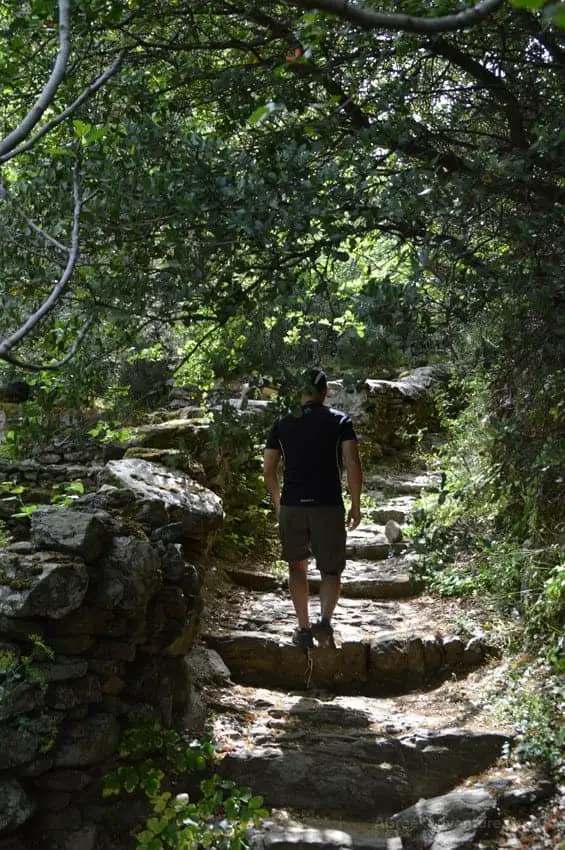 Hm, where are these people going indeed?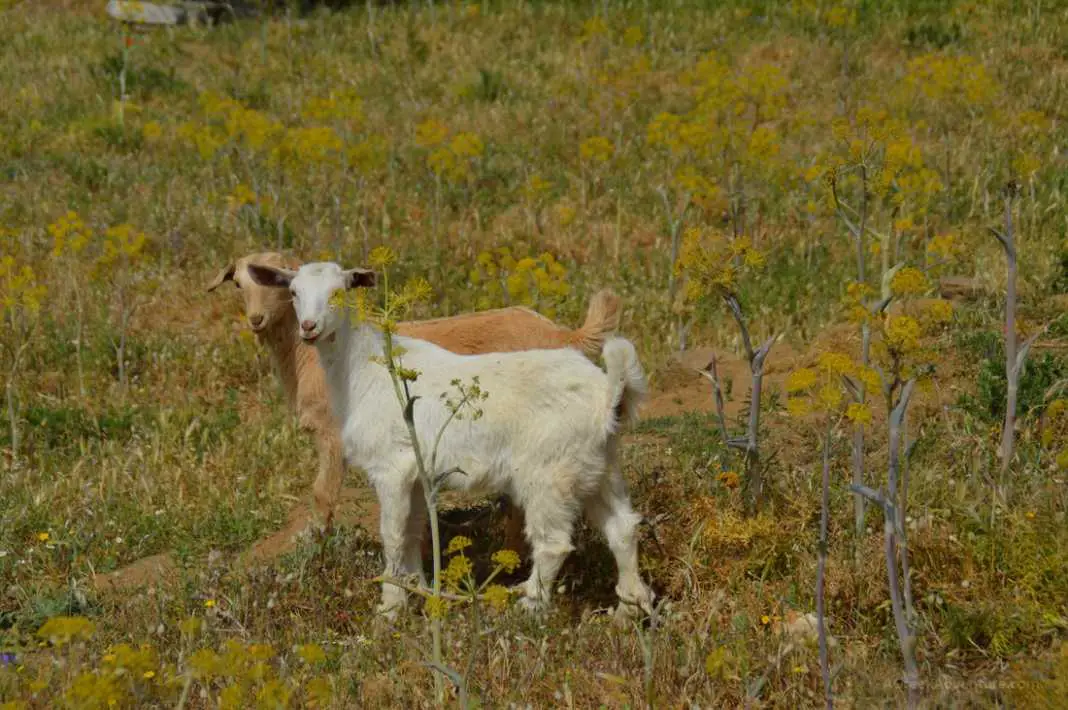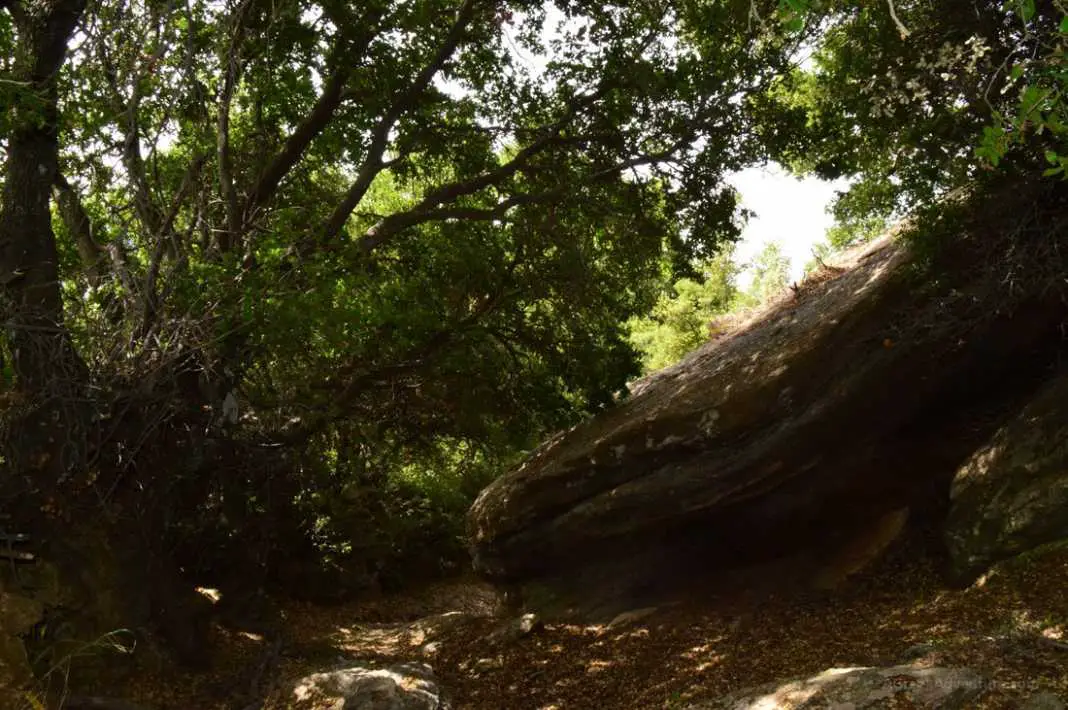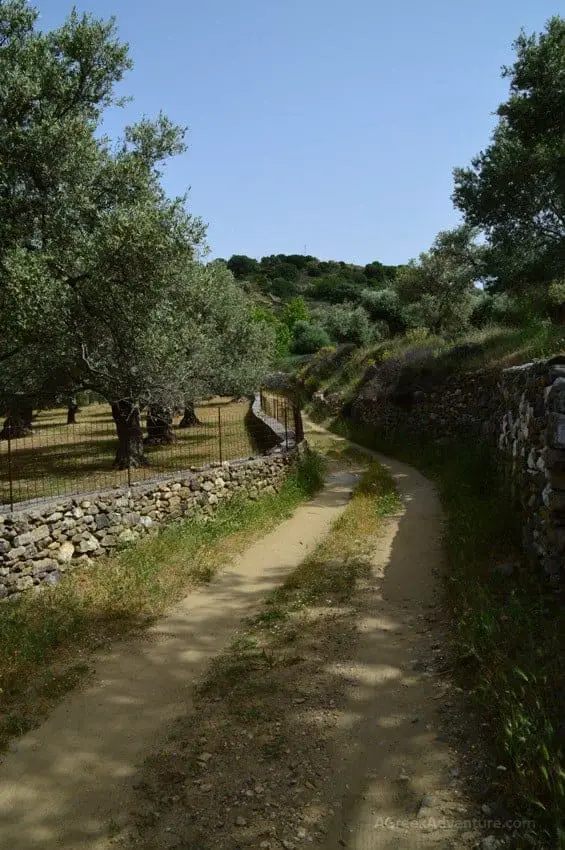 The shade is mainly available through this specific route.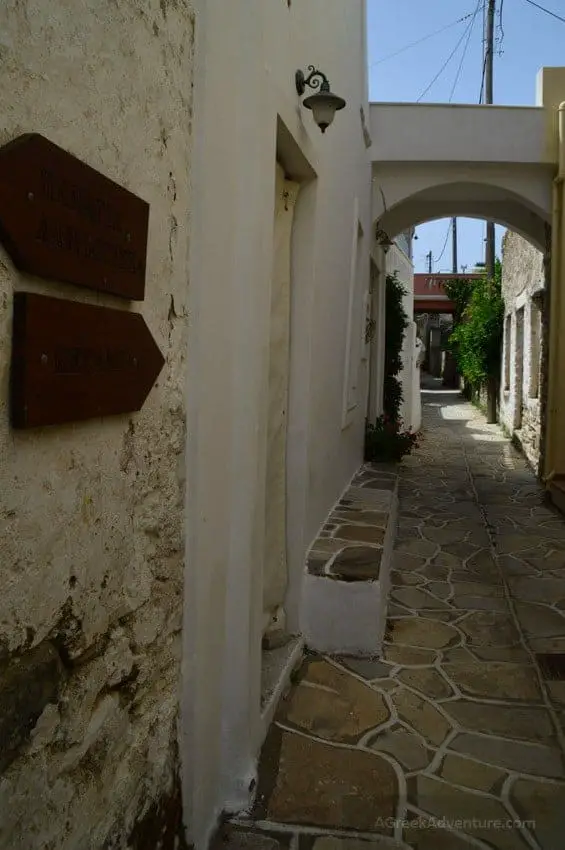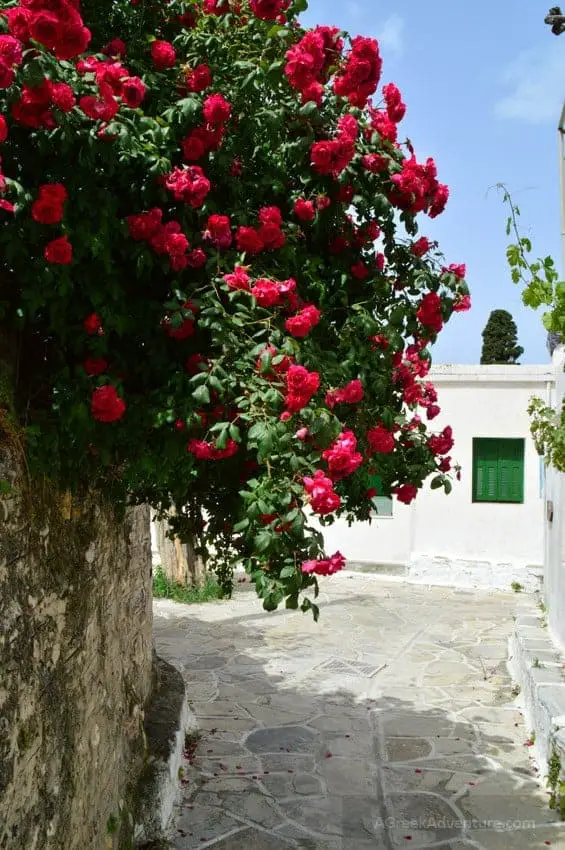 That is the tower of Gratsia, which seems to be an exciting landmark for locals.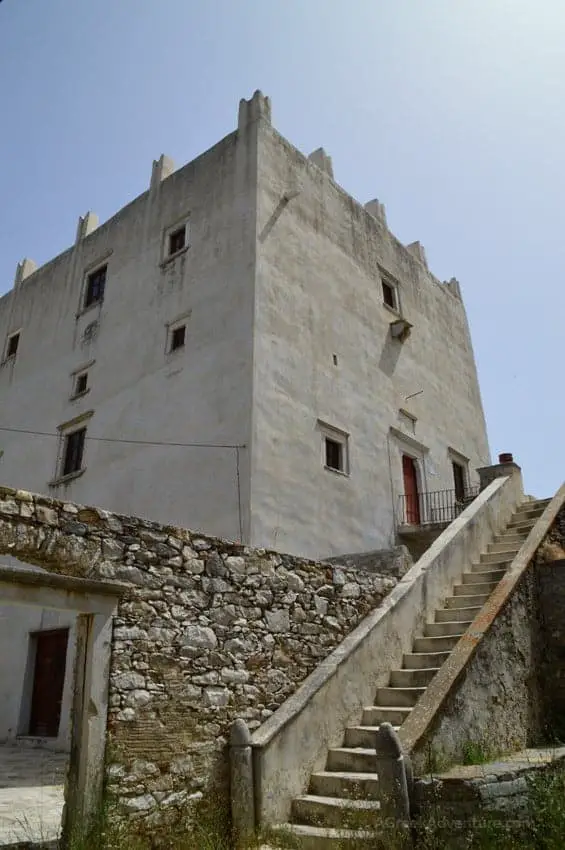 More paths start from inside this village.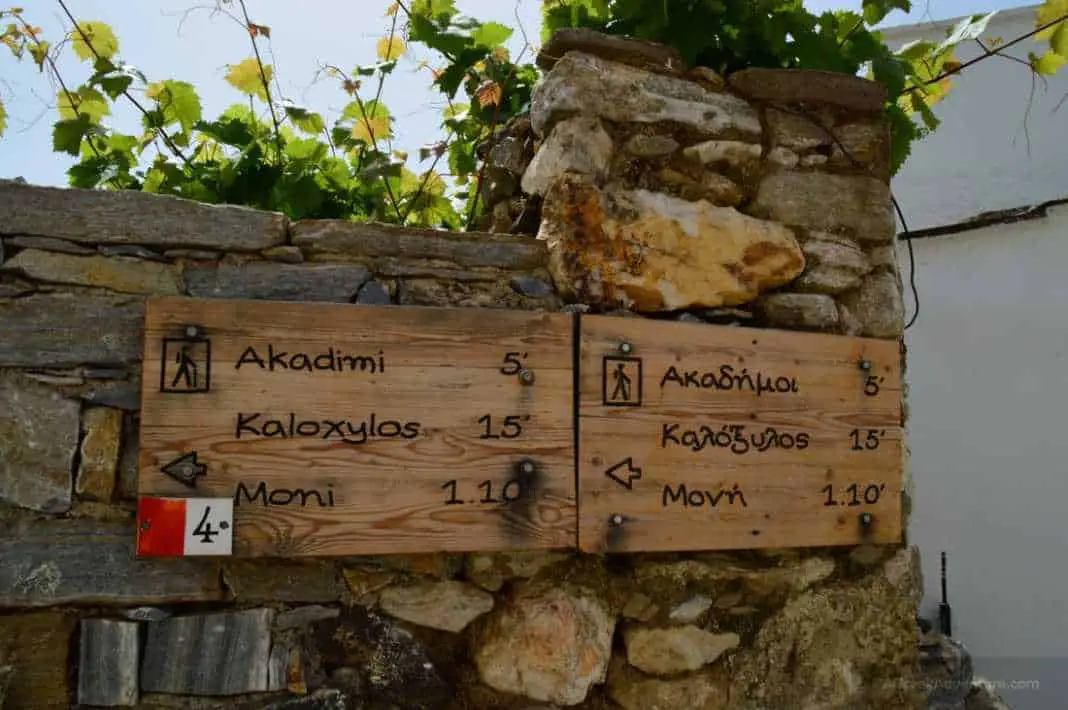 From this point on, a ton of churches make their presence.
The area is famous for all these churches.
Before these churches, the route goes through Chalki Village. 
Here is the church of Agios Georgios Diasoritis.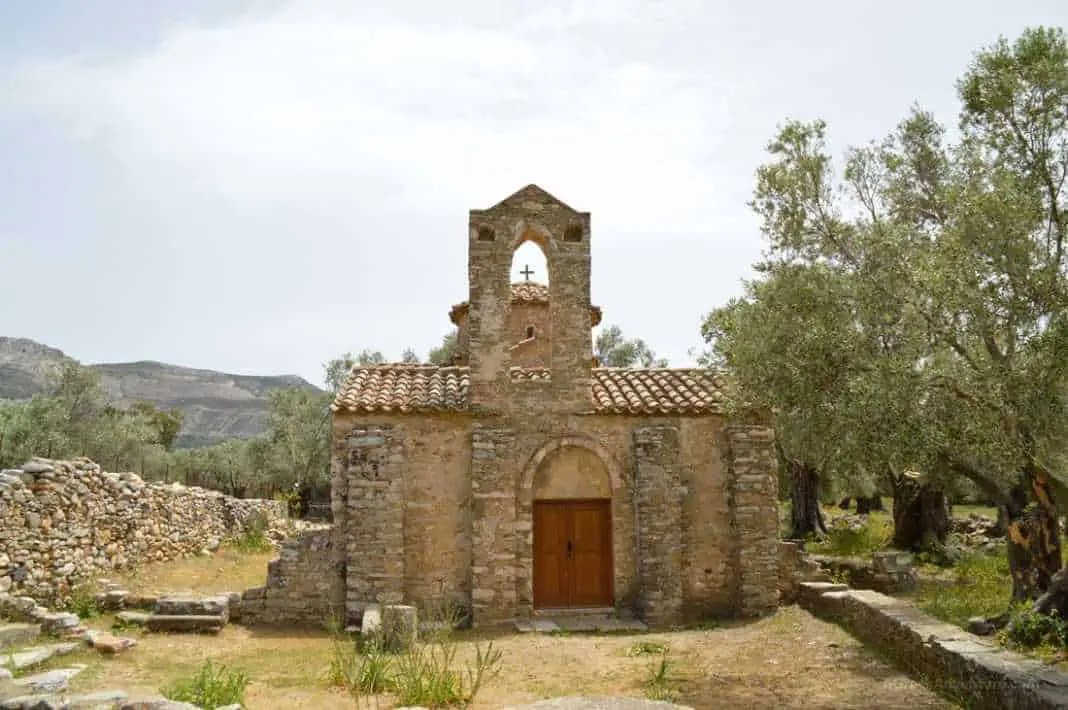 That is the church of Taxiarches at Monoitsia. In this place exactly, it was scorching hot.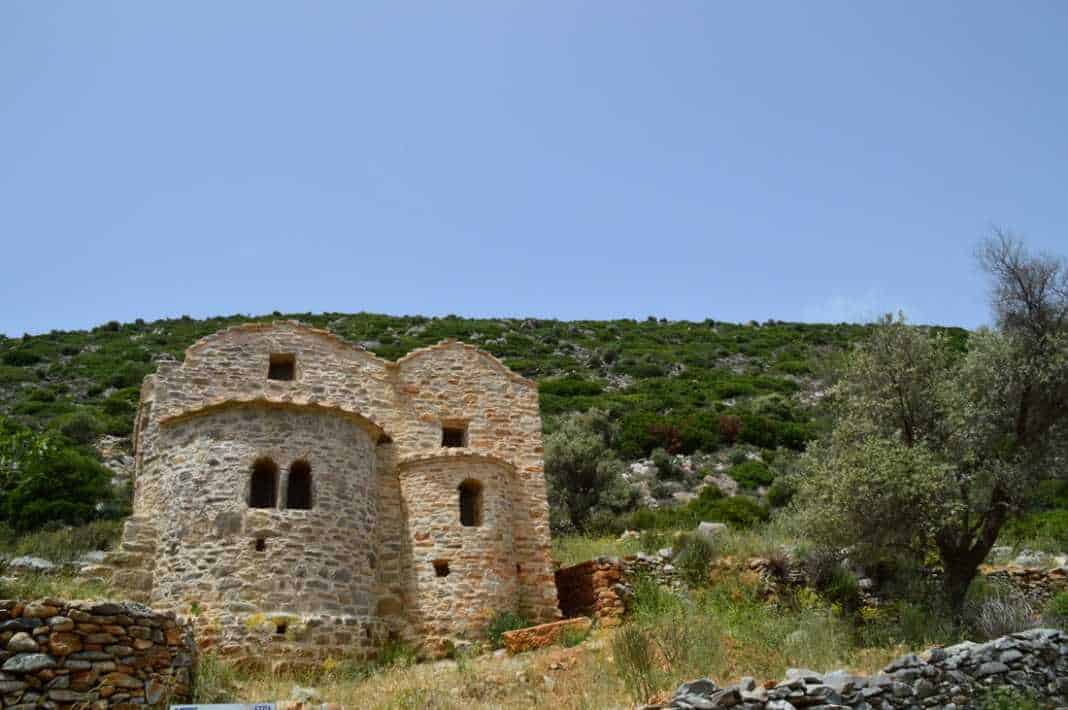 But fortunately, this one came after, and we had a small break.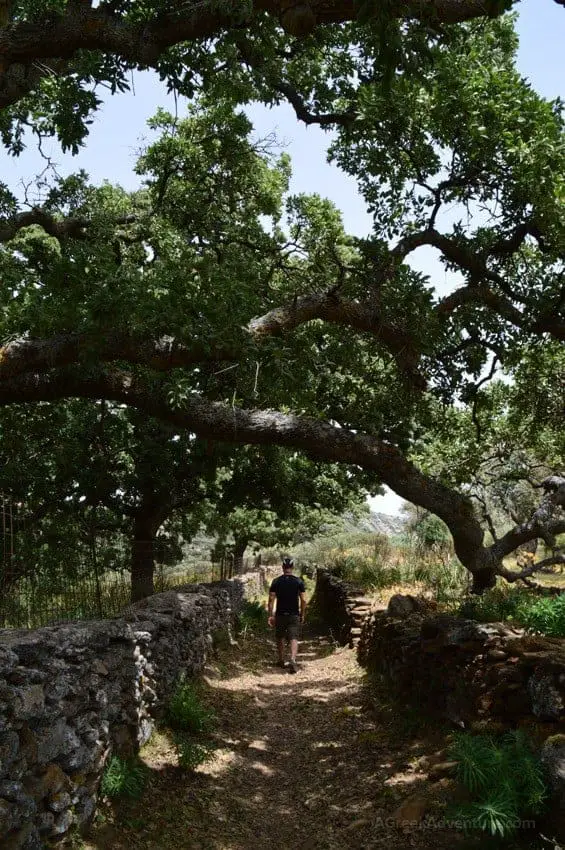 As we were hiking, we met even more churches of different styles.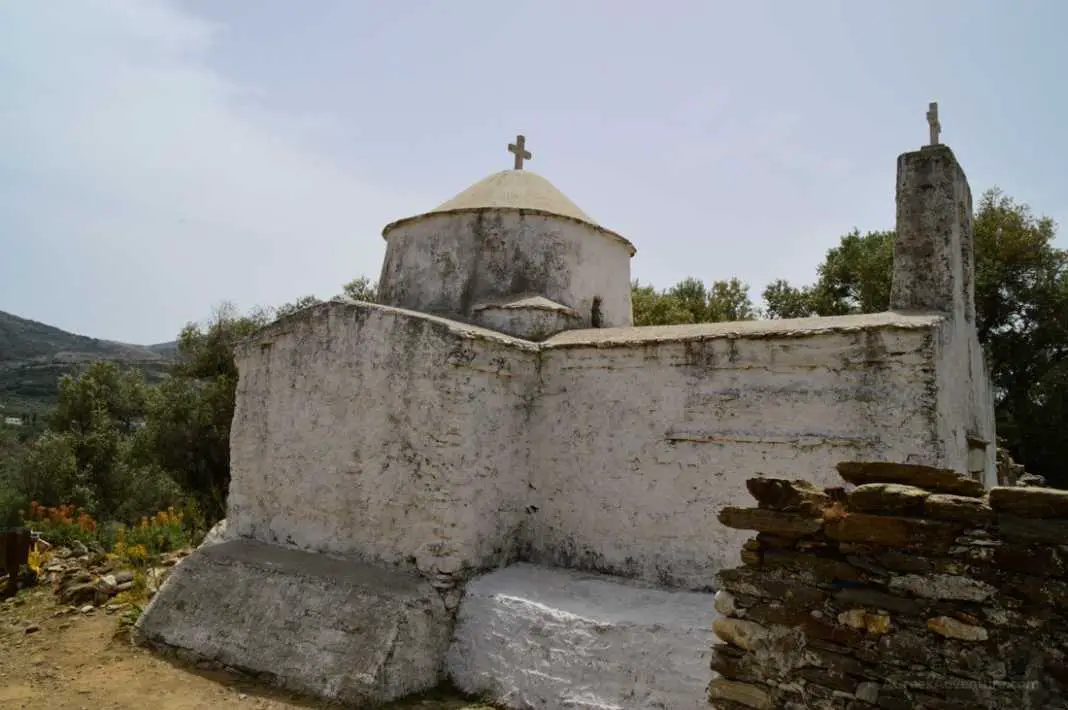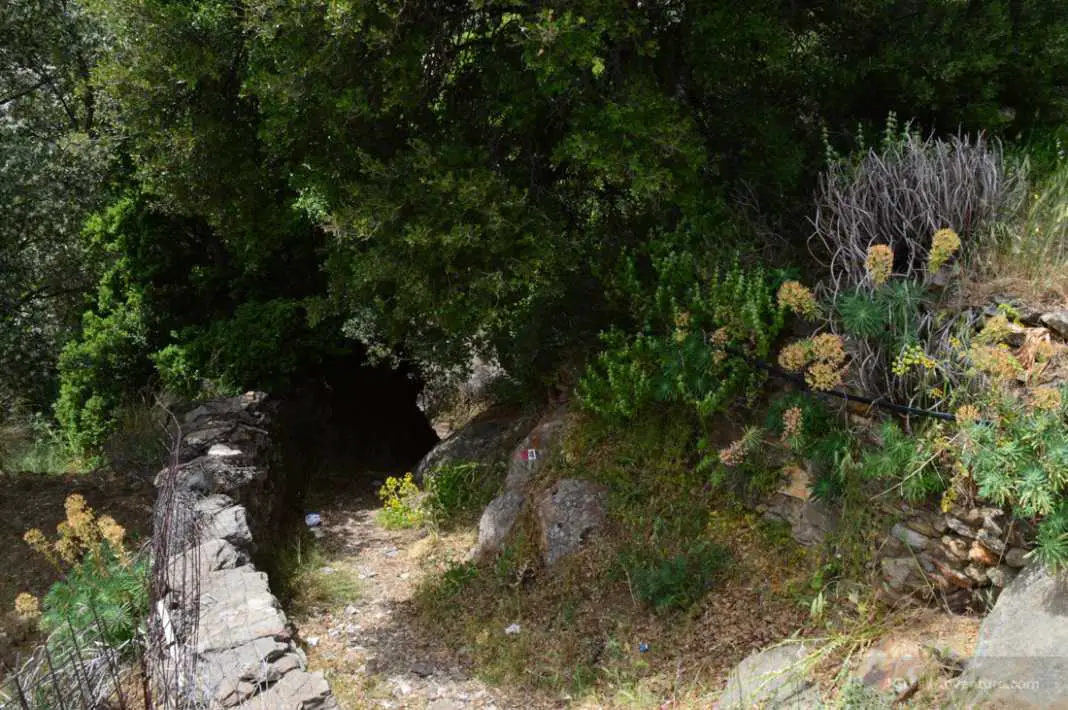 Here we are back to Panagia Drossiani.
Drossiani means "that what gets you cool down." Walking under hot weather for 5 hours, ending up here, and getting cooler was what we needed.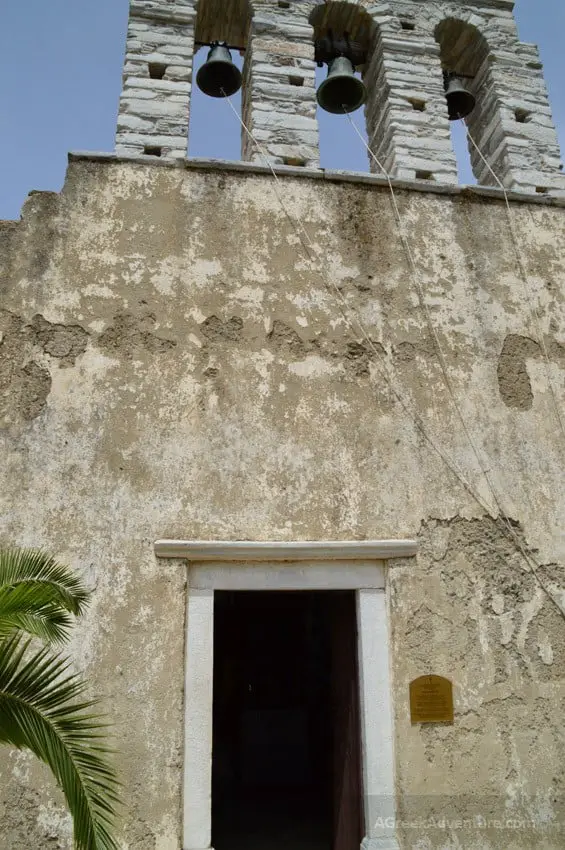 And here is the ELaiolithos hotel where we would have a shower and get ready for lunch.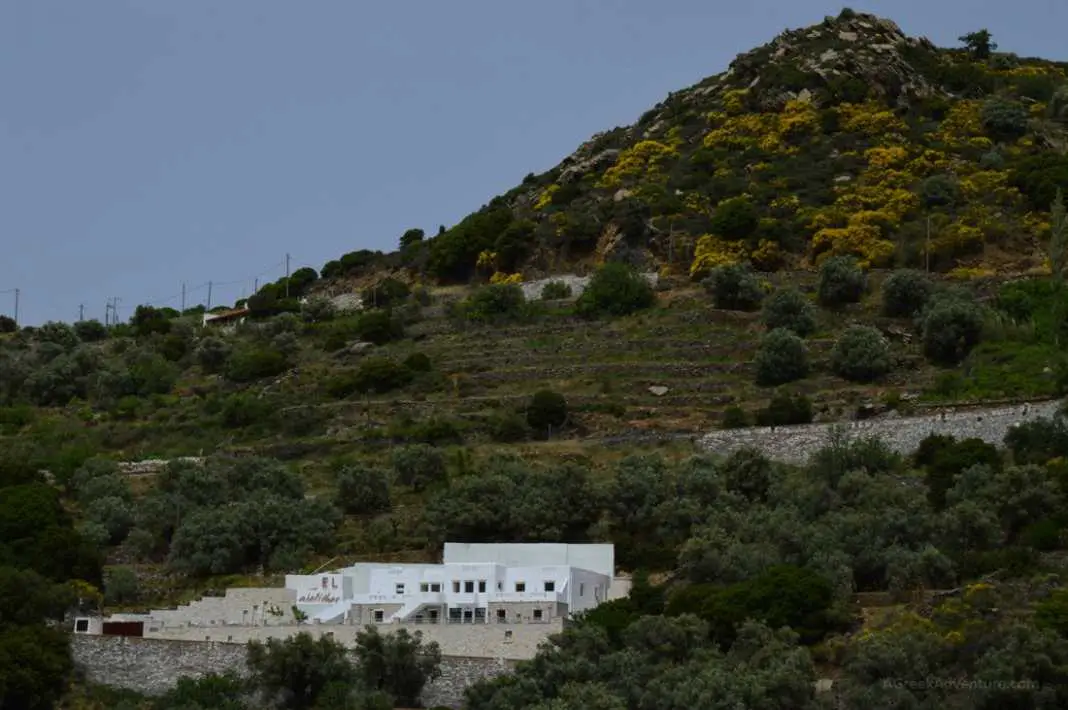 There are even more landmarks along the route, but we have posted enough photos already.
We want to leave many things for you to discover while hiking Naxos and Chalki Village. This location was one of our best on the island.
Apeiranthos Naxos Hiking Routes
This hiking route ends up in the famous Apeiranthos Naxos village (also known as Apiranthos village or Aperanthos) on the Cycladic island of Naxos, Greece.
The route starts inside the beautiful Moni village and continues through forests, streams, and majestic hillsides. You climb a mountain (Fanari mountain) and behind the hill is the lovely village of Apeiranthos Naxos.
The view, both along the route and from the mountain top, is breathtaking, and we mean that.
Apeiranthos was just 15 minutes by car from where we stayed (ELaiolithos retreat), but you have to do this route.
With (many) photo opportunity stops, it may take you up to 4-5 hours.
Ensure you get enough water as there are no visible water springs or supplies along the route, despite the luscious green. See this post for hiking in summer.
Start early to have enough time to stay and admire the picturesque Apeiranthos Naxos village.
Have lunch or snacks and beverages, and then you can easily take another hiking path that leads to Moni village. That last path is no more than 2 hours.
If you stay at ELaiolithos for 5 minutes, you will be in your suite.
The Hiking Route Towards Apeiranthos Naxos
It starts inside Moni village of Naxos.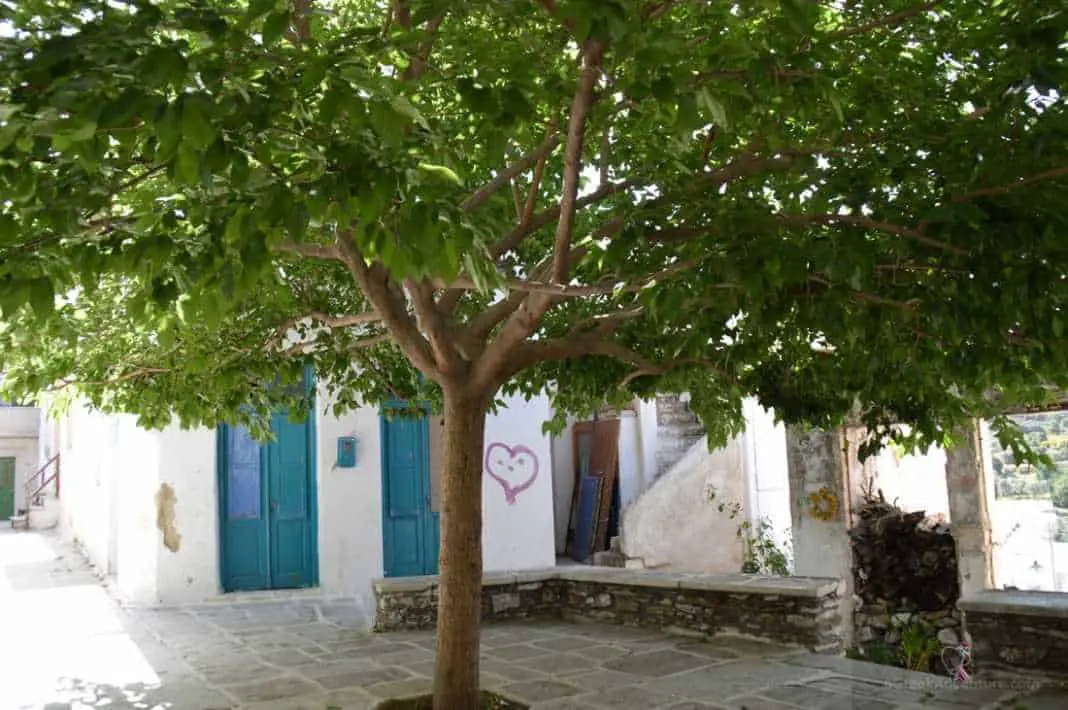 Getting out of Moni village happens through a well-marked set of paths.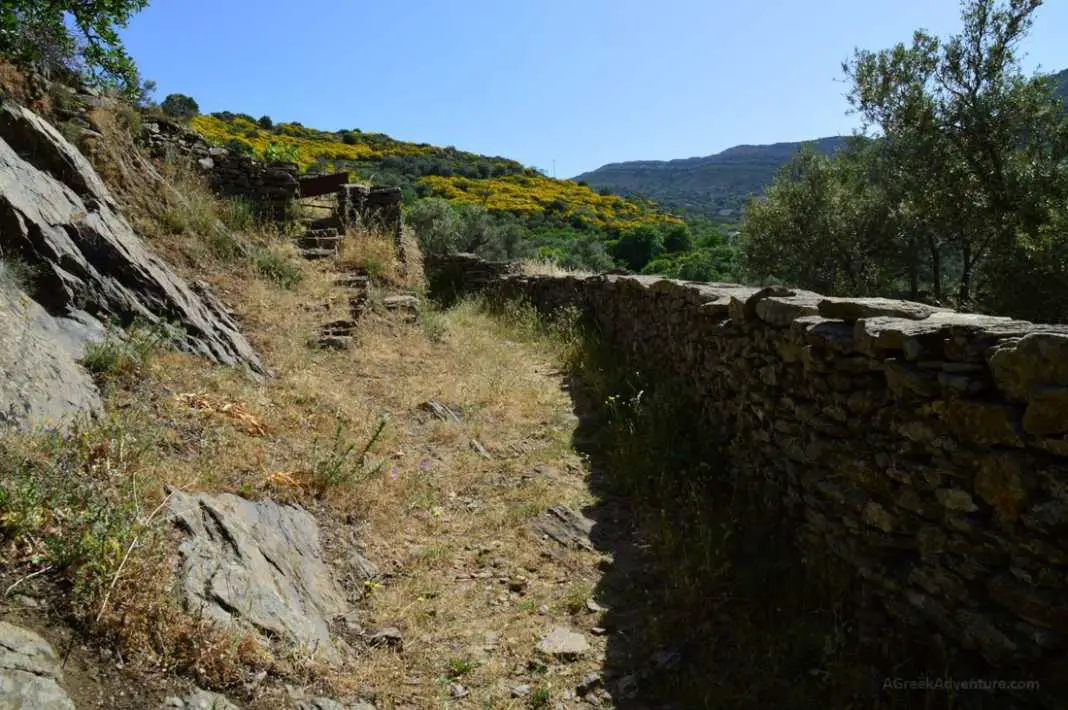 You will end up in a valley to go uphill at some point.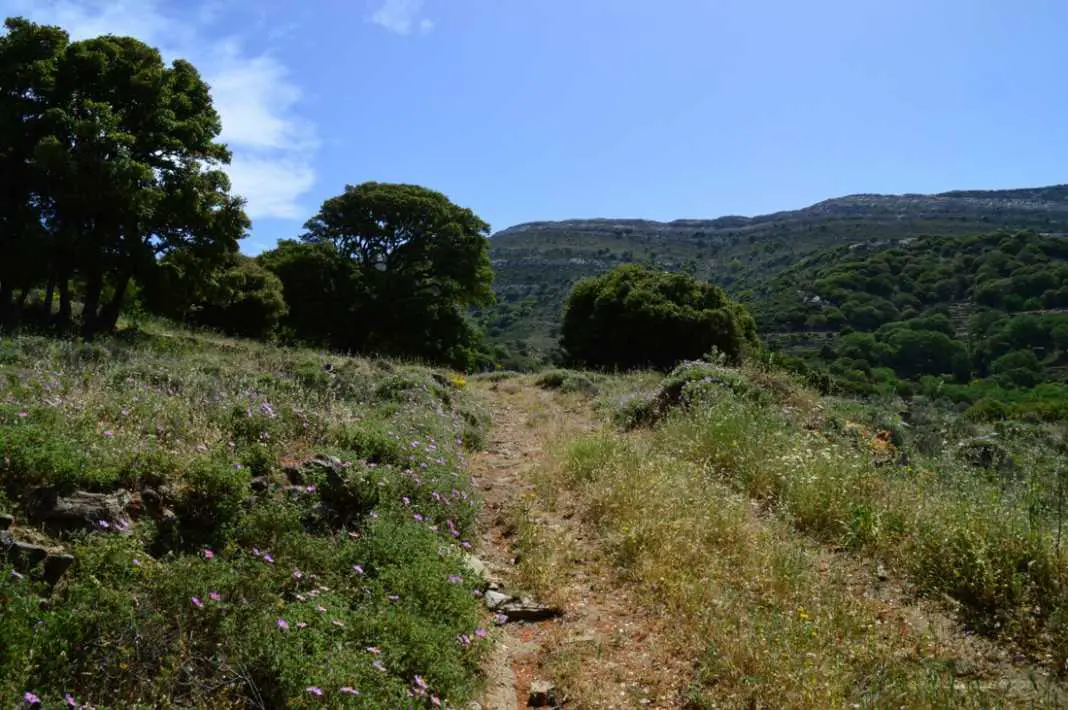 You need to be careful at several points as marks are not very clear.
Better to have a GPS with GPX files loaded as we did. Helen from ELaiolithos made sure we had them.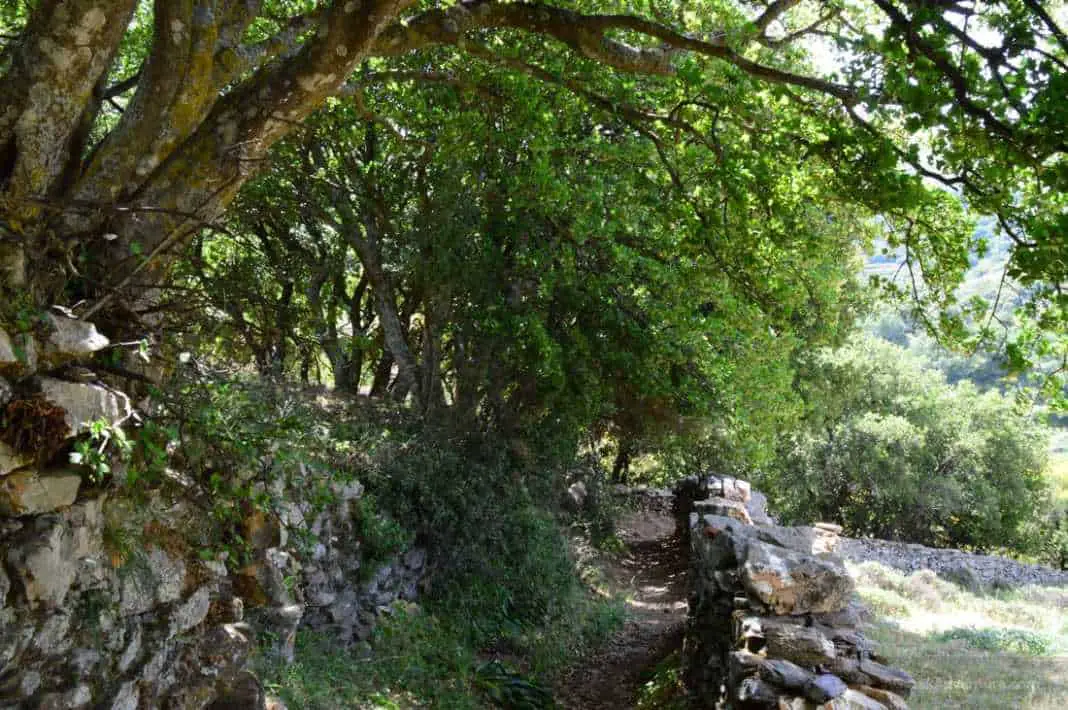 We are figuring out where the correct direction is (despite the GPS).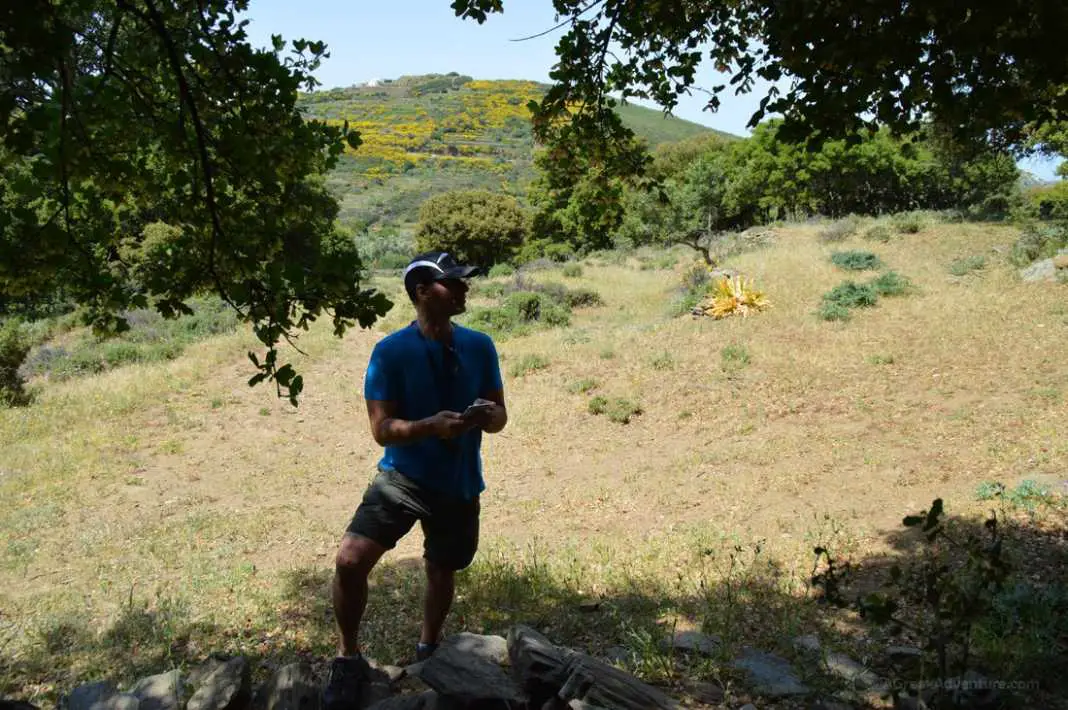 It was… straight ahead.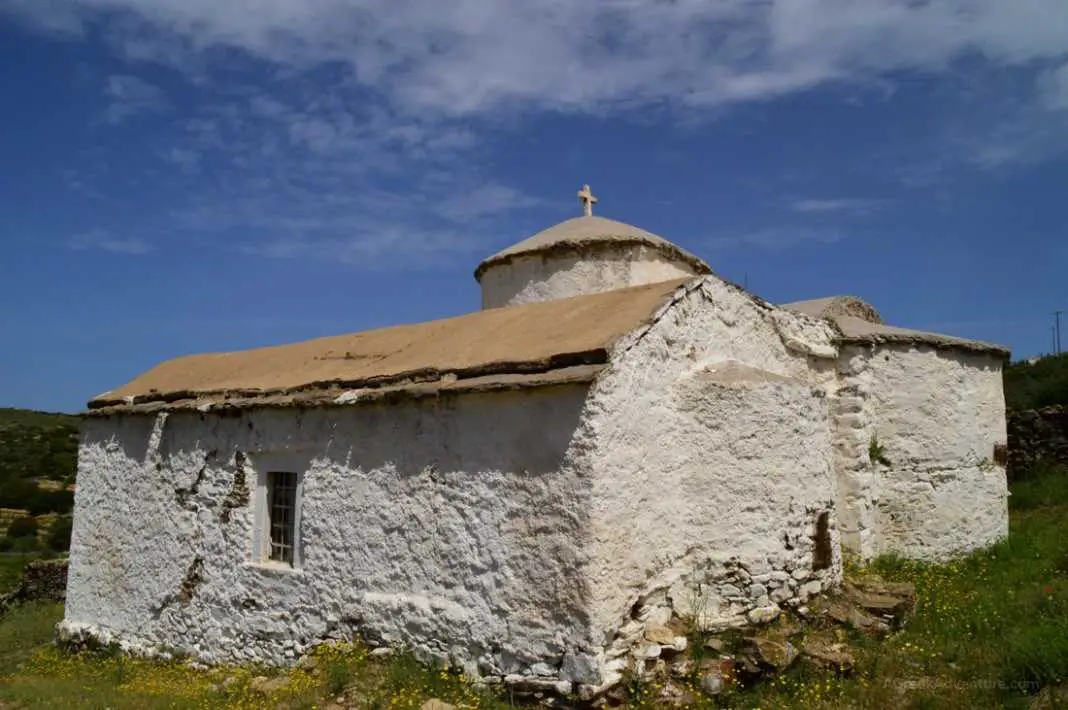 Here is another point where you need to pay attention to the curved paths.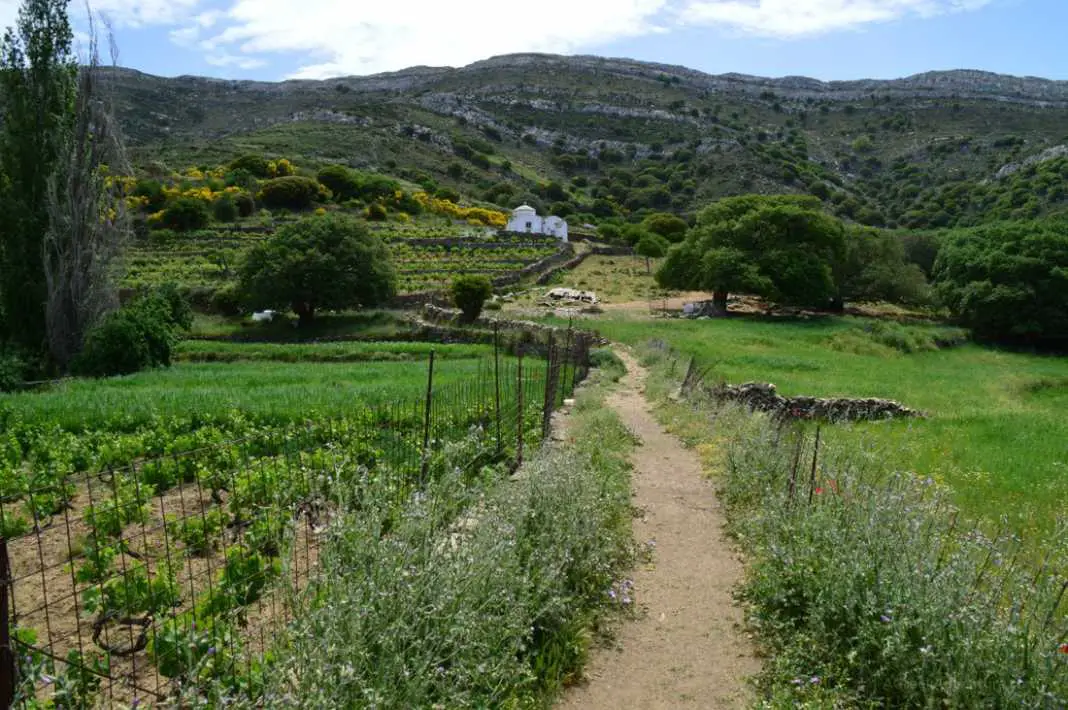 You can't get lost. Maybe delay a bit.
As you go up Fanari mountain, the view is gratifying.
Make sure you have water and some snack. It can be scorching. We did that during May, and it was pretty hot.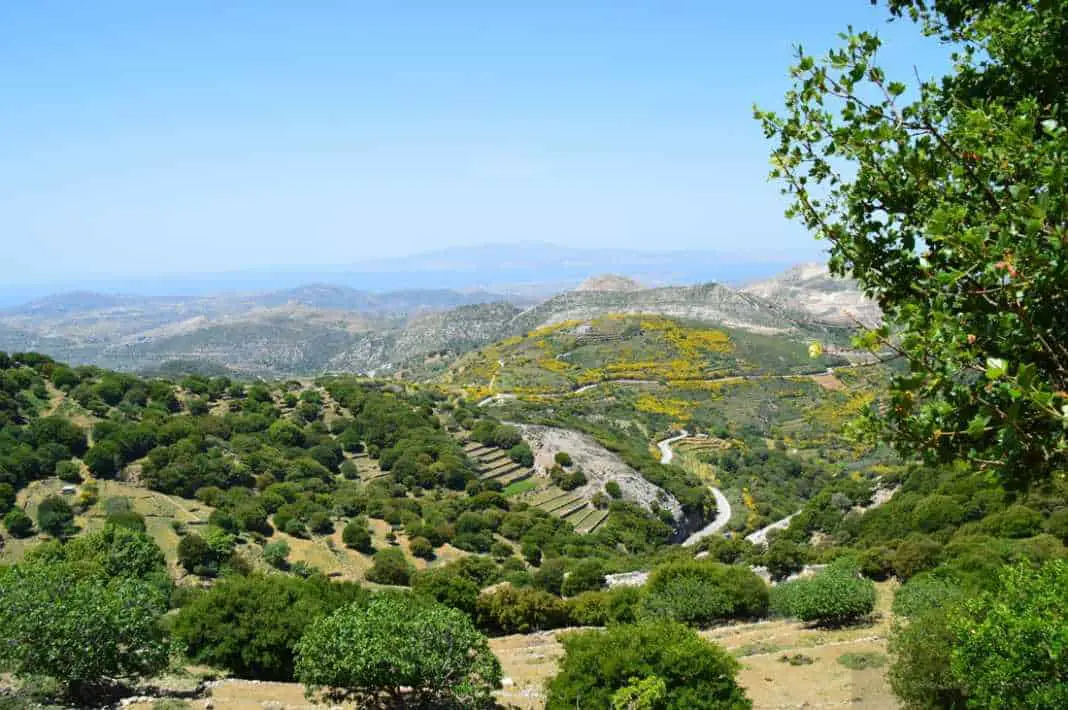 Refreshing view, right?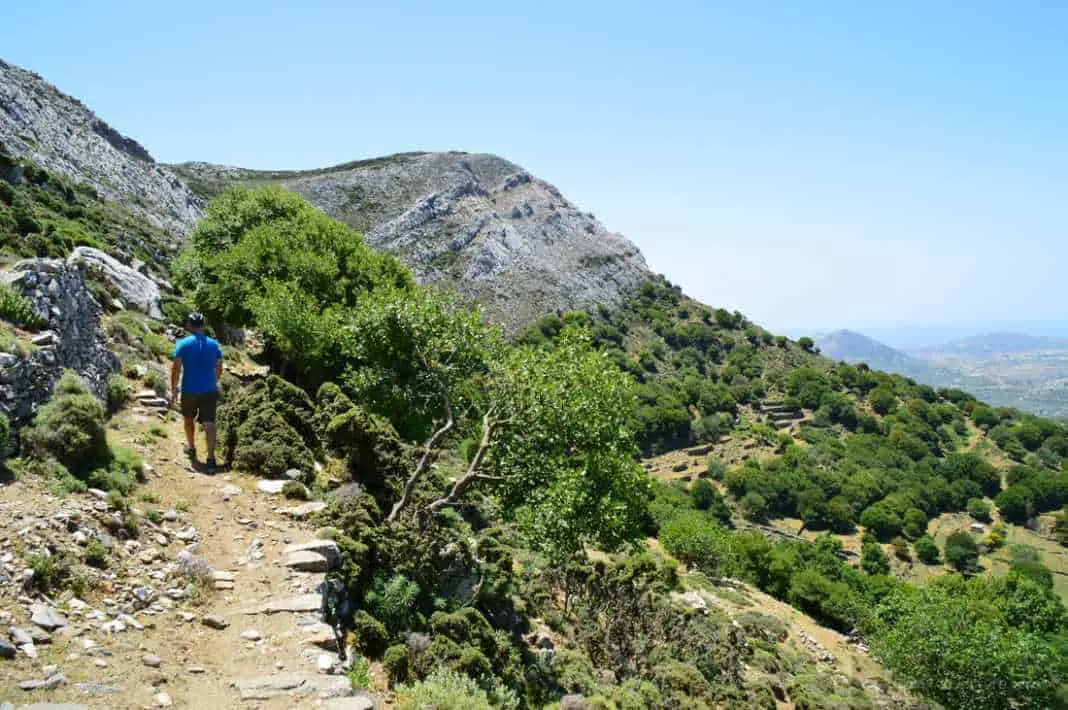 From some point on, the paths are like this one below, so you can't miss it at all.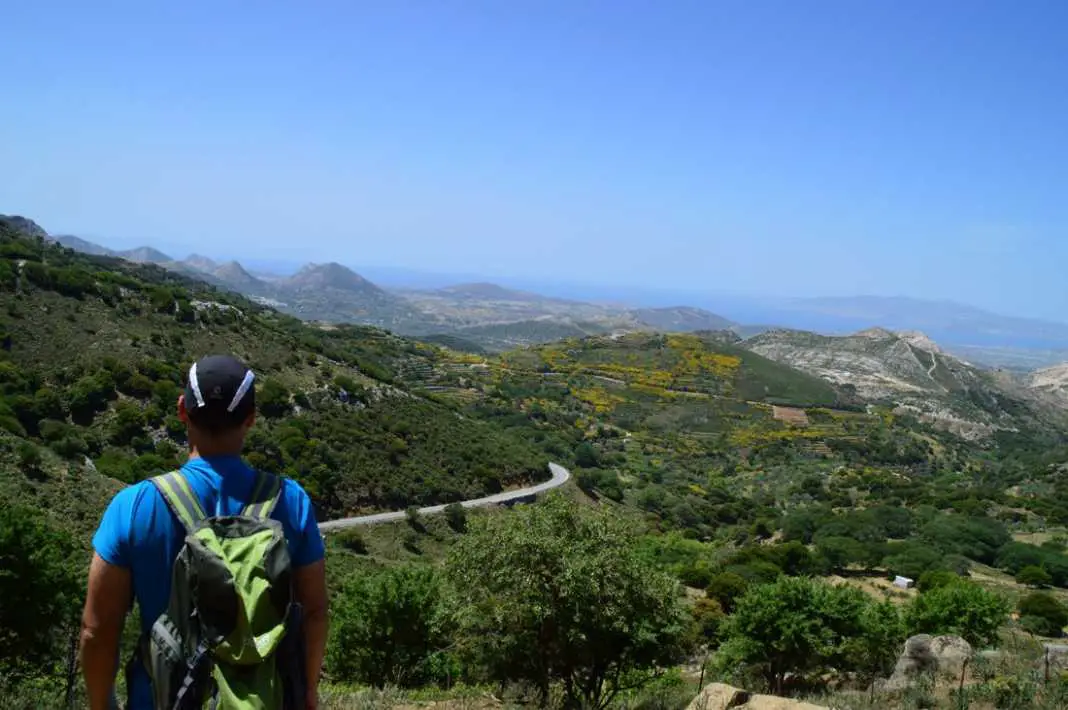 Despite the intense sun, it was a bit windy during that day.
Here is the village of Apeiranthos Naxos.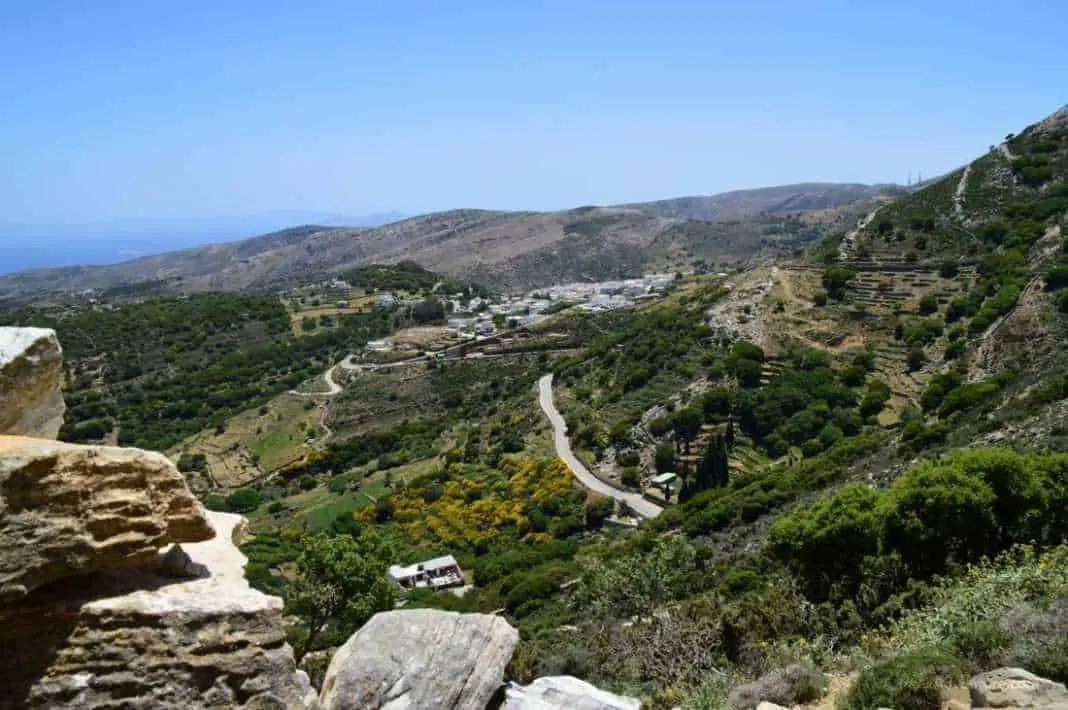 Before arriving in Apeiranthos, you will see that more routes start from there.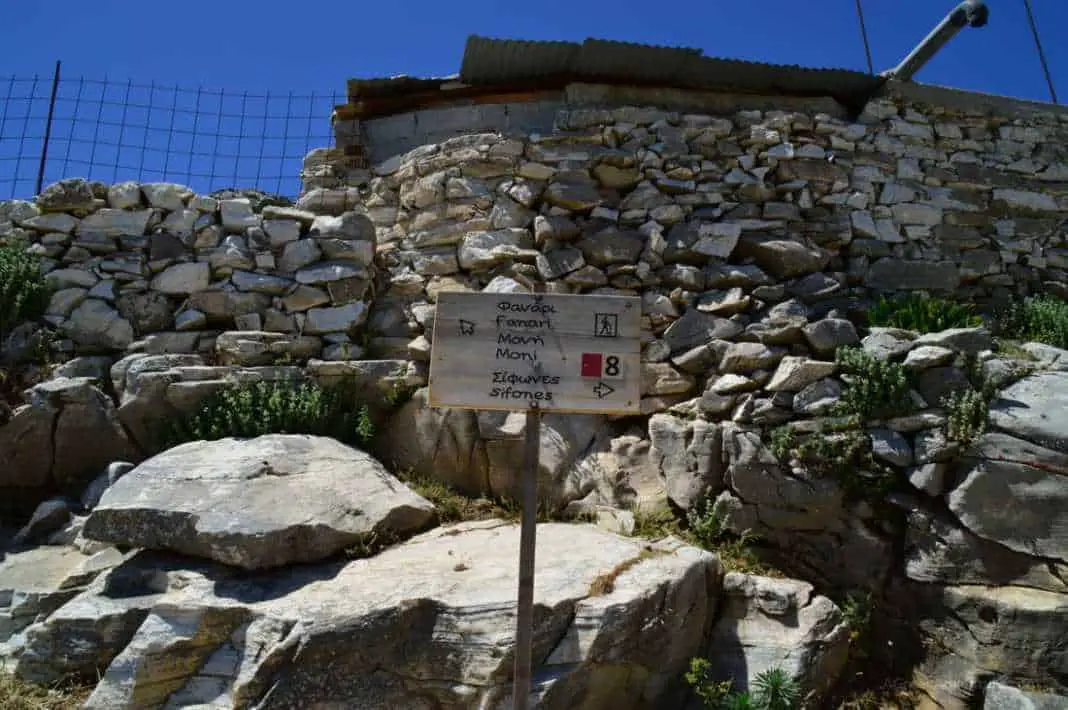 Photo shooting inside Apeiranthos, Naxos village.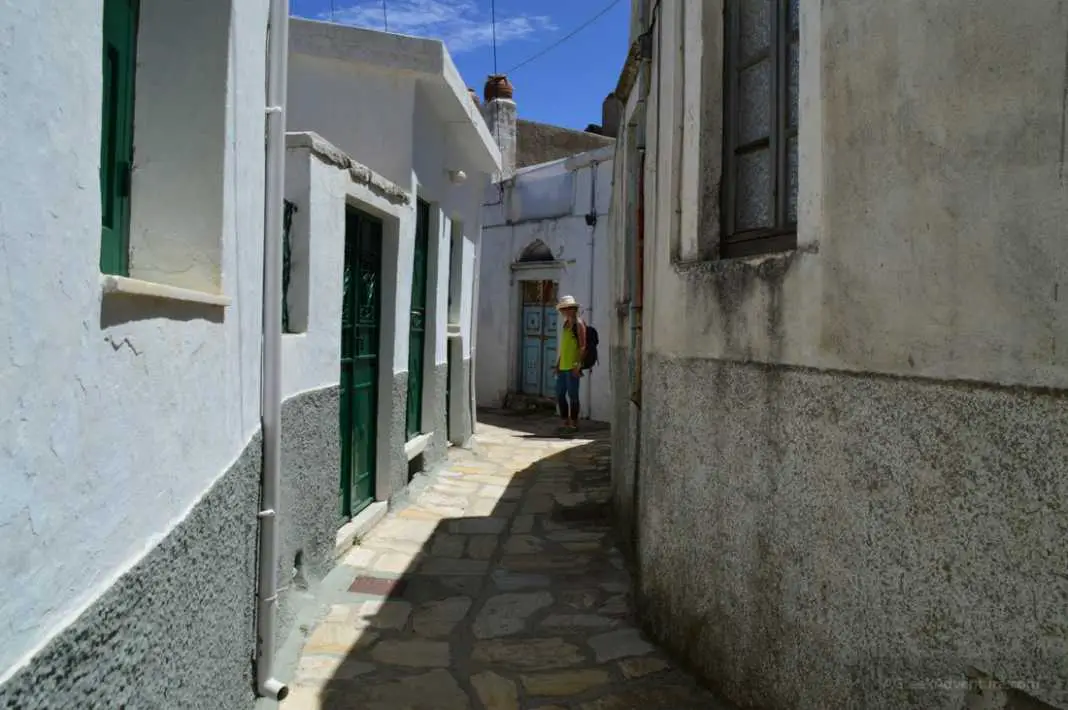 Following Maria around.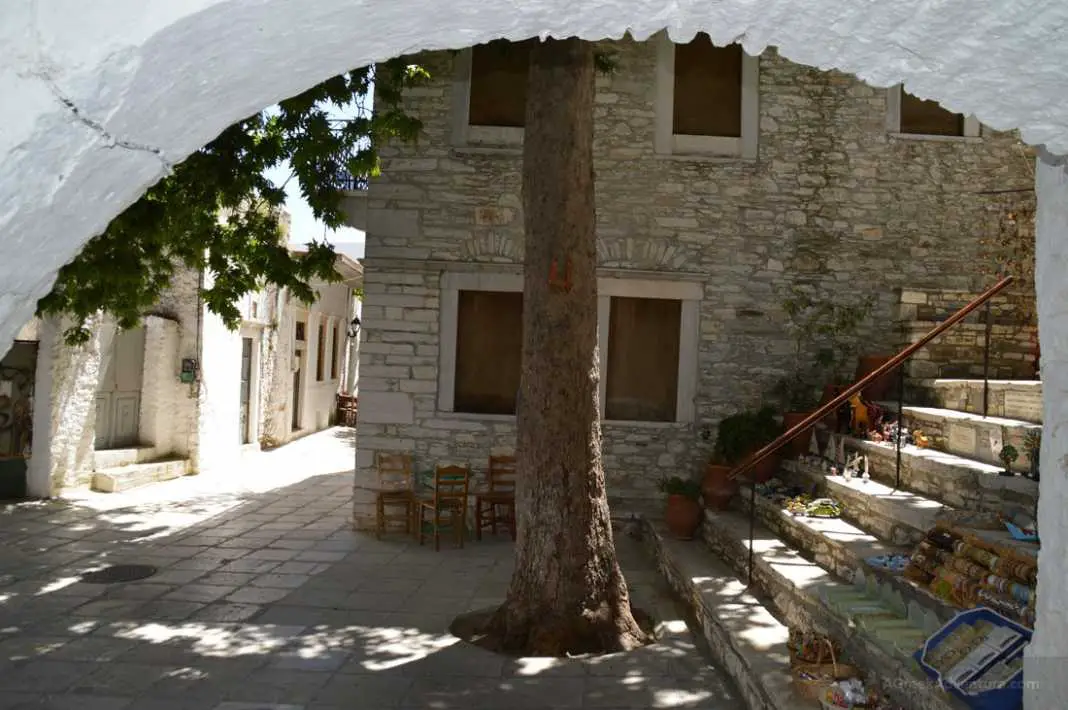 The famous Apeiranthos village main square.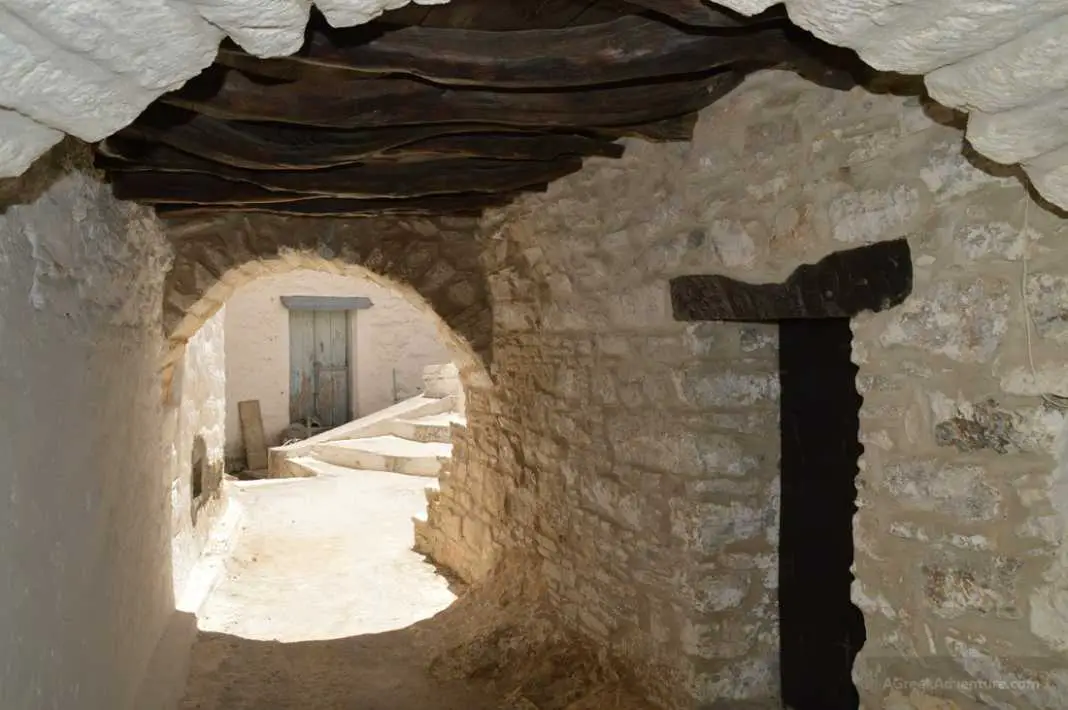 Marble paved streets are everywhere. Very nice refreshments and shade.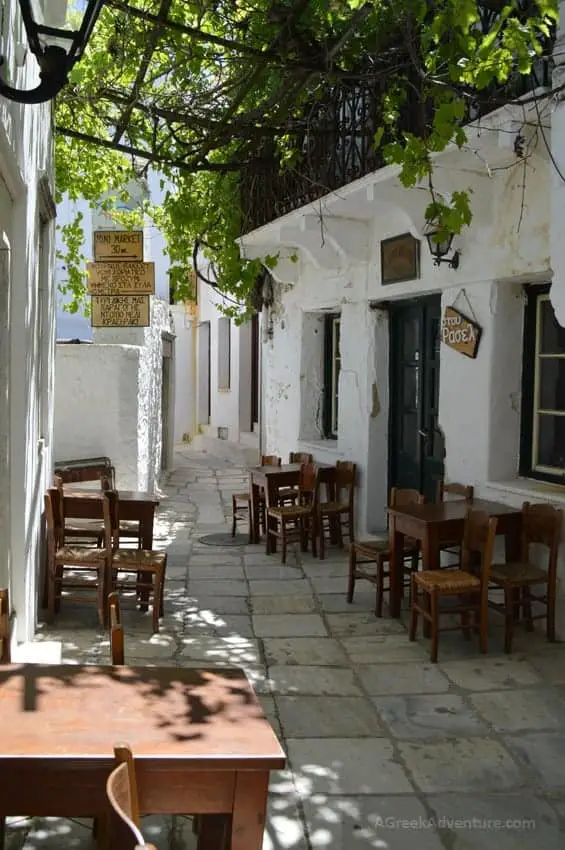 More paths are found to start from inside Apeiranthos village.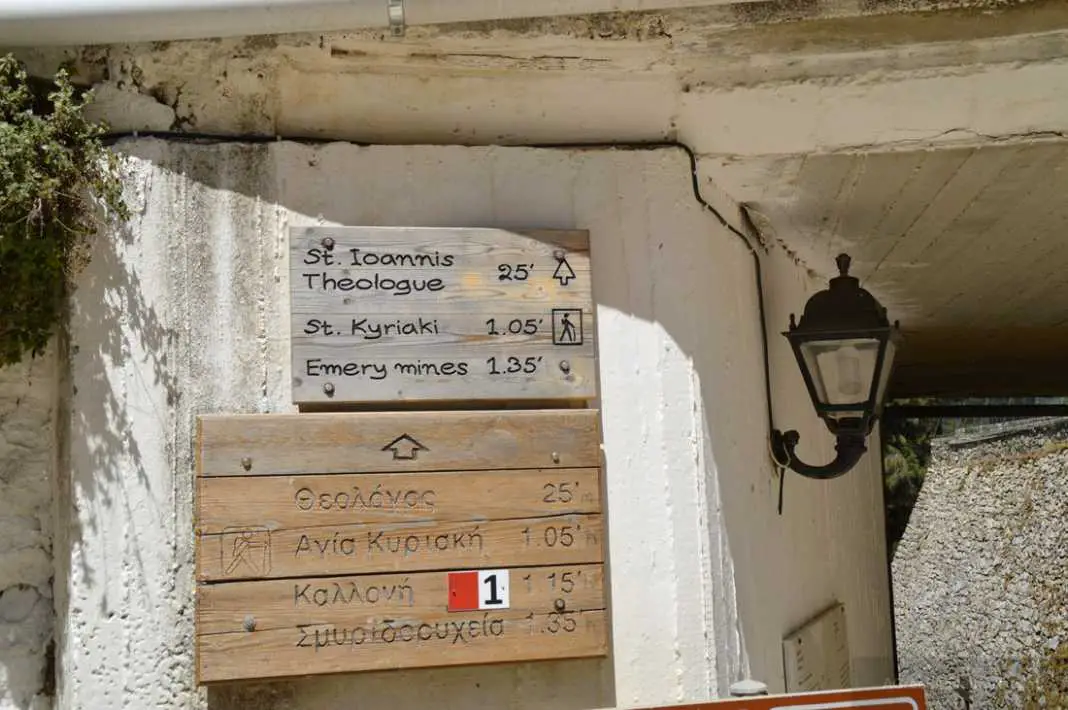 As you understand, there are many hiking routes around Apeiranthos Naxos.
While you are there, you can visit the Zevgolis tower. It is a well-preserved tower that belonged to a family of Venetial lords (the family of Somaripa). 
These days the tower is inhabited.
If time permits and you have the strength after hiking, you can visit the Archaeological Museum of Apeiranthos, Naxos. It is a small museum on the main pedestrian street of the village.
What to See in Apeiranthos Naxos Village
Moreover, you can visit:
The Folklore Museum of Apeiranthos: See the folk art, tools, and yesteryear things locals used (furniture, tools, utensils, textiles, looms, customs, etc.). 
The Natural History Museum of Apiranthos: See the skeletons of bottlenose and striped dolphins along with the bones and skull of a sperm whale and other marine creatures. 
The Geological Museum of Apiranthos: See the 2000 samples of mineral rocks, ores, and paleontological findings from Naxos, and the world, along with a rich collection of marbles from all over Greece. 
Museum of Fine Arts: This museum is housed inside the Cultural Centre of Apeiranthos Naxos. 
The whole island of Naxos is full of hiking routes. You could allocate many days to exploring them all.
This was another route we liked a lot as we visited so many beautiful locations and ended up in the Apeiranthos village.
It was a bit late, and we wanted to go back to the hotel to catch our flight.
We promised to come back to Naxos, which we will keep.
Enjoy.
Have fun!