While snooping around the Cyclades, we wondered what the best things to do in Naxos, Greece, were.
The island of Naxos has many beaches, but were there any other exciting locations we had to see? Naxos is the largest island of the Cyclades. Therefore they had to be.
We asked the locals, and they suggested a lot of things.
We had to pay a visit to Chora (the capital and harbor or Naxos) to go and see the Kouros statue near Apollonas village and the ancient temple of Demeter.
Here is the scoop about the best things to do in Naxos, Greece.
About the Island of Naxos Greece
Unlike most in the Cycladic archipelago, the island of Naxos has a source of fresh water and fertile soil, so everything is organically grown and served on your plate.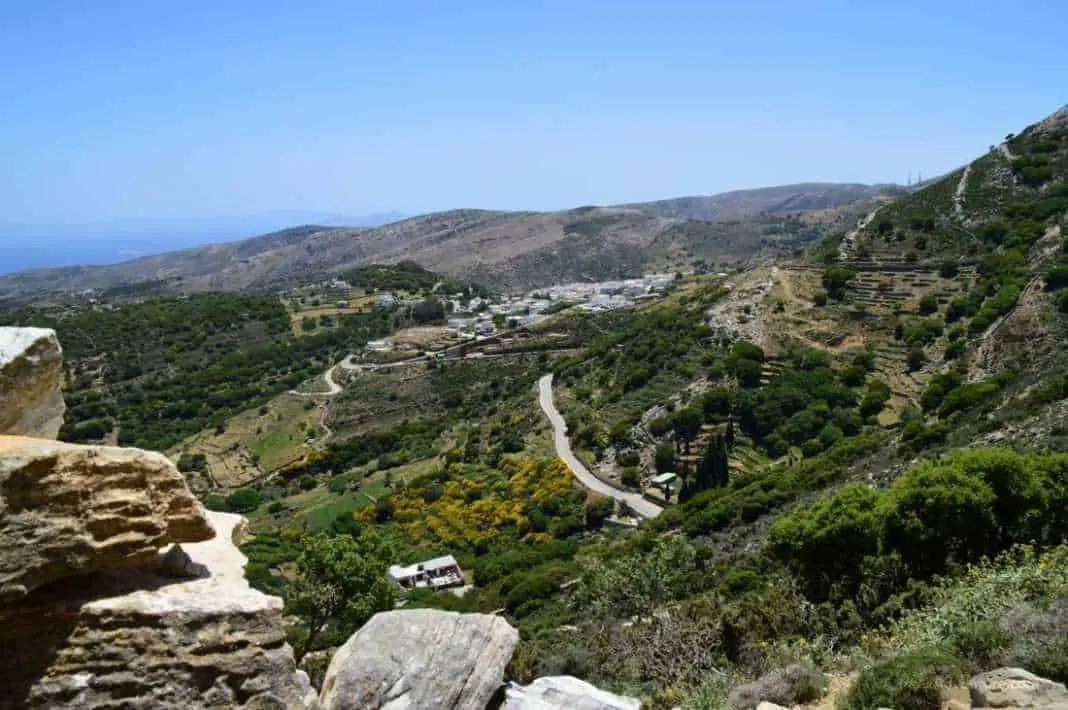 Naxians believe that life is meant to be lived to the fullest in the simplest of ways – peacefully and respectfully with a profound love for family, nature, and friends, both old and new.
Having such a vibrant culture and wild nature that offers excellent diversity around every turn, this lively island is the ideal destination to discover your very own piece of "Pura Vida."
And indeed, you will not miss the "kerasma of raki," which is the raki drink on the house.
A passing by a local tavern- kafeneio (traditional village hang-out place) always hides secret surprises and lots of laughter.
Locals are very hospitable and friendly and love to open conversations with the tourists where the jokes play a significant role in having fun and be happy.
Happiness is not a private affair: it can be more readily achieved in a society where like-minded people band together to help inspire one another's the pursuit of happiness. Naxians are just like that; this runs on their DNA.
Local life is diverse, and people are remarkable in every way to enjoy your journey in the mountainous villages.
What are the Best Things to Do in Naxos Greece?
The most famous iconic theme in Chora of Naxos is Portara.
It means a massive door. When you see it, though, you can't afford to think of it as a stargate out of this world.
It is massive (around 6 meters high and more than 3.5 meters wide) and imposing. 
Portara consists of four significant pieces of local marble. Each piece weighs several tons.
Perhaps due to the weight of these pieces, Venetians could not use them as a building material for the castle at Chora. They used several pieces from the rest of the temple, though.
According to mythology, it was here where Dionysus saw Ariadne.
He fell in love with her and kidnapped her to be his wife.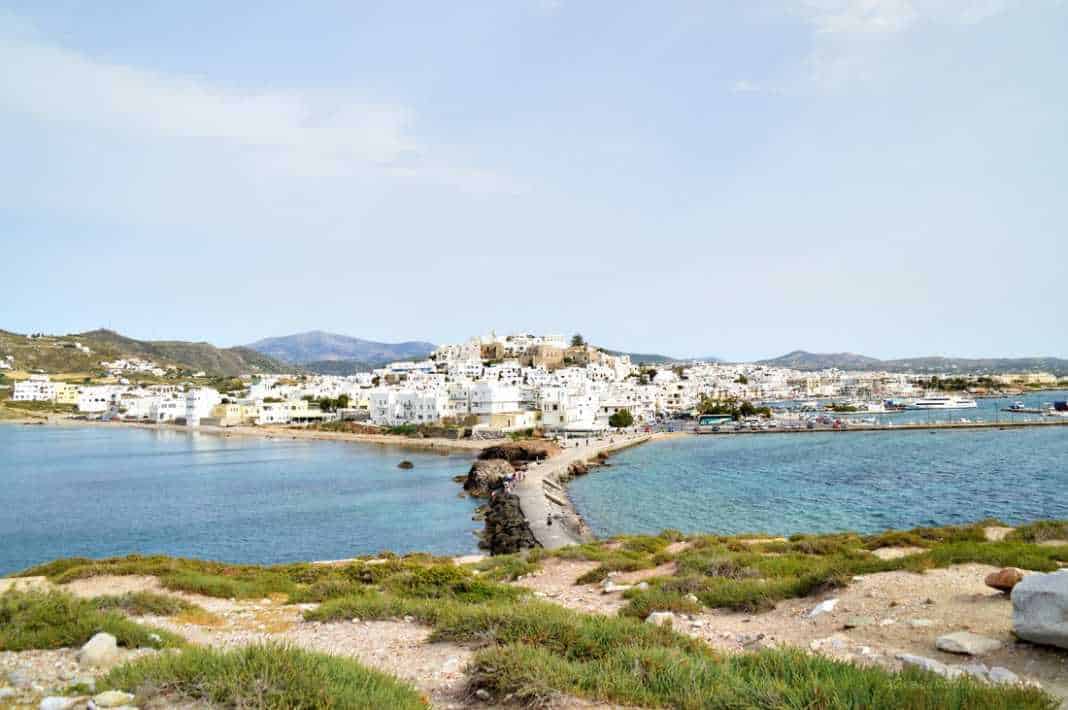 This is one of the essential art themes worldwide; the kidnapping of Ariadne.
The location of Portara is on a small piece of land called Palatia, which was once a hill but is now a separate tiny island connected to Naxos by a causeway.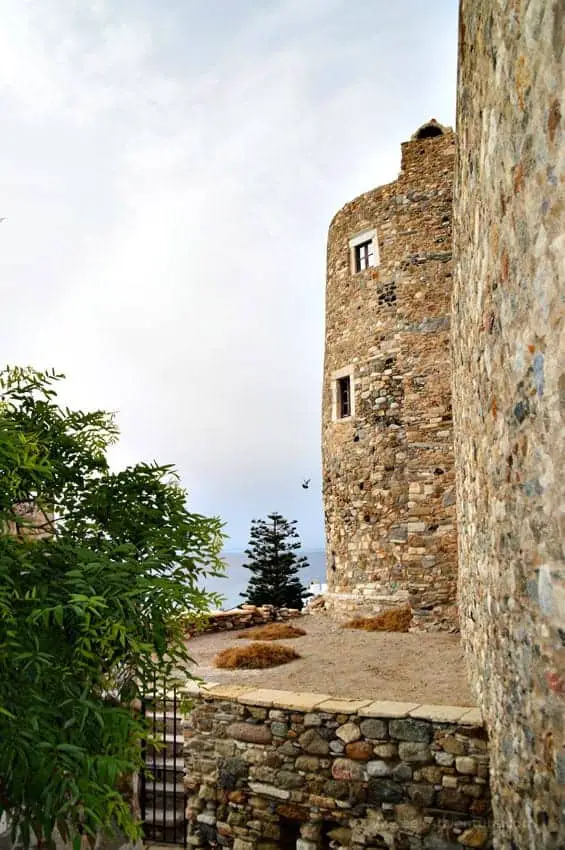 The castle area is a typical island build with houses next to each other, arches, and narrow corridors, while secret squares and small gardens suddenly make their appearance.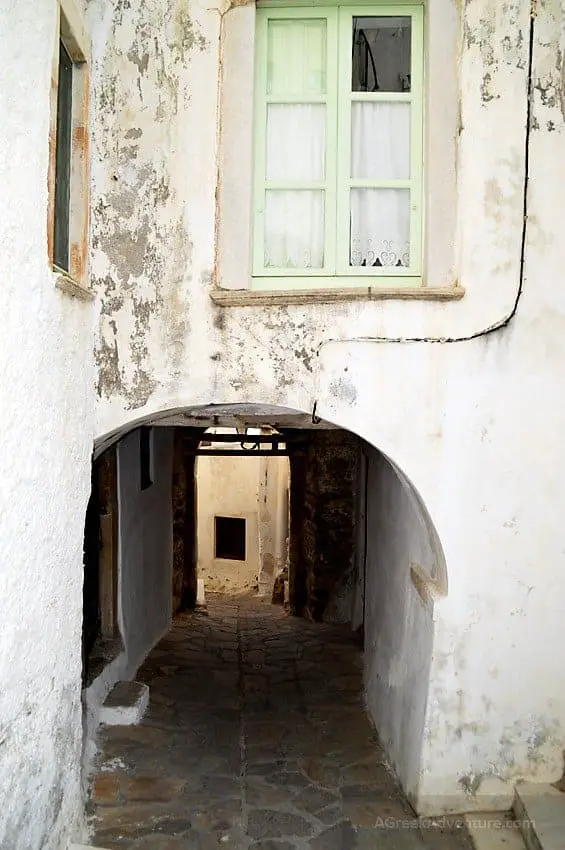 Temple of Demetra in Naxos, Greece
This is located near Sangri. It is an organized archaeological place, and it is easy to get there either by car or a scooter.
The temple dates from the Naxos high point of 6th century B.C. (between 530 and 520 B.C). It is entirely made of white marble.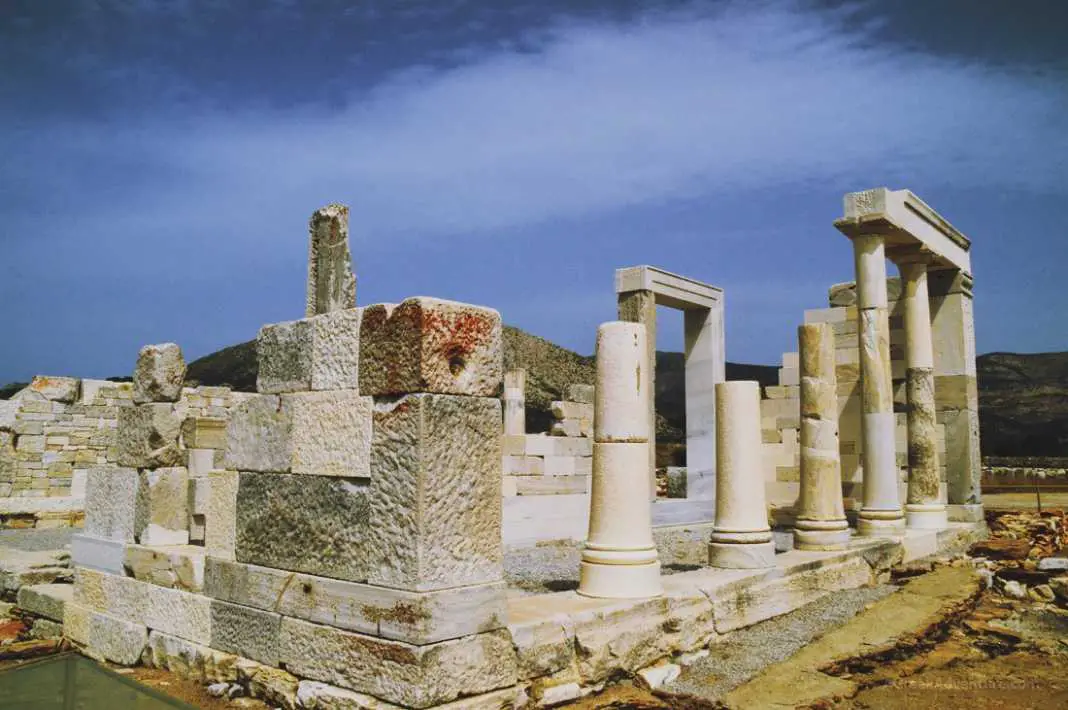 During the 6th century, the ancient sanctuary was turned into a Christian basilica church.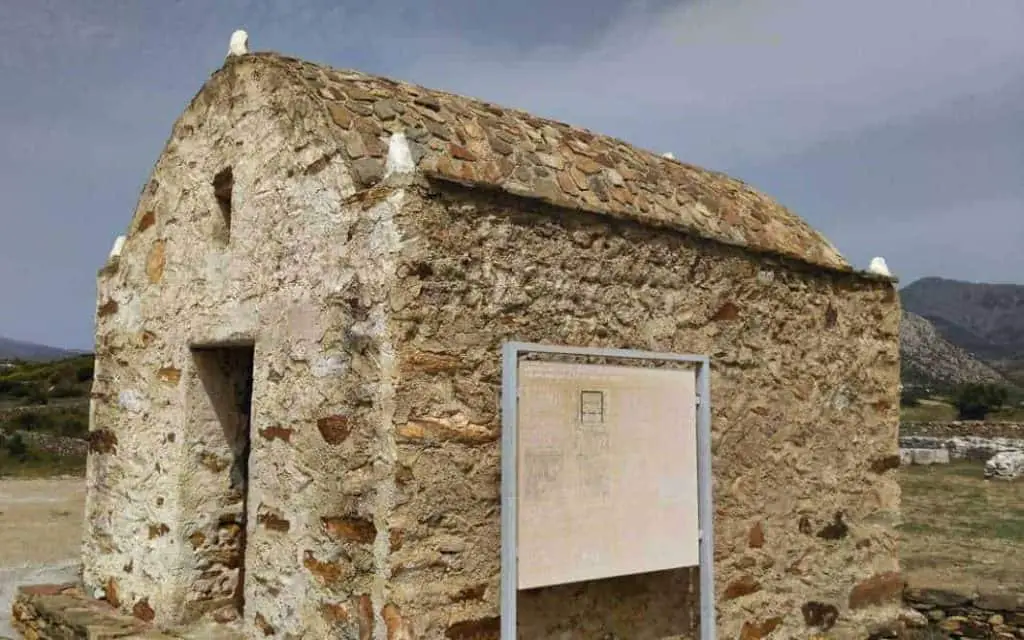 There is also a two-room museum where you can see the ancient temple and the Christian one.
Kouros of Naxos, near Apollonas
As you approach the village of Apollonas in Naxos, Greece, there is an ancient quarry.
A 10m long unfinished statue is resting on the ground, maybe waiting for the sculpture to come and finish it.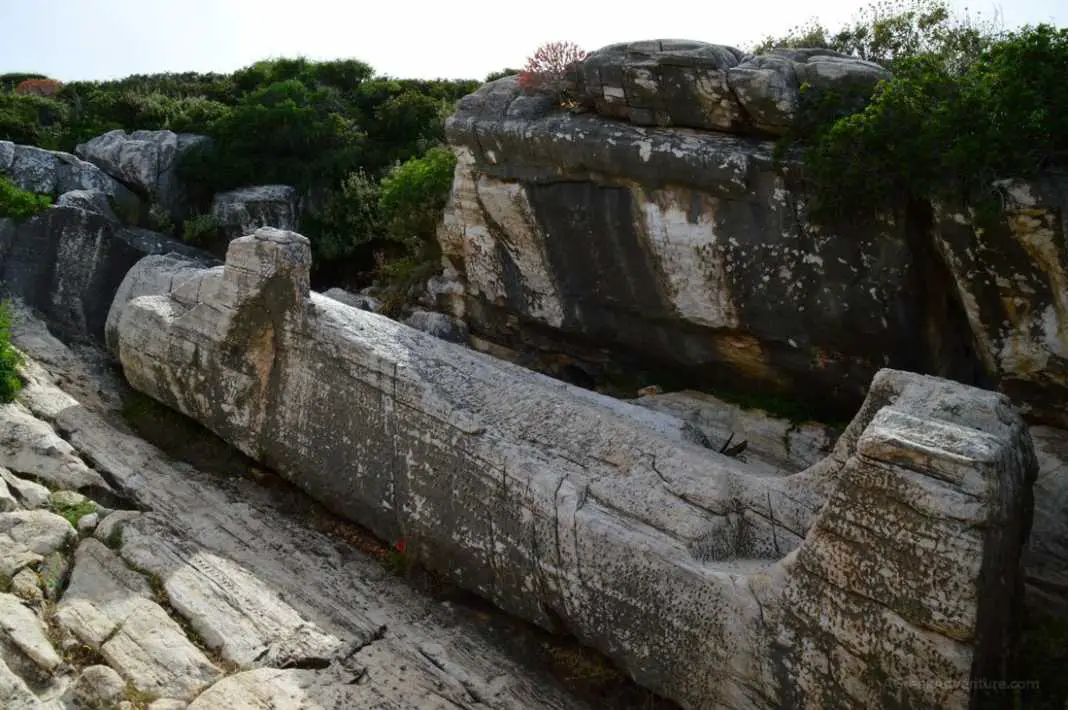 It is rather impressive to acknowledge the size and proportions of it.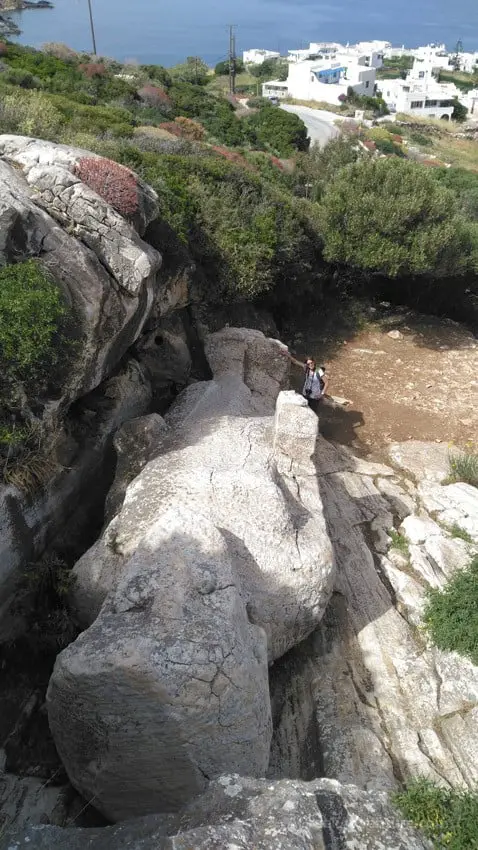 Apollonas is a small picturesque quiet village where you can have coffee, lunch, or -why not- a swim to cool down.
These locations were no more than 30-40 minutes distance from our accommodation at Elaiolithos Luxury Retreat, so we organized the day around them, including swimming at sea near Chora.
Village of Kinidharos
Nestled on some rocky hillsides, this village is pretty close to the center of the island itself. The town is in all a famous traditional folklore island music.
Here, you will meet top folklore musicians from Greece and around the Mediterranean world.
They take part in numerous live shows, concerts, and great performances. You cannot afford to overlook this destination at all if you are a lover of music.
Its inhabitants are the best dancers on the island with fantastic dance techniques.
In this village, dance is found in the DNA of its people. While here, you can eat the best Naxian steak in the "Taverna tou Vasilarakiou" and taste the delicious Greek honey dough sweets called "loukoumades" at the "Loukoumagos Cafe."
Both places are a local culinary experience!
Also, in Kinidharos, you will find the "Garinou Spring," a natural water spring with its water to be un-spoilt, uncontaminated, fresh, and nutritious.
Most of the western villages of Naxos get their water from this spring.
The path to this spring is an adventurous one with the fantastic wild landscape, and the famous Aghios Artemios church is in the same way.
The Marble Quarries
If you are a geography and geology student or cherish nature, the marble quarries are there for you.
They are located a short distance from the Moni village. In all, these spectacular marble quarries are of unique geological interest.
The logic here is that they are breathtaking to the eyes and provide excellent geological studies and experimentation opportunities.
As we all know, Naxos is famous worldwide for its marble due to its Crystalline nature.
The Sphinx of Delphi and many statues on the sacred island of Delos were made from Naxian marble.
Village of Lionas
At the surface, there is almost nothing unique or spectacular with this village of Lionas. However, a closer look reveals an entirely new world.
The village comes in the form of a picturesque seaside settlement that is great to behold.
Moreover, it is also home to two taverns.
The scenery is very wild, and you might, therefore, want to spend a bit of your time to view and even photograph these ships.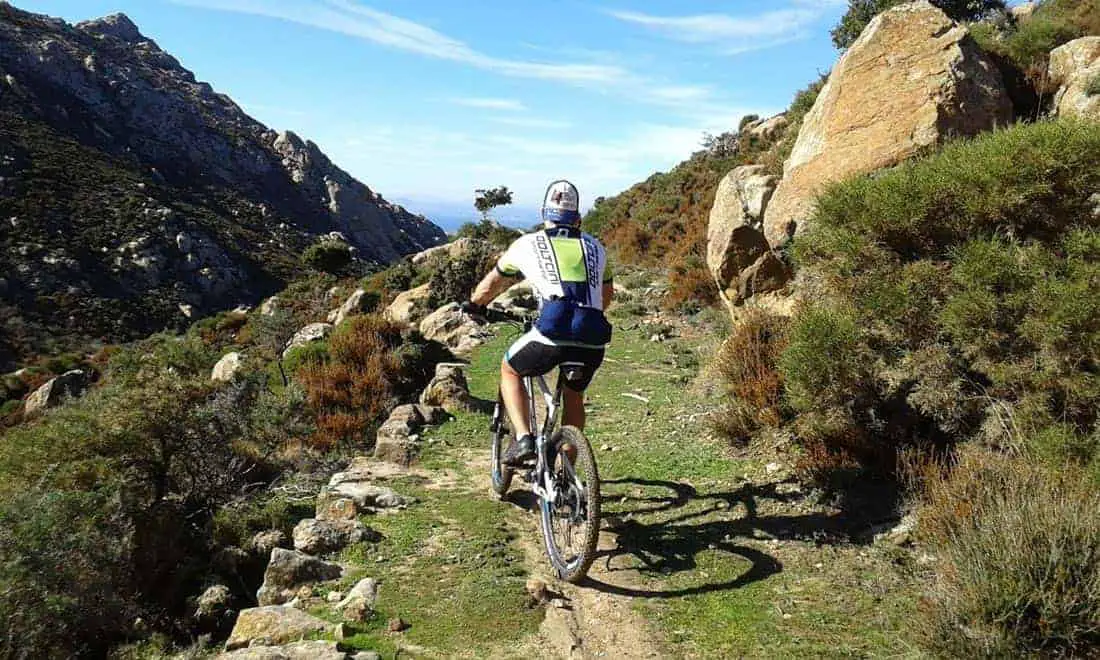 Keramoti Village
The picturesque village of Keramoti is seemingly cut off from civilization, located steeply down from the Koronos mountain. It has an incredible 2 Km hiking path that goes through pristine landscape scenery to the famous natural Routsouna waterfall.
It comprises some small and squeezed alleyways, which are mostly inaccessible by cars.
It is on the whole sprinkled with stone-walled houses, some of which trace their origins from antiquity.
This village keeps intact its traditional character that is fully preserved and has stayed away from tourism.
Being cool and detached from the mainstream, this village is a perfect place to take a breather.
While at the top of the road, you will also be able to look down and gaze at the beauty of the entire island.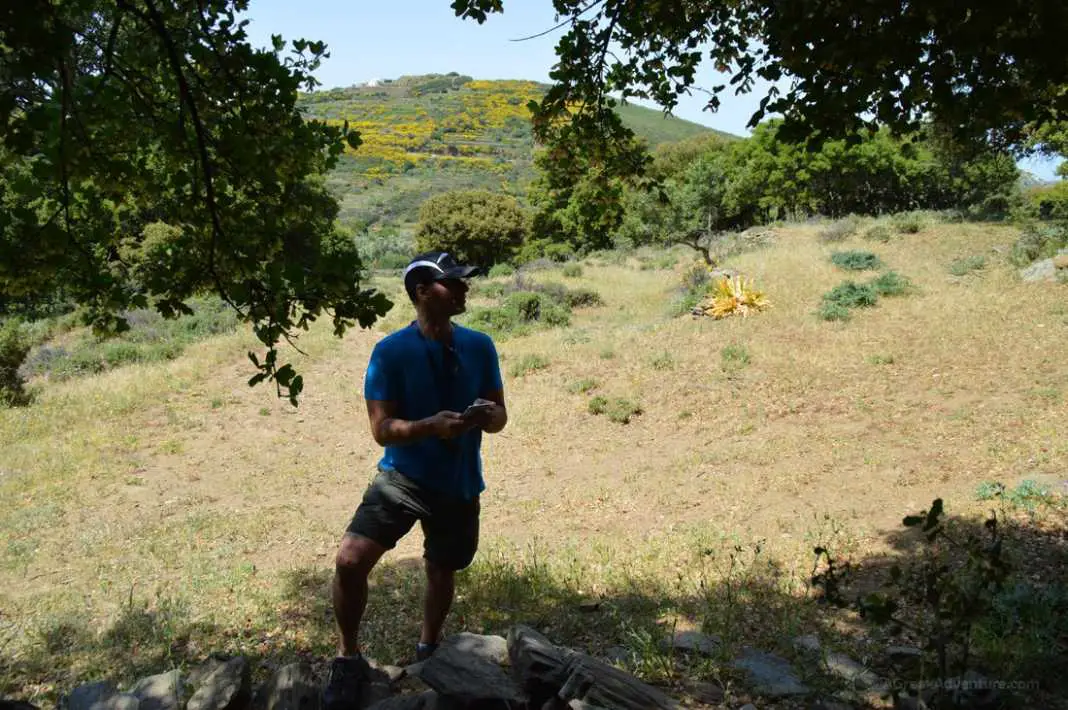 Koronos Village
This is the little Italy of Naxos, as Helen says. A  traditional unspoiled village with 2,000 steps that leave its visitors breathless.
Build in a clifftop; it is a fair settlement constructed with unique whitewashed houses, romantic narrow streets called "sokakia" with stone arches, and a fantastic view of the surrounding villages and the Lionas beach.
The village is quiet, and tourism is almost not existent, but its authentic and traditional character captivates you at first sight.
There are two places to eat here, the Matina and the Dallas tavernas, that serve local cuisine.
We loved our visit to the "Favas Kafeneio," a traditional gathering place for the old people where everyone in the afternoon gets together and talks almost about everything.
This was a memorable stop during our trip because it was an authentic local experience. You sit down with the locals, and they treat you raki accompanied with bread, olives, and cheeses.
This one got us!  It has a unique vibe, blessed with beautiful people and culture.
Komiaki, Mesi and Skado Villages
These three are mountain villages of Naxos. They are very similar to Arahova ski resorts near Athens.
In their entirety, they exude some wild beauty and breathtaking ambiance. These are the places to be if you dislike congested urban lifestyles.
Their relaxed, calm, and detached nature makes them great for unwinding, meditate, or relax before proceeding with your daily hustles.
Kalamitsia 
Are you a lover of outdoor activities? If you answered the question in the affirmative, this is the place to retreat to.
It is detached from the congested urban lifestyles and cool enough to allow for complete relaxation.
It is an imposing complex with lots of history behind it and has kind biblical views in its interior and exterior. Helen says that as Rome has its Colosseum, Naxos also has its glorious edifice- Colosseum.
On the whole, it is rich, very secluded, and fresh enough to allow for complete rest and recreation while outdoors.
The Monastery of Fotodotis Christ at Danako village
This castle monastery is situated to the north of Danakos.
The structure is not only a silent reminder of the glorious past of the Grecian empire but also accords you some great views of the island itself.
This is not to mention the great photo opportunity as well. Do squeeze some time to visit the facility while on a tour of the island.
Drimalia or Traghaia Valley
You have no better place to experience the history of Greece than in the Drimalia or Traghaia valley.
It is generally considered as the Mystra of the Aegean, given its fortified nature.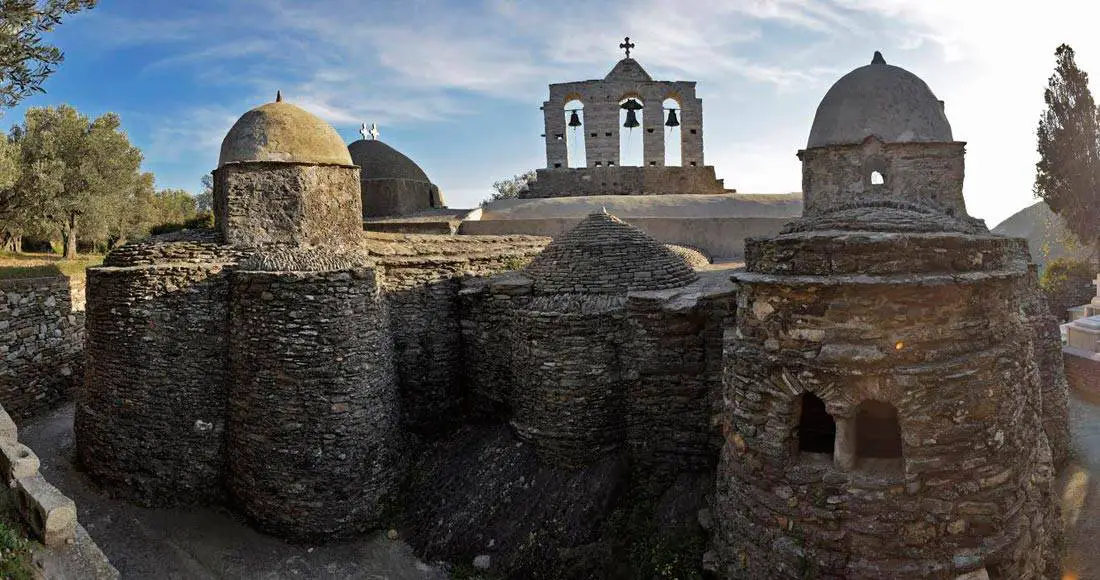 The locality contains numerous Byzantine churches, the most prominent being the Panagia Drosiani.
Perhaps this is a place to retreat to more if you want to gaze at the splendid architecture and its unique frescoes.
It is the oldest Byzantine church in the Balkans, with its frescoes to depict God in its human and spiritual formation.
No wonder it is the most visited spot in Naxos island, a visit not to be missed while in Naxos. It is located between Chalkio and Moni village.
Moni Village
You cannot complete your holidays to Naxos if you do not pay a visit to Moni village, situated in the heart of the island, called the balcony of Naxos for its fantastic view.
It is not next to one of the best beaches in Naxos, but not far too.
Here you will come in contact with the heritage and tradition of the outstanding local weaving art.
The art of handloom weaving is a tradition that is passed on from generation to generation and stands out for its beauty, eco-friendly character, 100% Greek cotton, rare craftsmanship, and functionality.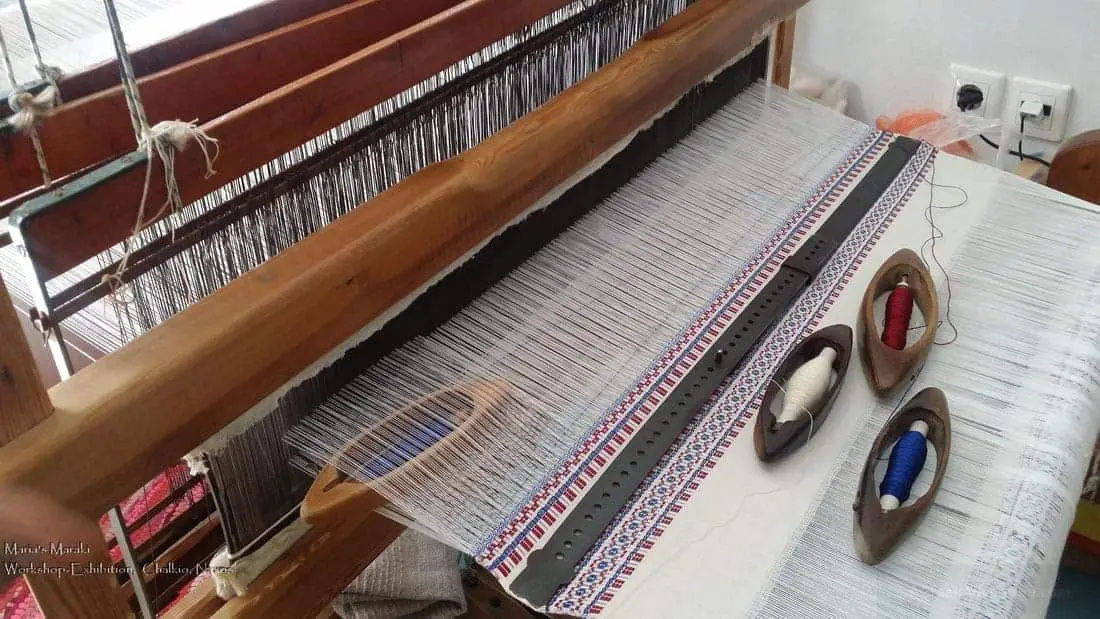 Today more than 30 women do that in their houses, and they also have an Association for weaving.
Your stop by this village is a must to buy a memoir to carry with you on your visit to the island.
It will serve as a reminder of your pleasant stay at the place. You'll be surprised how the handiwork can touch your soul.
Cheeses of Naxos
Do you have a passion for cheese and other kinds of dairy products? Naxos promises to be a one-of-a-kind cheese culinary experience you'll never forget.
Never leave the island without a stopover at the Filoti village.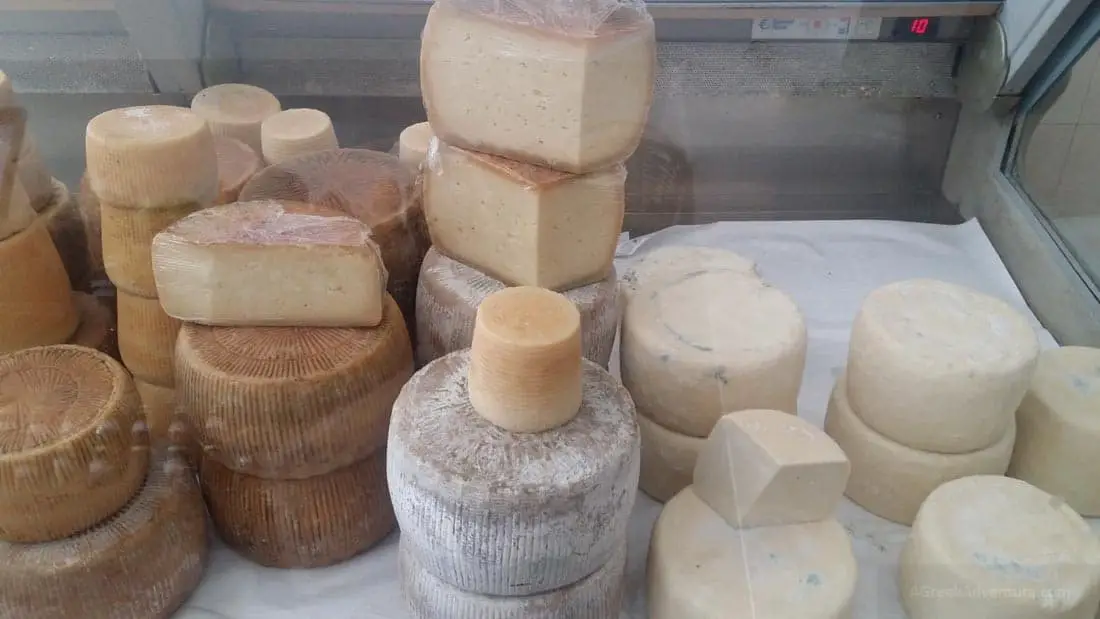 Almost every household in this village owns a goat or sheep. They are grass-fed. Cheese is cheap and readily available here.
You want to take a bite. If you find yourself in the village, you should pass by the "Kreopoleio Govanni," where you can taste the authentic Arseniko, Anthotyro, Ksinotyro, and Ksinomyzithra cheeses.
Their delicious and fresh taste will be a mouthwatering experience!
Arion Spring
Other than cheese and other dairy products, the island of Naxos is also a source of clean and natural water.
This is a privilege specifically of the mainland of Naxos; unlike all other Cycladic islands, it has its natural water that is drinkable. 
This emanates from the Arion spring, which traces its roots from the Zas Mountains. Water is un-spoilt, uncontaminated, fresh, and nutritious.
Pack some in a water bottle and take it later.
Apano Kastro area at Tsikalario
Who said you have to travel to the United States to have a peek of the Grand Canyon?
The island of Naxos gives you a cheaper and more accessible alternative if you are from Europe.
Unlike the Grand Canyon, a natural rock formation, this one combines natural rock formation and a castle that is a ruined fort that bears a similar resemblance to the canyon.
It is an excellent place with magnificent vistas, ideal for taking some fantastic pictures.
Zas and Fanari Mountain
Zas and Fanari Mountain is the first and second highest peak in the whole of Naxos Island and the Cyclades.
Unlike your typical island, this one is wholly devoted to matters of hiking. This stems from its gentle slopes, which are, on the whole, easier to tackle.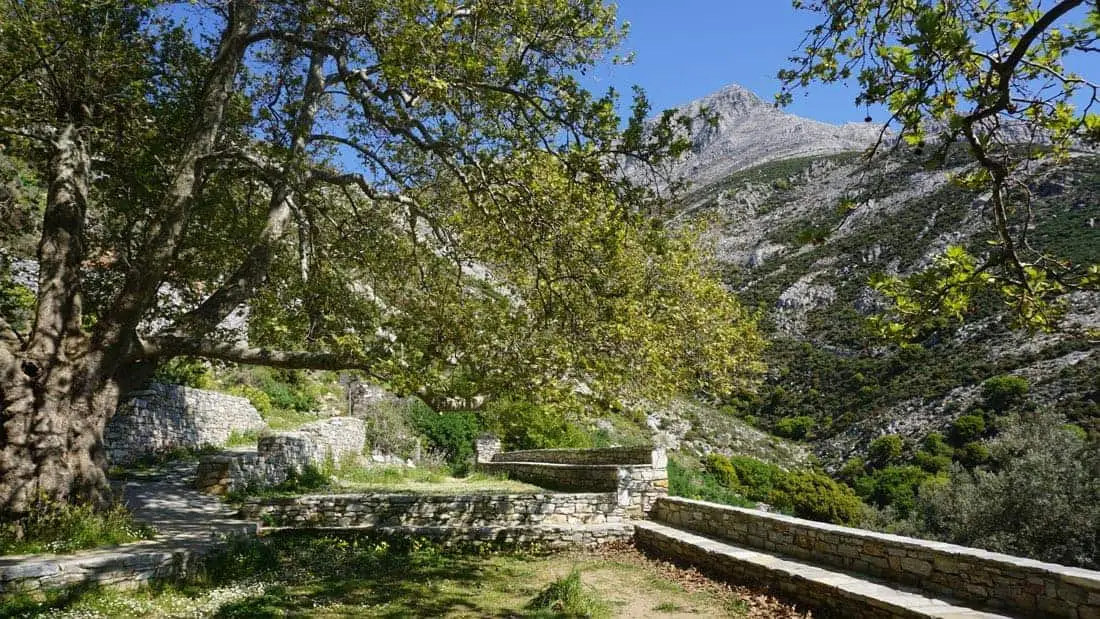 While at the peak, you will be able to look down and gaze at the skyline of the entire island and many other adjacent islands.
You might also take the picture for future references. It is the most visited place in Naxos for nature lovers and an unforgettable experience!
The Cave of ZAS
Apart from being the source of the Arion spring, Mount Zas is also home to a deep and frightening cave.
Many myths surround this particular cave, with some locals claiming that it is a home of the gods.
The cave is great for sightseeing and photography. Arm yourself with a digital camera and hesitate not to capture beautiful shots while here.
Kitesurfing and Windsurfing Naxos Greece
Go to Thalasea, Kitesurfing, and Windsurfing sports center based in Parthena bay, Mikri Vigla, Naxos, Greece. Our friends at Thalasea provide us with the following info.
The bay of Mikri Vigla Naxos has some of the strongest winds in the Cyclades, created by a venturi that is formed by the squeeze caused by Naxos and the neighboring island of Paros.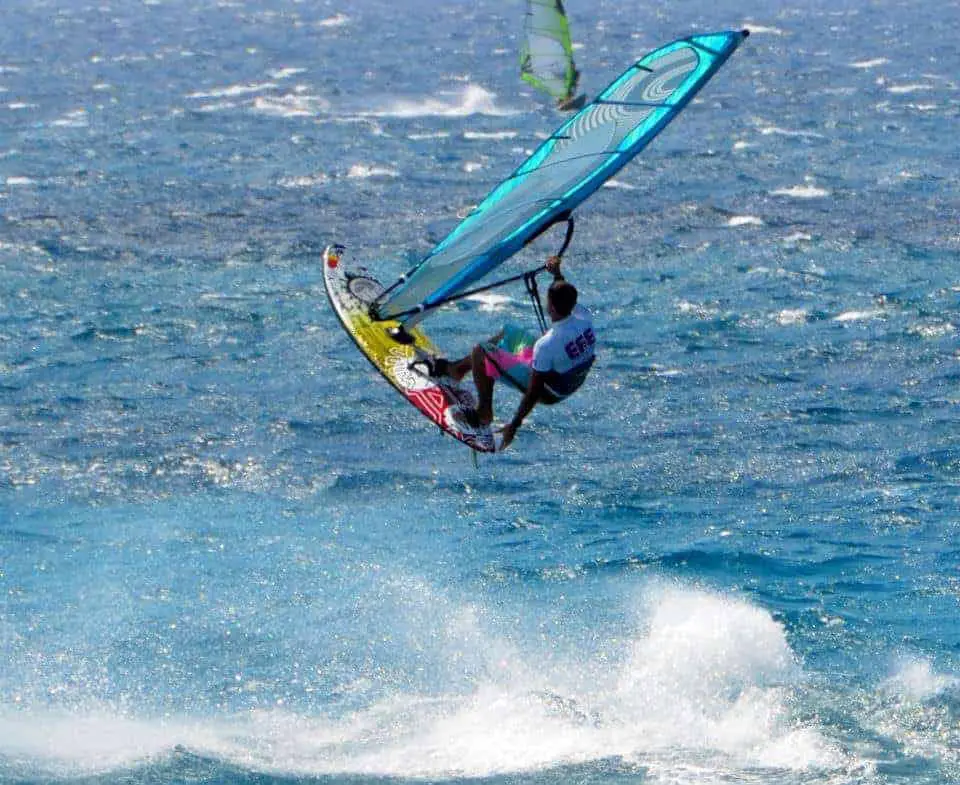 Naxos, Greece, is a natural playground for kiteboarders and windsurfers thanks to its wide, shallow bay and the "Meltemi," a seasonal climatic system that creates excellent wind from the summer May-September, but often in October too.
Whether you are an experienced kiteboarder or windsurfer or just starting, their surfing area is the perfect place to enjoy excellent wind conditions.
According to the IKO instruction standards (International Kiteboarding Organization), the kitesurfing courses are divided into three parts, and you will progress quickly and safely. In groups of 2-4.
Thalasea Beach Bar is in a beautiful setting with a bar, restaurant, comfy seats, sofas, a beautiful beach, and loungers.
Apart from being a sports center, this multifunctional venue is an excellent, all-day place for lounging on the beach and enjoying your coffee, fresh juices, and unique cocktails before returning in the evening for Mediterranean cuisine and seaside drinks.
Hike Around Chalki Experience Byzantine Monuments
You will read more about hiking that route in a separate post (and to Apeiranthos), but this place is in spectacular green, rivers, trees, and paths.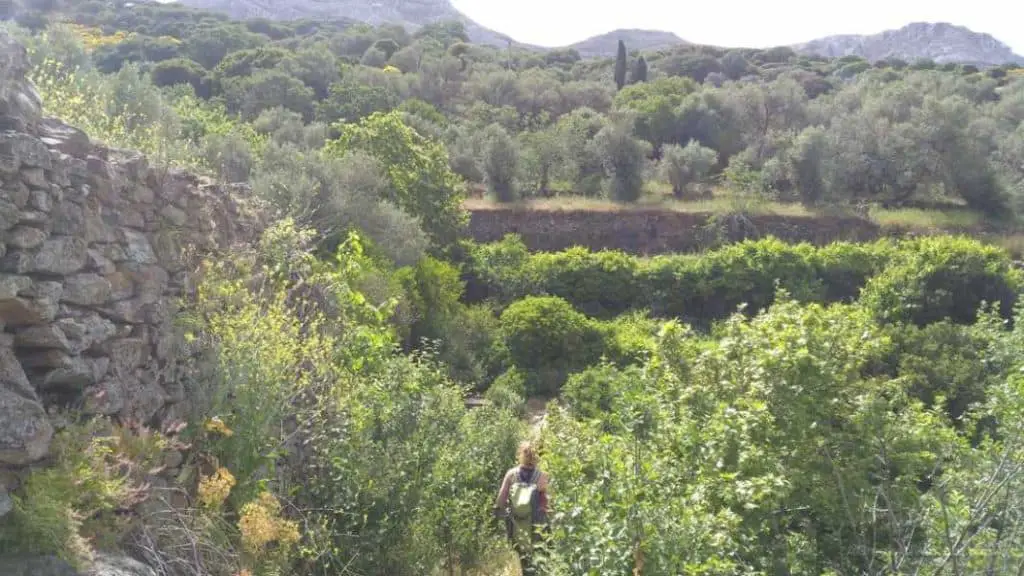 What to See and Do in Chalki?
This is one of the must-visit villages of Naxos and one of the best things to do in Naxos, Greece. The town is situated in the center of Naxos.
Many traditional stores adorn its streets, not to mention its fame for the Kitron liqueur.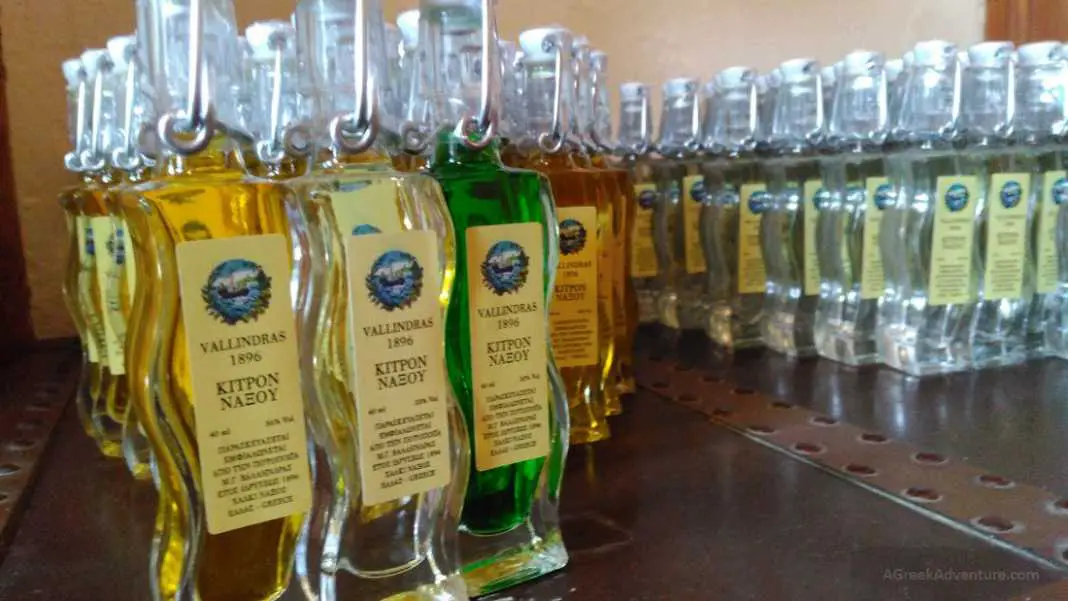 Your visit to this village will also give you the rare opportunity to sample and taste the local liqueur at Valindras distillery and grab a few bottles.
This is not to mention also the opportunity to mingle with the locals and, if possible, take photos with them.
You will also get a chance to meet and interact with the locals.
A few women from Moni village also have their handloom weaving Exhibitions-Workshops in Chalkio village.
Here you can also taste a variety of daily fresh pitta pies at Kera Pastry shop along with many other sweet delicacies or buy authentic local herbs, spices, homemade marmalades, and anything produced locally at Nature & Art shop with Anastasia to give you a great tour and information about the island and its products and her making techniques.
It has some pretty beautiful sites inside the village, yet the secrets are around the town. If you are a hiking fan, then you will love this place and the hiking routes around.
There are some places inside that village that you will find since they are located in the main village square. We also discovered them, and we share them here.
You need to know that it is situated in the broader area of the Tragea valley. This valley has been described as the "Mystras of the Aegean."
Once you arrive at the Drimalia/Traghea area, you will see over four hundred thousand olive trees over a millennium old.
This area still holds many remnants of the indigenous culture, creating a unique personality that delightfully differs from the rest of the island.
Chalkio and the area around it, called the Byzantine Mystras because of its numerous impressive churches, is a world apart in distance and atmosphere – from the rest of the island.
Moni, Kinidaros, Filoti, Apeirathos, Koronos villages are ideal destinations for immersing yourself in nature. Hiking, marble quarries, springs, emery mines, olive groves, and citrus fruits reign supreme.
The village is a treasure trove of history, culture, and art just waiting to be explored. It is a historic district that shines with its neoclassical architecture and grand Venetian towers with many galleries, taverns, cafes, boutiques, local groceries, and loom weaving shops-exhibitions.
Naxian hinterland offers visitors the rare opportunity to walk or drive wild nature and have a long, fulfilling day.
Driving the road from Potamia to Chalki, one can see the imposing Upper Castle, which is among the most photographed landscapes in the Aegean, similar to the Sarakiniko in Milos, where the landscape resembles a scene from the moon with the giant rocks and their unusual shapes.
Off the road between Ano Potamia and Melanes villages, there is the "Kalamitsia" – The Jesuit imposing Palace worth visiting from all aspects.
With a vibrant culture, eco-adventures, and local organic cuisine around every turn, Naxos is the ideal destination to discover your very own piece of "Pura Vida."
Climbing Mount Zas, the highest in the Cyclades with a peak of 1004 meters, is a fascinating experience with all the Cycladic islands visible.
L-EcoArt Shop Gallery
Visit the art shop (L-EcoArt Shop Gallery) of Helen Marakis.
That place is far from a souvenir shop.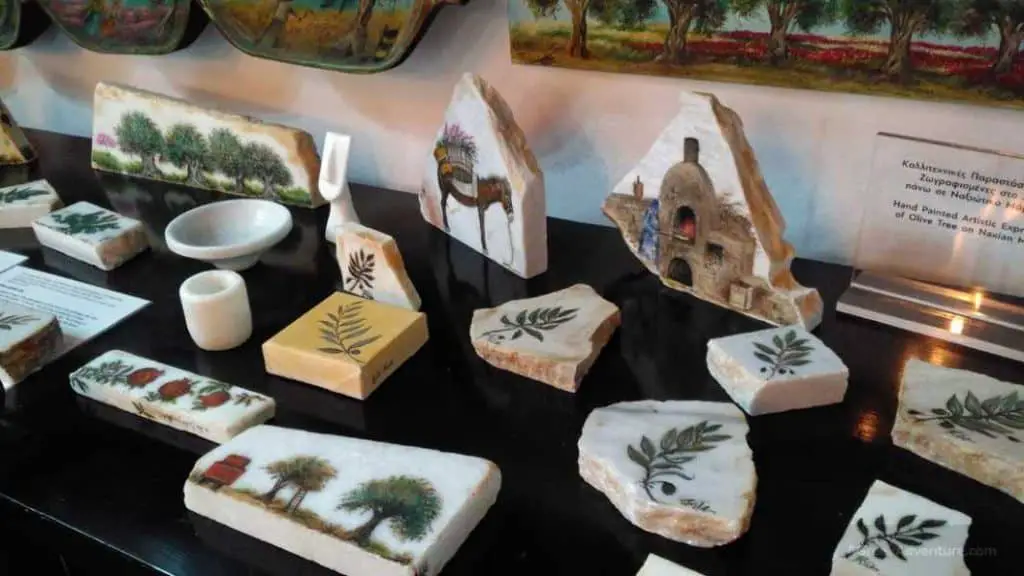 It is more like an art shop, where it hosts the works of Helen Maraki (who worked as a decorator in New York for 30 years before coming to Naxos) along with the handpicked pieces of a variety of artists.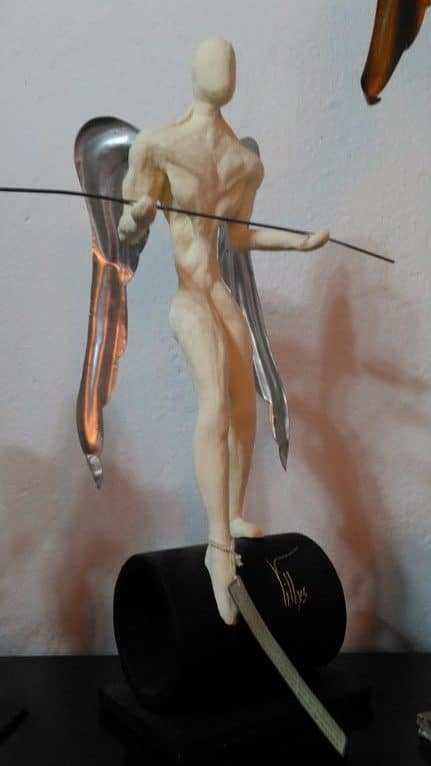 Here is a short-range of photos from the gallery. Helen was kind enough to allow us to take some.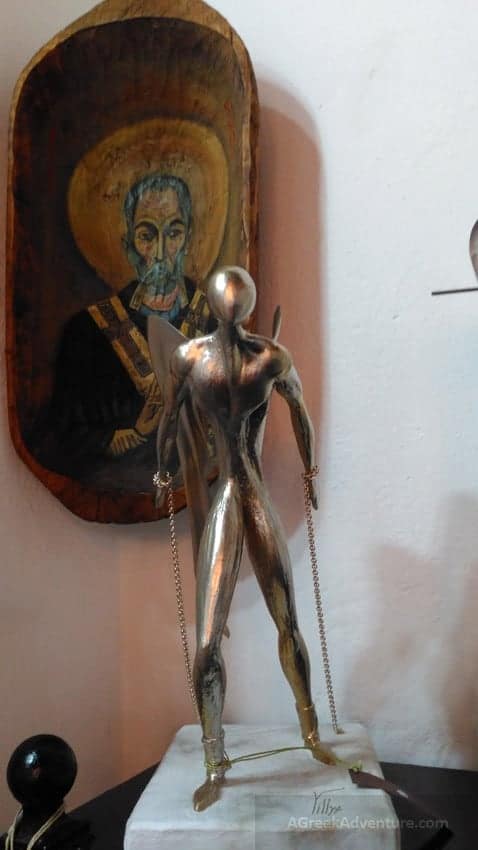 Handmade Marmalades and Herbs
Sitting at the stairs, creating embroidery art, is Anastasia Maraki, sister of Helen (from the art shop).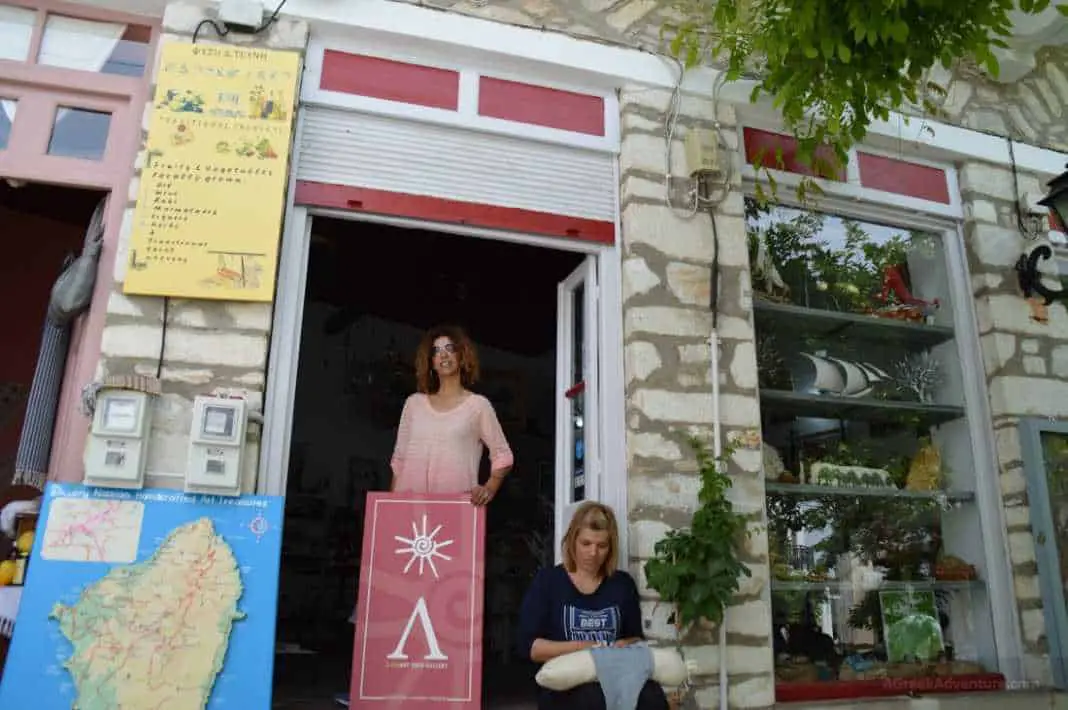 Her unique shop is next to her sister's gallery and is called "Nature and Art."
Everything in there is homemade.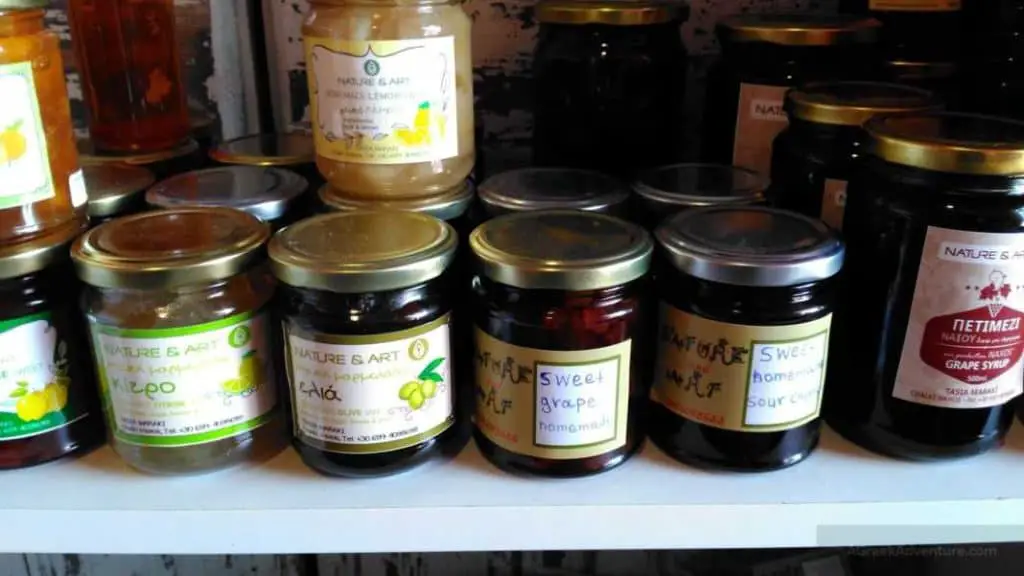 If you have a sweet tooth, then this is the place to buy "a few" things along with pretty good local wine.
The owner and her husband grow, collect, and make everything you see.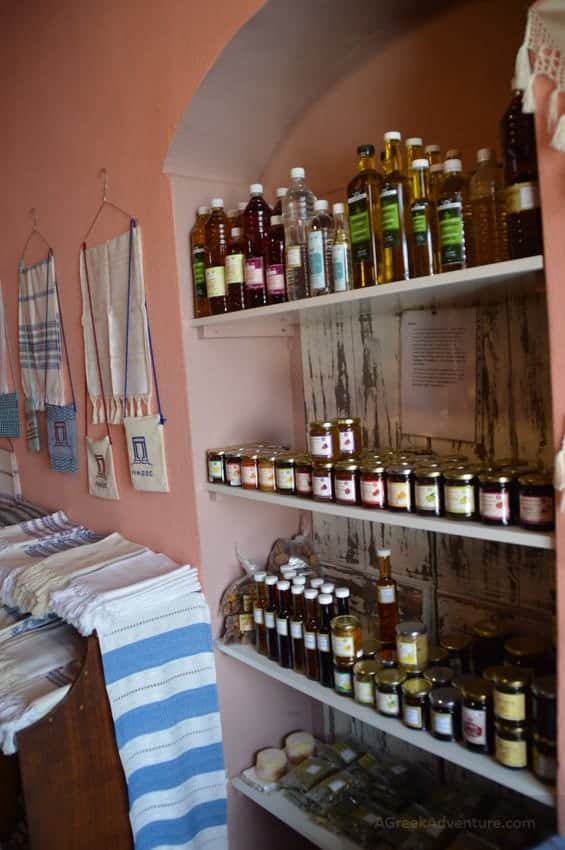 Vallindras Citrus Distillery in Chalki
This is one of the most popular things to see (and buy Citrus liqueur).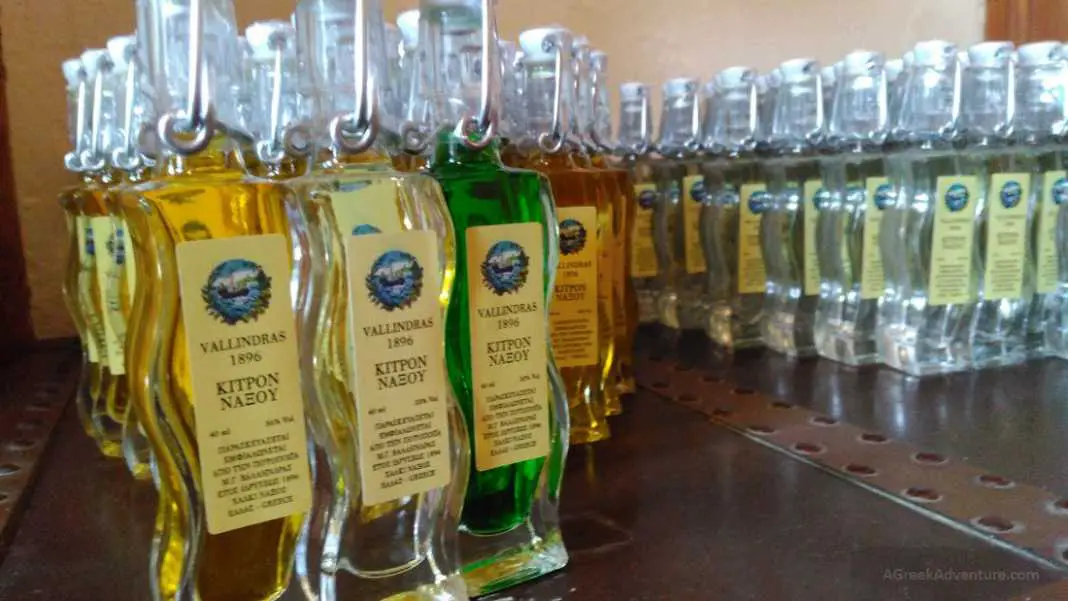 They have produced their liqueur in the same way and with the same equipment since 1896.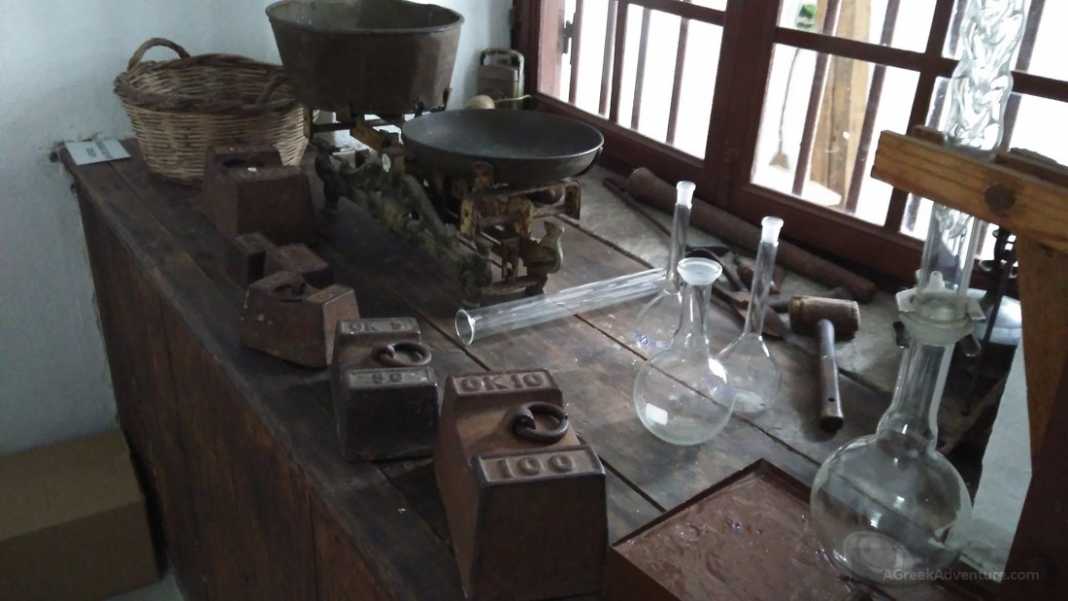 Actually, in 1896, the liqueur became alcohol and citrus-based, while before that, the taste was a bit different.
The recipe is secret, and tourists flock there for a free sample taste of this liquid-like silk on your tongue.
The Weaving Tradition of Chalki, Naxos Greece
As you exit the distillery, cross the "street" (walk 5 meters), and you will find the traditional handloom weaving workshop of Maria Maraki (named "Maria Maraki Ifada").
By the way, Maria is the mother of Helen and Anastasia, as seen above.
The creation of these handwoven loom textiles is a unique art that leaves most people amazed.
These were not just decorative creations but were weaved for daily usage. The women of Moni village keep the tradition through weaving and embroideries of spectacular beauty.
We caught one of them working on something new. This kind of work needs a significant amount of patience and skill.
Where to Eat in Naxos?
You have to eat the local "galaktoboureko" sweet and also eat at Kalliopi's tavern.
Eat Breakfast & Snacks at "Kera"
With just a few tables to serve, this place has the most spectacular pies and "galaktoboureko" and "baklava" you will find there.
Their "galaktoboureko" is wildly famous.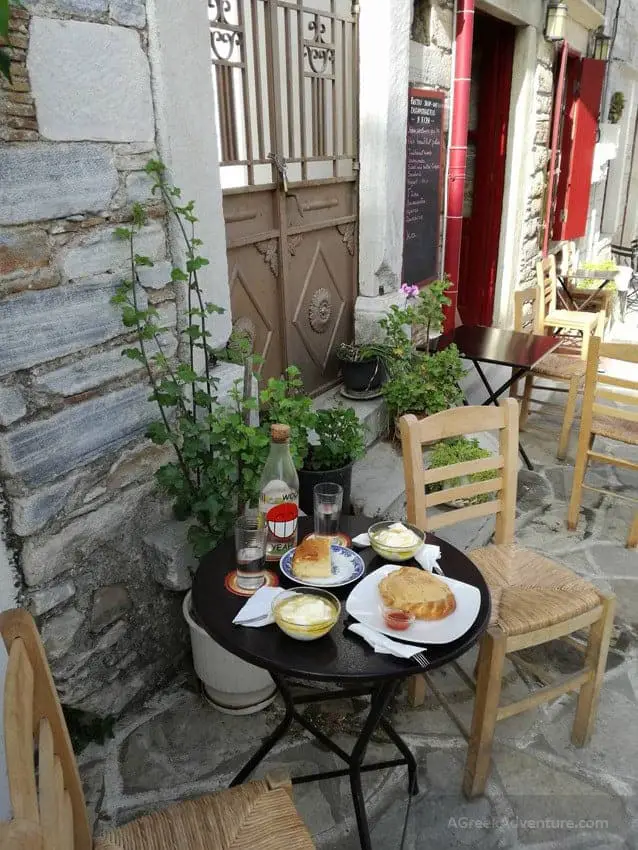 Eat Local Naxos Food at Kalliopi's Tavern
That is one great tavern inside the forest just outside of the village.
We had to mention it, though, since the place is lovely, serene, and with delicious food. It is just 500meters after Panagia Drossiani, towards Moni village.
After leaving the asphalt road, you may think you drive the wrong way (since the road becomes a dirt road) but continue.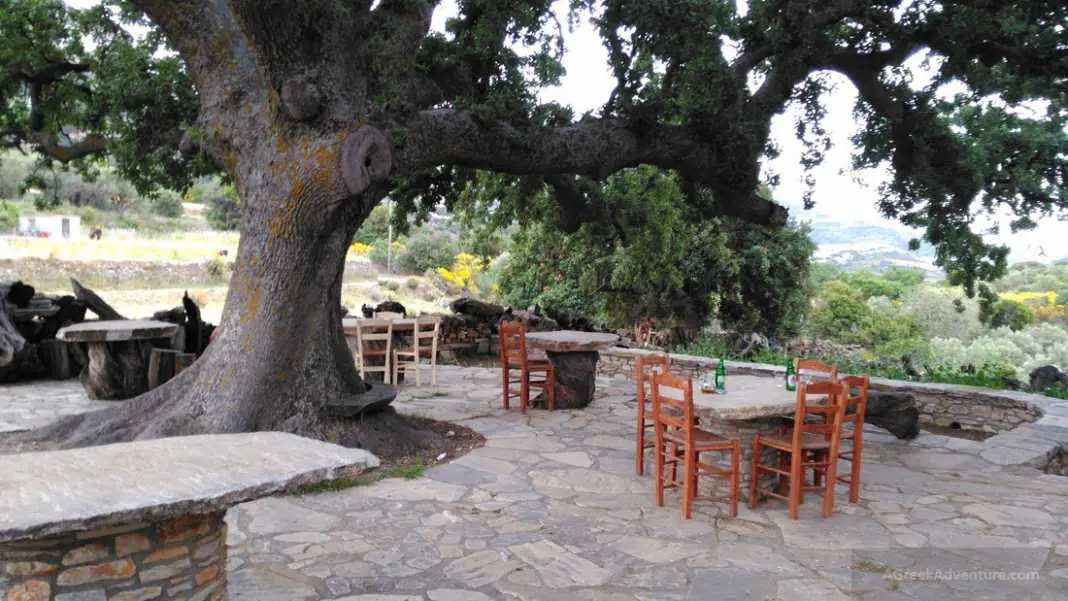 The place will reward you! Everything you eat there is homemade or homegrown.
Where to Stay in Naxos Greece
We stayed at ELaiolithos Luxury Retreat. This eco-friendly place is located at the feet of Moni village, overseeing the Tragea valley.
It is hikers friendly, cycling-friendly and friendly in general. They also serve some great snacks in a separate area with panoramic views of the valley.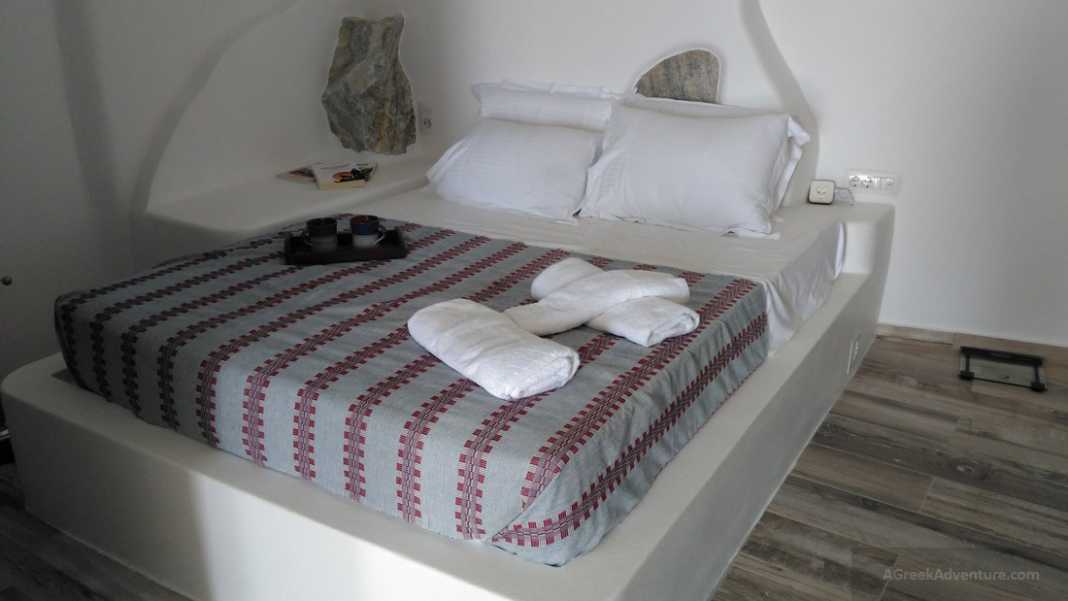 Far from the noise of Chora of Naxos but close if you want to visit.
It was our base for excursions all over Naxos, and very relaxing to stay there.
We love hotels where we can relax far from the noise of "hot seasons" and famous Greek islands like Naxos.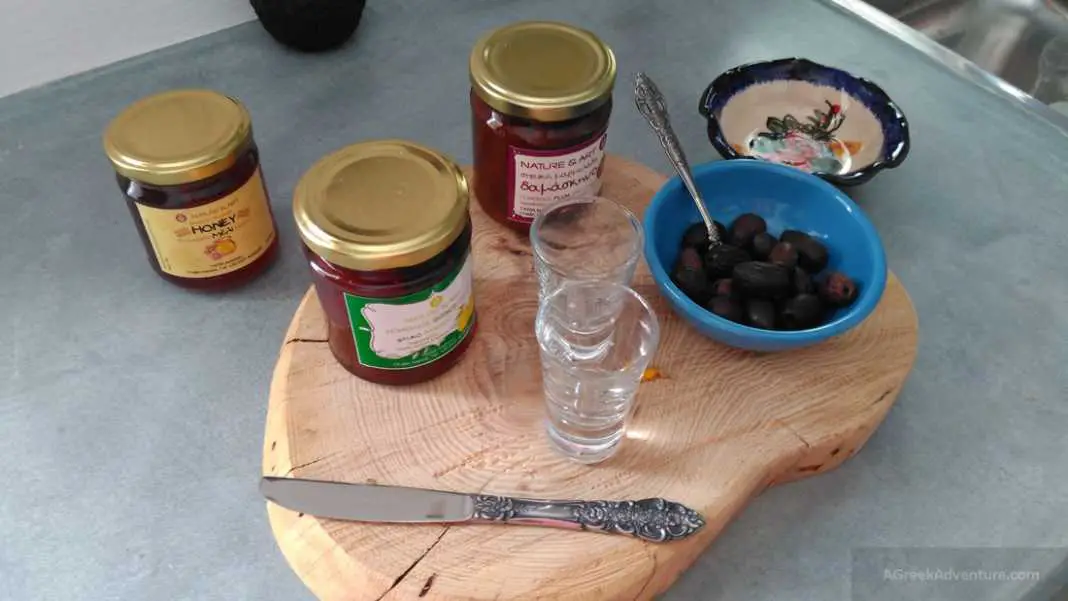 ELaiolithos opened for public in May 2017 when we were invited to go there and experience Naxos island.
It was the first time for us on the island. Helen, who runs this place, was both visible and invisible when needed, and we are sure she will be a massive success with this hotel.
Conclusion on the Best Things to Do in Naxos Greece
Naxos is an amalgam of myths and history, tradition, and spirituality. You can feel the vibrations of those energies by the minute you step your foot on the island's ground.
If your idea of vacation heaven is to sip mojitos on a white sandy beach for two weeks or stay within the confines of a five-star hotel or on the sun deck of a pool or a cruise ship, that's ok – it is lovely.
But for those whose luxury is only part of the holiday experience and also love to enjoy and to discover the delight of meeting new people and sharing their corner of the earth, then Naxos is a top destination because it combines everything.
Naxian people live the "now" by all means. Their general belief is that life is too short for not having a good time every day, all the time, any season, and under any circumstances is met everywhere.
If you are fascinated by cultures, history, society, and you liberate yourself and step into the real life of the place you visit to have an authentic experience. Your visit to Naxos Greece will reimburse you in many different ways.
See your destination by driving on the mainland or by foot, enter the Naxian hinterland and discover its gems by experiencing the local life, the spirit of the natural world, and access the cultural and agricultural riches that this island has to offer.
Here you will come in contact with the authentic side of Naxos, the remarkable sights, the unusual smells, and its mesmerizing sounds.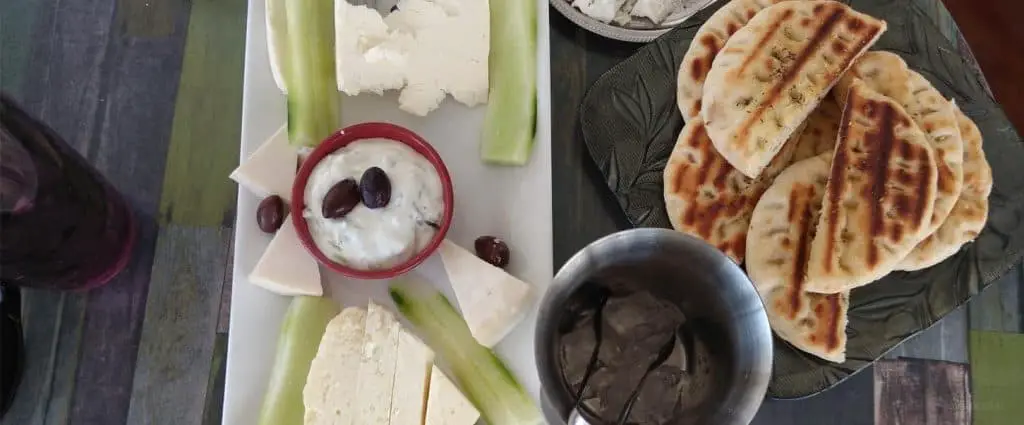 This self-sufficient island produces everything and supplies also many adjacent Cycladic islands. Its people are very proud and hardworking.
Every house produces oil, meat, vegetables, fruits, poultry, cheese, raki, and wine.
Visitors can have this experience by going to the field with locals and picking whatever each season produces with their own hands. Therefore it is wise to visit the local villages and taste each one's special delicacies and sweets.
Every village is a different experience in food and wine.
Everything on your dinner plate is grown and produced here, from root vegetables and greens to fruit, olive oil, herbs, preserves, traditionally made small-batch cheeses, and certain meats.
Enjoy the summer in Greece!