Our activities tour at the Karpenisi area continues. After doing the Via Ferrata canyon, we visited the famous Panta Vrexei canyon (or Panta Vrehei).
We have heard lots of things about the beauty of this canyon, but the reality was much better (as always in Greece).
This is a canyon where you can cross it after the end of May. Karpenisi receives lots of rain. You can tell that by seeing how green everything is there.
Thick forests cover all mountains of the area. In summer everything is splashing green.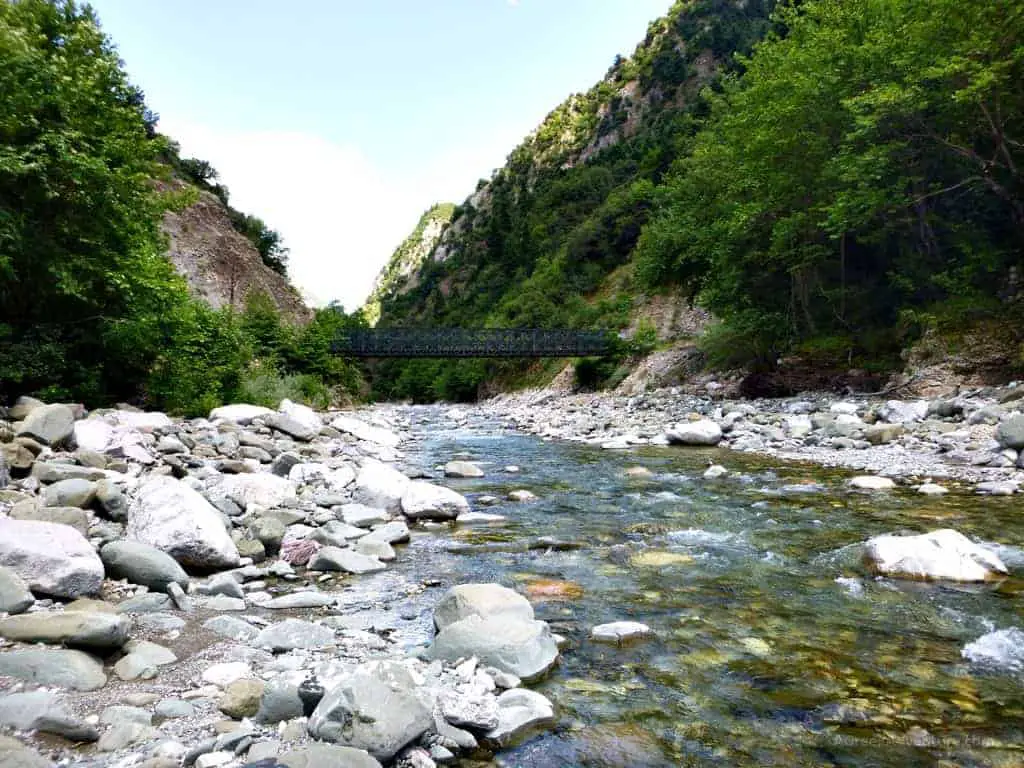 Panta Vrexei canyon is mostly famous for a specific part where water falling from high, creates small to big waterfalls. Yet, the whole canyon is incredible.
At some places, due to the height of the canyon walls, it looks like it is raining.
Add the height of water pouring down, along with the fact that the area has lots of rivers and such, and you have: Panta Vrexei. This phrase means "It Always Rains."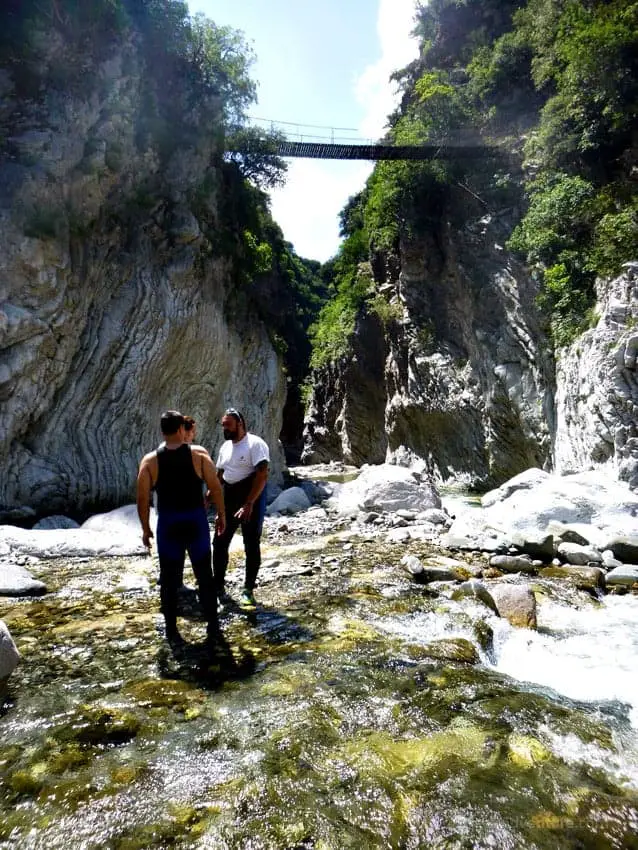 Our guide, through the canyon, was Yiannis from Trekking Hellas Evrytania division. In our team was Sofia Flegka from Lecadin Hotel, Karpenisi.
Let's freshen up.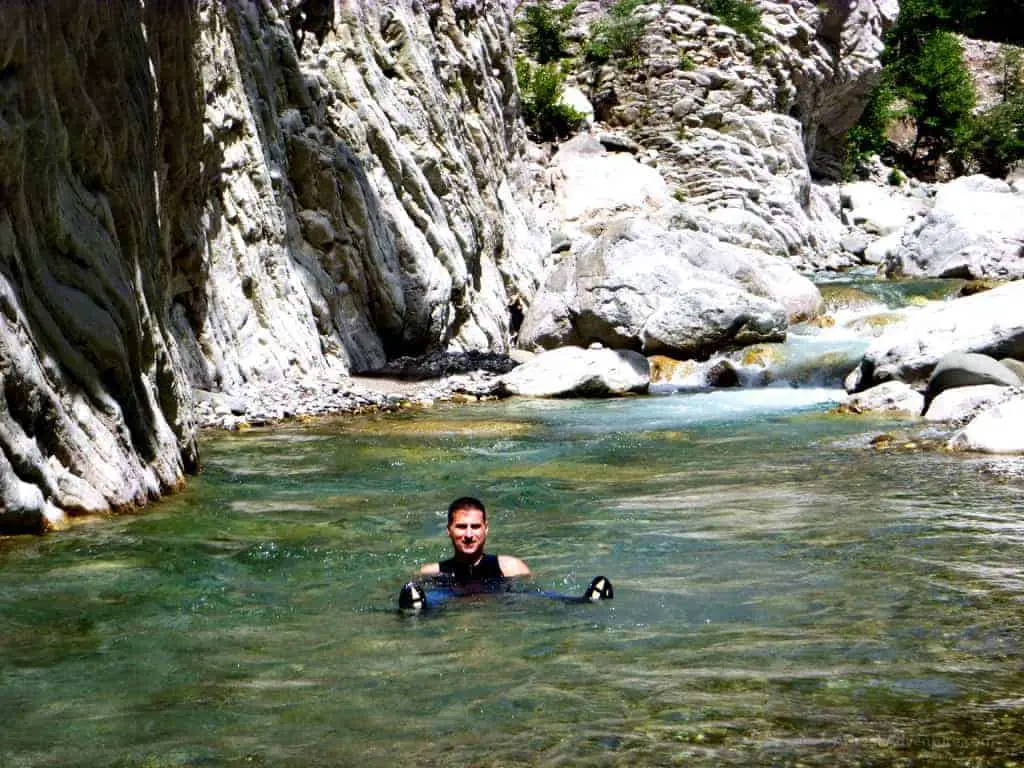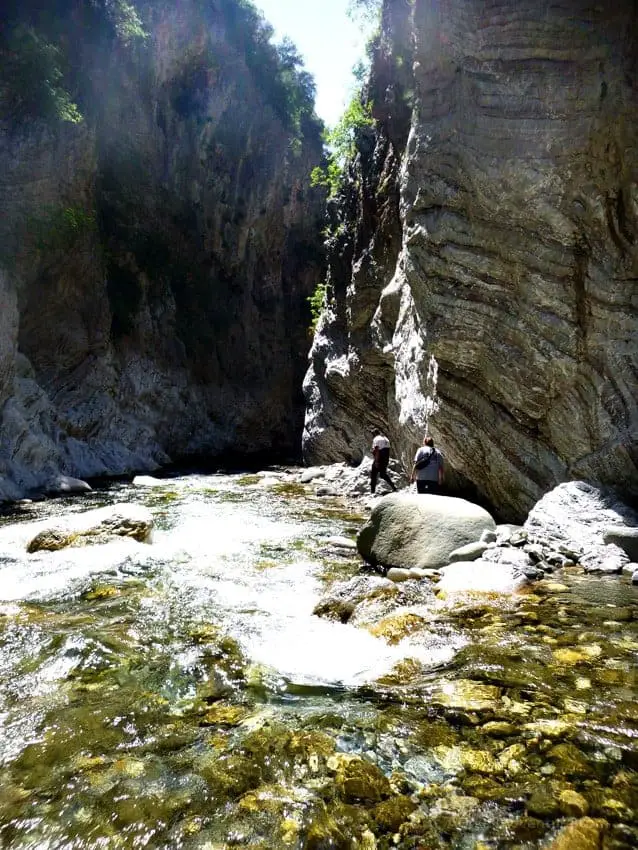 Most of the part of the route is done through the water.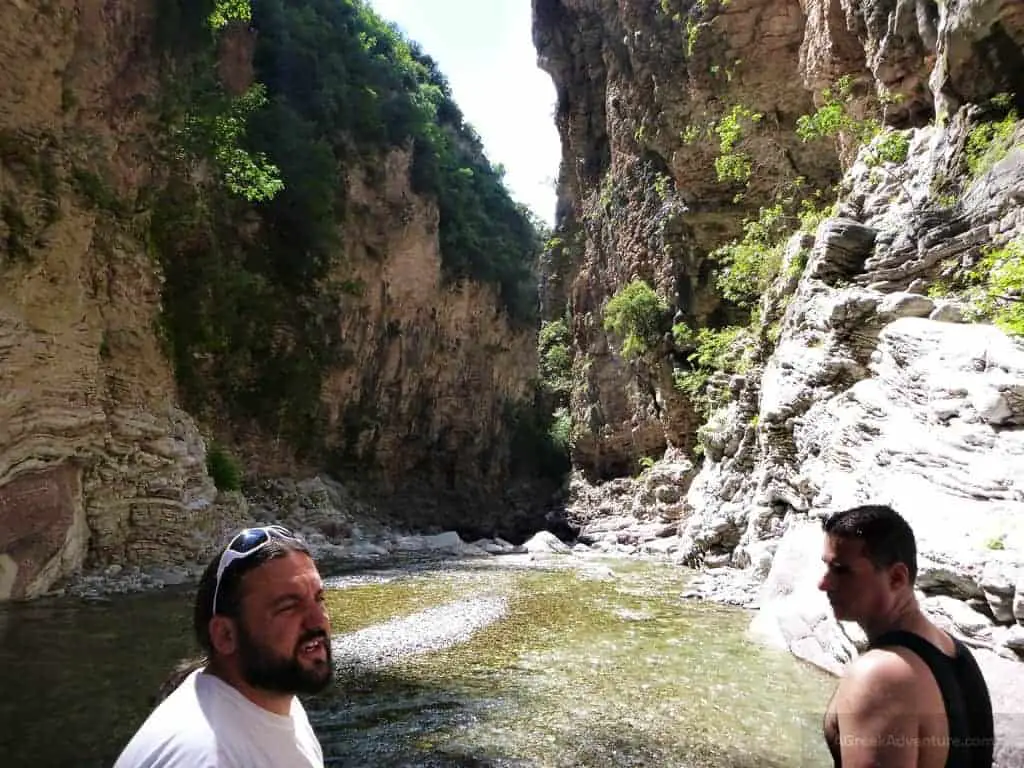 That is very refreshing, but the water is cold, so -as you see- we are all wearing neoprene wetsuits to protect us from having frozen feet.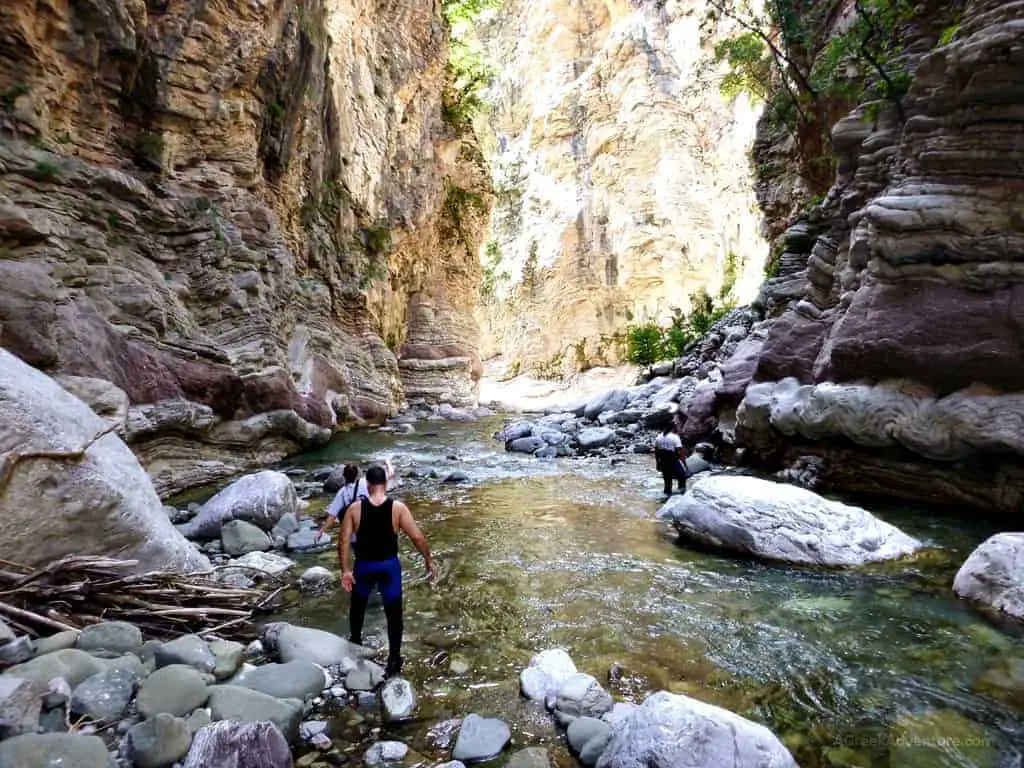 However, the temptation to dive as much as possible was something we easily succumb to.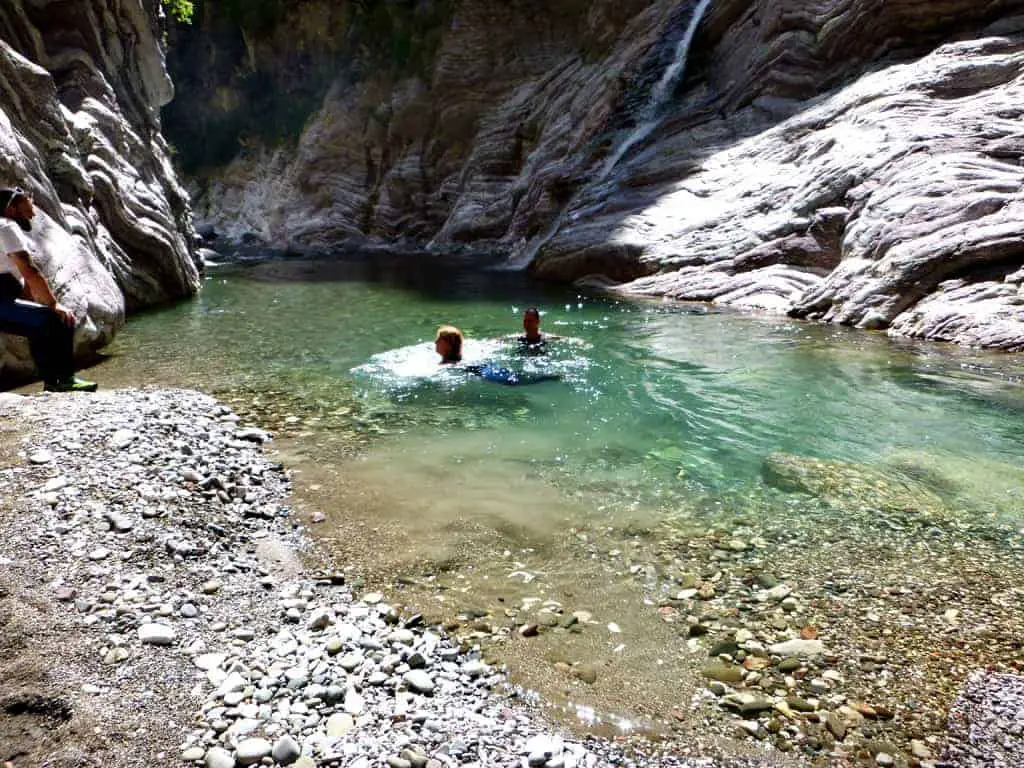 Hiking through Panta Vrexei canyon provides lots of scenery changes.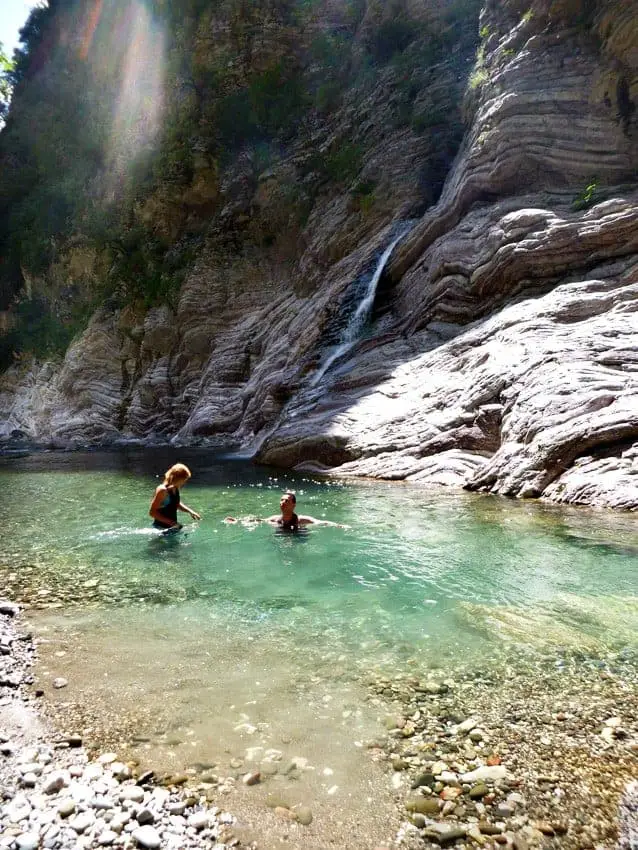 At every "corner" the whole "picture" changes.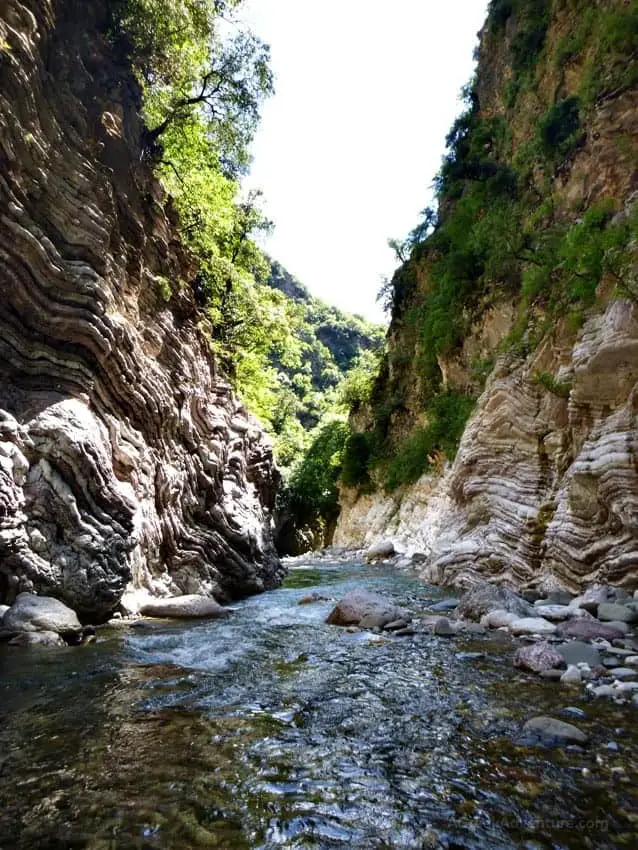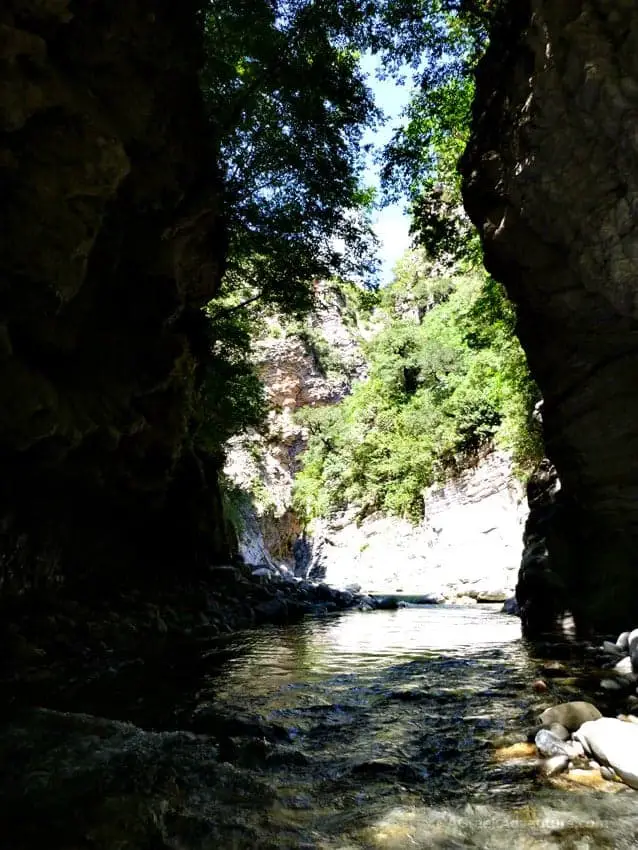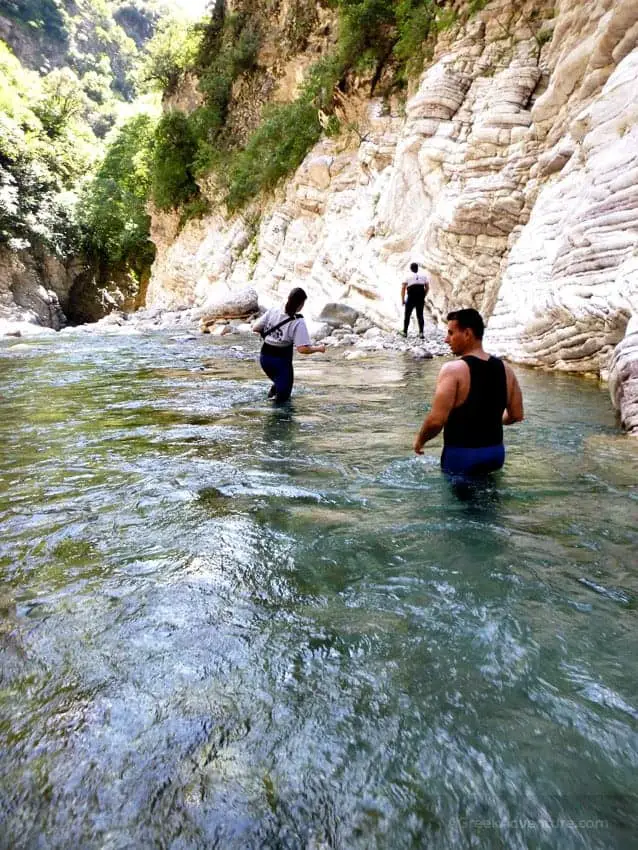 You may think you are valuable and significant but -trust us- walking with these gigantic rocks over your head makes you feel small, but part of nature at the same time.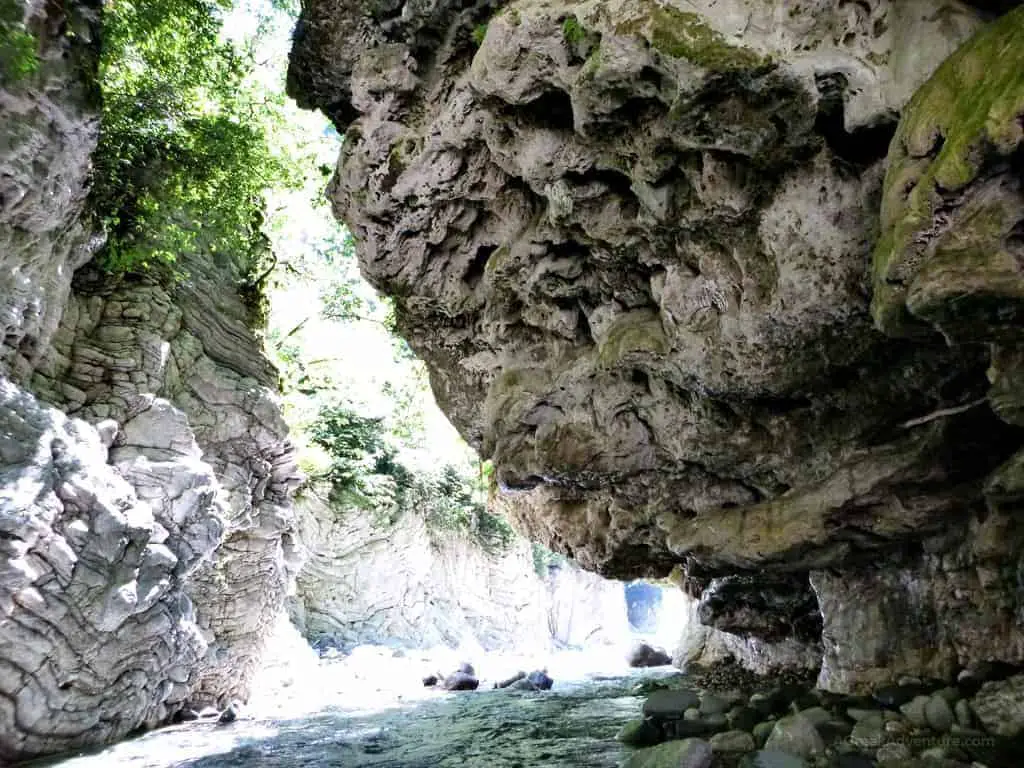 People must learn that they are part of nature.
Here Yiannis located a small reptile and explained to us how not harmful this was.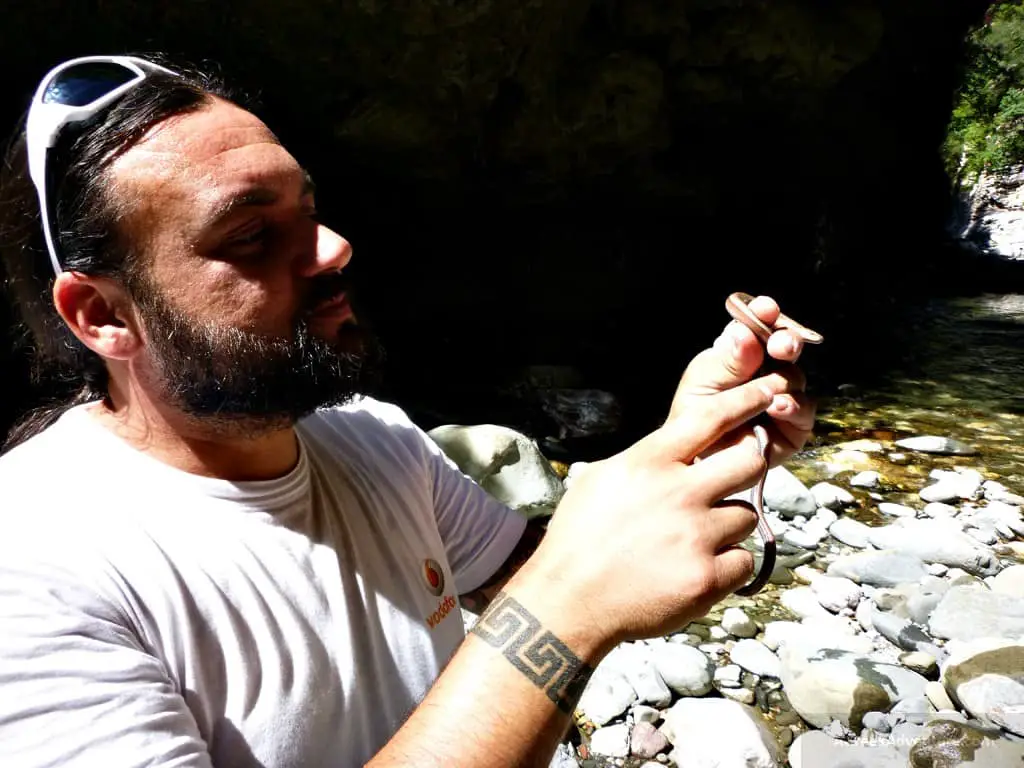 Yet many people cannot tell the difference, and usually, they attack any reptile as dangerous.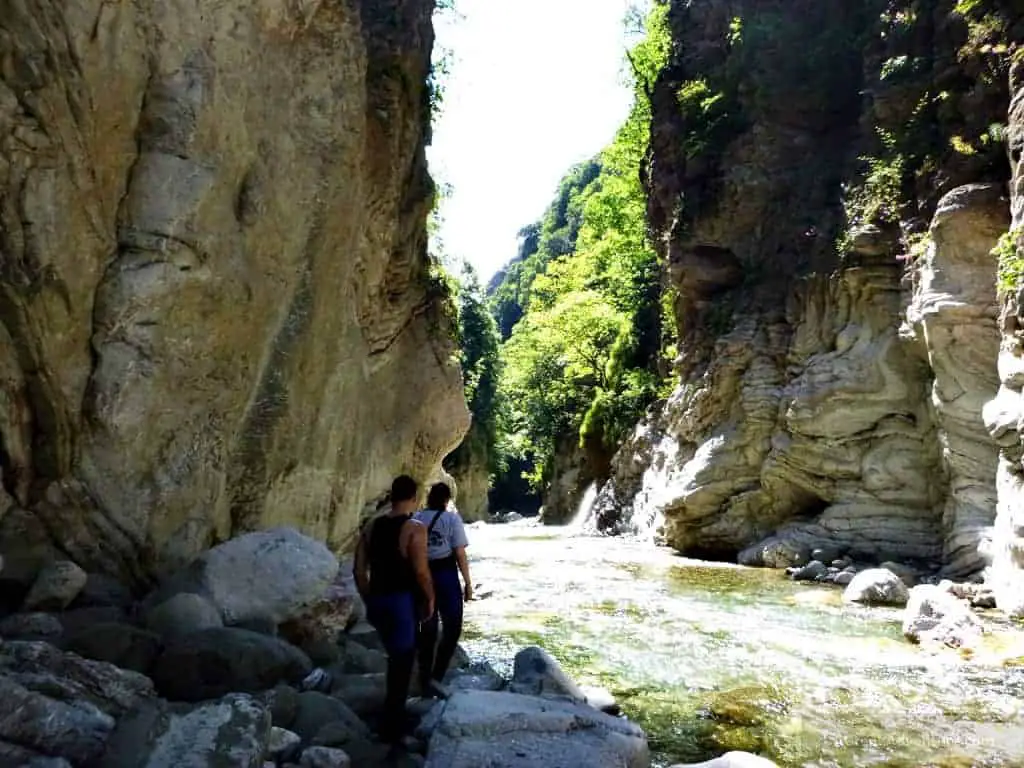 Here is a waterfall where I was called to stay under it as much as I could. I tried.
I think I didn't stay for more than 1 minute.
Water was pounding on my head. The cold was tolerable, but cold along with water falling on top of my head with such speed was like frozen bullets trying to cut through.
I carried the feeling back too.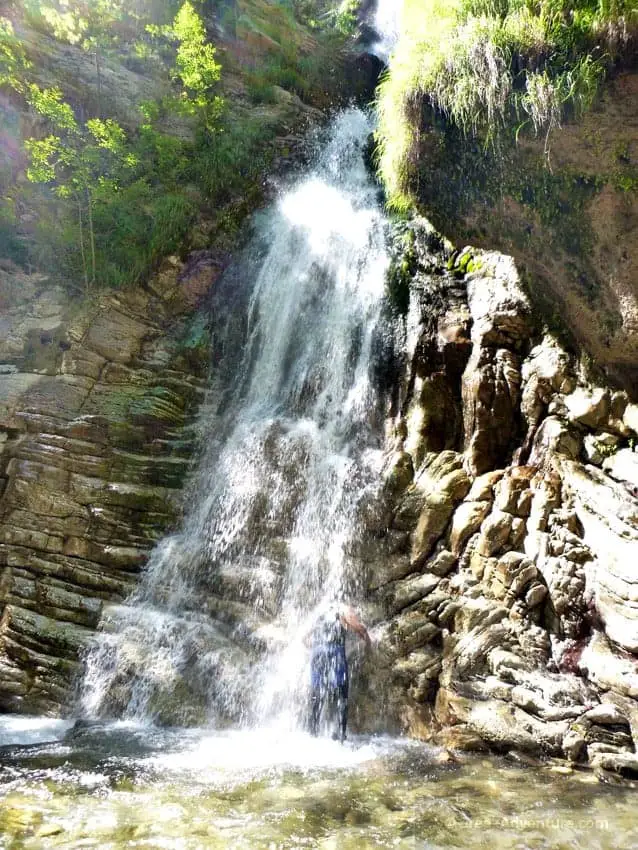 Feel free to give it a try. Trust me. It is not like a "shower."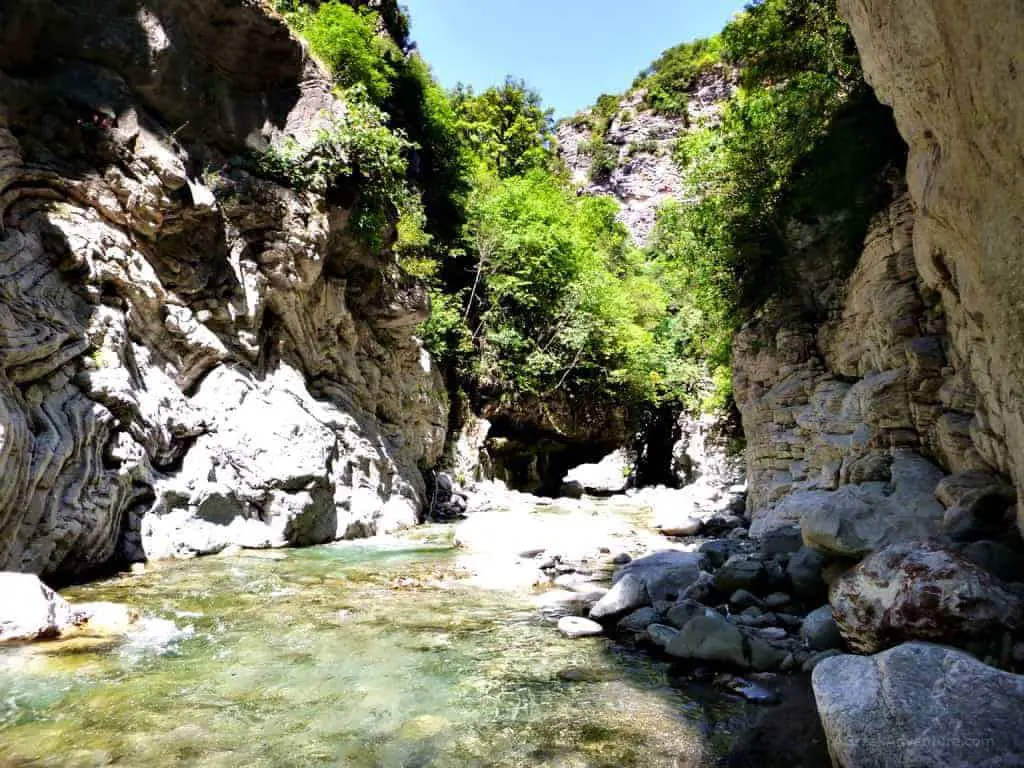 Where is Panta Vrexei?
After walking, stopping to admire the environment, and while Yiannis explained to us about the plantation and animals that live inside the canyon, we finally arrived at "the spot."
We don't think we could fit the magnificent place in just one frame. It is majestic to even look at it.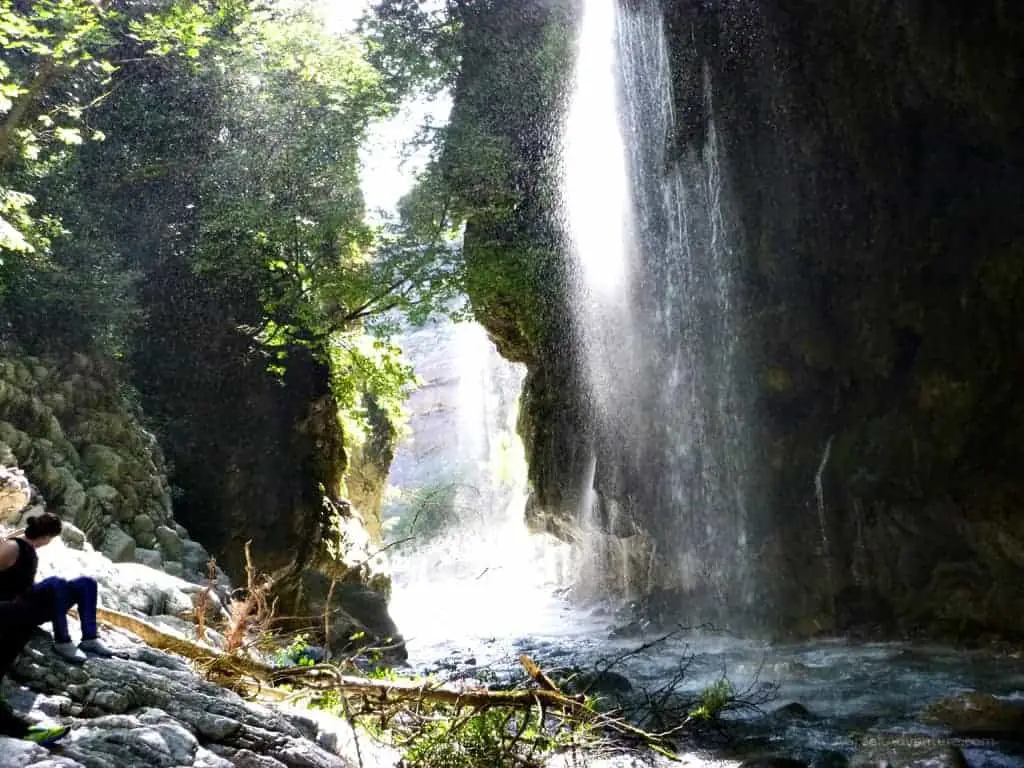 I tried to stand under that waterfall, too—the wrong idea.
Here is Maria sitting just outside the central core of the waterfall. See the "pain"…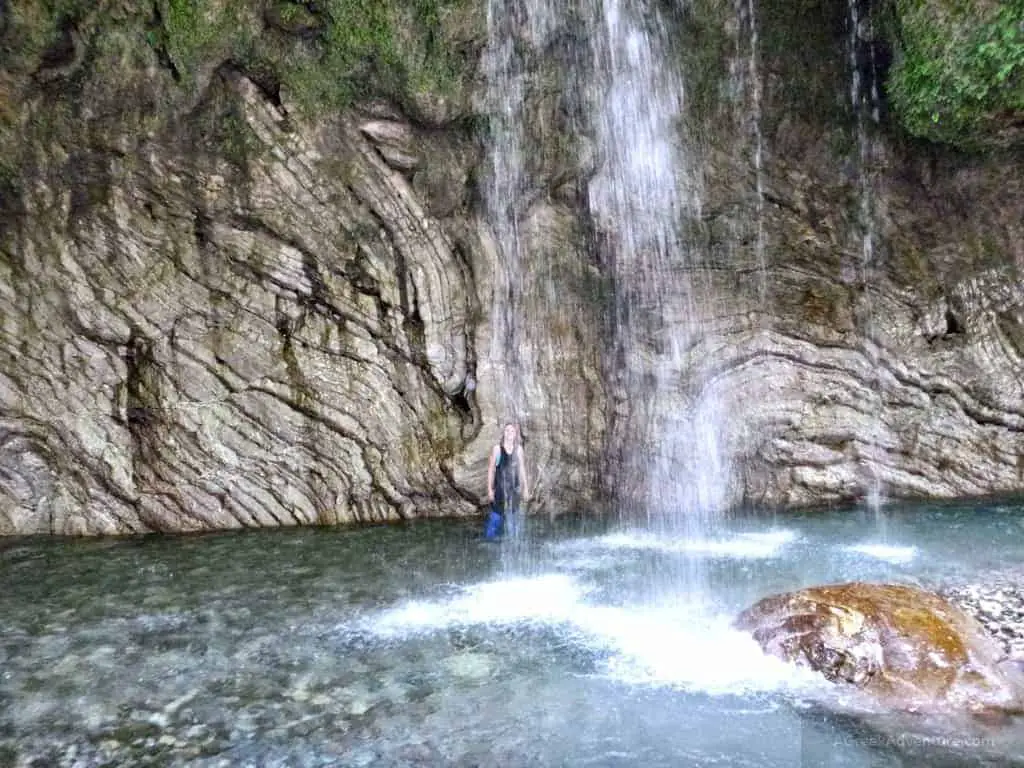 She tried different places to stand. I think she found that one comfy enough.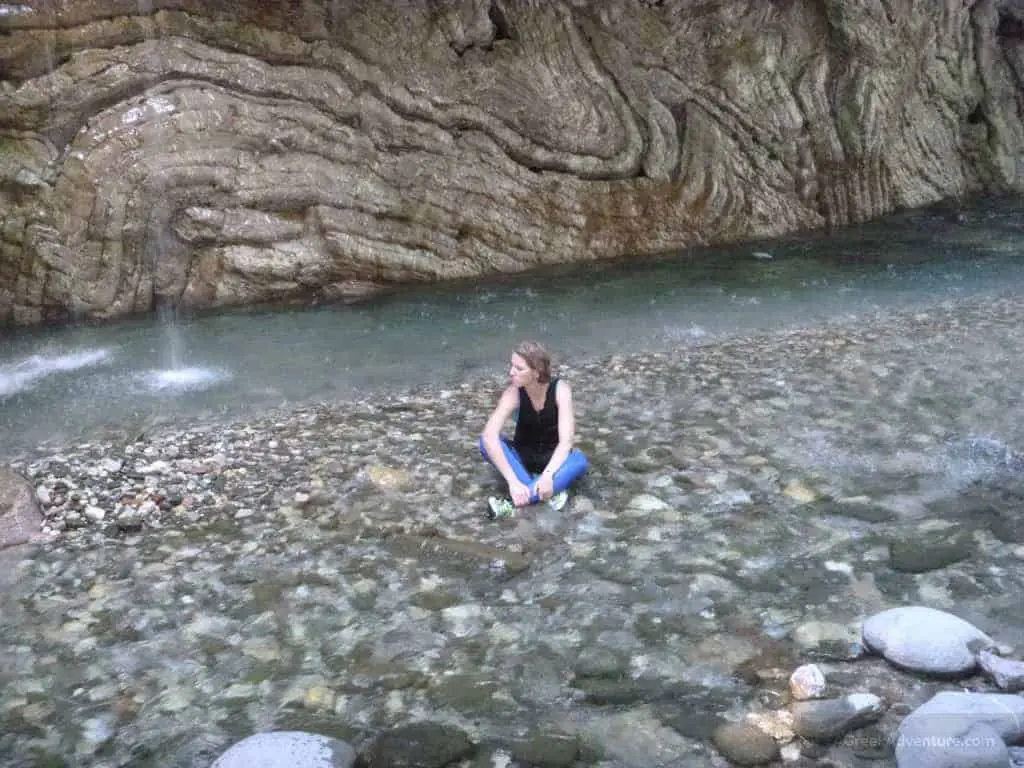 We spent quite some time there, and then we decided -not quickly- to return to our base.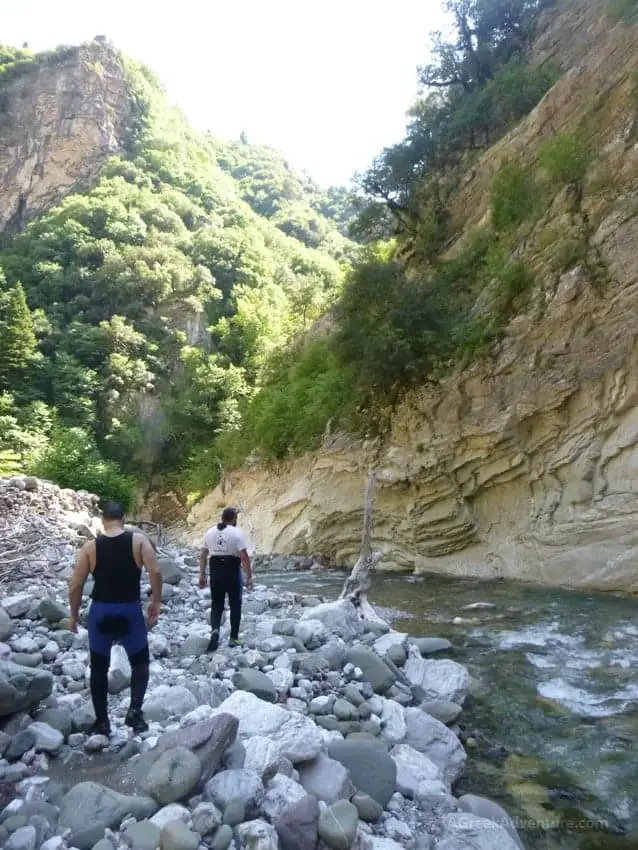 Along our way, we learned that this canyon is the ending point for other canyons too.
Some of them receive minimal sun, and the water is freezing, and special wetsuit and equipment are needed.
Apart from the cold water, imagine a cold draft exiting this point.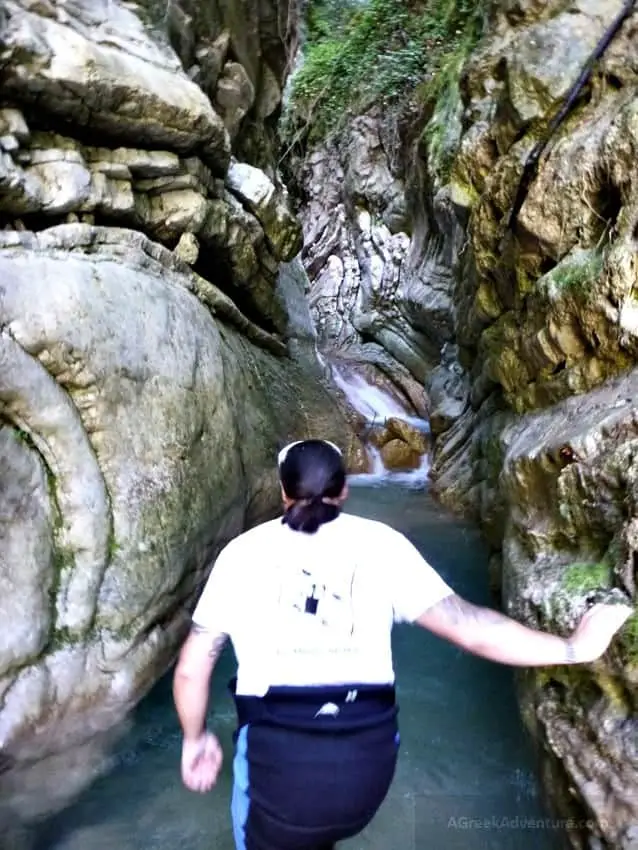 The temperature dropped a lot by just entering a couple of meters in that.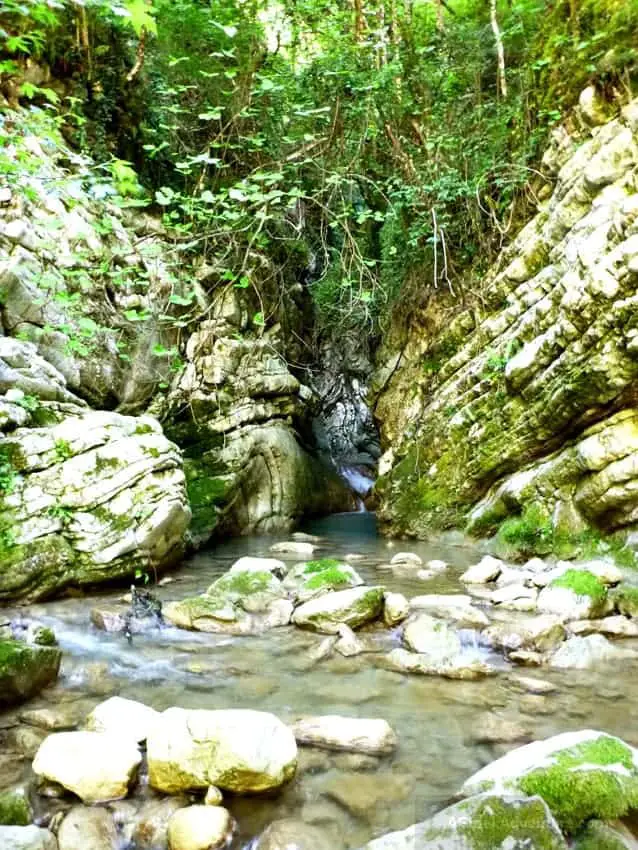 OK, we wouldn't try that while dressed lightly.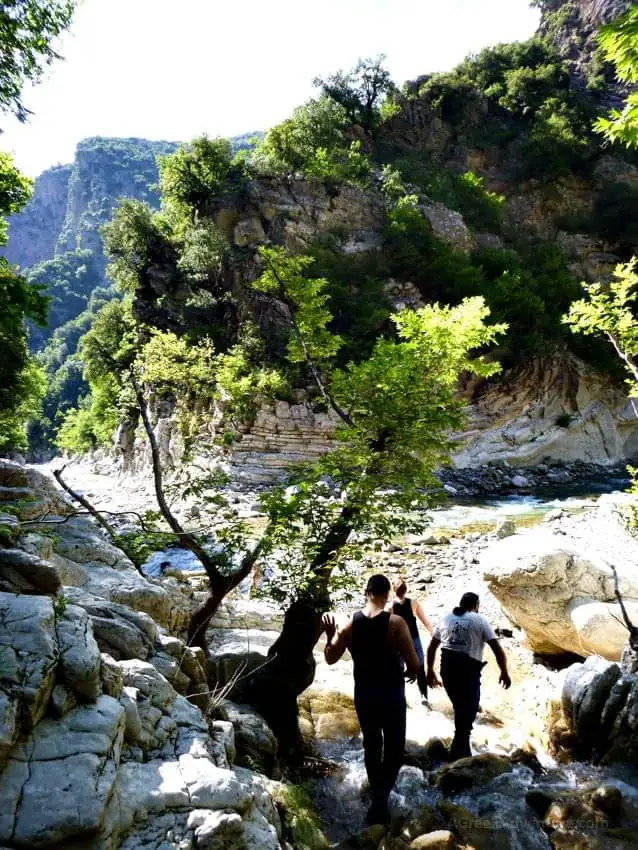 Somebody is thrilled.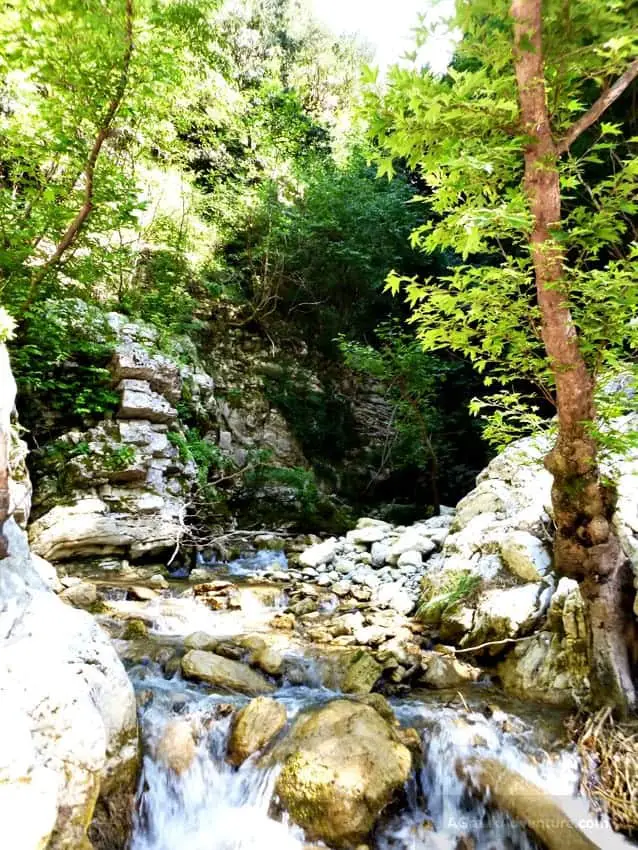 A different part of our way back.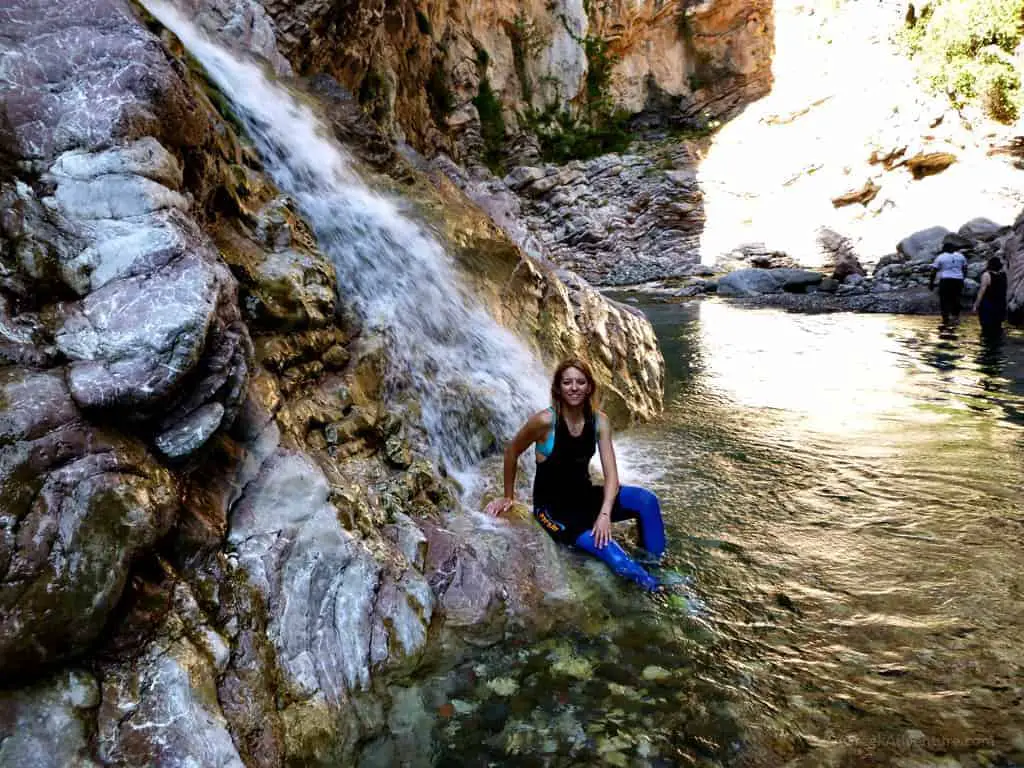 And there we were.
Yiannis located another water snake. That was also harmless.
I had never touched a snake before. The feeling was not of either fear or awkwardness.
I looked at this baby snake eyes, and after letting him/her roll around my fingers a bit, it felt like the snake was feeling comfortable too.
You can see the excitement in the eyes of Sofia too.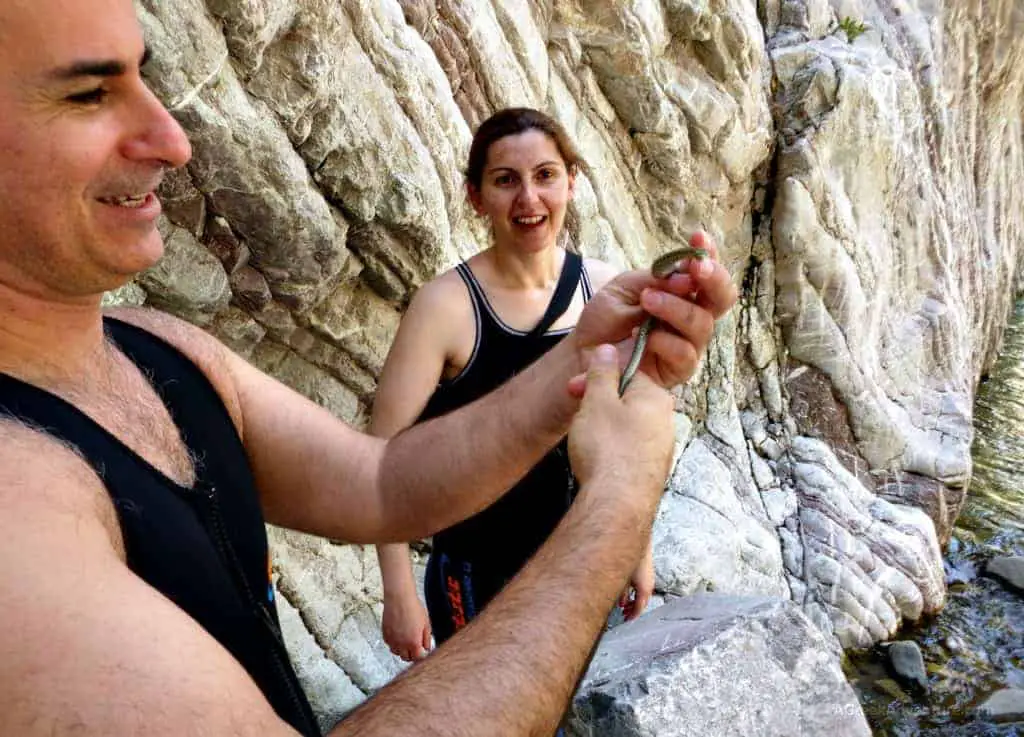 We need to tell you that this was another fantastic experience.
Not only because of the beautiful scenery but also because of our co-host's willingness to communicate the beauty of nature around us.
This is something that people here actually live every day.
There is even a summer camp for kids at the top of one of the mountains (run by Trekking Hellas Evrytania), which has a program full of daily outdoors/adventure activities.
We never heard about such before, and we find it an excellent idea.
We hope you enjoyed this article about our experience there. Stand by for more from this trip, as Karpenisi and Evrytania are not just canyons like Panta Vrexei and Via Ferrata. There is more to experience.
If you find this article a useful one, do share it with your friends.