Evia Greece (or Evoia Greece) is the second-largest island in Greece and resembles an extension to the mainland.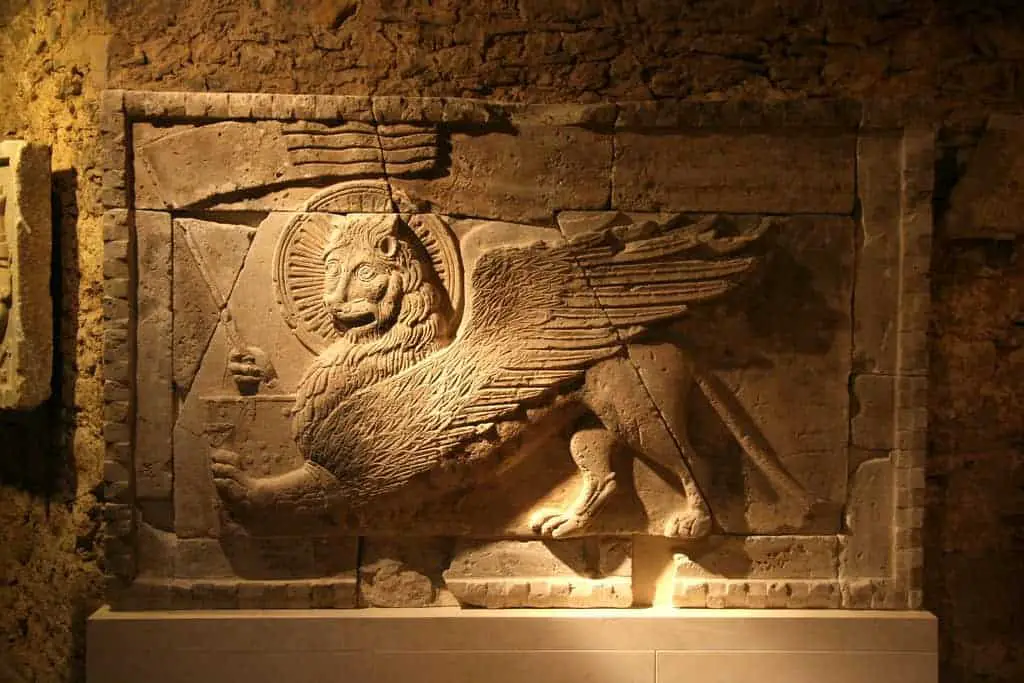 When planning a vacation to Evia, plan to stay for a least two weeks because of the several areas coastal towns of the island each with their unique offerings for tourists.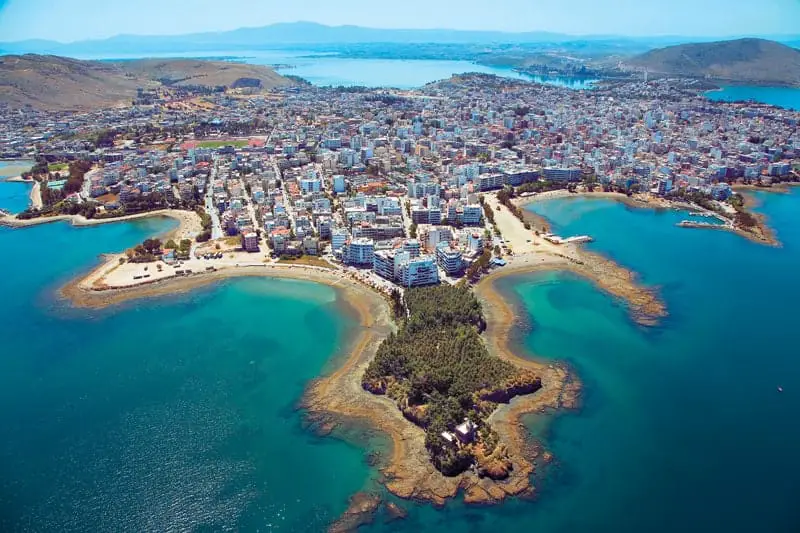 Outdoor Activities in Evia Greece
Explore the Village with the Lost Whistle Language of Greece
What if there was a language that only uses whistling for communication and conversation and no words? Well, guess what! It does, and it also exists in Greece.
Now pay notice: It is not merely about clear whistling sounds or signals, but an actual conversational whistle language!
Sometimes, by meeting people out of the blue and start talking with them, you may discover fantastic secret hidden gems of culture.
It was in such a first time meeting with a new friend from South Evia and the owner of South Evia Tours that revealed to us another Greek secret.
That village this secret is hidden in, is named Andia and is located in South Evia Greece, near Cape Cavo D' Oro.
There is a whistle language used, which has a label by itself. It is called "Sfyria".
The reason this was born? The locals say that they wanted to use a way to communicate in the countryside for long distances.
Others claim that it was used to alert people fast for incoming bandits.
Sound travels fast, especially in the wilderness and tops of Greek mountains, so there you are! They build a whole whistle conversational language!
The existence of the whistling language of Andia was discovered after an airplane accident that happened in the area in 1979. The pilot was missing, and search parties went to the city. There the locals offered their help, and they used the "Sfyria" whistling to communicate in the mountains. Hey, it was 1979, no mobiles then.
Elders of Andia claim that the origin of this language has its roots in the antiquities.
A study showed that there is even an acoustic version of the actual vowels. The five vowels of the Greek language [a, ε, I, o, u] are reduced to three [(a, o), (ε, u), i] and are used like that.
The locals even claim that they can whistle the names of people.
Watch the video below where this happens! More than that, even weddings were arranged like that. We also found out that they use different whistles to hoard the sheep, goat, dogs, and who knows what else?
But is this way of whistle language thriving nowadays? Unfortunately, it is not, so go and visit as long it exists. 
Only a few whistlers are remaining and elders try to pass that knowledge to the new generation. They think of it as part of their culture and something that must not be forgotten.
So, there you are! Put South Evia in your bucket list and explore that village. Then come here and share your experience! If you haven't heard of the Whistle languages before, here is Wikipedia to help.
Try Cycling in Evia Greece
A lot of people don't realize that Cycling Evia Island means to cycle on an island that is a 1-hour driving time from Athens (aka, no ferry needed).
It is also the second-largest island after Crete and has a lot of activities to offer.
Evia has been inhabited since prehistoric times with loads of historical remains to prove it.
It's most crucial settlement early became today's Chalkida port city, since it was the closest to the mainland and had natural resources of copper, making the town a trading center of great importance.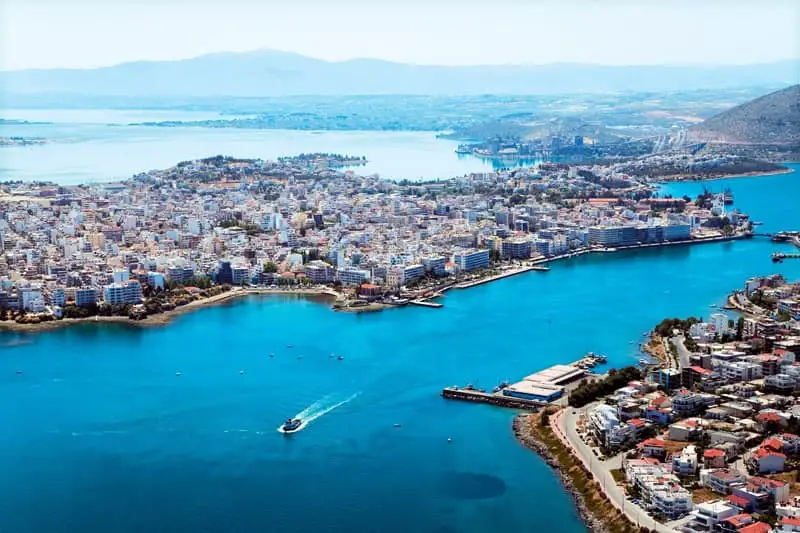 The island's name stands for "rich in cattle".
Let's hear our friends from EviaTours on their suggestions.
Evia is excellent for cycling around on since there are many small villages and interesting places worth visiting.
Of course, there are beautiful beaches as well, and depending on where you stay, you can enjoy some real peace or a hectic nightlife.
Either way, you can find yourself indulged in the magic of this uncharted island.
Just pick one of the cycling tours below and forget all about everyday routine.
If you are a city cycling fan, this is the place you should be.
Visiting local beaches and go sightseeing on your bike, there is no better place than Chalkida and the surrounding historic villages to live your Greek dream.
You will have the opportunity to cycle CoastCoast to CoastCoast along beautiful beaches, endless beach bars, and taste local seafood and exquisite cuisine.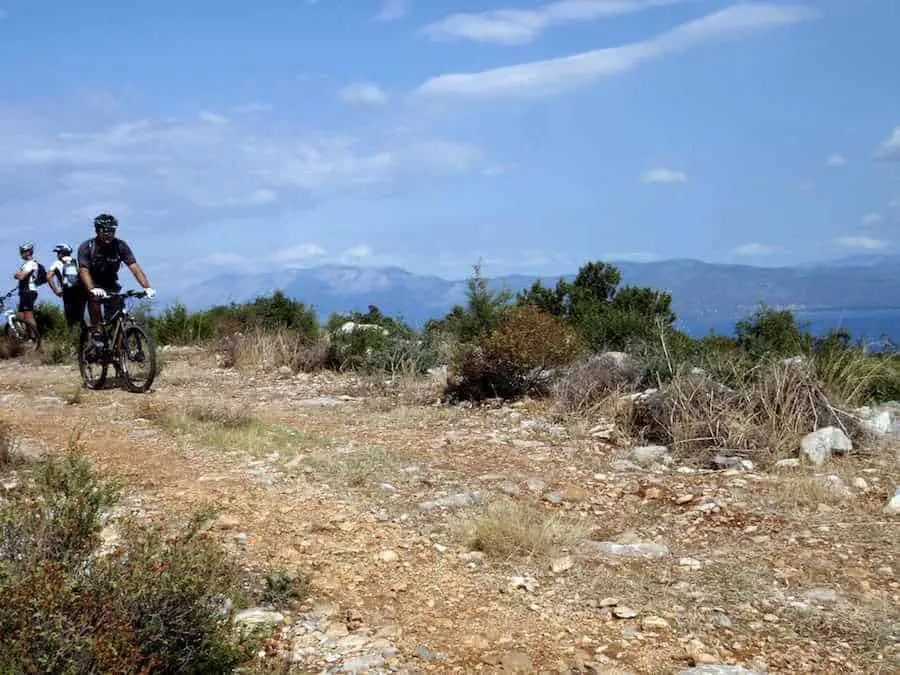 You can visit Chalkida seafront for a quick cup of coffee and learn all about the unique tidal phenomenon of Evripos strait.
Here are some pretty exciting routes for cycling in Evia Greece:
"Gaidaros" Route (25km – 4 hours)
"Fylla" Route (30 km – 4 hours)
Coast to Coast (20 km – 3,5 hours)
"Politika" (25 km – 4 hours)
Winerouts (27km – 4 hours)
Kiteboard in North Evia Greece
The fantastic sport of Kitesurfing or Kiteboard is a new and fast-rising, very spectacular sport.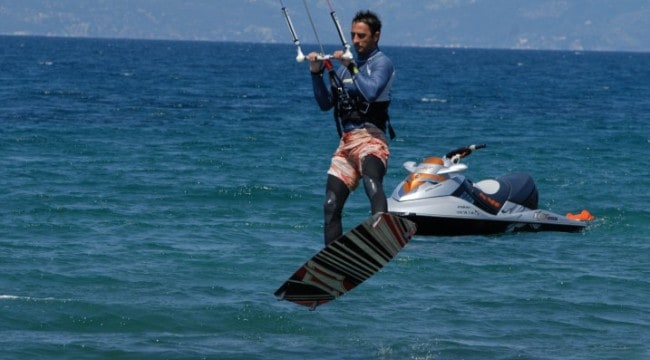 The kitesurfer can move on the sea, on a small board with extreme speed.
He can do impressive maneuvers, jumps and can tame the waves.
All these by using the power of a kite in the shape of paragliding chute.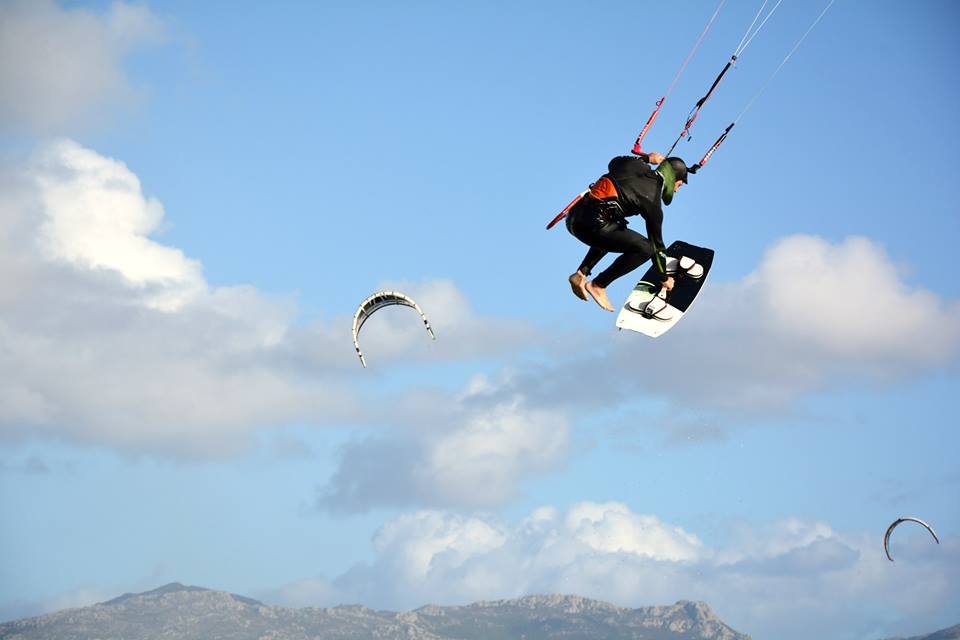 The Kiteguru school who provided us with these fantastic photos, has its base at North Evia at the settlement of Pefki.
During wintertime, kite excursions are organized all over Greece as the aim of this team is to create communities of friends, who have kite sports as a preferred activity.
Seek for the Kitesguru station.
Stay at the Telaithrion Project
High on northern Evias Telaithrion Mountain, amongst plain tree-forests, with an astonishing view, this project hopes to put in perspective that a self-sufficient, sustainable social structure based on true incentives and selfless giving, can exist.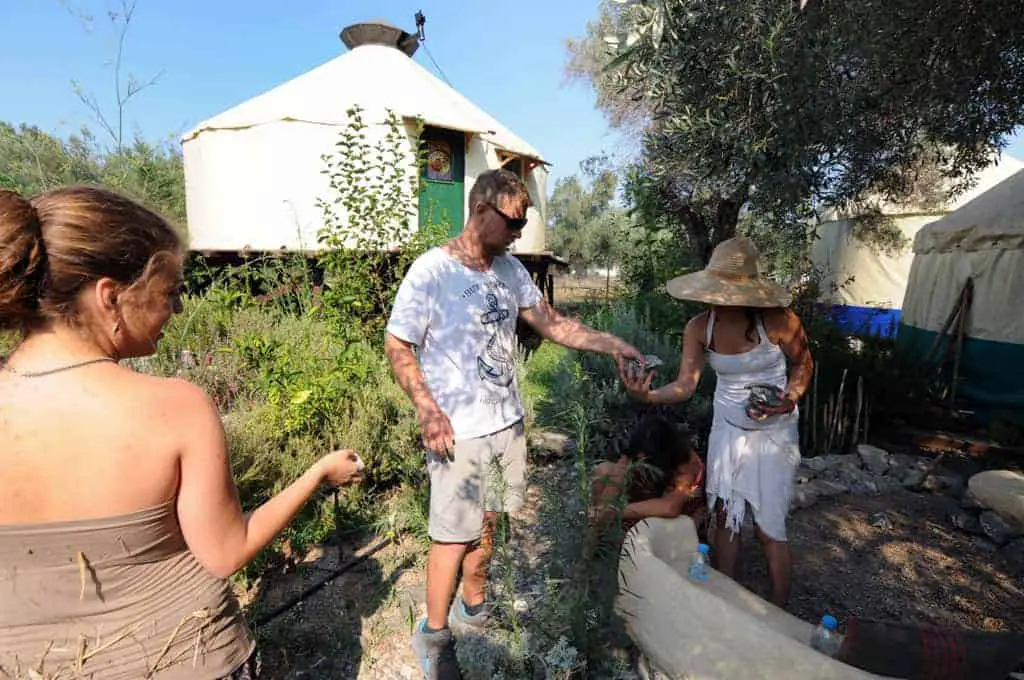 A design by the non-profit organization "Free & Real", applied on a 3-acre plot of land near the summit of Mount Telaithrion at 450 meters altitude.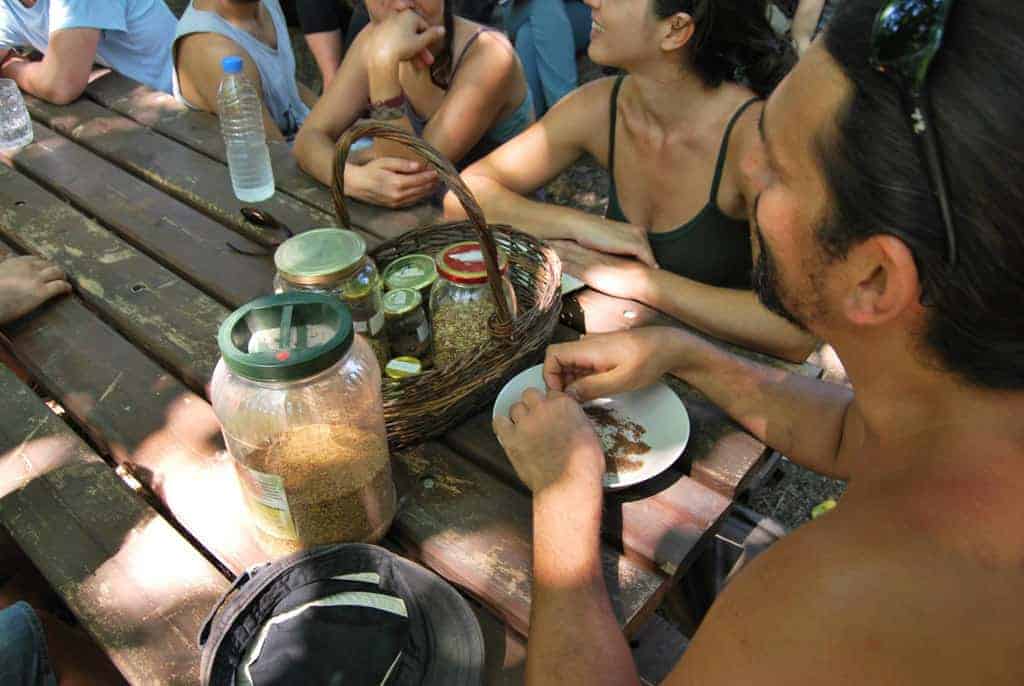 It is currently transformed into a multipurpose site that will finally operate as a school for self-sufficiency/sustainability, as well as Greece's first replicable model of a low-tech and sustainable eco-community.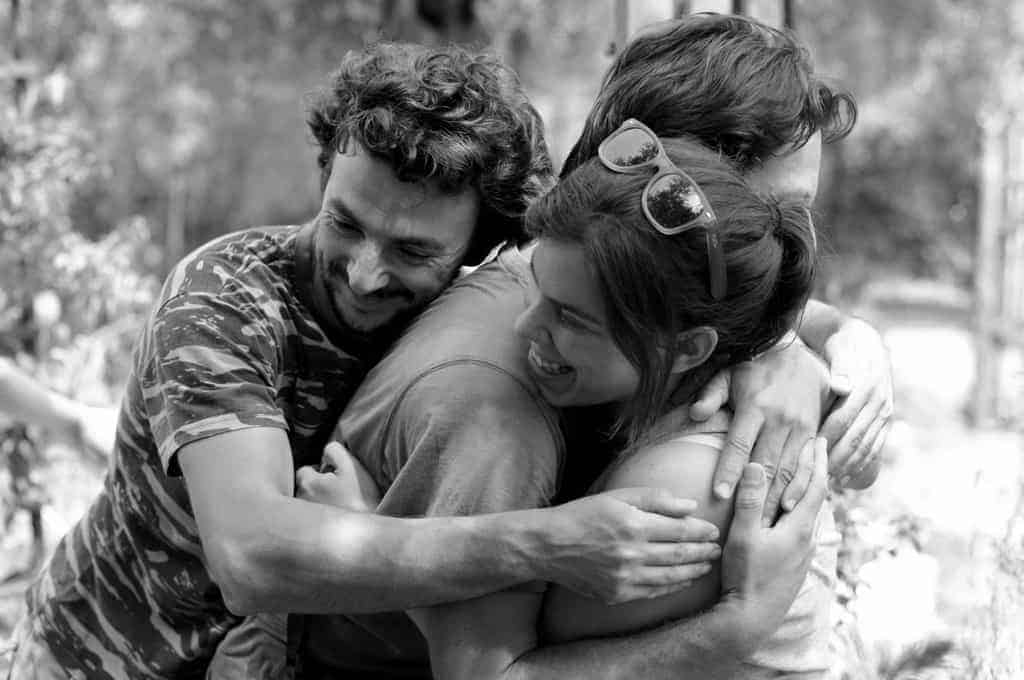 As a visitor there, you will have the chance to participate in this fantastic transformation while obtaining practical knowledge.
Seminars and workshops are organized regularly focusing on various topics including self-sufficiency, eco-building, natural farming, nutrition & health, traditional herbal soaps, remedies, beekeeping, and many more.
Roaming the nearby mountains for mushrooms, eating exquisite vegetarian meals straight from the project's gardens, or sleeping in all-comforts traditional Mongolian yurts, you will feel how the evolution of living in harmony with nature can be.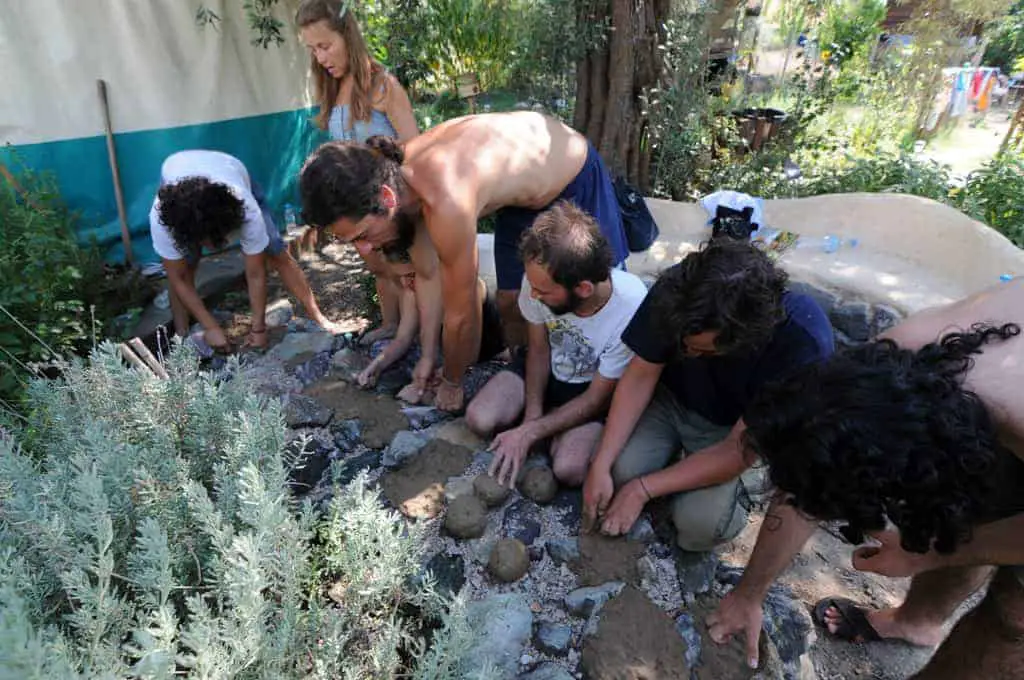 But most importantly, you'll be a part of the process of creating a society of healthy living conditions and open-minded people, with a free spirit and real incentives, away from any isolation, artificial barriers, and pointless, noncreative or unmotivated labor.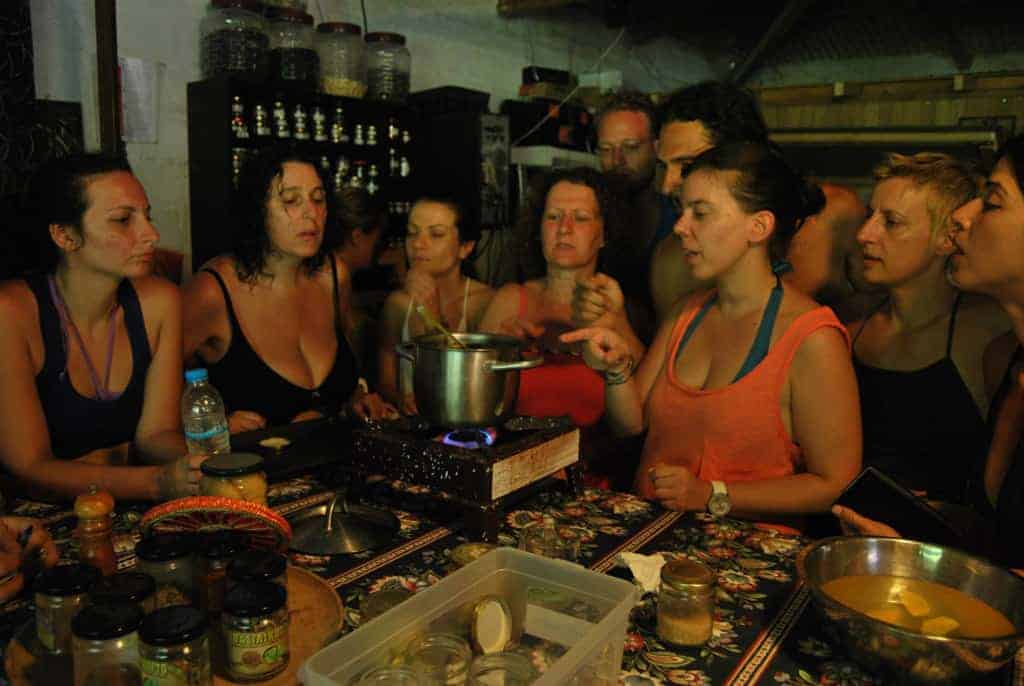 The Telaithrion project can be the future model of society while roots in the past. Contact the organizers through info@freeandreal.org
A route of 1 and 2-grade difficulty, starting from the football ground of Makrikapa, Evia, passing from Vavoula and ending up to the top of High Rock or Kartsini.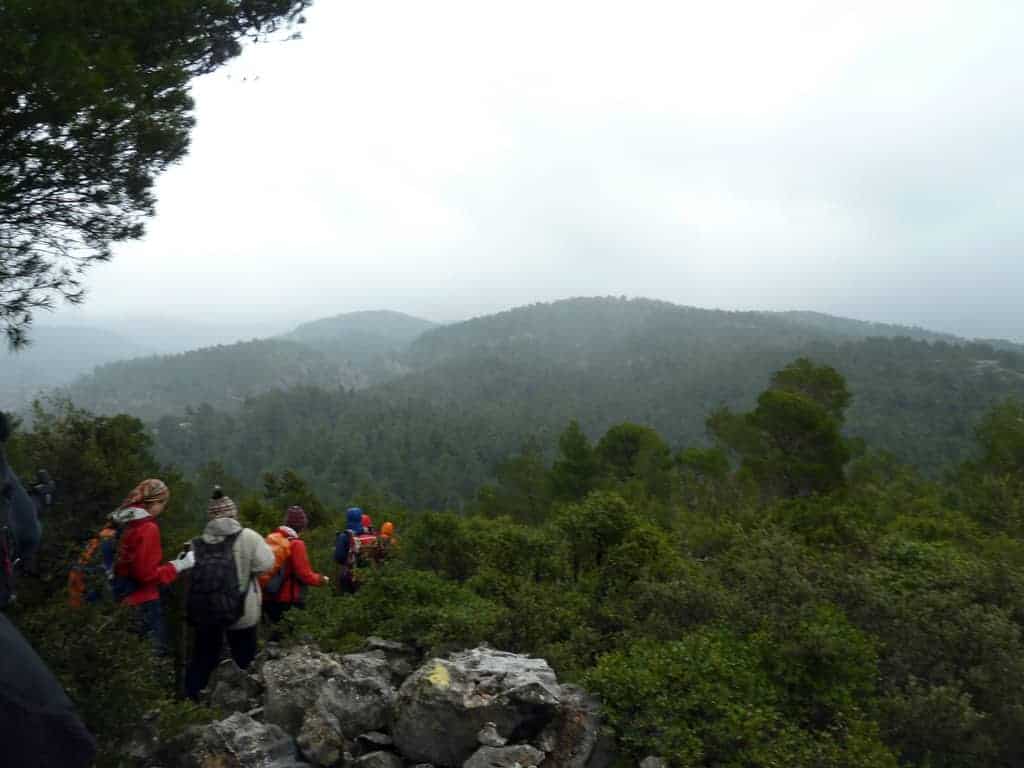 Most of the route is next to the river, through pine forest and plane trees.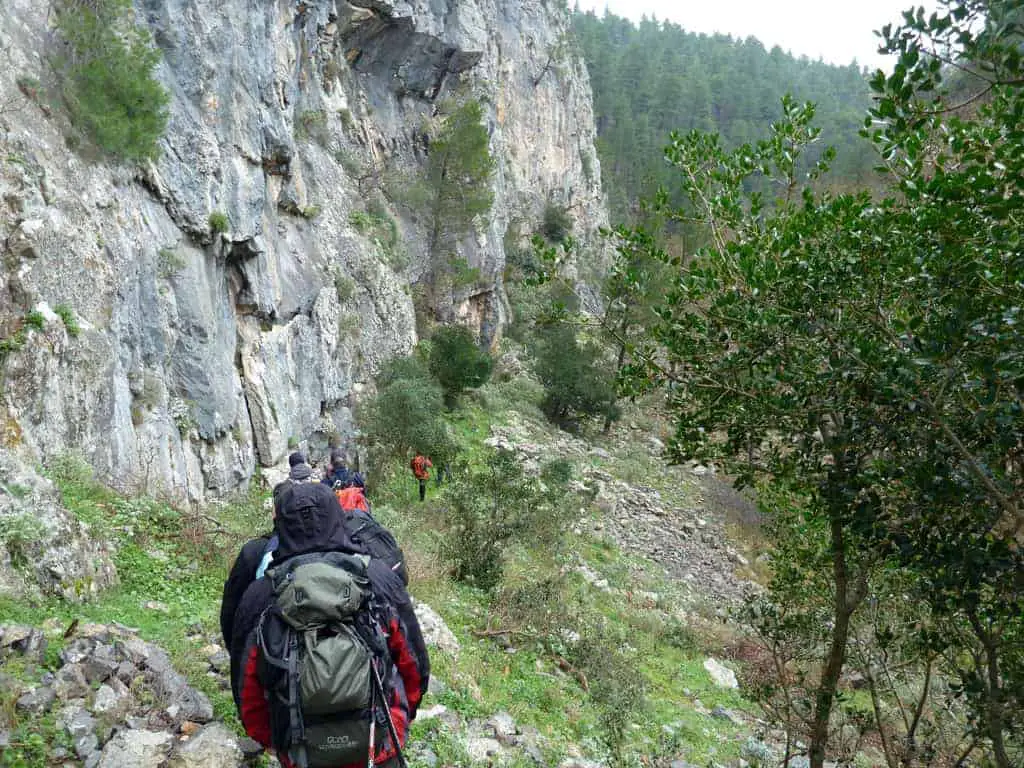 Hiking Xirovouni, Agali Gorge and Steni
Evia, Greece, is excellent for hiking, trekking, and cycling around on since there are many small villages and interesting places worth visiting.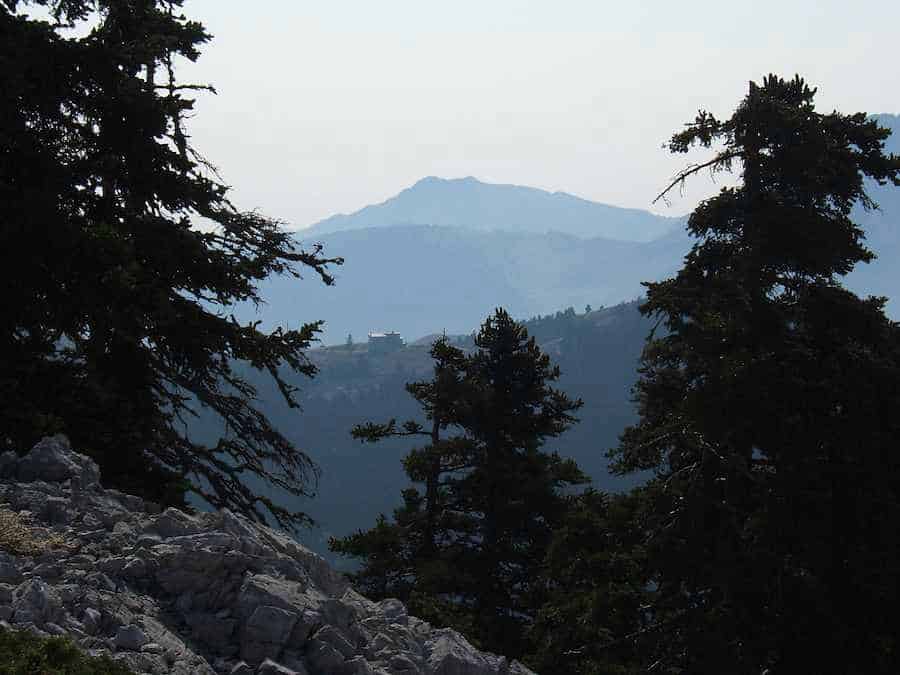 Of course, there are lovely beaches as well, and depending on where you stay, you can enjoy some real peace or a hectic nightlife.
Evia has about 30 designated hiking or trekking routes.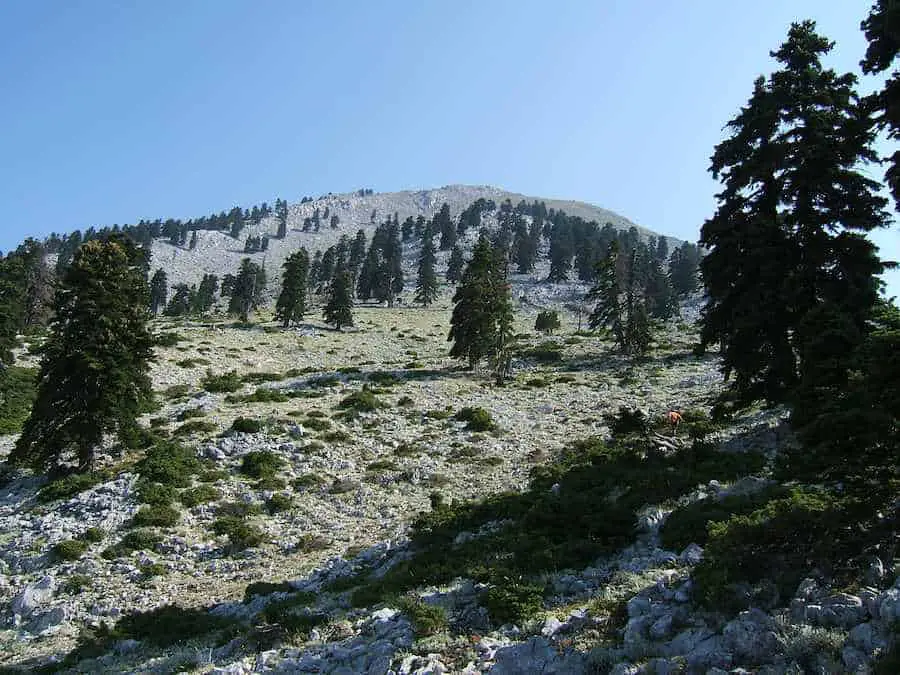 They vary in difficulty and length.
With two organized mountain refuges, one in Dirfi and one in Ohi mountains, and other hiking shelters, Evia is the ideal place for taking a day to hike.
You will have the opportunity to travel across beautiful gorges ending up to forgotten from man beaches; you will visit the renowned Dragon Houses, which are spread all across the mountains of Evia, walking along the paths of our ancestors.
To get to each trail, you will often drive through windy roads, scenic villages, and ancient footpaths.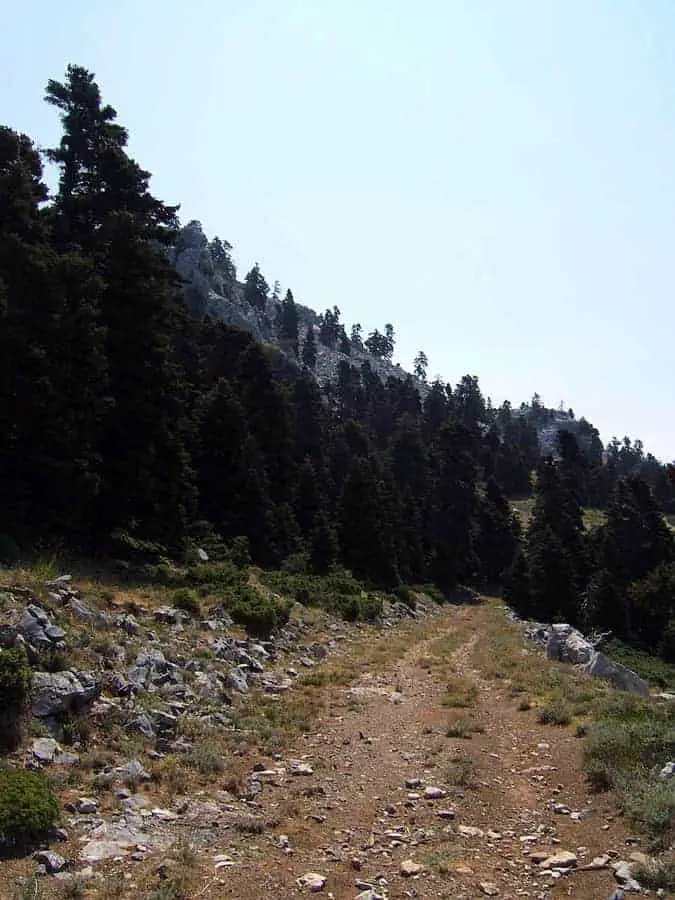 Just pick one of the trekking tours below and forget all about everyday routine.
Agali Gorge (4 hours – Level 1): The journey is uphill, and takes you across wooden bridges and stone steps. You will come across the observatory/stone benches, another spot offering great views of the mountain. We will end our journey at a wooden reception hut.
Mount Xirovouni (3,5 Hours Level 1): Starting from Syka ridge, we will follow dirt roads through pine trees and eventually enter the alpine zone. From here on, the terrain turns into the rocky ground, upwards towards the peak of Xirovouni.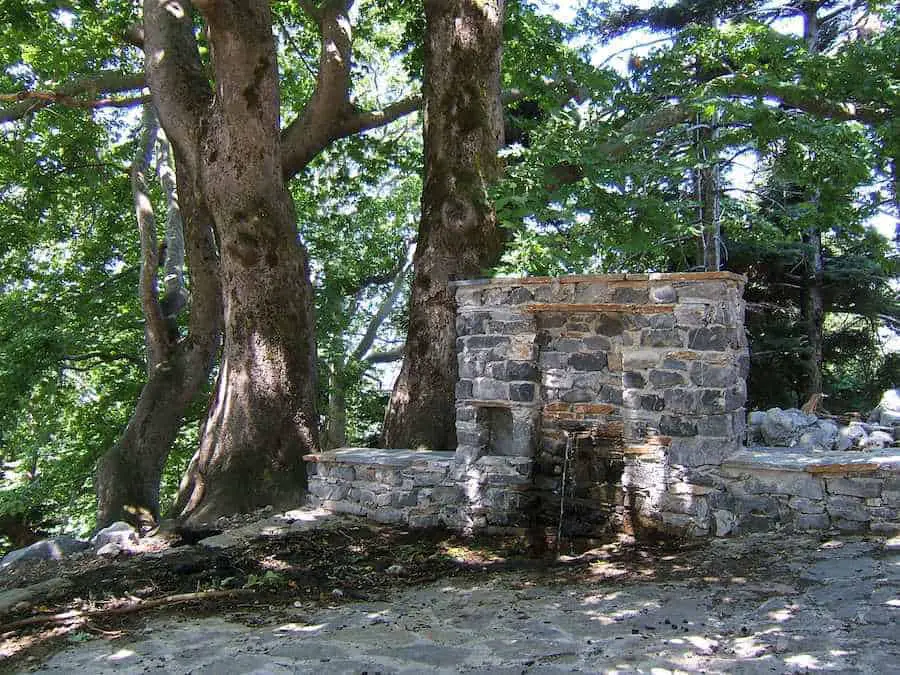 Steni – Refuge (2,5 Hours Level 1): This is a journey that takes you through the Aesthetic forest of Steni. The trail consists mainly of chestnut and fir trees.
The first part of the journey towards the refuge offers panoramic views over the ravine of Steni and the North Evian gulf to the west, and of the Aegean Sea and Skyros to the west.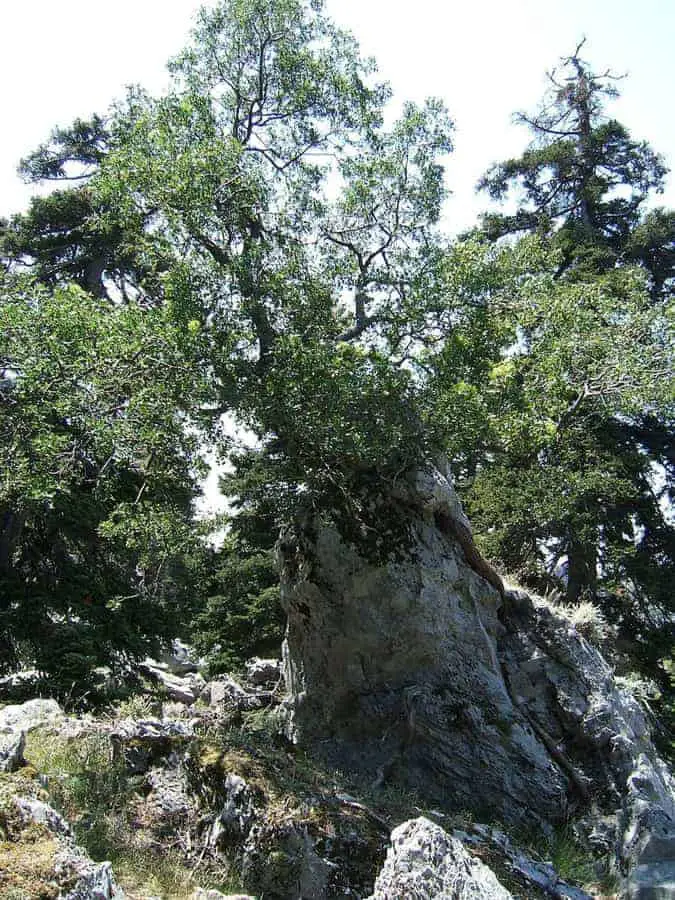 Some mention Evia as Greece in miniature.
With 900 km of coastline, Evia has a wide variety of beaches, five private and seven public ports., historical and cultural heritage, castles, nature reserves, alpine forests, and gloomy mountains; it surpasses all other Greek islands in diversity.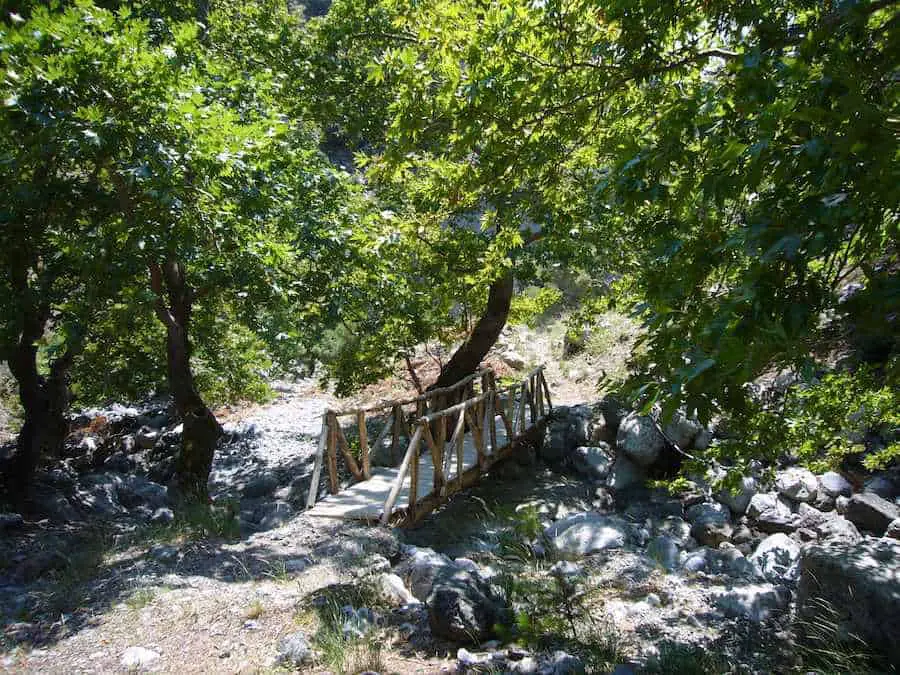 Evia Island is connected to the mainland by two bridges.
It is mostly unexploited and is free for the evolution of an alternative kind of tourism.
With high altitude alpine forests, bridge connection to the mainland, just an hour away from Athens, stunning beaches, and daunting scenery, it is the ideal holiday destination both for foreign and local tourism.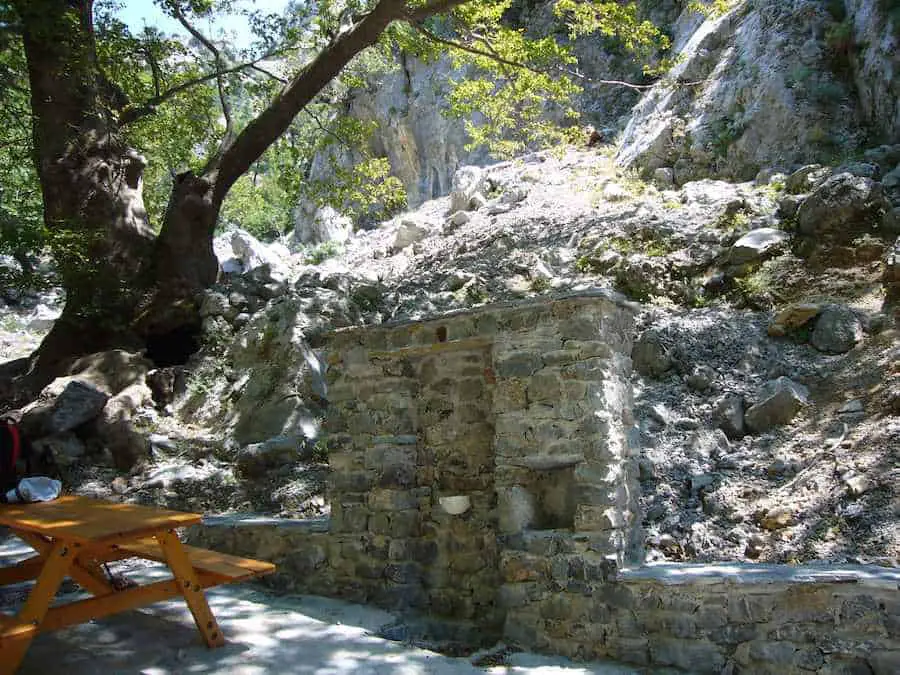 Discover the hidden gem of central Greece.
Edipsos Town in Evia Greece
One tourist attraction that Evia Island is famous for is the natural spas that are found on the island.
In the town of Ediposos, located in the northern part of the island, you can find many natural springs and spas to relax in along with the healing sulfur waters.
There are so many there that it is often referred to as the "Spa Capital" of Evia Island, so spend a day here relaxing, unwinding, and distressing.
This town also has two advanced physiotherapy and hydrotherapy centers.
There are also many delightful villages and towns to explore along with a beautiful beach for swimming called the Paralia Loutron in the northern area.
The waters on this beach are heated all year from the thermal waters. It is an excellent place for a honeymoon or family vacation.
Eretria Town in Evia Island Greece
When visiting the central area, you can follow the coastline to Eretria, which is a primary archaeological site along with having a bustling resort.
Going a little farther into the central area, you can see many fishing communities where you can try your hand at fishing. In Eretria, you can visit many of the fish taverns on the boardwalk.
While here, be sure to visit the Archaeological Museum of Eretria, where you can see the ancient finds of Eretria on display.
You can also visit the ancient acropolis at the northern end of the town, the Sanctuary of Apollo, and the House of Mosaics.
If you love water sports, make sure that you visit Chalkida Nea Stira, and in the winter there is skiing on Mt. Difris.
For the adventurous hikers, there are plenty of places to enjoy mountaineering and trekking.
You can also enjoy mountain biking, climbing, leisurely walks, and horseback riding.
While on Evia Island, make sure that you visit the many mountain towns and villages to taste the different seafood dishes and discover the handicrafts of each city.
Make sure that you visit the Island of Skyros that is famous for their miniature ponies that children can ride and see the Chalkida tidal phenomenon, which is where the tides rush toward the north for six hours, then to the south for six hours.
When visiting Evia Island, there are several beach resorts, hotels and spas, luxury hotels, and hotels that cater to families to choose from.
How to get to Eretria from Athens
How to get from Athens to Eretria.
How to Get to Evia from Athens
You can get to Evia, Greece, in many ways.
By regional buses: After landing at Athens airport, catch the bus to Liosion Bus Station. There you can board a local bus to Evia Island. It is strongly advised to book that ticket ahead.
By car: Get out of Athens, taking the national highway towards Thessaloniki. With regular traffic, you will find the exit to Chalkida after 1 hour of driving time. Around 30 minutes from that, you will be in the center of Chalkida, where the directions split to either North or South Evia.
By train: You have to board at "Stathmos Larissis" station in Athens and get the train to Chalkida (capital of Evia).
Photos kindly provided by dtsiabai, antifa, mogsub
Did you like our post for Evia? Then also read