I have to confess that these holidays (Christmas), the whole universe conspired to make it very difficult for me to leave Athens. There were many signs indeed, but what kind of a traveler I would be if I wouldn't ignore them?
OK, maybe I confused you a bit, but I will explain immediately what I mean. If you think that I talk too much please move on to the next paragraph.
It was Christmas days, and my friends were arranging to visit Agoriani Greece, otherwise called "Eptalofos" (Seven Hills") since, according to tradition, it was built among 7 hills.
The village rests at the feet of Parnassos. One of my friends is from there and he has a house in the area, so what is better than spending the holidays in a little village, along with friends?
At that point there were different obligations that were holding me to Athens.
Should I Go To Agoriani Greece?
The 1st sign: I decide to visit that small village on the 2nd of January. I would choose to go there by train. One day before, I receive a phone from "E," where she informed me that the house had no water or heating. The pipes were frozen since the weather during those days was more than adverse.
The 2nd sign: A second call from "T" convinces me to do it and go. I thought that we could heat ourselves with an electrical heater and use bottles of water for bathing.
As I thought of it, it was an opportunity for some "hard time" plus it was that feeling that no matter what you definitely need to leave away.
So, I land at the station, book a ticket to Lilaia (the closest to Agoriani Greece station) and I am there waiting for the train with my final destination the village of Lianokladi.
Then, from the loudspeakers of the station, a voice said: "Due to train derailment there will be a delay, without an exact departure time to be able to be announced".
The 3rd sign: At the point, I was starting to feel the stress… I was thinking "It's not possible, fate doesn't want me to leave Athens".
But I decided to wait for a while. I said to myself that if the train doesn't arrive in the next hour, I will make the decision to go nowhere. I was awarded for my patience since the train arrived. At some point in the middle of the route, the train stopped again…
The 4th sign: At that point the exaggeration of passengers that were speaking for a malfunction started to flower.
I thought "this can't be happening. What more can happen?". Eventually, after a while, the train started moving again and I managed to arrive at Lilaia, where -safe at last- I hugged my friends who were waiting there for me.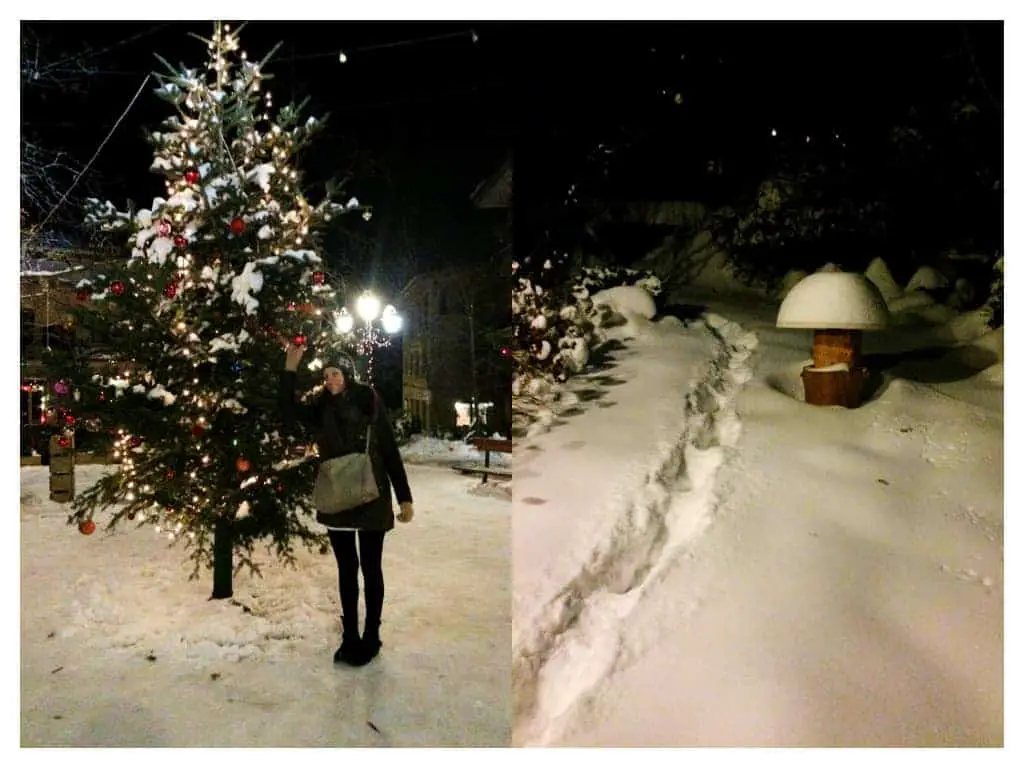 The Agoriani in Greece I Experienced
And now my excursion to snow-white Agoriani (located at an altitude of 830 mt.) begins. The night route from Lilaia to Agoriani Greece was very beautiful.
Everything around were dressed in white and darkness and was so imposing. As we were moving on we started seeing the lights from the village which made the whole scenery even more magical and we had the necessary stop for dinner and wine.
The evening continued with a walk in the small square.
The snow was like a carpet, waiting for us to hop on it like children. But the night didn't end there as we all gathered around the fireplace and had discussions up until the early morning hours, in an attempt to get warm in a frozen house (remember where I mentioned not having heat and running water?).
A few hours later "T" woke us up in order to visit the "renovated" ski center of the area. We went up there, "flew" with the lift and reached the slopes.
But this was something the others did since "E" and I decided to enjoy a hot coffee at the chalet, looking at the ski experts out there. In such a way, time went by. We returned to Agoriani Greece and continued our day with tsipouro, wine, and food bites at Yioula Cafe, up to the point where we got very tired and returned home. We were happy to see that we had running water again! We welcomed the hot bath and heating and like that our evening ended.
If you ski, you will definitely know that it is better to arrive at the ski center early. This, especially during weekends (plus holidays), in order to avoid the crowding.
If you don't ski you can have your coffee at Kelaria chalet and sit at the comfortable chairs outside of the chalet. This with the addition of a sunny day is the ideal ways to relax or simply to start a snowball war. You can also take the funicular and reach the higher slopes, but beware of the skiers.
The next day was equally full. Our first small walk was at the village square waterfall. Along the rushing waters there are steps that lead you to the top.
I tried to reach the top but didn't make it. The snow was almost melting and walking on the ice was very difficult. Imagine going up and return from the same steps.
So, I visited the school of the village which was nearby and I found myself in front of an unbelievable view of a white mountain, of the trees and the colors of the sun setting down. It was an unbelievable color combination.
Despite the severe cold, we decided to walk another 2 routes. The one was towards "Mana", the village water source, located around 500 mt North of the village. The village is famous for its running water and "Mana" is the biggest of its water source.
The 2nd one was the one towards the waterfall "Matesis", very close to the village. Its height is more than 60 mt and starts a little far from the school.
Unfortunately those were the few things we managed to do and these with extreme caution and difficulty.
The next day we wanted to walk towards the little chapel of Saint John (around 5-6 km from the village), a route among pine trees, but the weather was not permitting such.
Ideally, it would be best to visit Agoriani Greece, during Spring (or at least at a season with no polar temperature). The whole area is suitable for many hiking routes through natural paths, and these are more enjoyable with good weather.
However, I found rather enjoyable the snowstorm scenery I experienced just before our departure. As I was drinking my coffee and staring outside through the window, the sky turned dark and started to snow.
As time went by the more it was snowing and in 15 minutes' time, everything was covered with snow and resembled a fairy tale.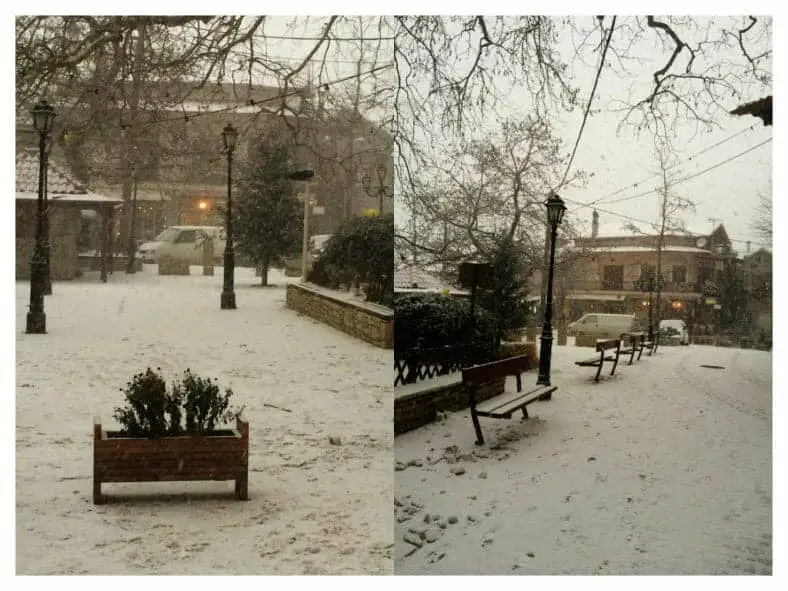 The good thing about going to a small village because a friend of yours is from the area is this: with one phone call a company of 2 or 3 people starts to multiply and suddenly you find yourself sitting on the same table with 10 more other people, having a conversation like you know them since forever.
Then you can continue the same at home and keep drinking "rakomela" near the fireplace or playing board games in a bar at 3 am.
Oh! I do not want to forget to mention how perfect is to also become the DJ and play music in a bar since the owner (friend of a friend!) permits you to play any music piece you like. Yep, and you can take orders too.
So, this is what I am talking about. It was not a problem for us that we couldn't walk in many places. Agoriani Greece offered us many beautiful and spontaneous moments, along with meeting new people.
And, maybe, some times and according to your mood, you can hold inside you a beautiful discussion with a person you met there, more than a walk.
Besides bad weather along with cold and snow are most suitable for feeling-like-home moments along with friends. Isn't it so?!
Suggestions for dining/drinks/sweets
Definitely go for mushroom soup at "Griza Arkouda" (Grey Bear) and to Mavrodimos tavern for good meat
For coffee, go to Yioula's
For drinks, go to Katoi
Do not leave from Agoriani Greece, if you don't taste the creamy pie (galaktoboureko) of Miss Athanasia. The pastry of this sweet has something different, and you need to taste it to feel it.
If you want to taste the delicious pies from the local bakery, you need to rise quite early. They vanish in a moment! Beyond pies, you definitely need to try the cheese bread.
There you are! The signs tried to stop my exit from Athens (!), and I totally ignored them, and so my decision was the right one!
I have more photos to show you and here they are all presented here! They are really lovely, aren't they? 🙂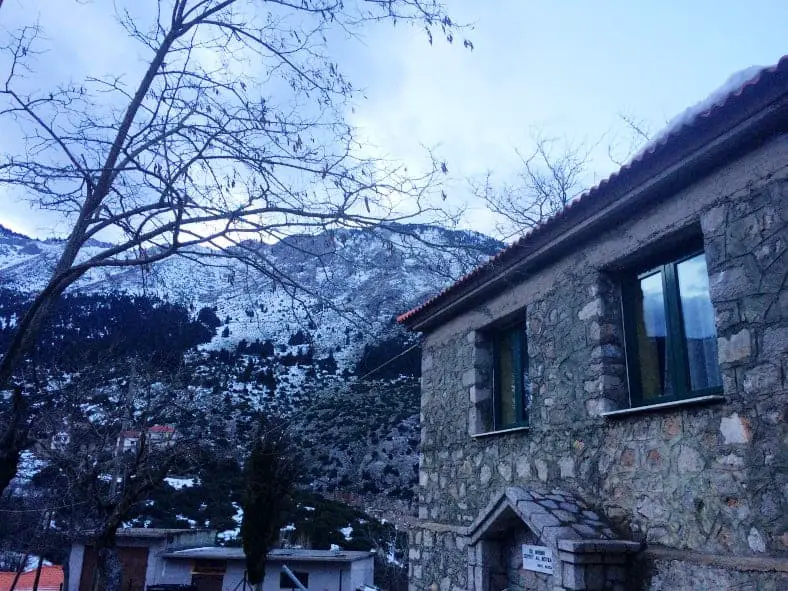 (The article is a translation from, MyLandingRunway, originally published in Greek).
Also, read: