The Orthodox Easter in Greece means lots of things, not only spiritually related. Greek Orthodox Easter relates to Spring and the nature coming out from the clothing of winter. You have to visit Greece once and celebrate Easter in one of the locations mentioned here.
It is vividly celebrated all over Greece, along with all countries where Greeks and Orthodox Christians reside.
After all, this season also means the celebration of life over death.
What is more important than that? Pagan or not, that meaning alone means a lot for people all over the world.
Here are all the things to know for enjoying and understanding Easter in Greece.
Facts for Easter in Greece
The end of official fasting period starts 40 days before the Greek Orthodox Easter Sunday.
It is a mobile holiday. It never lands on the same date every year. It is celebrated on the first Easter Sunday after the summer solstice full moon (calculated with the Gregorian calendar).
The Holy Saturday night is a night where the custom directs a special soup made with the intestines of the lamb, which will be roasted the next day.
On Holy Saturday night at the time where the Resurrection is announced, vast amounts of fireworks and firecrackers will take off.
The Holy Light is given in the Holy Saturday evening mass, which relates to the "actual" resurrection time. People are expected to carry the Holy Light (Holy Flame) to their houses.
Orthodox Easter Sunday means eating almost all day long.
In many main cities, neighborhoods, and almost in any village, huge amounts of smoke are seen as people make lamb on a spit.
People exchange a specific set of wishes after Holy Saturday night. They say "Christ is risen," and another person replies, "Indeed he has risen," which is more like an affirmation.
It is considered a family holiday. Many people see these days as an opportunity to reunite with parents, children. In villages, huge gatherings are happening in many houses, as many generations of families come together. The same occurs around the world, where Greeks keep this custom.
Before Orthodox Easter Sunday, the whole Holy Week is considered a Holy Week of deep reflection, a Holy Week of self-realization.
Holy Thursday is the commemoration of the Last Supper of Jesus Christ when he established the sacrament of Holy Communion prior to his arrest and crucifixion. Holy Thursday is considered a mourning day.
Also read: Greek Food Experiences From All Over Greece
Essential Things to Know for Easter in Greece
Planning to be in Greece, or you are invited to a Greek house where they keep the Easter customs? Keep in mind these two things.
Why do Greeks Crack Red Eggs on Easter?
You are given a red egg while you celebrate Easter in Greece. Are you puzzled? You get the egg after church service is held, church bells ring and people wish to each other with the Greek phrase "Christos Anesti", which means " Jesus Christ is risen".
The red eggs are dyed.
Easter red eggs are -traditionally- boiled eggs dyed with red color.
People crack them competing on who has the strongest (hint: they use both ends).
Cracking the eggs has a deeper meaning and not just that of food.
Allegedly, the custom is combined with a tradition that wants them to be painted red after the sacrifice of Christ. They are meant to be part of a game, which goes like this: Two persons choose 1 red egg each.
They both hold them from the same side (pointy or curved side). Then they bounce them and the person whose egg is not cracked wins nothing! It's just for fun.
The custom also resembles the resurrection process where Christ emerges from the tomb. Egg, in many civilizations, symbolizes life or new life! So, you crack the red eggs and new life emerges!
Ok, then you will eat the egg spraying some pepper and salt on it.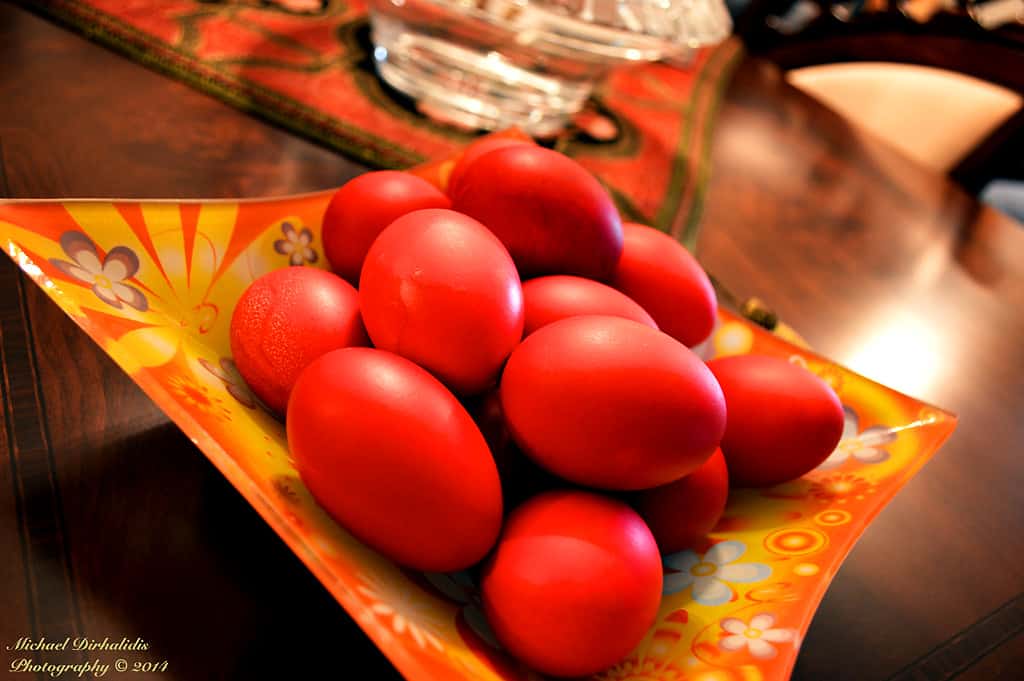 Usually, women gather in a kitchen and dye them red.
While in other countries like in the US, people tend to decorate Easter eggs with colors, Greeks like them just red as for them the egg signifies one thing only.
They also prepare the "mageiritsa" on Easter in Greece. It's a kind of soup made usually with greens and intestine, along with the liver.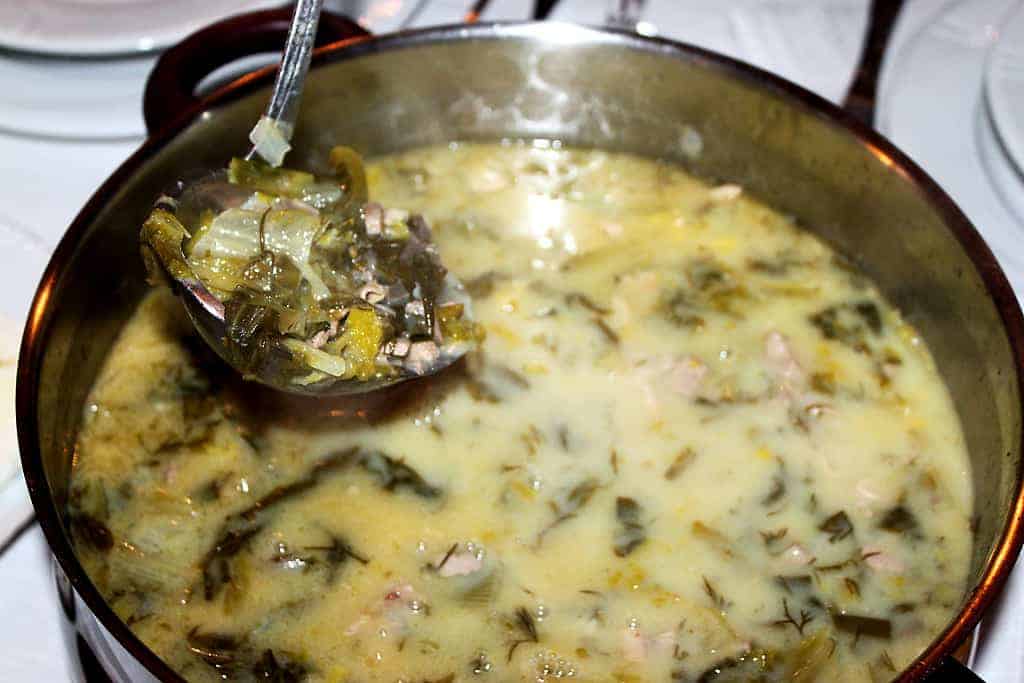 This holiday season is celebrated a bit differently in different areas of Greece, however, the roasting custom remains, so do the eggs!
The Epitaph experience in Greece in Holy Week
At Holy Friday night, what happens is the circumnavigation of the Epitaph.
This -for deeply religious people- is a very formal event, analogically important to the Holy Saturday evening resurrection mass.
An effigy of a tomb, which means to carry the body of Christ, is carried by four people, followed by priests, through a village or most of the neighborhoods in a place.
People follow along in a long line until the procession ends up to the starting point (the church).
Why Greeks Roast Lamb on a Spit at Easter in Greece?
First of all, Greeks do not need to wait for Easter or the Easter table to roast things.
They call some friends and then make a fire with wood and coals in minutes and through a few pieces of meat on it. It is called a "tsibousi", a festivity.
Throw in a few beers, some non-bottled –yet still great- wine, some "ntolmadakia", hard-boiled eggs and cheese and a salad and some fries and the party is on, baby!
Easter is another special occasion for Greeks. It is combined with a week of fasting (for many it has started 40 days prior to that Holy week), and tops with a great celebration of the Resurrection.
It is a day of joy and happiness. People drink a lot, gather around the fire pit and the Easter table, and take turns on rotating the lamb or goat or a pig (in some areas of Greece) until it is perfectly cooked.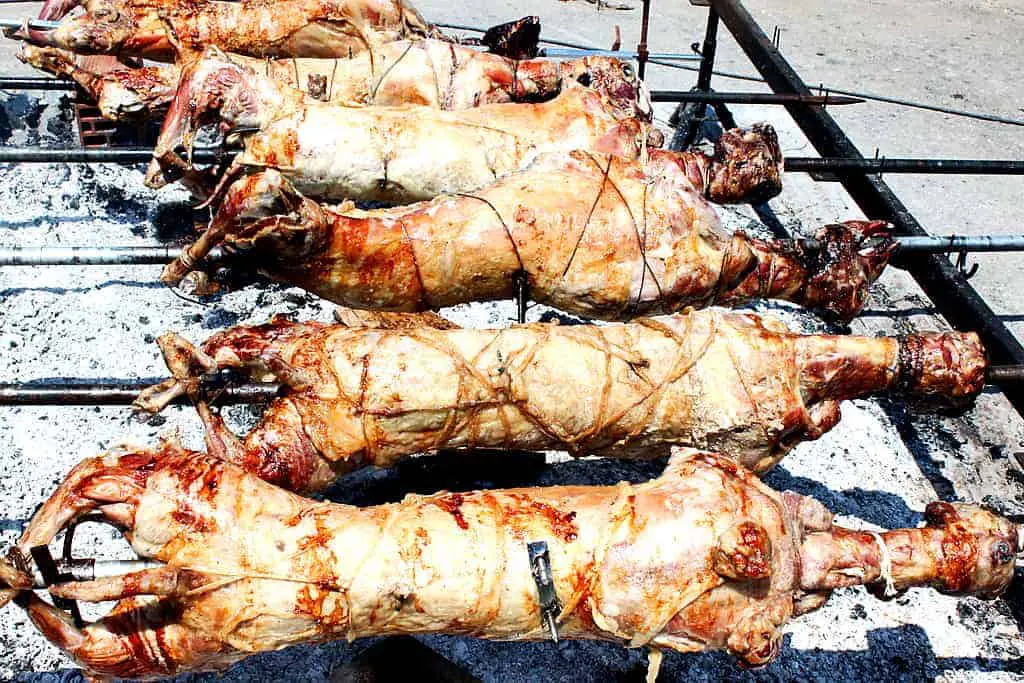 One of the attendees is the Master of Roasting. He "knows" better.
The others can argue with him on the level of temperature of the fire pit, or occasionally through some coal or wood in the fire pit. Yet, he "knows", and you know, he usually does.
The person in charge is usually the elder of the family and has roasted one too many.
Until the roast is done many snacks come and go ("tsoureki", "ntolmadakia", feta cheese, Greek salads, and more) so all who "work so hard" have something to eat.
Along these, Greeks usually roast "kokoretsi" at the same pit the lamb is roasted. Kokoretsi is placed on fire earlier than the lamb and serves as a snack ("meze") for the roasters.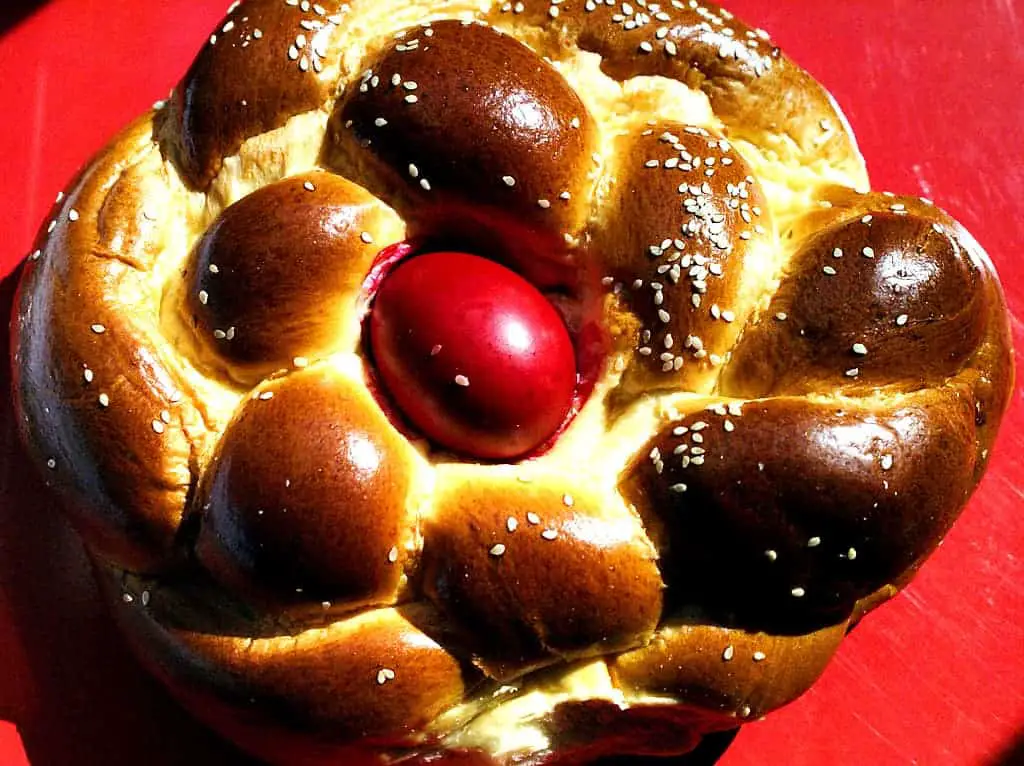 Many are full of all these snacks way before the lamb is done. But they eat that too anyway! One can't have too much protein!!! Bring it on!
7 Different Customs For Easter In Greece
Of course, customs differ in many places around Greece.
There are some locations where Easter is celebrated as a "bit more" vividly.
Here are some locations that many times made their way into local or world news.
1. Easter in Corfu island
The fantastic Ionian island of Corfu has the custom of throwing clay pitchers on the streets from their balconies.
This mostly happens in the town's historic center.
While they throw these ceramic pots (some of them are pretty big), they also yell the wish: Christ is risen.
The Philharmonic Band of Corfu is also seen all over the capital, constantly playing music.
Keep in mind that the Epitaph circumnavigation in Corfu takes place on Holy Saturday morning instead of Holy Friday night.
2. Easter in Ermoupoli, Syros island
In Syros, both Orthodox and Catholics celebrate Easter on the same day.
The Epitaph circumnavigation starts from 2 different churches (Catholic/Orthodox), and they meet in Miaouli square where they pray together.
Young people tend to carry/hold sponges and spears as a symbol to the martyr of Christ.
3. Celebrating Easter in Pyrgos at Santorini island
In this place on Santorini island, they light small fires along the path that leads to the top church of Pyrgos.
From a distance, it looks like the whole hill is on fire.
This is a very spectacular sight.
4. Easter in Patmos Island
This is the island where the Book of Revelations was written.
The religious factor in Patmos is of great importance, and Easter here has enormous significance.
There is also the Monastery of Saint John and pilgrims flock from all over the world.
Many take the path that runs through the capital, so to see the castle/monastery and the cave of Saint John.
5. Greek Easter in Hydra Island
The island of Hydra is in 1 hour and 30 minutes distance, with a flying dolphin boat from the port of Piraeus in Athens.
Here, the Epitaph enters the sea to bless the waters and the boats.
This happens at the village of Kaminia.
6. Easter in Kalymnos and Chios Islands
Both Kalymnos and Chios are well known for their "war zone" status during Easter time.
In Kalymnos, not only firecrackers and fireworks take off.
Young people ignite actual dynamite "contraptions," which make a loud sound all over the island.
Chios is well known about its "rocket wars."
This happens in Vrontados village.
Two competing parishes aim for each church bells and their towers. Some attempts to ban this have taken place, not always with success.
7. Easter in Kalamata city, Messinia, Peloponnese
Similarly, as in Chios, a rocket launching custom takes place.
A group of people named "Saitologoi" (meaning the Rocket Masters), launch these all day long.
The custom remains from the years where Greece was in war with the Ottoman empire, and this was used to frighten the enemy.
The custom was kept along with the Easter.
In general, the usage of firecrackers and loud noise all over Greece during resurrection mass and Easter day has more meanings.
It supposes to scare (or cast away) the angel of Death and also symbolizes the colossal event of Christ resurrecting from death, which is a huge concept if you think about it.
Noise is used as an awakening event, like "something huge is happening right now"!
Of course, it is magnificent to spend this time all over Greece, as celebrations give and take everywhere.
Athens is also celebrated during that time, and if you plan to be in Athens, do seek the Epitaph circumnavigation in the area of Plaka (Athens center).
The whole area is picturesque, which adds a lot to the event, with people holding lit candles and lanterns.
We have many memories from such Easters in Greece, where nature was spectacularly "dressed." 
Depending on the time of year, Spring may be in its full bloom, and this adds a lot.
If you can, book some days to experience Easter in Greece this year.
When you do make sure to be in Greece since Holy Friday morning as many things are happening after that day.
If you liked this article about Greece's Easter is celebrated, consider checking out the articles below –