Suppose you are the sort of traveler that loves getting in touch with nature in intriguing historical ruins and majestic ancient structures and are overtly fond of mountains and volcanoes. In that case, Greece is the ideal holiday spot for the history buff in you.
With entreatingly beautiful cold streams, towering mountains, and the famous old stone bridges set a rugged landscape, Epirus is a dream for backpackers and families alike.
The Stone Bridges of Epirus
There are hundreds of awe-inspiring, breathtaking stone bridges in Epirus that as symbols of men's struggles of the past; but here we have brought you a list of just six stone bridges that are worthy of at least one visit, especially if you are short on time and want to explore the best of Epirus.
1. The Stone Bridge of Plaka
This bridge stands on the River Arachthos, the widest stone bridge in Greece. Though the bridge was built and collapsed twice – once in 1860 and once in 1863, it was eventually successfully rebuilt in 1988 and stands magnificently today.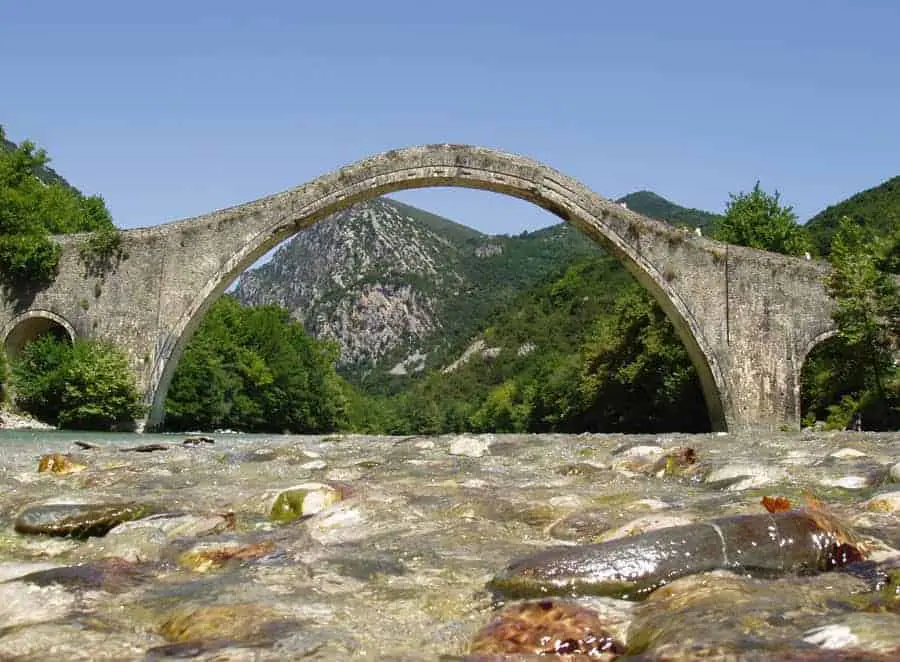 Considered the most beautiful bridge in the Balkans, it has a total length of 61 feet, and its central arch measures 40 feet big.
Apart from being the beauty that it is, it also helps facilitate communication between the residents of the village there, which is built on the slopes of Tzoumerka.
2. The Bridge of Arta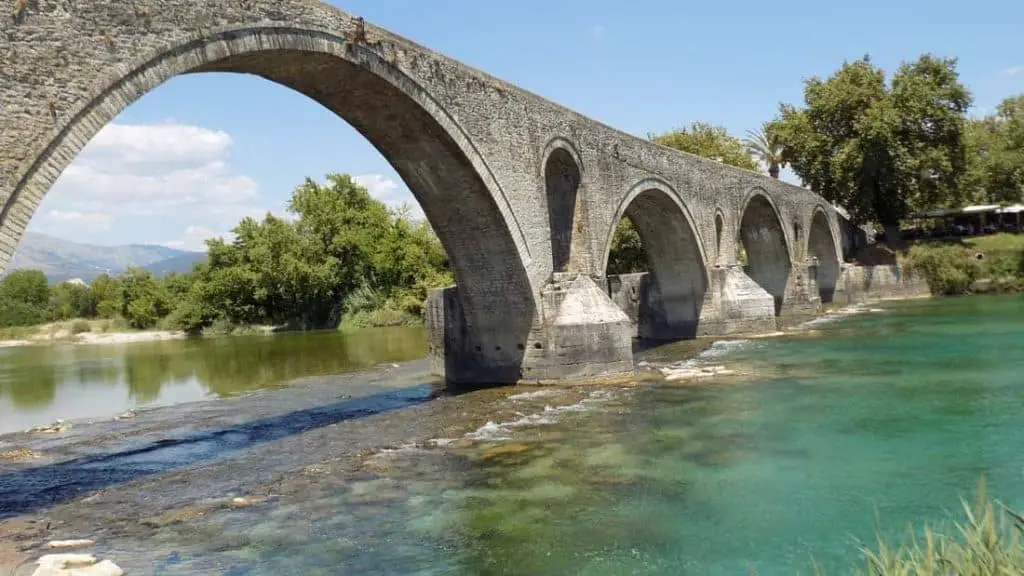 Apart from being architecturally beautiful, this 17th century Ottoman stone bridge has a folk ballad based on it. The legendary poem tells a sad story of a human sacrifice during its building.
The folklore talks about the bridge engineer or the head builder, who was busy building this bridge – day and night with his whole crew. Unfortunately, the bridge, which stood resolute during the day, would collapse at night.
This would happen every night.
The head builder and his crew tried everything they could to change the bridge's fate and prevent it from collapsing at night, but nothing worked.
One day, a bird, in a human's voice, told the engineer that if he sacrificed his wife for the sake of the bridge, the bridge would remain intact during the nighttime as well.
With a heavy heart, he tricked his wife into going into the river, claiming that his ring had fallen in, and then instructed his crew to throw fresh concrete on her and build the bridge – literally on her, with her alive under it.
After that, the bridge never collapsed and continues to stand to his day.
Grim stories and history rolled into one sweet package – this bridge is a must-visit!
3. The Bridge of Kaberagas
It is situated on the Zagorisios River, a single arched bridge named after Kaber-Aga, who gave the money to build the bridge. At a distance of just 25 kilometers from Ioannina, it has a slight arch with a large opening of 18 m and a comparatively small height of 5 m.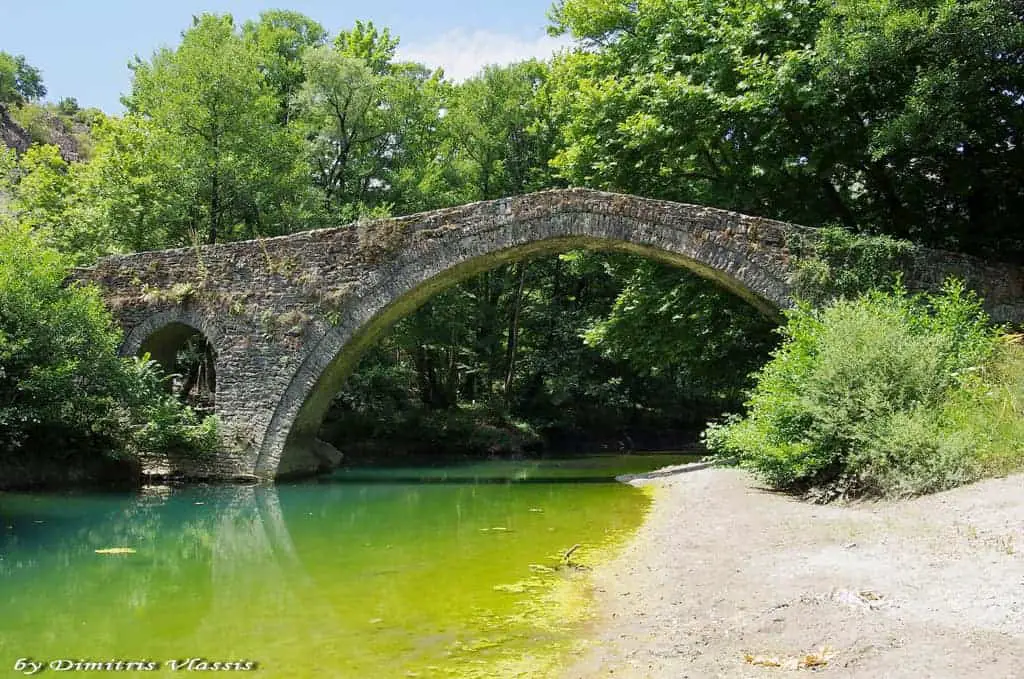 You should pay a visit to his superb proof of Greek architecture and also appreciate the peacefulness of nature and the gorgeous landscape surrounding it.
With a lush river and a rich canopy of trees, this bridge is nestled amid tranquility.
Nature lovers – make it a priority!
4. The Papastathis Bridge
The bridge, which has four arches and is 85 m long, with its largest arch measuring 8.70 meters, is situated among the most picturesque scenery you can imagine!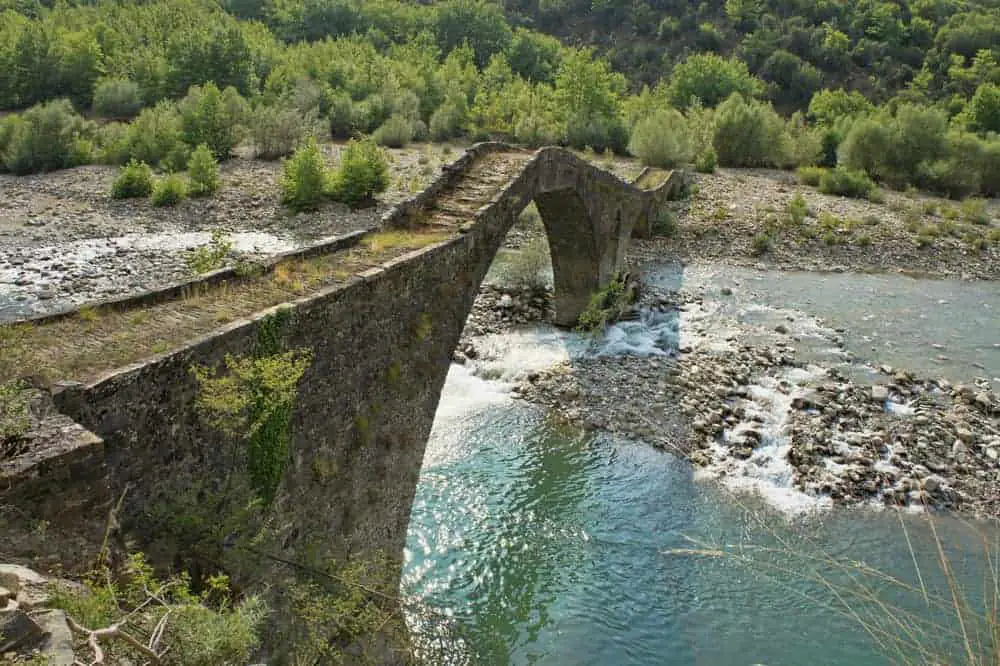 Between Anatoliki and Arachthos, it was built in 1746 and has endured the bombing of the large arch in 1942 – proving its durability and toughness.
Overlooking the hills on one side while surrounded by dense green trees, this bridge is a must-visit if you genuinely want to revel in nature's bounty.
You could even go for a rafting party and enjoy this bridge's beauty from a raft on the river below – a mix of history and adventure – win, win – we say!
5. The Konitsa Bridge
This is one unique bridge – built in 1870 by Ziogas Frontzos from Pyrsogianni, the foreman; it has an enormous stringer that might be the largest in the Balkans.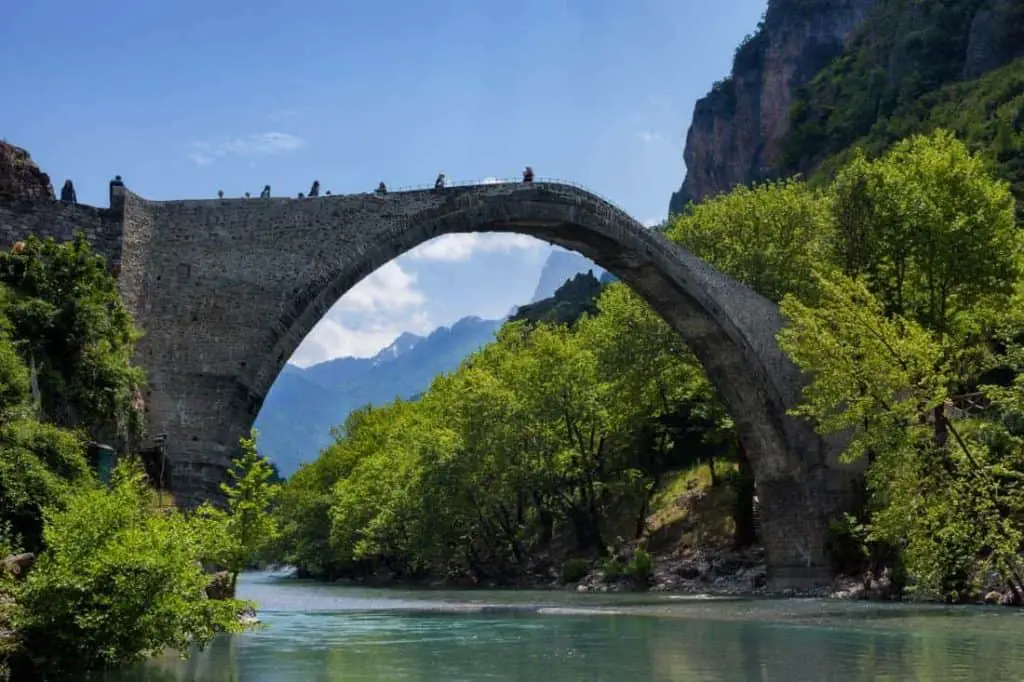 With an opening of 40 meters and a height of 20 meters, it is located in a beautifully serene place with the Aoos river flowing peacefully under its arches. We need to say that the Aoos Unesco National Geopark is also here. This bridge is a beautiful amalgamation of human craftsmanship and the brilliance of nature.
6. The Κlidonia Bridge
Built in 1853, this bridge is a one-stringer bridge, and it stands on the river Voidomatis. Not only famous for its scenic views and its beautiful arch, but it also boasts of a history of a bloody feud between two families for reasons of honor. It is situated quite close to Konitsa.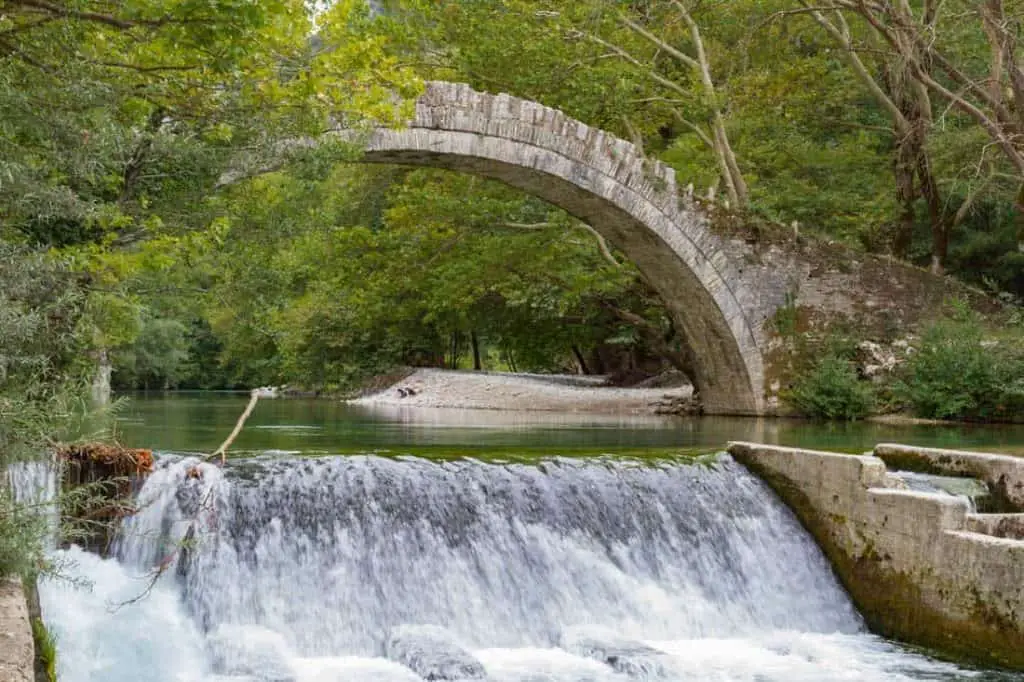 Can it get any more exciting than this?!
Do make a stopover here for a quick picnic in the midst of one of the great stone bridges of Epirus.
This guide will help you explore and enjoy the beautiful old bridges of Epirus that stand as examples of the superb craftsmanship of Greek architects and workers.
These bridges speak of bygone eras and breathtaking beauty and provide an enchanting setting for fun-seeking vacationers to relax and revel in nature.
Don't forget to read Fly Fishing Greece: Where To Go?