Becalmed and silent in the middle of a vast 100m deep crystal clear pond of deep blue ink we frolicked and floated near the boat in the lee of distant islands.
Fish appeared from nowhere to nibble our toes as the gentle depth supported our weight. The amazing diversity of region became apparent, as just 15 minutes later we were under way again with sails filled by a 15 knot breeze.
It was an altogether idyllic and awesome experience, one of many in our two week charter in the southern Ionian.
The natural beauty was remarkable.  Vast clear blue sea and green wooded islands with plenty of uninhabited white stony beaches and coves calling us to anchor to enjoy for just a while or even a night stopover, all to ourselves.
It was this supreme tranquility; the sense of having discovered a hidden paradise that refreshed our souls during our getaway. Perhaps nowhere else in the world can you get such a sense of sailing as it has been throughout the ages.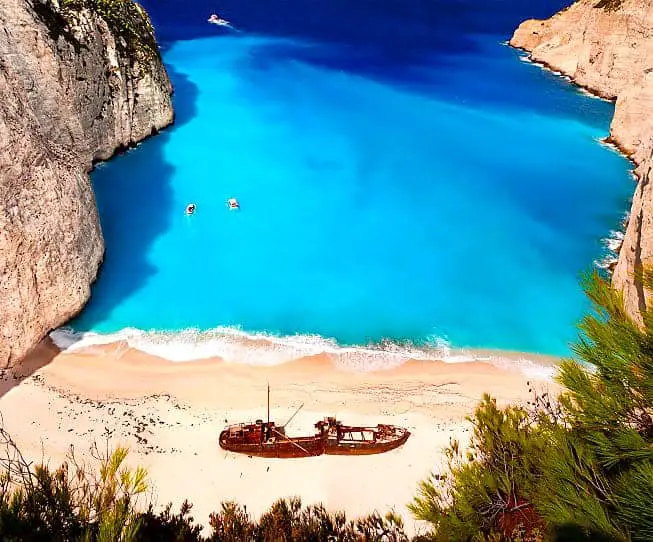 The quaint coastal towns abound with shopkeepers and restaurateurs eager to exchange their goods and services for cash from yachting and ferry trippers.
One even offered (the ladies!) a scooter ride back to the boat in the hope of a return later for dinner.  "Supermarkets" are plentiful for basic supplies but don't blink or you could easily miss it as you stroll by.
Once inside we delighted in local regional specialties; fresh cheeses, briny olives, delicious preserves made of sun-ripened fruits.
Tales of high season temperatures and crowded moorings confirmed our preference for the late season off-peak.
The ports were filled with boats a plenty, but there was always an available mooring or anchorage in the company of the locals fishing boats and ferries.  People buzz filled the air as fun filled vacationers mixed with music and calls from their would-be entertainers.
Also read: Ferry From Crete To Santorini Travel Guide
The level of energy was just enough to allow us to feel a sense of camaraderie with those around us; not so much as to feel overwhelmed as if we had to hurry or fight for a spot.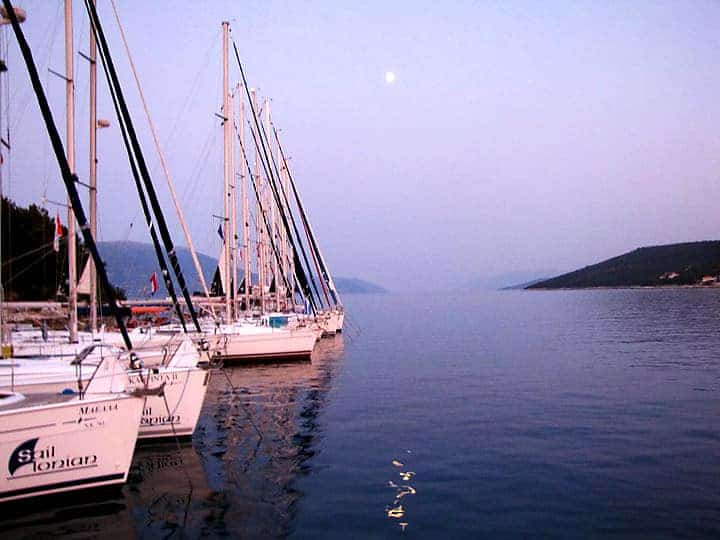 Arrival in port invariably gave rise to a helpful welcome by a local taverna owner or more likely noisy nervous advice from already tethered tipplers as we squeezed in between their already tied up boats.
Here our Mediterranean mooring skills were sometimes put to the test, however with the help of people on shore it was never a chore or cause for anxiety.
Lazy starts to the day were common as sailing in the mornings often meant motoring until the typical afternoon breezes arrived.
What a joy to enjoy our coffee and tea on the deck with bread from a tiny bakery, waiting until the sun was bright and full. Once the winds picked up we had exhilarating conditions for our happy crew on a fantastic holiday experience together.
Two weeks gave us just enough time to soak in the natural wonders, forget about time altogether, and just 'be' in the Ionian.
(The article 'An Ionian Sailing Interlude' was written by Nic Bowley and is his actual personal experience sailing in the Ionian.)
If you enjoyed our article on Ionian Greece sailing, then also read