Are you planning for your Skopelos holidays? One of the greenest islands of Sporades complex. Our Skopelos holidays were planned to be relaxing and they were like that indeed. So Skopelos it was! We stayed there for a week!
We even had the time to go for a one day cruise around Skopelos and Alonissos.
Having planned this a couple of months earlier we stayed at a beautiful apartment (pretty big), which came in a very reasonable price. We even had our own small beach which we used it a lot.
One of the things we did there was to arrange for a sea kayaking trip. That was the only endurance activity we planned, as we wanted to see the island villages and get well acquainted with Skopelos beaches.
So, our Skopelos holidays were spiced up with this very well organized sea kayaking trip.
We have tons of photos from that trip and we want to share some of them with you.
Our Sea Kayaking Skopelos Holidays
Our meeting point was -thankfully- very close to our apartment. We simply walked for 10 minutes carrying… just us. Everything else (from water to snacks and equipment was covered by Kayaking Skopelos company, Neil and Yvonne.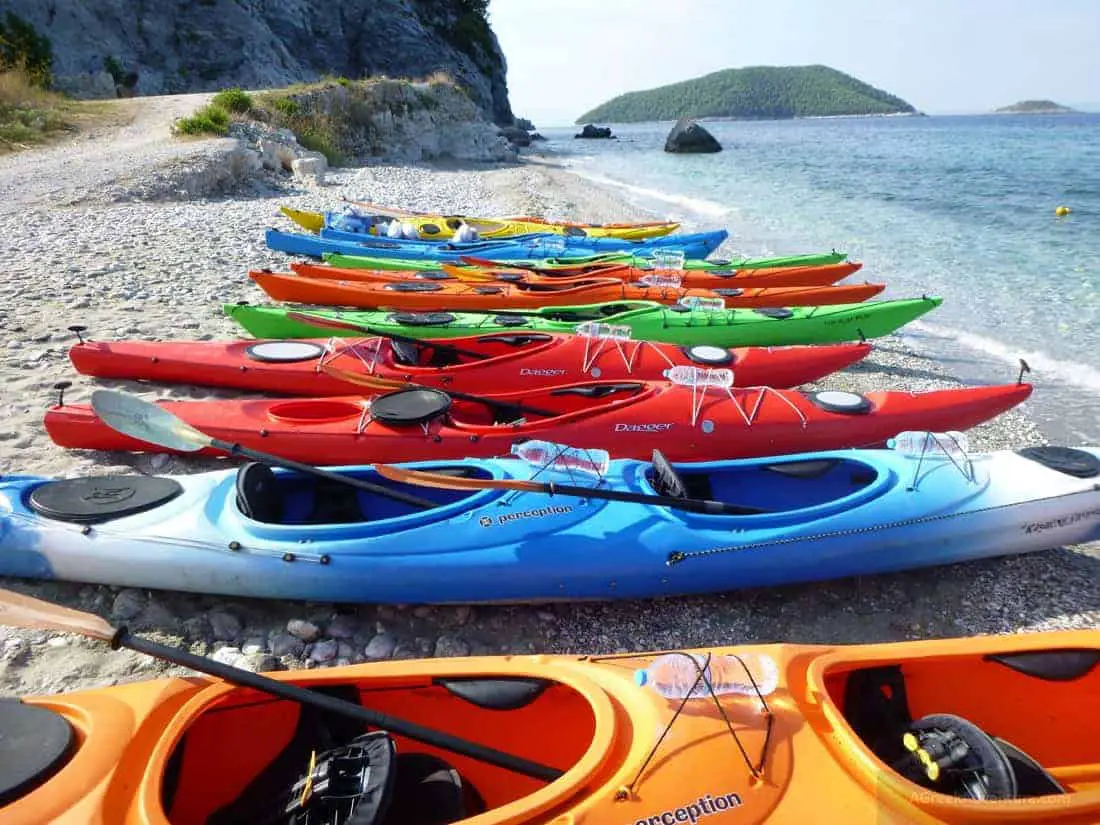 We were assigned with our kayaks and we got informed on the action plan. Had a few tests to get familiar with equipment and we started rowing.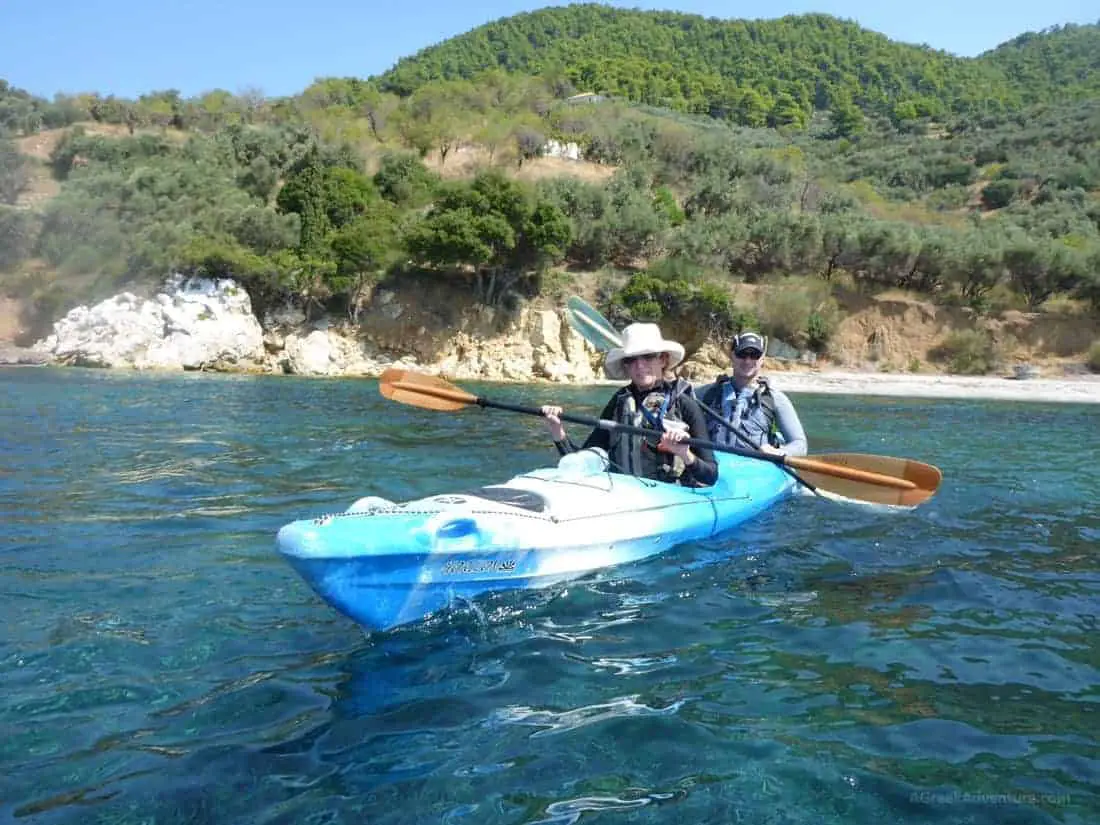 Our first stop was to be relatively soon since a beach breakfast was arranged. We would need that energy to paddle in the open sea and around some small islands.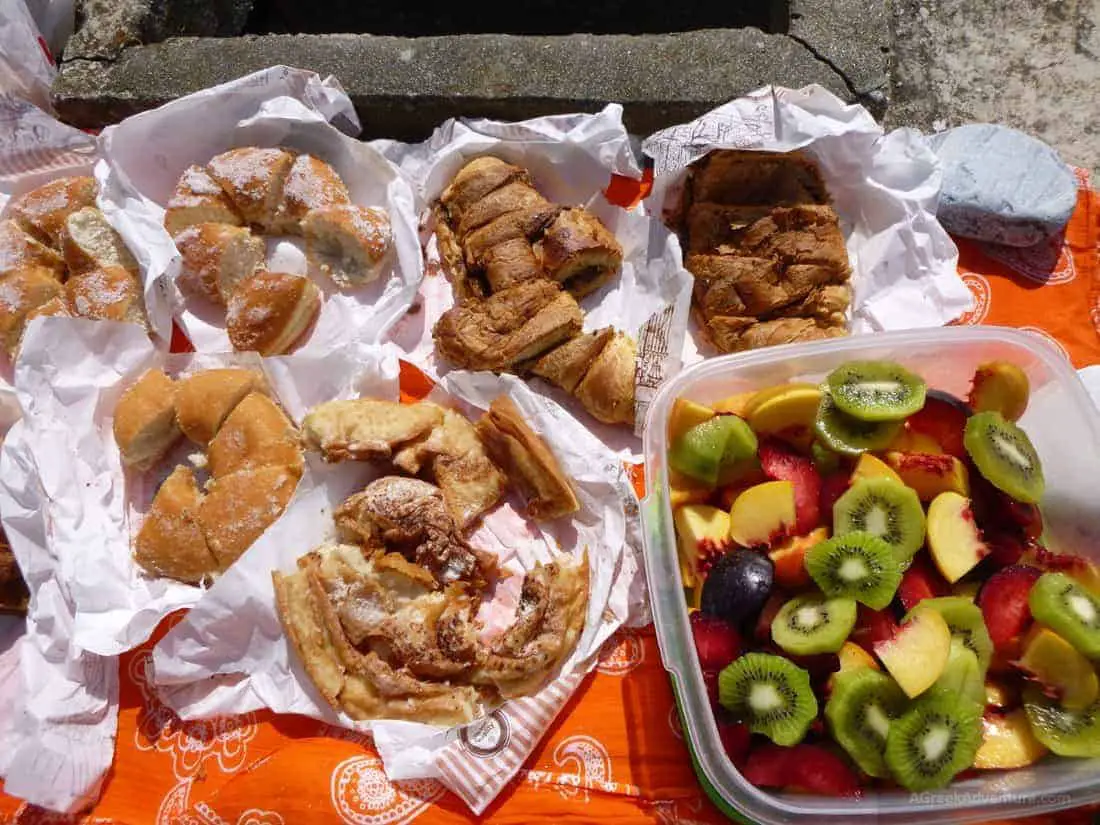 Along our trip we passed through some small caves. Getting through and out of there was a challenging experience.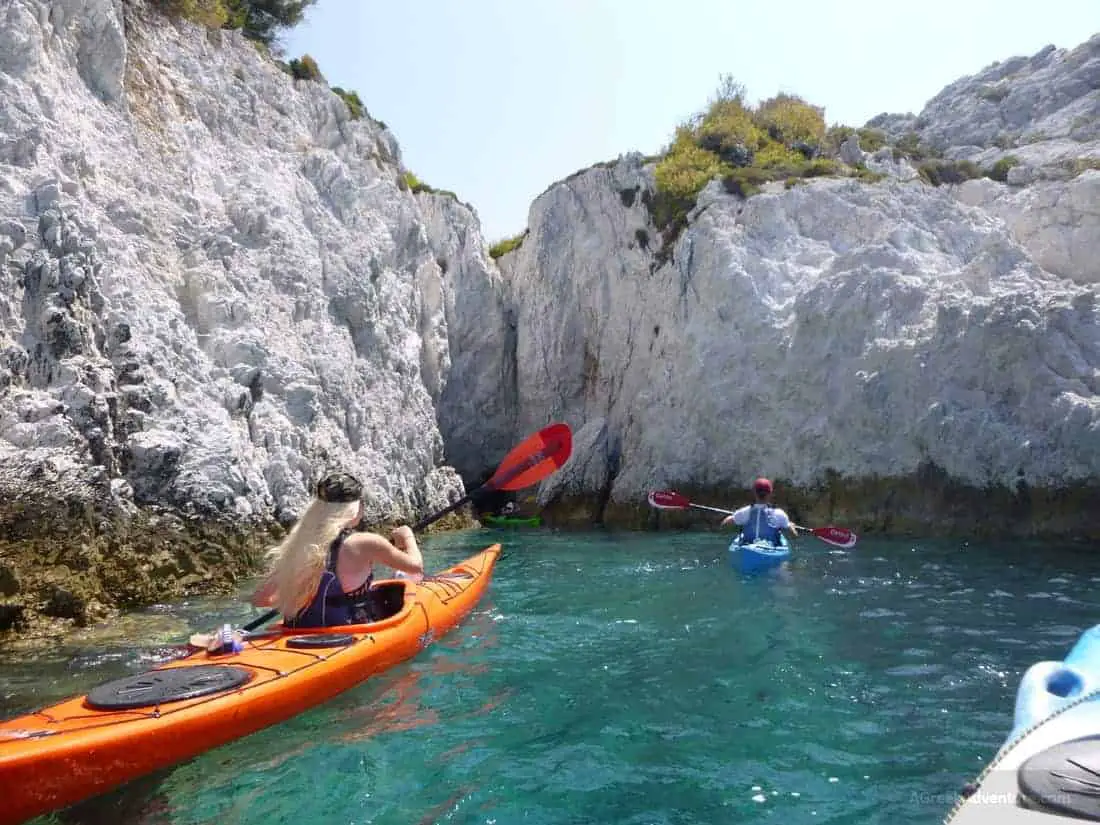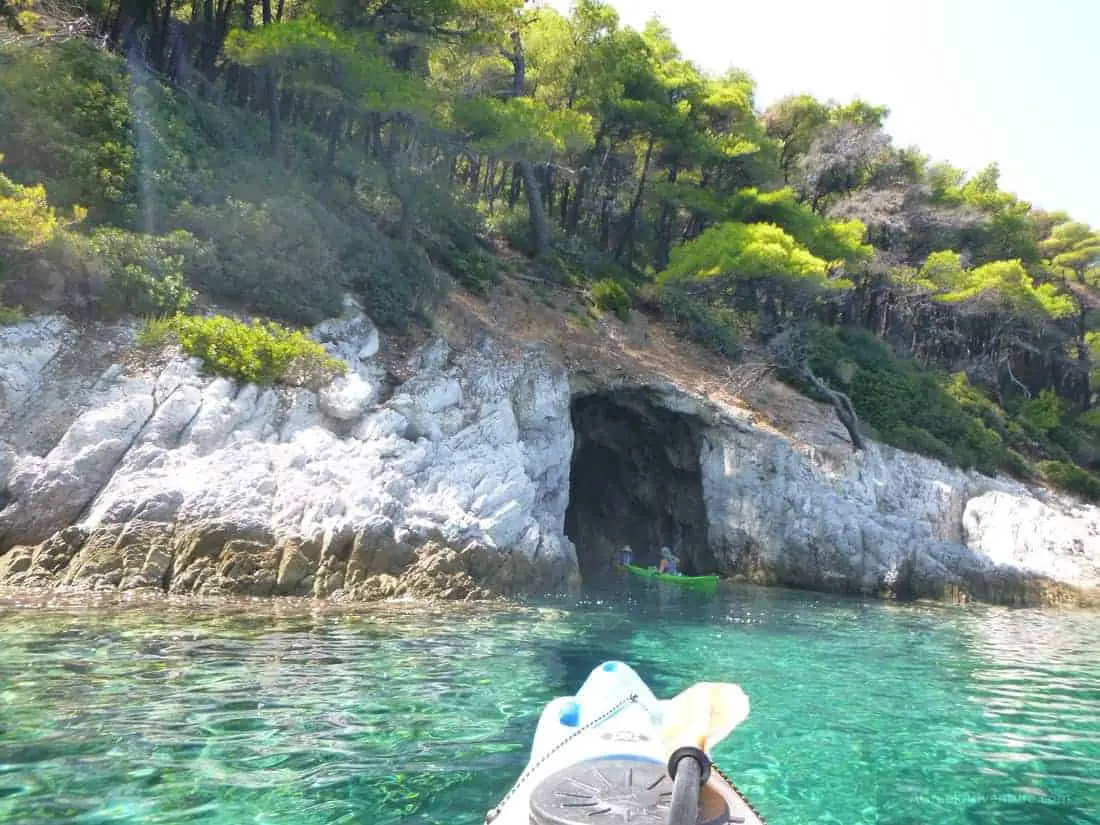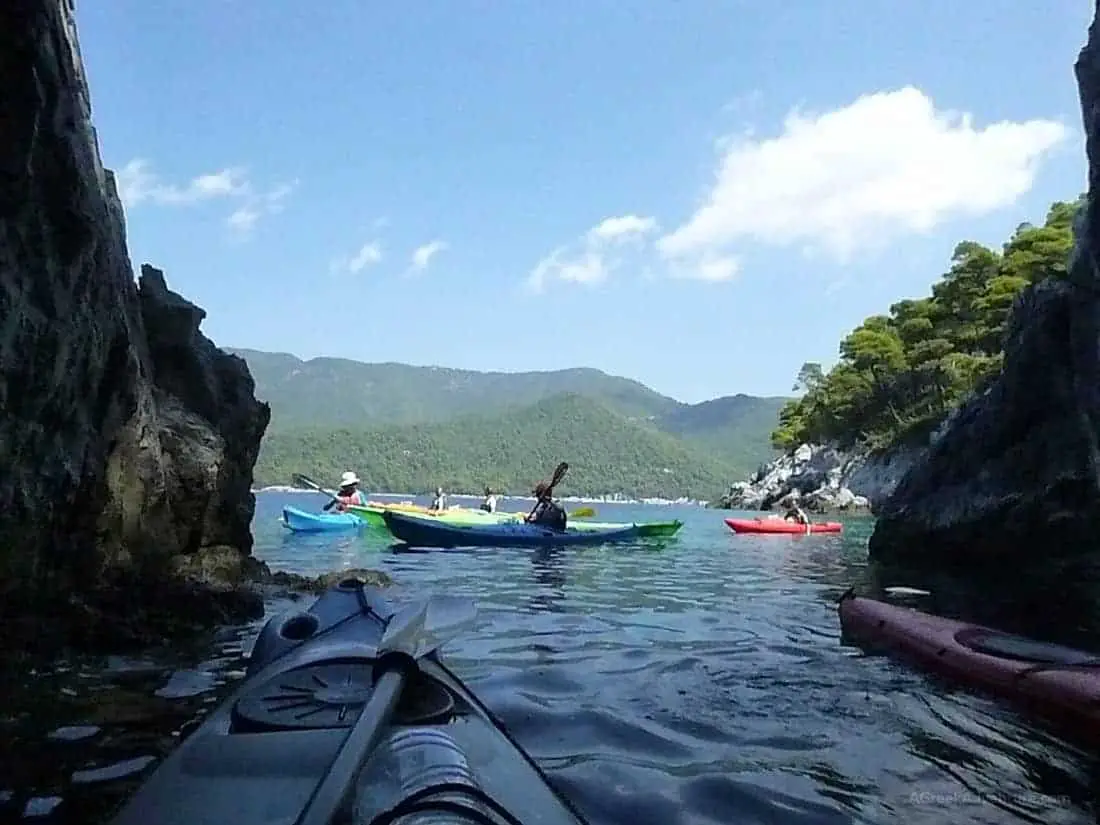 At different spots we had the opportunity to simply mount off from our sea kayaks and dive into the water using snorkeling gear. Great crystal clear waters and seabed.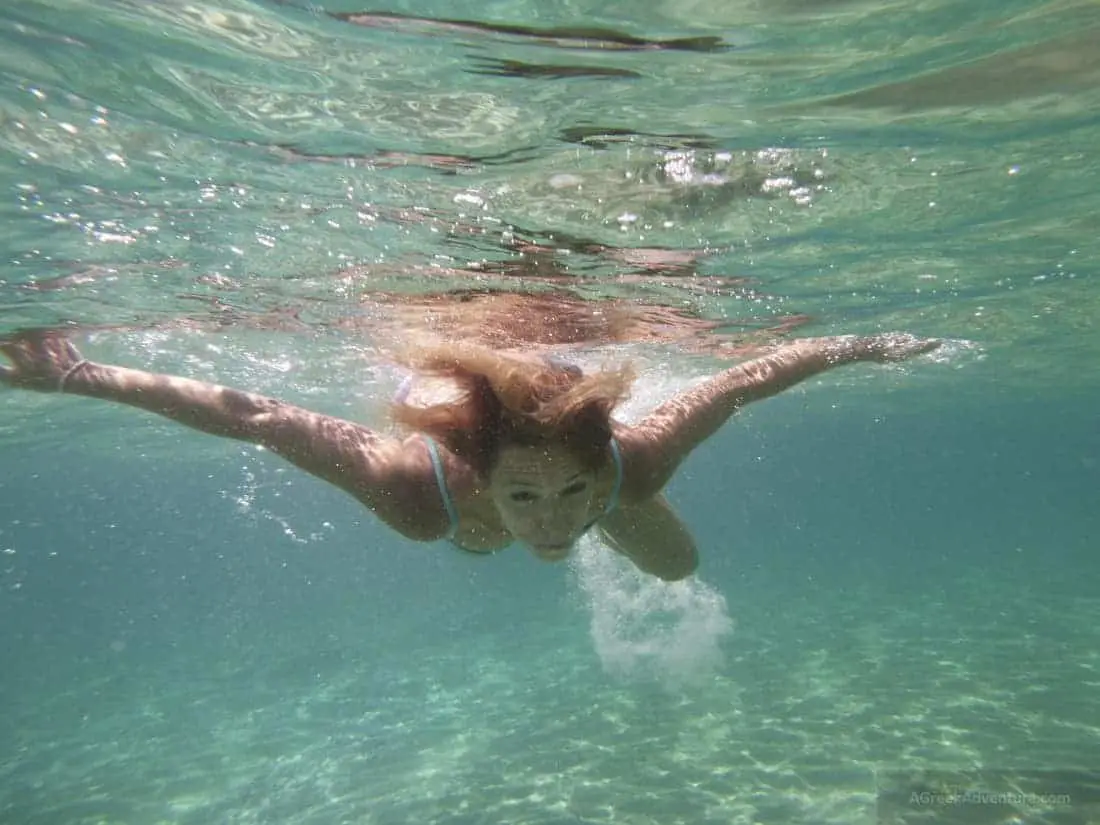 Another spot was chosen to be our lunch spot. Under the shade of a tent, a pretty big lunch setup was spread in front of us.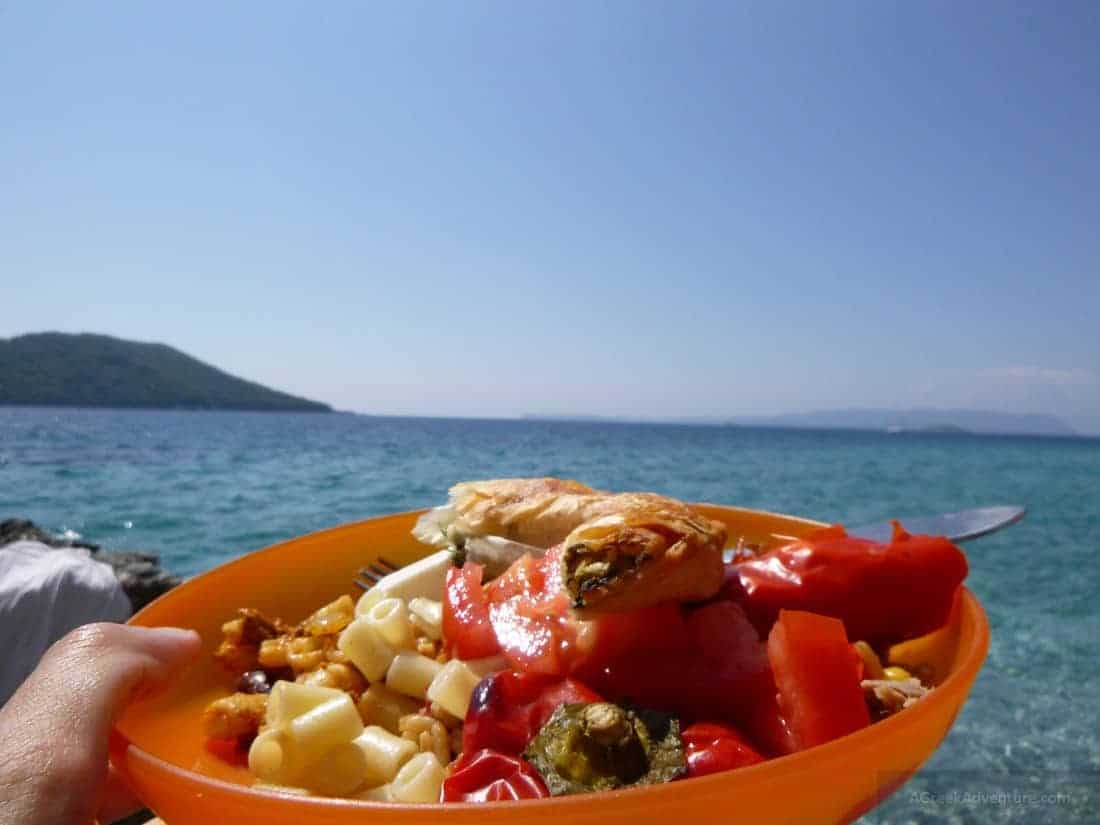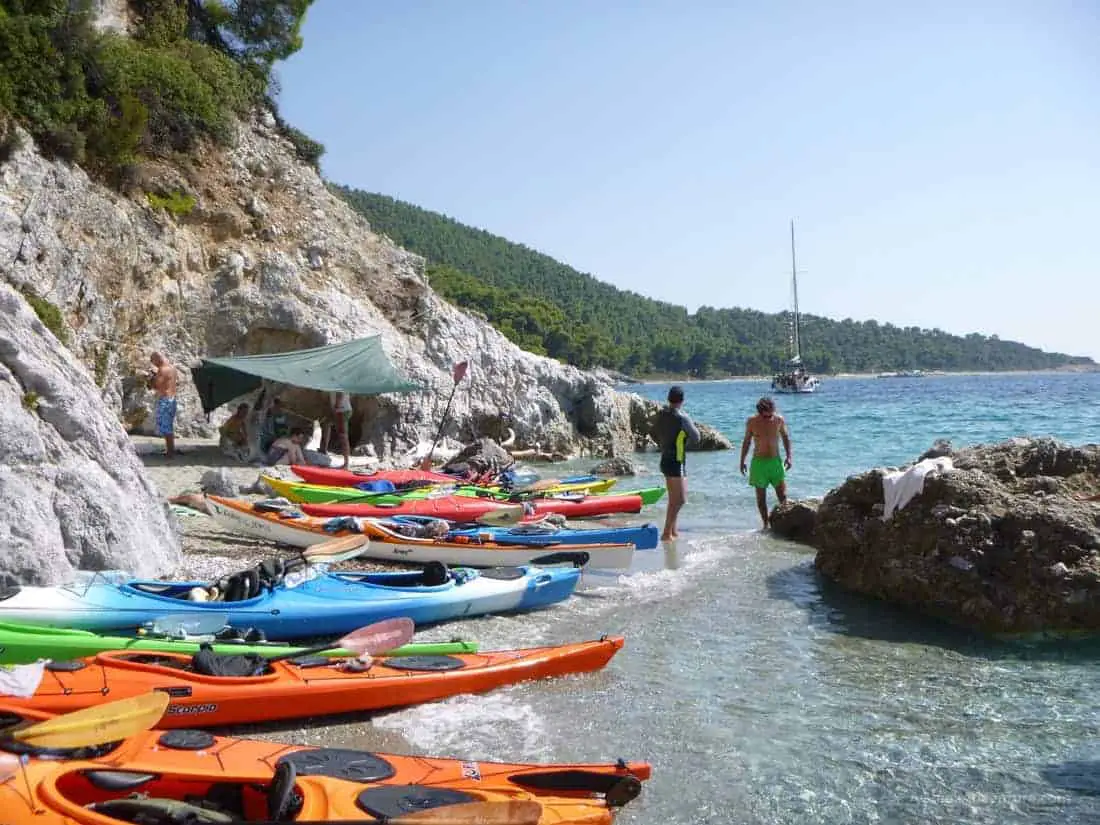 Food was really healthy and included fresh vegetables, pasta, the famous Skopelos pie, meat fruit and desert! Pretty yummy and nutritious.
We stayed at that last beach for a while before getting back.
This is the beauty of sea kayak. With good weather and a few supplies in water and food you are really autonomous. You can enjoy some pretty great and isolated beaches.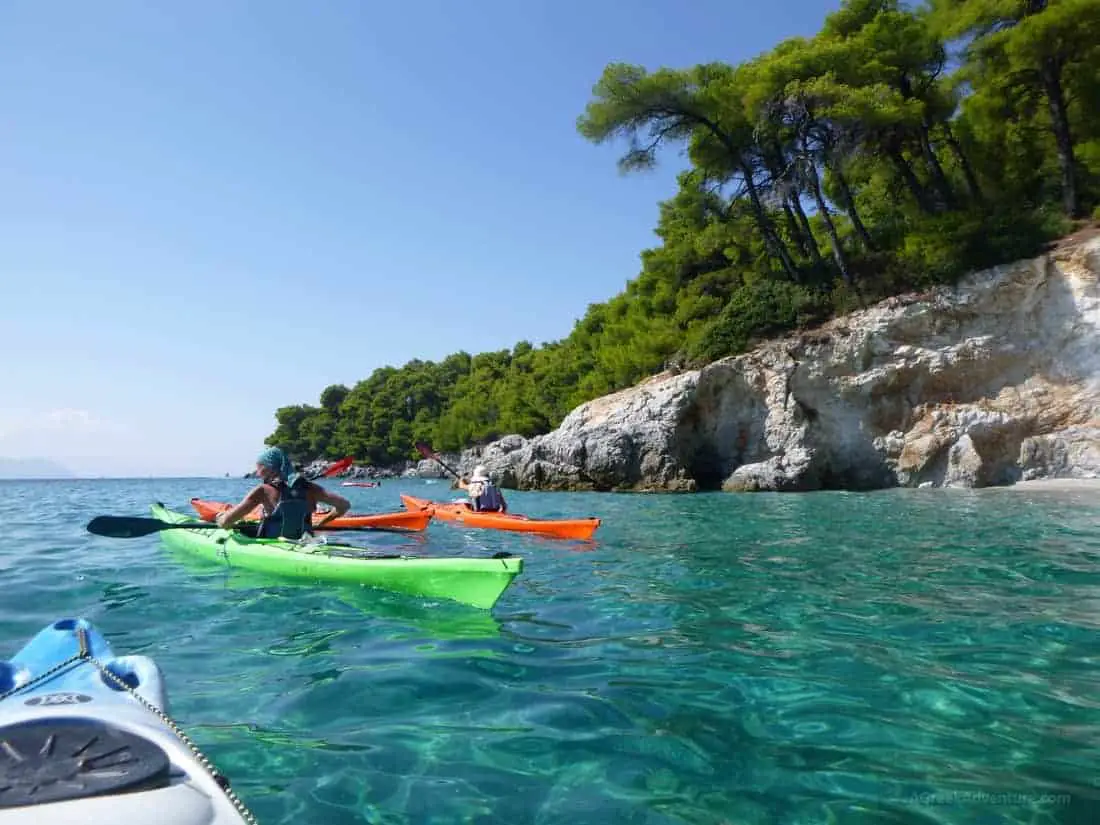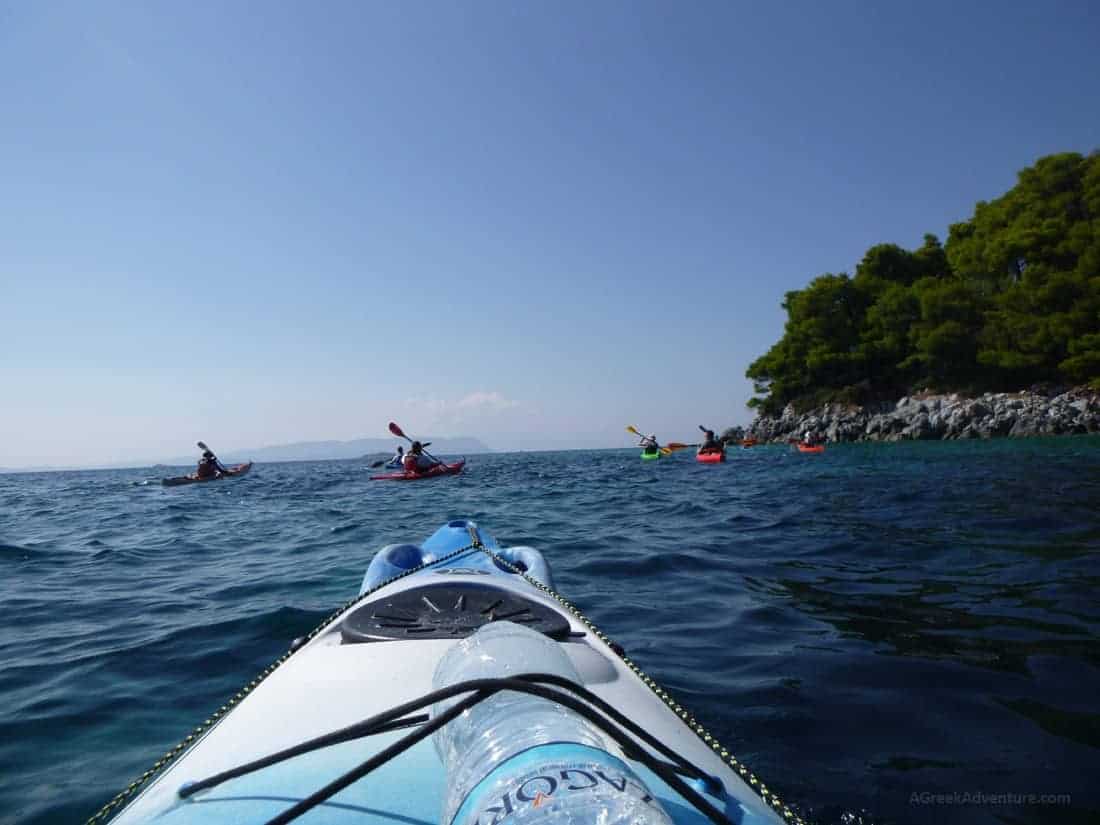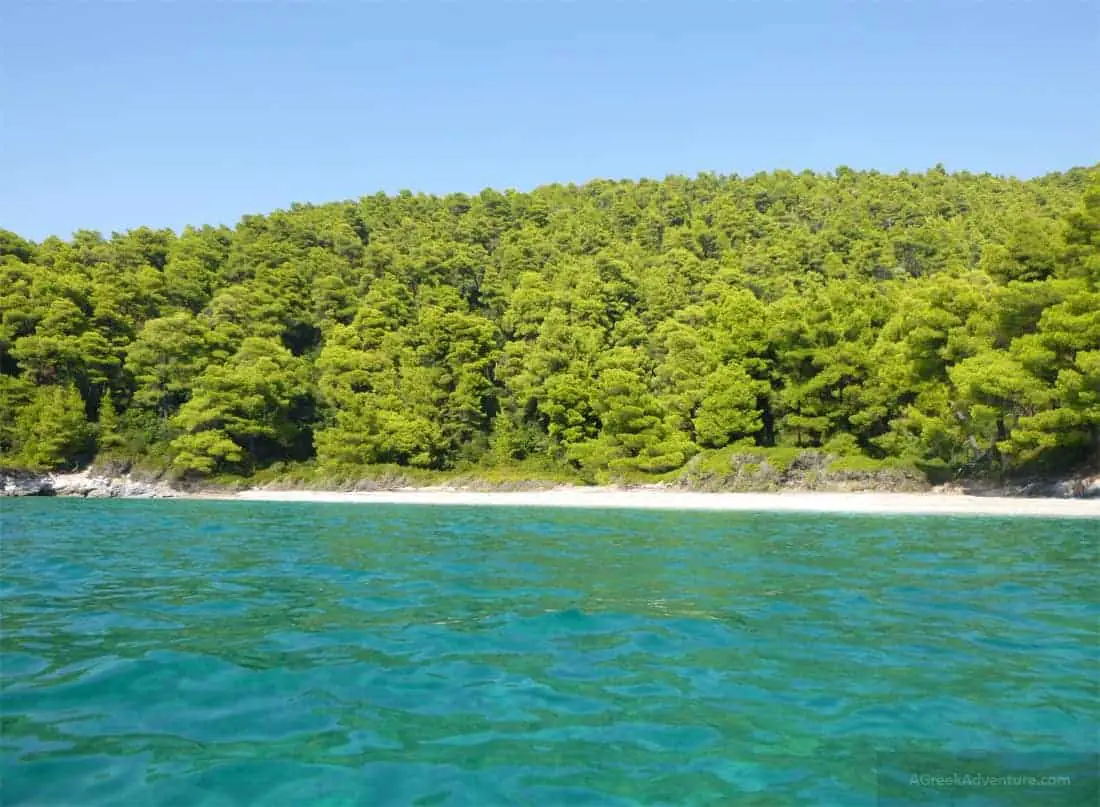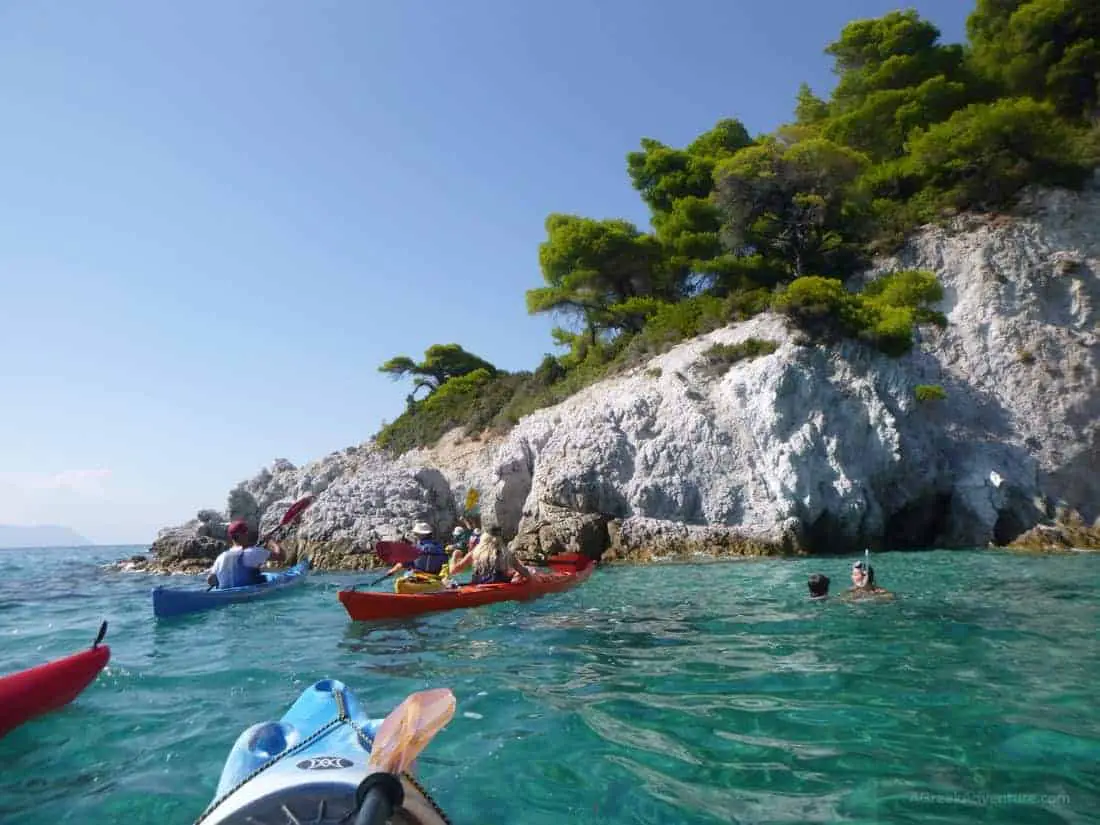 Some think that paddling seems difficult, yet it is far from that. Once you get familiar with the proper way to paddle and your body adapts, you really start enjoying the whole thing.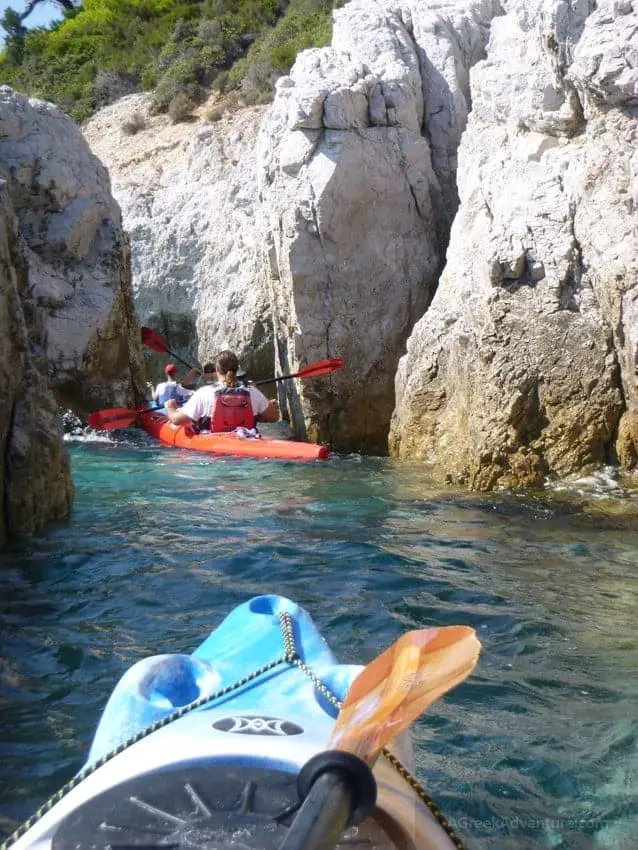 Are you a fun of sea kayaking? If so, try Skopelos for that. The surrounding coastline is also green as -in Skopelos- trees grow up to beach level. Just for your information, the sea kayaking company we went with can be reached from here.
Enjoy.