Greek food is famous all over the world. Greeks relate many things with their food and food rituals. Many claims that there are many weird Greek foods to taste, but are they really weird or even strange foods in Greece?
Either you know it as "Mediterranean Diet" or "Cretan Diet" or under any other name, Greek food remains the same mouth-watering concept.
Greek food is well known to be nutritious when it is not "mixed up" or "modernized" too much.
The secret is not just in the quality of the materials (due to soil and Greek sun) but also in the balance of elements.
Let us present you all the best weird greek foods to plan your eating schedule when you are in the country.
Our Best Weird Greek Food Experiences
Find here just a tiny range of strange Greek food tastes from our trips all over Greece, and feel free to read the associated posts that describe our Greek non-food experiences.
Mikro Chorio village, Karpenisi, Greece
Karpenisi is an exceptional destination. It has thick forests, rivers, waterfalls, tall mountains, hundreds of hiking routes.
People go there from all over the world, and it is not even by the sea.
Here is a sum-up of great food: cheese (called bugiurdi), feta cheese/spinach pie, roast bread with olive oil, excellent red wine, a rooster with pasta, and veal with barley.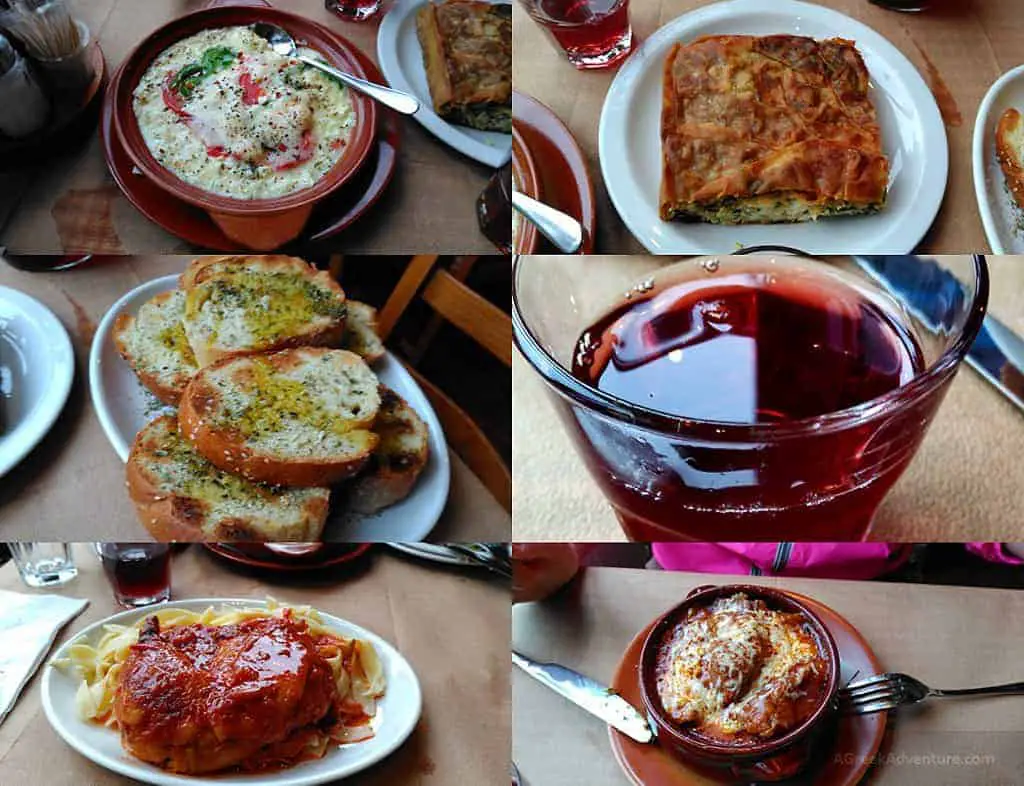 Megalo Chorio village, Karpenisi, Greece
But that was not just the only case of food in Karpenisi. We had some great desserts, like the one seen below at Megalo Chorio village. Please, read all about it.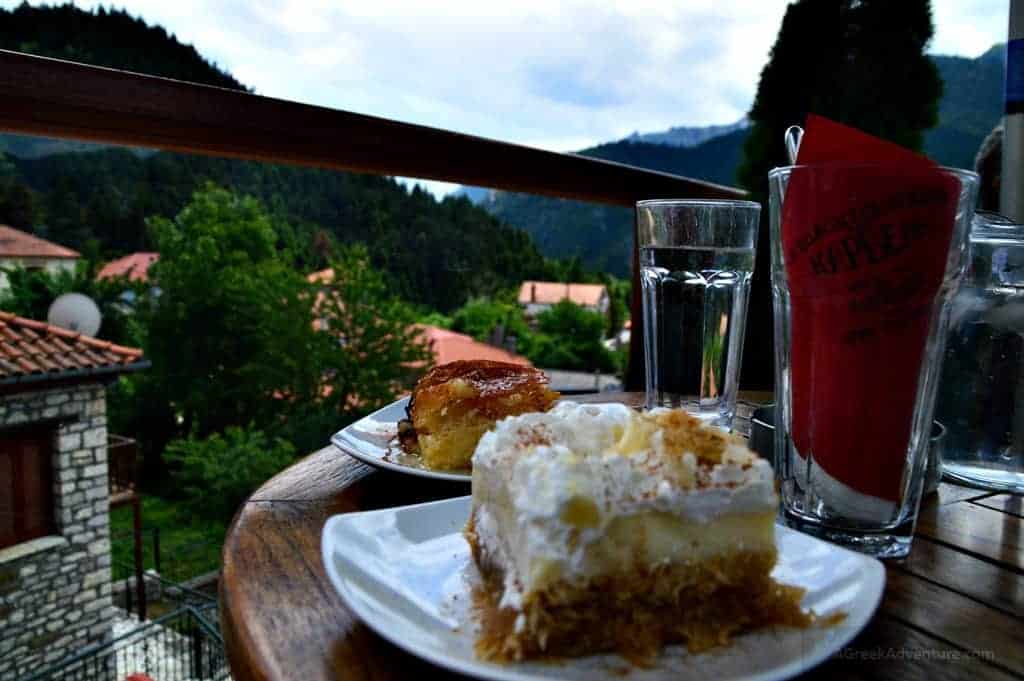 Eating Greek Food at Crete Island Greece
As you may know, Crete is a vast island. We had many adventures there and different food experiences.
At Arodamos village: We had a fantastic dinner at Arodamos along with lots of "tsikoudia."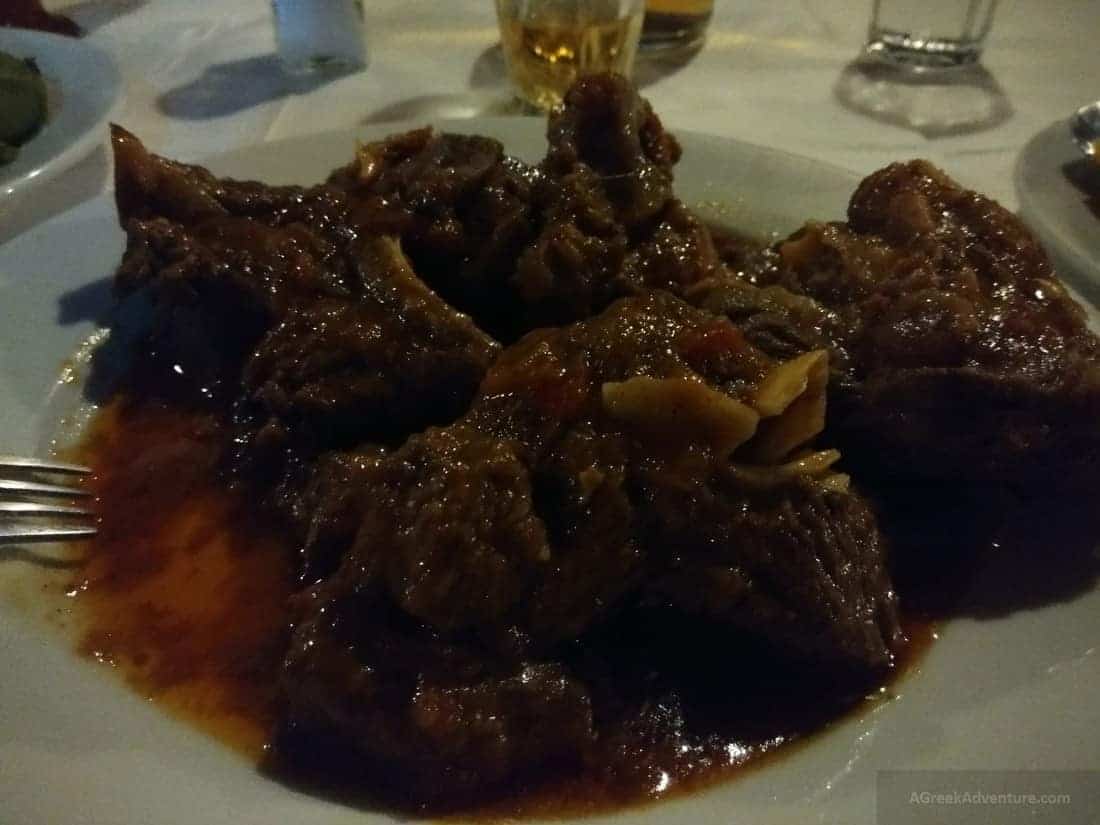 Over the mountains of Rethymnon: Fantastic Greek food after hiking.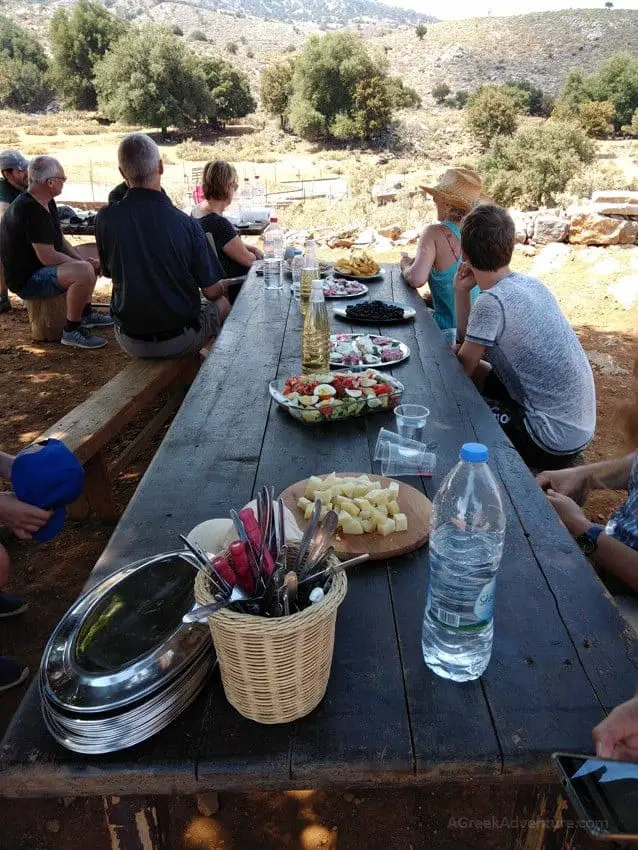 Aravanes Tavern, at Amari village: Fantastic variety and view. We also took a class to make our bread. That was our first time tasting snails.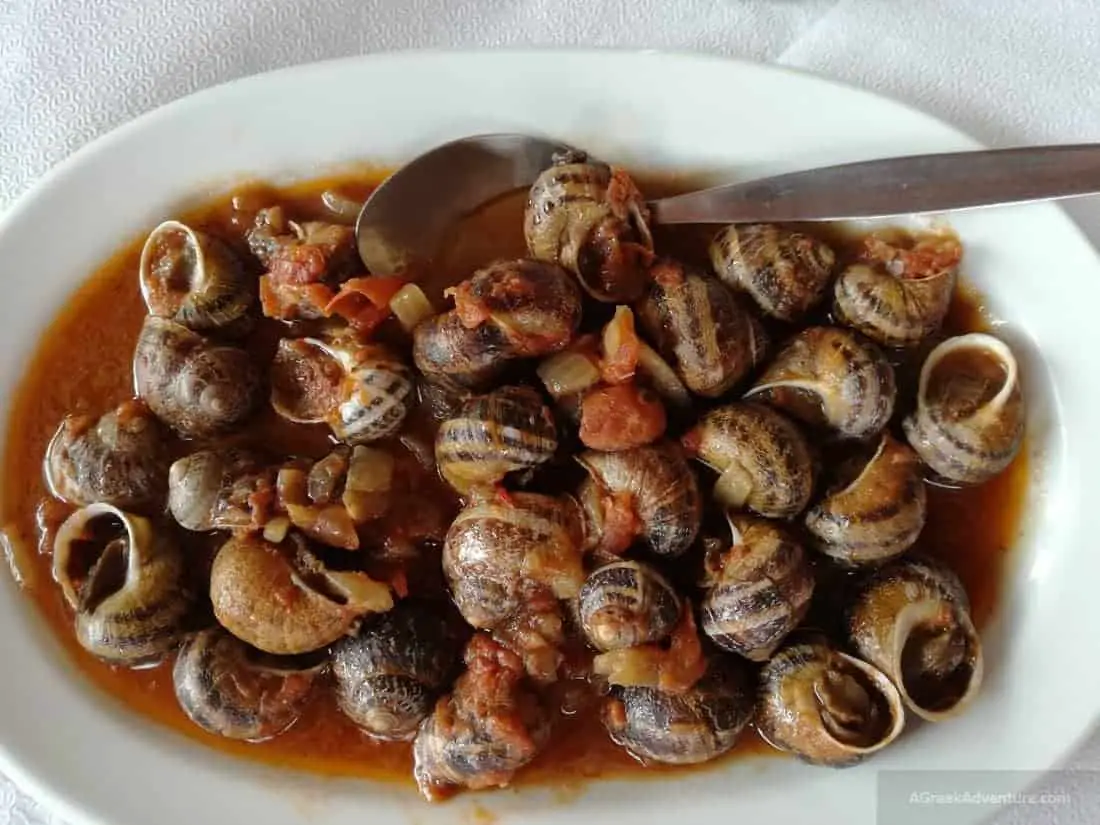 Tour in the city of Chania: We had this cultural tour of the town. We went through the food market, tasting different things, and we ended up having a "meze" with even more "tsikoudia."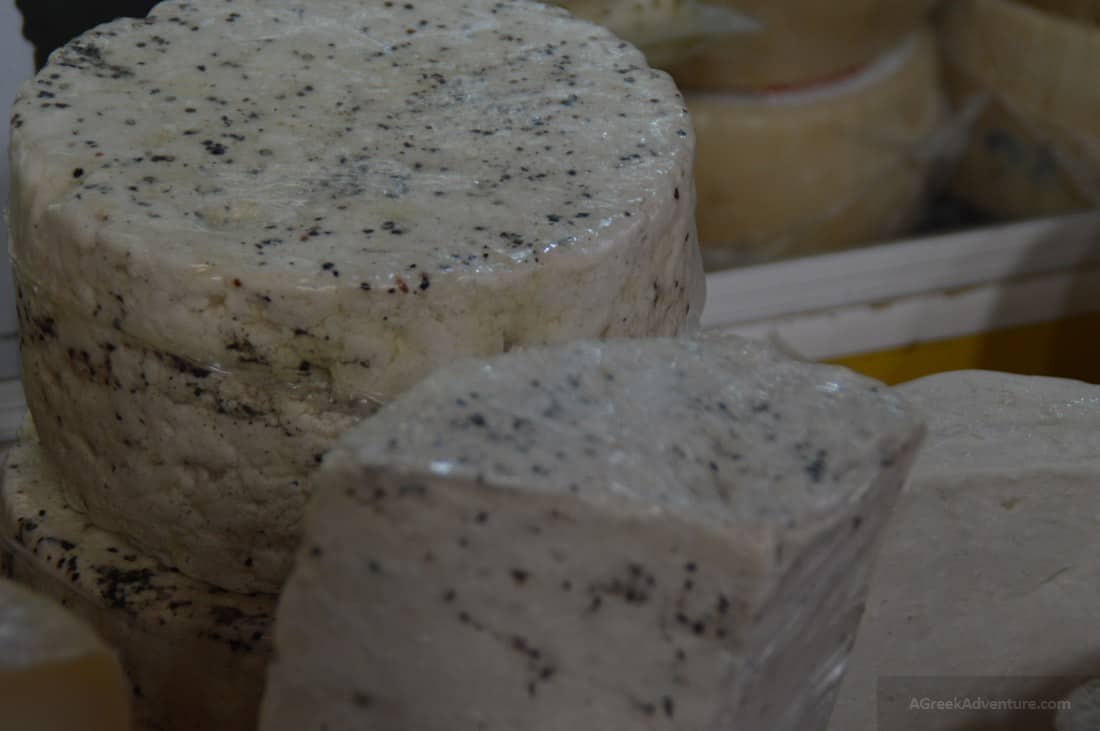 At Aspropotamos 300 years old traditional village: If you go to the Lasithi area, you must stay there for at least a weekend. It is a village without electricity.
Solar power is used to charge phones and basic things like a refrigerator and night lamps. That is all. They have a great breakfast.
Food in Chios Island, Greece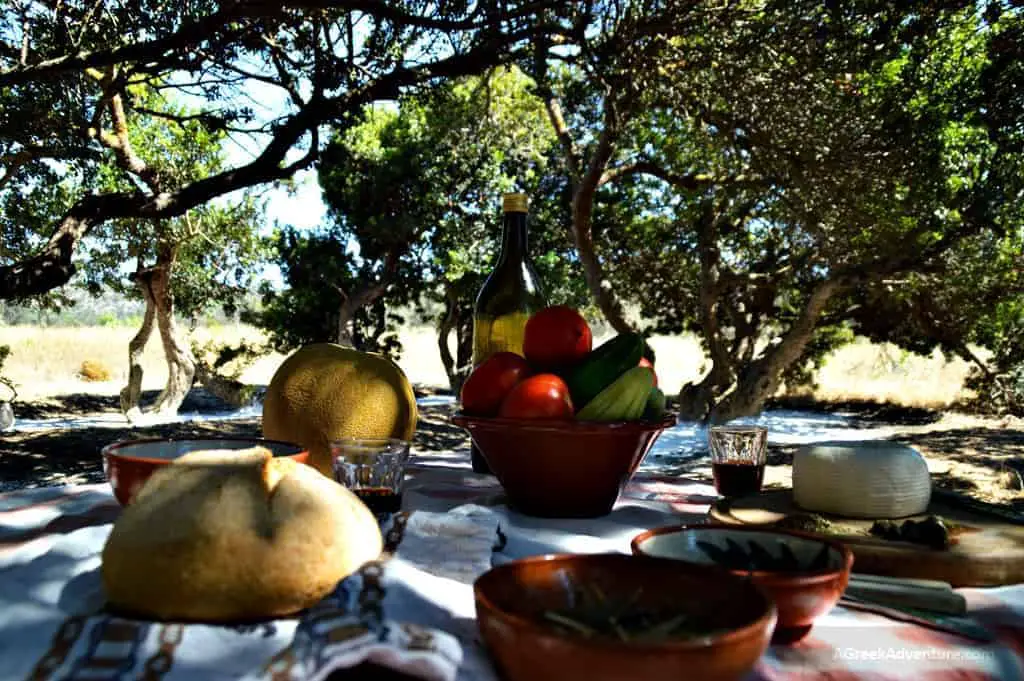 The island of mastic and of great tastes among plenty of things to do. We had:
Terrific breakfast at Mesta village, in Ergani Studios
Terrific sweets in Citrus
Mastic seminar and outdoors lunch
Locally produced soft drinks at Agio Gala
Onboard lunch while sailing
Fantastic breakfast at Volissos village in a place called "The Black Sheep."
Daphnes Breakfast, Xylokastro
One of the friendliest persons we know who lives and breathes the eco-living logic.
Her breakfast (served in her family hotel) consists of local products only.
We got "some" before a canyoning day trip in the nearby area (I know, we look starving).

Greek Food in Skopelos island, Greece
Food on Skopelos island was something completely different. We had breakfast and lunch at a beach during a sea kayaking day trip.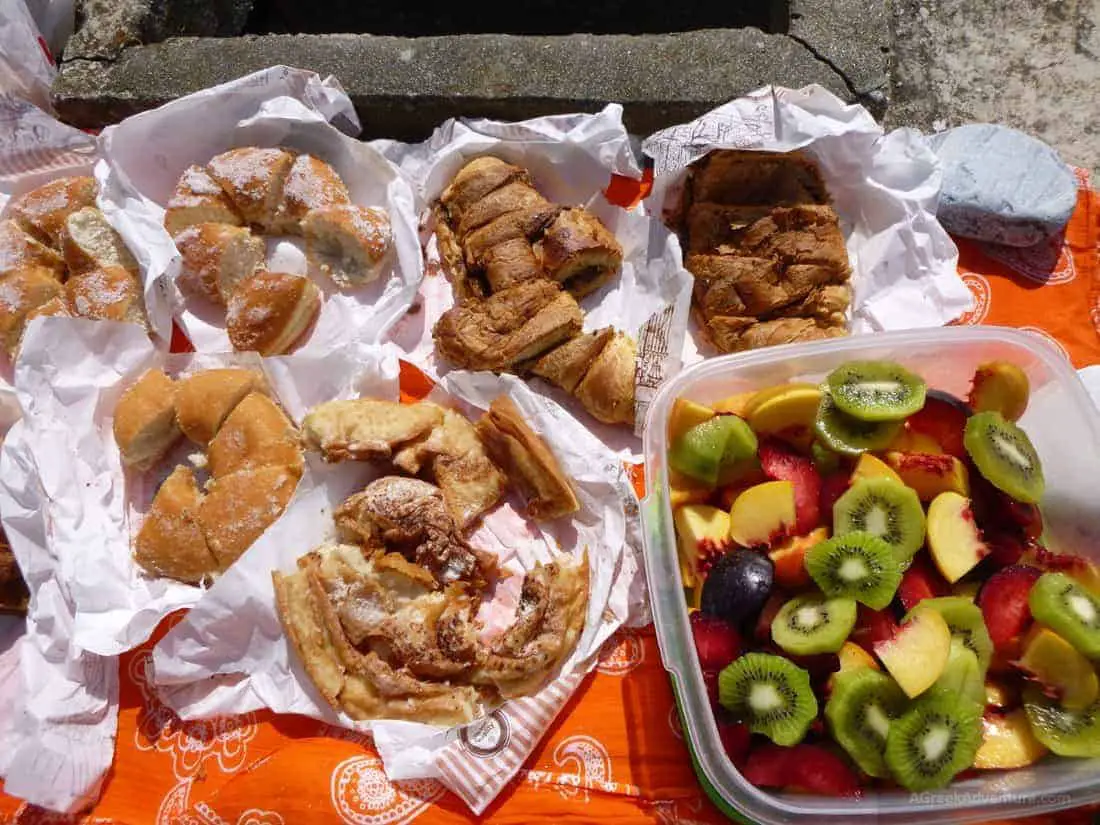 What a splendid thing to eat next to the beach.
Kea (Tzia) Island, Greece
An island so close to Athens, suitable for a day trip. We ate some great "calamari" there.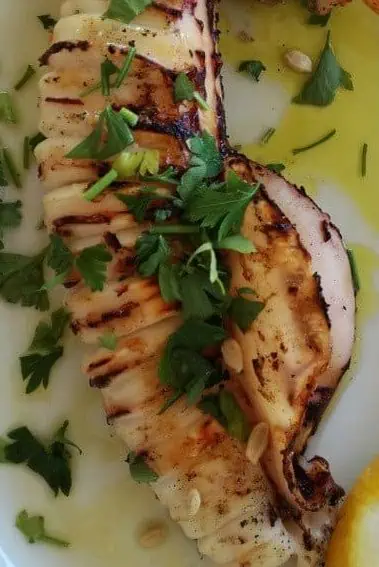 Greek Food in Lesvos Island, Greece
A delirium of salty Greek food and lots of ouzo. Please read about it here.
Also, see our food experience in Molyvos, Lesvos, and eating experiences in Plomari, Lesvos, from here. We even had lunch on board while sailing.
Food in Naxos Island, Greece
An extraordinary island with really special people.
We tasted different things there, from food to drinks. Naxos produces a wide range of food on the island. Read this post about Naxos Food and this one on where to eat outside of Chora.
This photo below is from a tiny shop where they allegedly serve the best "galaktoboureko." We went there for breakfast, before 6-hour hiking.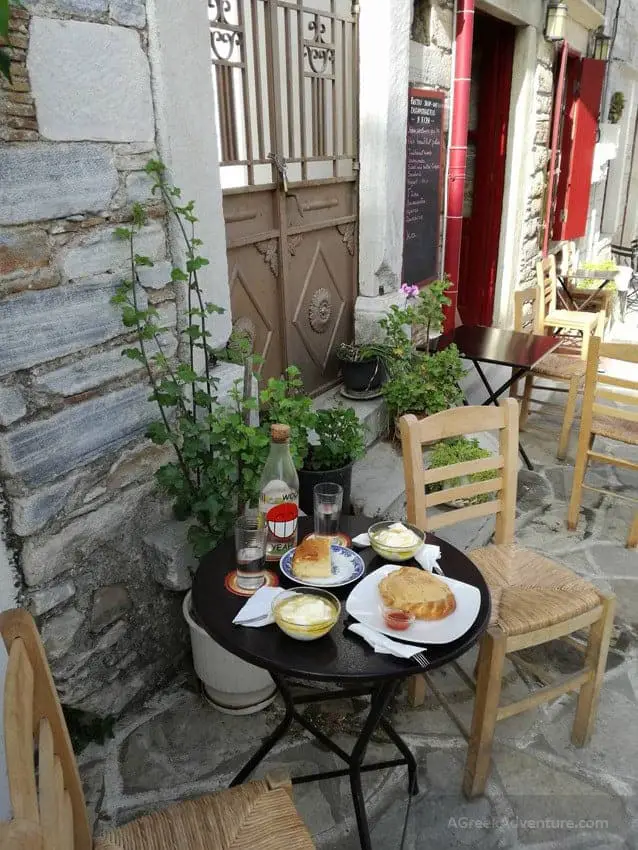 Eating at Petra & Fos Hotel, Mani, Peloponnese
Delicious food in a charming hotel. The hotel was so relaxing we didn't want to get outside that weekend.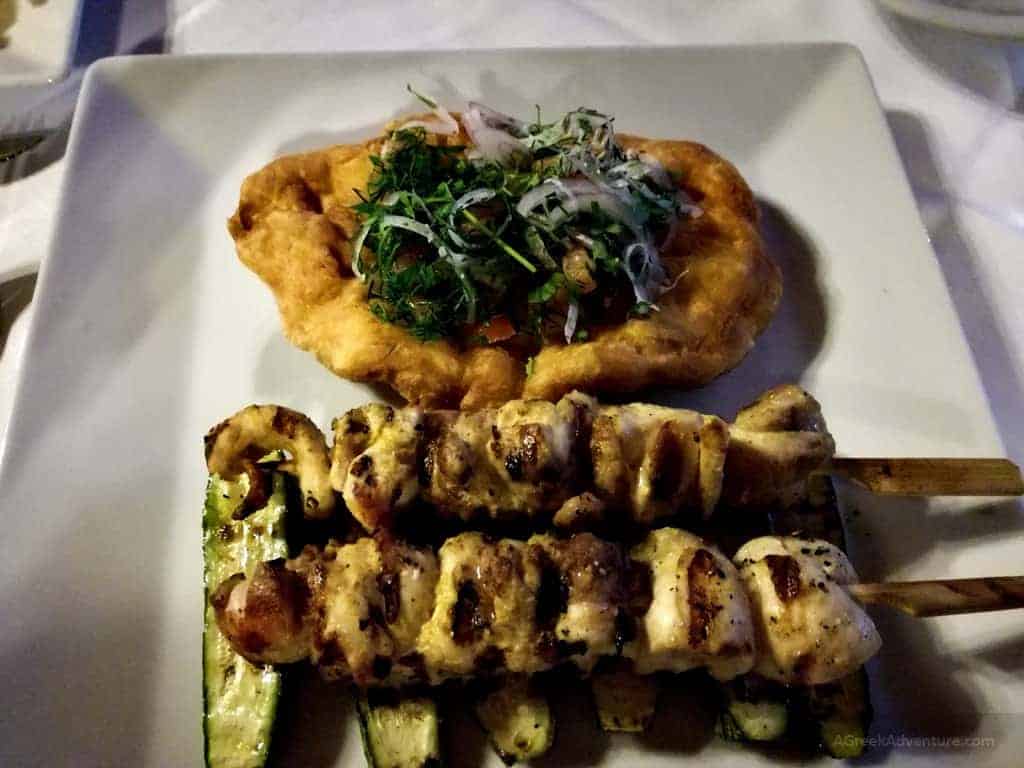 Where to Eat in Tinos Island, Greece
We tasted some great local beer on that island, and we had some great food in a remote village. Read all here.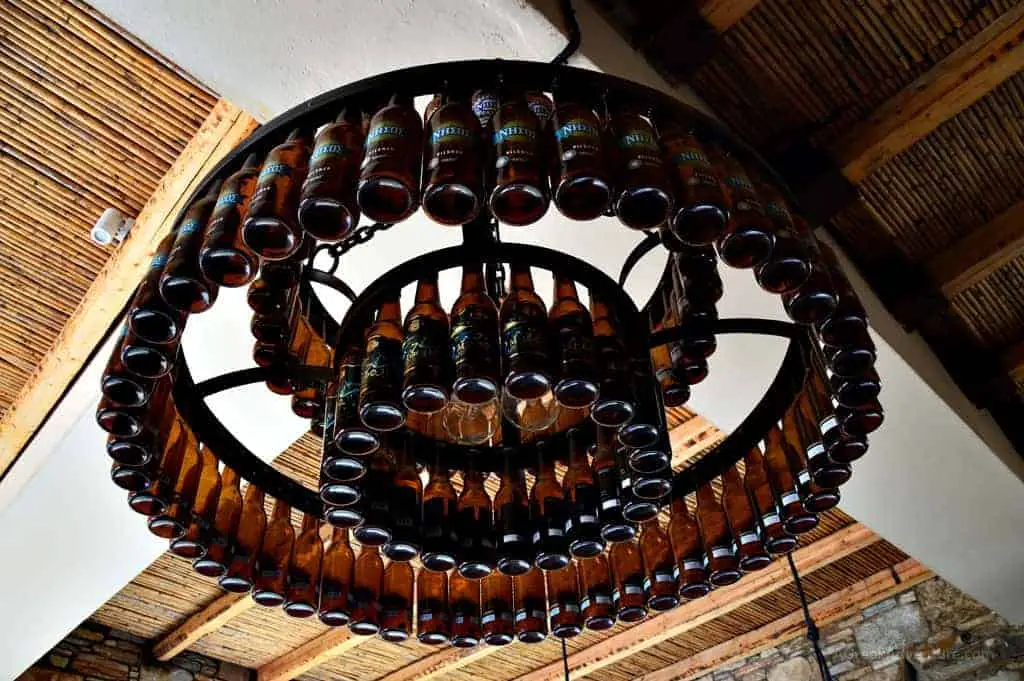 Eating in Meteora, Greece
A wide variety of local cuisine was served—all kinds of things. These below may seem like weird Greek foods for you, but they are amazingly tasteful. Check them here.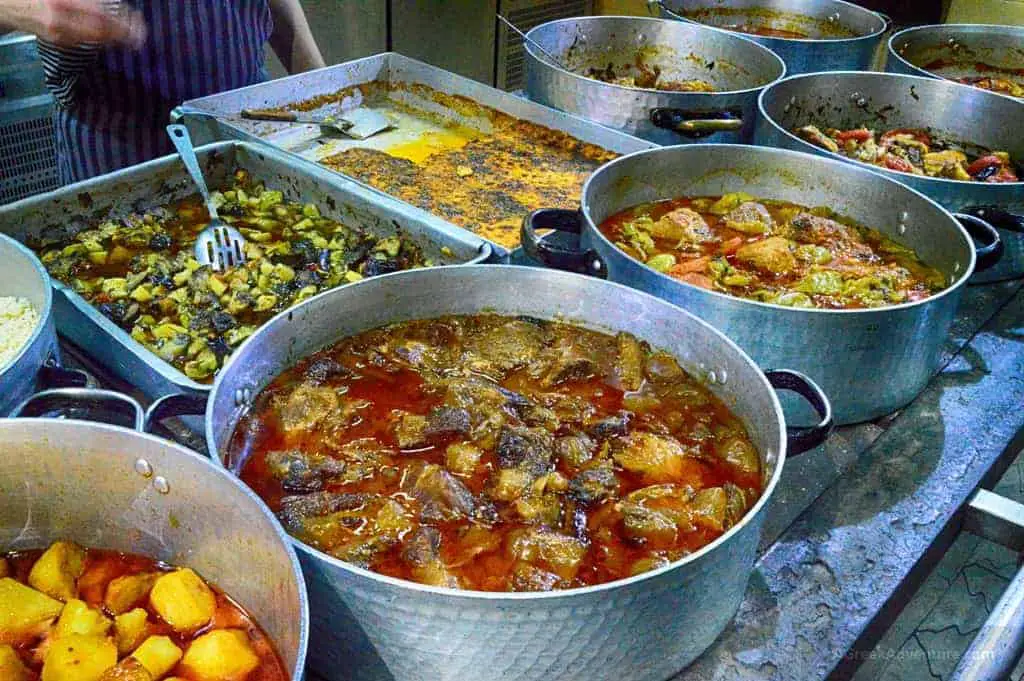 Agrafa, Greece
We stayed at a remote location, at the end of a dirt road where a rather beautiful and secluded hotel resides. It is the -now-famous Montanema Handmade Village.
Here is a photo of our dinner. Breakfast and lunch were equally tasty.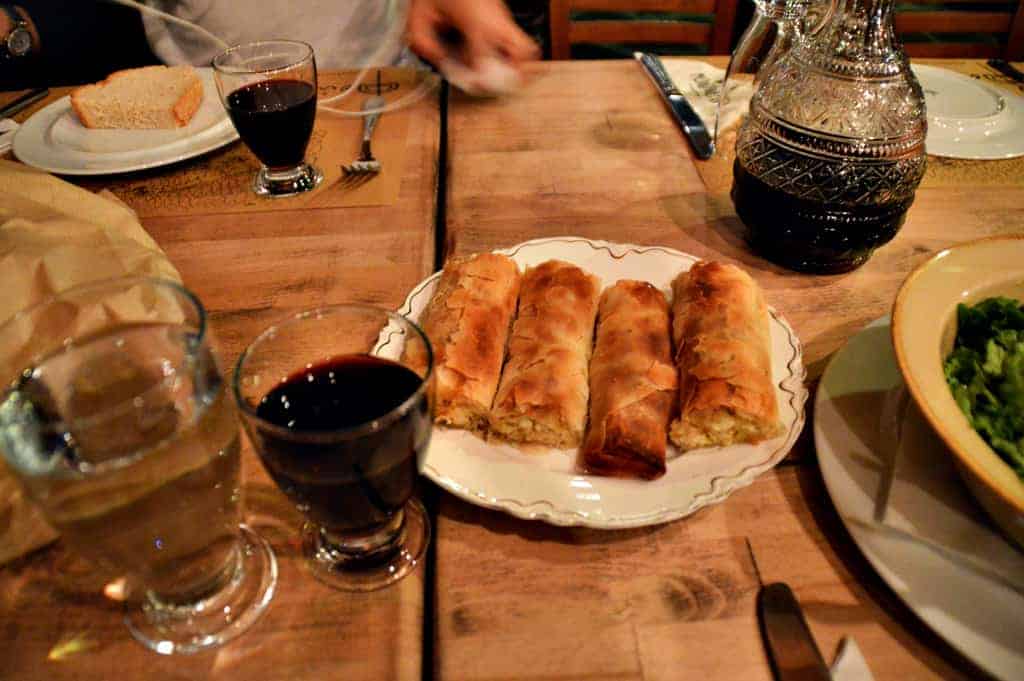 We even made our own "chilopites" (kind of Greek pasta). Food was cooked in a wood oven. Read here and here.
7 Ancient Greek Aphrodisiacs
These types of food are among the most popular weird Greek foods for a reason. History says that Hippocrates recommended eating lentils if a man wanted to stay as he grew older. This was followed by the Greek philosopher Aristotle.
He cooked lentils along with saffron. With his turn, Plutarch suggested the been soup (Fassolatha) for a man to have a healthy libido.
Moreover, there are many mentions in Greek tradition for things like artichokes and weeds and herbs helping in child conception, even "ensuring" that a woman would give birth to sons!
Of course, people were seeking pleasure. They always do.
Thus, a series of herbs became famous for having aphrodisiac results. Some were also considered due to their shape, which resembled the form of man/woman genitals.
You know, like walnuts are suitable for the brain, tomatoes for the heart, carrots for the eyes, etc.
Garlic: Garlic was believed to have magical and aphrodisiac properties since ancient times. It was part of the daily nutrition of ancient Greeks in a variety of ways.
One popular dish (which can easily be hosted as 11 in the list above) is "skordalia." It is made with garlic, cucumber, oil, and yogurt. It is indeed one of the top weird Greek foods as an aphrodisiac since -when eaten- it makes your breath quite smelly.
Pomegranates: The juice was considered very nutritious, along with its aphrodisiac properties.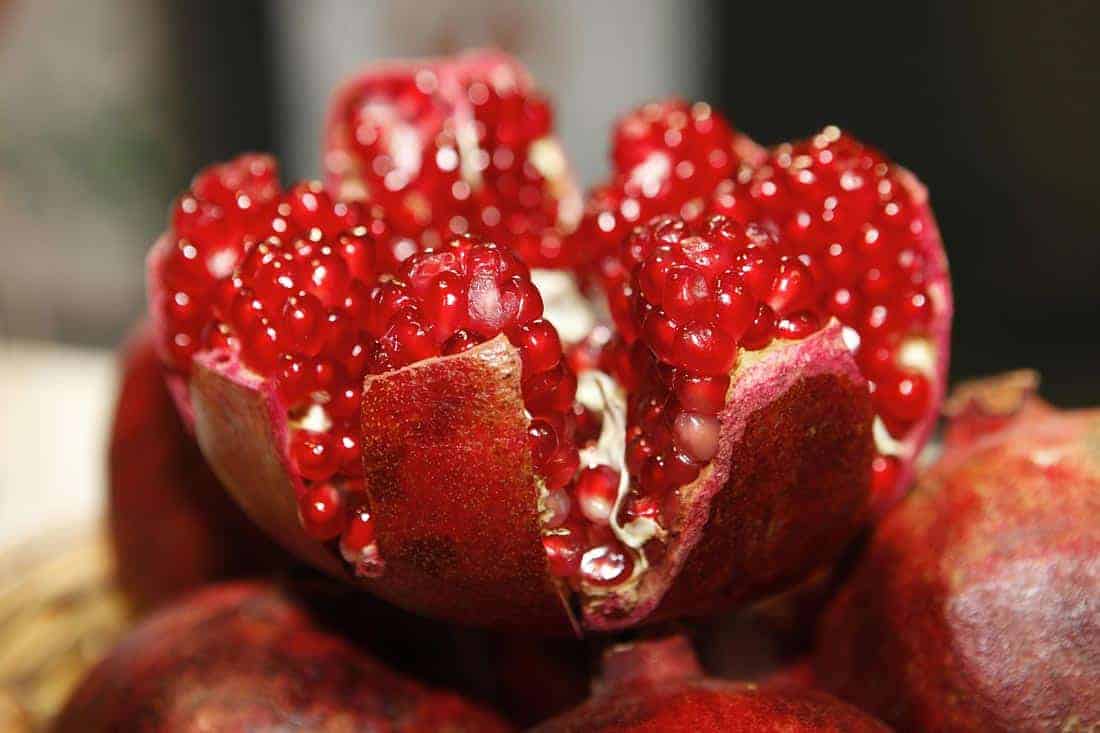 Leek: It is awarded such features, perhaps due to its resemblance to a phallic shape.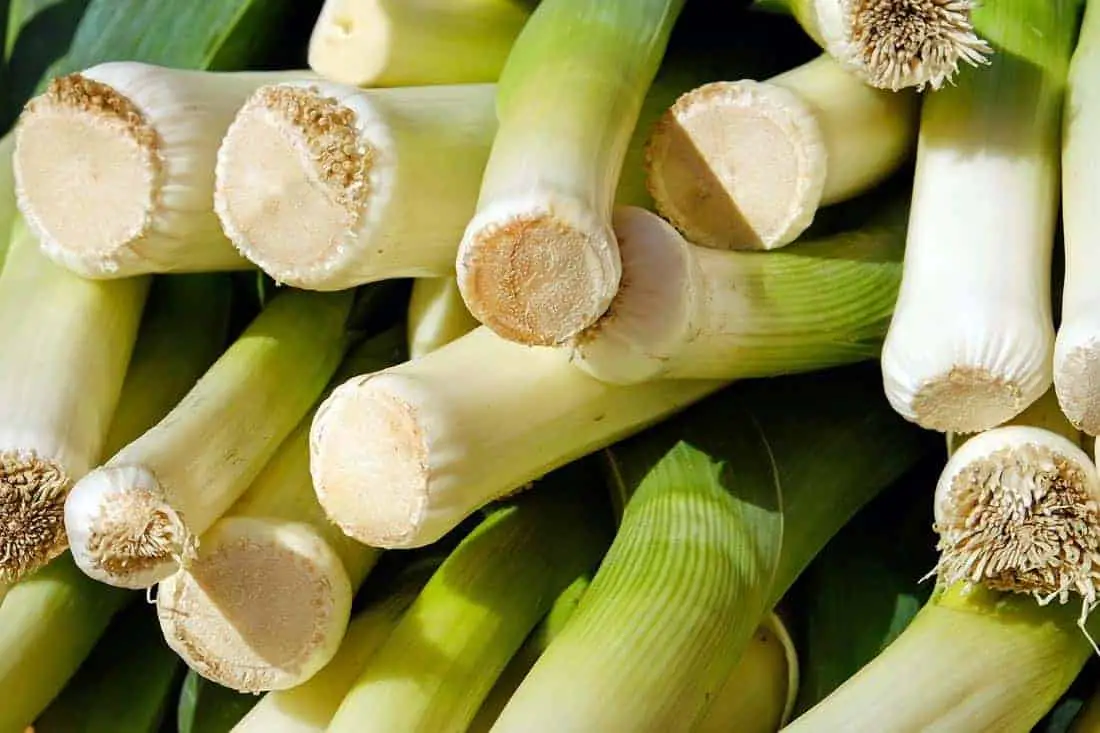 Mushrooms: Truffles were considered a great aphrodisiac. It was also an expensive one. It still is.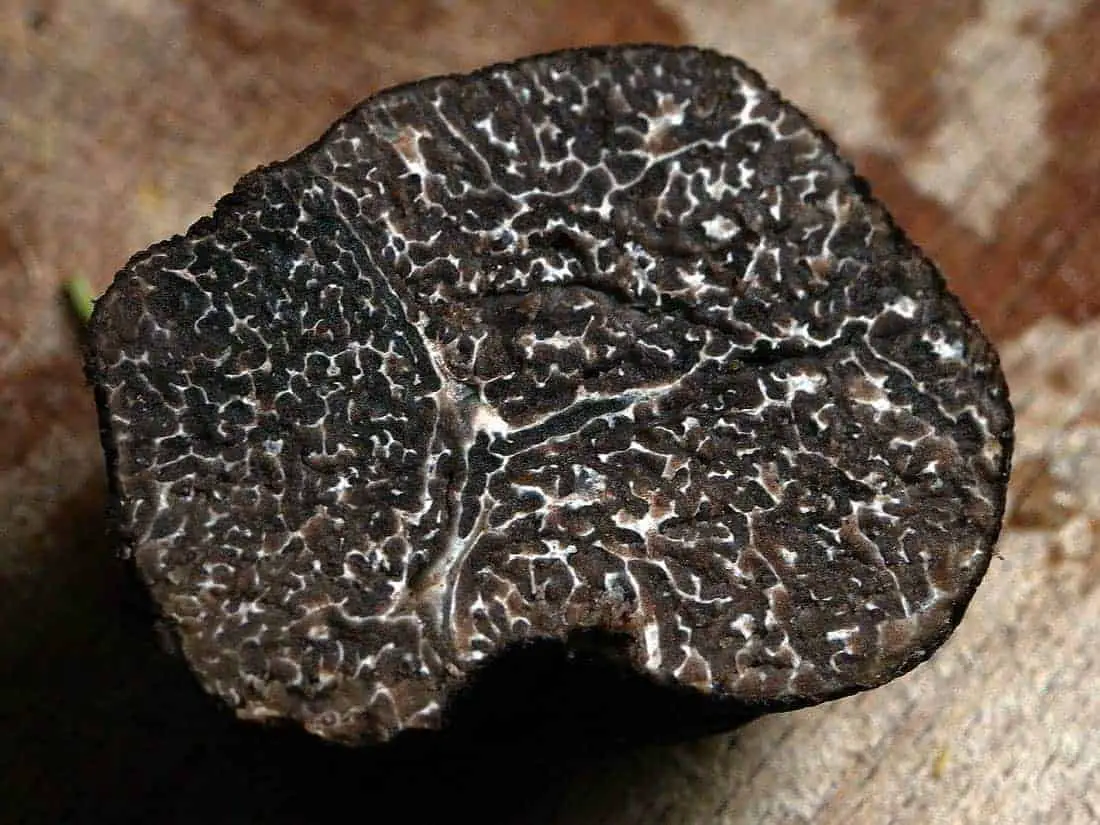 Satirio: Both Plutarch and Dioscorides considered this weird Greek food, an wild orchid, a great aphrodisiac. 
Stafylinos: This plant grew sexual appetite so healthy that it was considered an actual sex potion.
Mint. Here opinions contradict since Hippocrates thought mint weakened the sperm, while Aristotle believed mint was a great aphrodisiac. All and all, mint goes well with chocolate, and real chocolate is a potent stimulant too.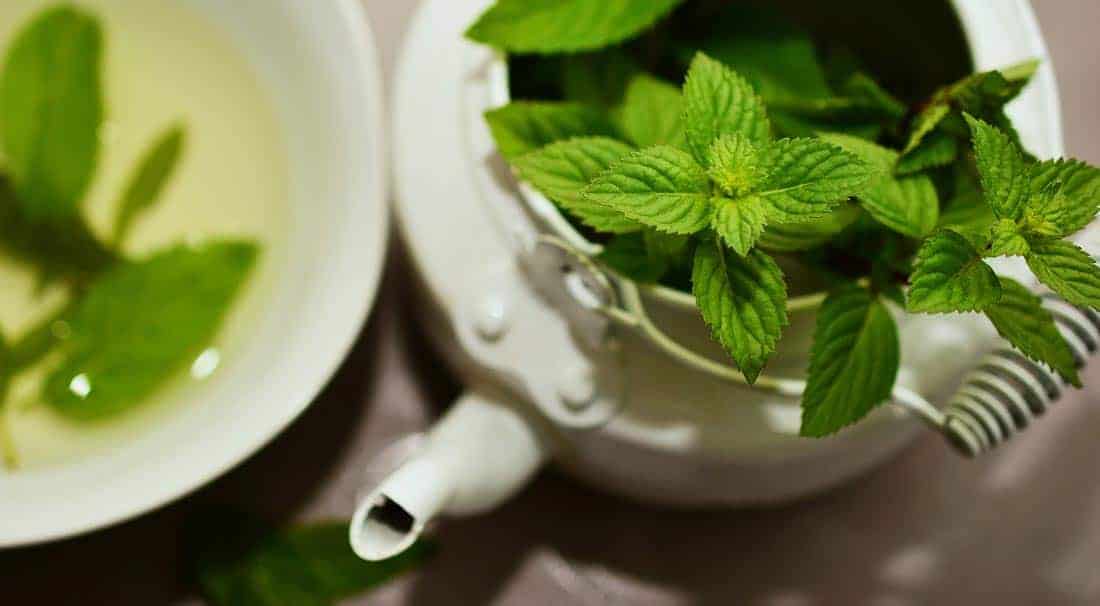 13 Weird Greek Foods Recommended by Travelers
Talking with many travelers in Greece, we noted that some foods are prevalent and highly discussed/recommended to all of them.
It seems like whoever traveled to Greece had to say something beautiful about these. So, when you go to Greece, don't forget to taste all these.
So, suppose you have decided to spend your vacation on the magnificent islands of Greece this year. In that case, it's the best decision you have made as Greece is one of the few holiday destinations that remains pure and untouched and retains its tranquility in some of its most exquisite islands, despite the millions of visitors it gets every year.
Filled with lush landscapes, majestic monuments, beautiful clear blue seas, heavenly sandy beaches of myriad hues, Greece is a paradise for those who want to escape from the monotony of their lives and create unforgettable memories.
But gorgeous Greece isn't just famous for its beaches and abundant, awe-inspiring greenery, it also happens to be very well known for its mouth-watering Mediterranean-slanted cuisine – the authentic Greek cuisine that is – from tantalizingly spicy gyros to delectable, flaky Greek pastries – the foods here are just as exquisite as the scenery.
It is a natural foodie haven.
Here are some of the best dishes that you should, without fail, try before you even think of setting foot outside of Greece.
Read on, salivate and then gorge on them for an authentic Greek experience.
Moussaka
It may not sound obvious, but it is pronounced like it is written.
People who enjoy eating eggplants/aubergines along with meat will love this baked dish, with its cheesy meat layers and filling – yum!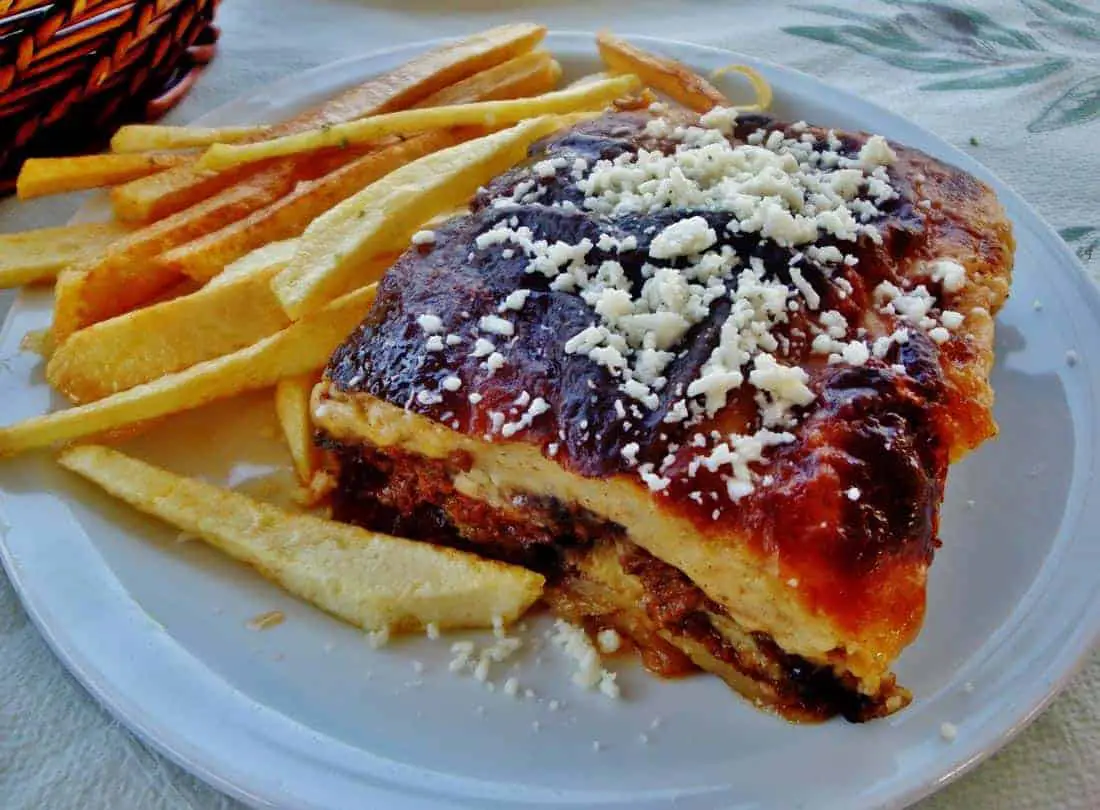 The moussaka is a casserole made by layering eggplant slices and a spiced meat filling topped with a béchamel sauce, which is a creamy and delicious sauce made up of butter, all-purpose flour, milk, salt, and a tiny sprinkle of nutmeg.
This layered deliciousness is then baked in the oven till the top turns a golden brown and served with the beverage of your choice.
If you are a vegetarian, you can always ask for the meatless version of the dish.
Trust us – you're still not missing out on anything.
Where to eat: Athens serves the best moussaka there is to have, and that too at Aleka's taverna, to the north side of the Acropolis, is the best among the restaurants of Athens.
Or for the best moussaka ever, try God's restaurant in Athens, Greece.
Kids will love God's salad there.
Kolokythoanthoi or stuffed Zucchini Flowers
This is another delicious savory delicacy of the Greeks. The zucchini flower is stuffed with the stuffing of your choice, which ranges from herbs and cheese to meat and rice, and then dipped in a light batter and fried till it achieves a brilliant golden color.
When you bite into it, the crispiness of the batter combined with the softness of the flower inside will floor you completely – a must-try!
Where to eat: The best stuffed zucchini flowers that you will get will be on the beautiful island of Lesvos. Every restaurant there has this fried delight on its menu, and each eatery adds its unique touch to this classic recipe.
Fassolada
This is a staple in any Greek household, and it is a simple white bean soup, but don't mistake its easy technique for lack of flavors because it packs a punch alright with a freshness of herbs. Bean soup is not so much a weird Greek food, but many "spice it up" with pork sausages, cheese, and more, so it ends up being strange but tasteful.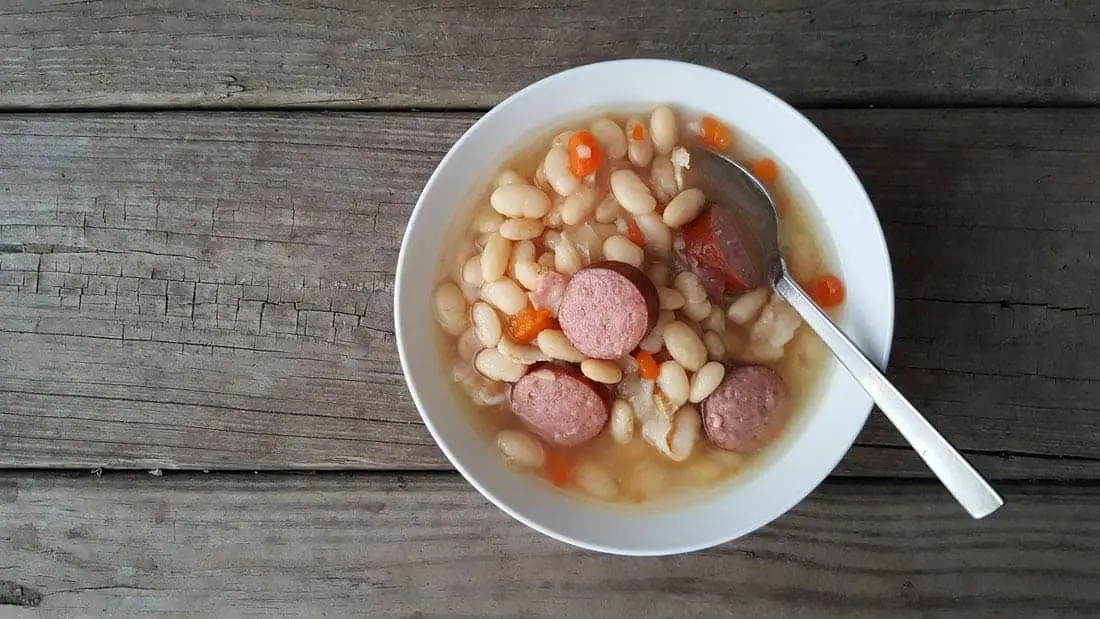 Made with white beans, olive oil, the vegetables of your choice, and some delicious herbs, this soup is not only tasty but is high on nutrition as well.
If you want to have healthy foods in Greece, you cannot go wrong with this tasty soup. It is also known as the national food of the Greeks.
Where to eat: If you know someone in Greece, then the ideal place to eat this soup would be at their house, the authenticity of a Greek households flavor will seldom be present in a restaurant dish, but then if you are all alone in Greece, almost all the restaurants there do serve this delicacy.
Yemista
Vegetables like tangy tomatoes and colored peppers are stuffed with a mixture of rice and herbs and topped off with some cheese and baked till the plants go soft and the cheese melts – that's one tasty dish called 'Yemista.'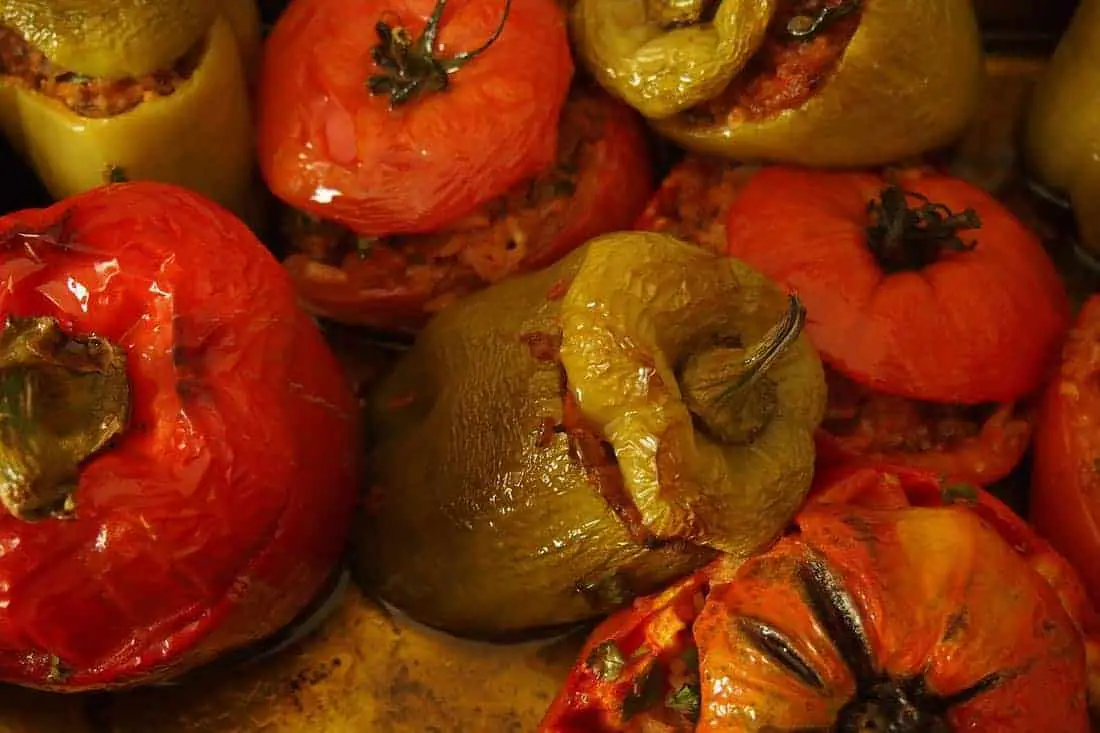 It makes for a light and refreshing meal and yet leaves you feeling full and utterly satisfied!
Where to eat: The Santorini island is the best place to go and enjoy a mouthful of this dish at any of its local taverna's popular restaurants.
Spanakopita
Probably Popeye's favorite dish, this yummy recipe combines a delicious mixture of spinach, olive oil, and vegetables of your choice, with cheese on top and a layer of Filo pastry.
It is then baked till golden brown in the oven and served droolingly hot!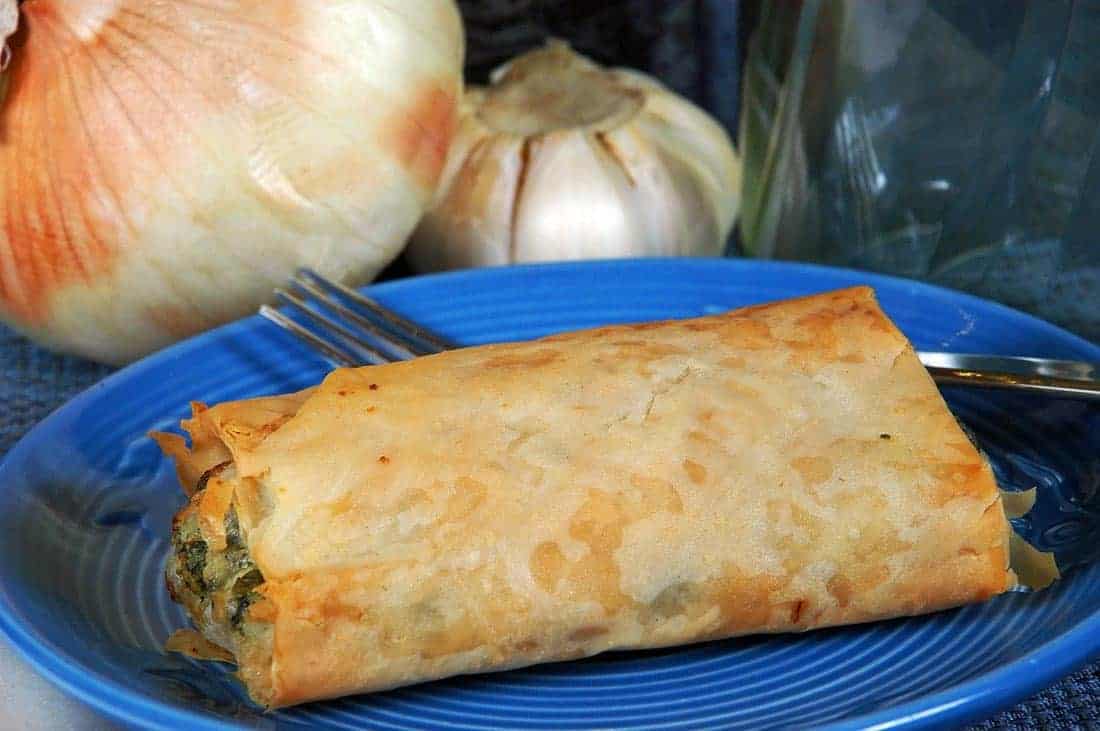 Where to eat: The Boras Bakery of Karteradhos serves the best Spanakopita you can ever sample – do give it a try.
Tzatziki
A simple combination of Greek yogurt, grated cucumbers, and garlic works to taste magic and produce a gorgeous meal, which is best accompanied by pita bread. Possibly the best weird Greek food that is widely popular in all continents.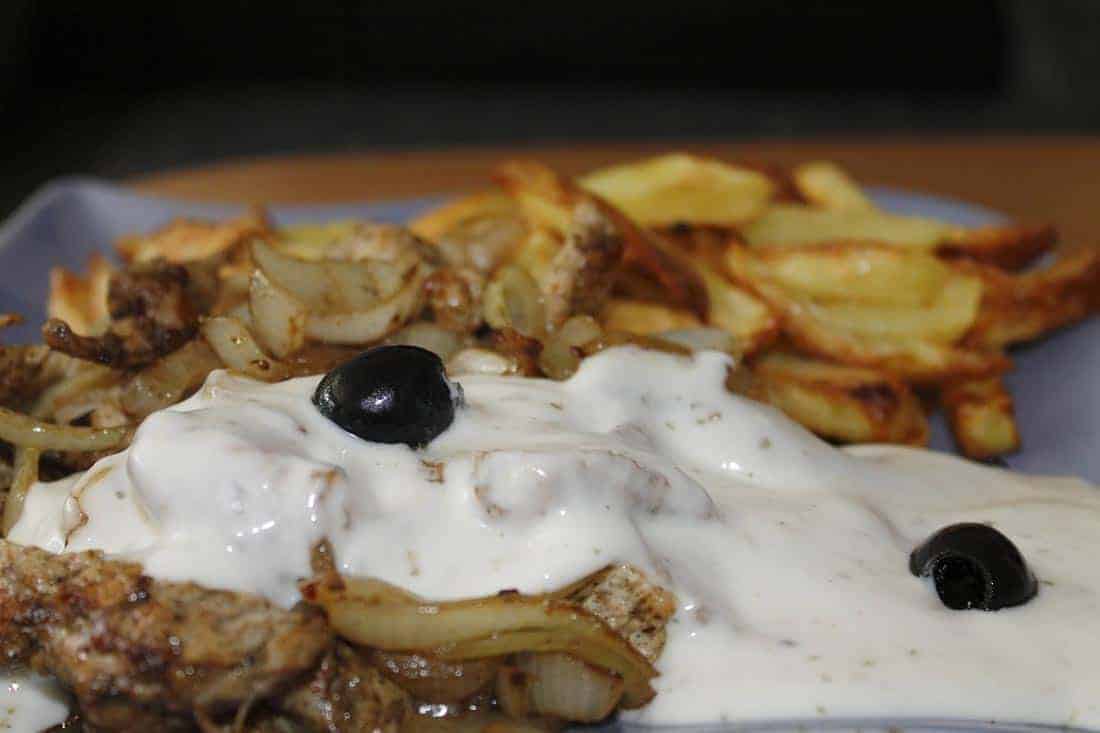 Where to eat: Another staple of the country, you can find it in any of the famous Greek restaurants in Greece – you will not go wrong here.
Horta Vrasta
It is not a very elaborate dish but superb in taste (aren't the best ones always exquisite but straightforward?). It includes a leafy green vegetable of your choice, boiled and then drizzled with olive oil, vinegar, lemon juice, pepper, and salt.
Simple and healthy is what best describes this dish.
Where to eat: Any taverna or restaurant of Greece can whip up this delicacy in no time at all.
Dolmadakia
Grape leaves, which are stuffed with rice, pine nuts, and various herbs, constitute this delicious Greek dish. The leaves are then boiled in water and served after being drained.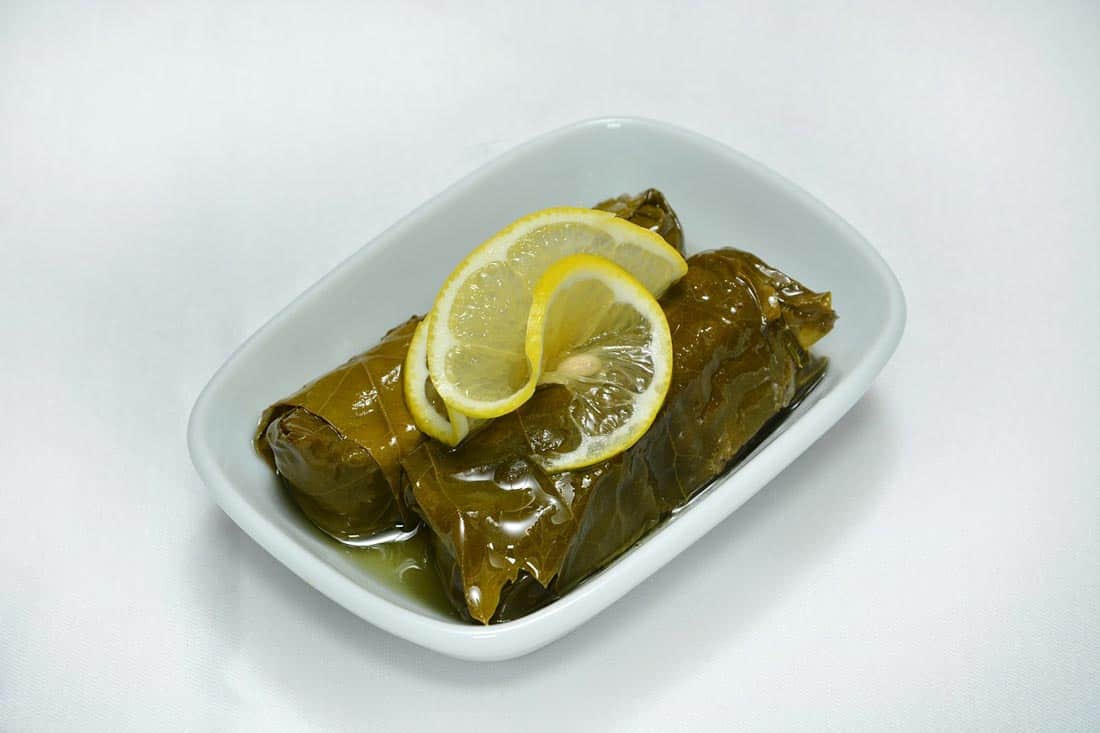 Where to eat: Anywhere in Greece will do, especially Athens.
Fassolakia Lathera
Green beans constitute the central part of the dish and various other veggies like onions, baby carrots, and potatoes, not to forget olive oil.
Where to eat: Try the tavernas of the Paros to enjoy this dish to the fullest.
Tiropites (Cheese Pies)
A marvelously cheesy stuffed filo pastry appetizer, it is the definition of finger food. Enjoy it with a cup of the best Greek tea available to experience its full flavors.
Where to eat: Cafes of Athens serve the best tiropites there are to be had!
Melomakarona
Try these delicious honey walnut cookies for dessert enthusiasts, which melt in your mouth and leave a lovely aftertaste.
Just pure cookie deliciousness! Another weird Greek food, not found elsewhere in that form.
Where to eat: Any bakery or café will have this delicacy freshly baked cookies ready for you – straight out of the oven.
Galaktoboureko
The custard-based filo pie is to die for!
Rich and creamy pastry, this will make you go for second and third helpings – without a doubt.
Where to eat: Local Greek bakeries are your best bet when it comes to this delicious dessert.
Baklava
Another filo-based salivatingly delicious Greek dessert consists of nuts, like almonds and walnuts, and a generous sprinkling of cinnamon layered on sheets of delicate filo pastry and brushed with sugar syrup.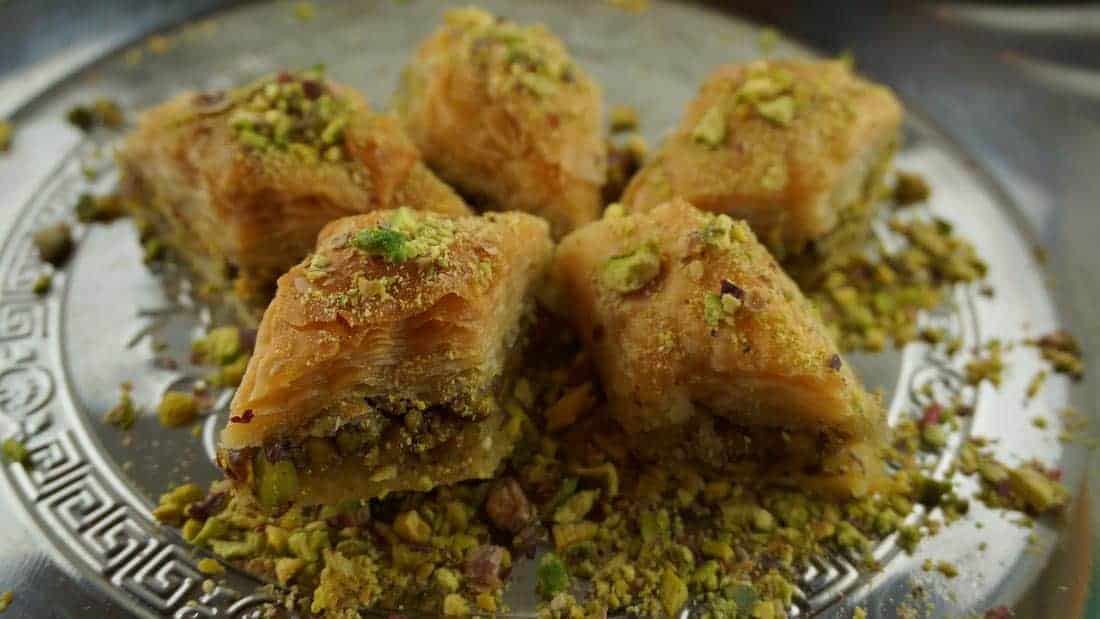 Baked to perfection, it is bathed in sweet syrup when hot and served with a dollop of whipped cream.
Sounds beyond delectable.
Where to eat: Anywhere really, you can never go wrong with baklava!
The Greek cuisine is very diverse, intensely full of flavors, high on nutrition – in a majority of its authentic meals – and although there are many common characteristics among the dishes from different regions, there are also many differences.
Some of the most exciting, original Greek fare dishes can be gorged on in the scenic Greek islands of Crete and Corfu.
If you want to know where the Greek locals are going, you should look at what the locals are reading – try picking up their local newspapers and magazines for an authentic Greek food experience.
Go ahead – indulge your senses and tempt your taste buds with classic Greek fare.
10 Weird Greek Foods for the Visitor of Greece
Snails (Kohli "Bourbouristi"). Snails fried with their shells that make a popping sound when cooked. It is considered a delicacy, especially in Crete.
Splinantero. A weird-looking kind of sausage. Usually, it is made from the heart and spleen of lamb, both minced and staffed in the large intestine taken from a big male goat.
Patsas. This is the belly of the lamb chopped in small pieces that vary from thin to thick chopped pieces. It is soup and is considered an excellent food after drinking lots of alcohol. The ultimate hangover reliever.
Sea urchin Salad. Either in a salad or raw with a twist of lemon, directly eaten as ripped from the sea.
Lamb's head. Will you be in Greece through Easter time? Lots of lambs are roasted everywhere, and the chances are that if you are a guest, Greeks will honor you by offering this to eat, eyeballs, brains, and all.
Octopus fried ink sack. No, not the octopus. Just the ink sack is removed and then deep-fried. Usually met at Kalymnos.
Marinated Gavros. Tiny fish cooked in salt and served with a bit of oil as a food snack ("meze").
Kokoretsi/Kontosouvli. Both are also prepared for Easter day (Sunday), and the first is made with leaver and fat, along with herbs all through a roasting spit and wrapped with the intestines. Kontosouvli, on the other hand, is like having lamb chops also through a roasting spit.
Kaltsounia sweet. Usually met in Crete. It is made with a star-shaped dough, white cheese (mizithra), and honey and cinnamon.
Karidaki Sweet. It is made from a whole walnut, prepared for many days, and its shell becomes very soft. Then, it is eaten like that.
Super Foods of Greece
That is one superfood (of many) we regularly take in our Greek salads, breakfasts, smoothies, and more. Flaxseed is considered one of the world's healthiest foods.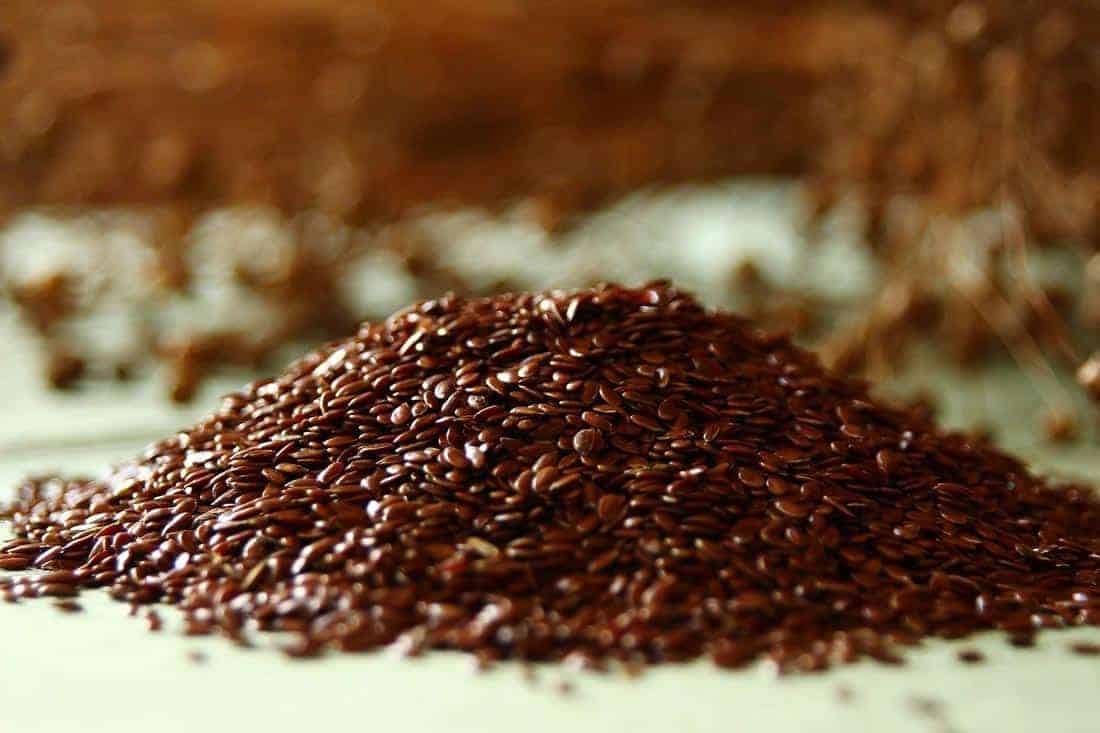 Flaxseed is considered one of the world's healthiest foods.
While you are in Greece doing all these activities presented, you may need to take advantage of the fantastic Greek nutrition and power up your organization with Greek Super Foods. Flaxseed is one of them.
The growth of flaxseed goes back to the old years, and its contribution to health is well known in human history.
Flaxseed is low in carbohydrates, cholesterol, and sodium while also being a good source of omega-3 fatty acids, fiber, phytoestrogens (lignans), vitamin B6, and minerals.
It is also known that flaxseed provides anti-acid protection and strengthens the immune system, while it helps to decrease blood pressure and cholesterol. It also helps the prevention and fights against diabetes, cancer, constipation, and inflammation.
However, please do not take more than a soup spoon per day, as it also carries lots of calories and, for sure, ask your physician to make it. You can add flaxseed to your breakfast serials, yogurt, salad, or even sauces and meat.
For better absorption from your organism, better grind it, or buy it already as a powder and store it in the freezer.
Here is a list of studies related to the benefits of flaxseed.
And here is a report for the nutritional value of flaxseed (source: Agricultural Research Service United States Department of Agriculture)
So, while you are in Greece, take advantage of this superfood and power up your system for activities.
Ancient Mediterranean Nutrition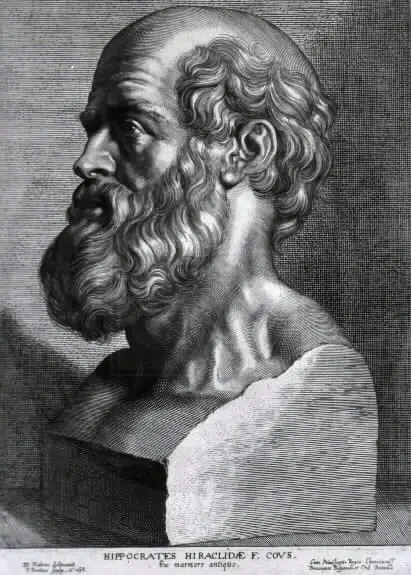 Ancient Greeks were taking food very seriously and especially Mediterranean Nutrition.
For example, Hippocrates. He said: "Your Food is Your Medicine, and Your Medicine is Your Food."
Hippocrates was a Master in the Art of Healing and Medicine.
Frequently Asked Questions:
What is the Greek national dish?
The most common answer to what Greece's national dish is, The Moussaka!
What food was eaten in ancient Greece?
The ancient Greeks were a foodie culture that ate everything from eggs to grains. They loved their veggies and weren't afraid of coloring them up with some bright flavors!
What is a typical Greek lunch?
Greek food is known for its light, healthy dishes. The most popular of these are stews or casseroles made with fresh vegetables and often served up alongside some cheese bread salad – but what would Greece be without wine?
Is that all about Greek Food?
Well, no. That is just a tiny sample of food variety from all over Greece. Read our posts for more, and don't forget to subscribe to our Newsletter.
If this post gives value to you, consider the following related posts below: