There are hundreds of things to do in Lesvos Greece (Lesbos Greece). Therefore, we put together a list of more than 20 things to do in Lesvos island so that you can understand the variety.
That was the second time we visited Lesvos, Greece, to write about the many outdoor adventures.
Without further delay, here we go!
Outdoor Things to Do in Lesvos Greece
Sailing Lesvos towards Gera Gulf
We met with the crew of Alternative Sailing at the harbor of Mytilene. Very smiley and glowing. Cheerful, happy people.
To our surprise, two more persons would sail along: Julia from Lesvos Ride and Costas from Lesvos Climb & Trekking Club.
Both were very friendly, and we would enjoy the opportunity to have some adventure activities with them during the following days.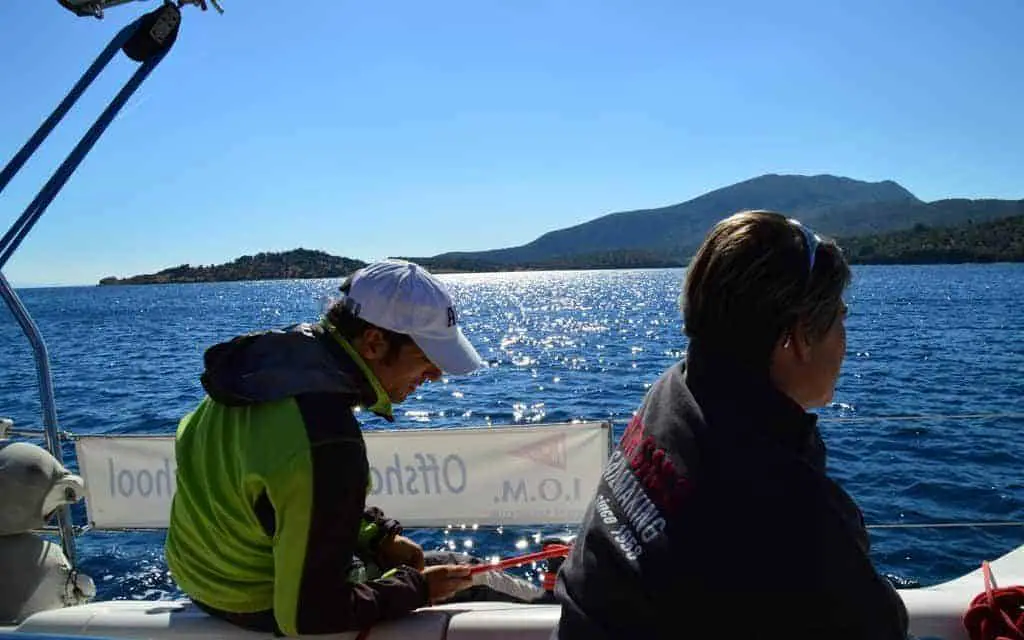 Our captain left the harbor smoothly, and we were shortly sailing around Mytilene, towards the Gulf of Gera. It was close to 1:00 pm, and as locals say: Before 1:00 pm, it is Ouzo time.
You may know that Lesvos is the "capital" of ouzo. A series of famous (in Greece and abroad) Ouzo distilleries exist here.
They produce a good number of Ouzo varieties, which vary in taste, raciness, and history.
In just 10 minutes, our captain served a small feast with octopus marinated in wine, eggs, a delicious local bread, white beans (Fasoles), a salad, a different cheese (Touloumotiri) which "brews" wrapped with the skin of the animal and additionally matures covered with oil.
The oil acts as a preservative for the cheese, and at the same time (depending on how long it will stay covered with oil), changes the taste of the cheese from mild to intense/spicy.
We have to say that we had more than a couple of ouzo shots, following the "slow food" concept that characterizes the island of Lesvos.
Eating slow is very important for locals, as, for them, it is not just about drinking ouzo.
The whole concept of Ouzo and Ouzo-related snacks (Mezedes) has to do with socializing, and the joy one takes while slowly absorbing the essence of the fantastic food and that of the Ouzo spirit.
For locals stopping during the day and "having some Ouzo" is a ritual. Like the one with tea, we find in England and other places, you know, with a more pungent liquid.
After tons of laughing and lots of "Yia' mas" (a Greek toast meaning "to our health"), we noticed that we were approaching the entrance to the Gulf of Gera.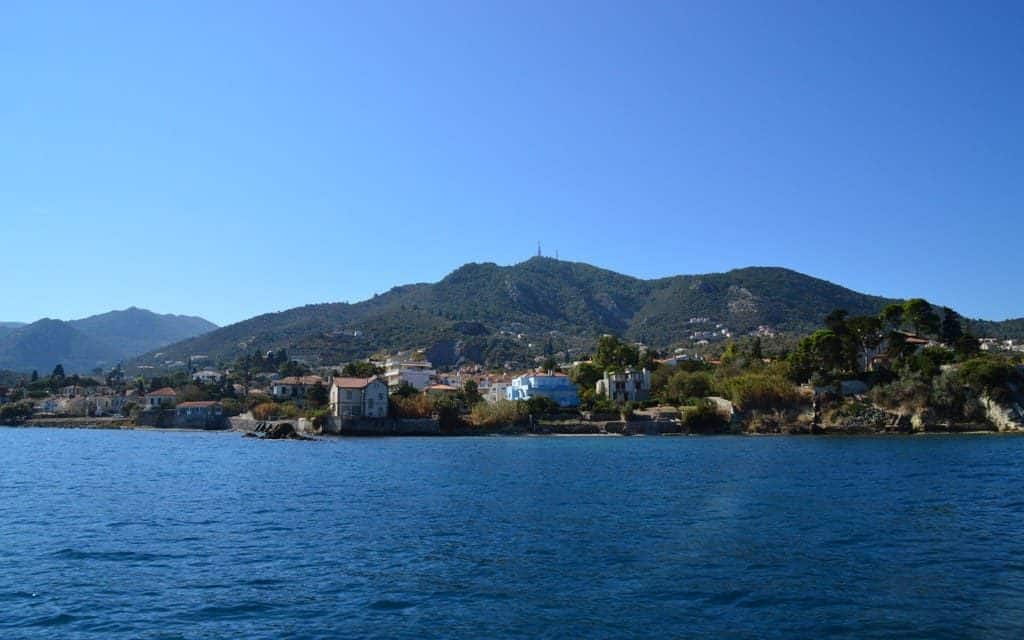 The wind was changing, and it was a massive opportunity for raising the sails to catch the wind and have some speed. This is what actual sailing is. To turn off the engines and sail just with the wind.
Food, cutlery, and ouzo disappeared fast while the captain was giving orders to the crew.
Adrenaline was pouring out fast, and at different times, we enjoyed being in 45 degrees angles towards the water. That was thrilling!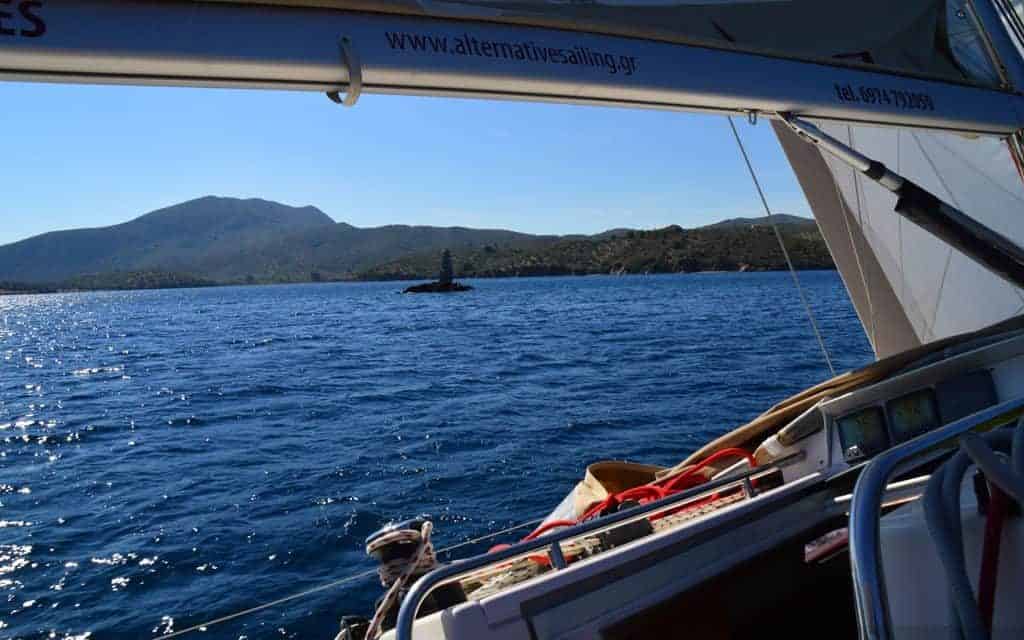 At the same time, the captain was providing lots of information about the different aspects of the surrounding area, its history, and how it was formulated during the years.
It was at that point when we sailed inside the Gulf of Gera that we realized how huge this island is, as we were looking at just 1/10th of the island at that point.
Our trip was completed by slowly approaching a small dock and stopping there.
Terrific experience, and you must try it.
We were laughing and feeling very light. Sailing is one of the must things to do in Lesvos Greece, as the island is big and has many views to offer.
Rock Climbing in Plomari Village of Lesvos Greece
Our travels through Lesvos continue by moving to Agios Isidoros, next to Plomari. Plomari would be our base for rock climbing with Kostas from Lesvos Climbing & Trekking Club.
Rock climbing in Plomari is something new for the whole island. Kostas opened the routes himself around September 2015.
Locals have embraced this unusual extreme activity as it re-introduces the island of Lesvos to new generations of locals along with the island visitors.
The field is relatively easy to access through a dirt road. However, some driving time is required and then a bit of hiking to get to the route base.
The climbing location is called "Panagia Krifti," which translates to Hidden Holy Virgin. From that location, you can see the beaches of Lesvos from above. It is simply magnificent.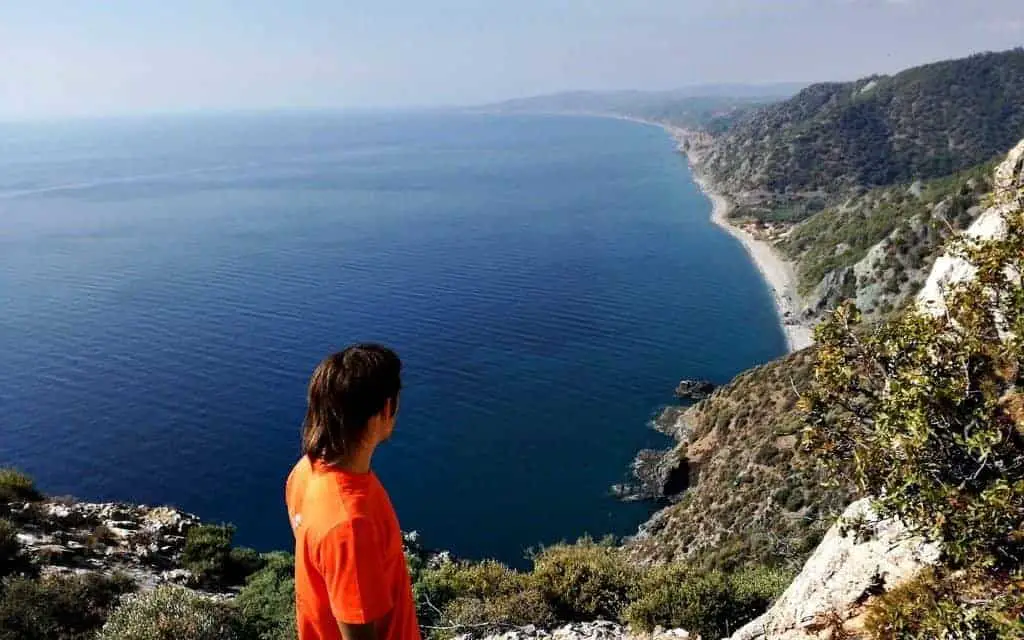 There are 26 routes at that location, ranging from 3 to 6c+. Max height is 25mt and is suitable for novices too.
Here is a PDF with many details on the routes for this specific location.
Kostas went up to secure the ropes.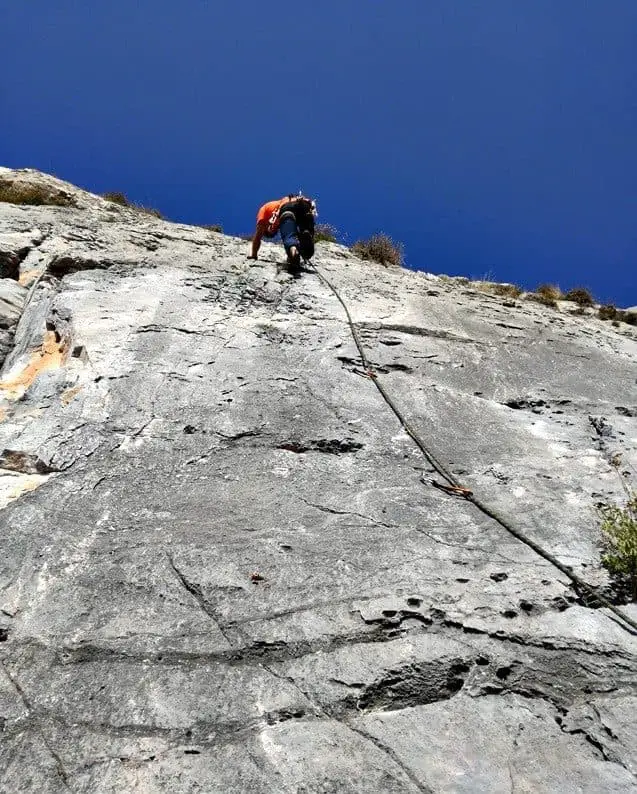 We have done some rock climbing routes before.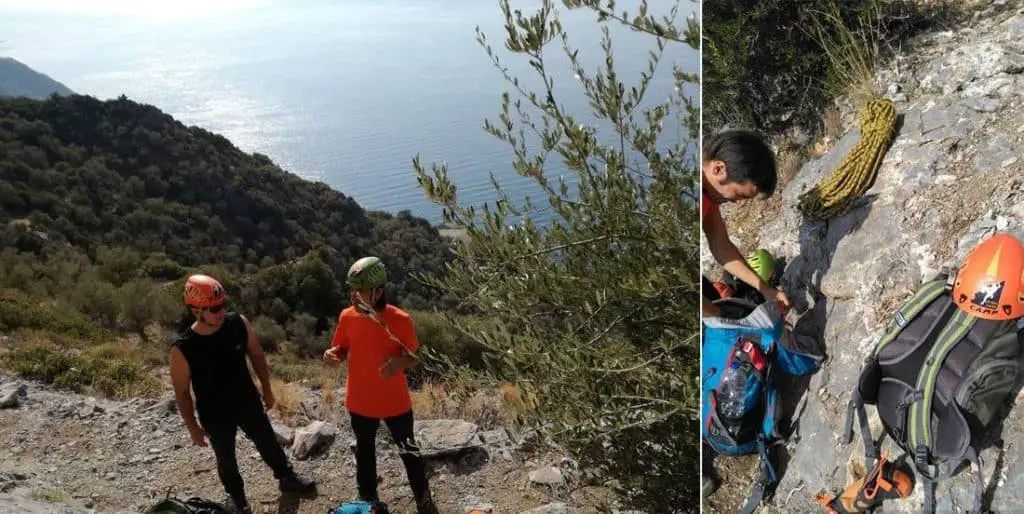 Thus, we were familiar enough with the equipment and safety precautions to enjoy the activity. However, Kostas went through all processes once more.
Kostas brought some pairs of specialized shoes we would use.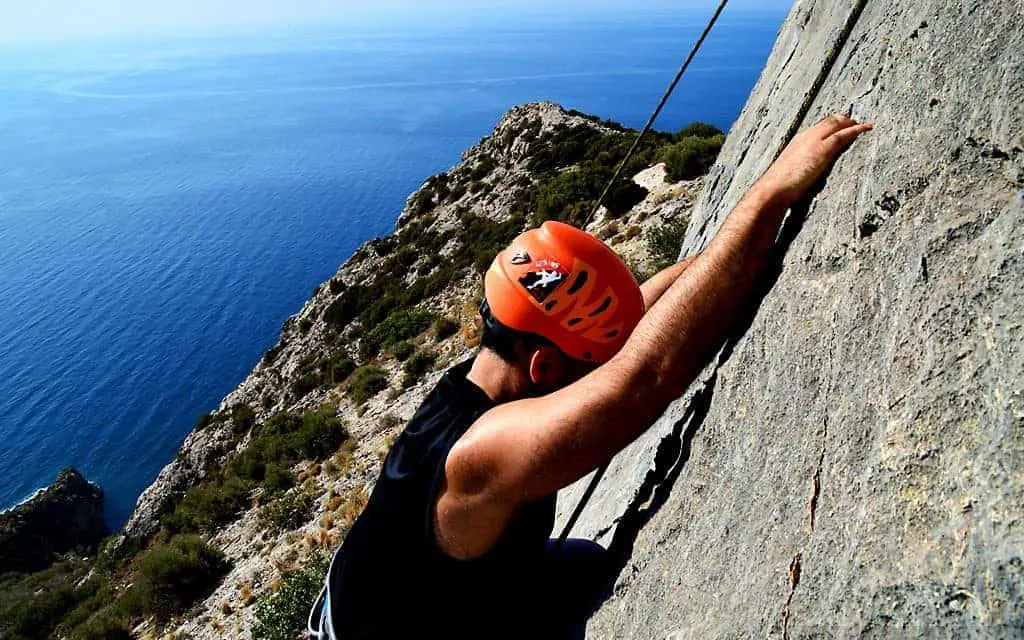 These helped to enjoy climbing better and be safer.
I am touching on one of the endpoints!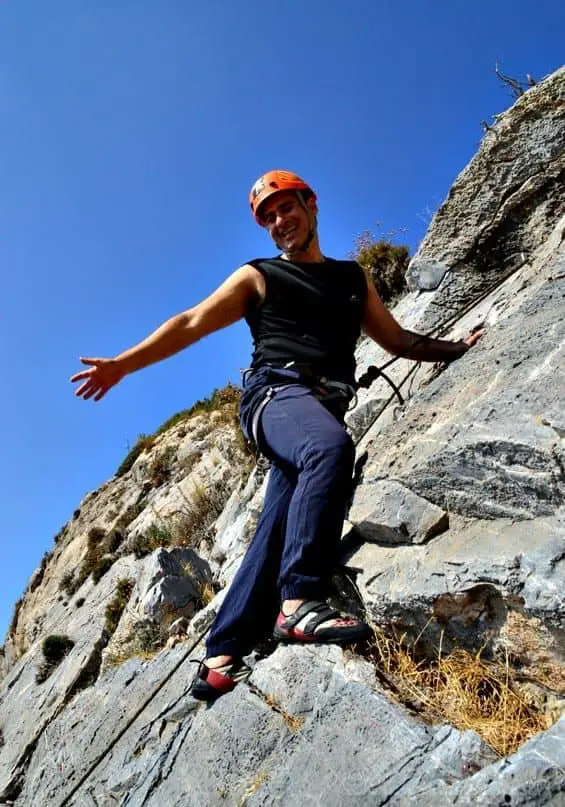 The view from the top of the routes was simply spectacular, especially after putting in all the effort needed to climb there.
Kostas climbed along to take all these fantastic pictures showing us, which was exceedingly kind from his side.
We spent quite a few hours there, enjoying the different routes, and at late noon we decided to climb down and visit another hidden treasure of the area.
Cycling and Hiking at Agiassos Village of Lesvos
Thanks to Titos, cycling is another of the many things to do in Lesvos Greece. Our adventures and outdoor activities in Lesvos island, Greece, became more intriguing as we were about to ride some bikes through dirt roads and forests.
Lesvos island offers a wide variety of cycling/mountain bike and hiking routes. Imagine that there is at least 280 Km of mountain bike paths to ride through.
All are of different difficulty levels, ranging from plain dirt roads through streams and old stone bridges to downhill and enduro ones!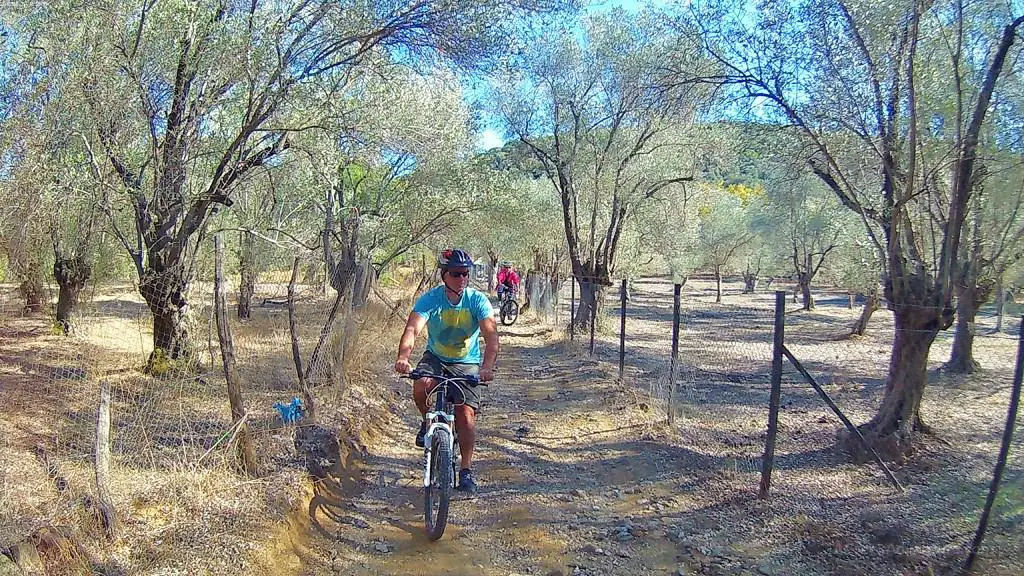 Any amateur or experienced rider will find heaven in Lesvos forests to test his skills and enjoy the surrounding nature.
Imagine that these were just a preface from Titos & Julia from Lesvos Ride pictured before even starting our ride.
That guy, Titos, is a great bike rider. He was going over obstacles in our cycling paths like it was a piece of cake! Here he explains how to go through like a ninja!
OK, I know, in the middle of the forest, I am posting another "wow" photo. But I couldn't stop sharing that beauty!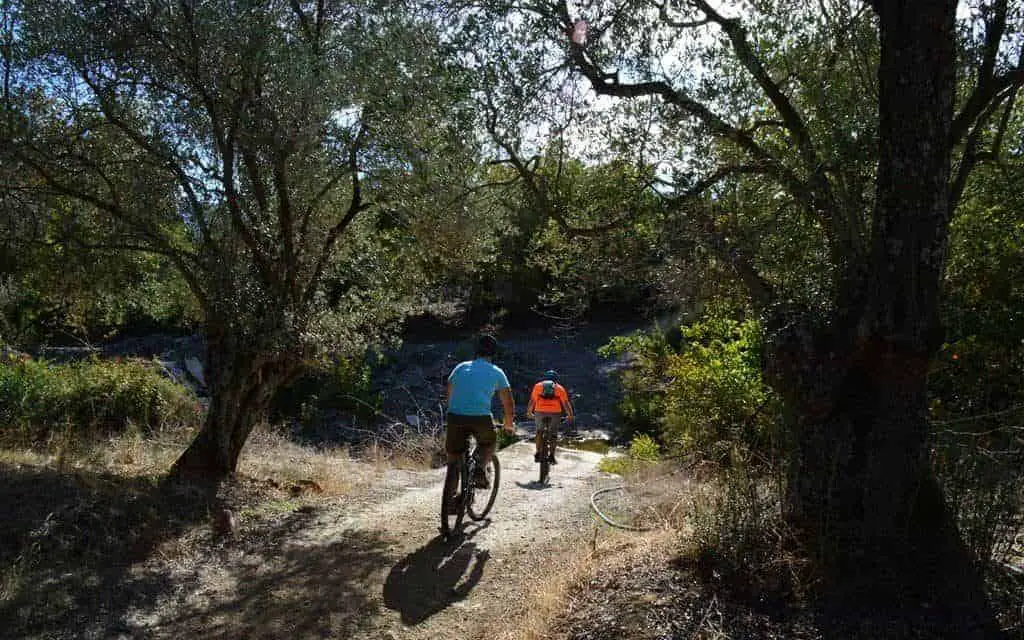 We did not have a simple cycling experience, but we shuffled through cycling and hiking while stopping to explore some old cobblestone paths too.
Then we went through this multilevel naturally made bike obstacles field. It's not as easy as it looks!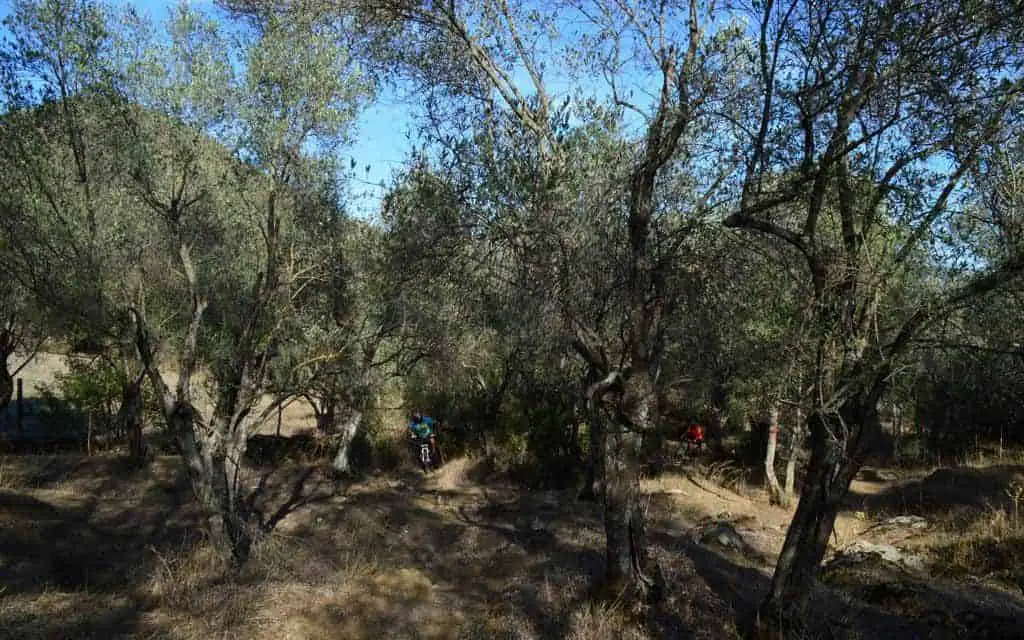 The whole area is very well marked. Hikers can find their way even if they are buried in the middle of nowhere.
We also stopped to explore some pretty lovely coffee houses, serving local traditional sweets.
This, below, is a variety of traditional homemade sweets (named "glyka koutaliou").
Inside the clay mug with the bird depictions, a local tea mix was brewing (named "Kanari"). By the way, have you seen such a nice small cup of coffee before?
And here is the "coffee and sweets house" (called "Irene's"), where we stopped to taste these above. It is full of flowers, trees and surrounded by small streams.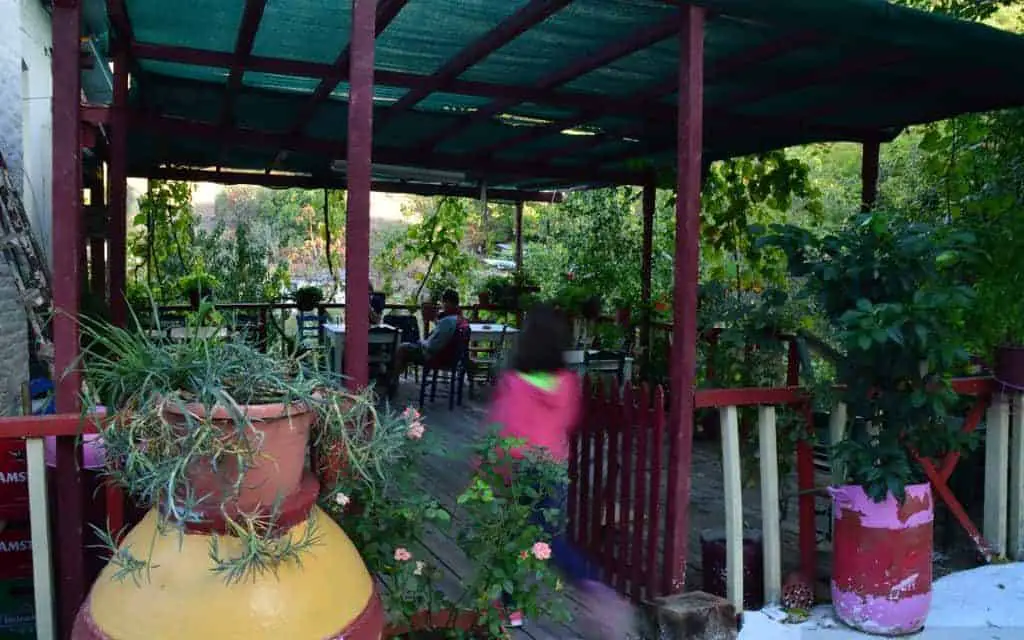 Even more, we were happy to learn about the history of the area. Julia explained the origins of this area and how they used rocks to make all the cobblestone paths. 
Such a fantastic feeling to walk through these forests.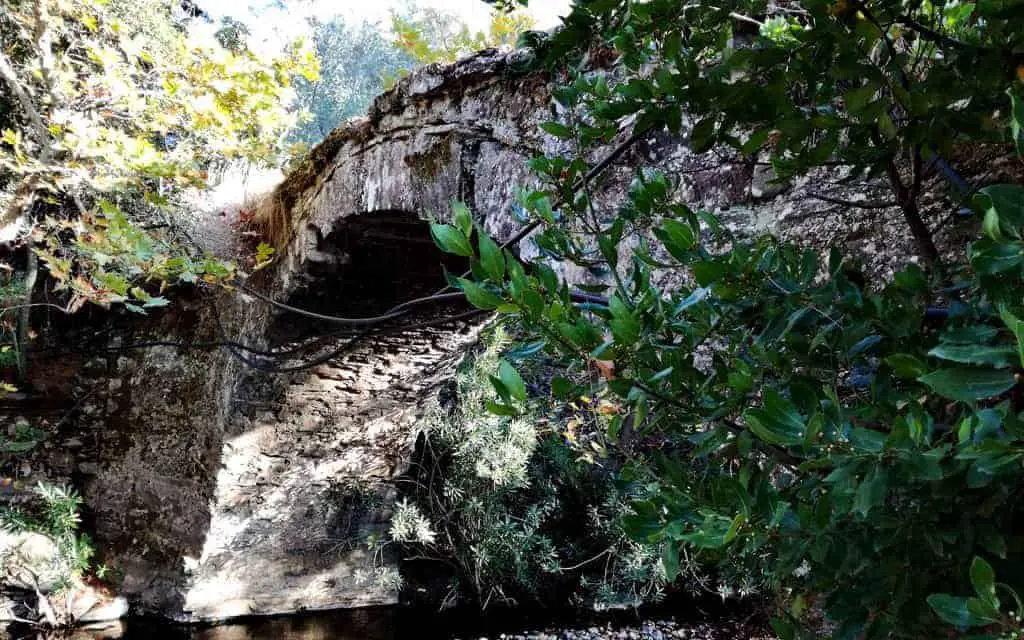 As you understand, we didn't have any time to get bored at all. The scenery was changing all the time, along with the things we learned and tasted.
What we thought it would be an incredible mountain bike ride, elevated to a multi-experience happening.
Not to mention the tons of laughing we had since Titos and Julia proved to be a fantastic, funny couple who enjoy life and love the island of Lesvos.
Lesvos Greece Horseback Riding
Our journey in Lesvos is moving on! This time it was horseback riding time.
We found horseback riding enjoyable only when we saw that the horses had a special connection with their horses.
Humans and horses go way back in the history of the earth.
Mutual respect and a particular type of connection are needed to enjoy the other's company and "services."
In case you haven't heard, horses are also used as a therapeutic medium. They have this unique way of connecting with you.
It could be their big eyes or their beauty or something else. But it happens. We also saw while brushing their skin, as they were making noises of enjoyment.
This time we went for a ride with Ippos Horse Riding & Excursions. Ippos (meaning: Horse) is very close to the village of Molyvos.
The horse's treatment is necessary to get closer to their soul (maybe it sounds a bit poetic, but this is how it feels).
The horse needs to get connected with you. It is not like riding a bicycle. You need to feel its skin and how it reacts while touching it.
You need to experience the way they look at you while you look at them.
Our guide and instructor, Rita Mihalakis, ensured that we would go through that while following her special instructions. Instructions included how to move in front and behind the horse and how to use the different brushes.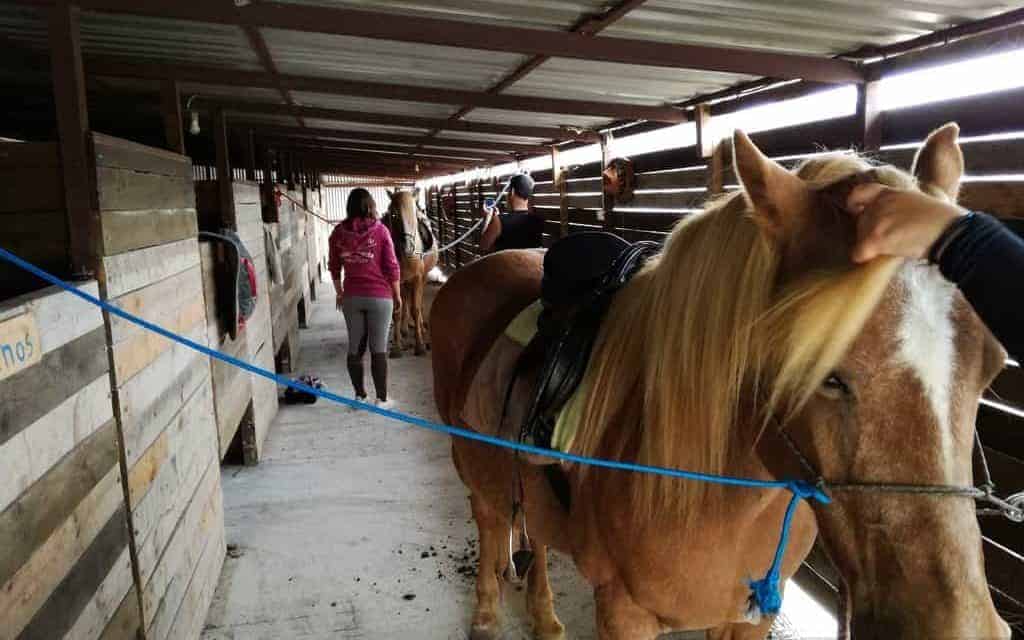 We went through the whole process of cleaning and brushing their skin and even combing their mane. We also cleaned the dirt under and inside their hoofs.
The latter needs to be done as the horse will experience pain if that area is not clean.
Their friends were fooling around all the time. It is always a pleasure to see how animals are friendly to each other.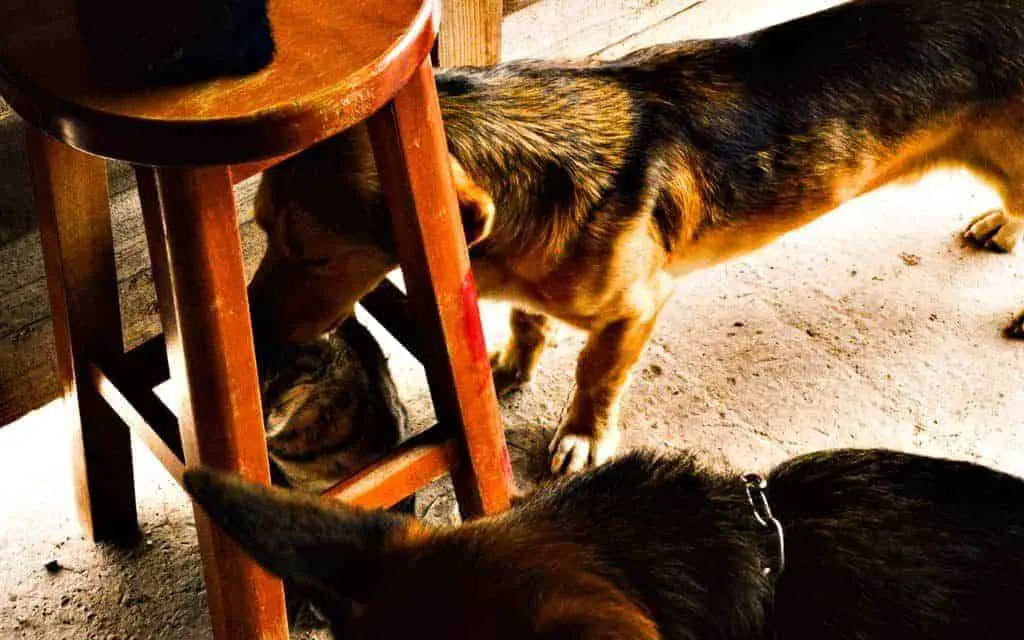 The cat was even posing for these photos. Just look at her on top of Juliet.
Our ride would be relatively easy, ending up in an area where we would start another hiking trip.
The horses behaved very well, and it was a fun ride.
My horse was named Erik, and Maria was riding Juliet. Both lovely and friendly horses. Erik was described as a Clean Haflinger, three years old, with a height of 1,55cm. He was warm, cuddly, and forthcoming.
On the other hand, Juliet was a Haflinger breed, 11 years old, 1,60cm. Cob type, friendly, easy-going, a bit on the lazy side, loves hacks.
After a terrific ride, we ended up at the Ligona Valley for hiking. Happy? Yes.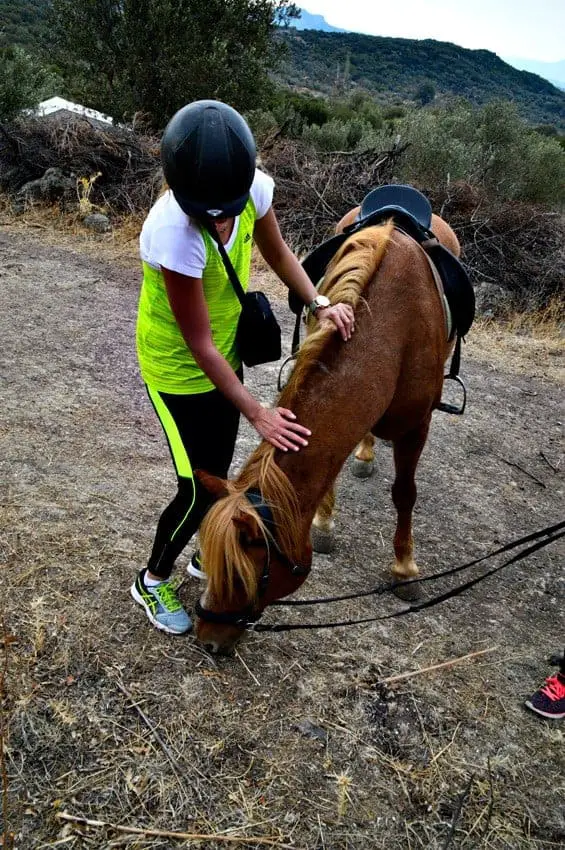 There we had to say goodbye to Rita and her horses while promising Erik and Juliet to return.
It was a strange feeling to say goodbye to those 2, like saying goodbye to humans.
Hiking Τowards the Μountain of Ligona Valley in Lesvos
The complete route takes around 4 hours to complete and is very well marked.
This valley is known for the watermills that used to be here in the old days. It is a straightforward route that changes from sun to shade as you reach the top.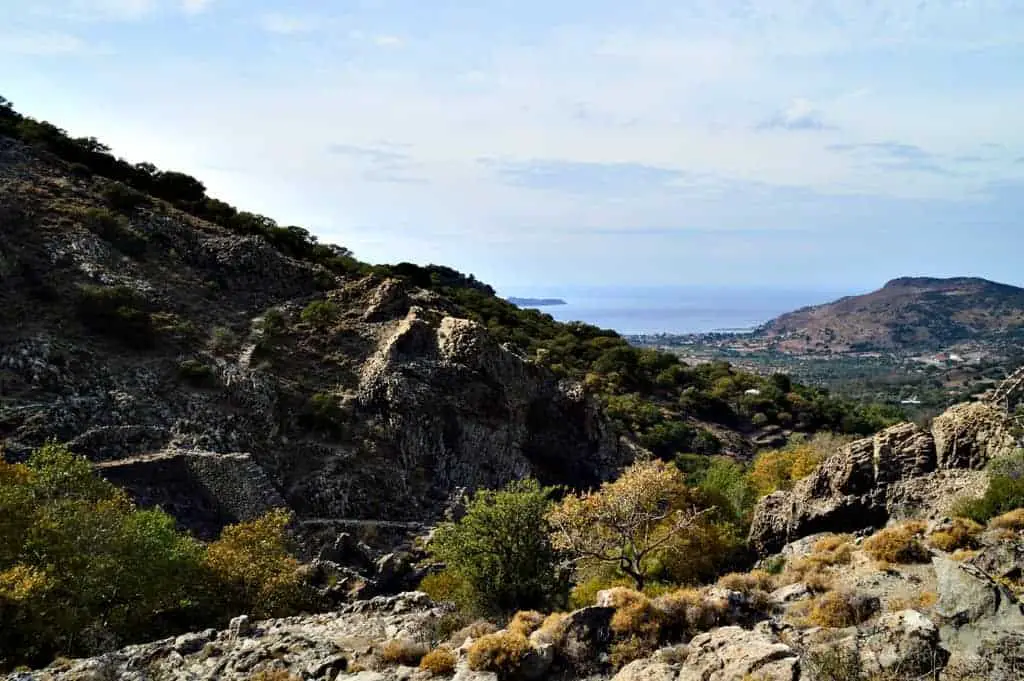 There are areas where the temperature drops a lot due to the lack of sun and cold currents down-streaming from the mountain.
Villagers lived at the mountain (not anymore), using the watermills network and its canals to grind wheat and water the full with vegetable fields.
Watermills were built in a straight line, so each family used the same water flowing through stone canals, downwards to the valley.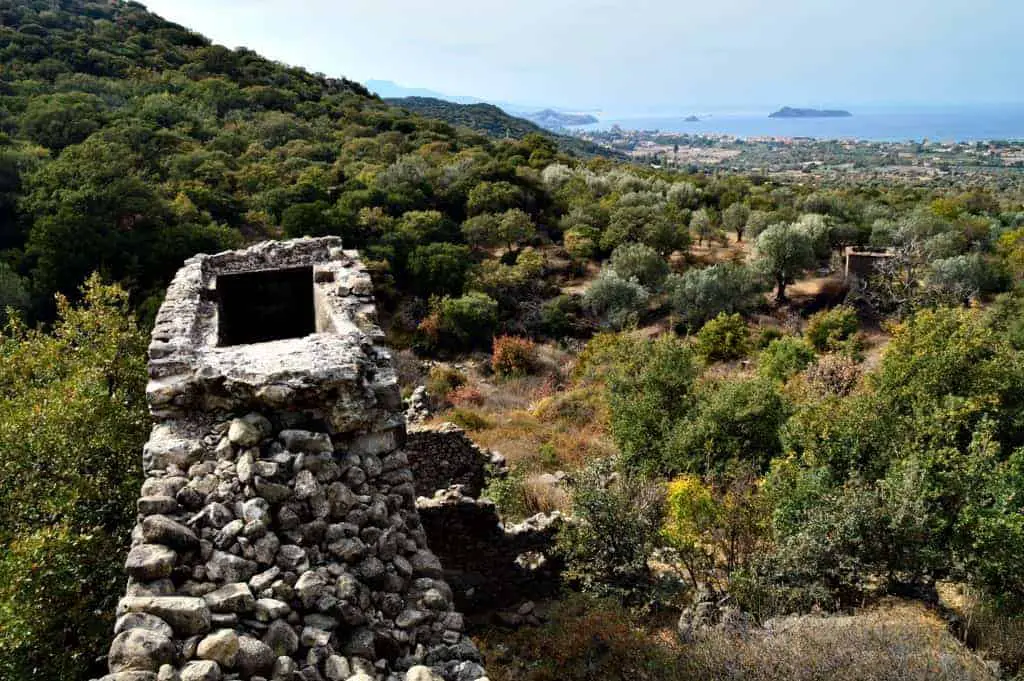 From the top, you can see the valley of Ligona and the North Aegean blue.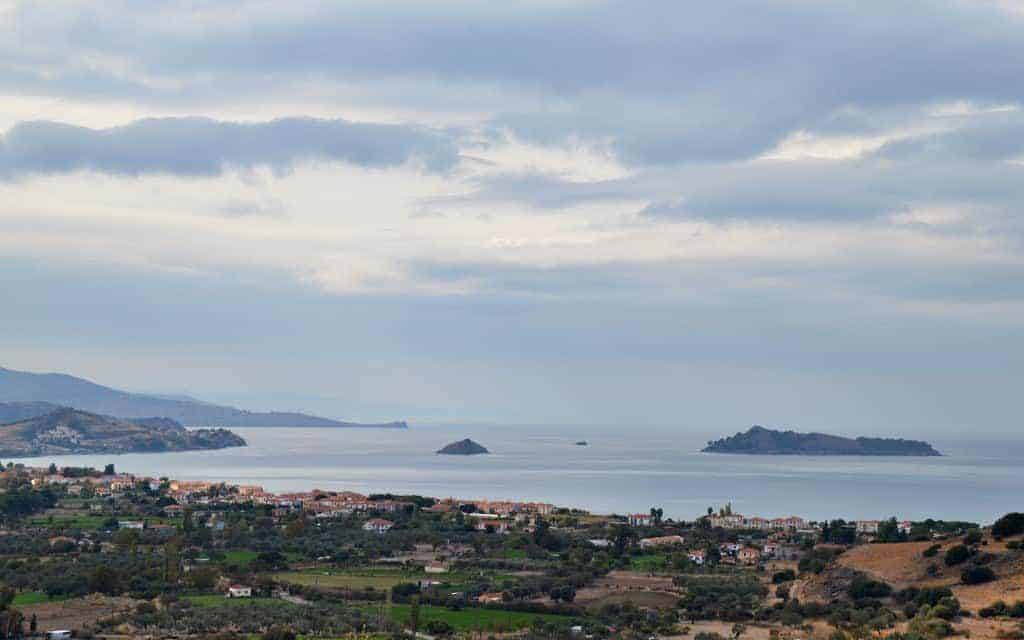 This hiking is recommended to those who want to have a relaxed walk and learn about the history of this area.
Visit The Waterfall of Man'Katsa in Lesvos
This is a pretty lovely picnic area. You walk no more than 700 meters from a dirt road, and you arrive there.
The waterfall is not directly visible, but you need to walk down a path to get there.
The water amount was not much when we were there, but we were informed that it was at least five times. It is good to pay a visit.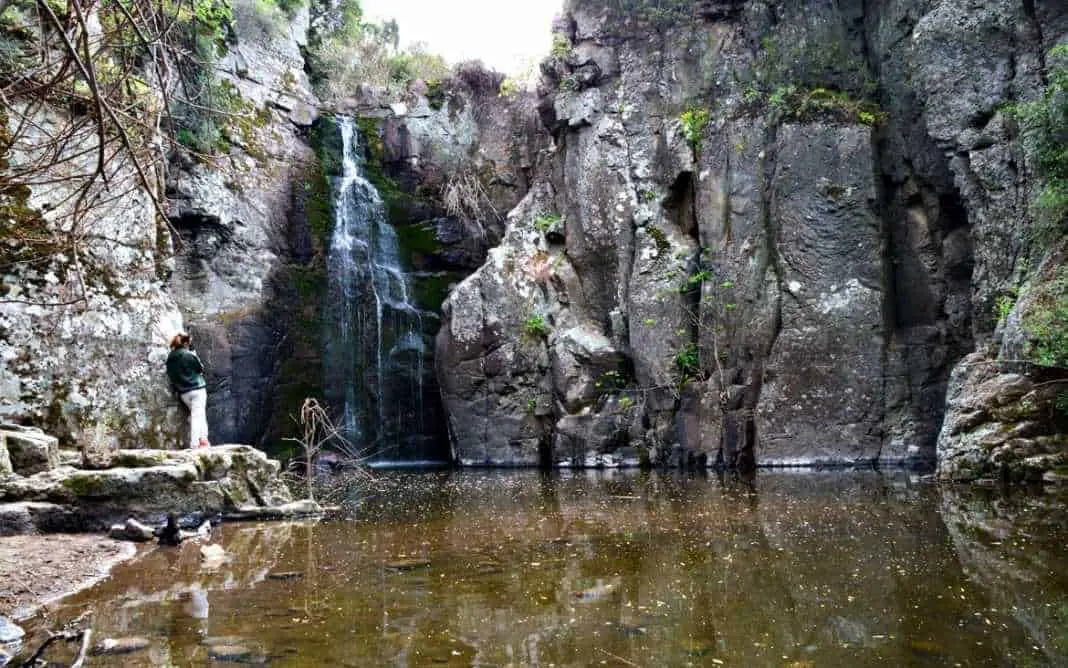 Man'Katsa is at 1500m from the intersection of Pedi – Aspropotamos, and 30 km North of Mytilini, on your way to Mantamados.
Hiking Agiassos Village on Mountain Olympus
Mt Olympus (of Lesvos), overlooking Agiassos village, is the highest mountain in the geomorphologic relief between the two gulfs of Lesvos.
The mountainsides are covered in olive groves at low altitudes, gradually replaced by chestnut trees and pine.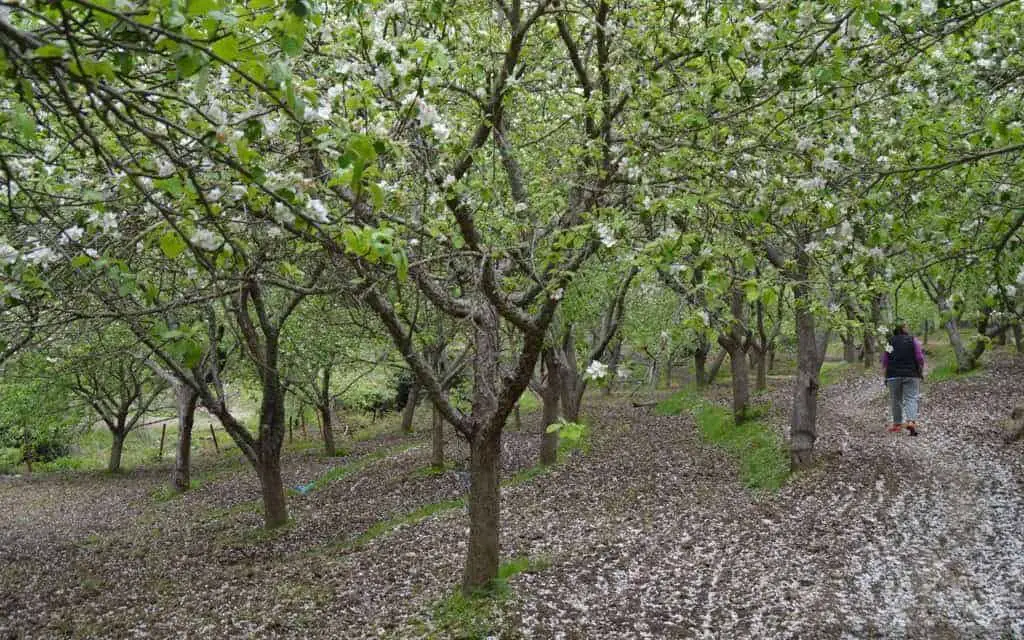 Here is Titos (left), our guide from Lesvos Ride, along with a guy who lives almost permanently in the forest and comes with the intriguing nickname "The Spider."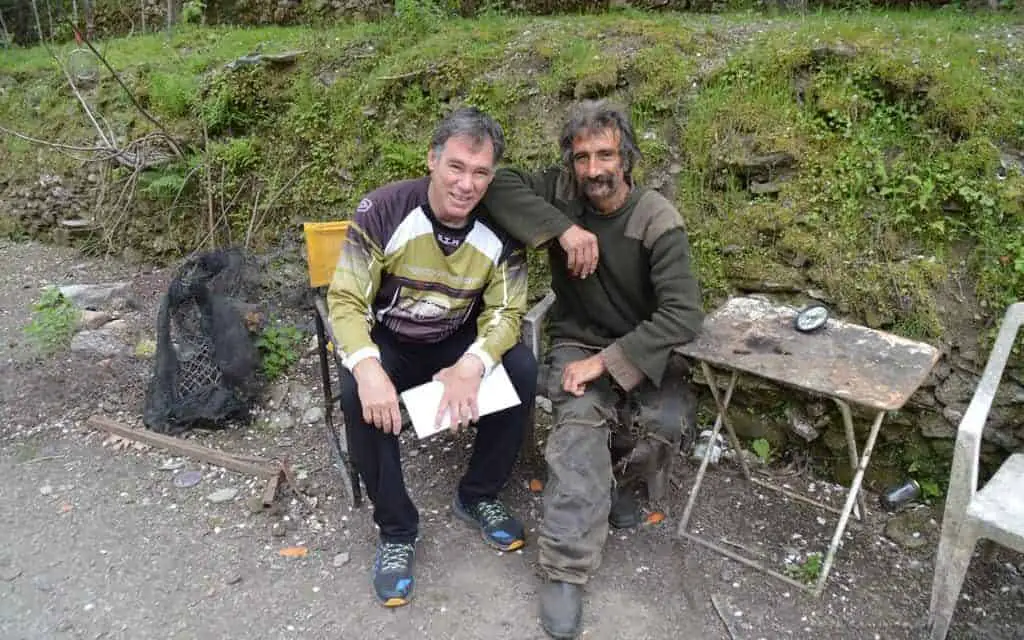 This mushroom (below) is delicious. It is called Morchella.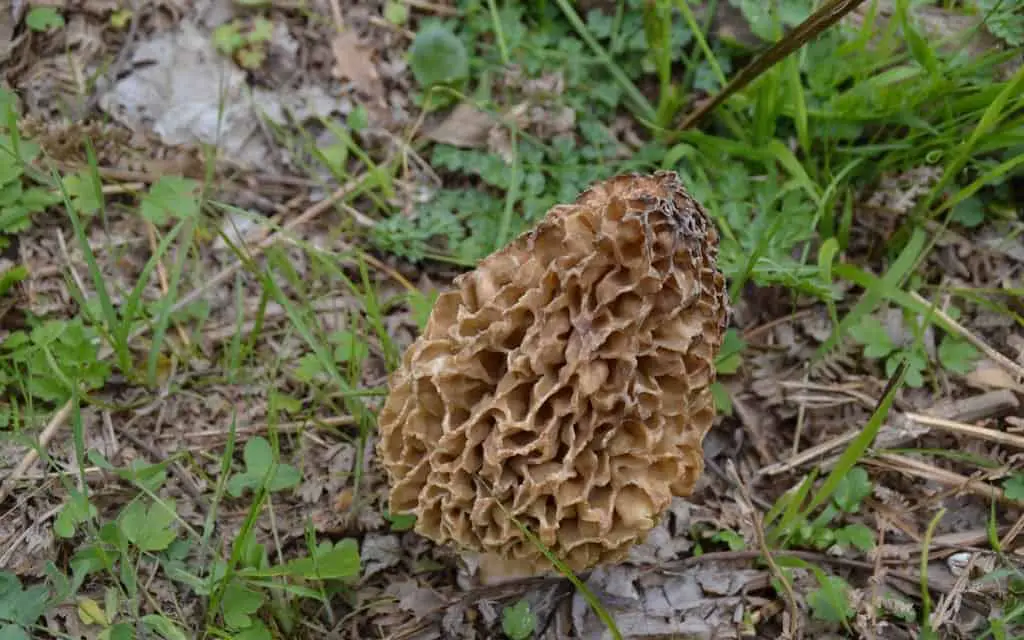 This area has been included in the European NATURA 2000 Network of protected areas, while it has also been characterized as an Important Bird Area for Greece.
All the regions of Olympus are ideal for hiking throughout the year, offering pleasant trails.
However, some caution is required during rain/snow seasons since a few paths are stone-paved and can become a bit slippery.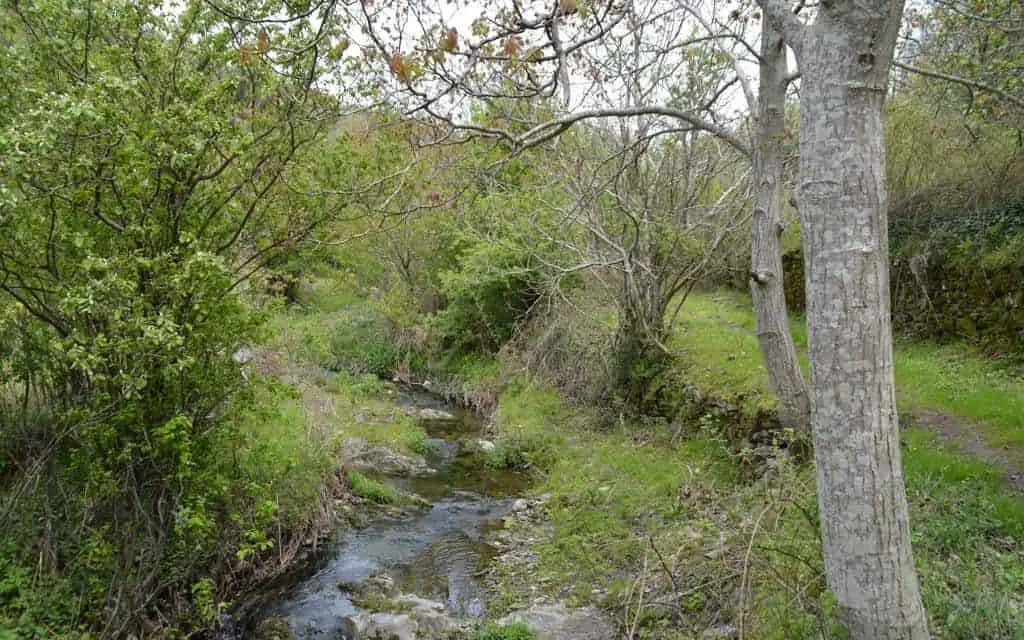 As we hiked there, we strolled through the chestnut forests, pine forests, and ravines. The air was rather refreshing.
Some trails belong to the Trekking Trails Network of Lesvos and are all signposted with easy access.
Starting with Agiassos as the central point, the trails are:
To Prophet Ilias peak on Mt Olympus
To Sanatorio
To Kastelli – Agios Dimitrios
From Patoumeni to Karini
Assomatos on the "Olive Trails"
To Antria, Agioi Anargyroi or Kato Tritos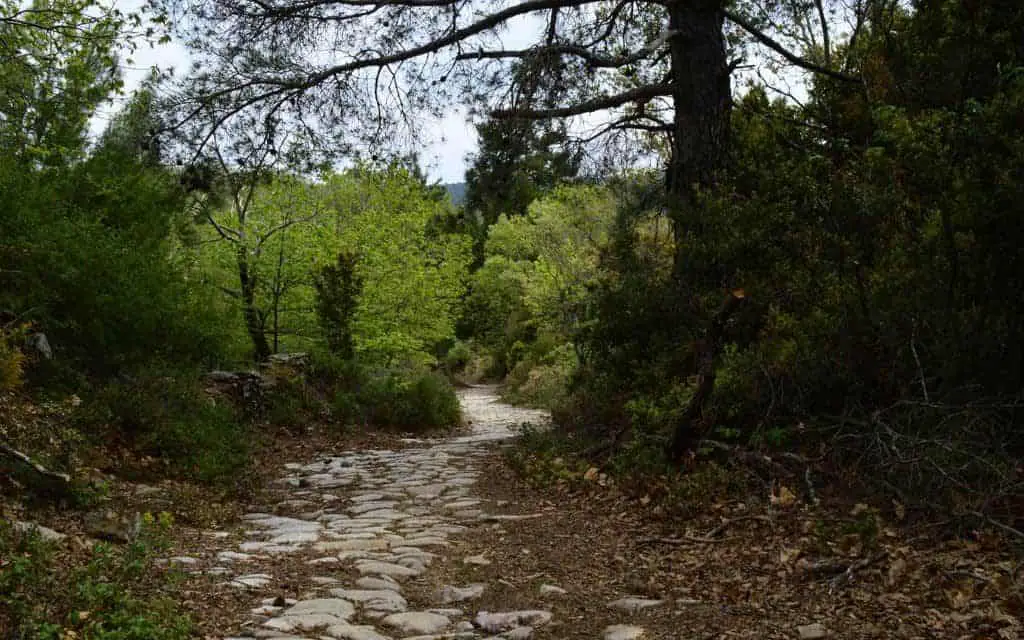 We did around 8km through these paths, even crossing through some privately owned fields.
Apart from the magnificent beauty of nature, it was amazing to see all those beautiful stone-paved paths at different mountain points.
It was a real art to make these in the middle of the forest carrying all stones from afar. These paths were used from old times by locals.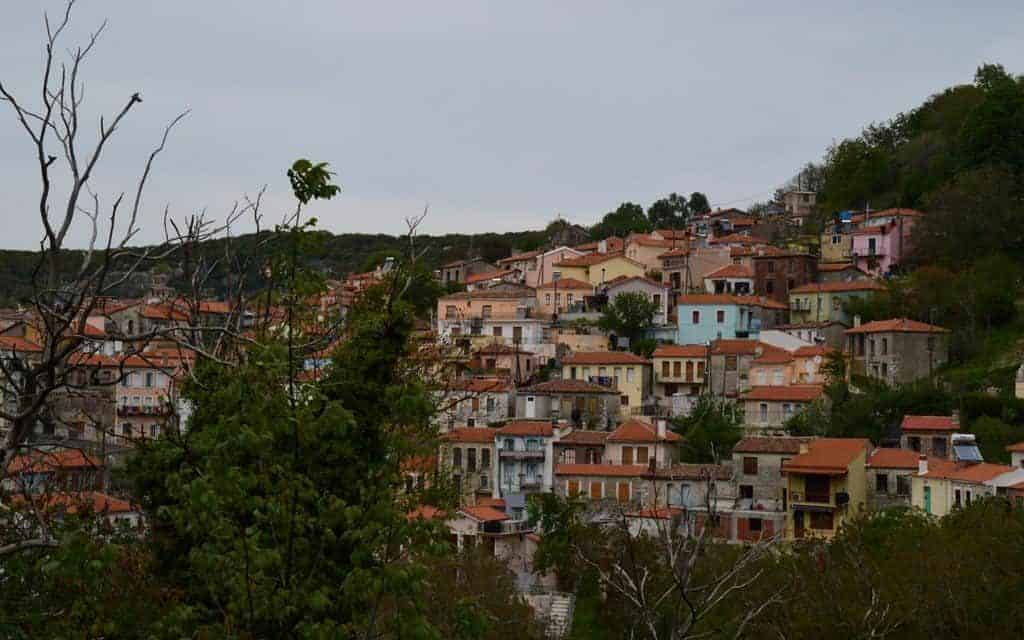 That was a lovely trip to Agiassos for hiking, and we celebrated it by visiting the Theofilon Cafe in Agiassos to enjoy local tea and Greek coffee.
Exploring The Villages of Lesvos Greece
Going through all the crucial villages of Lesvos is another of the best things to do in Lesvos Greece. There is so much history, beauty, and culture to explore.
Walk the Alleys of Plomari Village in Lesvos
Just a 5 minutes drive (you can even walk it) from Agios Isidoros is the colorful Plomari. Plomari is famous for hosting all the Ouzo distilleries, for which Lesvos is famous.
We met Menia, a local girl who knows Plomari in and out. She went us through the small village of Plomari, explaining its history and particularities.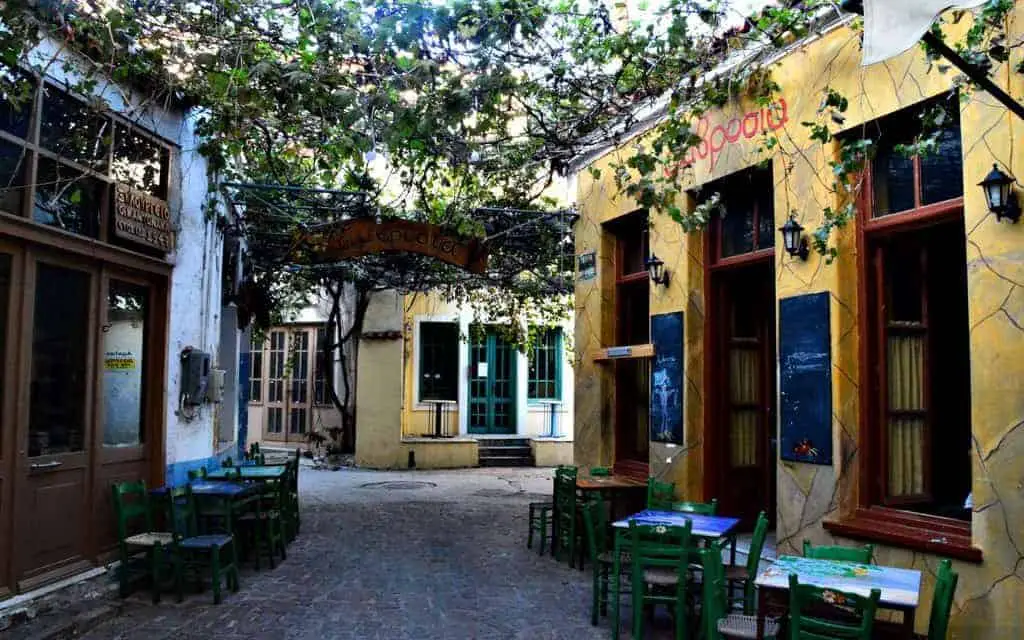 We think that what is best to do in Plomari is walk in the alleys and see the old mansions.
Do walk up to the temple of Prophet Elias. It is a bit uphill to go there, but the view is rather rewarding.
At some point, and after all the climbing and walking around, we started craving local food, so we asked Menia to point where we should eat in Plomari.
There are some pretty lovely taverns in this area below, as seen from the harbor.
Menia mentioned the "7 Seas" tavern in Plomari for some great seafood, salads, local "oil cheese," another variety of ouzo, and salted fish.
One thing we noticed in Plomari and Lesvos, in general, was the following! We were consuming ouzo and eating a reasonable amount of a variety of "mezedes" every day. Yet, not even once, we feel like having a heavy stomach or any discomfort. So we asked the locals about that, and they said that in almost all taverns, they are cautious with how they cook the food by using perfect quality ingredients.
We stayed at "7 seas" there until late at night, by the sea, enjoying a perfect closing of a perfect day that had it all: rock climbing, sightseeing, great food, a great company of people.
As we have said many times: When in a place, ask the locals. They will point out anything you need to visit or eat.
Explore the Famous Eressos Village of Lesvos
Some places look great. But there, you also meet a person who can change the way you experience, and then the same place transforms into a magical experience. It reveals a new light and allows you to experience the same place with all your senses highly amplified.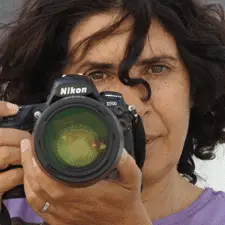 Such a place is Eressos on the island of Lesvos. The person who revealed the magic of this place to us is no other than the famous photographer and author, Tzeli Hatzidimitriou.
Tzeli is a fine art photographer, filmmaker, travel writer, and photography teacher. She is a highly qualified guide on the islands of Lesvos and Kythera. She specializes in the legacy of Sappho, and she published the first LGBT guide about Lesbos.
We had the privilege to get enlightened by her. We had a "philosophical" discussion while walking through unusual paths outside the village of Eressos. Her explanations about light & photography still follow us after all these months, like an enchantment.
We went there after our visit to Sigri and the Petrified Forest of Lesvos. It was mid-October, but the weather was rather hot, and the sun was pretty well for sunbathing too.
We had a walk along the famous beach of Eressos. If you haven't heard of Eressos, it is a quiet village famous for LGBT inbound tourism.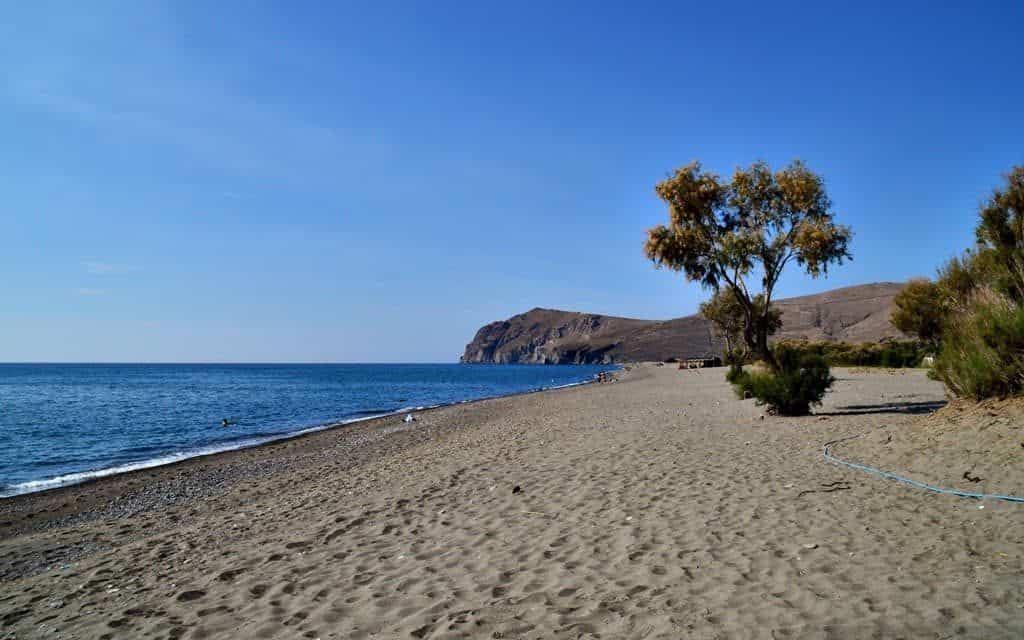 But is that all about Eressos? Hardly.
This place is suitable for those who want to experience internal silence and peculiar high energy that flows from the hills downwards to the village.
There is an interesting -yet small- variety of ancient ruins inside Eressos and a museum to learn more about them.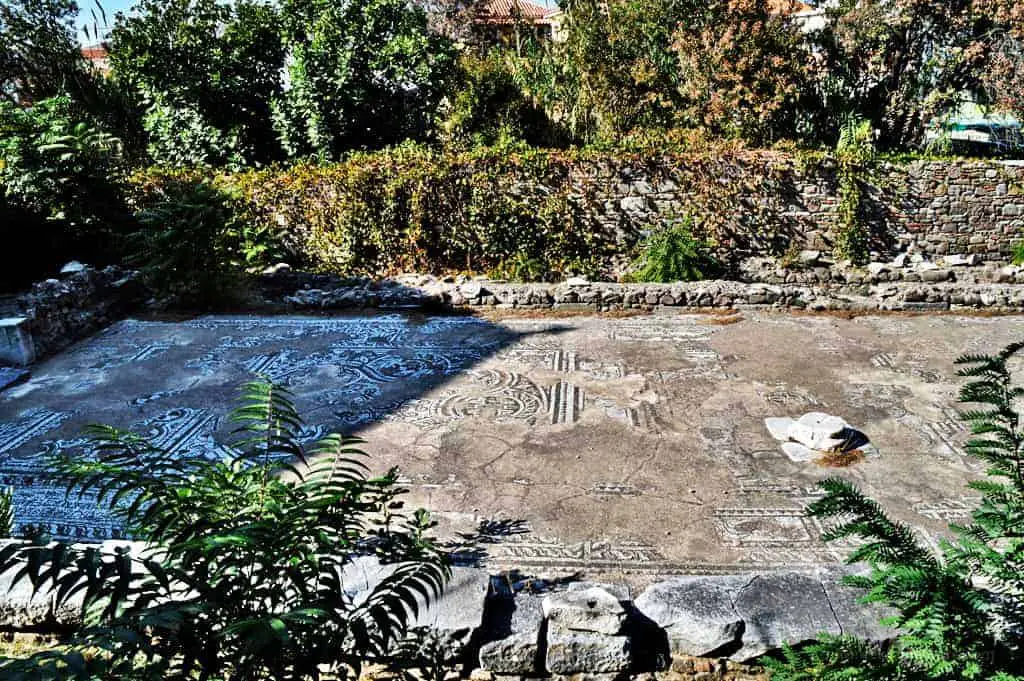 Inside the village, the one thing that you will want to spend time at is the beach.
Big, sandy, calm, refreshing waters.
Upon that, a series of pretty lovely bars and cafes help you spend days and nights overseeing the infinite blue.
A variety of statues related to Sappho, but not only, are arranged along the beach.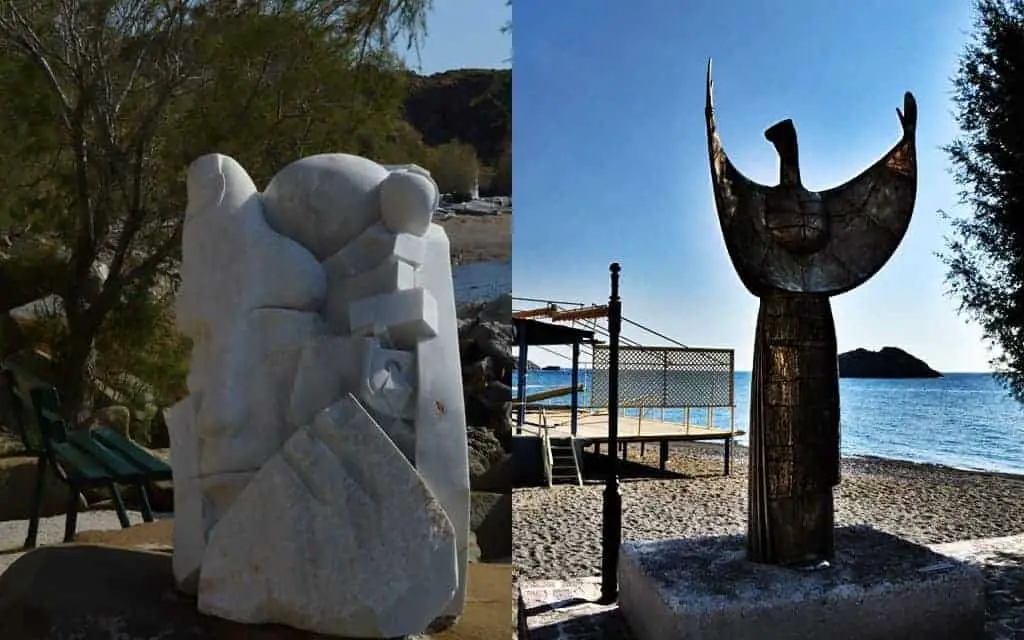 In the next one, a pyramid-like sculpture reveals various messages through ancient poems on each side. Here is the translation of one of them.
"Because Earth is a common house of Gods and of Humans and as such we all must – leaning to her as our nurse and our mother- praise her and love her with tenderness as the one who gave birth to us"
You must walk these hills. We make a significant effort to depict the energy of those hills, but you must experience it by yourself.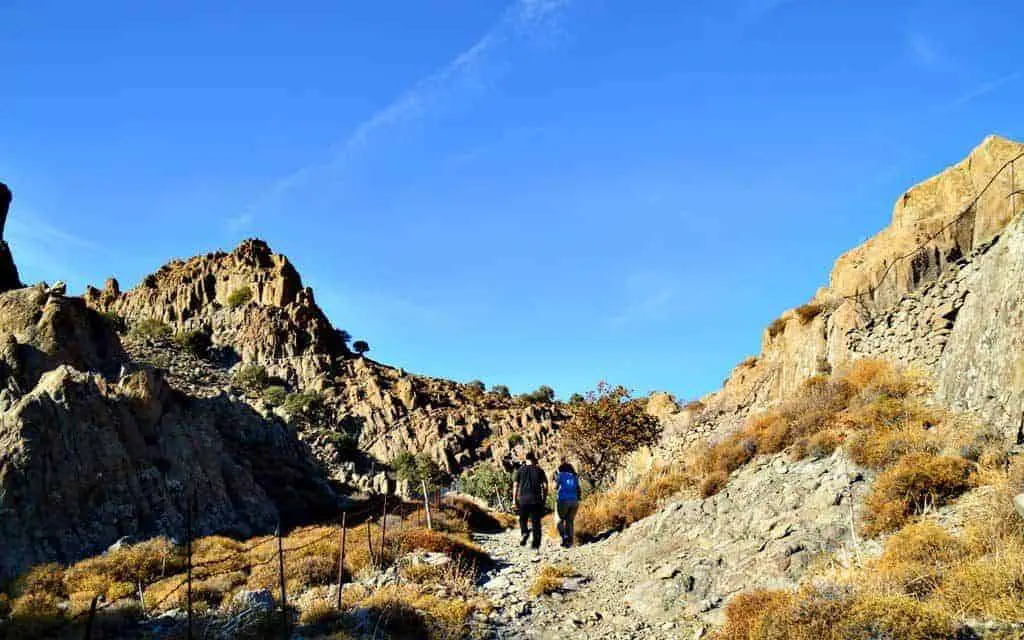 The golden hills on one side and the luscious green with hidden churches on the other can lead to a somewhat mystical hiking experience.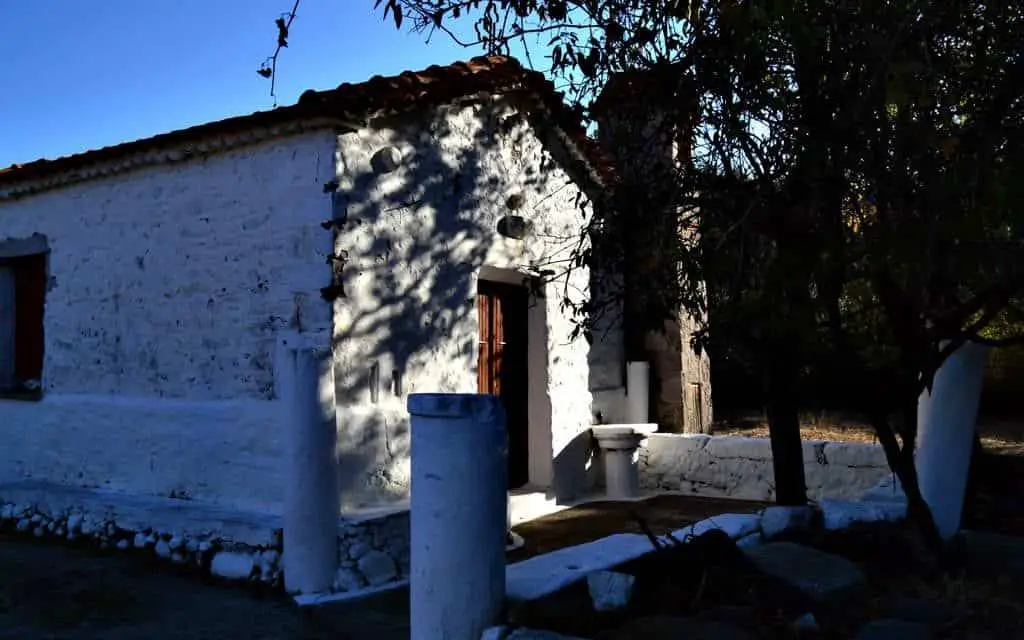 Especially when Tzeli reveals the secrets of the island of Lesvos.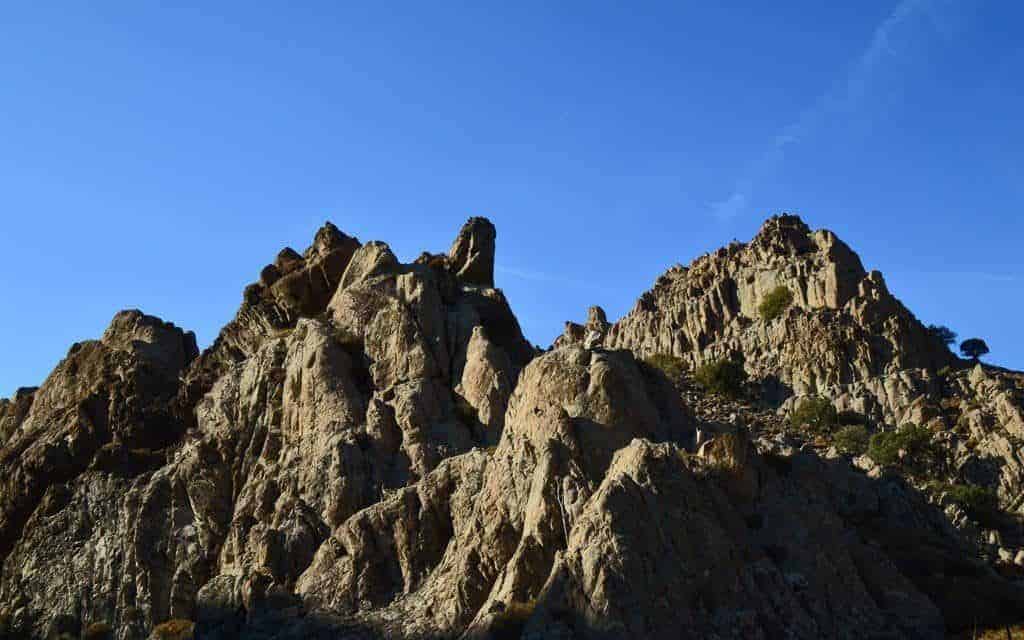 We had a walk that turned out to be a lesson on photography, as we had numerous opportunities to captivate the light while bathing different elements of nature.
Was it our idea or things in life that took a different kind of vividness as we were looking at them through our camera lens?
Perhaps the fantastic relaxing feeling of us, the walking philosophers of Eressos, and nature created the circumstances to enhance that feeling of peace and serenity.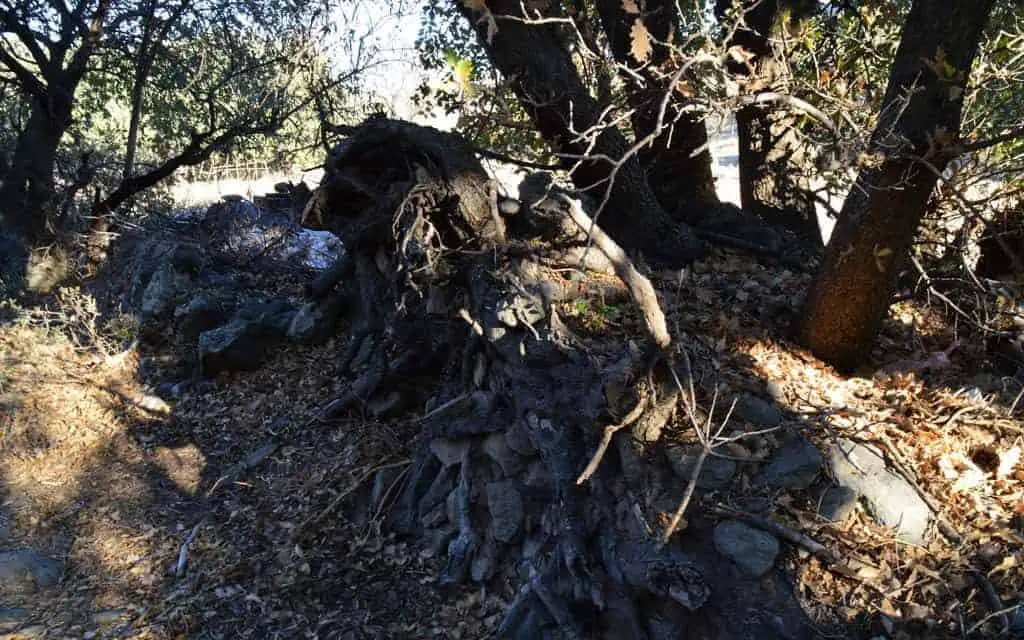 We arrived at Eressos, just curious to see another beautiful by-the-sea village of Lesvos. Finally, however, we left Eressos feeling psychologically refreshed.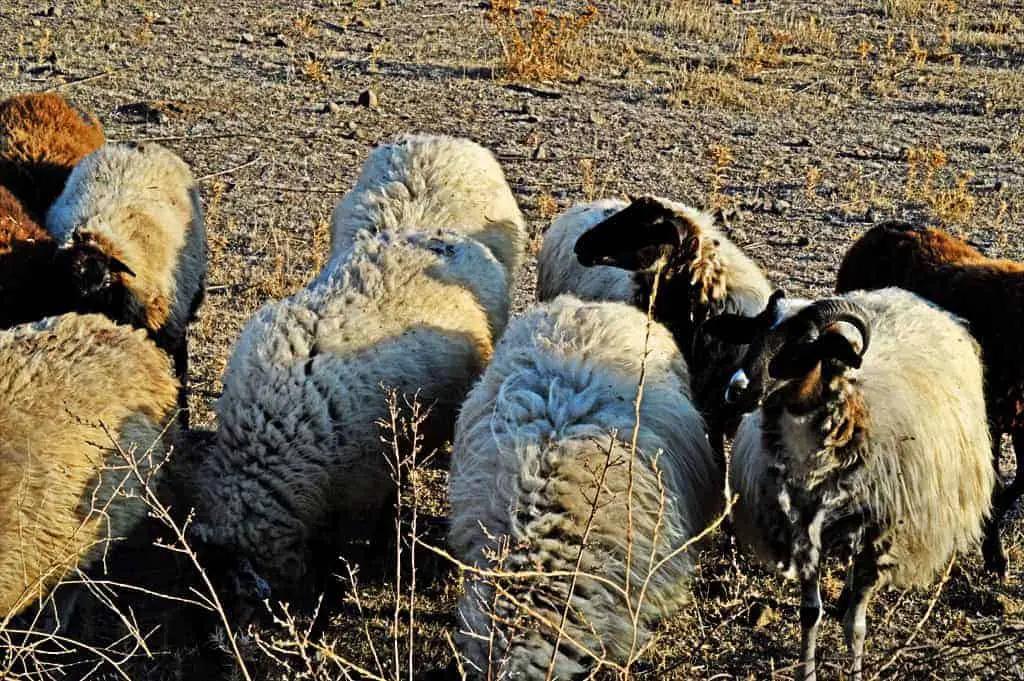 It would be our last stop before departing for Athens the very next day, and this was the perfect closure for our week-long trip there.
Molyvos Village in Lesvos
It is best to read our entire post for Molyvos village from here.
Skala Sykamnias Villages in Lesvos, or Sykamineas
This place is famous for primarily three things.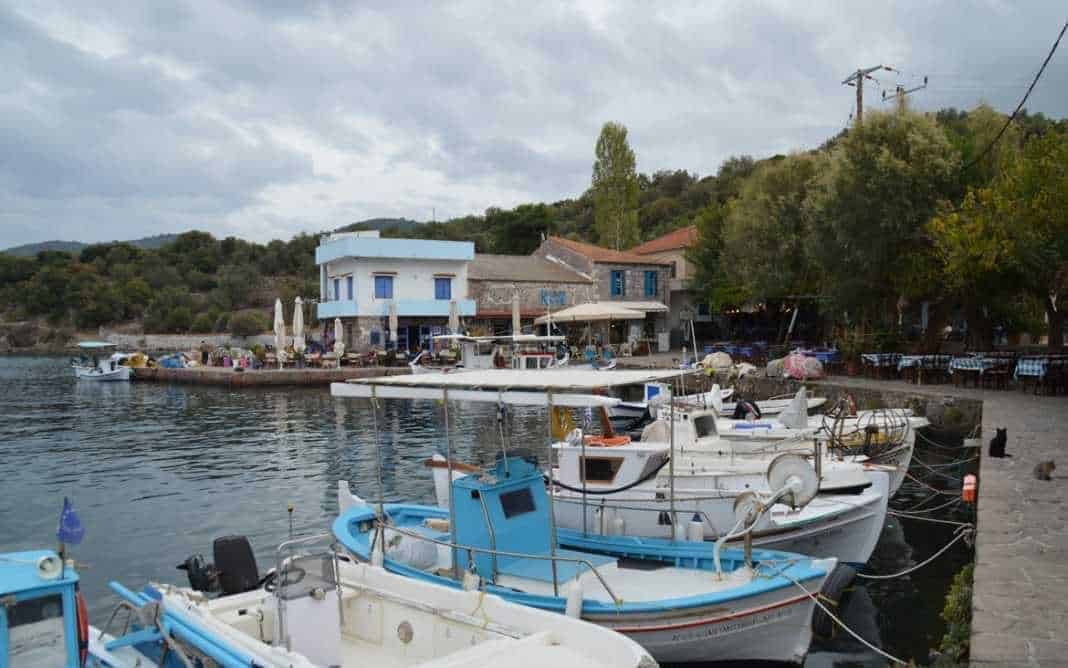 One of them is that it is near the location where refugees from Turkey came to shore before moving to another area.
An exclusive video (named "Ode to Lesvos") has been made about this place, presenting the courage, bravery, and altruism of locals who helped all those people.
The second reason is that this place is well known as the birthplace of Stratis Myrivillis (1890-1969), a hugely famous Greek writer.
The third reason is the food. There are many little taverns with excellent "mezedes" and ouzo.
We ate there, and we have to admit that the food is excellent. There is a tavern called "Mouria tou Myrivilli" (Mulberry of Myrivillis) and highly recommended.
Skala is 31 kilometers from Mytilini, east of Molyvos, on the island's north side.
Cultural Activities in Lesvos Greece
You should explore the cultural parts of any location. Doing that on this island is another of the best things to do in Lesvos.
Ancient Petrified Forest of Lesvos Greece
We have never seen the remains of a petrified forest before. The Petrified Forest of Lesvos (Lesvos Geopark) is one of the few discovered around the world.
The forest is part of the Global Geopark Network of UNESCO. It is located near Sigri village but in the mountains. It is a very spectacular set, with all tree trunks showcased at their original location.
Each petrified tree is beaming with very vivid colors, and it is true a true marvel of nature (and biology).
You need to drive to a pretty remote area, but the whole installation is very well organized.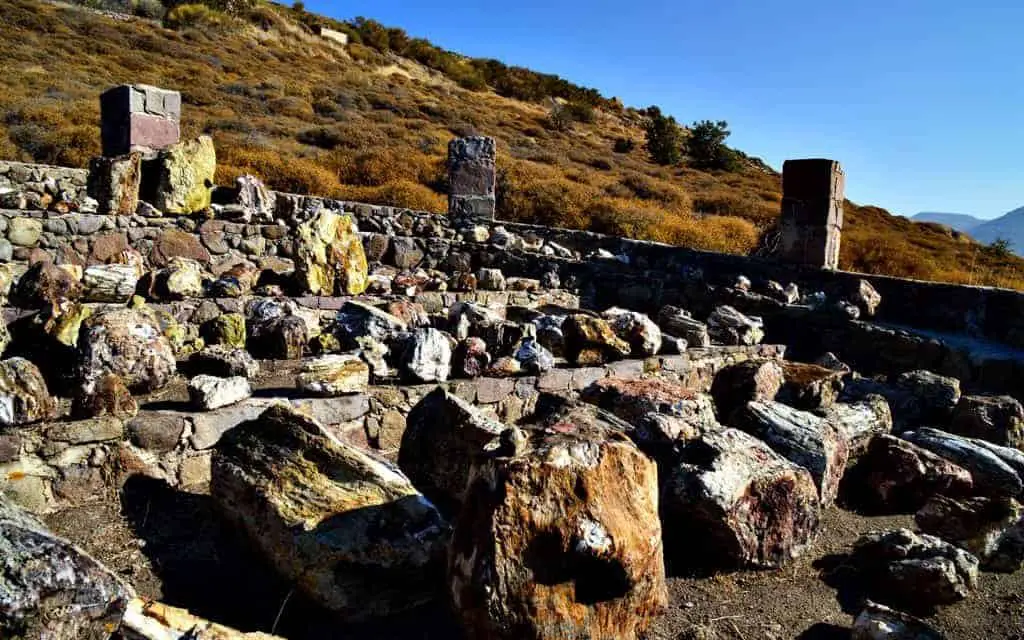 There are stone pathways that take you through all the exhibits.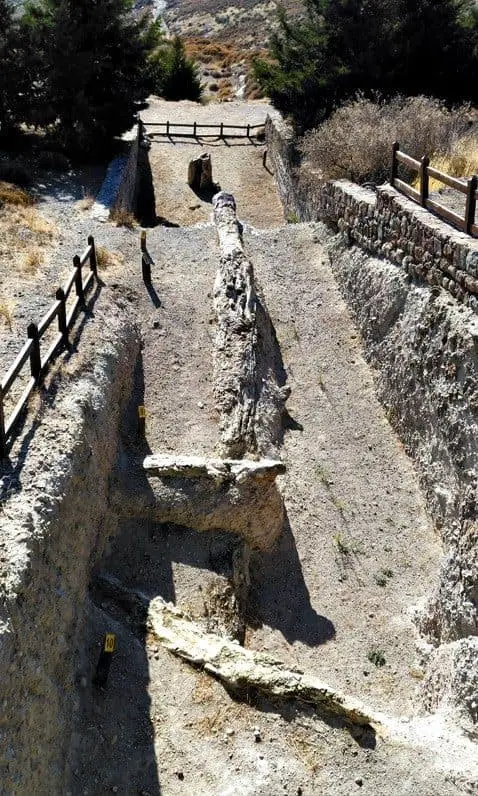 Visiting in summer may be a bit hot (though there are beaches close enough to cool you down), but you will be able to see all exhibits exposed since, at the end of Autumn, all are gradually covered to avoid erosion.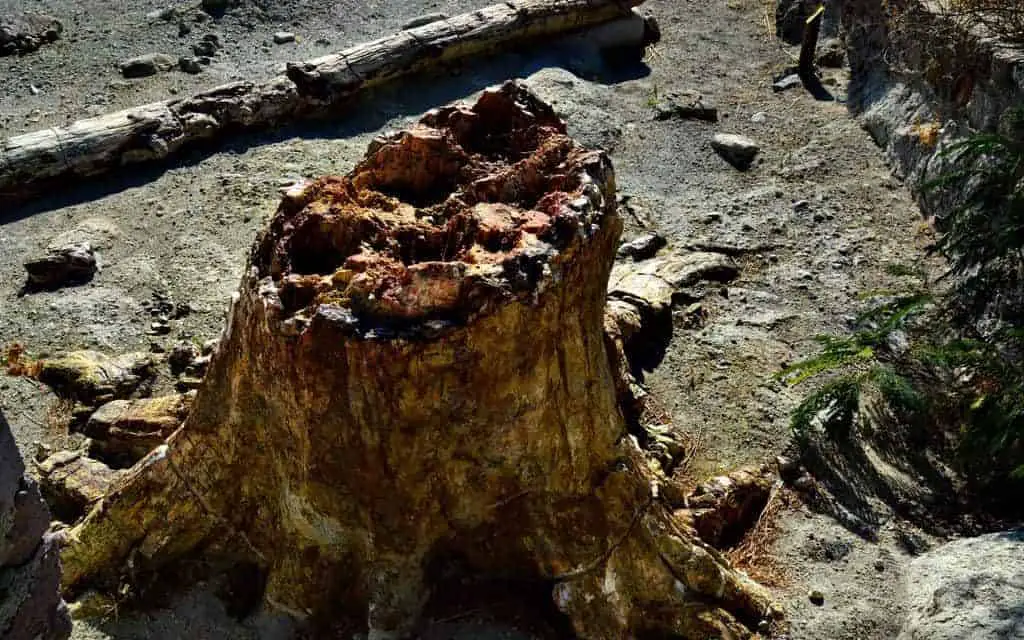 Natural History Museum of Lesvos Petrified Forest
Such a trip won't be complete without visiting the Museum.
However, you will need to drive around 30 minutes to land in Sigri village.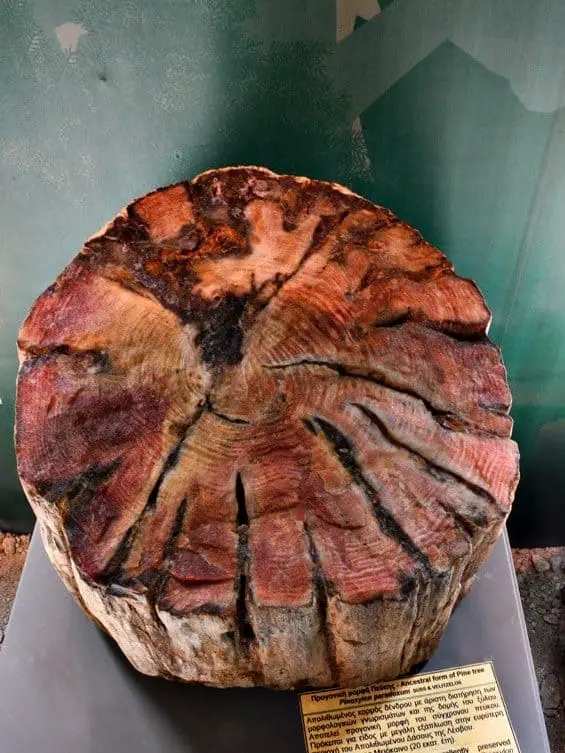 There -we promise- that you will be amazed by a very well-organized museum, specially made to host educational sessions.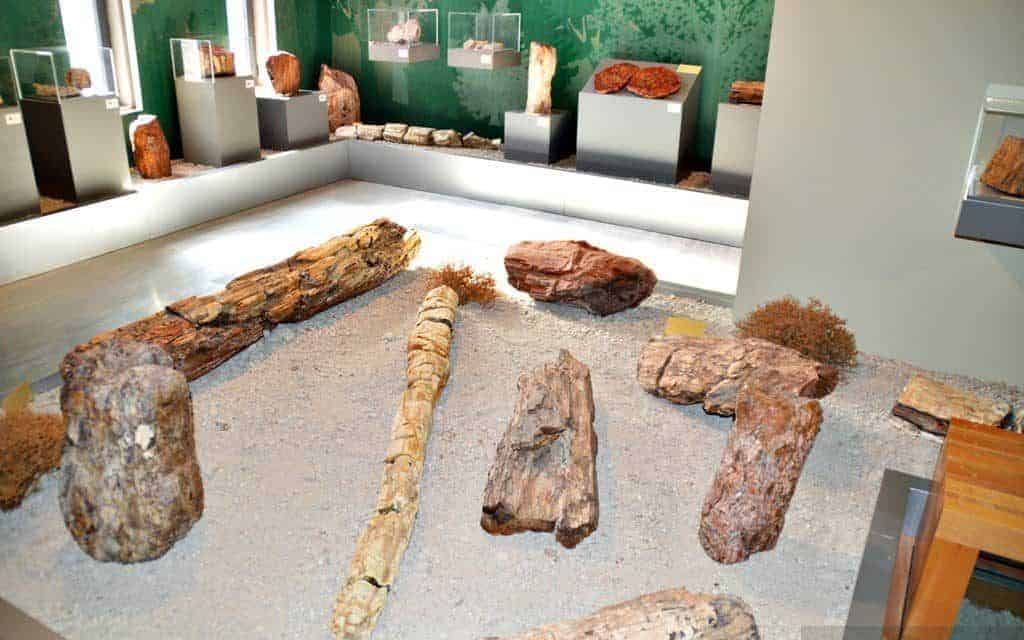 This means that you will be able to discover the history of the Petrified exhibits, along with many more regarding Geoparks and how such wonders were formatted.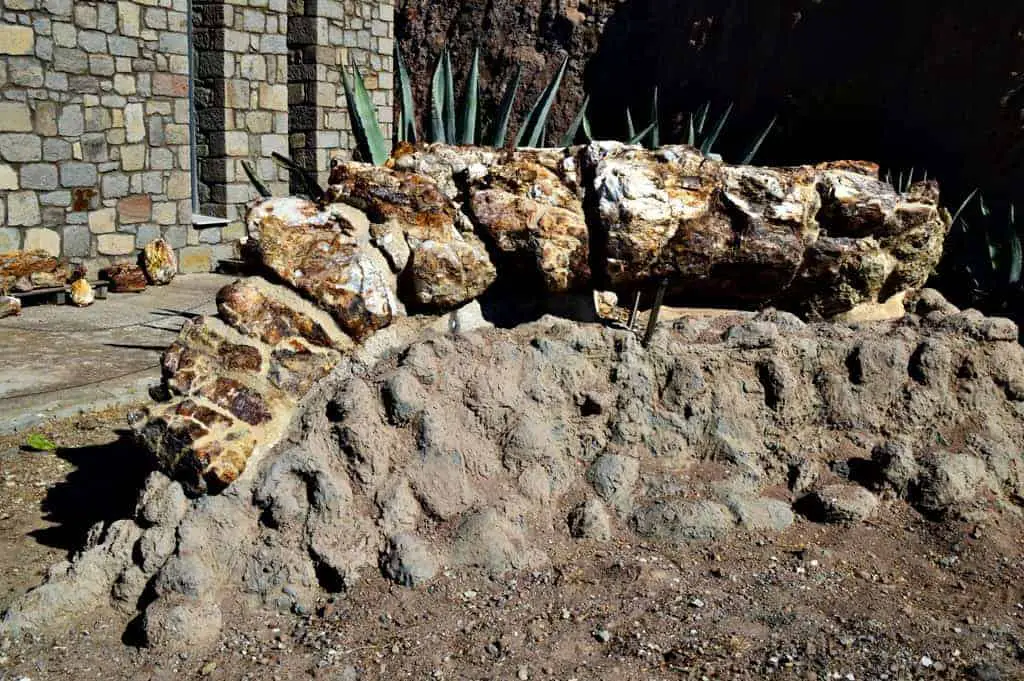 Among different findings, one can see old farming tools, where the stones you see embedded are from petrified trees.
Here are the remains of beasts that lived quite a long time ago.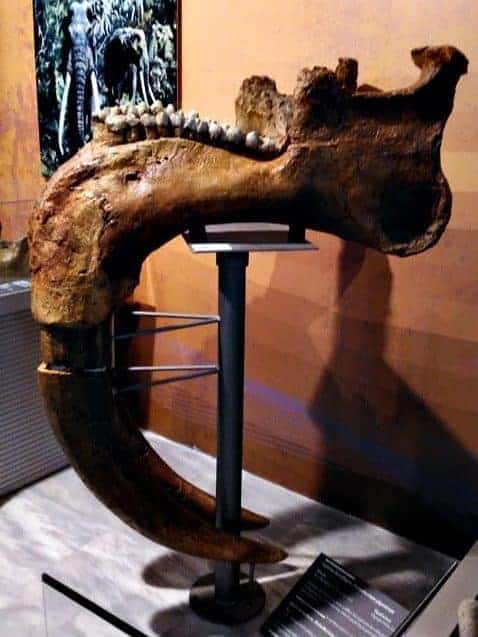 You will also have the opportunity to see a petrified tree trunk along with its root system, something scarce to be found.
The total trip was like jumping back and forth through millions of years at the island of Lesvos.
Do not miss it for any reason!
Visit the Museum of Industrial Olive-Oil Production of Lesvos
If you like museums that depict how traditional industries were in Greece, it is one of them.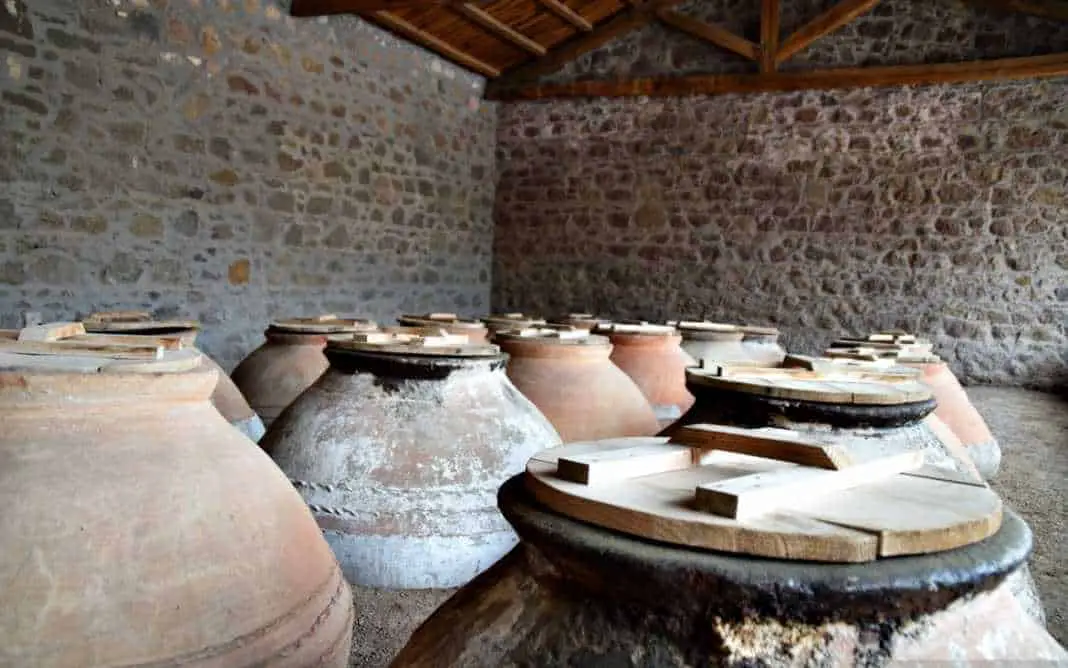 The Museum is amazingly renovated, and the people there are accommodating. We were provided with lots of info.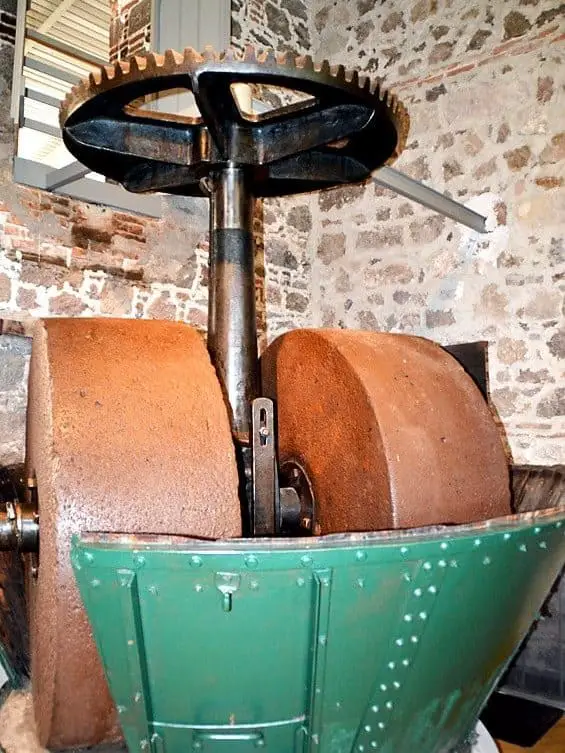 We went through the MuseumMuseum, where we found out that the original machines were properly maintained and working.
Of course, no oil production happens nowadays in that Museum, but it was interesting to see the whole process of how oil was produced from olives.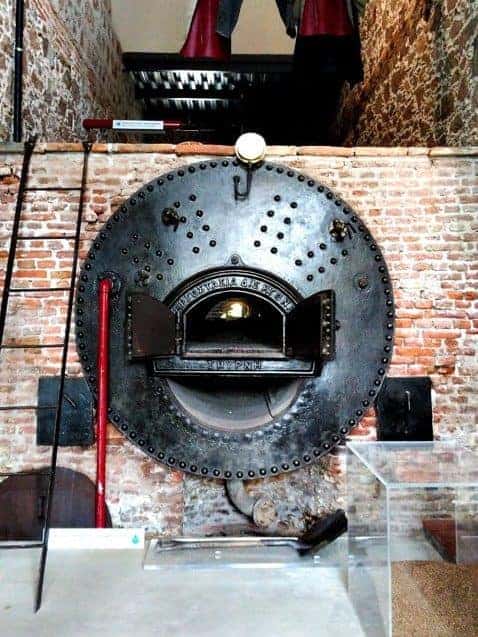 It was interesting to learn about the effort and work of people back then on how they produced so much with the means they had.
Play with Pottery at Mantamados Village in Lesvos
This was the most laughing experience, in the sense that the person responsible for the pottery shop and workshop was one with great humor.
That was Mr. Stamatis, a pottery maker that learned his art from his father.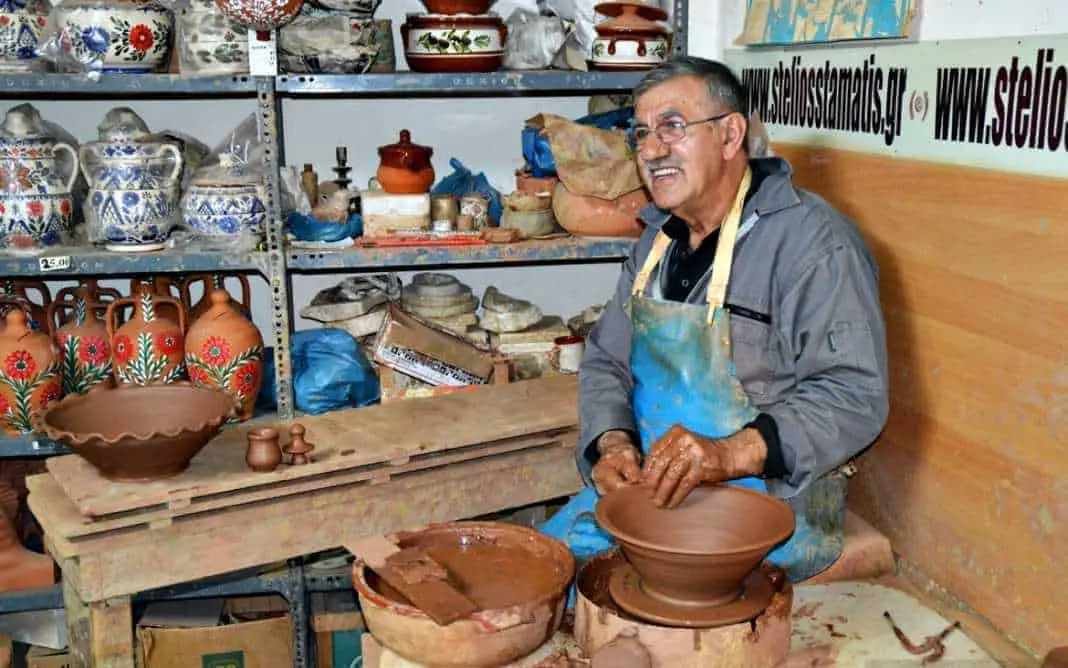 That person was enjoying his work, and this was beaming.
He spoke about it with so much love. He said most of the things about making all these clay-based objects would also stand in a philosophy class.
His wife was responsible for painting beautiful patterns on each item.
Mr. Stelios was showing how to make simple and complicated things, and at the same time, he spoke about gentleness, being centered, focused, enjoying, feeling what you are doing, not pushing too much or too little.
Along with us was the daughter of a friend (Titos from Lesvos Ride), who jumped in and learned right there on the spot how to make something beautiful out of clay.
We love it when we meet people who confront their work not just as a business but also as a way of joy.
The shop/workshop is inside Mantamados (around 1km from the entrance, coming from Mytilini).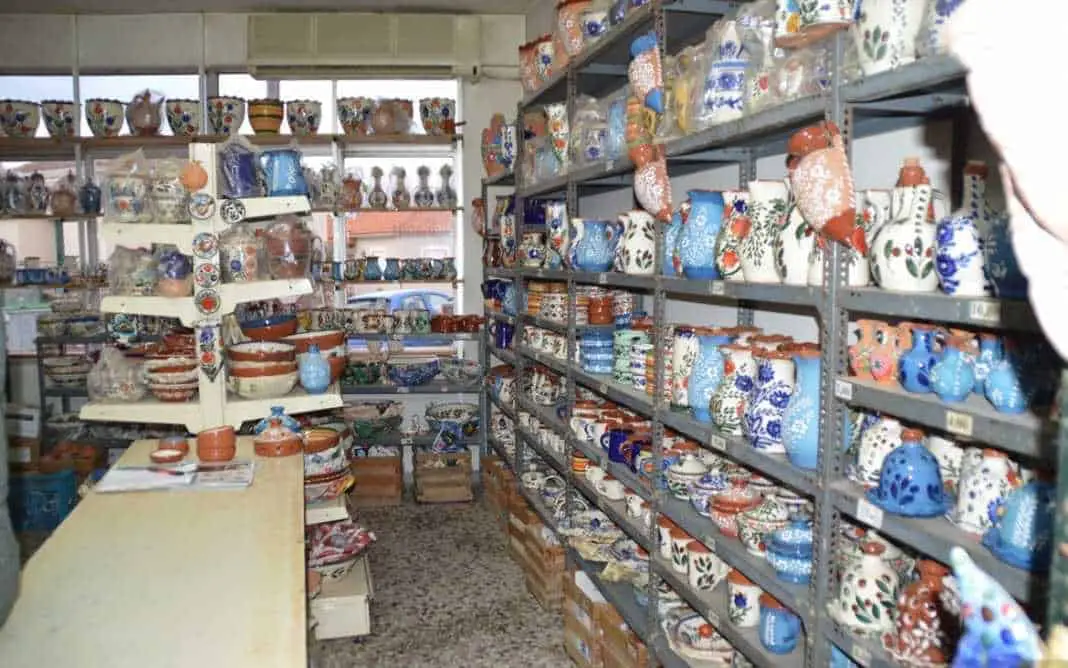 Visit The Church of Taxiarchis in Lesvos
That is one big eye-pleasing church that is -allegedly- related to many miracles.
Many army men (mostly pilots) come here and make offerings.
Taxiarchis is also famous to pilots of other countries (like Turkey) who have claimed to have seen him up in the skies above Greece.
The church is at Mantamados.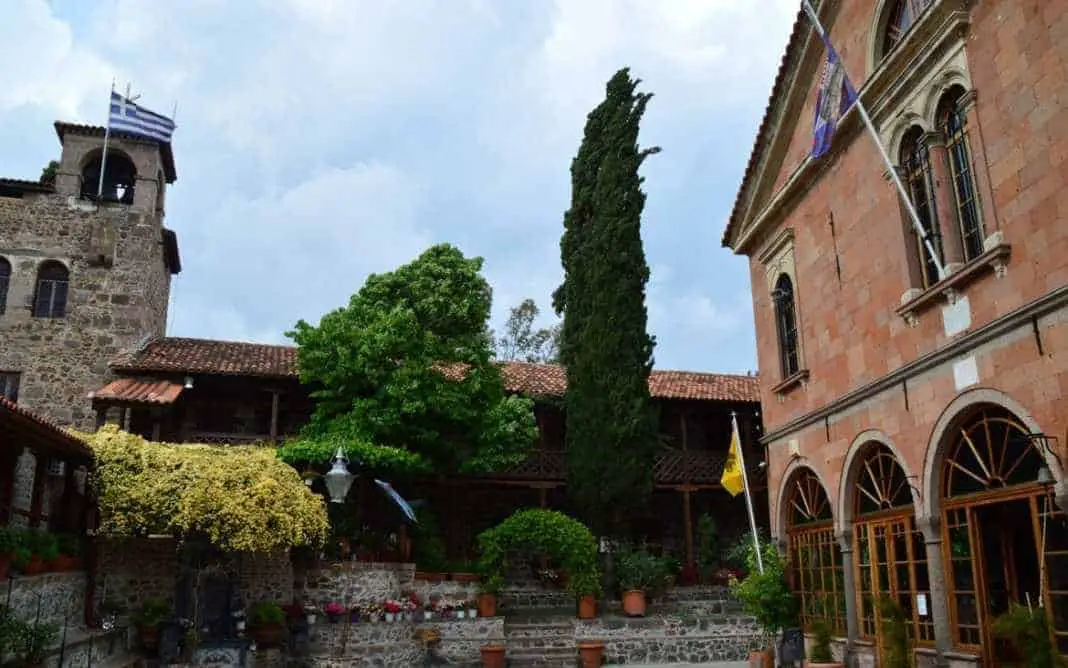 Taxiarchis is the patron saint and the guardian angel of Lesvos. 
The church's inner yard and surroundings are very, very beautiful.
An old (maybe pagan) ritual revives every year here that involves the sacrifice of a bull.
The Church of Panagia Krifti in Lesvos
It is very close to the climbing field of Plomari. It is not so easy to drive the car down the road. It is better to walk to the bottom. The waters and serenity will reward you.
An old church resides there. Next to it, there is a small dock from where you can jump inside the spectacular bluish waters.
This dock/beach is also approachable with a small boat that makes regular trips there.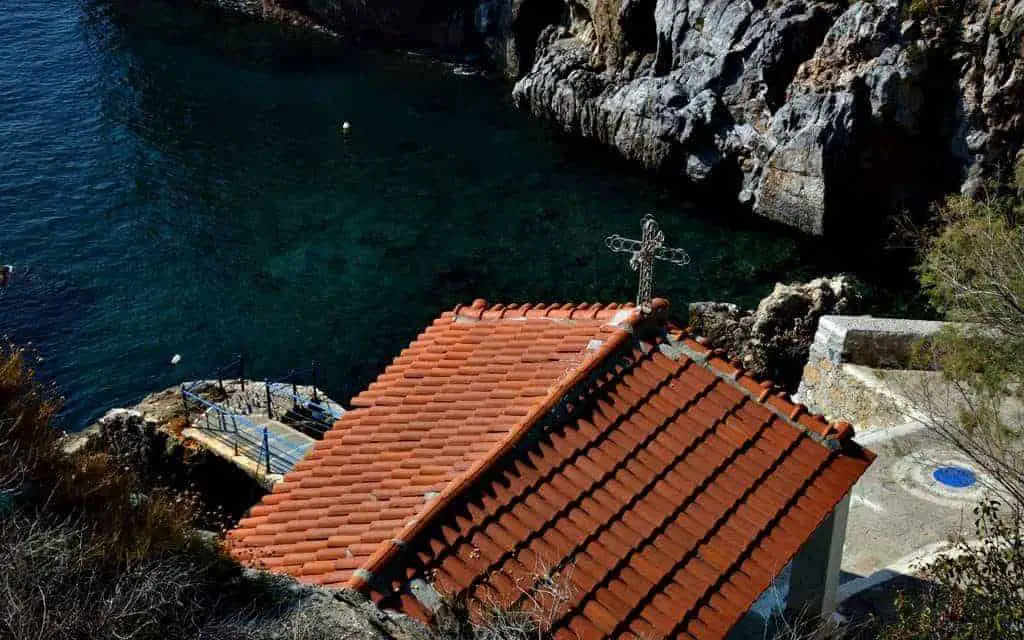 There is a small hot spring there, and locals built a little "hot tub."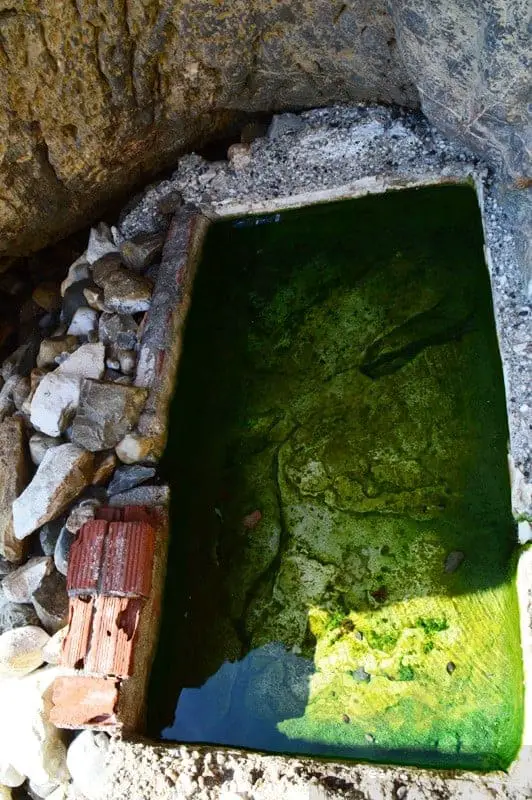 The water is boiling, far from any hot springs, you may know.
Usually, in most hot springs, you can sit in for around 20 minutes. However, we have been too many, and I am unsure I could sit in there for more than 3 minutes.
Anyway, there are many hot springs in Lesvos to try (and all over Greece).
We just relaxed there, looking at the top of the mountain where we climbed a few minutes ago. Kostas decided to dive into testing the waters!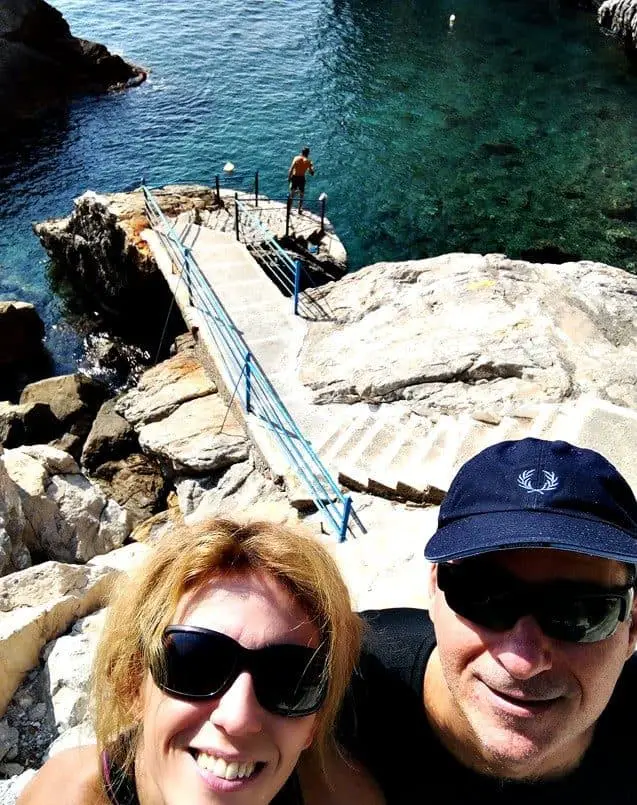 After an hour or so, we decided to return to Plomari to change clothes at the magnificent Ouzo Villas, clean up, have some rest, and explore Plomari, the "Ouzo capital" of Greece.
SPA's & Thermal Springs of Lesvos Greece
There are more things to do in Lesvos Greece, than swimming on their beautiful beaches. The island is widely famous for its thermal springs and SPA's.
Therma Spa in Lesvos
That is a modern installation that also kept the old thermal spa building and added new facilities. The structure is next to the sea, and the main indoor pool area is rather big and imposing.
Water comes from hot springs and has therapeutic properties.
They also have outdoor pools aligned to the horizon and a separate modern cafe and juices bar.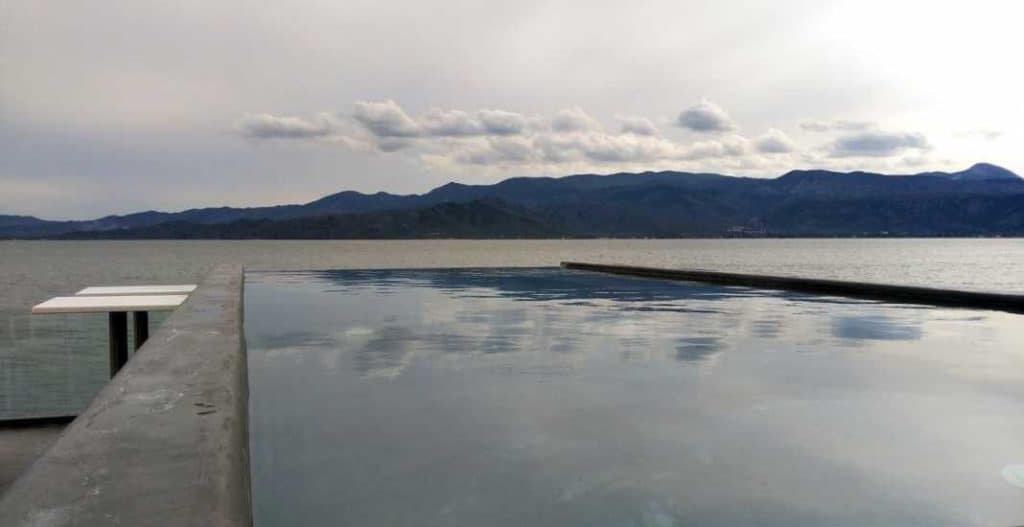 Many come here to spend the day and relax, as the place is near the city but isolated (easily approachable by car). So it is very serene.
The Spa is at the 7th Kilometer of Mytilene towards Kalloni. Their services include massage, aromatherapy, reflexology, and many as such.
We tried the indoor thermal pool. Tradition dictates separate pools for men and women.
The Eressian Hammam & Spa in Lesvos
This Hammam & Spa offers a unique wellness experience in Eressos.
The experience starts at the indoor and outdoor relaxation areas around the pool, where guests are offered tea and delights.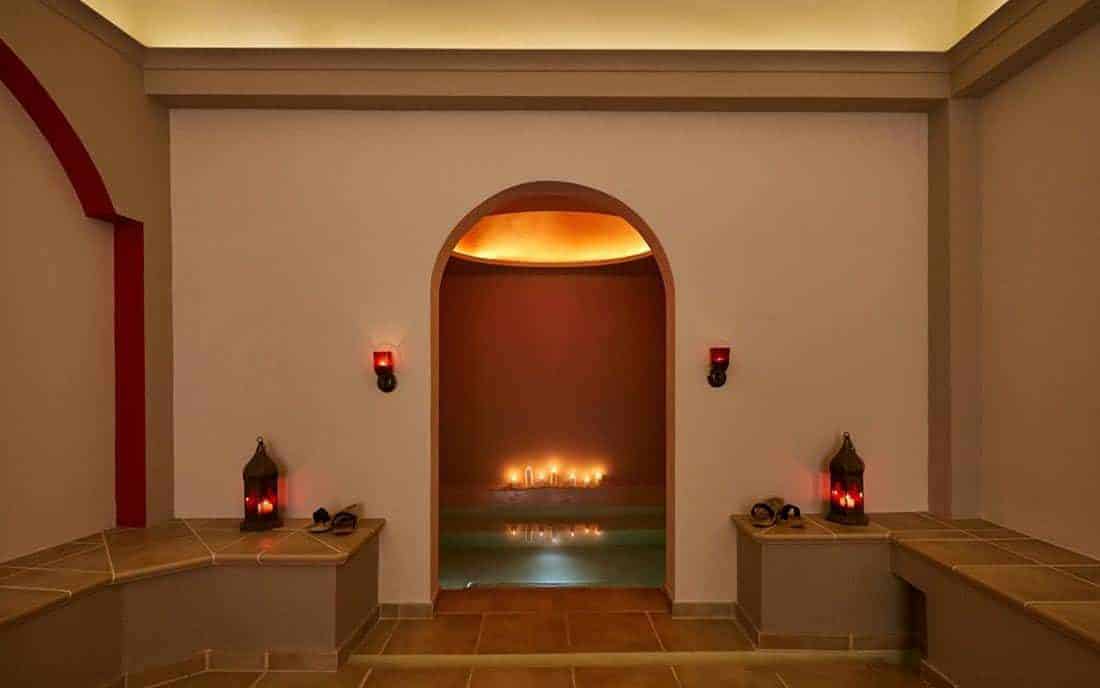 Guests then move to the fully equipped changing and shower rooms to prepare for the treatment of their choice.
Try "The Signature Hammam Experience," which starts at the Hammam "Wet" treatment area: a Hammam heated to 40°C / 104°F that includes a pool located indoors.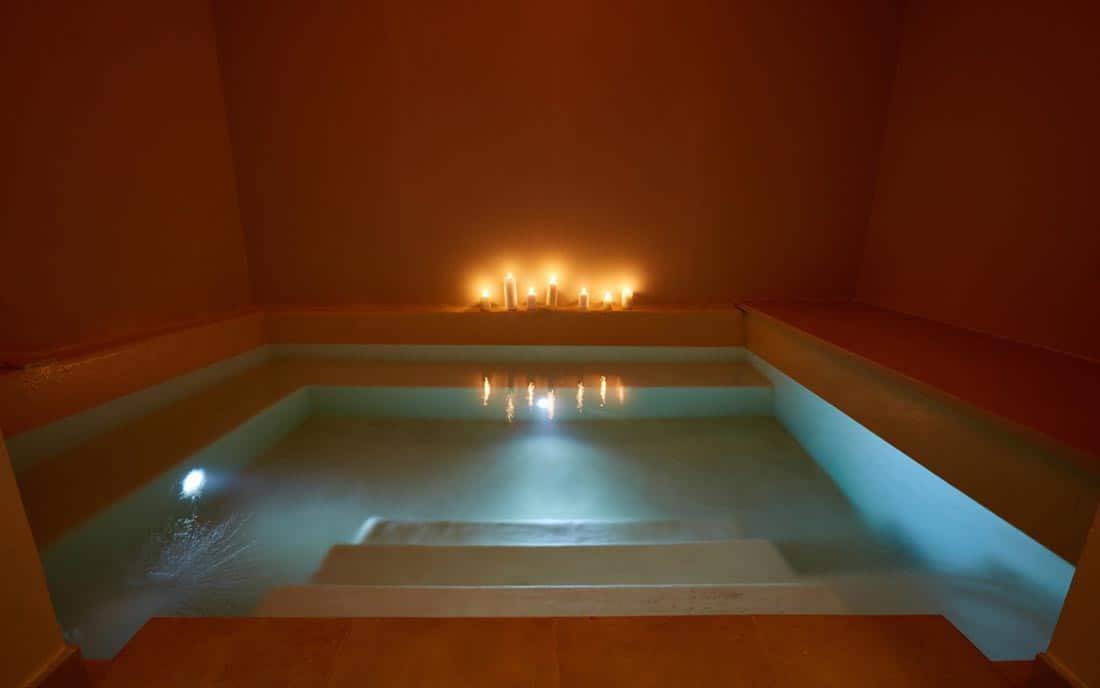 The heat and steam allow the pores to open and the body to be purified as the therapists perform the traditional scrub and foam bath: a cleansing experience.
Guests then join their therapists at the "Dry Room" for a relaxing Oil Massage that completes the rejuvenating session.
Visit the Healing Springs of Eftalou in Lesvos
That is another modest small building that hosts another hot spring with healing properties. It is in the village of Eftalou, 4.5 km from Molyvos.
The bath area is a 17th-century domed bathhouse with holes to allow the sun to come through.
What to Eat in Lesvos Greece
Eating is another thing to do in Lesvos Greece, and you will eat a lot. However, you will eat great food, so follow all our recommendations since locals introduced us to all these "eateries."
Eat "pasto" mackerel, "pasto lakerda," "pasto…. anything". The word "pasto" means fish that has been "baked" into salt only. It is otherwise known as "alipasto," meaning that it is salted.
That "simple" thing is the main dish on many tables, especially when you eat/order "mezedes." It is the proper one for drinking "ouzo." It is like "Tapas" but with a wider variety.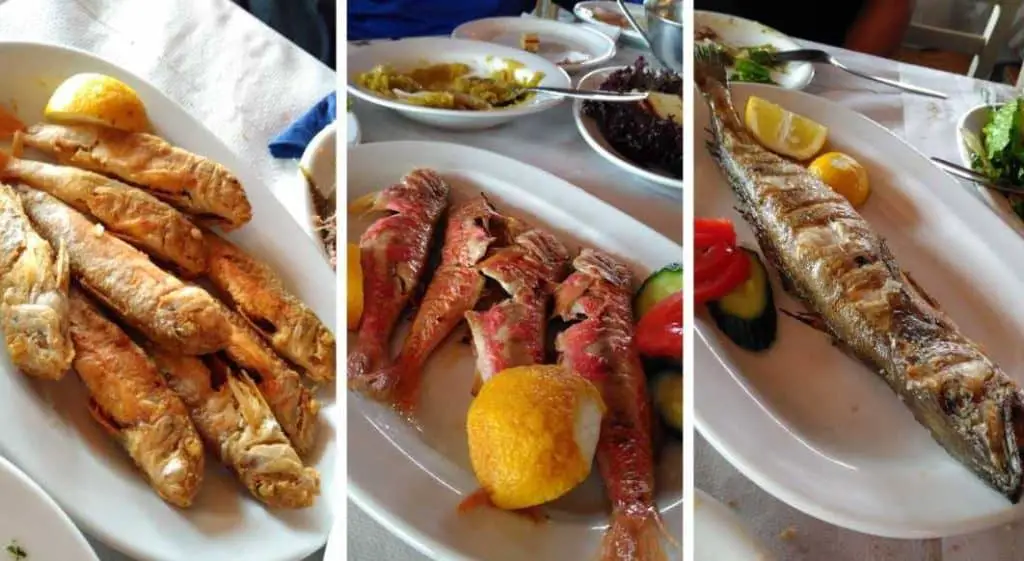 But don't stop there. Lesvos produces lots and lots of food.
Their fish is excellent, and their salads and Fava (come from the Lathouri plant).
Don't forget to eat their oil-cheese (Ladotyri) and taste the relatively wide variety of ouzo, of course.
Where to Stay in Lesvos, Greece?
If you can, book one of the few rooms of the "Pyrgos of Mytilene" hotel.
It is in Mytilene. We stayed there, and it was a pretty lovely experience as we got one of the top rooms that provided a rather beautiful view.
It was a round-shaped room, and that was pleasantly weird to stay in a circle-shaped room.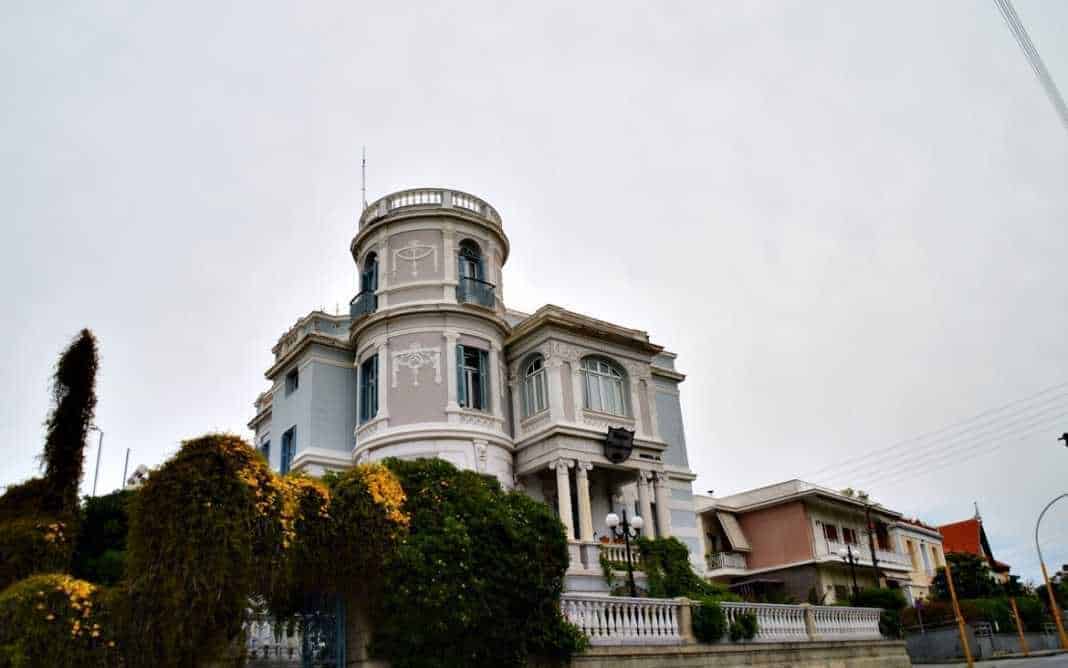 Their breakfast was had quite a variety. Owners kept the original style and interior decoration of an old mansion, as Pyrgos was like that.
You feel and see the "old" aristocracy style everywhere.
Another great hotel we stayed in was the Heliotrope hotel. 
At Plomari, we were amazingly fortunate to stay at a luxury villa complex at Agios Isidoros, called Ouzo Villas. The villa we stayed in was huge. Three floors with every single amenity you could imagine.
So, here we complete our list with the best things to do in Lesvos Greece, along with the hiking we had over Agiassos. 
Diageo and Johnie Walker organized this trip.
A special thanks belong to the whole North Aegean Prefecture team, who arranged many things for us to experience, as they did the last time we were at the island.
Enjoy and read Best Weird Greek Foods In Greece.