For a vast amount of people around the world, Christmas means lots of things. Indeed… Where to go in Greece during these heartwarming days of Christmas?
Christmas can mean kindness, love, compassion, giving, and receiving. It can also mean a new beginning according to many philosophical systems. Many things happen in space these days. No matter what or where someone chooses to believe, these days are charged with emotions.
Greece is another terrific place to be around Christmas, especially if you can spend a sufficient number of days to experience the different customs, tastes, and spirituality all over the country.
Here are some ideas and places to enjoy yourself with your family, your friends or even solo.
Kaimaktsalan and Pozar Thermal Springs
This is a terrific combination. You may also want to read this article here too. One one day you can go skiing at the mountain of Voras (Kaimaktsalan). You can stay in the village of Old Agios Athanasios.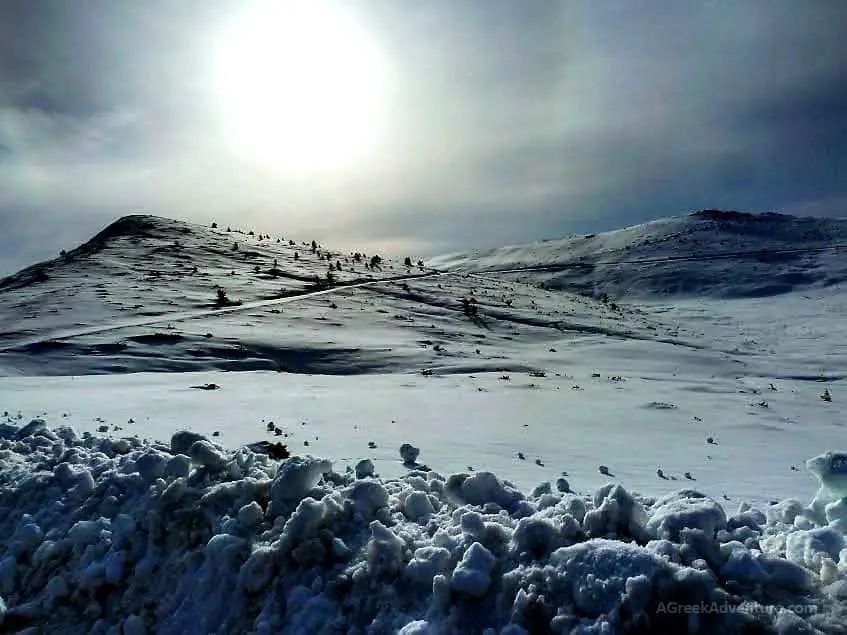 On the other (or same) day, you can visit the Thermal Springs of Pozar.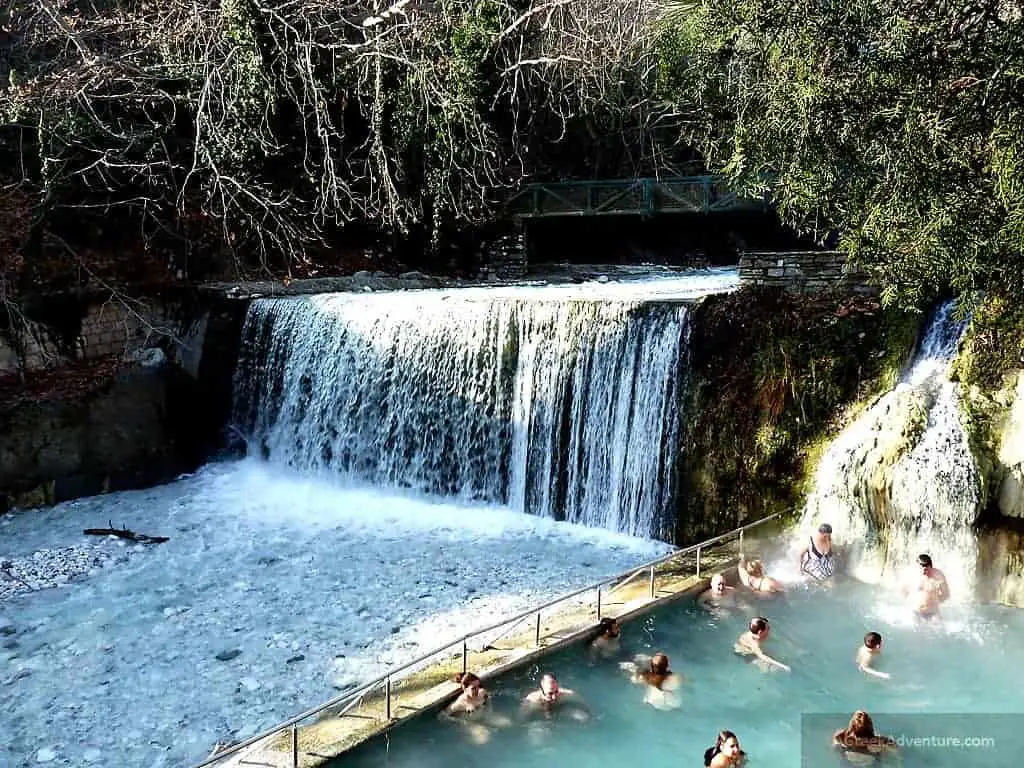 Plus, you can even go hiking (at Pozar) along the river. Greece has lots of Thermal Spas.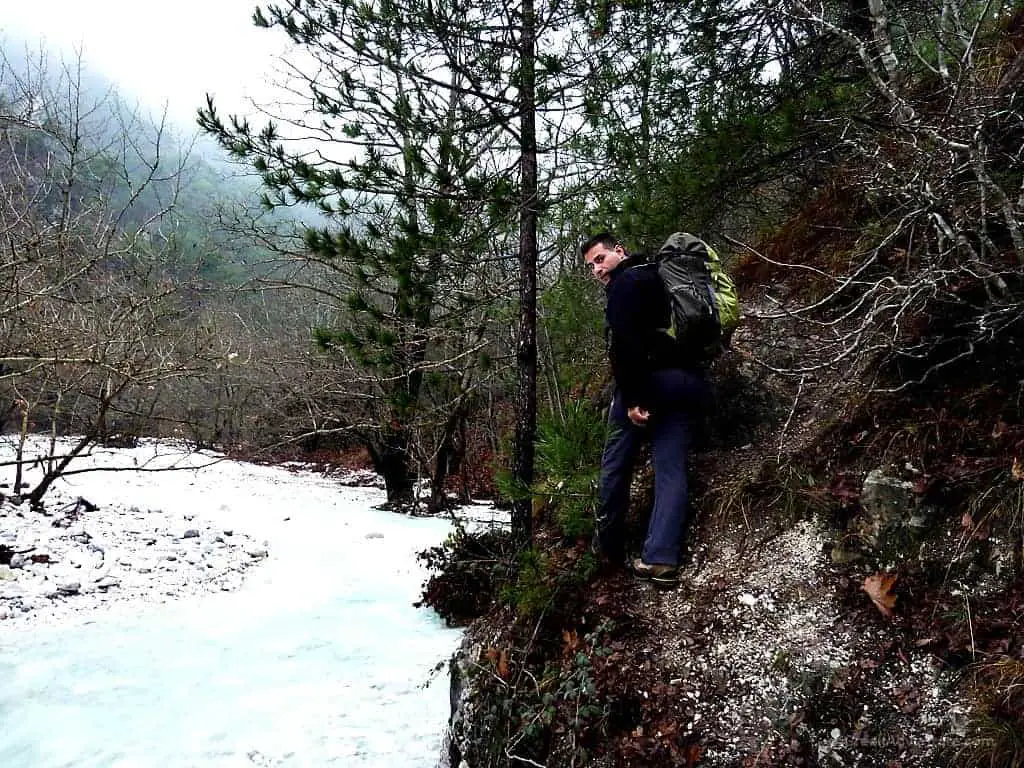 The ski center at Kaimaktsalan is enormous, well organized, and fun for the whole family. You may also want to rent a snow bike and ride covered with snow, and ice church stands at the top. This church was constructed by soldiers, entirely built from war material, even bombshells and barbwire.
Are you feeling a bit sore? At around 1 hour (could be 1.5 due to fog), you can soak your body into the hot healing waters of Pozar (with temperatures nearing zero degrees). Are you feeling a bit risky? Try the hot/cold combination. Next to the thermal pool, a frozen waterfall pours its waters. The brave ones (among them, us too) do the "switch" thing. The benefits for the body are allegedly superb. I didn't feel any difference, to tell you the truth, except some boosting for my ego for being able to -still- do this.
The waterfalls of Edessa
As you leave from Kaimaktsalan, or on your way there (depends if you start from Athens or Thessaloniki), do not forget to pass through the city of Edessa.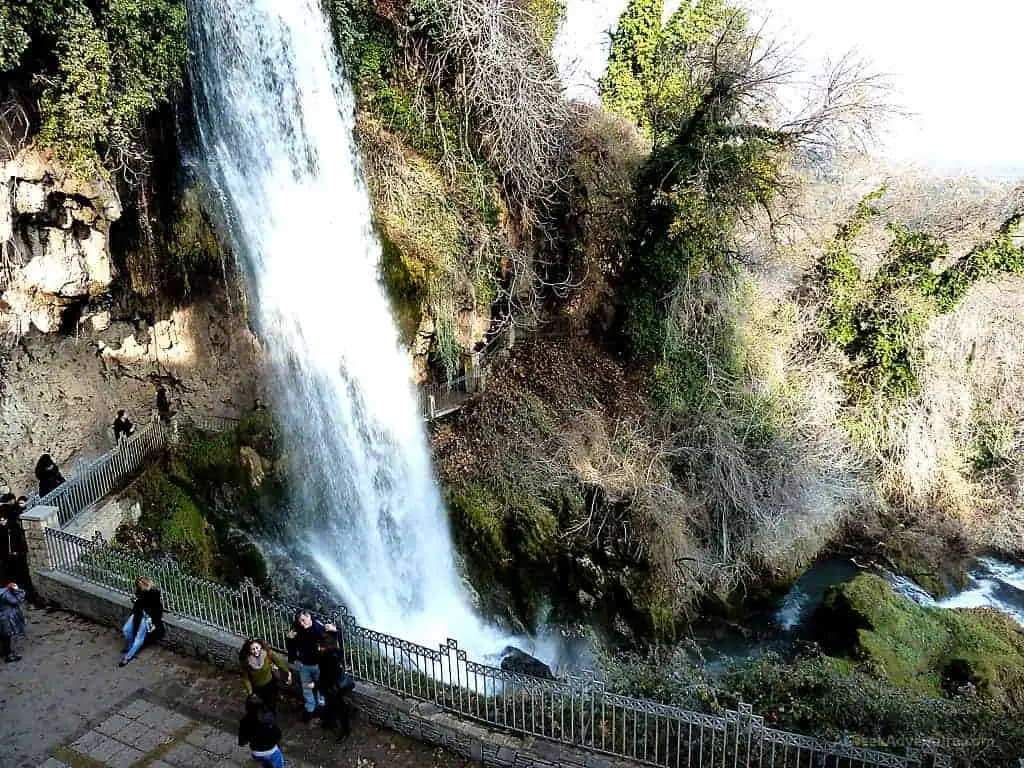 The most favorite thing there are… the waterfalls of Edessa. These are located inside the city and are a magnificent spectacle. There is a narrow path to even go behind the waterfalls and take some great photos. Try to walk the way to the waterfall base (there are stone-carved steps). Then look up at the waterfall.
Find a Greek house to host you and feed you these days!
You may have read our Greek foods article here, but that was the Summer version. Every single area in Greece has its particular Christmas "yummy" sweets and roasts.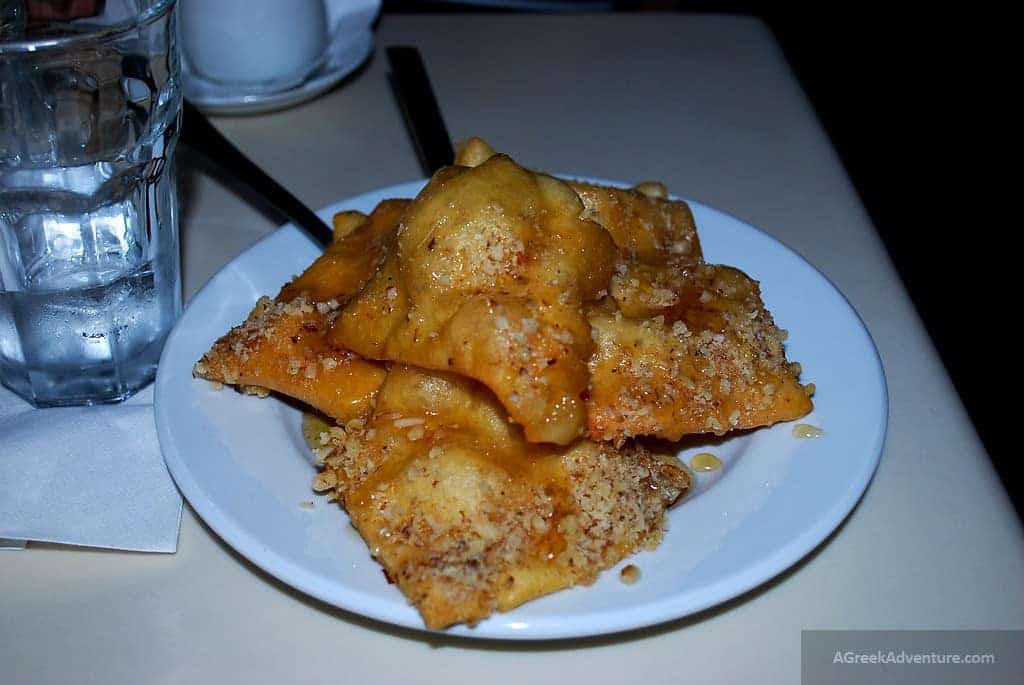 Greek Christmas foods include:
Melomakarona
Kourampiedes
Mpaklava
Orange Cake
Roast lamb
Roast Pig
Roast Duck
Diples
Koulourakia
Not to forget, lots of wine, tsipouro, raki!
Go to the islands
While all over the world, people tend to decorate the well-known Christmas tree (and in Greece too), the Greek original decoration "thing" was something else.
So, welcome the Greek Christmas Boat!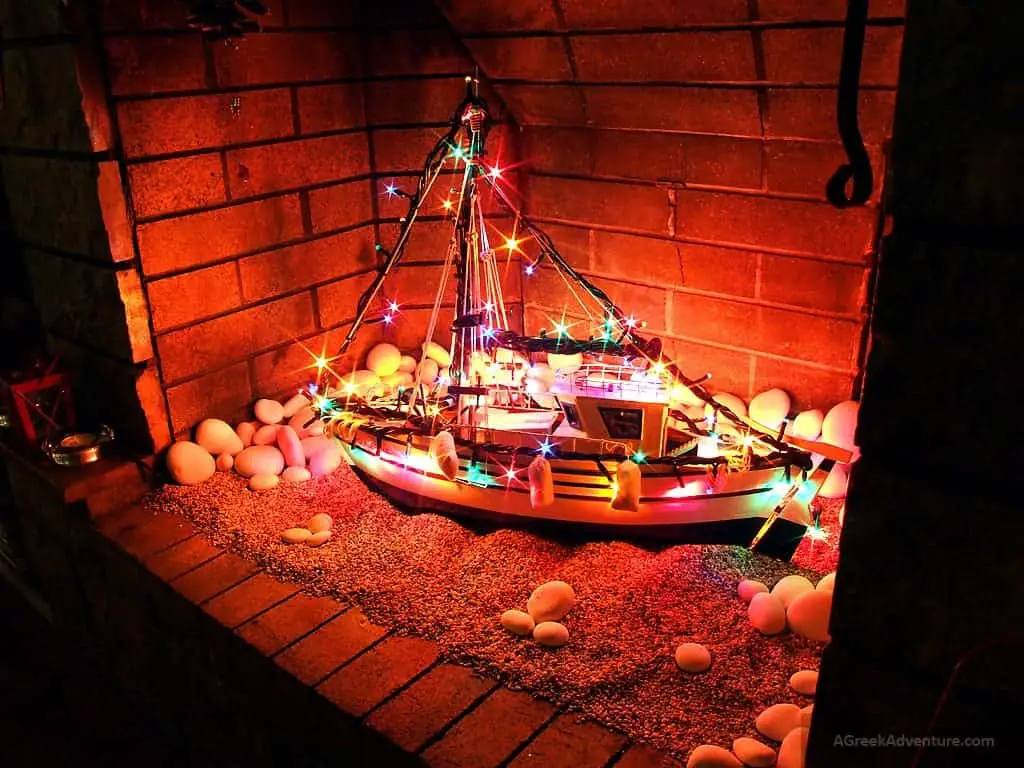 Greece is a country strongly related to the Navy and sailors. You can see many Christmas boats, mostly in islands or/and in some cases, both the Christmas tree and Christmas boat co-exist! Decorating the boat is associated with the coming back of sailors, who used to be absent from their homes for years—families were also filling these boats with specially made Christmas bread, sweets, and more.
The Dream City at Drama
This city inside a city is a dream place for all adults and young ones. Tenths of activities occur during the festive season of Christmas (3rd of December – 7th of January) in this special place.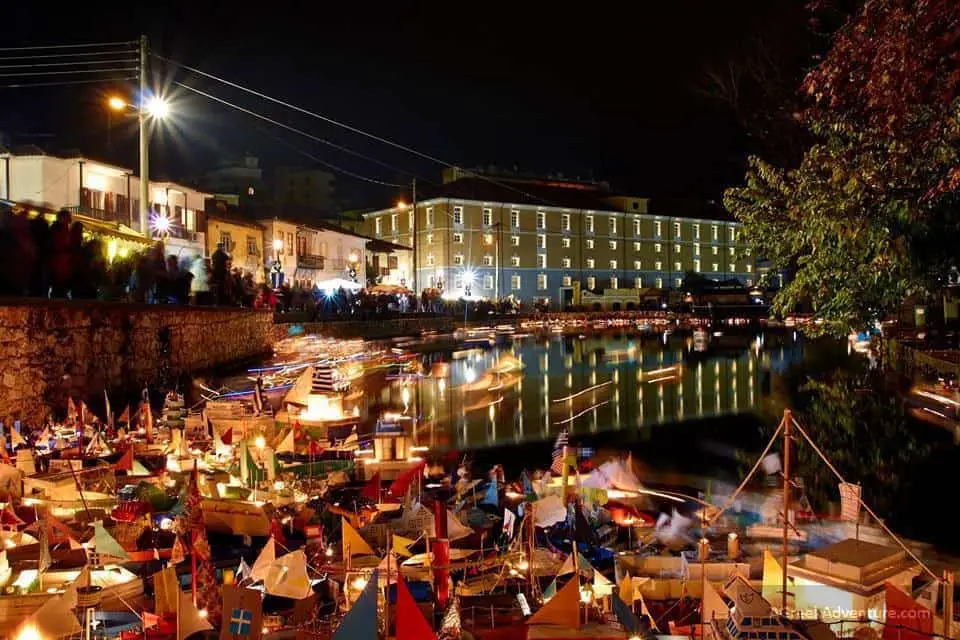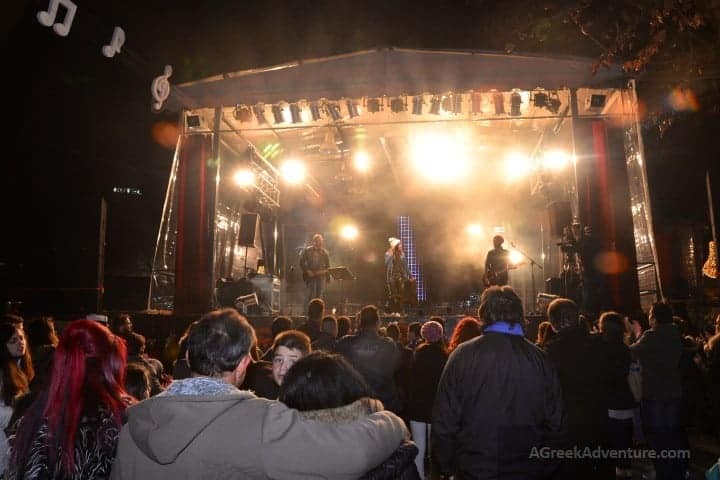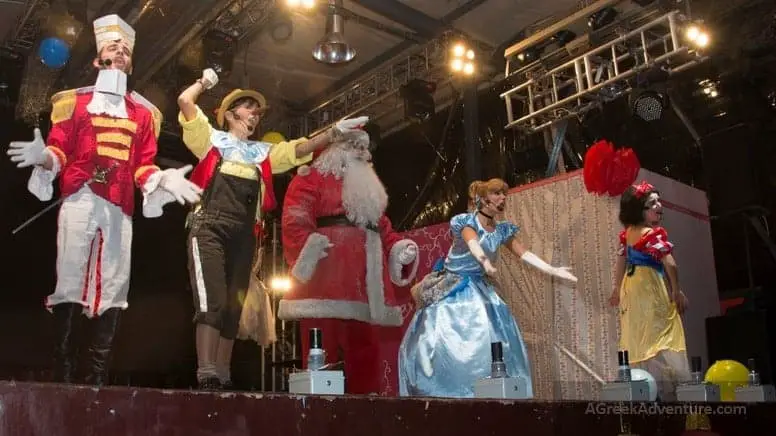 The whole city of Drama is decorated during holidays to put a smile on the face of its visitors. This place is to spend not hours, but days.
Have a look, and feel free to dive into their website (Greek only, but you will figure it out with Google translate).
The program includes music events, workshops for face painting and chocolate making, pottery, and fairy tale-telling from amazing storytellers.
Drama is close to many other Greek cities, so that you can combine it with a ton more winter activities.
The Chocolate Factory of Athens
We don't know if Johnny Depp (Charlie) will be there… Probably not, but you never know. Here is a small taste through photos (courtesy of Chocofactory Helexpo).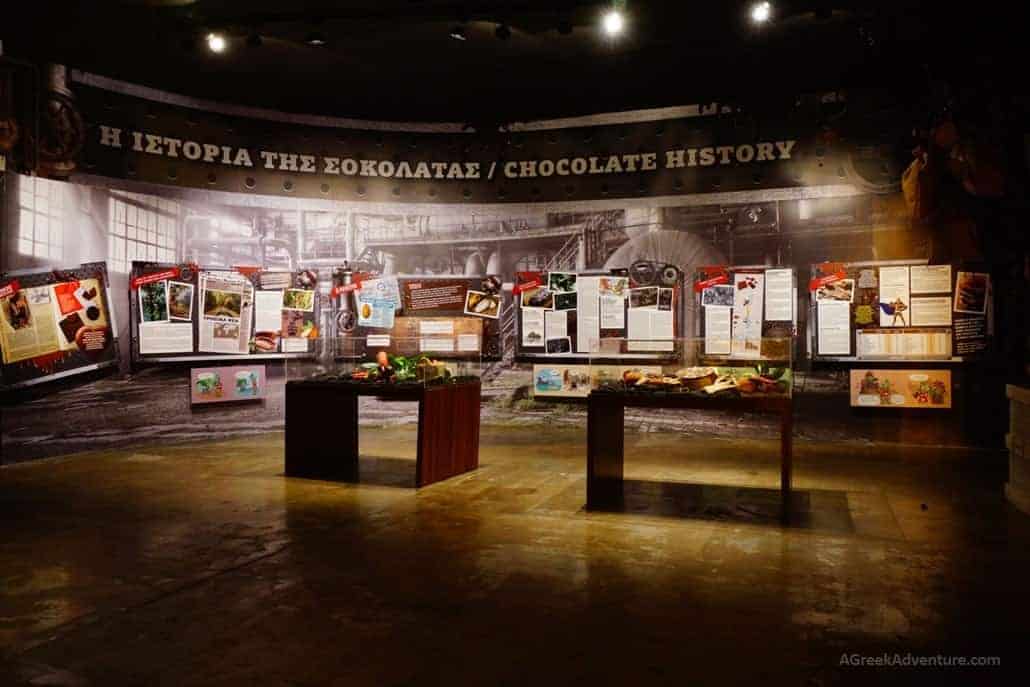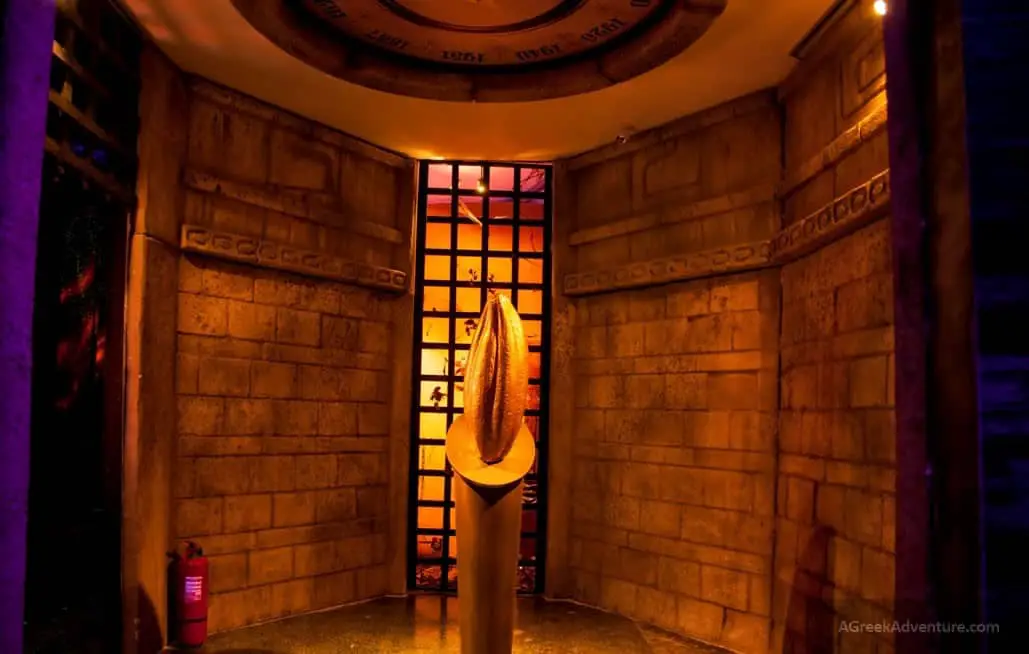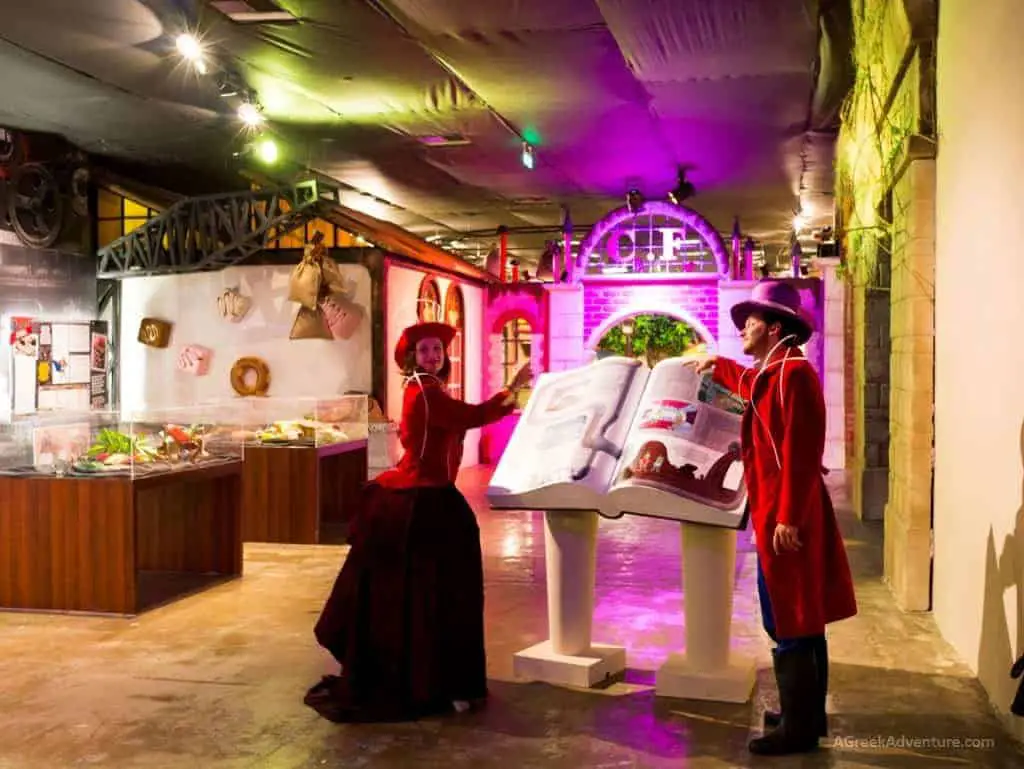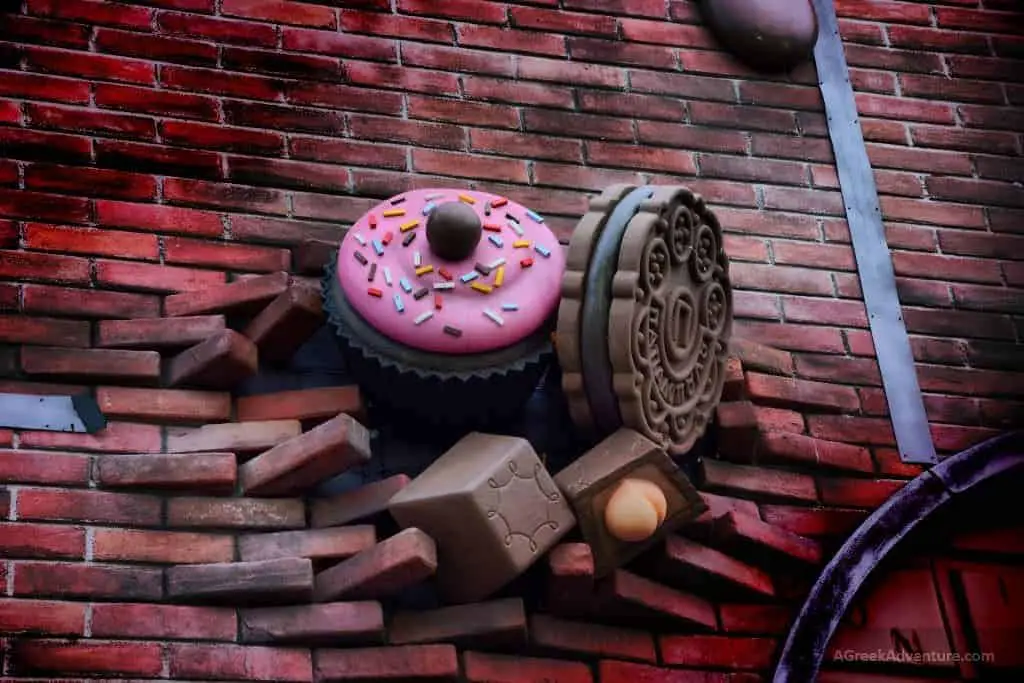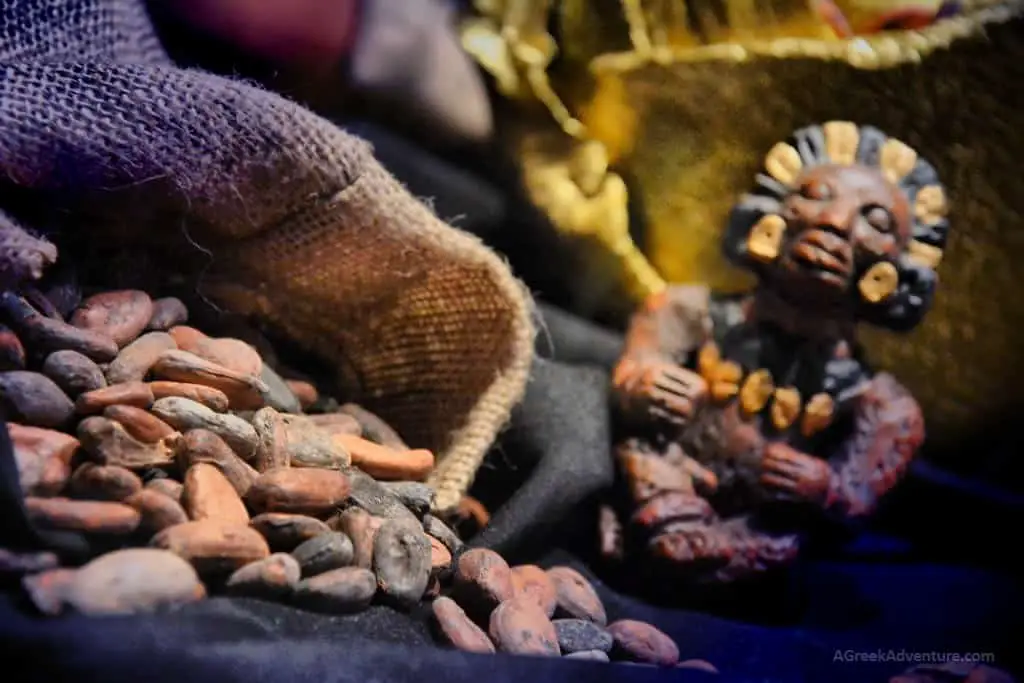 However, if you like to attend this yummy thematical park you will:
Learn about the exotic cocoa tree and cocoa beans
Find out what Aztec's had to do with cocoa and chocolate
Walk through an indoors jungle
See the process of cocoa beans into chocolate
Can participate in the chocolate production with other children
Learn how to make chocolate biscuits
Have the opportunity to play and experiment in the Factory's chemistry lab
Use the time machine to travel in different places and times.
Be amazed by seeing the largest chocolate waterfall in Europe
See how caramel is produced, and "have" to taste it
Leave with lots of small gifts
And that's just a part of the things you will experience. If chocolate is your "thing" or of your children, you have to "try" it.
The Μill of Elves
Sounds thrilling. This Christmas theme part is mentioned as one of the biggest ones in Greece. You can visit it from the 27th of November up until the 3rd of January! Too bad their website is in Greek only, but it is desirable. Just use Google translate and send them an email. They will help! Check these snapshots, courtesy of Mill of Elves.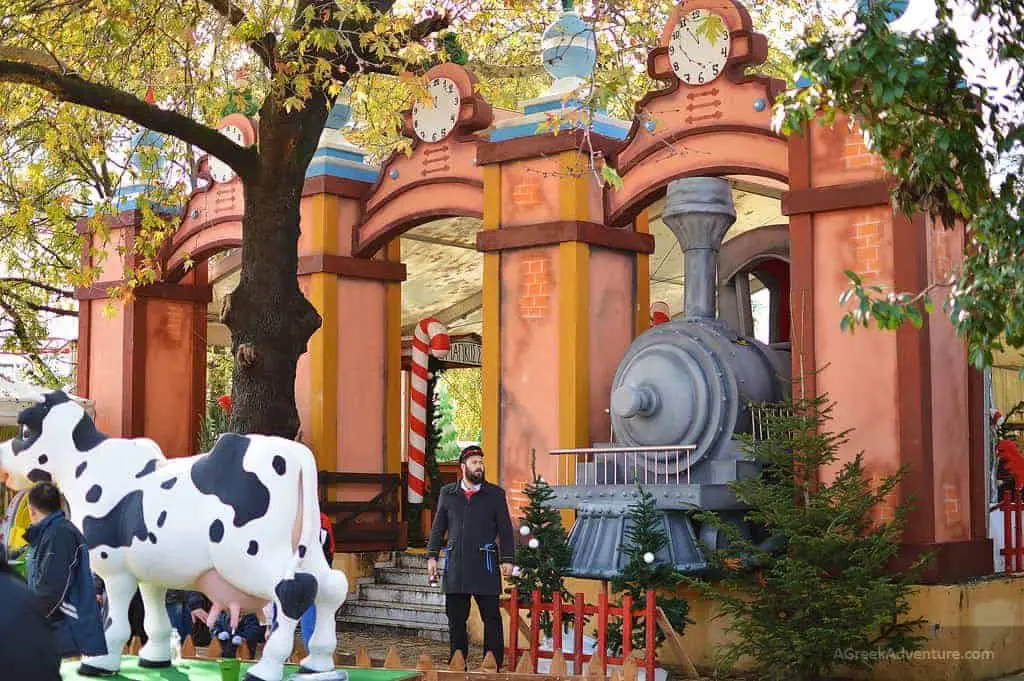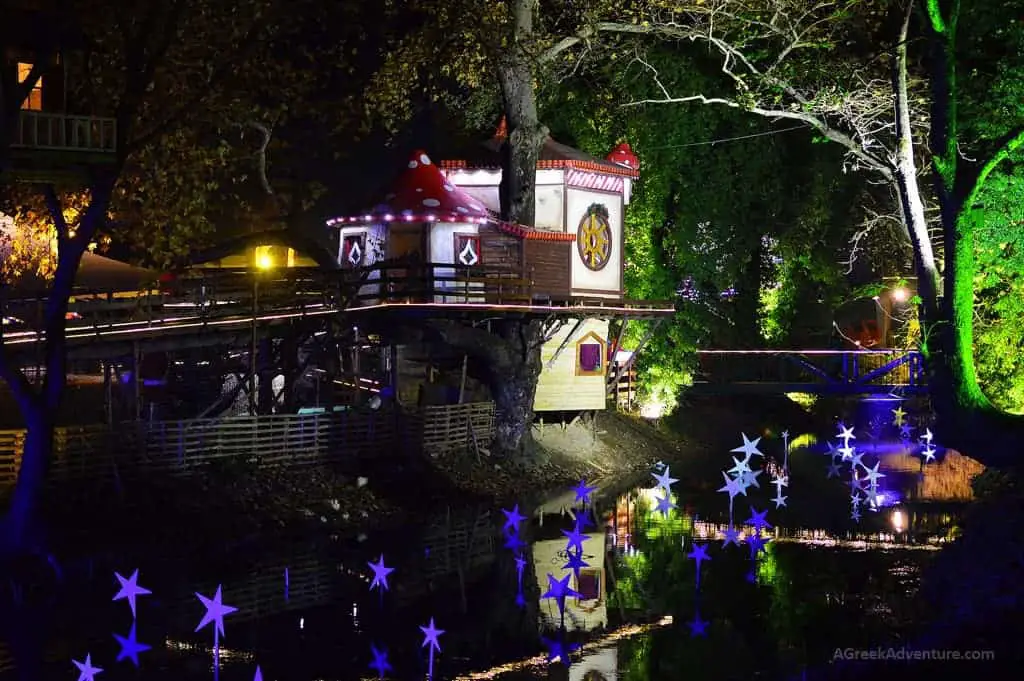 Kids and those who feel like kids in their hearts will not get bored at all! Lots of events and activities to spend the whole day!
Starcity of Ioannina
Another Christmas theme park with tens of occasions every day, from 27th of November to 3rd of January 2016. I mean, check their actions here. Music festivals, Santa Clauss, themed events, great food, and more. We pasted here a few from their photos to take the first taste.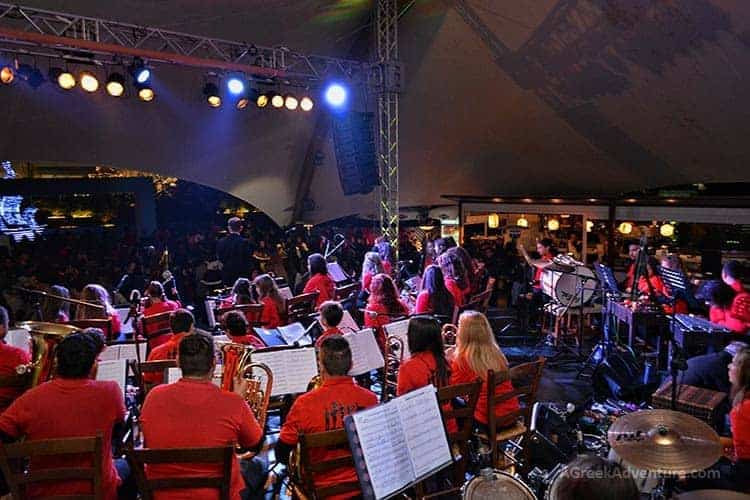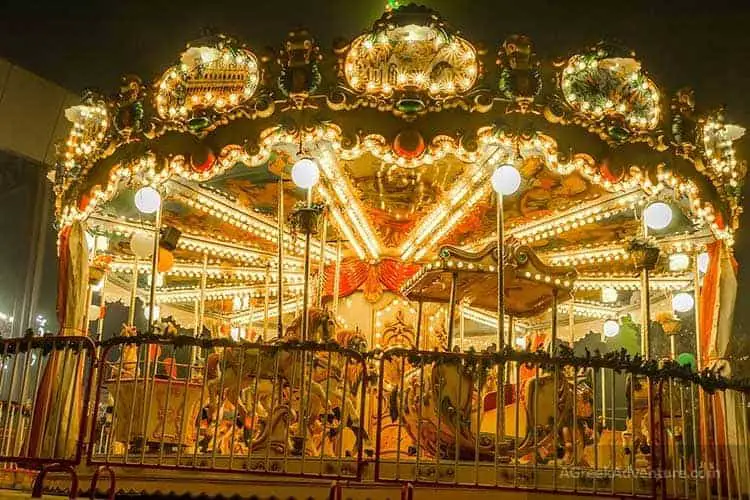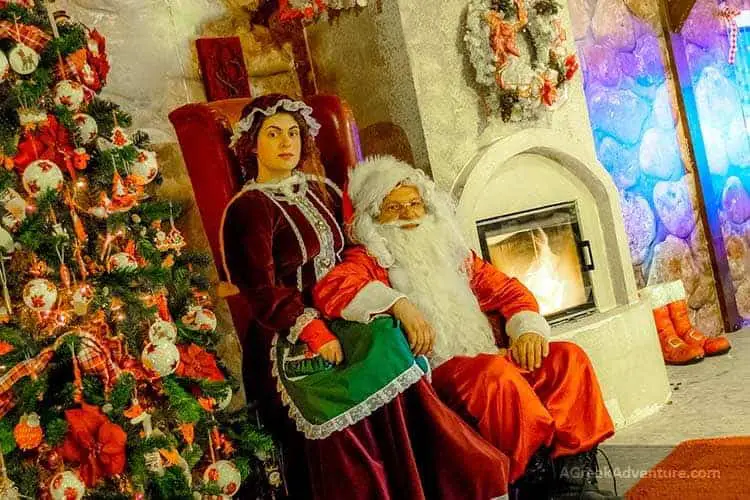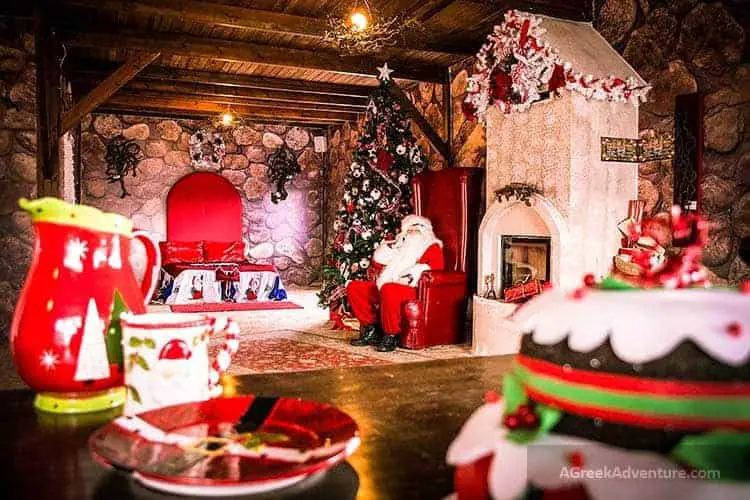 Well… how many things to do, right? Your kids will love this.
(Many thanks to our friend Iris Kouveli for "The Mill of Elves" and the "Starcity of Ioannina" hot tips).
If you snoop around our blog here, you will find tons of things to do in Greece. If you like something more specific, don't be afraid to contact us. We help everybody!
Feel free to send us your ideas on where To Go In Greece during the Christmas season!
Enjoy!