What are the best beaches in Crete, Greece, many ask us!
Indeed Crete is a massive Greek island, the largest island in Greece, and famous for its beautiful beaches, among hundreds of other activities, food included. It is also part of the five largest islands in the Mediterranean sea (the 5th one).
Crete's beaches are beautiful with clear waters and eventful sea life. Crete is not a small island and usually takes lots of days to get -simply- familiar with it.
You can have a good time in Blue Flag Crete beaches during summertime with all the crystal clear water in front of a long sandy beach, under sunbeds and umbrellas or under some of the largest palm trees you've seen.
Every year, many tourists flock to Crete – an island of Greece- to enjoy the sea, sand, and fresh air.
If you are also into water sports, skinny-dipping or want to sunbath, Crete Island might be the perfect destination for you. Here, we explore some of the best beaches in Crete Island.
Best Beaches in Crete
Cretan beaches are so many that cover the needs of any traveler type.
Either you are the adventurous type, or you travel with your family or your spouse or alone, you will find many different options to fulfill your needs.
There are tons of things do in Crete, as this is a rather big island; the biggest of Greece.
We have been on the island and experienced many different things to do in Crete.
Since the island is so big, it means it has numerous beaches scattered all over. Here is an excellent selection of them.
Falassarna Beach Crete, Chania
This beach is on the west coast of Crete.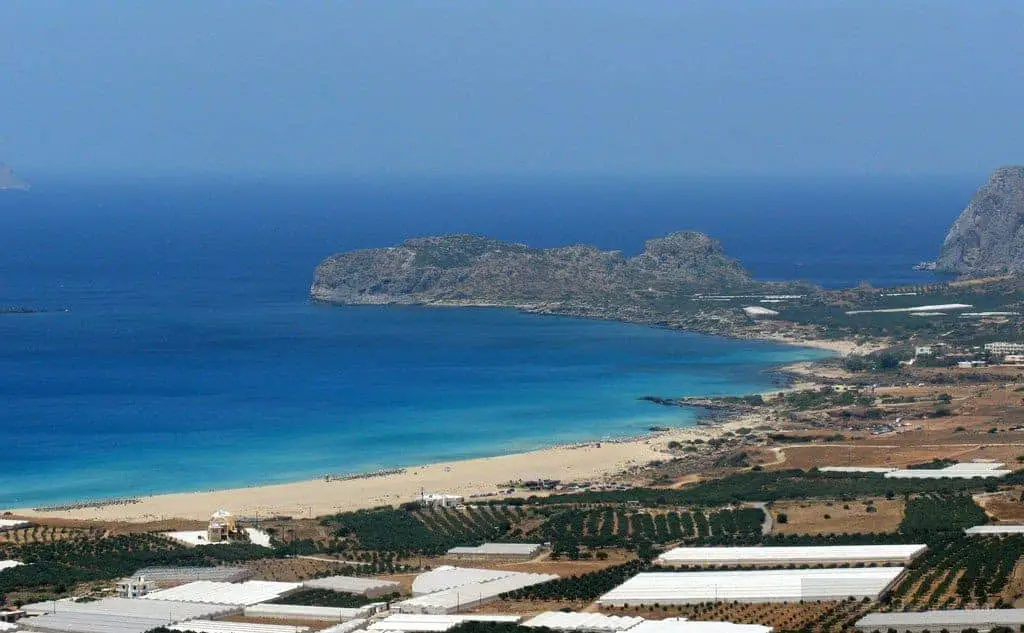 It comprises of many sandy beaches facing west, and their lengths differ.
Just like Elafonissi, the beach is most frequented and popular with day excursionists because of its amazing beaches and clear blue sea.
As a result of the sandy bottom of the sea, the waters are spotless and with beautiful colors.
There is also an archaeological site that you can visit; there are remains of the fortified Hellenistic harbor.
Lassithi Istro Beach, Crete
In the south of Agios Nikolaos, along the coastal road, there are about five beaches, and one of them is Istro.
Istro is located about 12km south of the Agios Nikolaos town-as you head towards Ierapetra.
The beach is with white sand and clear blue waters and surrounded by slopes with vast vegetation cover.
The surrounding vegetation cover makes the landscape magical and lovely.
Furthermore, facilities such as umbrellas and sundecks are available in Istro.
You'll also find some taverns offering Cretan cuisine. Istro is just the best place to try Cretan cuisine!
Above all, the beach offers a serene and quiet environment ideal for relaxation.
Balos Beach Crete, Chania
Balos is known for its wild natural beauty, turquoise waters, and stunning exotic scenery.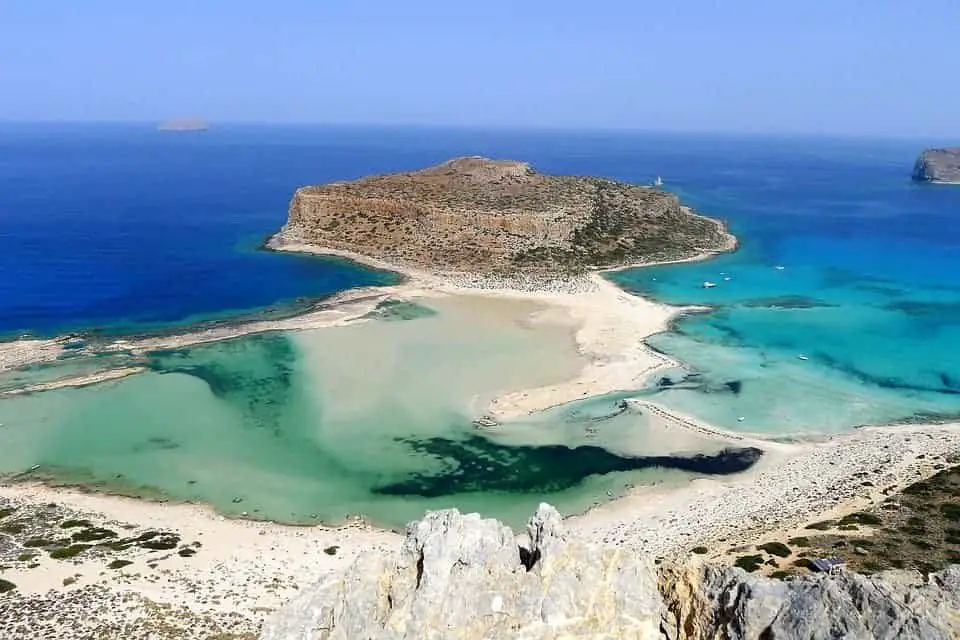 The beach is 17km from Kissamos town.
During the summer, thousands of tourists, the majority of them arriving by ferry from Kissamos port, flock the beach.
If you are avoiding crowds, make your way to Balos in July, August or September.
Visit Balos, and you'll remember the place forever.
The sea is shallow and has warm water, thus perfect for children. In many places, millions of crushed shells make the sand pinkish.
Kedrodasos Beach Crete, Chania
Located approximately 76km southwest of Chania and 1 km east of the famed Elafonissi lagoon, Kedrodasos is an incredible beach.
The beach is full of dunes and juniper trees. The beach has rocks and white sands.
Preveli Beach Crete, Rethymno
Thousands of tourists visit the beach every summer. The beach is where the Great River (Megas Potamos) flows.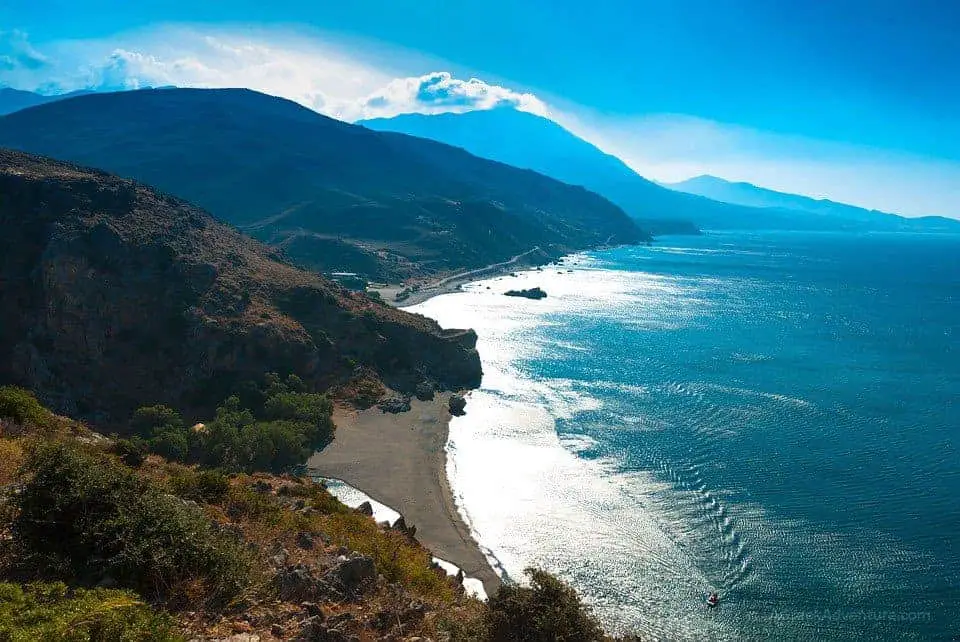 The beach of Preveli (Préveli) is found about 35km south of the Rethymno and approximately 10km to the east of Plakias.
In the 1960s and 1970s, the Preveli was a favorite spot for the hippies.
The Theophrastus palm trees give the place a sense of tropical scenery.
Before the Great River flows to the sea, it forms a small lake and cold ponds where you can swim.
Furthermore, you can take a walk along the river under the shade of the palm trees. The river also makes the seawater very cool. The beach is sandy with pebbles.
Vai Beach Crete, Lasithi
Vai is a famous beach found in the East of Crete island, approximately 24km east of Sitia or 94km east of Agios Nikolaos.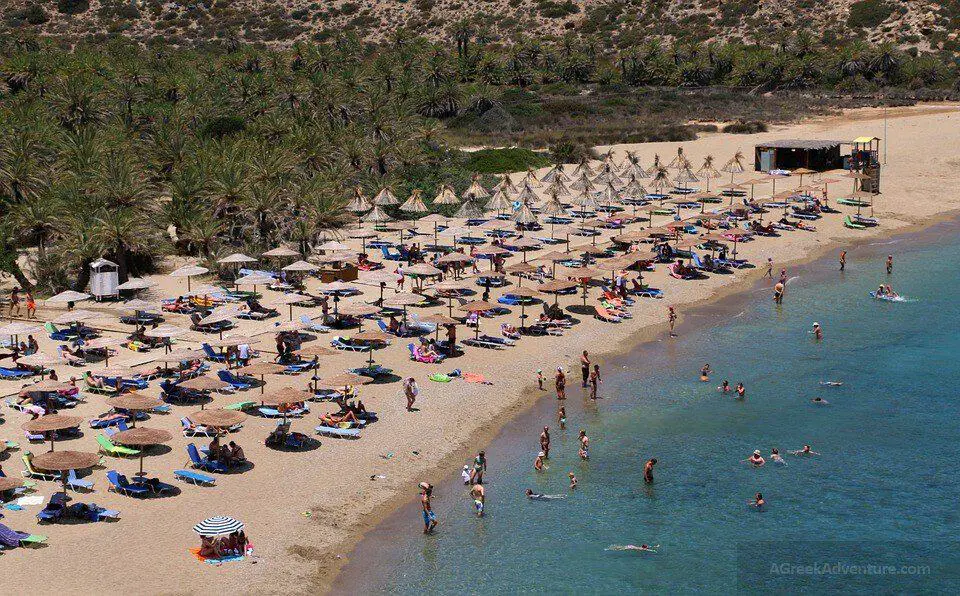 A large palm grove is a key feature here. Even the name Vai originated from the word Vai, which means palm in Greek.
The palm has about 5000 trees: the largest in Europe.
Vai beach has fine sand and blue waters. There are also some rocks in a few places and small islets beautifying the landscape.
The beach is well-organized with water sports, canteens, showers, and taverns available. In the extended area of Lasithi, you'll find a holiday villa with a private pool.
Stavros Beach Crete, Chania
Initially, Stavros beach was a small fishing village before it became a tourist resort. It is on the northern side of the Akrotiri peninsula.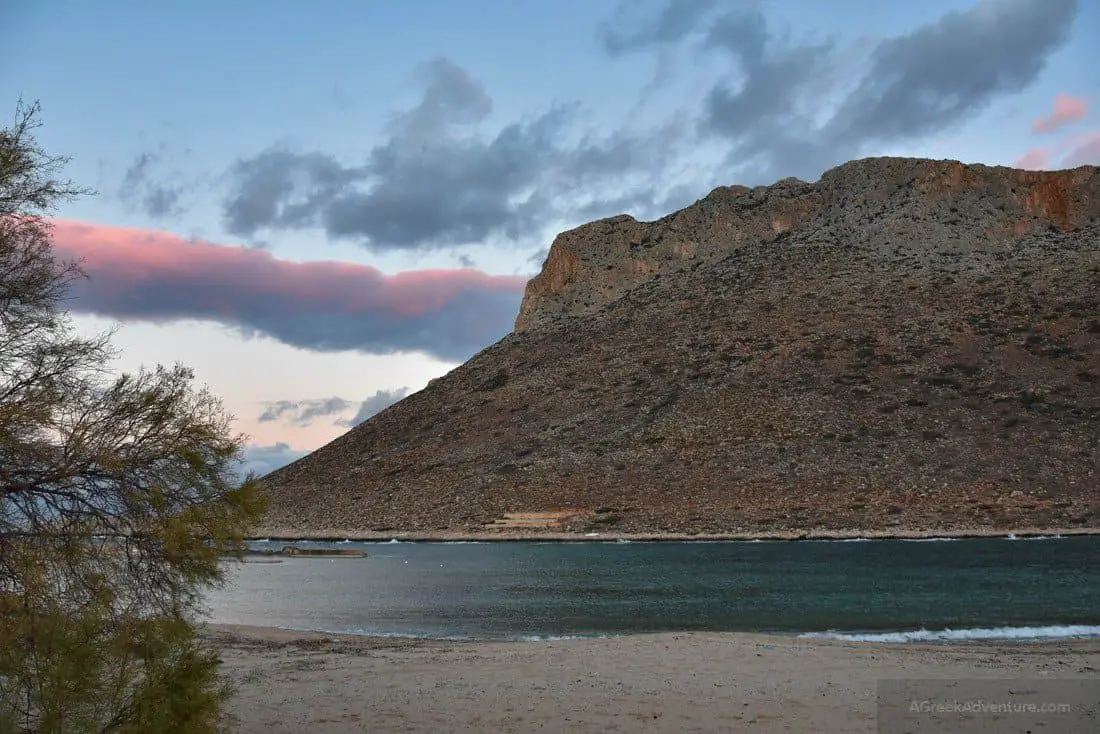 Stavros is a sandy beach, which formed within a circular bay and has pink, blue waters. The sea is shallow, thus ideal for children swimming.
The place is in a mountainous landscape, which has made Stavros a popular spot.
It is also the place where they filmed several scenes of 'Zorba the Greek.' The beach provides excellent facilities and services.
Glyka Nera Beach Crete, Chania
The beach is on the south coast of Crete. Because of its freshwater sources, the beach has the nickname of "sweet water beach."
You can either reach the sandy beach on foot or by boat. Furthermore, there are hiking trails from Chora, Sfakion, and Loutra.
Aspri Limni Beach Crete, Chania
Aspri Limni is a relatively unknown beach in Crete; it remains an unexploited paradise by the tourists. The beach has fine white sands and rocks and surrounded by sharp rocks.
It is approximately 70km southwest of Chania city and just 500m west of Chrysoskalitissa monastery.
It's easy to access the beach because you can follow some signs to Phoenix Theophrasti habitat. You can also ask the locals for directions to the beach.
Elafonissi Beach Crete, Chania
Elafonissi is nearer to Aspri Limni. Many people visit the place; in fact, people like better this lagoon at the expense of Aspri Limni, which is just a few meters away.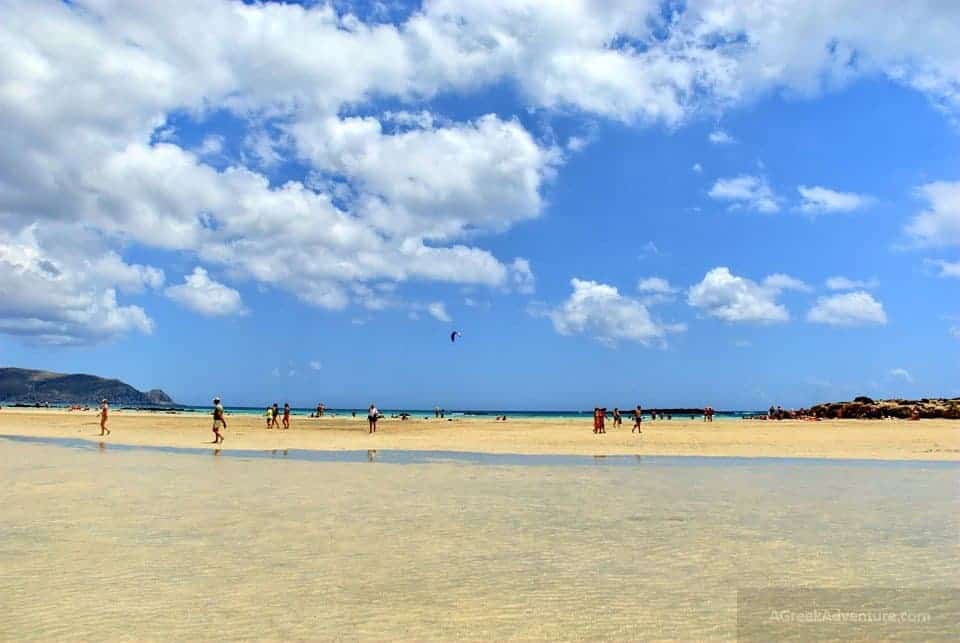 There are many dunes with junipers and sea daffodils. Elafonissi is the habitat of most endangered loggerhead sea turtle and many other rare animals and plants.
The color of the sand is pinkish because of the crushed shells. The level of the seawater near the breaking point of the peninsula is less than 1m in depth hence. That makes it ideal for children.
On the eastern side, the beach is organized and populated. There are also showers, snack bars, lifeguards, umbrellas, and changing rooms.
Seitan Limania Beach
Stefanou beach is located at the position of Seitan Limania, 22km northeast of Chania. The beach has that name but the "Seitan" is the name of the wider area. There are steep cliffs and dangerous currents. Nevertheless, the beach is really popular due to its natural picturesque beauty.
The beach is in a cove and has both pebbles and sand. It was hard to reach in the past, but since after the asphalt road, it became rather popular and thus crowded in peak season. 
Map of Beaches in Crete
To feel more comfortable with the locations of different beaches in Crete (selections mentioned in the post are included), here is the google map that shows them around, Crete.
In that way, you can decide where to stay in Crete too.
Best Beaches near Chania, Crete
If you plan to stay in Chania (trendy destination), then these are the beaches in Crete to have in mind and are near Chania. Read our post from our experiences in Chania, Crete.
Potamos Beach, Malia
Balos Beach, Kissamos
Elafonissi Beach, Elafonissi
Falassarna, Chania
Matala Beach, Matala
Red Beach, Matala
Frangokastello Beach, Sfakia
Plakias Beach
Best Beaches in Crete for Families
Almost all beaches in Crete are family-friendly. Crete is a destination that attracts all kinds of travelers for many years now, especially families.
Make sure to allocate lots of time to explore Crete. If you don't have more than five days, then make sure to stay in or near Chania, Crete.
Plan your trip to the best Crete beaches
Many claim that the island is so big that you can easily find accommodation. That is partially right. A big island means lots of driving time too.
If you plan to stay for many days and shift between more than one of the four different regions of Crete (Rethymnon, Chania, Lasithi, Heraklion), then pre-booking is a must.
We suggest using Booking.com for this. Make sure to get travel insurance too.
Check flights as soon as possible. There are many for Crete, but things get busy in the summertime.
If you plan to visit Santorini island after or before Crete, then read this post.
Organized tours in Crete beaches
Some locations in Crete are best to experience via an organized tour. The reason for that is that cities like Chania, contain a multitude of different cultural points of interest, each with its own story.
We recommend one of these organized tours providers (and also tested by us) for such:
How to get to Crete
FAQs
Where are the nicest beaches in Crete?
Most great beaches are near the areas of Chania, Rethymno and Lasithi.
Where is it best to stay in Crete?
Arguably the best area to stay is near Chania or the Western, South-Western part of Crete.
Where is the pink sand beach in Crete?
This refers to Elafonisi. There are white and pink sands there. The pink color derves from the break down of corals, over the years.
Which part of Crete has the best beaches?
The west and south-west parts of Crete have the best beaches.
Lots of options for Beaches in Crete, right?
The list of best beaches in Crete can expand a lot more, but these are among the best that you can visit. After all, best means something different for each person.
If you happen to holiday in Crete or want to spend your summertime on the beach, make sure you visit some of these beaches.
You'll be amazed!