Which are exactly the best beaches on Santorini? Located in Greece, the Greek island of Santorini is a popular one that boasts eight beaches. These are the best beaches on Santorini.
Santorini beaches lie beside quality beach resorts, which are suitable spots for swimming, diving, hiking, and nightlife. You gotta love that fantastic beach blue water and island blue and white colors.
Unlike other sandy beautiful beaches, Santorini beaches have dark unique volcanic sand and a natural setting.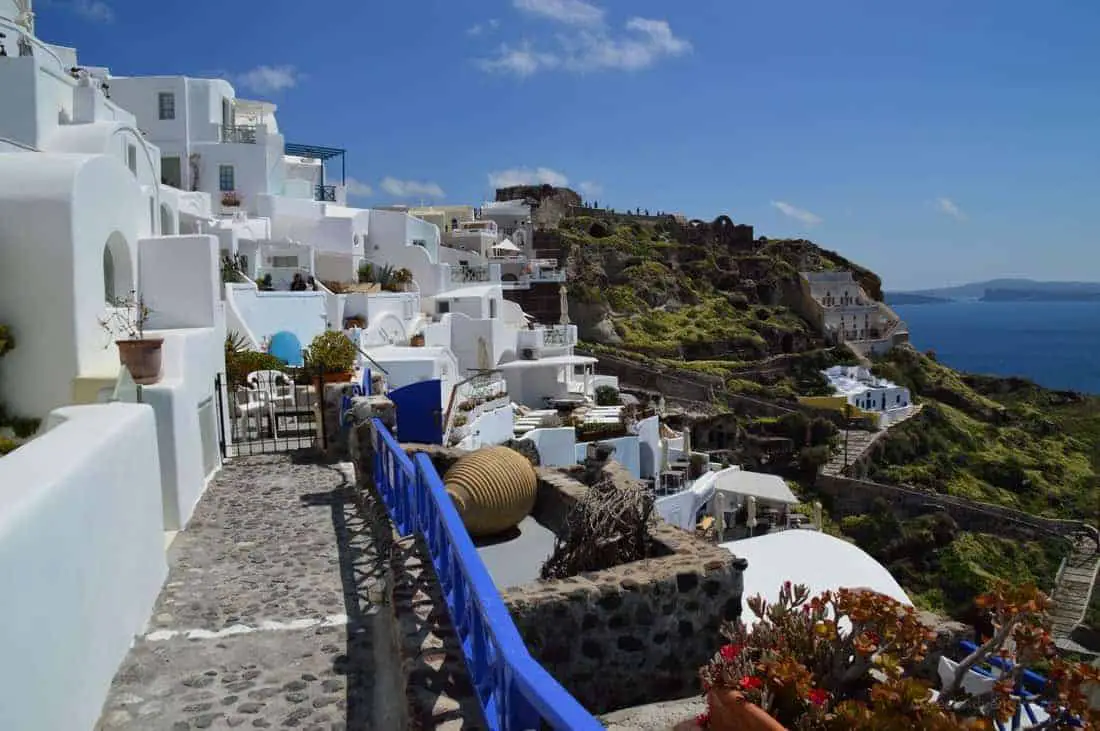 As a tourist, you will need to wear water shoes or beach sandals since the dark volcanic sand is usually hot to walk on during the day.
Recommended Best Beaches on Santorini
You can get a clear view of one of the best beaches or volcanoes when you are at the Santorini caldera. Fira, the island's main town, is closer to Kamari (one of the beaches on Santorini island).
When you are in Santorini, Greece, the recommended towns to stay in are Oia, Imerovigli, Firostefani, and Fira. You can get spectacular views of the volcano, which make the isle unique, from these towns.
Check our Santorini Greece section of posts to see all the things you can do and see on Santorini Greece island.
The most affordable ways of exploring the island are by riding the bus or renting a car. However, if you are in pursuit of nightlife, be sure to visit Fira since it is home to the most entertaining clubs on the island.
You will also find restaurants/bars that operate day and night in Perivolos, Perissa, and Kamari, along with Agios Georgios beach near Perivolos.
Here are eight of the best beaches on Santorini in no particular order.
Red Beach
As its name suggests, Red Beach is famous for red pebbly sand and stunning backdrop. It also borders the ancient Akrotiri, which is five minutes away from the beach.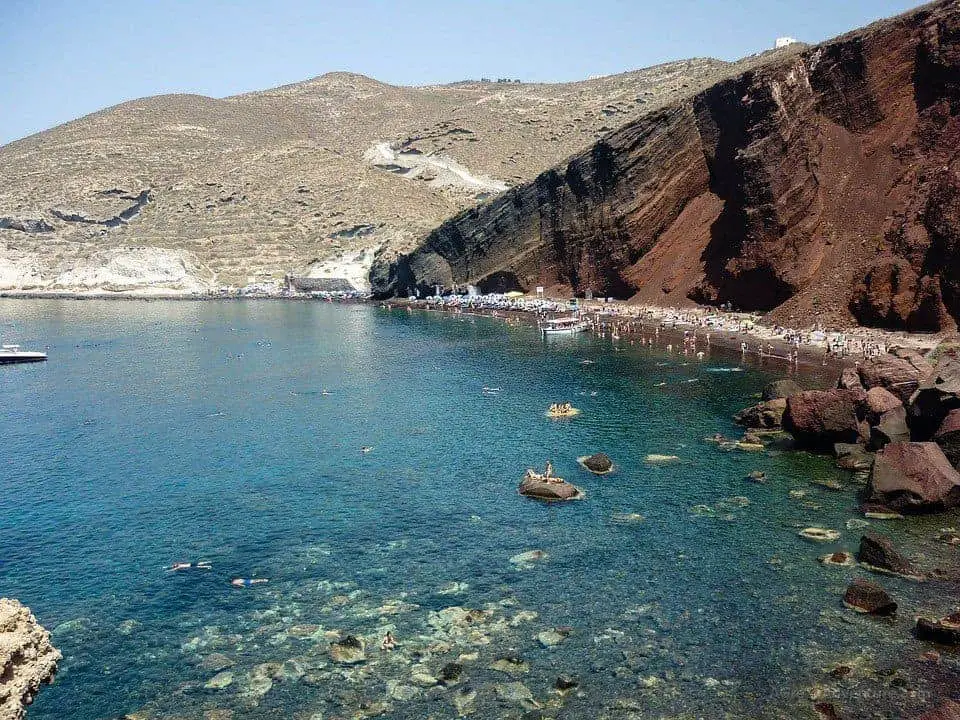 It will take you approximately 20 minutes to drive to Red Beach from the southern side of Fira.
The beach may not be safe for kids due to its steep terrain and falling rocks.
You can reside in Akrotiri if you want to be close to the beach.
It will also take you less than an hour and cost you about $6 on a boat ride from Rahidi (an archaeological site) to Red Beach.
Hiking and rock climbing are among the fun activities you can indulge in when visiting the beach. Most people like visiting the beach between July and August.
Click here for accommodation options in and around Fira.
Where is the Red Beach in Santorini Greece?
Perivolos Beach
The Perivolos beach lies south of the island. It is a great tourist destination for its tropical vibe and sandy landscape. Several hotels lie near the beach.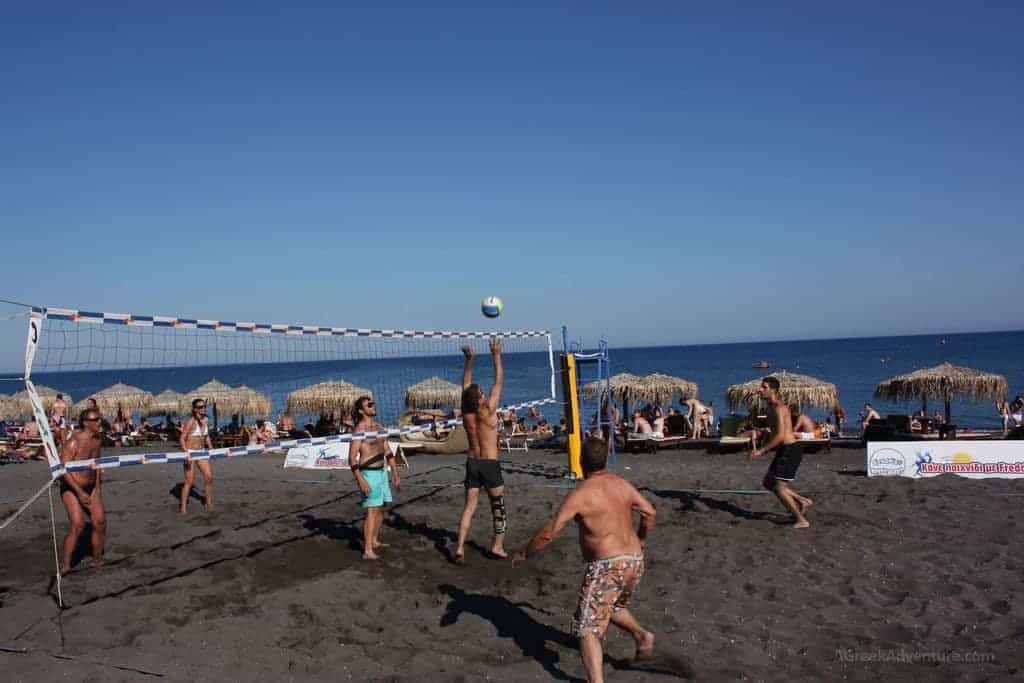 Perivolos is also a fun place for water sports such as sea-bananas, sea-ski, and Jet Ski. In addition, most locals, Greek celebrities, and tourists like to hang out here.
It can be an exciting place to visit if you love live music concerts or DJ performances.
The beach is also ideal for playing beach volleyball and lying on sunbeds. Relaxing couches, black pebbles, and clear waters are among the tourist attractions in Perivolos.
Click here for Perivolos accommodation options.
Where is the Perivolos beach in Santorini?
Perissa Beach
Local dwellers like to refer to Perissa and Perivolos beaches as one beach since they are adjacent. Perissa is separated from Kamari with a mountain called "Mesa Vouno."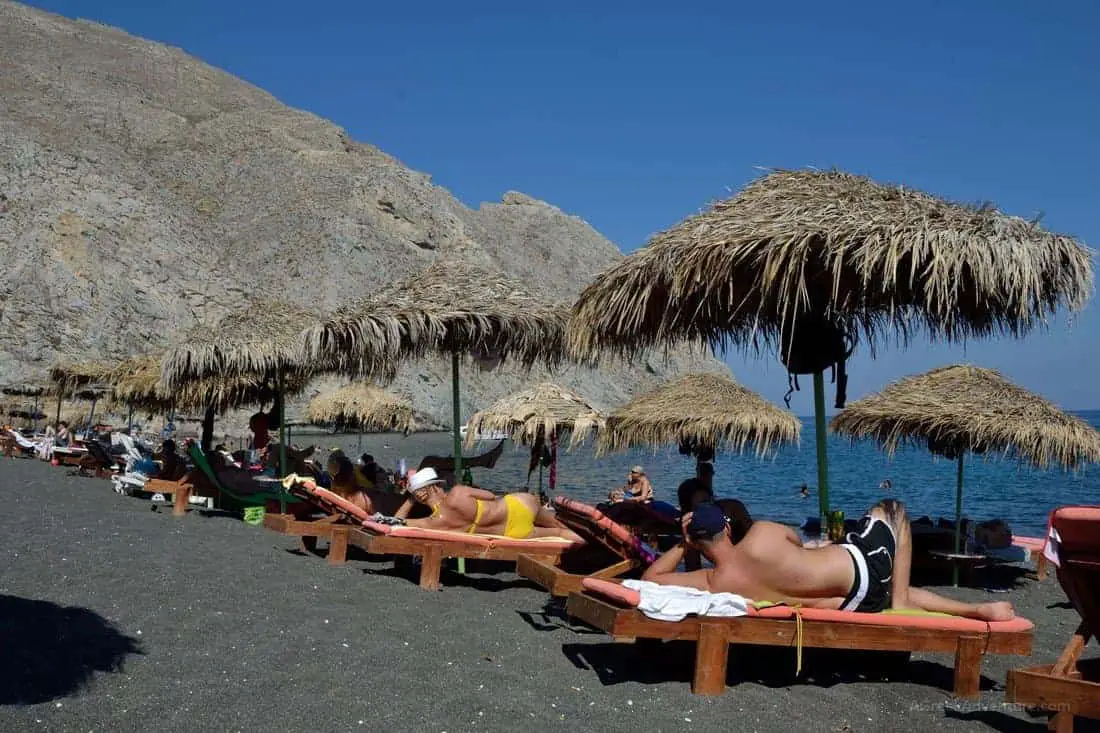 When it comes to their geographical setting, the two beaches are independent. Therefore, Perissa is a suitable spot for beach parties, backpackers, and swimming.
With its serene environment, it houses several restaurants and accommodation facilities.
Both Perissa and Perivolos beaches are famous for the black sand, which can burn your feet during summer.
They also boast great cuisines, various beach bars with incredible cocktails, and a fantastic atmosphere for beach parties. They also lie about 15 kilometers from Fira town.
Click for accommodation around Perissa.
Where is Perissa Beach in Santorini?
Kamari Beach
Kamari is the most upscale tourist destination in Santorini. With lots of eateries and accommodation facilities, the spot is a fun and relaxing place to visit.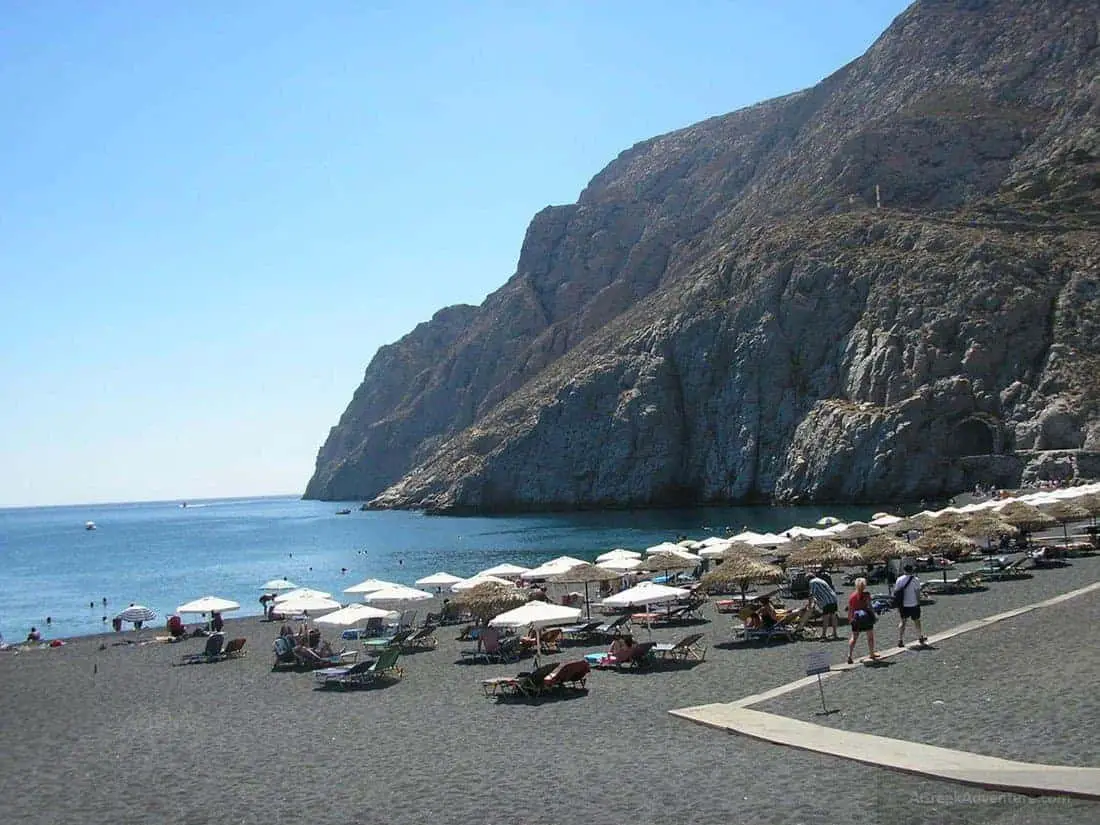 It is the only beach in the isle that is closer to Fira town and the airport. It also offers better views of the caldera than other beaches on Santorini.
With well-organized and touristic features, Kamari is among the best beaches on Santorini that help put the island on the global map for the best tourist destinations.
It is also among the few easy-to-access beaches in Santorini. You can stay in villas or resorts that are close to the beach.
Click here for accommodation options in and around Kamari.
Where is Kamari beach in Santorini?
Vlychada Beach
Also known as the "White Beach of Santorini," Vlychada is unique regarding the atmospheric setting and white rocks.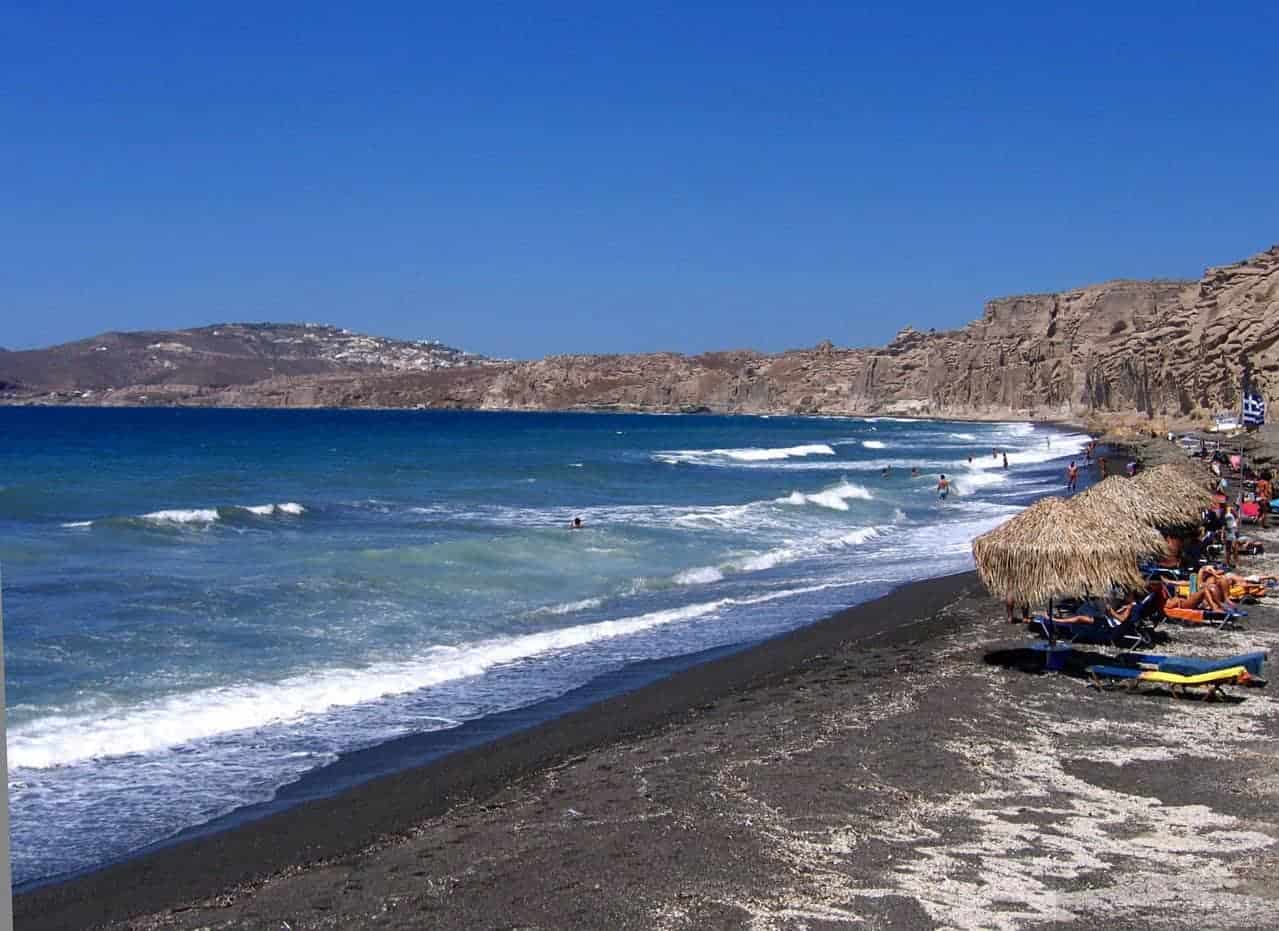 You will never find water sports or noisy beach bars on the beach.
Vlychada is a fun place for photographers and nature lovers since it boasts amazing white volcanic rock formations.
You can stay in Perissa, Emporio, or Vlychada, which have close access to the White Beach.
Click for Emporio accommodation selections.
Where is Vlychada Beach in Santorini?
Koloumbos Beach
Koloumbos Beach is one of the quiet and most secluded beaches you will find in Santorini. It also occupies a large portion of the island and is famous for the black pebbles and clear water.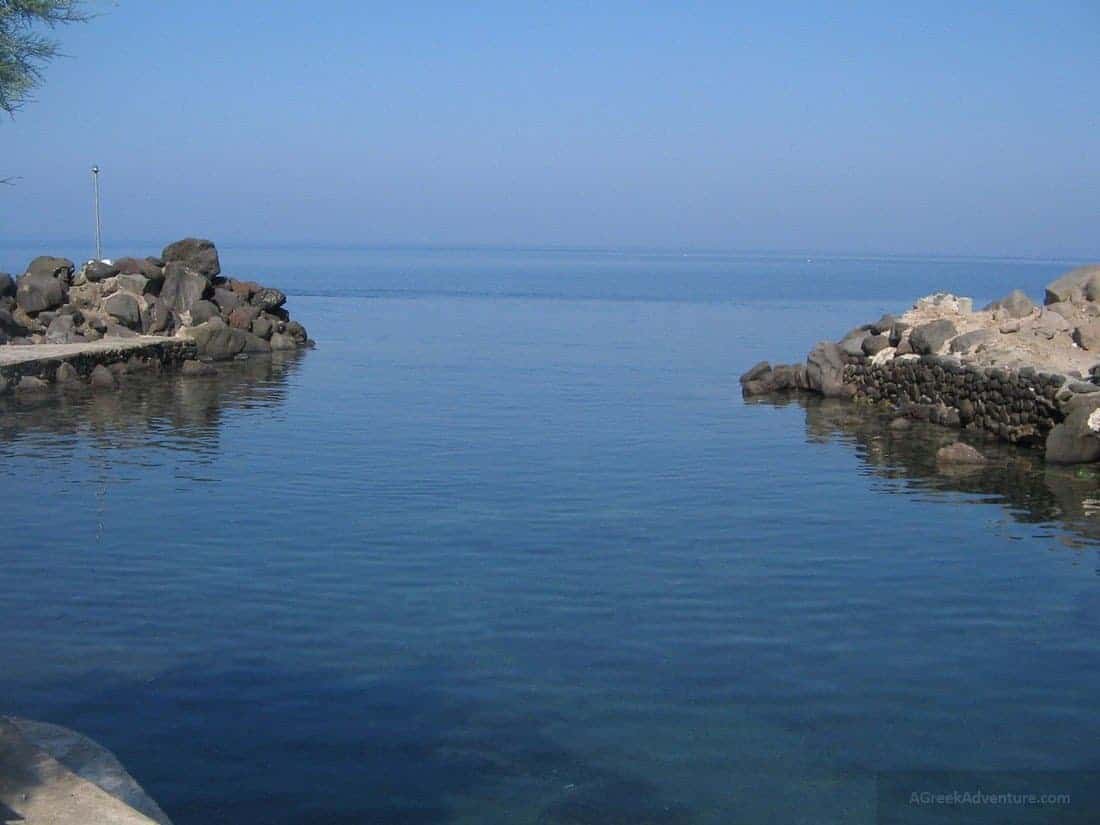 You can access it from Oia town, which also provides excellent accommodation facilities for tourists.
Are you staying in Oia? Click here.
Where is Koloumbos in Santorini?
Ammoudi Bay
Ammoudi bay is the best swimming spot on the island. Though it is not a beach, it offers excellent views of the caldera.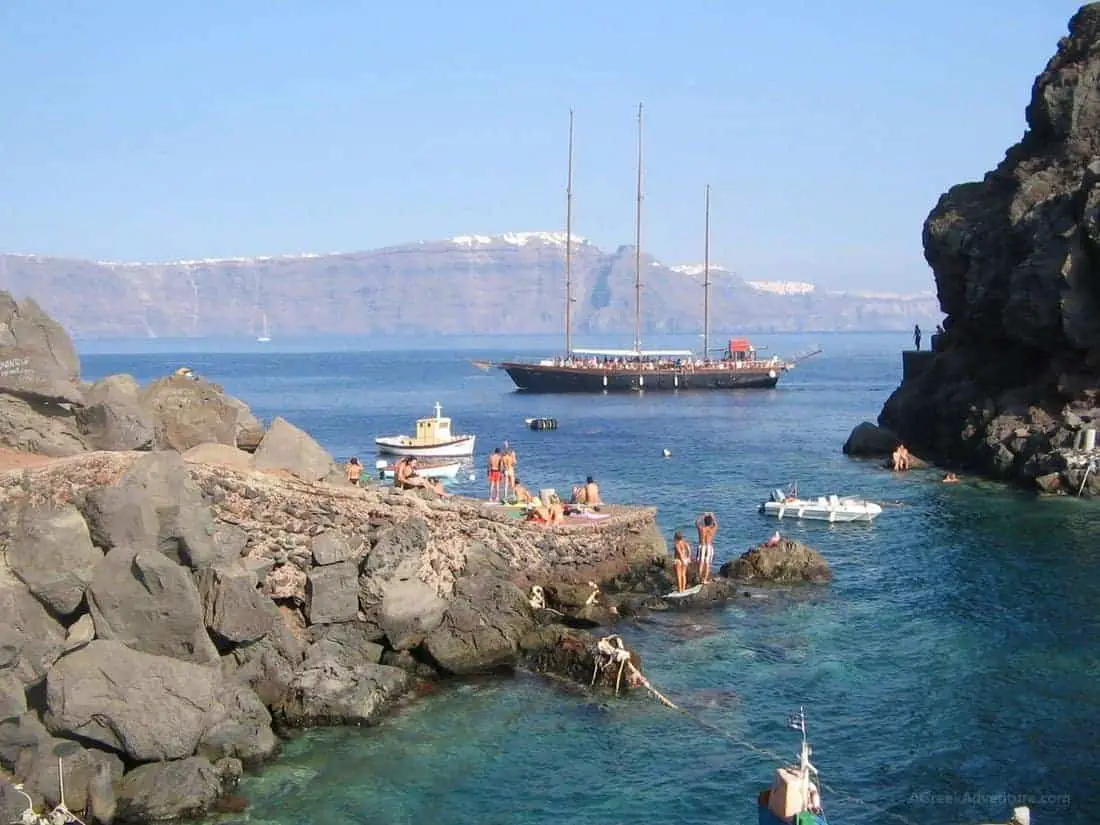 You can access it from Ammoudi port, which lies at the heart of Oia town. The bay has several luxury hotels, boat ride services, swimming experts, lifesavers, and tour guides.
Click here for accommodation options in and around Oia.
Where is Ammoudi Bay in Santorini?
Monolithos Beach
If you are touring Santorini with your children, Monolithos is one of the laid-back beaches you should visit.
Lying a few kilometers north of Kamari, the beach has the most family-friendly features that you will ever see.
It is an ideal place to visit due to its serene environment and a small collection of accommodation facilities and eateries.
Monolithos' seafloor has a shallow slope that makes it safe for kids to swim.
Unlike other surrounding beaches, there is a small play area on the beach for kids. However, Monolithos is not a great place to stay because the accommodation facilities are not as competitive as other Santorini towns.
You can either ride a bus or drive a rental car to access the beach.
Click here for accommodation options in and around Kamari.
Where is Monolithos beach in Santorini?
What to do in Santorini Besides the Beaches? 
Here is an additional big list of suggested tours and posts to read. Visit the full post of things to do in Santorini.
Is Santorini Worth Visiting?
Tourists from different parts of the world enjoy visiting Santorini for its breathtaking sceneries and views.
The nature of the volcanic sand and the surrounding cliffs make the beaches surreal environments for basking and swimming.
People love Santorini for its refreshing and clear seawater.
The caldera (volcano) lies on Santorini's west coast, while the best beaches on Santorini lie on the southeast and east side of the island.
If you liked our article for the best beaches in Santorini, then also read Marvelous Akrotiri Santorini Ancient Site.