Visitors of Santorini, who have a spark for learning about the history of Greece, must visit the ruins of the Akrotiri Santorini area.
That is one of the top things to do in Santorini, regarding history and culture.
There the Akrotiri archaeological site is situated.
You need to explore the ancient city of Thera too.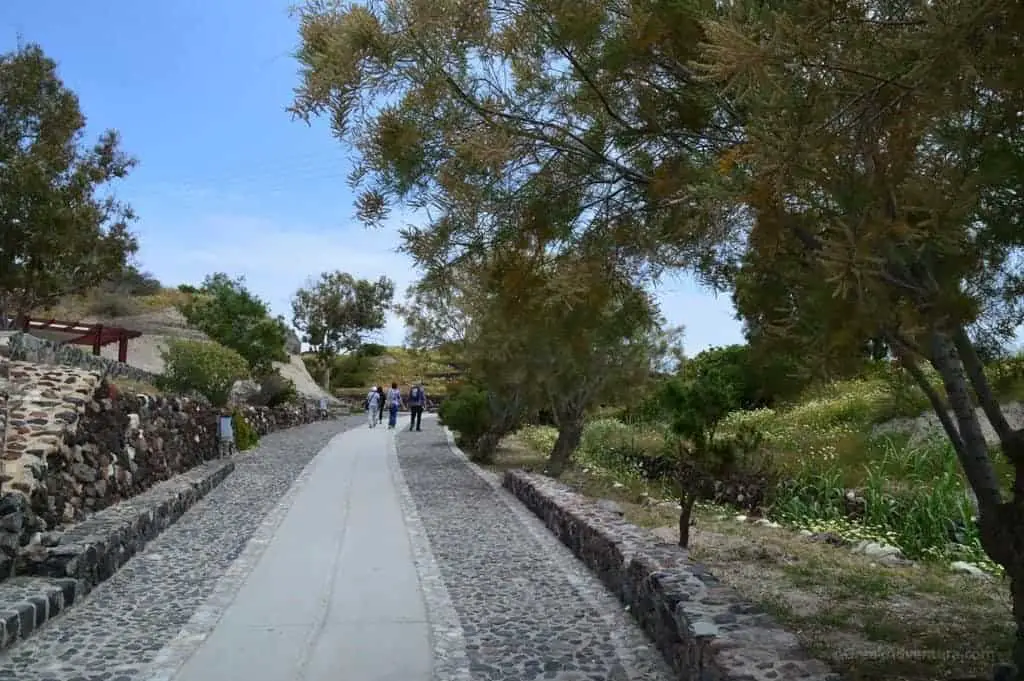 What is About Akrotiri Santorini?
Akrotiri exhibits the excavation of a whole prehistoric settlement, which was covered with lava and destroyed after a volcanic eruption.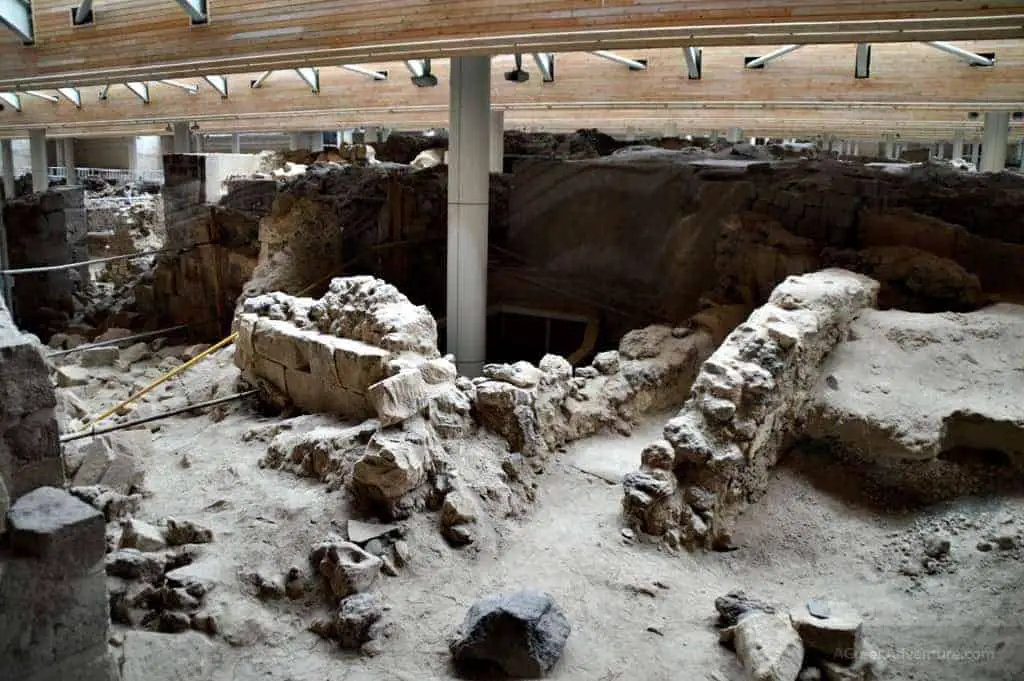 You may already know that what you see of Santorini is just one part of "the story."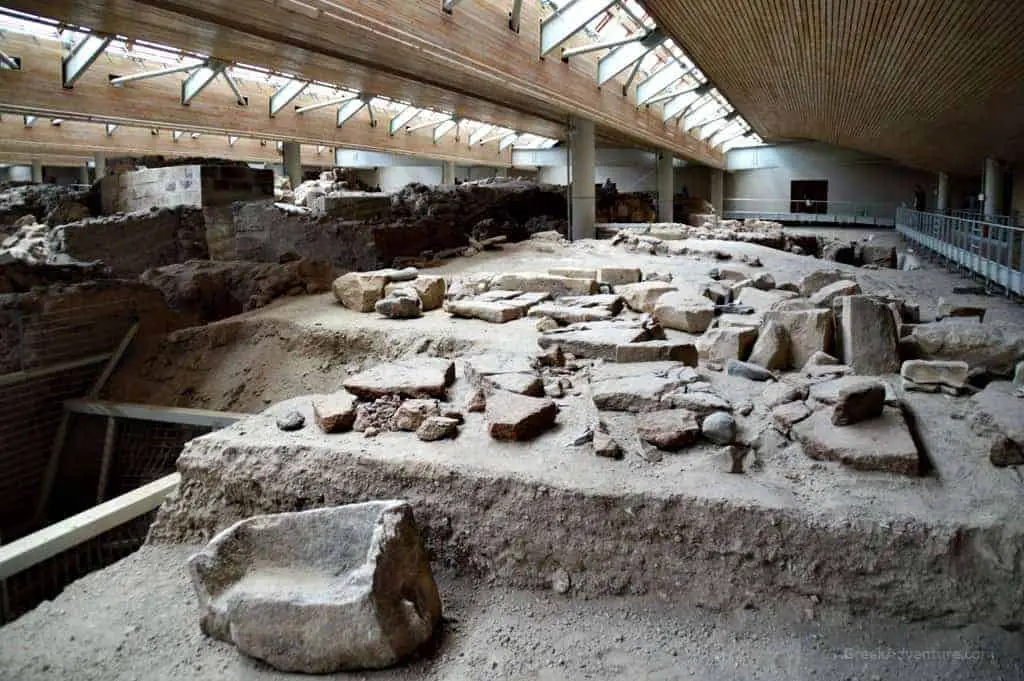 Santorini looks like a crown because the middle part sunk after the eruption.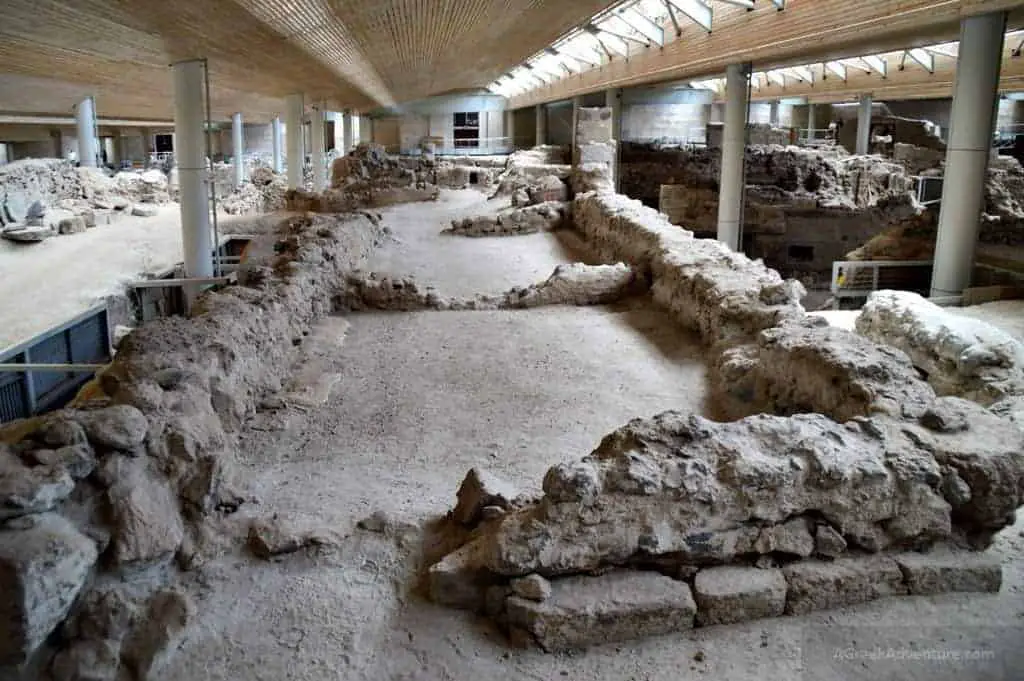 The volcano (named Nea Kameni) is visible from almost all the famous locations of Santorini (Thira, Imerovigli, Oia) when you hike through them.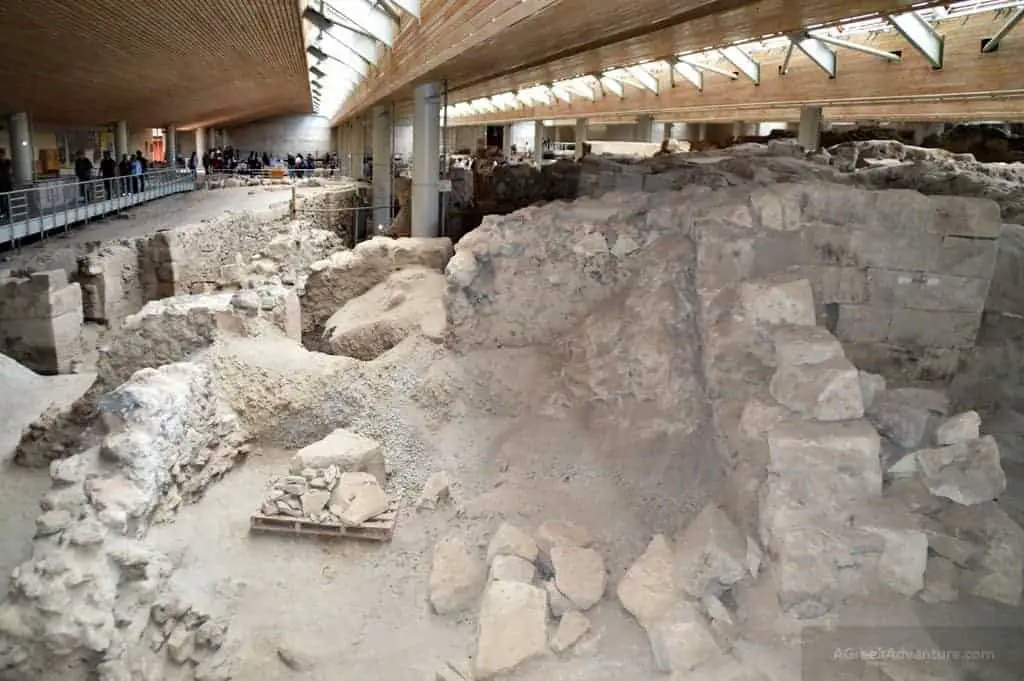 About the Settlement of Akrotiri in Santorini
The settlement at Akrotiri in Santorini was destroyed and covered with volcanic ash, plus a river of mud that went through.
However, in Akrotiri, archaeologists uncovered houses and wall paintings of that era, as the ash preserved the remains of exquisite frescoes and many objects and artworks.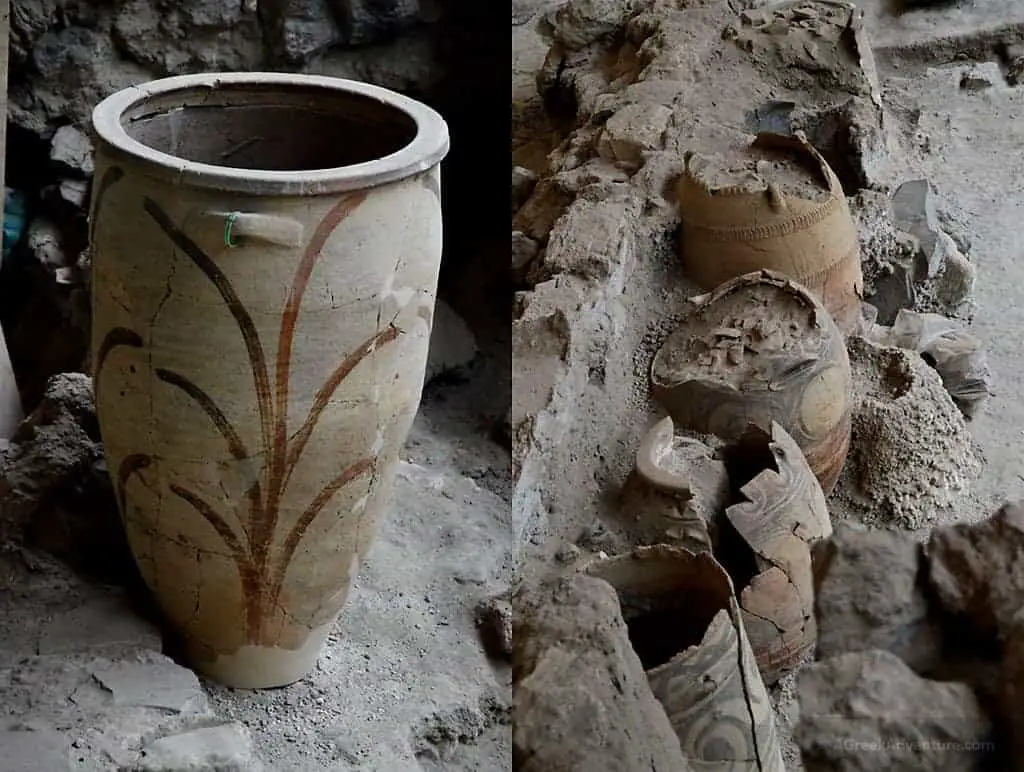 Gradually a modern cover was put in place which protects and ventilates the whole area.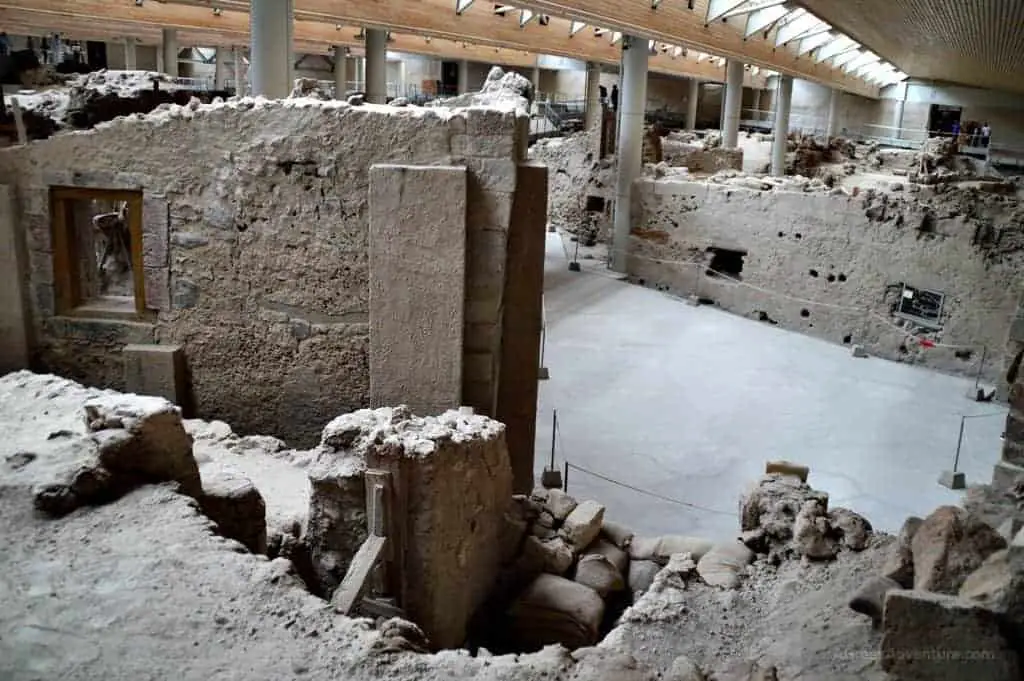 There is an opinion from some historians that this place was the inspiration behind Plato's story of Atlantis.
This story was mentioned in Plato's dialogues: Timaeus and Critias.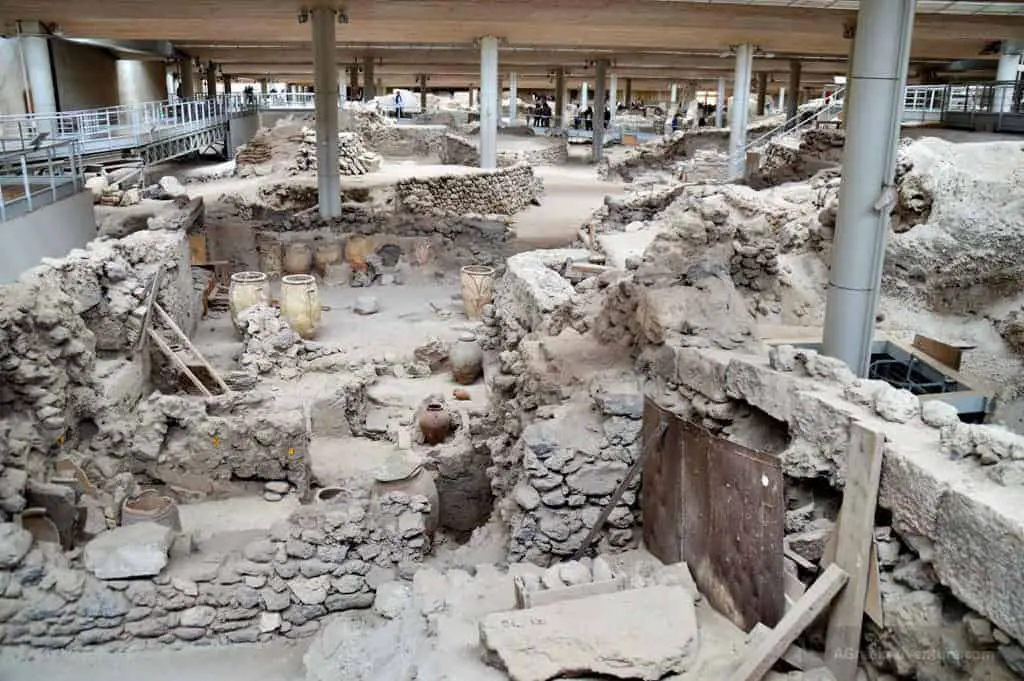 The excavations at Akrotiri revealed a very well structured city. We were able to walk through the buildings, even inside them.
There is a system of modern corridors and pathways for visitors which allows that, and an elaborate drainage system.
Along the pathways, there is information about what you see and what was the name of a specific square.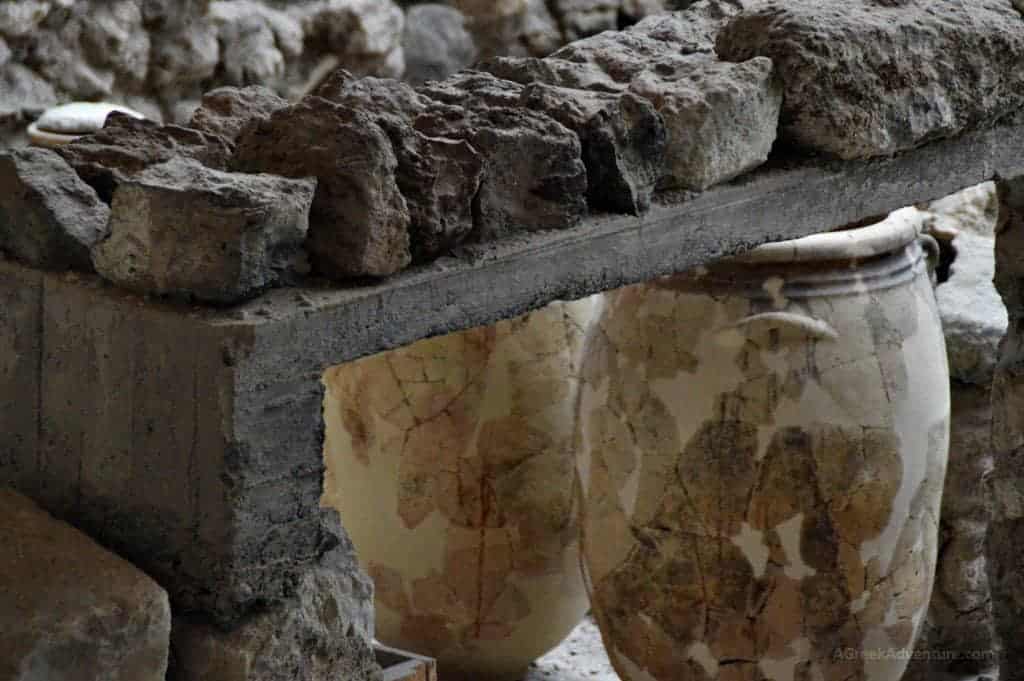 The various artifacts, frescoes, and other things found have close similarities to those of the Minoan civilization (Crete).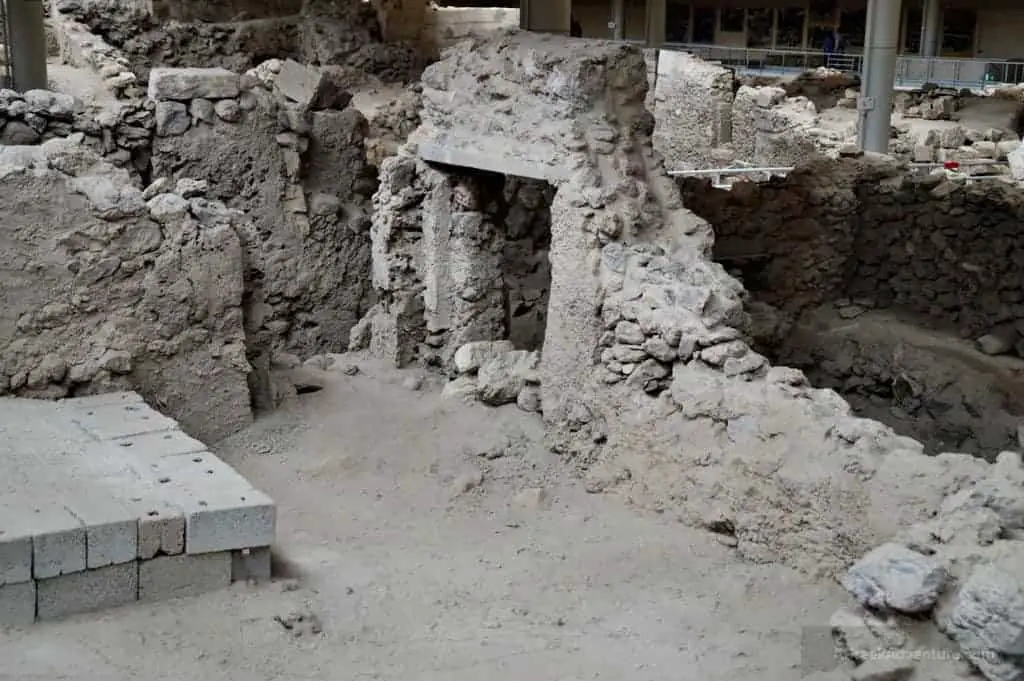 The ancient Akrotiri in Santorini is an exciting part of the island, and many of the findings are displayed in the national archaeological museum of Santorini.
However, no skeletons were found, which means that locals left the place promptly before the disaster.
[mv_video doNotAutoplayNorOptimizePlacement="false" jsonLd="true" key="kmadxqk6yht9lplqrdgw" thumbnail="https://mediavine-res.cloudinary.com/video/upload/kmadxqk6yht9lplqrdgw.jpg" title="Santorini Akrotiri Archaeological area" volume="70″]
Santorini has many gems, and Akrotiri is one of those. Do pay a visit.
Such places can reveal a far deeper meaning of the history of the world, not only of Greece.
Since Akrotiri in Santorini and Crete seem to connect in some mysterious ways, one can dive into wild mysteries.
Who knows, maybe there is no coincidence that Atlantis is related to this place too.
Do go for a swim at the Red beach. It is within walking distance from the famous archaeological sites of Akrotiri and the museum.
Have you been to Akrotiri archaeological site in Santorini before? If so, we would love to hear about it.
Enjoy your summer.
Also, read: