Many think that doing the Santorini Fira to Oia Hike is something not real. Santorini is well known for sunsets and beaches, but hiking?
Yes, Santorini has some excellent hiking routes.
The well-known island of Cyclades is a popular destination for vacations, tons of pictures, and some pretty beautiful beaches.
One that is most famous is the hiking route from Santorini Fira (Thira) to Oia. This route also goes through Imerovigli. So, if your starting point is from Fira (Thira), you pass Imerovigli and end up inside Oia.
These 3 are the most famous locations/villages of Santorini, Greece.
Starting the Fira to Oia Hike
We did the Imerovigli to Oia route, instead of the Fira to Oia hike. We did that since we visited Thira and Firostefani the day before.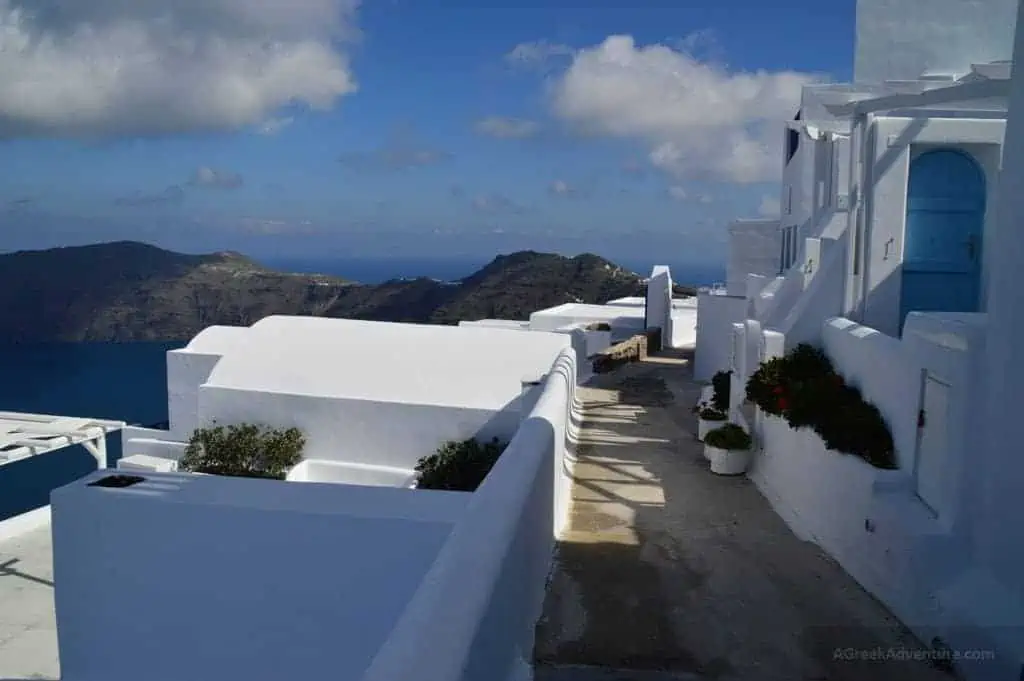 If you plan to do it in the summertime, make sure you start a bit early as the sun of Cyclades will be hot, despite the "meltemia" wind.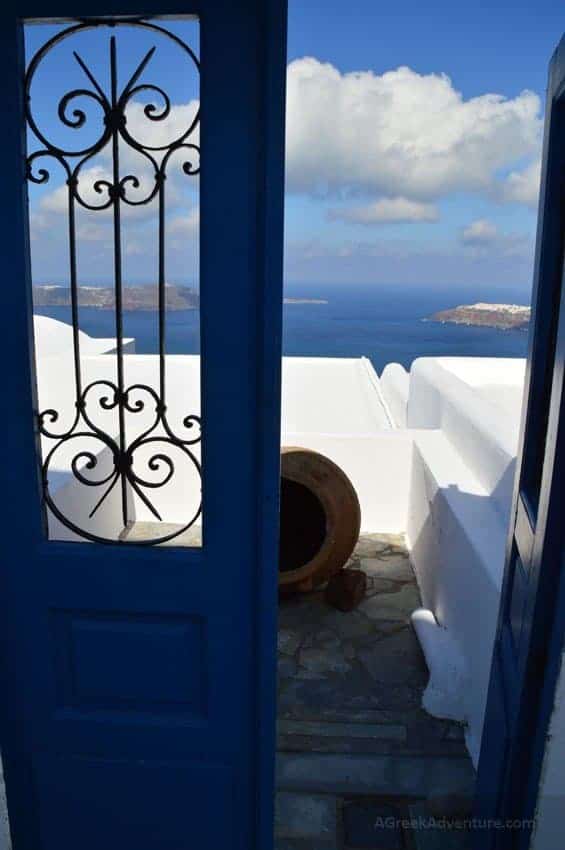 We did the Fira to Oia hike in Easter time, and it was pretty hot.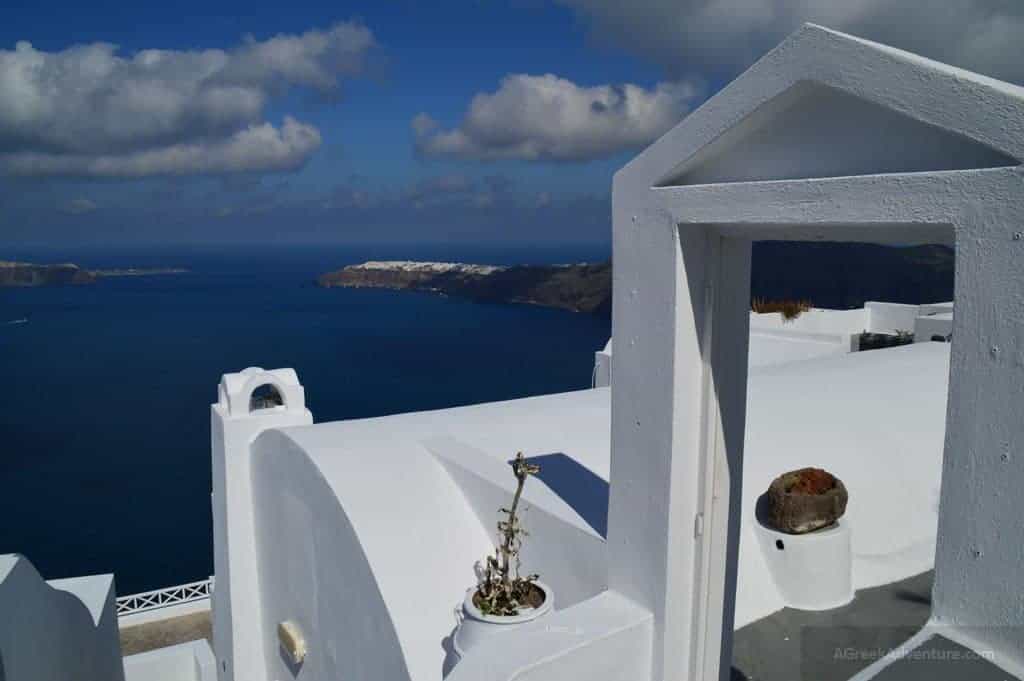 The route is straightforward and is more like a long walk.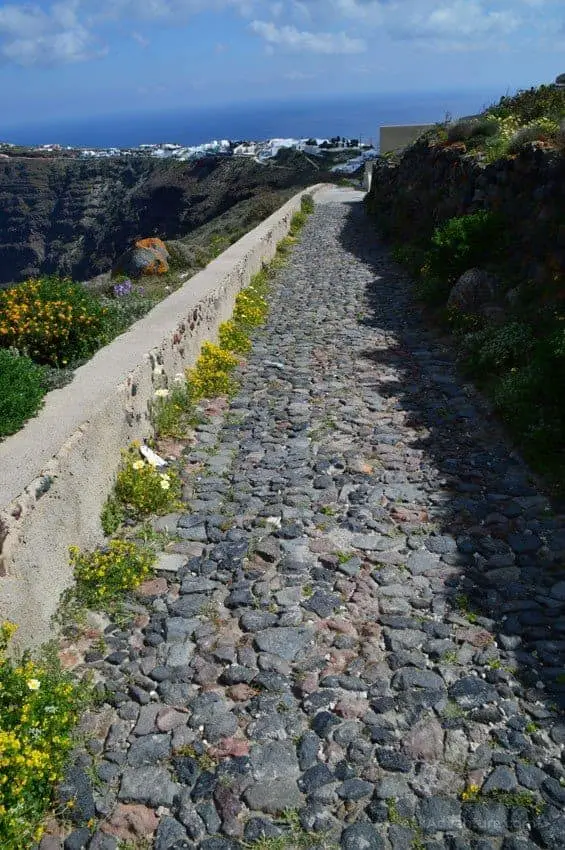 It totals 10km (one way), and another 10km getting back, so total 20km. Not tricky but lengthy, though.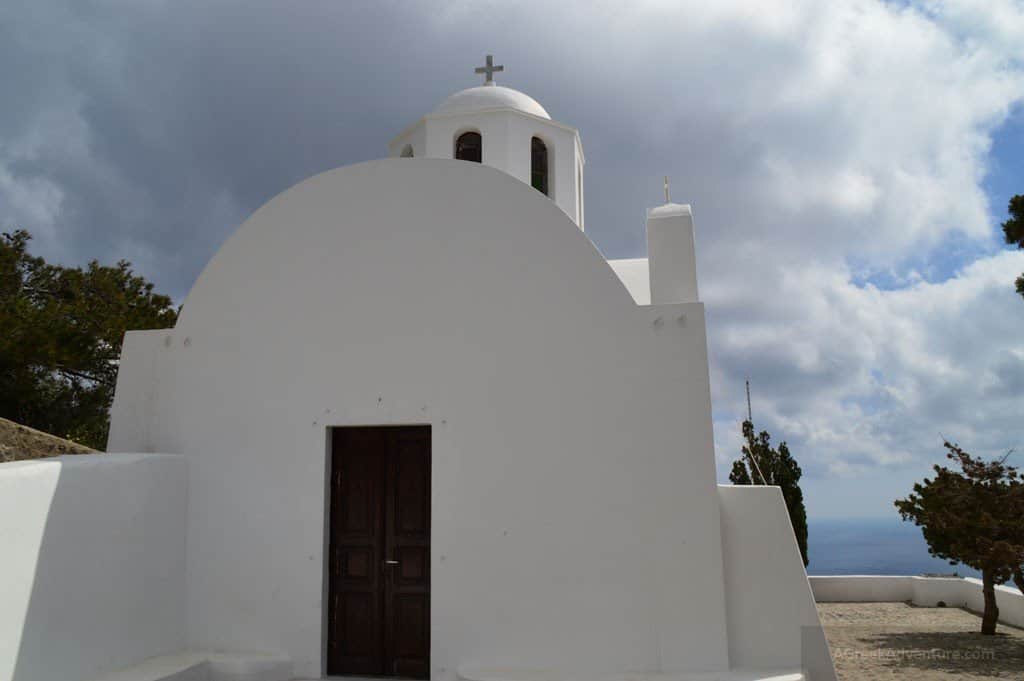 The whole path follows the "coastline."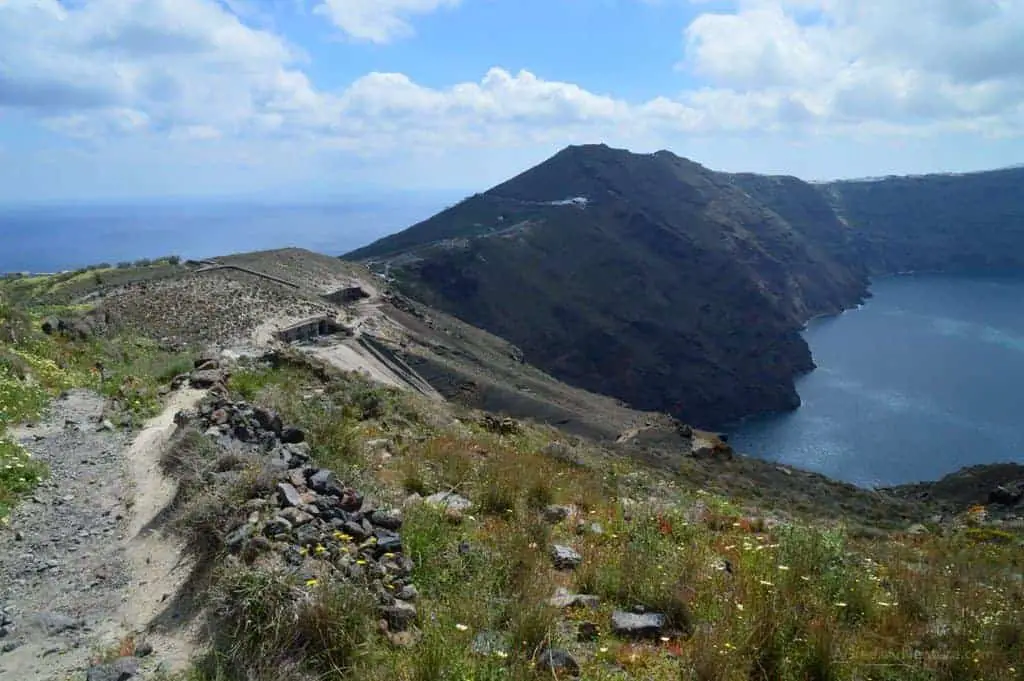 Pace and time are according to your frequent stops for pictures and admiring the view.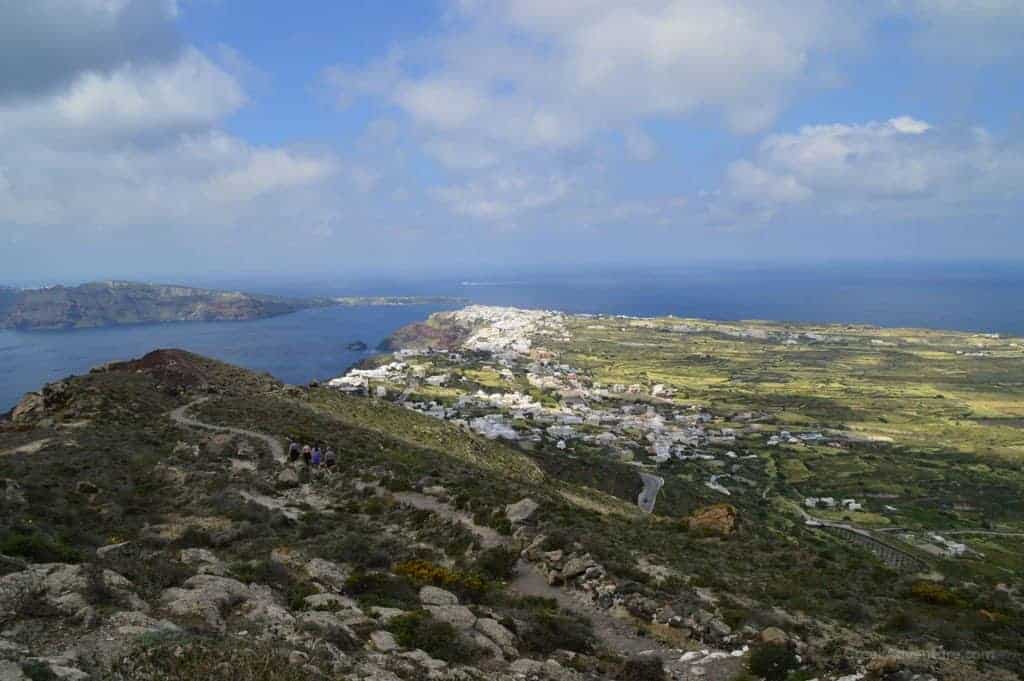 With a relatively leisurely pace, the Fira to Oia Hike route is around 2.5-3 hours one way.
The whole route is along a paved path with a constant great view.
Nothing is hidden to you, and this is what makes the route great.
After Imerovigli, you will find a hill where two paths start toward Oia, both ending at the same place.
The one at the right takes you from the side where you don't see the volcano.
You can take a left when you go and the right on your way back or vice versa.
This is what we did to see both sides and different views.
Spoiler alert: The view/side towards the Caldera is the great one.
Along the route, there is a small church that is based lower than the main route level (church of Saint Anthony).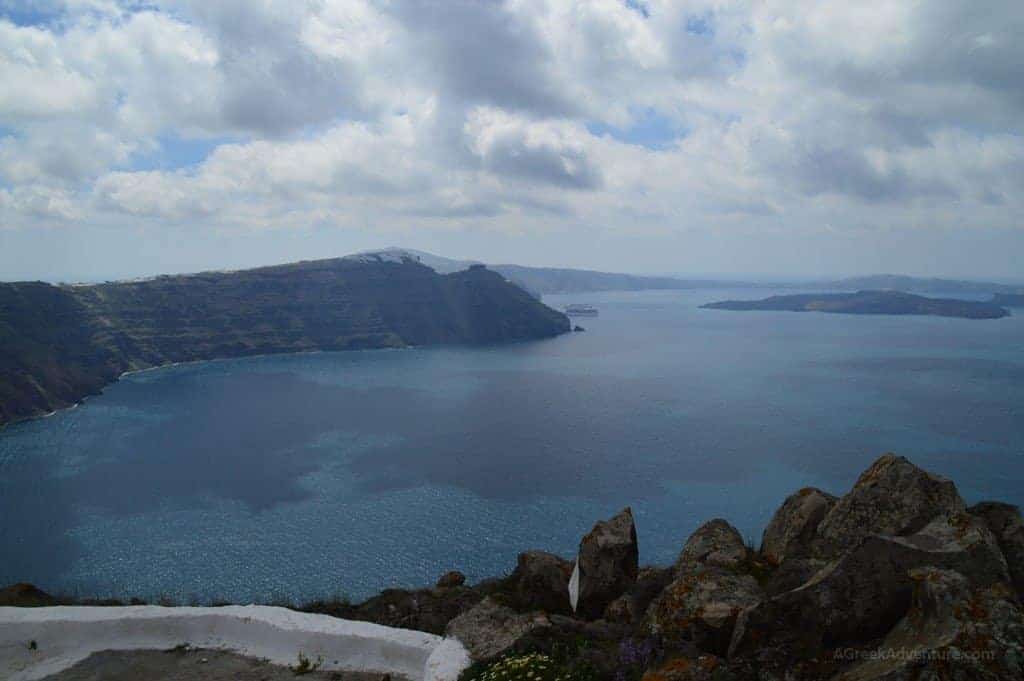 This is a lovely place for stopping and admiring the horizon and open sea.
Hiking Fira to Oia: Seeing Oia Village
Before arriving at Oia, you will find a second hill with (another) church.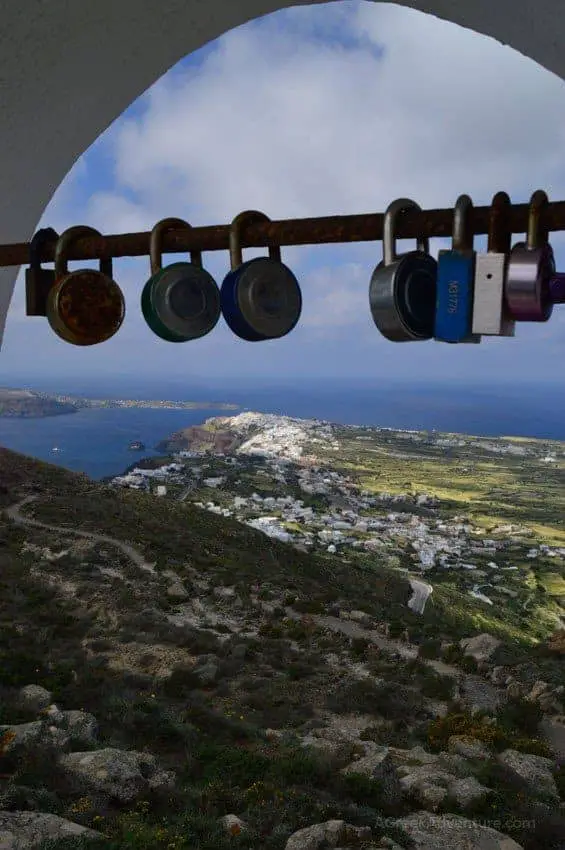 From there, you will have a panoramic view of Oia. Pretty nice one.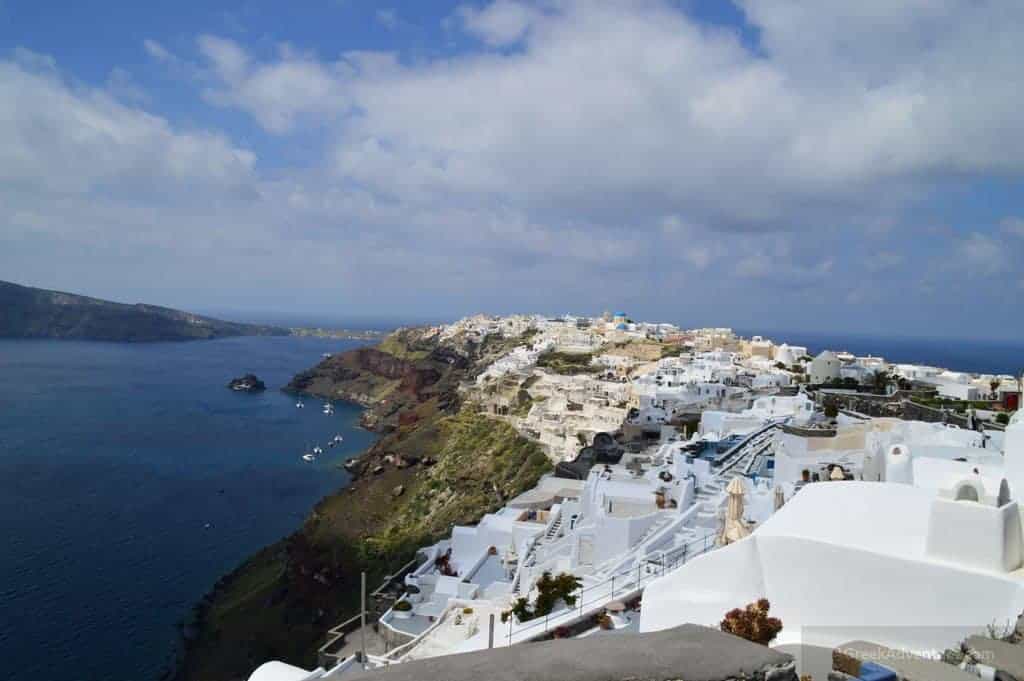 We are getting closer to Oia's main square.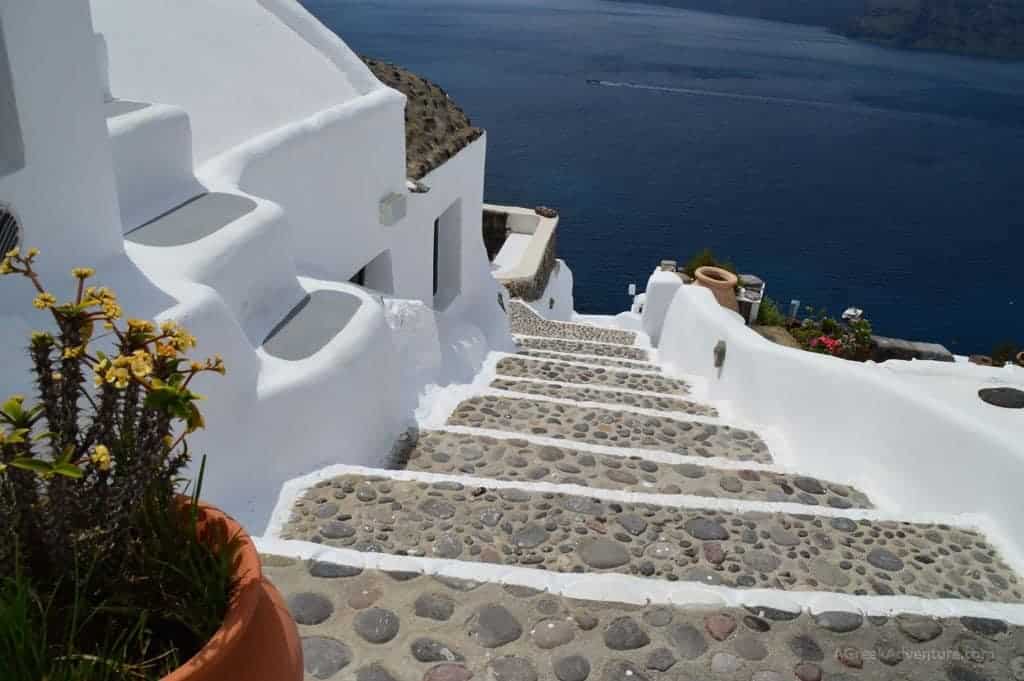 Here is the main square of Oia. In 1 minute walking time, there is a big parking lot, so you can start your hiking from Oia to Thira and return there, to take your car and get back to your accommodation.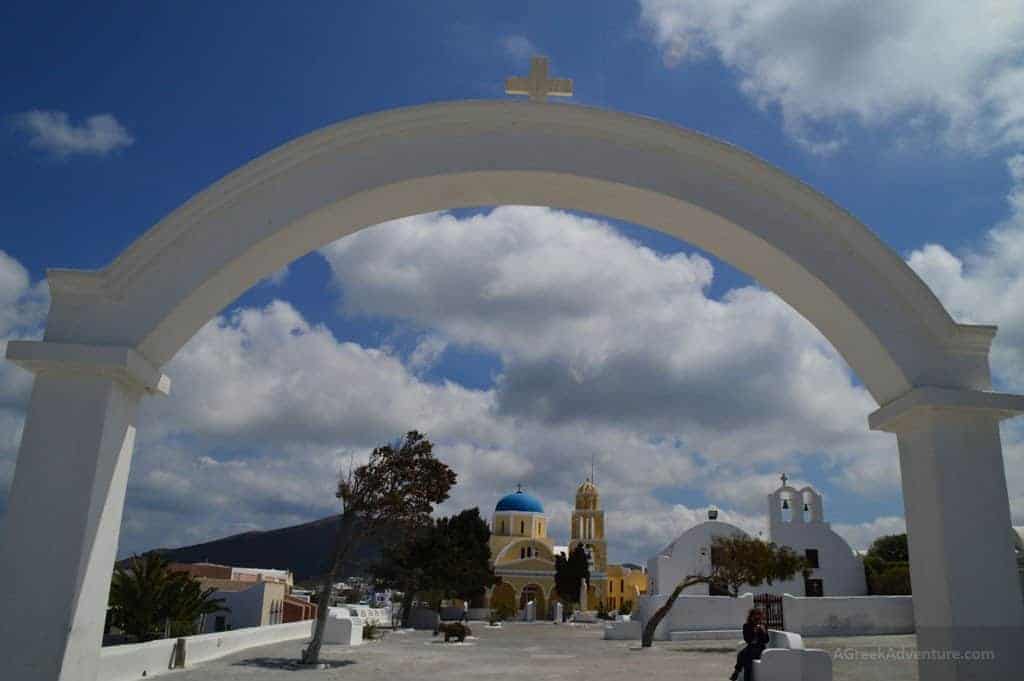 Streets (not all) are paved with marbles.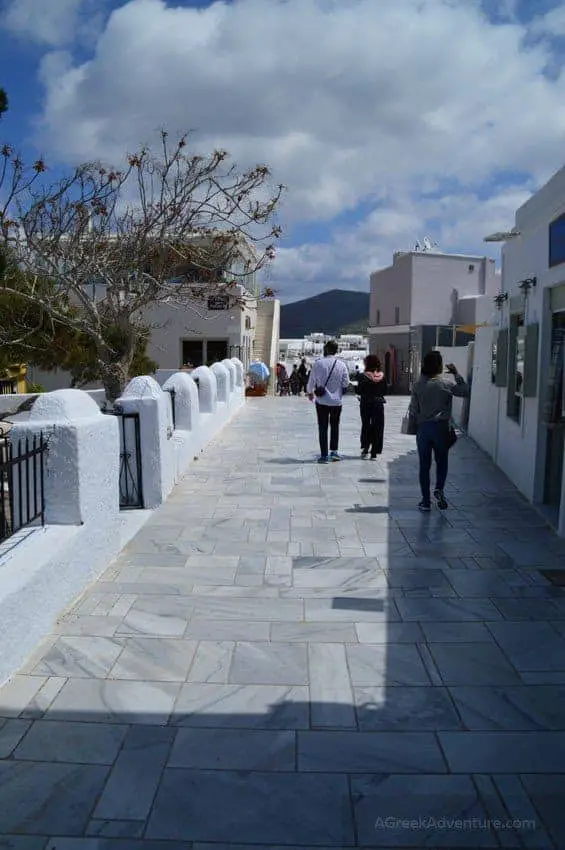 This house stands out.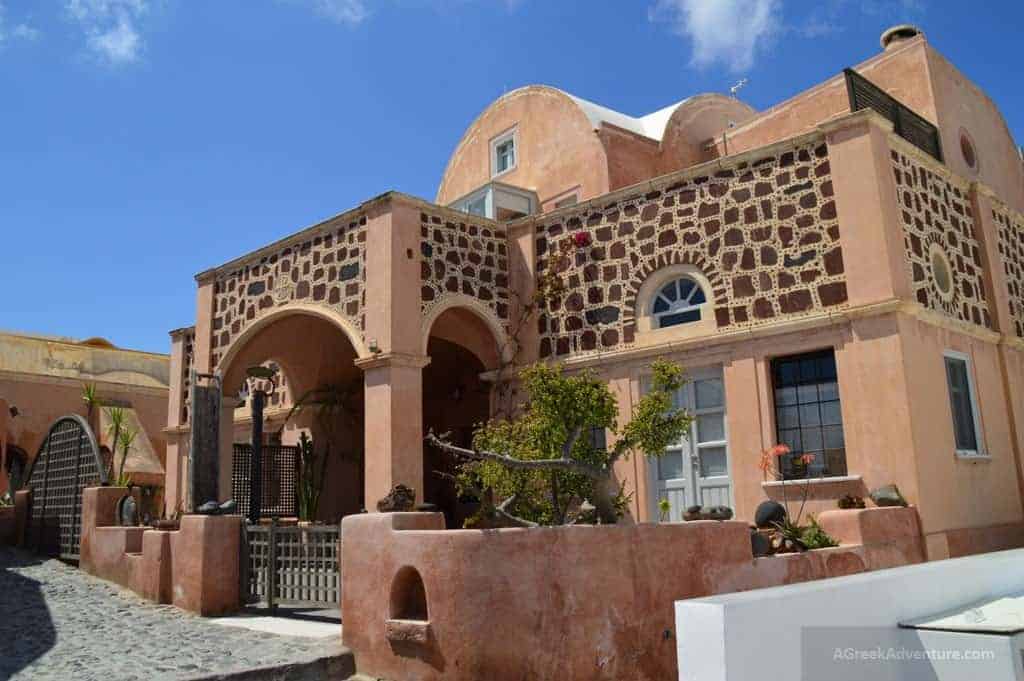 Oia is considered one of the most beautiful villages of Santorini Greece, known all over the planet for its beautiful sunset.
The thing is that the sun is the same one as everywhere, but the combination of Cycladic white houses with some of them colored differently, the color of the sea, and how all these are "painted" from the sun makes the whole scenery a magical one.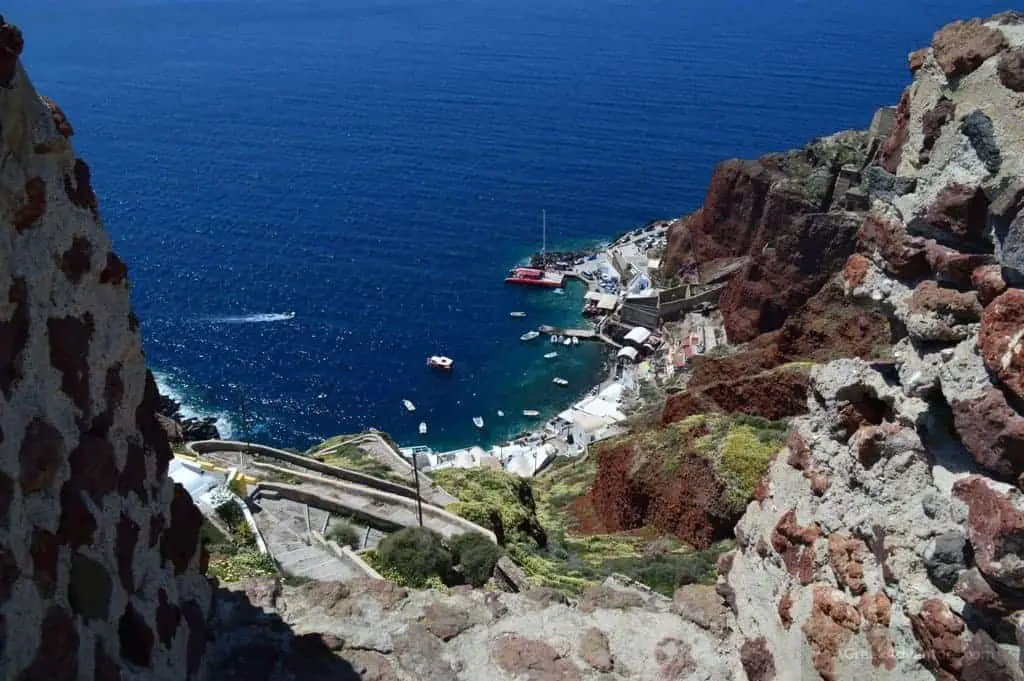 Here we are trying to "get lost" through the "corridors" and pathways of small apartments of Oia.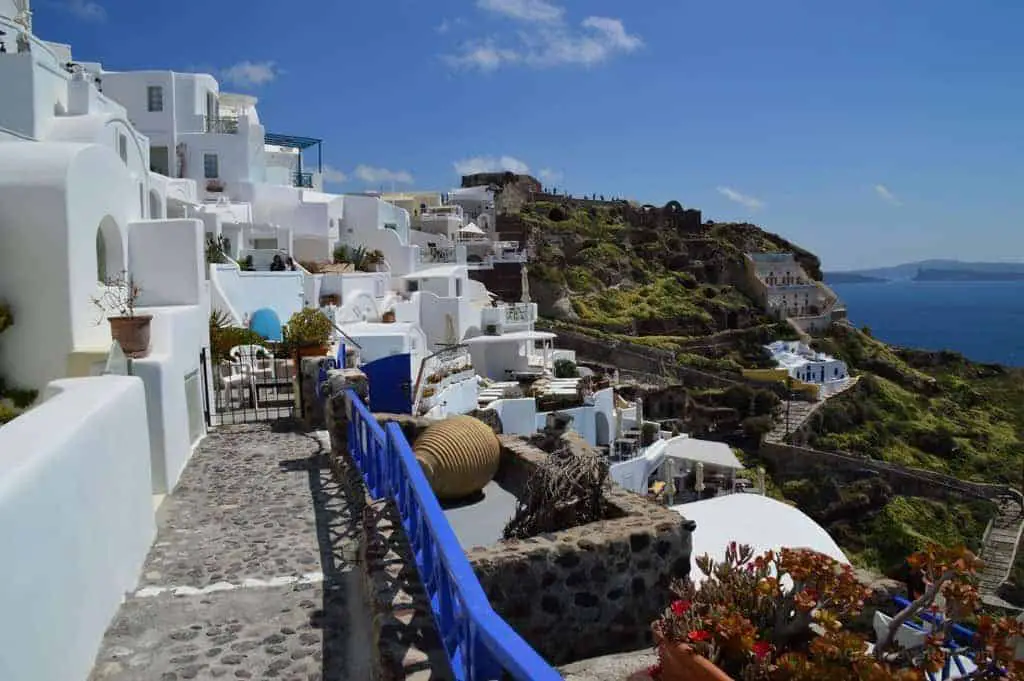 View of the small harbor of Oia from above.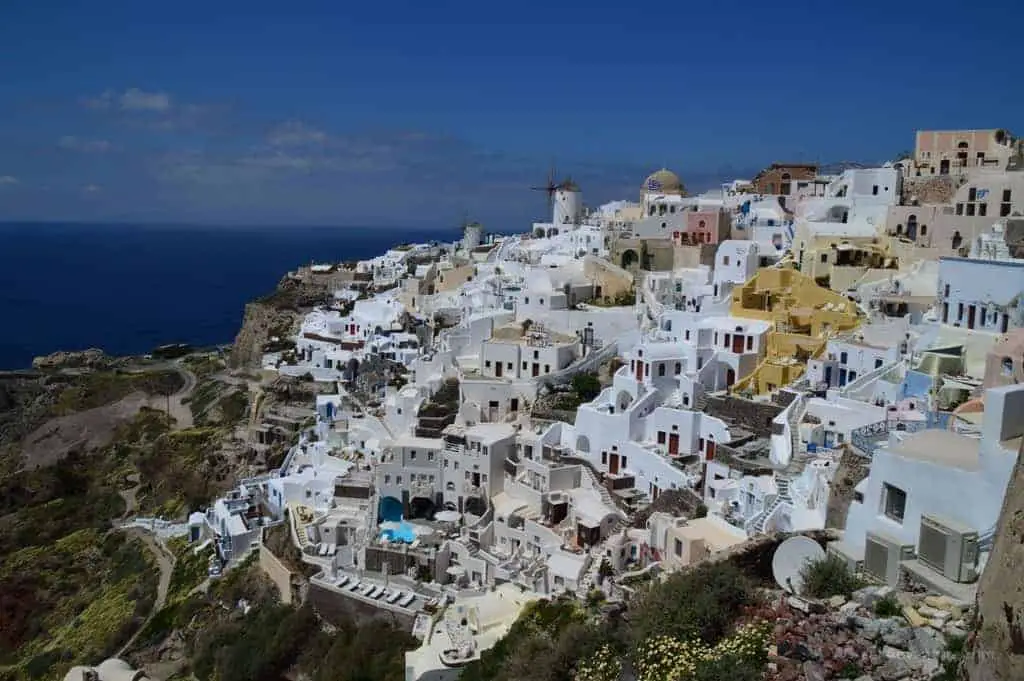 Oia can be a pretty nice place to take a rest and have a snack or lunch.
There are lots of places with a great view, far less than of Imerovigli.
The fantastic view is usually experienced if you stay in a hotel at the caldera. We stayed there, and we will post another article for this.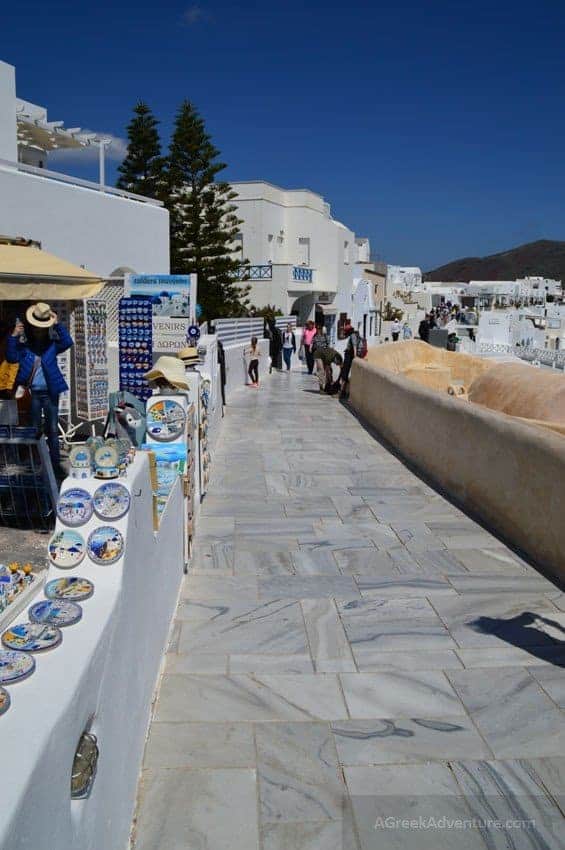 So, depending on your pace during your Fira to Oia hiking, you can take your break in Oia or in Thira (depends on where you start).
We preferred Oia, though. In Thira, you can stop for lunch or coffee at Firostefani. That is another location with a great view.
Hiking Fira to Oia: Going Back
We promise that this is a lovely route.
It is not the mountain/forest-like ones. You are in the Cyclades, so things are different.
The views will enchant you, and you will have tons of "postcard" pictures to take back.
Here is the other path we mentioned (from the right side of the hill).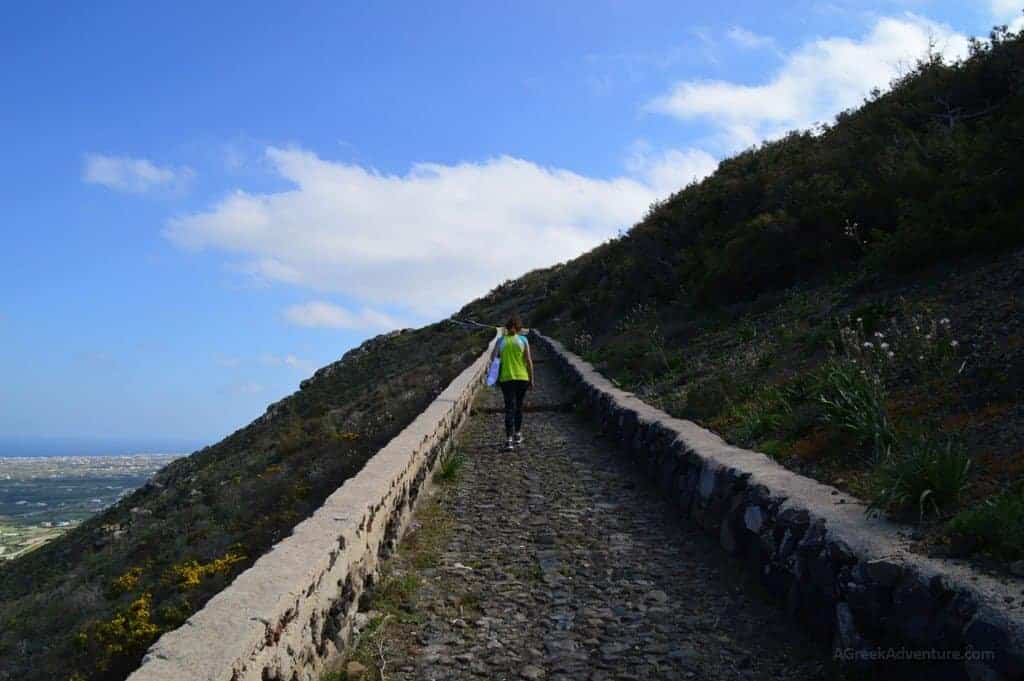 Here is the sign for the small chapel of Saint Anthony. Don't miss it.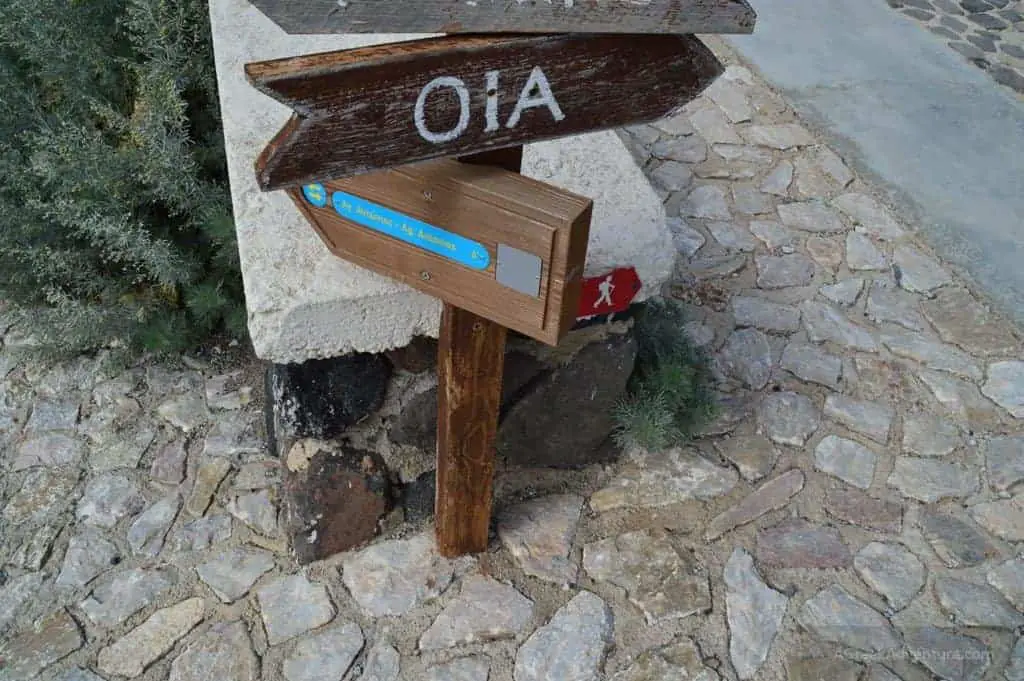 The chapel in blue and white Cycladic colors.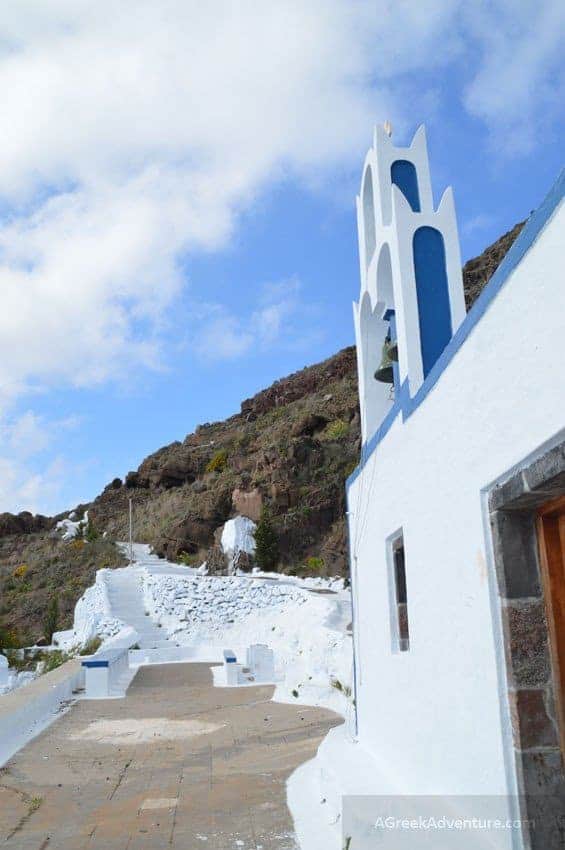 You can sit here and enjoy this spectacular view.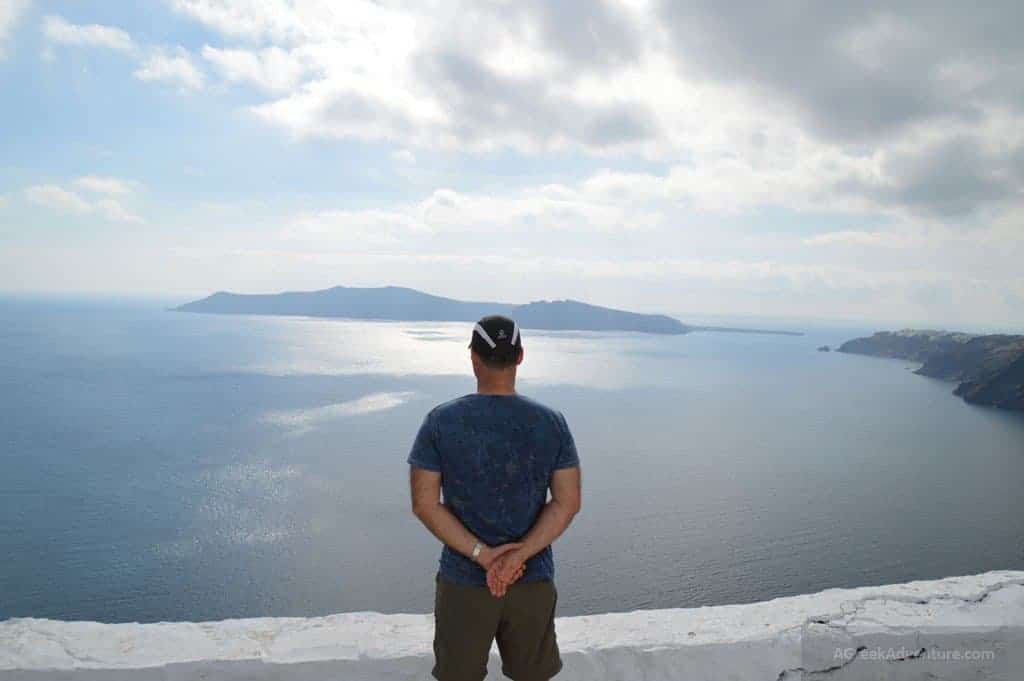 Here is how it looks from above. At the far end is Imerovigli.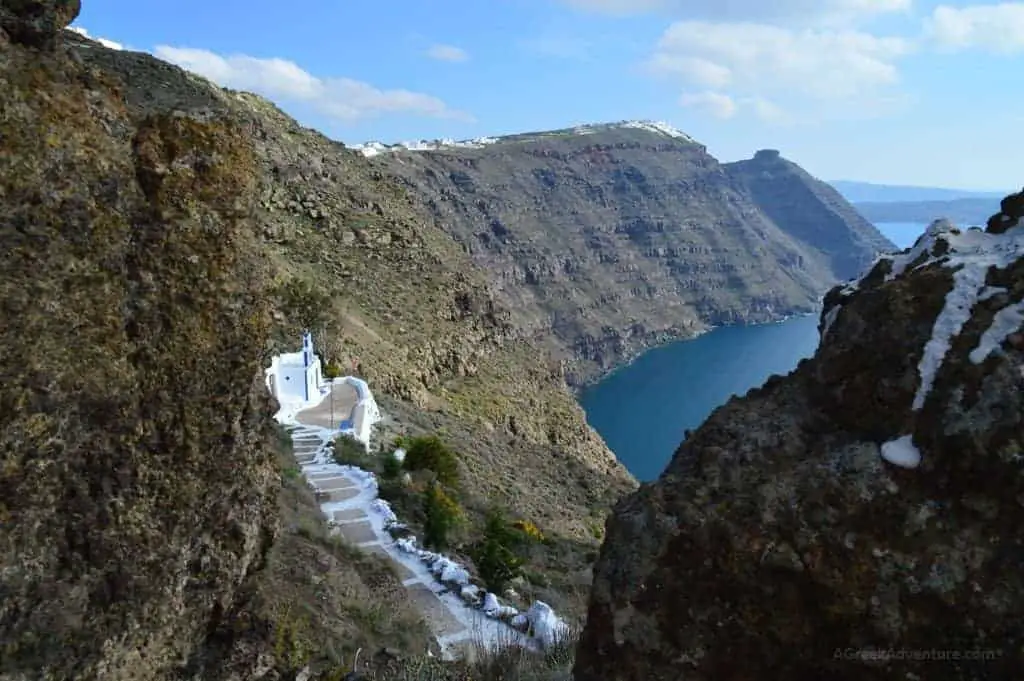 Sun goes down as we are back to our hotel in Imerovigli.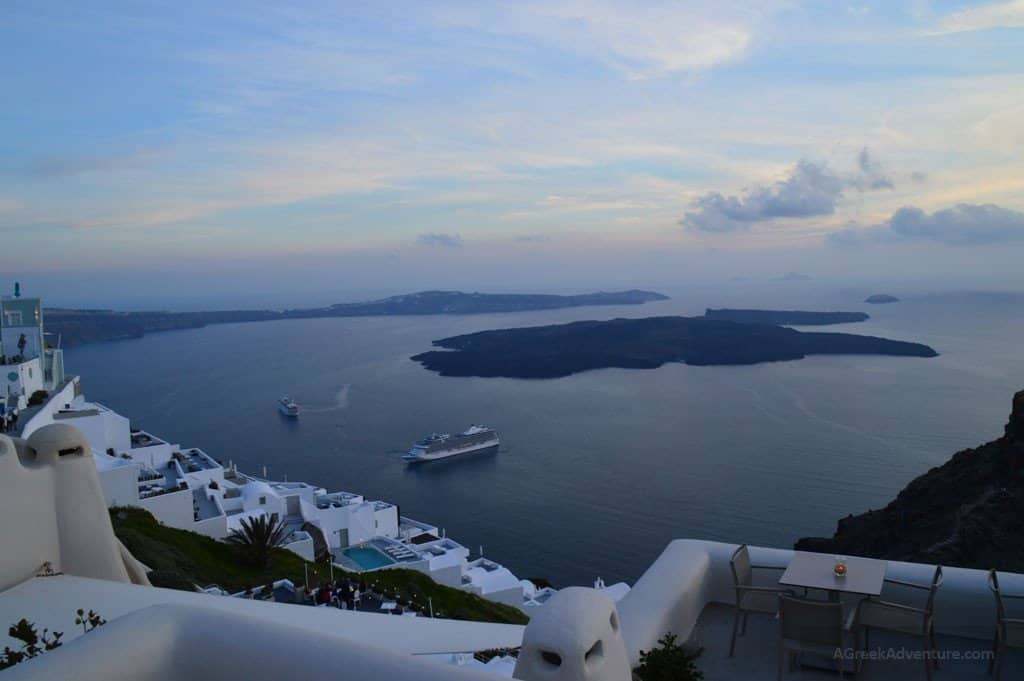 It seems any picture taken in Santorini Greece is "doomed" to look great.
It is the sun, architecture, and contrast of white with blue that give back spectacular results.
Enjoy.
Have you been to Thira Greece or heard of this Greek island?
If so, please share your opinion. Check the things you can do in Santorini from here.
Also, read: