The village of Pyrgos in Santorini is mostly related with Easter festivities.
If you visit the island of Santorini during Orthodox Easter time, everyone will tell you to make sure to visit the village of Pyrgos Santorini on Good Friday (in Greek: Megali Paraskevi). Pyrgos means "Tower" in Greek and is a hidden gem on the island.
About Pyrgos Santorini
The village of Pyrgos is seen from afar, surrounded by blue-domed churches. There are plenty of small galleries and artifact shops. Most of them you will meet while you walk through its narrow streets.
There are plenty of monasteries and churches to visit, yet the most worth-mentioning one is the Profitis Elias monastery. This monastery hosts an important collection of ecclesiastic items and artworks, inside the chapel of the Holy Trinity (Agia Triada).
Santo Winery which is a lovely place for wine tasting. Santo Winery is located on the edge of a cliff and offers an amazing view over the ocean.
If you like wine then visit Santo Winery, close to Pyrgos. The location is on the edge of a cliff, and the views from there are unparallel.
To get to Pyrgos, you can hire a taxi or take the local bus (cheaper and frequent). The buses usually leave from Fira, so if you stay in any of the popular villages of Santorini (Imerovigli, Fira, Perissa) you will need to go there first.
If you feel more adventurous, you can rent a car or a scooter.
Walking Through Pyrgos Santorini Village
It is the highest village on the whole island so it provides a panoramic view to both sides of the island.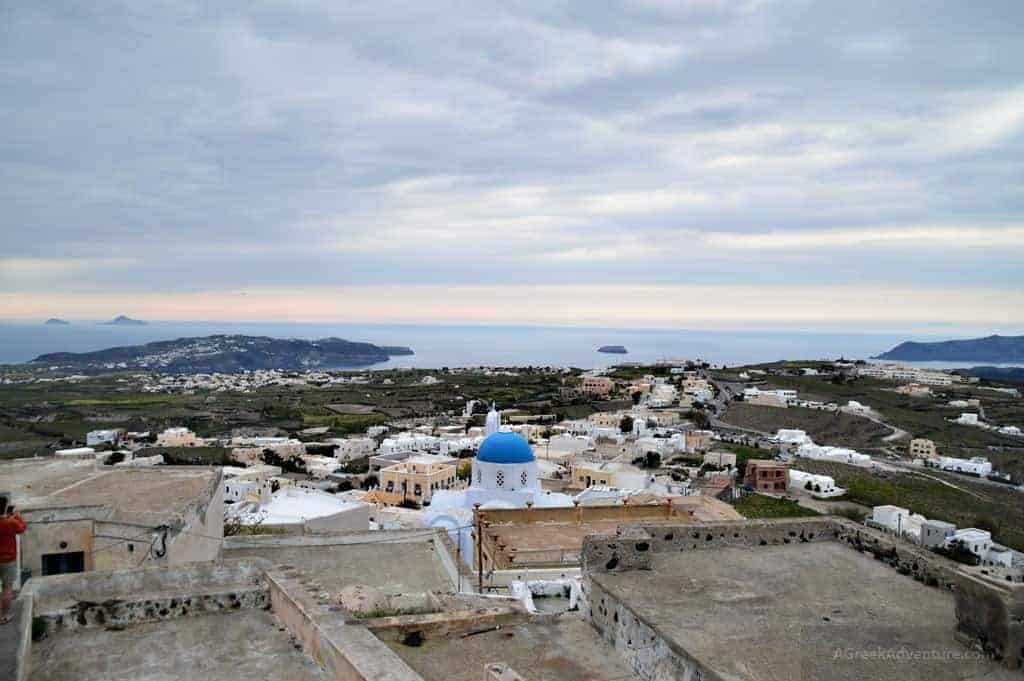 In the Easter period, they have a custom in Pyrgos Santorini, where they set thousands of little fires all over the castle area and church.
The view (at night time) is spectacular, and Pyrgos in Santorini is just 7km outside Thira (capital of Santorini) if you stay there.
However, Pyrgos in Santorini, is a nice village to visit outside the Easter season, even for a walk.
As you enter the village you will find some pretty nice taverns with relatively good food.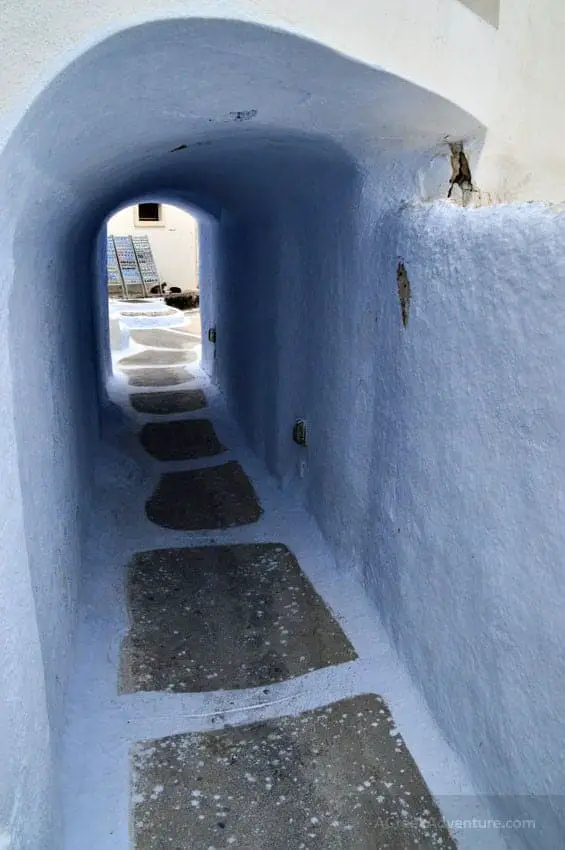 However, the main attraction in Pyrgos, Santorini, is the tower and church at the top, along with all the small alleys on your way there.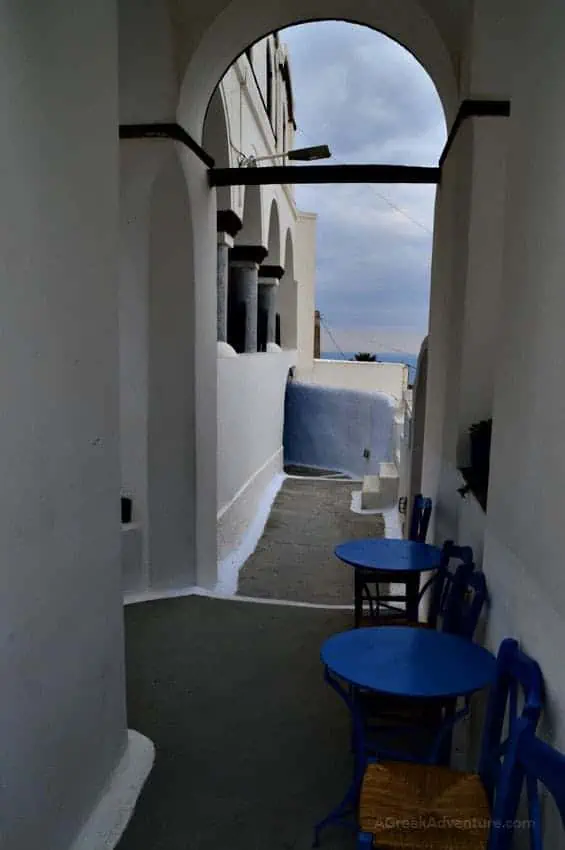 There is also a very nice small coffee/wine house where you can enjoy a refreshment at the roof, along with gazing at the surrounding view. It is called Franco.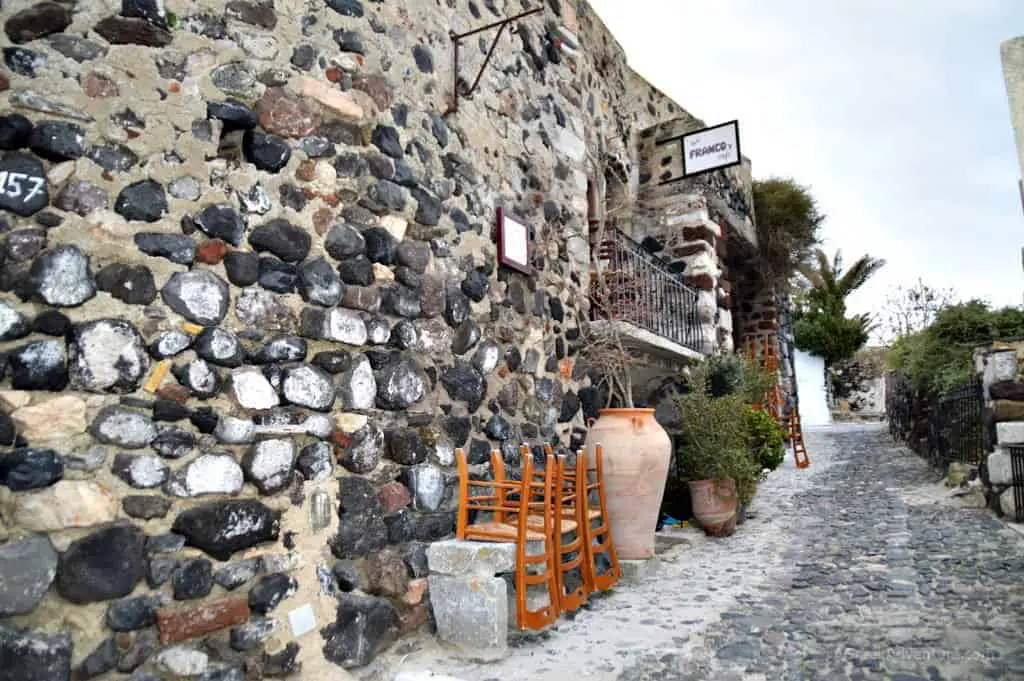 Below is the view from the terrace of Franco's. Nice place for a break, right? You can have a surround view of Pyrgos, Santorini along with a large part of this side of the island.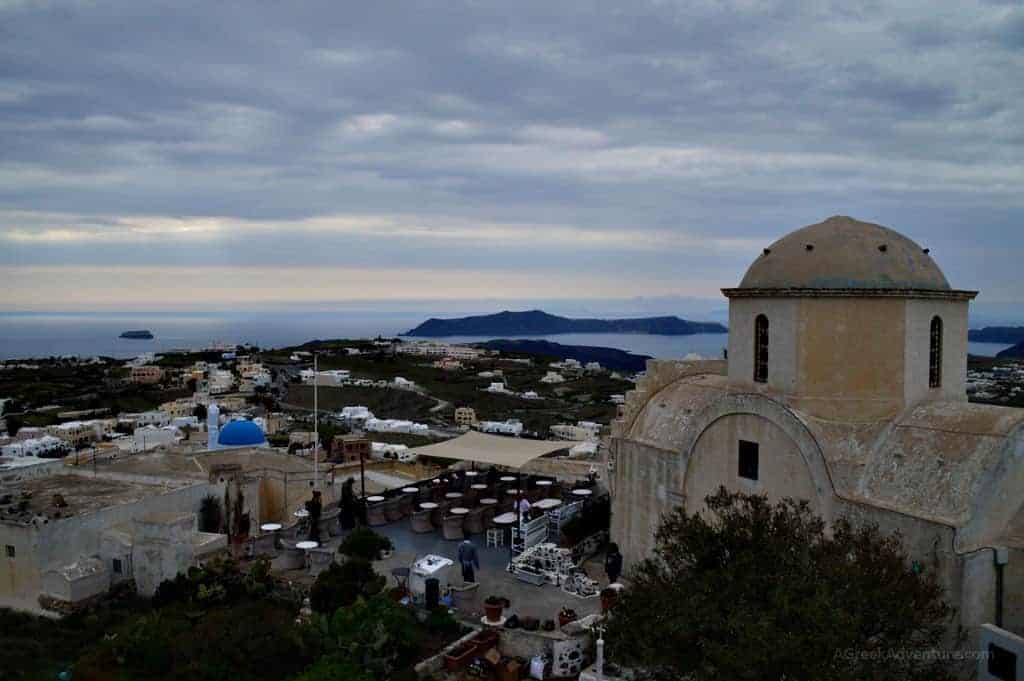 Seems most people visit Pyrgos in order to take photos at the rooftops of the church and through the tower.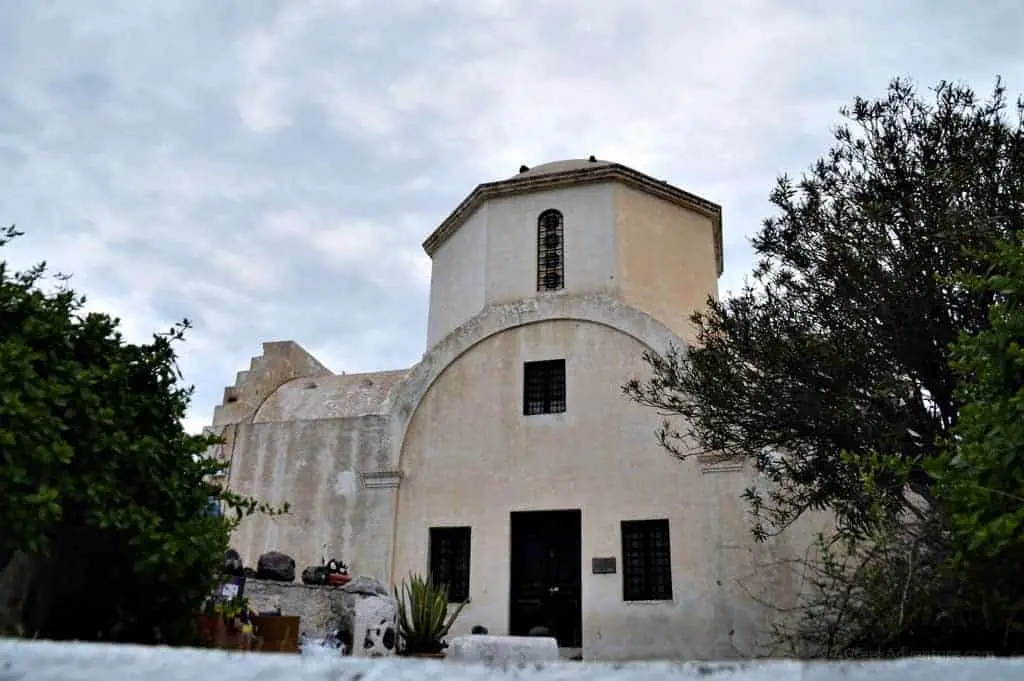 In various alleys of Pyrgos Santorini, there is a small variety of tourist shops with local products and artifacts.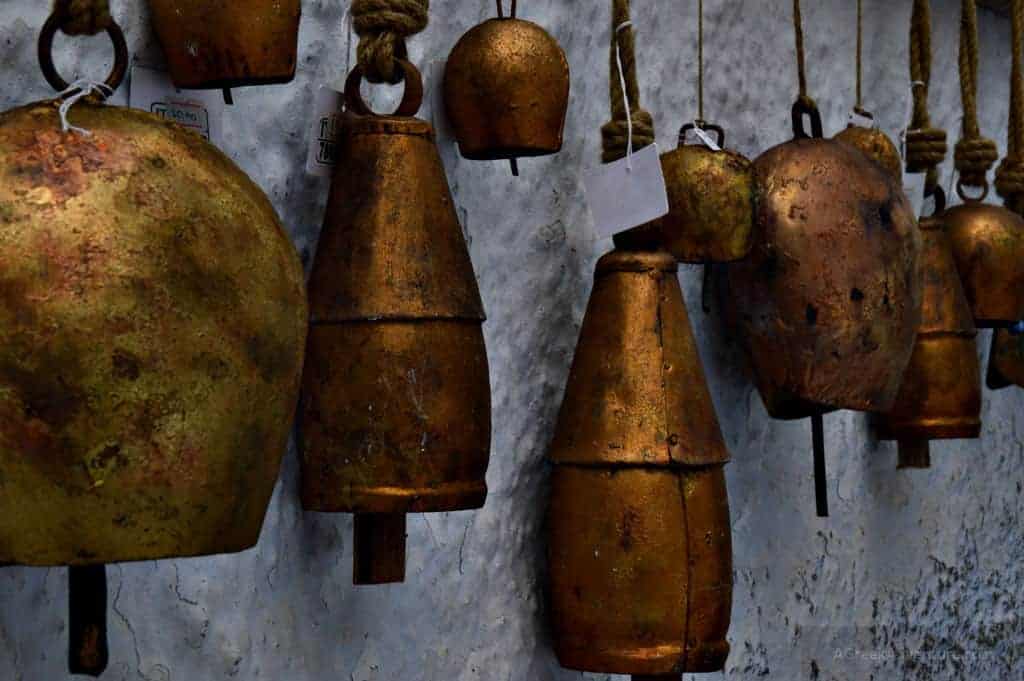 We walked all these alleys to experience the local architecture, which seems to vary from one of the caldera villages of Santorini.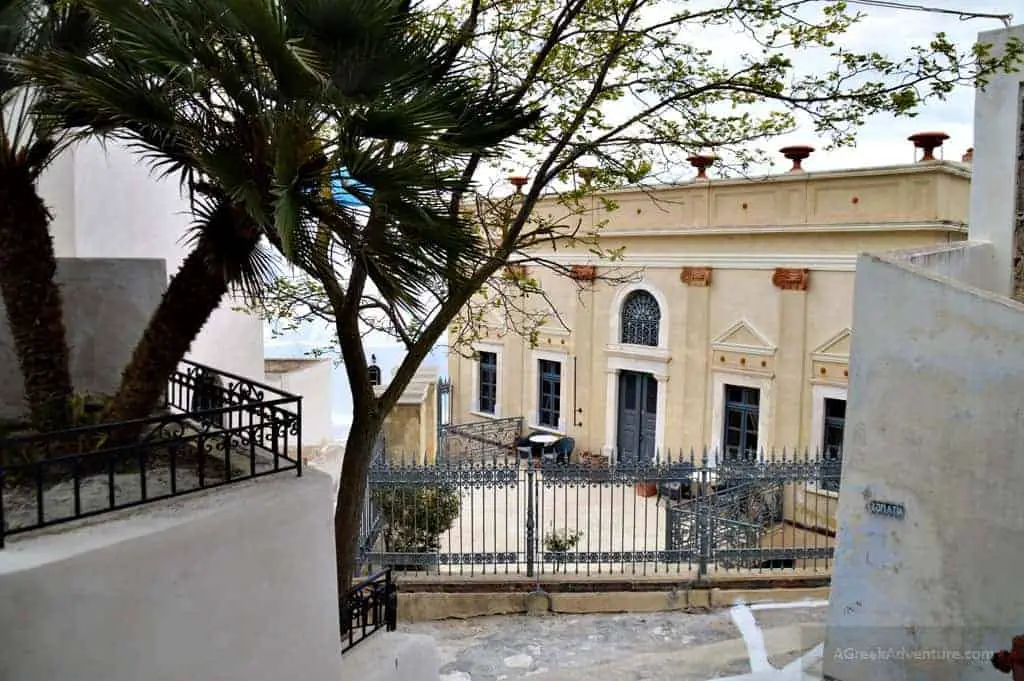 When you visit Pyrgos village in Santorini, make sure to do it during day time, as the light is perfect in Santorini. Unfortunately, we had a bit of cloudy weather, as you see.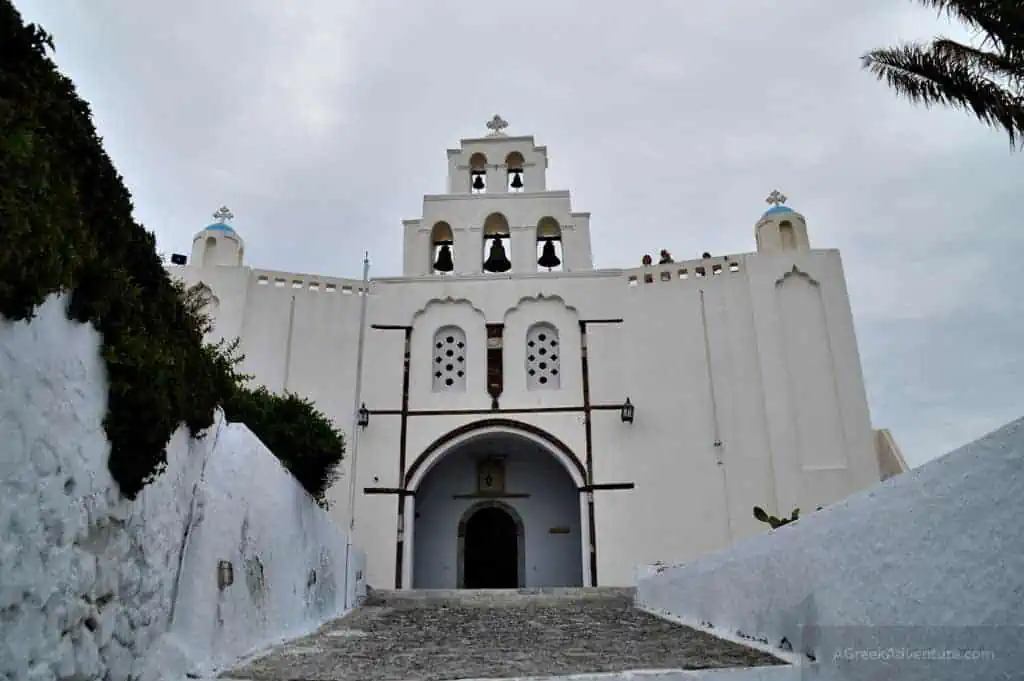 So, we had a nice time there, but the village of Pyrgos wouldn't be our village of preference (when it comes to accommodation).
However, it is a nice place not very far from the popular villages and worth to visit.
Make sure to read more of our articles about the things to do in Santorini. Have you been to Pyrgos Santorini to admire the views? Do let us kknow.
Enjoy!
Also, read: