There is no way someone will miss Santorini Fira (or Thira). It is the capital of Santorini, and all primary public services are there.
Most of the nightlife happens there too.
A good part of Fira is pretty nice to visit, stay, see, eat there and enjoy the view, as it is also at the edge of the caldera cliffs (like Oia and Imerovigli).
There is a beautiful walking route from one side of Fira to the other, but it is better to extend and also go through Firostefani.
Many do not understand that these 2 are two different things since they are very, very close.
Read our post of all the things to do in Santorini.
What To Do in Fira, Santorini?
So, we did that walk starting from our hotel in Imerovigli.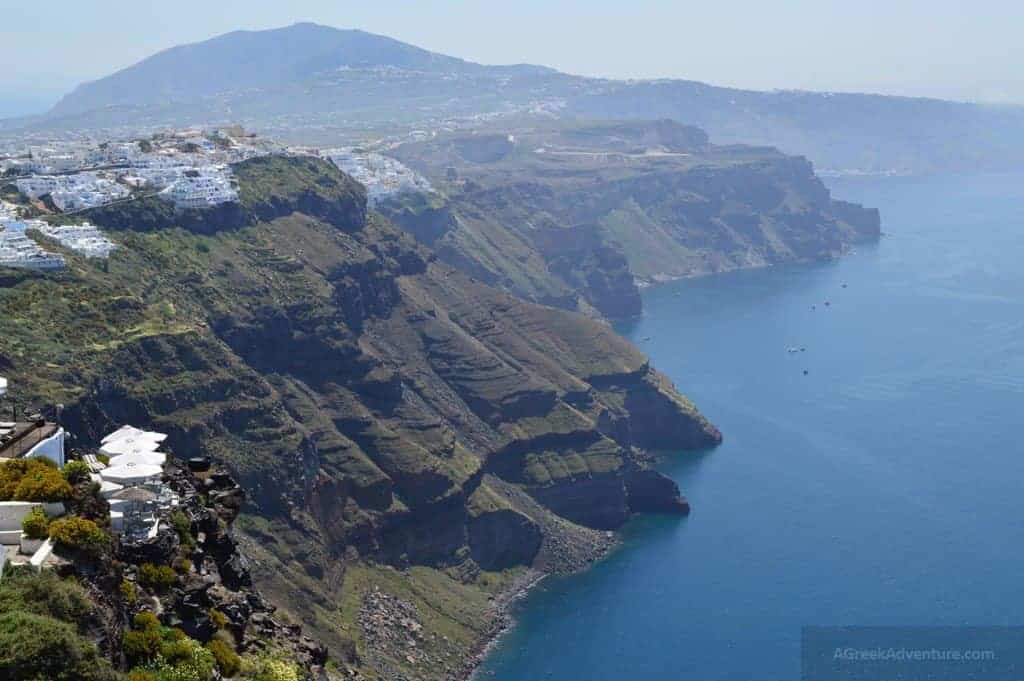 Along the way, we stopped to take as many photos as possible, since the whole area is like taking postcard snapshots of literally everything.
A 30 minutes distance took us 1 hour. Here Maria gazes the majestic view.
The day was a bit foggy but mainly at the caldera. The fog touched mostly Fira (Thira) and Imerovigli.
How white can it be, indeed? Photos are with no process at all.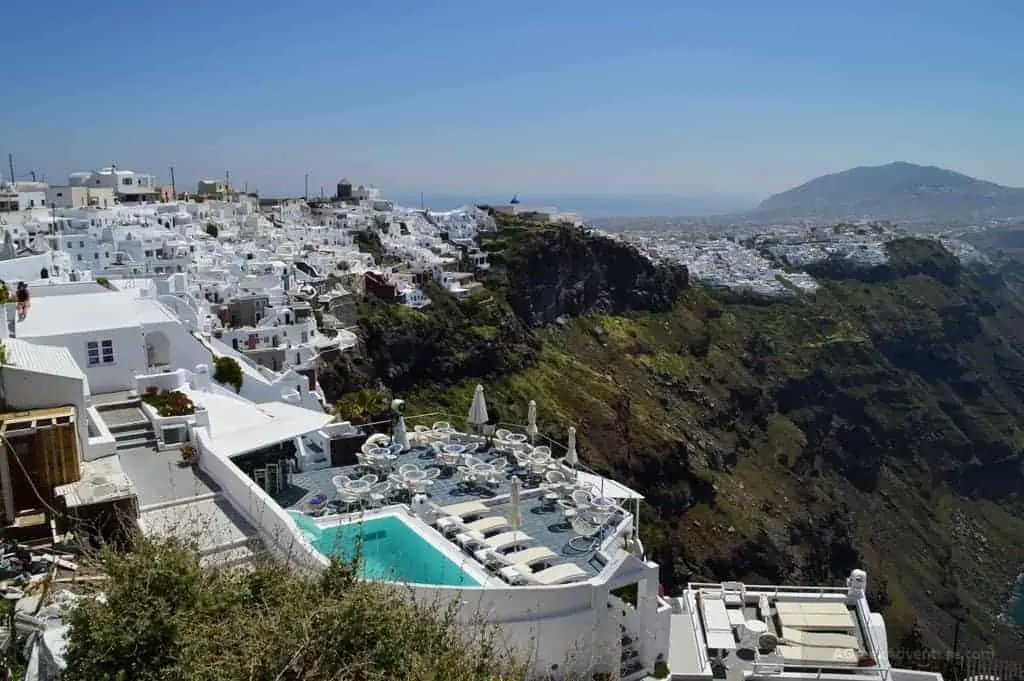 There are luxury hotels and villas along the way.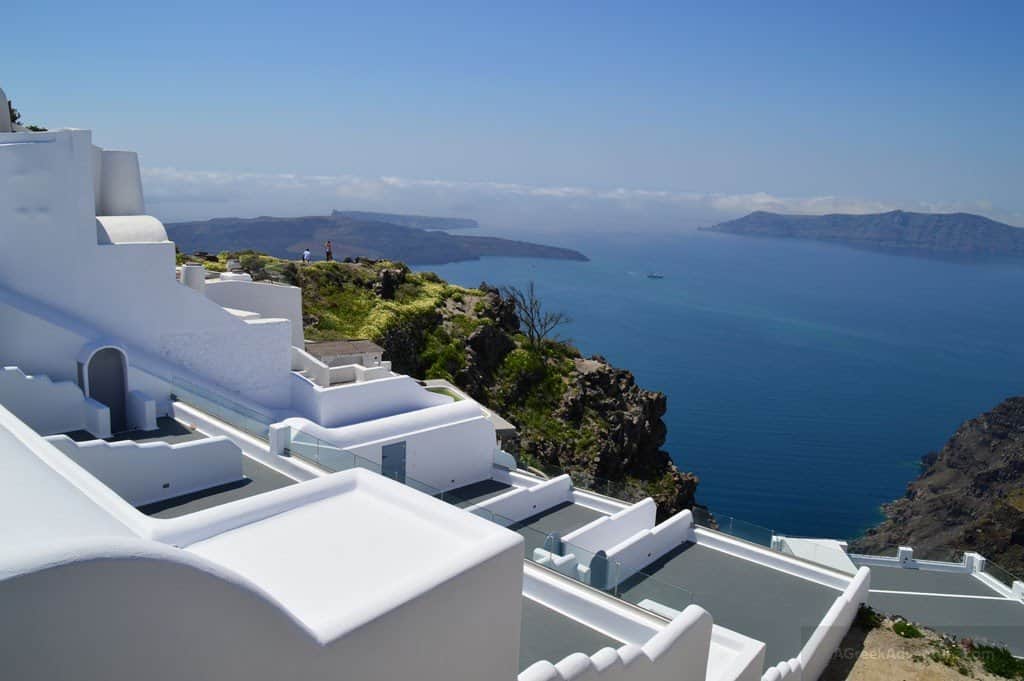 Aren't these church colors perfect?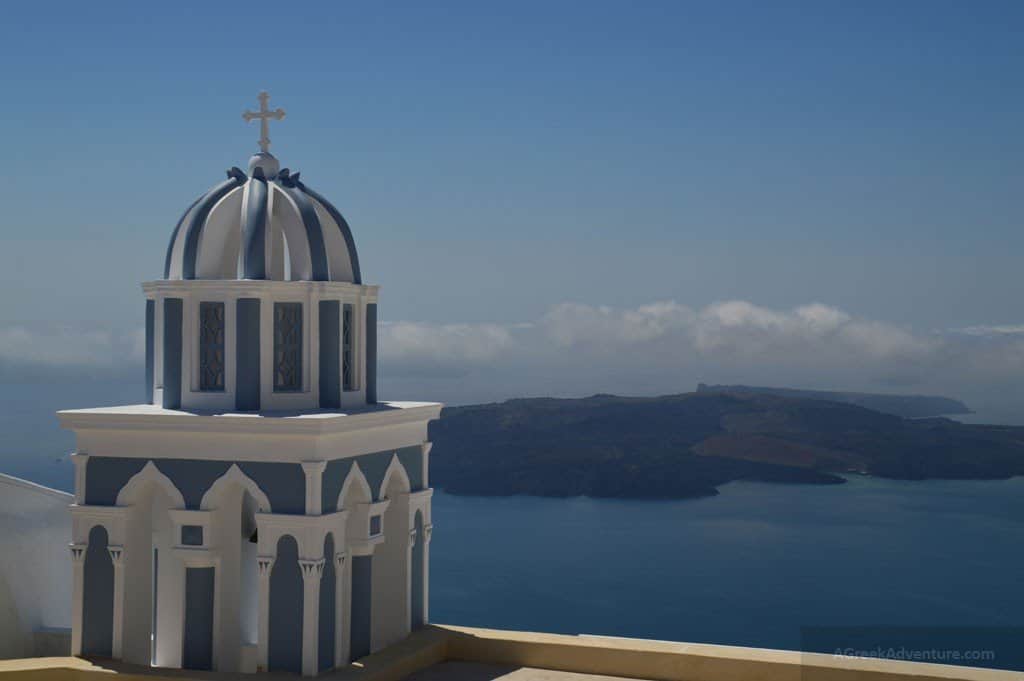 Another "postcard" material below!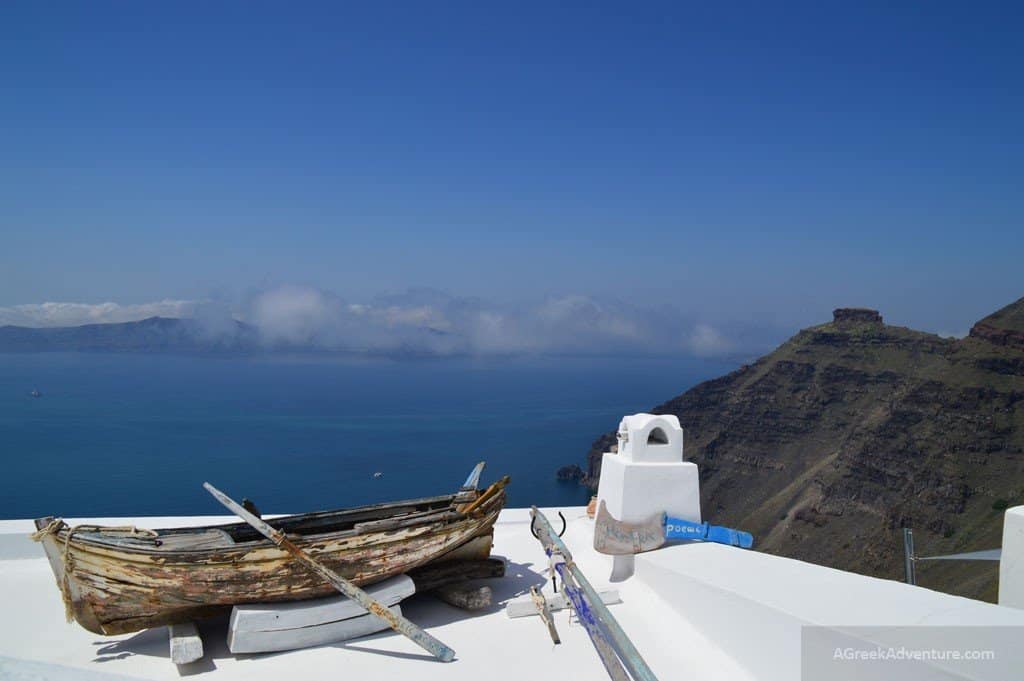 What about this one?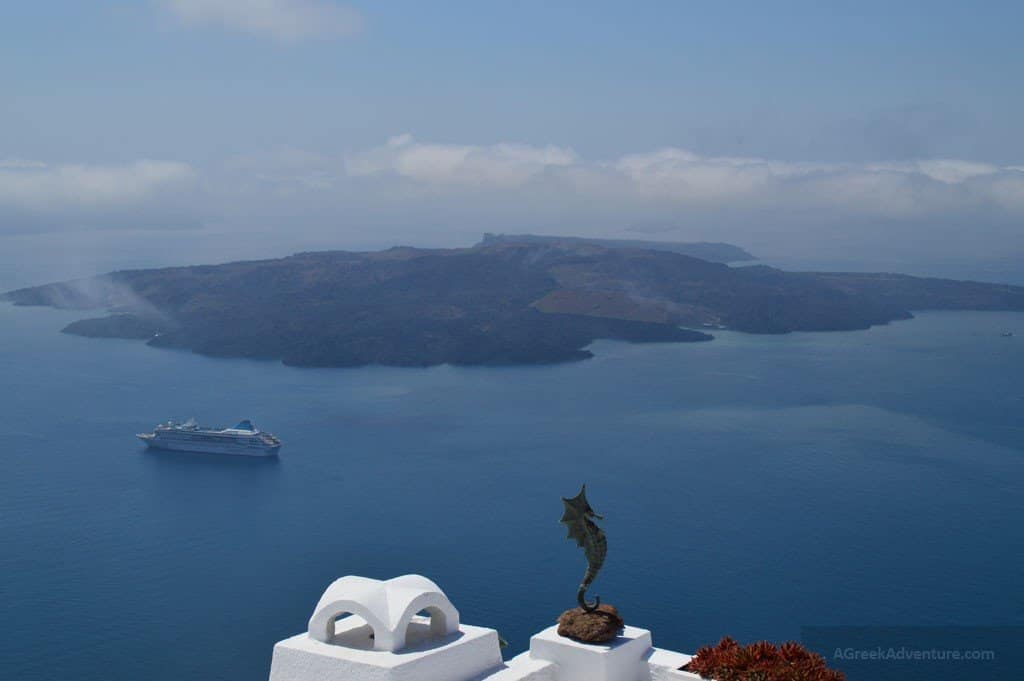 And this maybe? All these are rooftop decorations.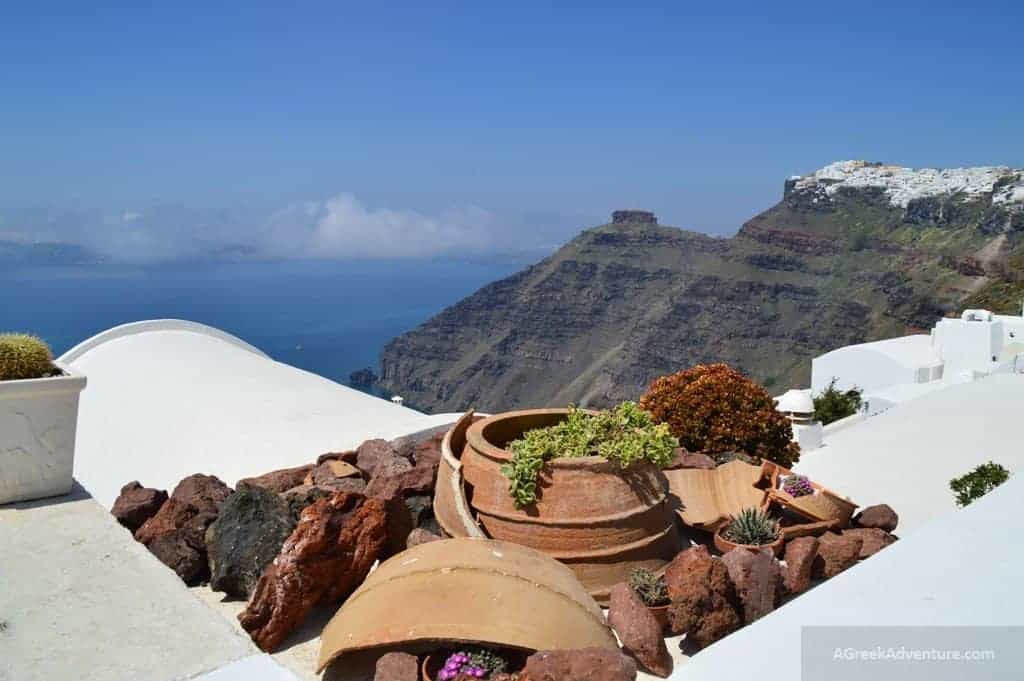 Here is the path that goes from Firostefani to Fira (Thira).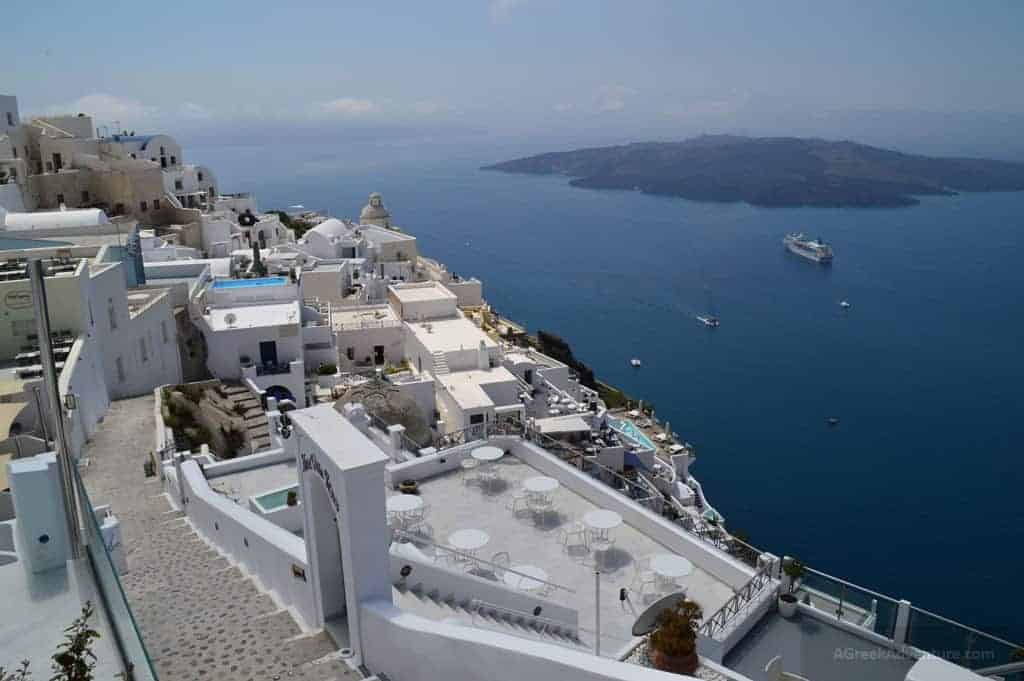 At some point, you meet this square.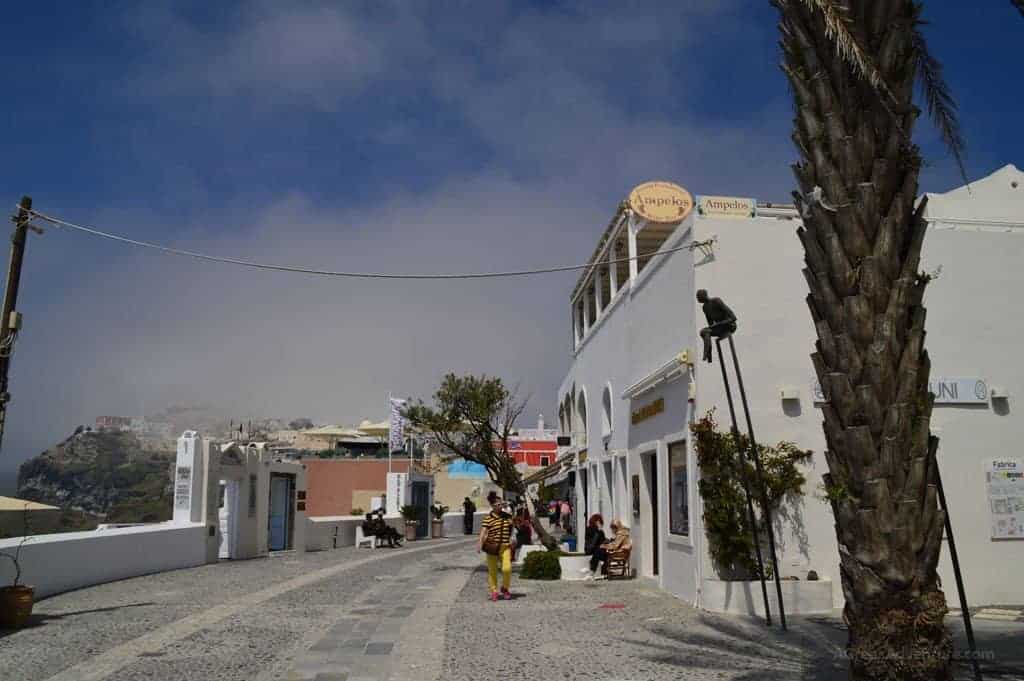 On the left side, there are restaurants and bars at the caldera cliffside.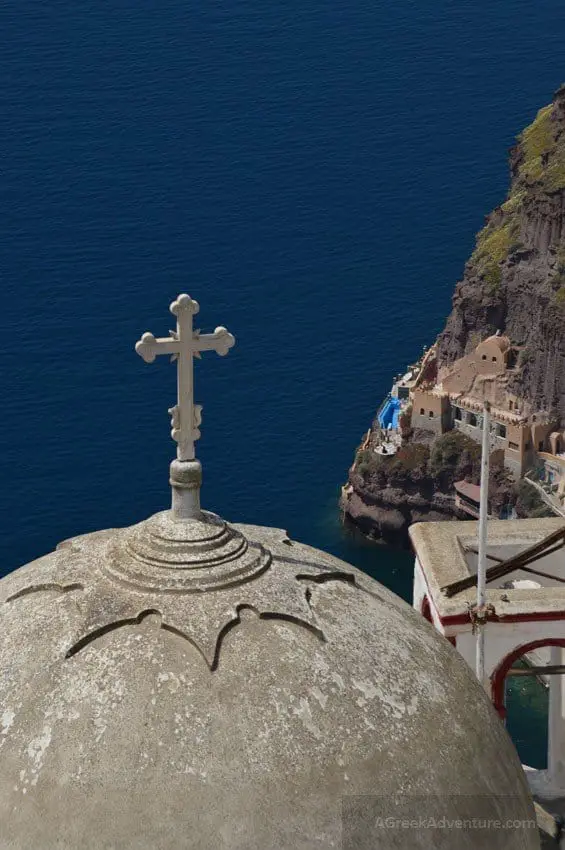 The harbor of Thira looks like a postcard.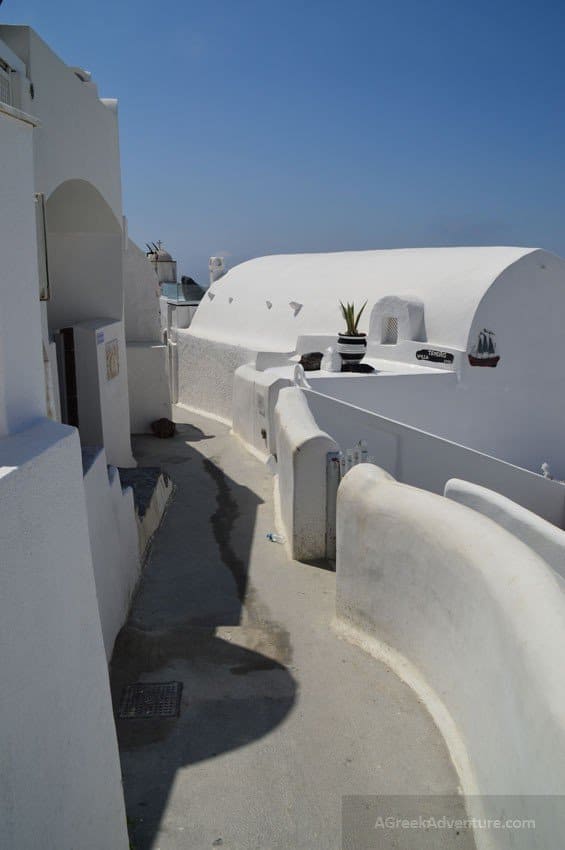 These stairs lead from the village top to the harbor.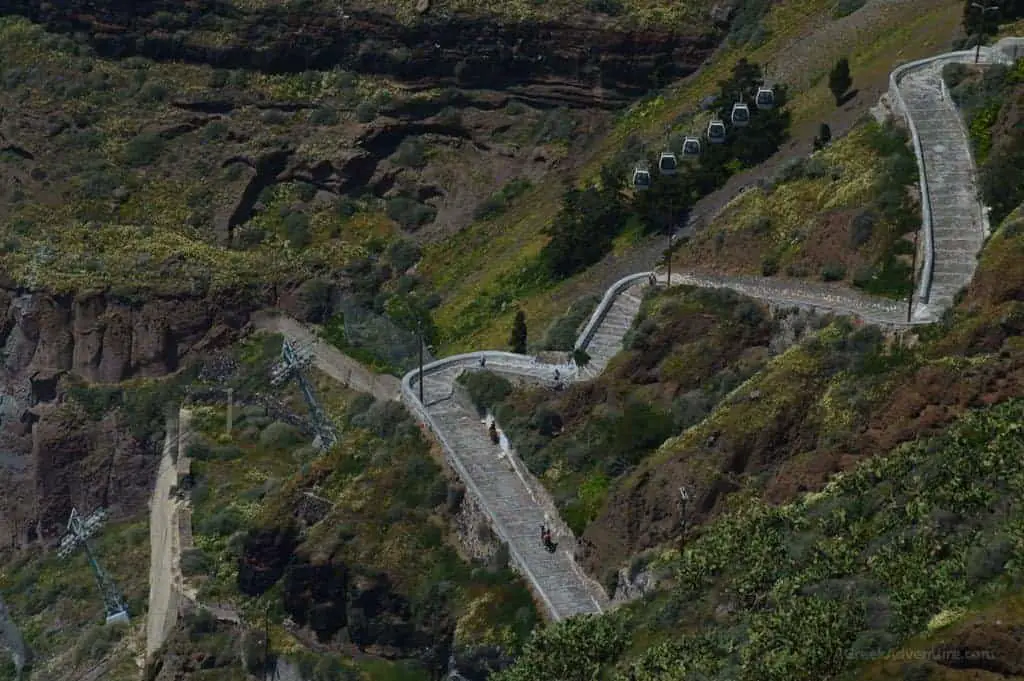 They are a lot, and on a hot day, getting up and down can be exhausting.
However, tourists go to the port with either Cable car (around 6 euro per person, one way), or on donkeys/mules (we didn't do that so, we don't remember the price).
Here is the Fira harbor. From here ships sale towards Nea Kameni too (the volcano).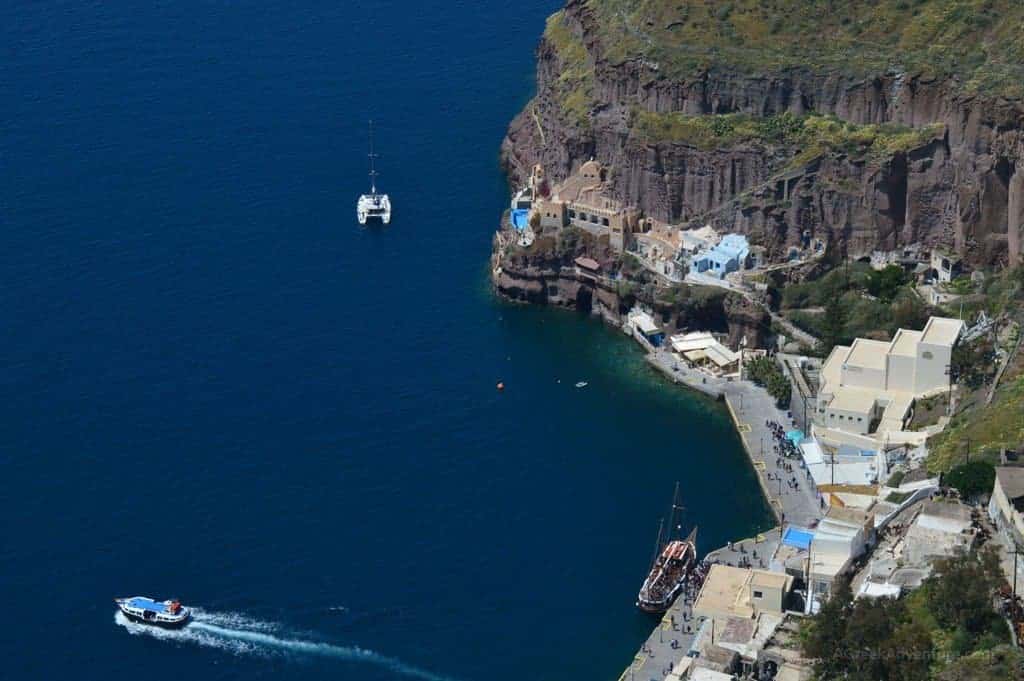 These ships are very nice ones, and they take you for swimming also.
They usually have bars onboard with actual bartenders.
Here is the view from a cafe where we had a break.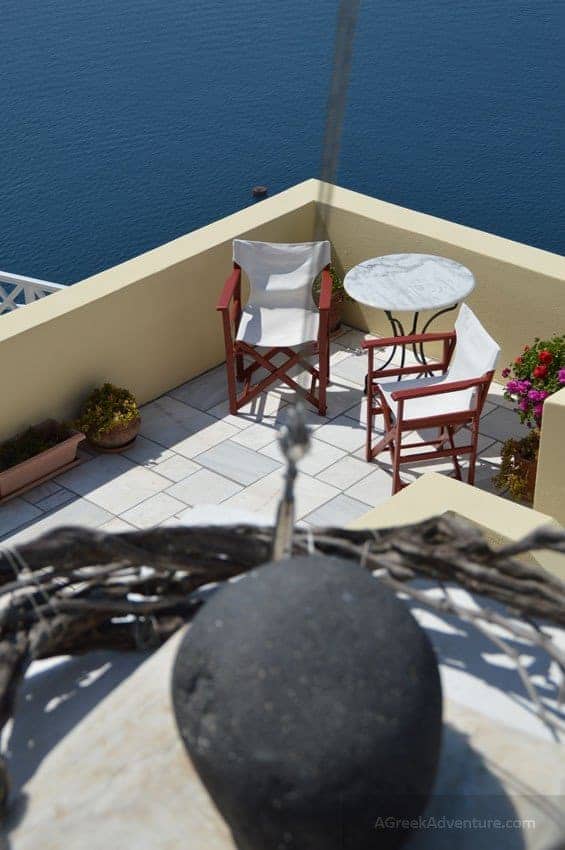 Donkeys and mules are waiting for taking people up and down.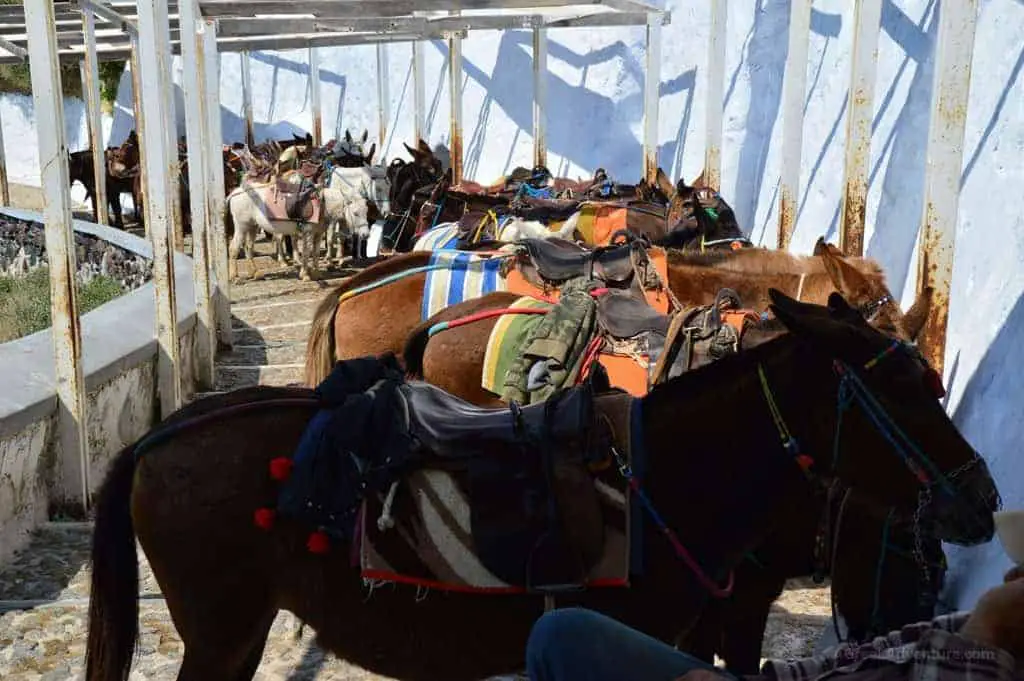 Here is how it works. If you take the stairs, note that donkeys take their "number 1 and 2" as they walk.
That means that it looks like walking through a "minefield."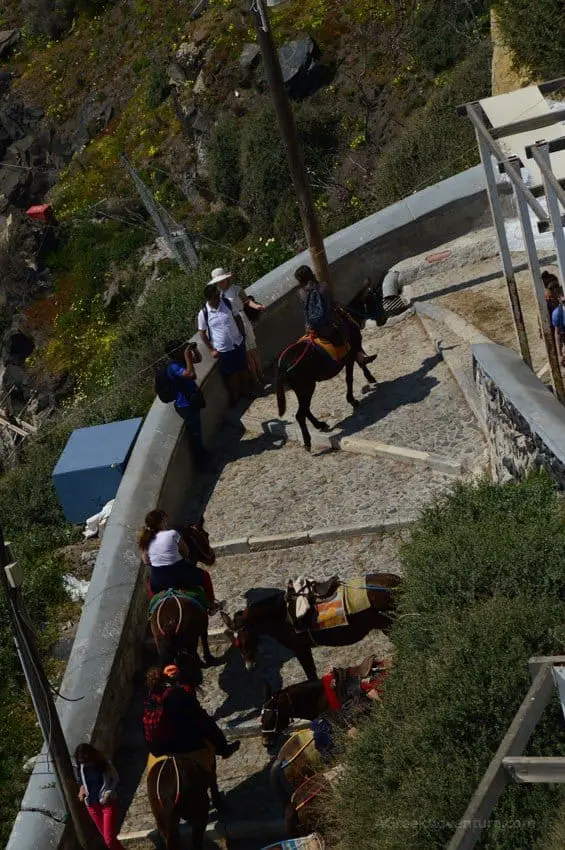 We loved this one, and we had our break to another similar cafe.
As such, we were sad not to find this one first. Sun was scorching, but the view was amazing as you see.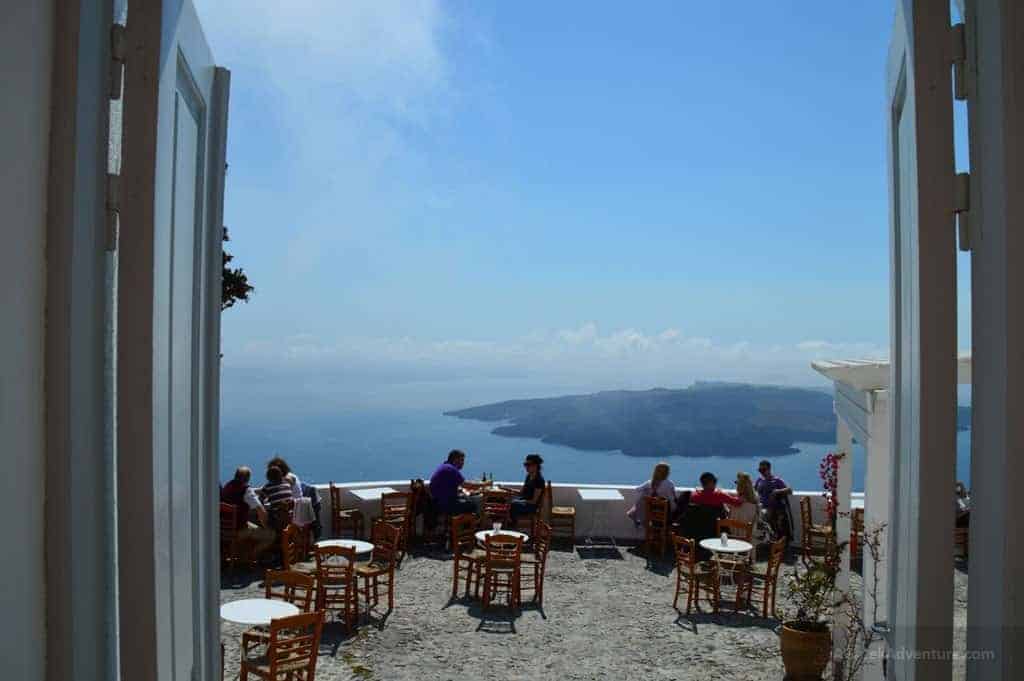 There are hundreds of restaurants, taverns, cafes, and bars inside Santorini Fira, but -analogically- very few strictly for "souvlaki."
We liked Fira a lot. When you visit, do not miss to go to the Archaeological Museum of the prehistoric era of the city.
Where Should you Stay in Santorini: Oia or Fira?
These are 2 different towns but not far from each other.
Fira has way more bars and nightlife, and restaurants. Oia is far more relaxed and easy-going. Most of the luxury accommodation is in Oia.
Read this thorough post for where to stay in Santorini.
Both have spectacular views towards the volcano and the Aegean sea, yet Oia has a more popular sunset viewpoint.
Hotels in Fira (Thira)
You can choose from a vast range of hotels in Fira.
This town is the capital of Santorini, so expect to be a bit crowded when you stroll around in the streets.
The view towards Caldera at the edge of the village is stunning. Equally stunning is the view from Imerovigli and Firostefani and Oia.
Most of the nightlife fun happens in Fira.
Did you know that you can hike from Fira to Oia? There is an easy 10km scenic route you can do.
Here are a few accommodation selections, but also visit our post for lots of accommodation options per traveler type.
How to get to Fira (Thira)
Of course, first, you need to land to the island. You can arrive there through ferries and flights. Most get there through Athens, Mykonos, Crete.
Each of the posts below describes the ways to get to the island in a very analytical manner.
Tours in and around Fira/Thira
A good 99% chance is that all the things you are about to experience in Santorini will be outside of Fira. Two things are to have in mind: wine and sailing tours. For that reason we propose these:
Have fun in Santorini or wherever you are!