There are lots of things to do in Imerovigli, Santorini. What a fantastic place Imerovigli is! It is maybe the best location to stay while on the island.
Even though it is closer to Thira (capital) through a 30 minutes walking distance, it seems to be in the center of a virtual circle that consists of the Santorini crown.
Most people think that Imerovigli village is a good place for accommodation and nothing more.
Well, they are correct, but the location is a majestic one.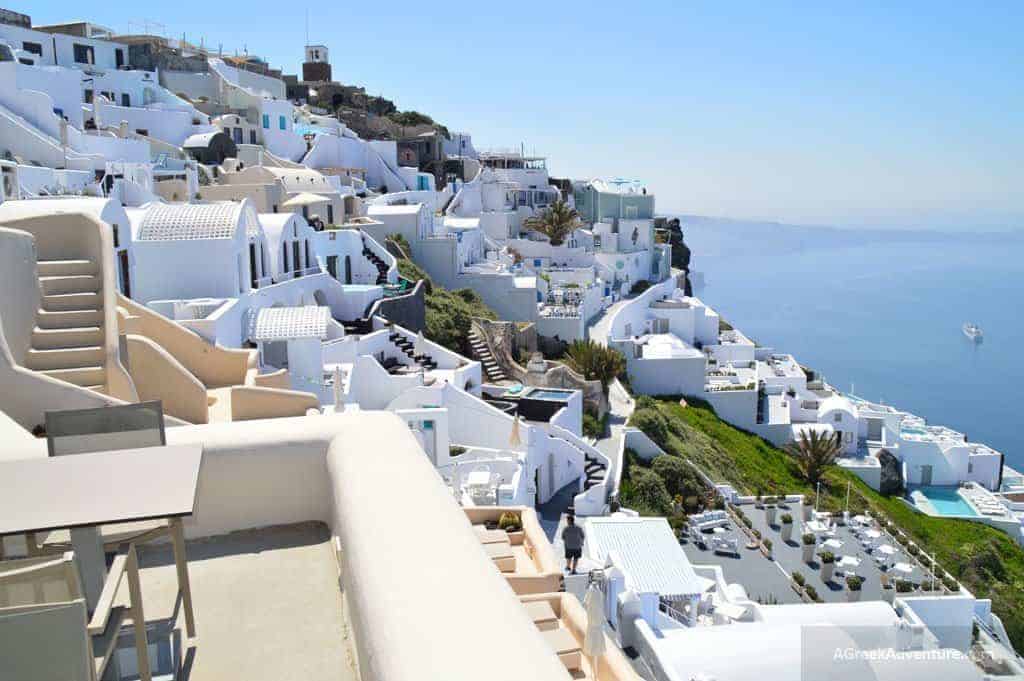 Many choose to stay at the hotels of Imerovigli due to their facilities and how they are built. 
Room/suites were caves.
These caves were turned into modern elegant suites and apartments.
Depending on the hotel, most have an outdoor Jacuzzi installation (per room) and a outdoor pool.
The pool is necessary since there is no beach at Imerovigli village.
Famous beaches like Red Beach and more are in different locations in Santorini.
We enjoyed staying for three days in Imerovigli.
We did a 20km hiking route (Thira-Imerovigli-Oia and back) and visited various places, including the Akrotiri Archaeological Site. That route is a "classic" one and must be on your list of things to do in Imerovigli, Santorini.
The hotel jacuzzi came in very handy after our hiking.
The pool, too it was perfect for a dive early in the morning or late afternoon.
Please read our full post on where to stay in Santorini, per traveler type.
Where we stayed, we had a famous rock just ahead of us. This is the famous Skaros rock of Santorini.
But first… here is a surround breathtaking caldera views outside our hotel room.
[mv_video doNotAutoplayNorOptimizePlacement="false" jsonLd="true" key="epk2op9pwx9szkuh9v2z" sticky="false" thumbnail="https://mediavine-res.cloudinary.com/video/upload/epk2op9pwx9szkuh9v2z.jpg" title="Santorini Imerovigli" volume="70″]
Where is Imerovigli?
Imerovigli is at Santorini, the most popular of the Cyclades islands, next to Mykonos. It has a great location and a quiet area.
It provides the best views of Caldera and excellent views of the volcano, leaving outside the crowds and noise of Fira.
Next to Oia is maybe the best possible option to stay. The sunset view is better from Imerovigli, with an unparallel view of the Aegean sea.
It has multiple boutique hotels and is very close to Santorini airport. You won't find traditional houses in Imerovigli village, but many luxury hotels.
Imerovigli is part of the iconic Santorini Greece travel feeling.
For us, the best things to do in Imerovigli were to relax and hike from Imerovigli to Oia. There is nothing else to do, but the best view towards the Caldera is there.
Skaros Rock: Highlight Things to Do in Imerovigli
The rock is like a hill in the middle of the sea, but it is easy to approach by walking through the pathways between the hotels to the base of Imerovigli.
The land is connected to the rock, so you don't need a boat or swim and such.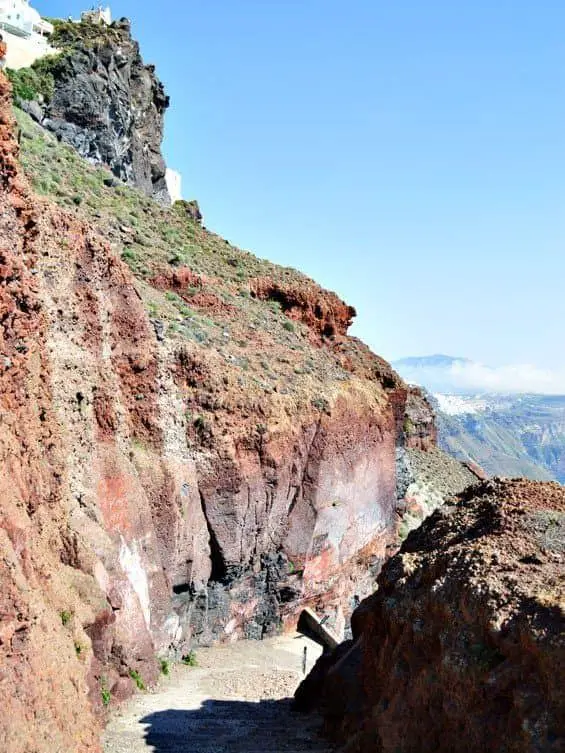 This rock was a fortress to protect from pirates. Nowadays, the top "square" remains a small base where you can reach it by climbing up a bit.
There is no paved path to the very top.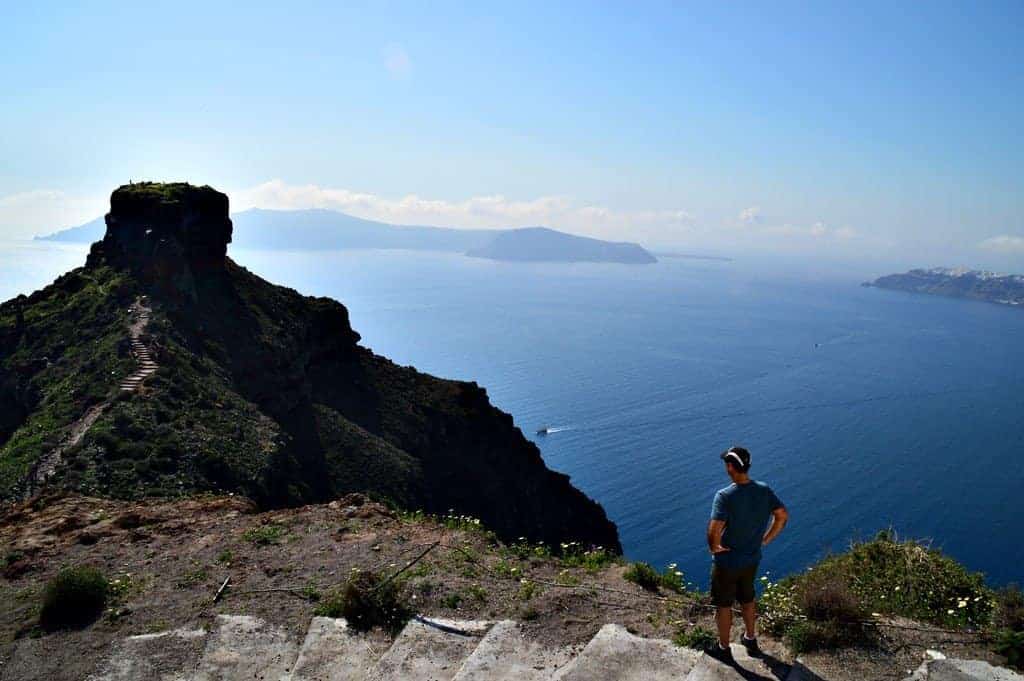 You follow the path to the base of the top block, and from there, you need to climb up a few meters.
We have to warn you that the climbing part is not so stable and maybe the "wall" may collapse in time.
This here is the "thing" you will climb up from. From its left side. Looks not very safe, right?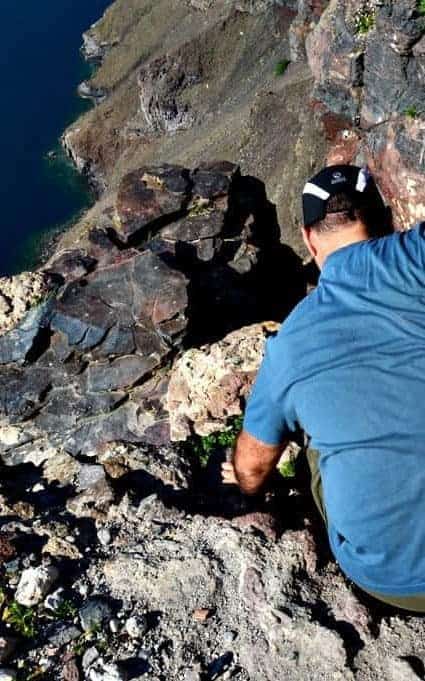 Here is how getting down looks like.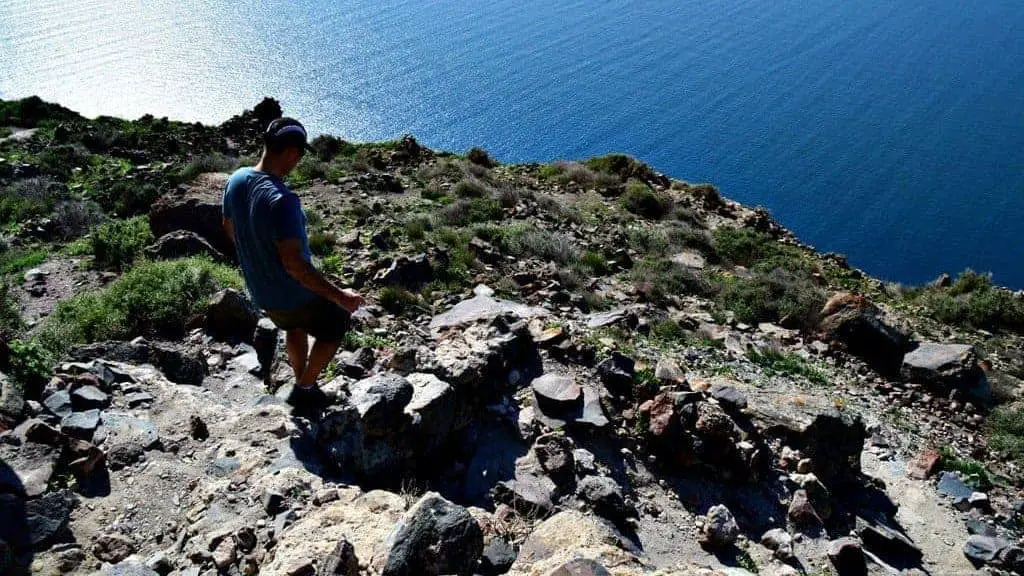 Yet, you have a great view of Imerovigli and even more of Santorini if you climb up.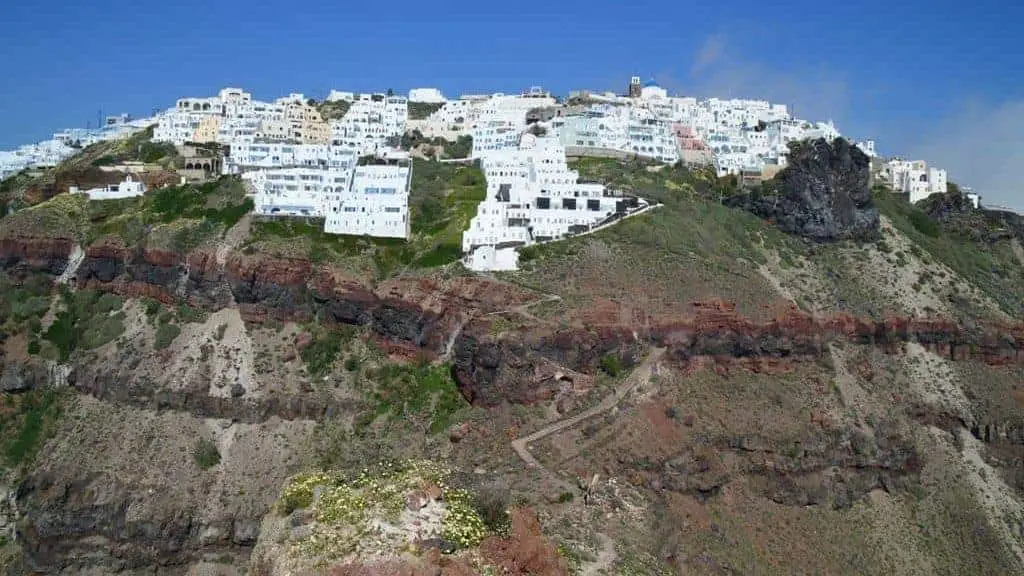 On the backside of the rock, a small church is beautifully placed.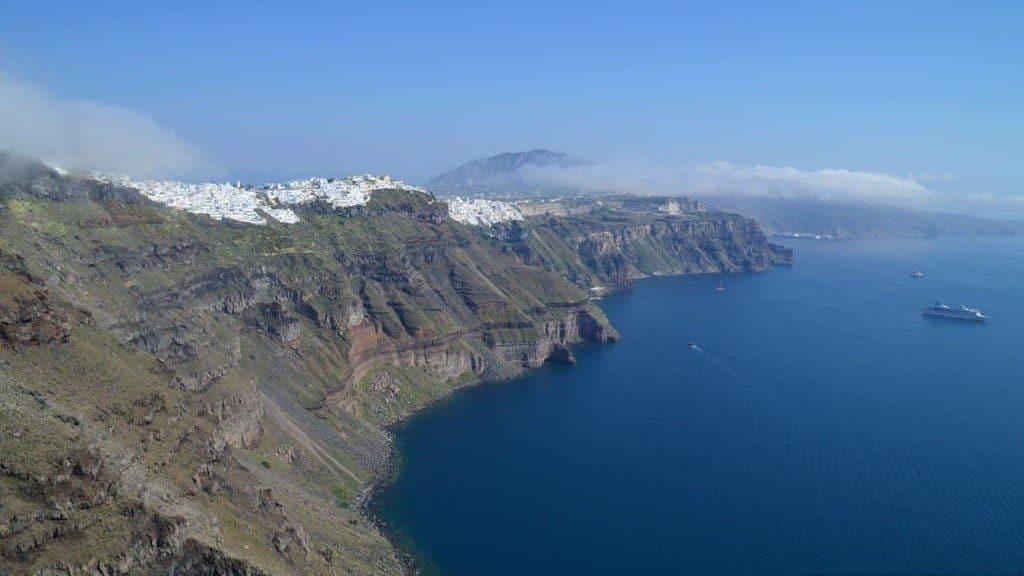 The view is also great and very serene. We dared to climb on the roof to enjoy that.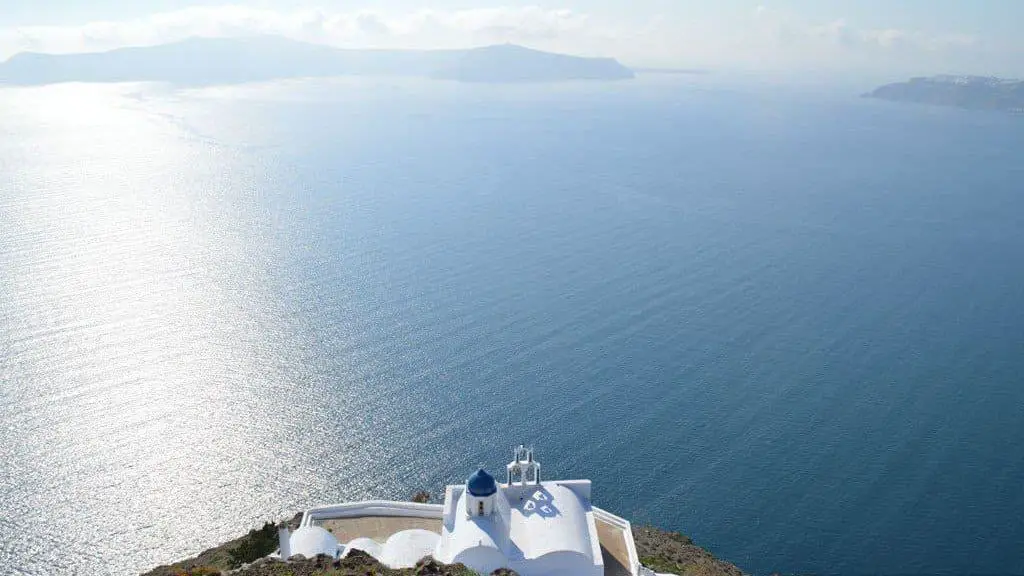 Get on top of the church and watch.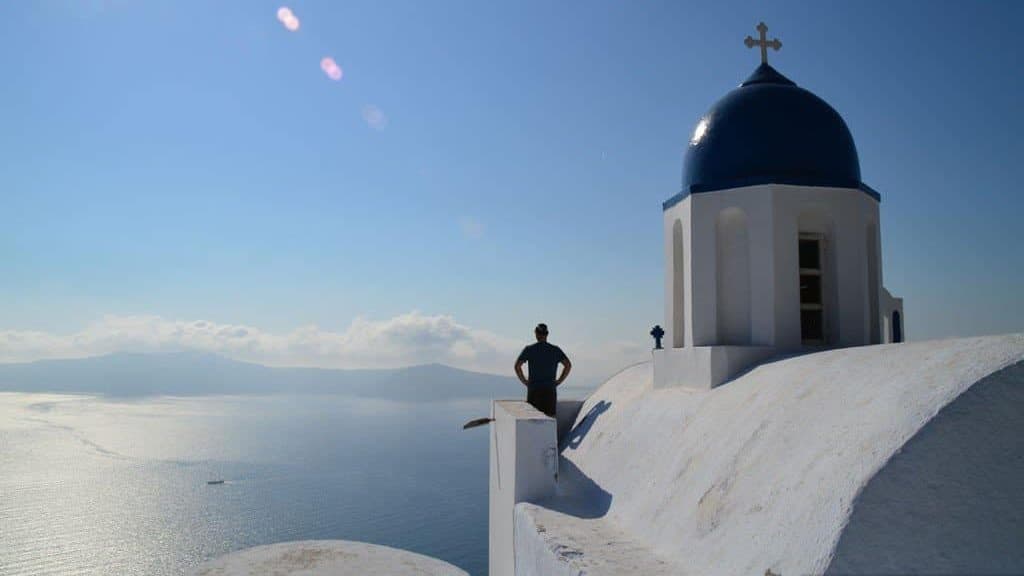 Things To Do in Imerovigli and in Santorini
An additional extensive list of suggested tours and posts to read.
There are tons of things to do when you visit Santorini.
Where We Stayed at Imerovigli Santorini
It was a last-minute call to go to Santorini. We decided that two days before getting there, we managed to find a splendid room at an excellent price (for the facilities and amenities and quiet location, and… and…).
It was Easter time, and this maybe has something to do with that.
Also read: Santorini Wine Greece Lover Tour. Explore, Discover, Experience
Do not even imagine that Santorini is "empty" during Easter time.
The island had many tourists (mainly from China), but it was not packed. Yet, prices were acceptable, and the weather was equally lovely.
So we stayed at Iliovasilema Hotel & Suites, a luxury hotel in Imerovigli Santorini.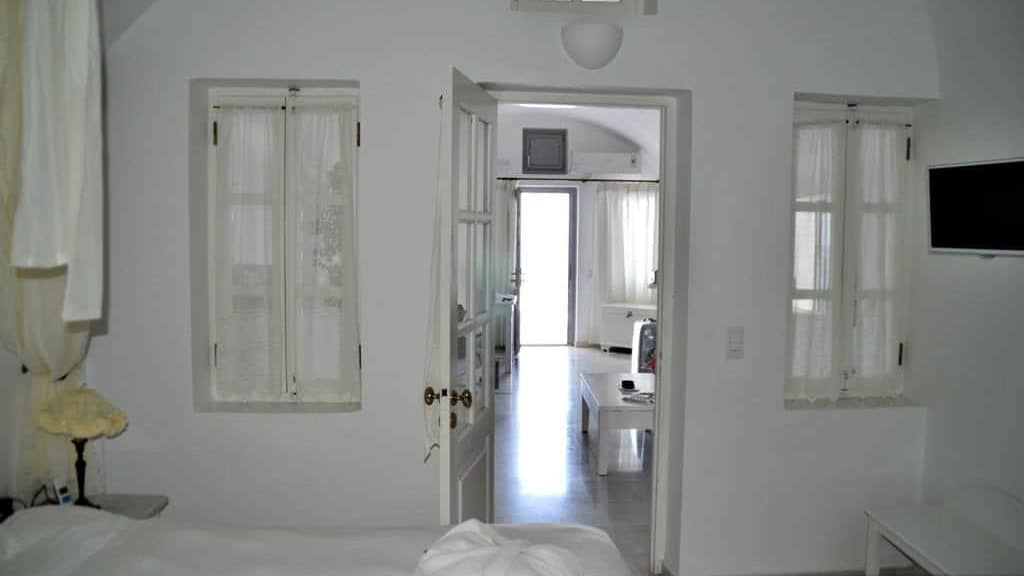 You can find an extensive range of ideas on where to stay in Santorini, depending on the type of traveler you are, from here.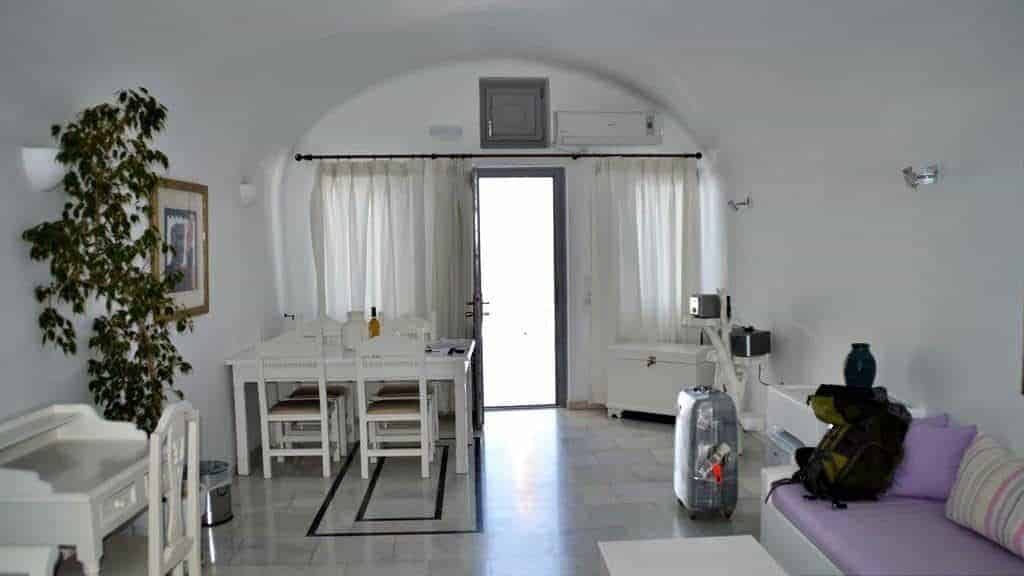 The hotel in Imerovigli Santorini was one of the "typical" (amazing) ones of Imerovigli.
It was huge with an outdoor jacuzzi and a semi-private pool.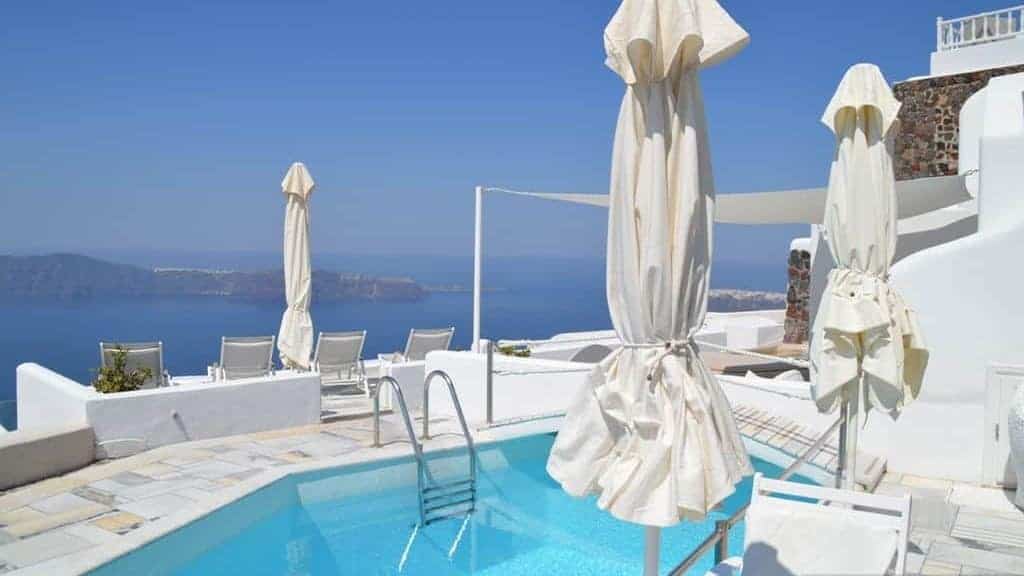 Very peaceful, great view, very relaxing, excellent design.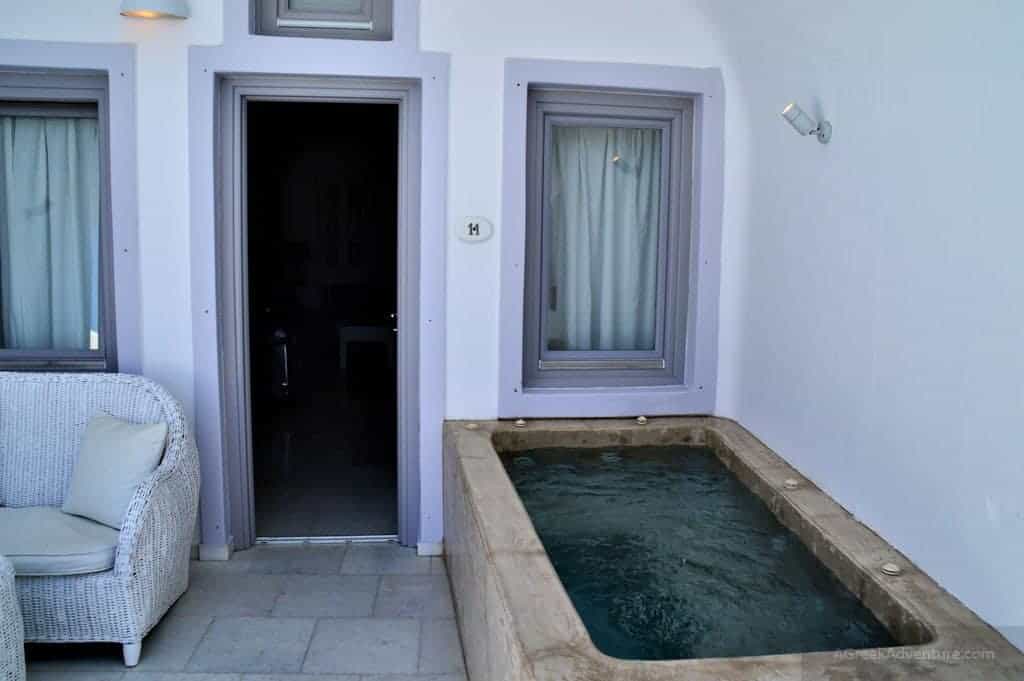 We even got an upgrade (due to being Booking.com Genius status, maybe), and we got the… honeymoon suite! Lucky? Yes!
Breakfast was small but delicious (omelet was ordered as extra), yet to sit outside the room and enjoy that majestic view was rather fulfilling.
By the way, why do all hotels serve so many sweets in their breakfast?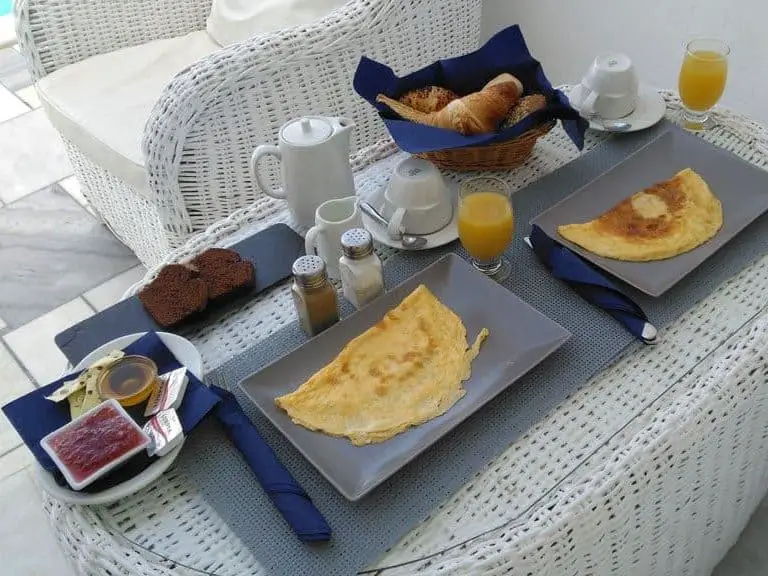 The hotel was an excellent oasis for us as we walked and hiked a lot around the island.
We loved getting back and soaking inside the hot jacuzzi.
The bath of that room was like a small apartment itself. So, yes, it was a big "cave"! This bath extends to the left of the photo too. The rooms were very comfortable.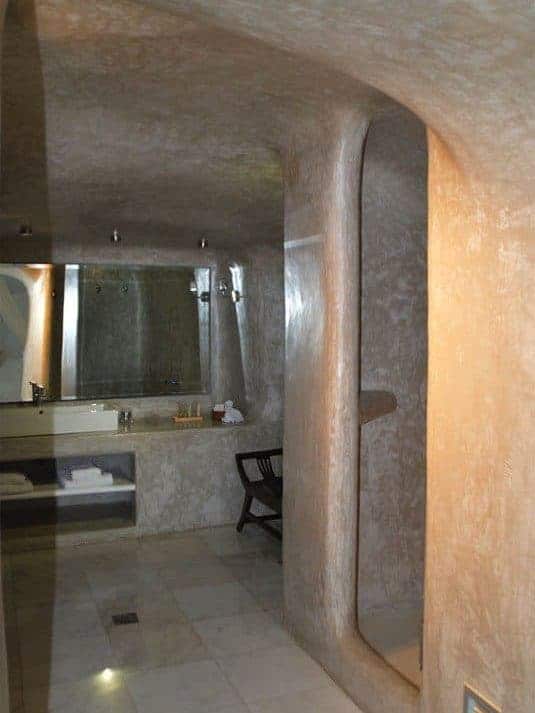 Three days there were just what we needed to enjoy Easter time and those bright blue and white colors of Santorini.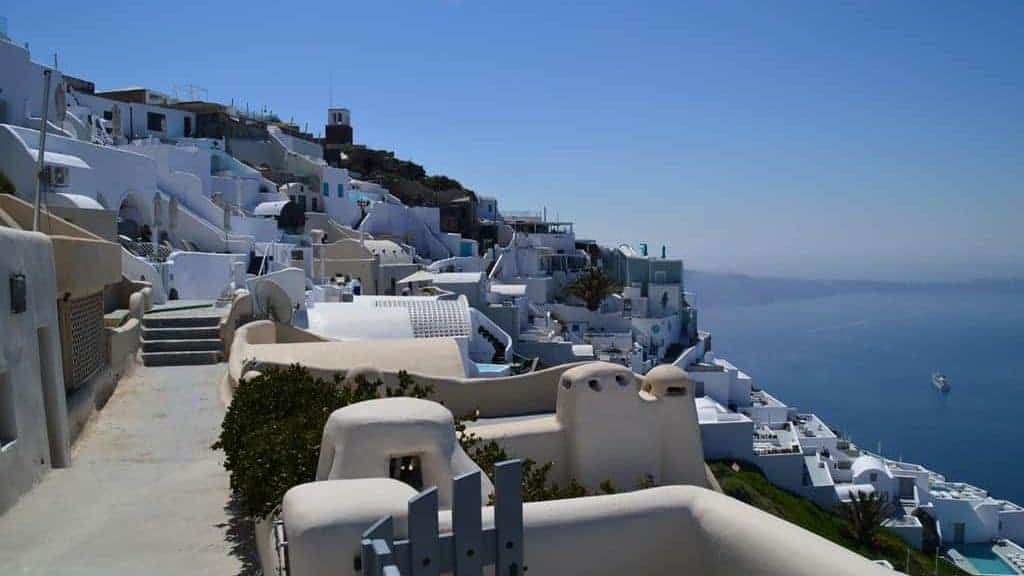 As for food, there are a couple of places to eat in Imerovigli, yet as almost everywhere in Santorini, prices are a bit on the upper scale.
We liked the Avocado restaurant. It's one of the good restaurants with nice looks.
A tip: If you like Greek souvlaki, don't forget to visit the "Mc Daniel's" (seriously) souvlaki house in Thira.
It is just 30 minutes walking time to Thira, going through Firostefani.
We promise you will eat the best -clean from fat meet- souvlaki. We are Greeks, so we enjoy excellent souvlaki, and we guess we are allowed an "expert" opinion.
FAQs for Imerovigli in Santorini Island
How far is Imerovigli from Fira?
The distance between these two villages is 2km. You can even hike your way towards each.
How long to walk from Imerovigli to Oia?
It is a 10km route (one way) if you take the scenic hiking path along the coastline. You can take the bus (it takes about 20km), which comes every 30 minutes.
Is it better to stay in Oia or Imerovigli?
It depends on what you prefer. Oia is known as the famous "sunset" location since it sits at the island's edge. Imerovigli is great too. There is no nightlife in the latter, but there are a few amazing restaurants. However, most bars and restaurants are in Oia and even more in Fira.
Where can I watch the sunset in Imerovigli?
To get the full view of the sun "diving" into the sea, Oia is the best location for that. But almost all of the sunset is visible from many other sites on the island, Imerovigli included.
Did you like our experience with the things in Imerovigli Santorini? Explore more of our Santorini articles.
Enjoy your summertime!