Imagine the sun rising slowly early in the morning on Naxos island. Local farmers are getting ready for all the daily work that will eventually produce the famous Naxos food, and all people are craving for.
The first sounds of nature are slowly rising in a crescent that welcomes the day ahead. 
Little bells tied around the necks of goats open up the symphony, while chickens call the farmer to come and collect the fresh eggs.
Sheep bleat and the shepherd takes them out for their "breakfast" in the fields of the island.
Naxian housewives who make delicious home sweets and jams, get the kids ready for school and start planning the day.
Naxos island has a vast production on great cheese, bread, tomatoes, jams and liqueurs you can imagine. 
Local restaurants and places where you can stop, drink some ouzo or beer, and have a variety of small snacks (they call them: "Poikilia") are scattered all over the island.
The island even hosts fine fining restaurants.
Some of these places have their special secrets. They either seek to buy the best local ingredients and offer them to you or -better- grow these themselves. 
Some, even luckier, have relatives all over the island that make all that great food. 
Tasting Delicacies in the Heart of Naxos
We had such a talk with Helen Marakis, of ELaiolithos who went her hotel/retreat business a step further. She decided to offer breakfast, lunch, brunch, and dinner made only from regional ingredients.
Most of them come from her own family and relatives who are active farmers and animal breeders. That is the way to have all fresh ingredients from farm to table!
ELaiolithos is at the Moni Village hill. It has a fantastic view overseeing the valley of Drimalia, the heart of Naxos.
Its exact position is a killer combination of enjoying your food along with a spectacular view of the valley and the Zeus mountain.
The unique Byzantine church Panagia Drosiani and the famous nearby village of Chalkio adds up to the overall experience.
Just imagine sitting under the shade, with the cool summer breeze relaxing you and eating all that compelling, healthy food. We did.
It was not our first time in Naxos, neither our first in ELaiolithos. We stayed in that resort for the first time it opened its doors to guests from all over the world.
However, when we learned that Helen had created a whole series of dishes with Naxos foods, we visited her during another summer weekend in Naxos.
By the way, here is an aspect of the retreat itself.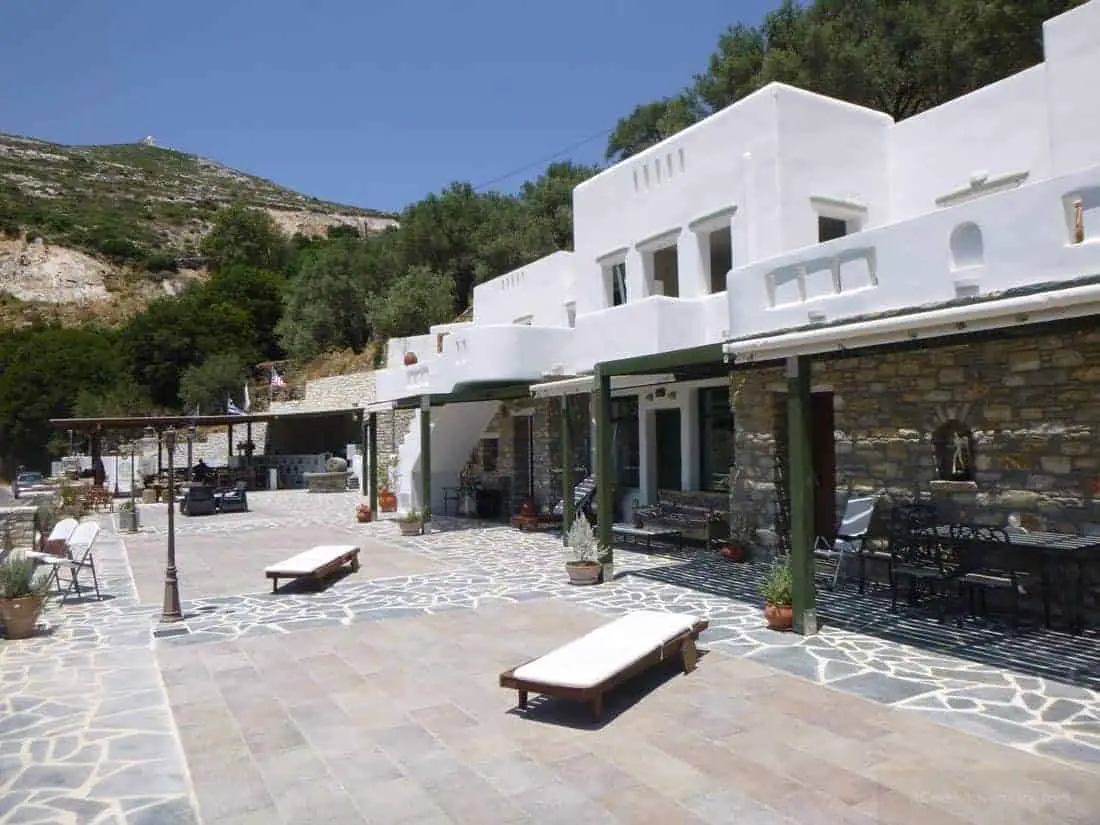 Finding the Best Local Naxos Food
We asked Helen, on how she scoops for all that great food. She told us lots of things. She gives emphasis on the freshness and purity of food, follows the concept of local food and tradition, Clean Eating with its wellness benefits because she knows the Hen Who Laid the Eggs.
Her brother provides a wide variety of cheese specially made with goat and sheep milk only.
She also gets many of the ingredients she uses, from different local providers only of the mountainous region of Naxos.
Her menu is quite big, with each dish mentioning its own story! We have never seen such a menu catalog before. We spent quite some time reading all the stories next to each of the dishes.
The wheat, grain, flour, and bulgur are bio-organic certified Non-GMO cultivated with respect to the environment and the people.
Helen believes that eating and drinking is an Art and because Naxos' mainland and mountains offer such a great variety in herbs, spices, and products, she has created this contemporary cuisine with impeccable local ingredients with modern inventiveness resulting in small symphonies for the mouth. All inspired by Naxian culture, lore, and history.
Each one is truly innovating, unique, and tells a story while promising an experience. Here you eat and drink like a local and you feel like a local.
What Local Food We Had?
We sampled five different ones, and their taste was like no other. We are not big fans of dairy, but Helen insisted on tasting them, and we were pleasantly surprised. 
But was that only? No, it was not.
She blew us up with this simple roasted bread (called: pitakia), tzatziki, olives another kind of soft spicey cheese, fresh cucumber, and fresh tomatoes.
That was our pre-lunch snack as we were about to hit the beach in a couple of hours. Greeks, right? They eat on every given occasion when having good company.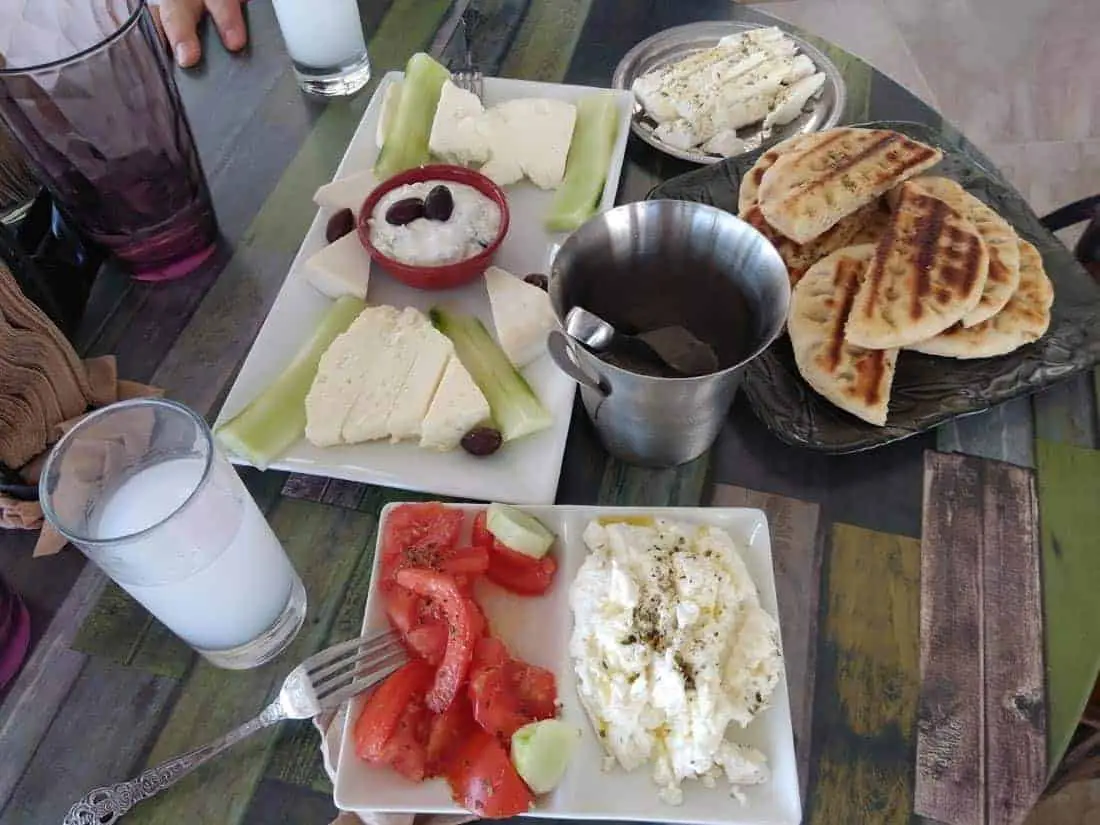 All these were washed down with Ouzo!
Having a bit of a sweet tooth, we were asked if we would like to taste one of her homemade desserts.
She mentioned that the base was yogurt but also had a secret ingredient on top, which would be sweet, but she would let us discover what it was.
As Helen knows how to play with our minds, we were pleasantly (and voluntarily) lured into that.
The dessert was an explosion of flavors right into our mouth. Do you know what the sweet topping was?
Well, we were spellbound not to tell and we won't, but you have to try it. We will only say that is prepared in the way jams are. We never heard of that before. What an excellent idea!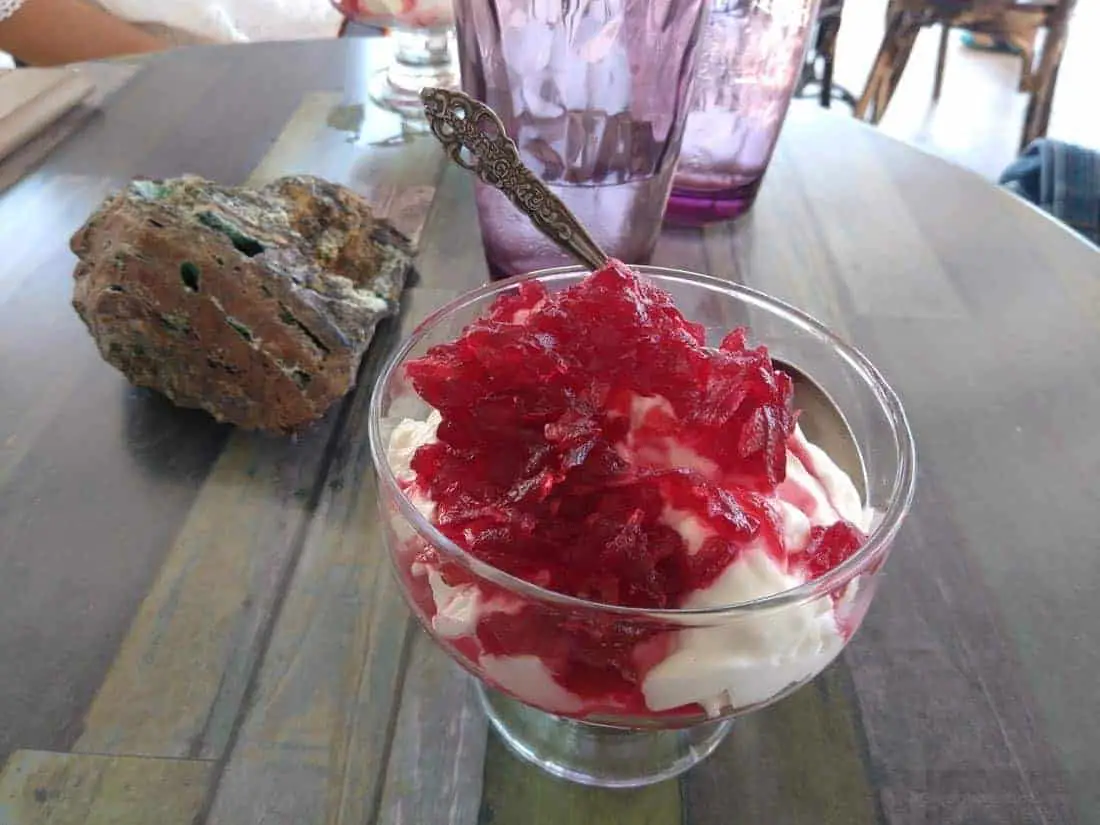 Spoiler alert: Portions are significant!
No surprise that Helen describes her food as a holistic experience. All that food is healthy and fantastically prepared.
The Mesmerizing View along with Naxos Food
The view from ELaiolithos adds up to the whole experience. Even if you don't stay here, it is best to make a stop for coffee, beverages, snacks, or lunch just for the view!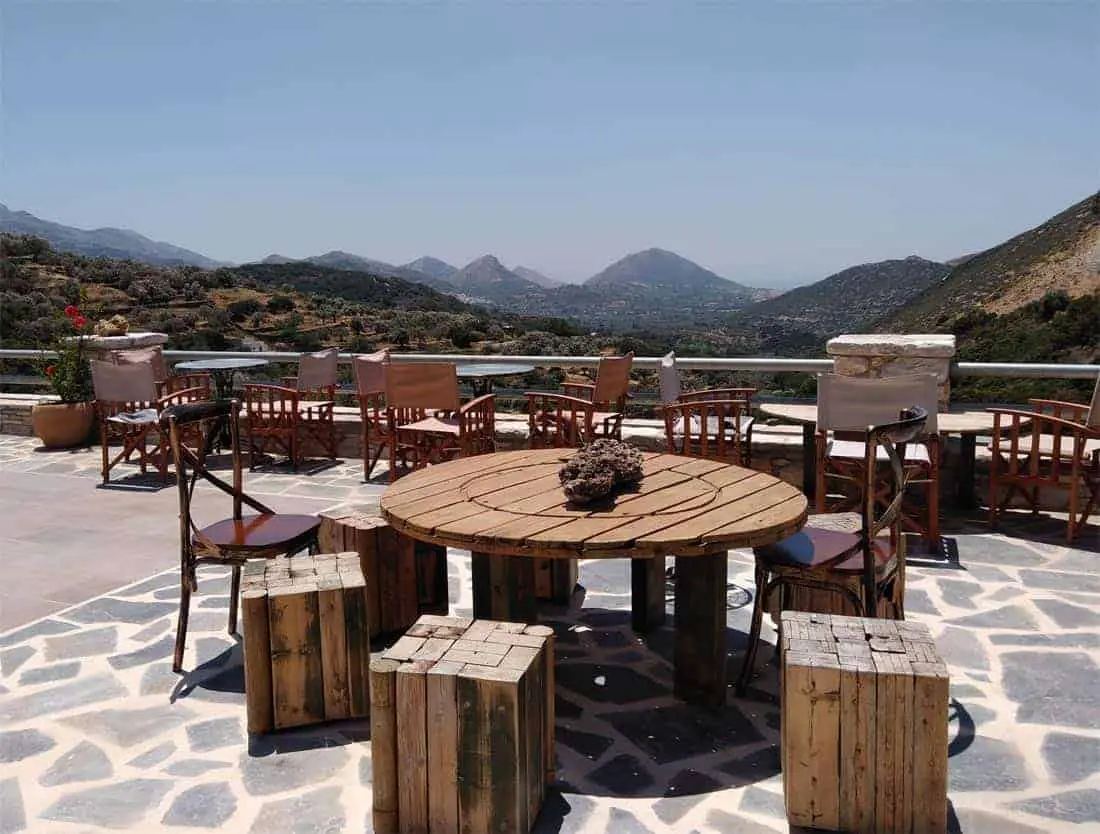 Seeing all that space before you and the surrounding mountains leave you with an awe for nature and its beauty and relax you.
You could sit there for hours.
Maria was phasing out, just admiring the nature ahead. Before us, another couple had their snacks right there, and we overheard them discussing how amazing that view was and how plenty and tasty the food was.
Is it an experience then? We find out that tasting all that local Naxos food in such a spectacular location is part of experiencing Naxos itself.
The island has some fantastic elegant dining options for travelers, and you should taste as many as possible. Naxos is one of the few islands where food is weaved with the culture of this place.
Enjoy your vacations in many ways. Did you enjoy our article for Naxos food? Then also read Best Weird Greek Foods In Greece.