No trip to Naxos island may be complete without a stopover at any of the Naxos restaurants which dot this magnificent island of Cyclades, Greece.
Apart from being able to stay afloat, you will also want to eat to identify with the local cuisines.
We have many things on the island. Check our posts from hiking trips, beaches, and sightseeing in Naxos, Greece.
Many don't know that Greek islands (and mainland) like this island in Greece, offer far more than the traditional "souvlaki."
There are gourmet & fine dining restaurants, taverns, "Magereia" (not precisely a tavern and more "rough" in design), takeout eateries, stand-up ones (no chairs or tables), and so many more. You can enjoy grilled meat, fished, all made with excellent olive oil. Some are family-run.
There are dining solutions for all tastes and all hours of the day. Some of them are located outside Naxos Chora, in the mainland part of Naxos.
In this article, we will present the best inside Naxos Chora.
We have been to Naxos, Greece, doing all kinds of activities. In our post, we will present the Naxos restaurants we like most.
Contemporary & Traditional Greek Naxos Restaurants
The island of Naxos has no shortage of restaurants and other dining facilities. However, they vary in their sizes, locations, cuisines offered, and target markets. It is for these reasons that finding the right one may normally appear tricky.
We have spent our time researching the best and most reliable dining facilities on the island. Keep reading to know where they are, who they are suited for, and what they offer.
The order we present these dining places is according to our preference.
Also read: Paros or Naxos? Where to Go For Vacations in 2021
Barozzi Restaurant & Cocktails Bar in Naxos, Greece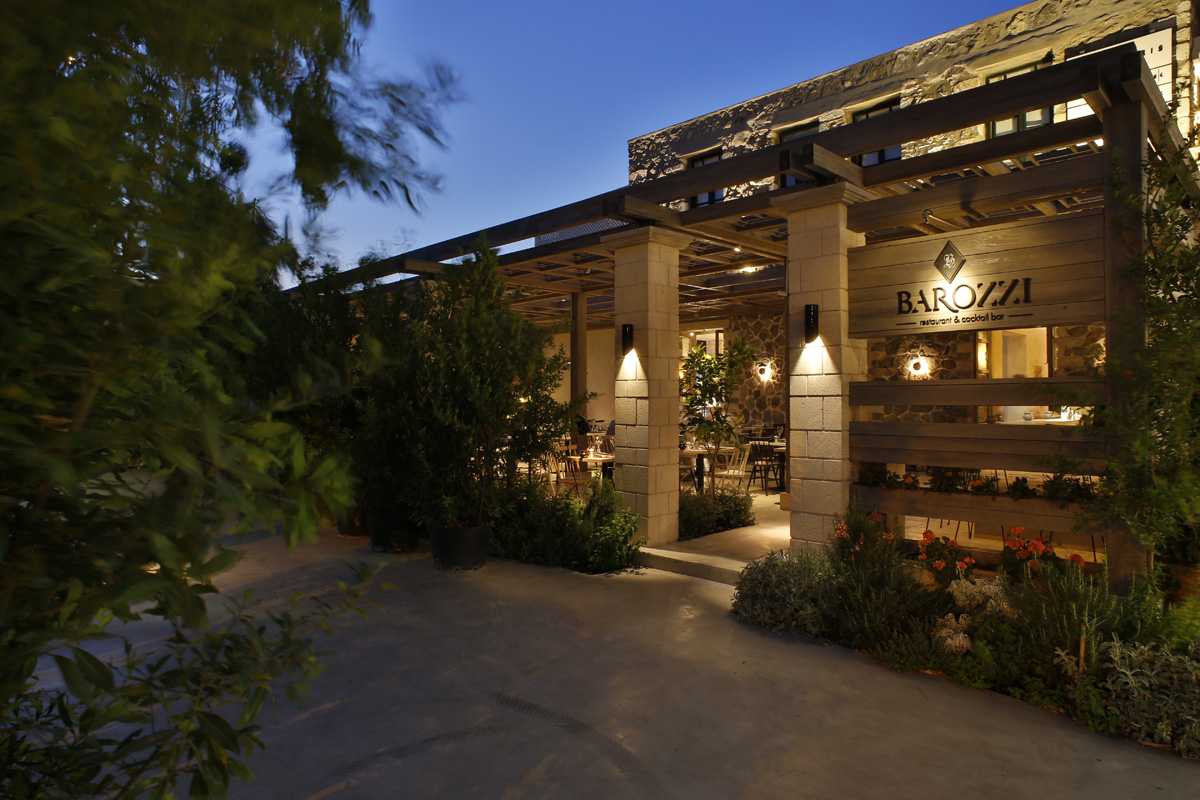 Βy far, our favorite one from Naxos restaurants. Are you a lover of cocktails and exceptional dining experiences? Then Barozzi Restaurant in Naxos Chora is the place to be.
Barozzi is in Naxos Town, on Ariadne's street, this restaurant was established in July 2017.
The Barozzi Restaurant has built a reputation for a consistent gastronomic experience, which has seen the restaurant become the fine-dining venue of choice for tourists and islanders alike.
Unique to the restaurant, Barozzi is proud to put high-end service, exceptional food, and a first-rate ambiance above all else.
That elevates an evening meal to something more than a culinary experience.
They follow the "From Farm To Table" concept, using and providing local ingredients in all their dishes. The styling of the plates is dumbfounding. 
Your visit to the restaurant will grant you access to creative Aegean cuisines as well as a selected variety of cocktails, made by a professional mixologist.
All these served in a calm and relaxed environment. You will also fall in love with its renovated antique building.
The restaurants' excellence was awarded the TripAdvisor's Certificate of Excellence for 2019. That is not by chance as awarded Chefs prepare the creative menu. 
Do ask for their hand-picked wine list. 
We love that this Naxos restaurant has a reservation form to book ahead, with all their wine and dishes. Unfortunately, most of the other restaurants in Naxos only have a Facebook page.
Nissaki Restaurant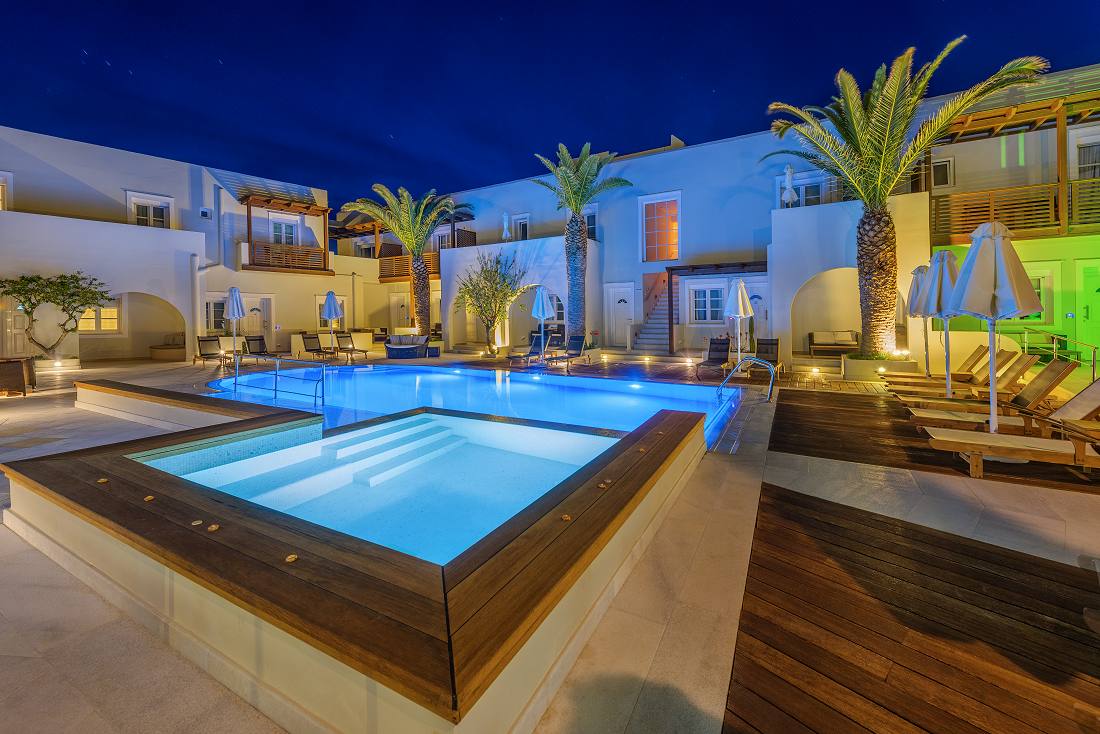 Nissaki is a sea view restaurant in Naxos, situated in a hotel, expecting to get the hotel/restaurant style. It is accessible in just a few seconds from Saint George beach, not so far away from downtown Naxos.
Its main eating area also provides breathtaking views of the adjacent sea.
It prepares and serves a wide range of dishes. From fresh fish to season salads to seafood delicacies and lobster spaghetti, the whole meals you may take here are virtually endless.
While enjoying your meals, the waves from the adjacent sea will continuously bombard your body with a refreshing and relaxing breeze.
Also read: Best Weird Greek Foods In Greece 2022
Lithos Restaurant
Intent on experiencing Greek culture and past? The Lithos Naxos restaurant is the place to head. You will find the facility in Naxos Town. It specializes mostly in Mediterranean cuisine.
There you will also eat European, seafood, and Greek cuisines. And if you happen to be a vegan, worry not. You similarly will be able to access gluten-free and vegetarian-friendly options.
Lastly, the restaurant gives you the freedom to select which kind of cuisine you deem necessary.
You may order breakfast, brunch, lunch, and dinner. Take advantage of its reservations to avoid the last-minute rush. 
Taverna Axiotissa
Taverna Axiotissa is not your typical restaurant. This one is in the form of a tavern. It hence mimics the real-life beach tent.
You will find this tavern along Alykos regional road. The facility deals in a good range of cuisines and eating options.
These are Greek, Mediterranean, gluten-free, vegan, and vegetarian-friendly options, among others.
It also lets you choose whether to eat indoors or outdoors. If you happen to have a car or hire a taxi, some parking is available.
Worry not if you are disabled or in the company of one. The entire setting is wheelchair accessible.
Tortuga
Tortuga is a combination of a bar and a restaurant, which are both located in a beach setting. In particular, it lies along the Plaka of Naxos. It also stands apart from the major restaurants that dot the island.
Other than handling mostly international cuisines, this one deals primarily in locally-sourced ingredients and recipes. Subsequently, it is a fantastic meeting point for those who cherish life and want to live it to the fullest on a day-to-day basis.
The benefits that come along with eating here are not all about the fantastic food. Being right at the beach, the facility comes with a gentle breeze from the nearby sea. These produce some relaxed feelings. It's natural setting finally wraps up all the fringe benefits you will find enjoyable.
La Vigne
If you happen to love wines, this undoubtedly is the place to be. Indeed, La Vigne primarily serves wine and healthy drinks. You do not have to take your wine to the same location (Naxos Town). You may choose to take it away or even order from home.
The facility does have a restaurant section that serves food only. The menus are diverse.
They range from French to Greek to Mediterranean cuisine. All the dishes have great passion. You should expect them to be nutritious, hygienic, and very satisfying.
Amorginos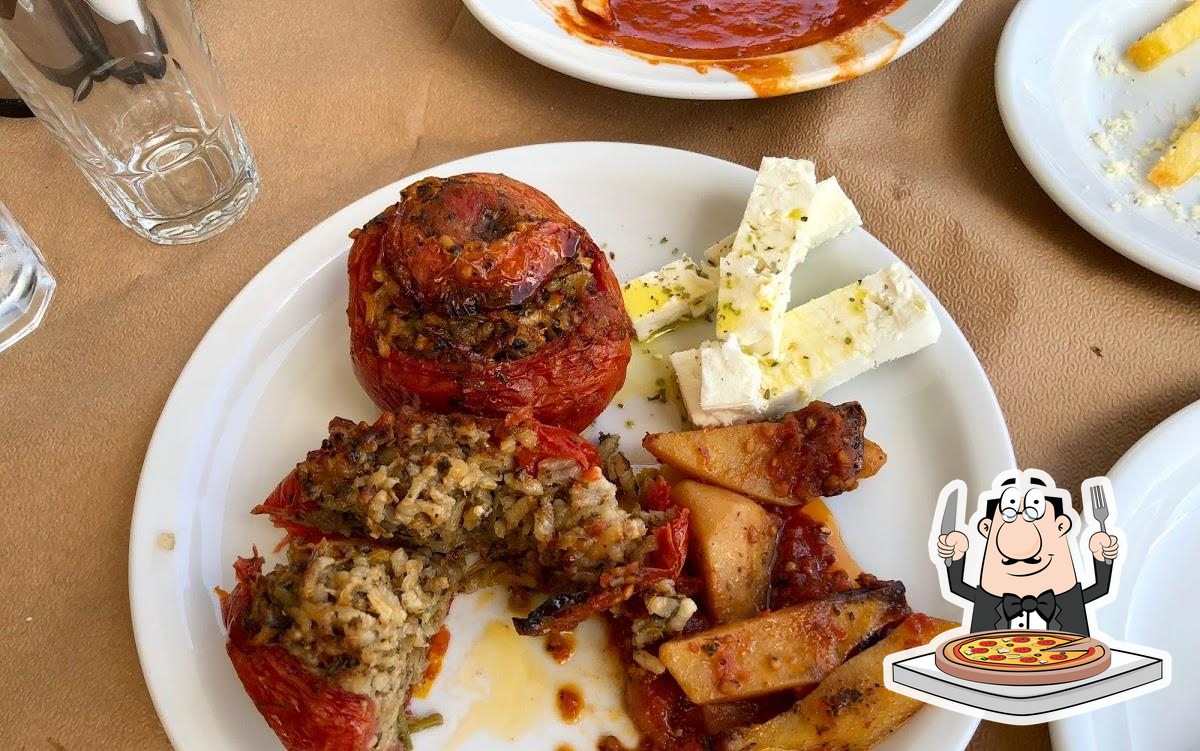 Just like Taverna Axiotissa above, Amorginos is also a restaurant-cum-tavern. It is like a tent out on the beach. You will find it along Apeiranthos. The facility prides itself on making many different kinds of dishes and cuisine options.
These are Greek, Mediterranean, barbecue, vegetarian-friendly, and so on. It only serves lunch and dinner. Do not come here for breakfast or brunch. This place provides takeout.
Its location is also great for matters of photography and memories.
Also read: 25 Best Things To Do in Naxos Greece 2021
Antamoma
Also located in Naxos Town, this is a restaurant that suits mostly those who wish to familiarize themselves with Greek food. That is because it makes and serves mostly Greek dishes but with a local touch.
Apart from standard dishes, this modern greek restaurant also serves as a host of other special diets. These include Mediterranean dishes, gluten-free meals, vegan options, and vegetarian-friendly varieties. 
It opens its doors for brunch and dinner alone. A cuisine deli store exists for your purchase of any ingredients which you might want to use later. Feel free to step in and make the most of what this excellent eating venue has to offer.
Stou Vasilarakiou
Do you love meat and animal proteins? The "Stou Vasilarakiou Steakhouse" is the right place to be! Apart from being a steakhouse, this facility also serves as a restaurant that avails many kinds of dishes. You will find it along with Kinidaros village.
Other than meat, the facility also provides Greek, Mediterranean, and barbecues. It is mostly open for lunch and dinner. If you cannot get to the venue, you may order for takeout.
Lagos Mare
Located at a distance of 2.5 miles from downtown Naxos, Lagos Mare is an excellent place if you want to escape the congested urban lifestyle. That is because its location is not only idyllic but also super quiet.
While at this facility, you will be able to enjoy popular pure and natural Naxian products. These are mouth-watering local cheese, organic vegetables, delicious meat, and aromatic herbs, to mention but a few. Traditional recipes inspire Even the fresh meals it serves.
If you feel stressed or want to unwind, you cannot afford to bypass this facility.
Naxian Capriccio
Could it be that you are a person who is passionate about matters of ports and sea vessels? If you do, you have no worthier companion than this great restaurant. It is not just in a port, but its eating area is also adjacent to the busy Naxos harbor.
While taking your sumptuous meals, you will gaze the many ships that enter and depart the harbor from time to time. It straddles the Port Street in Naxos. Prepared at the facility are some delicious Mediterranean flavors and aromas.
Besides merely eating and peeking at the incoming and outgoing ships, you will also experience some high fresh air. In addition, you will be bombarded with some sea breezes that cool and relax you.
Boulamatsis Oinomageirion
Even though Boulamatsis Oinomageirion is a restaurant in all intents and purposes, it stands out in several ways. First, that is a trendy one among Naxos restaurants, despite his rough style.
It is a tavern and not a restaurant. It is mostly engaged in the preparation of purely local cuisines. Further, it also opens up its facilities for outings and other special occasions.
From vegan options to a host of Mediterranean and local cuisines, you have many of these to choose from. Moreover, you may also dine at the facility from early morning to late in the night. It is found right at Naxos Town.
Yazoo Summer Bliss
Lastly comes the Yazoo Summer Bliss Restaurant. It is called that because it is, for a large part, optimized for summer tourists.
It indeed offers some great outdoor environments for you to retreat to and enjoy your summer vacations. Find it at Plaka Beach.
As part of its uniqueness, this facility also stands apart in the kinds of ingredients and recipes it provides. Most of its elements are from fresh and naturally sourced plants. They are exclusively origin from Crete and Naxos.
On the whole, this venue is an excellent place to stop by for your beach wedding, photography, and summer vacations.
You will choose from an excellent range of cuisines which are served or availed.
FAQ's for Naxos Restaurants, Food & the Island
What is Naxos Restaurants Cuisine about?

Naxos cuisine is weaved tightly with the Cycladic Food Tradition. Expect local ingredients, cooked and presented in a unique way.

Where is Naxos island?

Naxos island is in Greece. There is another place named Giardini Naxos in Sicily, Italy next to the beach of Taormina but it is not related.

Are there unique dishes to taste in Naxos, and when?

Unique dishes get prepared in special holidays: Patoudo (Easter Sunday), Koukoulomaeria (New Year's Eve), Sefoukloti (40th day of Greek Orthodox Lenten fast).

What are the references for Naxos in Greek mythology?

It was believed to be the birthplace of Zeus and Dionysus, but Naxos is k the myth of Ariadne (something not many now).

What are the famous landmarks of Naxos?

Portara gate is the most photographed spot.

What are the famous foods on the island?

The island is famous for its Arseniko, Thiliko, Xinomyzithra, Graviera, and Kopanisti cheeses. The potatoes of Naxos are of the most popular in Greece.

What are the special drinks to taste in Naxos?

You will find the famous Citron liqueur in Halki village.
Conclusion for Naxos Restaurants
As you see, there are fine dining restaurants in Naxos island, along with taverns and all in-between. Naxos island can cover all tastes. The island of Naxos is known for its great dairy products, wines, and meat. 
Restaurants who insist on local cuisine "with a creative twist," and fine dining insist on getting their ingredients from local farmers (like mushrooms, for example).
In these Naxos restaurants, you can experience dining that is beyond the well-known Greek "Souvlaki" or "Gyros" and "Horiatiki." Such plates can be anywhere in Greece. 
Do taste different things on the island of Naxos. Along with its numerous beaches, mountains, hiking routes, and nightlife vacationing, there is what many calls an "experience of a lifetime."
Of all the Naxos restaurants we have delved into above, the Barozzi Naxos undoubtedly stands out for dining. As you can see, it is the only one that focuses strictly on gourmet and fine dining.  
If I were you, I would prioritize it in my quest for the right kind of restaurant for my liking. You are, however, free to select the one you deem necessary and appropriate.
Are you planning for Naxos island and Naxos restaurants soon? Let us know, and we can provide you with extra tips!
Enjoy.
Also, read: