Rhodes is the largest island among the Dodecanese cluster located off the southeast shores of the Aegean Sea.
Going to such an island comes with swimming. Rhodes has many beaches, where some are considered top and are indeed the best beaches on Rhodes Greece. But, of course, that is on top of its secret and long history.
You have to read this post for things to do in Rhodes and this one dedicated to the Old Town of Rhodes (a UNESCO World Heritage Site).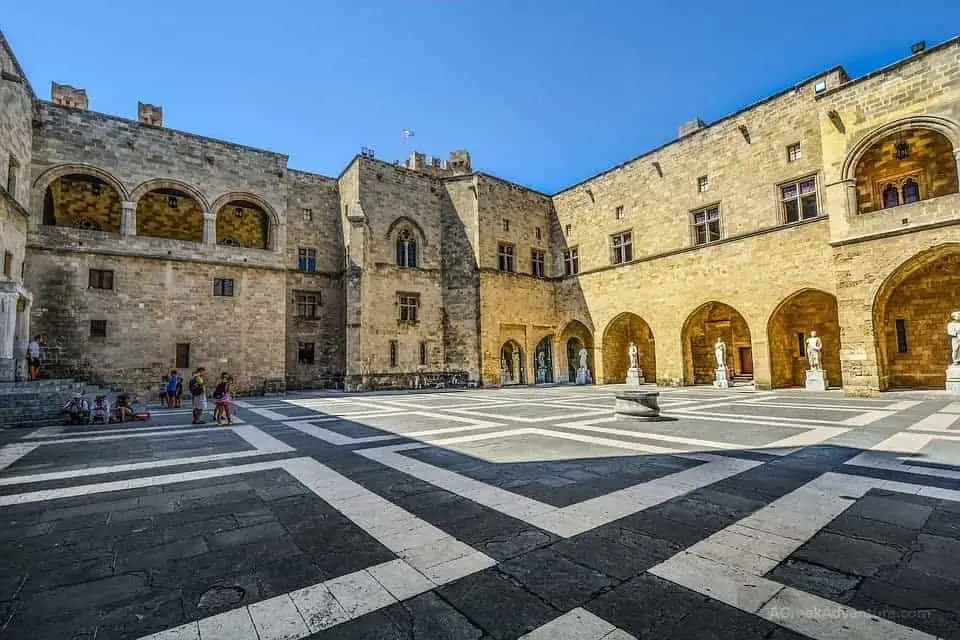 In Europe, Rhodes Island hosts hundreds of thousands of visitors every year.
For a comprehensive guide on things to do in Rhodes island, Greece, click here. For a post, especially for the old city of Rhodes click here. Did you know that the Medieval City of Rhodes is a UNESCO protected site?
From the fantastic ancient ruins to the wooded canyons of cypress, breath-taking sand, and pebble beaches, visitors hardly miss a place to swim or busk in the sand.
The golden sand and pebbles beaches of the island beneath the sparkling Mediterranean waters offer the perfect places to visit.
If you wish to explore the island, then here are some of the best beaches on Rhodes Greece.
Lindos Beach, Rhodes, Greece
It is considered one of the best beaches on Rhodes Greece. This beach is 50km from the main Rhodes city. The beach is 2 different beaches, which share the same bay.
It is a well organized sandy beach and can get a bit crowdy during hot summer months.
Anthony Quinn Bay Rhodes Beach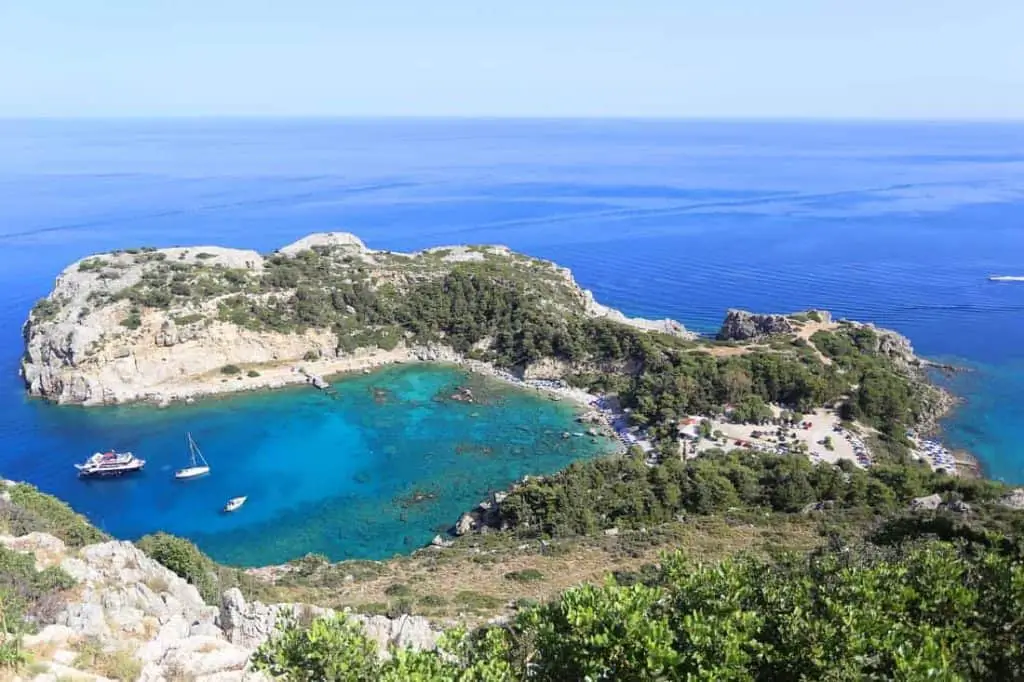 Anthony Quinn is a famous beach located in the Northern shoreline.
Named after a renowned actor who fell in love with its splendor, Anthony Quinn, it is a small and orderly beach littered with both sand and pebbles, plenty of sunbeds, and umbrellas for loungers to enjoy the outdoor environment.
It is also particularly famous among divers. Nonetheless, it features big rocks in the surf, which makes it unfriendly for kids.
Afandou Beach, Rhodes, Greece
Located 19 km from Rhodes Town, Afandou beach provides loungers a long stretch of sandy beach.
It offers a natural, beautiful setting with deep, crystal-clear waters, making it an ideal spot for swimming.
Other areas feature smooth pebbles that not only unveils the Mosaic seabed but also make the beach family-friendly.
Watersports are in plenty. The kids can enjoy wind-surfing, refreshment spots, and cafes.
The best aspect of the beach is that it has a cave in the area of Traounou, the first portion of Rhodes that offers revelers a nighttime party spot.
Tsambika Beach, Rhodes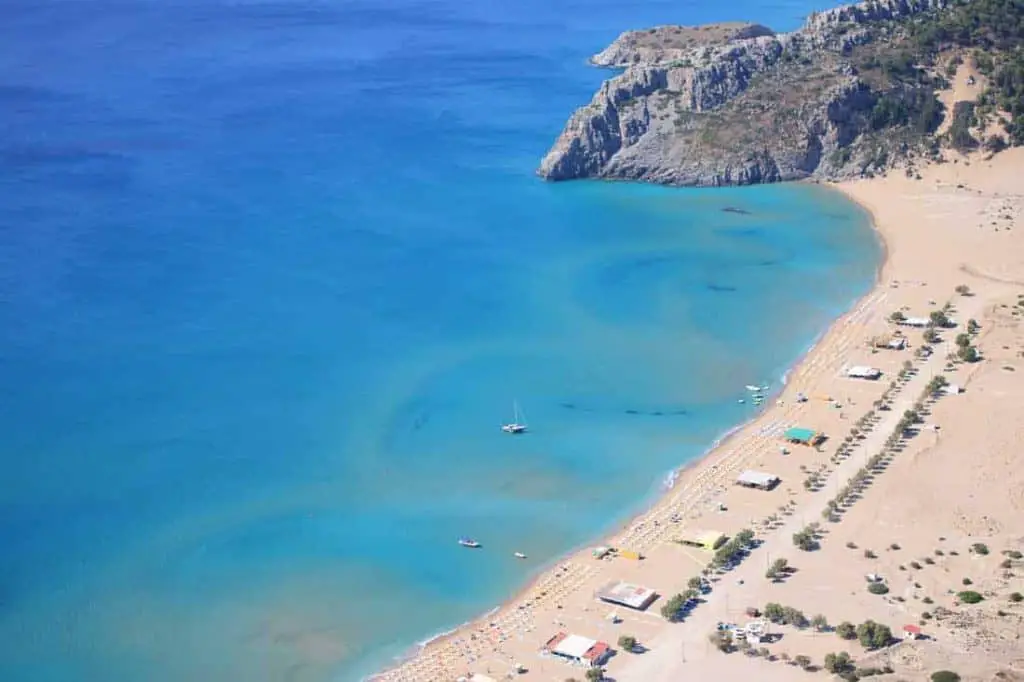 On the island's East coast lies Tsambika beach, yet another one of the best beaches on Rhodes Greece.
It features bright, blue waters overlapping the golden sand. Its considerable depth makes it an excellent place for swimming and bathing.
Visitors can lay on the available sunbeds and umbrellas.
Additionally, sports lovers can enjoy plenty of watersports to get their bodies in good shape.
The relaxing ambiance of the restaurants and beach bars makes the beach an excellent choice for a day's or night's lounge.
Within the beach is a nicely sheltered bay with eye-catching mountainous scenery that elevates your visitor experience.
Ixia Beach, Rhodes
Ixia beach's popularity is perhaps because it sits 5km from Rhodes Town.
That makes it easily accessible. Its rugged terrain characterizes the Northern coast of the island. Strong winds blow here, and albeit they put off bathers, these winds come as good news to kite-surfers and windsurfers.
The gorgeous blend of smooth pebbles with clear waters and plenty of things to keep every member of the family occupied.
The beach is home to some deluxe hotels and resorts to provide a home away from home. And if you prefer sumptuous Greek cuisines, Ixia beach has a significant number of restaurants and taverns.
Trianda Beach / Ialyssos Beach, Rhodes
Trianda beach, also regarded as Trianta or Ialysos beach, lies to the southwest of Rhodes Town.
Together with Ixia beach, they form one of the lushest best beaches on Rhodes Greece.
The shoreline strip stretches for several kilometers and has several five-star hotels and resorts offering meeting and conference services along with all-inclusive family packages.
The beach features a blend of sand and pebbles.
However, the fact that it runs just along with the city with all the hotels offering swimming and food services makes up for the shortcoming.
Additionally, guests can cool off on sunbeds and umbrellas after partaking in one of the strategically places water-sports centers along the seafront.
Kallithea Beach, Rhodes
Kallithea beach provides high-level enjoyment for its isolated coastline. It features a natural, idyllic setting with smooth pebbles with overlapping emerald waters.
The pine and palm trees surrounding the beach make it one of the most splendid marine surroundings on the island.
This organized beach offers plenty of water sports and diving for the kids to surf and swim.
Adventurous visitors can also find it an excellent place for exploration with hot springs, grand buildings, and magnificent mosaics.
Prasonisi Beach, Rhodes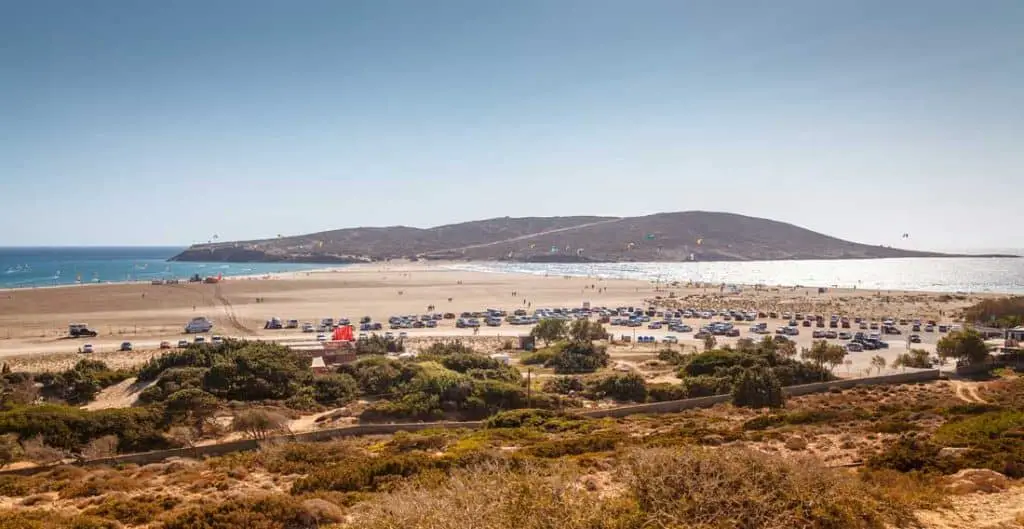 No other beach in Rhodes comes visible under low tide only, but Prasonisi does. That makes it unique.
In fact, at different times of the year, Prasonisi appears as a tiny island on the southernmost pike of Rhodes.
From here, you can wallow in the spectacle of the Mediterranean and Aegean seas and the mountainous surrounding, all of which make it a one-of-a-kind tourism destination.
Windsurfers love the West side of the beach due to the strong winds.
On the Eastside, visitors can afford plenty of shelter from sunbeds and umbrellas, cafes, and restaurants that allow for lounging and service of great food.
Elli Beach, Rhodes
Elli beach lies within Rhodes Town, making it accessible by foot from the town center. This proximity makes it a popular beach destination.
This pebbly beach features beautiful, cobalt-blue waters with plenty of amenities.
Visitors can take time off in taverns and restaurants, sunbeds, and umbrellas or enjoy a vast latitude of beach sports like diving, windsurfing, diving, and beach volleyball.
Faliraki Beach, Rhodes
Like Ellis beach, vacationers can also access Faliraki from the town center. That means it hosts crowds of beach lovers.
This well-organized sandy beach provides colorful sunbeds and umbrellas and an array of watersports, including waterskiing, diving, and surfing.
Home to several resorts and restaurants, Faliraki beach offers a getaway spot for gastronomic tourists.
Closer to the main beach lies the Faliraki Nudist beach, with extra sunbeds and umbrellas featuring older folks searching for a laid-back day.
Glystra Beach, Rhodes
Glystra offers a pleasant treat to the whole family along with an undeveloped shoreline South of Lardos.
It measures but 200 meters with a few pebbly sections.
The calmness of the beach provides a relaxed setting, as there are hardly any motorized sports except for sunbeds, umbrellas, showers, and a driven café to offer snacks and other edibles.
Ladiko Beach
The south-eastern part of Crete, just three kilometers from the village named Ladiko, has some great beaches. The waters are crystal clear and there's sand as fine grains where you'll find Blue Flag winners too! With plenty to offer in terms of water sports such as fishing or swimming.
St Paul's Bay
When you arrive at St Paul's Bay, the first thing that will catch your eye is how beautiful this place looks. With clear blue water and soft sand beaches lined with gorgeous palm trees, there's no wrong way to spend a day here! You can either take it easy in one of their many sunbeds or get underwater for some good old-fashioned snorkeling.
Agathi Beach
The beach at the right-hand side of this stunning stretch is guaranteed to keep you entertained. The water here isn't as shallow and there are some fascinating rock formations that make for great snorkeling opportunities, too!
Lardos Beach
Lardos beach is a great spot for families with children. The shallow waters and fine sand make it safe enough that many kids can enjoy playing in the waves, without getting too far from land or sinking into priced messiness like some other beaches on this island do! There are several tavernas alongside offering food & drinks – perfect after an afternoon enjoying water sports such as kayaking/snorkeling etc. when you're hungry but not yet ready to head back home again just yet.
Where to Stay in Rhodes island, Greece
With so many hotels and other types of accommodations next to the beaches of Rhodes, Greece, it is straightforward to decide where to stay in Rhodes.
Just think of your budget and if you travel with your family or not.
Many of the best beaches on Rhodes Greece are sandy, but some are rocky, so small kids may not find them funny.
Rhodes has a long tradition in hospitality and hosting tourists from all over the world, so the services level is excellent all over the island.
Some locations – like Faliraki – can be really "wild" when it comes to partying and nightlife.
Use Booking.com to check for accommodations and Skyscanner to check for the best flight prices as soon as possible. Make sure to get travel insurance too. 
We recommend the Get Your Guide organized tour providers (and also tested by us) for such.
Our hotel suggestions in Rhodes are:
Complete list of Best Beaches on Rhodes Greece
You need to know that there around 50 beaches in Rhodes, so you may want to explore many more.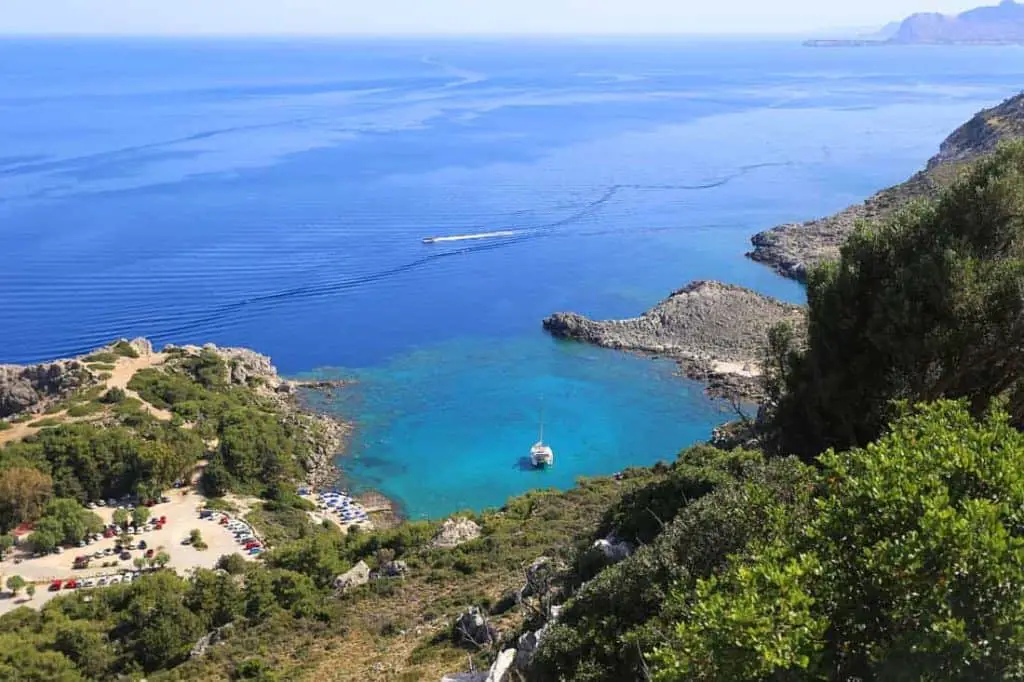 So, apart from the trendy ones mentioned above, the total sum is: 
Afandou
Agathi
Akti Miaouli
Casino
Elli
Faliraki Beach
Faliraki Nudist
Fournou
Genadi Beach
Glystra
Haraki
Ialissos
Ixia
Kalathos
Kallithea
Kamiros
Kathara
Katsouni
Kiotari
Kolympia
Kopria
Kremasti
Lachania
Ladiko
Ladiko Anthony Quinn
Lardos
Lindos Beach Limanaki Agios Pavlos
Lindos Beach Megali Paralia
Lindos Beach Palace
Lothiarika
Makris Tichos
Paradisi
Pefki
Plimiri
Prassonissi
Stegna
Theologos Beach
Traganou
Tsambika
Vagies
Vlicha
The list we provided with the best beaches on Rhodes Greece, is not just a ranking list for Rhodes. Rhodes, Greece, has some of the best beaches in the world with something for everyone in the family.
If you love sports, there are all sorts of water sports. Explorers can also find this a haven, venturing into some of the ancient places in Rhodes.
How to get to Rhodes
Book Ferry to and from Rhodes.
Related posts: