Do you know what to do in Athens, Greece, for a weekend? You may have been in Athens, Greece some times but it is a city of different surprises. If you plan for many days, then read this post for 47+ things to do, otherwise, keep reading.
There are many things to do in Athens, Greece. In this post, you will find out about:
Explore the musical history of Athens and learn traditional songs
Learn the history of modern and old Athens
Find hidden backyards for "meze" snacks
Explore the secrets of the Jewish Museum and the Synagogue
Get inside and relax in a Hammam in Athens
Tripping to Cape Sounion
Explore the neighborhoods of old Athens
Where to find exquisite Graffiti art in Athens
Where to go for hiking in Athens
Let's get started.
Visit the Jewish Museum in Athens Greece and Jewish Synagogues
If you want to travel and explore cultures and life, you must visit the museums of the places you go to.
That is why we went to the Jewish Museum in Athens. as part of our what to do in Athens itinerary
We believe that people have more in common than differences. Having visited Dachau a year ago, visiting this Museum was something natural to do, as Dachau remains quite an emotional place.
A thorough tour inside the Jewish Museum of Athens, with a knowledgable guide, is primarily a mind-opening experience.
As the Museum is mostly about the history of Greek Jews, we found out that that history goes way back in time.
Our guide was Eleni from Urban Athens Collective. She loves Athens and its history.
That, along with her passion for communicating the different cultural aspects of this city (and her studies in European history), were extremely helpful, so we learned a ton of things.
Inside the three floors of the Jewish Museum of Athens, you will see significant facts and relics of Jewish history in Greece, along with its course during the ages. The Jewish population of Greece was analogically small but strong.
That community suffered a lot (as many others) during the 2nd World War but also thrived on many levels.
Below see the fake id cards issued by the Greek government so Jews could show Christian names and avoid captivity by Germans.
Clothes from a concentration camp offered to the Museum by a Greek Jew survivor.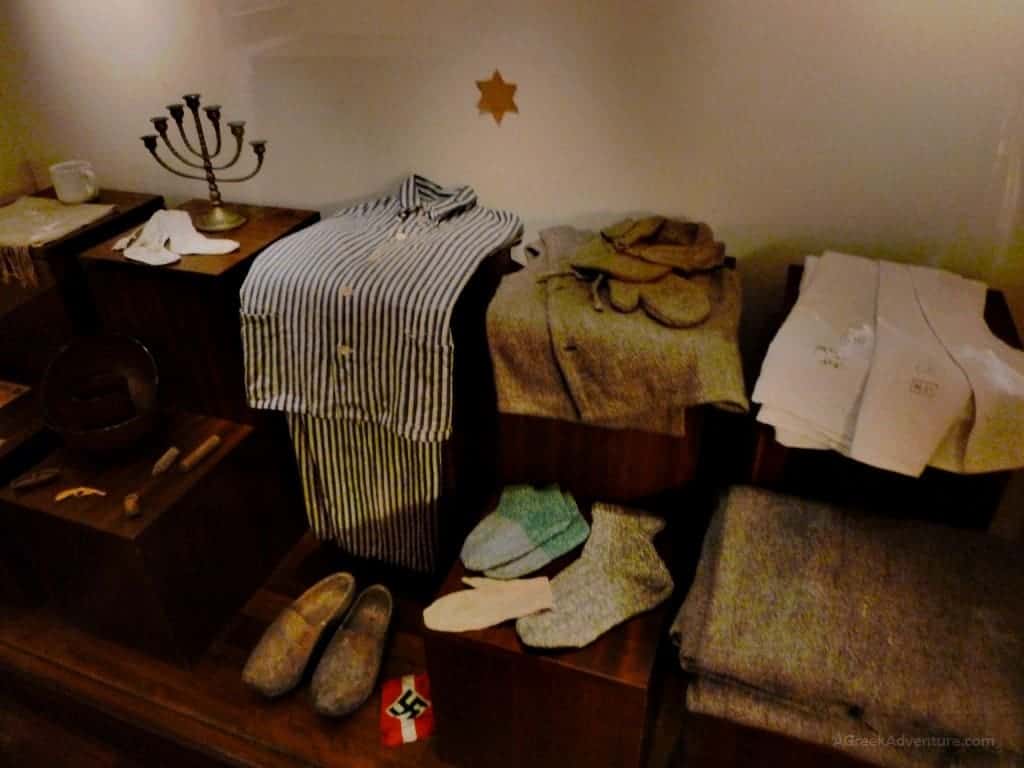 A variety of items returned to the Greek Jews community after the war.
But the reference in World War 2 is just a part of the whole history.
The first things we noticed were several similarities and influences of Jew culture into the Greek culture and vice versa.
As Jew communities were spread all over Greece, they were influenced a lot by local factors.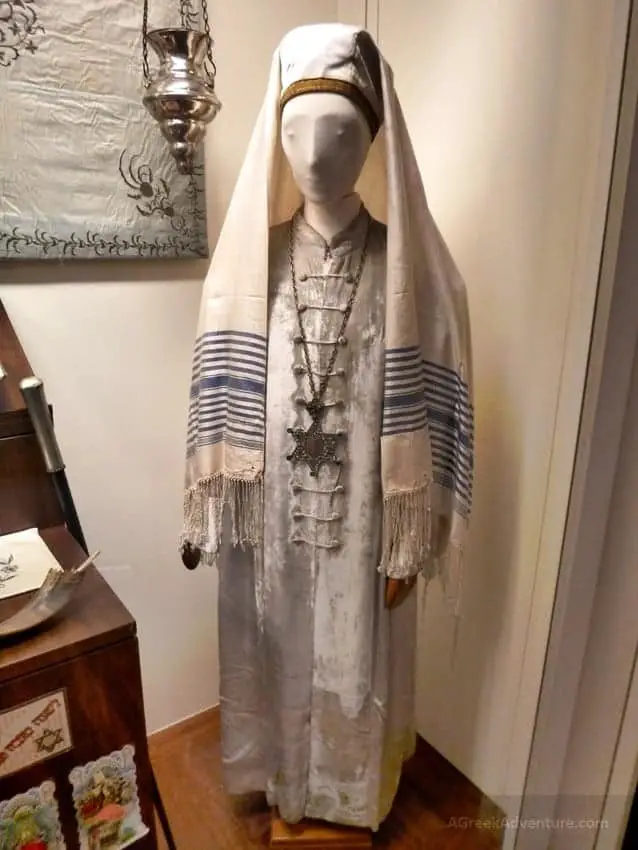 Similarities can be seen in clothing, jewels, and everyday objects.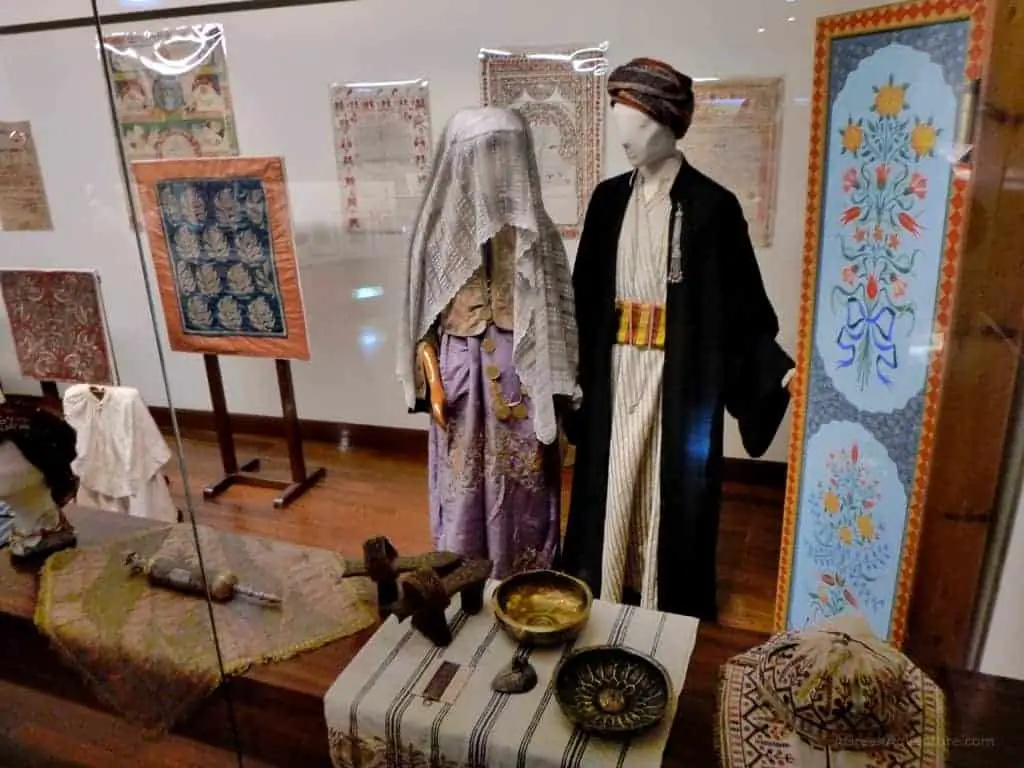 The Museum is better to be walked from bottom up. There is a reason for that as you will experience how Greek Jew history and culture evolved during the ages.
Plus, you will see that despite the World War Holocaust, their history didn't stop but continued.
There is a real Synagogue setting (the one of Patras) in one of the floors, with all the ritual objects that are used.
This here is one of the two pieces the consists of the Synagogue setting. Behind the veil, the scriptures are kept away from the public.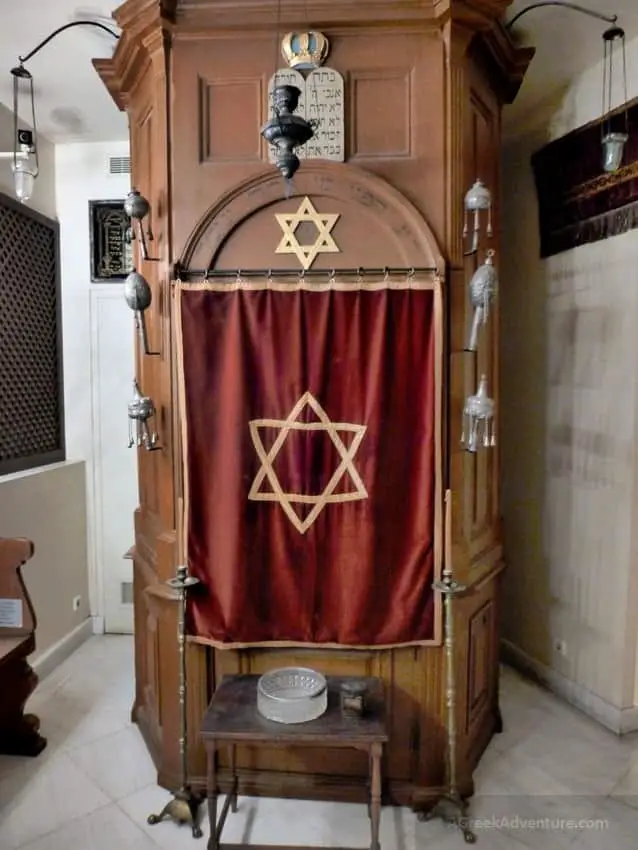 Below: Different Tora cases (Sephardic and Romaniote).
The cloth in the middle comes from wedding garments. People used to modify their wedding garments and offered them to be used as veils.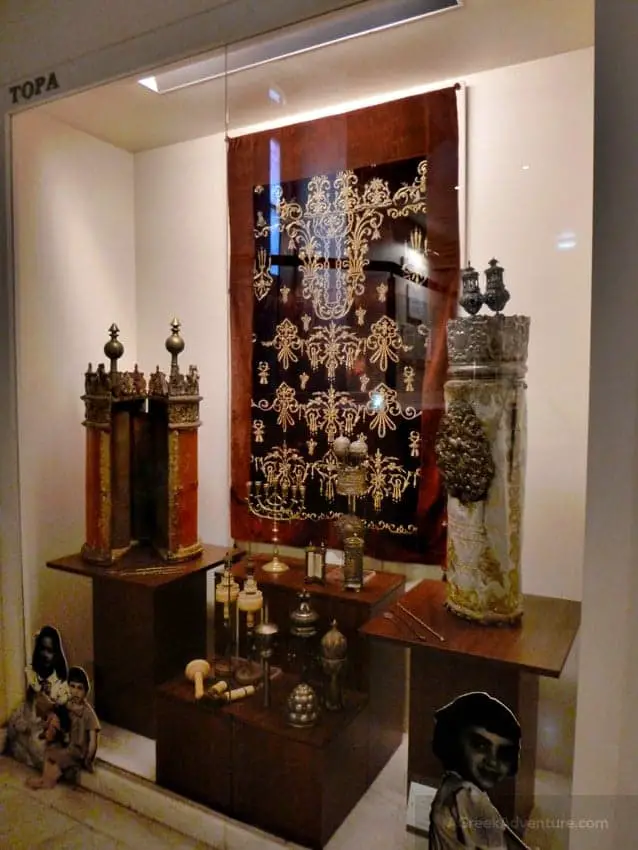 Protected behind glass and in controlled temperature are Tik cases. They were used to keep in the Sepher Tora.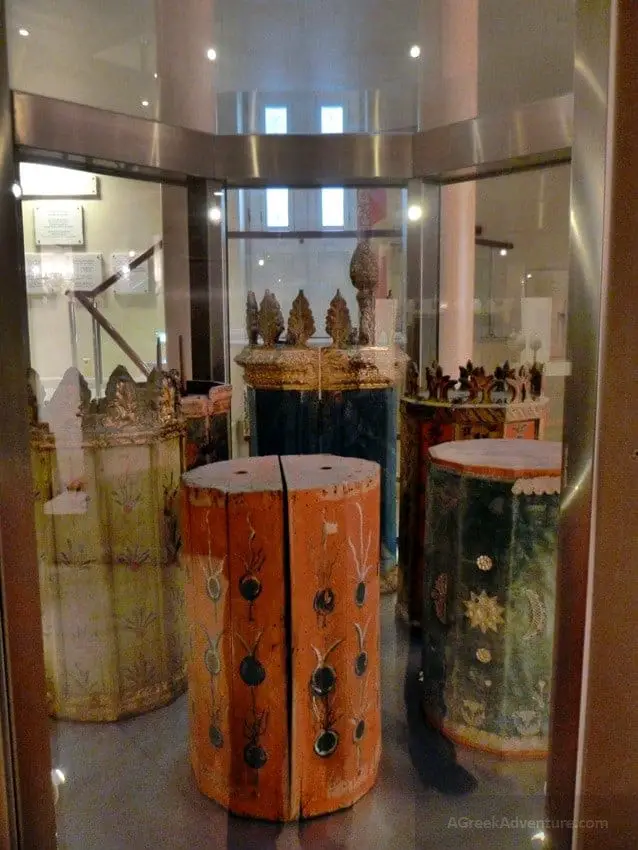 On different floors, you will also see elements from daily life, used in religious anniversaries and various festivities.
Below: Different types of oil lamps. All have 8 plus 1 container.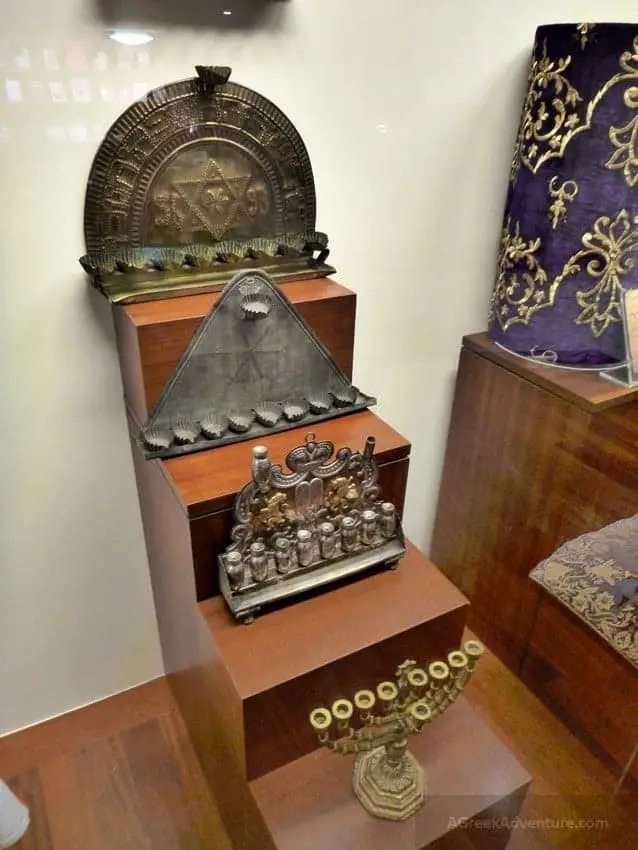 Here are sweets (look like made of clay but are not) that were prepared for special holidays.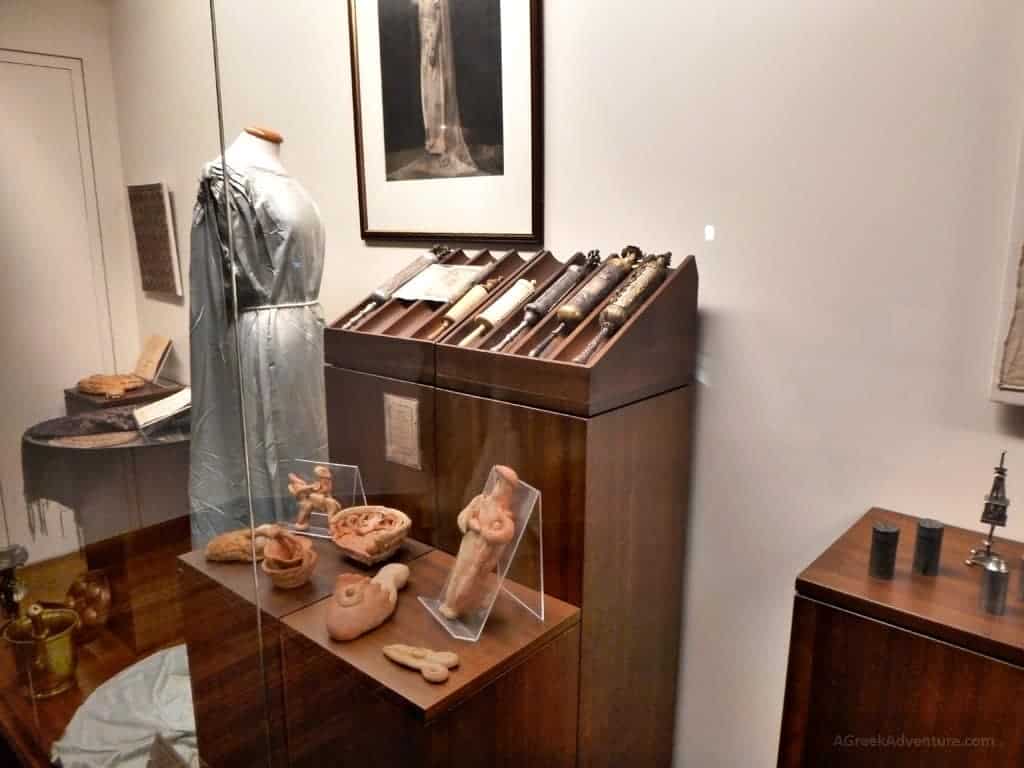 The visitor will also see tools and artifacts used in circumcision and other rituals.
We think this is a must for your weekend in what to do in Athens. It will bring down many stereotypes which you may have picked up around.
Synagogues of Athens
The 2 Synagogues are located in a different (10-15 mins walking distance) location, and one is opposite to the other. You need to get through a security check around one day before being allowed to visit the Synagogues.
The reason that is two so close to each other has to do with a variation in the culture of Jews.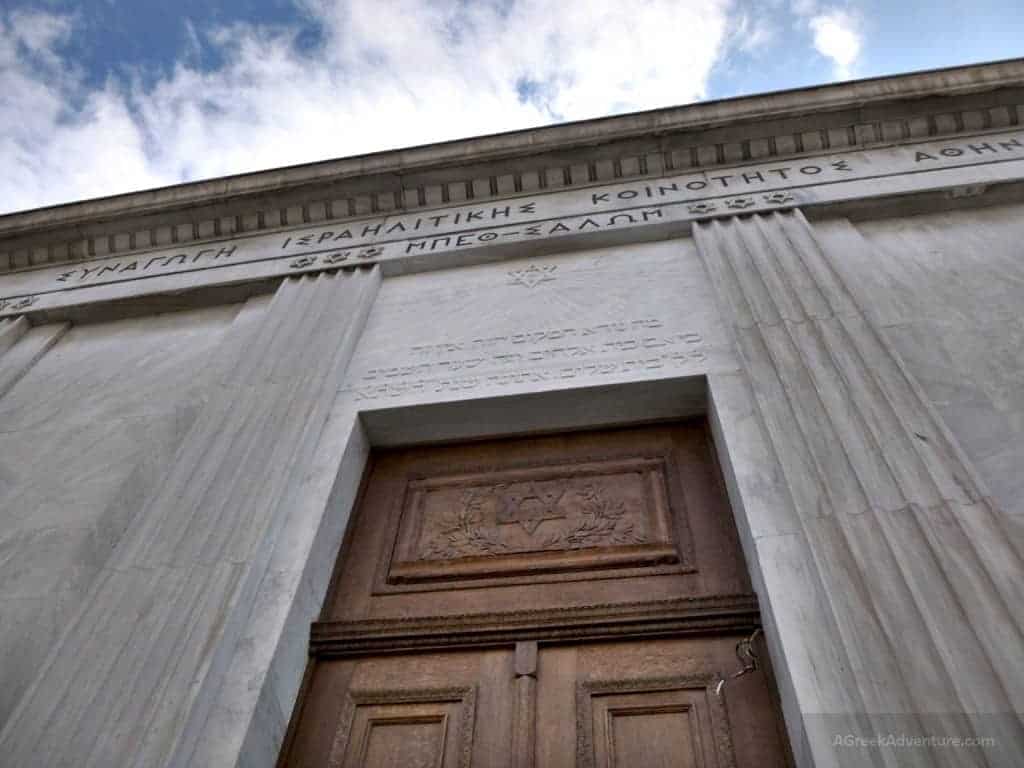 So there is the Sephardic Synagogue of Athens (Beth Shalom Synagogue) and the Romaniote one (Etz Hayyim).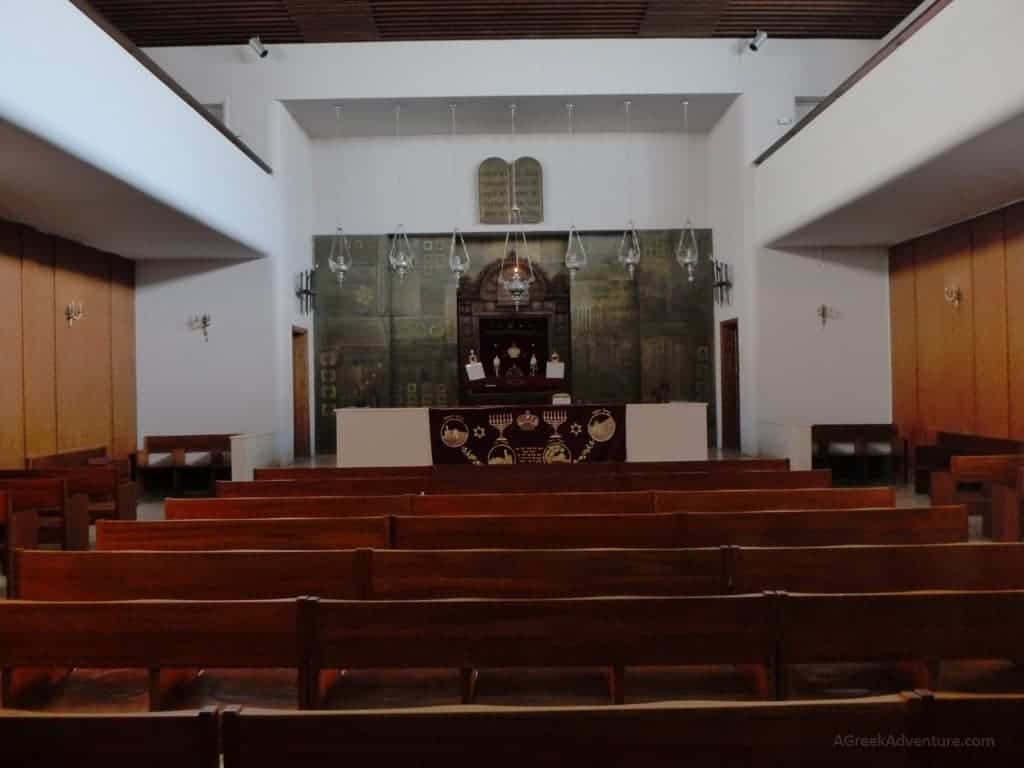 Both are places of worship, so the visitor must act accordingly and respect the culture.
The decoration is simple yet visually imposing.
A few meters outside of the Synagogues, there is a small park that oversees the Kerameikos area, where a monument that resembles the Star of David is situated.
This is a memorial for the Holocaust, where 88% of the Greek Jews were exterminated during WWII.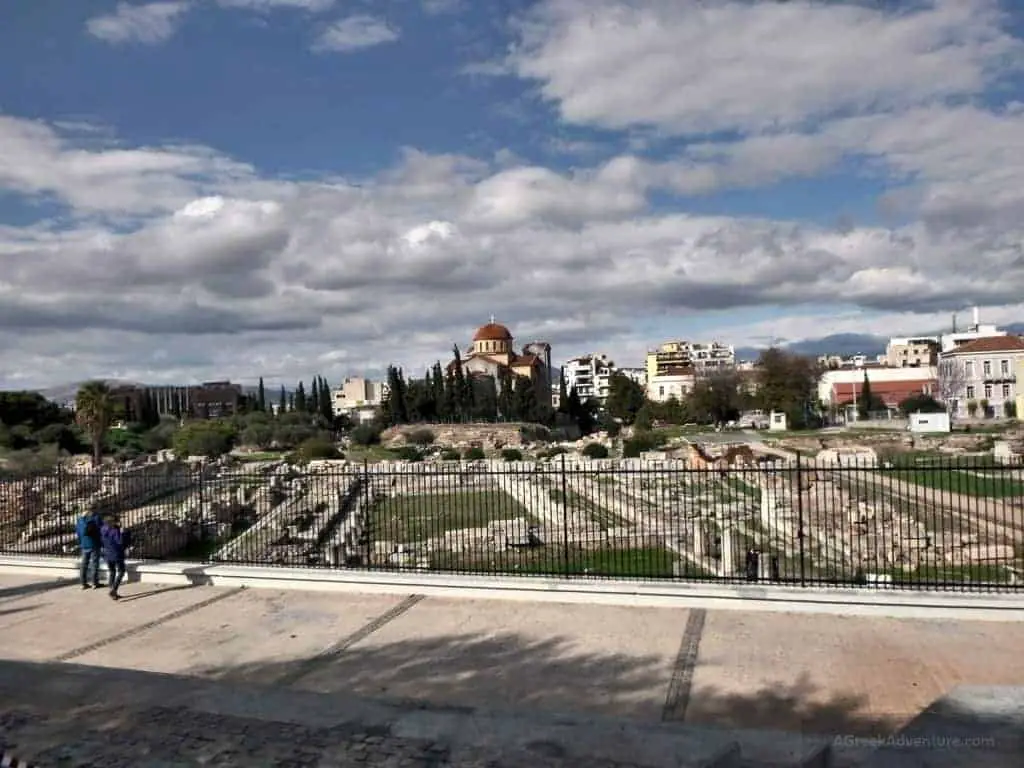 The Jewish Museum in Athens is located at Nikis 39, Athens 105 57, Tel.: +30 210 32 25 582. It is within a 5 minutes walking distance from the Metro station of Syntagma. It is best to visit it with a guide. Otherwise, you won't learn much.
Both Synagogues are located at 8 and 5 of Melidoni Street, Athens 105 53, near Thiseio.
Thiseio is a popular area, very close to Metro, where you can additionally visit, find, and eat different things. You need to pass a security check one day before attending the Synagogues. A guide will arrange for that.
What to do in Athens Center? Walkthrough Plaka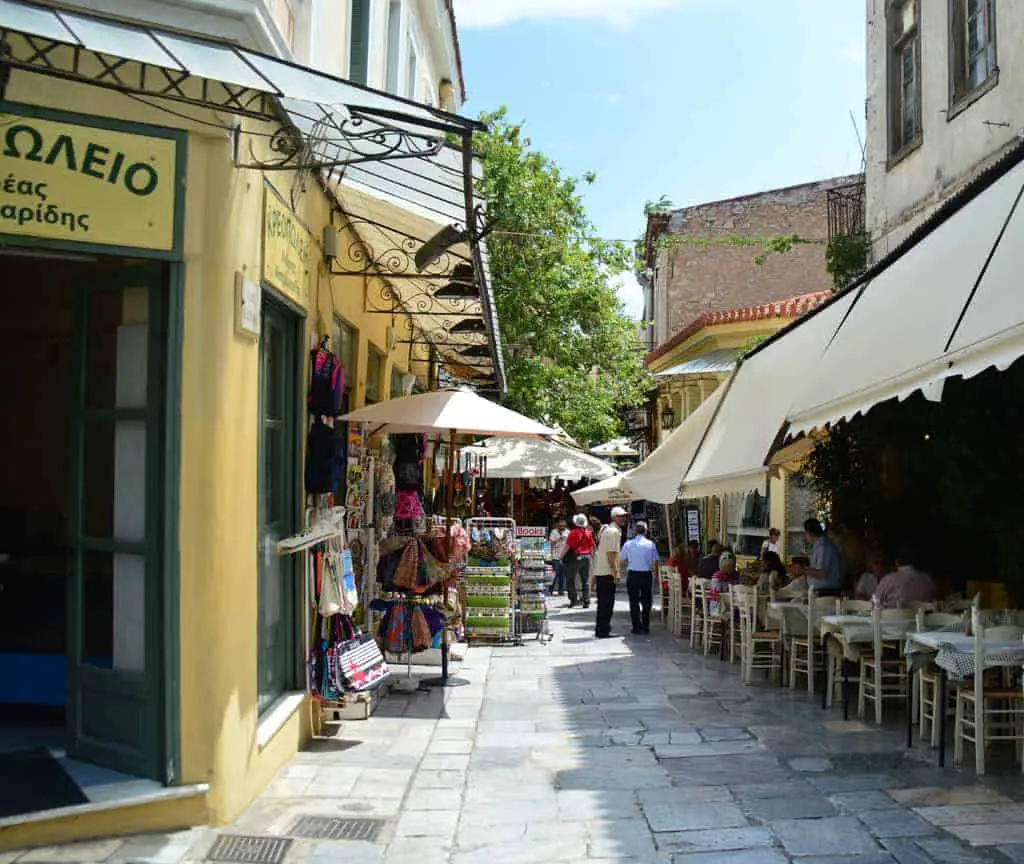 Keep on reading! You will no longer wonder what to do in Athens, Greece.
This was the concept behind a walk with the team of travel bloggers (Travel Bloggers Greece) along with some great people who joined us in that old part of Athens.
Our guides were Aris and Katerina from "LivinLovin," who complimentary provided this service to us.
We expected to learn a few things, but what was prepared for us was far from that.
We were even taught how to sing traditional songs! Yep, it was that good!
Our experience lasted 5 hours, and in the end, we felt so fulfilled and relaxed. We cannot even describe the feeling!
We met at Acropolis Metro station. Funny thing? Most were not knowing who the others were, but somehow we gathered near the same area—talking about attracting vibes.
Our walk started heading inside the area of Plaka.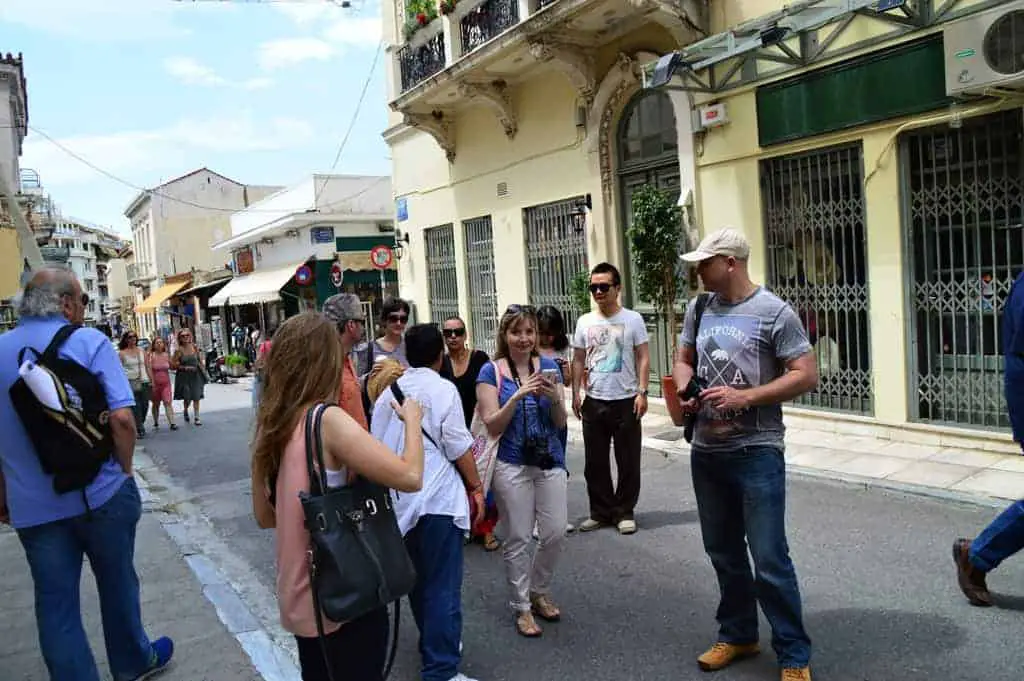 The first thing someone meets on this path is the Choragic Monument of Lysikrates.
It is related to the donation of Lysicrates after his win at a theatrical competition. In Greek, the phrase Chorigos is equal to the Sponsor.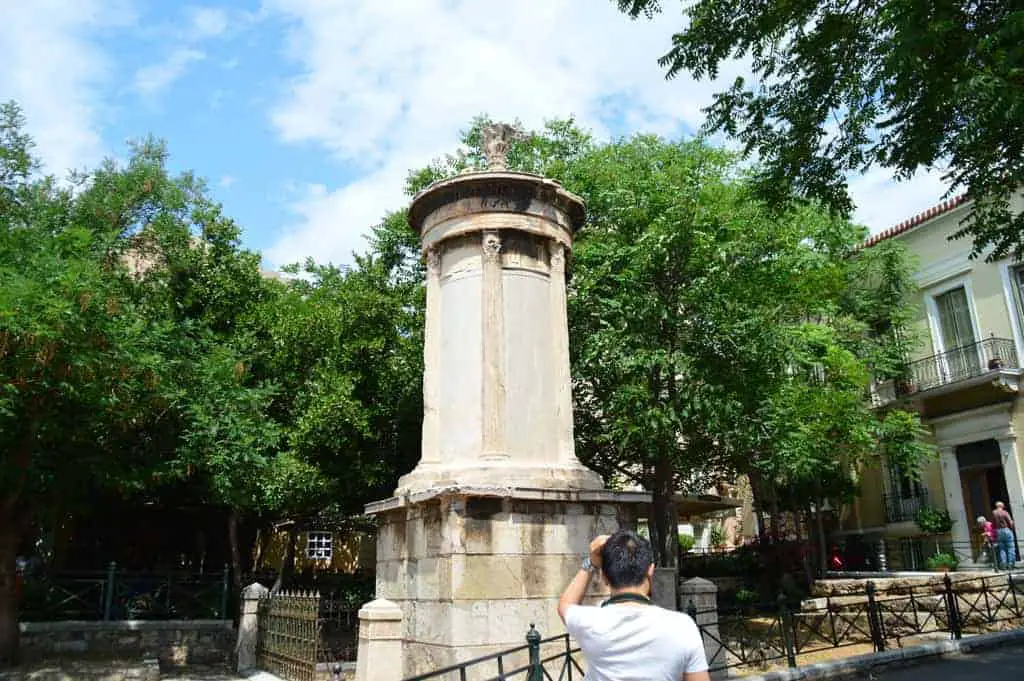 The area of Plaka is well known as the "Old Athens" since Athens originally consisted only of the part build around Acropolis. The rest of the city was vineyards, pasturage areas, and dull open space.
This area is otherwise known as the historical center of Athens.
Here are photos from our walking inside the narrow streets of traditional buildings.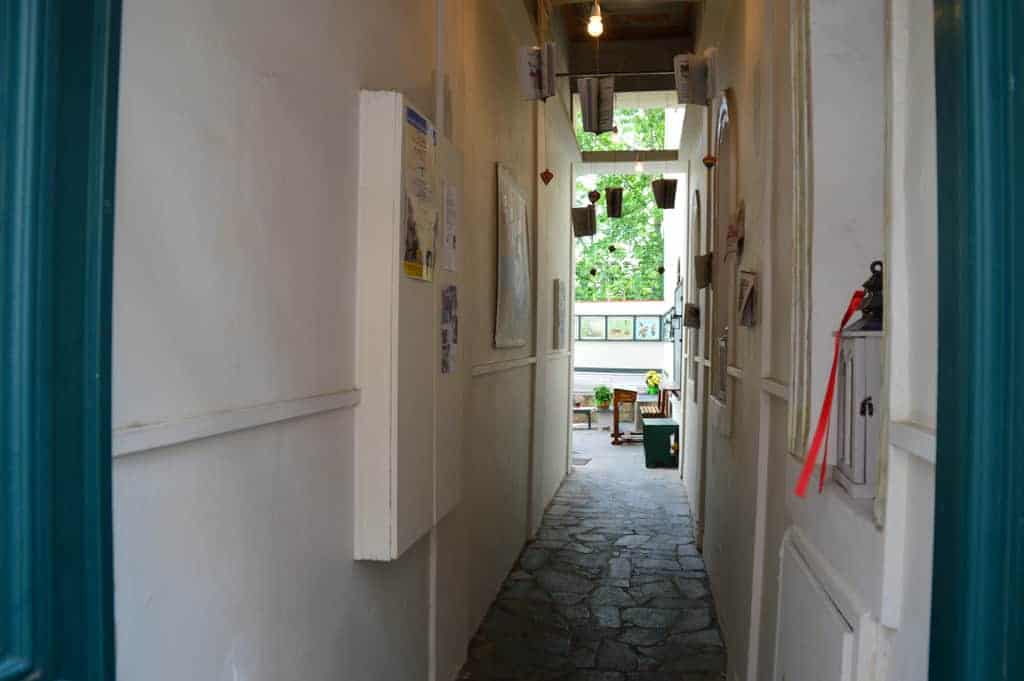 Every house at the old Athens had an internal courtyard. Most times, more than one family lived in different apartments, all using a shared patio, while the whole complex was surrounded by tall walls with only one entrance. It was something like a mini castle.
The buildings are lovely. However, some of them are abandoned while others that follow the neoclassical style keep on standing and are also renovated.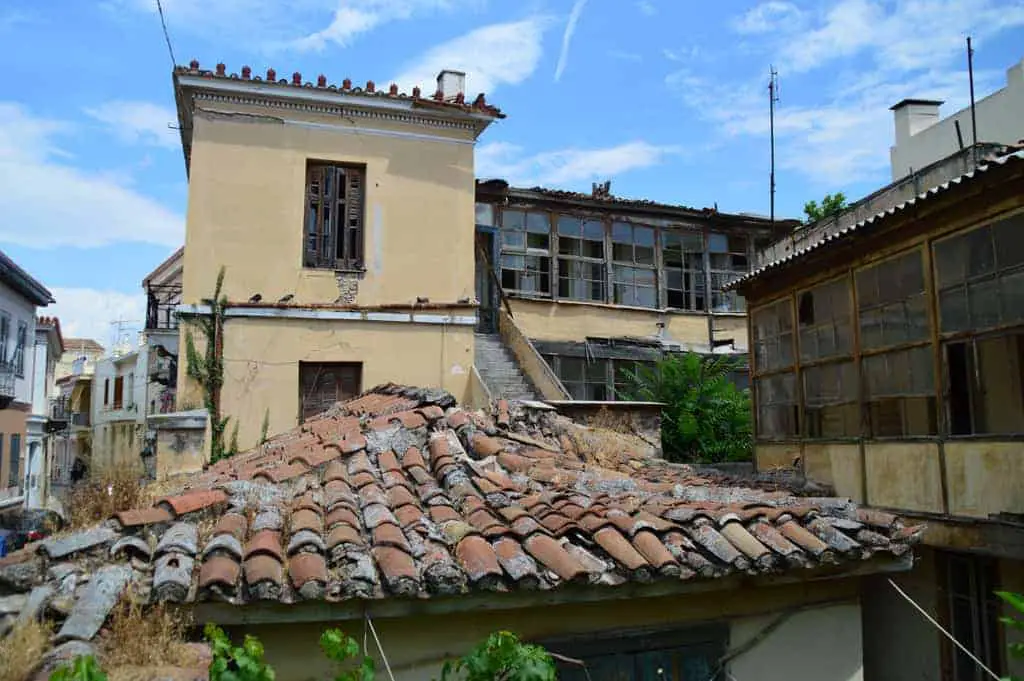 Every single corner in the area of Plaka is an opportunity for a photo full of memories.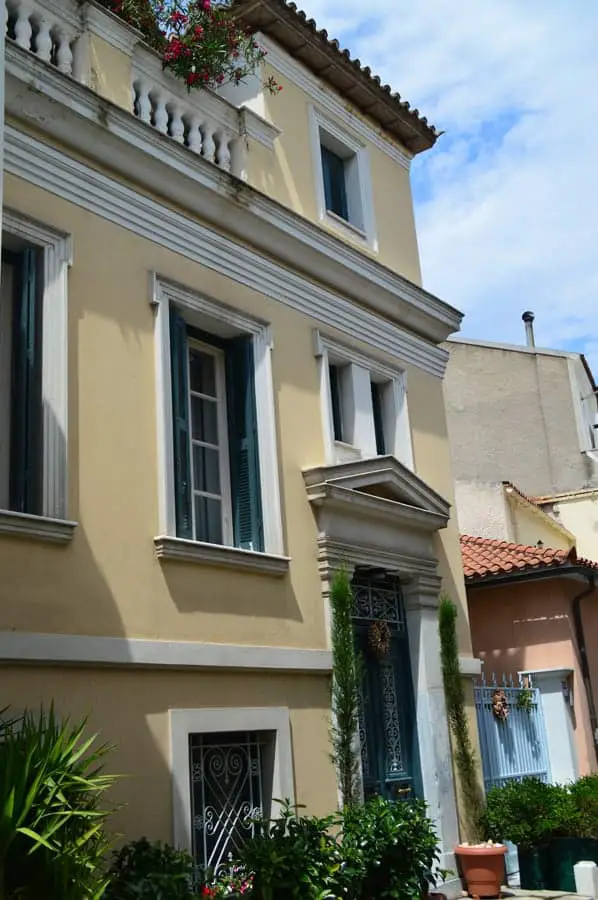 This place reflects the way people lived after the old years and close to modern times (around 1960 when the extensive construction of Athens happened).
Walking these streets is one of the things to do in Athens.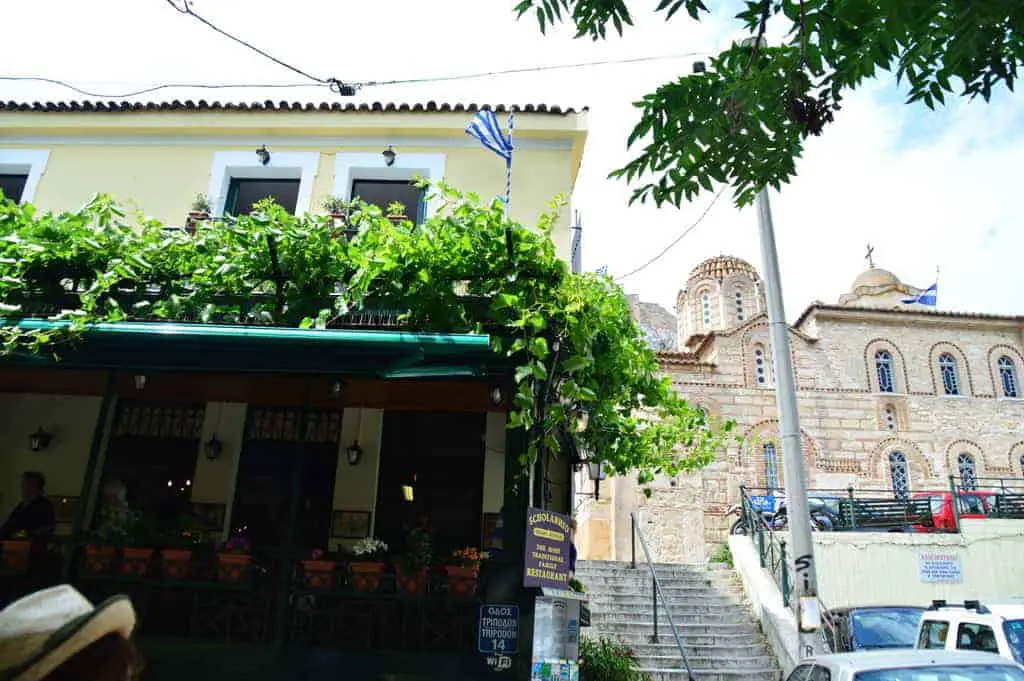 There are tons of places to sit for a coffee, for a snack or to have lunch.
The Museum of Greek Folk Musical Instruments
We are Athenians, and we had no idea that this place existed! Our surprise was so huge but became even more prominent when we saw the fantastic work the museum guys have done with the site.
The whole Museum of Greek Folk Musical Instruments is hosted in an old and renovated traditional building which beams tranquility and -we dare to say- a kind of elevated culture.
See some of the instruments exhibited there.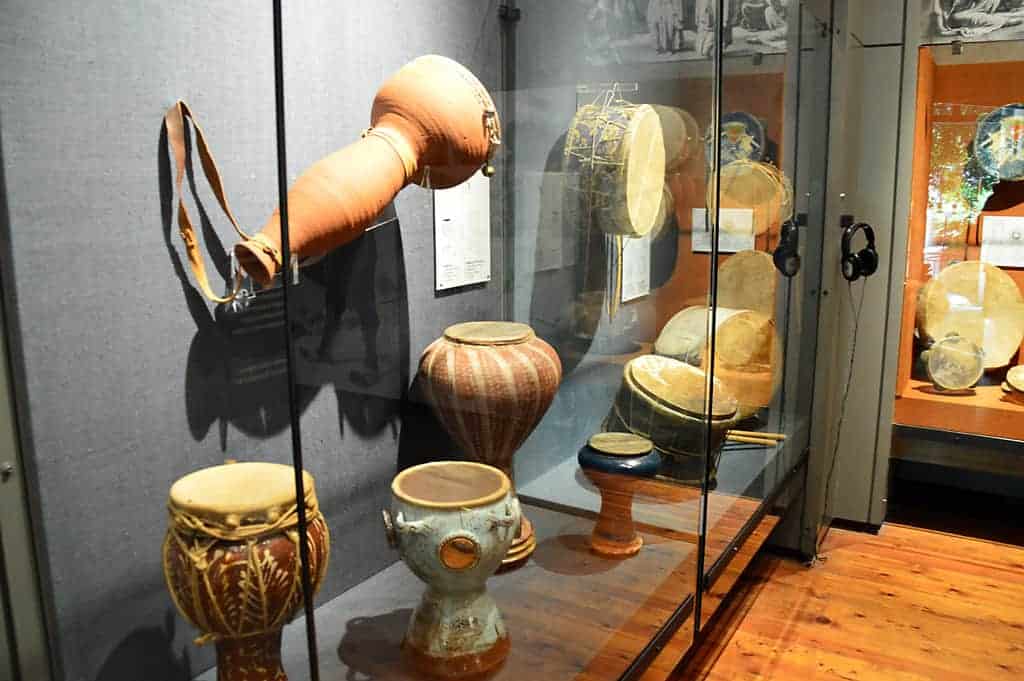 Do you recognize any similarities with ones from your country?
How to Sing Traditional Greek Songs
That was just one of the highlights of our walking tour. After the museum visit, we met Evangelia, which she drove us to another nearby building to sing traditional songs. That building belongs to the Greek School of Fine Arts.
We got the songs in paper and we were taught how to sing them, how to put emotion and passion behind them.
The songs spoke about different situations from the life of people (emigration, lost countries, love), and they could generate images in our head and heart closely related to the lyrics.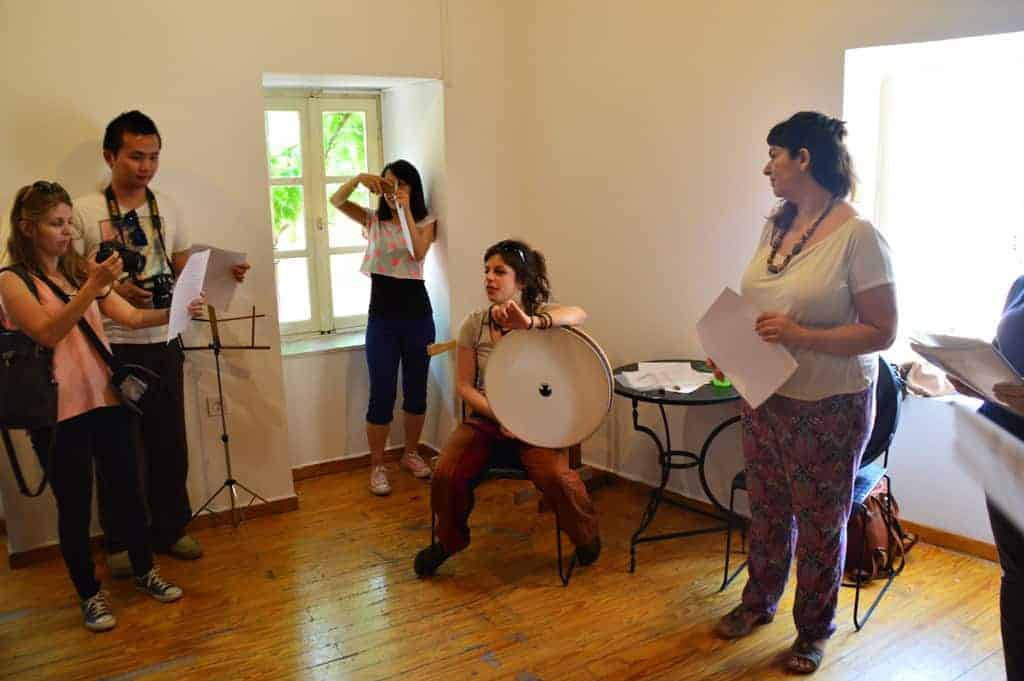 Our teacher was excellent in explaining all, and some senior students of Greek folk songs were also there to help along and keep the tempo!
Listen to the voice of her. Isn't she amazing?
Here is a video from all of us singing!
Have you ever been to Plaka or at the Greek Popular Musical Instruments Museum? Do you know other things to do in Athens? Tell us about it!
Explore Cape Sounion, Temple of Poseidon in Athens
We have an entire post dedicated to Cape Sounion.
For Athenians, this short trip to Cape Sounion, where the Temple of Poseidon resides, is an opportunity to admire the vast blue of the horizon and of Mirtoo Pelagos.
Indeed that view makes you open your senses. Especially on a day where the sun plays games with the clouds, changing the contrasts of ancient ruins between bright golden yellow, white, and shadows.
What To Do in Athens Greece, Anafiotika Area (near Plaka)
This area is -naturally- full of ancient ruins. Both visible but also uncovered when someone tries to renovate his house or plant some flowers. Check this house entrance.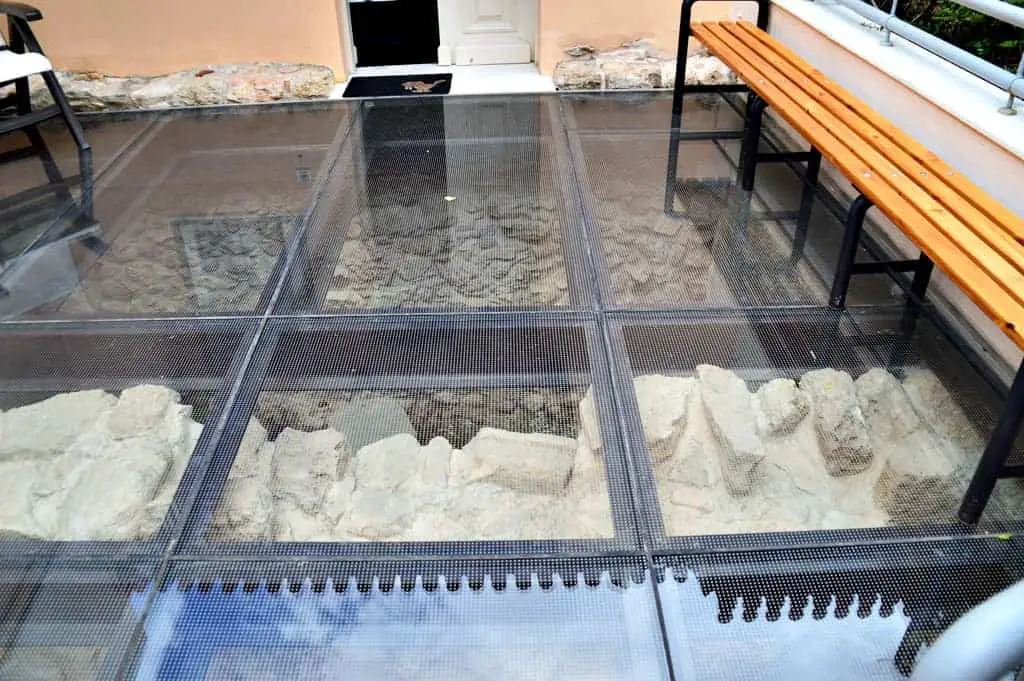 We passed through the first University of Athens, which nowadays is used for cultural seminars and events.
It also has a shady backyard and different levels where people can sit and discuss in quietness.
It was time to go up to go down again but through an island! Keep on reading.
Enjoying views like this one is one of the best things to do in Athens. Make sure you get to high ground.
Below you can see a part of old Athens up to the point where modern Athens starts.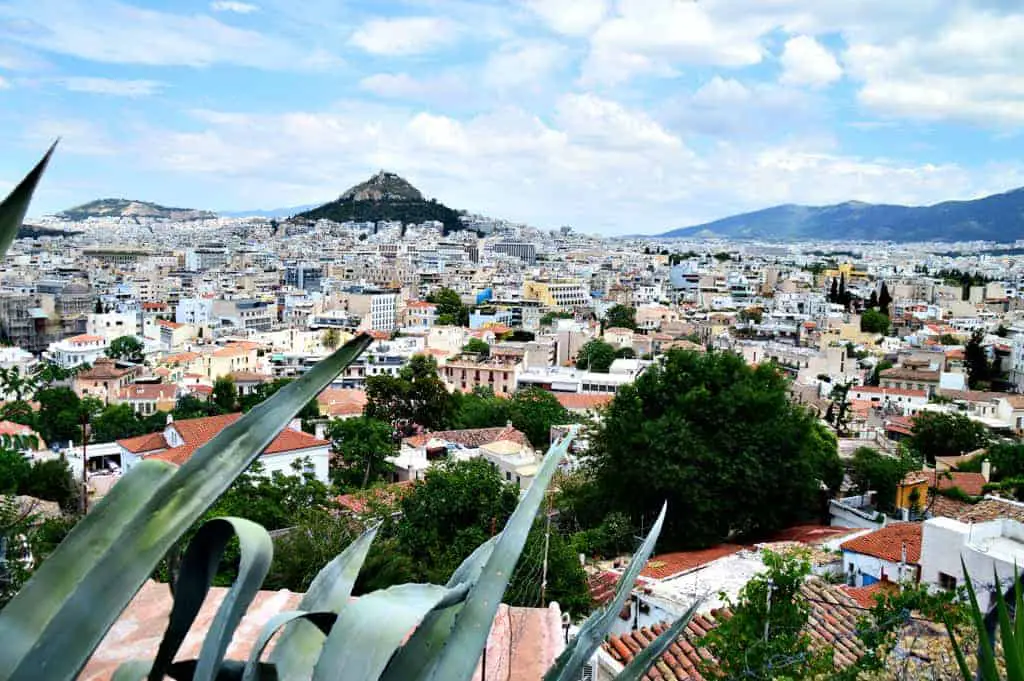 Anafiotika: How to build an island village under Acropolis
We promised that you would see an island at the hill of Acropolis, right? Well, here is the story first as it was carried over the years.
Athens at first was occupying the space around Acropolis and just that (more or less).
At some point, the ruler of Greece asked his advisers on who were the best builders of Greece. He wanted to bring them in and build more houses since Athens was expanding. His advisers replied: the builders of Anafi (a small island of Greece).
So, he called for them. When they came, they agreed and asked where they would live as the task would take years. He pointed at the area under Acropolis.
There, the builders constructed their houses in the form of their island houses and brought their families too. Thus, the Area of Anafiotika (meaning: "of residents of Anafi") resembles an island.
Another tale says that again the ruler called for them, and when they asked about where they will stay, he said: "I do not care." Thus, they build that area.
OK, you can choose your version.
We started going down and look at how this area looks like.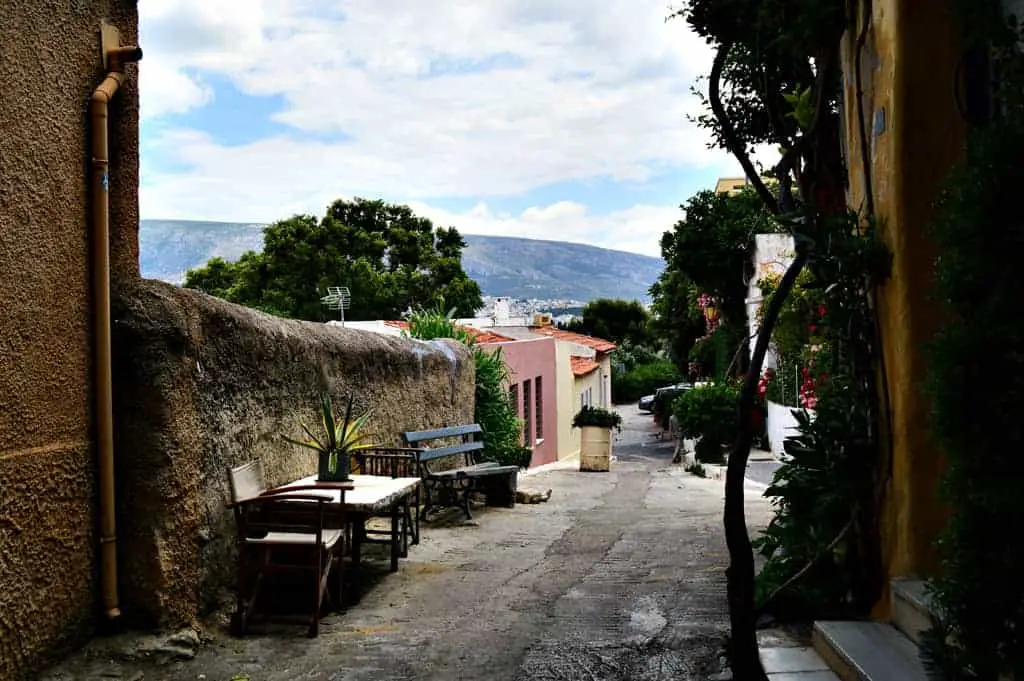 And just when we said that island houses were finishing, we turned right at some corner, and we bumped on this graffiti art!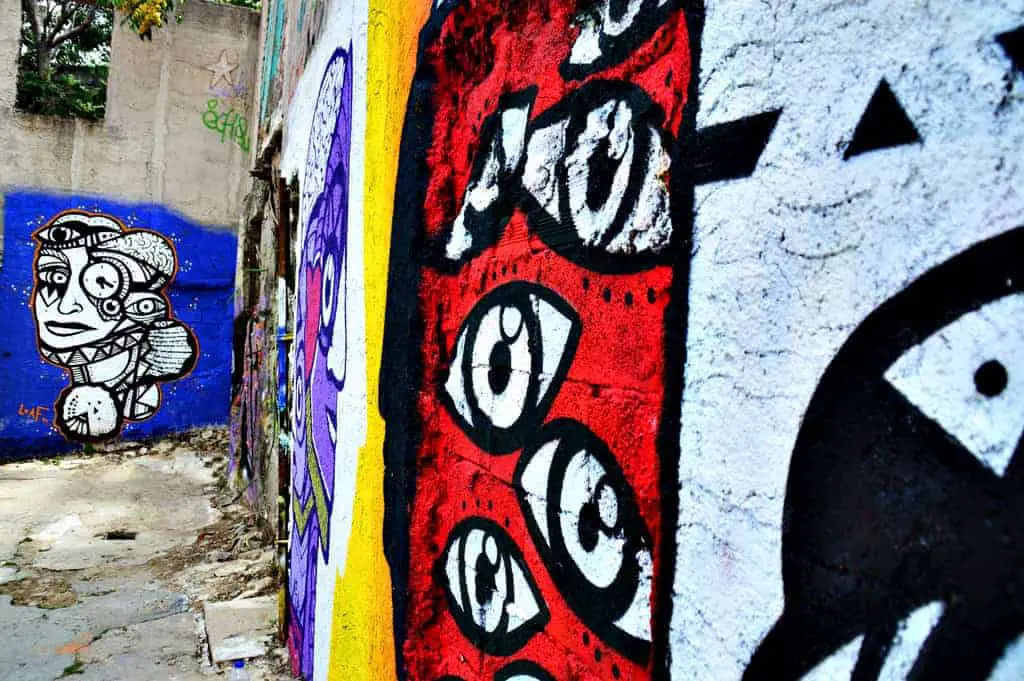 There are plenty of pathways, and all painted with good quality graffiti.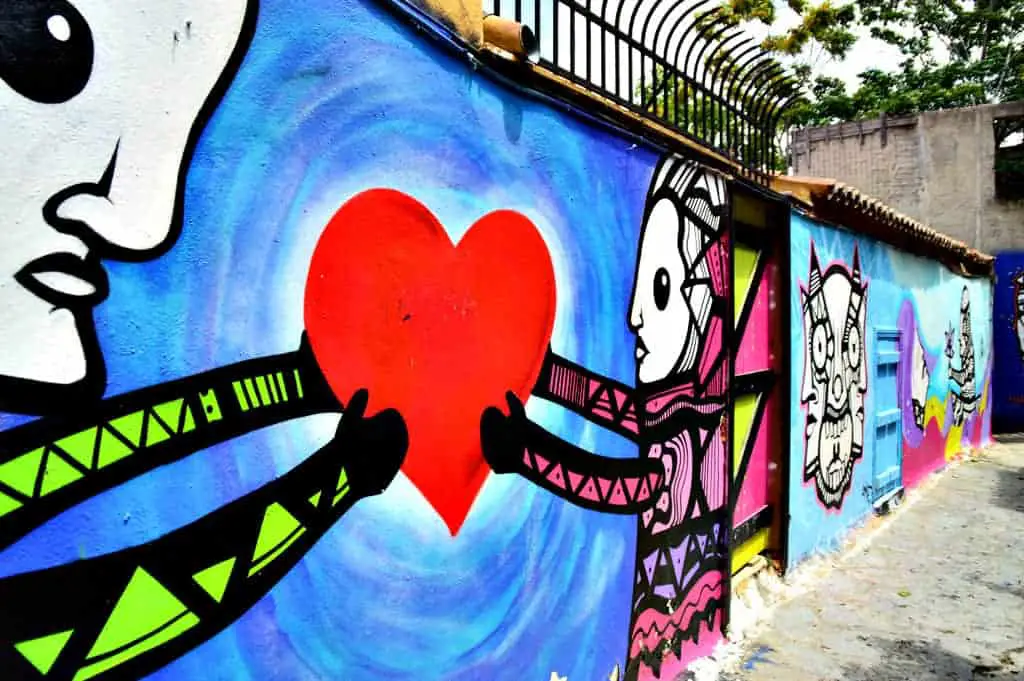 Hours passed fast, and now we were moving towards the Monastiraki area (remember that we started from Acropolis station, Plaka).
After Anafiotika, the first thing we saw was the ancient Roman market.
In the same area, you will find the old building of Aerides (winds), which has an octagonal shape, and each side is dedicated to one of the winds.
As you go around the fence, you will see labels that explain which wind is depicted and why.
We kept walking, and we passed outside this gate below. The only thing there is that gate, without any building behind it. It used to be different things.
Historical tip: The (now not existing) building behind the gate was a prison at some point. Inside that prison, a huge sycamore tree is still growing.
Convicted prisoners were hanged on its branches. When prisoners were released free, they said the phrase: Chairetah mou ton Platano (in English: Farewell to the Sycamore tree).
That phrase that origins a few hundred years ago are still used in Greece, meaning "that case is lost, I do not care, I do not bother."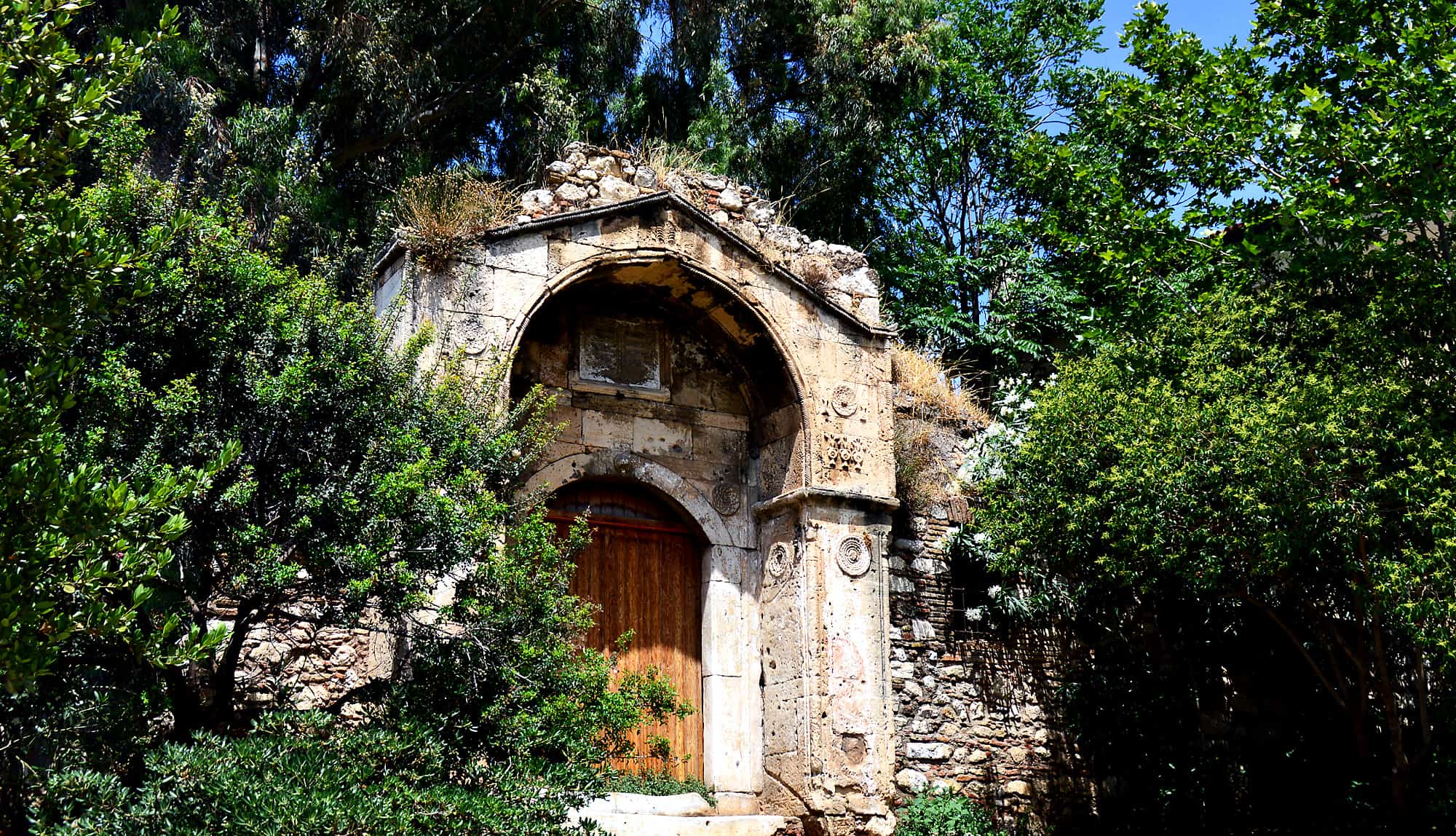 Monastiraki Square & Mystery Tiles
The name of this area comes from a Monastery that was housed here.
As time passed, the Monastery reduced in power and size.
Ergo, the name Monastiraki, which in Greek means "small Monastery." The part remaining is the small church of Virgin Mary (Panagia) you see at the far end.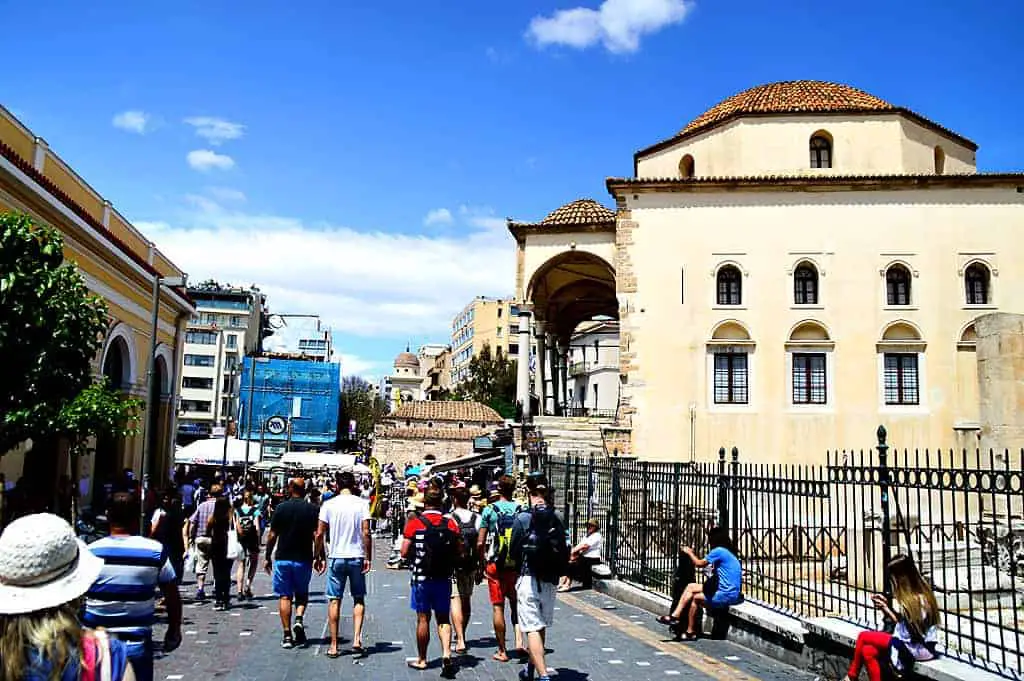 We have walked on the Monastiraki square quite a few times. However, we have never noticed some strange tiles on the pavement, which seem to be placed there (but not everywhere) without some particular reason.
Here is another view of Monastiraki square from its other side.
There is a huge flea market hosted there and many street artists who make fascinating artifacts.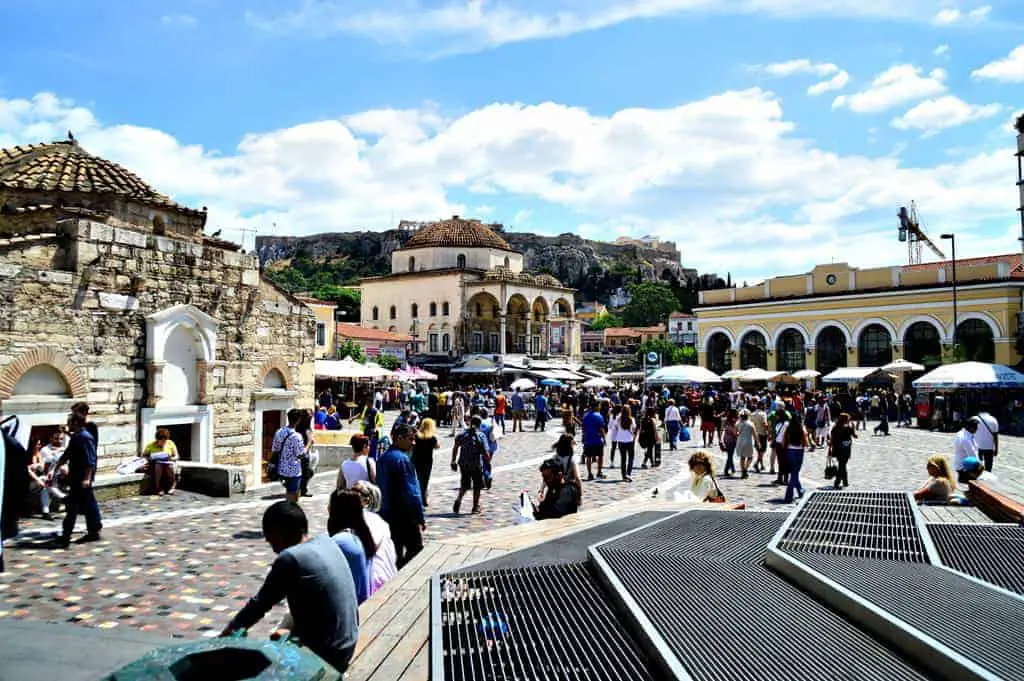 It was late afternoon, and we were starving. Aris and Katerina, had an idea to have lunch with mezedes at "Avli."
Avli is an open space lunch place housed in a courtyard of old houses of the area.
It has some delicious snacks, among which are the fried liver, sausage, and tomato-balls (like meatballs but with tomato and herbs).
However, we think that beer was the thing needed after a long walk under the Athenian sun. Thus we happily had some cold ones.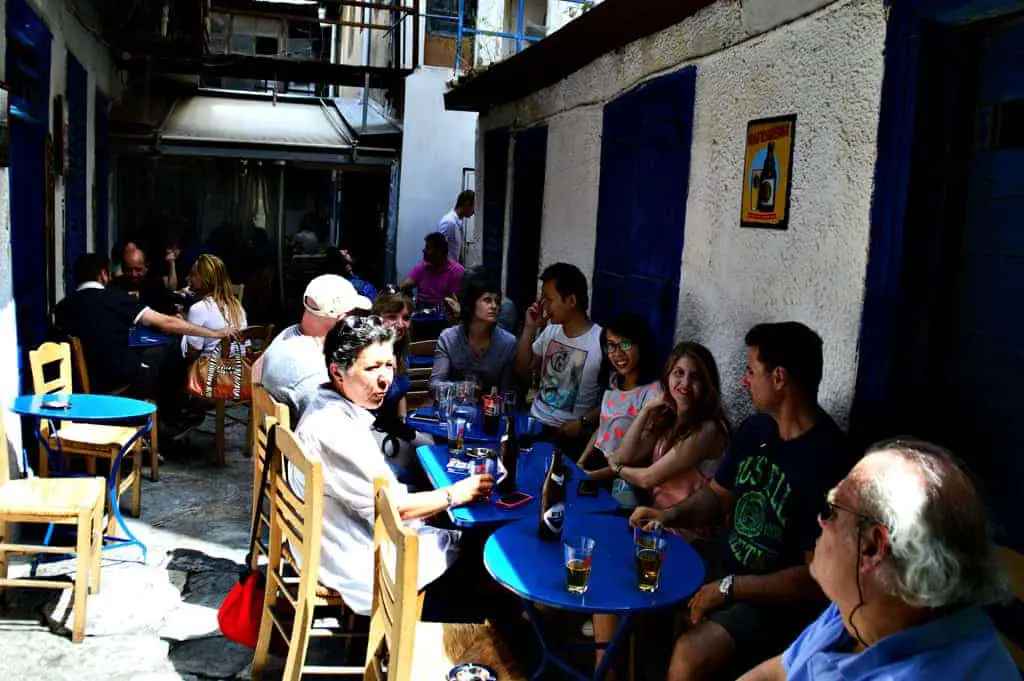 If you have already read part one of this story about things to do in Athens, then you have understood that Aris and Katerina know a lot about Athens and its history. 
Hiking Mount Parnitha of Athens, Greece
Many don't know that Athens covers a vast range of activities (have you read our 47 things to do in the city?)
Hiking is one of them, a variety of mountains is all around the city. One of them is Mount Parnitha, and there are plenty of routes there.
You can reach it by car or by public bus. A few of the summits on the mountain provide excellent views and fantastic food.
Read the entire post from here.
Relax in a Hammam in Athens
When avid travelers want to relax a bit and replenish their energy, they don't just sit.
They will do something "else" that goes along with their spirit of adventure. For example, they will receive a Hammam treatment.
A bunch of smiley and vivid travel blogger girls (among which Maria) received a treat.
We had just returned from our summer trips, and a different kind of experience was needed. This one would be found in the center of Athens. All girls were members of Travel Bloggers Greece, a group of travel enthusiasts with which we share some unique experiences for the last two years.
You may have heard it as "Turkish bath" too. Different cultures had this type of bathing. For example, there are the Roman baths, the steam baths, Sauna, or even the Russian Banya.
There are differences among each type, yet in general, it starts with a lot of steam and sweating. This opens the pores of the skin, and further treatment can be applied, like ab oil massage, exfoliating, and more.
The steamy-massage experience took place at Al Hammam.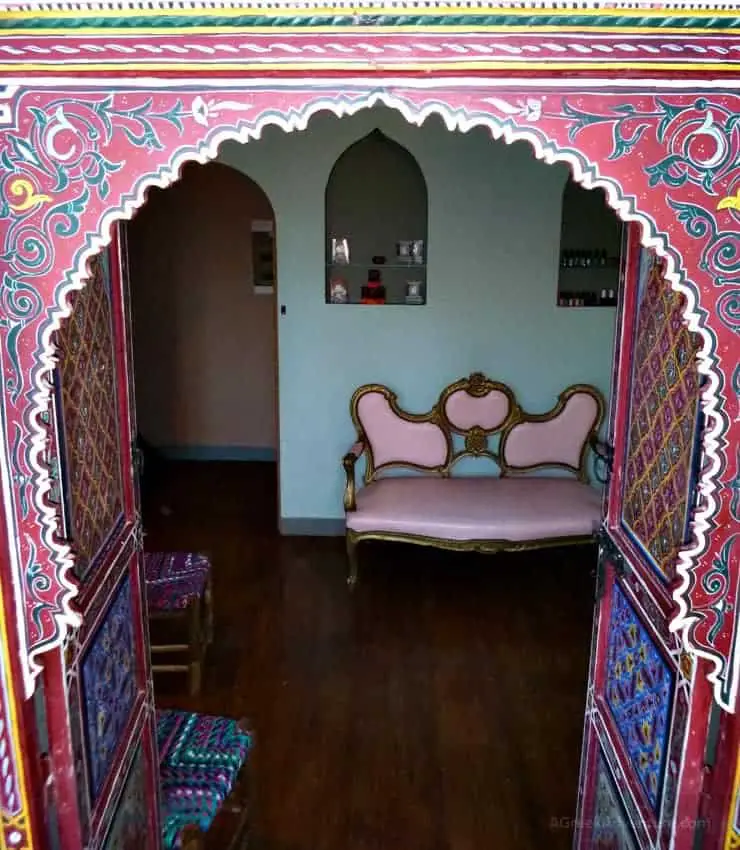 This is located at 16 Tripodon & Raghava St. Plaka, Athens, Greece (see at the end of our post for details).
It is very close to Anafiotika.
Also read: 13 Best Hotels in Athens Greece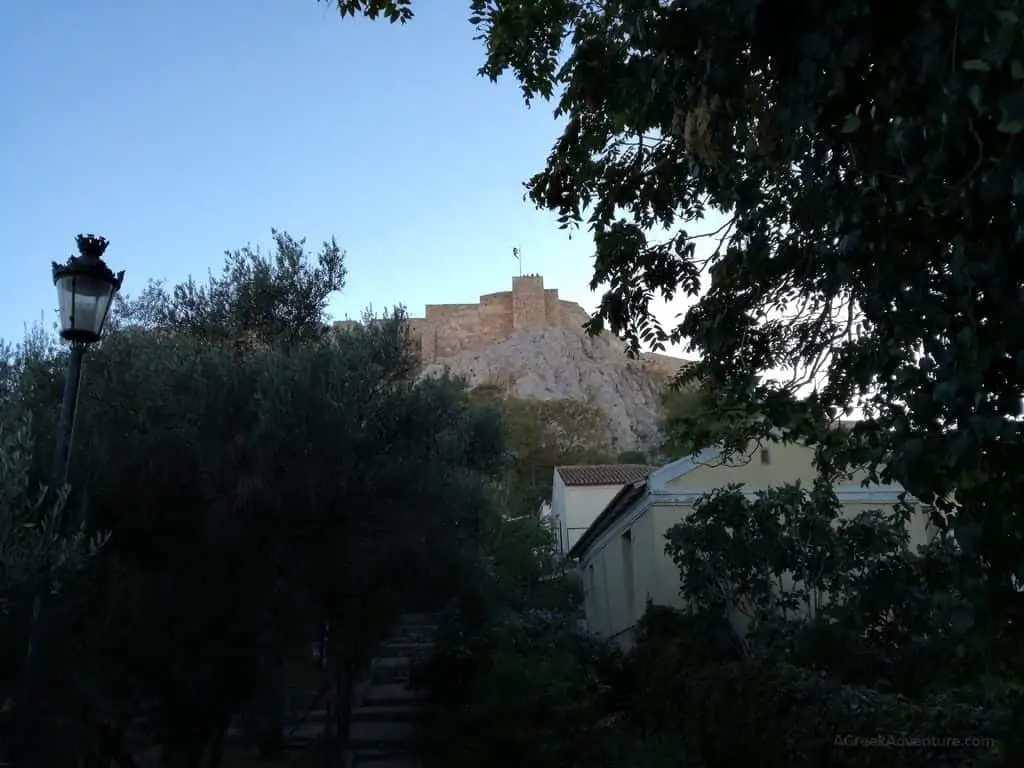 It is the center of Athens with great views of the surrounding old city of Athens, under the Acropolis.
The whole place is very well decorated to give you both the essence of a Hammam/Turkish bath and to relax you.
The treatment was like that. First, it was just sitting in the Hammam room for 30 minutes, having some cool and smooth chit-chat about life.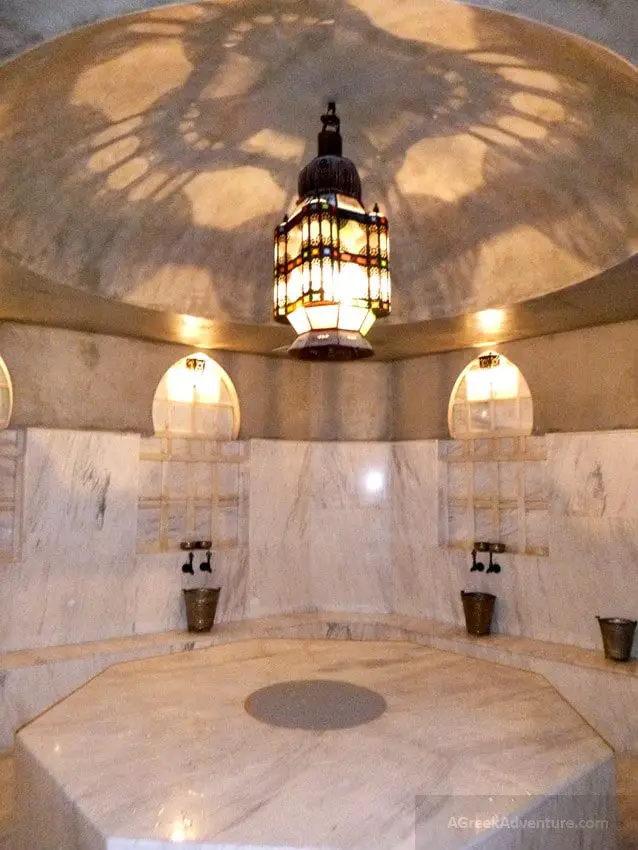 After soaking like that, there was:
15-minute full-body exfoliation with a kese glove
A 10-minute hair wash
A 15-minute special olive soap bubble massage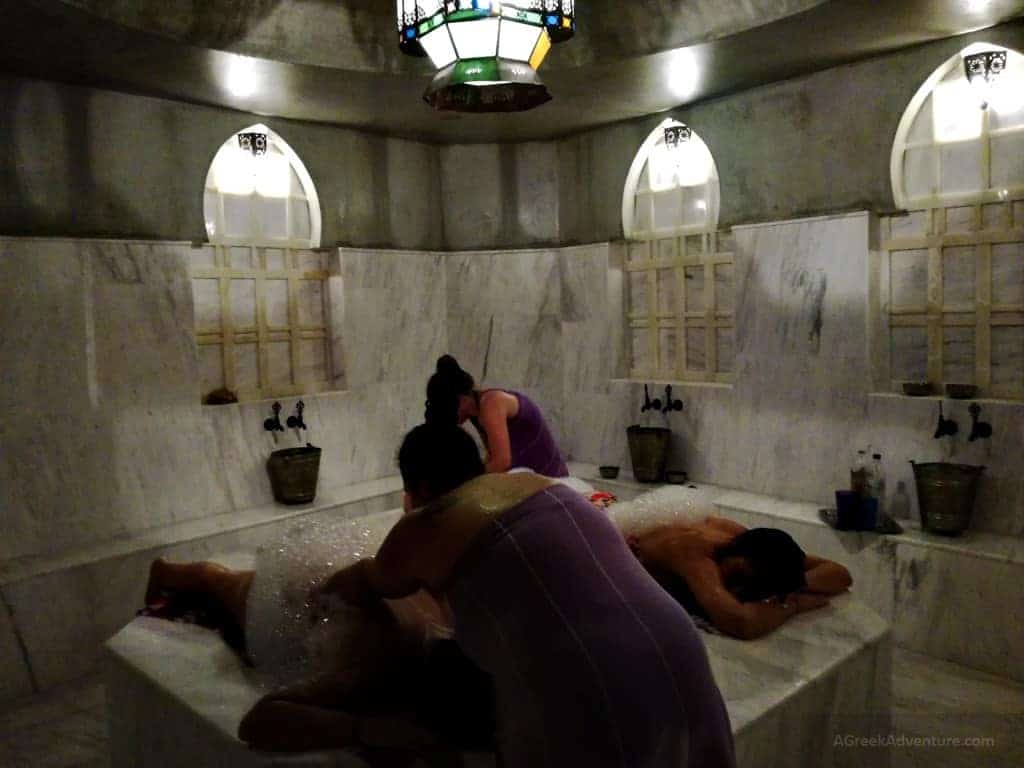 The relaxing olive soap massage is given while spreading your already relaxed body on the marble platforms inside the Hammam room.
For those who want to extend the treatments, there are more massage types to enjoy.
In the end, we were invited to the terrace for a very relaxed gathering (imagine the level of relaxation).
We got served with a great tasting tea and some terrific Turkish delights. All utensils had a Turkish styling.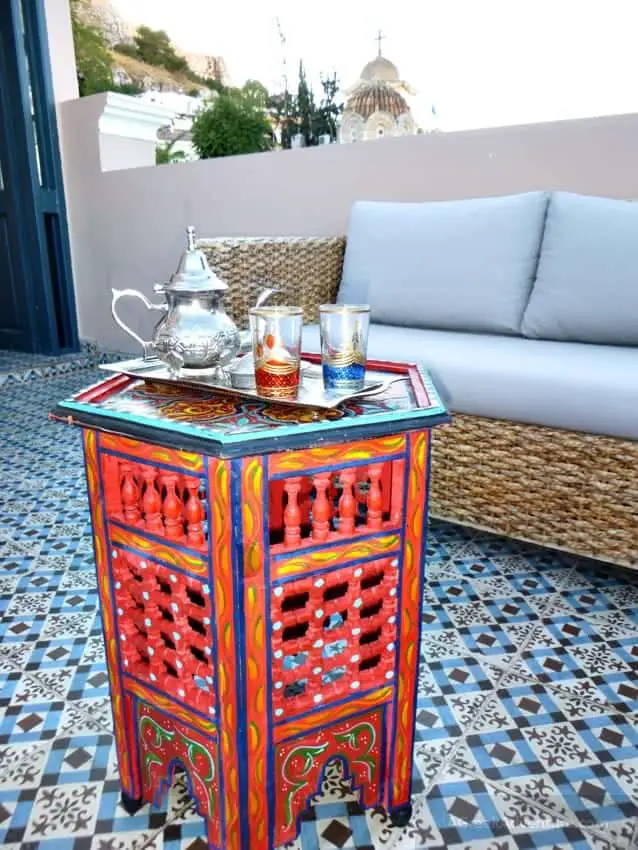 We suggest arranging to visit the Museum of Greek Folk Musical Instruments. LivinLovin can arrange at least one of these happenings in the Museum.
Eleni from Urban Athens Collective knows the city inside out, and she took us to the Jewish Museum.
Did you like our post for what to do in Athens? Then also read 9 Fun Ancient Greek Games for Anyone.