Planning for Paros island? Read our extensive post on all the things to do in Paros. This one is dedicated to Paros beaches, as it is another fantastic destination in Greece.
We wanted to swim in the best beaches in Paros island. We went to Paros island for a week and the island of Paros is another one of the Cycladic Greek islands you have to be.
Paros has so wonderful beaches for all kinds of travelers, that it deserves a special tribute to these small golden sand paradises.
Here is your definitive guide to help you plan an itinerary for the best beaches in Paros.
The Best Paros Beaches For You
We can say that the beaches in Paros are generally divided into 2 main categories. The long sandy ones and the small ones.
Most are sandy beaches and the good ones are organized beaches. However, all here are indeed beautiful beaches.
We think that these are the best beaches on the island, as we visited them all. In a couple of them, we went more than once.
Paros beaches are also divided into popular beaches and the not so popular ones. We always refer to the beaches that you can approach by car or a bit of walking.
Here are the best beaches in Paros you don't want to miss.
Chrissi Akti Paros Beach (Golden Beach)
Crystal clear waters, sandy with perfect wind for windsurfing, 10km from Parikia.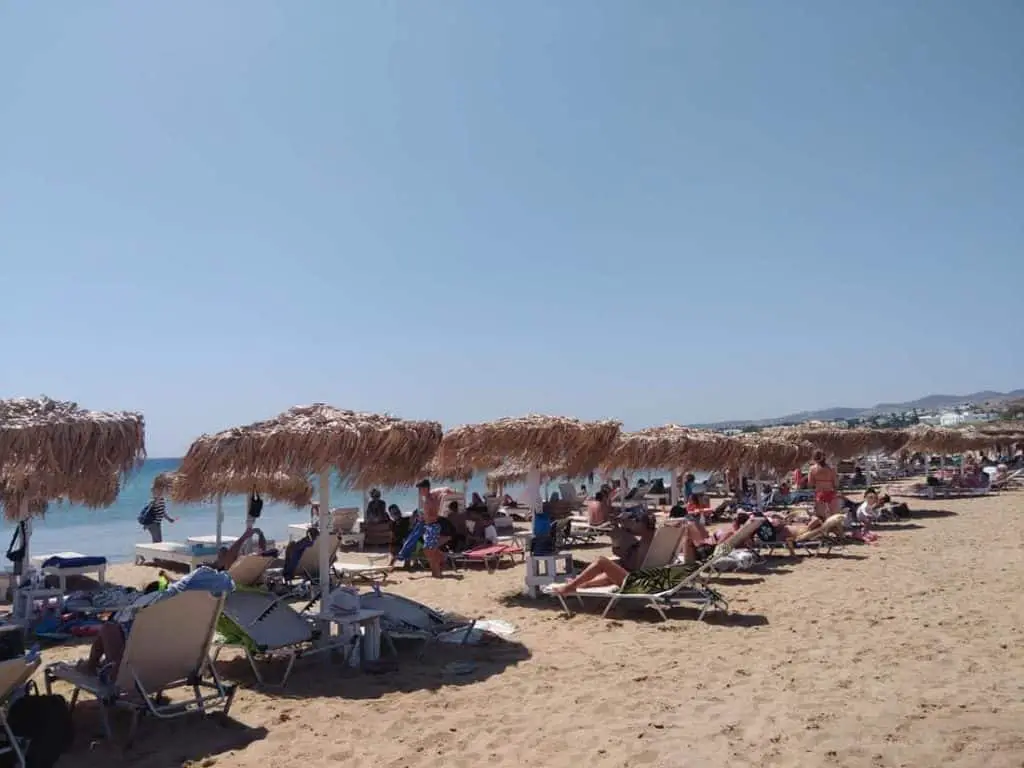 Punda Paros Beach
A popular beach, really close to Golden Beach. A huge beach bar/club is next to the beach so partying is hot there (around 11km from Parikia).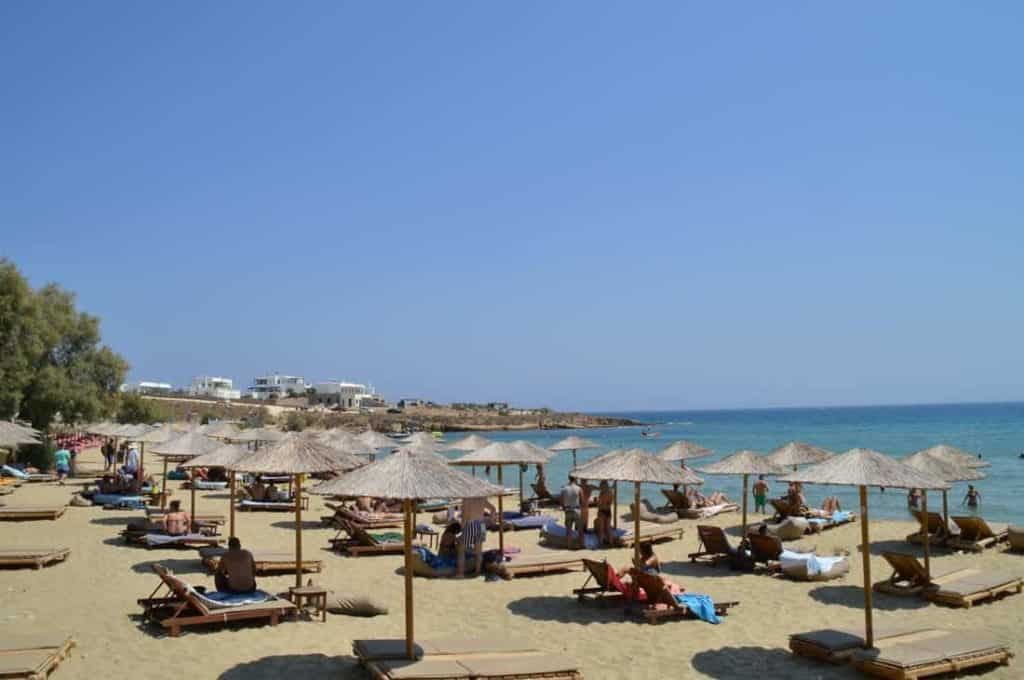 Kolymbithres beach
It is kind of out worldly with rock formations that resemble some moon-like terrain. A small calm beach with granite rock (10km from Parikia). It is popular but getting a spot there is by pure chance only.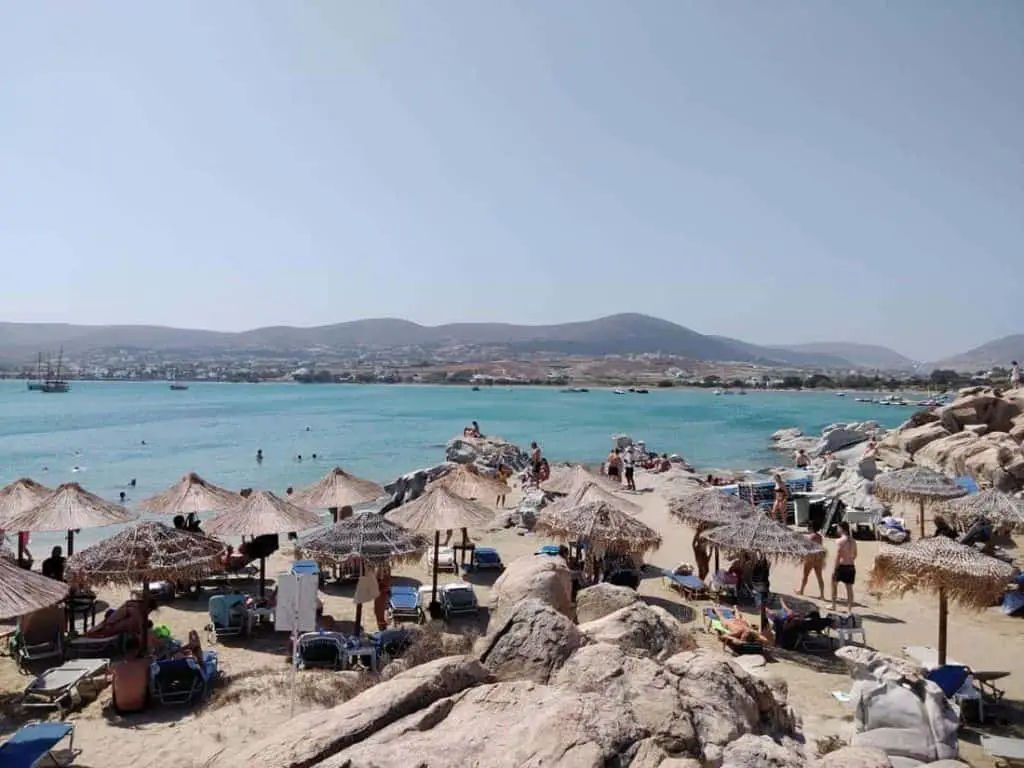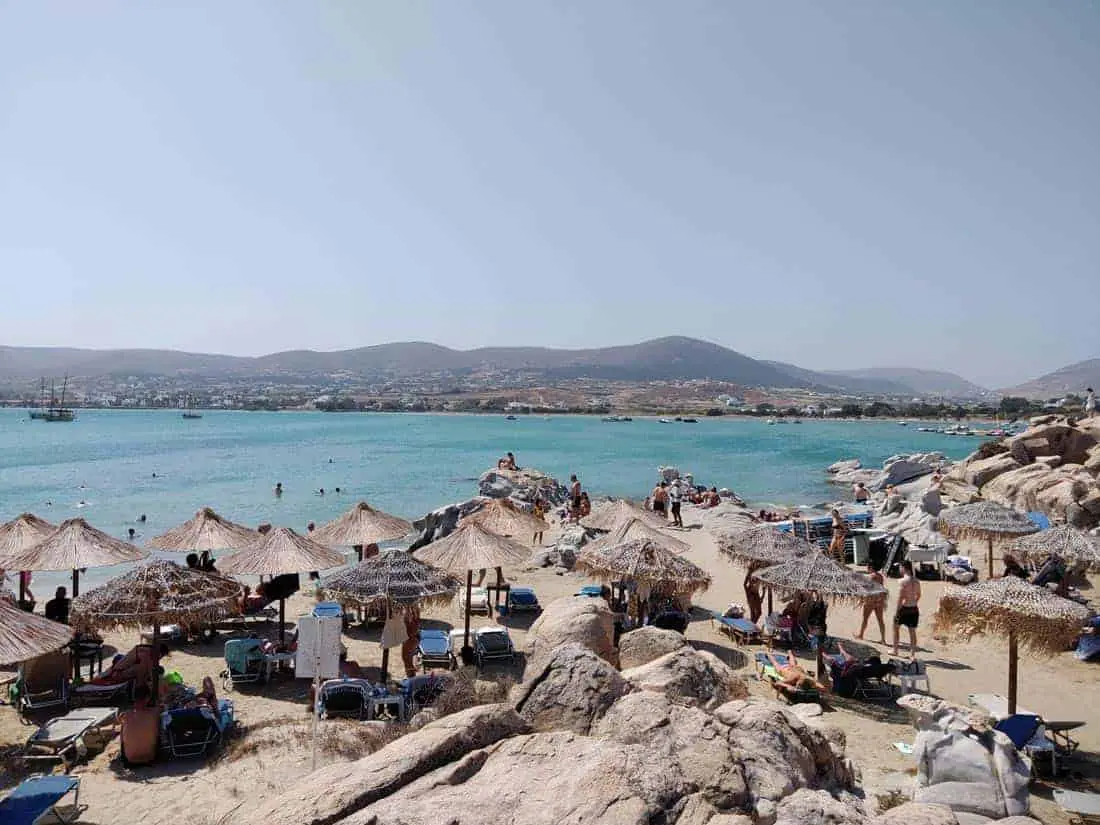 Monastiri Beach
Driving further (around 10 minutes) from Kolimpithres you will find Monastiri beach. Bigger than the previous one but also small. It has a good beach bar and restaurant.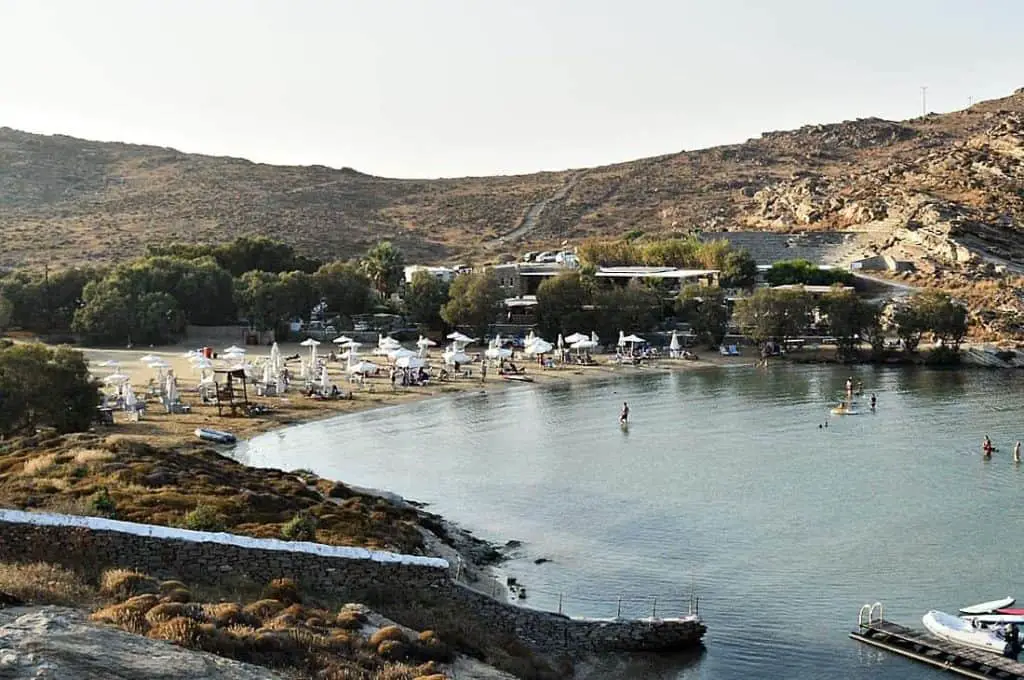 Marchello (Martselo) Beach
Very long and sandy beach, 2km from Parikia.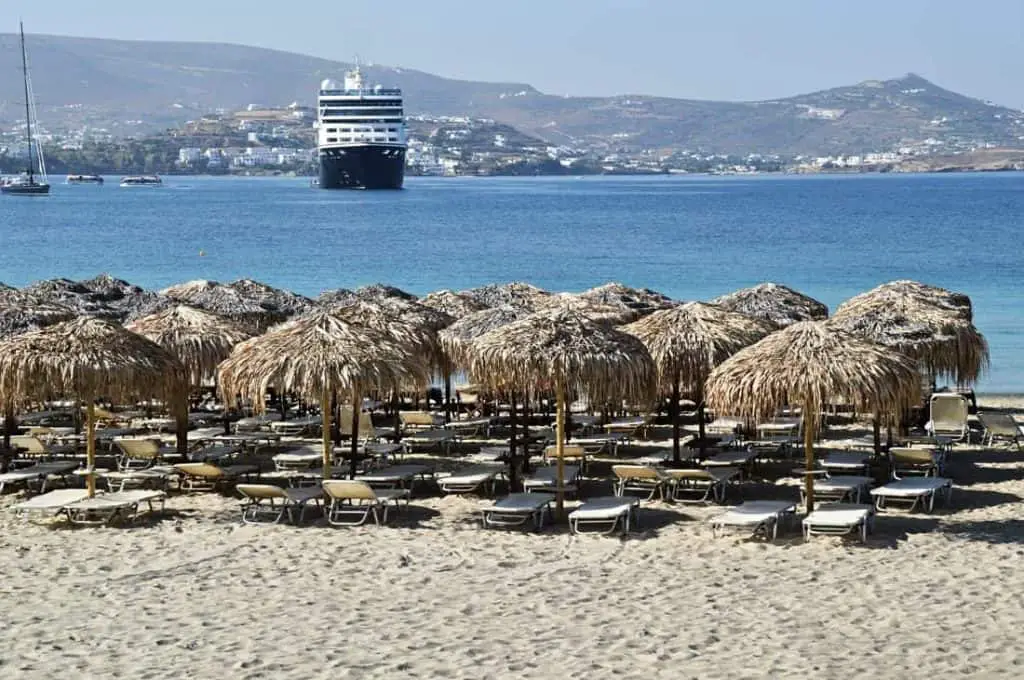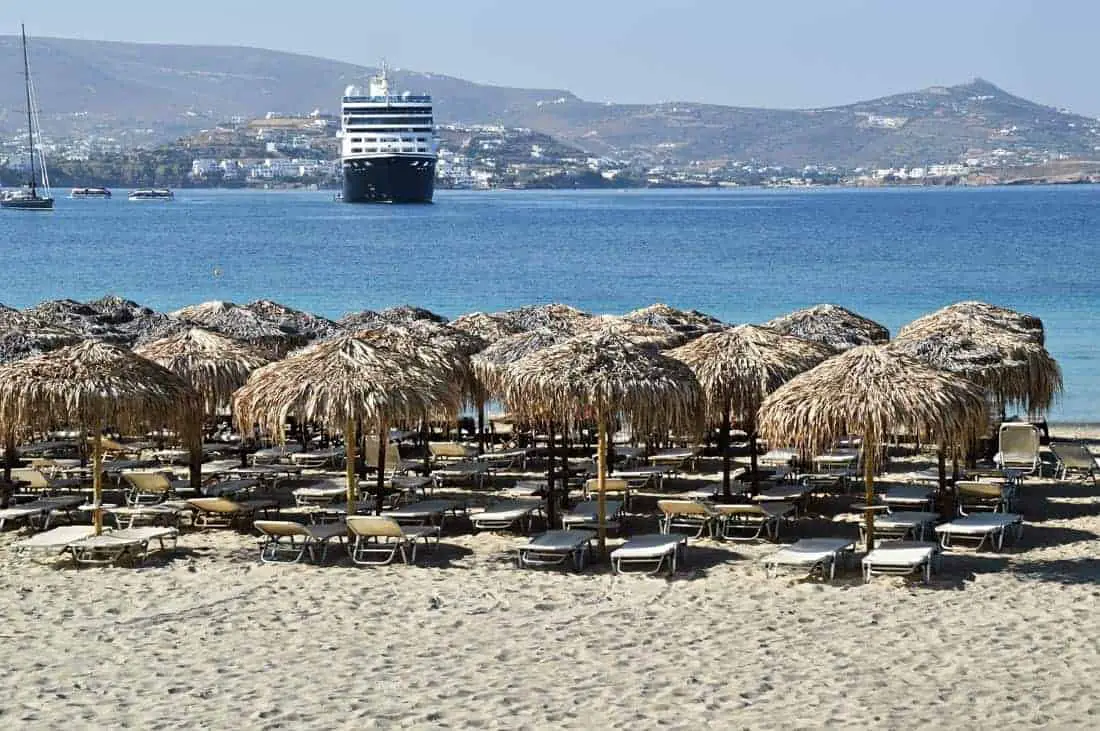 Logaras Beach
An organized beach with lots of trees for some natural shade, apart from the many umbrella/sunbeds. Has different restaurants, but we ate some great seafood at Piso Livadi village, at Halaris. The village is next to Logaras beach and has a small beach too.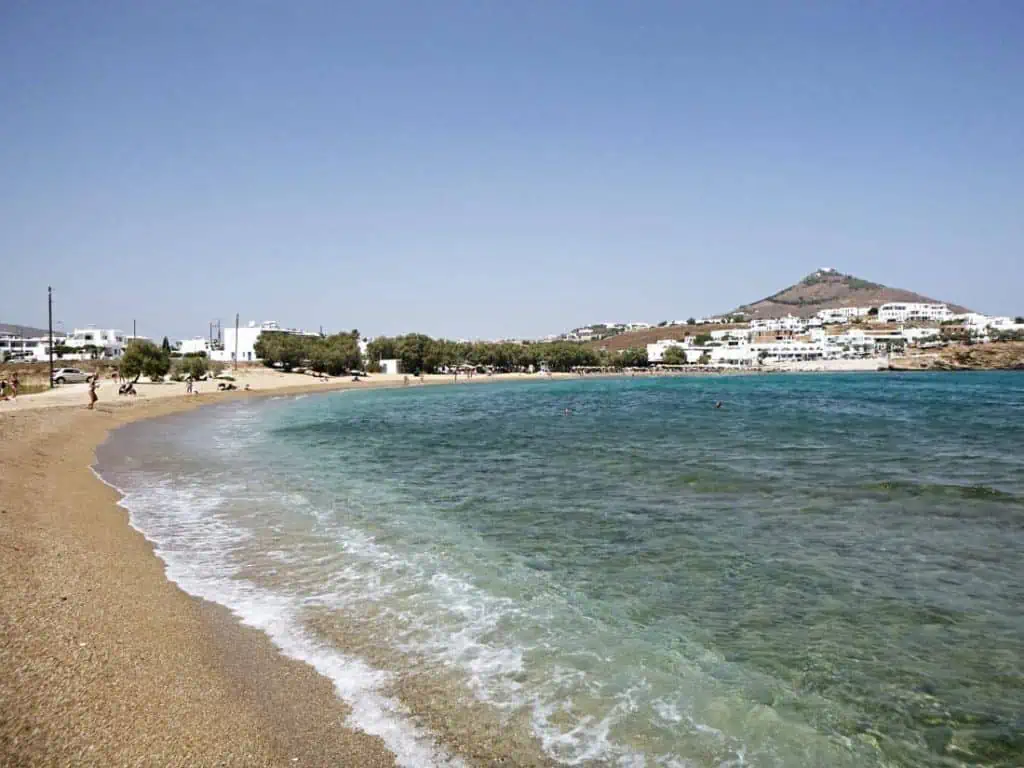 Piso Livadi Beach
It is next to Logaras and is a small quiet village with some pretty nice taverns at the far end (20km from Parikia).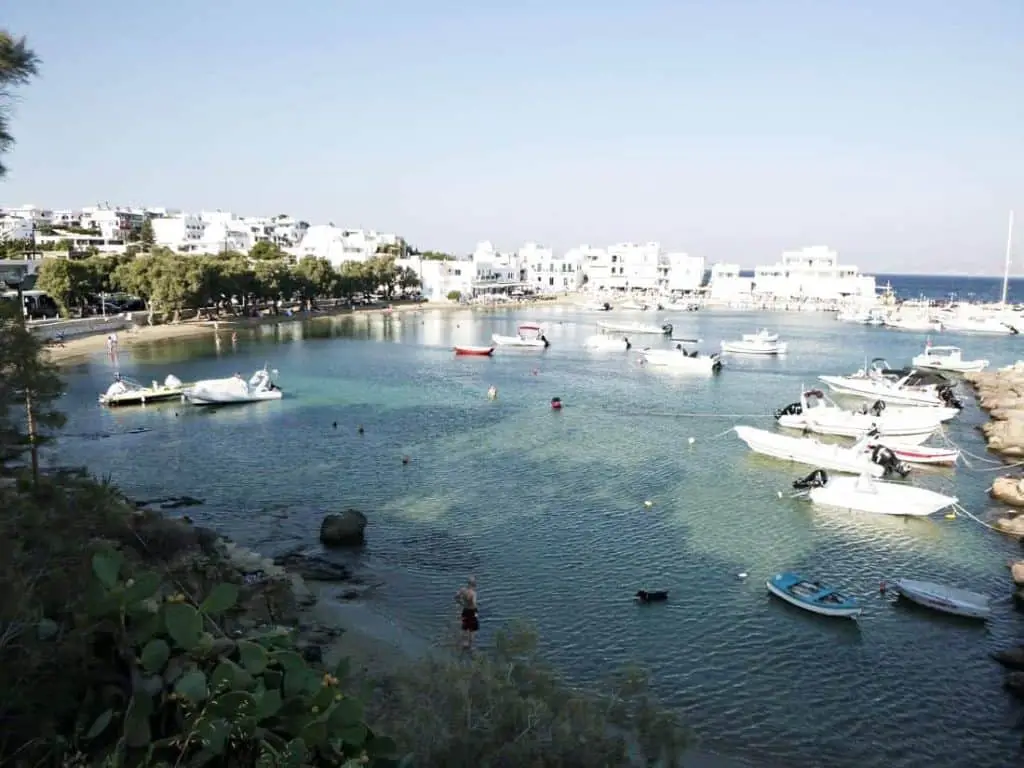 Livadia Beach
Very close to Parikia (2km), sandy and relatively quiet, though it gets crowded as it so close to the main town.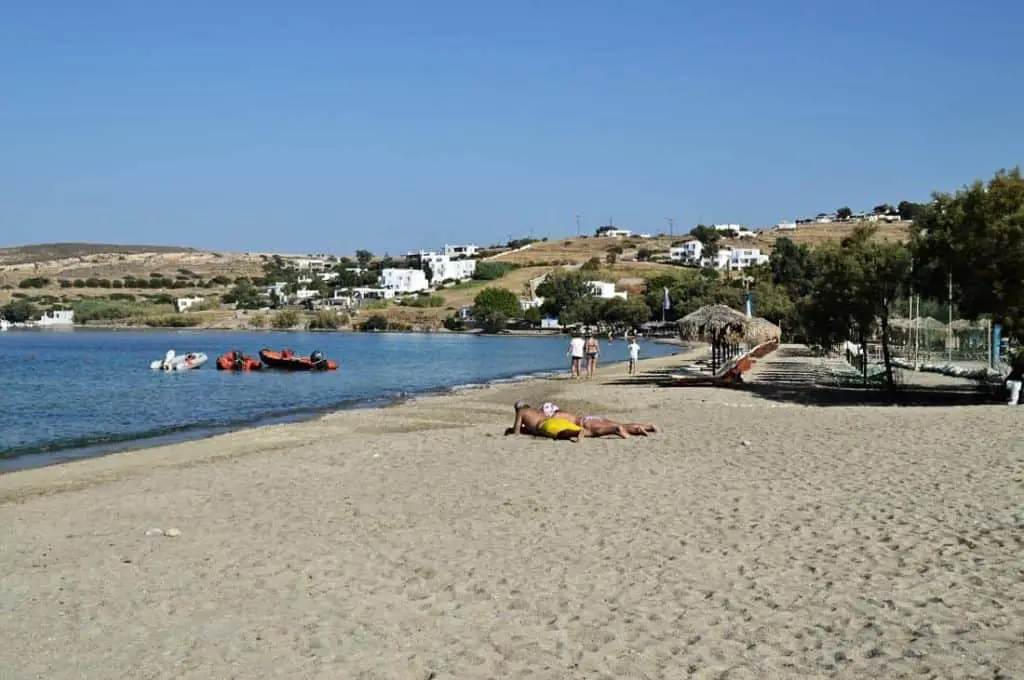 Faragas Beach
This beach is in the region of Alyki, around 18km from Parikia and on the southern side of Paros. It rarely gets crowded.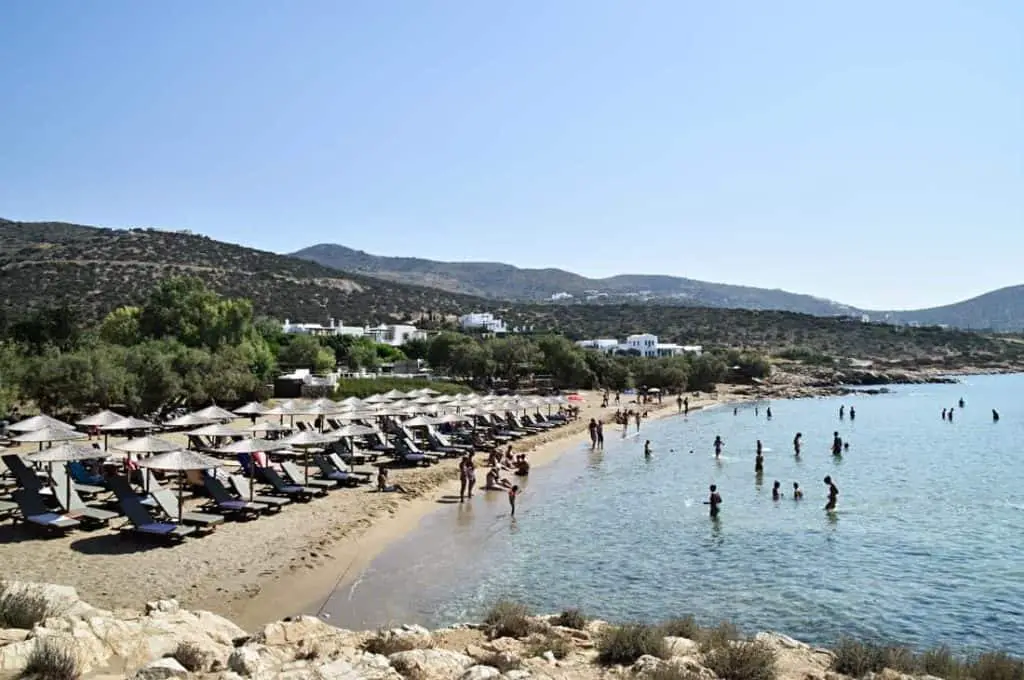 Dryos Beach
Very close to Alyki beach and alternative when things get busy in the first one.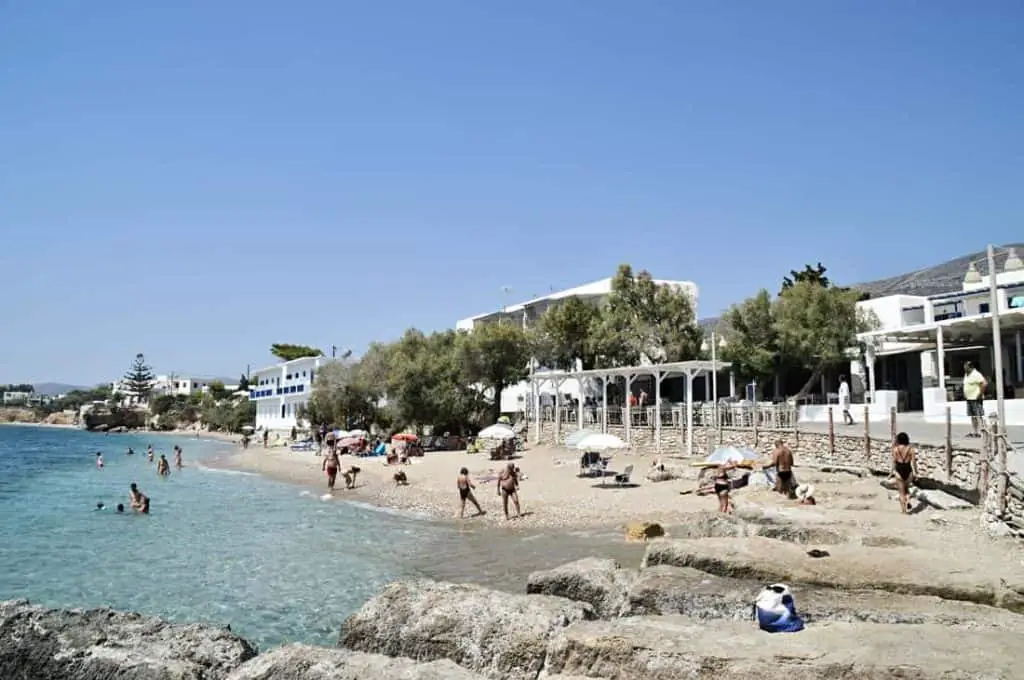 Alyki Beach
Pebbled beach close to Parikia. There is another one named as Krotiri Alyki but is around 18km from Parikia.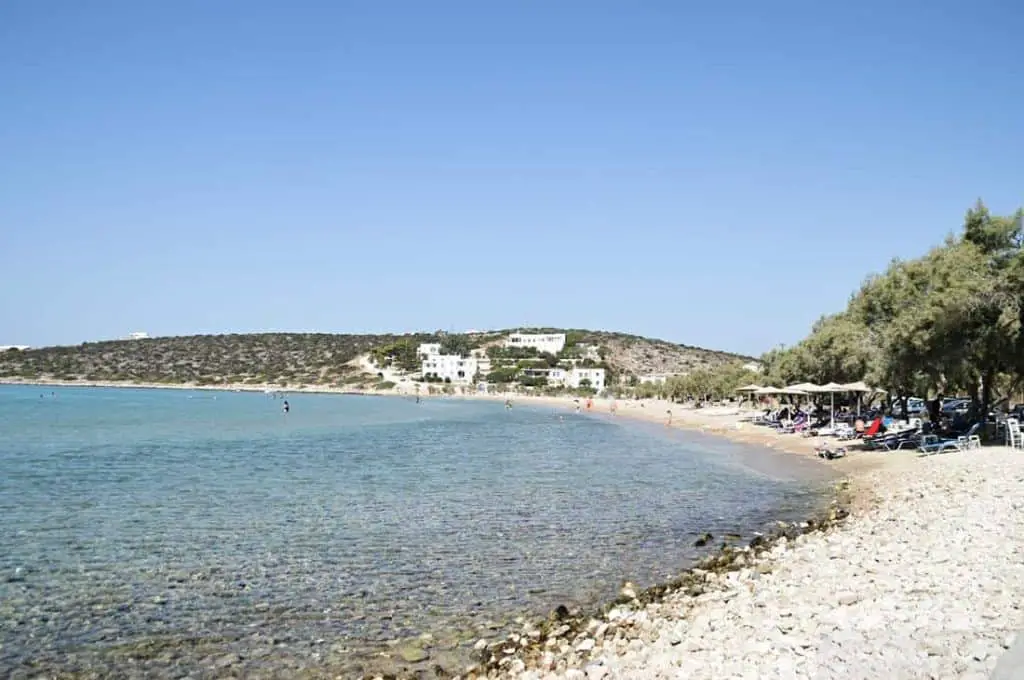 Piperi Beach
If you stay in Naoussa then this beach is right at the entrance of the town and is as beautiful and clean as it looks. Few umbrellas but -maybe- that is the strong point of it.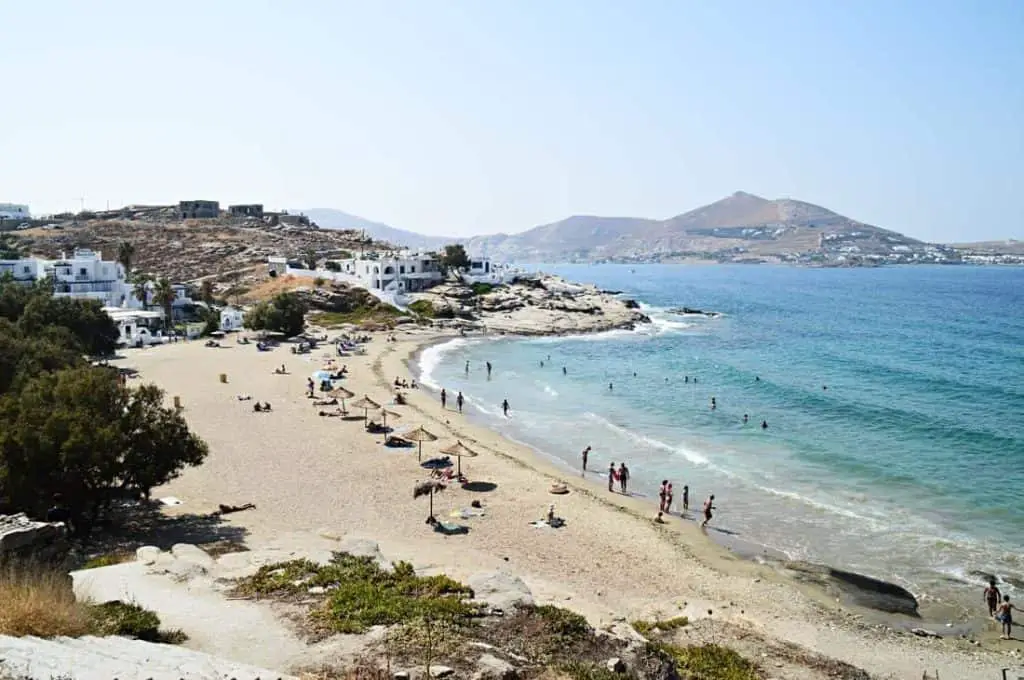 More Paros Beaches to Visit
Are the above mentioned the only and best beaches in Paros? No. There are more beaches but time was not enough (yes, even a week) this time. These beaches are:
Santa Maria Beach
Parasporos
Krios
Ambelas
Glyfa
Agali
Agia Irini
Agioi Anargyri
Agios Fokas
Agios Nikolaos
Boudari
Delfini
Fykia
Kalogeras
Kaminia
Katholiko
Kladia
Krotiri Aliki
Langeri
Limnes
Messada
Molos
Pigadaki
Platia Ammos
Tripiti
Voutakos
Xifara
Tsoukalia
The Sun Bed issue in Paros Beaches
It could be also called the "sunbed incident", the "sunbed case" or the "sunbed problem". 
The reason why is the lack of sunbeds and umbrellas to cover the demand. Paros receives tons of tourism, but if you go to beaches then you will see very little of such gear.
From one point of view that is a good thing, as you can set your own -almost- wherever you like. On another point of view that can be a bit frustrating as you may not want to carry all the extra umbrella and chairs around.
As that is not enough, the availability of sunbeds is another issue, along with price variations.
Yes, you read that right. 
In most of the popular beaches, to be able to book an umbrella with a pair of sunbeds you had to deal with:
To call the day before and book your set (umbrella and a pair of sunbeds).
Choose in which row you want one. Prices change depending on if you book on the 1st, 2nd or 3rd row from the where the water ends. In high season prices may vary a lot, while in other seasons, the difference may be around 5 euro per row. When we were there, the 1st row was at 25 euro, second at 20 and 3rd at 15. That prices changed depending on the facility that owned the sets.
Leave it to chance. You may find an available set, or not.
The case is though that in the summertime, the weather is scorching as the sun is strong. You need some kind of protection when you plan to stay long at the beach.
We also found a website that mentioned sets 3 times up the price we found for the best beaches in Paros, where you could book online but we didn't encounter such cases and prices.
FAQ's for Paros Beaches
What is the best time of the day to go to Paros Beaches?

To find a sunbed/umbrella set, you need to be there early in the morning. That means to be at the beach prior 10:00 am, or you can book ahead. Most of the beaches offer a phone you can call. Ask in your accommodation if they have that info, otherwise, you will find that on the spot.

Is this pre-booking concept only in Paros Beaches?

No. It also happens for many years on the nearby Mykonos island.

Are all Paros Beaches sandy?

The vast majority of beaches is with sand.

Are all Paros Beaches easy to reach?

Some are very easy, even provide parking space. However, during high season that too can be limited and you may have to walk a bit, after you park. Some of the beaches need to walk from 8 to 15 minutes to actually arrive on the beach.

Are there showers on all beaches?

No, not in all. Make sure to ask your accommodation on such info, as from year to year things may change.

Are there restaurants, beach bars and such?

Most of the popular ones host at least one of them. In some of these facilities, you skip the umbrella/sunbed charge if you book for lunch or dinner after your swim.

Are there water sports facilities on Paros Beaches?

Yes, there are. In the large ones, you will find the biggest variety of water sports. In smaller ones, you may not. That also depends on the year you visit but, the rule is that big ones host lots of things to do on the beach.
Facts for Paros Island, Greece
There are some important things to know when you plan your vacation to Paros. These are:
Paros belongs to Cyclades islands. That means it is windy, especially during August.
If you are windsurfing and kitesurfing, then this island is for you. It is considered a paradise for windsurfers. Golden Beach and Punda Beach are the places to be.
You will have a good range of places to eat good food in Paros, outside of the main touristic towns, with an exception for Naoussa. Naoussa offers a good variety in dining places.
The island is not considered to be either far or long from Athens/Piraeus. You can get a luxury "ride" there with -for example- Blue Star Ferries.
We prefer that ferry company and its sister companies for other islands in Greece, as their ships are comfortable, spacious and you can book your own numbered seat.
To book a ferry in Greece, use this website or this one. These are the 2 major ones.
Apart from its beaches, the island is ideal for some popular island hopping between Naxos, Santorini, Mykonos. You do need more vacation days but the memories will be stunning.
Make sure to organize your accommodation and beaches properly, so you can visit the numerous things to do in Paros.