Visiting Greece is an almost "spiritual" experience. Are you planning a trip with your significant other to Greece to start your new life with a bang? Do you want to know which are the best Greek islands for a honeymoon in Greece? Then, read ahead.
As beautiful as its culturally rich waters, Greece is also home to the most breathtaking beaches and is considered one of the world's top wedding and honeymoon destinations.
Suppose you are traveling anytime soon or planning for next summer. In that case, this is the perfect Greek island guide for honeymooners and newlyweds with the most jaw-dropping, breathtaking, heart-skipping beaches, which are famous worldwide for their golden sands (or even red and black sands), gorgeous green landscapes, and crystal clear waters.
Here are 10 of the most beautiful Greek islands for honeymooners that boast the best beaches and plenty of scenic reasons why you should visit them.
From the exquisite Red Beach of Santorini to the untouched Paleokastritsa Beach of Corfu Island – this is one guide worth bookmarking!
To get to the best islands for a honeymoon in Greece, you must book your ferry tickets, especially for summer vacations. Use this and this service.
Read on. By chance, many also bought a second home in Greece or planned for retirement after their visit.
10 Best Islands for Honeymoon in Greece
Santorini Island: Two of its Most Magnificent Beaches
Apart from its majestic volcanic views, Santorini has some of Greece's most unique and lovely beaches.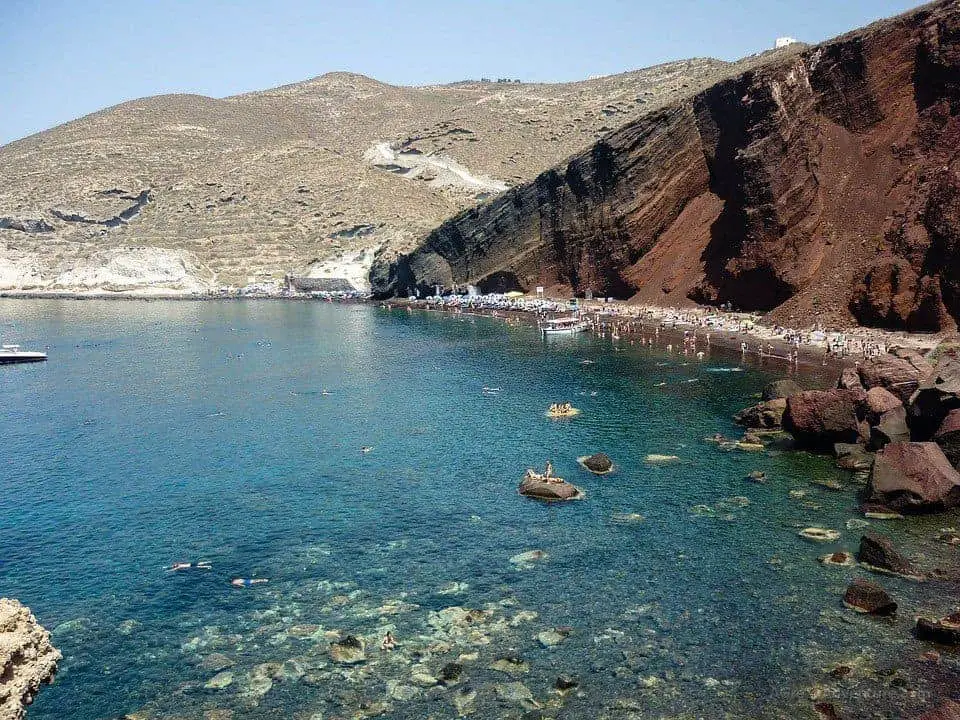 The Red beach is situated in the Akrotiri area.
Well-known for its unusually colored sandy shores and the hills behind it, this beach has tall red cliffs that directly drop into the clear sea below.
It is a breathtakingly lovely and scenic beach. Even though there is not much greenery around, the red sand and the dark blue sea more than make up for it.
You can reach the red beach by boat, or if you fancy a walk – it's just a 10-minute walk from Akrotiri.
Do not forget to include this fantastic beach on your itinerary!
The Perissa beach, extending 7 km to the southeast of Santorini, unlike the Red beach, features black sands and beautiful crystalline waters and is situated 15 km from Fira.
You can also go diving, wind-surfing, and jet skiing in its blue-green waters.
The best feature is not the sands' color, but an enormous rock called the Mesa Vouno, which rises majestically from the bright blue crystalline waters.
This rock has a strange and fascinating specialty – it shines in the dark!
Isn't that exciting and so worth a visit?!
Mykonos Island: Two Beaches that are Luxurious Sandy Havens
The island of Mykonos has a nickname: "the island of the winds."
The island's primary industry is tourism; another distinct feature of this island is its bright white buildings.
Apart from its beaches, it is also known for its fantastic nightlife and is aptly called the 'Ibiza of Greece.'
It is not known as Paradise beach for nothing; it is stunningly pretty with an extensive sandy beach and warm and clear waters.
To reach the beach, one can take a boat from Platys Gialos – which is reasonably priced; if the waters are calm, it's a joy to behold.
The best part is relaxing on the beach. You don't have to spend much moolah.
For a nominal price of 6 Euros each, one can rent chairs and an umbrella and work on your tan for a whole day. The waters are pleasantly warm, and the beach is lusciously sunny.
Do not miss this beach if you want a real Greek vacation!
Ornos beach is the most family-friendly beach on the island.
It's a 10-minute bus ride from Mykonos town, with calm relaxing waters and fabulous sandy beaches. This beach also has many taverns, cafes, and restaurants where you can eat to your heart's content and then soak up some sun on its soothing white beaches.
Crete Island: Twice the Elegance with Two Gorgeous Beaches
This large and alluring island is bursting with fantastic beaches, be it small or large, and one can easily spend a whole day under the sun and unwind and relax here.
Balos beach on the northwestern side of Crete, in the region of Chania, has an alluring, Caribbean-like feel. With exotic waters, white sands, and an exquisite island with a Venetian Castle on top, this beach is the definition of elegance.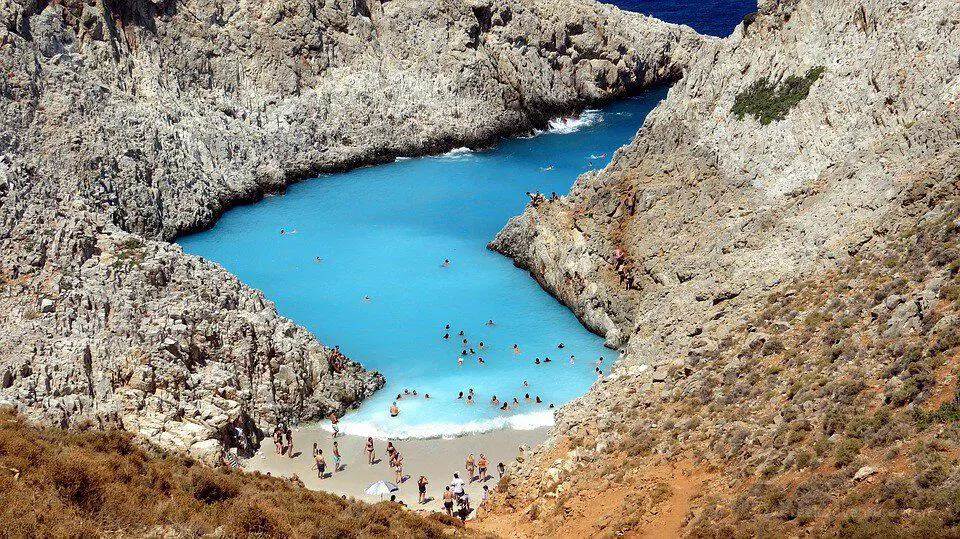 Of all Greek islands, this is a must-see island and beach!
The Elafonisi beach on the south coast of Crete, with its pristine turquoise waters and pure white sandbars, remains untouched and retains its purity.
Sometimes the white sands also look pinkish, which is said to be because of the corals. Pretty!
To reach this pinkish beach, you can take a bus and enjoy a breathtaking journey through the Gorge of Topolia.
Also Read: Ferry From Crete To Santorini Travel Guide
Zakynthos Island: The Sole definition of Artistry
Navagio or Shipwreck beach turns out to be the most famous beach on Zakynthos island, with its exotic emerald waters, which are surrounded the rocky shores and where people can enjoy scenic excursions on boats.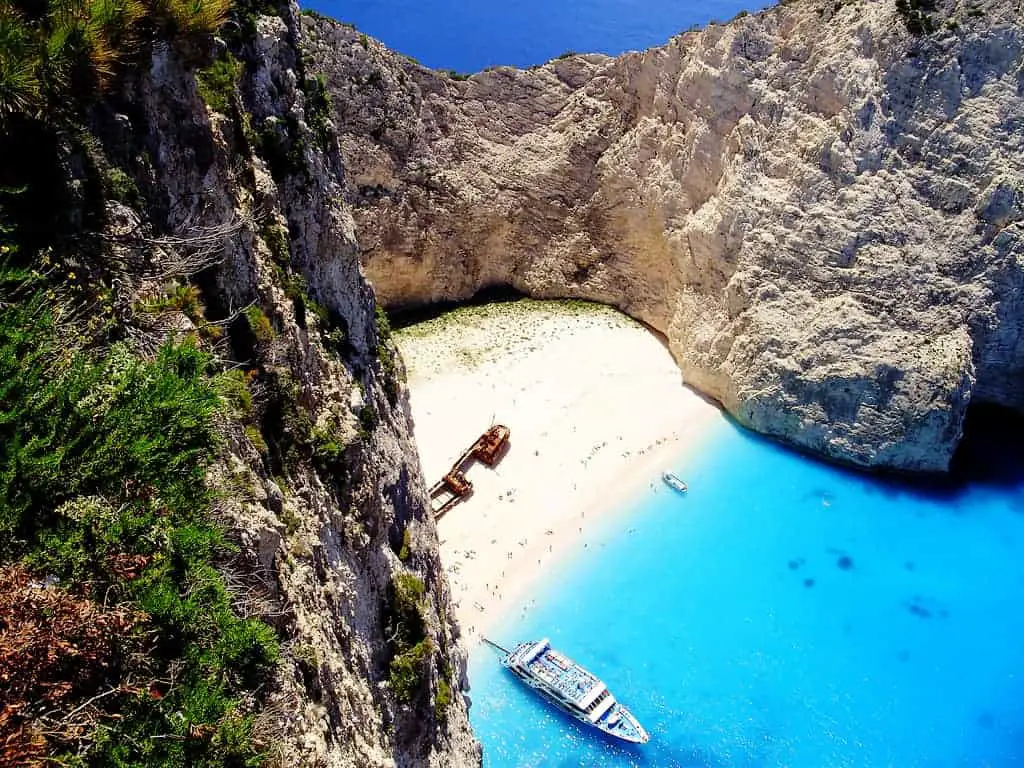 It is also one of the most photographed landscapes of Greece owing to its delightfully picturesque scenery.
The most exciting part of this island is the shipwrecked boat, which was washed ashore in 1893 and was said to carry illegal cigarettes.
It is one of the most beautiful beaches on the Greek islands, with sunken ships, imposing cliffs, and the coldest of blue waters.
Skiathos Islands: A Thing of Beauty
The Koukounaries beach is the largest beach on the island of Skiathos. Apart from its pearly white sands, it is surrounded by a fragrant pine tree forest.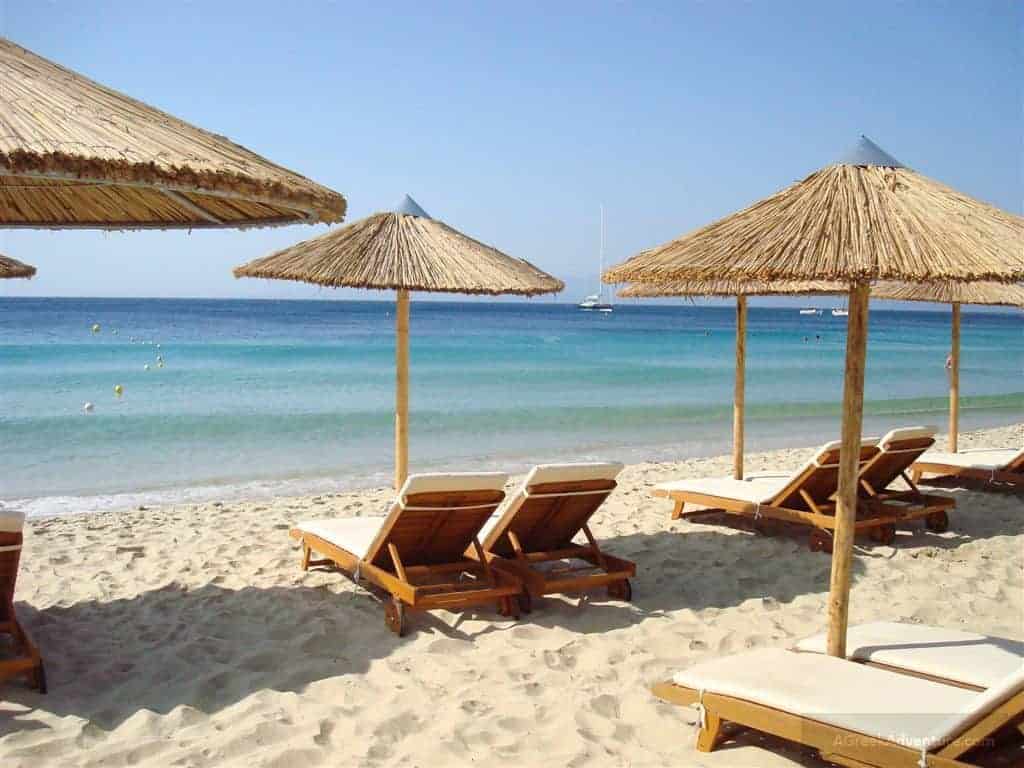 It is considered the most unspoiled natural beach and a protected environment.
Offering many well-organized beach activities like various adventurous water sports, this beach, with its greenery and clear blue waters, is an exhilarating experience.
Sifnos Island: The Two Enticing Fraternal Twins of Beaches
The best-known beach on this island is the Chrissopigi beach.
Located to the south of Faros, the area is named after the monastery of Chrissopigi, which was built on a rock right on top of the sea.
Next to the Monastery is this divine beach, surrounded by a long tuft of trees. The beach has soft sands and clear blue waters, which are ideal for diving.
The best-known beach is Chrissopigi, but the Platis Gialos beach is the most popular. Stretching a thousand meters long, this beach is usually covered with numerous sunbeds and umbrellas and has a bar facility.
A perfect vacation spot for kids and adults alike, the beach offers various exciting water sports that you can enjoy and have fun with your friends and family.
Milos Island: The Beach that Radiates Divinity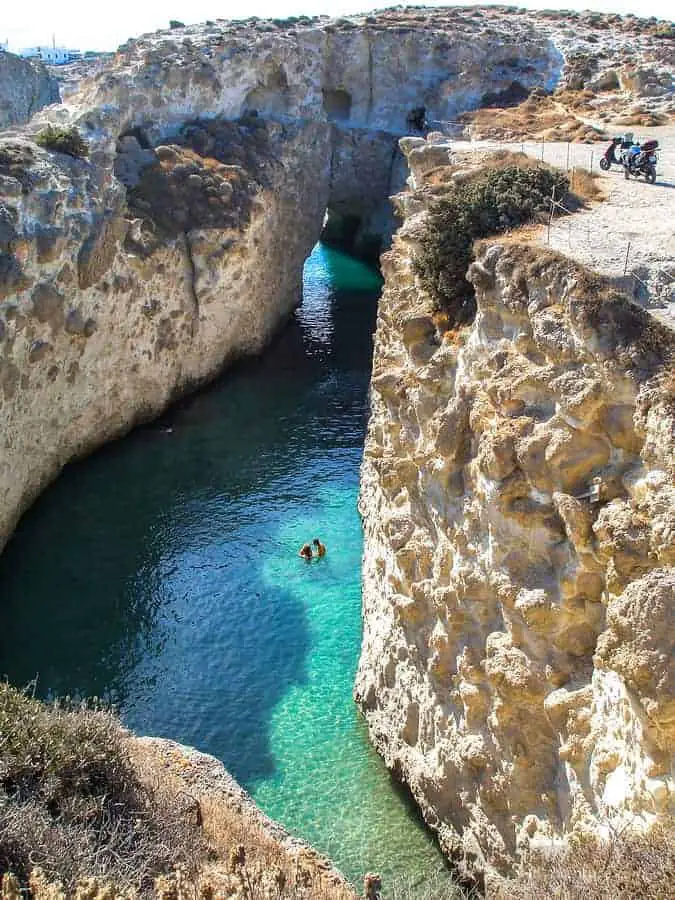 Milos is the 5th largest Greek island of the Cyclades and has the shape of a horseshoe. You may have heard about the Aphrodite of Milos. This is the place.
Its (numerous) beaches and the coastline are rather impressive, and its origin comes from volcanic formations.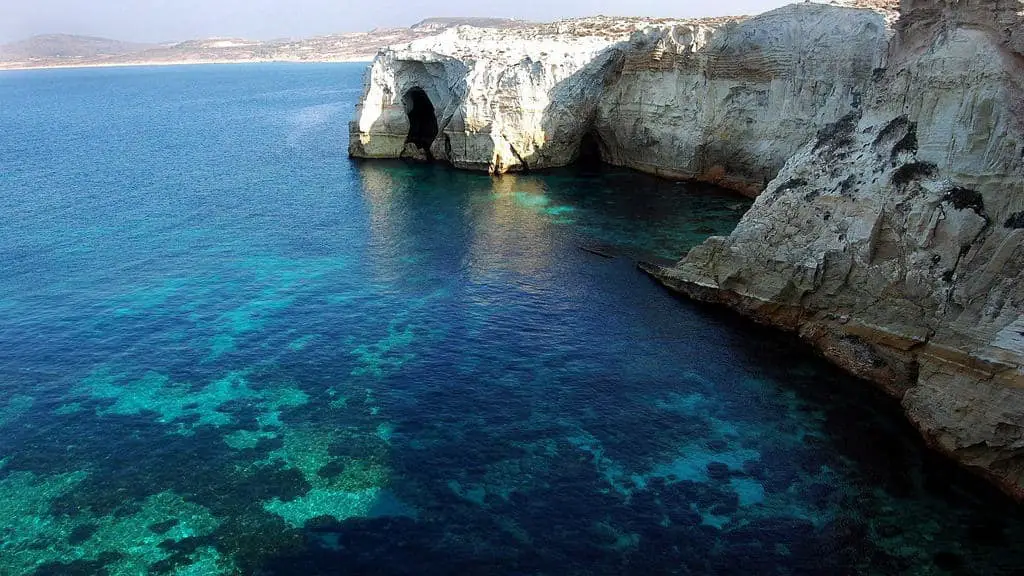 If you love taking photos, make room for your camera. You will get thousands.
Some beaches have white and gold sand, while others are decorated with white, red, yellow, and even black pebbles.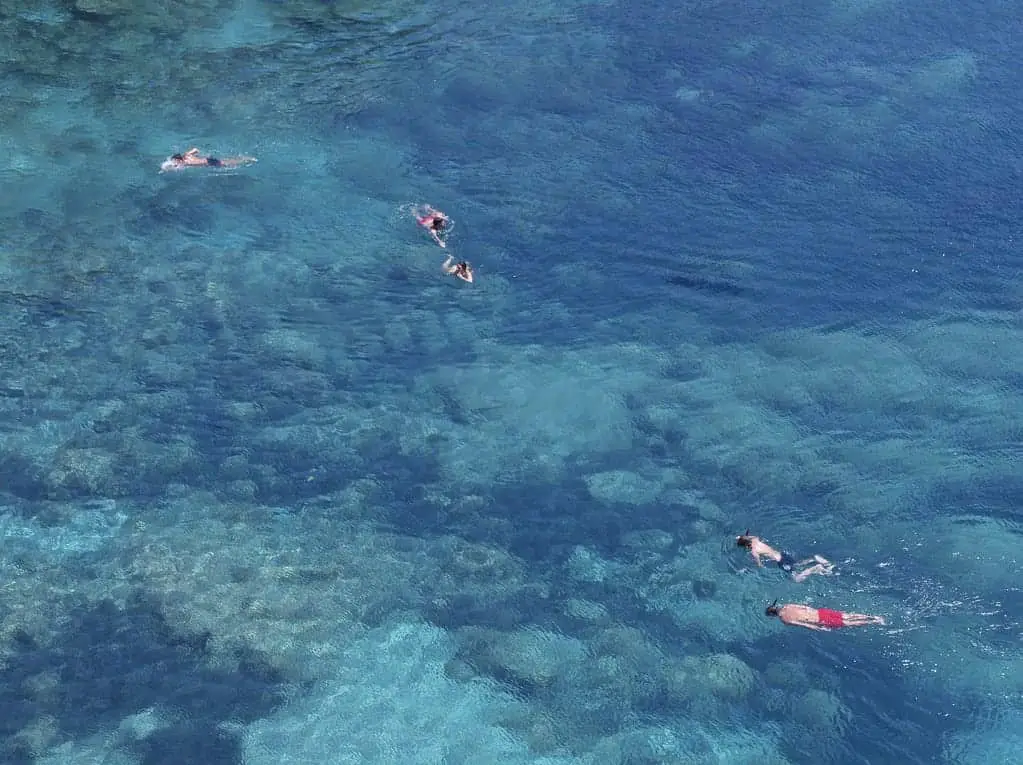 It would be best to visit these villages: Adamantas, Plaka, Triovassaloi & Plakes, Pollonia, Tripiti, Zefyria.
Do not miss Areti, Patrikia, Klima, Firopotamos, Mantrakia, Agios Konstantinos, Empourios, Fourkovouni.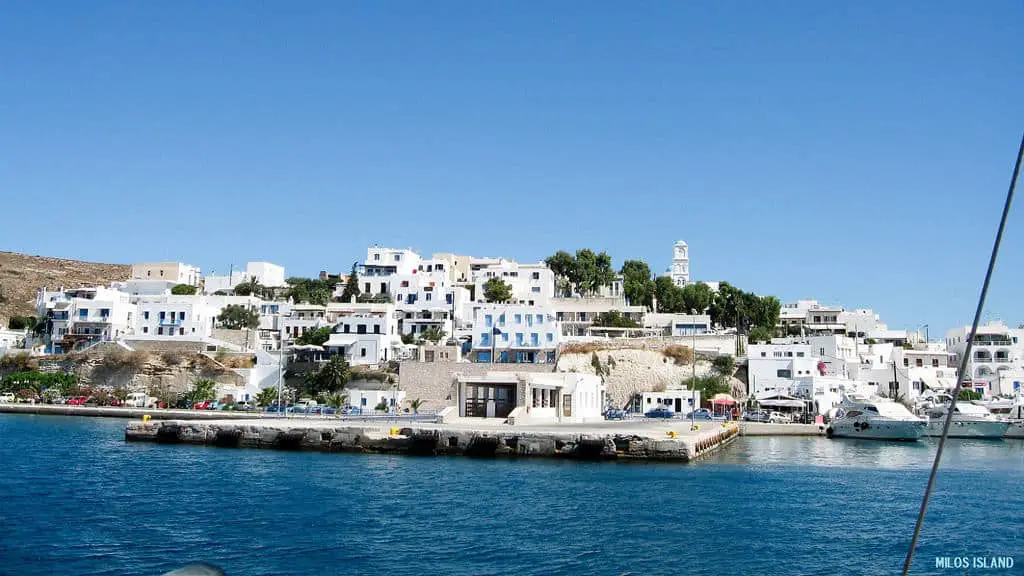 If you spend many days on the island visit the beaches of Agia Kyriaki, Alogomantra, Gerania, Kipos, Lagada, Mantrakia, Mitakas, Paliorema, Paliochori, Papafragka, Papikinou, Pachaina, Pollonia, Provata, Sarakiniko, Trachilas, Tsigrado, Firiplaka, Firopotamos, Chivadolimni.
The island has 5 Museums, Catacombs, Castles, Ancient Theater, and Sulfur mines.
You will not get bored.
The Sarakiniko Beach on Milos Island is one of its most picturesque beaches.
Located along the coastal road east of the Adamas, it has a particular landscape that is not easy to forget.
It has large horizontal rocks that look into the sea and that have, over time, been eroded by the sea itself to form small and big hollows in the rocks.
Though there is no vegetation on the beach, the volcanic rocks are a bright white and add a certain allure to the whole coast. It is exquisite scenic!
Milos should be an exceptional choice for your best Greek islands for a honeymoon in Greece.
Skopelos Island: The Particularly Perfect Beach
The Panormos beach in Skopelos island, located 12 km northwest of the Skopelos town, is a white sandy beach enclosed by a stunning bay and two islets.
The lush green surrounding of the island makes for an ideal vacation spot, and the village of Panormos – located close by, consists of many taverns and restaurants where you can satiate your appetite with authentic Greek cuisine of the Greek islands.
Rhodes Island: The Singularly Splendid Beach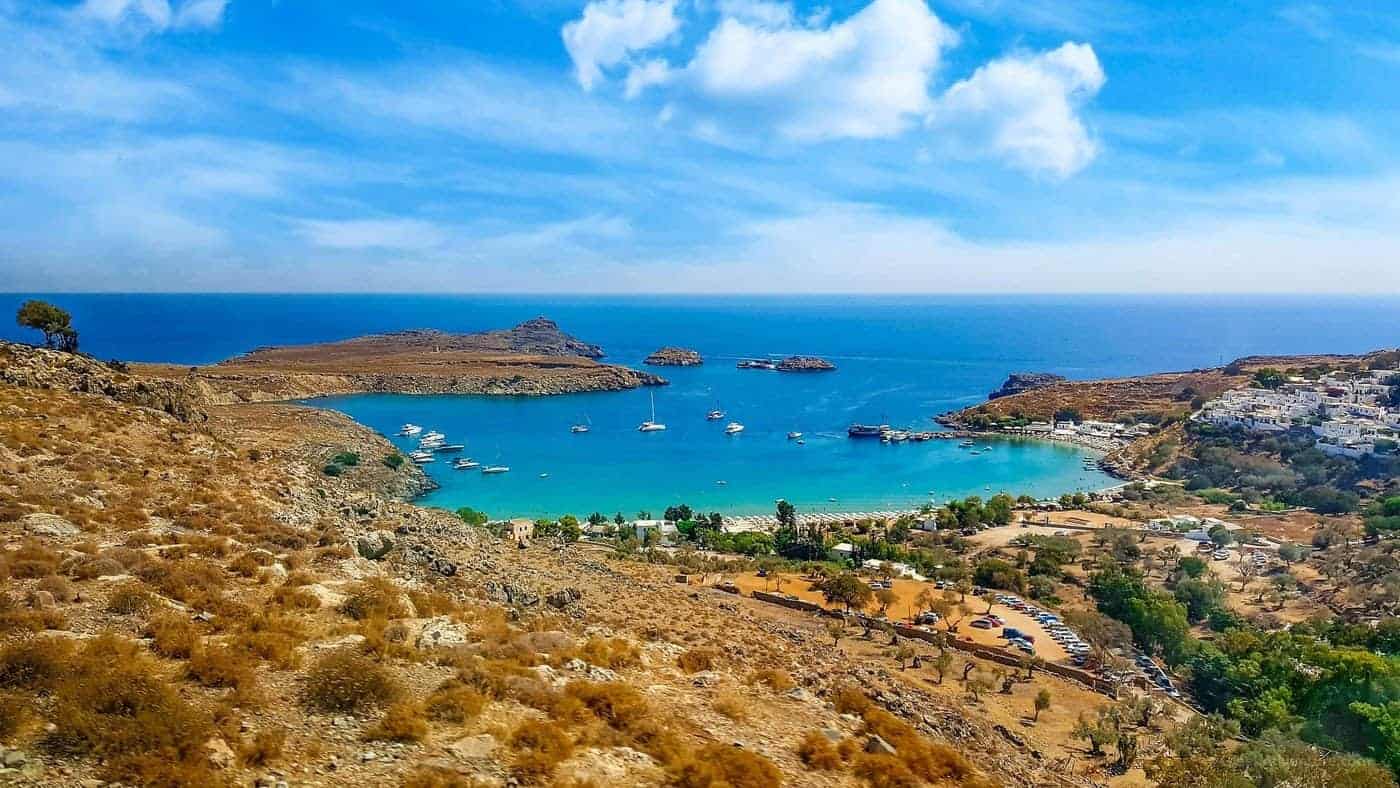 The Kallithea beach of all the beaches in all the myriad Greek islands is only at a distance of 8 km from the main town of Rhodes. It is the only beach extremely famous for its medicinal hot springs – initially built by the Italians but no longer functional.
The island is surrounded by lush palm and pine trees and has beautifully renovated buildings influenced by Arabic architecture.
The waters are emerald in color and help increase the spiritual quotient of the island as a whole.
Corfu Island: The Beach that Instills Marvel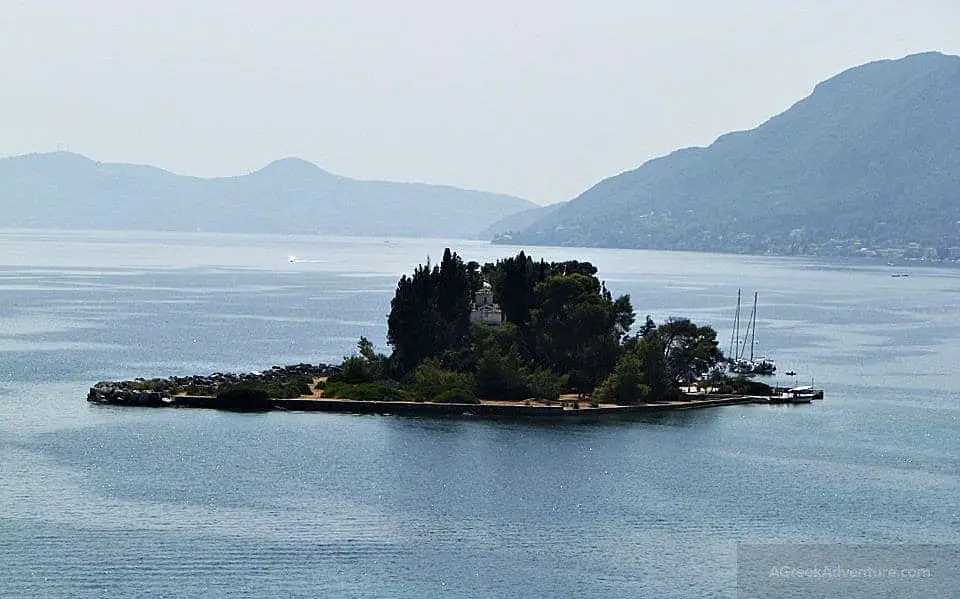 The Paleokastritsa beach is 25 km northwest of Corfu town, arguably the most picturesque place on the island.
The beach has a nice variety of taverns overlooking the brilliant blue waters, and the stunningly pebbled beach itself is a wonder to behold.
The beautiful beach is surrounded by majestic olive tree forests and is known for its cold waters and delightful environment.
Considered one of the best beaches on the Greek islands, it offers some excellent sea views.
So, if you love the sun, gorgeous sands of different hues, and pristine blue waters – this is the must-visit most beautiful beaches and Greek islands guide.
Enjoy these exquisite Greek islands with your friends and family, go scuba-diving and jet skiing in the bluest of Greek waters, and let the beauty and calm of Greece renew and rejuvenate your senses.
Got tired of crowded Greek islands, overcrowded beaches, and noisy destinations?
If the answer is yes, it is time to get familiar with a handful of alternative Greek islands where your mind and soul will welcome their peace and tranquility, along with great food and spectacular beaches.
5 Alternative Islands for a Honeymoon in Greece
The island of Gavdos for Couples
The island is very close to Crete and belongs to the Prefecture of Chania. It is a tiny island. Imagine those natural habitats are around 100 while in the summertime with tourists the population goes up to more than 3000.
Most of them are campers!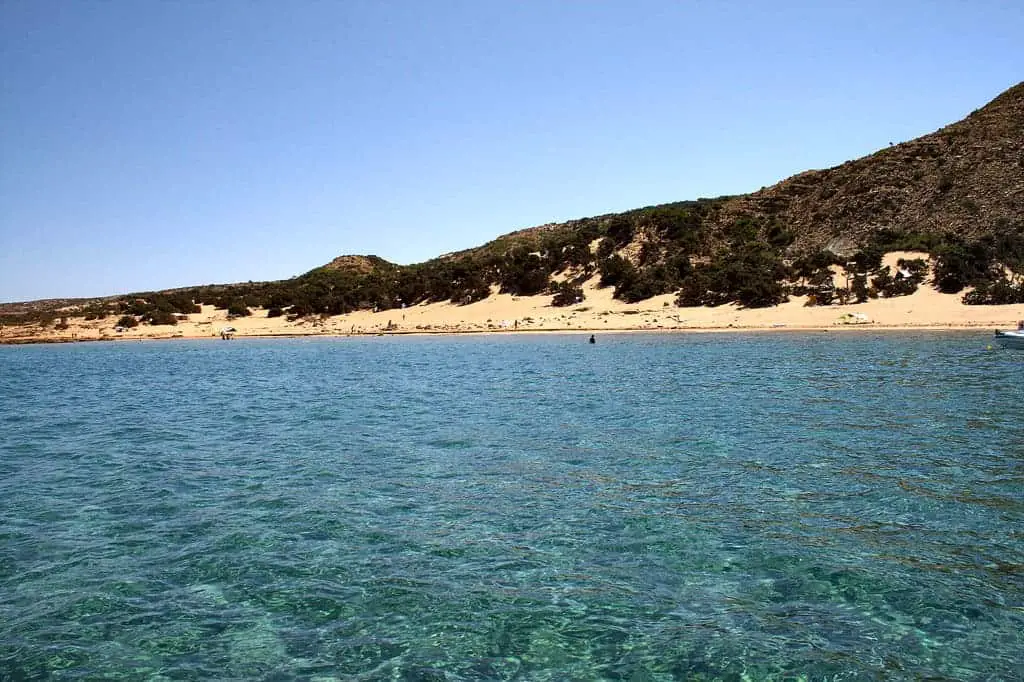 Have you ever heard of the legend of Calypso in Odyssey? This is the island where -allegedly- Calypso lived.
Tourism services on the island are a bit elementary, but you can spend a few days there if you like simple living and then move to Chania, Crete.
Ikaria is for Couples
Ikaria is an island where time moves slowly. The island is very peaceful, with magnificent scenery and a few lovely beaches. You can read a lot about it in our article for Ikaria.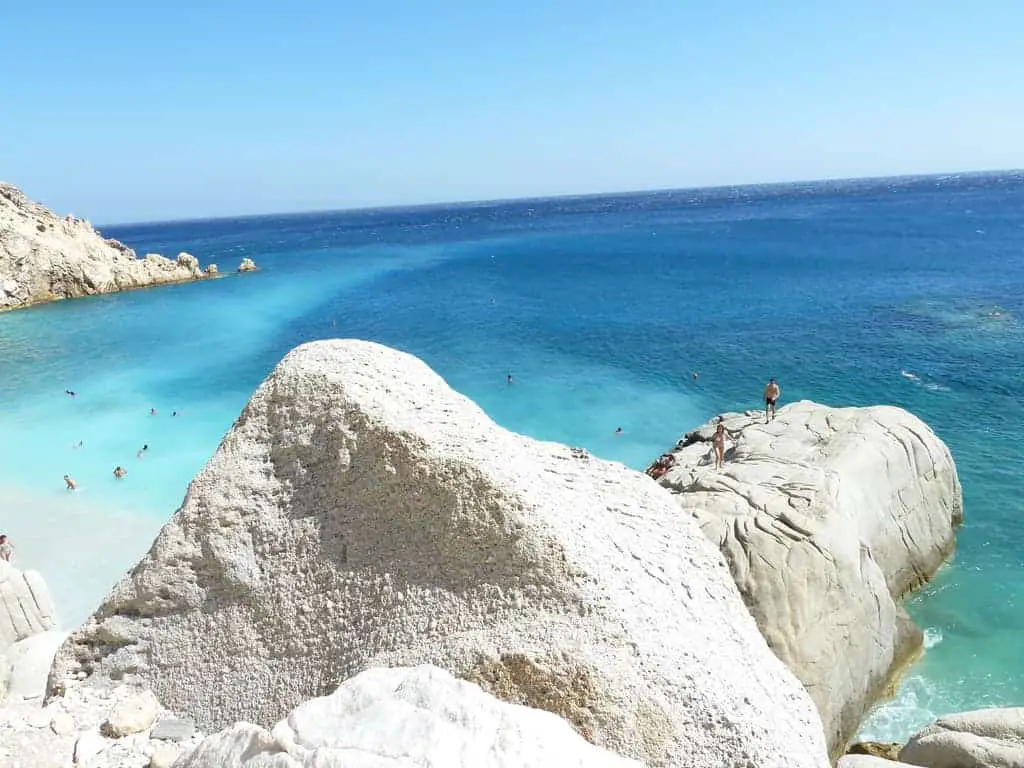 This Greek island is worldwide known for the longevity of its residents.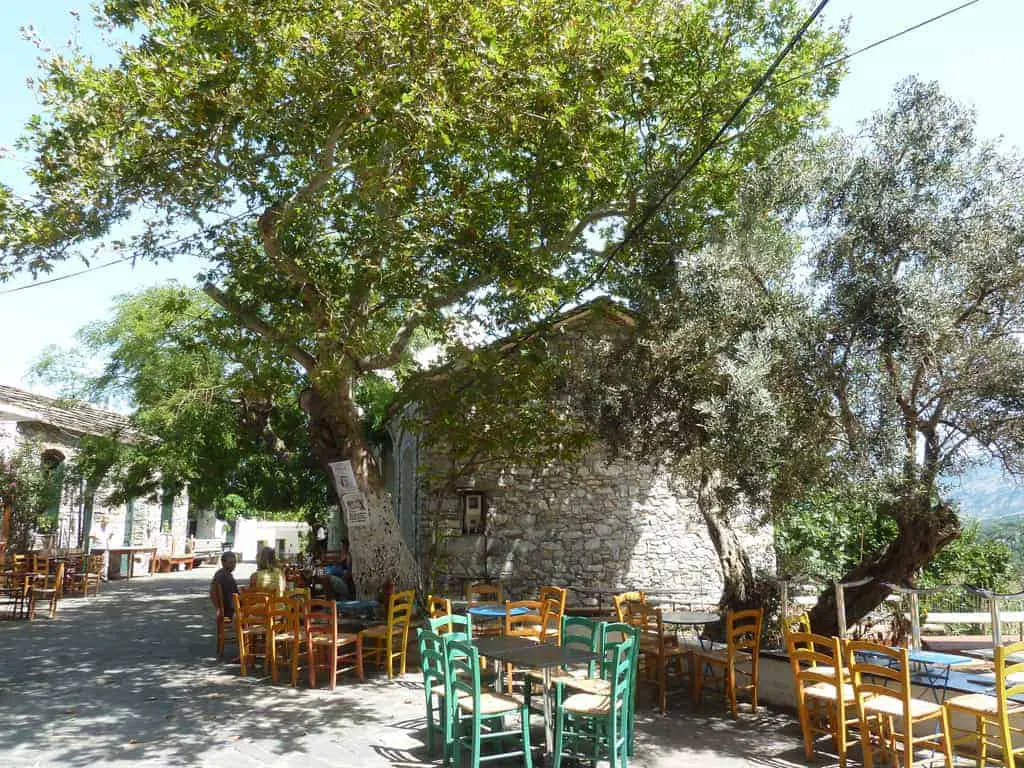 A significant number of studies have been conducted! Please read them here.
Couples Vacations to Skyros, Greece
The island of Skyros belongs to the North Sporades complex and is east of Evoia.
You can spend some days on Evoia (an island attached to the mainland) and then take a ferry and spend more days on Skyros.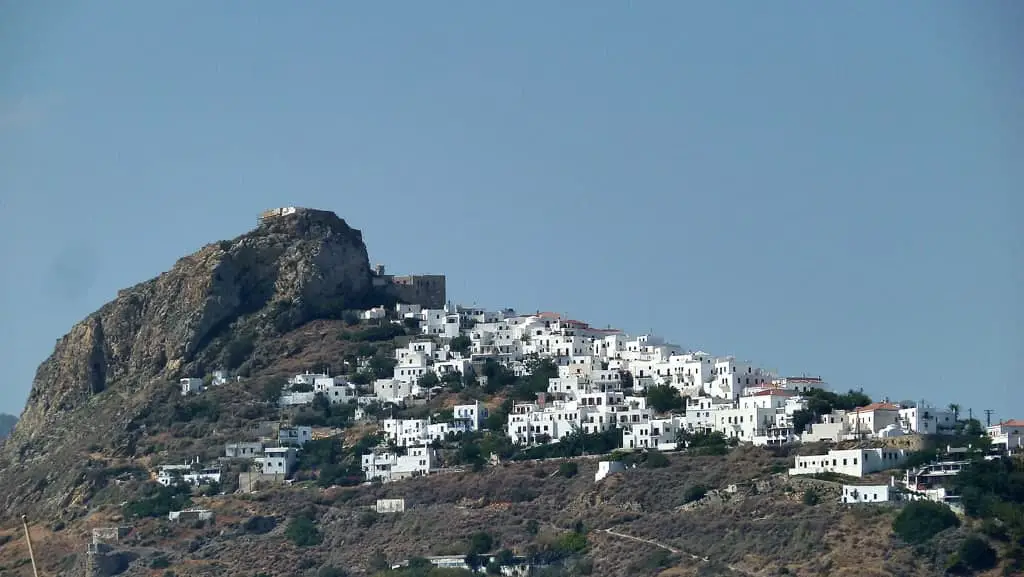 Skyros combines various views: secluded beaches, pine hills, rocky mountain plains, little gulfs, sea caves, and much more.
It is widely known for its wood-carved furniture and the famous horses of Skyros. This horse breed is not met anywhere else in the world.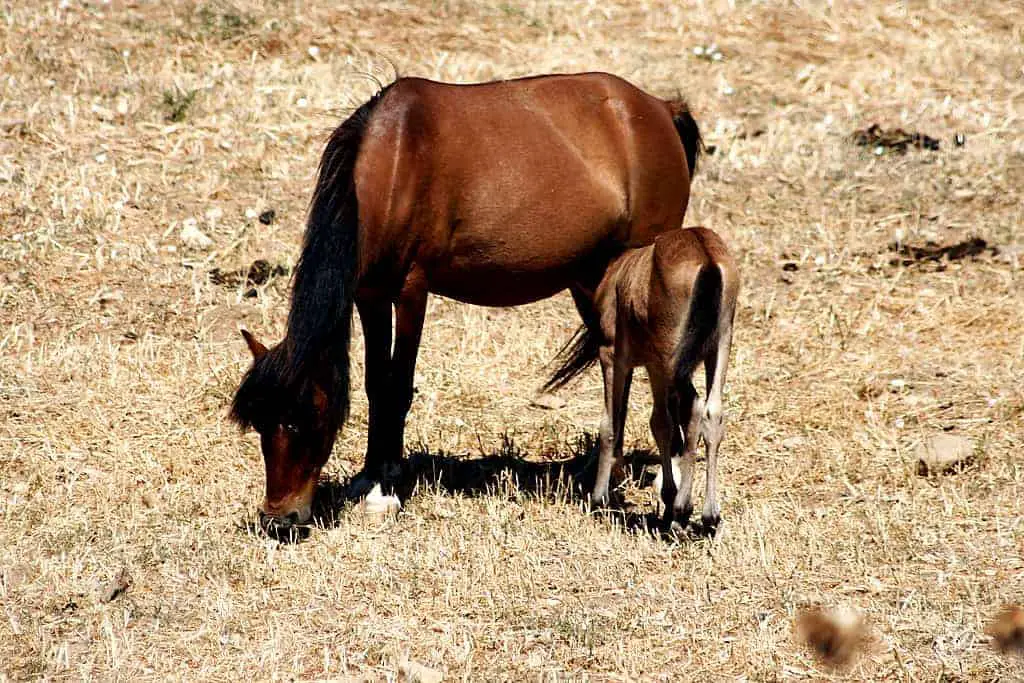 Reach the square of Eternal Poetry and admire an unparalleled view of the Aegean sea.
Visit Petritsa, Kalamitsa, Agios Petros, Kira Panagia, Agios Fokas, Aspous, Pefkos, Acherounes, Kareflou, Molos, Magazia, Girismata, Patricia & Molos.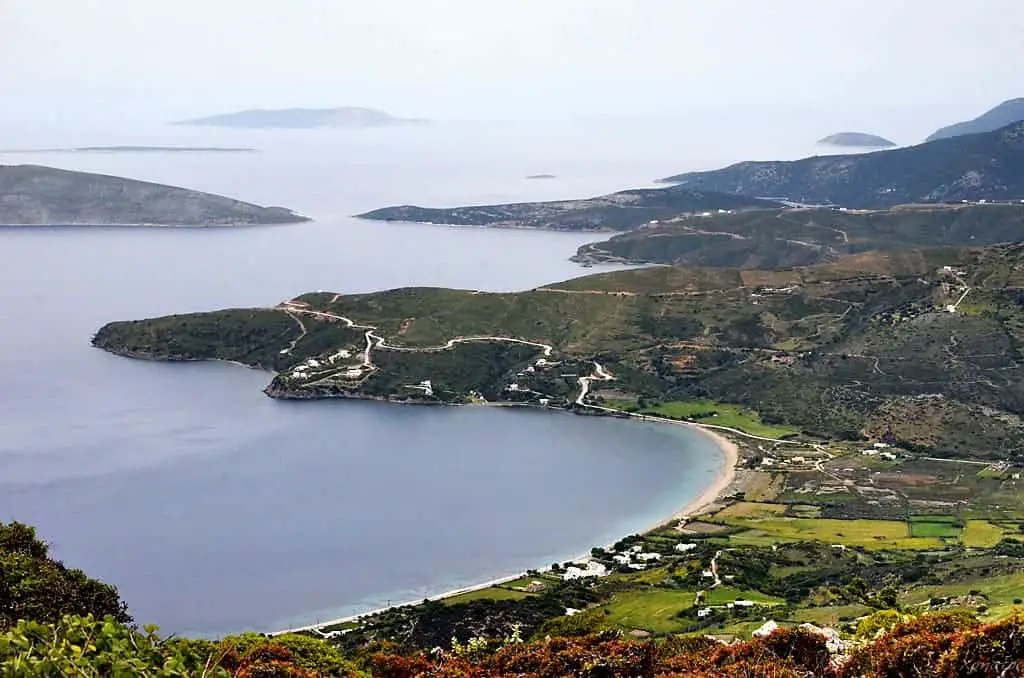 If you like windsurfing, go to Kalamitsa. There are a couple of Museums to visit and the Archaeological area of Palamari for lovers of culture and archaeology.
The island is totally picturesque and very relaxing.
Several running races are conducted in the summertime, a rising phenomenon in many small Greek islands.
The island of Symi
The Greek island of Symi is located on the Northside of Rhodes. A visitor's first impression is of the colors and magnificent architecture. It is enchanting.
On this island, you can stay at the Monastery of Panormitis (if you book early).
At Yialos, don't forget to visit: The Cathedral of Timios Prodromos, the Customs Office, the Fish Market, the stone bridge, and the old shipyard in the Charani district.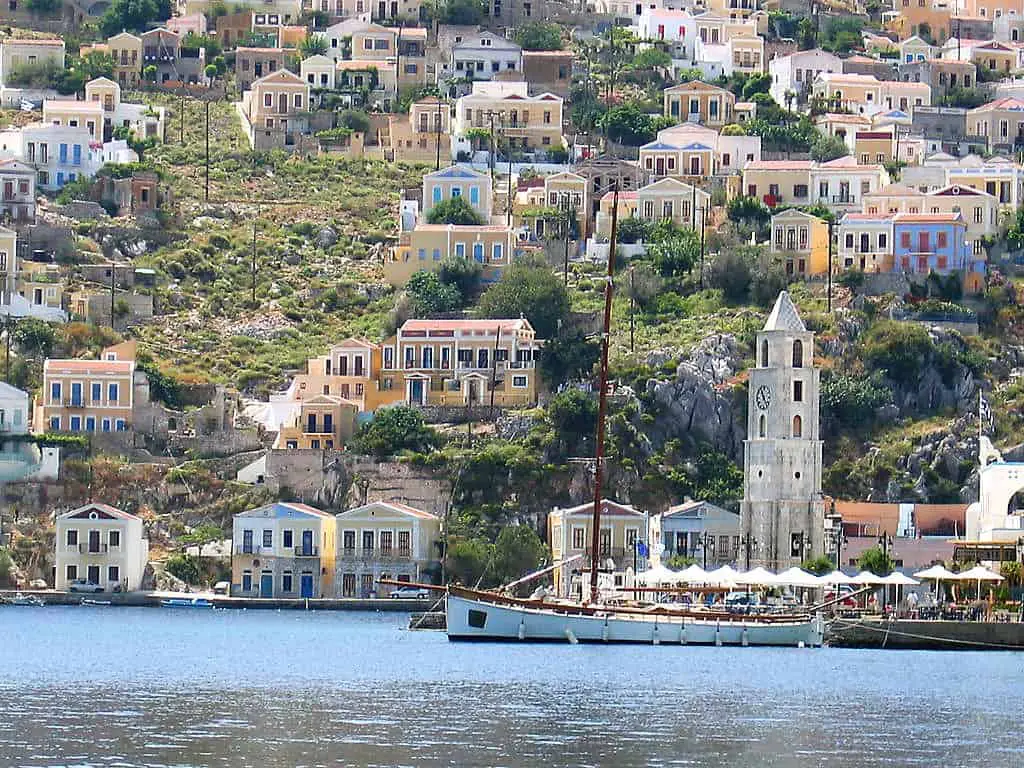 Are you feeling like hiking? Take the 500 steps that lead to Ano Simi. A series of great little coffee shops will wait for you there and sit and admire a magnificent sunset.
At Chorio, you will have the opportunity to visit the Folklore Museum.
Then take the stone-paved road up to the castle to have an even better view of the Aegean. If you like, visit the Nautical museum as well.
Visit the beaches of Symi with a small boat. Go to: Ai Giorgis, Agia Marina, Nanou, Fokospilia.
While heading there, turn your head and look at the neoclassical houses of Yialos once more! Aren't they great?
The island of Pano (upper) Koufonisi
It belongs to the Koufonisia complex and Kato (lower) Koufonisi and Keros. The island is located southeast of Naxos and belongs to Small Cyclades.
The island occupies no more than 3.5 square kilometers of space.
Now, you go to Koufonisi for the peace and the exotic beaches, and that is all.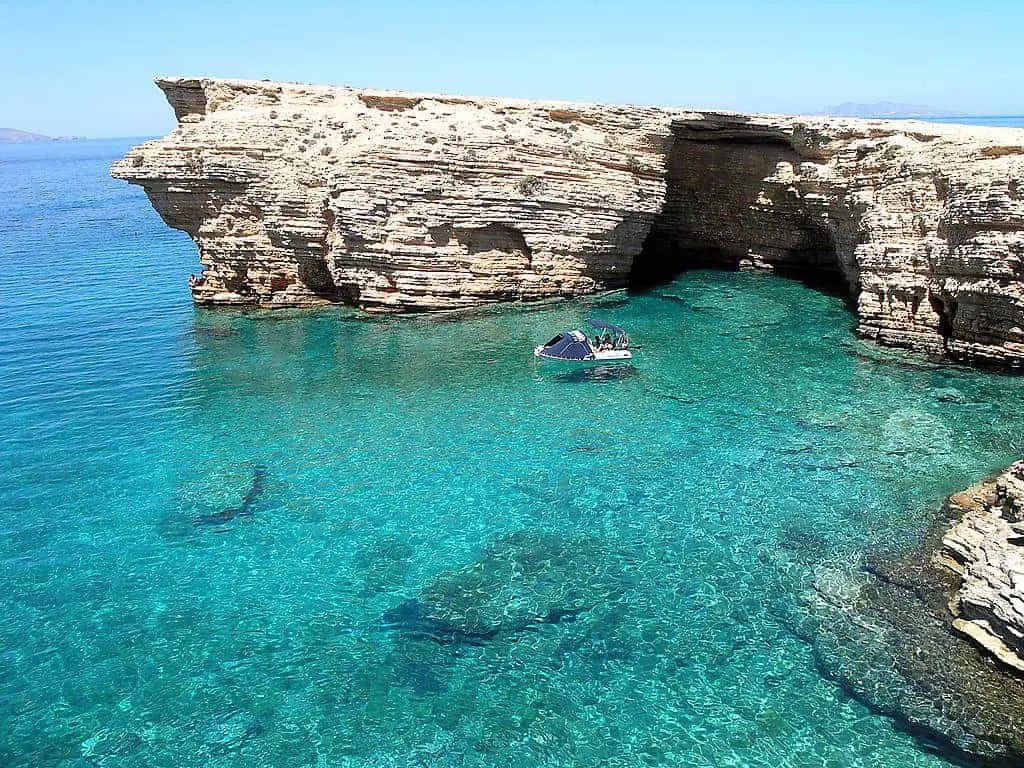 If you spend a few days, you will visit all the emerald beaches. These are Yialos, Finikas, Fanos, Pool, Platia Punta, and Pori.
Pori is like a paradise on earth. A beach covered with fine golden sand.
While you stay there and make some new friends, you will surely meet them every day as all roads lead to Hora.
Keros is close to Pano Koufonisi, but you cannot stay there as it is an important archaeological place. If you've ever seen those 2 Cycladic figurines of Arpisti (harp player) and Avliti (flute player), this is their origin.
Now that you have read about these six gems of Greece make a schedule to visit them all with an island-hopping mentality or come to Greece again and again.
Yet, be warned! The beauty you will find is hypnotic, and the peace you will feel will change you forever!
Also read: