Are you planning for Paros Greece? We decided to spend a week in Paros Greece for our summer vacation. 
Both of us have spent some long weekends in our early youth in Paros island with crazy partying and extreme nightlife.
This time was an opportunity for a more in-depth exploration of the island. We did that and didn't leave a stone unturned. 
Where is Paros Greece island?
Paros Greece is one of these magical islands in the heart of the Cyclades that will pop up in your search on where to experience your vacations in the Greek islands.
Paros Island is the center of the Cyclades islands, to the west of Naxos, really close to Santorini and Mykonos.
Some include Paros in their island-hopping plans, along with Antiparos.
The island of Paros is merely 4 hours (with the slow ferry) from Athens port of Piraeus or just 3 hours with the fast one.
Also read: Ferry From Crete To Santorini Travel Guide
That makes Paros another ideal destination for a long weekend or a multi-day trip.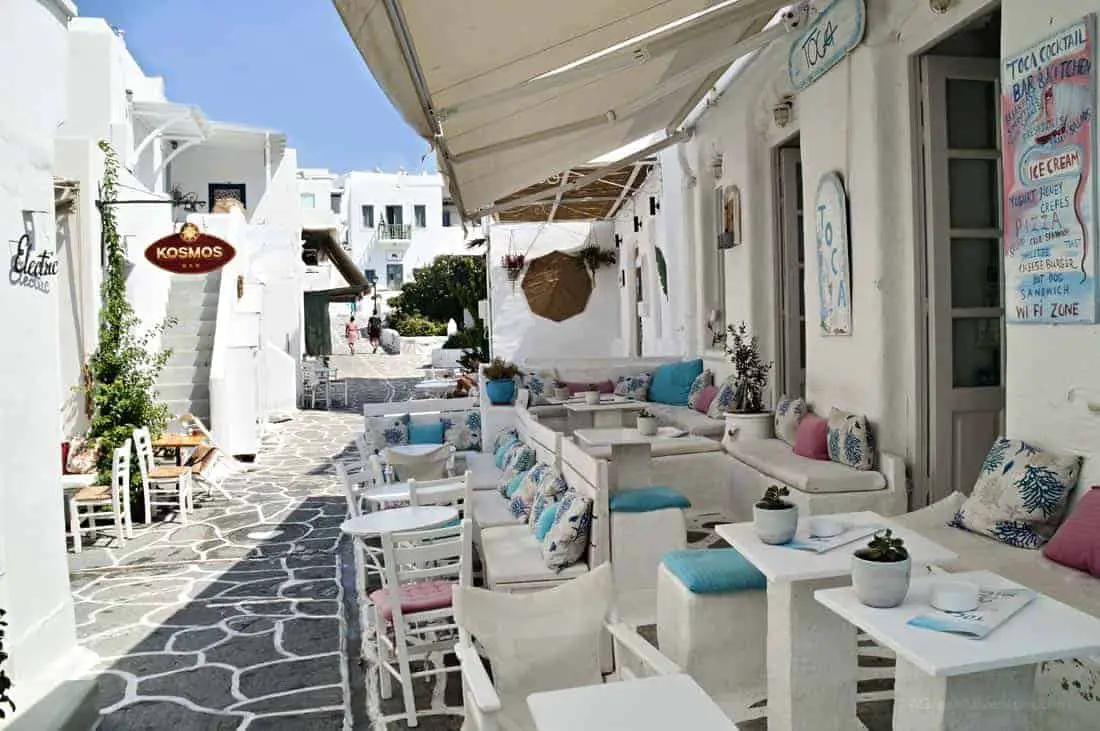 Paros showcases itself as the epicenter of a traditional Greek island, with fishing villages, Cycladic architecture and impressive churches scattered over the land. 
Moreover, the island is famous for outdoor and sea sports, like kite-surfing, wind-surfing, horseback riding, yoga, mountain biking, scuba diving, to name a few.
Paros is one of the islands where accommodation expires fast. We decided to go there at the end of July, and it was tough to find accommodation.
Book early following these links: Click here or here. Book ferry to Paros.
How to Get to Paros Greece
If people ask me how to get to Paros then I say that the best choice is by ferry – that is my opinion.
There are regular departures from Piraeus to the Cycladic Islands. Our choice is Blue Star Ferries who steadily travel all year long.
We booked airplane-style seats, which definitely made our trip to Paros comfortable and pleasant.
Blue Star Ferries is a member of Attica Group, and so is Hellenic Seaways. Both companies offer fantastic services and can definitely make your trip a pleasant experience.
It only takes 4 hours to get to Paros, so there is time for strolling around, having breakfast or lunch and even… have a nap!
Keep in mind that also the lounges are comfortable. So the choice is really up to you.
Now, when it comes to booking, we did it online and afterward received the printed tickets at the kiosk in the post.
It was only a few meters away from Blue Star Patmos.
Of course, you can choose the easier way to use the web-check-in feature, which lets you get on the ferry by simply showing your mobile.
Getting the car on the ferry was also very easy, and a few minutes after that, we were comfortably sitting and waiting for the departure, sipping a Freddo Espresso coffee in the lounge bar.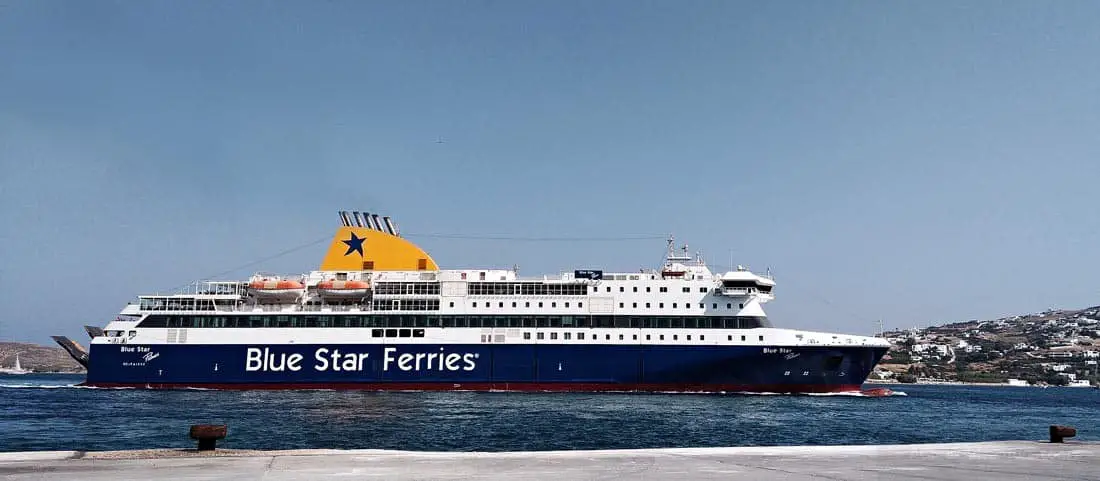 The trip went by without us really noticing it. Four hours later, we entered the port of Paroikia, the capital town of Paros island.
For us, that is the ideal ferry trip and our trip to Paros had a great start!
Things To Do in Paros island
We did quite a lot of stuff on Paros Greece, besides relaxing at its beaches. As we stayed there for seven days, there was time for many things. We advise all to spend at least seven days on the island, so to experience the food, the beaches, and the sparkling nightlife.
What To Do in Paroikia on Paros Island, Greece
The island's main port and the capital of Paros. Parikia has conventional Greek architecture, as well as several beaches and churches.
It is a popular destination during summer as many visitors first land here from nearby islands. Parikia is also the cultural and commercial center of the island.
To book your accommodation in Parikia, click here.
The top things you don't want to miss are the following.
The Church with the 100 Doors (Ekatontapiliani Church)
Even if you are not a fan of churches, you will love this one. Besides the numerous taverns, clubs, and other fun to explore places, you must visit the Church with the 100 Doors (Gates).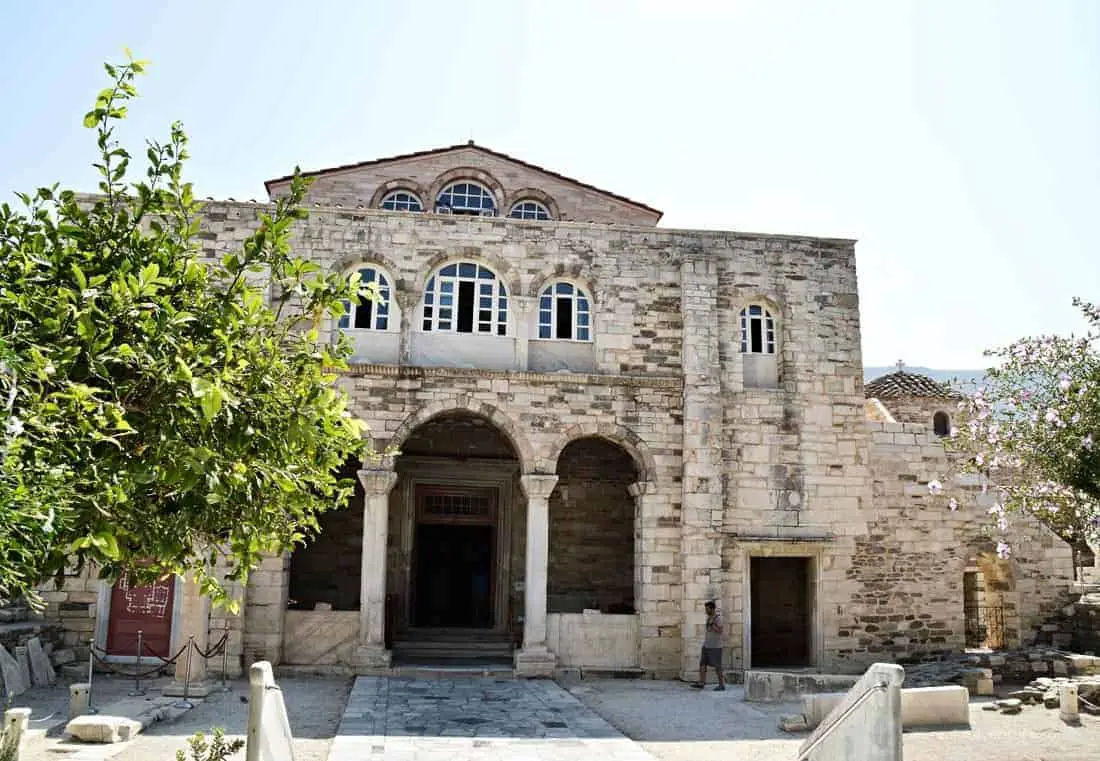 The actual local name is Panagia Ekatontapiliani. This is one of Greece's most important Byzantine monuments. 
The Venetian Castle
Another landmark to visit is the Venetian Castle (also known as the Frankish Castle).
It now sits in partial ruins but remains an attractive piece to pay a visit.
Frankish Castle was built in the 1200s by Venetians using materials from the ancient Temple of Demeter. You can identify this from the castle's structure.
It is located in the old town of Parikia and at the highest point in the city, which enables visitors to have a magnificent view of the surrounding area.
The archaic temple of Goddess Athina is there. It is an Ionian style temple dedicated to the goddess, which is the protector of Paros island.
Parts of the original temple structure foundation are seen at the north side of the temple.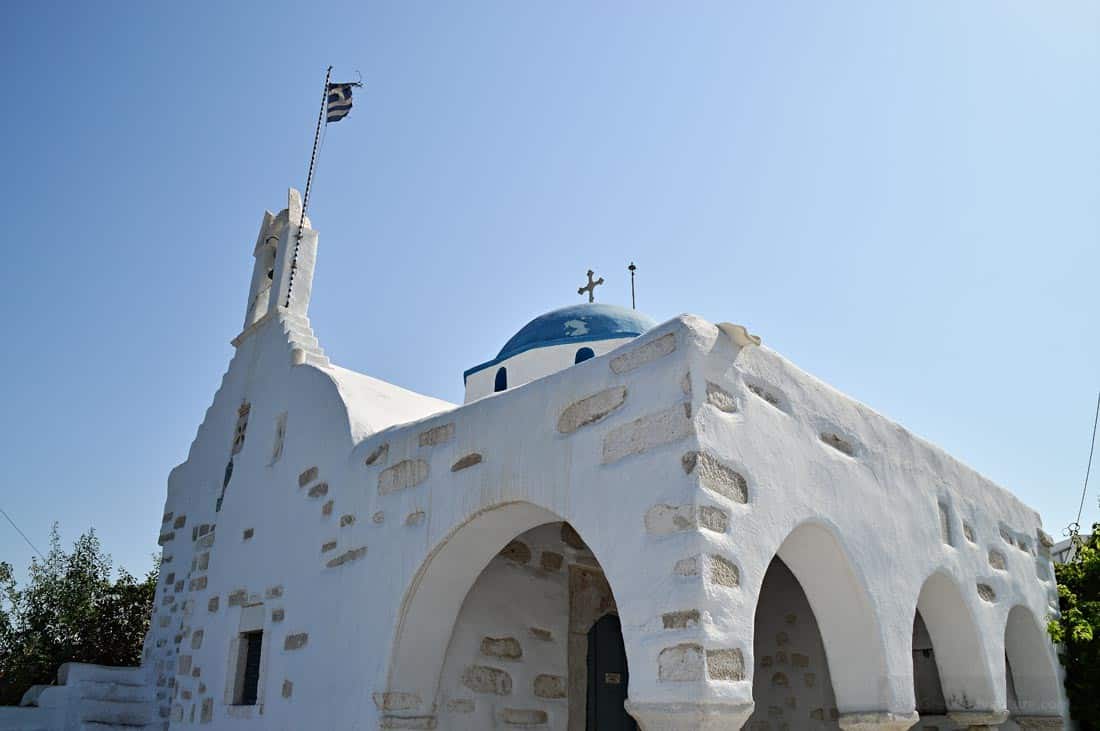 A prehistoric settlement of the 2nd millennium B.C. was excavated next to the temple.
The Asklepion
Do pay a visit to the Asklepion. The sanctuary is located on the plateau over the Pythion (you can read more for Apollo from here). 
The temple is close to a spring, as water had an essential role in ritual proceedings.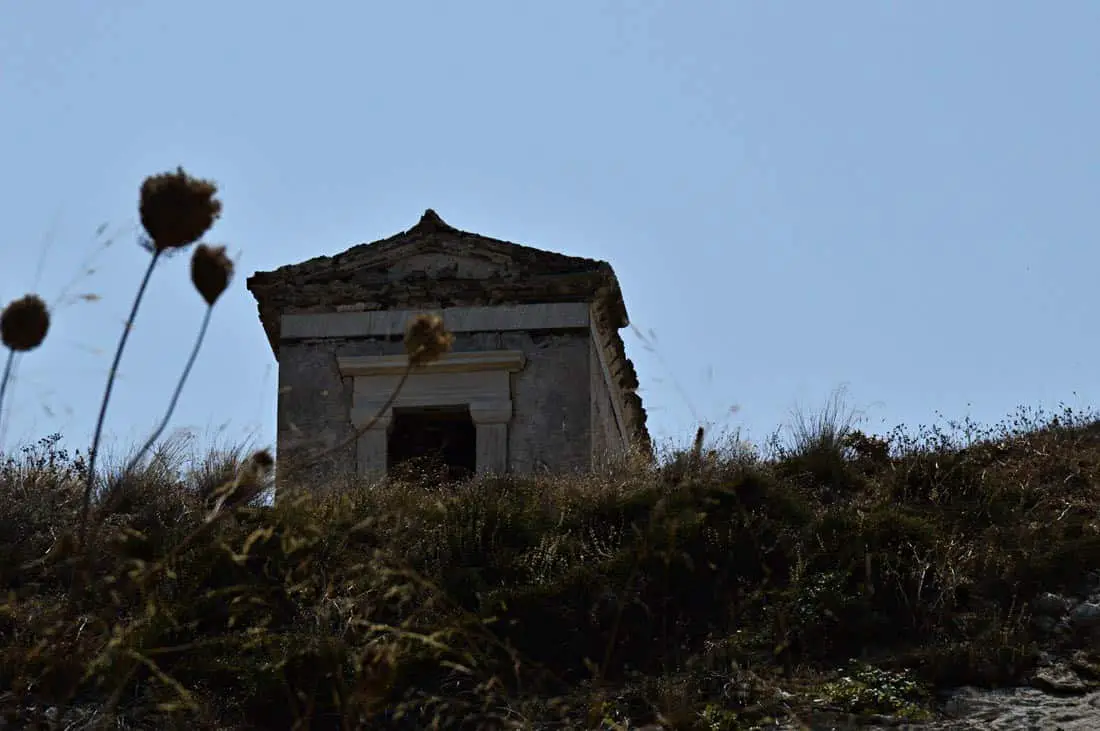 The Archaeological Museum of Paros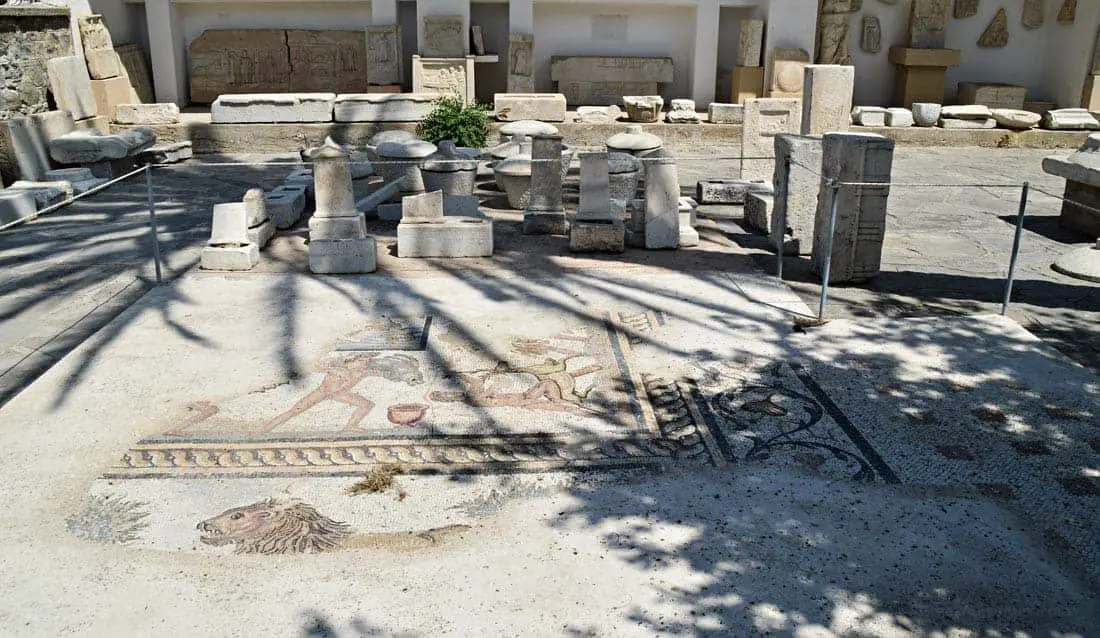 The Museum of Paros was founded in 1960.
It is considered one of the most important museums in Greece because of its exhibits.
These were found in excavations on Paros and Antiparos islands and date from the Neolithic period to early Christianity.
Exhibits include, among others: 
The Nike of Paros
Cycladic figurines
Mosaics
The Archaic marble statue Gorgon
Statues of Kouroi
The poet Archilochus
Amphorae from a Parian workshop and deities
Mosaics discovered in Panagia Ekatontapiliani are exhibited in the atrium.
Leisure Time: Walk Around Paroikia
One of the best things to do in Paroikia is to walk through the narrow alleys and beautiful squares.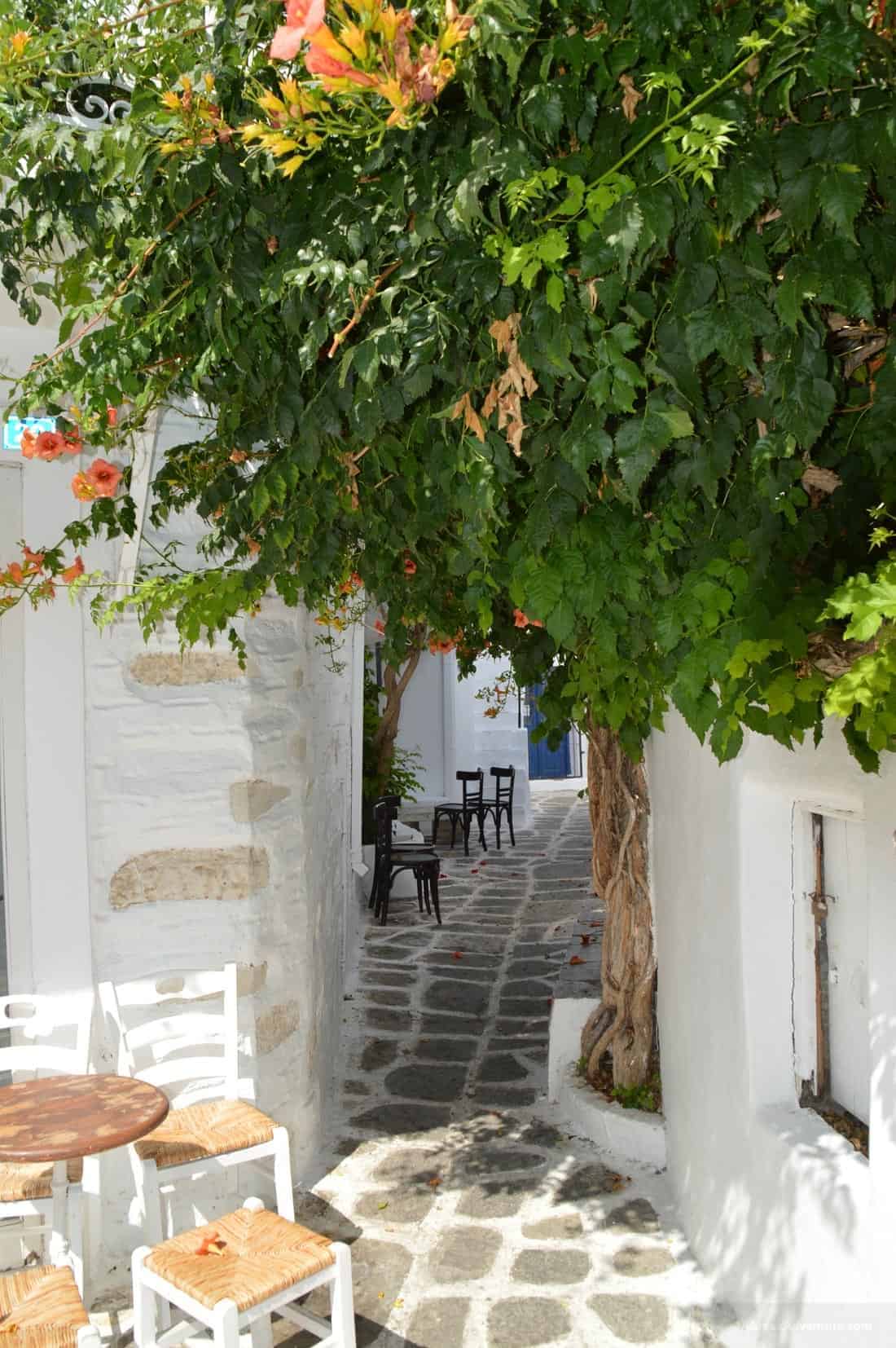 There are lots of tourist shops with souvenirs ranging from affordable to expensive ones, and they cover all tastes.
A multitude of small restaurants or snack places is available.
You can enjoy souvlaki and all kinds of seafood or meat in any plain diner or fine dining restaurant in this town.
Get a Book From the Free Outdoors Library
On your way to/from the airport, you will see a very small building on crossroads.
That acts as a free open library. You can get any book to read while you wait for the bus.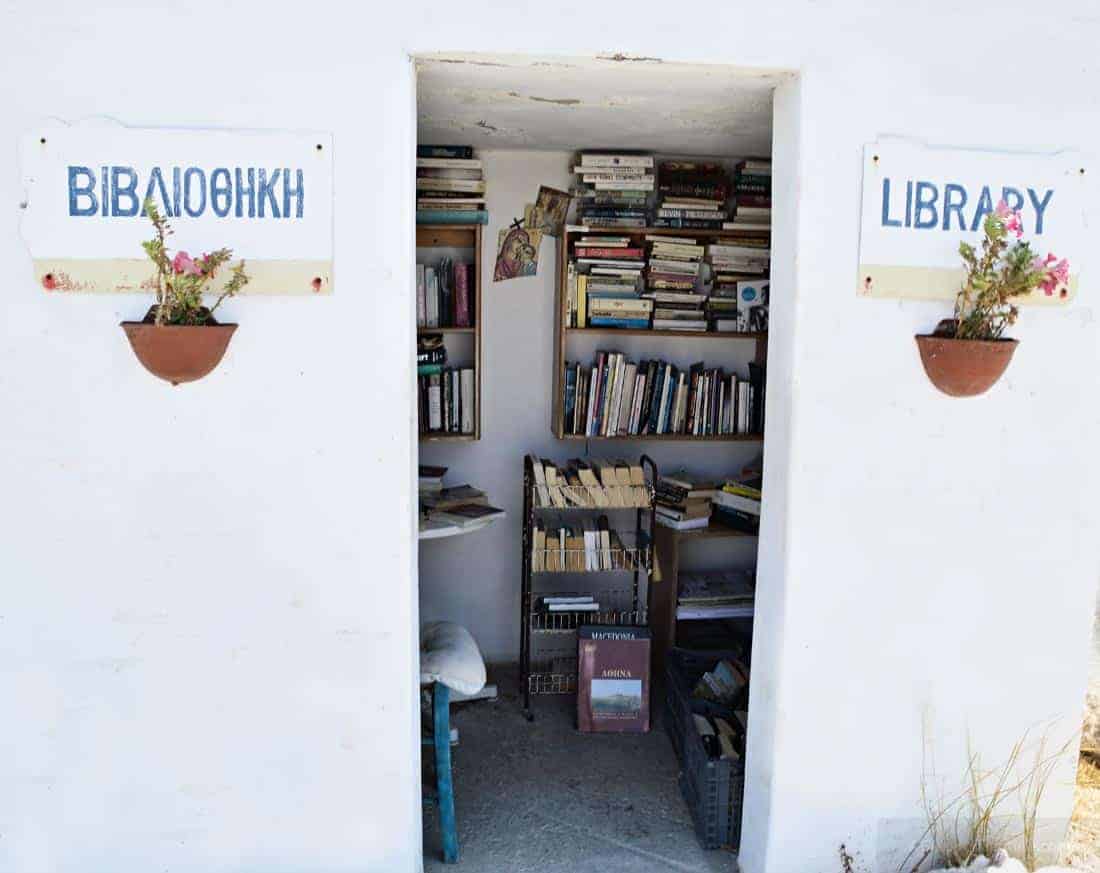 What To Do in Naoussa Town on Paros
Naoussa is a picturesque fishing town with a vibrant nightlife. It is the second-most important village in Paros.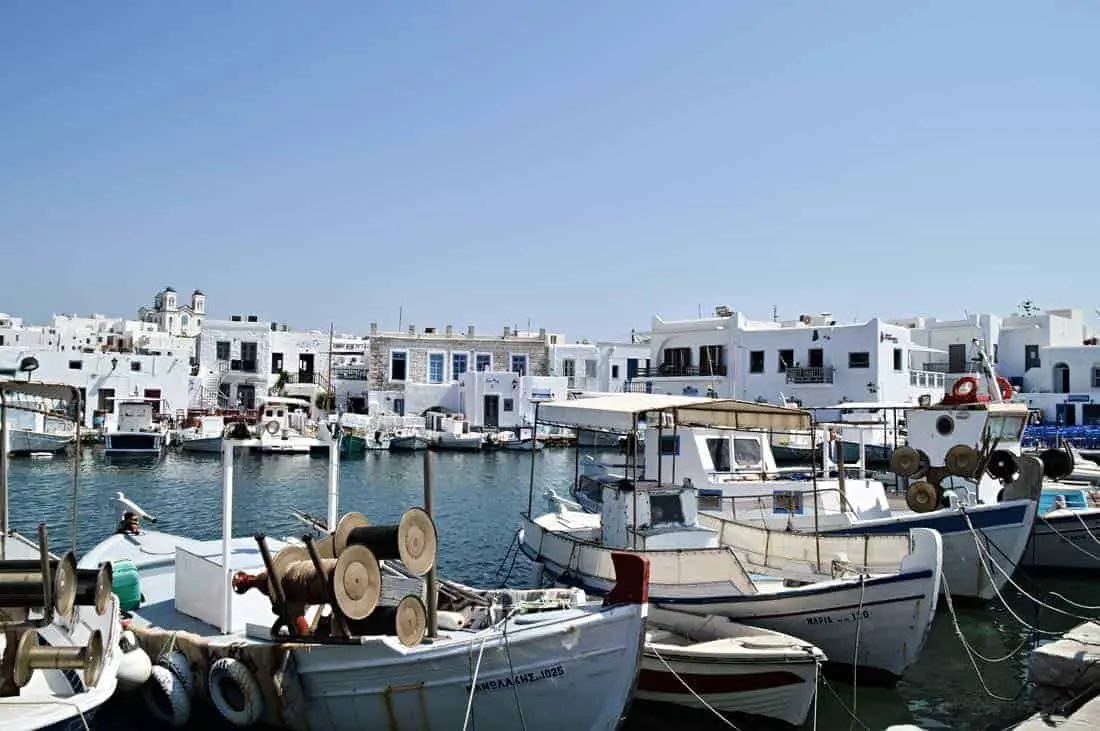 Taverns and small eateries surround the port area and are typically busy.
If you are a party person and night owl, there are plenty of bars and nightclubs that stay open till dawn.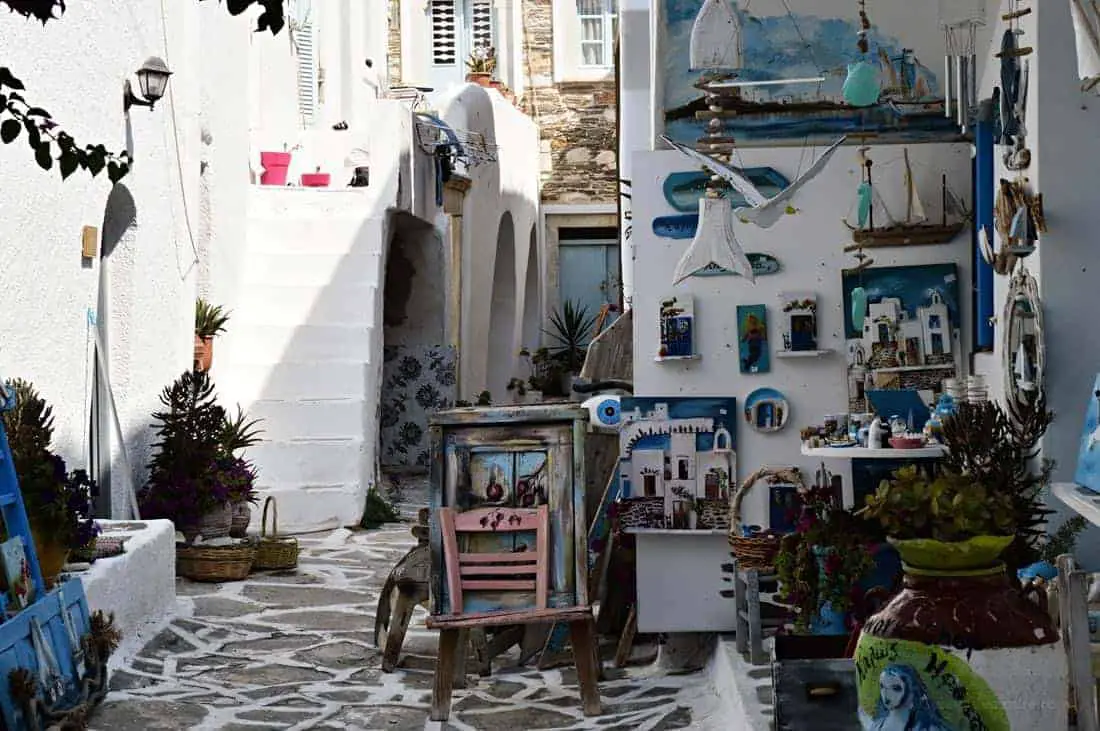 The festival celebrating the victory over the Turkish pirate Barbarossa occurs every August 23. The celebration is characterized by more than 100 boats.
Naoussa has some pretty lovely beaches too, both prior to entering the town and in.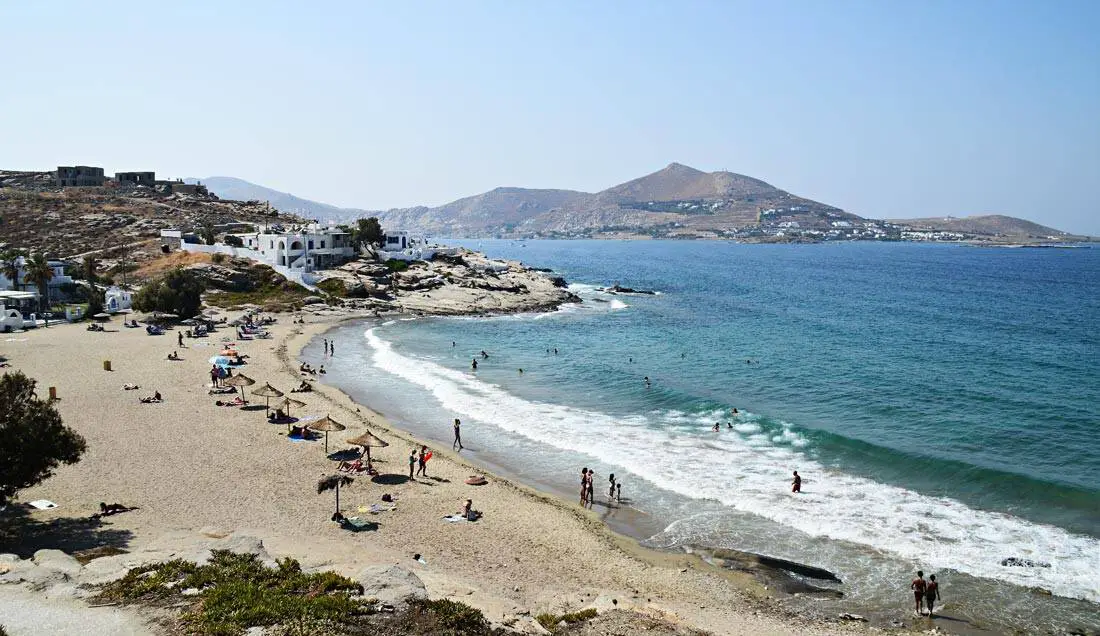 The town is relatively quiet during day time as most people run to the beaches. However, it gets alive after 6 pm up to early morning hours.
Compared to Paroikia, Naoussa is considered a more cosmopolitan town, and that is seen all around the place.
Most high-end restaurants and nice cocktail bars are in Naoussa, but it has options for all budgets.
To book your accommodation in Naousa, click here.
Explore the Village of Lefkes
Lefkes is a mountainous village trendy among travelers. Walk around to see the colorful houses and old buildings. The ancient Byzantine Hiking path starts here (about 3 km long).
In this village, almost every alley calls for a photo opportunity.
There are two cafes serving delicacies here. Choose the one with the Greek "yiayia" (grandmother).
It is the white one at the left of the yellow building below. She knows her way around Greek coffee.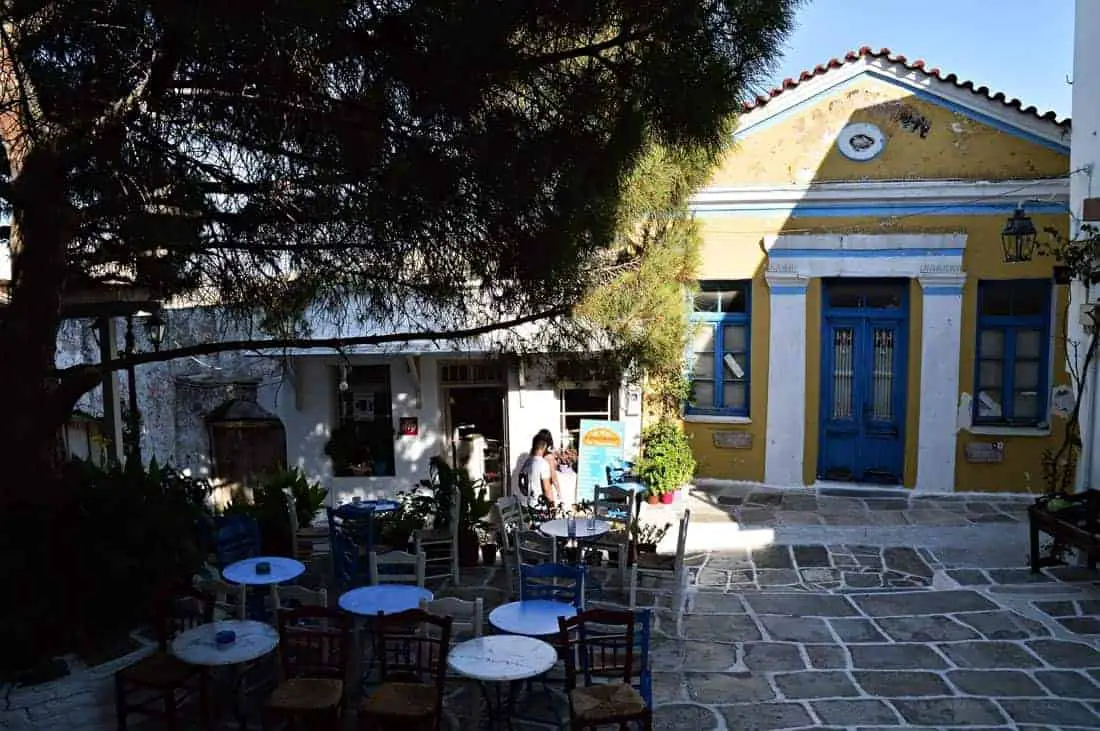 Stop in this square below for a Greek coffee or chocolate pie. Don't worry; you will find it as you walk around. It has the best shade and cool breeze ever.
Visit the Butterfly Valley
Every summer, this valley is luscious green filled with Jersey Tiger Moths that seem to cover the entire place.
It is a natural phenomenon that can take your breath away.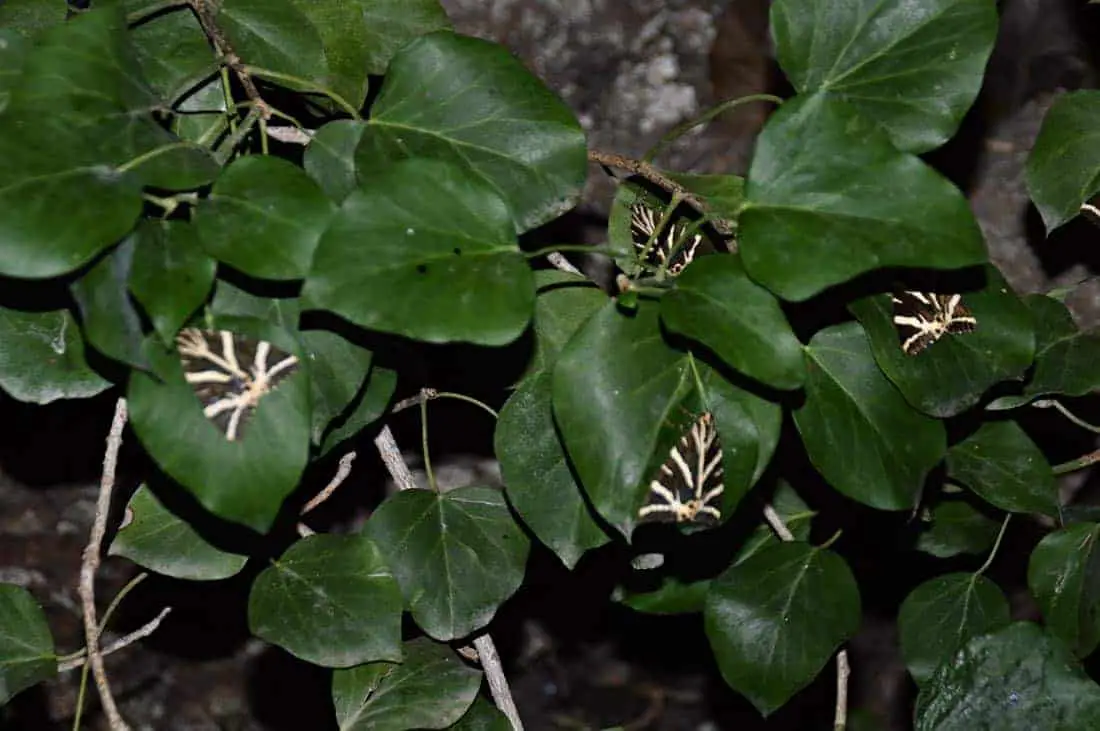 That happens near the Monastery of Jesus of Woods, around 5km from Parikia. The locals refer to the place as "Koilada tvn Petaloudon" (means: valley of Butterflies).
Visit the Village of Marpissa
This village is famous for two things. It's lots of churches; small town but with 20(!) white-washed churches. The other thing is the Perantinos Sculpture Museum.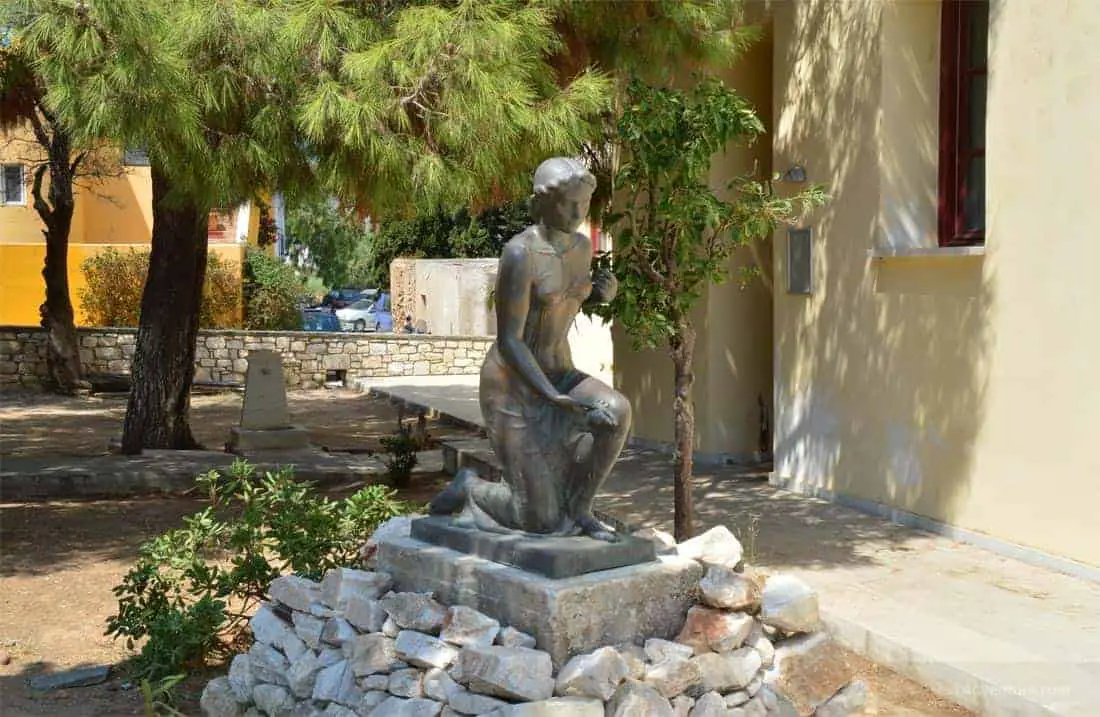 Nikos Perantinos was a famous sculpture in Greece. The Museum is housed in a beautiful, neoclassical building with five large halls exhibiting his sculptures.
Day Trips from Paros
Some of the most famous Cycladic islands are close to Paros. Jump in a ferry for:
Antiparos (10 mins): Tom Hanks and his Greek wife have a house here and visit often.
Naxos (20 mins): Check our Naxos posts and all the things we did there.
Mykonos (1 hour): Plenty of things to do in Chora and swim on some of the beaches. Check our Mykonos post.
Santorini (3 hours, so it can be your next stop): You need days to explore Santorini, but if Paros is your "thing" this year then you can take the ferry and have a day in Santorini, visiting Thira and Oia only. See more things to do in Santorini.
More day trip ideas are:
Dance your heart out in a Paros Festival
There are 10ths of folklore festivals taking place in villages of every Greek destination, especially from July to September.
All of them involve dancing over Greek folklore songs.
In Paros, they host the Pirates festival. A revival representation of the time when Paros was frequently invaded by Pirates.
Young boys dressed as such, "attack" with their fishing boats (cacigues), going after young girls to "kidnap" them and take them into their ships.
Do not miss the Fist and Wine Festivals, for -well- apparent reasons! That takes place in Marpissa (1st Sunday of July).
There are fireworks, music, food, and fun. Moreover, there is nothing more that will get you mingled with locals than participating in one of these festivals.
Best Beautiful Beaches of Paros Island
There is no visit to this Greek island without paying a visit to all its beaches. 
Chrissi Akti Beach: One of the most famous & best beaches on the island, the Golden Beach has warm, clear waters with powdery soft golden sand, making it a favorite for sunbathers. Because the winds there are great for windsurfing, every year is occasioned with an international windsurfing competition.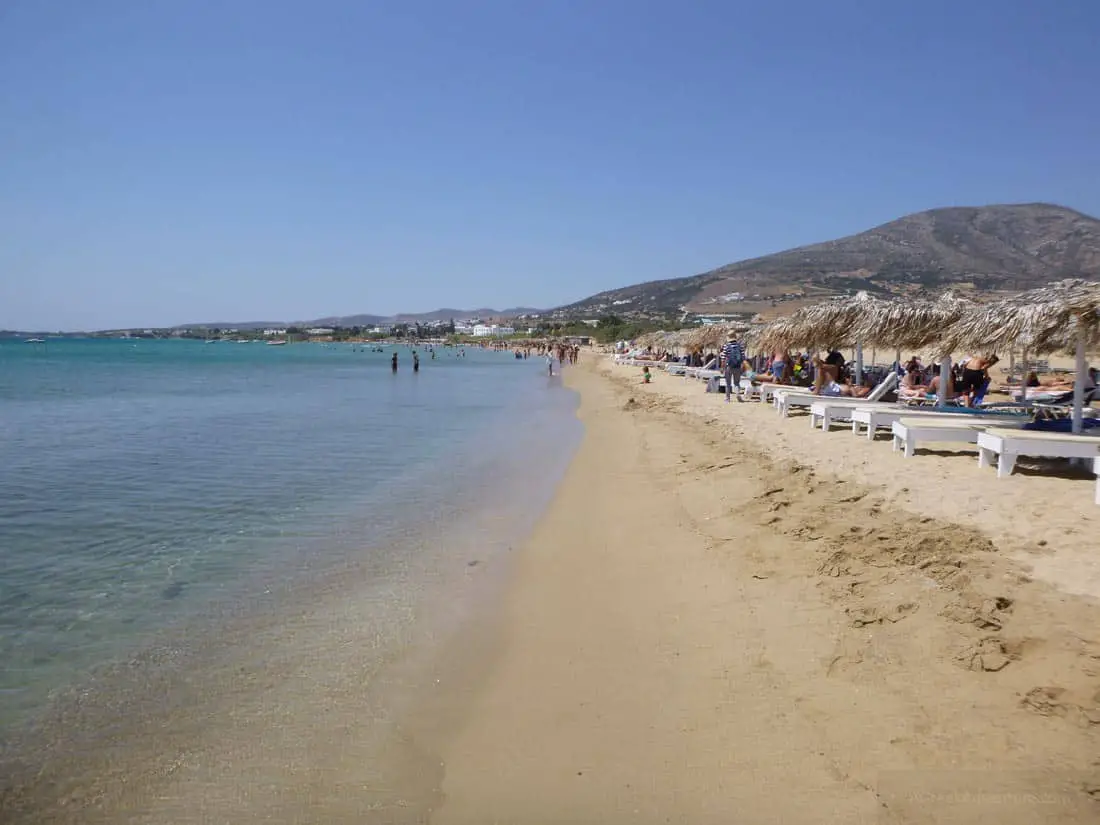 Punda Beach: Punda beach is close to Golden Beach and is famous thanks to the beach bars and its beautiful, natural environment, not to mention the Kite and Windsurfing action taking place. Paros is renowned to the windsurfing world.
Kolymbithres beach: With its unique rock formations, it directly distinct itself from the other ones. However, keep in mind that it is a tiny one.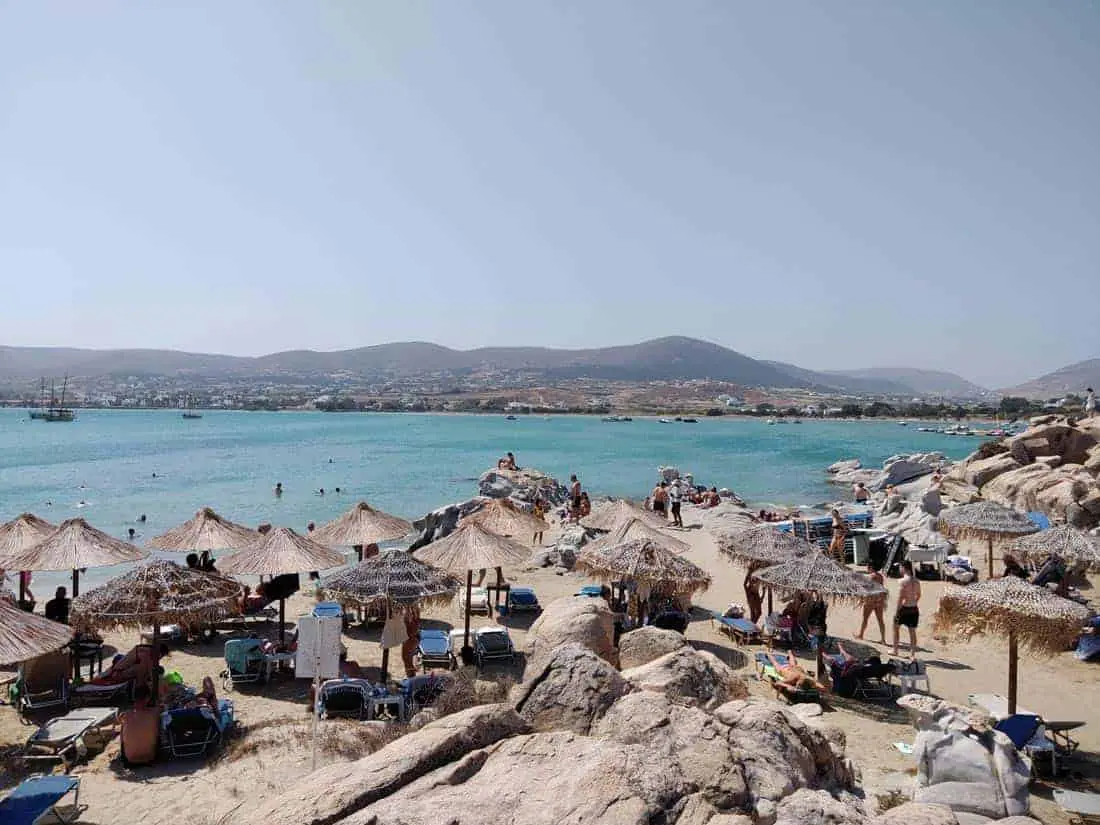 There are even more beaches to have in mind, all around the island. These are:
Monastiri Beach
Marcello Beach
Logaras Beach
Piso Livadi Beach
Livadia Beach
Faragas Beach
Dryos Beach
Aliki Beach
Santa Maria Beach
We can't include all info in this post, but we created an additional post dedicated to Paros beaches. 
Where to Stay in Paros Greece?
Paros is not a huge island (i.e., like Crete or others). To give you an example, you can get around the island in around 1.5-2 hours driving. Of course, there are many beaches, sightseeing and such and you won't do that, but you get the idea.
We decided to choose a strategic point for our accommodation. That is something we always do on our trips.
We stayed at a comfortable hotel, for which we found out it had great reviews and excellent breakfast, close to Naoussa town.
Naoussa is the 2nd famous town in Paros and is more of a cosmopolitan style, while Paroikia is a more "rough" one.
The hotel was next to a small beach, which proved quite handy for some extra early morning swims, before getting to any other beach on the island.
We could also get to Naoussa withing 10 minutes of walking time if we liked while enjoying not being in the town (and avoid any noise).
There are plenty of beaches in Paros island, but if you stay for a week, you will logically spend more time in some of them. We will explain why later in this post.
Getting Around Paros Island
Don't want to rent a car? Then you are lucky as Paros has an excellent public bus system in place.
Through that, you can reach most beaches and villages/towns. The bus ticket is around 1.80 euros.
If you like to drive, then you will find a vast variety of rentals: cars, scooters, quad bikes and ATV's.
Make sure to pre-book these too as in high peak seasons you may not find the desired availability.
Make sure to have all the papers in place (driver's license and anything else needed for driving outside of your country).
Double-check that your insurance covers you adequately in case of accidents. Make sure to get travel insurance!
Where to Eat in Paros Island
Here are some of the places we ate in Paros island.
In Lefkes village: Go to the "Klarinos" tavern at the main square.
We recommend it for its meat (local producer with his livestock).
In Paroikia: Go to "AR n' SO crepes etc." for crepes and coffee. The best crepe I had for a long time now.
In Naoussa: We ate at one of the restaurants in the main square but not impressed, but there are plenty to choose from, not at the harbor square.
In Piso Livadi village: We ate at Chalaris tavern. All the food was excellent.
When to Visit Paros Island, Greece
The best time to visit Paros is any time between May and October. That is the best time for most Greek summer destinations.
During that period the weather is perfect.
There won't be many businesses open from November to April, though you can always go to Paros in Easter time when that falls in April.
July and August is the peak season for the island, and in August it can be crowded, and Paros is not a big island. 
Paros belongs to the Cyclades and in the summertime, strong winds called "Meltemia" blowhard. That is why Paros is considered an exceptional destination for windsurfing and kitesurf/wakeboard enthusiasts.
Ready for Paros Greece?
This island combines romance, thrilling water sports activities, great food, and outstanding nightlife all in one place. 
We also visited the nearby island of Antiparos (a 10 minutes ferry transportation gets you there). More on that is coming soon.
It is not by chance that many visit Paros every year, even for a few days!
Also, read: