Loutraki is a well-known area/city near Athens, very close to Corinth at the Corinthian Gulf. You get the chance to pass through "Isthmus," the famous Corinth Canal.
There are lots of things to do there, including a Thermal Spa that gets its water from thermal springs. 
You can do this area as a day trips from Athens.
We have tested that too. However, for those who want to take the extra mile(s), there is a hidden treasure not far from the ancient city of Loutraki.
History of Heraion Loutraki Greece
The natural, therapeutic thermal springs at Loutraki have been a source of fame for centuries. The ancient Greeks called this place Thermai Artemis.
While traveling through ancient Greece, Artemis made a stop at this mystical place.
When Artemis first saw Loutraki, with its beauty and bright sunshine she couldn't help but invite her brother Apollo who was so fascinated by this magical place that he wanted to share it with the gods of Mount Olympus.
When the gods came to visit, they had no idea that this little town would become one of their favorite places. After seeing how beautiful it was here and named Thermai Artemis after the goddess Artemis herself- who also happens to be known as Diana in some parts!
Today, this little piece of paradise is called Loutraki. It's been translated into English as "small bath."
The announcement of this in 1847 in Italy took the world by storm and soon after, thermal spas became a trend. Loutraki was firmly on the map!
Places to Check when in Heraion
So, even if you go there for vacation or a day trip, you need to visit the area of Heraion, its beaches, the lighthouse, and the ancient ruins of the Temple of Hera.
It took us just 1.5 hours from Athens to land at the very far end where the lighthouse resides. It was an Open Lighthouses day, so we said, why not?
The Lighthouse
Pretty beautiful lighthouse, right? It is called: Melagavi Lighthouse of Korinthia.
It first operated in 1897.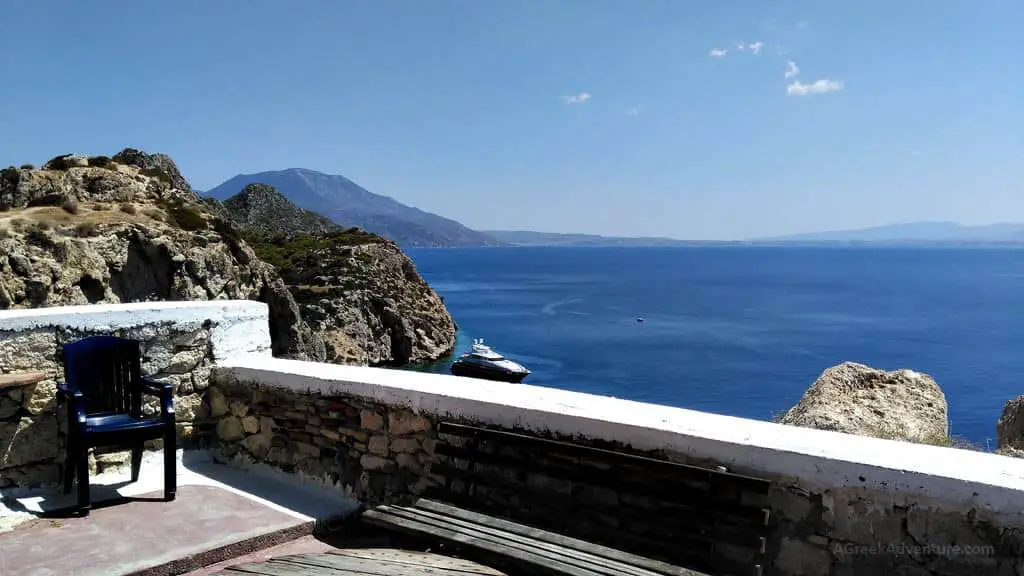 You need to know that if you are enlisted in the Greek Navy, then you are entitled to rent a lighthouse for vacations. Imagine staying at this one, gazing at the open seas.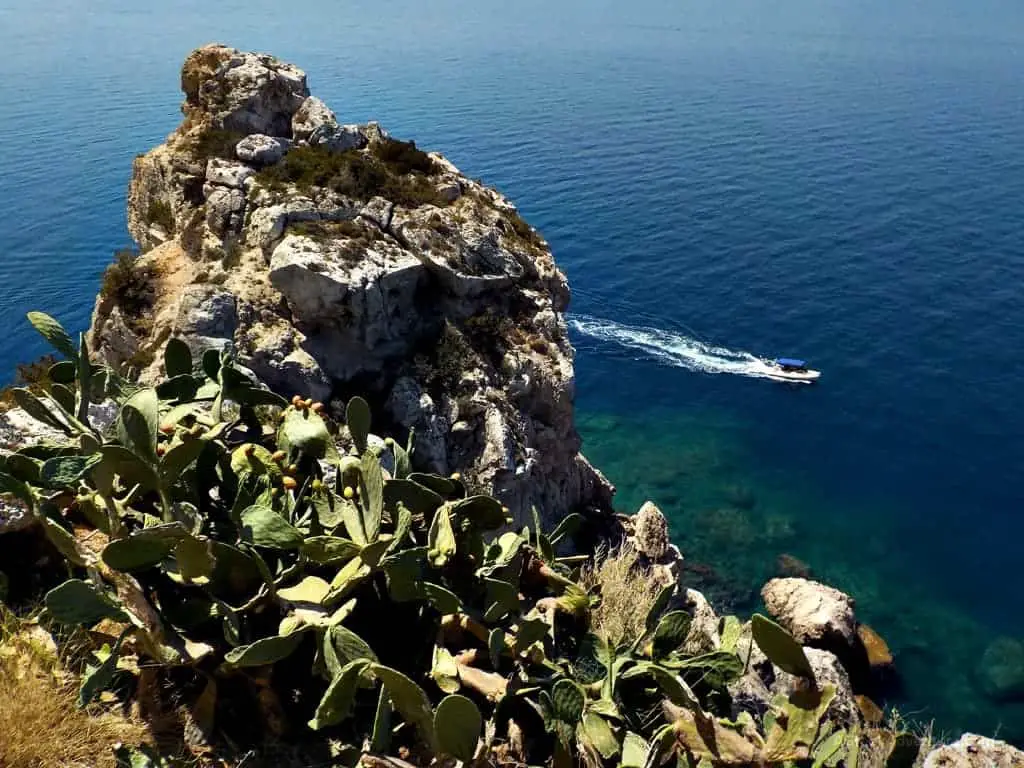 Well, is it gazing while sitting at this recycled and handmade living room at the open terrace, maybe?
Perhaps, if you wanted to change your vistas, you could turn your head at your left and see this.
Heraion (Sanctuary of Hera) Archaeological Site in Loutraki, Perachora
The temple is a narrow rectangular-shaped one. It is in the harbor area, northeast of the West Court, west of the Triglyph Altar of Hera Akraia, and the Geometric Temple of Hera Akraia.
It was excavated by Humfry Payne, from the British School of Archaeology, Athens.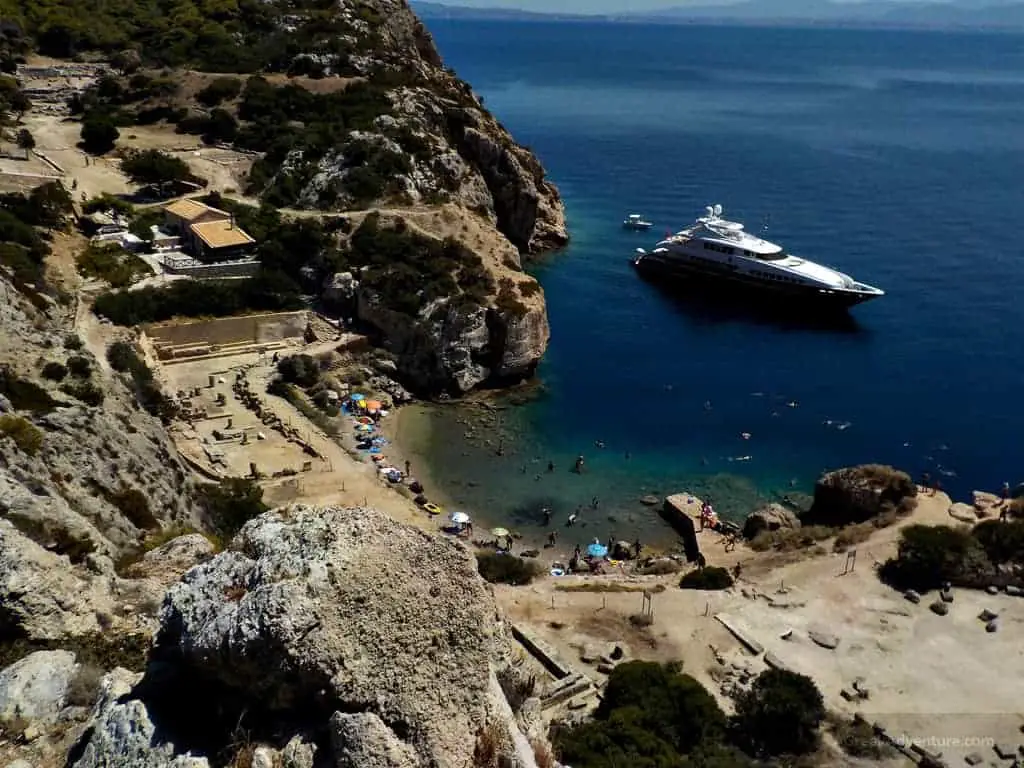 What to admire first, right?
The beach and the color of the water at the Gulf of Corinth? The vast sea? The ancient ruins? It is like having 30% of what is Greece in just 1 picture.
Even a mega-yacht stopped by.
If you fancy learning more about the ancient temple that is so close to the sea, you can walk down and explore it.
Here was the temple aqueduct.
Many legends bind with this place. One of them claims that there was an oracle here. As such, people came from far and wide to consult. The ruins seem to consist of a dormitory and a dining area that were used to accommodate the pilgrims.
Some of the ruins of cisterns and bathing pools
Another legend claims that Medea murdered and buried her children here after fleeing from Corinth.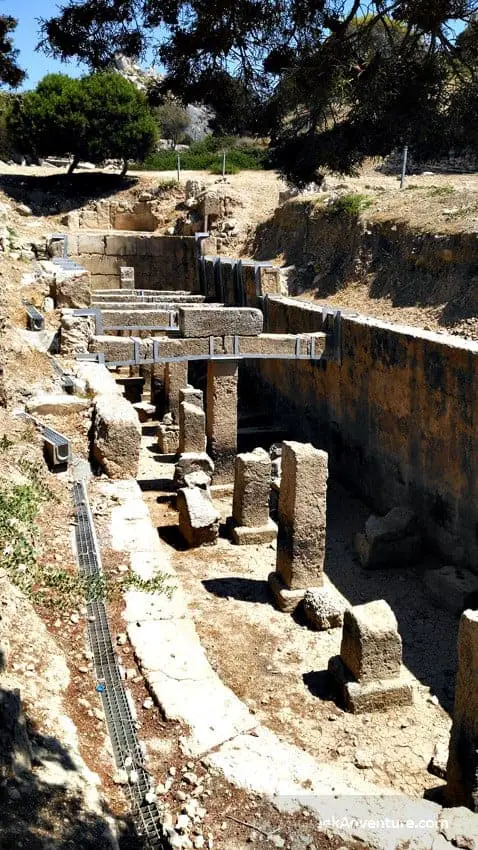 Of course, as in almost any ancient/sacred place of Greece, a church is built next to or over the old location. 
To descend to the different levels approaching the temple, you will pass through the courtyard of the picturesque small church of Saint John.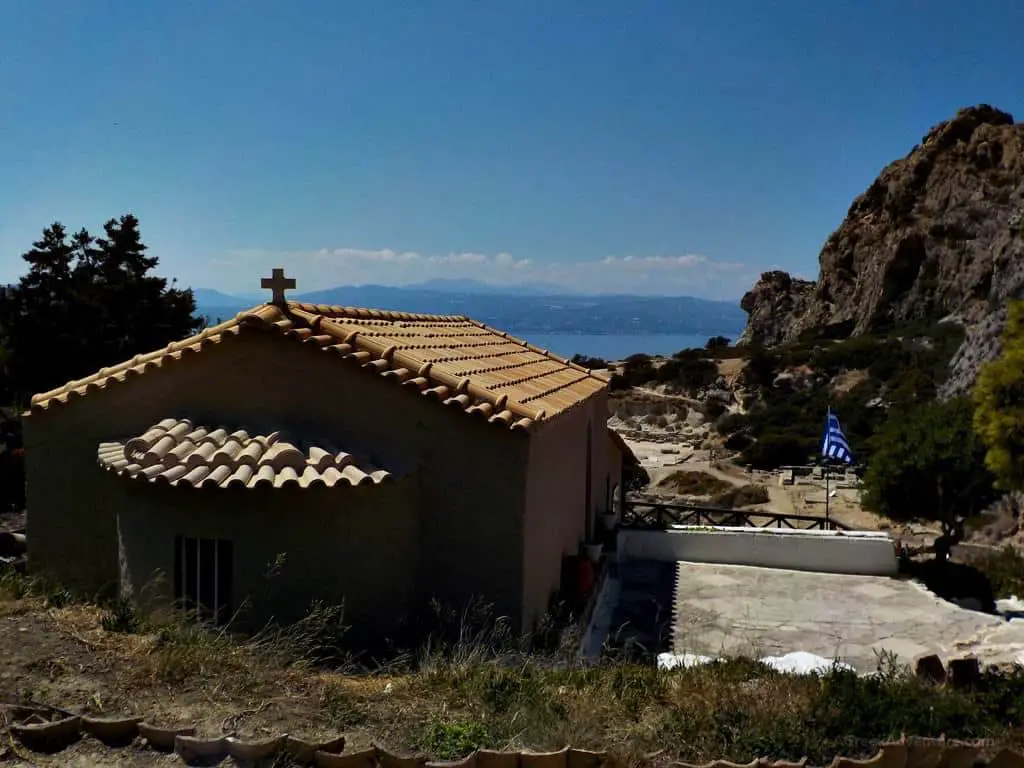 And here are the rest of the ruins.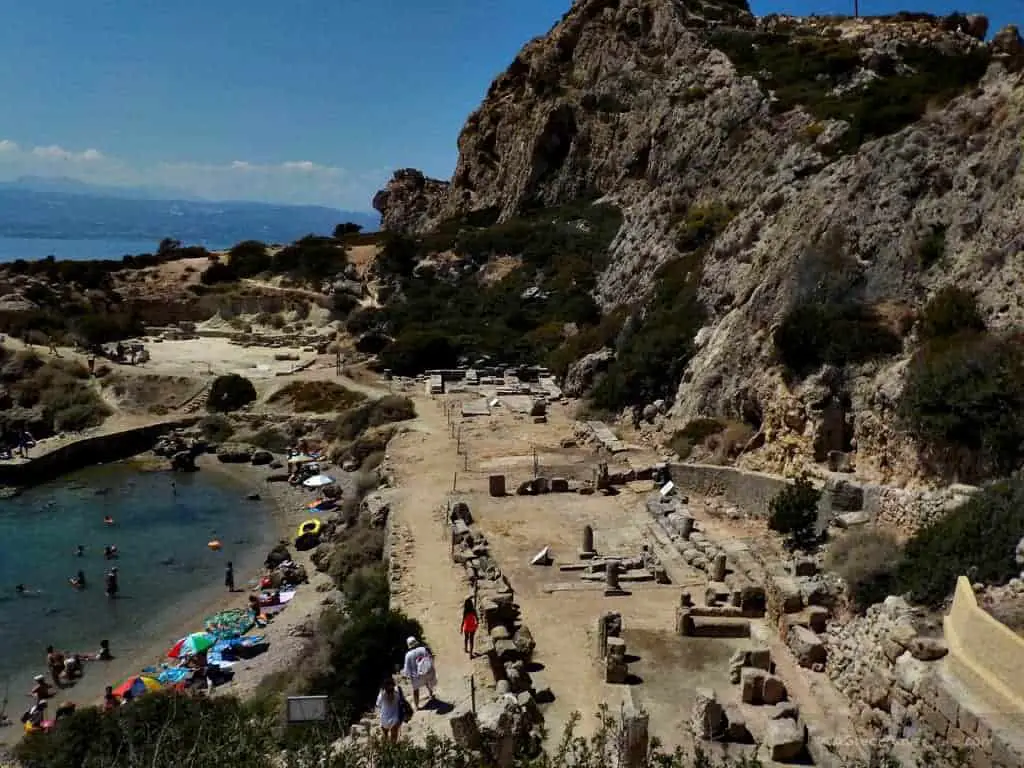 There are very interpretive signs all over the place, describing what the temple was about.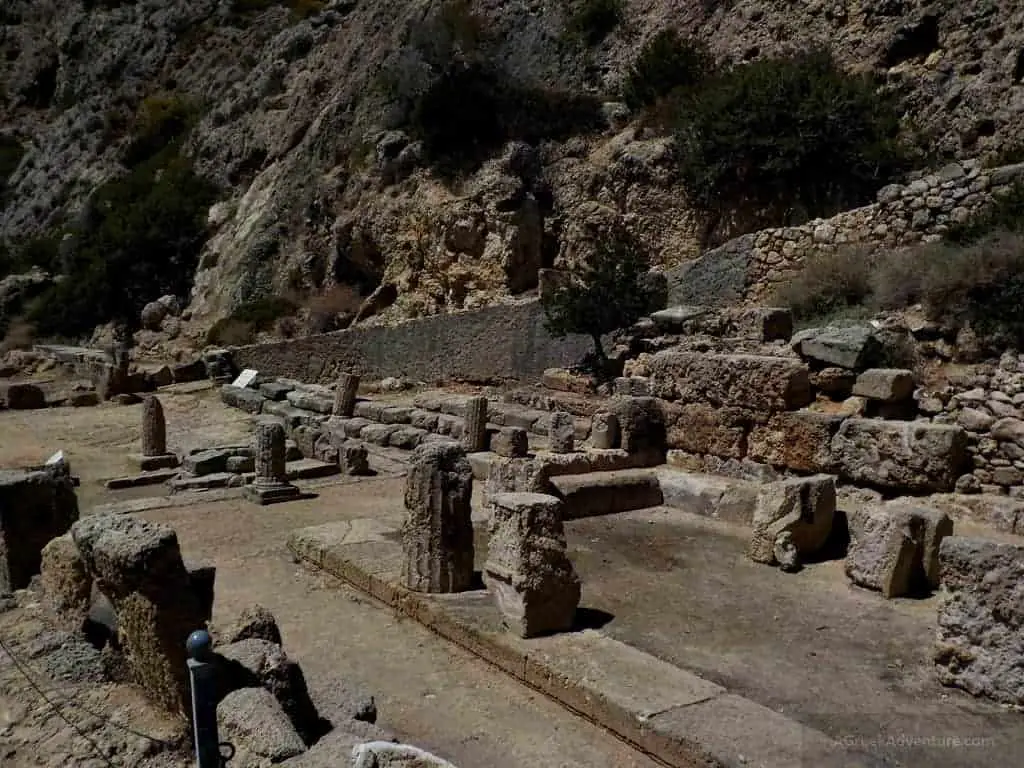 We decided not to take a swim right there but instead move 5 minutes further and chose between a variety of beaches.
We found a small isolated one but very close to sweet water showers.
That can be a handy thing, you know. By the way, what you see below is not the open sea but part of the lake.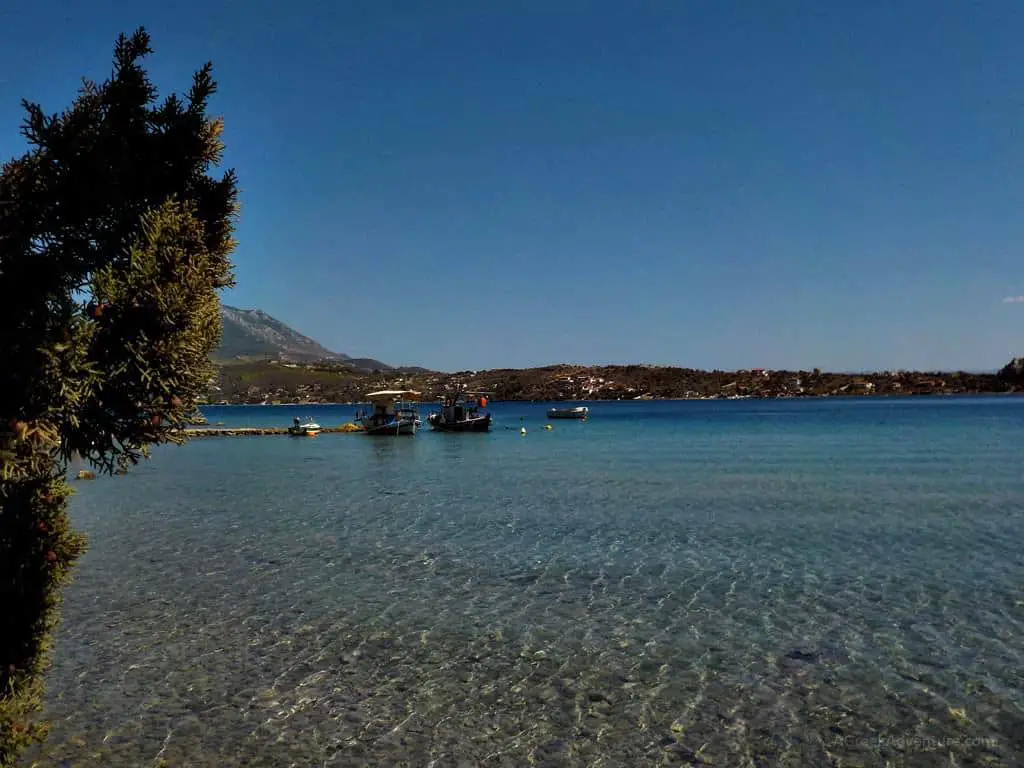 Lake Vouliagmeni of Loutraki
That lake is the famous Lake of Vouliagmeni of Loutraki. Beware, as there is another Lake of Vouliagmeni as you leave Athens towards Sounio.
There are many shady areas outside the organized beach that you see below. 
Yet, if you want a bit of beat, the organized one is just fine too.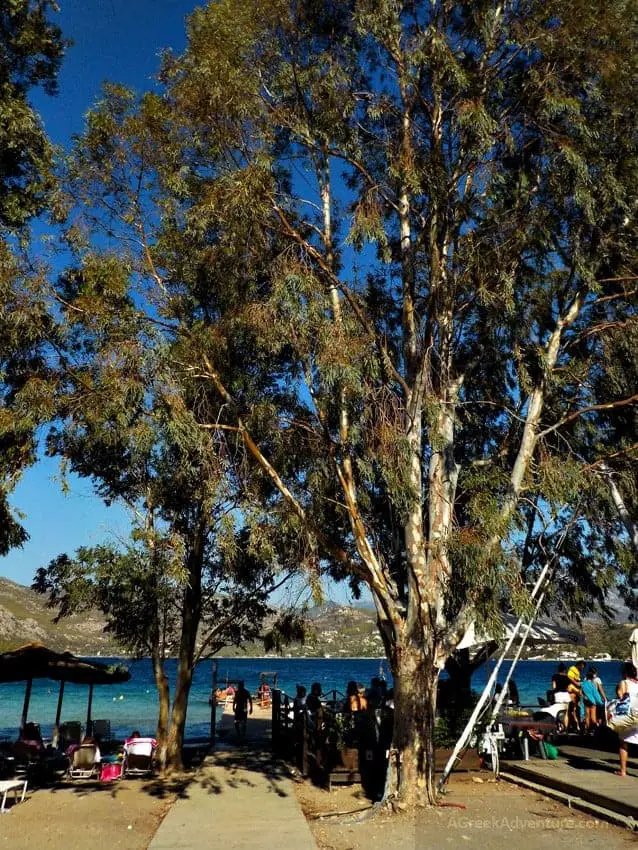 There is something for every taste — even water sports.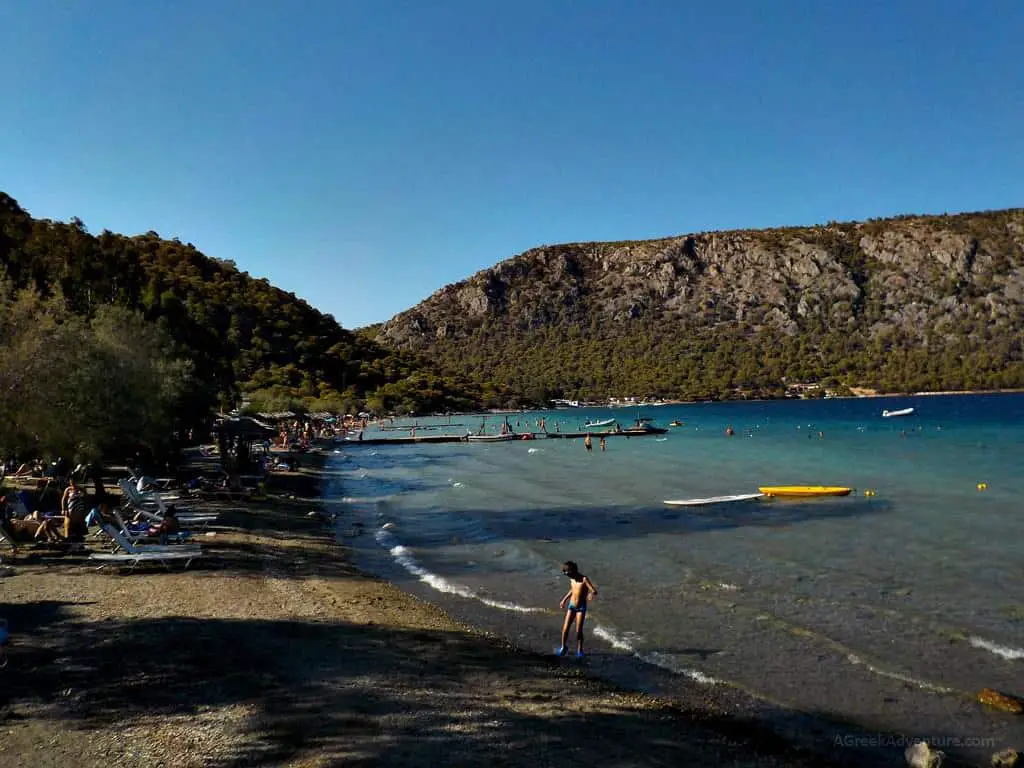 That was an excellent way for a day trip. Loutraki has many things to offer.
Try to "taste" the beaches outside of the central city of Loutraki.
As you drive to Loutraki, you also pass by Agioi Theodoroi, another by the beach vacation place for you to enjoy.
Enjoy!
If you like this article about Loutraki Greece, consider checking out some of other great places to check-in Greece –