Are you planning for your Kefalonia Greece holidays? We know all the best things to do in Kefalonia (also known as Cephalonia) island in Greece, the largest Ionian Island!
This is an Ionian island that you will visit again and again.
Having many friends coming from this Greek island (the biggest one in the Ionian Sea), we have been there three times already, and still is not enough.
The island is widely famous for its magnificent beaches and luscious green. It would be best if you had many days to explore the island during your holidays to Kefalonia fully.
This Greek island is the largest of the Ionian Sea.
Our post will guide you to the best things to do in Kefalonia, Greece. Make sure to allocate seven days for your vacations there as there are 365 villages on the island.
The island has plenty to offer; far from being the location for the "Captain Corelli's Mandolin" movie.
Best Things to Do in Kefalonia Villages
Assos Village
The village of Assos is at the north of Myrtos beach.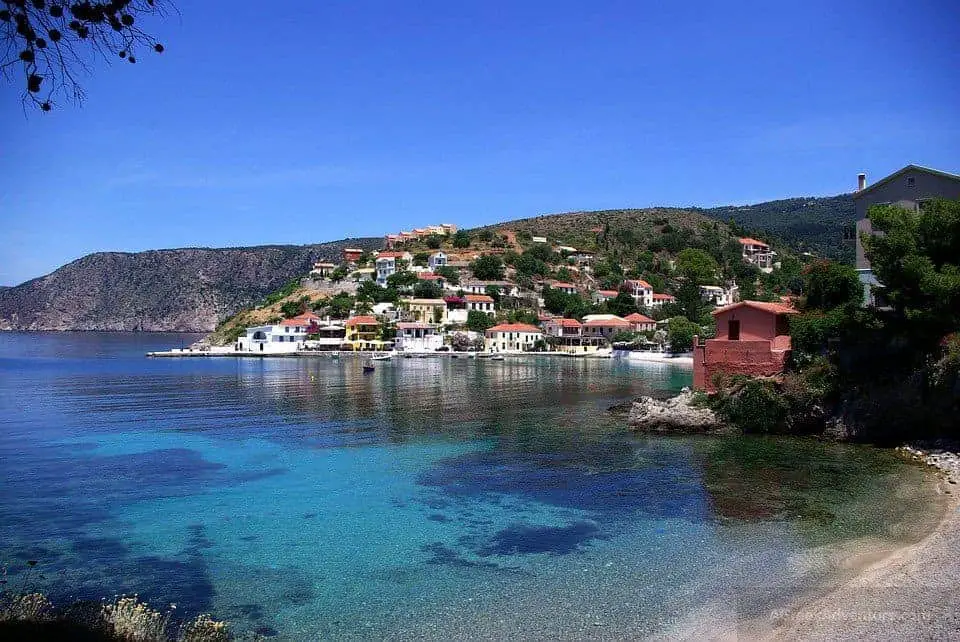 Assos is very picturesque and marvelous to look at.
The village follows an amphitheatrical layout around the Assos peninsula, green with fantastic forests and trees spread down to the crystal clear beaches.
Sami
Sami is one of the precious jewels of Kefalonia, and you will find out why during your holidays to Kefalonia. It is a coastal village around 25km from Argostoli (the main town).
On the opposite side of it, you can admire the Greek island of Ithaca. Here is the famous Sami beach.
When in Sami, ake sure to visit the monastery of Agrilia and the cave of Drogarati and the underground lake of Melissani.
Lassi
Maybe Kefalonia's most prominent holiday spot, 3km from Argostoli. The two most famous beaches of Kefalonia are here: Makris Yalos and Platis Yalos.
Lassi area is an ideal place to have as a starting point and explore the Greek island. Most excursions pick up from Lassi.
Skala
A famous and well-organized village in Kefalonia. Some say it is "way too popular and crowded." Skala is 35km from Argostoli and gets busy during summer months.
Yet, if you like water sports, then this is the place as it comes with really well-organized facilities for such. Take the small cruise boats from Skala to visit Poros and other locations in Kefalonia.
Fiskardo
Located at the northern tip of Kefalonia, Fiscardo is a destination so remarkable that the Greek government has protected it by law.
There are dense forests around the village and countless small coves with pebbled beaches and crystal clear waters.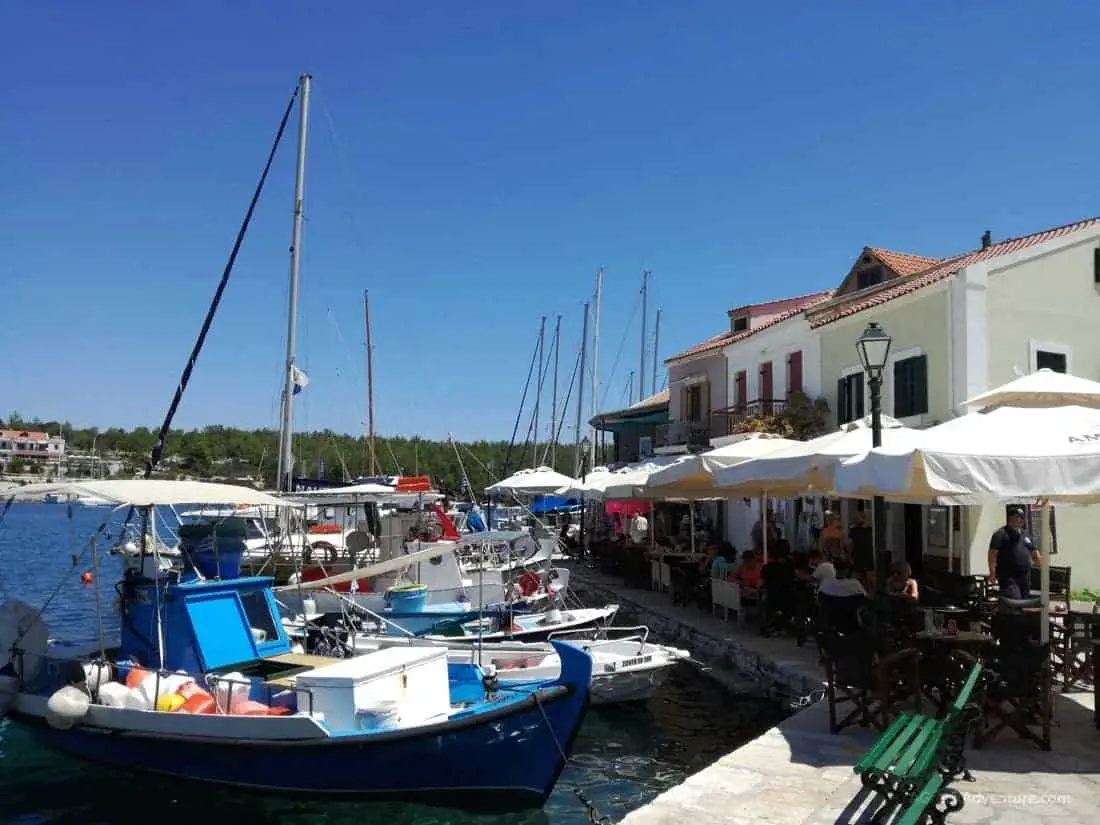 The architecture of this village is unique and resembles an era long gone; a time where Venetians ruled Kefalonia.
Every building around the harbor is a Venetian-style house with pastel colors.
Such a beautiful harbor hosts all kinds of vessels during summertime, docking there and visiting the harbor restaurants, tasting traditional Greek cuisine.
Argostoli
Argostoli (capital of the island of Kefalonia) was flattened during the earthquake of 1953 and was built from scratch.
Thus the city now holds a modern style and not a traditional one as seen in other villages of Kefalonia.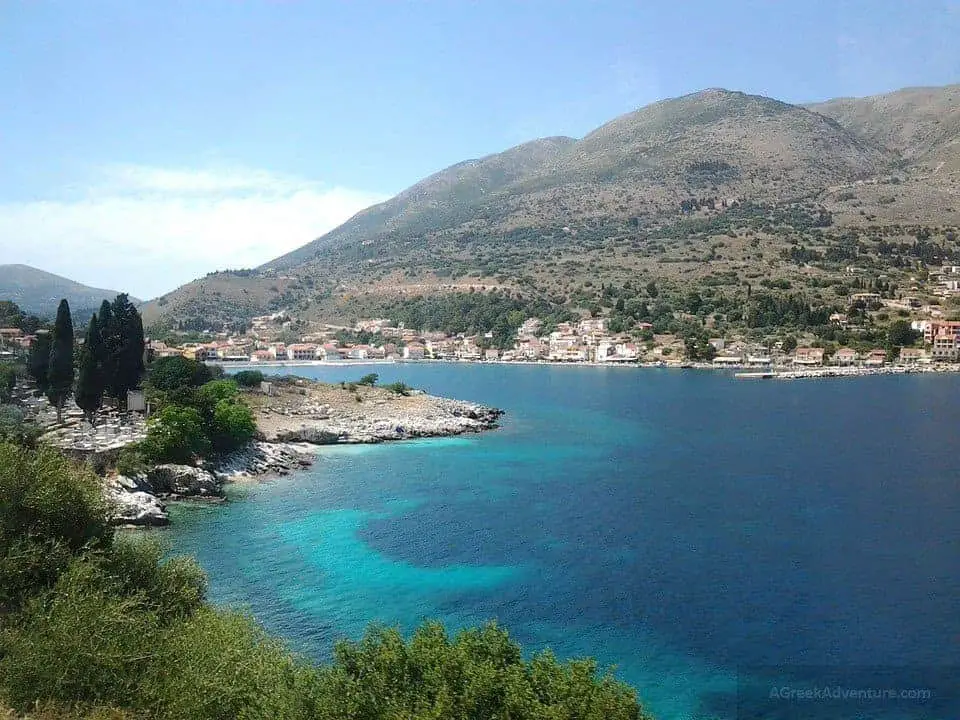 Do walk at the "lithostroto" pedestrian mall street and taste traditional products or just relax to one of the many coffee shops there.
While in the city pay a visit to the church of Saint Spiridonas (protector of Kefalonia), and do enter the Clock Tower (Kambana Square) for panoramic views to the city.
Do visit the Archaeological museum (opposite to Kefalos theater) and maybe the Historical/Folklore Museum.
Take the bus and get to Lassi beach, or to Makris and Platis Gialos beaches.
The sunset is excellent from the De Bosset Bridge; It is a stone bridge just above sea level.
Lixouri
Lixouri is famous for the musical tendencies and background of its residents. It is a big city (2nd after Argostoli) but without the hassle.
Lixouri is a beautiful and modern town with rows of trees, nicely decorated squares, and houses with gardens full of flowers.
Best Things to Do in Kefalonia Island
Visit Melissani Cave
Melissani cave is a hidden cave lake of unparalleled beauty. Best time to visit it is at noon where the sun is vertical to earth and bathes the cave waters with light.
There are two caves next to each other. A dark and a light one. We promise that they will leave you with awe.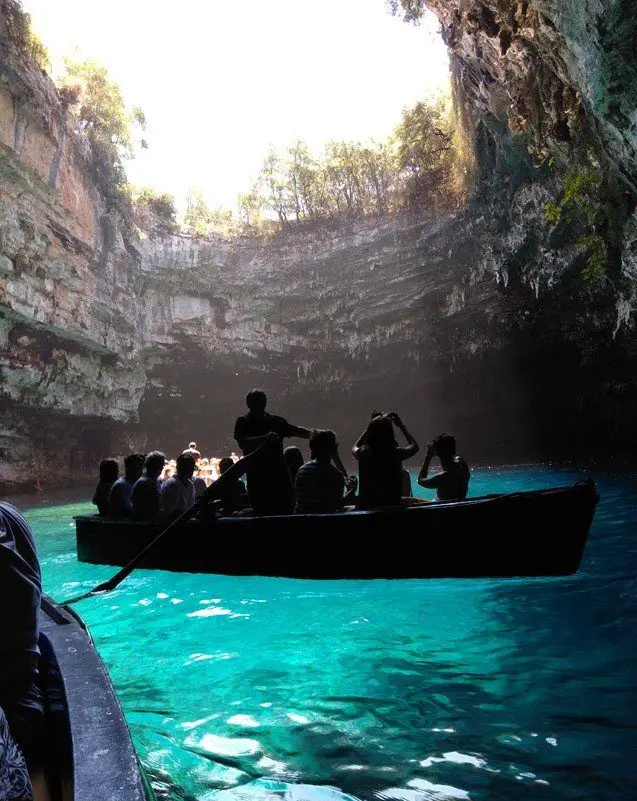 Pay the small ticket fee and hope on one of the small boats that tour you through both caves.
Legend says that Melissani Cave was the one where Nymphs of God Pan drowned after being rejected by him. There aren't many other things to do in that part of the island, except maybe traveling to see the Drogarati Cave too, but this cave is one of the best things to do in Kefalonia for sure.
Hiking Mt. Ainos
Mountain Ainos is 30 km from Argostoli. The mountain is also known as Black Mountain (Monte Nero).
The names come from the Venetian period due to its thick Fir trees forests. Mt Ainos is the tallest mountain of the Ionian islands complex (1,628 mt – 5,341 ft).
A small but beautiful number of trails exist here:
The Environmental Centre of Ainos – Chionistra (Circular route, around 1.30 hours)
Vlachata – Environmental Centre of Ainos trail (approximately 1.30 hours)
Digaleto – Megas Soros trail (about 4.30 hours)
Epano Eza – Melissi trail (around 4.30 hours)
Kissos – Petasi – (Nyfi) – Megas Soros – Kissos (Circular route, around 4.30 hours)
Mt. Ainos was first declared as a National Park in 1962 and housed the heart of Kefalonia's biodiversity. Find many details for this Park of Kefalonia from here.
Visit Drogarati Cave
The cave of Drogarati was revealed after a strong earthquake, more than 300 years ago. It dates back to 150 million years old, with stalactites ranging from orange to yellow colors.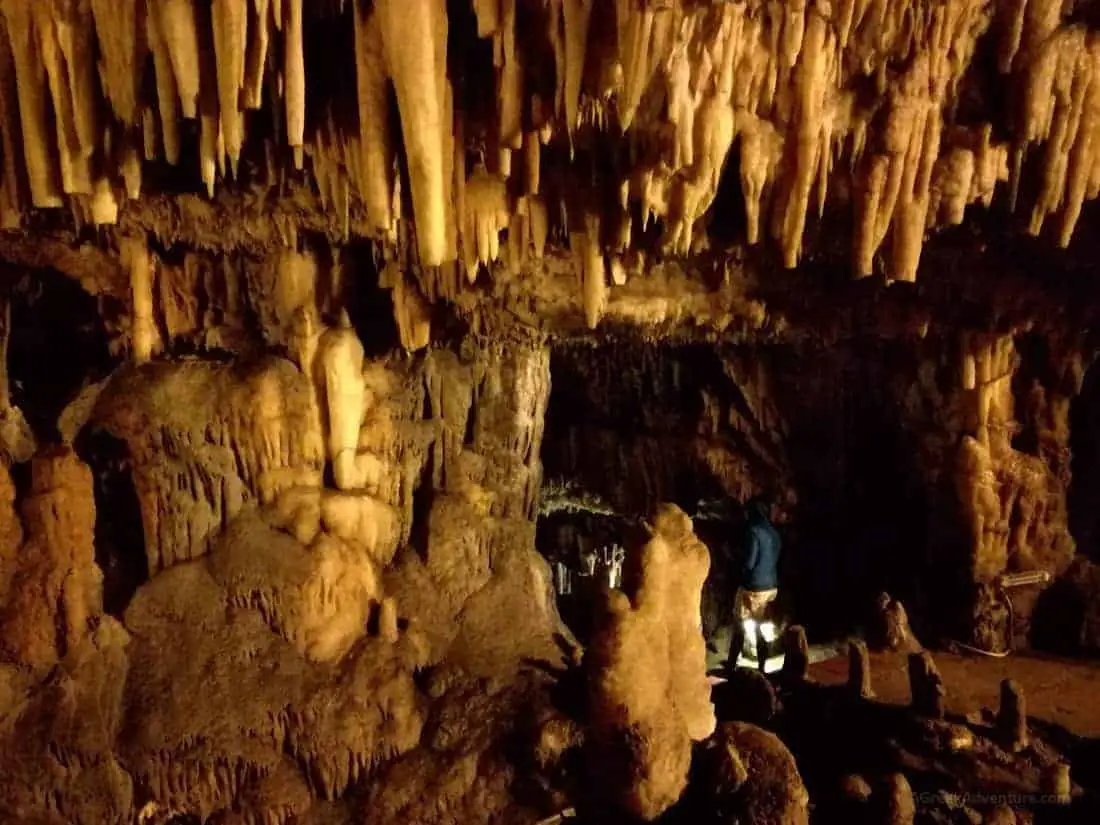 The main hall has spectacular acoustics properties. It is called "Sala of Apotheosis" (900 sq.m.).
The famous soprano Maria Callas visited this place and sang there. The same did other famous artists after that.
Go for Sea Kayaking
If you like kayaking, then this Greek island is for you.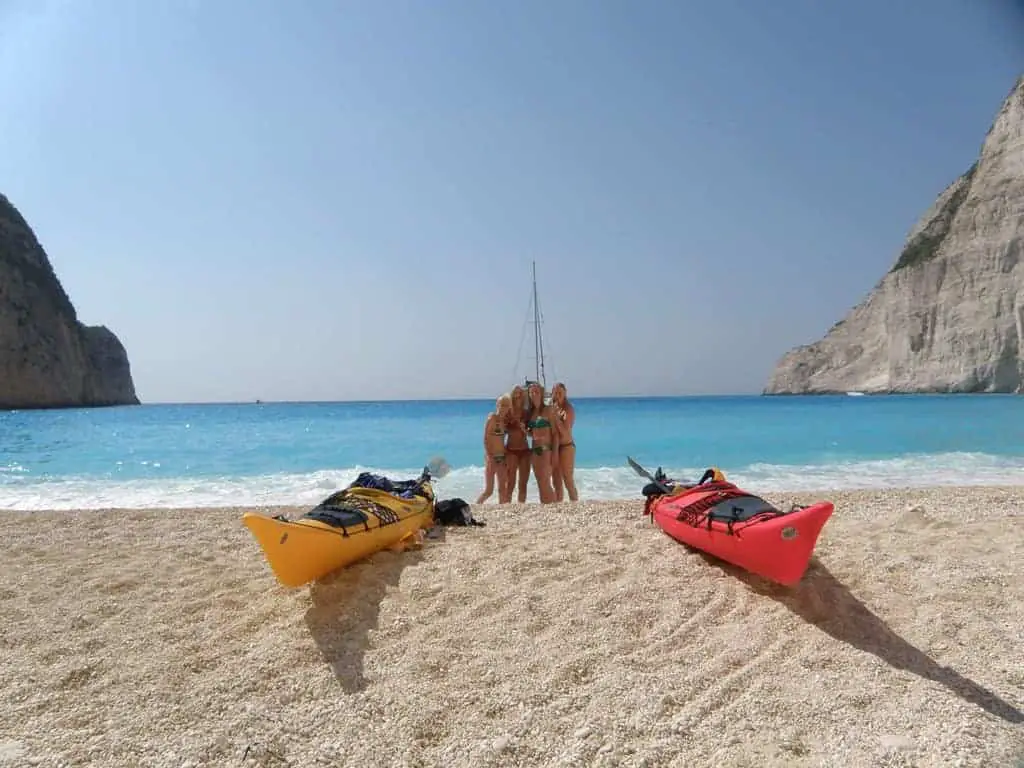 Spectacular crystal clear beaches and fantastic views will be there for you as you paddle around the island.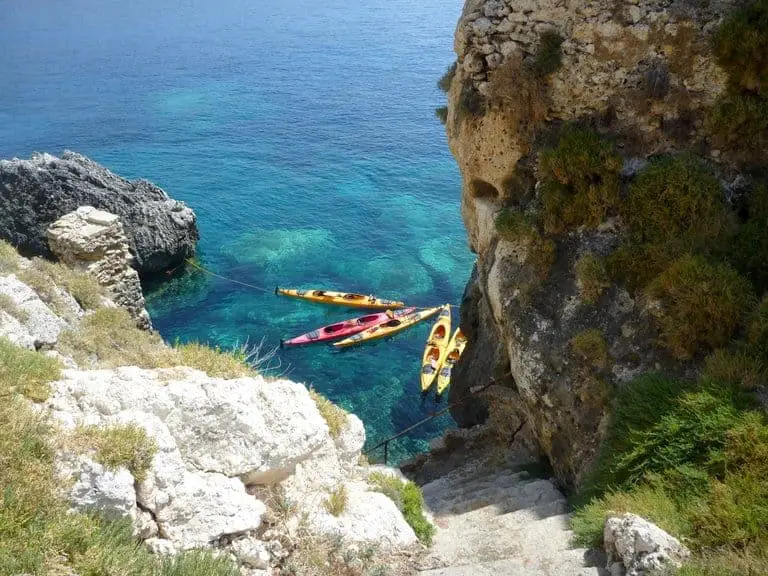 Check this post for more: Kayaking.
Do Donkey Trekking
Get off the beaten path and discover the beauty of Kefalonia the traditional way. The well-tempered and sure-footed donkey ladies Grisella and Wiolätta will guide you.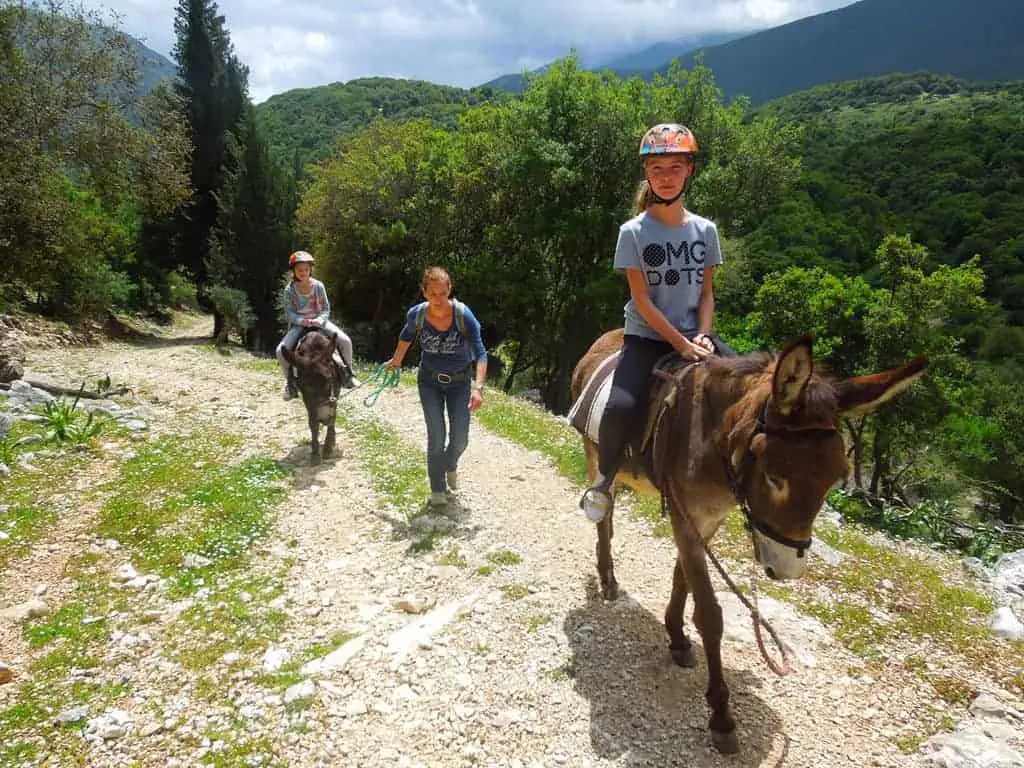 Enjoy amazing views over the bay of Sami, evergreen valleys of the area and dive into the history of Kefalonia. The donkeys will carry water bottles, supplies, and tired little legs.
Do Scuba Diving
Scuba Diving in Kefalonia island, along with cavern and wreck diving is a fantastic experience as the island has a beautiful sea bed and hidden treasures under the surface.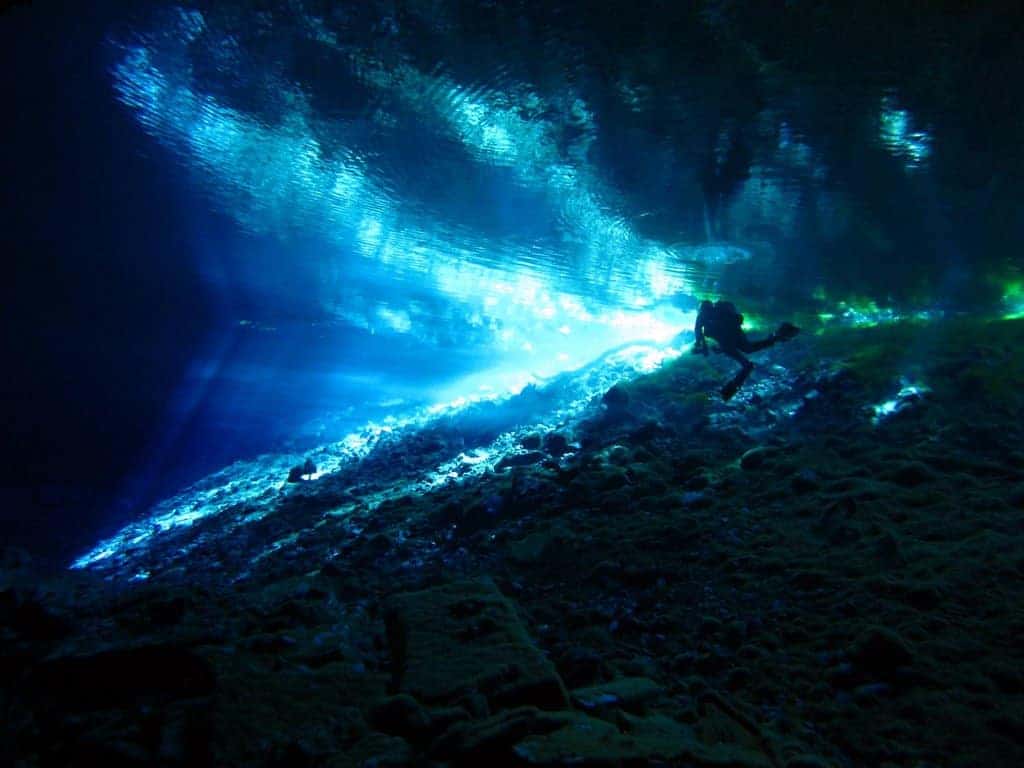 Kefalonia, Greece is one of the greenest islands in the southern Ionian islands, famous for its many beautiful beaches, fine sand, and calm, crystal clear waters. Check this post for more.
Explore Mt. Ainos with Jeep Safari in Kefalonia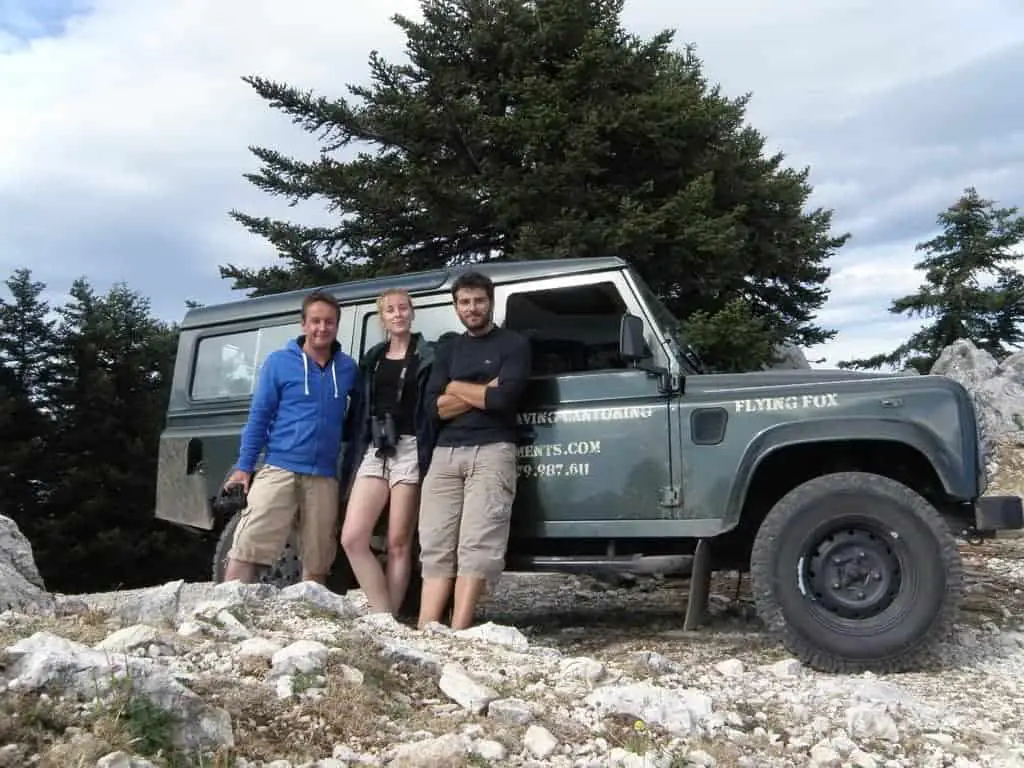 The Jeep Safari trip starts on the island of Kefalonia. The tour begins in the direction of Mount Ainos, the Black Mountain, and its national park. Read the entire post from here.
Fly with Paramotor from Lixouri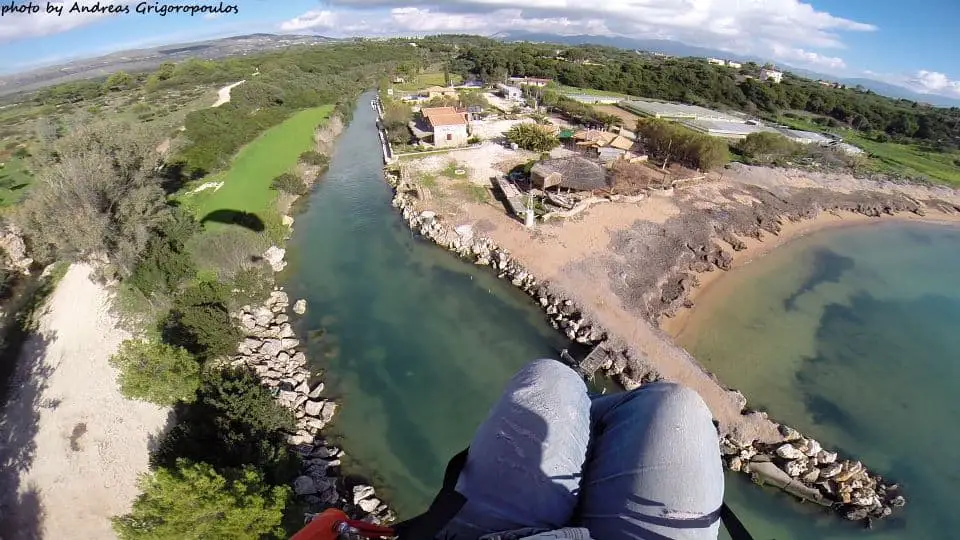 Care to explore Kefalonia from the air? If you are in Kefalonia, you will have the chance to live this unique experience.
Fly with a tandem motorized paraglider and admire the landscape and the beauties of this fantastic island from above. Read the entire post.
Amazing Beaches: Bests Things to Do in Kefalonia Summertime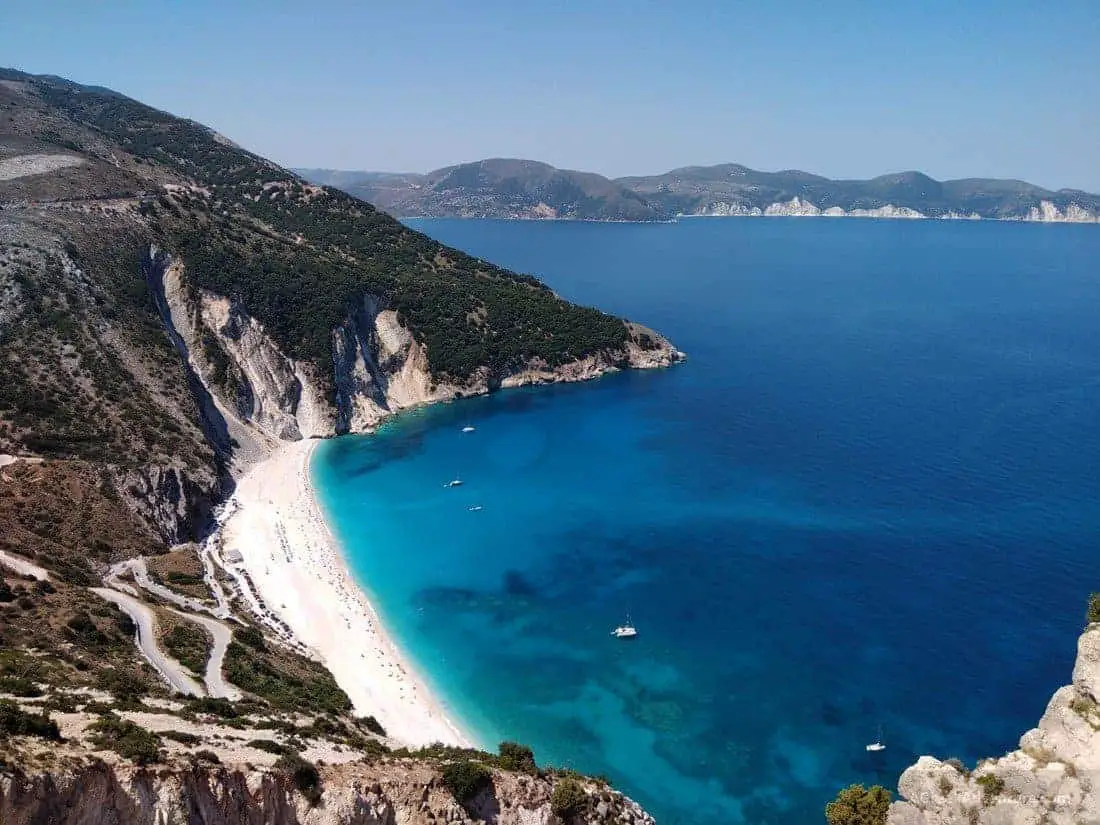 The most popular beaches in Kefalonia are:
Myrtos beach (Myrtos beach is the most photographed beach in the area)
Antisamos beach
Petani beach
Xi beach (one of the best things to do in Kefalonia if you like intense music and party like summers)
Skala beach
But these are not the only ones. There are also:
Makris Gialos Beach
Platis Gialos Beach
Platia Ammos Beach
Lagadakia Beach
Koroni Beach
Our particular post for Kefalonia beaches explains each thoroughly.
Traditional Best Things to Do in Kefalonia
As in every location, so in Kefalonia, there are some special foods and drinks you need to taste before leaving the island. Possibly some special events to participate in, also?
Maybe getting a few "supplies" back home too, right? Don't leave Kefalonia without:
Drinking the Robola Wine of Kefalonia
That is the wine only produced in Kefalonia. Grapes for this wine grow in Omala valley. Most vineyards and wineries are clustered around the monastery of St. Gerasimos. Most of the wineries are open to the public, so make a call and visit them to taste this magnificent wine.
Villages strictly bound with the production of Robolla are Minies, Omalon, and Pessada.
These two organized tours will easy things for you:
Tasting the Mantoles Candy
A small sweet made after sugar and caramelized almonds.
It is a bit hard to bite but tasty. They come in 2 variations, with and without pastry color (usually red). Both are equally tasteful.
Devouring Lots of Minced Meat Pies
You may see such in local restaurant menus and never choose it, but do so. It is a pie made in Kefalonia and is a pie with meat, rice, cinnamon and lots of drooling.
My mother in law comes from Kefalonia, and she regularly makes this pie, which I can't get enough of it.
Attend at least one of the Folklore Country Fairs
During summertime, there are lots of fairs happening. Do attend some. They usually occur outside the main cities, in villages. There is lots of dancing, wine drinking and souvlaki eating involved.
Lots of fun and many non-Greeks are carried away by the dancing spirit of Kefalonia and participate.
Where is Kefalonia island?
Kefalonia belongs to the Ionian Sea islands group. It is the biggest island between Zante, Lefkada, and the south of Corfu. You can get there by plane or ferry. It is also a pivot point for other islands (even for day trips).
The island is very green, and has lots of olive trees too.
The airport is near Argostoli, the main town of the island, and there are ports at Argostoli, Lixouri, Sami, Poros, and Fiskardo. Most tourists stay around the tourist strips at Lassi, Skala, and Lourdas.
Kefalonia Map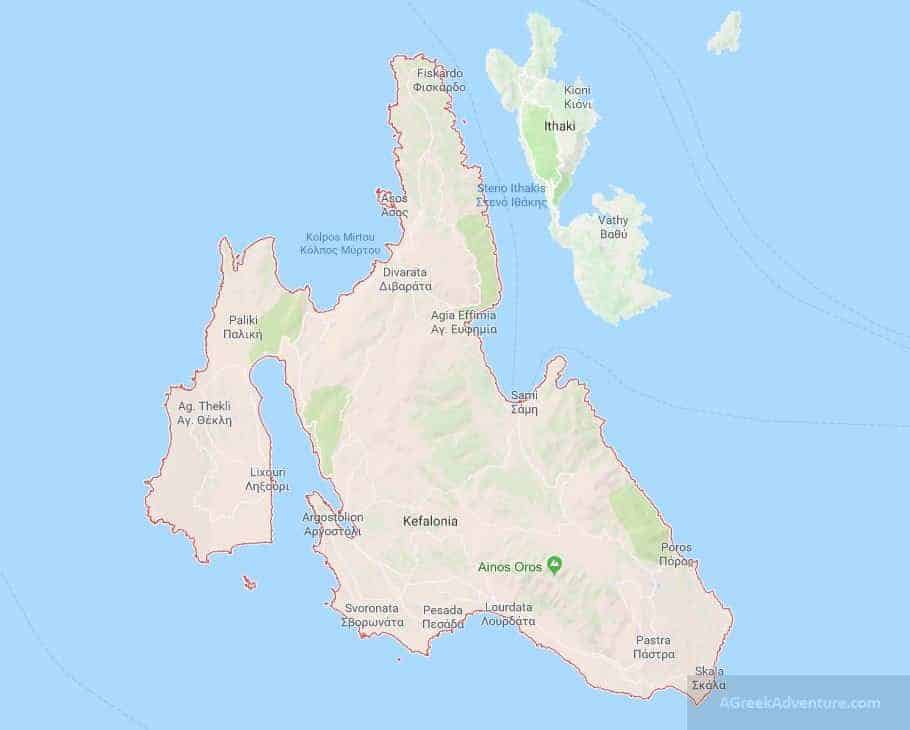 You will need a car to get around Kefalonia. Distances are not that big, but points of interest and beaches are in different places. It is best to stay in or near Argostoli (the main town) or Lixouri.
How to get to Kefalonia island?
Kefalonia flights
The Airport of Kefalonia (EFL) is 7km south of Argostoli. It is not very big. Besides charter flights during summertime, there are daily ones from/to Athens, all year round.
If you stay in Skala, then the airport is 45 km from there. There are plenty of taxis, but due to large amounts of inbound travelers, these disappear fast. Better to book in advance, unless your hotel offers minivan transfers.
To find the best prices for your flight to Kefalonia, click here.
Ferry to the Greek Island of Kefalonia
There are many ways to reach Kefalonia. By mainland or from nearby Ionian Sea islands, or even Italy (from the harbor of Bari and Brindisi).
There is an additional one from/to Ithaca island.
From mainland Greece, you can take the ferry from Killlini to Poros harbor in Kefalonia.
There are daily ferries between Argostoli and Killini (mainland Greece, Peloponnese).
You need to be careful about which ferry line is active for the year you plan to visit Kefalonia. Some times ferry lines change per year. To be sure, check this website to see availability and book ferry tickets.
Do book ahead, even if you travel to Kefalonia without a car/bike.
Where to stay in Kefalonia?
When it comes to choosing your accommodation for your Kefalonia holidays, then several factors play their role in the final decision. Many decide their accommodation depending on the type of beach they want.
If you like sand then better to book near Lassi, Lourdas, Katelios, Skala, all along the South of the island, Lassi is the sandiest one, yet Kamina and Mounda are the safest.
Is a sandy beach not a priority for you? Then Sami, Agia Efimia, Poros, and Discard are also excellent.
If you plan not to drive a lot then better go to Lassi or Lourdas.
You can stay in a hotel, a villa or even find rooms to let and apartments. Make sure you book at least 3 to 5 months ahead; otherwise, you will end up with pricey or no options for accommodation. Yes, the island of Kefalonia is that popular.
Check prices for accommodation in Hotels, Resorts or villas for your holidays in Kefalonia through Booking or HotelsCombined.
Conclusion for your Best Things To Do in Kefalonia Itinerary
Well, if you count the magnificent beaches and the vast number of activities, then there is plenty to do in your holidays in Kefalonia, while it is an opportunity to find out what Captain Corelli's Mandolin movie was about.
It is by no chance that this island is a top destination for the Ionian Sea islands.
Let us know how fun it was for you, or if you've been already, we would love to hear your experiences there.
Have fun and also read 15 Must-Watch Best Movies About Greece.