There are lots of things to do in Ithaca Greece. According to Homer, this island was the island of Odysseus. 
Imagine being on the very island that is strictly related to one of the most famous travelers and adventurers in the books, after Hercules, Homer's Ithaca.
Rich, in the essence of mythical adventure and man's hope of immortality, this famous among the Greek islands destination, offers the magical ambiance of times past and the stories that light our imaginations.
Known as Odysseus' kingdom, Ithaca stands as a symbol for spiritual quests. It symbolizes the discovery of the richness of all that each of us is and could become.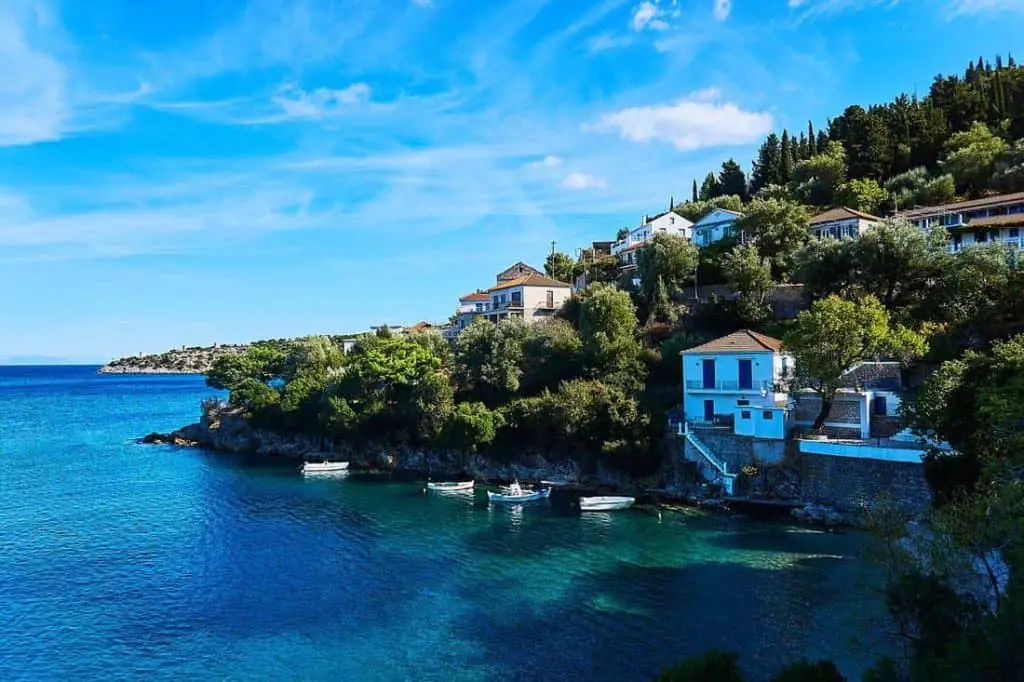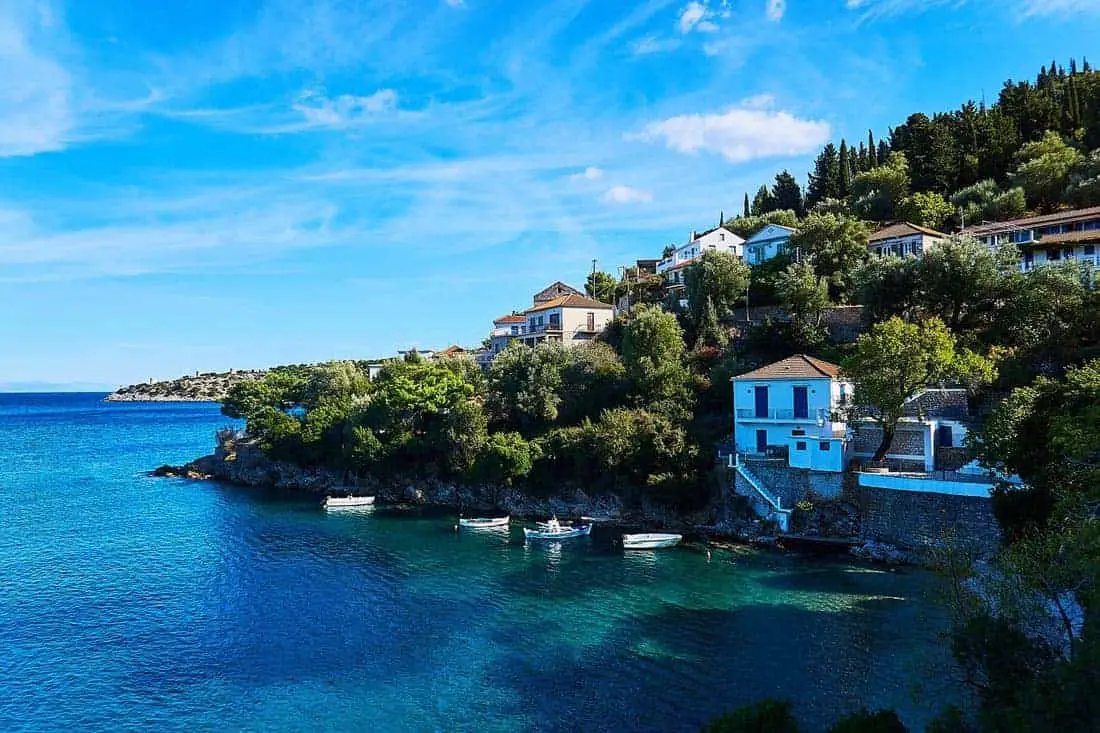 Find refuge from the humdrum of daily living in a magical adventure that holds adventure and inspiration that is only limited by the dimensions of your imagination.
Enjoy lounging on beautiful beaches and enjoying the perfectly scattered greenery of the landscape — a perfect culmination of wonder and breathtaking views.
Let's see what you can do in the home of Odysseus.
Things to Do in Ithaca Greece
The island has a little something for everybody. It belongs to the Ionian islands complex and has several hidden gems to reveal.
Sailing the Ionian islands, exploring, shopping, dining, hiking, taking in the culture and history of Greece, and total immersion into the mythical legends for an unforgettable adventure is possible on your trip to Ithaca.
Hike around the island. Here are two different proposals for hiking in Ithaca Greece:
Aetos – Acropolis of Alalkomenes
Perachori – Nymphs Cave
See the descriptions and photos from these two hiking routes, as provided by our friends from Ithacorama.
Ithaca Greece: Trekking Aetos Acropolis of Alalkomenes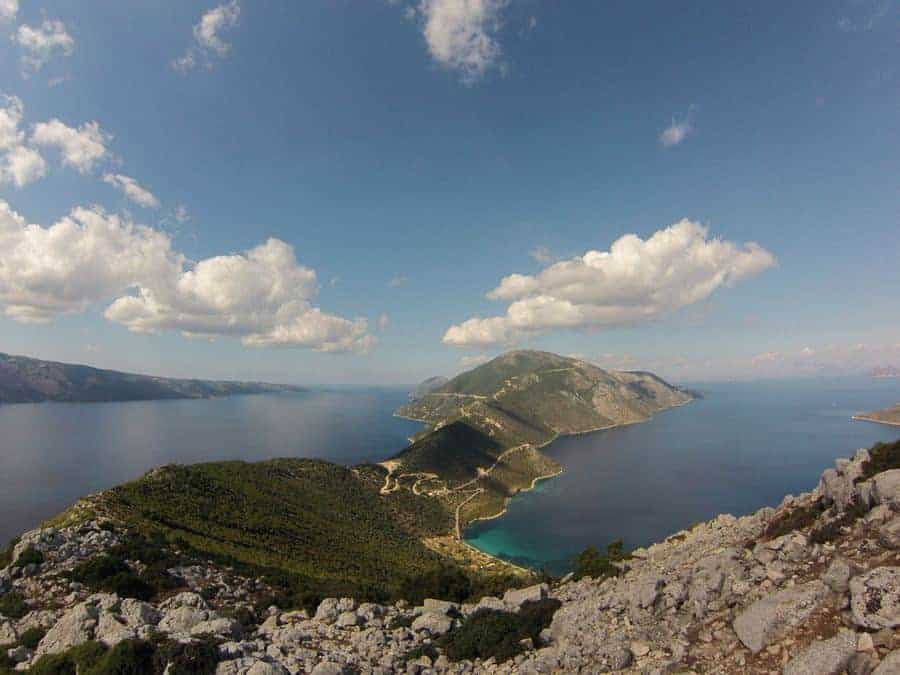 There is an archaeological site to the right of the highest point of the main road from Aetos to Piso Aetos.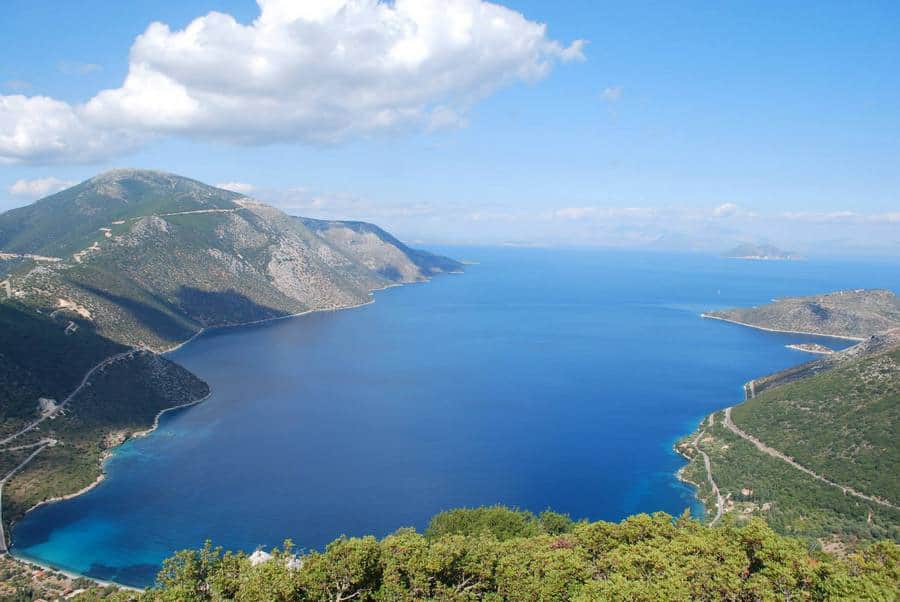 From the area where the church of St. George is, there is a steep path that leads visitors to the top of the hill (height 380 m to the ruins of "Acropolis of Alalkomenes" or "Castle of Odysseus").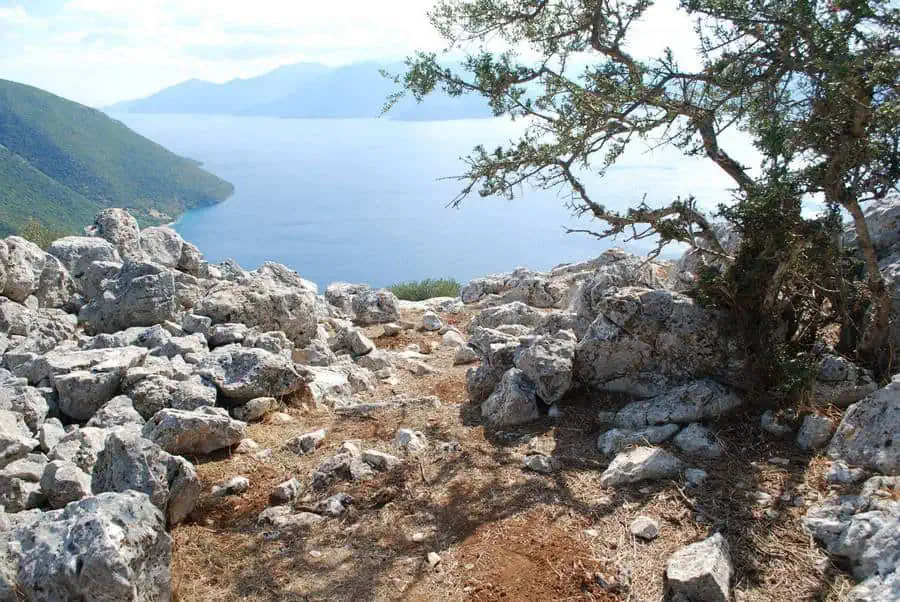 We walk from the wooden pavilion a bit to the right and behind the chapel. Follow the red signs that eventually lead us to a kind of a stone entrance with several stone steps.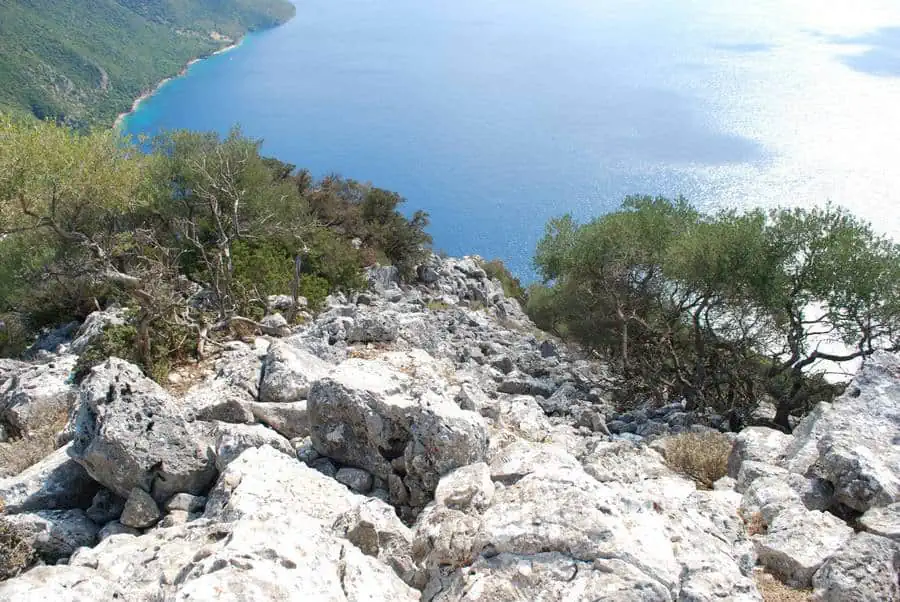 We climb the stairs by following the red signs.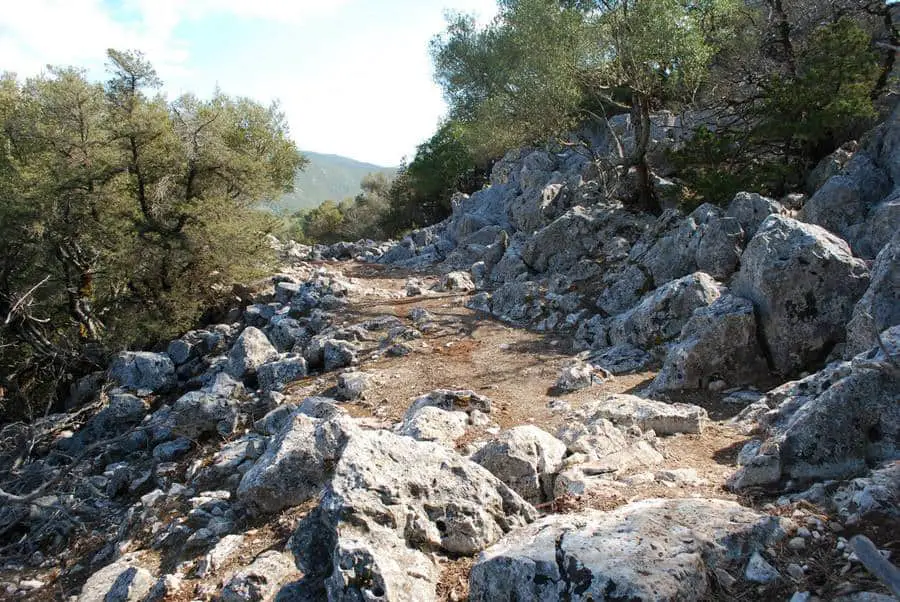 In less than halfway up the hill, the path branches off to the left.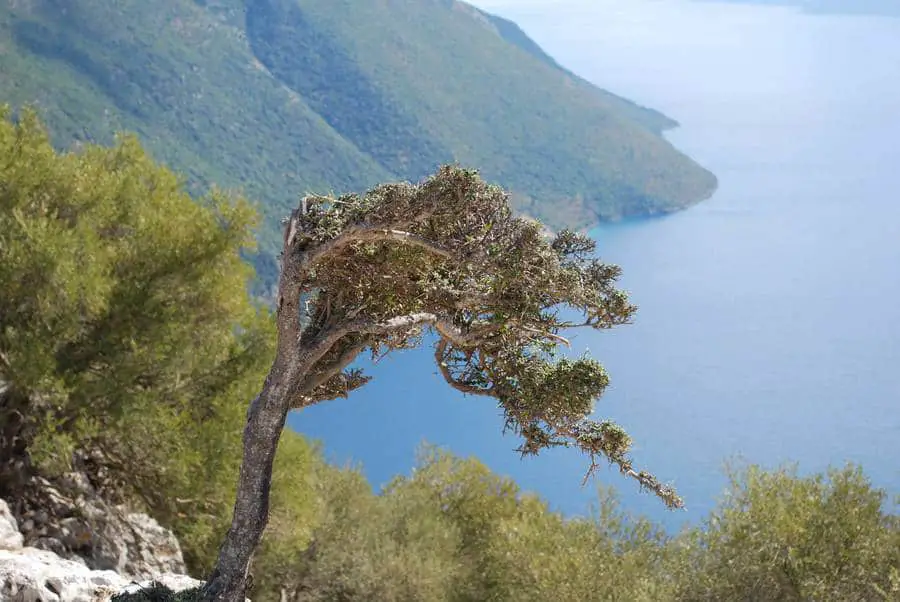 Nearby, marked in red, there is a wall of massive stones.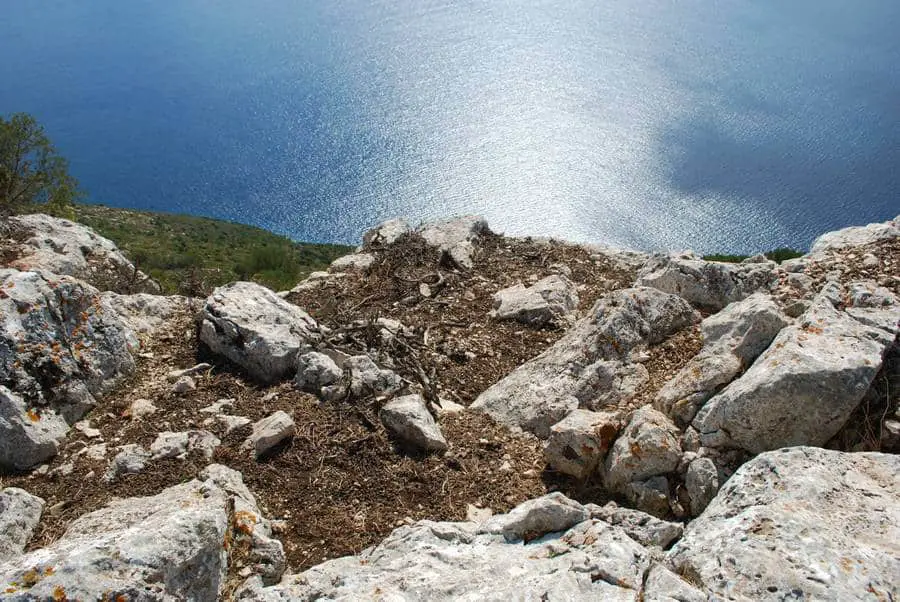 It seems that this wall starts from the top to the bottom of the hill.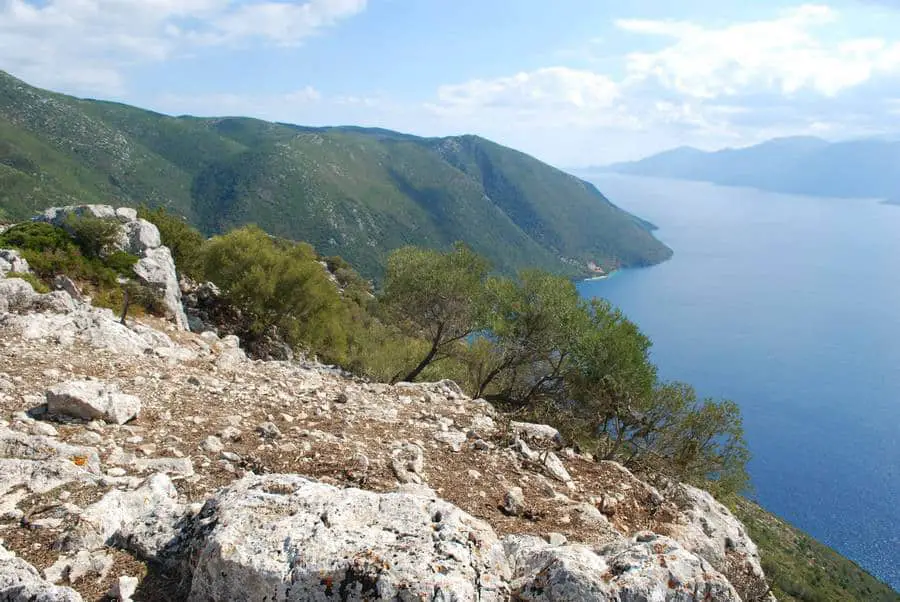 We return to the original path and remount following the red signs until you reach the top, the highest point of the citadel about 378 meters above sea level.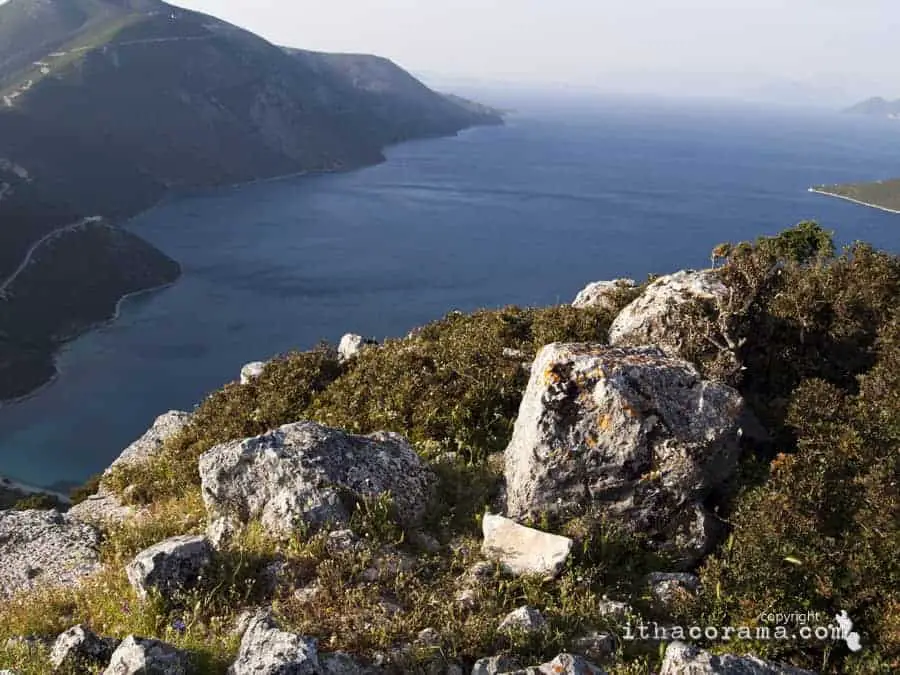 The small column you will see there is not an archaeological find but an elevation point located by the Military Geographical Service.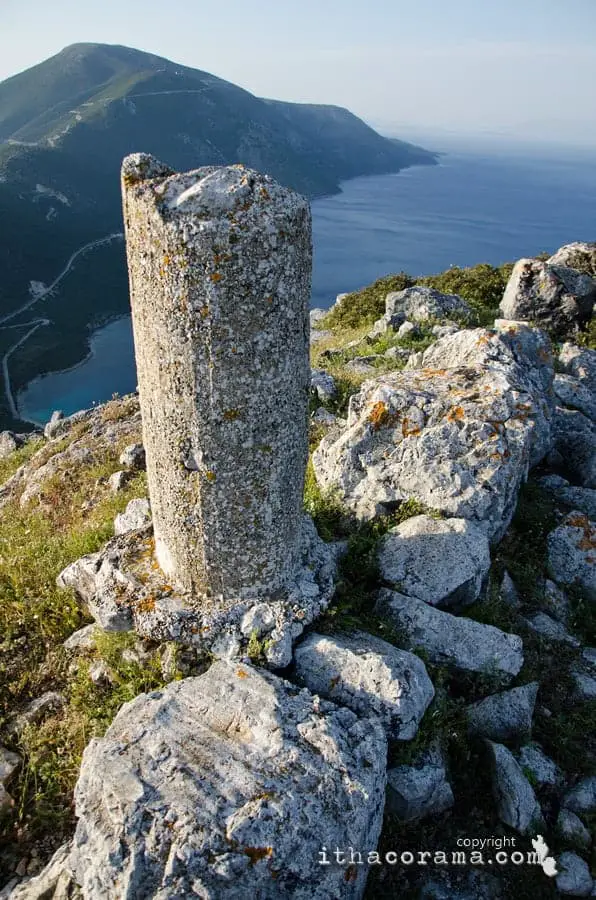 There you will enjoy a spectacular view of the entire part of North Ithaca with its odd shape, the Western torso of Kefalonia, and all the East Coast.
Length: 1,000 m
Difficulty Level: Moderate
Proposed hours: afternoon
Trekking Perachori – Nymphs Cave Ithaca Greece
Another great route in Ithaca Greece. Starting-point for this track is the old Panaghia's church, above the cemetery, at the top of Perachori village.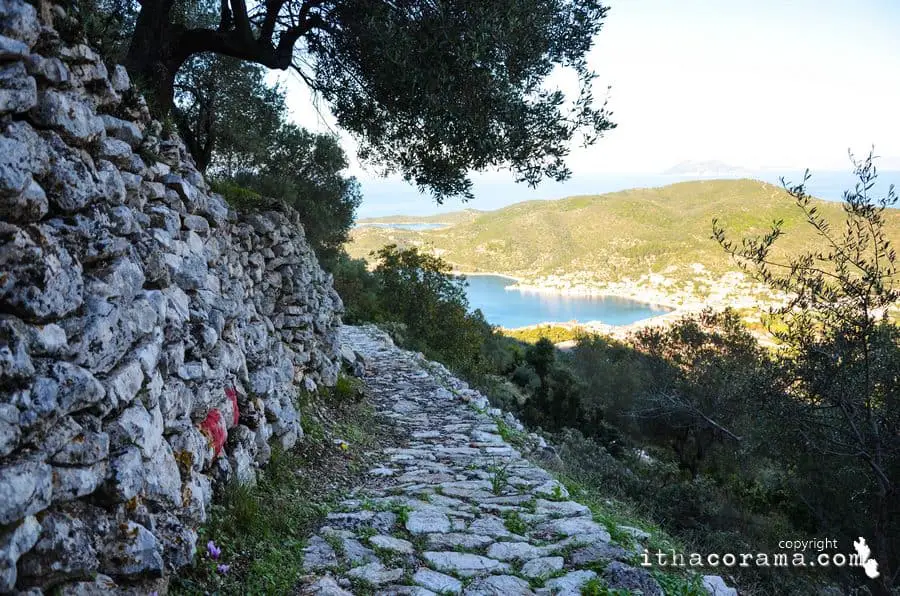 After the church, at the corner of the main street, the old road goes right to Paleochora. Paleochora was the capital ("Chora") of Ithaca Island in the medieval years (about 1500).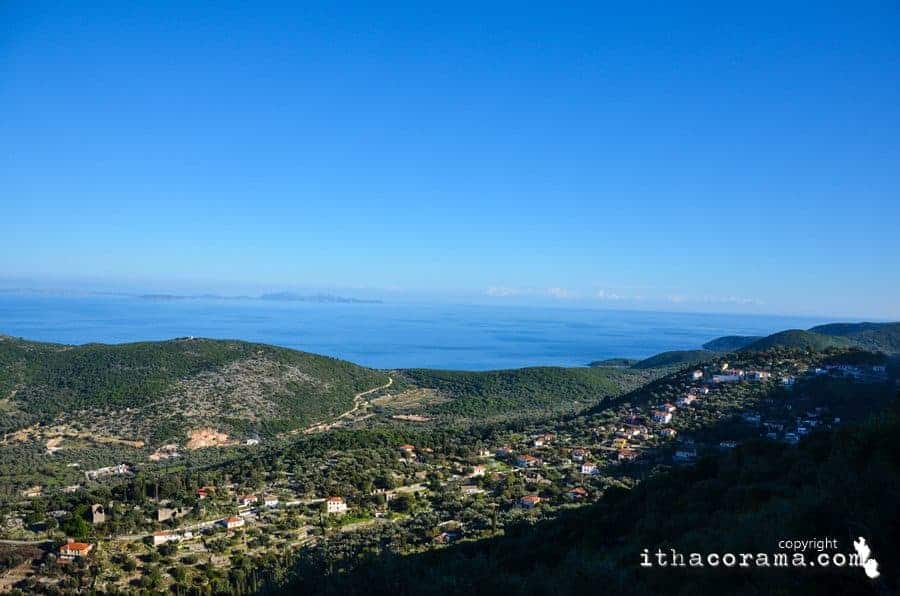 At the first fork, at the entry of a farm, go left (the right path goes to a small church).
After about 10 minutes walking, the Aghios Ioannis (Saint John the Theologian) church with the stone bell tower and the beautiful murals welcomes you.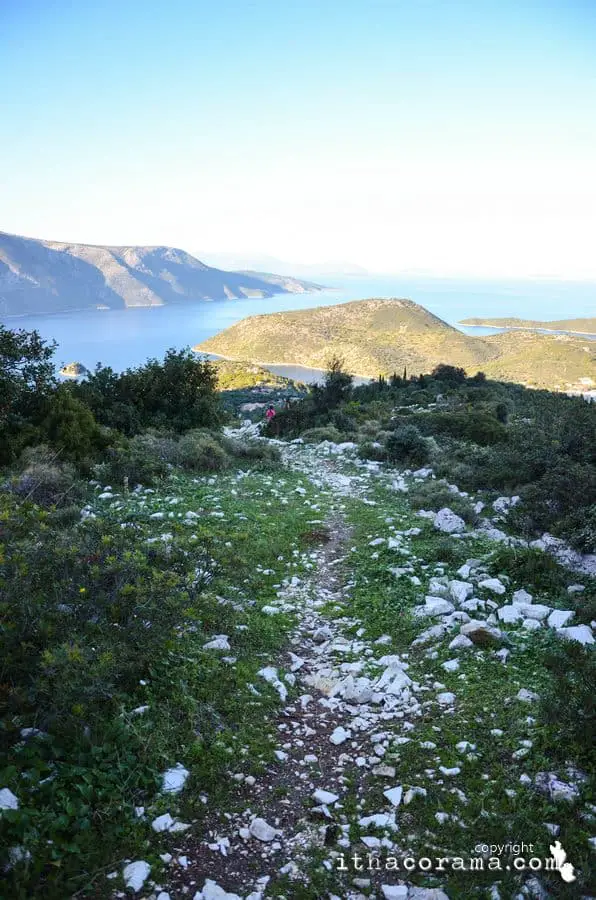 The old street is easy and horizontal, but at some points, the stone-wall has broken down, and you have to be careful.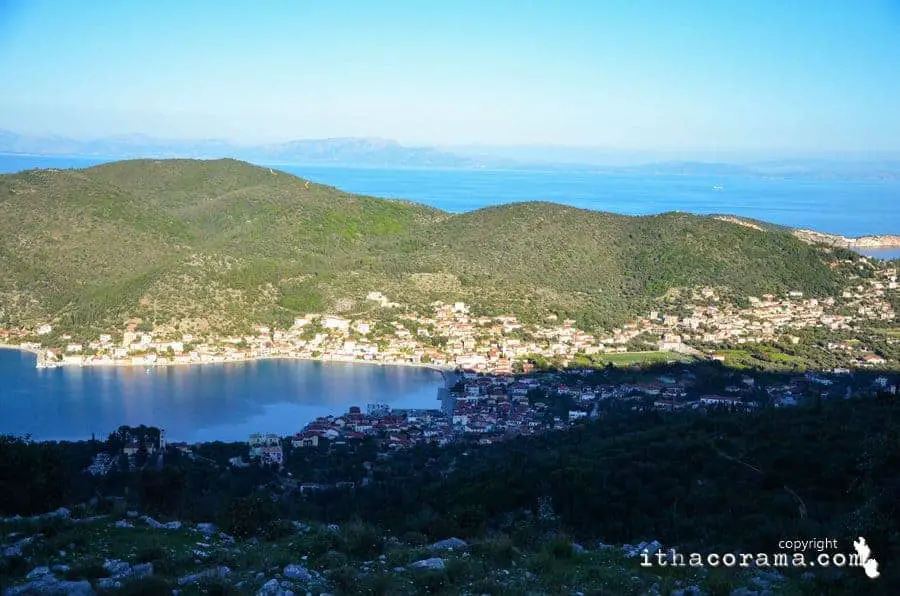 You are at the first bend of Paleochora, and the view of Perachori, Vathi, the coves round, also up to the Petaliatiko Mountain, is lovely.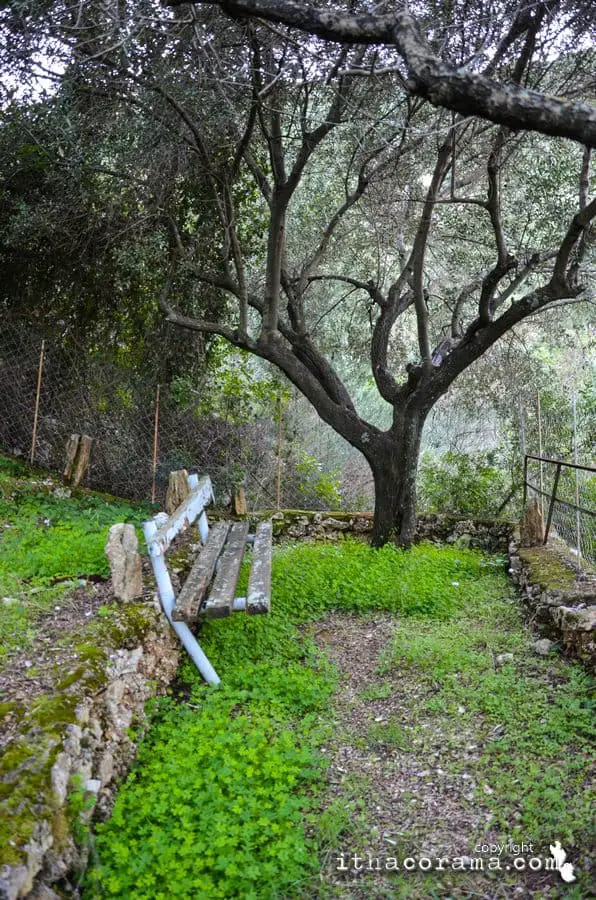 Following the track, you will walk past old houses and ruins.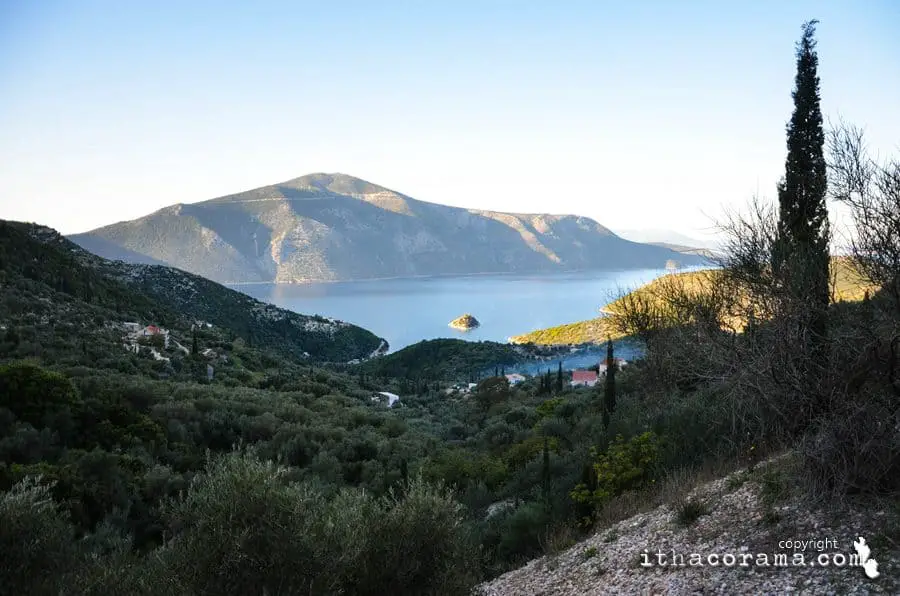 When you reach the second bend of the path in Paleochora, you will see the fantastic view of Dexa Cove. You are now in the center of the medieval city.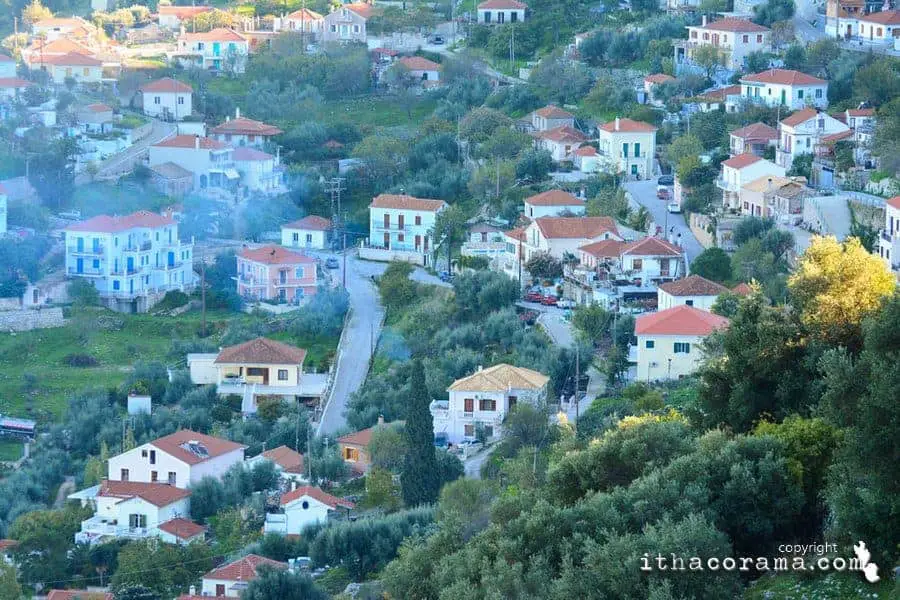 You can see a very old stone threshing-floor and a ruined house. The house is a double-story building, and it is massive.
[Also read: Taygetos Mount Trekking Greece]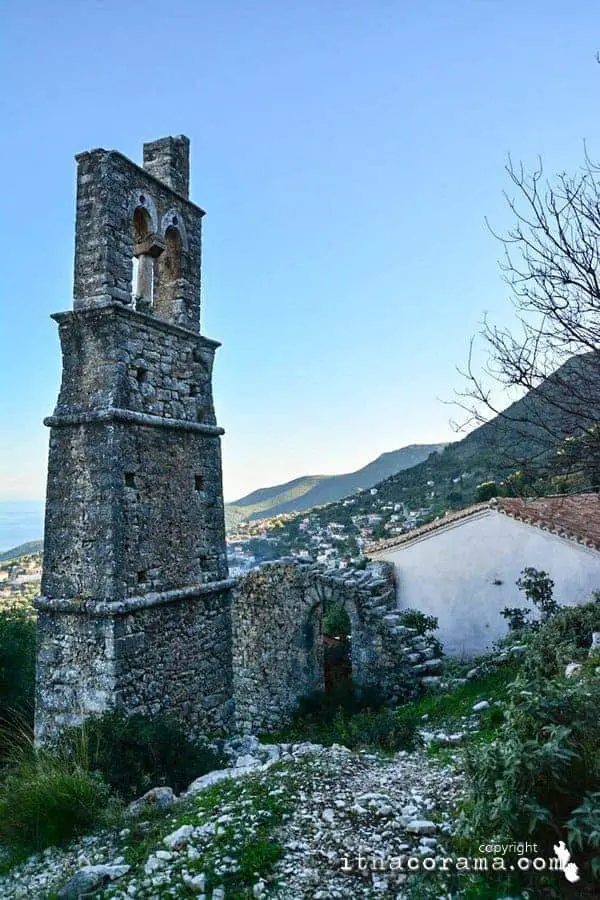 Perhaps it was the headquarters in Paleochora (the house of the commander).
Following the path little downhill, you leave Paleochora. After some minutes, you will see a low sheep-pen and a second (newer) threshing-floor.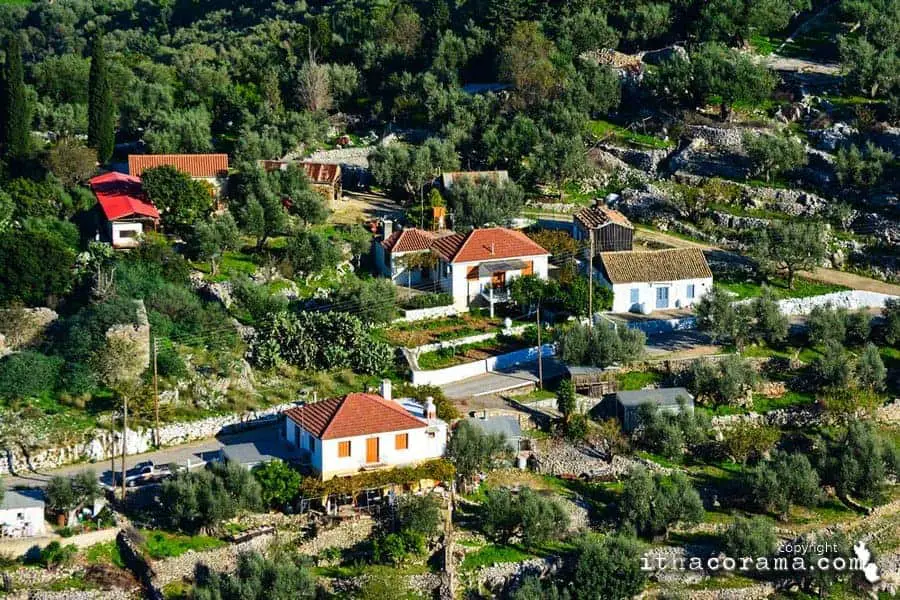 After that, go right and walk on the gentle slope ridge to two small churches (Aghios Andreas and Aghios Nikolaos).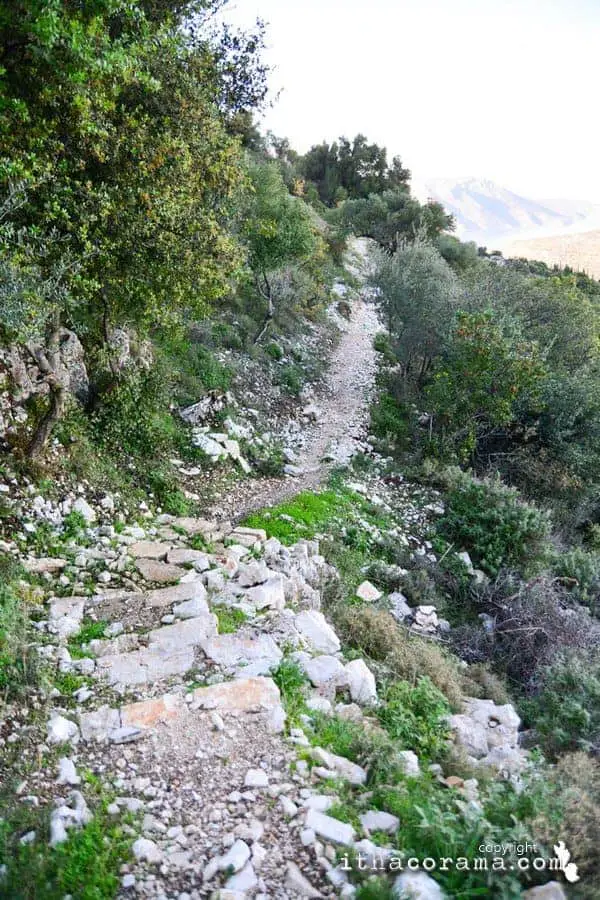 Then you arrive at Nymphs Cave (Marmarospilia).
A stone path takes you from the Cave to the asphalt road.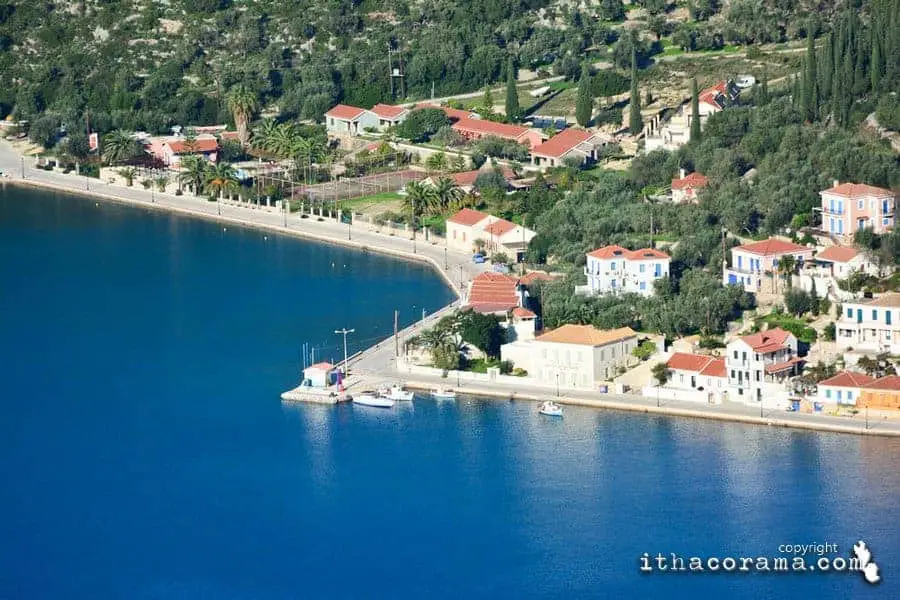 Length: 3.000 m
Difficulty level: medium
Proposed hours: afternoon
Things to do in Ithaca Greece: Archaeological Sites
The first people appeared in Ithaca Greece during the Neolithic Age. Over 30 archaeological sites tell more about who they were.
Is it possible that Odysseus' palace exists in one of the yet to be excavated sites? Learn more about the ancient people inhabiting Ithaca by visiting some of these fantastic sites.
These are:
Elliniko: Region of Marathias
Laertes Property: In the region of Aetos
Evmaios Cave: Situated in southern Ithaca.
Tikti Crini: An artificial reservoir used in Mycenaean towns
School of Homer: In Agios Athanasios, Ithaca Greece
Cave of the Nymphs: Where Odysseus hid the gifts of Phaeacians
Cave of Loizos: On the beach of Poli
Pilikata: According to history this is where the Odyssean city lies
Marathias plateau: Many different archaeological sites
Alalkomenes: Where the ancient Acropolis of the town of Alalkomenes is found
Sail the Ionian Sea from Ithaca Greece
There are many different locations to access by water. Sailing is one of the best things to do in Ithaca Greece, as the island is a marvel to see from a boat. Choose from sailing or yachting, whichever suits your preference at the moment.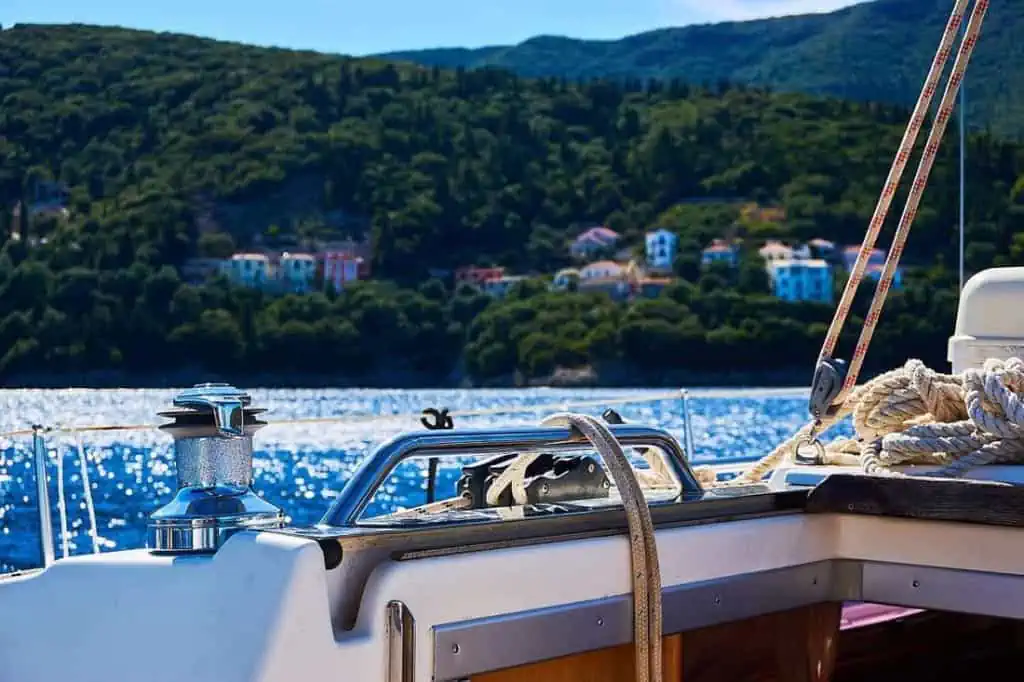 You'll notice the different "feel" of the environment in the Ionian Sea as compared to the Aegean.
Ionian sea territory is described as a whole other Greece. You'll pass through narrow corridors surrounded by tall cliffs with impeccable landscapes.
Sail to the many small islands that each have their unique charm.
You have your choice of day trips or planning overnight excursions to gain a fuller experience of the culture.
There are a host of yachting centers in Ithaca, that cater to your resupply needs or for accommodating your overnight needs.
Don't forget to view the loggerhead turtles and their egg-laying grounds.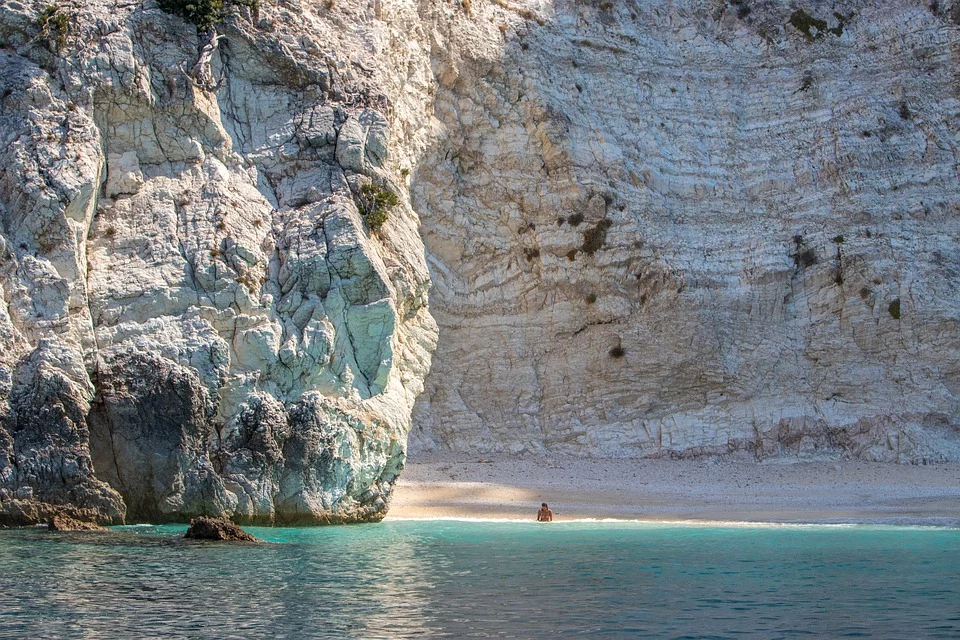 Travel by sailboat to the enclosed bay of Kioni.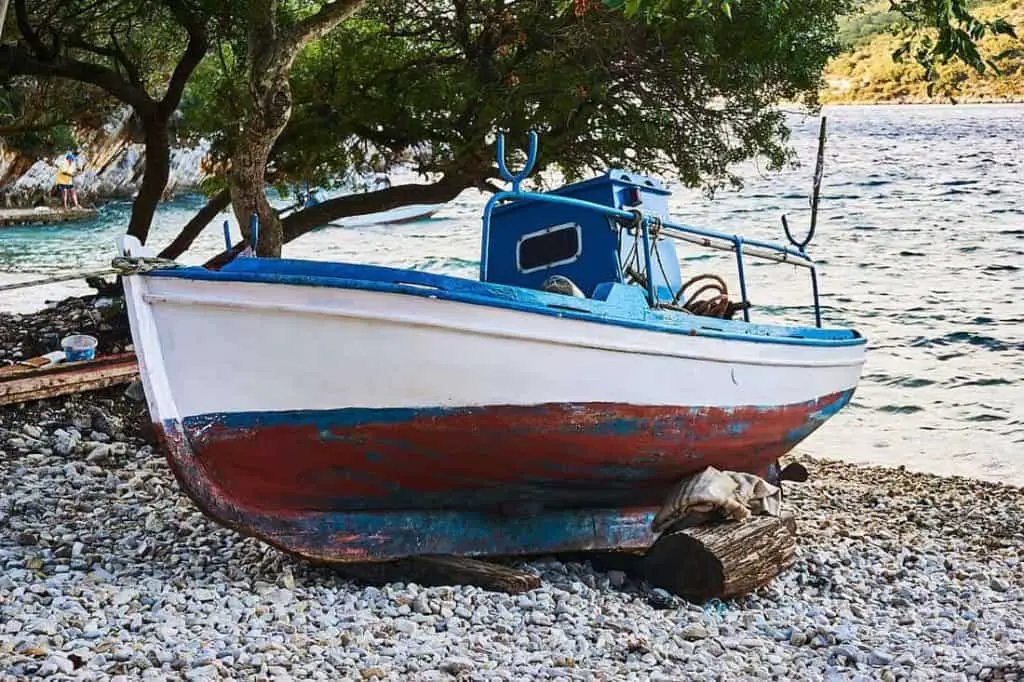 Enjoy the journey there, and when you dock, you'll be amazed by the breathtaking scenery.
You behold a quaint fishing village with stone homes and lovely patios overflowing with flowers.
The waterfront is packed with amenities to please all tastes.
Visit the one of a kind coffee shop with a variety of beverage offerings.
You may enjoy dining at unique restaurants featuring tables on the water, followed by a visit to one of the stylish bars in this hamlet that began in the 16th century.
Beaches of Ithaca Greece
Many go to the island for the beaches. Swimming on each is one of the most relaxing things to do in in Ithaca Greece.
A series of magnificent sandy beaches await you. Explore the pebbled beach of Filiatro along with:
Skinos Bay
The tranquil beach is located two kilometers from Ithaka's capital and can only be accessed by car. A dirt path leads through the forest, which borders a narrow coastal strip covered with medium-sized pebbles as well as fallen cones from pine trees that line either side of it on your walk there!
Gidaki
One of the most beautiful and scenic beaches on Ithaca is situated three kilometers from Vatía, its capital. The turquoise colored sea with snow-white pebbles will leave you speechless as this hidden gem offers picturesque scenery that can be found nowhere else in Greece!
Marmaka
Marmaka Beach is located in Greece and it's the most traveled, with a beautiful shoreline that extends for a long. The sand comes out near number one because its pristine condition makes this an ideal destination to enjoy water sports or take some time off during your holiday retreat travel tour of Europe!
Agios Ioannis
This picturesque beach on the island of Delos is named after a small chapel that stands above it. The clear waters make this spot great for swimming and snorkeling, with sunbeds available to rent if you're looking for some relaxation time in July through September when crowds tend not to be as bad compared to other months of year . In 1989 'Shirley Valentine' was filmed here before Mykonos became one its most popular destinations – so much so they had an award winning movie made about how life changes there!
Polis
Located in the northwest of Ithaca, two kilometers from Stavros. This is one place where you can enjoy all sorts of water/beach activities including renting an umbrella and sun lounger for your relaxation time! There are also toilets nearby as well if needed too so this isn't just a nice coastal walk with no facilities at all – it's got everything anyone would need while enjoying nature by its finest degree possible."
Dexa
The blue flag beach of Ithaca is located in the central part next to Vatni. You can get there on foot or by car – an asphalt road leads directly towards it, making this destination accessible for everyone who wants some relaxation time at any cost!
Frikes
You'll find serene fishing villages and breathtaking mountain views in Calm harbor. The small towns are full of character, with locals that will welcome you as if they were your own family members! You can take a dip into this tranquil paradise or explore more around Ithaca by boat at Filiatro Bay (just up ahead). Either way it's sure to be an unforgettable experience.
Aetos
The most beautiful beaches in Ithaca can be found at Piso Aetos. Located next to the port of the same name, this small town has not lost its charm and is considered one of your best options for relaxation on a hot day with crystal clear water that never gets too deep or rough – making it perfect no matter what time you visit!
Pisaetos
When you visit Pisaetos, your experience will be one of the island's most beautiful beaches surrounded by clear waters that mirror an unspoiled nature. This is a destination where visitors can enjoy swimming in serene comfort without any tourists or vendors disrupting this virgin site – it retains its natural beauty and preserves pristine characteristics with ease!
Rachi
The small dirt road from Rachi area, close to Kioni in east Ithaca leads southward down a steep grade that eventually reaches an uninhabited St. Nicolas' monastery at its natural port with clear blue waters & white sand beaches surrounded by lush greenery on either side – literally out of sight! There are also opportunities for exploring other nearby bays such as Plakoutses (a smaller one), just over 100 meters away; but if you want something more secluded try visiting Katsikouli.
Sarakiniko Bay
The stunning Sarakiniko beach on Milos Island is often compared to a moonscape. The waves are driven by north winds, which shape greyish-white volcanic rock into amazing shapes that will leave you speechless!
Minimata
Minimata is a beautiful beach with crystal clear waters and sandy shores. The surrounding lush green landscape makes for an inviting atmosphere that will have you feeling warm from head-to-toe as soon as your eyes adjust to the lighting conditions in this area of Greece! This serene spot near Skinis Bay has enough magnetic charm only accessible during early morning hours or late evenings when it's less crowded than other nearby places., giving visitors ample opportunity enjoy total privacy on their own private deck chair under star filled skies without interruption.
Explore Vathi and Lazareto in Ithaca, Greece
Vathi (the capital of the island) and Lazareto are nested in a bay with deep fjord-like waters.
Take an excursion to the 17th-century church in Lazareto, also known as the islet of the savior.
Take in the Ionian architecture featured in the hotels, shops, and other structures. It will flood your senses and to the overall experience of the island.
Enjoy world-class shopping at the various markets and shops featuring authentic Greek foods, beverages, artwork, and one of a kind gift items.
[Also read: Best Weird Greek Foods All Greece 2022]
Stop in for coffee, enjoy lunch at one of the many cafe's or visit the unique array of vendors.
Museums offer opportunities for viewing relics from the ancient past, artwork, and total immersion into the history and culture from past and present Greece.
Immerse yourself more in-depth into the history and culture of old Greece by traveling to the Katharon Monastery. You'll find it to be a religious mecca.
It is also called the patron of Ithaca or the monastery of "Panagia tis Kathariotissas."
It has been standing in Homer's Niritos, the most magnificent location on the isle point since 1696, and you won't want to miss it.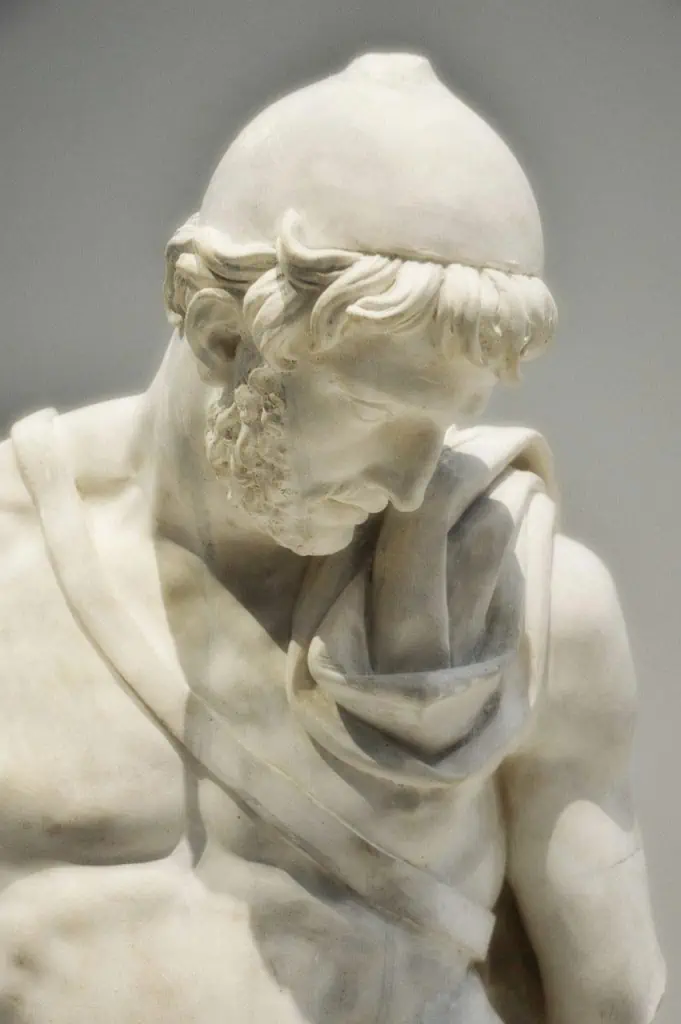 There is so much to see and do in Ithaca Greece.
Don't miss the village of Anogi, also called Upper Land (Ano Chora), and is one of the oldest villages of Ithaca. Few know that it is the 2nd most crucial medieval settlement of Ithaca.
Visit the Byzantine church dedicated to the Dormition of the Virgin. It has new frescoes and worth seeing. 
Where to Stay in Ithaca, Greece?
There are some top selections, depending on the type of vacations you want to do and your company. Here are the top accommodation suggestions.
Romantic Escapes: The Perantzada Art Hotel in Vathi. White-washed rooms boutique hotel, classy, and pretty lovely private balconies are overseeing the bay of Vathi.
To the Beach: Choose the Captain Yiannis Hotel in Vathi. Fully equipped with kitchenettes, and great views to the Ionian sea, minutes from the beach. 
You'll want to plan and give yourself plenty of time to take it all in.
Ithaca offers something for everybody, whether you're after an adventure, seeking rest, a unique experience of cultural immersion, or perhaps a little of each.
You'll find it in Ithaca, Greece.
If you enjoy reading this article and this gives value to you, consider the related posts below: