Do you want to learn about the best things to do in Tinos Greece? Then read our post. We have been twice to this island and chances are we will go again this summer too.
Tinos Greece is just 3 hours by ferry from Athens (port of Rafina). That makes it a pretty short ride to get there. Use this or this ferry service company to book your tickets (always ahead, especially if you have a car).
We want to share our experiences with you on this magnificent Cyclades island.
Things to Do in Tinos Greece
Tinos is an island strongly related to religion and is famous for that, but the island is far from only seeing churches for those who know.
It is a proper and excellent popular Greek vacation destination, with all the goodies.
Also, read our post for hiking in Tinos.
Traditional Villages of Tinos, Greece
As we left Chora of Tinos, we first bumped into that church. The church design is typical for the Cyclades.
We were intrigued by the rooftop, which was an excellent opportunity to climb/step on and see this view.
Tinos, Greece, Village of Falatados
One of the first villages we entered was  Falatados.
It is just a tiny village, yet it hosts the Museum of Cartoons (from Greek artists).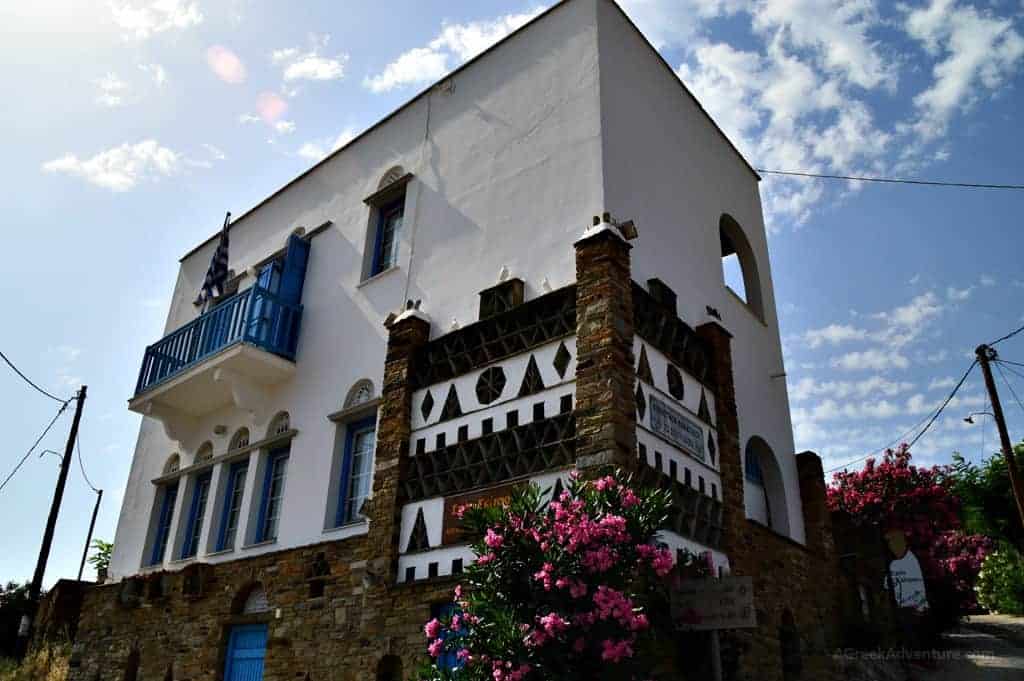 It is nice to stop for lunch, yet it doesn't provide much of a sea view.
Walking through it is excellent and relaxing, though.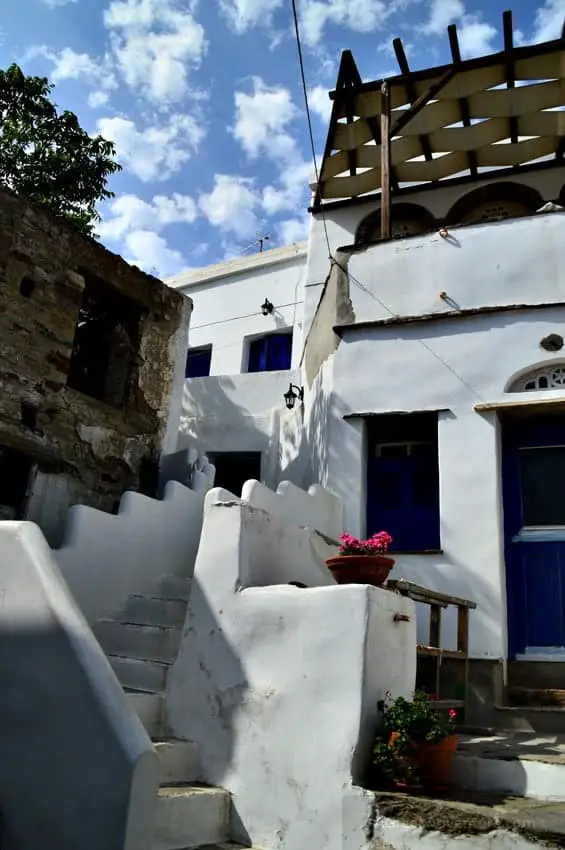 Exomvourgo Hill
This hill is well known for rock climbing. We didn't go there for that, though.
It was too hot during midday.
We saw the church at the feet of the hill and the castle ruins at the top. So, we imagined that the view would be great from the top.
To get there (castle top), you can get the sideway outside and from the left of the Catholic church. The church itself is charming.
It doesn't function as a church anymore. We even met people having a Yoga retreat there.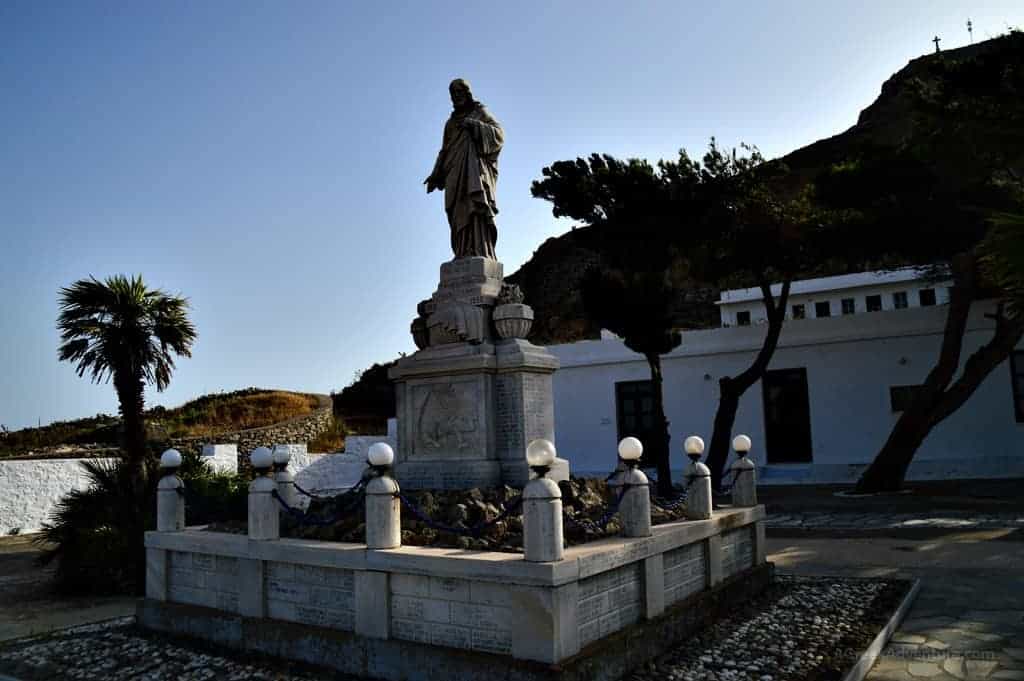 You can even get a small hiking path towards Tripotamos from there. Along with that, you pass a small chapel with a great view.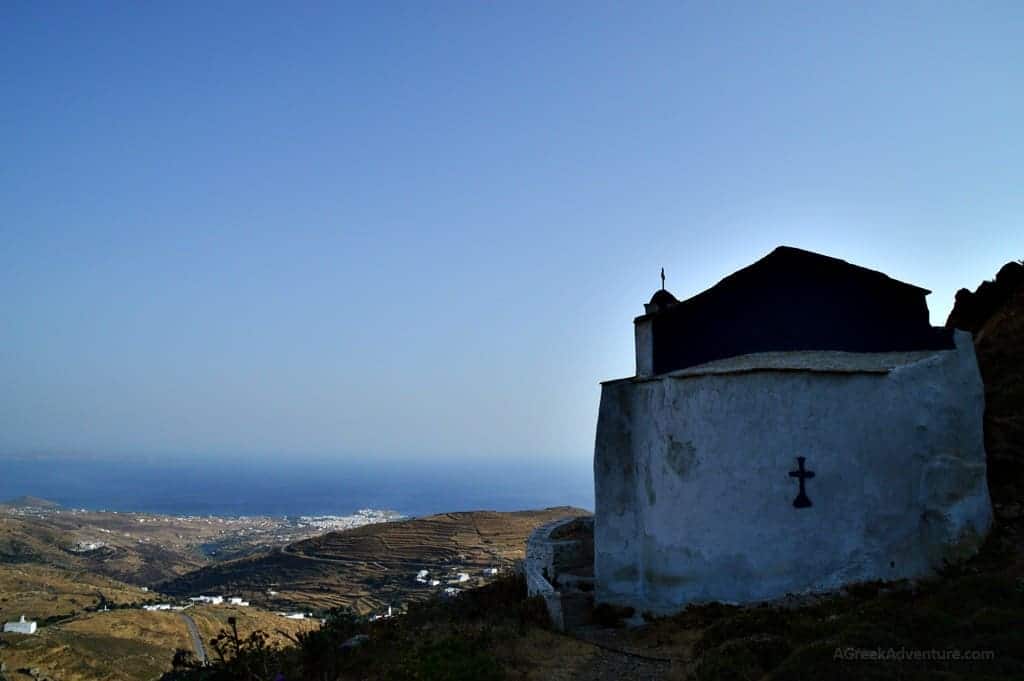 Taking the path to the top is not very time-consuming, and it will reward you with some 360 degrees of views of the area.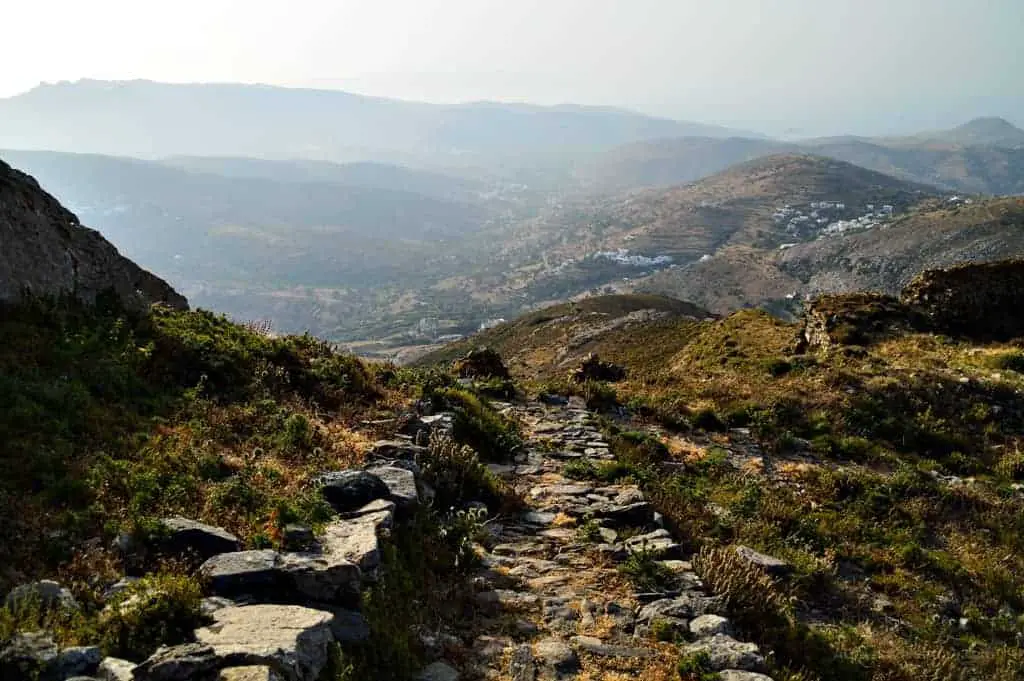 The view is indeed breathtaking, and you stay there as long as you like admiring it.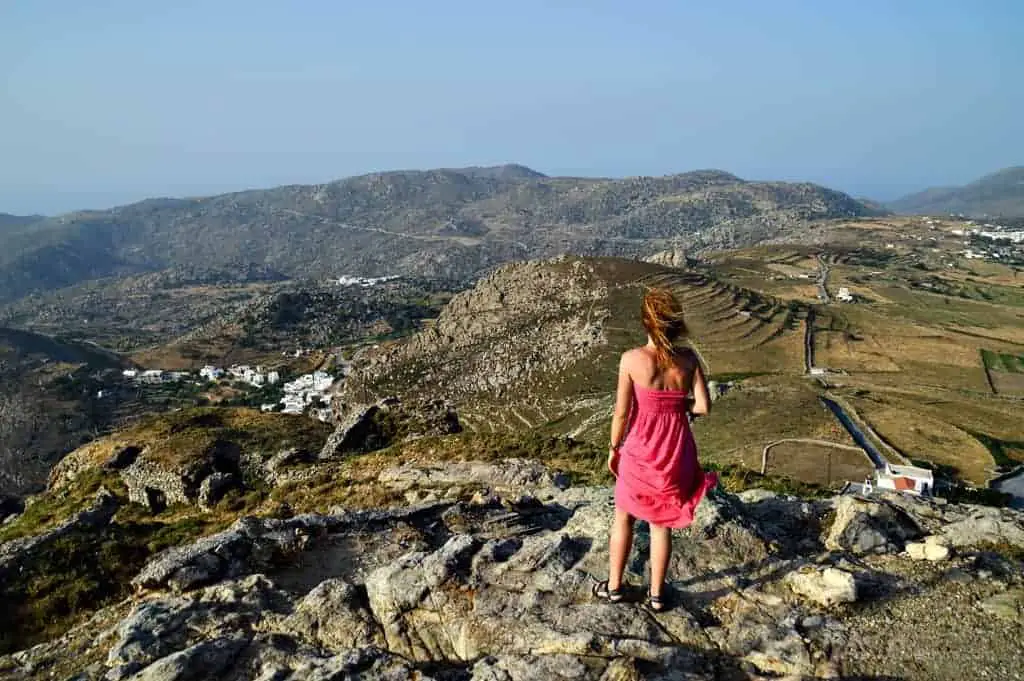 Villages of Tinos Greece: Volax & Poetry
We've learned that we had to visit Volax village as it had an interesting thing to present to us. We found two things.
Volax is also called the village of poems, and you are about to find why.
As you walk around the village, especially on doors or walls of abandoned houses, you will see poems of famous Greek poets.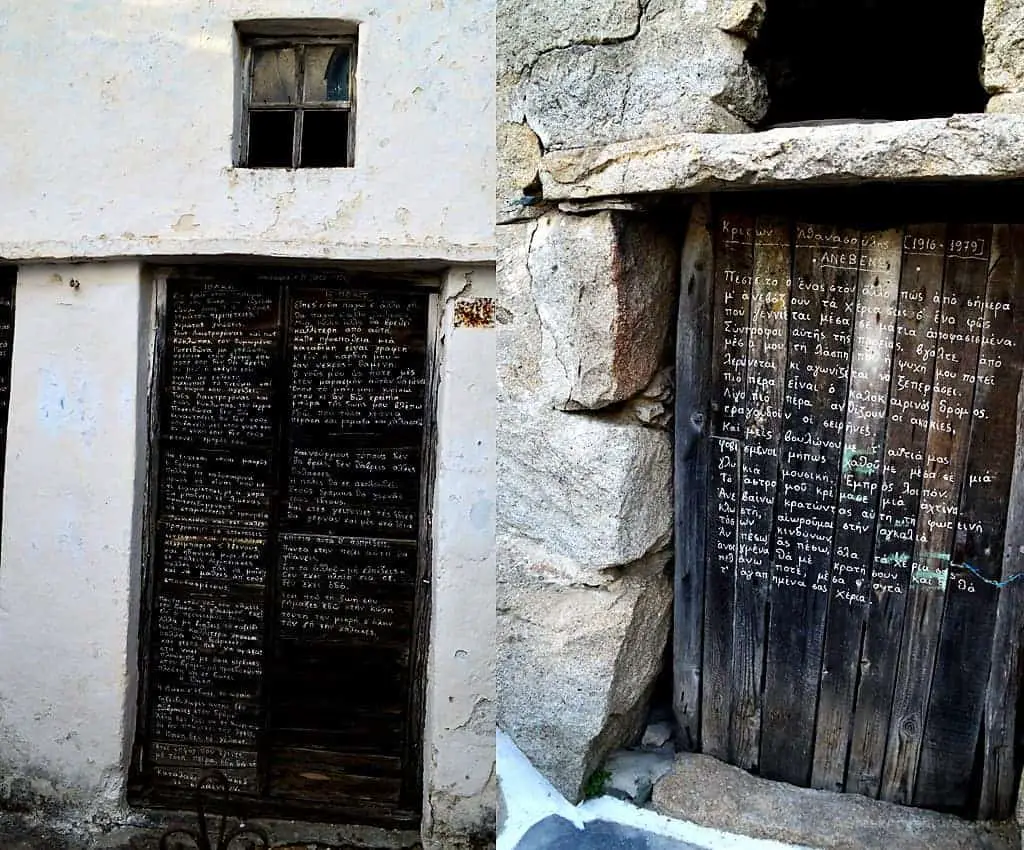 That is the work of one person who wanted to beautify the village in that way.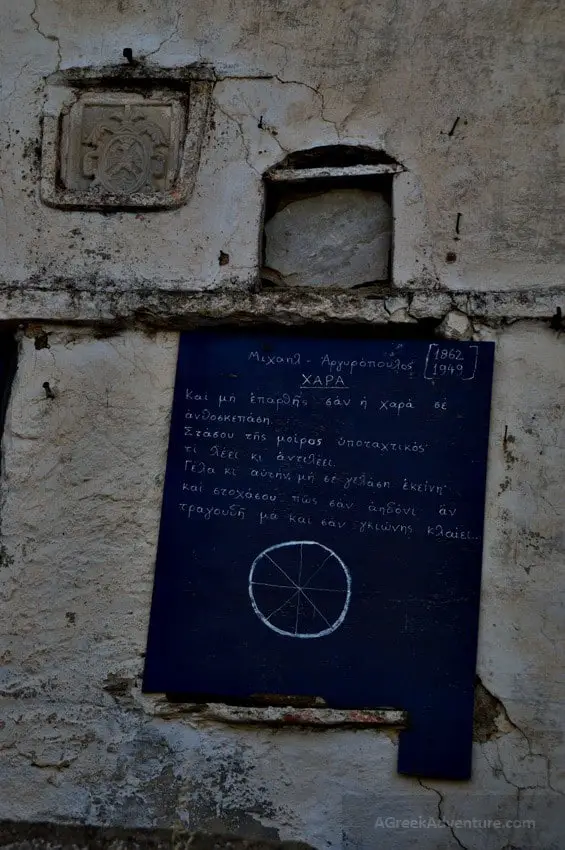 Turning around different corners of the village brings little marvels of beauty.
And then, around a corner, we bumped into Mr. Antonis.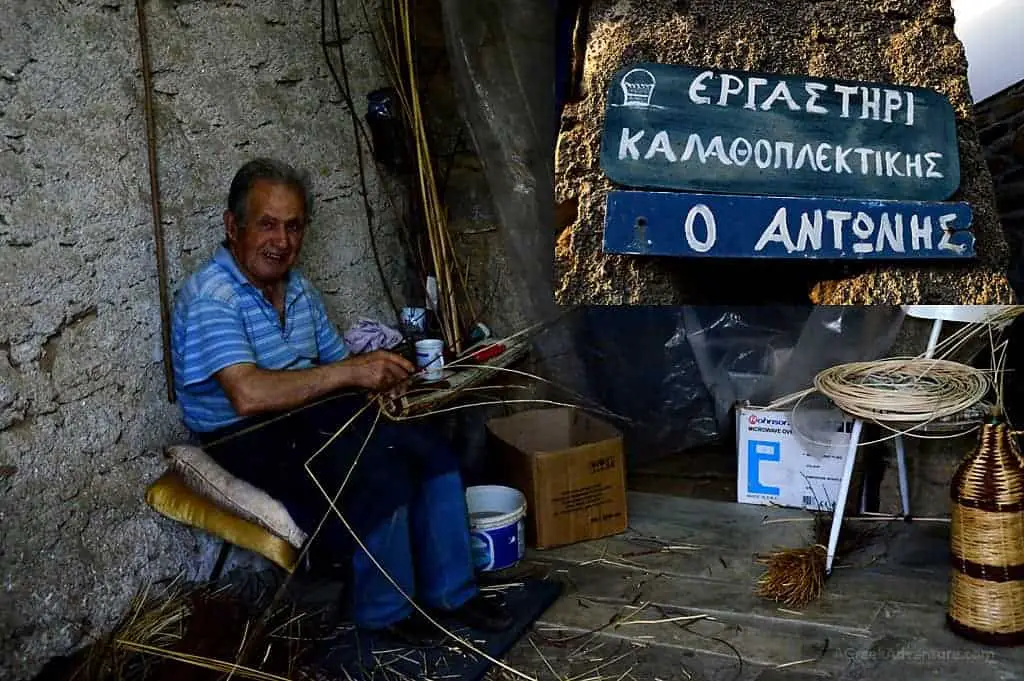 One of the two remaining masters of traditional basketry. He allowed us to take a picture of him while working.
Here are the bit basket jewels.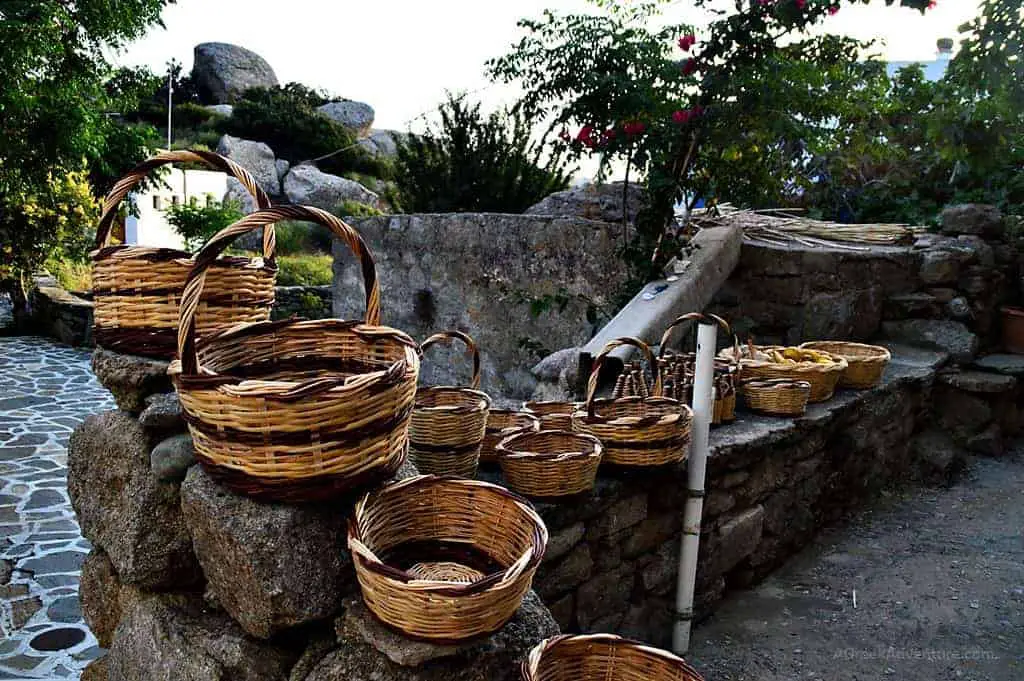 The other guy is this one. Mr. Loudovickos.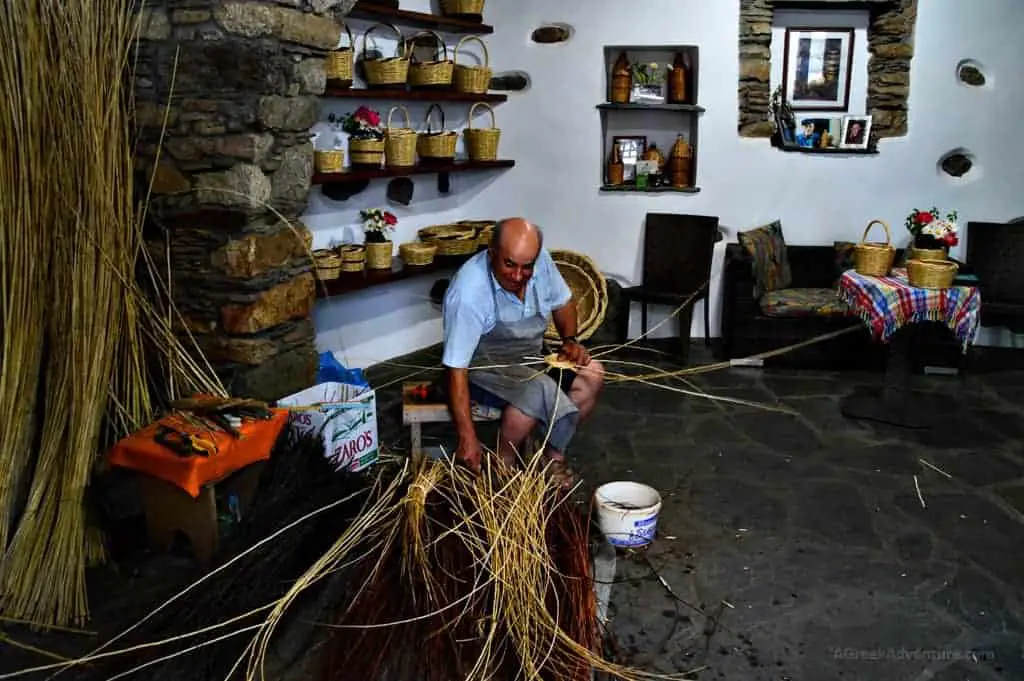 At the village end, don't forget to go through this little shop, named "Eros." The owner seemed very friendly.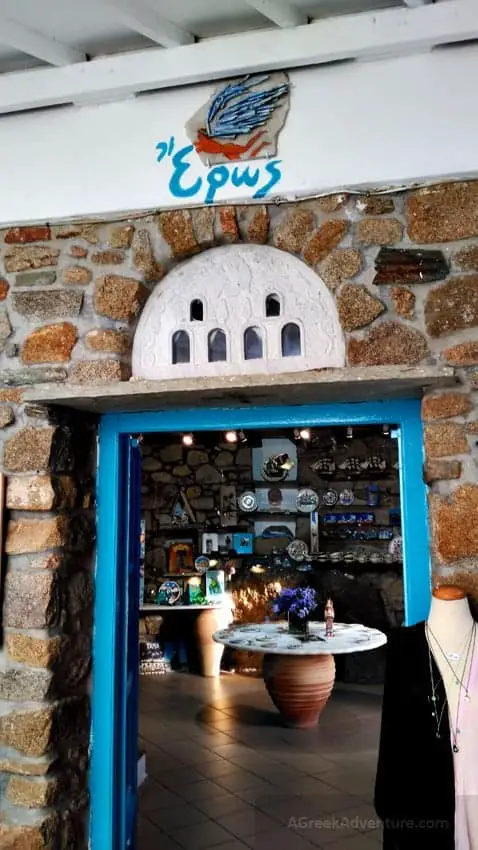 At the village entrance, you see an outdoor "store" that sells local herbs that can cure many illnesses at a very reasonable price.
Kardiani Village in Tinos Greece
That village has the brightest white and most terrific light we have encountered so far on the island of Tinos, Greece.
The view itself, when you stand at the village end at the church balcony, is astonishing!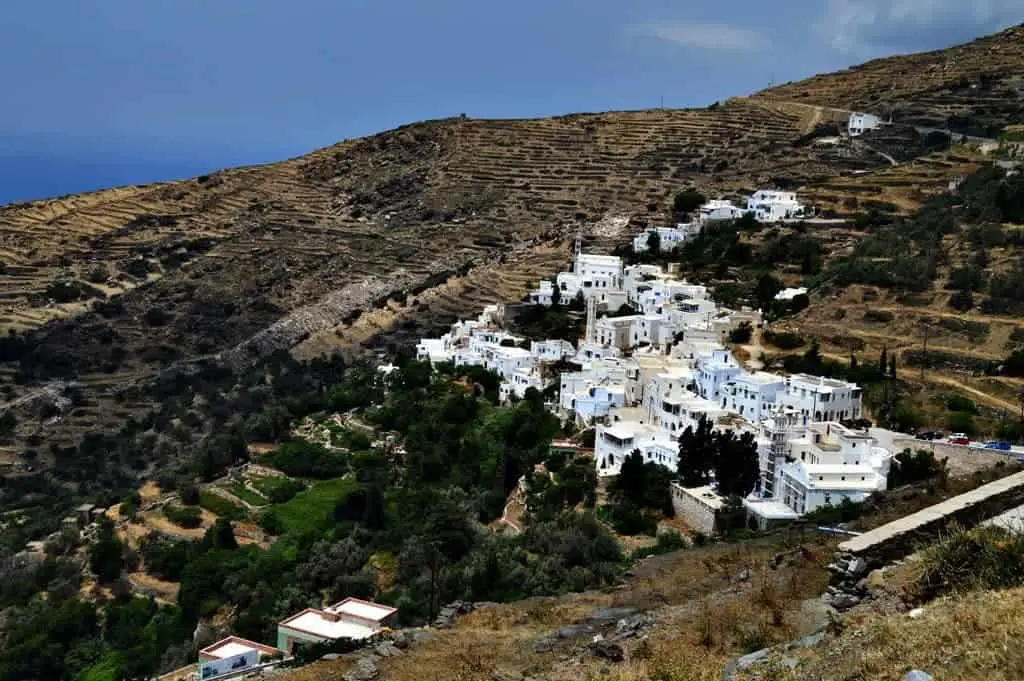 The thing with this village is that you can enjoy its beauty when you walk through the town. From far, it seems like another (beautiful) town of Tinos.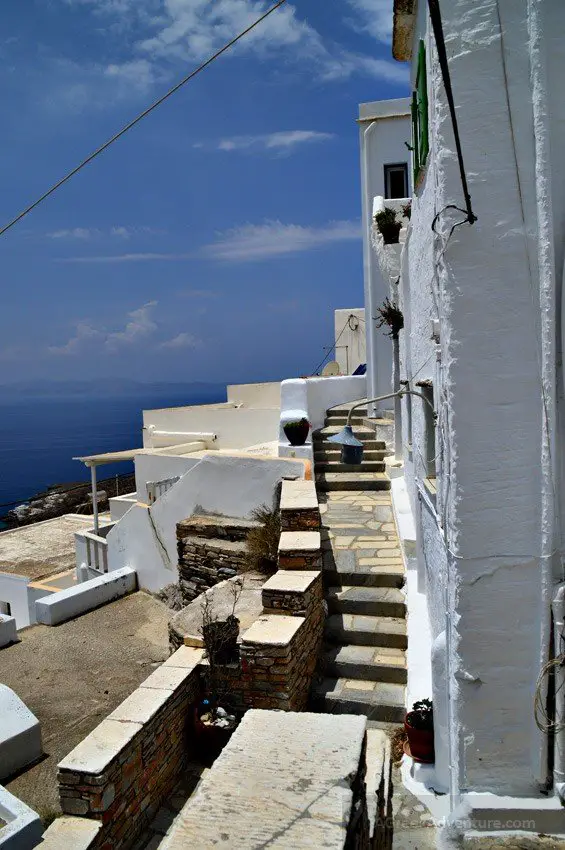 But when you go into the village, the views are enhanced.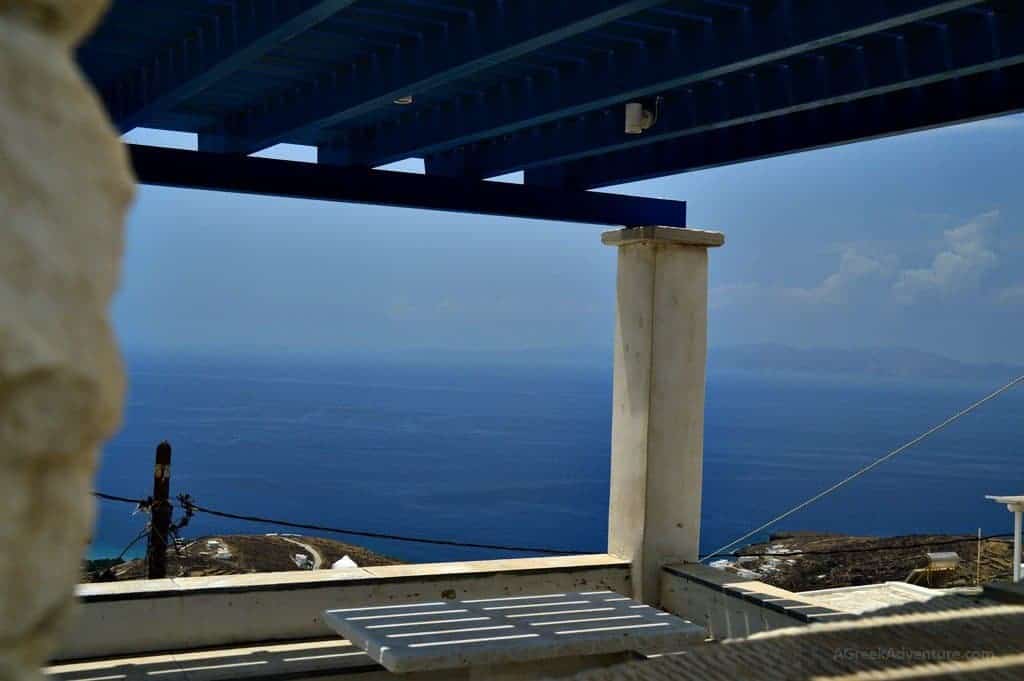 When you walk through Kardiani, you find small water fountains to drink fresh water enjoy art carved on marble.
On some narrow streets, there are tiny coffee houses. This one below had just six chairs and two tables!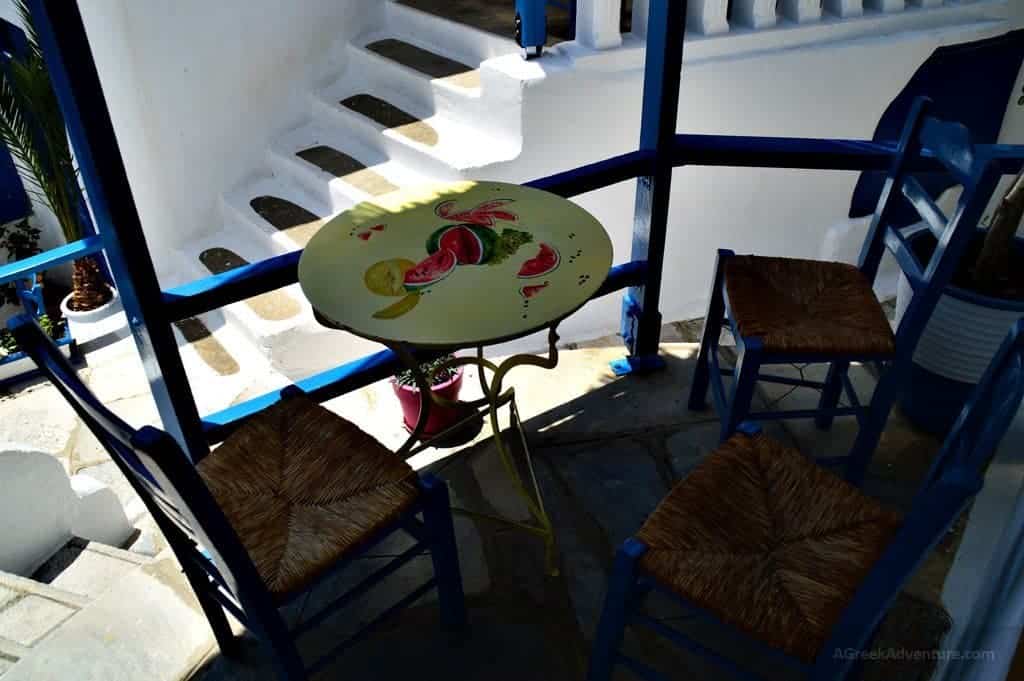 Churches here are equally bright as all over Tinos Greece. All are made with marble.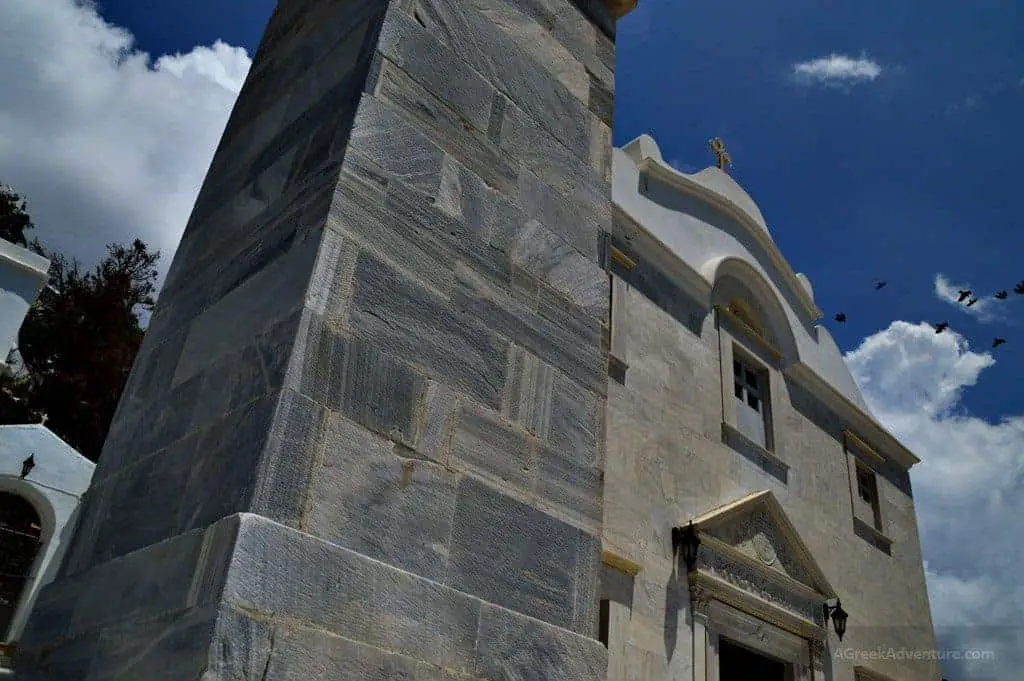 This is how beautiful it feels through the narrow alleys of Kardiani.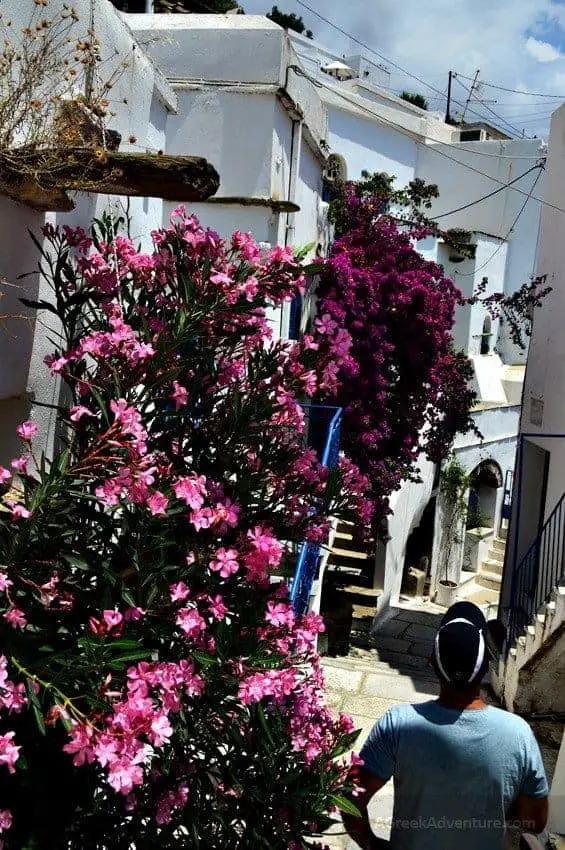 I cannot stress enough the beauty of the view around Kardiani.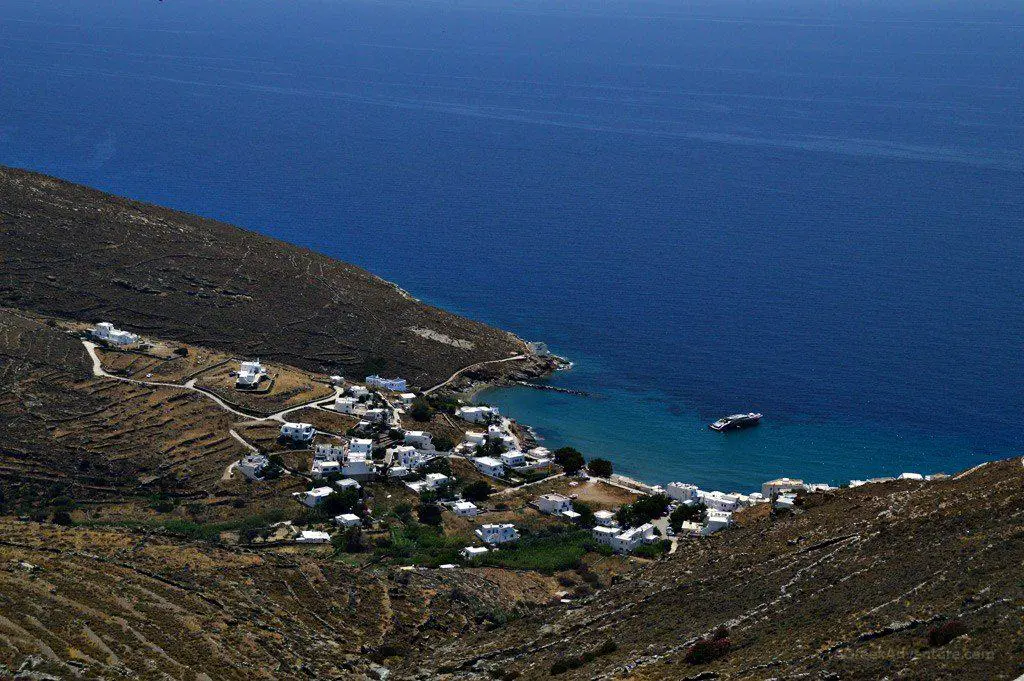 Tinos Greece Village of Isternia
You will find this spot on the north side of the village of Isternia while you drive at the top of Tino's hills.
It pops out of nowhere, showing this complex set of different buildings.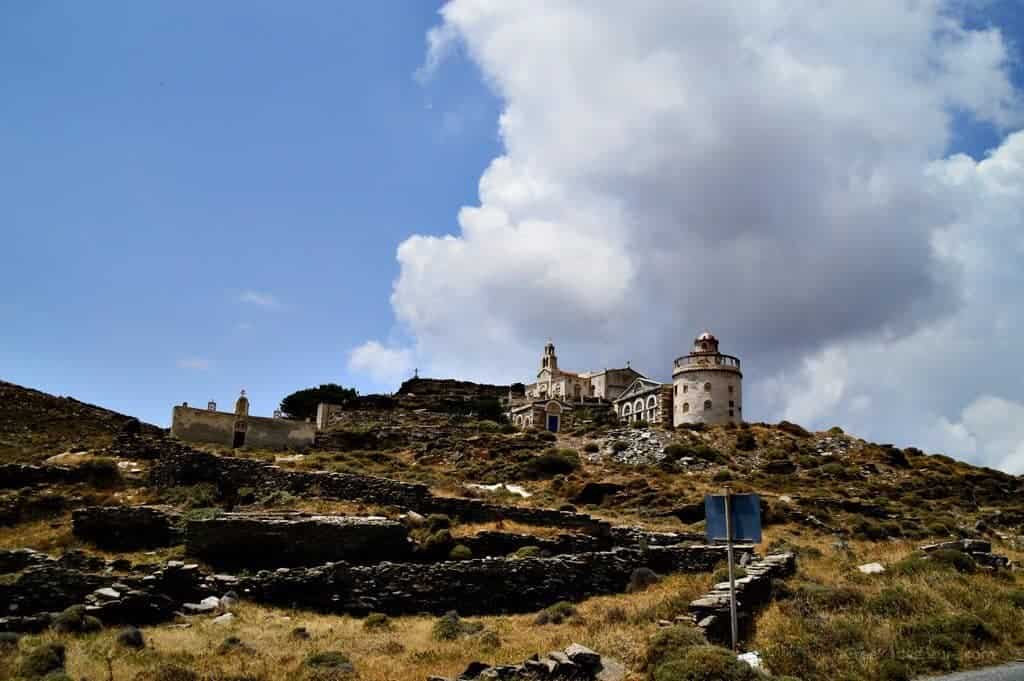 It looks beautiful from afar and even better from up-close.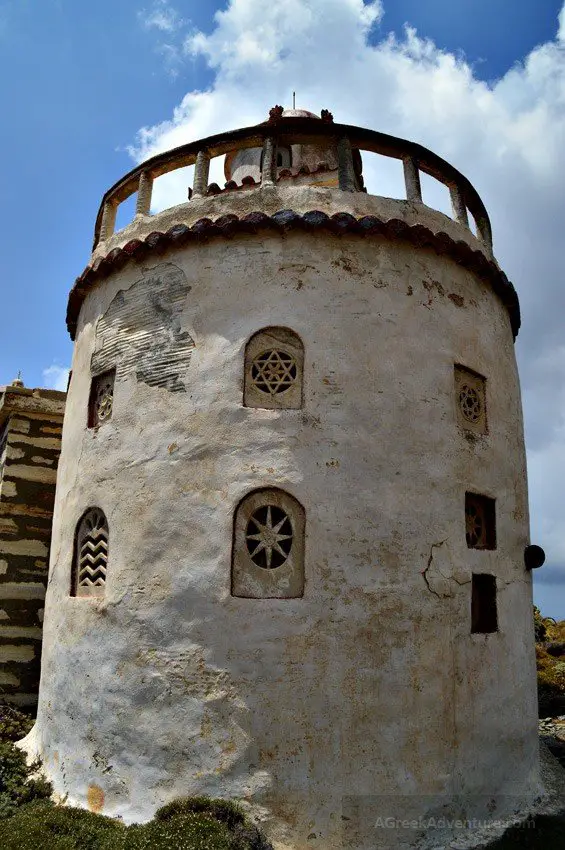 We didn't visit the actual village, as we stayed there for quite a while, admiring the architecture.
Panormos Village of Tinos
If you are hungry and craving some delicious snacks/lunch and a picturesque view, along with some cooling breeze, go to Panormos.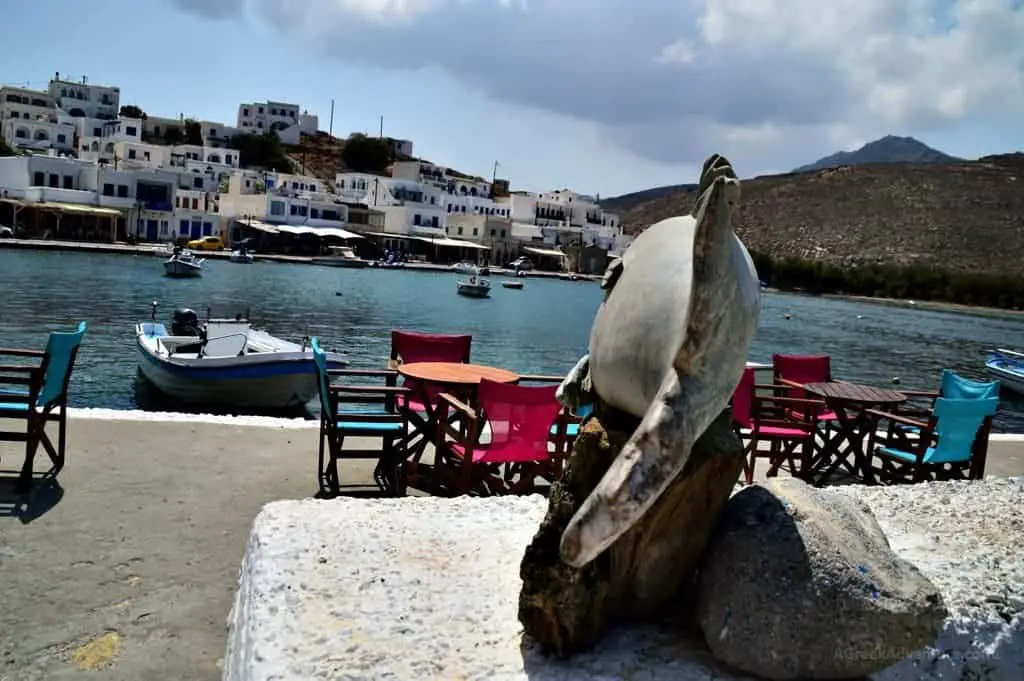 It is a tiny village. For us, the highlight was the by-the-dock promenade.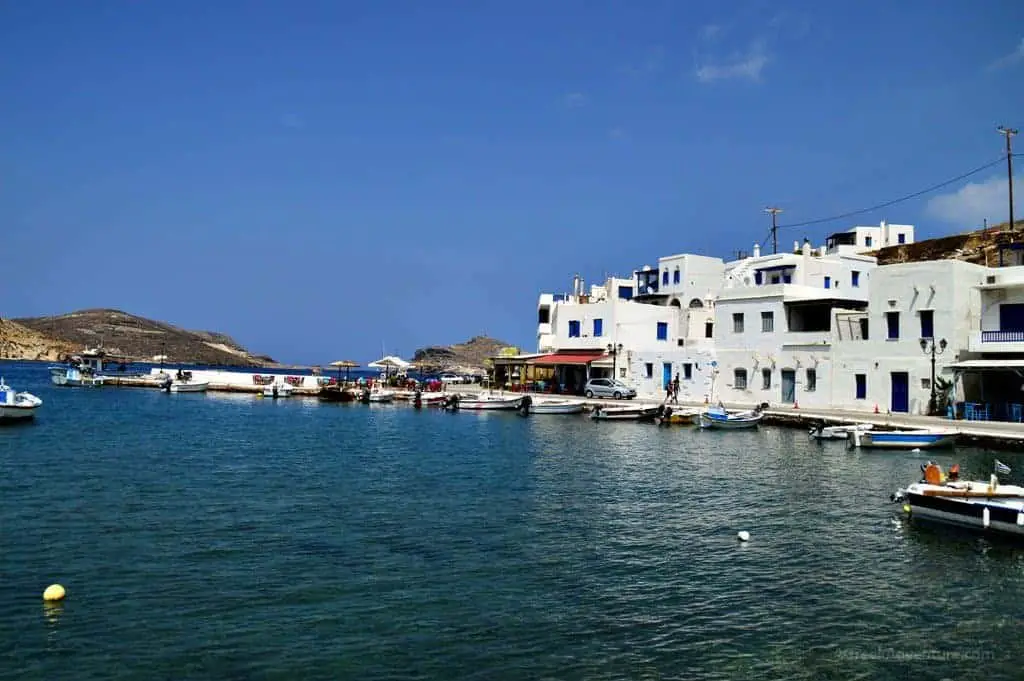 It is a typical tiny village of Tinos, and by "typical," we mean: beautiful.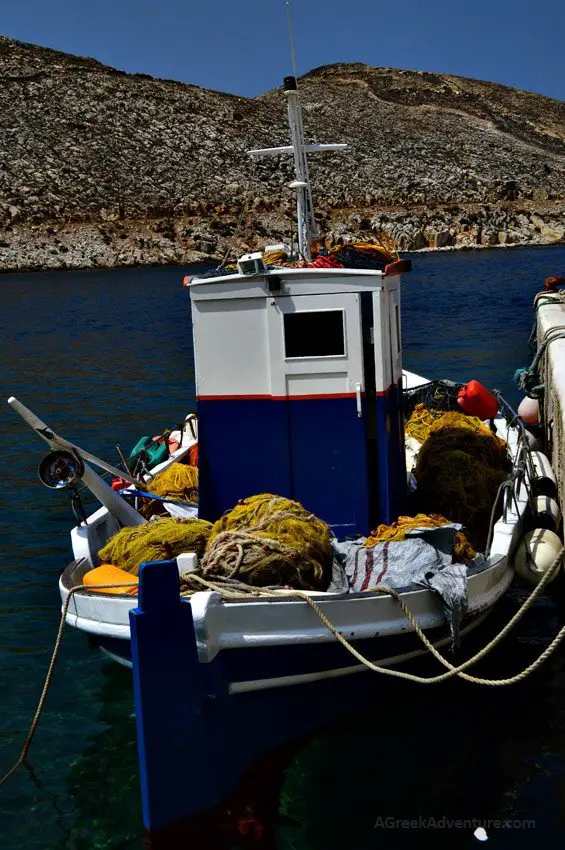 Tarampados Village of Tinos, Greece
Unfortunately, there was not much to show from this village since it was raining!!! Yes, the rain started around 10 minutes from the town and didn't stop.
Tarampados is mainly known as the village hosting the most significant number of pigeon houses. Here are 2 of them, along with a heavy sky.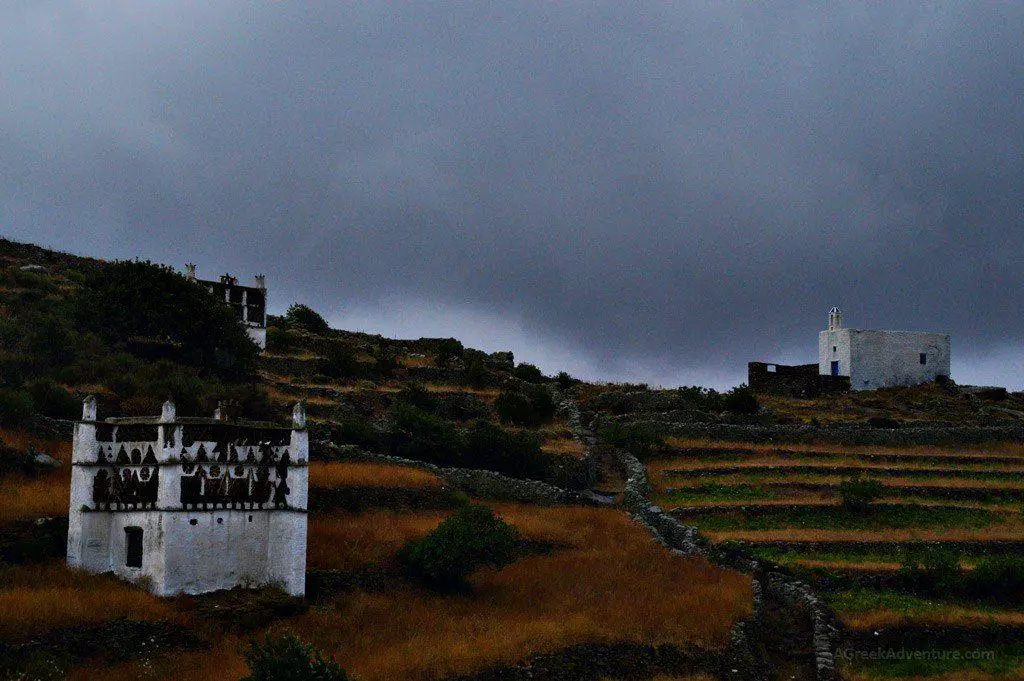 Culture and Religion in Tinos, Greece
Tinos is tightly weaved with two things. Religion (due to the temple of the Virgin Mary) and culture and marble craft due to its production of the famous Tinos marbles.
The Marble Crafts Museum of Tinos Greece
Last but not least, on our list was the Marble Crafts Museum of Tinos. Tinos is known all over the world for their great marble.
We also learned this: The Tinian Marble Craftsmanship is inscribed in 2015 (10.COM) on the Representative List of UNESCO's Intangible Cultural Heritage of Humanity.
The museum depicts the history of this craft, along with an exhibition of tools and marble works.
The museum of Marble Crafts was created and functions under the provision of the Cultural Foundation of Piraeus Bank Group.
Here is the village of Pyrgos, where the museum is located.
And here is how the museum looks from the inside. The manager and the museum staff were accommodating and explained the role of marble and the art used to create those marvels.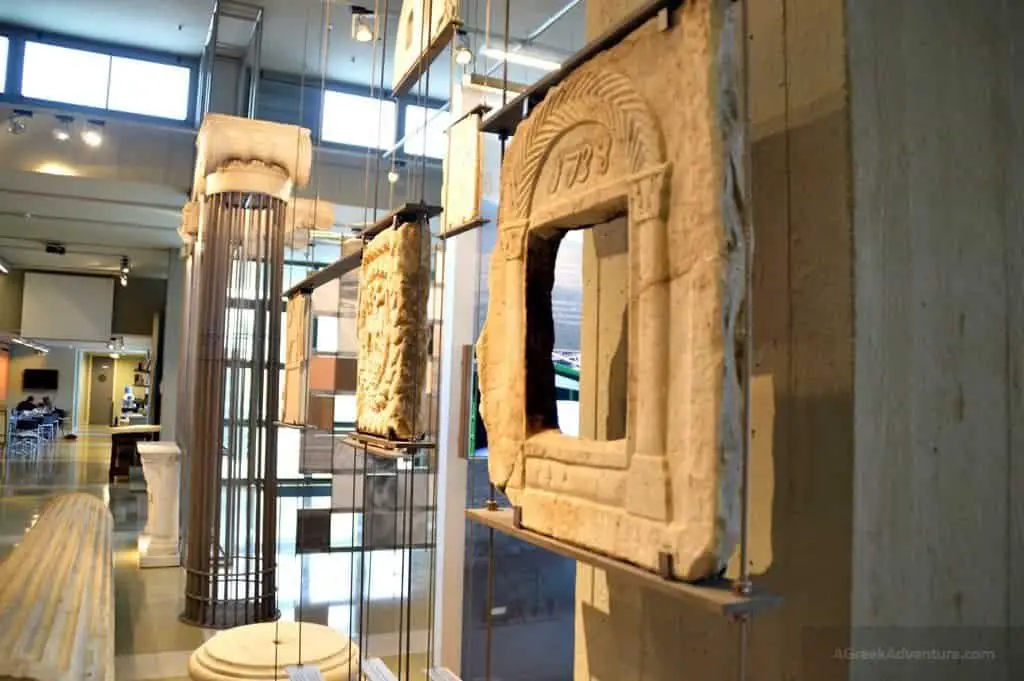 We walked around learning about the tools and patience of these artists/sculptors. Their work was present in churches, houses, and everyday objects.
Secular, ecclesiastical, funerary, and everyday objects were made from Tinos marble.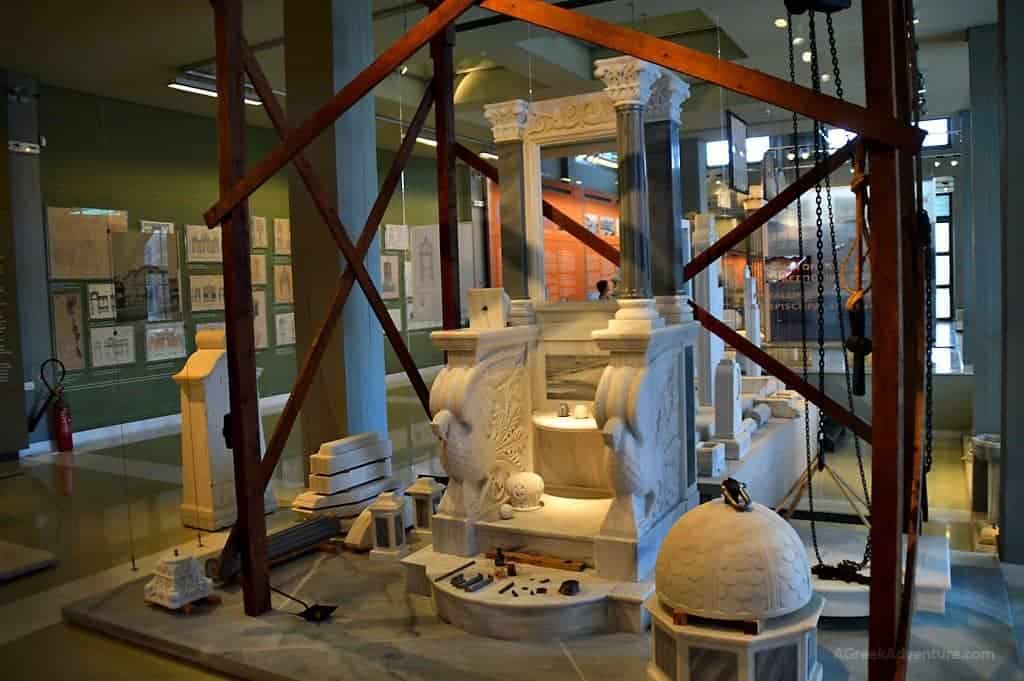 The visitor can also watch a charming documentary that presents the history of marble crafts here.
It is impressive to go through all these. This museum depicts the pre-and proto-industrial Tinos.
This was the most critical center of marble crafts in Modern Greece.
The Lady of Tinos island 
You may also have heard it as the Virgin Mary Church of Tinos, Panagia Megalochari of Panagia Evangelistria, or even the Evangelistria church. It is located in a prominent location in the heart of Tinos town, really close to the port.
This is one of Greece's essential religious hot points (others are Meteora, Mount Athos, Proussos Monastery, and many more).
People come from all over the world to visit the church and pray to the Virgin Mary for something they want in life and kiss the miraculous icon of the Virgin Mary.
Their request is often related to healing an ailment of their own or of something a loved one has.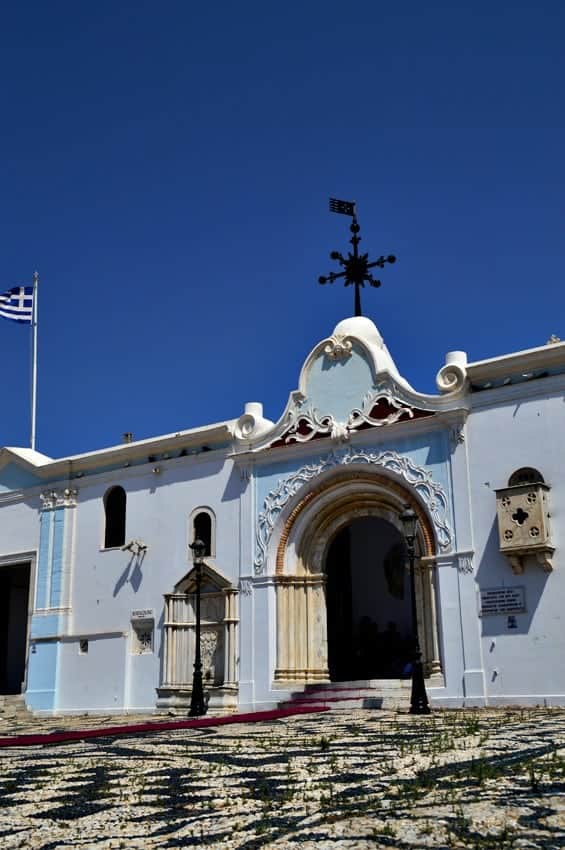 Maybe it is due to the extreme & combined will and praying and faith or due to divine intervention. Who knows?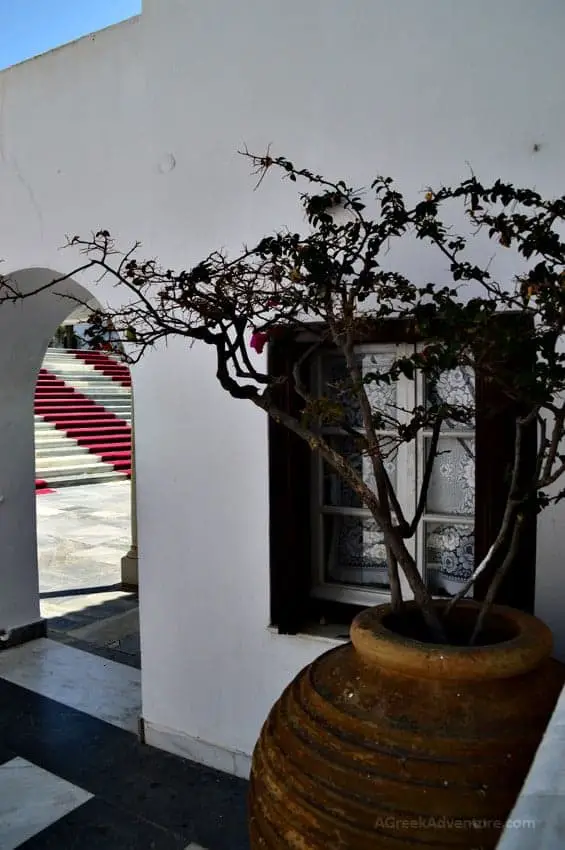 People pray here and provide offerings (called "Tama"), hoping their wish will come to life.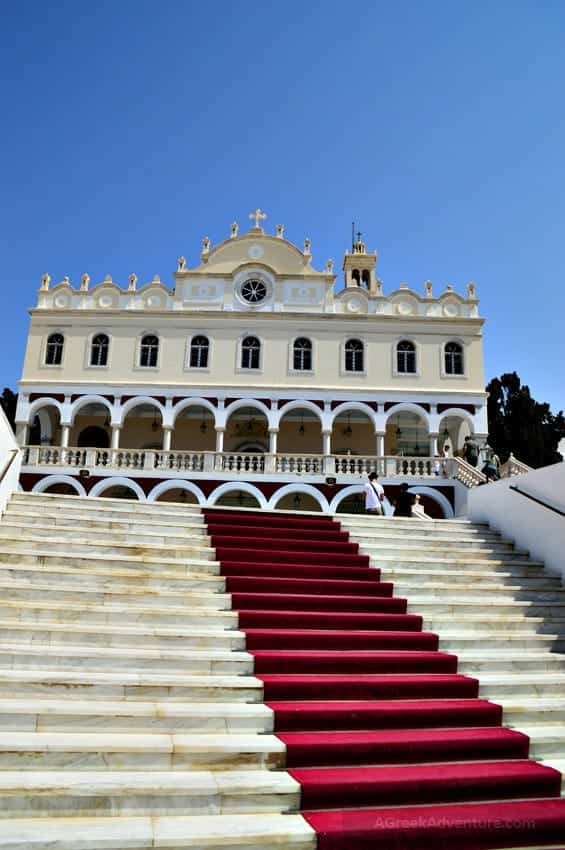 The fact is that this place is lovely and serene.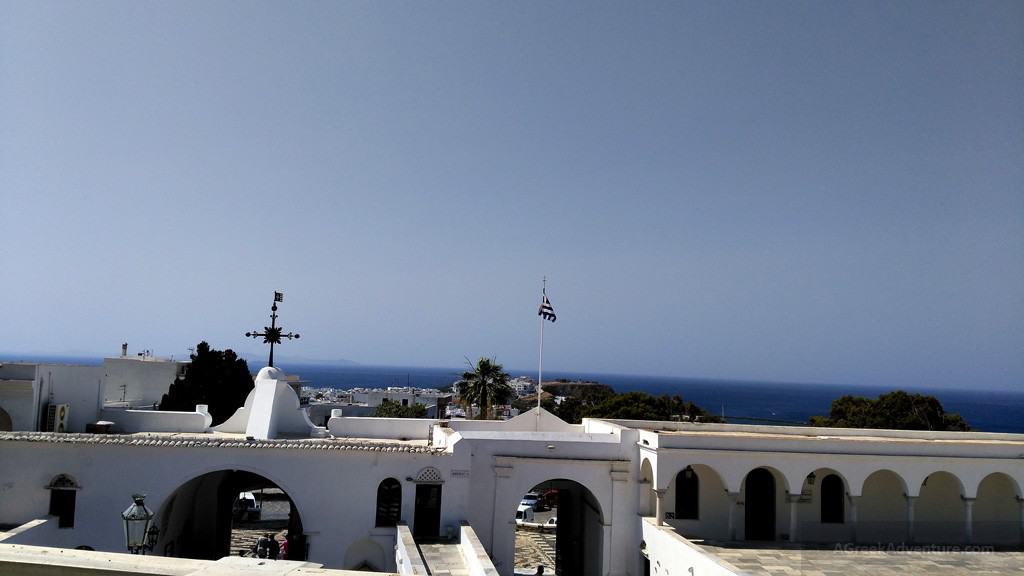 The interior of the church is filled up with thousands of small offerings.
What a visitor sees is not even the actual sum since offerings have been placed at the feet of the Lady of Tinos for many, many years now.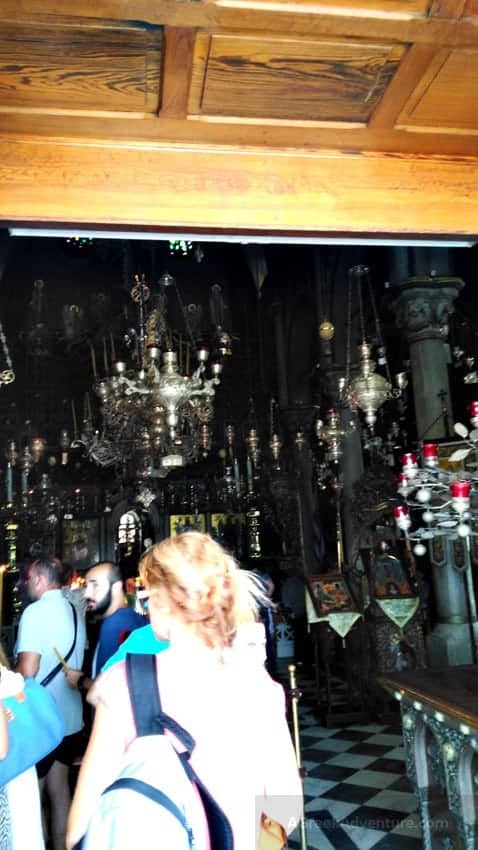 The whole town of Tinos is focused on this kind of religious tourism, and religious artifacts and souvenirs are sold everywhere.
Even if you are not a highly religious person, you cannot stay unaffected by the energy this place beams. It is also related to some important markers of Greek history.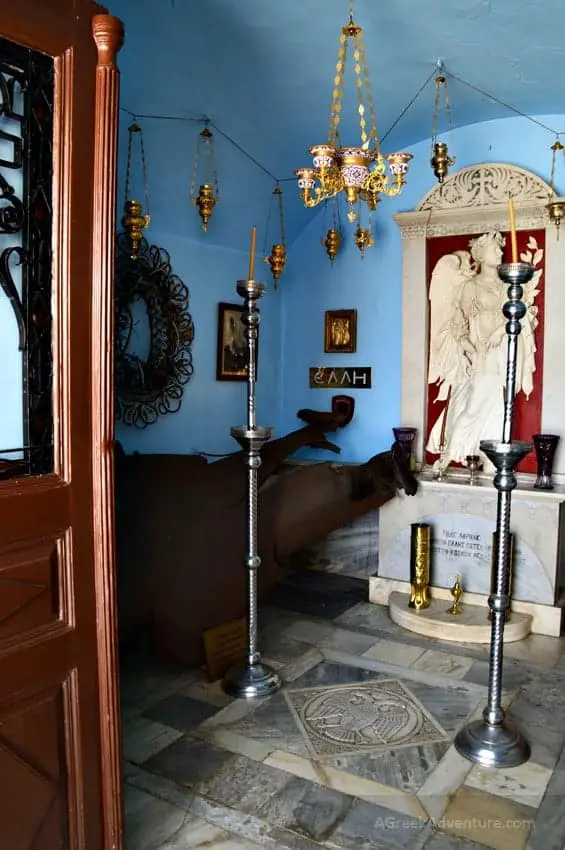 Of course, the definite time of the year to visit the church is on August 15. We are talking about huge crowds who come here to participate in the festivities.
Worth spending some time there. You may also notice people walking on hands and knees from the harbor all up to the church. That is called a "Tama," It is an act of volunteer suffering that they believe their desire to get their wishes to come to life.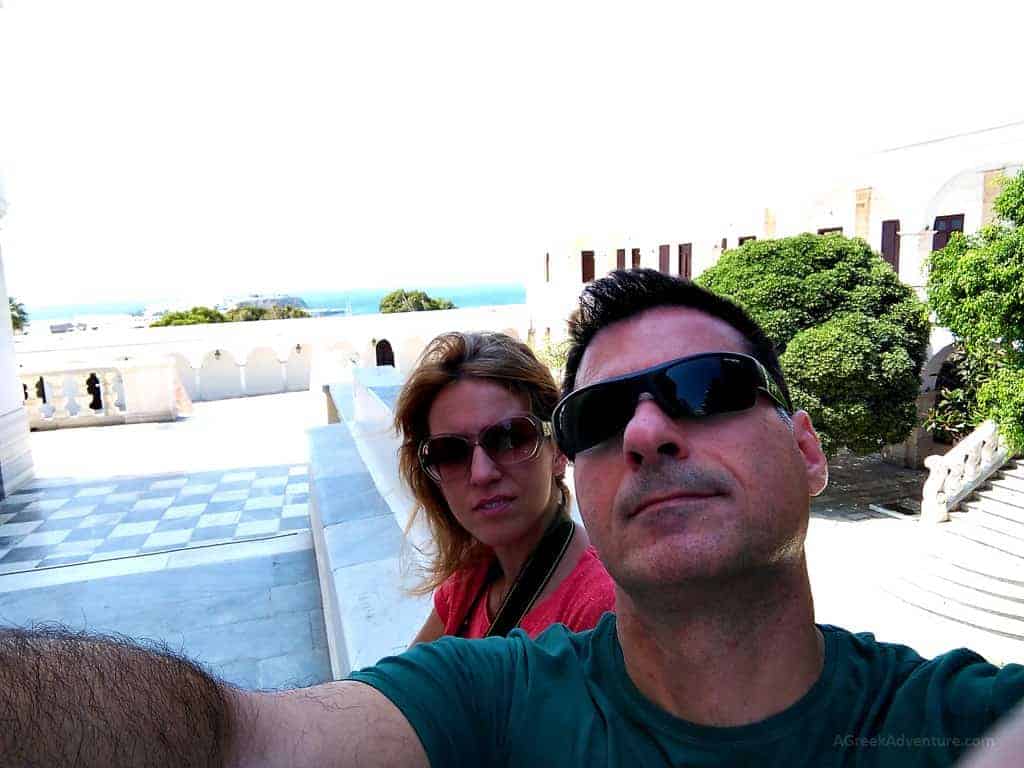 However, since the island is quite hot in the summertime, visitors must not taste new experiences that will tingle their day.
What to Taste in Tinos Greece
Go for Nissos Beer of Tinos. By all means, this reference is not "advertising" but something that a visitor must taste while in Tinos.
The culinary part of a trip is also essential; it is suitable for the reader to know that many local breweries make delicious beers in Greece!
In the last few years, a big wave of creativity has grown in Greece in many highly competitive markets.
One of them is the refreshments and beer market. We were surprised to discover them in Athens and around Greece.
A beer named "Nissos" was one of them, and we made it our goal to visit their facilities the next time we would be on the island.
After all -the Nissos brewery- is a visiting brewery, so you either make an appointment (better) or drop in. 
Aggeliki, the person responsible there, saw us from the balcony of the brewery and understood we wanted to visit the place.
She invited us in, and we happily sat around a big wooden table in an area that looked like a bar.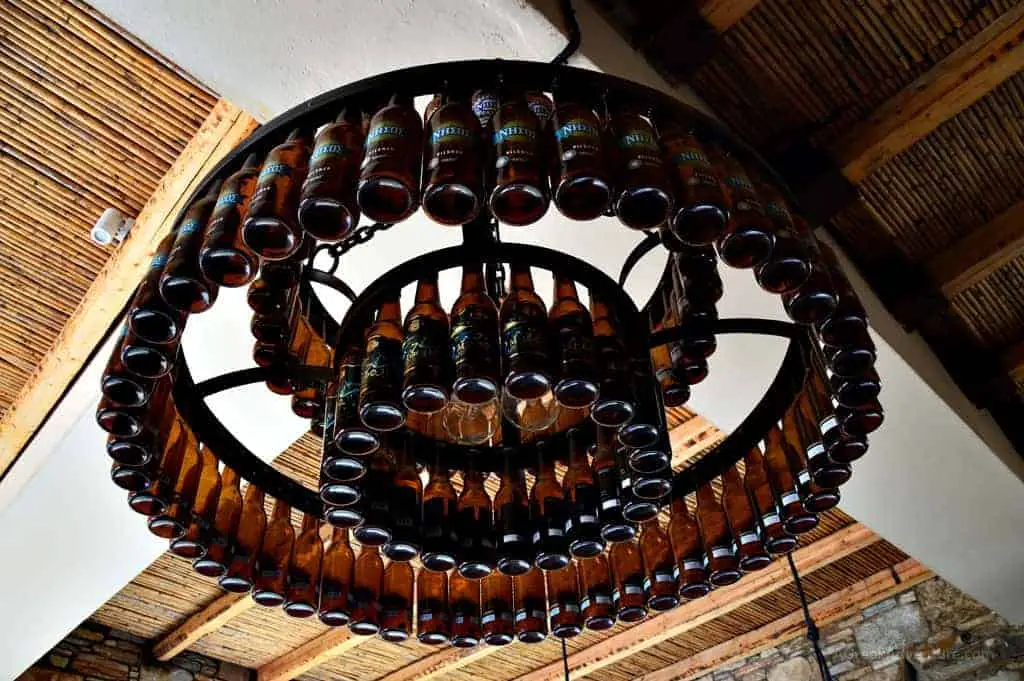 Aggeliki explained the organic ingredients used in the production of this beer. Nissos was the first Greek beer to be awarded a silver European Beer Star in 2014.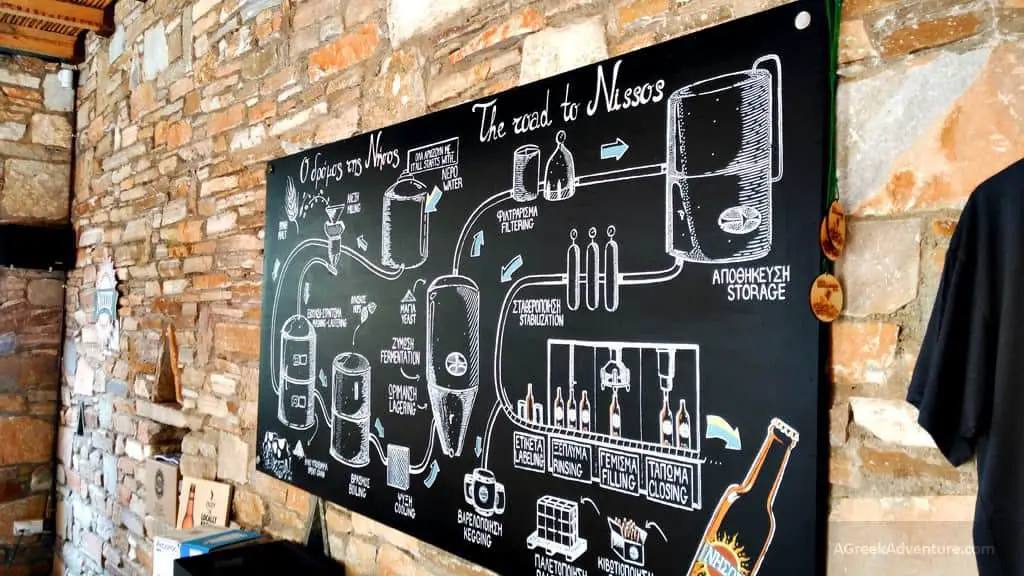 We learned how beer is made there, and we had the opportunity to taste the Black version of Nissos (there is a Pilsner and Lager one too).
Everything is made with ingredients from Greece. Nothing is imported, except the bottles.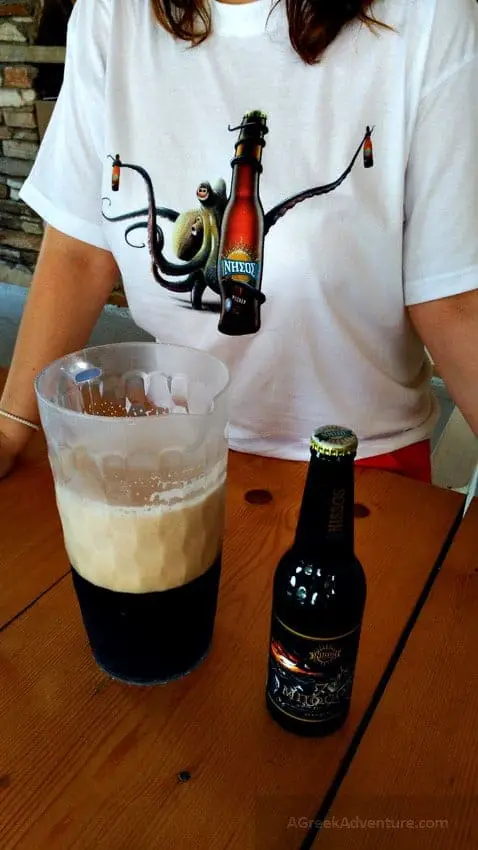 Let us tell you that the Black one is mighty. You have to eat it! It even has a firm name: 7 Beaufort.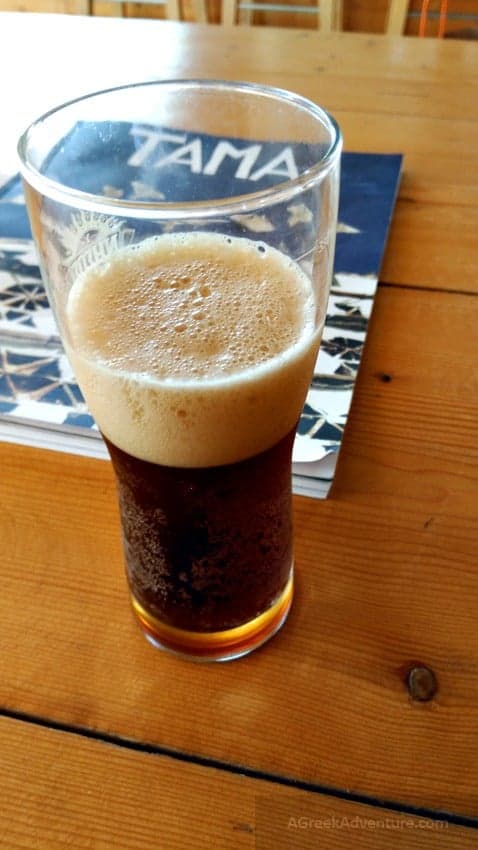 Following the great info we got, we were invited to go through the brewery and see the production of the beer as it happened.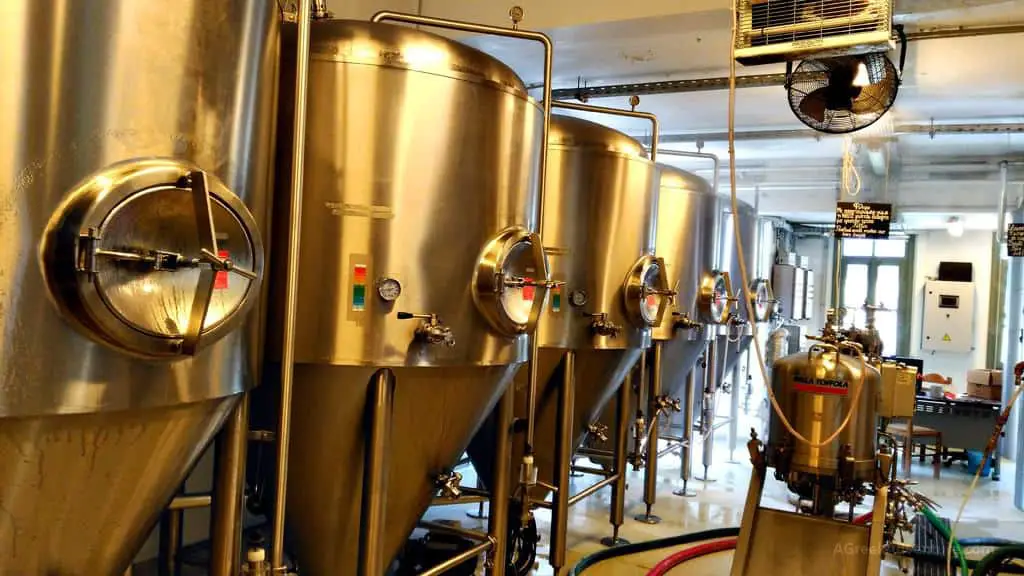 That was a great learning experience for us, along with the tasty part!
Check this cute detail.
Over the boilers, such labels provide interesting facts for what happens with the beer ingredients before and after the making.
For example, you may not know that the malt remains are fed to cows and are excellent and nutritional food for them.
This is what we like about our trips.
We want to learn something new every single time.
Three days flew away, and we had to catch the ferry back to Athens.
These couple of days were an eye-opening experience for us. Many think that some or all of the Greek islands have just "the beaches" to offer.
That is far from the truth.
Each Greek island is offered for exploration.
Each has lots of experiences and knowledge to transfer to the seeking traveler.
Have fun, and don't forget to share this article for the best things to do in Tinos Greece with your friends.
FAQs for Tinos Greece
How do you get to Tinos Greece?

You can get the ferries from either the ports of Piraeus or Rafina. The ferry takes 5 hours to get to Tinos, while only 3 hours from Rafina port. Tinos is an island in the Cyclades, so it connects directly with Andros, Mykonos, Syros, and many more.

Is there an airport in Tinos Greece?

No, there is not. You need to go to Athens and get the ferry. If you plan for Mykonos first, you can have fun and take the ferry from there.

What the word "Tinos" means?

In ancient times Tinos was also known as "Ophiussa." The word derives from "Ophis," which in Greek means Snake. It was also known as "Hydroessa." That word derives from the word "Hydor," which translates to water.

How many days to spend in Tinos, Greece?

Three days is great, so to explore the villages too. However, Tinos is a perfect vacations destination, and you can spend five or more days there.

Can I get from Santorini to Tinos?

Yes, you can. There is a high-speed ferry that takes around 3 hours to get you to Tinos. You can also choose the non-highspeed ferry that takes 5 hours.
If you liked our article about best things to do in Tinos Greece, then also read: