We wouldn't wrap up our articles for Karpenisi Greece (seen here and here) without a great referral to some of its magnificent villages. Karpenisi is an ideal destination as a trip from Athens.
We took that ride the last day before returning to Athens (to prepare for another adventure at Tinos island, so stay tuned for that article too). 
Also, read how we tested our brand new hiking gear from Decathlon, while mountaineering at one of the highest mountains of this region.
The day before that, we visited some pretty lovely villages with lots of waters and great hiking places.
Before we start with this, here is a magnificent photo of the town of Karpenisi (and a selfie) from the 4th floor of Lecadin hotel (our host).
To get a better picture of where Lecadin is situated, see this photo below. The hotel is at the village edge (middle-right), overlooking the town.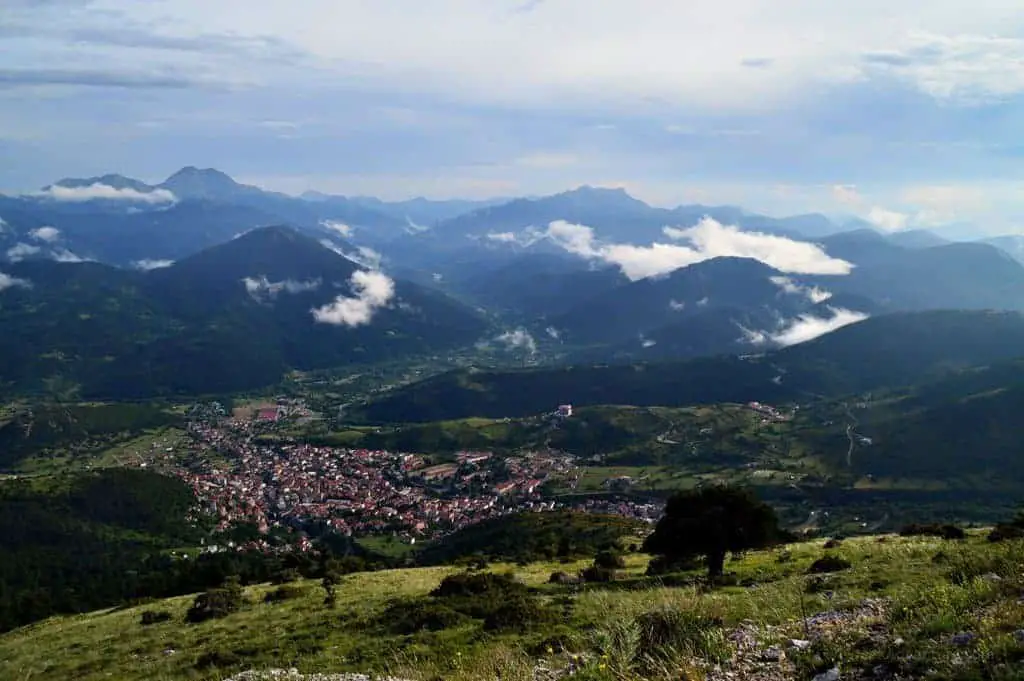 Mikro Chorio Karpenisi
Close to Karpenisi is Mirko Horio (translated as Little Village).
It is a charming village to visit and eat at some of its taverns. We were invited to dine at Horiatiko tavern. Here is how it looks like.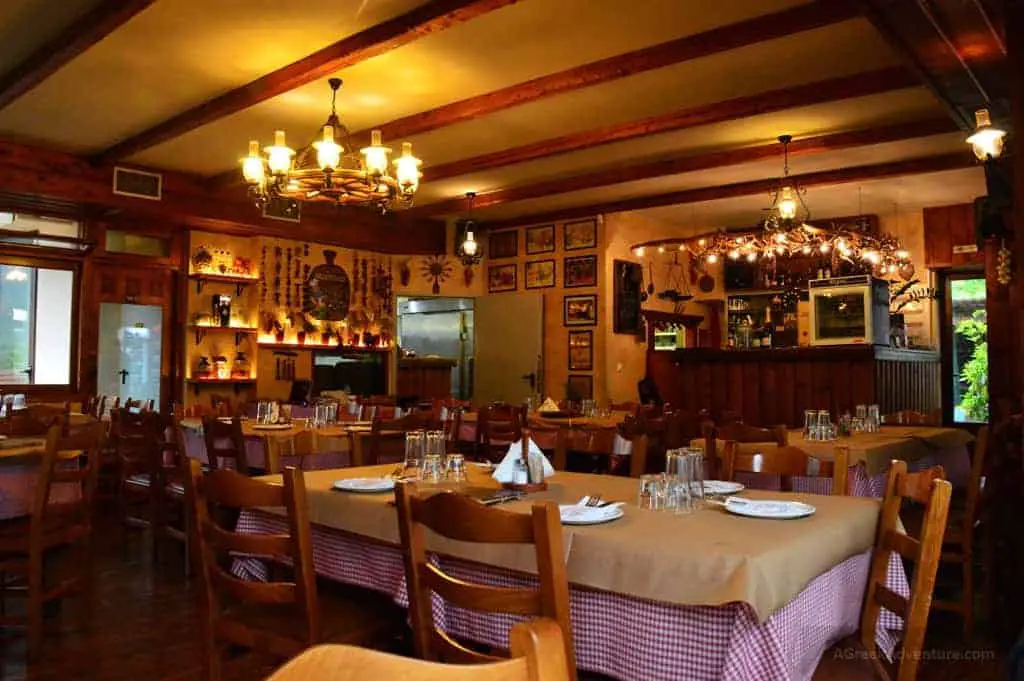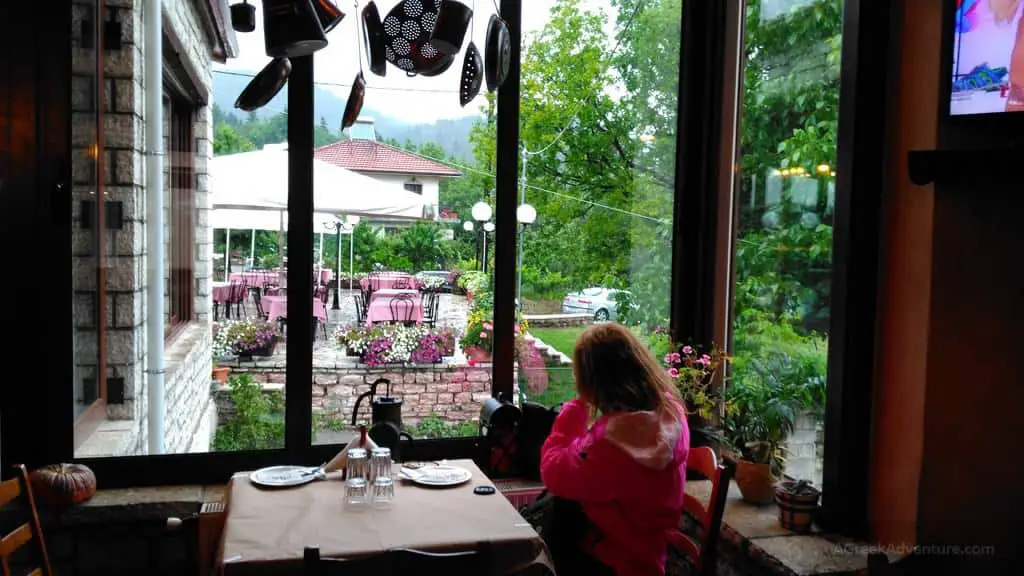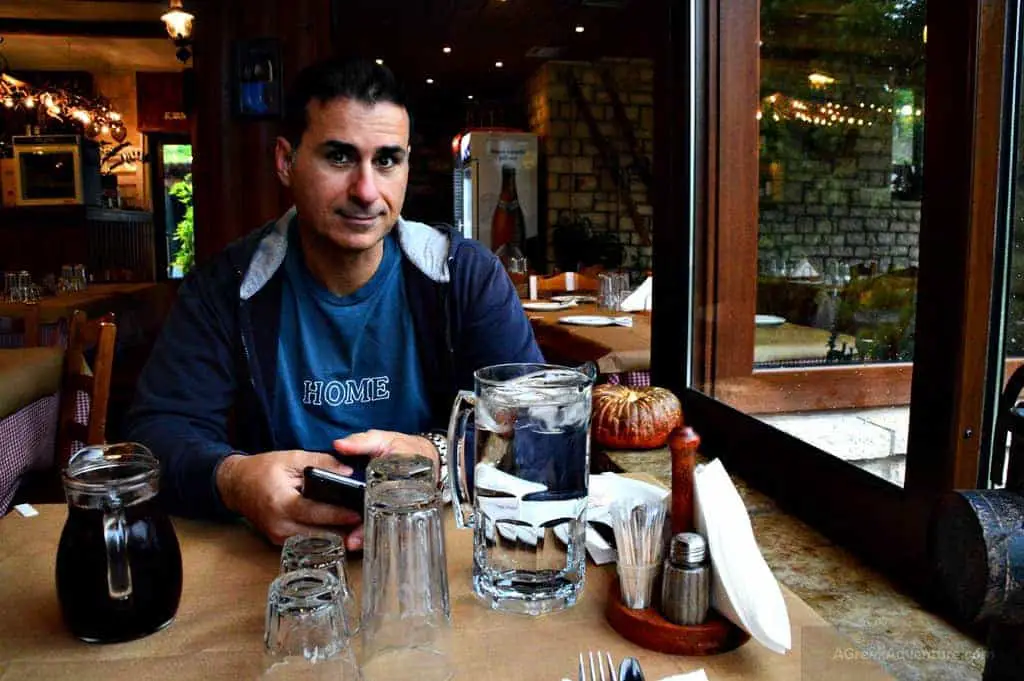 The food was delicious, all made with local products. Portions were huge.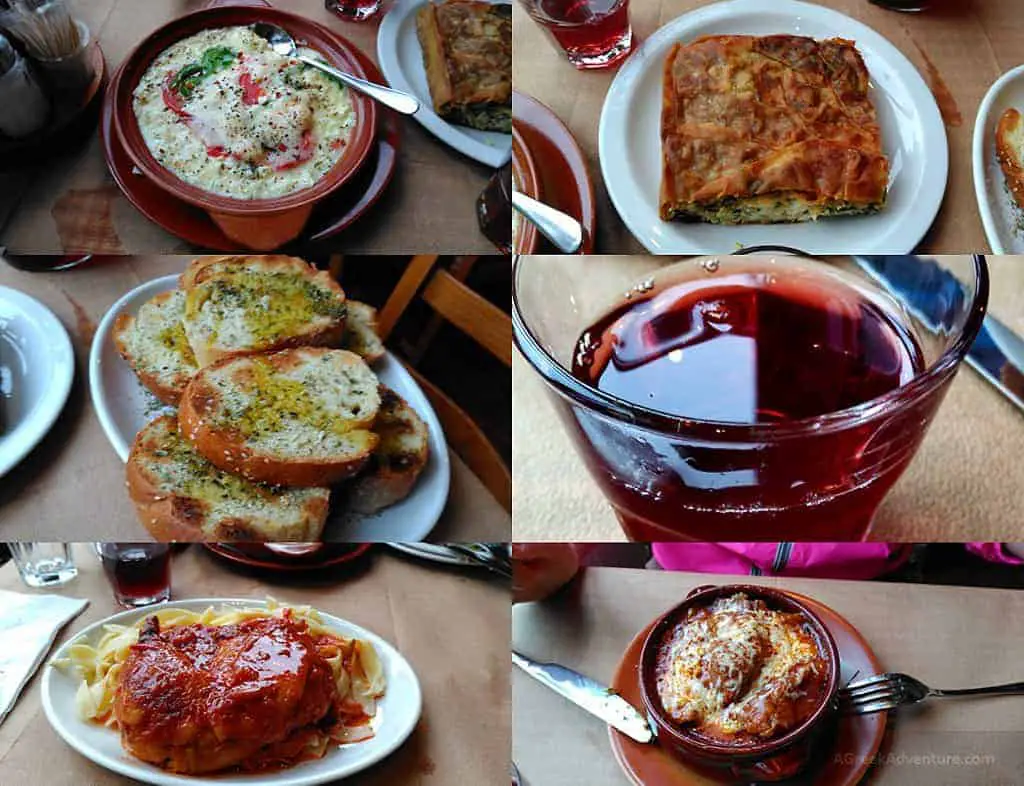 From left to right and top to bottom: We had this thing with cheese (called bugiurdi), cheese/spinach pie, toasted bread with olive oil, amazing red wine, a rooster with pasta and veal with barley.
Before reaching the bottom plates, we were semi-full, but the rooster and veal were so great we couldn't stop! If you are there, definitely stop for lunch or dinner.
Tornos Village
We visited this village since our guide Yiannis (from Trekking Hellas Evrytania) told us that it has a refectory, which functions uniquely, plus that this is a place with amazing views, even from the lowest point of the village.
Wild cherry trees are all over the place. Just reach and eat. Maria did so (and the rest of us as well).
Look at all these hiking paths just around this specific area.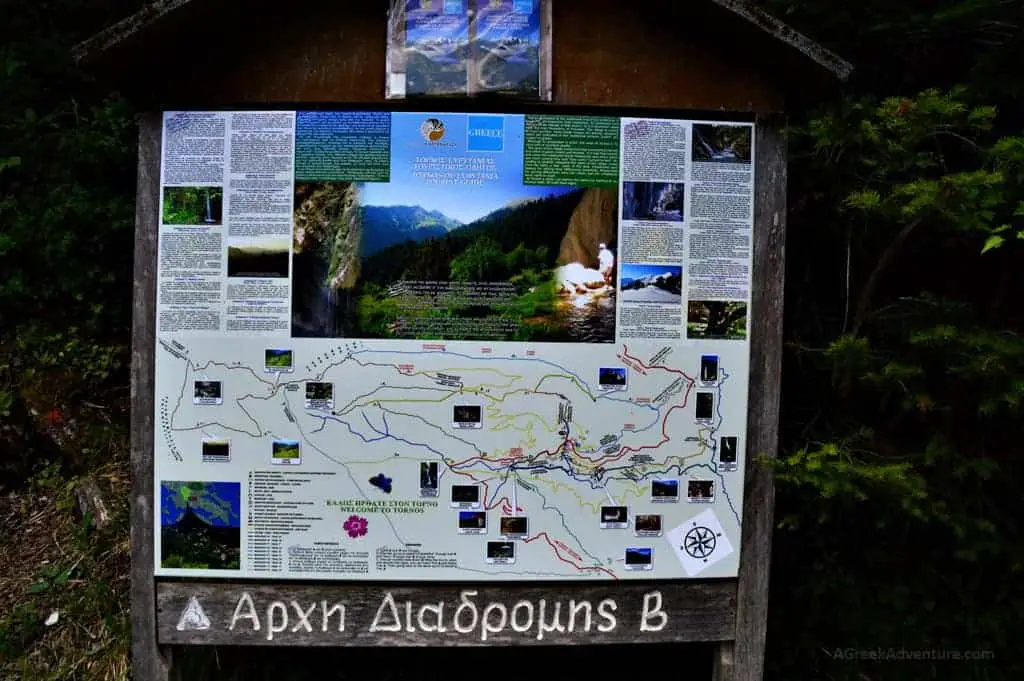 We walked towards a place called Black Cave and then we visited the village. The route towards the cave and the cave area were pretty beautiful, fresh, and serene.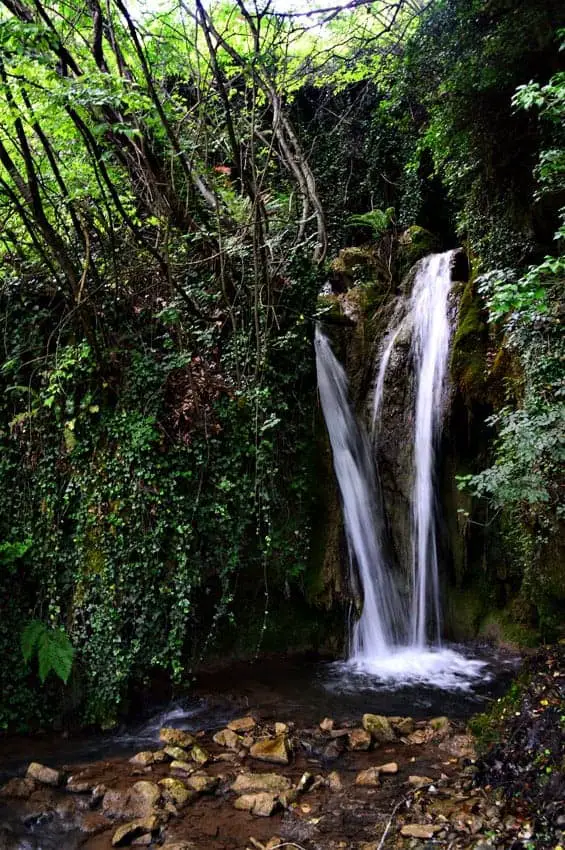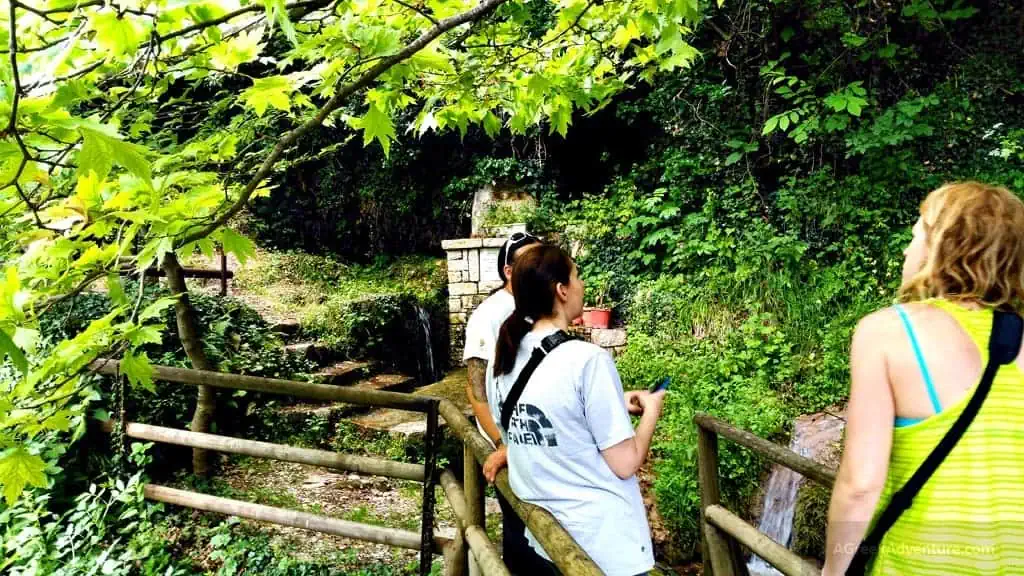 The temperature of this place was pretty low; a natural air condition! A few meters under that shade and waters, and you needed a sweater!
We spent a few minutes there, relaxing, and then we took the road to visit Torno's village center.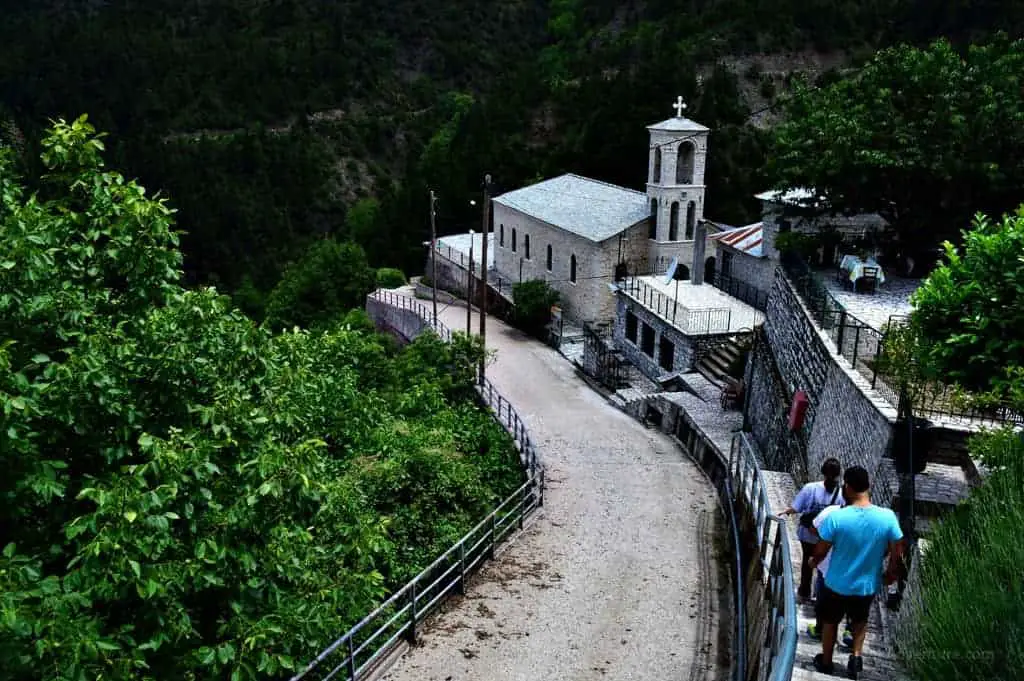 Here is the refectory we heard about. How does it work? Nobody is inside.
You call one of the cell phones (seen on the door poster). Someone gives you a code, and you type it on a pad next to the door.
The door opens, and you go inside and take whatever you like (each item is marked with a price), or you make your coffee.
You leave the money for the items consumed and get out.
Talking about trust. And it works! Someone from the village replenishes items purchased, and that is all.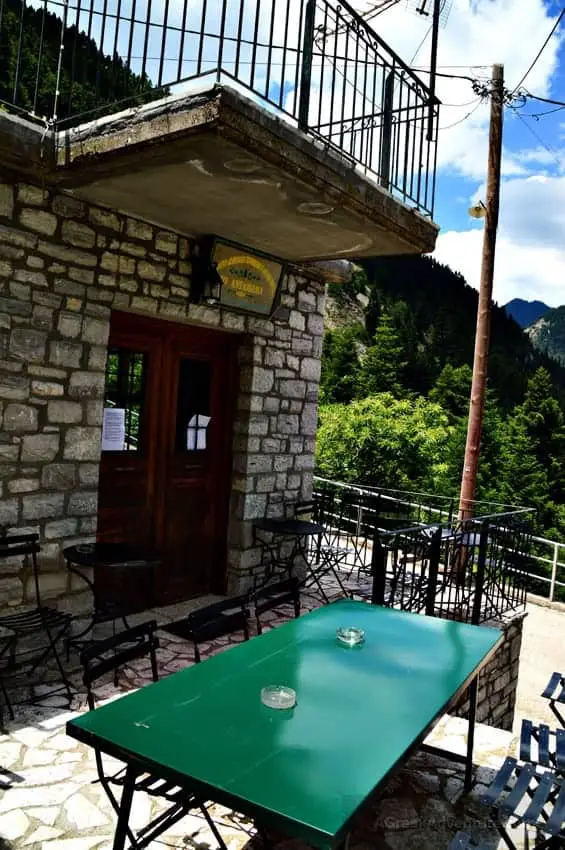 A few meters from there is a large area where you can sit and enjoy the surrounding view. Here Yiannis points to gorges and paths.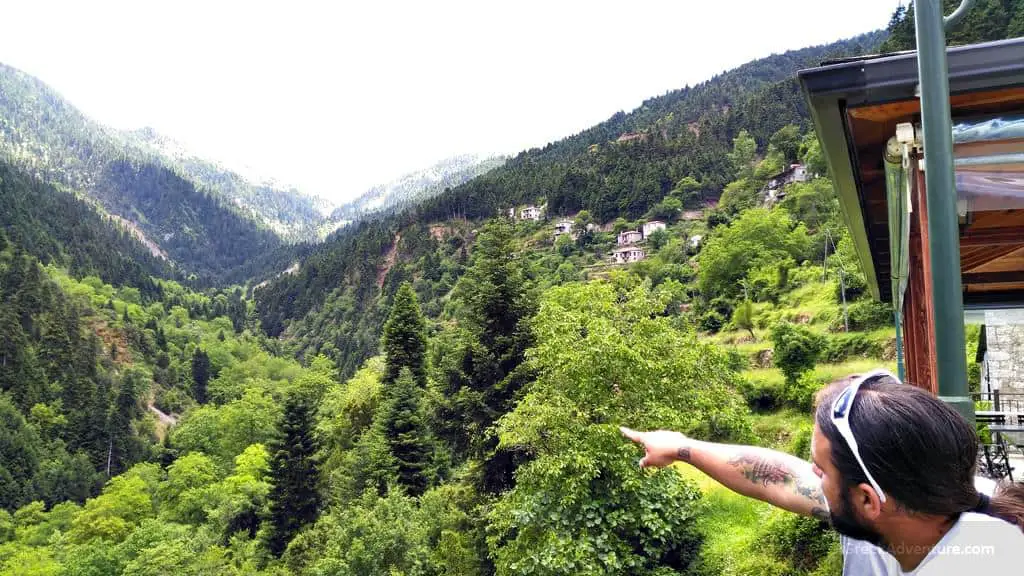 How about this view from the other side of the village square? Breathtaking, right?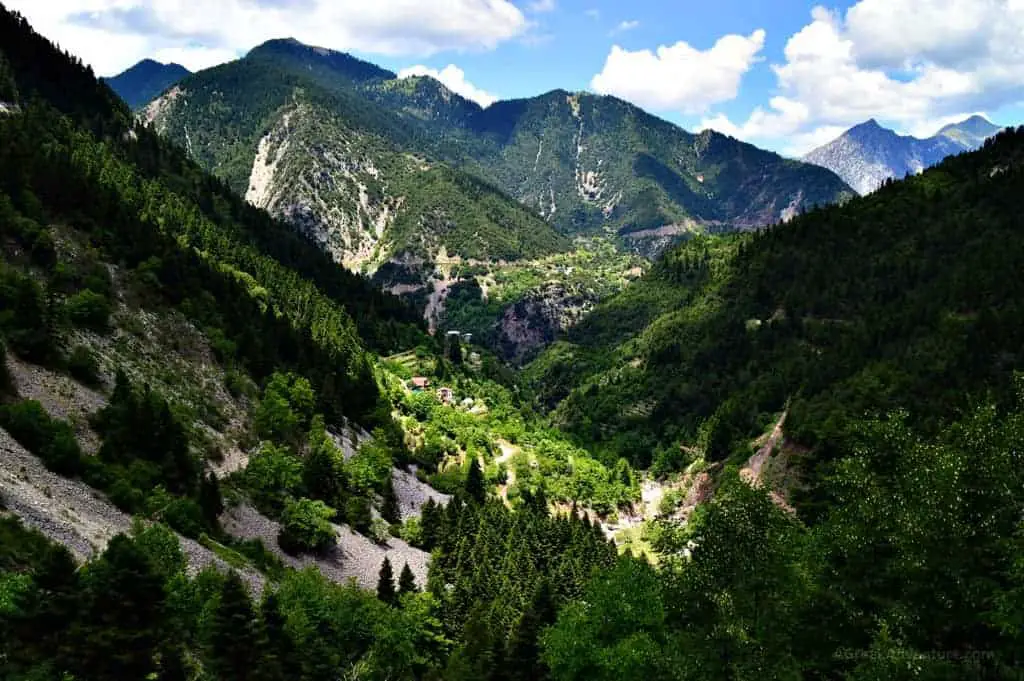 Such a small village but with so many looks.
The day after, we paid a proper visit to some other villages. 
Palio Mikro Horio Village in Karpenisi
This village has -as said- some pretty nice restaurants/taverns and a spectacular view from the church at the top.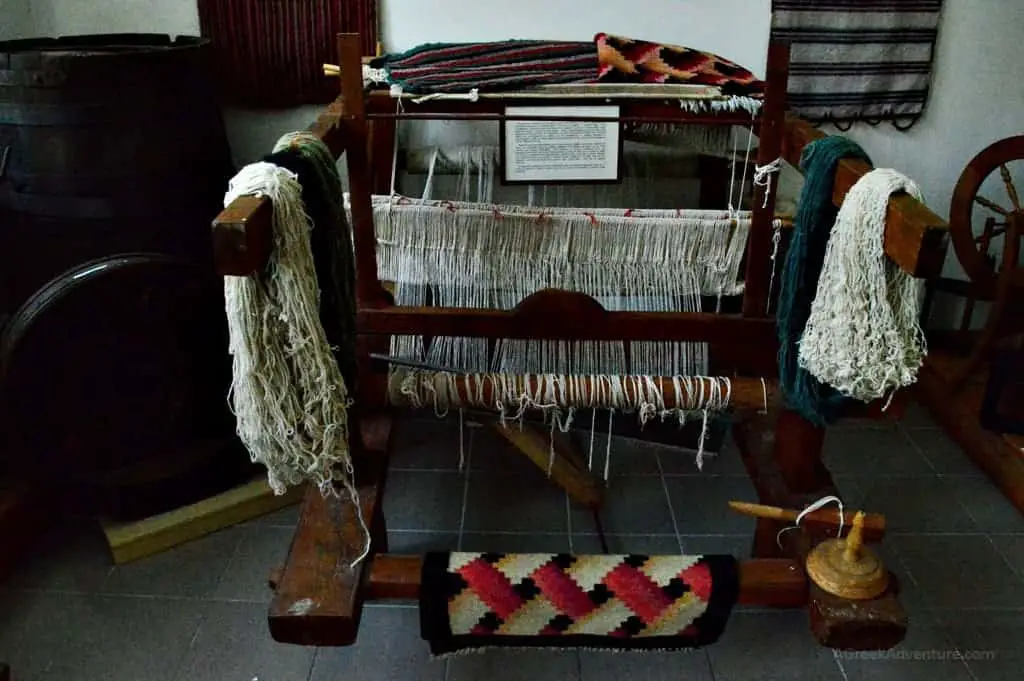 There is also a museum there where someone can find out about how locals used to live, their customs and their history (usually related to wars).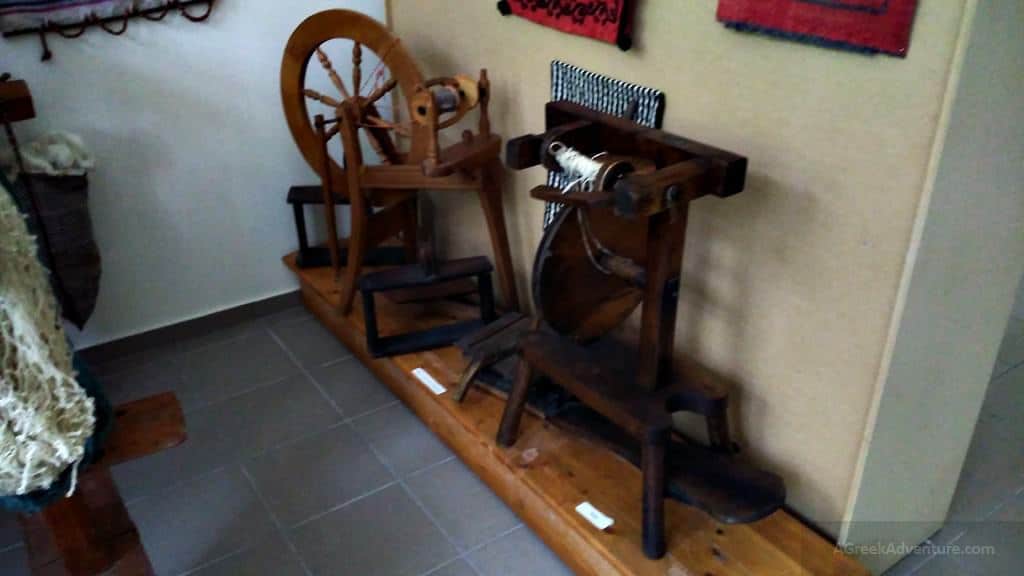 Next to the folklore museum is this church. Very serene and with a beautiful view of the area.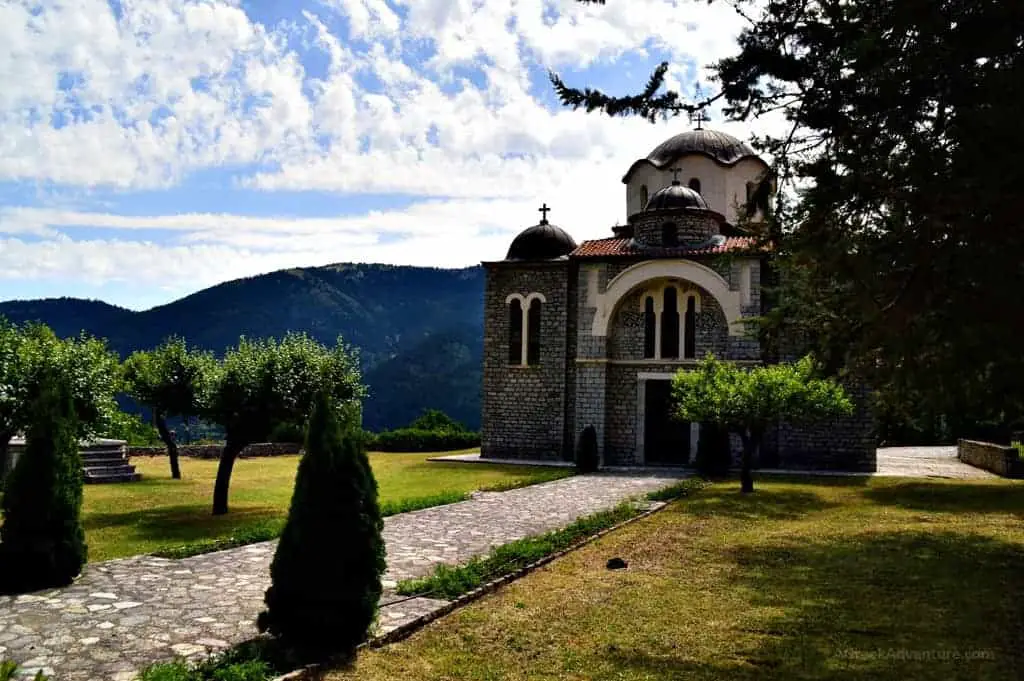 Even more, paths start from Mikro Horio.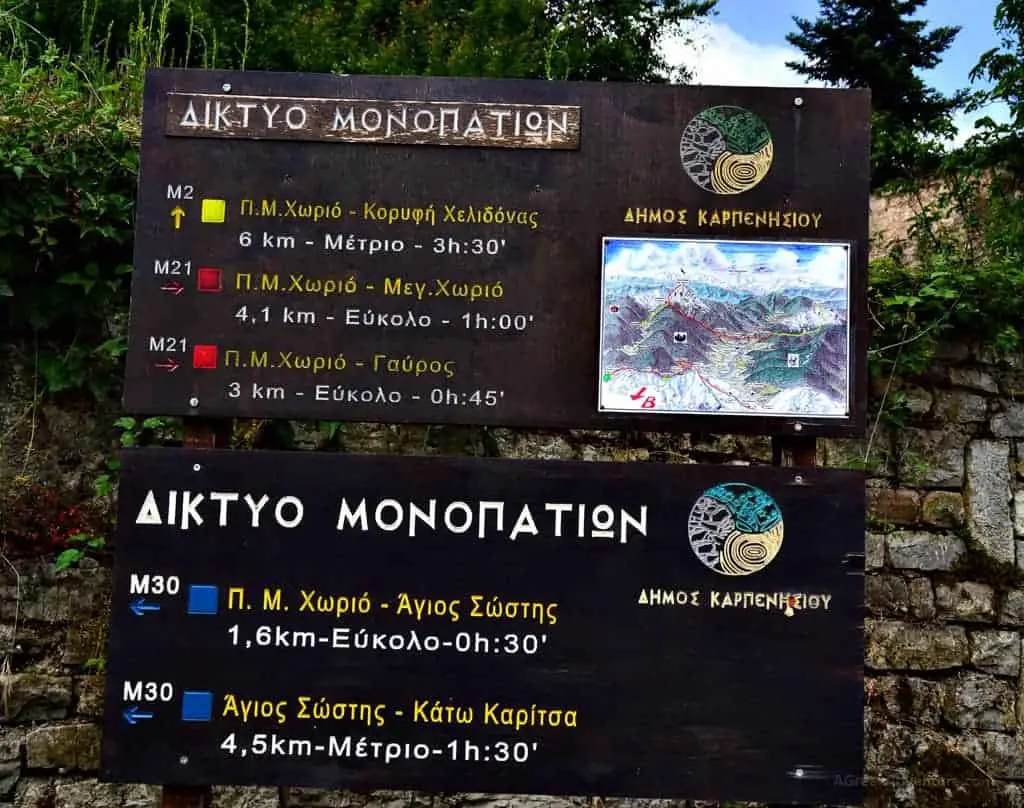 Leaving Mikro Horio, near Karpenisi, we decided to pay a visit to the famous Monastery of Proussos.
People come from all over the world to visit it. Perhaps it is one of the most known after the monasteries of Meteora.
Proussos Monastery in Karpenisi Evrytania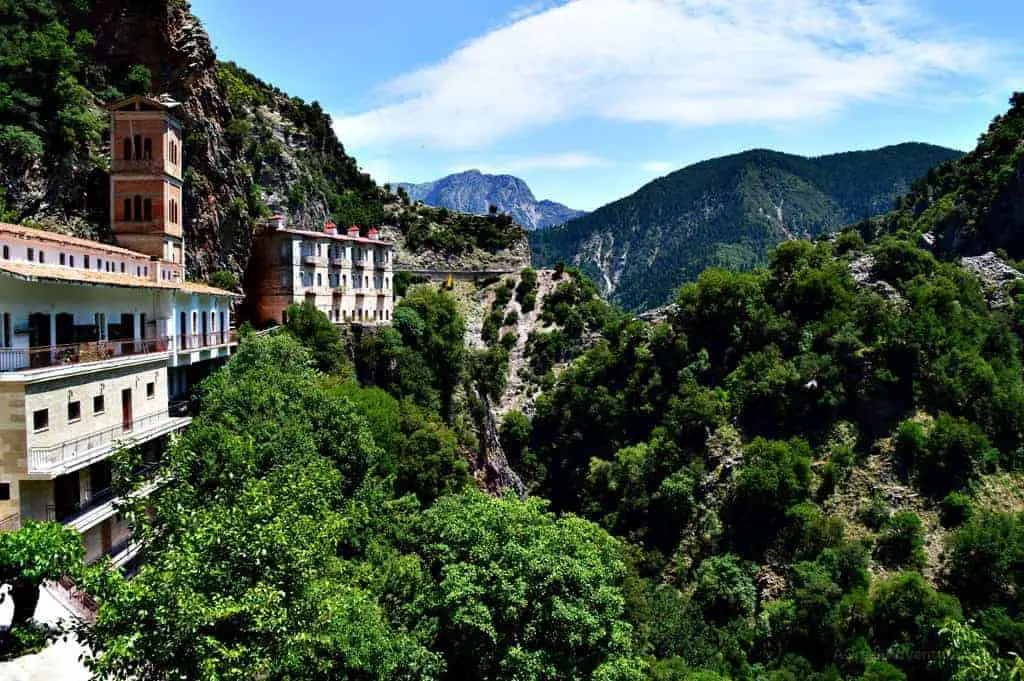 This monastery is built in a peculiar place, yet like most monasteries of this area, it is surrounded by this wild beauty.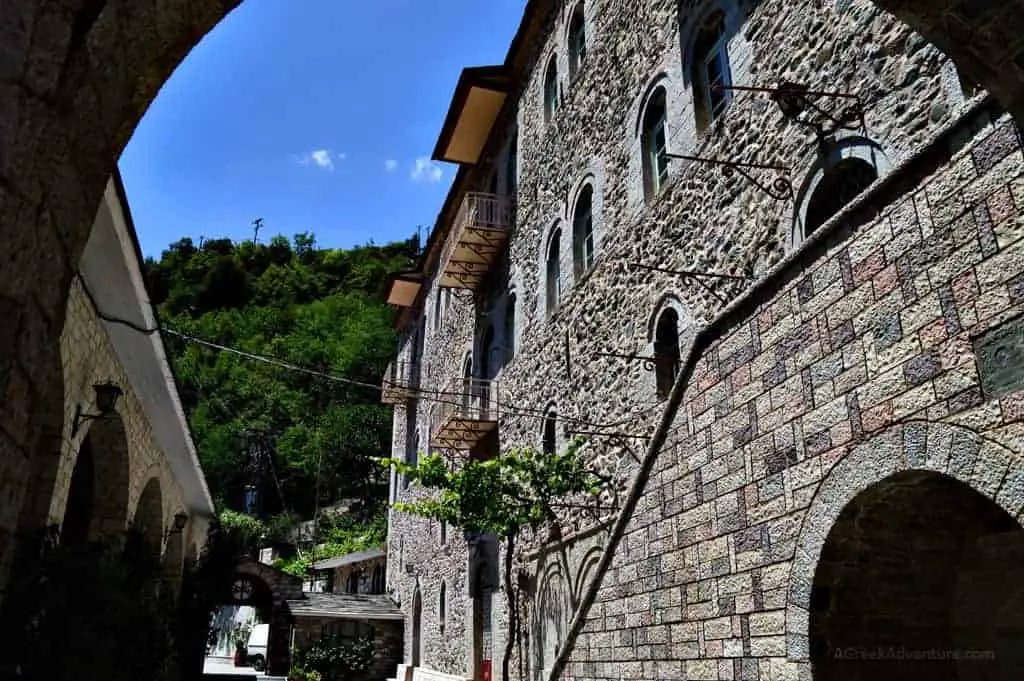 I liked these bells.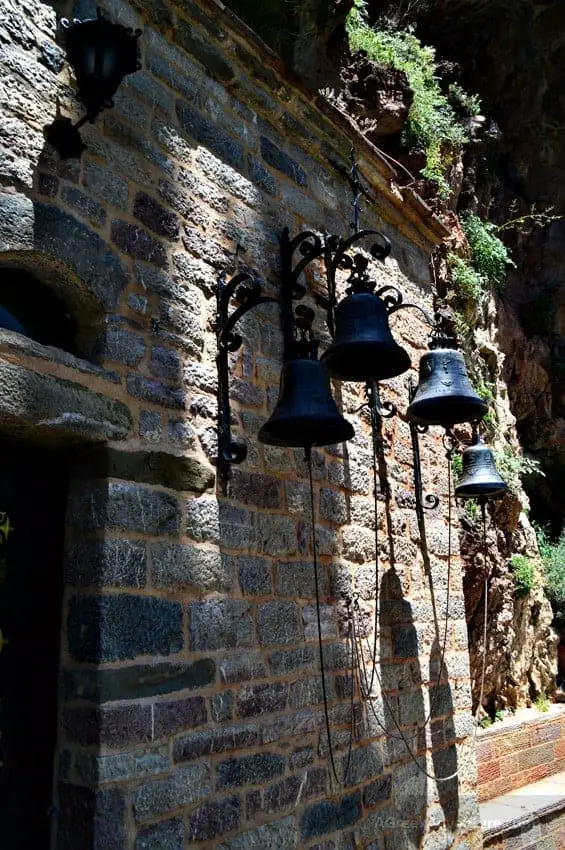 Those who are fond of the religious aspects of life will like this place.
Leaving the Proussos monastery, we decided to visit Megalo Horio (Grand Village).
Megalo Chorio in Karpenisi Evrytania
The village of Megalo Horio is a few kilometers far from Mikro Horio, so they can both be visited. Megalo Horio is famous for its paths, lots of waters, and its amazing "Galaktoboureko."
This is a delicious creamy pastry with syrup, and we were informed about tasting it.
But before that, we visited a path we found to be very interesting.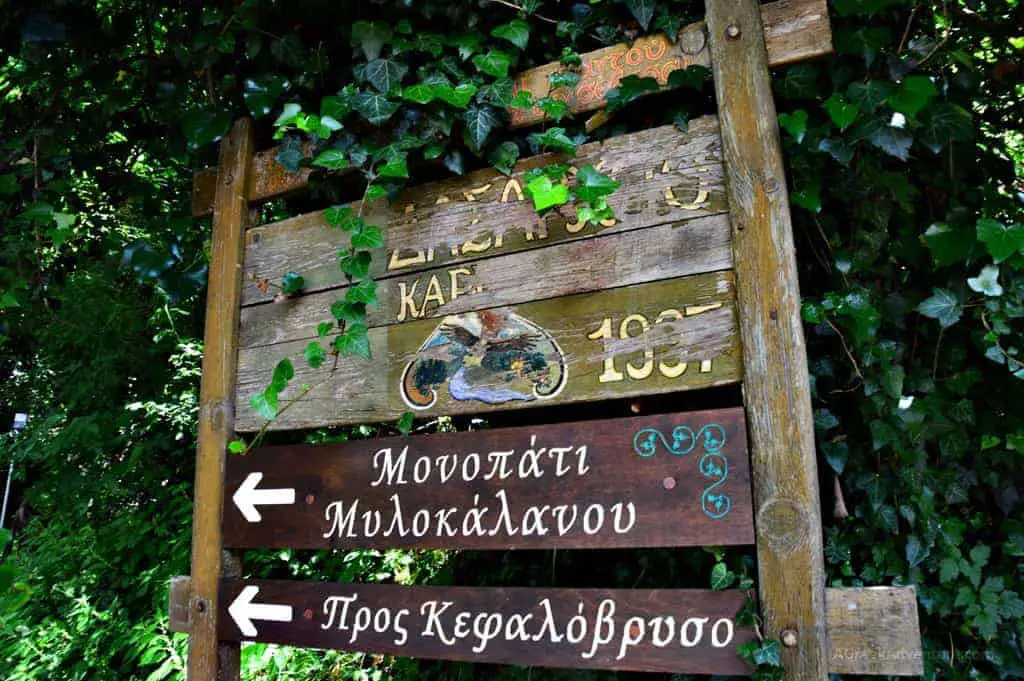 We didn't walk all of it, but even the beginning of the route was like a fairy tale. See below.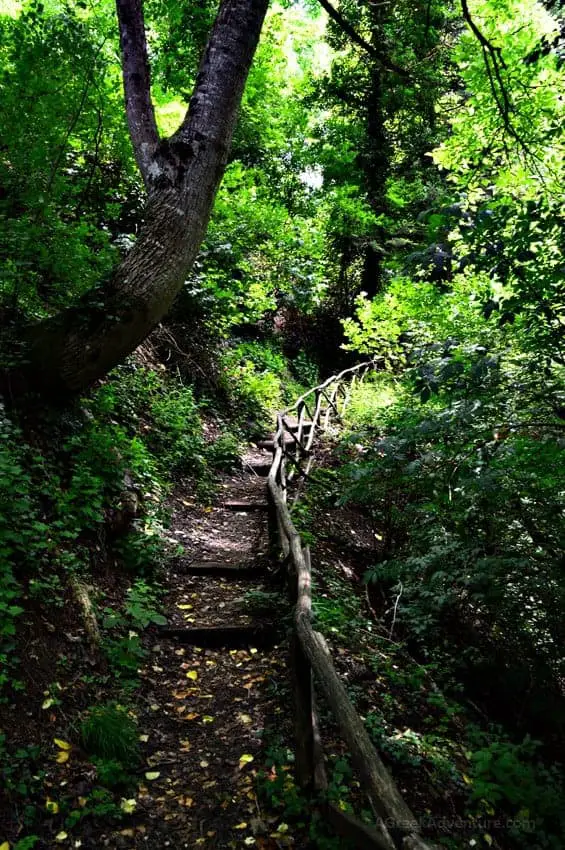 That part of the path was so serene, peaceful, and magical.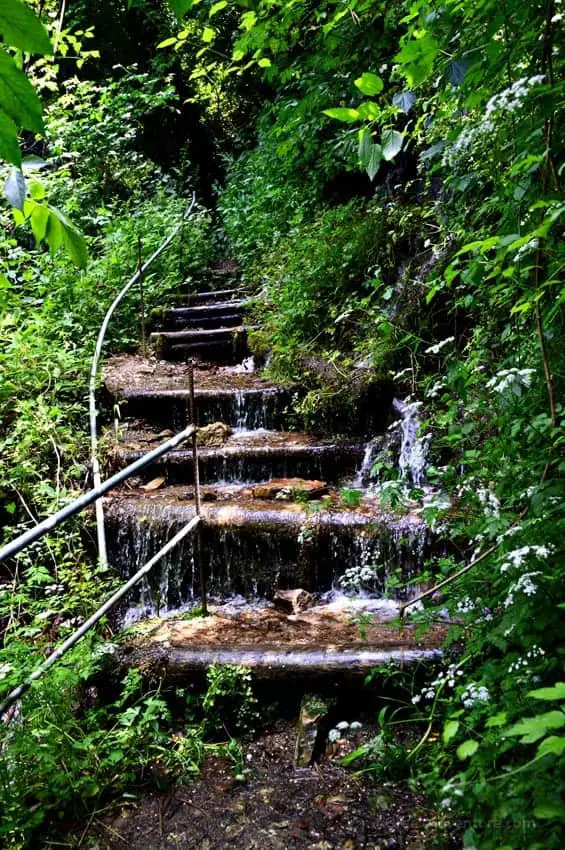 We were thinking that some fairies would be seen flying and laughing before our eyes!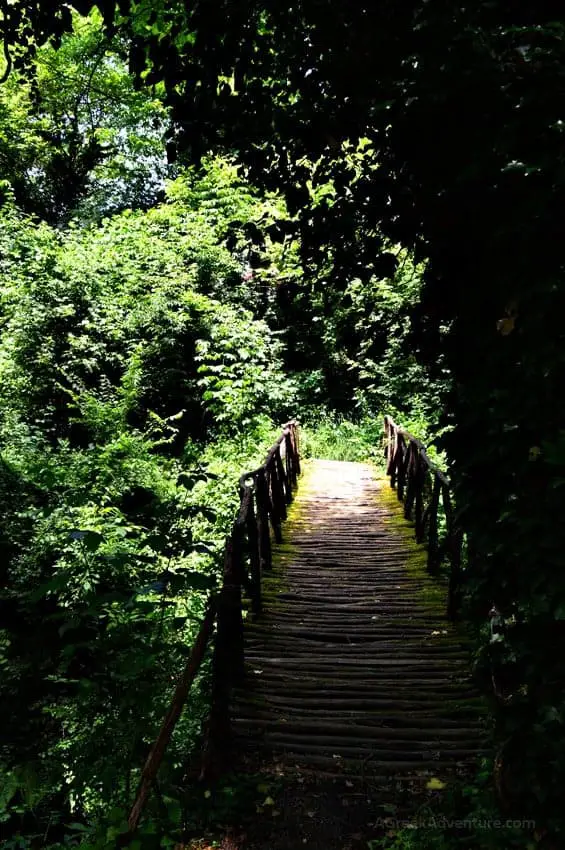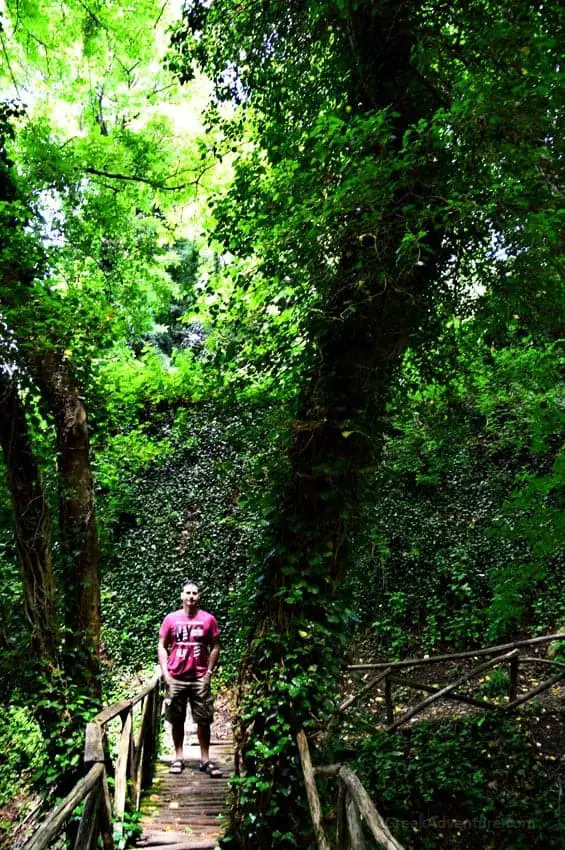 We stayed there just admiring the place, before visiting the rest of the village.
Many more paths start from here.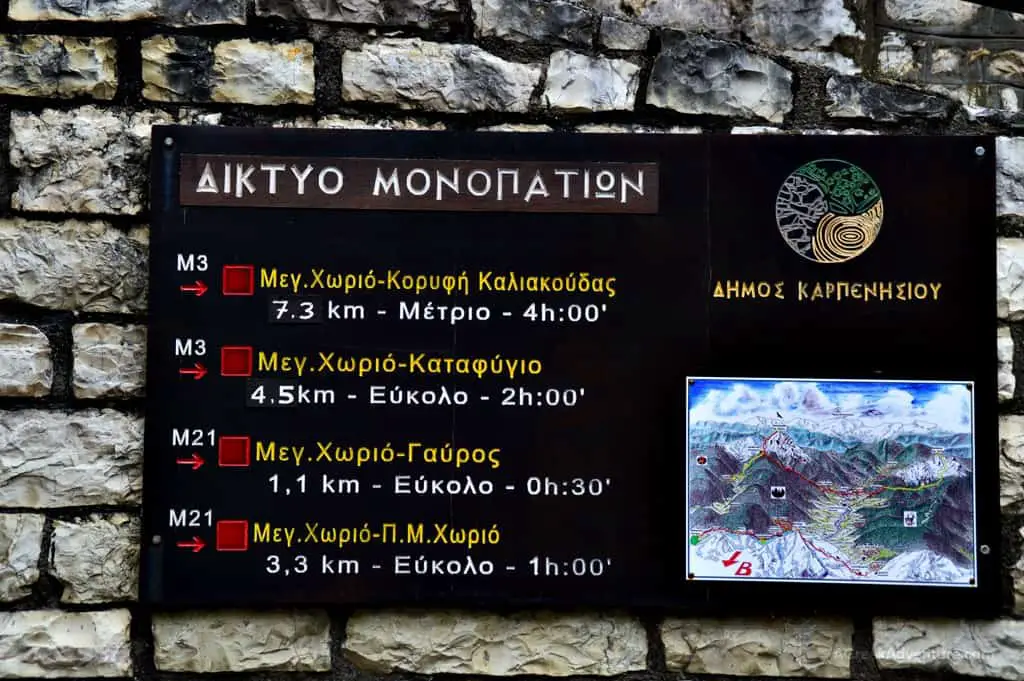 Yet it was time to taste that "galaktoboureko."
We got one along with an "ekmek kataifi." These were fresh and hot, just baked (the one with white topping is ekmek).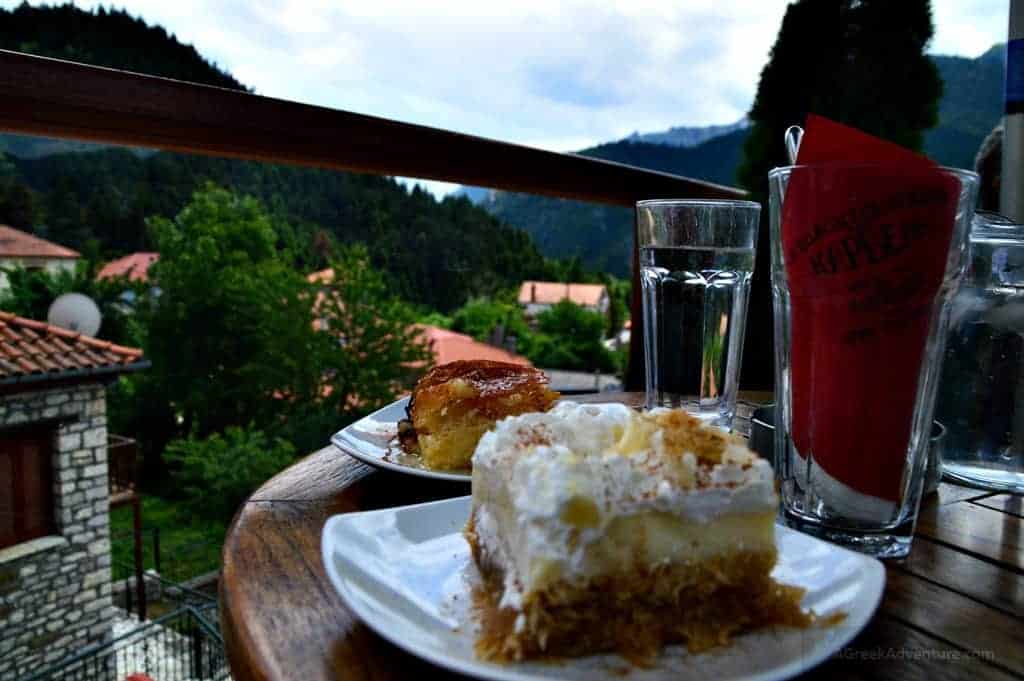 We just sat there for half an hour, admiring the view of mountains across. We think the best view is from Karvelas pastry shop and coffee house.
More tourists were coming and going, all leaving with boxes of galaktoboureko.
To walk off both of these sweets, we decided to explore the village.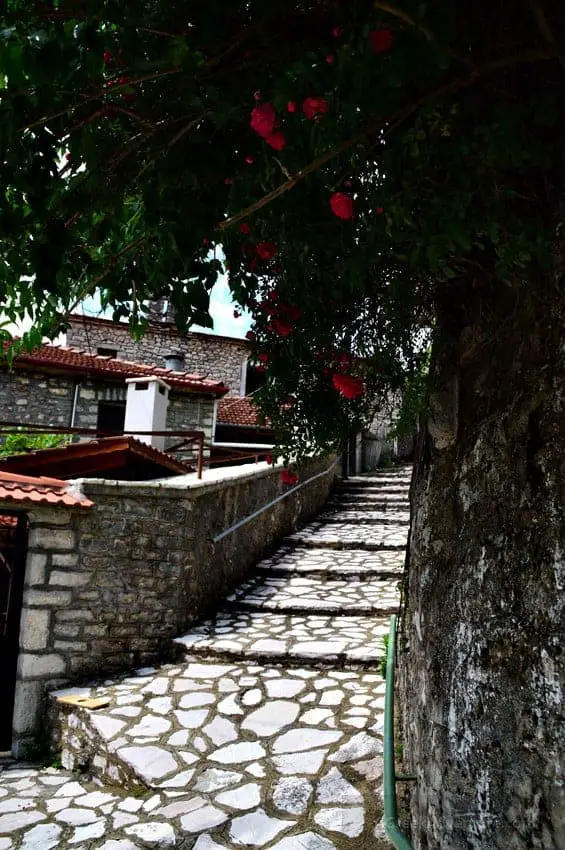 Me carrying some extra "fuel" for the trip back to Athens.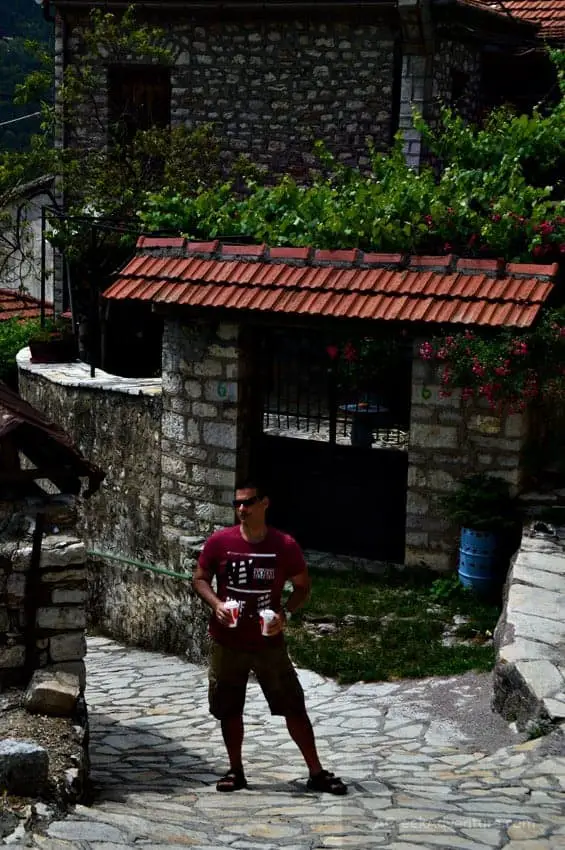 In such villages, you can buy these sticks with the curved top end. Do you know what these are? They are called "Glitses."
They are walking sticks, used (and still are in many places) by Greek villagers, especially shepherds.
Imagine them like the old version of modern walking batons. They served the same purpose.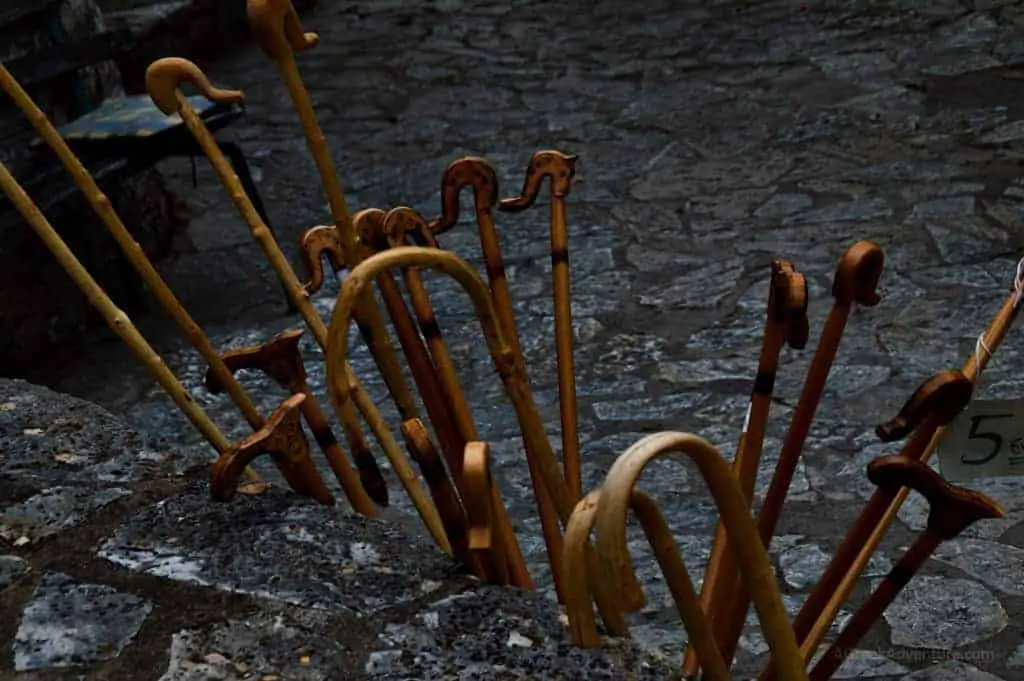 There is not much to see inside the village, but the surrounding area and hiking paths are great.
Well, it was time to leave this area and drive back to Athens.
Did we manage to cover this area entirely?
Not! Karpenisi and the surrounding area are a vast location for hiking, climbing, rafting, great food, and much more.
There is so much green and rivers and waterfalls everywhere. Not many people know that.
Locals do a great job of providing so much info to travelers there. We owe a special thanks to Sofia Flegka of Lecadin Hotel Karpenisi for her fantastic hospitality and friendliness, plus to Yiannis from Trekking Hellas Evrytania.
A great guy who loves his place and knows tons of historical facts and secrets of nature!
Share this article!