Are you thinking of a Greek Yacht Charter service for this summer and your sailing holidays? Most of us have grown up fascinated with things like dinosaurs, castles, princesses, and pirates.
Cruising with a private yacht, either a skippered or crewed luxury Greek yacht charter is one of the best ways to experience Greece's offers.
No matter which Greek island is your charter destination, you will experience all the natural beauty of remote islands and beaches in the best way.
Why Choose a Greek Yacht Charter Service?
As we age, these things fade into distant memories that have shaped who we have become as our old skins shed into new.
But some dreams and desires are still within reach for us, more now than they ever have been before.
There's no better way of embracing the spirit of adventure than setting sail on the open seas by taking a yacht trip around Greece's Mediterranean islands and coastlines.
Leaping and deciding to charter a yacht can seem like an overwhelming idea for anyone who hasn't done it yet.
For those who have gone through with it, they most remember the taste of red wine on the upper deck.
They remember the feeling of wonder as you dock in ancient ports and gently rocking to sleep to the rhythm of the sea.
Can I Find a Great Greek Yacht Charter Service?
Greece is a perfect destination for beginners and seasoned pros alike – both are well catered for in the rental market.
Chartering a yacht in Greece is affordable and straightforward, and there are so many islands ready to be explored, both on and off the major tourist routes.
This quick guide will assure people who consider this epic journey but don't yet know where to start.
Have the best sailing vacations in this lovely country.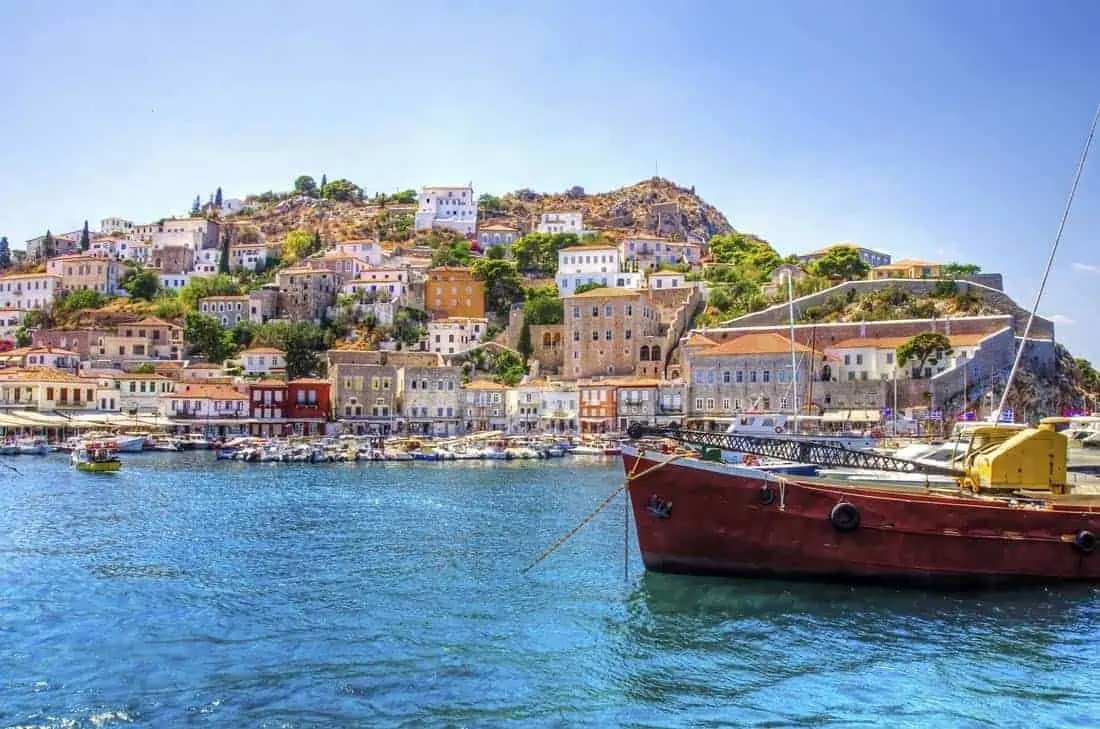 Crewed or Bareboat Greek Yacht Charter?
One of the first considerations will depend on your comfort in navigating and taking control of the vessel. That will lead to the decision for either crewed yacht charter or bareboat Greek yacht charter service.
For those searching for an "all hands off deck" approach where you can truly relax, the best option is to take a crewed boat.
Of course, the price is higher than going it alone, but if you're looking for a trip to de-stress, then there's no better way.
For a crewed trip, a professional captain will be open to listening to what you want from your route.
He will have the local expertise to offer advice on local spots to swim, drop anchor, and gaze at the passing coastlines.
With your chef, you'll get to enjoy the first waft of fried onions drifting up to you from the kitchen while you relax with friends or family in the evening sun.
For those looking for more adventure, DIY sailing is a better option.
It takes more organization, and you'll most likely need a license, but you genuinely get to feel like the master of your destiny.
This option means you'll be breaking out the maps, hauling the mainsail, and steering your course at your own pace.
The first island you encounter could be a paradise you don't want to leave, or maybe you want to put in the miles and cover some real distance.
Either way, your journey is your own.
Size and Style of Private Sailing Greek Yacht Charters
Is bigger always better? Well, that depends on what you want.
Extra space on board is always great to have; it means less climbing over each other for cooking and getting up and down onto the deck.
But the luxury of space comes with the burden of size.
If you're going bareboat, it can be more difficult to anchor down into the harbor.
But if your yacht is crewed, the extra space will be much appreciated, and the captain will have perfect handling in the marinas.
Another more fun thing to consider is whether to get a catamaran or a classic yacht.
A catamaran has a more extensive berth, which gives more opportunities to sunbathe, picnic, and walk around on top of the deck.
Classic monohull yachts are cheaper to rent, easier to steer, and the mooring costs are more affordable.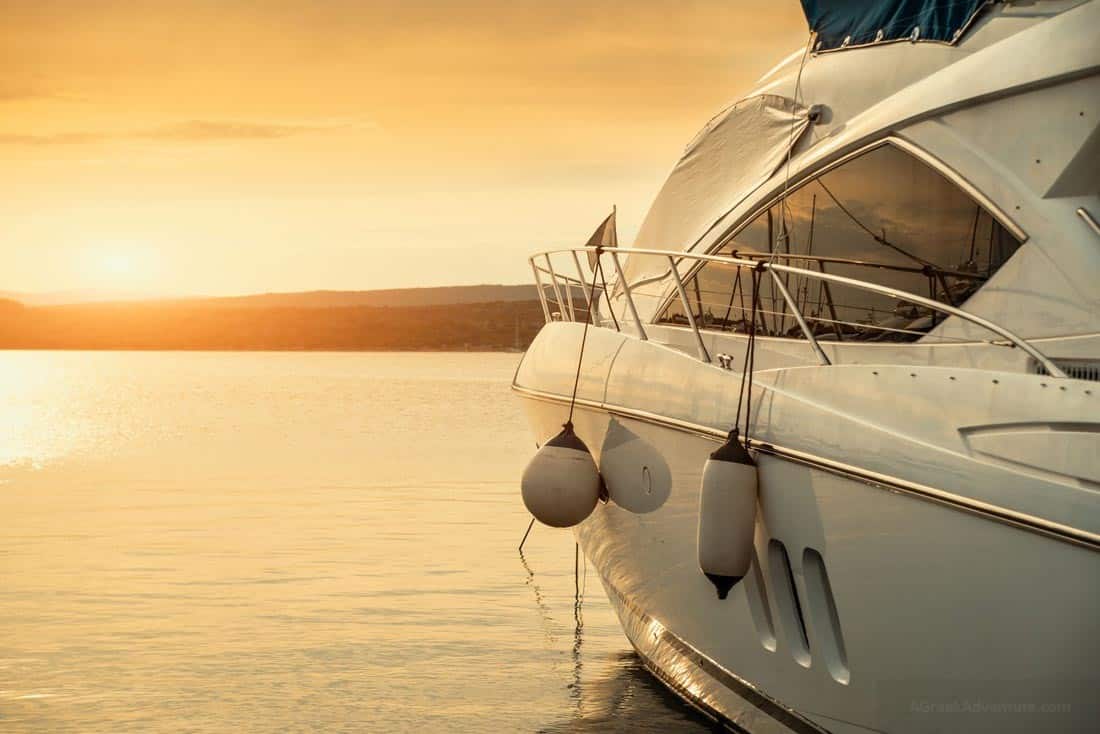 Best Time to Charter a Yacht in Greece
Greece is an excellent location for any time outside of winter. Given Mykonos is one of the "must-see" destinations, we'll base the statistics on a trip that makes a stop at Mykonos.
See this post for the best time to visit Greece.
The season starts as early as late March, where the average temperature starts to creep up towards 15° C in Mykonos.
While you'd want to bring some warm clothes for the evenings, you definitely won't be fighting for beach space.
Locals will be more open to having chats with visitors in the offseason.
By July, you'll be looking for that cool ocean breeze with temperatures wavering between 21° C and 30° C over a glorious 14 hours of sunshine a day.
The sea will be warm 24° C meaning swimming trips can go on almost forever.
As summer draws to a close, the tourists leave with the change of season.
Missing out on Greek autumn is a big mistake, though.
The local cuisine is enriched by the harvest season, the temperature drops to a smoother range, but the water temperature stays warm for the next few months.
The temperature ranges from 18° to 27° C in September, and there's still plenty of sunshine hours and autumnal sunsets blazing with color to look forward to.
With this in mind, the best time to go might be September if you have no other restrictions.
Where Should I Get a Greek Yacht Charter From?
Greece is packed with stunning locations that you can charter from.
The best idea is to pick somewhere that suits your itinerary.
The Cyclades Islands are only a stone's throw from Athens, and their famous Mykonos island even has an international airport to cut down on excess travel time.
It is worth considering paying that little bit extra to fly to a more significant island and charter a yacht from there to begin your trip.
Navigating in and out of bigger cities like Thessaloniki and Athens can be a bit more painful than departing from the calmer marinas of the Greek islands.
This is particularly important if you want to visit some of the Ionian islands west of Greece, facing Italy in the Ionian Sea.
Sailing from Athens to the Ionian islands is quite time-consuming, and it would be worth flying to Corfu to sail south down the Ionian coast.
Off-Season Benefits and Drawbacks of Greek Yacht Charter
The most obvious upside to traveling in the off-season is sharing the seas, beaches, and restaurants with fewer tourists.
You'll get to experience things more as the locals see them, and, best of all, at the prices locals pay.
The same goes for yacht rentals; prices will be significantly lower in the off-season.
The sweet spot of the off-season ends in mid-late October.
Then the number of tourists visiting islands and coastal areas drops.
It drops so low that restaurants, cafes, and other tourist amenities will begin to close their doors after the long busy season and rest for a few months until tourist numbers surge again.
So if you want the luxury of spontaneity, to be able to shore up at random beaches for some Greek cuisine, it's worth going in the mid-season rather than the offseason.
Considerations for Greek Yacht Charter with Children
Kid's trips are an enriching way to create memories for the family's future.
Show your kids more of the wild, wide world and expand their minds beyond their familiar settings. But it's not always easy.
Taking kids on a trip means reconsidering all of the above topics in a way that involves the nuances of what it means to be a responsible parent.
First, some of the more fun things you should think about are whether boats have the equipment or the equipment options such as snorkels, water slides, board games, and all the other things you might need for entertainment.
You wouldn't want kids staring at a tablet screen all vacation, would you?
As yachts go up in price, they match that with luxury; some yachts will have home cinema systems, whereas others will be pretty short on extras.
Safety will always be a significant factor when your children are involved.
Some boats will have options of a stair gate if you have a child or a few that you want to keep from running up and down the steps to and from the deck.
No one wants to be spending their precious holiday hours worrying about a trip to A&E.
Another thing to think about again is taking kids with a crewed or bareboat setup.
Having a crew means less navigating, cooking, and cleaning, all things which can lead to a flare-up of tensions within the family if you're having a tough day.
For others, having a crew around might make them feel less intimate, and they may be up for the challenge and pleasure of involving kids in the daily duties of cooking, cleaning, and navigating.
It all depends on the dynamics of each family – you know your own people best!
Renting a boat is becoming as easy as booking an Airbnb or hailing a taxi through a smartphone.
Of course, there's still great responsibility, but like any other new adventure, it's something that people sink into and begin enjoying the ride.
After the first few hours, you'll feel like a pro.
Even though this guide is short and sweet, hopefully, it has enough information for you to feel more confident taking your first steps in the tracks of many other people before you have chosen.
The popularity of going on with a Greek yacht charter speaks for itself, and it's sure to be an adventure you'll never forget.
Also, read