Are you planning things to do in Hydra, Greece? Greece is most famous for its historical sites, the Olympic Games, Greek philosophers, poets, and leaders.
This Saronic Gulf island had a significant role in the Greek War of Independence of 1821. Greece can also be a fascinating place to visit on vacation.
This is especially true when it comes to the beautiful Island of Hydra, which is just around the corner of Athens. So let's take a moment to discuss a few exciting things to do in Hydra Greece.
How to Get to Hydra Greece by Ferry
There is no flight to Hydra, Greece. It is a tiny island. The ferry departs from the port of Piraeus and is served via Hellenic Seaways company, and the same ferry delivers to the Saronic islands.
The ferry takes 1 hour to get to Hydra island harbor; yes, it is that close. Depending on the season, prices range from 55 to 60 euro p.p.
Check prices and book ahead from here or from here.
The thing to know: No external cars and other motor vehicles are allowed on Hydra. The ones that you may see are permanently on the Island.
What Things To See on Hydra Island, Greece?
Hydra, Greece, is most famous for its beautiful architecture, captivating nightlife, and cosmopolitan character. It is a picturesque town. Part of its fame is related to the movie "Boy on a Dolphin" with Sophia Loren.
Due to its "quiet" style, the Island attracted artists seeking peace and inspiration. The famous Michalis Kakogiannis created a movie named "Girl in Black" on the Island.
Other famous people that preferred Hydra, Greece was the Nobel award winner George Seferis, the Hydraian painter Gikas, the modern poet Miltos Saxtouris, the writer Henry Miller, the Australian writers George Johnson and Charmian Clift, the English painter Anthony Kingsmill, the American painter Peter Nolan, the Norwegian author Axel Gensen and the American poet Allen Ginsberg.
As the saying goes, there is more than what meets the eye, this is what one should expect, and thus Hydra is regarded as the most breathtaking harbor on the Greek Island.
The moment one gets the opportunity to visit the magnificent Island of Hydra, Greece, it is a chance to get to unwind and one of the best sightseeing adventures that you can dream about.
The Island being part of the larger Saronic Island and is one of the closest islands to Athens.
It will take approximately two hours from Piraeus to reach the Saronic Island of Hydra.
What makes this Island stand out from some of the other available islands in Greece is that one will hardly see any vehicle in the highland. The primary mode of transportation is the mules and donkeys with so many water taxis.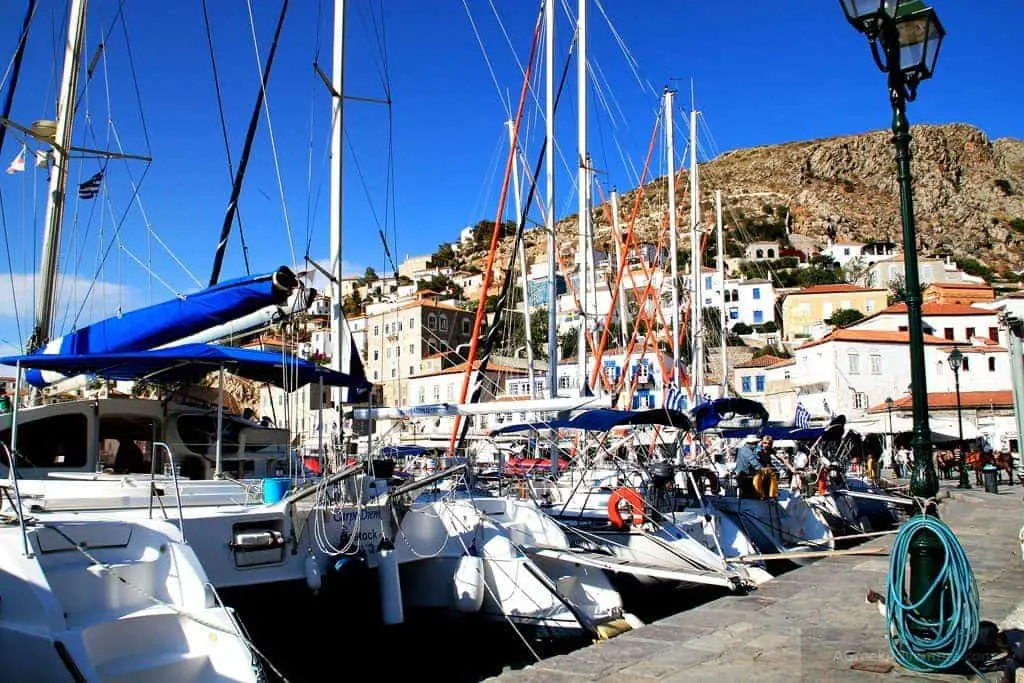 Aside from relaxing at its cozy beaches, many choose to sightsee by hiking around its many walking paths, which lead to impressive spots with views of the sea and historical monasteries.
Facts to Know for Hydra Greece
Keep in mind that there are no cars in Hydra. There are donkeys, bicycles… and that is all.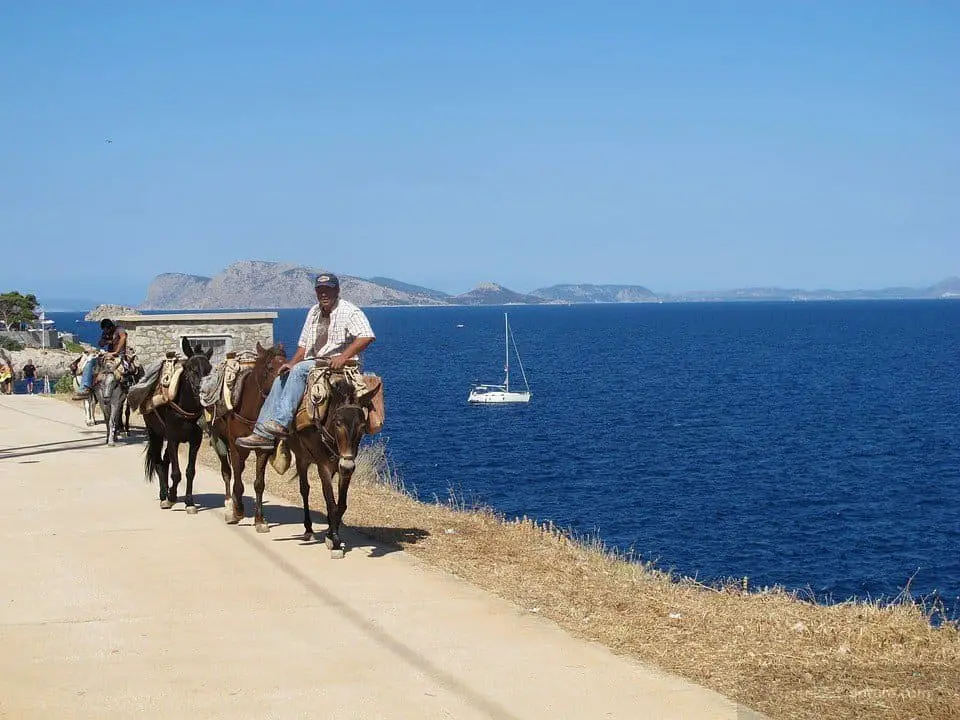 The Island is so wonderful that it has become a home of some of the most famous musicians in the world and celebrities, and one can be easily tempted to stay because chances of getting enough are so slim.
Did you know that Leonard Cohen and Henry Miles, some of the most celebrated artists globally, have decided to find a home in this small paradise?
Another fascinating fact about Hydra, Greece, is that it is the birthplace of the first President of the Second Hellenic Republic and five of the Greek Prime ministers.
Upon entering the Island, you will be welcomed by the beauty of the 18th-century mariner's mansions and lovely cute warm, bright labyrinths of steep steps and slender streets, which is just one of humankind's most unrealistic architectural works.
I have managed to come up with a list of some of the things that one can do here that will always blow your mind.
Check for accommodation prices in Hydra from here.
Activities & Things to Do in Hydra Greece
What is a vacation without a bit of adventure? This is especially true when it comes to enjoying activities outdoors.
There are several things to do in Hydra Greece for thrill-seekers of all kinds; young and old.
Sailing from Hydra Greece
If you're in the market for exploring the blue colors of the sea and the splendid Greek sun while having fun on the water, then you should check out sailing activities. Sailing to surrounding islands is a popular activity, top among the things to do in Hydra and the Saronic Gulf.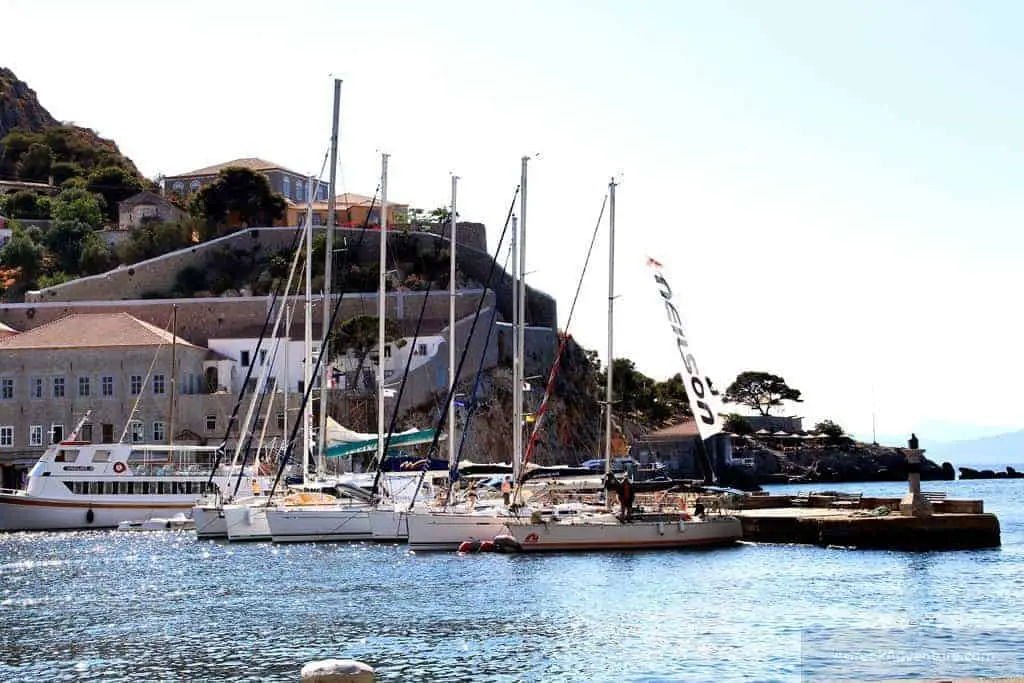 Donkey Back Riding in Hydra
Maybe you would prefer to take in the sites on a peaceful tour. Go on one of Hydra's guided donkey-riding tours. From one and a half hours to eight, these tours cover the Island. Riders are treated with views of the monasteries to the sandy beaches.
There is no way one will miss this, as on the cobbles, you will get a line of donkeys that are more accustomed to not only carrying the suitcases to the hotels around but also human beings.
Riding the mules is not only one of the most remarkable experiences that I have ever come across anyone. So what are the chances to ride a donkey in your lifetime?
Horseback Riding in Hydra
There is a company that offers the services of riding the limited horses available on his Island. Yes, there is also horseback riding run by Harriet Jarman.
The Harriet Hydra horse company gives one a chance to enjoy the lovely scenery while and they have services that run at different times starting from forty-five minutes a whole day riding.
The services are available in different categories from toddlers, children, and adults, be it couples or not.
They give the best chance to ride the horses within the Hydra town alleys and have a blast while doing so, especially when the horses that the company uses have been rescued from challenging environments.
Scuba Diving in Hydra
As with many locations that offer beaches, Hydra has no shortage of scuba diving environments. The rocky coastline is rich in underwater reefs and caves, providing excellent sites around the Island.
The diving centers offer open water courses, equipment, boats, and night diving trips that remain close to the islands. Many old wrecks can be found around Hydra.
What to See in Hydra Greece?
Hydra town represents a considerable part of the Island's traditional architecture, since… it is the only town on the Island.
It combines both land-lubber and insular characteristics. Simple houses and manors are quaint yet extremely impressive in their architecture.
Explore Hydra's Architecture
The first thing to notice when reaching this place is that Hydra town is constructed on a hill which is just a wonder.
Some of the buildings are the exquisite stone mansions, cobblestoned streets, and of course, the monasteries.
The port has been surrounded by crystal clear water is such an incredible scene that will surely take your breath away.
These buildings standing since the 18th century are magnificent in size and design and must be seen to be believed.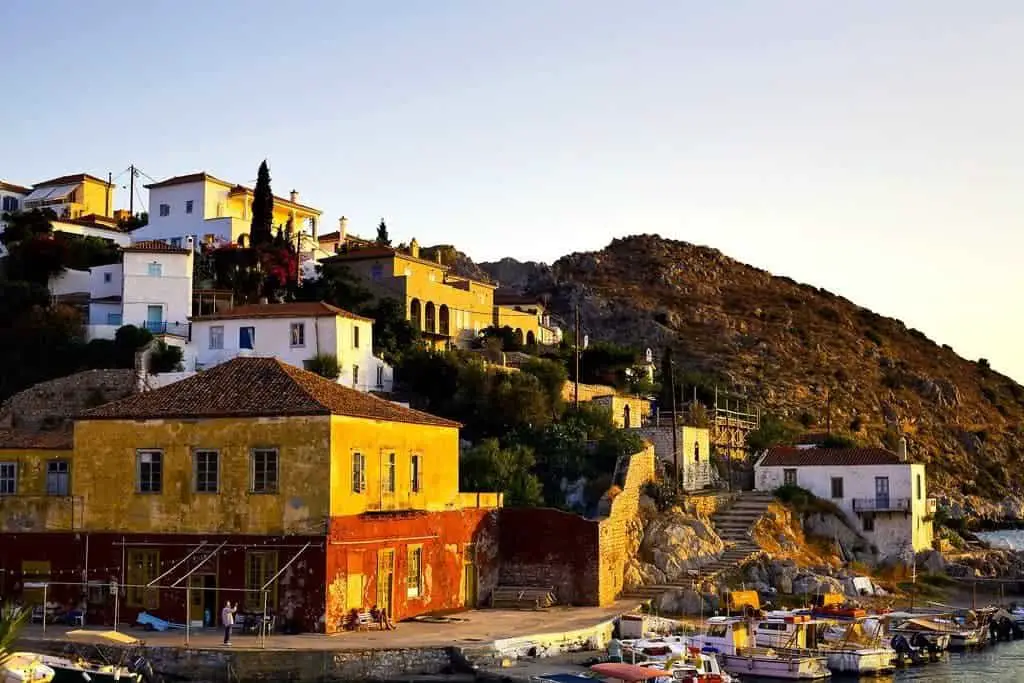 The manors are made of stone and are usually three or four stories tall due to the sloping ground.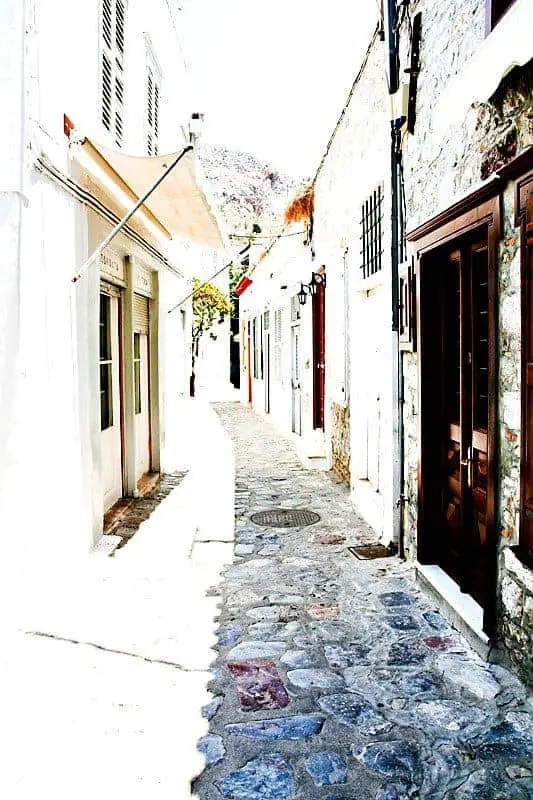 Most have external ladders, which lead up to flat roofs.
The rooms are spacey, have high ceilings, and contain beautiful wall paintings, painted wooden ceilings, garlands, and drawings on marble floors.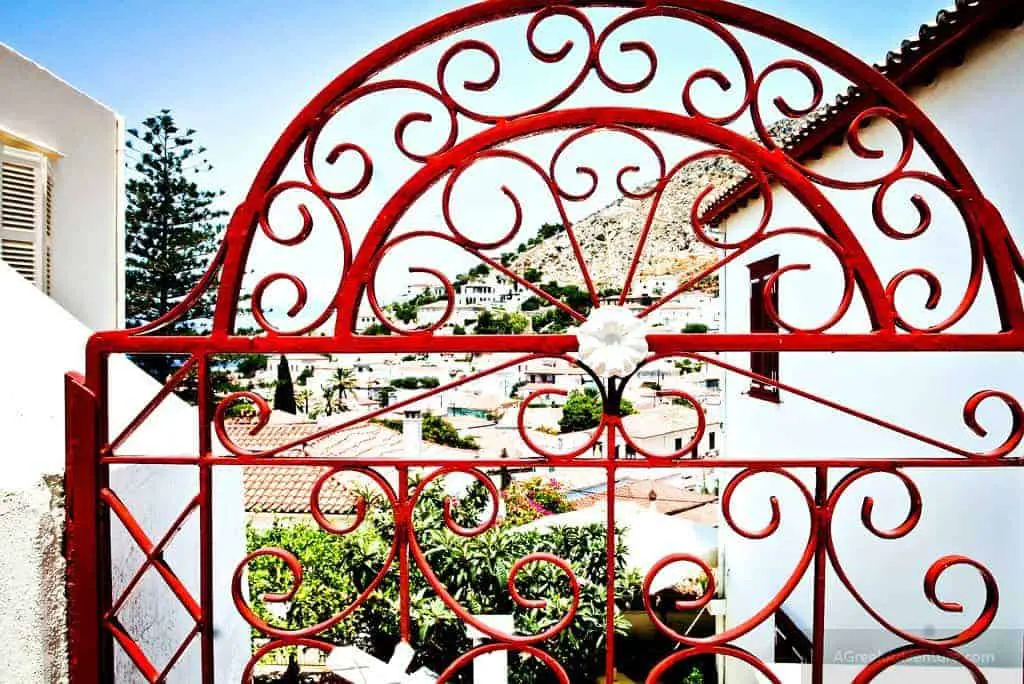 The simpler homes are all surrounded by fences.
These houses are very plain with roofs from tiles. In most of these houses, you'll also find cisterns as well as marble drinking fountains.
Building materials usually consist of grey stone, wood, and argil mortar.
Explore Monasteries and Churches of Hydra Greece
There are more than 300 churches and monasteries available on the Island.
Also called the Church of Dormition, the Monastery of the Assumption of the Virgin Mary is Hydra's main cathedral. It is situated under the tower that is actually at the center of the harbor.
The monasteries have a vibrant history, and one of them was built by a nun upon her arrival in 1643.
When planning to visit, be careful with the dressing code as it is the focal point to the Greek Orthodox Church and a place of worship, and they do mind the dressing.
There is also the chapel of Saint Kyprianos; what is so unique is that it is made of mud and wine, but the history behind it is so fascinating, as survivors of a terrible storm constructed it.
Museums of Hydra Greece
Whether your interest is in history or not, the museums located in the town will always take your breath away.
Take some time and visit them, and you will not regret how much you will learn in the process.
Some of the museums that are so famous in the Hydra town are the Historical Archives Museum, with documents related to history as cultural aspects of the Island from 1708 to 1865.
There is also Kountouriotis which is Hydra's most famous mansion turned into a museum, and lastly, there is the Ecclesiastical Museum.
Also Read: Things To Do In Loutraki, Greece
Strolling in the Alleys of Hydra Island
Unlike what most of us have been used to, you will realize that there are no street names on Hydra; one sets off and discovers what is around the corner, making the walking quiet and adventurous.
Walking is considered one of the best exercises when one wants to relax the mind, and there is no better way to do this than walking.
It is not an only good exercise but also a chance to see the parish church of John the Baptist and some fantastic mansions on your way.
While walking, one has the chance to stop and see the stunning view of the grater Greece from the Sunset Restaurant.
Best Beaches of Hydra Greece
One of the best things to do in Hydra Greece is relaxing and taking in the sun.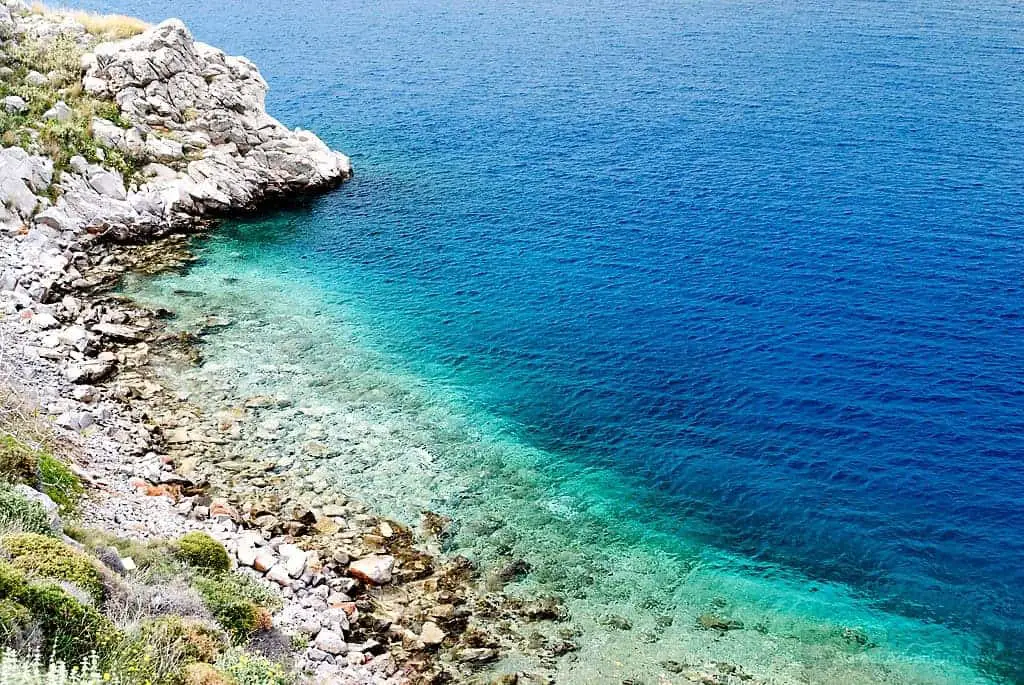 It is one of the most memorable parts of your vacation.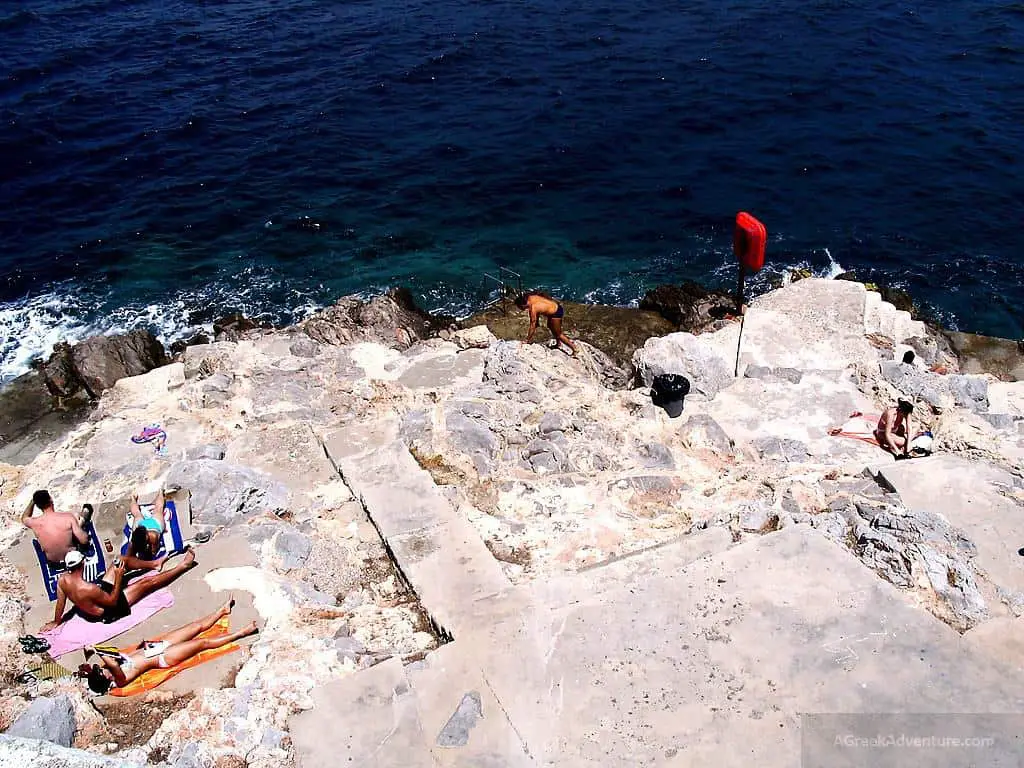 In Hydra, there are no shortages of scenic views and pebbled beaches.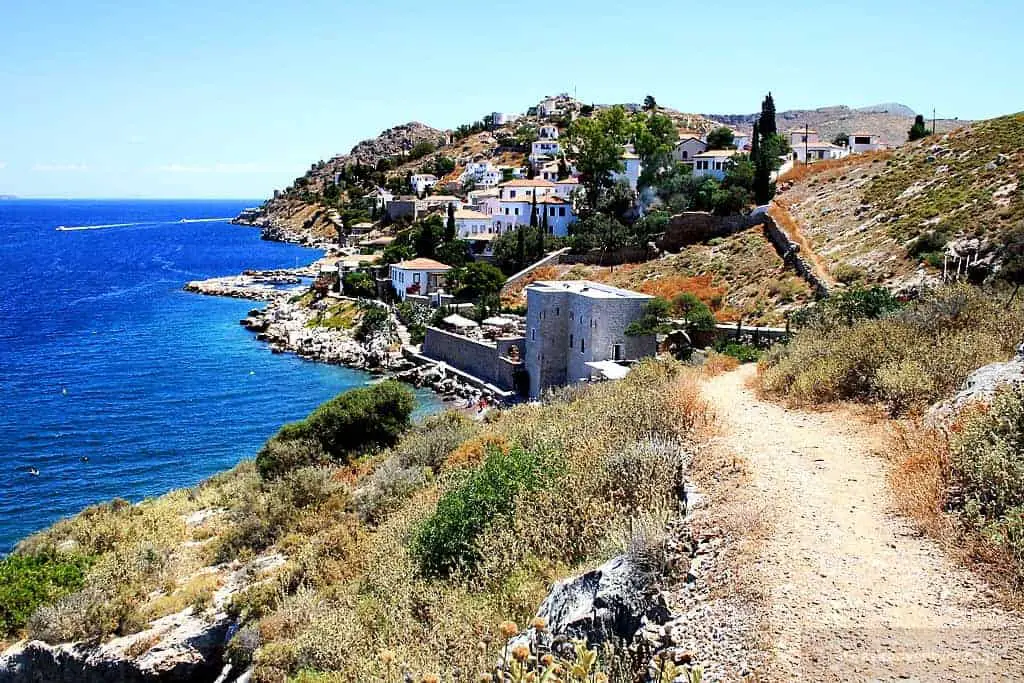 Avlaki Bay of Hydra, Greece
It is located in a sheltered cove. The water here is calm, and Avlaki is usually less crowded than Spilia, which means you can enjoy a peaceful trip.
It can be challenging to climb up and down, so it's not the best choice for people with mobility issues or small children. Also, since there are no cafes close by, visitors should bring refreshments and other necessities.
Vychos Beach, Hydra
It is situated about 2Km away. The villages can be reached either by foot or using one of the most popular transport modes: water Taxis. The water at the beach is such a wonder or see as it is crystal clear and the surrounding is tranquil.
Kaminia Beach in Hydra Greece
This beach is also just only 1km away and near Vlihos. The water of Kaminia beach is very shallow, which is ideal when going out with the children. Furthermore, the restaurant situated on the beach is one reason it is an excellent place to visit with the family to have a good time and dine.
Four Seasons
A taverna situated on the beach offers fare throughout the day. It is filled with white sand and surrounded by panoramic views of the mainland. Four Seasons also provides a putt-putts boat that runs every hour between Hydra and Plakes Harbor.
Agios Nikolaos, Hydra Beach
This beach is in the remote of the town and is a sandy beach. To get here, one can either go on foot or use the boats. While at the beach, one will have a chance to relax on the umbrellas and chair deck while enjoying some delicious meals from the cafes around.
What to Eat in Hydra Island, Greece?
One of the best parts of traveling is getting a chance to experience new foods. And when it comes to dining, Hydra Greece has plenty to offer.
Food tasting is one of the most exciting things to do on Hydra island.
From fanciful delicacies to comfort food, this Island offers several treats for those looking for new culinary experiences. You may want to check this article for mouth-watering foods in Greece too.
In Hydra, you will find these great foods:
Dolmades
In every Hydra Greece restaurant, you'll be able to find a variety of grape leaf-wrapped rice parcels.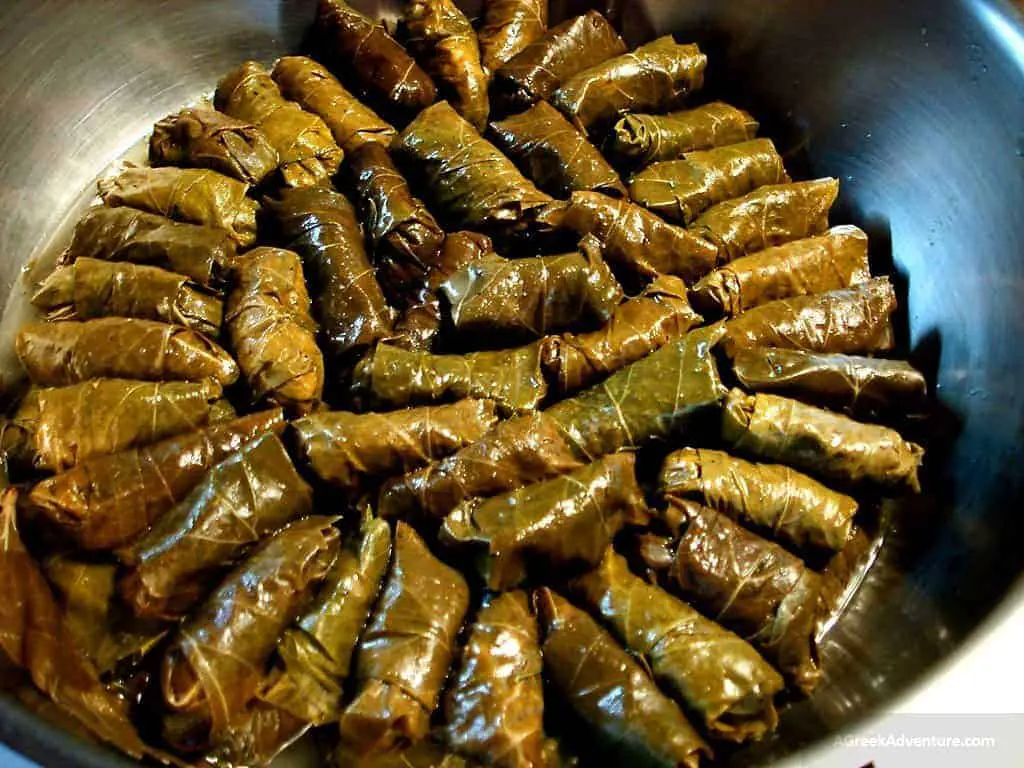 It is often eaten as finger food and stuffed with vine leaves incorporated into mincemeat and long-grain rice.
This delicious delicacy contains a combination of pine nuts, dill, and oregano.
Moussaka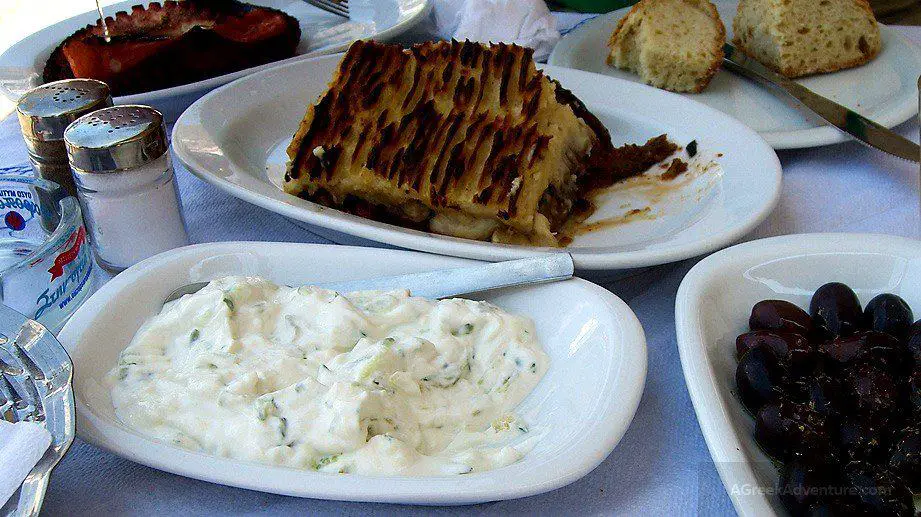 If you're more in the mood for a Mediterranean taste, then try moussaka.
This dish is somewhat of an icon and is baked– layered with sautéed aubergine, onion, fried pureed tomato, allspice, garlic, and a bit of potato.
This mouth watermeal is topped with béchamel sauce and cheese.
Fresh Fish & Squid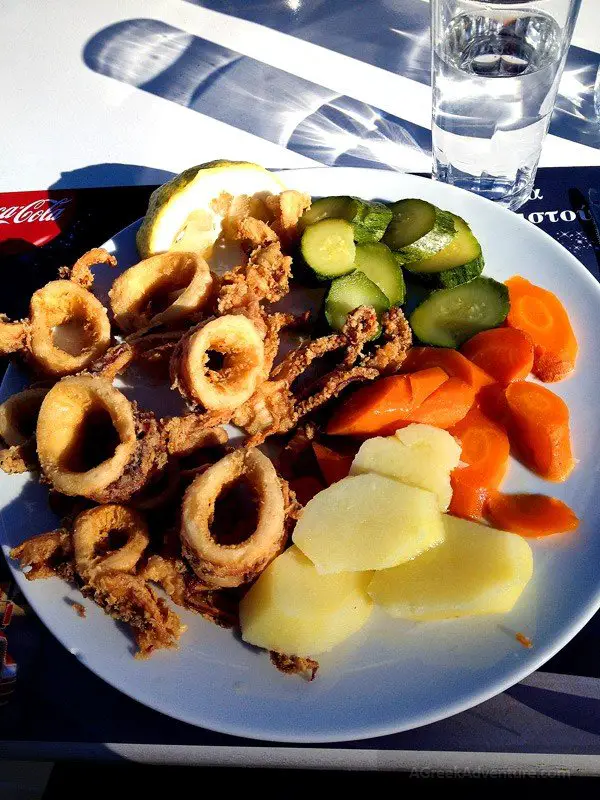 Locals enjoy settling down at a seaside taverna and eating fish, and calamari (squid) pulled from the Aegean Seas.
This feast is drizzled with lemon dressing and grilled whole. So relax by the sea as you enjoy flavorsome smaller fish such as red mullet and whitebait.
Where To Stay in Hydra Greece Hotels
There are around 100 hotels in Hydra and a small number of apartments. The ones below are superb:
Tours from Hydra, Greece & the Saronic Islands
Here are three ideas for combining Hydra with more Greek islands in the Saronic area (close to Athens).
Because cars are no mode of transport, the only jam you can encounter is two donkeys, and a fisherman does not make this place not much of fun but rather the opposite.
The primary mode of transport that is simply captivating is the boat trip. The size of the Island is just 50 kilometers square. So, the best thing to do in Hydra, Greece, is renting a bicycle.
The impressions that one gets to see from the water are beyond any imagination. When in Hydra, you will be surprised that Athens is just 68 km away, yet it feels remote.
As you can see, there are plenty of top things to do in Hydra Greece. Take a trip to the Island to experience this first hand.
If you liked our article for Hydra Greece, also read
Photo credits: Bradley Griffin, Mike Norton, Sharon Mollerus, Aleksandr Zykov, Emilio García, Jorge Cancela, Maria Panayiotou, Georges Yannetsos, Pretty Kate Machine, Richard.