The picturesque and historic Greek islands have many things going for them, and this stunning location attracts a lot of tourists each year.
Many of them come for the culture, history, scenic landscapes, and architecture, but not many think of visiting Greece to surf. Greece is an ideal destination for surfing all year round.
But they should. Greece is surrounded by three seas and boasts over 10,000 miles of coastline across its 6,000 islands.
Because of this rich natural environment, locals and visitors are getting increasingly amped about surfing.
There is now a growing surf culture in Greece, and tons of excellent surf spots to check out.
If you're thinking of riding some Greek waves, then here are the very best surf spots to visit.
Make sure you book your ferry tickets ahead! To book Ferry tickets from to all destinations mentioned below (or other destinations in Greece), make sure to check prices from here. Also check our Ferry From Crete To Santorini Travel Guide.
An alternative agent is this one.
Make sure you check prices and book way ahead of your day of arrival. 
(Update: Lagouvardos Beach Surf station in Peloponnese was also part of this post, but it stopped their business there. The beach, however, is still there).
Also read: Windsurfing Milos Greece
Best Beaches To Do Surfing In Greece
1. Surf in Keros, Limnos
According to the island's surf club, Keros is 'the kind of beach you see on computer desktops.'
With iridescent turquoise waters and a golden sandy beach, you can kind of see what they're getting at.
In addition to the idyllic scenery, Keros also benefits from the famous Meltemi wind, which blows northwards every year between May and September, providing excellent surfing conditions.
This surfing hotspot is located on the western side of Limnos, one of the more underrated Greek islands, and plays host to a surf club that also offers windsurfing and kitesurfing too.
If you want to stay on the island, there are a variety of accommodation options, ranging from luxury tents to studios.
2. Surf in Arkassa beach, Karpathos
Unlike Messinia, Karpathos is something of a hidden gem. Even though this stunning island boasts 75 spectacular golden beaches, it is usually passed over by tourists in favor of Rhodes or Kos.
For surfers, this island is a must-visit, thanks to its four surfing spots, including Arkassa beach, which is a prime location thanks to its large waves and natural current.
You can also find the Karpathos Adventure Surf School here, which, in addition to offering surf lessons, also puts on a wide range of adventure activities, and it is well worth taking a break from the waves to explore this stunning island on foot or by bike.
Also read: Samos Windsurfing Greece
3. Surf in Messakti, Ikaria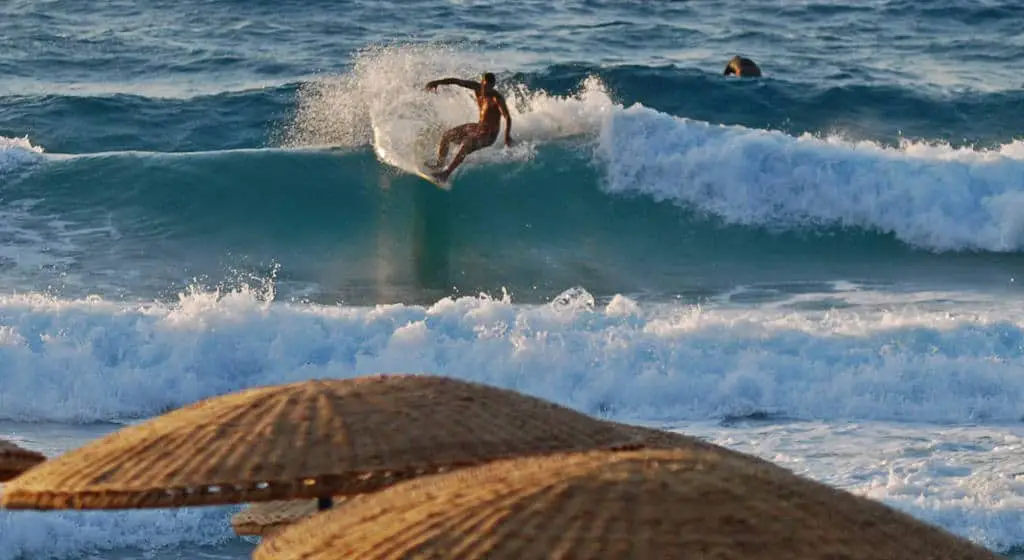 Ikaria is known as the island of longevity, because it boasts one of the top four life expectancies in the world, thanks to its easy-going lifestyle and healthy, delicious food.
The island gets its name from the mythological character Icarus who, legend has it, fell into the sea here. Somewhat appropriately, every year in August, surfers floods to the famous Messakti beach to jump into the sea themselves, taking advantage of the perfect surf conditions.
If you're new to the sport, Messakti beach features Ikaria surf school, which offers affordable lessons for all levels, and also puts on various yoga and calisthenics camps too.
Find out more about Ikaria from here.
4. Surf in Agios Theologos beach, Kos
As one of the largest islands in the Dodecanese island chain, alongside the famous Rhodes and the lesser-known Karpathos, Kos is a stunning and historical location, beloved by many.
In addition to its scenery and culture, the island also features a variety of excellent surfing spots, including the renowned Agios Theologos beach. Also known as 'wave beach,' this coastline is a great spot to try body surfing or kitesurfing.
If you're planning a trip to Agios Theologos, make sure to bring your equipment along with you, as there are very few surf centers in Kos. Find out more about Kos island.
Also read: Windsurfing in Greece Jibing tacking riding the wind
Surf in Western Crete
Crete is a huge island, but the western part of it is ideal for surfing. You can find a big range of surfing spots and centers at:
Surf in Kolymbithres bay, Tinos
There are a lot of good reasons to visit Tinos, and this lesser-known Greek island is a real treasure of the Cyclades and close to Athens.
The bay of Kolymbithres is one of these treasures, featuring two beautiful beaches.
One of them, Mikri Ammos, is a lovely spot for catching some rays, but the other beach, Megali Ammos, will be of particular interest to surfers. Known locally as 'California,' Megali Ammos is an unspoiled, pristine setting that is still little-known to tourists.
Thanks to its long and wide beach, which boasts deep waters and underwater currents, Megali Ammos in Kolymbithres bay is a genuinely stunning surf spot.
Tinos is a fantastic island. Read more about Tinos from here.
Thanks to its vast array of idyllic islands, Greece is a perfect location for surfing Greece.
With so many beaches unspoiled by tourism and commercialization, the perfect surfing spot is out there just waiting to be found.
Also, read Best Weird Greek Foods In Greece.