Lots of Santorini weddings happen every year. I found that while being involved in one many years ago. 
Santorini is one of the most popular islands in the Aegean sea and Greece, and many choose to get married in Santorini (Greeks too).
I was the "best man" at a wedding where the husband was a Christian Orthodox from Greece, while the wife was a Catholic from Australia.
Back then, I explored the whole Santorini wedding concept and how you can do that.
Things are not very difficult. Weddings in Santorini, Greece, are popular on the island from people who don't have Greek citizenship.
Many people are planning their Santorini wedding ceremony and their reception in Santorini.
The local authorities have made all processes as smooth as possible for performing your wedding in Greece.
For a Civil Santorini Wedding, the majority of the pre-wedding things relate to paperwork. The wedding can happen at a hotel, suite, winery, or even at the beach.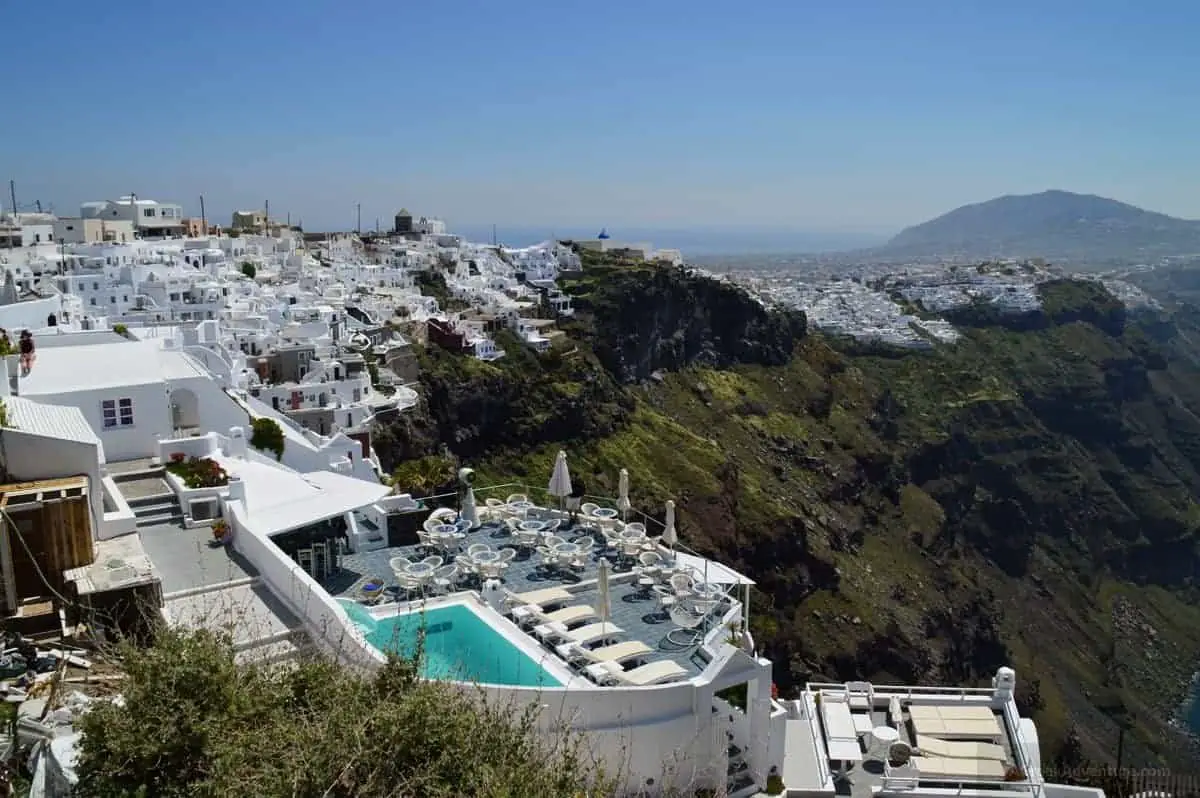 Planning your Santorini Civil Wedding?
It is all about proper wedding planning. If you don't assign your wedding to a Santorini wedding planner, you can visit the island and do things yourself.
That is not a problem. That is how we did it, but many want a professional to deal with it.
It will not be cheap, though.
Even your documents need to be in Greek, translated from an official Greek public service. The same stands either for a wedding in a church or a civil marriage wedding.
If you don't choose a wedding planner, we suggest that your first task be a call to the Santorini Mayor's office, asking for the details.
They will guide you through the paperwork.
Of course, you don't need all the fuzz with luxury hotels to perform the wedding. The specific part of a Santorini wedding (vows, witnesses, signatures) can be done in the presence of a Municipality official in just a few minutes.
However, people who travel to Santorini for their wedding do that for the whole package. Such are the pre-wedding activities, the location, the reception, and the great photos.
It is a fact that a Santorini wedding experience is more than just the wedding. Couples want something to remember forever, and the island has all the bells and whistles to make such an event quite memorable.
Santorini Wedding Documents for Civil Marriage
You will need quite some. The must-have ones are:
Passports
Full birth certificates
Certificate of non-impediment to marry from both bride and groom
Divorce certificate for either party (when applicable)
Pay a Town-Hall fee (called: "parabola" in Greek)
Passport copies of 2 witness
Official document from the Court, if you changed your name
When you gather all of them, you will need to translate them to Greek through a legal service and certify them for accredited translations (usually at the same service or through a notary or lawyer).
That means that all documents will need a Hague apostille stamp, as that certifies their authenticity. Here is the official service in Greece to do that. It is in the center of Athens.
Keep in mind that it may take a few days for the translation, and you will need to take the documents some days before the wedding to the Santorini authorities.
Don't leave that for the last minute. 
The person that will conduct the marriage will be one of the vice-mayors of Santorini (for civil union).
Can You Have a Catholic Wedding in Santorini? 
If you plan to get married in a Catholic church in Santorini (yes, you have that option, too), you need to contact the church offices.
Ask them for all the required documentation on top of the ones mentioned above (if any).
Here is the process for a Catholic wedding in Santorini. You need all mentioned in the section above, plus:
You need official permission from your bishop, indicating that you have his permission to have your wedding outside of your Parish and where. That is according to Canon 1115″ of the Codex Juris Canonici.
A "Pre-Cana" certificate that states that you have completed that
Baptism records of both parties
Wedding Planners for Santorini Greece
Well, there are quite a few. They can include the following in your wedding package:
Book your wedding date and time
Make the reservation of the wedding location
Help you with legal paperwork
Provide registrar and two witnesses (for civil marriage)
Cover the Town Hall Fee
Provide a professional photographer during the ceremony
Organize hen/stag parties or/and the after wedding party
Organize activities for guests
Arrange for photographers, flowers, music, etc
As they know Santorini, in and out, they can provide a good range of services.
If you want to skip the whole workload for the wedding and have fun, they are your solution.
From our experience, Google for such planners in Santorini and do interviews. We asked other couples, and they did it like that.
Ask for recommendations and reviews.
Keypoints: Also, ask to see the works of the wedding photographer and the florist. You don't want surprises there.
Santorini Wedding Venues
There are quite a few wedding venues, but most are in the same area inside the famous villages of the island. Many weddings or/and receptions happen at the Santorini winery (Santo winery) or Venetsanos Winery.
Popular locations are Imerovigli, Oia, Firostefani, Fira.
Most of these villages have a Caldera view, which by the way, is magical.
For Imerovigli, you can look at the Santorini Princess Hotel and maybe Le Ciel.
In Oia, there is the Katikies Hotel. In Firostefani, talk with Dana Villas (Firostefani); in Pyrgos, check Santo winery.
This new post has many more ideas on where to stay in Santorini.
What to Do in Santorini for your Honeymoon?
Many combine their wedding with their honeymoon in Santorini or do some island hopping to the surrounding islands.
Make sure to read our popular posts for the things to do in Santorini and the beaches to visit.
Do make sure you plan for your accommodation, flight tickets, and travel insurance.
In the summertime, all bookings need to be made at least five months ahead, while you need to plan one year for wedding venues.
Some sites are booked for the next two years.
Santorini gets crowded in summertime, and summer is a wedding period for the island. There are lots of tours and activities to choose from.
If you plan to get to Santorini by ferry (or airplane), the guides below are what you need. 
To book your ticket choose either this or this ferry booking service.
Since, for many, Santorini is not a 2-day trip when it comes to getting married there, it will be great to organize events for you and your guests.
We did that and had lots of fun.
Read this post for what to know about traditional Greek wedding traditions.
I hope this post helps you to plan your perfect Santorini wedding & honeymoon this year.
Have fun. Also read Greece Bucket List: 40 Best Things To Do.