Are you heading to Greece? Consider visiting one (or both) of the most famous Greek islands – Santorini vs Mykonos. Both are at the Aegean sea and belong to the Cyclades islands.
If you need to choose only one from Santorini vs Mykonos, our travel guide will help you choose the best option.
The sun bathes both islands in July and August significantly.
That is why most photos you see online (for both islands) look like postcards!
Santorini vs Mykonos Sightseeing & Landscapes
You've probably seen all those pictures of white-washed houses and churches with blue domes. Both Santorini and Mykonos have them.
Mykonos town is a vivid and crowd-gathering place, while Santorini Thira, Imerovigli, and Oia are the same analogies in Santorini.
They exist on both islands and are even prettier in real life.
Santorini is world-famous for its stunning views of the volcano and the romantic sunsets, as seen from Santorini Caldera.
Admire the famous sunset of Santorini island from the main town of Fira. You can do the same from the more miniature village of Firostefani or the world-famous village of Oia.
Also read: Unparallel Beauty: Oia Santorini Greece
When you take the boat to go across to the volcano, look up towards Santorini mainland.  You will see many white-washed houses perked up on the cliff.
That is a fantastic view to remember for the rest of your life!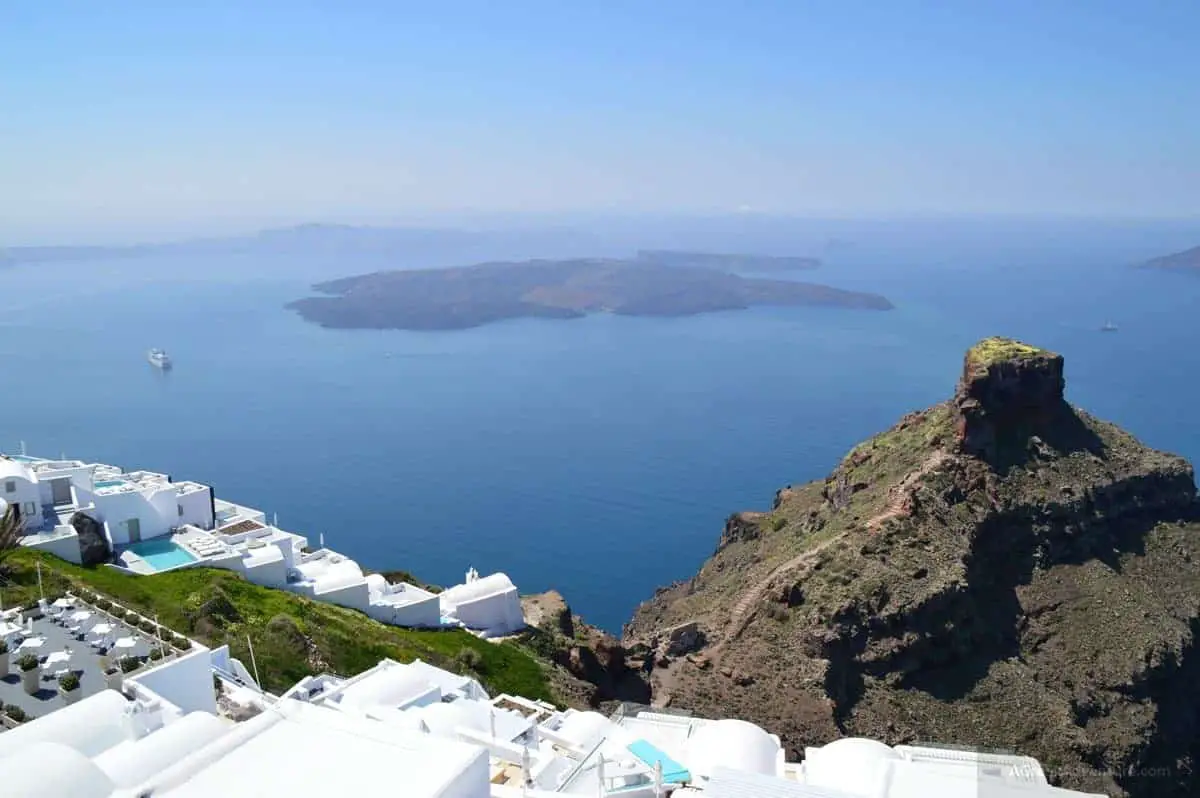 Mykonos town, on the other hand, is also very scenic.
With its many windmills, picturesque streets, lovely white churches, and pretty villas, it's a feast for your eyes.
Walk around the Chora (main town) and the Old Harbor, or drive around the island, and you will love it.
Also read: Santorini Greece Named Best Island in Europe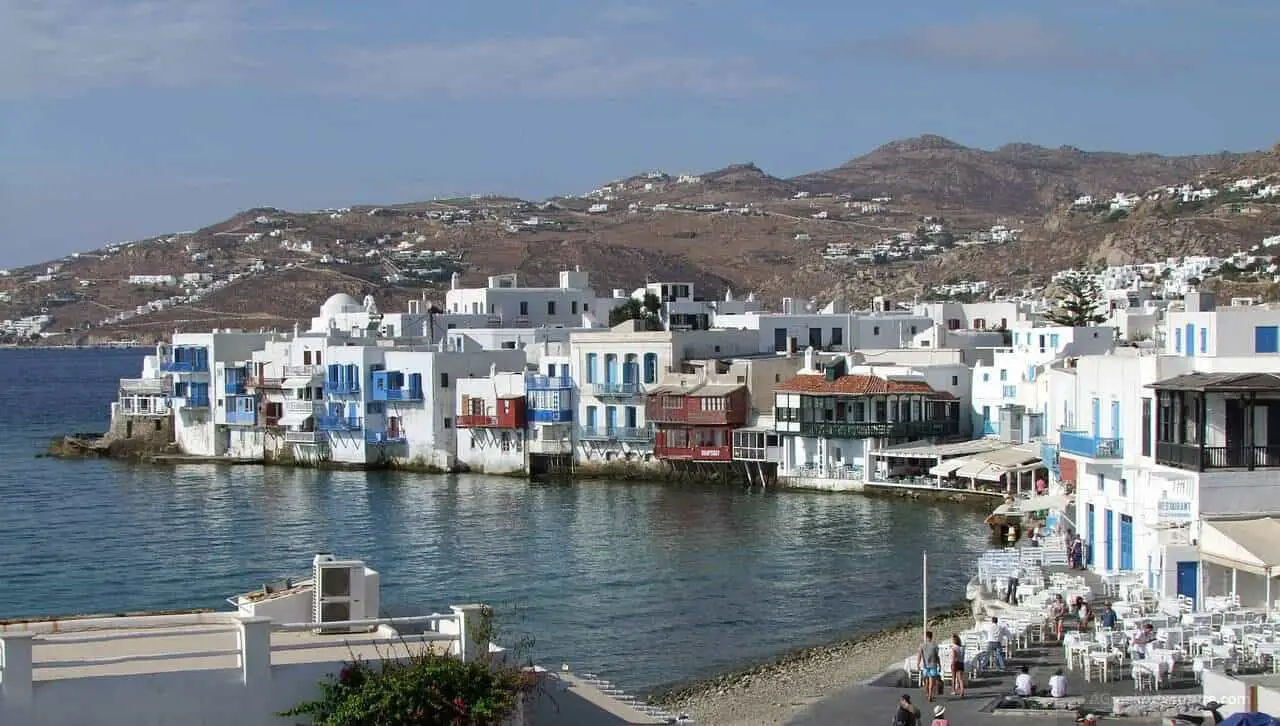 Verdict: Choosing between "Santorini or Mykonos" is difficult for landscapes and views, as both islands are beautiful.
You can choose according to other things you like doing during your holidays.
Fun Activities To Do – Santorini vs. Mykonos
There are plenty of activities to choose from in both Santorini and Mykonos. Read the analytical posts about the things to do in Santorini and the things to do in Mykonos.
Regarding Archaeology in Santorini, you can visit the archaeological site of Ancient Akrotiri. That is a bronze age Minoan settlement buried under volcanic ashes for several centuries.
If you opt for Mykonos, don't miss a day trip to the nearby island of Delos, a UNESCO heritage site.
Apart from the sites, there are archaeology museums on both islands – make sure you check opening times, as they change often.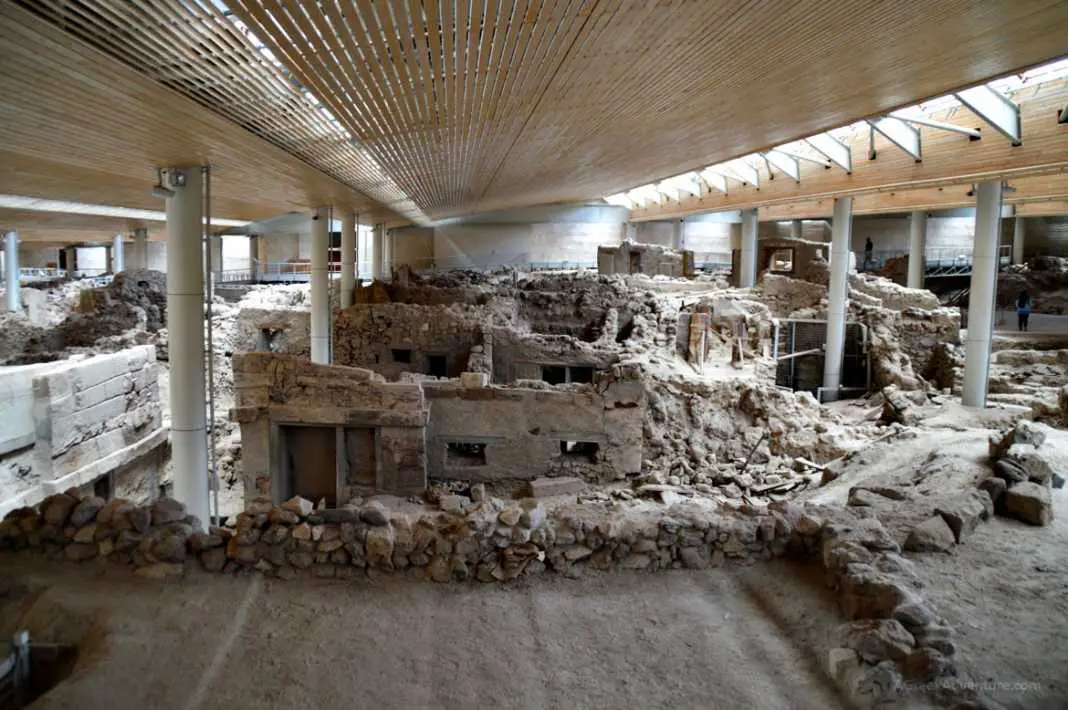 Wineries and wine tasting
Other than the sunsets, Santorini is very famous for its wines.
Check out grape varieties like:
Assyrtiko
Nikteri
Vinsanto
You can also take a guided or self-guided winery tour – make sure you have a designated driver.
More recently, Santorini craft beer has also found its place on the map. Mykonos also has wineries and a brewery, but they are nowhere near as famous.
Nightlife / partying
If partying is your thing, Mykonos is the place to go. It has a solid reputation for being a party island – and for a good reason.
Weddings Destination
Santorini is a top-notch wedding destination for couples from all over the world. The island receives thousands of requests for weddings every year, and there is a 2-year waiting list for some venues. Read what it takes to do your wedding in Santorini at our weddings in Santorini post.
Mykonos has world-famous clubs and bars and a crowd to match. You can spend a few days dancing and socializing like there's no tomorrow.
That is not to say that Santorini hasn't got its fair share of clubs, restaurants, and bars. If nightlife is a factor that will determine whether you will go to Santorini vs Mykonos, we suggest going to Mykonos.
Also read: Don't Miss Santorini Fira to Oia Hike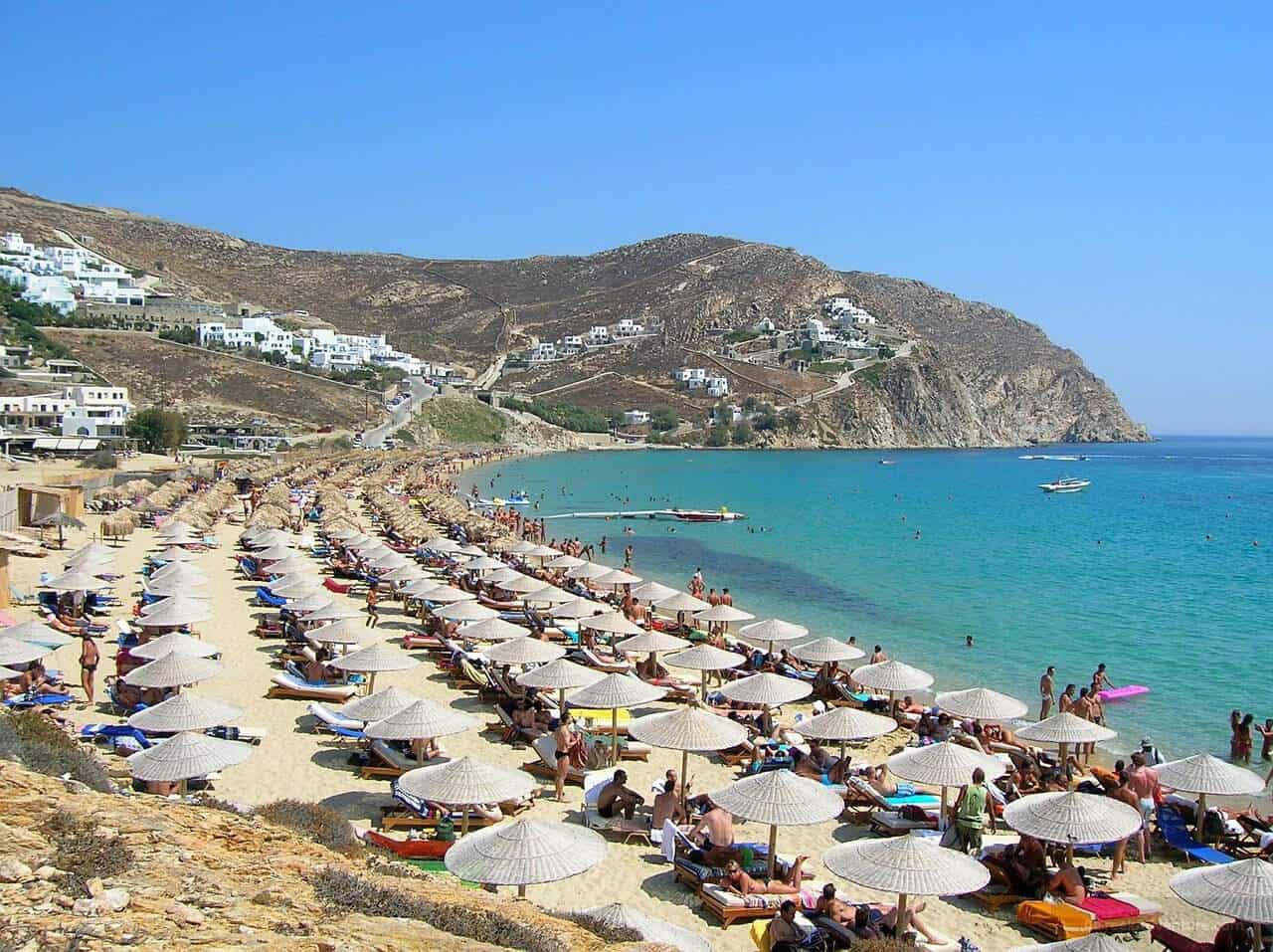 Outdoors
There are other Greek islands, far better for outdoors people. However, there's plenty to do on both Santorini and Mykonos.
Both islands offer the usual turquoise water activities such as:
Kayak
SUP
Snorkeling and more
Santorini offers a stunning 10km (6 miles) hike from Fira to Oia. Do that early in the morning to avoid the scorching summer sun. You can stop at Oia for snacks, coffee, brunch, and to admire the splendid view.
On the other hand, Mykonos beaches have several hiking paths to choose from, but they are not well-sign-posted.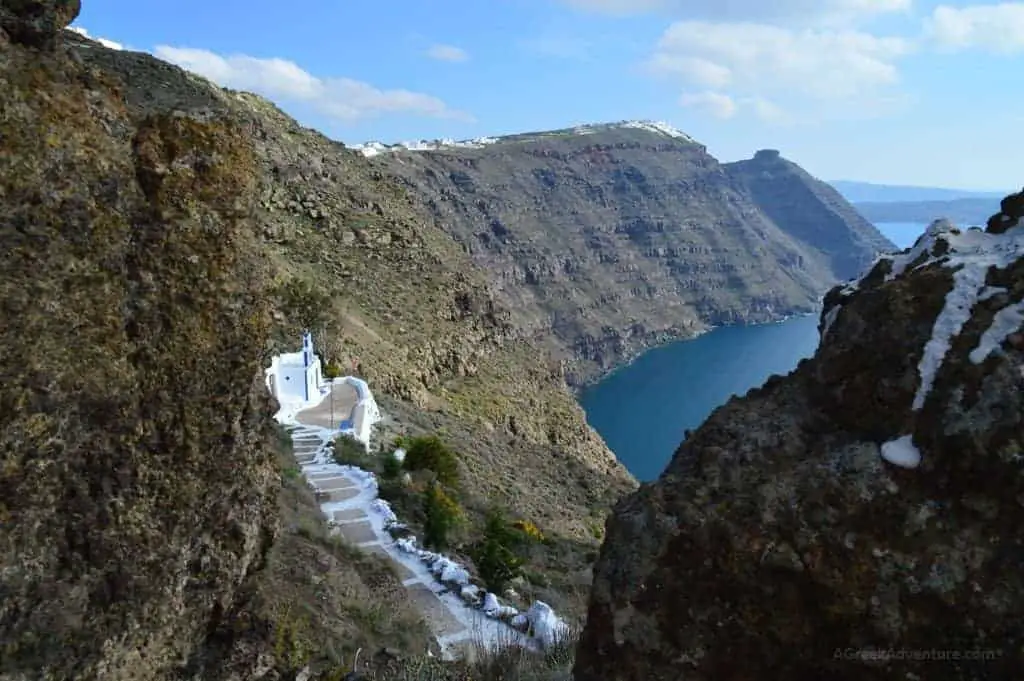 Beaches
You read on various websites about the stunning Santorini beaches, like:
The Red Beach
Perissa Beach
Perivolos Beach
While those are not too bad, they are not up to the standards of the white sandy on Mykonos beaches.
Crowded and famous beaches in Mykonos are Super Paradise Beach, Psarrou, Ornos, Elia, and Paraga. 
The less busy ones are Fokos, Platis Gialos, Agios Sostis, Loulos, Kapari or Merhias. Read the post for the best beaches of Mykonos.
Best Accommodation – Mykonos vs Santorini
Both Santorini and Mykonos attract thousands of tourists annually, and there are plenty of options for accommodation.
Many luxury hotels and villas are in the high-end/luxury category, with unparalleled views and fantastic service. Here is a guide on where to stay in Santorini (for all budgets and preferences).
Click here to see hotels with private pools and their prices for accommodation in Mykonos.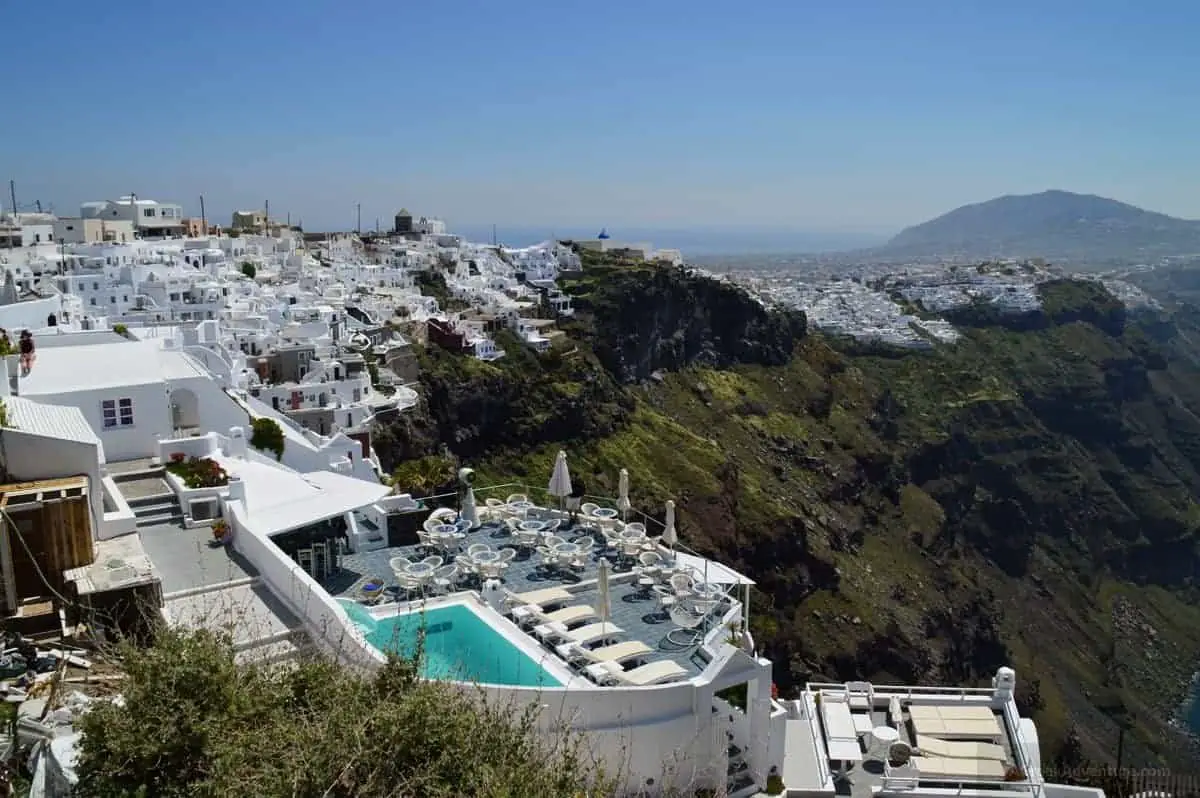 To book your airplane tickets, compare prices on flights with Skyscanner.
People from all over the world choose to visit Santorini for their honeymoon. Santorini is one of the few places in the world where you can have a private balcony and a view of a volcano.
As for where to stay in Mykonos, there are many luxury villas to choose from.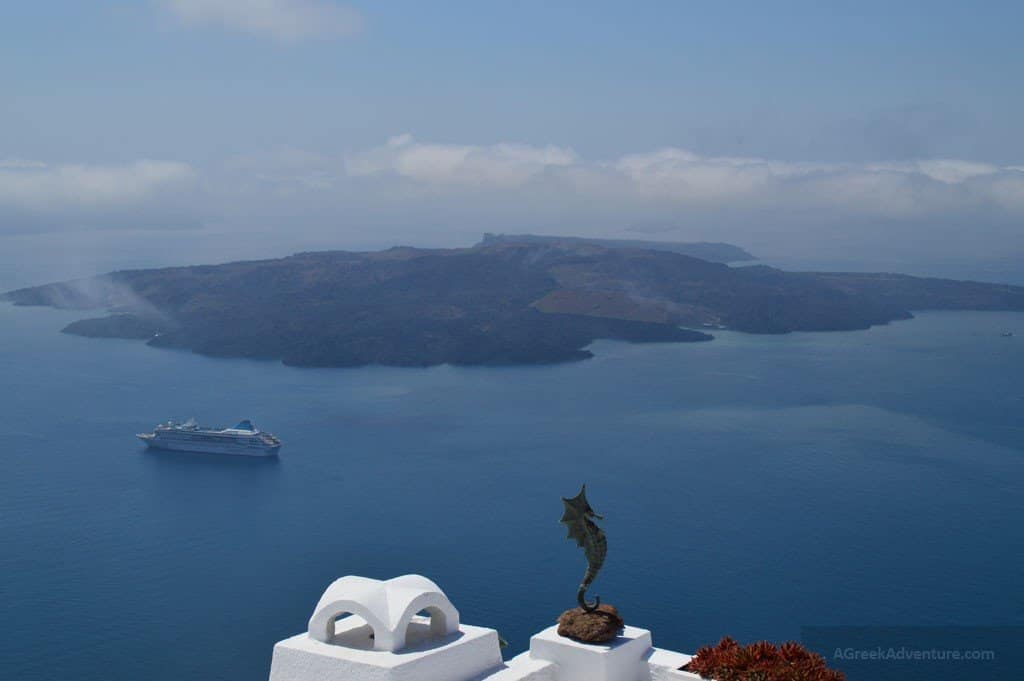 Best Places to Eat – Santorini vs Mykonos
Both islands have several award-winning fine dining restaurants, like:
Bill & Coo
Matsuhisa
Kensho in Mykonos
The equal popular in Santorini are Santoro, Koukoumavlos, and Selini.
That is not to say that more basic restaurants do not exist – quite the contrary. And in any case, it's difficult to go wrong with Greek island food!
Which island is easiest to get? Santorini or Mykonos?
Both islands are famous, and you can get to them in many ways. These include both ferries and airplanes.
On top of that, there are plenty of ferries between and towards these Cycladic islands. As such, you can spend some days in one and some in the other. 
You can even go to both from Crete.
If you plan to visit Mykonos or Santorini in high season, book early to avoid disappointment. Booking early for the appropriate ferry is also crucial.
Also read: Shay Mitchell's Greek Video: Between Mykonos and Santorini Greece
Ferry from Athens to Santorini
A popular way to get to Santorini is by ferry from Athens; if you land in Athens first, you should do it! There are quite a few ferry routes to choose from.
Here are the instructions to help you get the Athens to Santorini ferry ticket options.
As with ferries, there are more than four available ferries every day that travels from Athens to Santorini; that is, in the summer alone. Read the entire post.
Click to read the extended post on everything to know about Athens to Santorini ferry tickets, ferry schedules, and companies.
Both islands are trendy, and booking is recommended six or more months in advance.
Ferry from Athens to Mykonos
An Athens to Mykonos ferry is one of the best ways to experience your vacation in Greece because you will get to witness some of the incredible scenery while traveling.
It is advisable not to take some of the slowest and largest ferries to Mykonos, and at the same time, please avoid the fast and smaller ferries as well.
The reason behind all these is that the small ferries are faster, but there are very high chances of one getting seasick and a bumpy ride which might not be a pleasant experience. We have been there and know what we are talking about.
Read the post with all the details for Athens to Mykonos ferry and possibly cheap flights.
Traveling Using the Crete to Santorini Ferry
That is the most fancied mode of transportation from Crete to Santorini and runs two times daily. The overall trip by ferry takes around 2 hours 30mins, that is if you prefer using the Heraklion- Santorini route.
You will realize that almost all ferries dock at Athinios Port. Buses are available to shuttle passengers to their favorite destinations on the island.
Read about the Crete to Santorini Ferry options.
Conclusion
Mykonos or Santorini? It depends on what you are after and what time of the year you plan to visit.
To use popular stereotypes, Mykonos is "a party island," while Santorini is "a Greek island to watch the sunset from." But as you have seen, both islands have much more to do.
So, if you visit Mykonos or Santorini, get ready for a blast!
Extra tip
When comparing Santorini vs. Mykonos, you realize that both islands can get very busy in summer. You might find prices too high and lovely photos impossible to get.
Are you a budget-conscious traveler? Do you prefer less busy places? Then we recommend visiting those islands off-season (October – March).
During May, the weather is hot enough to swim and enjoy the magnificent landscapes without the summer crowds.