Traveling to Greece on a budget is doable. Unfortunately, many feel that going to the Greek islands is challenging and costly. It is not.
You don't need to break the bank. Make sure you book in advance for all your accommodation and fun options and start saving money. You can even do island hopping in July and August in Greece.
Right now is the best time for traveling to Greece on a budget and the Greek islands due to the economy.
Everyone wants to check out the Greek islands at some time in their lives.
How could you resist the urge to want to enjoy one of Santorini's well-known sundowns and visit the gorgeous beaches of the less recognized island of Milos, Kythnos, Andros, Tinos, and a lot more?
Also Read: Ferry From Crete To Santorini Travel Guide
Another mistaken belief different people have is related to where to travel to Greece on the cheap.
Greece is well-known for its islands; however, there are many places besides lovely beaches all over Greece.
Greece consists of 13,676 km of shoreline, most of which is swimming and activities friendly.
So Greece is not only about the islands. Here is how to travel in Greece cheap.
Tips to Travel to Greece on a Budget
The most critical secret factors that you need to have in mind for Greece, despite the detailed travel tips below, are these 3:
The Best Budget Season to Travel in Greece
Costs in Greece change dramatically depending on if you go on high season or not.
We are talking about substantial differences, particularly in Greek islands and many places near mainland Greece's sea.
Keep in mind that Greece is a destination that has perfect weather for at least 8 to 9 months out of 12.
Even the winter in Greece is not like in other destinations. On the contrary, it is one of the warmest places to travel in Europe.
Low Travel Budget? Don't stay in the Capital
On any Greek island, don't stay in the capital.
It will cost you less to stay outside of the capital, in any town, and lease a car/bike simultaneously. This is because price ranges are not that big, and capitals are usually crowded and noisy.
Go there by choice.
Prefer the Mainland, Not in the Islands
It is cheaper in Mainland Greece (near the beach) than in the Greek islands.
For example, Pelion is by the sea and is a remote destination at the same time.
You have great deals on alternatives in Pelion (called the Mountain of Centaurs), and you can remain in mansions at the rate of a less expensive budget hotel on a Greek island.
Having said the above, let's go deeper.
Traveling on a Budget? Get Travel Insurance
Because you are probably not a Greek, you require that.
This will help you avoid lots of costs and get an immediate response to a health or other issue covered by your insurance package.
When getting ready for a trip to Greece and the Greek islands, your priority is to make sure you make a little investment towards your health and well-being by purchasing a flexible and super budget-friendly travel insurance plan.
This travel insurance coverage is! You won't believe how reasonably priced it is. Get Travel Insurance Coverage from here.
Not just will this travel insurance plan cover you if your bags are lost or stolen and if your flight is delayed or canceled. Still, you'll likewise be covered for all medical and injury-associated problems as well.
Transportation in Greece on a Budget
Flying to Greece
Getting to Greece is simple, although it can be pretty costly depending on where you are flying from and which month you plan on taking a trip. 
Our best guidance is to use a price comparison site to compare costs and find the best deal.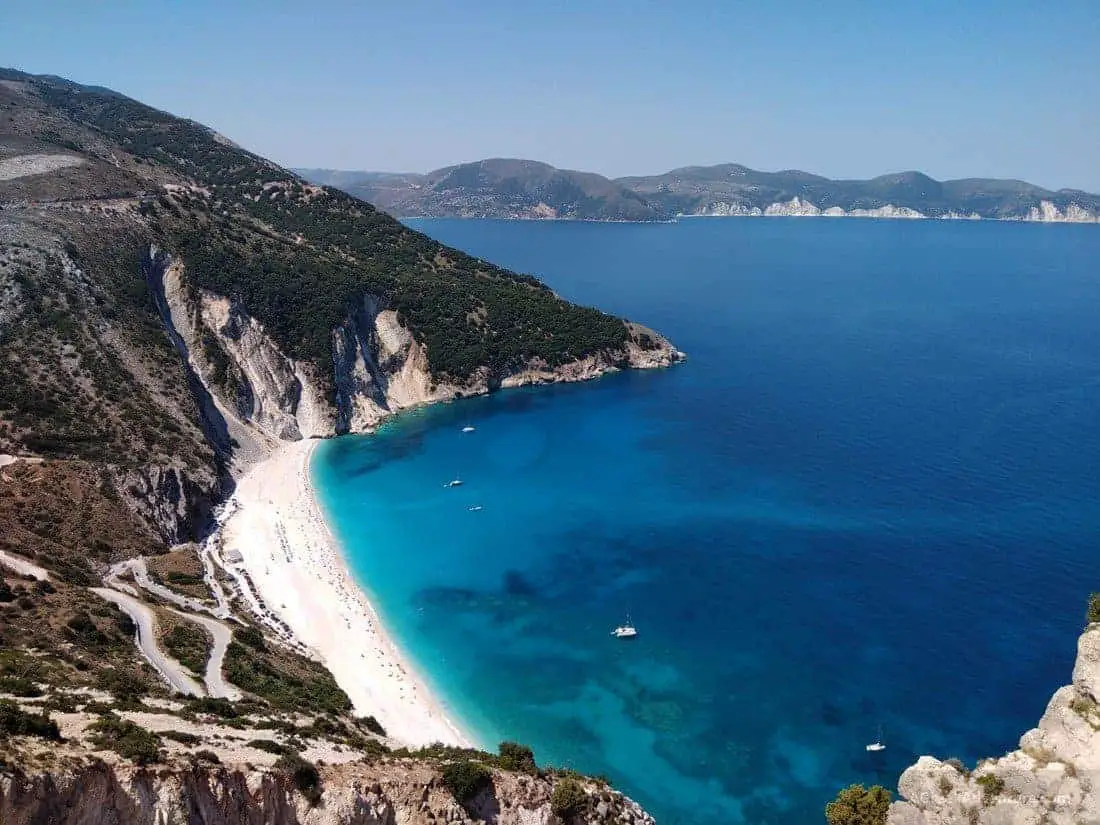 Driving to Greece
If you reside in a country near Greece, you can drive your method there and use your vehicle on your journeys.
A vehicle will be handy if you engage in a trip through Mainland Greece. The nationwide road network is excellent, and you can get all over.
Greece in a sensible quantity of hours. It just needs excellent planning to avoid any backward and forward.
A great site to use to plan a road trip is this. We have used that to plan huge European trips too.
Using Uber or Beat in Greece
In Greece, there is no Uber, but you can use the service to request a taxi (weird, right?).
Forget that in islands or other places in mainland Greece. 
Another excellent service is Beat (former Taxibeat).
It is a Taxi network that costs no more than a regular taxi service (which is cheap in Greece), but you can use their app and call them anytime and review them later.
This adds to the safety factor, even though Greece is a safe country.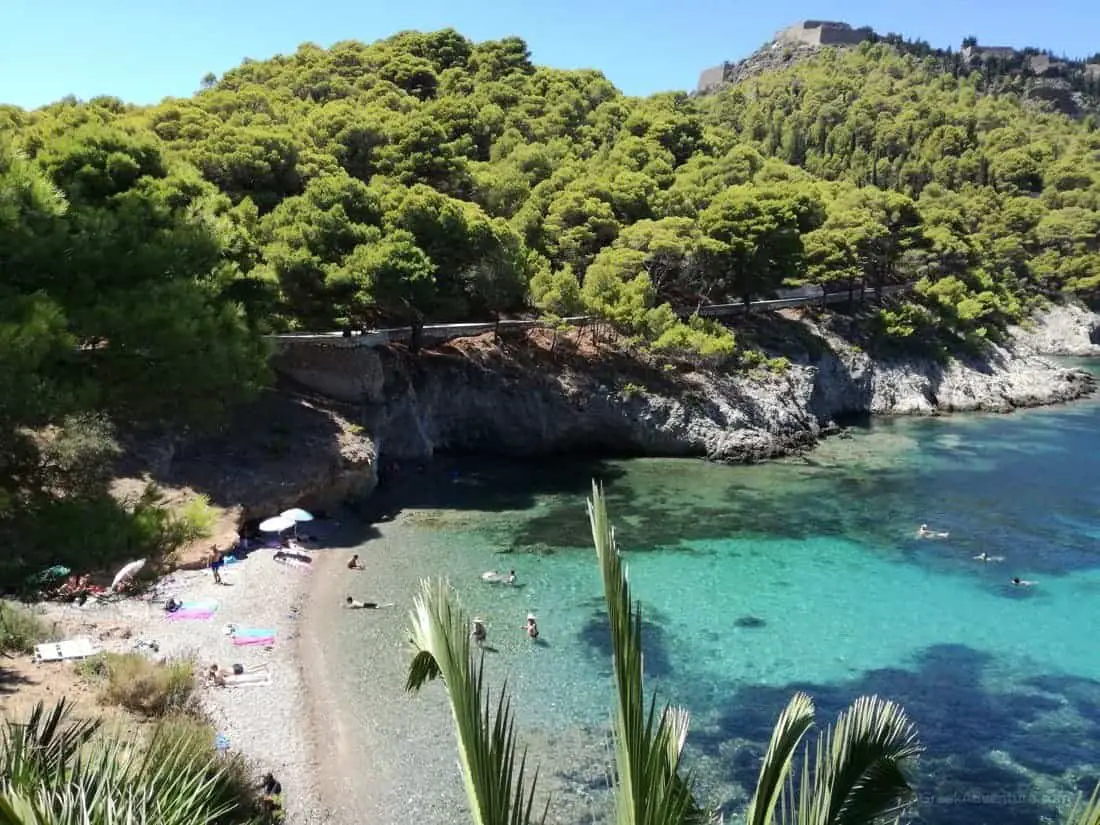 Flying to Greek islands
Flying is the most practical and efficient way to reach the Greek islands.
Flights from Athens to a few of the most famous Greek islands only take about 30-60 minutes, while ferryboats take anywhere from 2 to 10+ hours depending upon where you wish to go.
Simply put, always start by searching for flights to the Greek islands before looking into ferries.
The most affordable way to go to the islands is by ferries; however, you can strike a good deal if you reserve ahead of a flight.
These two ferry tickets booking services are the top to arrange such transportation:
That is not always the case, considering that flying with luggage costs.
If you want an automobile with you, ferries are a must unless you wish to rent in the area.
Search in our blog for detailed posts on different ferry options.
Car Rentals
Car leasing in Greece is budget-friendly, even in high season. They do not even compare costs to other European nations.
Avoid "big" brand names and opt for local ones.
Book ahead and decide which vehicle you will get, specifically if you prepare to go during high season.
By scheduling ahead, you will get a bargain in most of the islands/locations.
Cars and Bike Rentals
Never lease a massive car on any Greek island if you plan to visit villages or/and remote beaches.
Go for the bike or small vehicles.
Two things that you will require: air-conditioning and a maneuverable vehicle.
Unless you have lots and great deals of time and want to check out some vast islands like Crete.
But if you prepare to go to villages in the mountains of Crete, then a huge vehicle might not be the very best alternative most of the time.
Accommodation in Greece on a Budget
Regarding finding accommodations on the Greek islands, your alternatives are unlimited.
The Greek islands have everything from hostels to cliffside hotels, resorts, short-term house leasing, and more.
Here are three various methods for finding lodgings on the Greek islands.
Hotels
There are various accommodations, from cheap hostels to 5-star hotels on the Greek islands, for you to pick from. For Hostels in Athens and famous Greek islands, read this post.
There are studios and many more — better use booking.com to Tripadvisor to find the best price along with good quality.
You want an affordable, clean room; remember that.
Reserving hotels in the Greek islands will likely be more expensive than most Airbnb apartment leasing in the islands. 
The "Paratrooper" Method
This suggests you will come to your last location without a prior booking.
This is a massive bet with yourself.
Depending on the season, you may find some excellent deals.
Most of the time, the issue is where to ask. You will notice (at ports) people holding indications with hotel names. However, that implies absolutely nothing.
It doesn't imply that the hotel is good or cheap or clean. It could be. You don't know it up until you understand there.
It could be far from the capital, and it can be inexpensive and good, but you may have to pay lots in transfers if you wish to take a trip by mass transit or taxi.
The usual option is not to remain in the island capital and choose to rent a bike or a small car.
Airbnb & the Greek islands
Why stay in a hotel room box with minimal facilities when you can have a wholly equipped personal home for much less than it would cost for a night in a hotel?
The cost will usually be far less for a hotel room and a small studio.
Sightseeing on a Budget in Greece
Museums, either in Athens or on the islands and the mainland, are not that expensive. With a few exceptions, you can enter most with a price ranging from 5 to 10 euros per person. Entering all archaeological sites is relatively cheap too.
Some days are free of charge too!
For Athens, better check services like Athens-City-Pass.
Which Islands to Visit on a Budget Plan
Greece has lots of islands. Explore our extensive posts section for Greece and Greek islands per region. Avoid Mykonos if you plan to visit Greece on a budget.
Whatever is pricey there. Santorini has the rumor of being expensive too. However, this stands to stay in Oia, Fira, Imerovigli, and Firostefani and eat there. 
Yes, watching the sunset comes with a price, but sunset happens all over Greece and the Greek islands.
If not, and better not to, all the beaches are not in these locations, then remain in another place near a beach.
If you lease a car or a bike, you can remain in the island's center.
This reasoning stands for almost all Greek islands, another terrific secret most don't know.
For example, in Naxos, you can discover terrific lodging in the island's center and have everything worth visiting and tasting in 30 to 40 minutes.
You will wish to check out the area on all Greek islands or mainland places by the sea. Unfortunately, the capital will not hold for that, and you will usually taste better food beyond it.
Go through our posts for various islands and areas in Greece to see what you can do.
Activities in Greece
Almost all activities in Greece are more affordable than in other Mediterranean destinations. 
Rates are incredibly sensible, and Greek outside activities service providers usually go the extra mile by offering more than concurred.
In some areas, i.e., Rhodes and Paros, and for some particular activities, you may have to book ahead.
For example, if you prepare to choose windsurfing, as these are popular destinations for such.
If you like trekking, numerous trekking routes in many locations need just two things: a map/GPS and a good mood, along with all other devices you would need for trekking.
Remember that a guide might be needed when routes are not adequately marked.
If you plan for such activities, it is best to ask before you go.
If you don't want to bring boots or other gear for regular activities, you can get some from outside activities stores/shops or have them delivered.
Prices for such are also great.
All service providers will provide all required for any strenuous activity you wish to participate in. Typically, there is no extra expense unless there is something too unique.
You will be amazed to learn that even leasing equipment like windsurfing gear and lessons is budget-friendly compared to other countries.
Also read: Best Time To Visit Greece? 2021 Travel Guide
Eating & Drinking out in Greece on a Budget
In Athens, the food choices have many costs and excellent quality; even street food is fantastic.
We suggest that you look for authentic regional food. There are dining establishments that use tastes from all over Greece.
You will find food from all over the world in Athens.
When on the islands, you may discover fish a bit expensive, but just if you go to expensive dining establishments.
Fish is typically fresh in little taverns in the towns, and prices are not pricey. The same happens with meat on islands and on mainland Greece.
Specifically, mainland Greece chooses meat and regional plates in most of the towns.
The quality is high, and the costs are low.
The owner could be grumpy in many cases; however, that's the local spirit.
All expensive dining establishments are pricey; however, do not go to Greece for global premium cuisine.
Choose "souvlaki/gyros, gemista, dolmades, htapodi, tzatziki," and lots and great deals on unique plates.
Also read: Best Weird Greek Foods All Greece 2021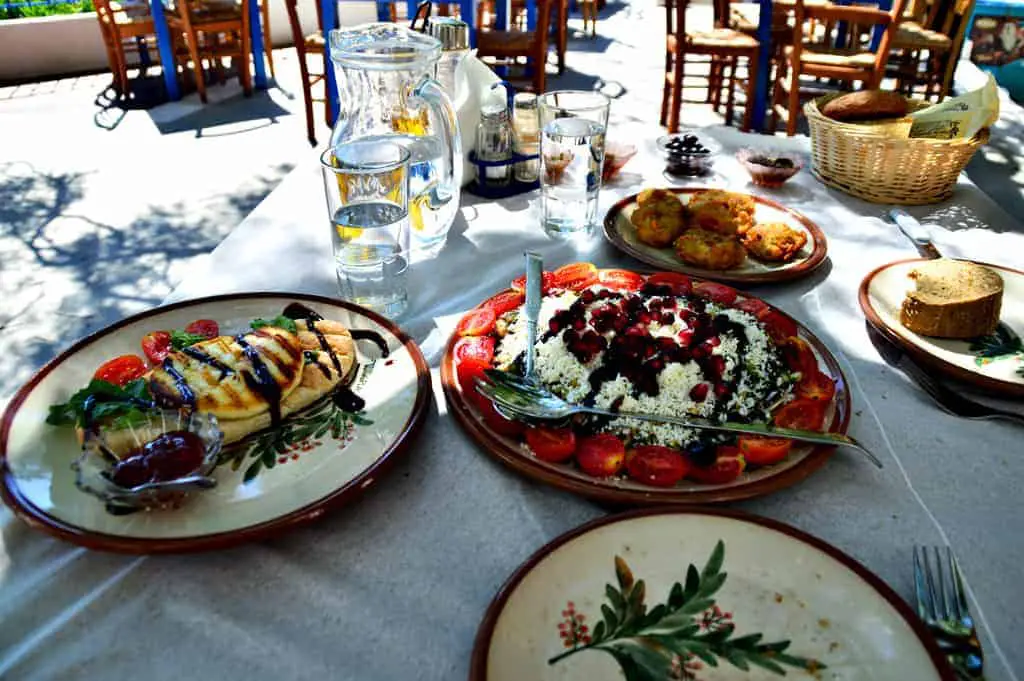 Even if you tasted them in some Greek restaurants in your nation, they are not the same. Most things feel much better in Greece due to the sun and soil.
Wine is not pricey too.
Whether it is bottled or not, rates are sensible. Go for the local wines and try more white/rose than red ones.
Bottled water is also really cheap. I mean, it is possibly the least expensive in Europe. I believe, and you will drink a lot here.
Forget small bottles for 3 euros. Even in stores, you can get a six-pack of 1.5 lt each in an overall 4 euro.
It's not hard to travel to Greece on a budget. Sure it can be expensive, but you don't have to break the bank to enjoy your time on one of the Greek islands. With careful planning and some research, you will find plenty of ways to go island hopping without spending too much money. Make sure you book all accommodations beforehand so that when you arrive in Athens or another port city, all transportation is taken care of for free! Plus, right now is the perfect time since prices are low due to their economy being down. You can't beat this opportunity- what do you want to see first?
We hope this information helps you. If you looked at our post for traveling to Greece on a budget, read